If you liked old air-cooled Ducati Monsters, you might lament the fact that you never picked up a Monster 1100 while you had the chance. It had a big engine, light weight, a dry clutch (well, other than the EVO) and a lot of character.
But you don't need to wail and gnash your teeth, it turns out, because Ducati has kept the same engine block alive in a modern motorcycle with a whole lot of other amenities to keep you alive and happy. This is the Ducati Scrambler 1100.
In looking at Scrambler 1100s I was a little confused. I thought
What were all these versions? Pro, Special, and so on?
What rider aids come standard on the Scrambler 1100?
Why does it make less power than the Monster 1100, a bike that's 10 years old? Does it make up for it with more torque?
What's the maintenance like on the air-cooled 1100, has it improved?
What's the damn thing like to ride?
Want to read about the Ducati Scrambler 800? Here's that buyer's guide.
Here are answers to all those questions.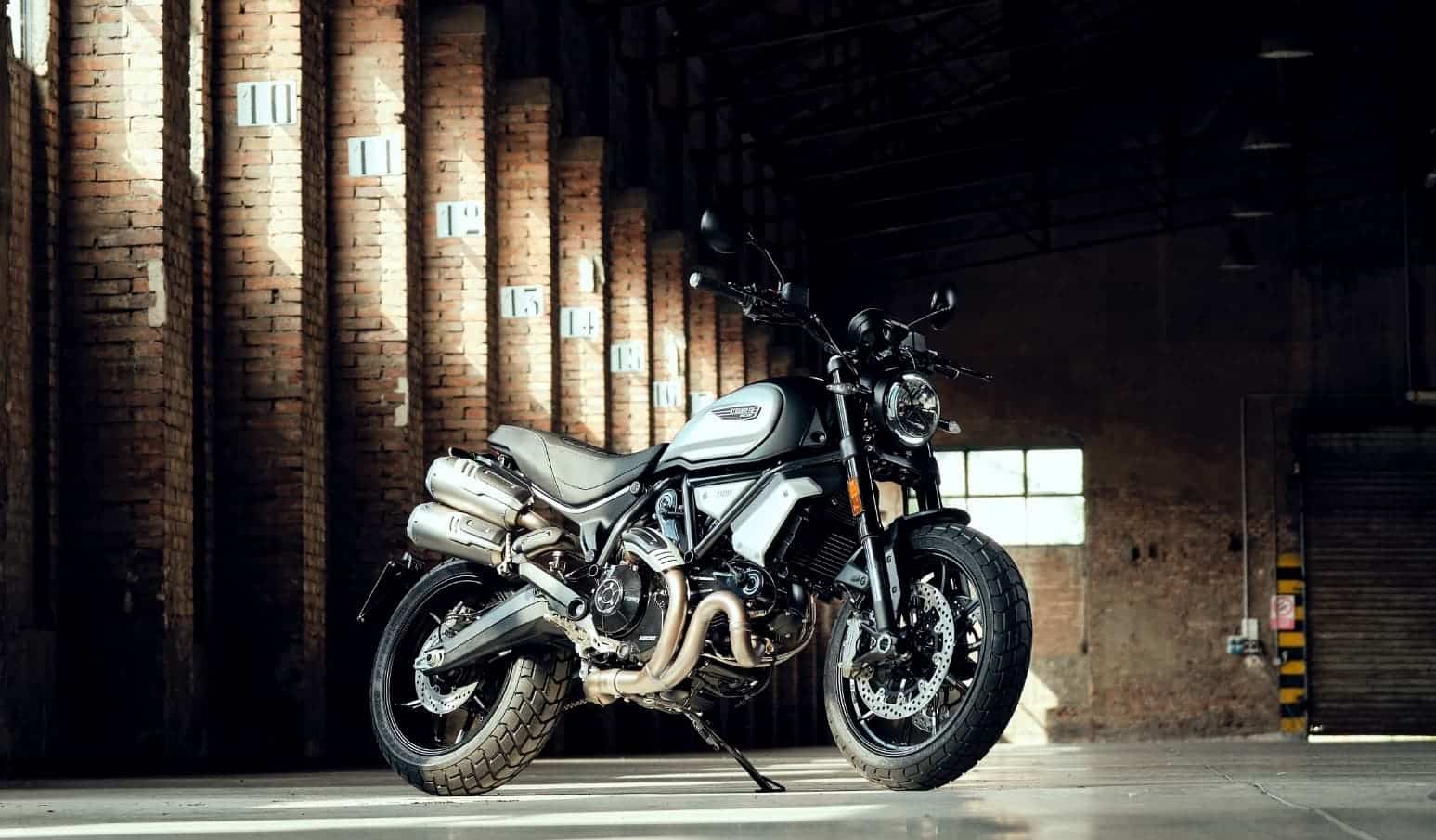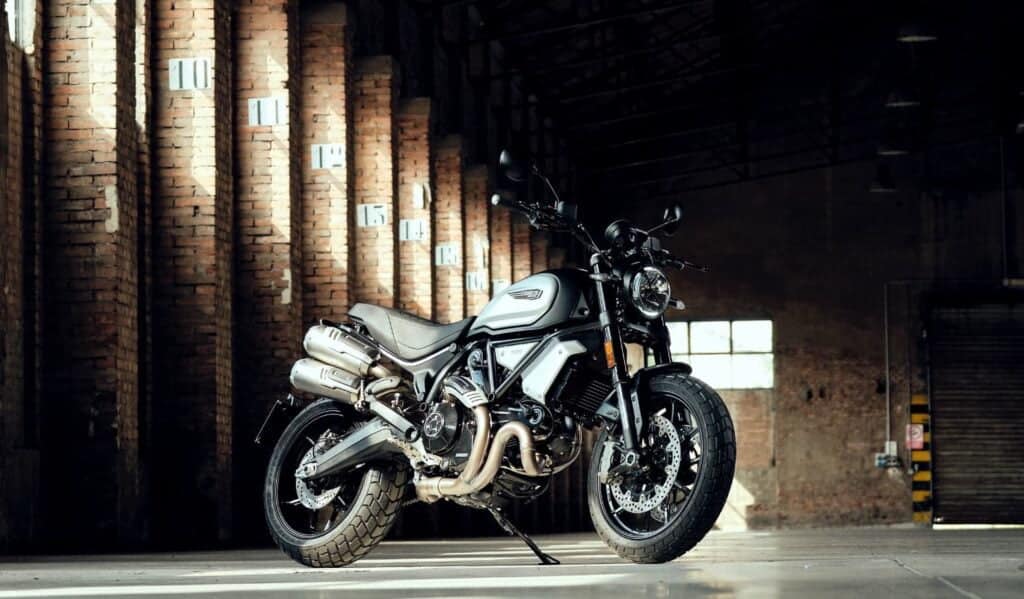 Are you obsessed with motorcycles?
Well, I am. That's why I created this site — as an outlet. I love learning and sharing what others might find useful. If you like what you read here, and you're a fraction as obsessed as I am, you might like to know when I've published more. (Check the latest for an idea of what you'll see.)
The Ducati Scrambler 1100 — In a Nutshell
So, what is this the Ducati Scrambler 1100? Let me answer some of the absolute basics. Some of this will be obvious to the more experienced among you who pay attention to motorcycles, but bear with me.
In a nutshell, the Ducati Scrambler 1100 is a lightweight naked road bike with a torque-first, power-second, air-cooled engine. It has great road performance, a comfortable seating position, a huge amount of torque and a wide enough powerband to keep you entertained everywhere (except maybe on the track, as you'll run out of revs), and really good looks for when you're sitting at the pie shop having a look.
The Ducati Scrambler 1100 is powered by an 1079cc 2-valve-per-cylinder air-cooled L-twin engine (which is a 90-degree V-twin). It makes a modest amount of power, peaking at 63 kW (86 hp) at 7,500 rpm, and makes peak torque of 88 Nm (65 lb-ft) at 4750 rpm.
Look that peak RPM number again — yes, 4,750 rpm.
Ride the Scrambler 1100 Spec Sheet
As I always say, you can't ride a spec sheet. But there are some specs that are good to know because they let you compare a bike with others.
| Part | Ducati Scrambler 1100 spec |
| --- | --- |
| Engine | 1079cc air-cooled desmodromic 2-valve-per-cylinder 90-degree V-twin ("L-twin) |
| Drivetrain | 6-speed transmission, wet clutch, chain drive |
| Ride electronics | Full Ride-by-wire with Bosch cornering ABS, power modes, and traction control |
| Peak power | 63 kW (86 hp) @ 7500 rpm (at the crank) |
| Peak torque | 88 Nm (65 lb-ft) @ 4750 rpm (at the crank) — relatively low rpm for peak power |
| Front suspension | Fully adjustable front forks. Non-Sport models have 45mm Marzocchi USD; Sport models have Öhlins 48mm USD forks. (See our front suspension guide to understand more about what makes this spcial) |
| Rear suspension | Pre-load and rebound adjustable monoshock. Most models have a Kayaba shock, Sport models have Öhlins shock. |
| Front brakes | 2 x 320mm semi-floating discs, radially mounted Brembo Monobloc M4.32 4-piston calipers (very competent, especially for the weight and intended riding speeds) |
| Wet weight | 206 kg / 454 lb (20kg / 44 lb heavier than the Scrambler 800) |
Core specs of the Ducati Scrambler 1100
Of course, you can't just look at power and weight specs. To know how a motorcycle's going to ride, you have to consider the powerband — which is why I like to look at the torque curve.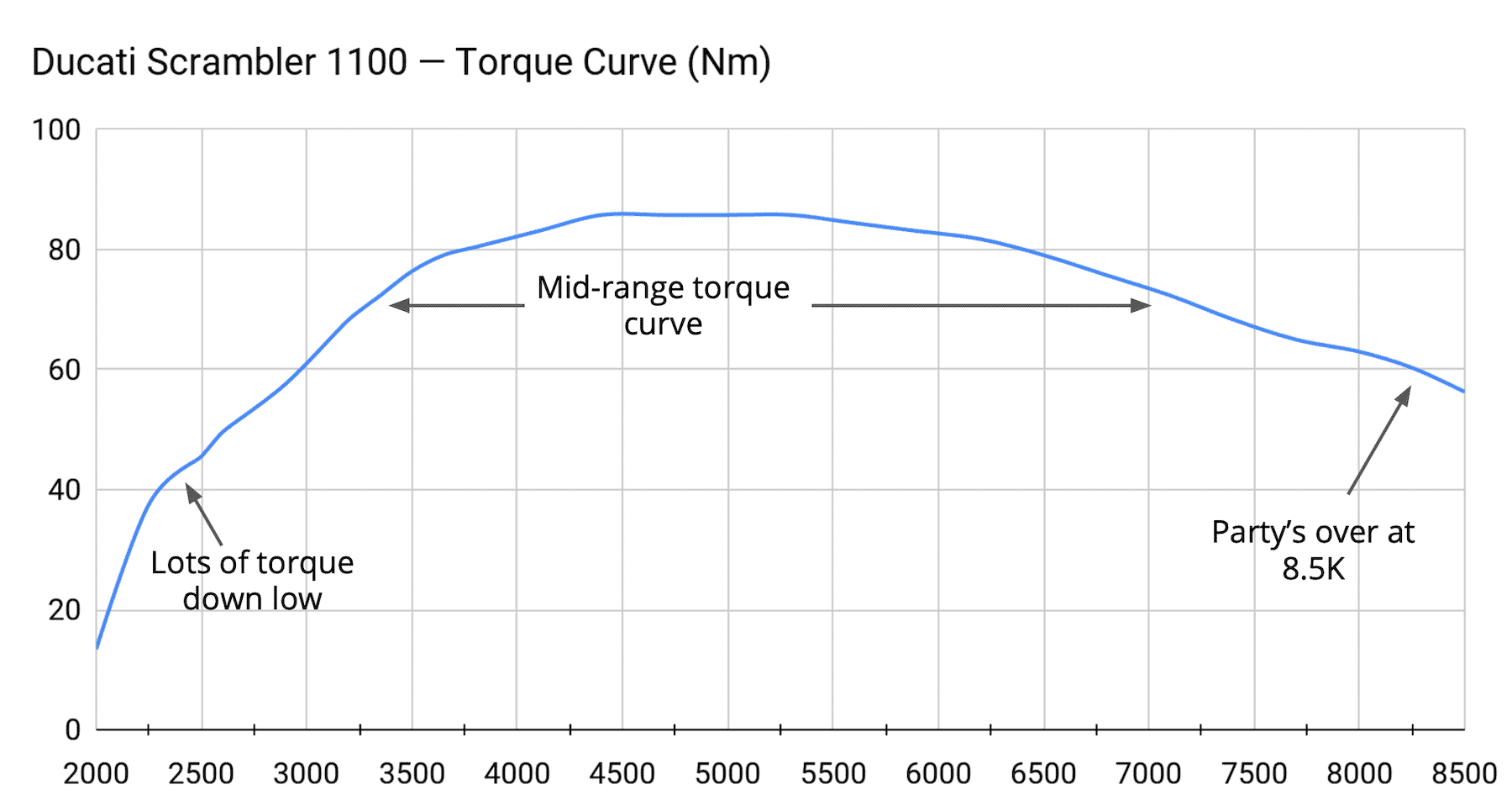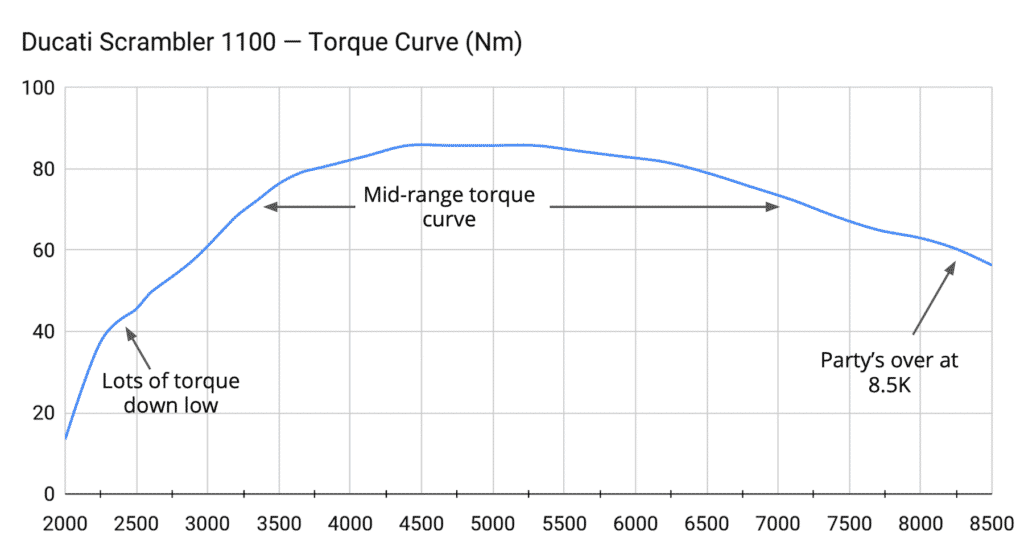 As you can see, the Scrambler 1100 has a "mid-range" torque curve. The hard redline is 10000 rpm, but in reality, you'll start to get a significant drop off of acceleration before that. Riding "hard" means shifting around 8-8.5K.
So the powerband is somewhere between "cruiser" and "sport bike".
Let's compare it to the torque curve for the Ducati Monster 1100: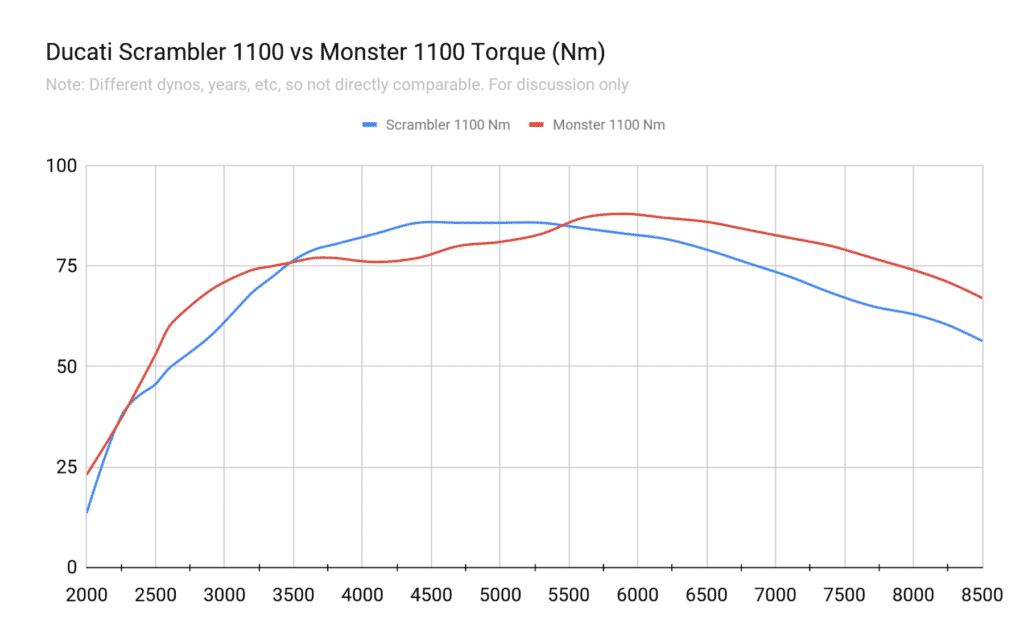 Comparing both torque curves (acknowledging that it's illustrative only).
The peak torque for both bikes is similar but brought earlier on the Scrambler
The Scrambler 1100's peak power is lower, and
The Monster 1100 has a wider powerband, even if it's higher up in RPMs
So, the Monster 1100 and its stablemate the Hypermotard 1100 favour sportier riding, revving the engine out more. Whereas the Scrambler's torque curve is more for leaning back a little and short shifting, and not riding the high end of the power band.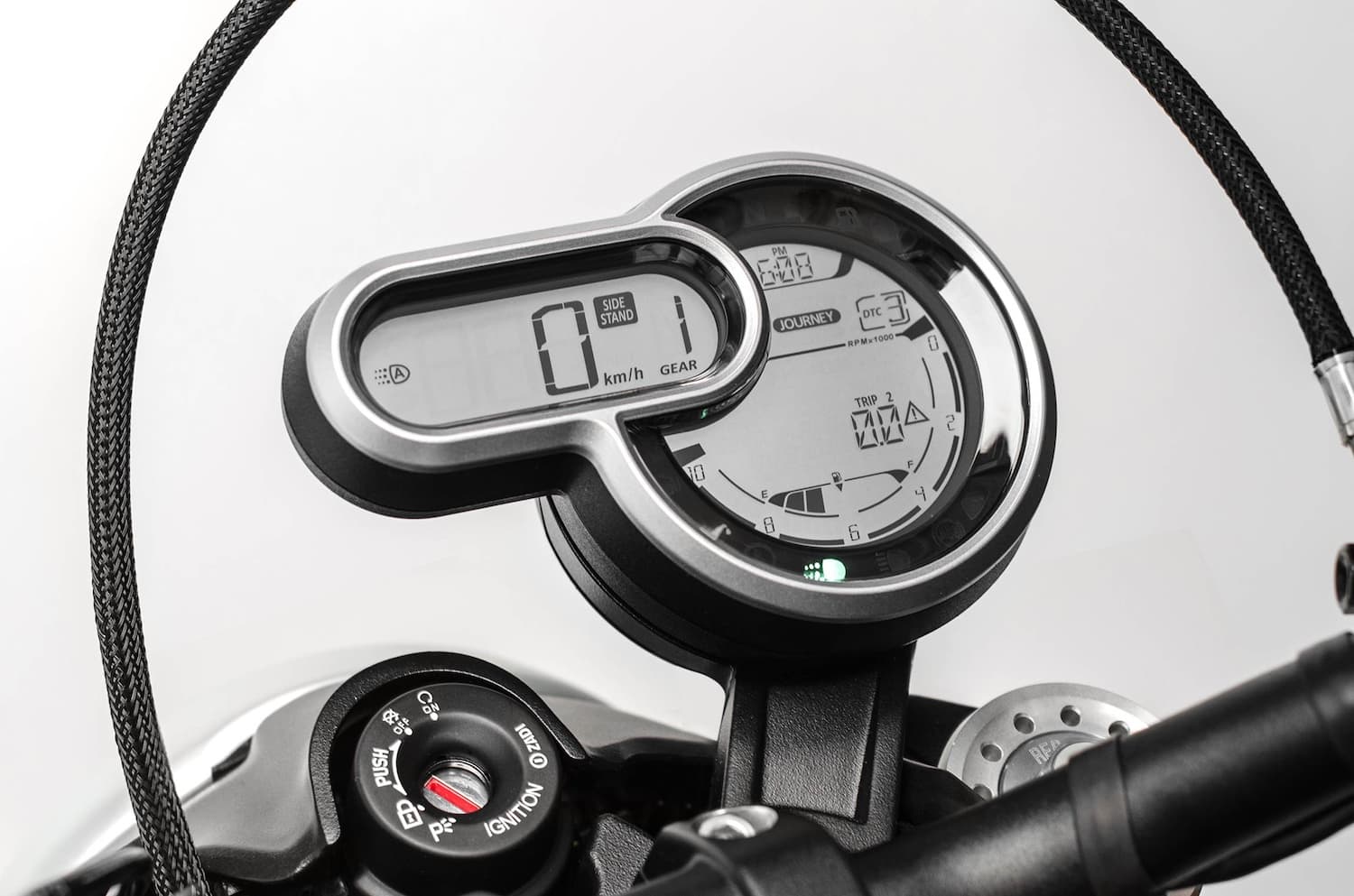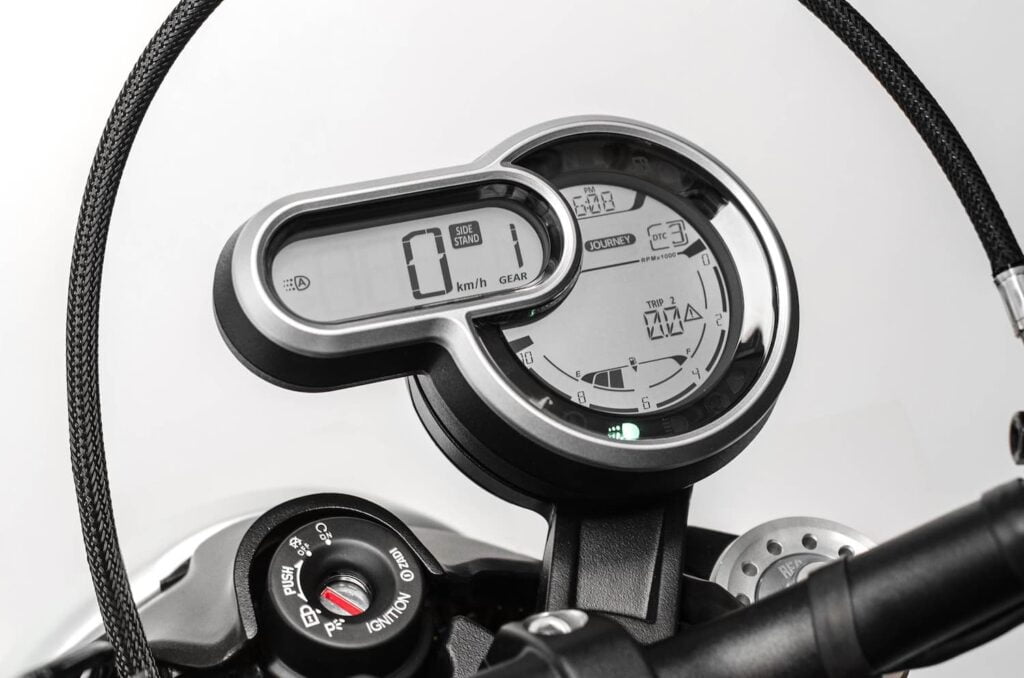 Riding the Ducati Scrambler 1100
Riding the Ducati Scrambler 1100 is really… fun.
It's very interesting. In the past, motorcycles were quite often function-first. The Hayabusa was made to go fast, the KLR650 was made to never break down, and the Yamaha R6 was made to win at races.
But there have always been a class of bikes that are built to conjure up a certain "feeling". There's no reason, otherwise, why a motorcycle would have an air-cooled V-twin. It's hard to conjure up much power out of the buggers while still respecting vehicle emissions laws. That's why the fastest motorcycles in the world have more cylinders and water cooling. (See here on my deeper dive into liquid / air cooling).
So why the Scrambler 1100? The same question could be asked of the Triumph twins (of any size), of cruisers from Japanese manufacturers, or of pretty much any Harley-Davidson. Because they feel fun to ride.
You don't ride around on a Scrambler 1100. You blast around on it. It's built to be short shifted at moderate speeds, hooning between traffic and being thrown into corners. Sometimes you can figure out what a bike is for by thinking of what it's not: this is not a bike for the drag strip, and it's not a bike for trans-continental pursuits (I mean you could, but who wants to stop a bike mid-ride to inspect valves?). So what's it for? Everything in between.
The Ducati Scrambler 1100 is at home when you're always on the move. Yes, you can commute in traffic on it, and it's less of a slog than on a Panigale… but is commuting in traffic ever NOT a slog? At least you can get it done without the fans coming on… because there are no fans.
But when you get to the roads that are above 60 km/h (40 mph) and aren't jammed or blocked by endless traffic lights, that's when things start to get interesting. You get to stay in the meat of the powerband and make a lot of noise, and that's what the Scrambler is all about.
Oh — yeah, a word on the noise. The 1100's engine is loud. Maybe it's the baffle-free Termignoni pipes on the model I took for a ride, but it has a really nice purr to it that wakes right up when you're actually on the move. Modern Ducati V-twins lack the bite and bark of those of the dry clutch days, but the Ducati Scrambler 1100 retains as much of it as you can get.
Termignoni? How do you say that, anyway? See here for my pronunciation guide to motorcycle words from other languages.
The versatility of the Scrambler 1100 is helped by the fact that the handlebars are wide (other than the Sport models). Navigating at low speeds is easy, and turns at higher speeds are as easy as a gentle push on the handlebars. Coming off my 600cc sport bike that's my commuter these days, I felt that it was nimble, despite the heavier weight.
While it doesn't lend itself to long-distance naturally (not having any factory luggage options, wind protection, or cruise control), the Scrambler can — as can any naked — be made into a tourer. You can strap any luggage to the back of the seat, and it It has plenty of passing torque for the freeway. While it wouldn't be my first choice for those missions, it could be done if you're sufficiently in love with your bike.
So in summary, the Ducati Scrambler 1100 definitely does evoke that feeling of joy that it's meant to. It's not meant to be an "everything" bike, nor meant to be a single-purpose bike; it's meant to tug at your heartstrings with the vibrations, sound, and look. If it does, then it's a bike that you'll like, and you may be surprised with how capable it is.
Variants of the Ducati Scrambler 1100
The Ducati Scrambler 1100 comes in a variety of configurations. It's a bit confusing, so I've laid out the differences here.
At its core, all variants of the Ducati Scrambler 1100 share the same engine and features, including the IMU, traction control, and so on. The engine has the same spec for all of them.
The models of Scrambler 1100 vary in
Riding position (just the handlebars)
Wheel type (spoke/alloy rims)
Suspension spec
Exhaust position
Livery/accents
Component
Base model 1100
Special
Sport
Pro, Dark Pro
(2020+),
& Tribute Pro (2022+)
Sport Pro
(2020+)
Handlebars
Wide
Low, tapered
Low, tapered
Wide
Very low, with bar-end mirrors
Suspension
45mm fully adjustable Marzocchi forks (black/chrome)
45mm Fully adjustable Marzocchi forks (gold anodised )
48mm Öhlins fully-adjustable forks
45mm fully adjustable Marzocchi forks (black/chrome)
48mm Öhlins fully-adjustable forks
Rear shock
Kayaba preload and rebound-adjustable shock
Kayaba preload and rebound-adjustable shock
Öhlins shock, preload and rebound-adjustable
Kayaba preload and rebound-adjustable shock
Öhlins shock, preload and rebound-adjustable
Wheels
Mag wheels, tubeless tyres
10-spoke (18 inch, 17 inch), tubed tyres
Mag wheels, tubeless tyres
Mag wheels, tubeless tyres
Mag wheels, tubeless tyres
Exhaust
Under-seat
Under-seat, chrome headers
Under-seat
Twin stacked mufflers on RHS
Twin stacked mufflers on RHS
Aesthetics
Base model
Lots of chrome/brushed bits
Matt black only, orange stripes
* No more brake line loop on handlebar
* License plate over wheel
No more brake line loop on handlebar
* License plate over wheel
Ducati Scrambler 1100 variants
Here are a few interesting facts about each variant.
The "Special" is the only one with spoked rims and tubed tyres.
The Sport models are the ones with Öhlins front and rear suspension, but the base model still has good suspension (fully adjustable front Kayaba forks)
The Special has a more aggressive riding position, and the Sport models have even more aggressive riding positions.
The Dark Pro is the same as the Pro, just with more blacked-out details.
The 2022+ Ducati Scrambler Tribute Pro is the same as the Dark Pro and Pro, just with yellow ("Giallo Ocra") paint and perhaps some different details.
Here are all the models, side on, so you can compare them.
Ducati Scrambler 1100 (base model)

Ducati Scrambler 1100 Special

Ducati Scrambler 1100 Sport

Ducati Scrambler 1100 Pro

Ducati Scrambler 1100 Sport Pro

Ducati Scrambler 1100 Dark Pro

2022 Tribute Pro
The "Best" models of Ducati Scrambler 1100?
I'm loath to pick one that's the "best", mostly because the differences are so small. But personally, I prefer the base model (yes, the simplest one!) and the 2020+ Ducati Scrambler Pro — not the Special, and not the Sport models.
One thing that's interesting is that if you want to get a Sport model for the Öhlins suspension, then you also have to commit to the more forward-canted riding position.
Personally, I don't think the forward-leaning position suits this engine. It's a fun engine, but it's not high-revving like a sportbike, and the Scrambler 1100's 63 kW output at 7500 rpm isn't going to set your hair on fire.
When I am obliged to lean forward with low controls, I tend to want to rev out an engine a bit — at least to 9000 rpm. Otherwise, I'm happy with higher, wider bars, and I still have the option of leaning forward whenever I want. Anyway, try one for yourself and see what you think — you can tell a lot from just sitting on one.
On top of that, the fully-adjustable Marzocchi forks on the non-Sport models is already very competent. Yes, Öhlins is an upgrade, but I'd rather save the money and spend that on a full Termignoni exhaust and tune. And if buying used, I'd prioritise one with a full exhaust rather than the suspension.
So my personal bias would be for any model that isn't a "Sport" — more upright handlebars suit the bike better. And if I found a good deal on a Sport model, I'm confident I'd end up changing the bars with one from another model.
The final thing to think about is the positioning of the exhaust. Side exhausts do look cool, but they limit luggage options, and they can be hot on the legs of a passenger. The under-seat exhausts don't get uncomfortably hot for me on the Scrambler 1100. So that's a final vote for the base model and then ones very similar to it.
… On the other hand, if I really have to pick… you can always opt for the limited edition Scrambler Club Italia, if you can get your hands on one!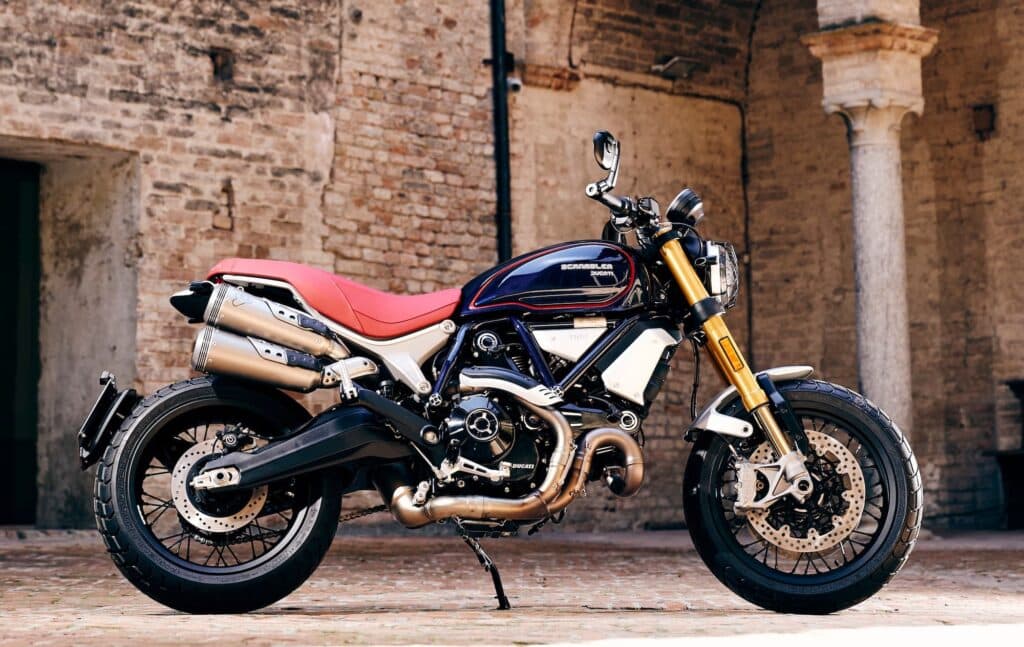 The Ducati Scrambler 1100 Club Italia is a limited-edition version of the Scrambler 1100 Sport PRO, built in a collaboration between the ducati Style Center and Scuderia Club Italia. It's the same as a Sport PRO but with a bunch of cosmetic enhancements, including
The read leather seat with an embroidered logo
Termignoni titanium silencers
A frame finished in the same metallic blue as the tank, and
Tricolor aluminium fenders atop spoked rims.
Ducati themselves call it "the most refined Scrambler ever". If you can get your hands on one, I'm sure you'd enjoy it!
Maintaining the Ducati Scrambler 1100 Pro
Maintaining the Ducati Scrambler 1100 Pro is quite similar to maintaining other motorcycles with the same engine (the more recent Desmodue motors), like the Monster 1100 or Hypermotard 1100 of the past.
The engine in the Scrambler 1100 is still a belt-driven Desmodue engine. The belt and valve service intervals haven't changed.
You need to remember to
Check the valves every 7500 miles (or 12000 km), when you do an oil change
Change the timing belts every 5 years or two valve services
Keep everything torqued — Ducati motorcycles have a habit of shaking themselves loose
Grease and lube the chain
Change the oil and filter, of course!
At least the Scrambler 1100 has a double-sided swing-arm, which means checking chain tension can be done with "normal" tools (you don't need an eccentric hub tool). However, you do need to pay attention to chain alignment.
And the 1100 has an air/oil-cooled engine, which means that you don't need to worry about spurious arguments regarding the "best coolant". Just keep the oil fresh! (It does have an oil cooler, and the oil plays a part in cooling the engine.)
See the full maintenance schedule for the Scrambler 1100 here, as well as specs for which parts to get.
What to look for in a used Ducati Scrambler 1100
The Scrambler 1100 is a relatively new bike, but some might have some enough miles on them to warrant you worrying about some of the below.
Firstly, try to find the model you want but with an aftermarket Termignoni exhaust system fitted. I mean that brand in particular, not because they're "better", but because they come as a factory option on Ducati motorcycles and add a lot of value.
Termignoni exhausts are not actually loud with the baffles in, just throatier. Plus, they look great, are lightweight, and are such a common modification that you may as well save a bit of money by buying one that has it installed already.
Secondly, in the off chance that a bike has done quite a bit of distance, make sure it has had its valve inspections done and belts replaced. Belt replacements are infrequent (5 years or 24000 km / 15000 miles), but they're absolutely mandatory once you reach the distance interval.
Valve inspections are also important on Ducati 2-valve air-cooled twins. It's common for a valve clearance or two to be out of spec. Valve clearances aren't as critical (they won't kill your bike), but out-of-spec clearances mean rough running.
Finally, check the fork seals. It's temptingly easy to wheelie the Scrambler 1100, and this does take out fork seals after a while.
Look more in our guide to what to look at when buying a used Ducati.
Alternatives to the Ducati Scrambler 1100
If you're considering a Ducati Scrambler 1100, you're probably also considering a few other upright retro-esque bikes with big twins.
It just so happens that we're in the middle of a major "scrambler" trend lately. I don't think we're at the end of it, either. So while you could just as easily point at any other big-bore mid-power motorcycles, a few other manufacturers actually have other "scrambler"-branded bikes that you can directly compare to the Ducati Scrambler 1100.
Triumph Scrambler 1200: I say the Scrambler out of the line as it has the most similar aesthetic and feel. The Triumph Scrambler 1200 makes around the same power, using a slightly detuned version of the "high torque" 1200cc 270-degree crank parallel twin that powers the new big Triumph twin line. It's about 10% heavier than the Ducati Scrambler 1100 though, but it also has long-travel suspension that people say actually makes it a competitive adventure bike. The Thruxton 1200 is a good comparison for the sportier versions of the Scrambler 1200
Ducati Scrambler 800: The smaller (and original) Ducati Scrambler is a worthy contender. Aside from being cheaper, you can't escape the fact that it's 20 kg (45 lb) or about 10% lighter. That lightness doesn't make it a dirt bike, but if you spend more time under 70 mph than above it, and a lot of time in old country back roads, you might just enjoy the Scrambler 800 more. Many people do! It depends on the country you're in, the landscape you ride in, and your own preferences. Later model 800s even have a lot of the electronics of the 1100, including cornering ABS. The 800 isn't that much down on peak power either — it makes 54 kW (73 hp) vs the Scrambler 1100's 66 kW (84 hp). Of course, the 1100 has a lot more mid-range torque.
See the Ducati Scrambler (800) buyer's guide.
BMW R NineT Scrambler: Finally, BMW makes their R nineT in a Scrambler incarnation. These are considerably more powerful (81 kW/110 hp), but also about 10% heavier. And bear in mind that the engine in base trim doesn't really encourage you to rev it out to peak power. It's not my favourite of the R nineT model line-up (I prefer the straight R nineT, 2017 onward), but it's there if you really want a scrambler with a boxer twin and BMW branding. From 2021 onward you can even get cruise control – standard!
There's also the Yamaha SCR950, which is available in the US. Even though it's pandering to the same crowd, it's just quite different… heavier, lower in power, and lower in spec — more like the Bolt on which it's closely based. You can read more about it in our Yamaha Bolt buyer's guide.
What the above bikes have in common — apart from the retro / scrambler aesthetic — is that they're all midrange-focused bikes with throaty, characterful engines. I really like my BMW R nineT, because it just had a couple of things that really suit me, but occasionally I wonder what it'd be like to be back in Team Ducati.
Whichever one of the above you choose is likely to be mostly whichever gels with you when you sit on it, listen to it, and take it for a ride. They're all great, high-end bikes that are nice to ride and look at in their own ways.