This is a buyers guide to the Honda CBR1000F, Honda's sports tourer made between 1987 and 1999 (give or take a few years depending on market). It's also known as the Honda Hurricane in some markets.
I was looking through a local importer's catalogue when I came across a beauty of a well-preserved Honda CBR1000F Hurricane. I looked at the paint and the dash, listened to the sound of it revving and thoughts… wow. Now THIS would be a comfortable and fast bike!
Looking into it, among its faithful, the Honda CBR1000F is one of those birds that according to many is the "best bike I've ever owned" — powerful, stable, easy to work on, and these days able to be registered under "club" schemes where possible (making owning lots of bikes much cheaper). So I had a further look. Is the Honda CBR1000F a bike worth owning?
The Honda CBR1000F is a classic sport tourer — quick but not too fast, sporty but comfortable, with enough protection via its generous full fairing, and of course somewhat heavy. It's in a class of motorcycles that has diminished gradually in popularity since the 1990s, though still exists, with the Kawasaki Ninja 1000 keeping the torch burning.
The Honda CBR1000F is powered by a 998cc inline four-cylinder engine that's liquid cooled and has four valves per cylinder. It makes a claimed peak power of 96 kW / 132 hp @ 9500 rpm (give or take a few kW / hp and rpm, per different sources). It makes loads of torque all the way through its rev range.
Final drive is via a 6-speed transmission and a chain drive.
The Honda CBR1000F was succeeded by the CBR1100XX Blackbird, a now-iconic bike.
Are you obsessed with motorcycles?
Well, I am. That's why I created this site — as an outlet. I love learning and sharing what others might find useful. If you like what you read here, and you're a fraction as obsessed as I am, you might like to know when I've published more. (Check the latest for an idea of what you'll see.)
Core specs of the Honda CBR1000F Hurricane
Here are the core specs of the CBR1000F without overwhelming you in facts.
Part
Spec
Comments
Years of production
1987-1999
Retired a couple of years earlier in the US
Engine capacity (cc)
998
It's a "literbike"!
Engine configuration
Inline four-cylinder, DOHC, 16 valve
Fuelling
Carburettors — 4 x 38mm Keihin
Bore / stroke (mm)
77 x 53.6
Compression ratio
10.5:1
Mild tune
Peak power (kW / bhp) @ rpm
96 kW / 132 hp @ 9500 rpm
Most published dyno runs report around 110 hp at the wheel
Peak torque (Nm / ft-lb) @ rpm
104 Nm / 77 lb-ft @ 8500 rpm
Loads of torque!
Front suspension
Telescopic, conventional, preload adjustable
(Air-assisted on early models)
1987-88 models have an air valve to adjust pressure
Rear suspension
Pro-link monoshock. 6-way preload and 3-way rebound damping adjustability
Front brakes
2 x 296mm discs, Nissin 2-piston calipers
Clutch system
Wet clutch, hydraulic
Final drive
Chain
Wet weight
273 kg / 602 lb
Front tyre size
120/70-17
Rear tyre size
170/60-17
Ride aids / electronics
None. Electric start if you will
Honda CBR1000F — Key specs
About the Honda CBR1000F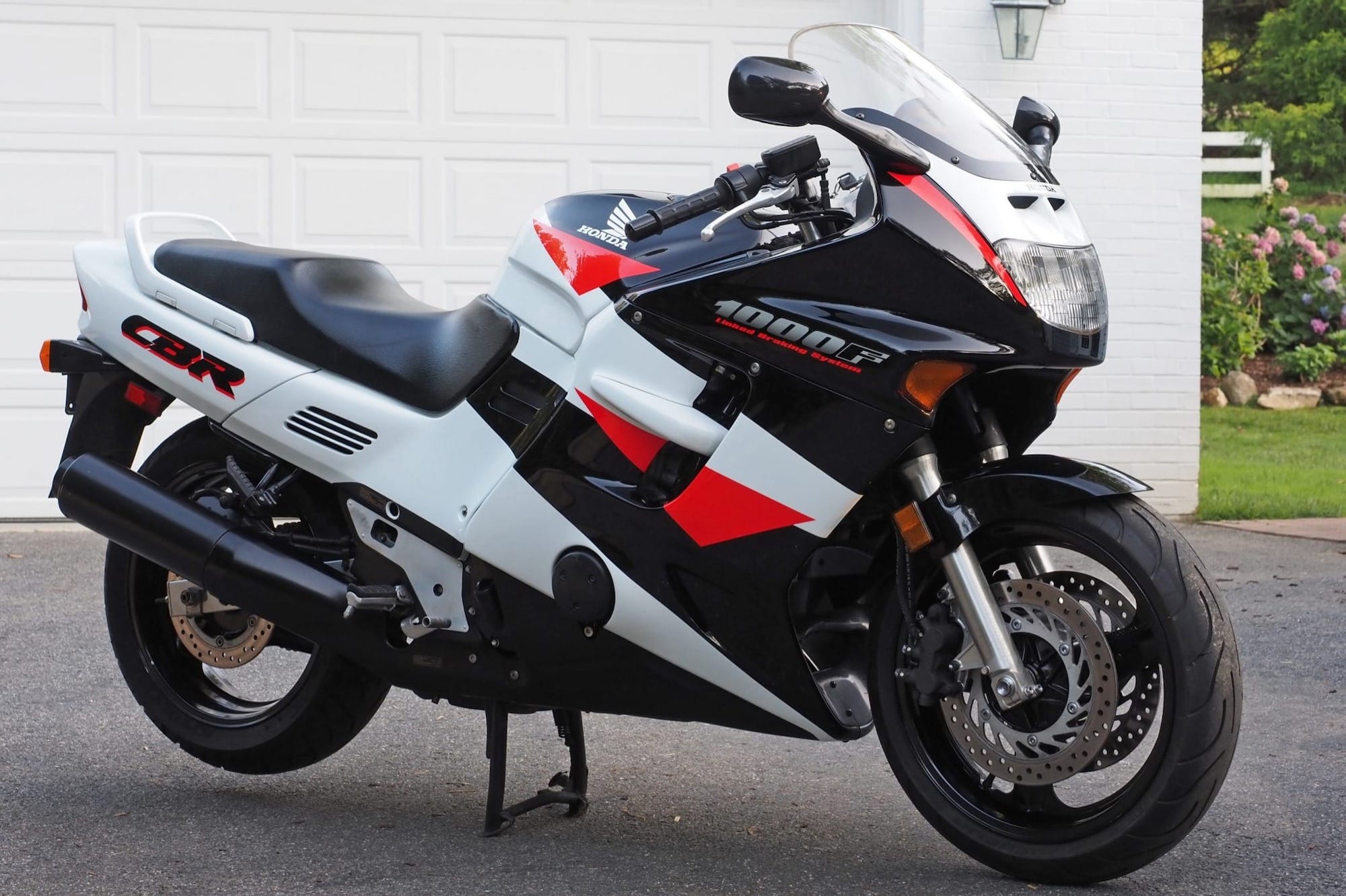 The Honda CBR1000F is a bike many have forgotten about because it has been eclipsed in so many ways. But that's what makes it somewhat of a bargain in the right buyer's eyes.
In its final years of production, the Honda CBR1000F was sold alongside the CBR1100XX Super Blackbird — a bike that is more powerful, lighter, AND faster. Since decades have passed, it's no wonder that people would more naturally look to the Blackbird, if not the bikes that came after it.
But that doesn't mean the CBR1000F isn't worth a look on its own. It's powered by a long-stroke 998 cc engine that's liquid-cooled and has dual overhead cams and 4 valves per cylinder. The engine is transversely mounted and drives a six-speed transmission and chain drive — a common configuration.
The CBR1000F is an older bike so is carburettor fed. But don't let that deter you! It has crisp throttle response (though maybe not the snap of a modern short-stroke literbike). The only caveat with carburettors is if they've been sitting for a while in a place where ethanol additives are common in gasoline, because that can lead to gumming up of the carbs (which will then have to be cleaned).
Despite the older engine, the Honda CBR1000F makes a healthy claimed 132 hp / 98 kW at 9500 rpm before drivetrain losses, give or take a few ponies if you consult different sources.
The engine in the CBR1000F redlines at 10500 rpm, but torque starts to drop off around 9000 rpm. It makes peak torque of 77 ft-lb (104 Nm) around 8500 rpm, though it makes a lot of torque from really down low. If you're really pushing it, 10K is a natural shift point.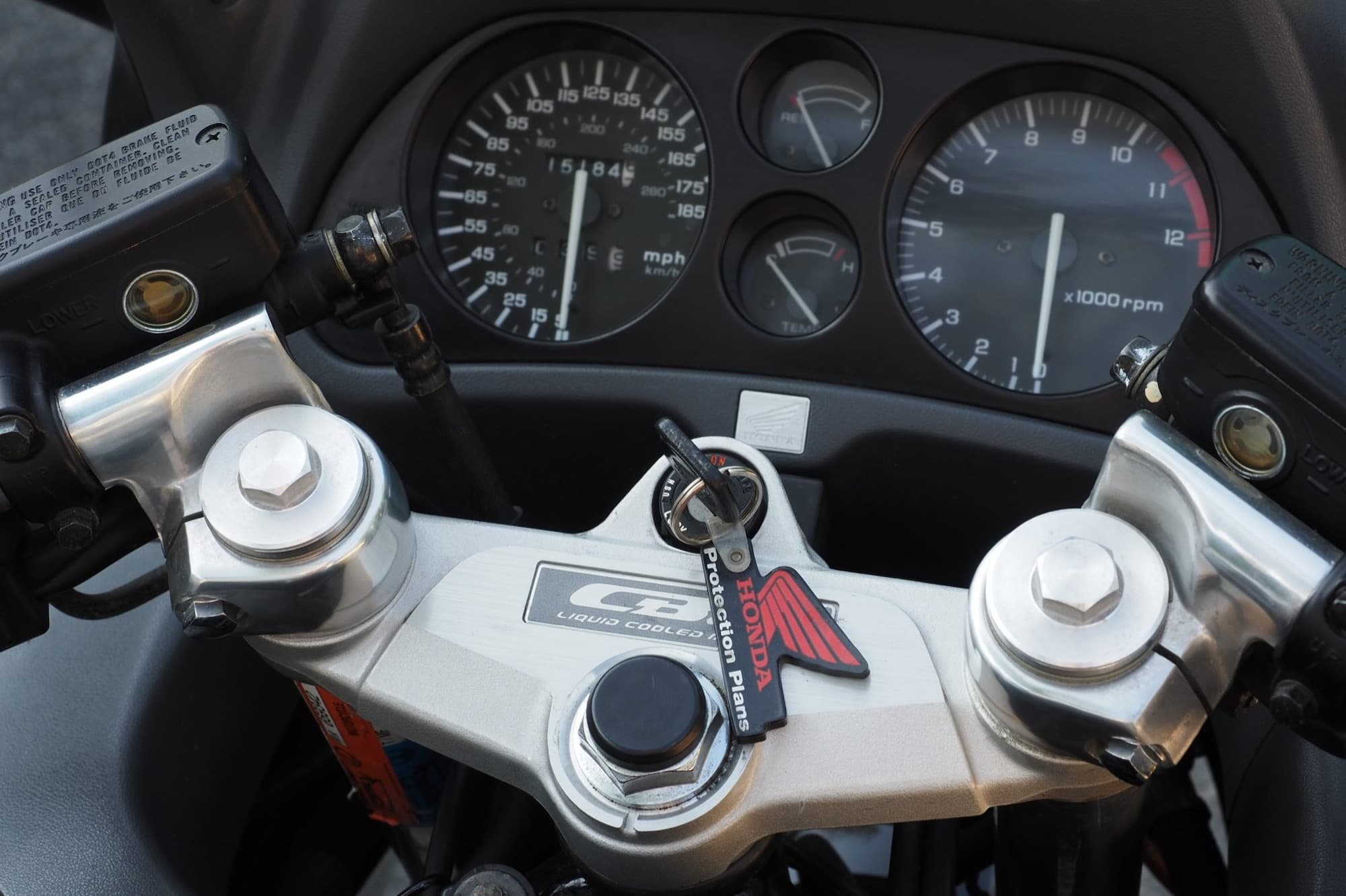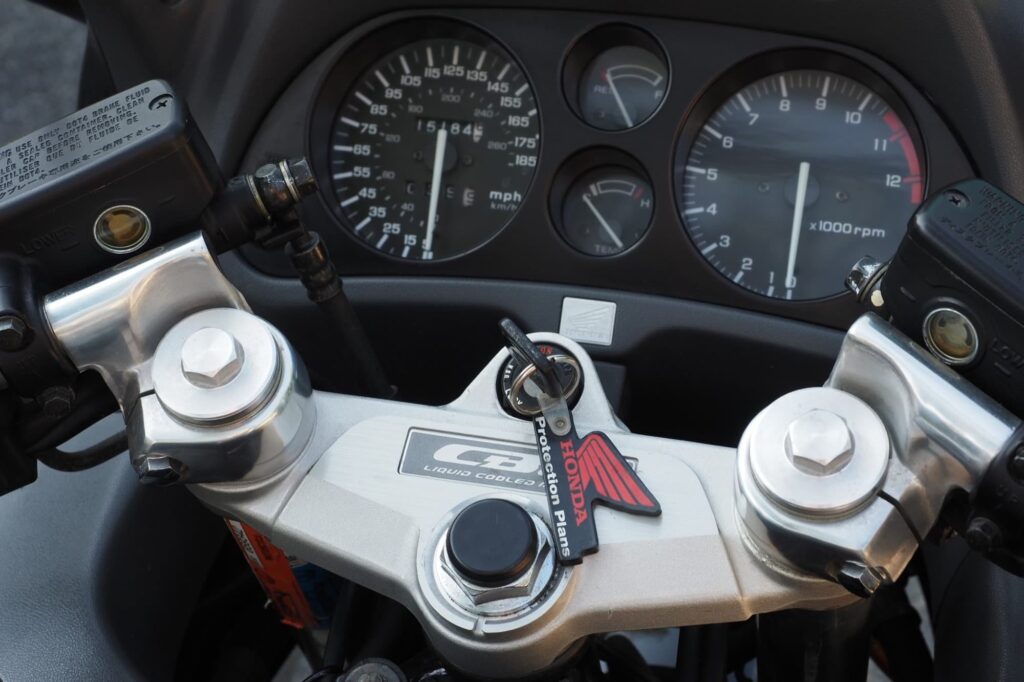 With a jet kit and a slip on, you can easily pull out even beefier mid-range torque. Though the modestly tuned engine makes it hard to pull out much more peak power. Anyway, is that what you're after?
The Honda CBR1000F do occasionally come up for sale, either as "barn finds", in the hands of fastidious owners, or as grey imports.
Common Problems with the Honda CBR1000F
Here are some common problems that the CBR1000F may have if you're looking at one used.
Firstly, as an older motorcycle, the Honda CBR1000F may suffer from the usual things any old motorcycle may have — pitted forks, a rusty chain / sprockets, old tyres, and so on. Check our used motorcycle inspection checklist.
Some things you can expect to show up are
A failing charging system (either stator coil and/or regulator/rectifier — the coil sometimes takes the reg/rec out with it). Check the voltage before starting and with it running to be safe.
Old battery that can't hold charge — you'll probably have to replace it soon if it hasn't been recently replaced.
Old tyres. It depends on how they were stored, but if the tyres have been left in not great conditions then you might have to change them for personal insurance.
Old suspension — budget replacing the springs and oil, and the seals while you're at it. It'll make a huge difference to handling.
Cam chain tensioner — Many Hondas are afflicted by noisy cam chain tensioners that get rattly. Some were replaced under warranty, but you might have to change it again, along with the chain. It's actually doable by the home mechanic, have a look on forums for a guide.
Stick coils — a common mod is to replace the coils from another more modern bike, either to address a failure or to correct one. See this post on cbrforum.com for more info.
The 1987-1988 models have an air valve in the front forks to adjust air pressure, tweaking the suspension response. If that sounds weird, it's because it is! The manual recommends a maximum of 6 psi, but more than 3 psi may blow your fork seals.
Generally, consensus is that air is not a very good fork damping mechanism — you'd be better off investing in replacing the oil and springs.
Alternatives to the Honda CBR1000F
If you're considering buying a Honda CBR1000F, then by all means pick one up if it's in good condition, starts and idles fine, and all the electrics are sound.
But we'd be remiss to not point you in the direction of a Honda CBR1100XX Blackbird, particularly the 1999-onward models that have fuel injection.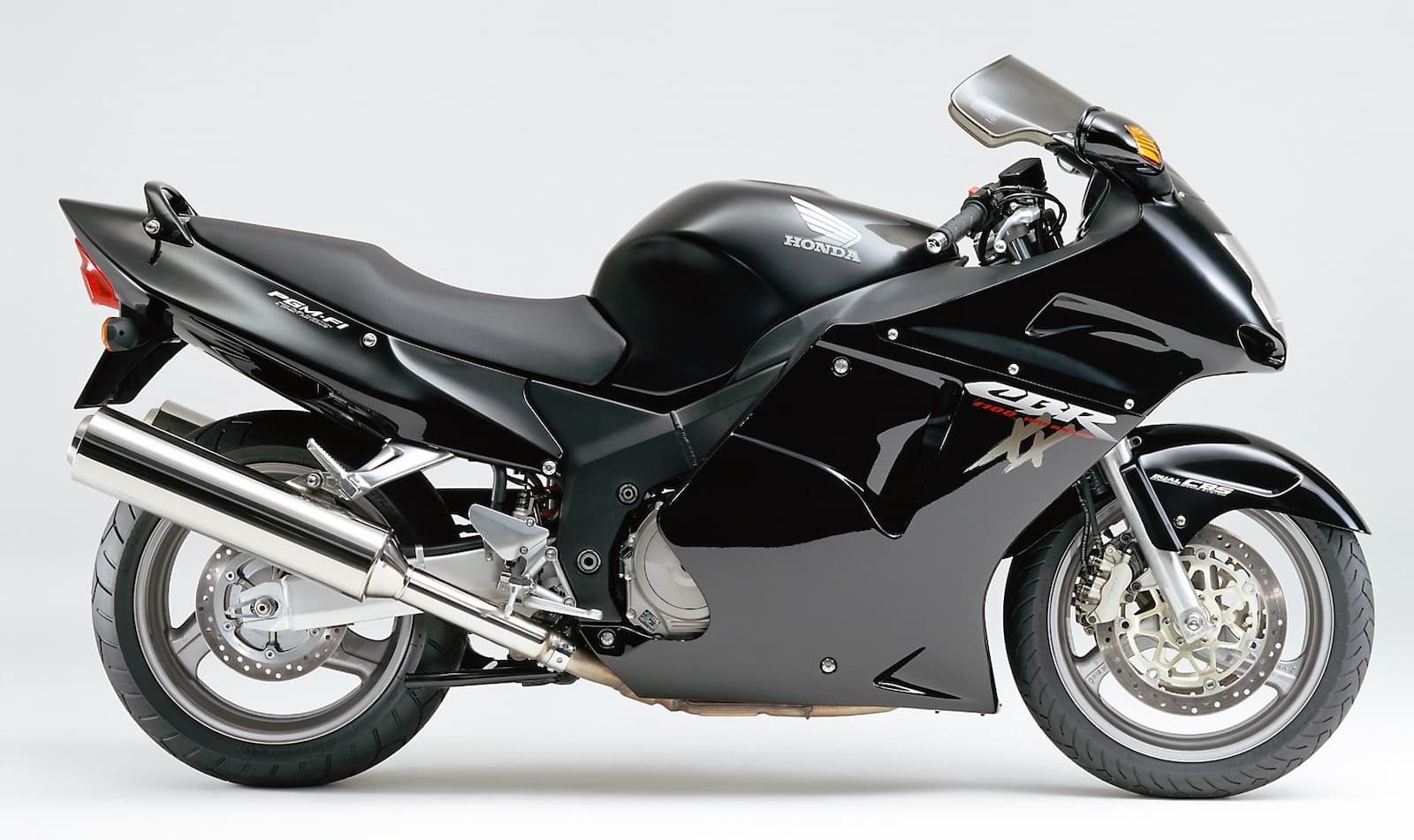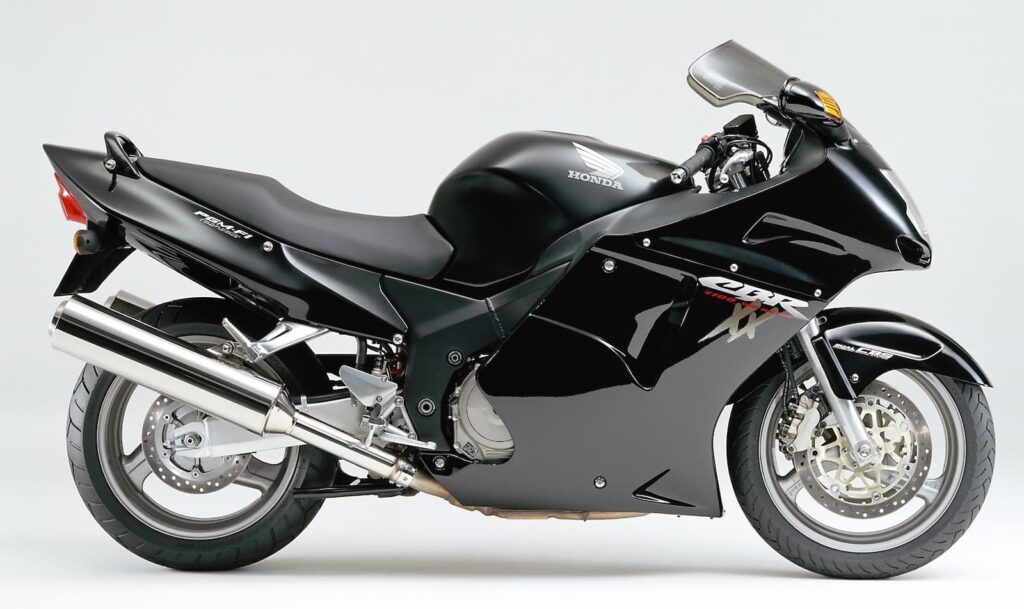 The Blackbird was the fastest motorcycle of its time for a very brief period before the Gen 1 Suzuki GSX1300R Hayabusa stole the show. But the Blackbird riders weren't instant converts to the 'Busa, partly out of loyalty (and their bikes were so new!), partly because they didn't like the styling of the Hayabusa, and partly because the Blackbird is insanely fast already. Only very few would fine the 160 mph top speed of the Blackbird to be "slow".
Anyway, the Blackbird has a very loyal following and they can be picked up for a song. I'd look in that direction. (Here's our buyers guide to the Honda Blackbird.)
Aside from the Blackbird, another Honda competitor in the sport touring category is the V4-powered Honda VFR800. It's less powerful, but also lighter, and it's a favourite in the sport-touring category.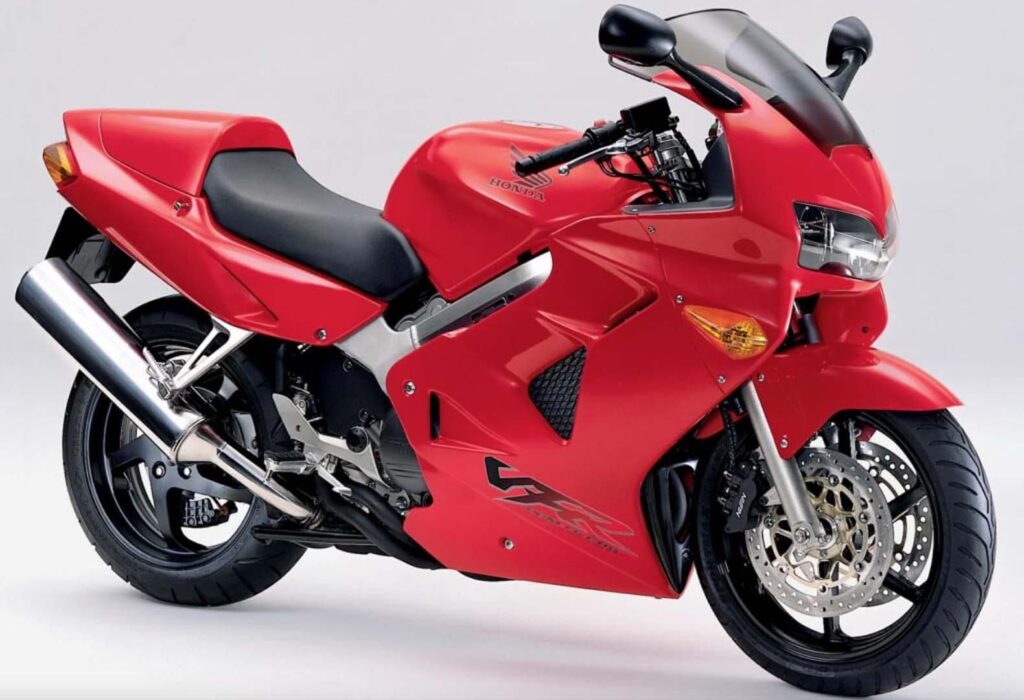 Besides, there are very few bikes out there that make the sound a VFR800 makes when on song with a full performance exhaust. It really does sound like a MotoGP bike, just one with less than half the power. Check out our buyers guide to the VFR800 line here.
Finally, there's another (!) bike from the Honda stable, the Honda CBF1000F, affectionately known as the "Biffer".
Honda made this for a while, in two generations, but mostly in Europe. It was a product of Honda Italia.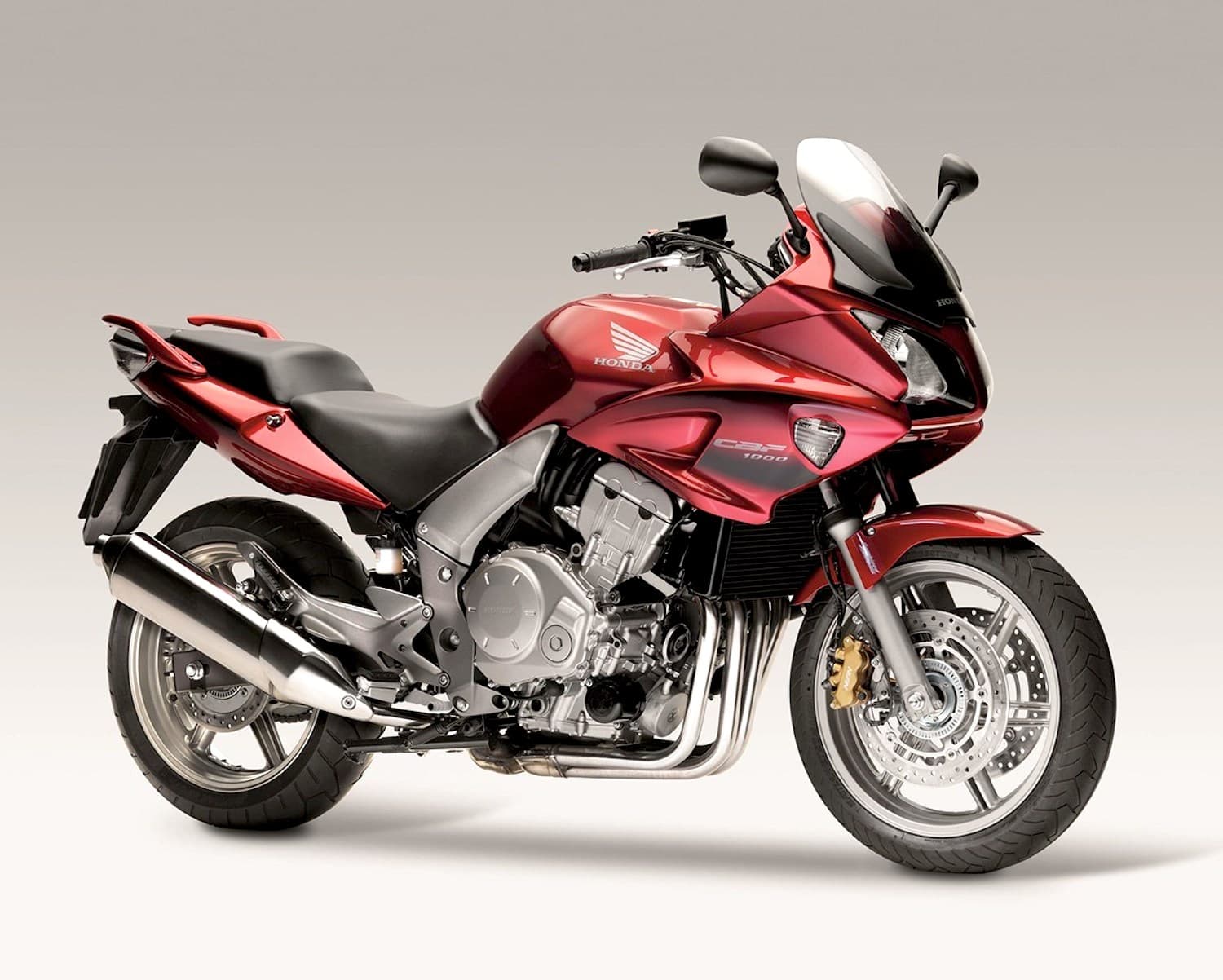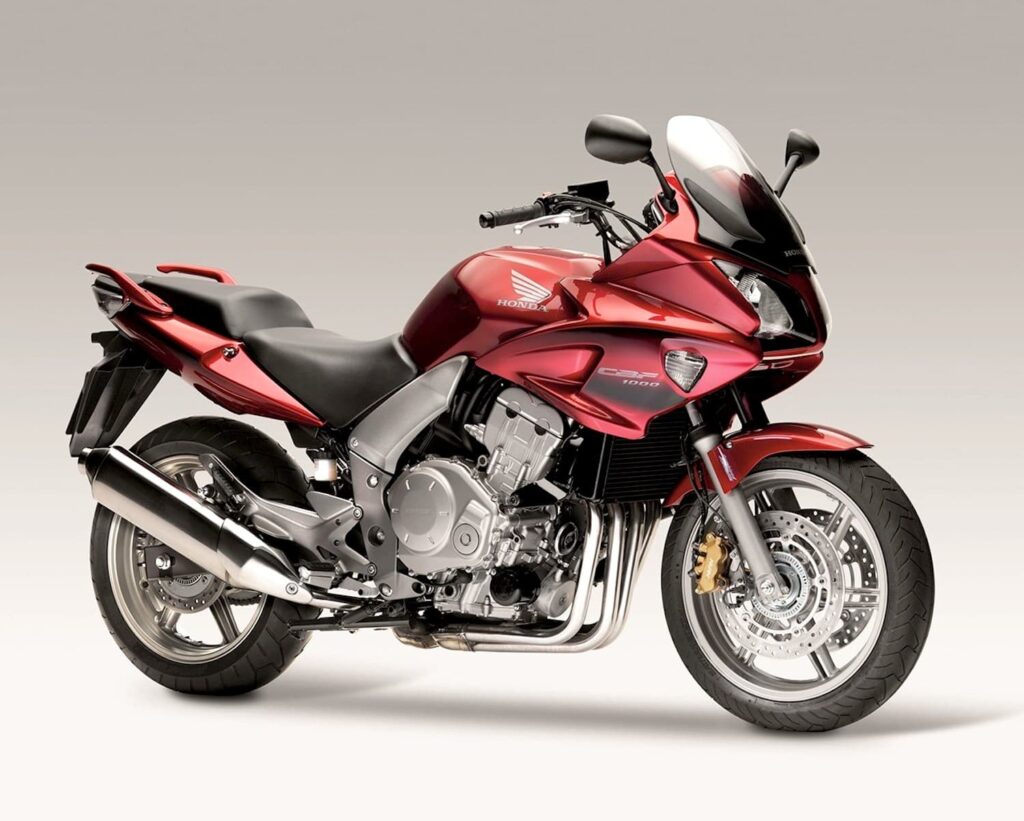 The Honda CBF1000 is a sport tourer with handlebars. It has an engine from the first-generation Honda CBR1000RR Fireblade (2004-2007), but detuned considerably — it makes around 3/5 of the Blade's peak power. And, notably, it makes less power than the CBF1000F, the subject of today's article.
So the Honda CBF1000 is even further along the spectrum towards everyday riding rather than sporting fun. But it still has enough poke from its four-cylinder engine to wind it up when you want it to. (See our complete guide to the Honda CBF1000, including a comparison of generational changes.)
Outside Honda, there is the Kawasaki ZX-11, Suzuki GSX-R1100 (1993+, when it got liquid cooling), and the Yamaha YZF1000R Thunderace. These are all similar class of bike — producing 130-160 hp and in the 240-250 kg wet weight range, making for a power-to-weight ratio that's easy to be used without rider aids.
They're all good bikes. At this stage, it's mostly the quality of any individual unit that's likely to be your deciding factor. If I had to pick one… well, it's almost moot, but I'd look for a Blackbird (as I have in the past!).
Wrap up
But by all means if you're intending to round out your collection, or if a Honda CBR1000F comes up that's in great nick and tickles your fancy — your old bike will be one that will get a lot of looks of admiration.