Recently, I acquired a 2014 Honda VFR800F. I saw it in red, thought "Buy me! buy me!" and suddenly I was handing over money.
When I spoke to a sales rep about the most recent Honda VFR800 (a black one that I didn't buy), he called it an "8th gen". An 8th gen?? What were the other gens? I was really curious because the VFR800 has been produced since 1998, but I couldn't remember that many changes.
I learned a few interesting things, including
The VFR generations started with the VFR750 quite a long time ago, and the 1st gen is actually a VF and is almost unobtainable
Some of the VFR generations were short, and some were very long (like 5th gen)
There were breaks between some generations when Honda went back to the drawing board
And more things.
Here they are — all the Honda VFR generations and model timeline.
General disclaimer — Honda didn't name these generations — fans did. There's dispute about some of them, like whether the VFR1200 belongs in the timeline. I accept that there are disputes, but I'm trying to present here a generally accepted timeline that I see referred to in forums like VFRWorld, and so on. I've really tried to research this, but if you disagree, I'm a willing student.
Despite that disclaimer, and despite forum controversy like "Is the 7th gen really part of the same series?" people still generally call the 5th gen a 5th gen and an 8th gen an 8th gen, even though there's disagreement about what goes before and between them.
Updates / Corrections
* More detail about the 5th gen, which seems to be holding as a classic
* Corrected actuation point to 2006 (thanks to a commenter)
* Typos here and there
Are you obsessed with motorcycles?
Well, I am. That's why I created this site — as an outlet. I love learning and sharing what others might find useful. If you like what you read here, and you're a fraction as obsessed as I am, you might like to know when I've published more. (Check the latest for an idea of what you'll see.)
Honda VFR generations and model history in a nutshell
Here's a table outlining all the Honda VFR generations, from the Gen 1 to the Gen 8. (See my disclaimer above — I welcome being educated further on this.)
Things they all have in common — all models have liquid-cooled DOHC V4 four-stroke engines, pushing through a wet clutch and chain drive.
Another thing all VFRs have in common is the power. With the exception of the Gen 7 VFR which some say isn't part of the same series, since the 90s they have all produced around 75 kW or 100 hp. This is in that "neither crazy fast nor boringly slow" sweet spot that pleases a lot of riders.
Generation
Gen 1*
Gen 1/2*
Gen 3
Gen 4
Gen 5
Gen 6
Gen 7
Gen 8
Model name
VF750F Interceptor
VFR750F
VFR750F
VFR750F
VFR800Fi Interceptor
VFR800 VTEC
VFR1200F
VFR800F, VFR800D
Model code
RC15
RC24, RC26
RC36
RC36-2
RC46
RC46
VFR1200F
RC79
Years
1983-1985
1986-89
1990-93
1994-1997
1998-2001
2002-2013
2009-2017
2014-2016
Core features/ changes
Race bike
Gear-driven cams. More relaxed riding position
* More sport-touring (alongside Hurricane sport bikes)
* Showa Cartridge forks
* Single-sided swingarm
* Larger tyres
* Final 750cc
* Final carburettors
* Improved braking
8 Adjustable rear shock
* Fuel injection (PGM-FI)
* Last with gear-driven cams
* VTEC
* Linked braking
* Chain driven cams
* Optional combined ABS
* Much bigger 1200 engine
* Optional DCT (auto)
* Shaft drive
* Comfortable position

* Digital display with tach, gear, fuel consumption
* Deluxe model with ABS, traction control, self-cancelling turn signals, and heated grips
Engine
748cc V4
748cc V4, 698cc (RC26)
748cc V4
748cc V4
781cc V4
781cc (VTEC)
1,237cc V4 (No VTEC)
782cc V4 (VTEC
Max power
64 kW (86 hp)
82 kW (110 hp)
75 kW (~101 hp)
75 kW (~101 hp)
81 kW (108 hp)
80 kW (107 hp) @ 10,500 rpm
127 kW (170 hp) @ 10,000 rpm
78 kW (105 hp) @ 10,250 rpm
Weight (wet)
248kg (546 lb)
236 kg (520 lb)
253 kg (556 lb)
226 kg (498 lb)
235 kg (518 lb)
218 kg (481 lb)
267 kg (589 lb)
240 kg (529 lb)
Honda VFR generations in a nutshell
* There's some debate about whether Gen 1 is actually a VFR, as it starts with VF. An alternative view is that Gen 1 is 86-87, and Gen 2 is 88-89.
Gen 1 (or 0) VF (pre-VFR): Honda Interceptor VF750F (RC15), 1983-1985
Yes, the first generation wasn't a VFR, but a VF. (Note — some people don't agree with this, and split the next generation into two.)
Main innovative features for the 1st gen Honda VFR:
V4 engine from the Honda Magna VF750C and Sabre VF750S, but tuned to make 6kW (8 hp) more — by way of a newly designed airbox
Five-speed transmission, chain drive (the Magna is shaft-driven)
Slipper clutch (made the clutch slip on hard braking to stop the rear tire from bouncing) — first on a street bike
Chain-driven cams
Fully adjustable Showa suspension
Honda built the Honda VF750F as a street replica of a race bike to allow their V4 race bikes to compete. This was in accordance with then-new AMA superbike regulations that bikes be production based.
So the Honda VF750F was made as a very high-quality bike, as close to race spec as possible.
On the other hand, the VF750F (and other V4 motorcycles of this generation) had an engine problem where camshafts would wear very quickly. Honda fixed this problem when they realised there was too much clearance in the camshaft bearings and that the cam lobes were not hardened correctly in the manufacturing process, leading to them wearing out quickly.
Honda set out to fix this with the 2nd generation VFRs from 1986.
Note — the first generation (if you accept the VF as a generation) includes VF1000 and VF500 models as well (which irks some people because it stretches the definition of "generation", but I find that groups related to the VF750 are welcoming of the other VFs of the same era).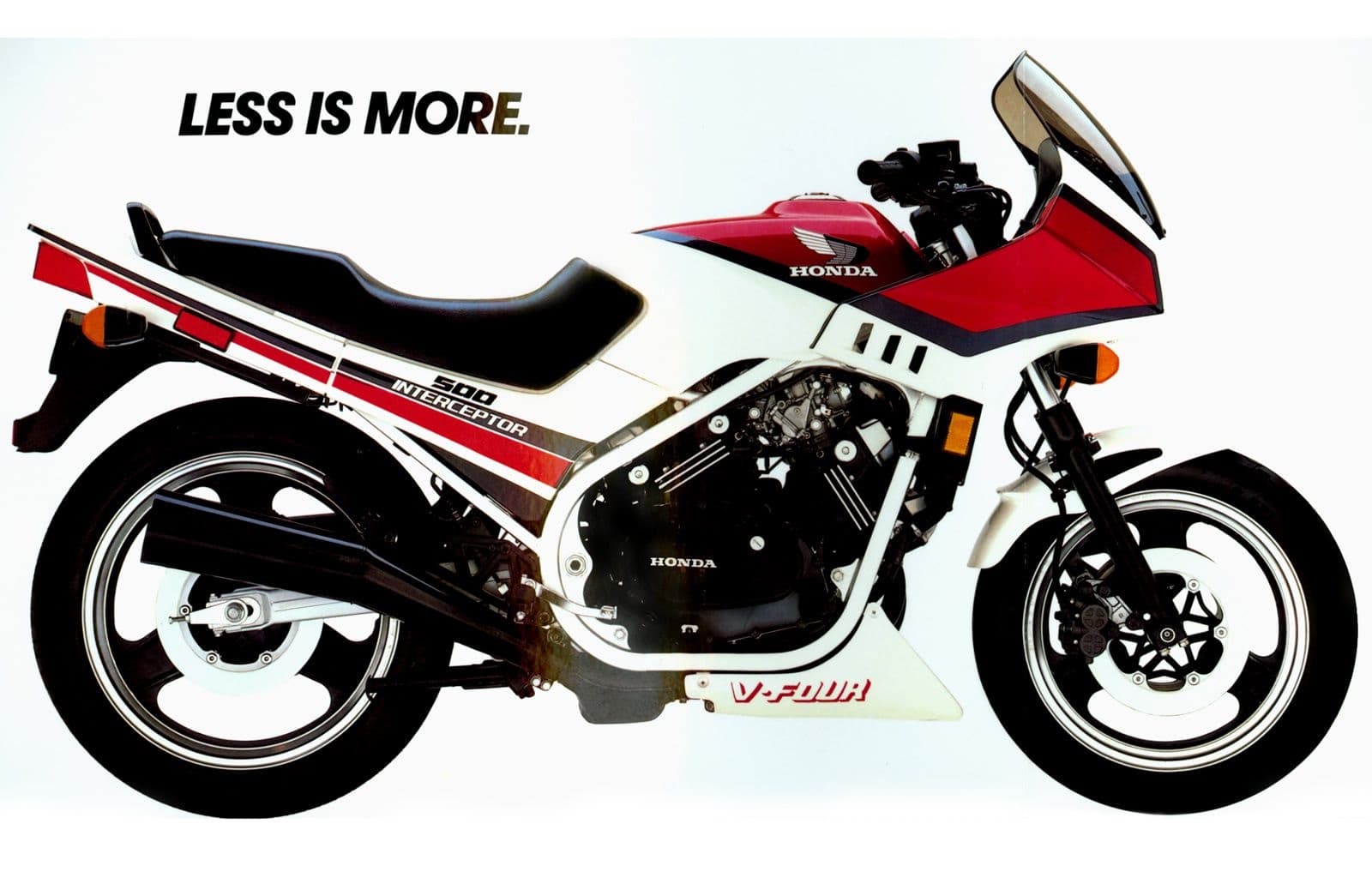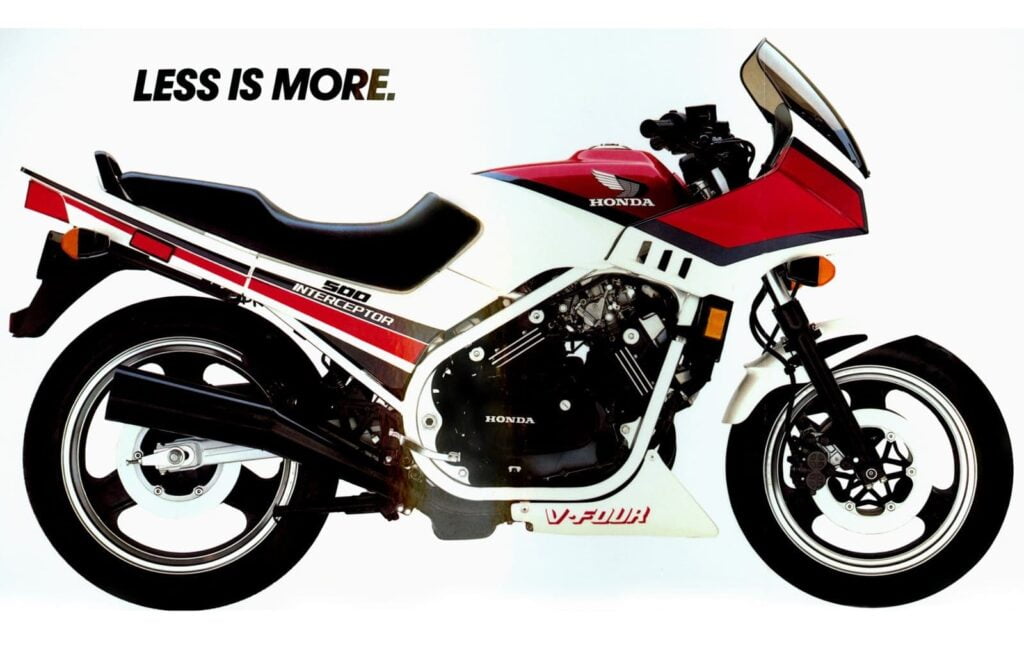 Gen 2 (or Gen 1 and Gen2) VFR — VFR750F (1986-1989)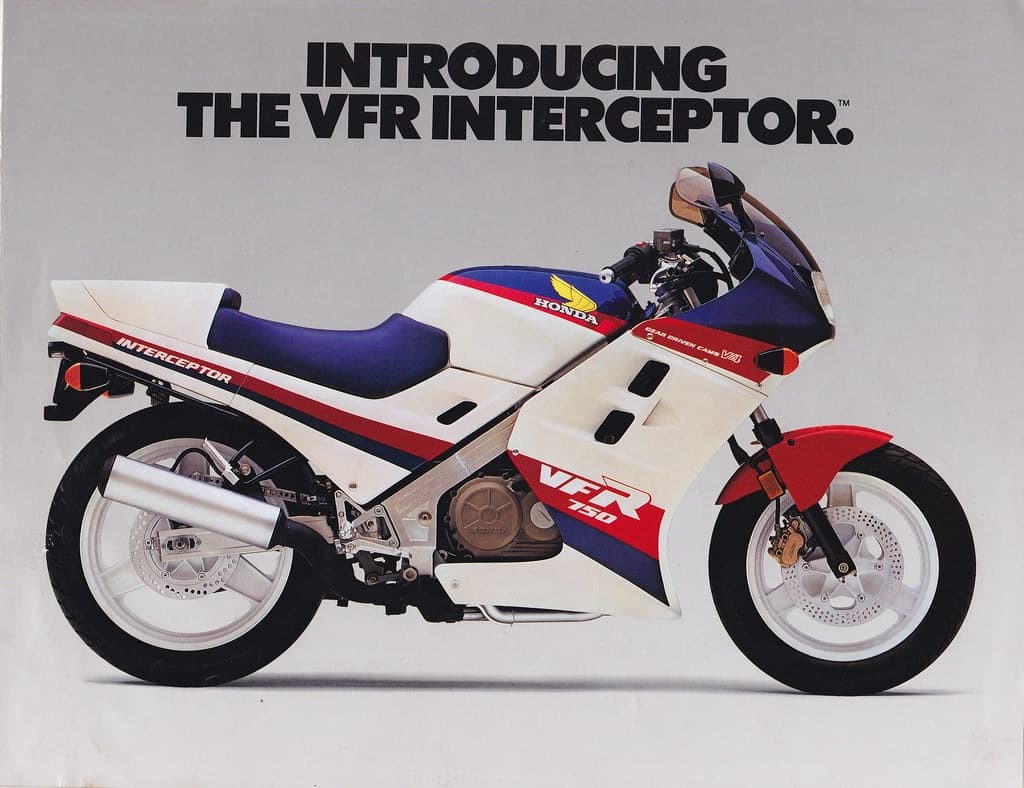 The first Honda VFR750F was Honda's attempt at fixing the notorious problems with the top end of the VF750 (and siblings).
Note: Some say these are two generations, the 1986-1987 and then 1988-1989 generations (1 and 2 respectively). It's a little dependent on whether you accept the VF750 as the 1st gen VFR.
The 1986-1987 gen Honda VFR is totally different to previous generations. Apart from the engine size, all parts in the engine and exterior are upgraded.
Some important changes were
About 10 percent less weight (20 kg, 44 lb) than the VFs
Gear-driven cams
A higher redline (11000, up from a previous 10000)
More horsepower — about 15kW (22 hp) more, according to the press releases, or 3 kW (5 hp) more according to a magazine test
Externally, the 2nd gen VFR is much less race-oriented. This is a street machine! Note, for example, the 18-inch rear wheel and 16-inch front, which was quickly changed by 1988.
Alongside the 748cc VFR750F, the US received a smaller VFR700F2, which was the same other than with a shorter-stroke engine and different tune to suit (different cams and altered timing). This was to beat tariffs imposed at the time on US motorcycles with capacity greater than 700cc, a protectionist measure designed to help Harley-Davidson survive.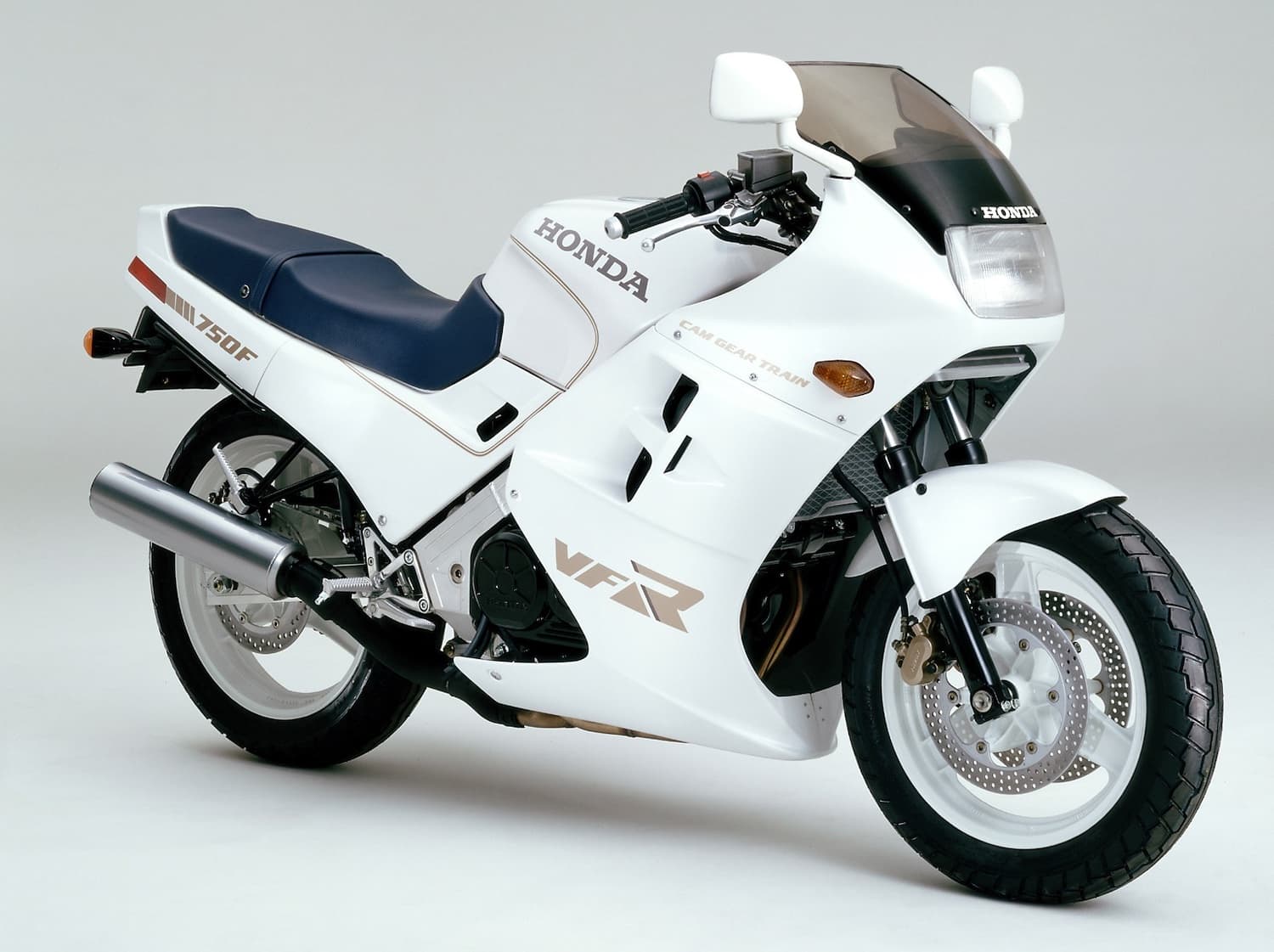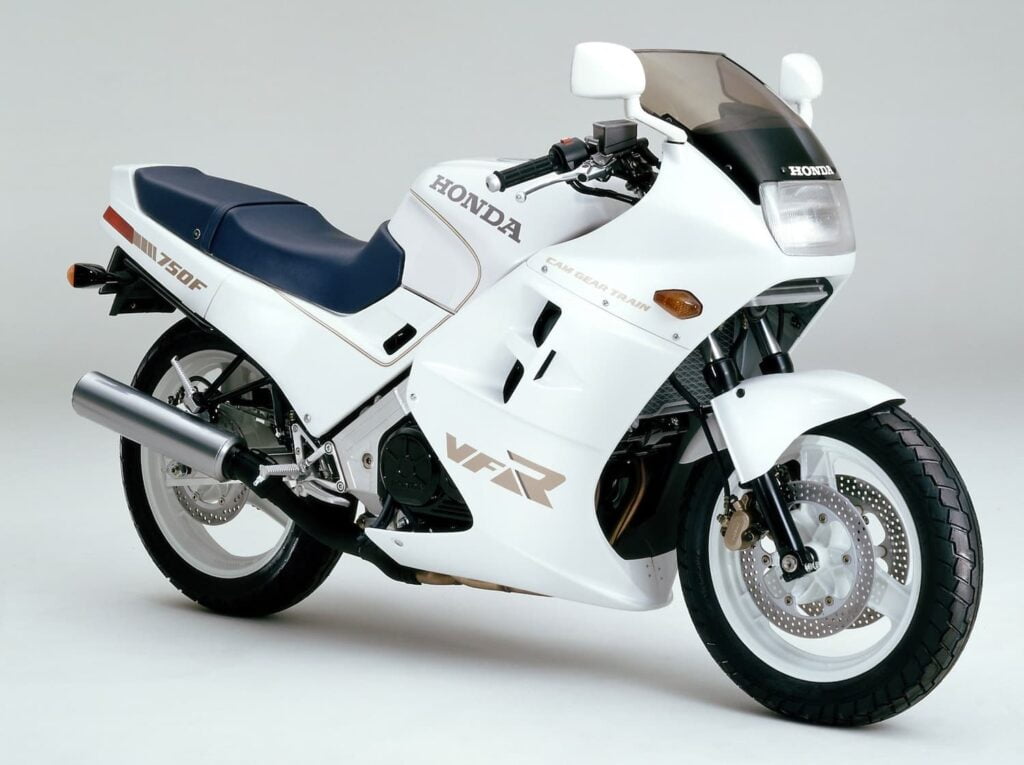 In 1988-1989, Honda made a revision to the VFR750 which was never imported into the US. This is sometimes called the 2nd gen VFR. This revision had
A two-position flip-up screen
Stronger fork legs (up to 41mm from 37mm)
17-inch wheels front and rear (replacing the 18/16 pair from the earlier VFR)
More reliable ignition
Larger valves, larger carbs
Upgraded gearbox shift mechanism
Clock and fuel gauge
Bolt-on pillion footrests (rather than part of the rear subframe)
The stronger fork legs and 17-inch wheels, in particular, made this a desirable upgrade, so some Americans are salty that it never hit their shores.
3rd Generation VFR — RC36 VFR750F (1990-1993)
The 3rd Gen VFR was a huge update — mostly because of that beautiful single-sided swing-arm!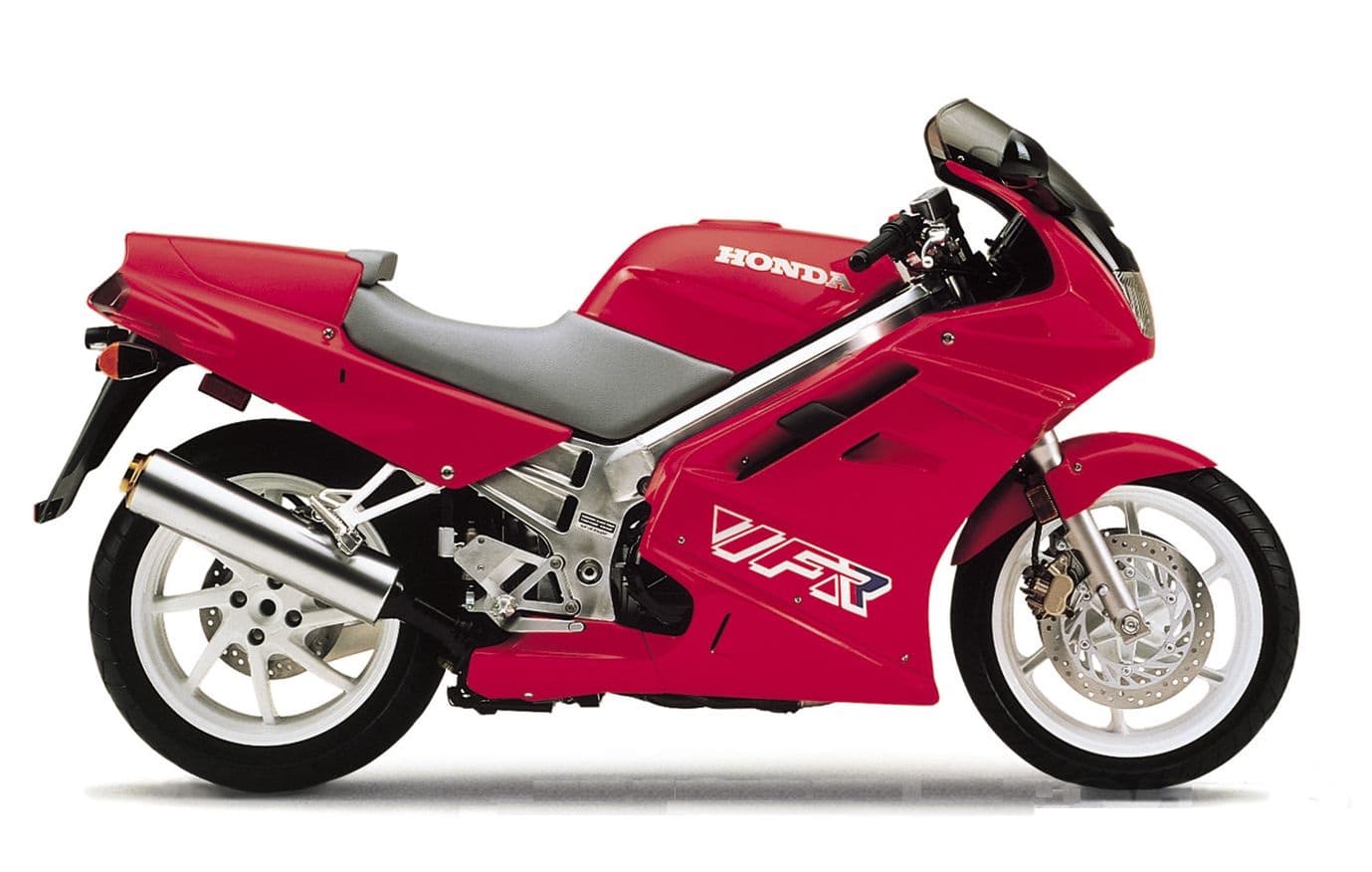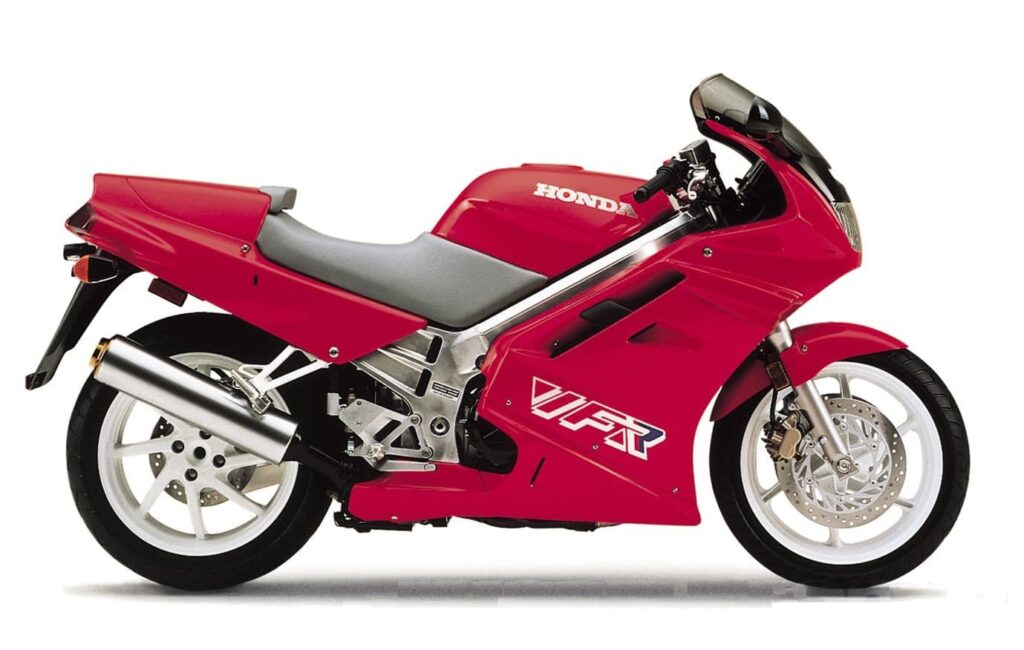 New for the 3rd generation VFR750F:
Single-sided swing-arm, henceforth a feature on every VFR
No more "Interceptor" name
Larger diameter front fork with cartridge dampers (for wider front tyre)
17-inch wheels (introduced in 1988, but that model wasn't imported into the US)
More weight (14 kg / 30 lb)
Honda dropped the "Interceptor" name from the 3rd gen VFR in response to insurance companies penalising owners with names like that in their motorcycles.
But the basic VFR750 was the same. It was still a 748cc dual-overhead-cam V-four with an aluminium frame — and now, a single-sided swing-arm.
The engine of the 3rd gen VFR750F still made 75 kW (100 hp). Unfortunately, the new model was also some 14 kg (30lb) — more or less, depending on which source you find — heavier. The bike is still fast enough though as a sport-tourer rather than an all-out sportbike (remember, this bike was produced in the era of the CBR900RR).
This generation of the VFR won Cycle World's Ten Best award every year of its existence. They consider the next generation ('94-'97) the same generation, and also awarded it then.
As with all VFRs, the third-gen VFRs were known for being versatile, usable either as racetrack stars or backroad bombers. And the V-four engine makes a unique sound matched by few.
4th generation VFR — RC36-2 VFR750F (1994-1997)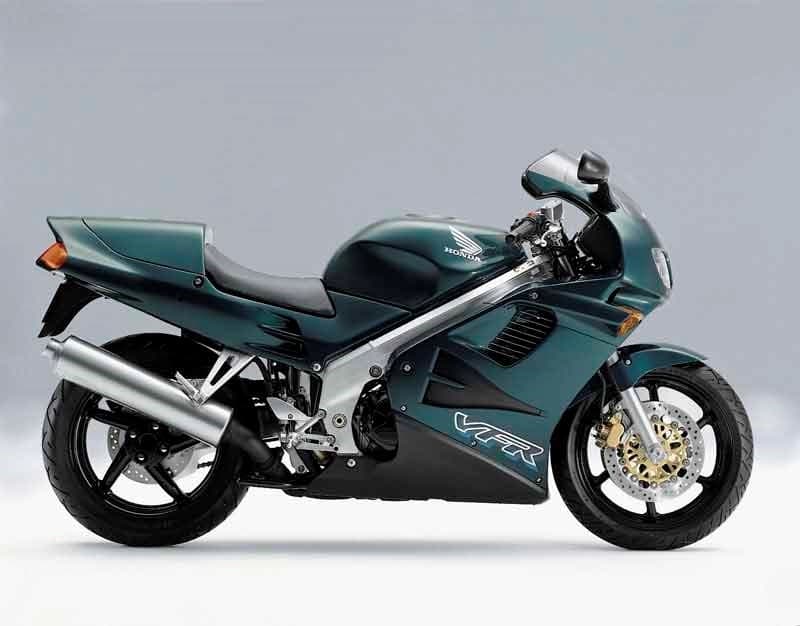 In 1994, Honda made enough revisions to the VFR750 to warrant fans calling it another generation. Honda claimed to have made some 300 changes to the VFR750 4th gen.
Some of these were
New bodywork, styled after the NR750 (the super-expensive superbike with oval pistons)
Many tweaks to reduce weight, including wheels, dropping it 8-16 kg (16-30 lb) depending on whose scales you use
Revised cartridge forks (lighter, but stronger) and swingarm (ditto)
Last of the 750cc models, last of the carburettor-fed models (with smaller 34mm carbs)
New design lighter 4/2/1 exhaust for better throttle response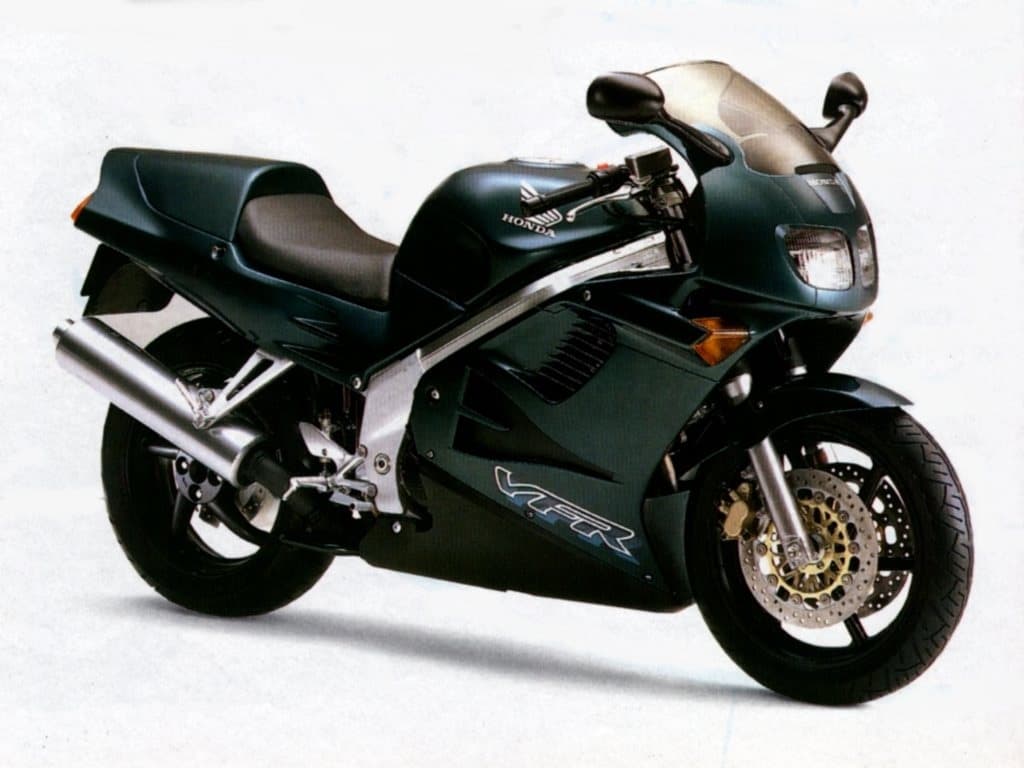 The 4th gen won as many accolades as did the 3rd gen, for much the same reasons — it's a great all-rounder. The improvements from the lighter weight were welcome, of course.
The 4th gen was the last of the VFRs to be fed by carburettors, which makes it somewhat of a collectible motorcycle.
Even though they're long in the tooth, owners of VFRs tend to be fastidious, and apart from the general signs of aging (older plastics, and a higher fail rate on parts), you can still find them in reasonable condition if you're patient.
But you'll still end up spending similar money to what you'd spend on a much newer (and less unique) motorcycle.
5th generation VFR800 Interceptor (1998-2001)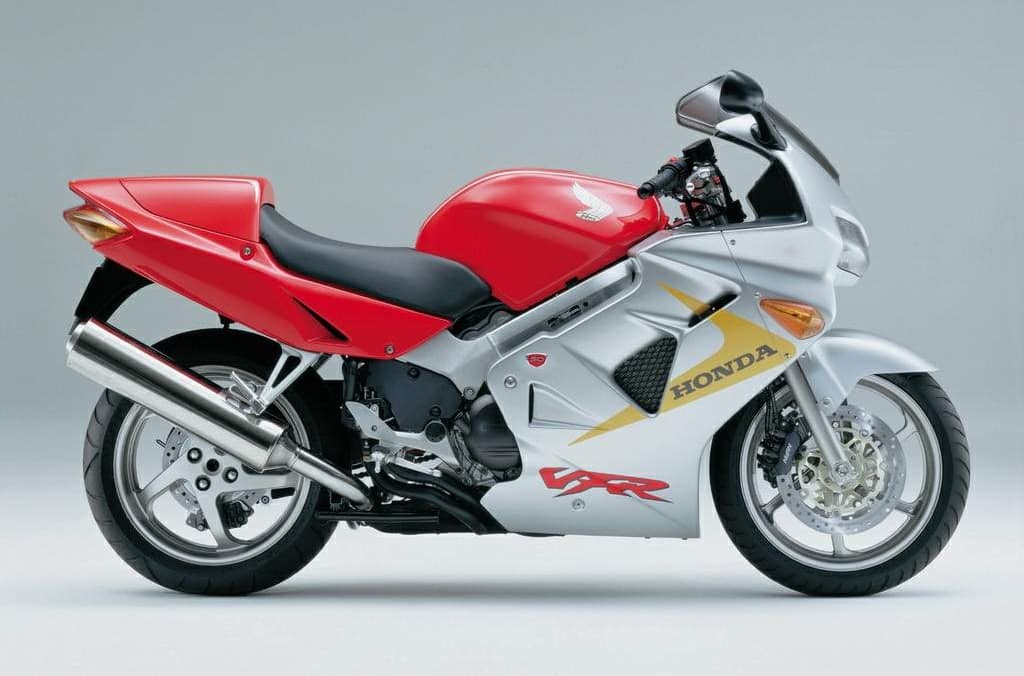 The 5th gen is one of the favourite models of all VFR owners, simply because they have fuel injection, no VTEC, and gear-driven (rather than chain-driven) cams.
Why gear driven cams? Because they have an awesome whine! But it's not just that — owners believe them to be more reliable. There's no chain to wear, and no cam chain tensioner to replace.
Want to hear what they sound like? This is a pretty good video on YouTube showing what they sound like when accelerating away.
New for the 5th generation VFR800:
Larger capacity engine — 781cc (squarer with a slightly larger bore, slightly shorter stroke — see our guide to bore and stroke)
Fuel injection replacing the carburettors of the 4th generation.
Return of the name "Interceptor"
Dual combined braking system (not ABS). The rear brake is attached to the front brake and applies proportionally. Both the hand lever and foot pedal each control the front and rear brakes.
Digital dashboard
Last model with gear-driven cams. The chain-driven cams in the 6th gen proved a little problematic.
The 5th Gen VFR is, like models before it, more than the sum of its parts. It handles like a dream. Even when being wheelied. One reviewer said that it's "unfeasibly controllable when lofted… in fact, it would have been rude to not have turned the bars from lock to lock whilst in the air to demonstrate". OK, point taken.
The new Honda VFR800 was a homologated version of the race spec RC45, not just a bored out VFR750. The engine, mounts, and many other components were all changed. But the spirit remained the same — a touring-oriented but very sporty V4 motorcycle.
The engine is still a gem, producing 95 rear wheel horsepower at 10000 rpm.
Interim update — 5th gen 2000-2001
In 2000, the 5th gen got some updates, including
A closed-loop fuel injection mode, meaning it would cruise at higher efficiency (see our guide to closed / open loop fuel injection)
A catalytic converter (assuming the exhaust is still stock)
Temperature-actuated fast idle, negating the need for a choke lever
The 2000-2001 VFRs are very well-loved. Posts on VFRworld wax lyrical about them being some of the best VFRs — nay, motorcycles — ever built.
That said, you may opt for a 1998-1999 version without the oxygen sensors and cat. Less weight, fewer failure points… though it may drink a little more fuel.
6th generation Honda VFR (2002-2013)
New features for the 6th gen
Engine overhaul, still a DOHC fuel-injected 781cc V4, but now making 81 kW (110hp) @ 10,500 rpm, and 82 Nm (61 lb-ft) @ 8,500 rpm
VTEC valve actuation — two-stage valves that change from two valves per cylinder to four mid-way through the rev range
Styling makeover with sharp, angular look, replacing the smooth lines of the Gen 5
Chain-driven cams (replacing gear-driven cams)
Linked front and rear brakes
Optional ABS in the later years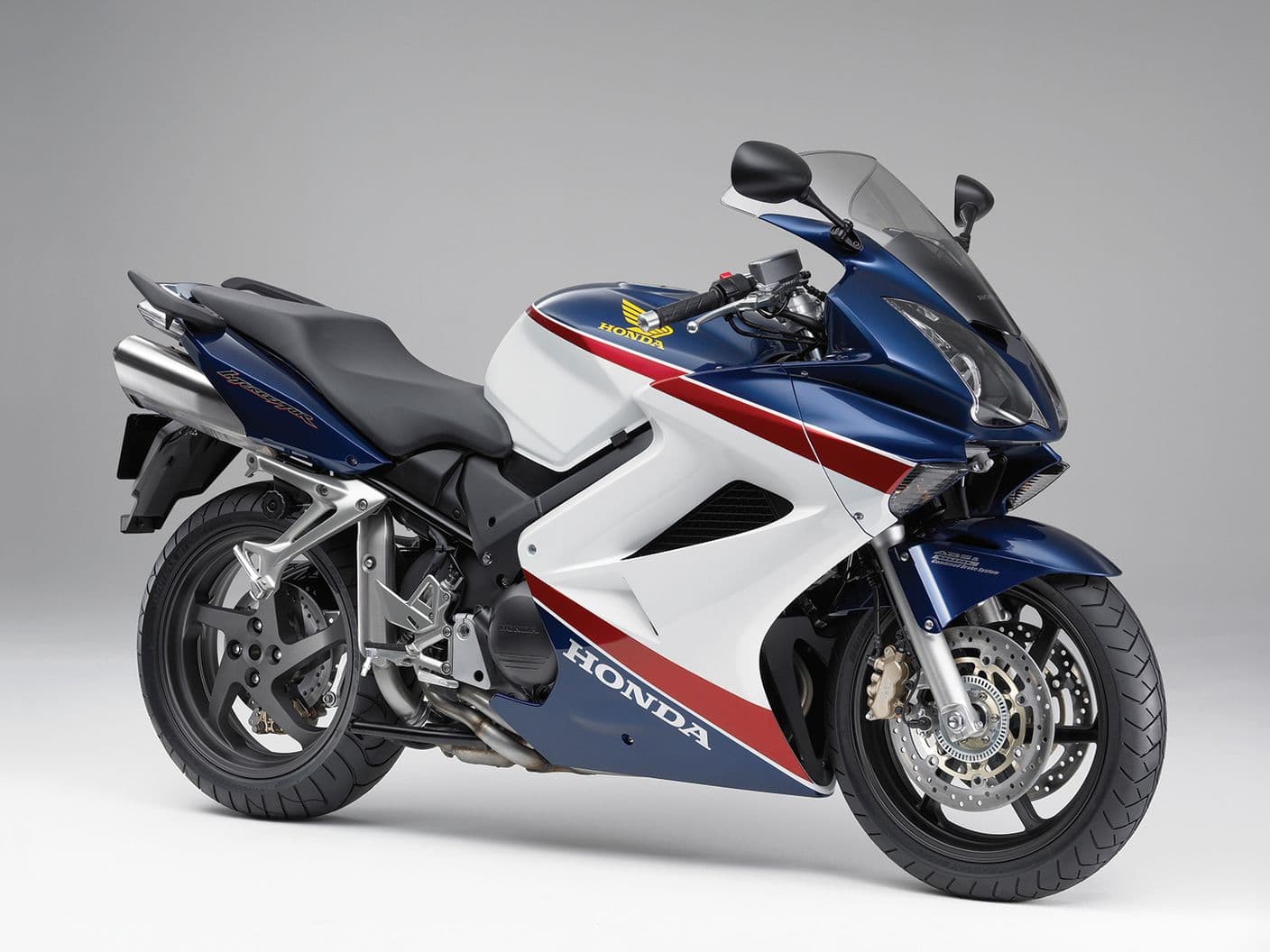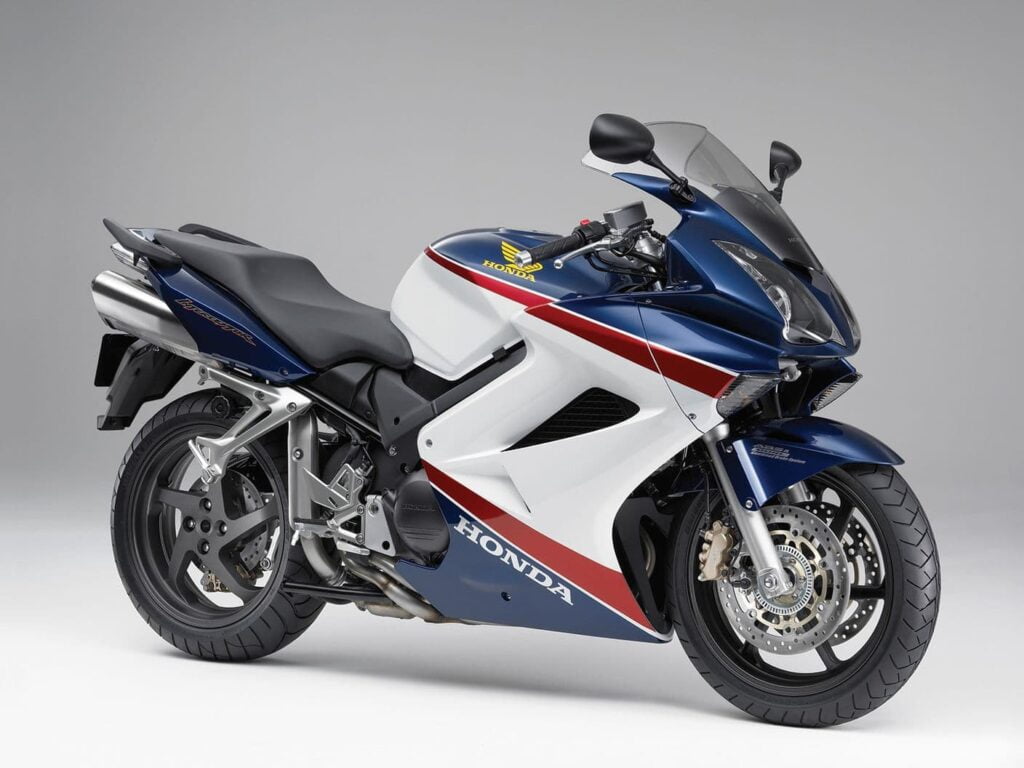 The most significant change to the 6th gen VFR800 was the VTEC valve actuation, which opens up two more valves at higher RPM. On the earlier models this was at 7000 rpm, but by later models in the generation this was lowered to 6400 rpm.
The VTEC valve actuation system works by only allowing two valves out of four valves in each cylinder to be opened by the camshafts. A controller opens up the other two valves at higher RPM. What the controller actually does is engage send power to a solenoid which actuates an oil spool valve (a sliding pin). The valve then sends oil pressure to the lifter actuators, and positions their spring-loaded engagement pins above the valve stems to initiate actuation of the remaining two valves.
The goal of VTEC is to have the torque-forward benefits of a two-valve engine at low RPM, and high power at higher RPM.
Unfortunately, VTEC was an unwelcome addition for many VFR lovers. The early models (before 2007) had what many people called "abrupt" VTEC valve actuation, which could be alarming when coming out of a corner — a bit like a turbocharger coming on after turbo lag.
I'm pretty sure that you could call the VTEC lag "character" if you wanted, and with the passage of time, it is becoming a historic curiosity, like the turbocharged CX500 Turbo. Not necessarily a great idea, but super cool to have in the garage these days.
To counter this abrupt VTEC actuation, Honda changed the ECU mapping to engage VTEC at 6400 RPM for the 2006+ models. This made for a smoother transition. At the same time, Honda made ABS standard.
The only other consumer motorcycle that had VTEC, by the way, was the Honda CB400 Super Four, a 399 cc inline four standard. Check out its history here.
Another significant change for the 6th gen was the move to chain-driven cams. The goal of this move was to reduce weight and noise, but many VFR owners actually loved the whine of gear-driven cams, and didn't want another thing to maintain periodically (though very infrequently).
The ABS model of the VFR800 also has a rear preload adjuster knob. For the non-ABS models, you have to use a C-spanner.
Finally, the 6th gen retained linked braking, which some people complain about (but which, in most street usage, is not noticeable by many riders).
6th Gen X — VFR800X Crossrunner (2011-2014)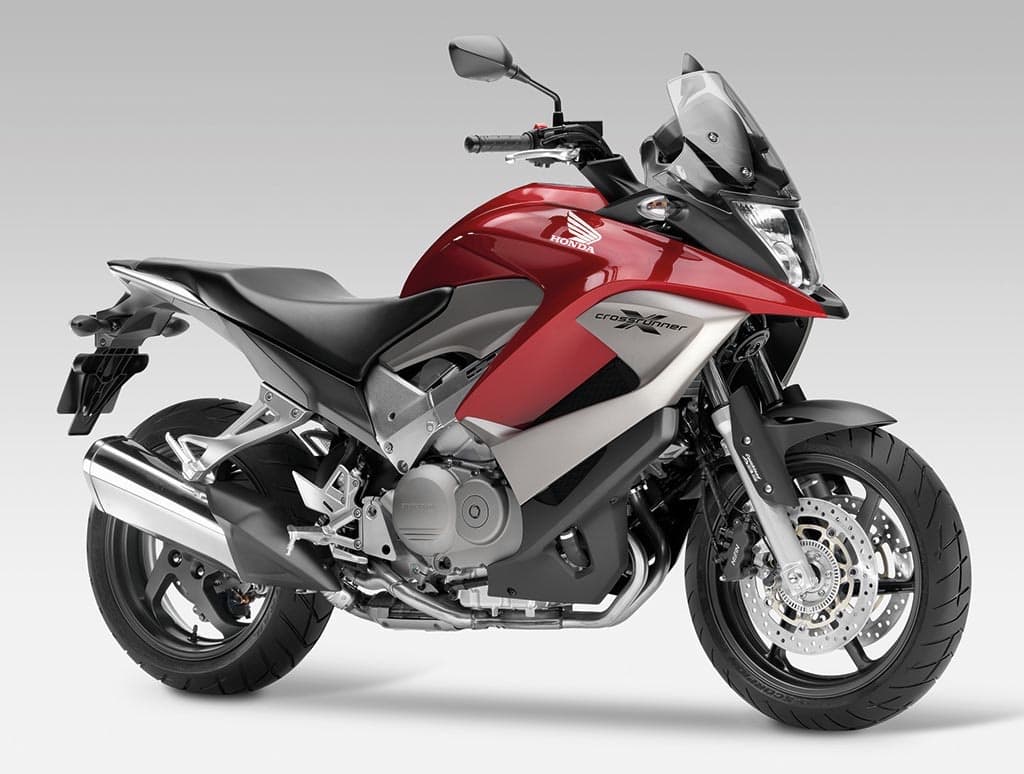 Not really a generation by itself, but in 2011 Honda introduced the VFR800X Crossrunner in many markets (though not in the US).
The Crossrunner is a VFR800 but in touring form. Same engine, but with a different riding position that's more upright, supported by taller handlebars.
The Honda VFR800X Crossrunner has a slightly detuned engine that makes 74.9 kW (100.6 hp) @ 10000 rpm, with max torque of 72.8 Nm (53.7 ft-lb) @ 9,500 rpm. Quite high rpms — still quite sporty, despite the upright position. The Crossrunner also comes with standard ABS.
Compared to the VFR800, the best thing you can say about the Crossrunner is that it's even more comfortable, and the worst thing you can say is that it doesn't look as good. Like many cult bikes, the Crossrunner is loved by its owners who have a slightly different priority set.
Honda later updated the VFR800X as well, incorporating changes from the 8th gen VFR.
7th Generation VFR — VFR1200F (2009-2017)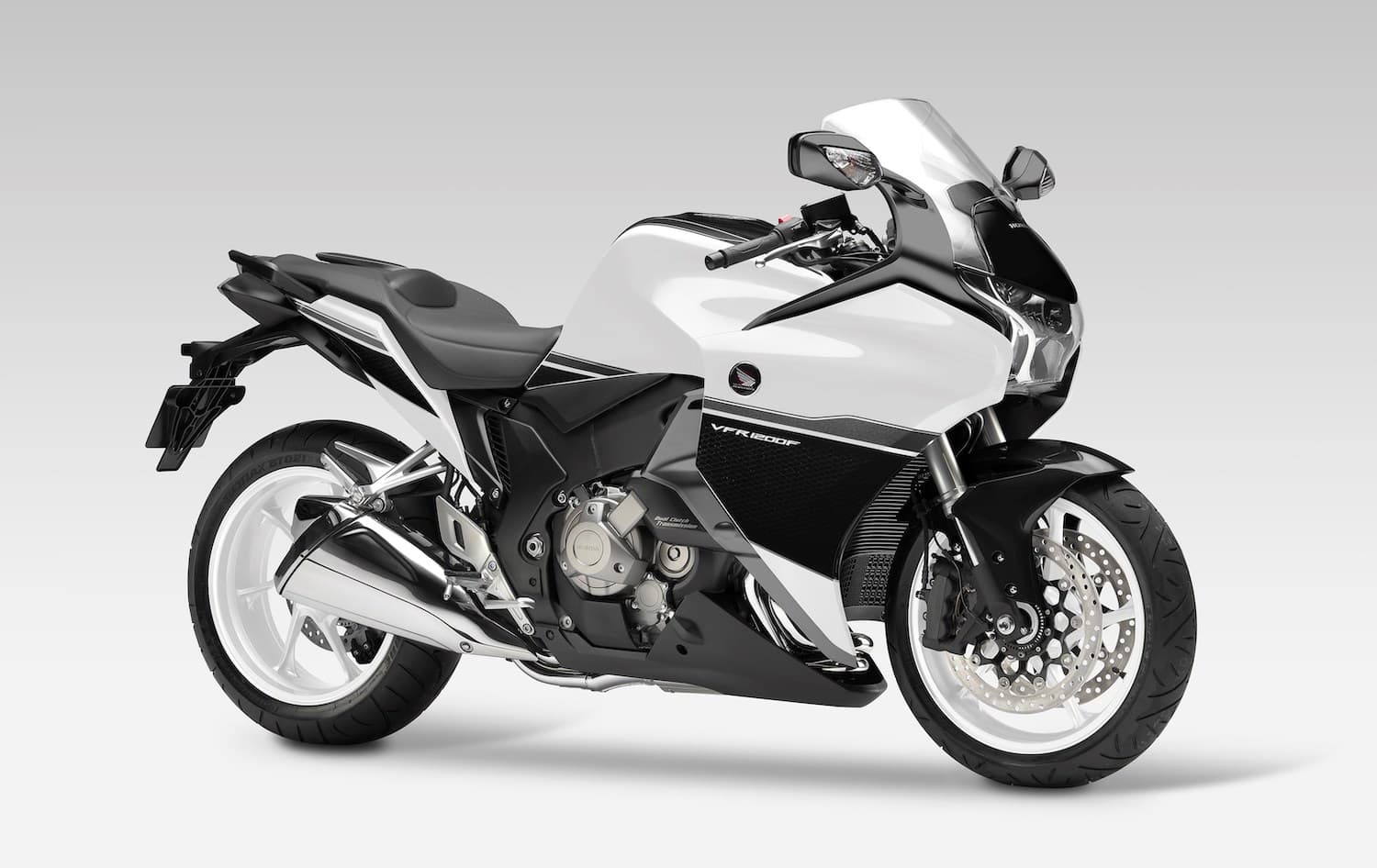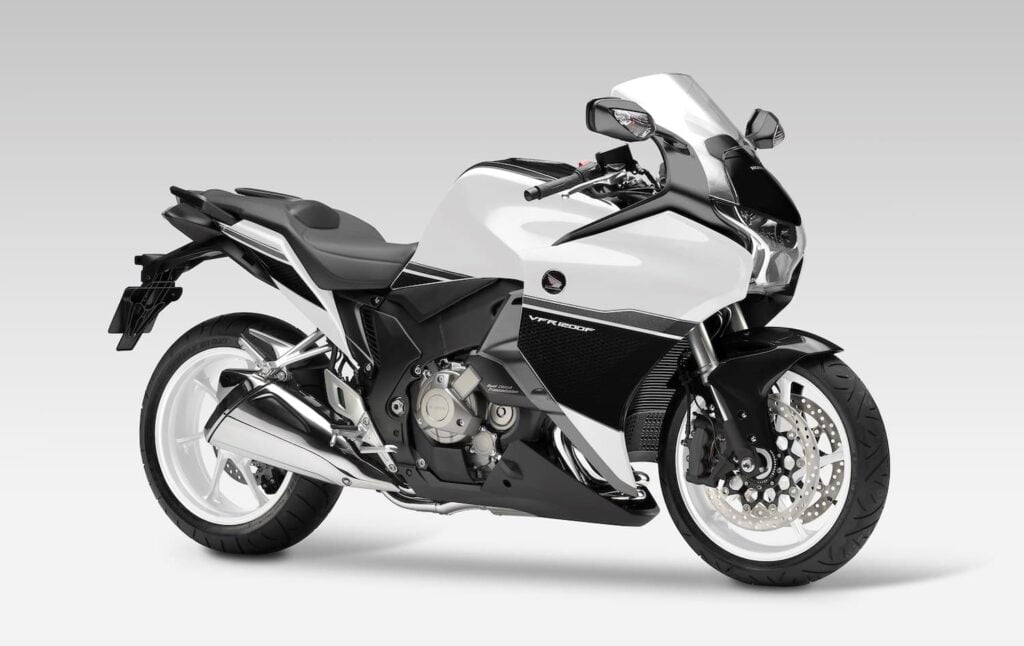 The 7th generation VFR is a bit of an outlier — it has a much bigger engine, is much heavier, and has a shaft drive. So much so that people claim it doesn't really long in the series of VFR motorcycles. Really, the most it has in common is a V4 engine, a general sport-touring riding position, and a single-sided swing-arm.
But the VFR1200F or "7th generation VFR" is a very different motorcycle. In fact, Wikipedia lists two motorcycles as its predecessors — the 6th generation VFR800 and the Honda CBR1100XX Super Blackbird, a high-speed touring bike! This bike took over from both those bikes.
Most VFR owners weren't convinced, as weren't Blackbird owners.
Honda made the VFR1200F from 2009 until 2017, adding a few colour schemes along the way.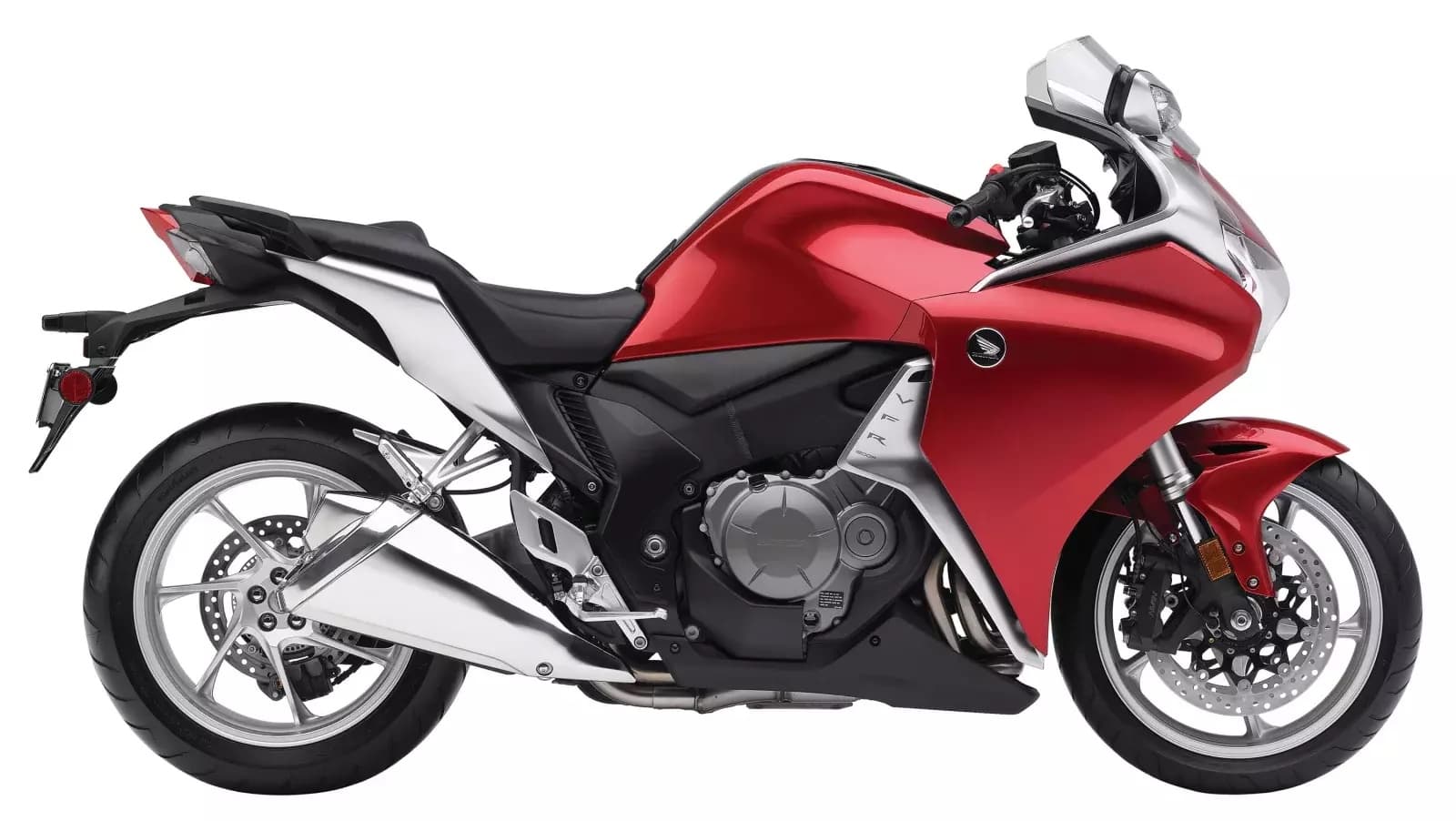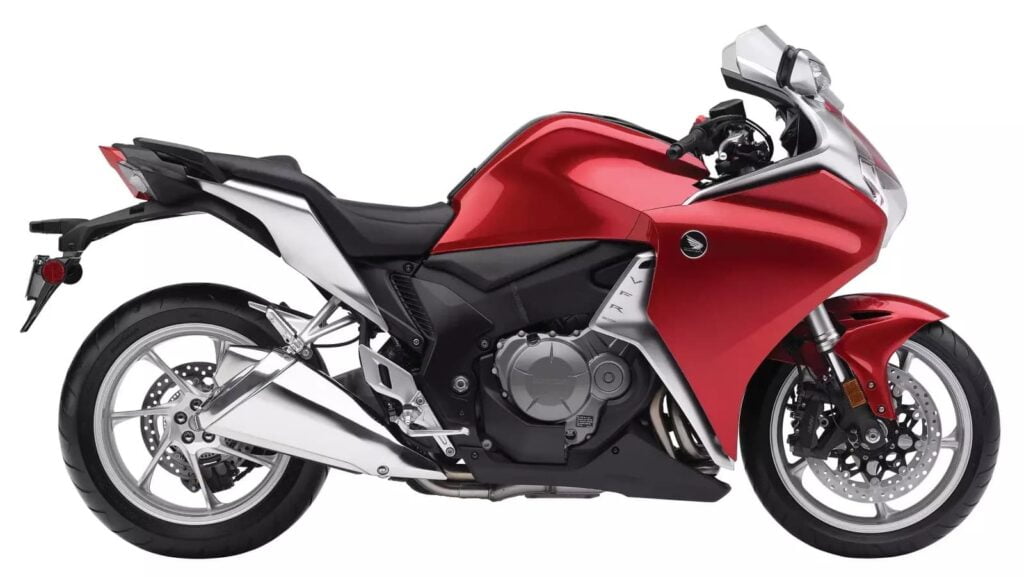 Here are the things that changed for the 7th gen VFR, the VFR1200F
Engine: 1,237cc 76-degree V4 (water cooled) — non-VTEC
Power: 127 kW (170 hp) @ 10000 rpm, and 129 Nm (95 lb-ft) @ 8750 rpm
Ride by wire including ABS and traction control (called Honda Selectable Torque Control)
Optional Dual Clutch Transmission (essentially automatic), called "DCT". Also has paddle shifters for manual shifting.
The DCT feature is important to mention because the VFR1200 was the first production motorcycle to have DCT. The same system has been a popular option in many subsequent Honda motorcycles, including the venerable Gold Wing, Africa Twin, and the new-for-2021 Honda Rebel 1100, along with a few other models along the way.
7th Gen X — Honda VFR1200X Crosstourer
Aside from the huge changes to the VFR, the VFR1200F also spawned an upright adventure-touring style motorcycle, the VFR1200X Crosstourer from 2012.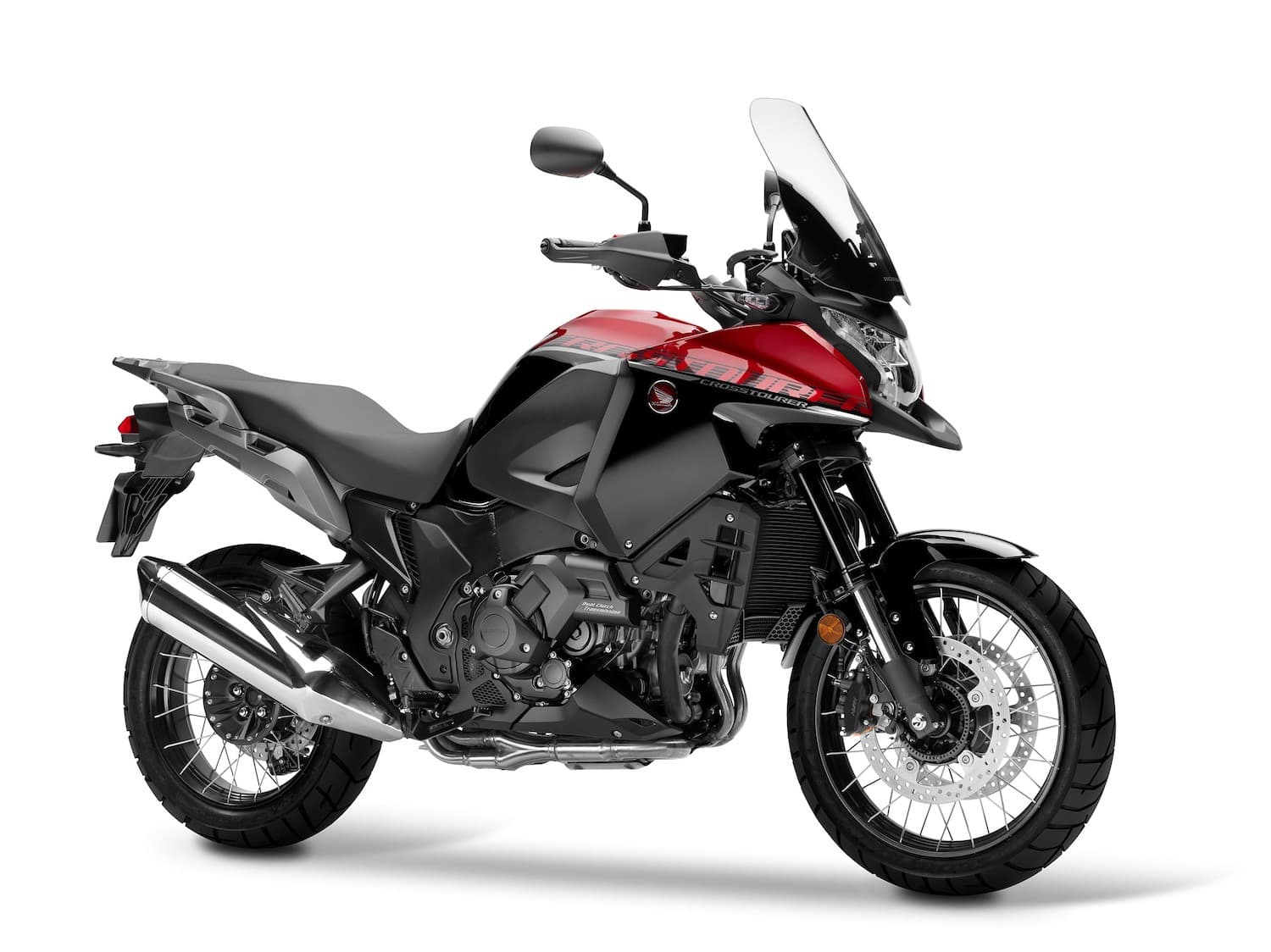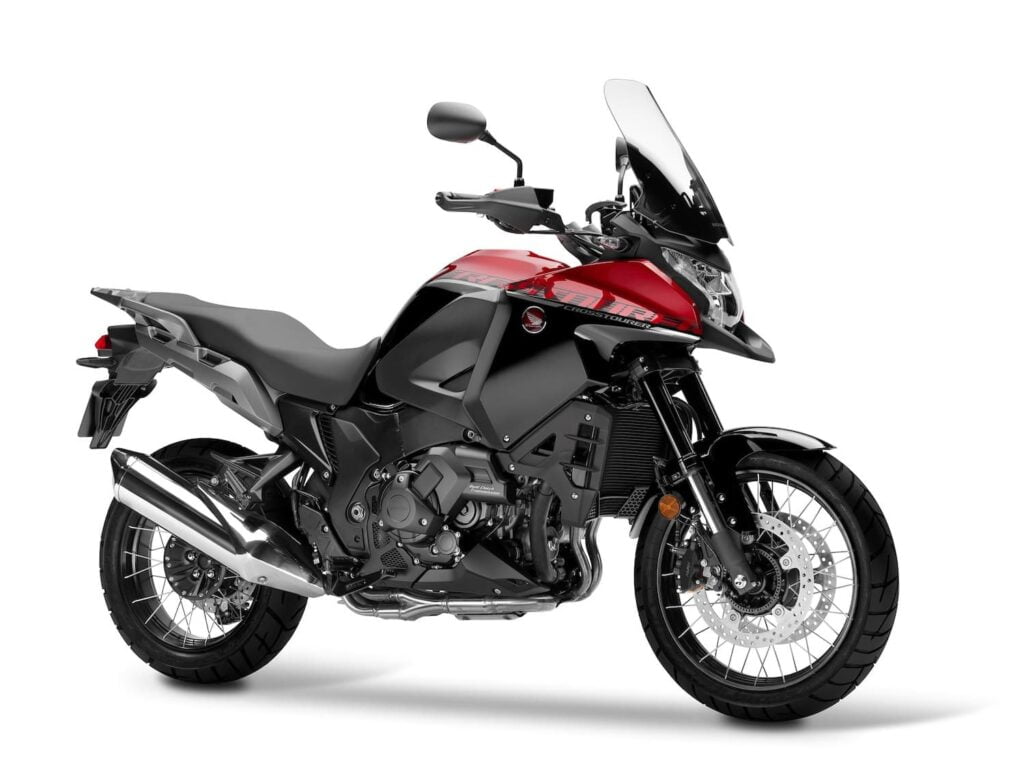 Much like the VFR800X Crossrunner is an upright version of the VFR800, the Crosstourer is an upright adventure-touring version of the VFR1200. It has the same 1,237cc V4 engine, but is tuned for lower power with a peak of 95 kW at 7750 rpm, and peak torque of 126 Nm at a significantly lower 6500 rpm.
The VFR1200X also has an adjustable screen, spoked wheels (still with tubeless tyres), and a range of luggage accessories.
The VFR1200X looks like a very compelling option for long-distance travel in the flesh — but didn't sell well next to the Africa Twin.
Oh, and if you don't like any of those options, consider the Ariel Ace, a Honda VFR1200F engine and some components in a radically different chassis. (Not a Honda, but I found the photo by accident and it looks cool.)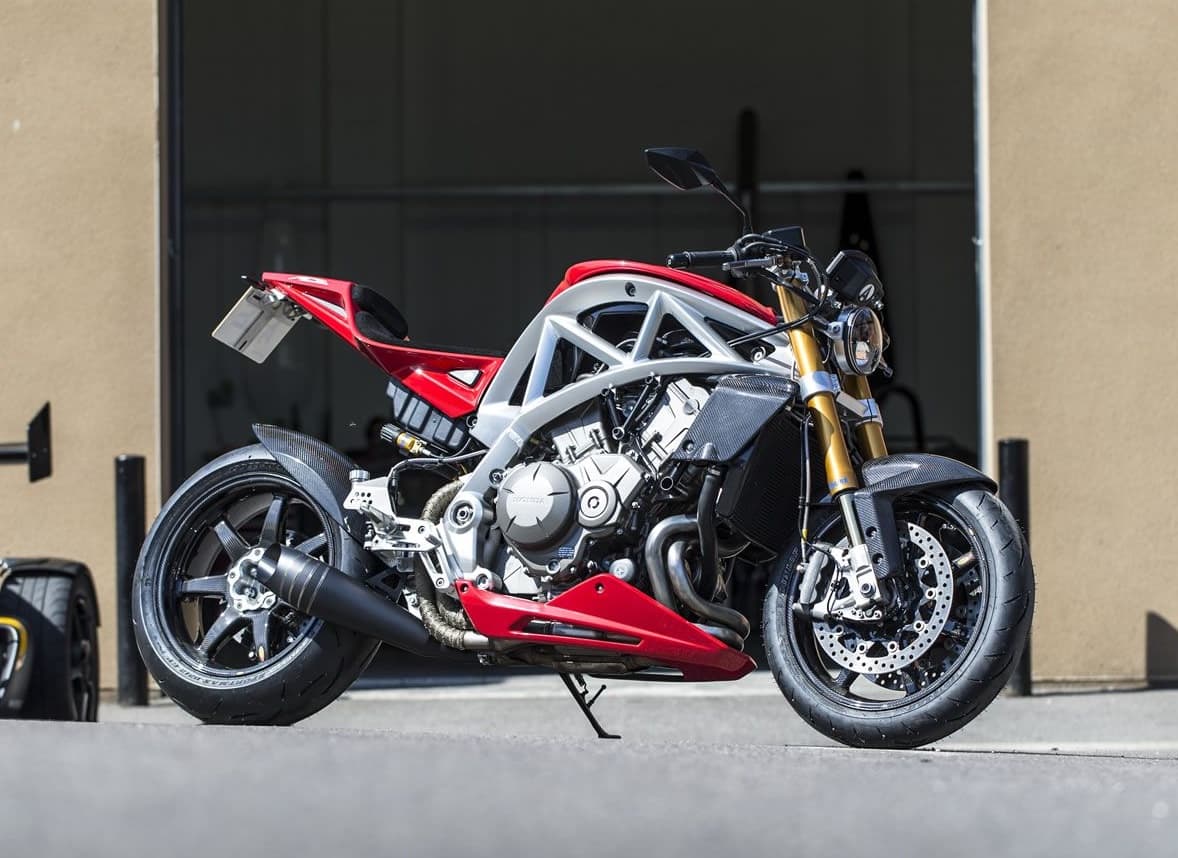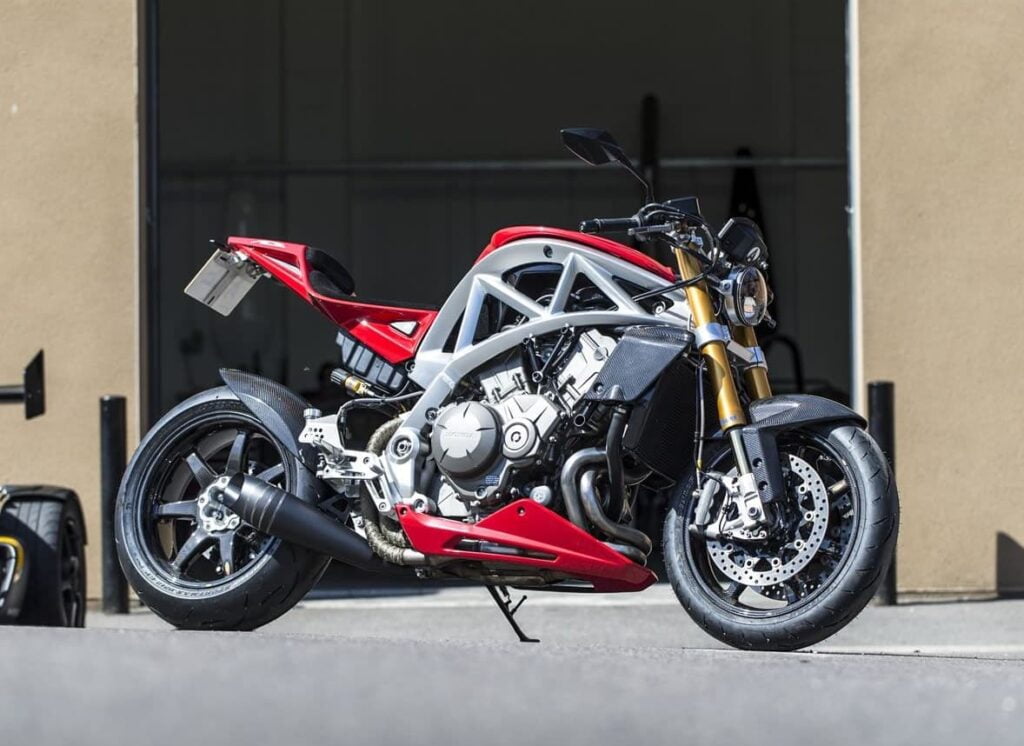 8th gen VFR — VFR800F (2014-2017)
Finally, the Honda VFR800F — the bike I ended up buying.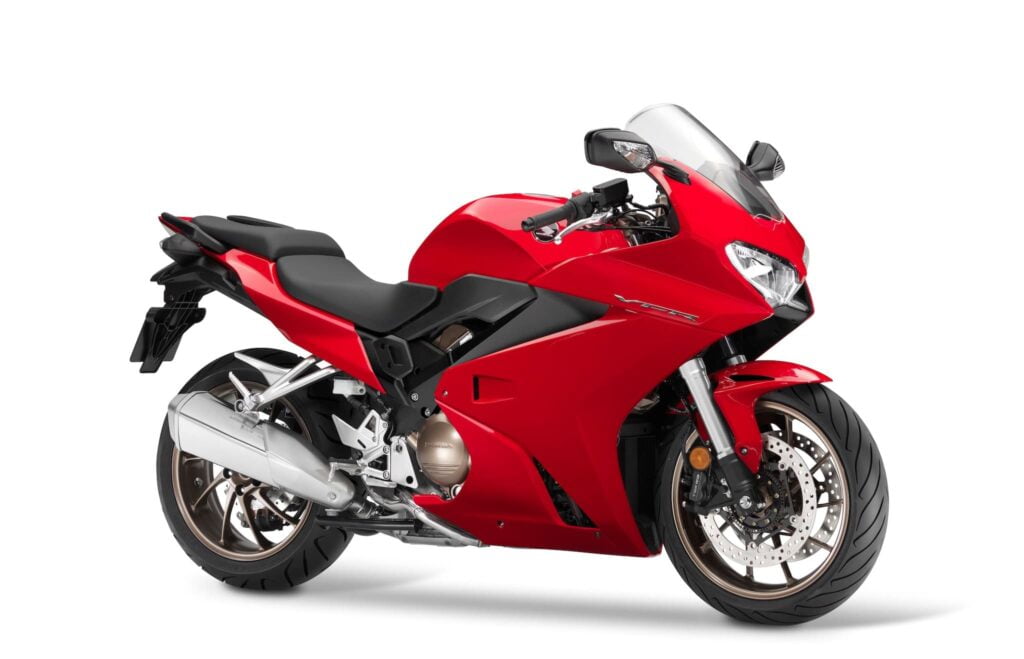 New for the 8th Gen VFR, the VFR800F:
Slightly re-tuned engine — still a 782cc 90-degree DOHC V4, but 78 kW (104hp) @ 10,250 rpm, and 75 Nm (55 lb-ft) @ 8500 rpm. Just slightly down on power and torque, but noticeable.
Standard Traction control (switchable)
Optional ABS (standard in some markets)
Optional factory bar risers that integrate very well
Optional luggage that looks really good (and not weird when it's not on)
International models and US deluxe model with standard ABS, heated grips, center stand
Last model VFR to be made…
The last gen Honda VFR was much like the previous versions. Except it didn't make more power — it made slightly less. And apart from that, not much was different at all — it wasn't like previous owners were clamouring for traction control or standard ABS.
I really like my VFR800 (here is my full review of it). It looks great, sounds wonderful, feels really nice to ride (a nice balance between vibrations and smoothness), handles intuitively, and has just the right amount of power for me to shift through gears without being in very illegal ranges.
The suspension is not fully adjustable and some call it "simple" — but I can hang (somewhat) off it around turns easily and it feels very stable, even to me, a non-professional rider.
It's unclear why the Honda VFR800 was killed off, but the headline reason was poor sales. The cause of the poor sales has been guessed to be:
High price vs really attractive competition — both the Yamaha FJ-09/Tracer 900 and Kawasaki Ninja 1000 were more powerful, lighter, and comfortable. And for the same price as a VFR800, you could get a high-power sportbike.
Declining sport-touring market as people gravitate towards adventure sport-tourers
Not different enough to warrant an upgrade from the earlier versions (for the VFR diehards)
Annoying pricing in the US — people wanted the Deluxe version at Standard prices. International markets just had one package (the "Deluxe" one).
So the VFR800 had a niche that was too small for it to exist. The leftover stock was heavily discounted and sold cheaply in the US.
But for those who were patient (like me), it's a lot of bike for a really attractive price. And it still has a few things that give it cachet.
Here's a few reasons to pick up an 8th generation VFR800:
A V4 engine: There are no bikes being made with a V4 engine that aren't high-powered Aprilias and Ducatis. They're great, but they are expensive to own.
Style: They look really good! The bodywork is elegant and minimalist. There are few affordable and recent used bikes being made with a single-sided swing arm, and almost zero from Japan, other than the Honda CB1000R.
Affordable rider aids: They have enough rider aids to feel safe — ABS and traction control (although I find the traction control too intrusive even for regular road riding)
There are, of course, downsides to owning a VFR800 8th gen. A few of these are
More expensive maintenance — VTEC in a V-4 engine under bodywork mean that valve services will be expensive, probably a full day of labour. Luckily, these only come up every 25600 km or 16000 miles.
It's a bit top-heavy — Compared to other modern sportbikes and sport touring bikes, the VFR800 8th gen is slightly cumbersome. It's not hard to handle, and definitely can perform very well in capable hands, but it doesn't glide into corners like many more advanced sport bikes (even older ones).
The traction control is a bit intrusive. I sometimes turn it off, even for moderately-paced street riding. But I don't like the warning display that comes up on the dash.
If you put up with minor annoyances (and all motorcycles have them), the VFR800 8th gen is a lot of motorcycle for the money. I eventually replaced it, but took a major hit in convenience — the bike that came after it lacked heated grips, comfort, convenient luggage options, a center stand, and other stuff. (It did, however, have twice the power, and a lot more character…)
8th gen X — Honda VFR800X Crossrunner, 2nd gen (2015+)
In 2015, Honda updated the VFR800X, incorporating a lot of updates made to the 8th gen Honda VFR800. By the spec sheet, the engine appears to be exactly as it is in the 2014+ VFR800.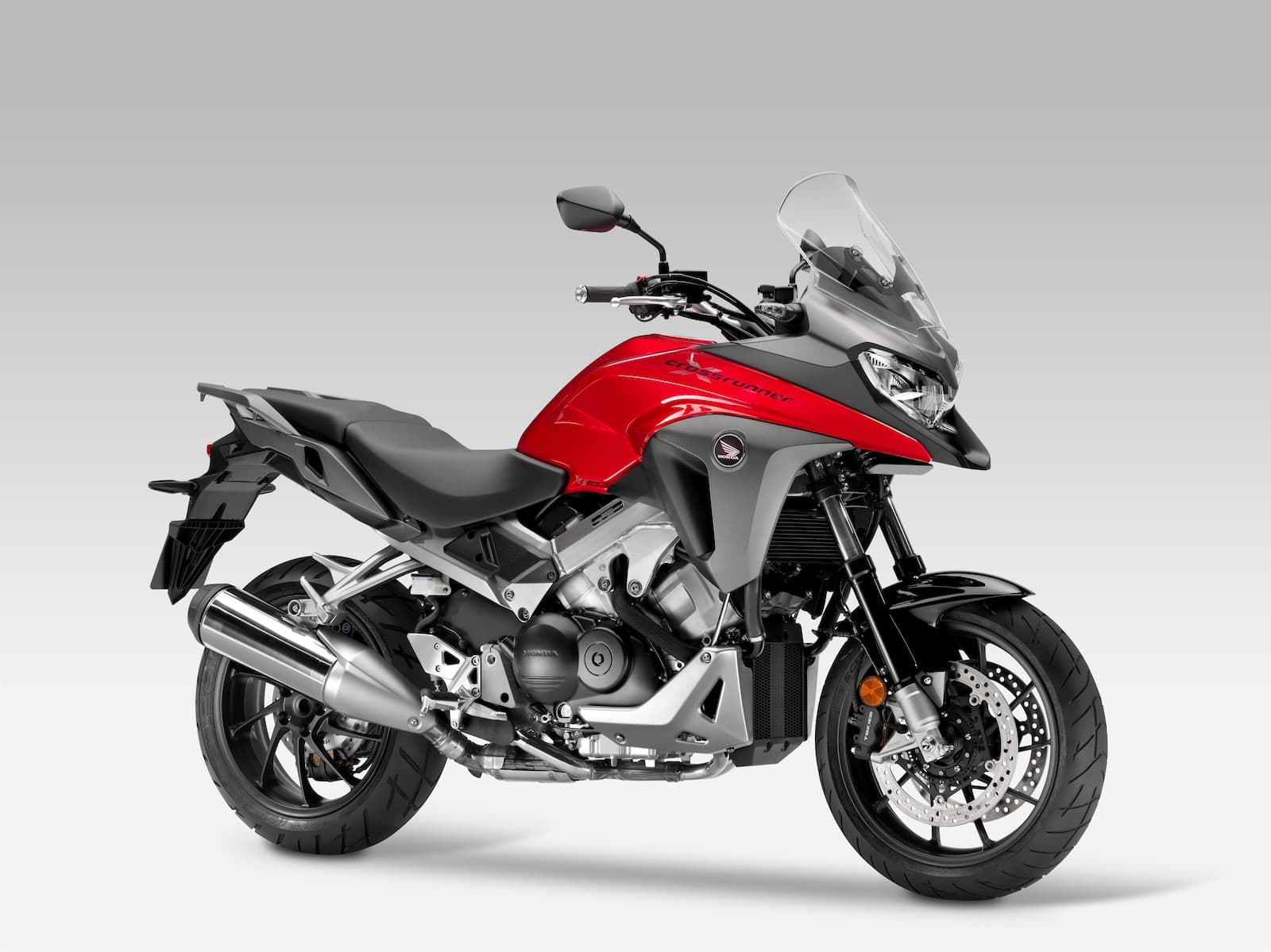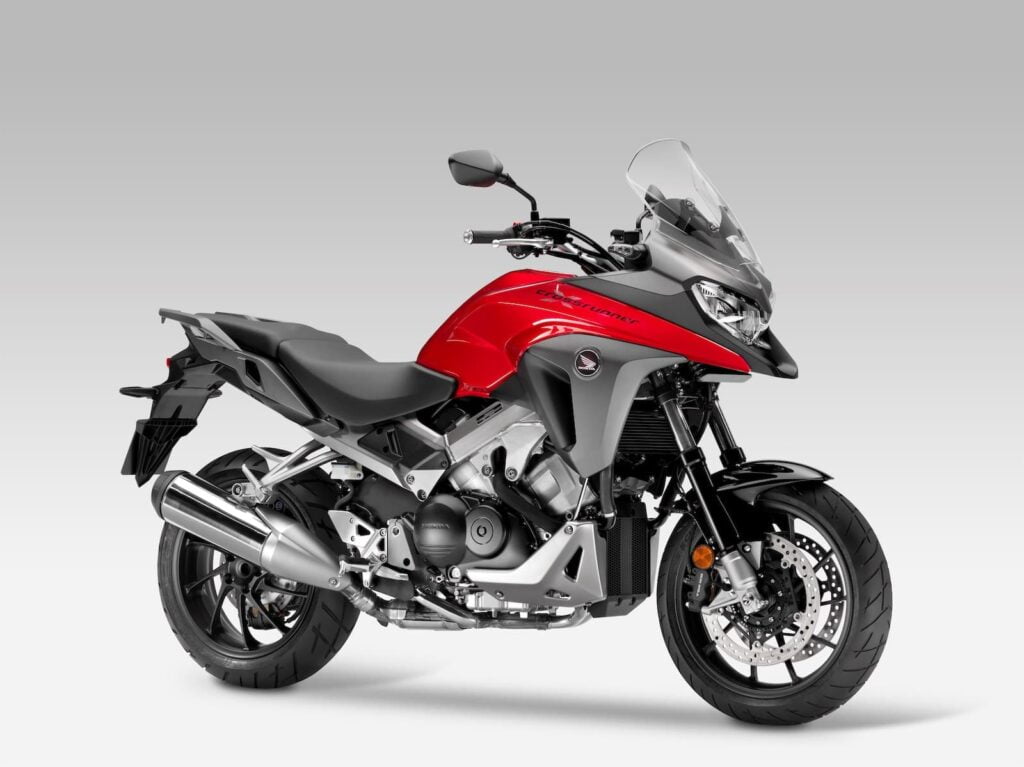 You can visually identify a 2nd gen VFR800X by the front headlights — horizontal rather than stacked.
Some of the updates to the Crossrunner compared with the previous generation were
Sharper adventure styling, plus refined ergonomics and longer travel suspension, new wheels and brakes.
Honda Selectable Torque Control (HSTC) system
Standard ABS (as with the previous version)
Full LED lighting
5-stage heated grips
Self-cancelling indicators
Height-adjustable seat are all fitted as standard.
Same options — luggage, center stand, etc.
The Crossrunner is a bit of a fan favourite, and many in the US complained that they never got it. Those in Europe can still get it though — it's still being made.
Again, like the earlier Crossrunner, you'd pick the VFR800X over the VFR800 if you want that engine and all the features, but don't want to be in quite as sporty a position. It's nice of Honda to make something for everyone!