The Yamaha Bolt is one of those bikes that's far from perfect and yet adored to bits anyway. What gives?
I found my way to thinking about Yamaha Bolts after taking a test ride on a… wait for it… Indian Scout Bobber Twenty. A very different bike that's twice the price. You might think "What in blazes does a Sportster-wannabe like a Yamaha Bolt have in common with an Indian anything?" And I'll simply say: well, they're both V-twin bobbers, and I can compare anything I like, so there. For the record, I prefer apples to oranges.
Regardless, realising I didn't want to drop massive coin on the fairly simple Bobber, after doing a bit of digging, it turns out that the Yamaha Bolt is an insanely popular platform that basically has "cult" status. It has a very active forum at yamahastarbolt.com and people with Bolts help each other out on Reddit and all kinds of places.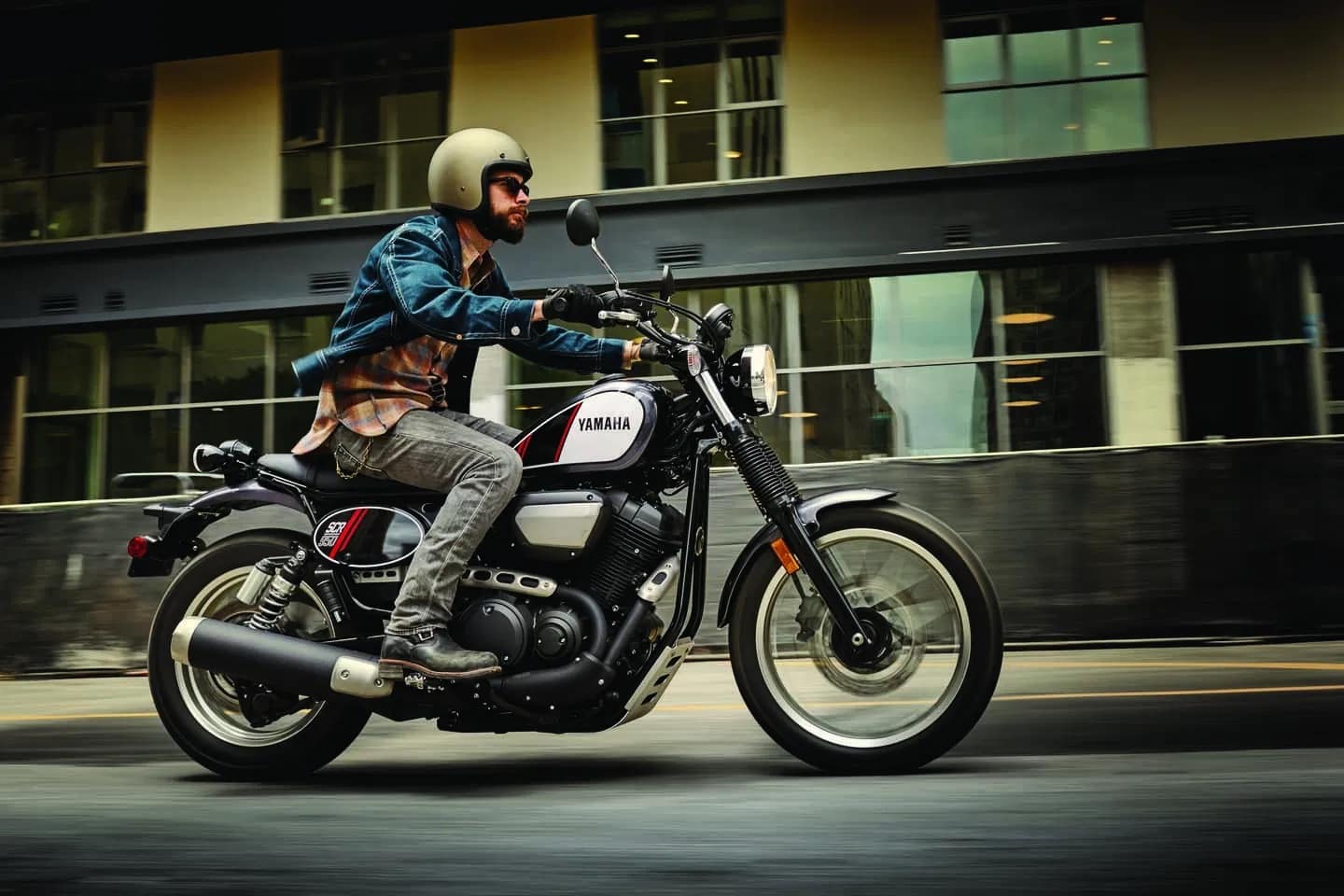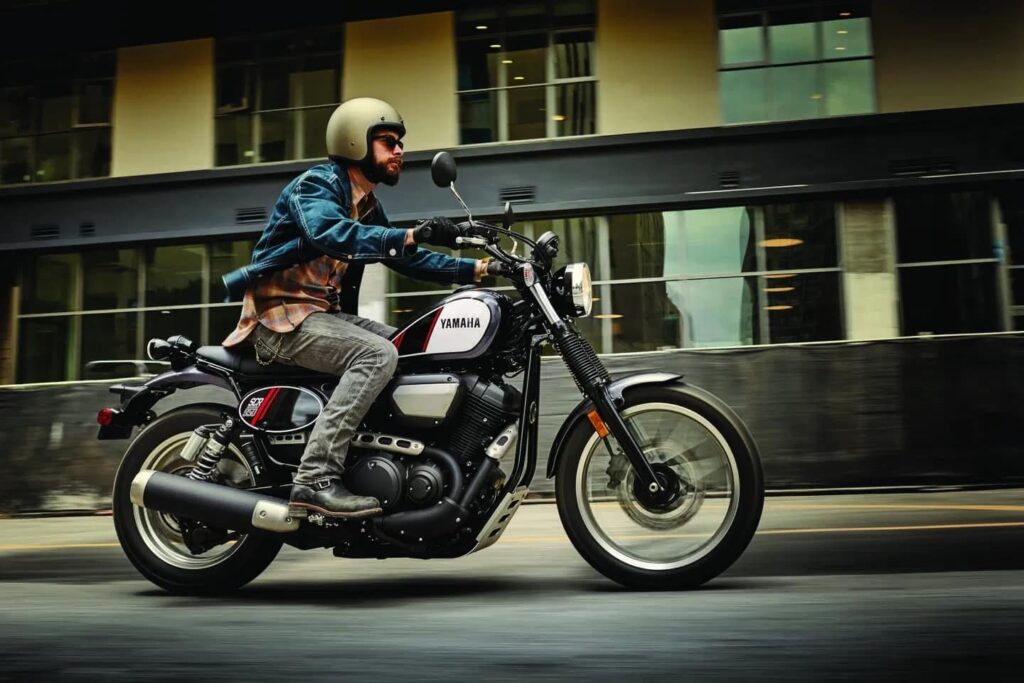 Are you obsessed with motorcycles?
Well, I am. That's why I created this site — as an outlet. I love learning and sharing what others might find useful. If you like what you read here, and you're a fraction as obsessed as I am, you might like to know when I've published more. (Check the latest for an idea of what you'll see.)
Background of the Yamaha Bolt (and Family)
The Yamaha Bolt platform is the basis for four similar but unique motorcycles — if you're generous and include the SCR950 in that group.
At its core, the Yamaha Bolt is a very stripped-down, low-tech, simply-designed motorcycle with a heavy focus on providing a bike that's "fun" to ride. It has an air-cooled engine, a single disc up front with no ABS, basic damping rod front suspension, and no electronics like traction control, cornering ABS, or ride modes. Luckily, its one ride mode is "Braappp!!"
The Yamaha Bolt comes under many names. I've seen XVS950 or XVS950CU, Star bolt, V-Star Bolt, or even the complete "Yamaha XVS950 V-Star Bolt R-Spec" which gets to be a bit of a mouthful.
But the "Yamaha Bolt" only refers to the motorcycles with the 942cc engine, so there's no confusion if you just say "Bolt" (but clarify which configuration you mean, R-Spec etc.).
The Yamaha Bolt is part of Yamaha's "Sport Heritage" line, which you'd know just from looking at Yamaha's website, so that's not news. But also part of that line is the much more technologically advanced XSR900 (which didn't get the 2021 update like the MT-09 until 2022, so maybe it is slightly heritage…). So the Bolt definitely sits on the "heritage" side of "sport heritage".
See here about the changes in the 2022+ Yamaha XSR900.
A Yamaha Bolt is, at first, a kind of confusing proposition. Part of the attractiveness of buying a new motorcycle from a Japanese company like Yamaha is that you get technology. And then there's the bolt, staring at you and saying "who needs this new-fangled technology? This is all you need!"
On the face of it, the Bolt is a pretty old-fashioned machine. Look at it. It's a naked bike, unabashedly competing with semi-upright cruisers like the up-to-2020 Harley-Davidson Sportster (the smaller ones, anyway). It's air-cooled. There's no ABS on most of them (I hear it's available in Asia, maybe in Europe).
At least it has an overhead cam design with two valves per cylinder, which in theory would let it rev higher (though in practice does not).
Try out a Motorcycle — For less than you'd think!
Want to ride an awesome bike — like a Panigale, an R1, an M109R, a LiveWire, or an R 1250 GS — for a day or two and really put it through its paces? Try renting one from another rider! Get your first day (out of three) off at Twisted Road, or get $25 off your first rental at Riders Share. (I've used and recommend them both and I don't play favourites.)
Base specs of the Yamaha Bolt
Because we're going to talk about how the bolt rides and compare it with many other motorcycles, I want to cover the specs of the Yamaha Bolt, the base model.
| Part | Yamaha Bolt Specs |
| --- | --- |
| Engine | 942cc (58 ci.) 60-degree V-twin, 4 valve per cylinder, air-cooled |
| Power (claimed) | 38 kW (53 hp) @ 5,500 rpm. Dyno runs show between 47-48 rwhp. |
| Torque | 77 Nm (59 ft-lb) @ 3,000 rpm |
| Redline | 6,500 rpm; but you normally shift around 5,000 rpm |
| Wet weight | 245 kg (540 lb) (R-Spec 247kg/549 lb) |
| Front suspension | 41mm forks, 135mm (5.3) in travel |
| Rear suspension | Preload-adjustable dual shocks (R-spec with remote reservoir) |
| Front brakes | Single 298mm disc, 2-piston calliper |
| Rear brakes | Single 298mm disc |
| Drivetrain | Five-speed transmission, belt drive (21 mm) |
| Price | US MSRP: $8,499. Australia: $14,499 ride away. |
Basic specs of the Yamaha Bolt
The torque and power figures don't tell the full story, as usual. For the Bolt, a better picture can be seen by looking at the torque curve from a dyno run.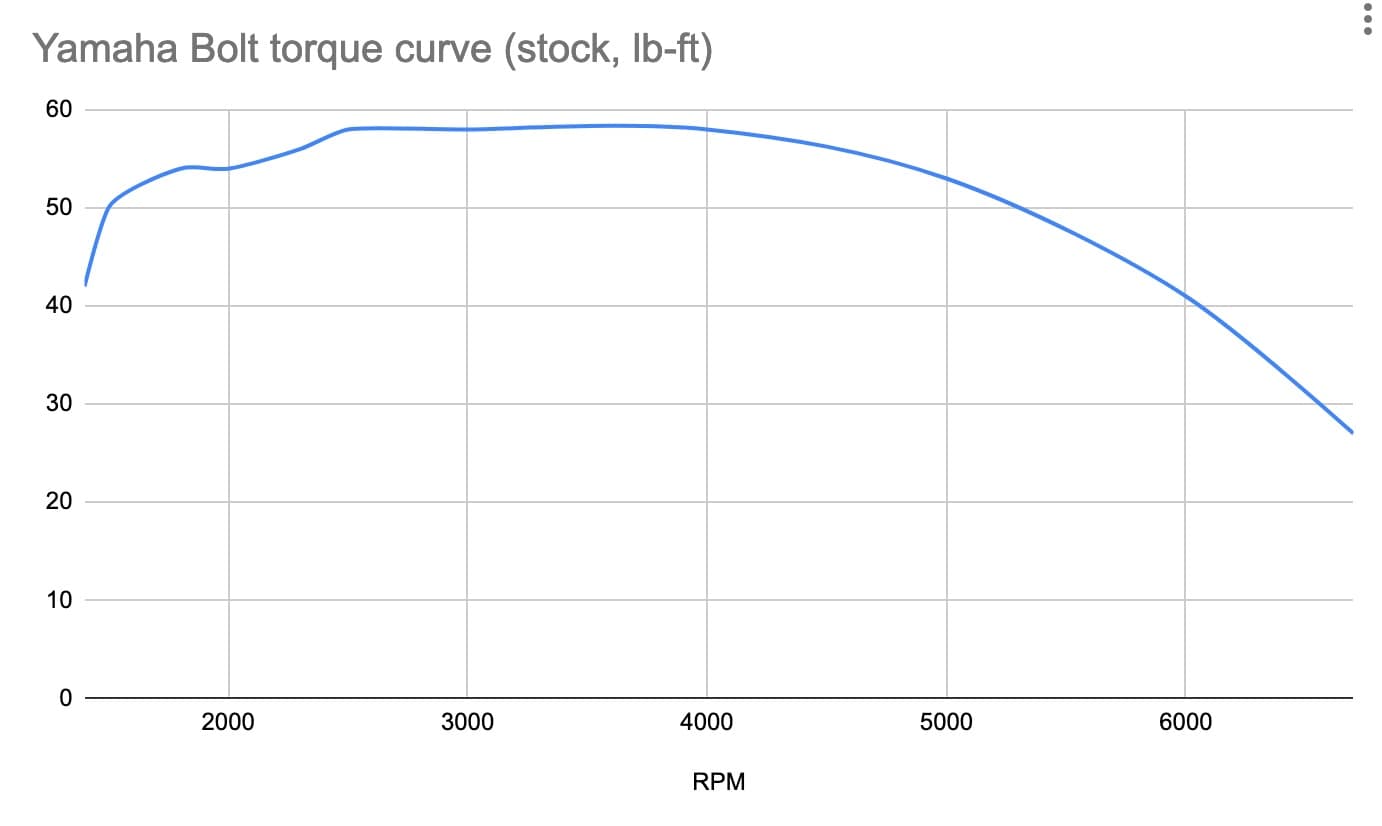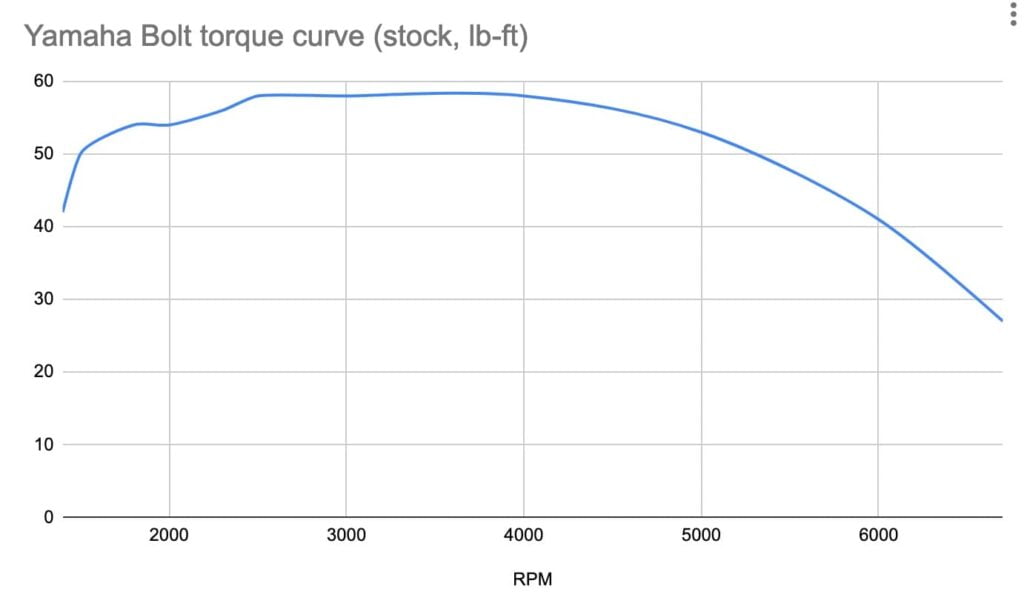 You can see from above torque curve that torque comes on early, and peak torque is already available at 3,000 rpm. There's an adequately broad spread of torque up to 4,500 rpm, after which it drops off a lot.
Common modifications are focused on raising the mid-range torque slightly, smoothing out low-end throttle response, and raising high-end torque a lot so the party is over closer to 6,000 rpm. For how people modify their Yamaha Bolts, see that section near the end.
Why is the Yamaha Bolt so popular?
This is question number one and is the reason I became attracted to the Yamaha Bolt in general. Why is this bike so insanely popular?
Well, if I can summarise in one word, it's that it's really a "Goldilocks" of the cruiser/bobber world in multiple dimensions.
Power/torque: The 50 hp spec doesn't sound like a lot, but 50+ ft-lb of torque is actually plenty of under-the-seat performance for everything from city riding to highway cruising. Plus, the budget allows for easy improvements.
Displacement/fuel economy: It's neither a small engine that you have to wind up for high power nor a huge one that takes a while to warm up. Under 1,000 cc means cheaper insurance. You get 4-5 l/100km (50-60 mph) under normal usage.
Weight: It's not a lightweight roadster (usually in the 200-220 kg range), nor a heavy cruiser (usually well above 250 kg, and often above 300 kg)
Comfort: Your legs aren't all the way out on floorboards like on a Road King, but they're also not tucked under you like on a sportbike or even a standard. (Note — there are a few different comfort options for different bikes in the Bolt class, and a wide degree of customisability.)
Price: The Bolt is cheaper to buy and own than its competitors in the bobber/small cruiser category.
There are two other factors that are inter-related that make the Bolt popular:
Simplicity: The Yamaha Bolt is a very simple motorcycle. Air-cooled, belt drive, naked chassis, non-adjustable forks. It doesn't even have ABS or even two discs (for better or worse). It's easy to work on, too, with wide service intervals.
Customisability: There are lots of ways of improving on the base model Yamaha Bolt of any form. You can improve the engine with quick mods to unlock quite a lot more power, and improve the suspension easily.
Given the Bolt is cheaper than its competitors (primarily the Harley-Davidson Sportster 883) and a simpler bike, being customisable is really important. Dollar for dollar, you can either get a base model Sportster 883, or a Bolt with upgraded exhaust, intake, ECU, and front forks. Maybe more. (Of course, you miss out on Harley-Davidson brand equity, and you won't recoup the value of those investments on resale.)
Maintaining the Yamaha Bolt
Keeping the Yamaha Bolt maintained is easy.
It's easy to maintain the belt of a Yamaha Bolt. Every 2,500 miles/4,000 km: check the belt drive's tension and slack.
The tension should be 45 Nm/10 lb. Use a belt tension tool. They are all set for 10 lb (many motorcycles use this belt tension).
Check belt slack — it should be 6.0–8.0 mm or 0.24–0.31 in.
Adjust the belt's tension if necessary.
If the belt is damaged, or you can't get it within spec, replace it.
Even though you do have to check belt tension and slack, many Bolt owners find it takes a while to go out of spec. A belt lasts a long time, too — tens of thousands of miles!
Servicing the Yamaha Bolt: Every 4,000 miles or 7,000 km: do a minor service.
Change the engine oil every 4,000 miles. Use Yamalube 10W-40 (or Yamalube 10W-50 if you like to ride above 40 degrees Celsius or 100 degrees Fahrenheit)
Check the spark plugs. Re-gap if necessary with a gapping tool.
Check/replace brake pads. Use EBC FA179HH for the front and EBC FA319/2HH for the rear (I always use EBC double hardened, it's an instant upgrade in brake feel)
Adjust cylinder synchronization.
Check all lines and hoses, replace if necessary.
Every two years: Replace the brake fluid. Use DOT-4 fluid.
Every second minor maintenance (8,000 miles/ 13,000 km):
Change the oil filter. May as well change this when you change the oil, I think, especially if you bought used. OEM part number is 5GH-13440-50-00.
Change the spark plugs. Use NGK CPR7EA-9 per the manual
Every fourth minor maintenance (every 16,000 miles / 25,000 km): Check the valve clearances.
Every 24,000 miles/ 37,000 km: Change the air filter. OEM part is 1TP-14451-00-00. Some opt for the K&N part YA-9514.
What the Yamaha Bolt is like to ride (in its various versions)
The Yamaha Bolt is one of those bikes that people like to describe as "fun". Basically it's really appropriately powered and styled for mostly blasting around the city, with some freeway stints.
If you haven't ridden a cruiser before, the first thing to bear in mind is that the Yamaha Bolt's torque curve is quite narrow. Party's over by 5,000 rpm. So this isn't a motorcycle you ride to the redline, roaring your way through each gear as you might on a 600. I say this because the Bolt was the first bike I rode with an engine of this character (many years ago) and it kind of shocked me. (It also shocked me how loud it was! That thing was heavily modified.)
When riding the Bolt, if you hold the throttle wide open, you'll find yourself shifting pretty soon. Cruiser riders call this "short-shifting". Sportbike riders do too, but they/we also know that it's selling the performance of a sportbike short.
The riding position of the Yamaha Bolt is comfortable, obviously. Your feet are up and in front of your torso, with your knees at a right-angle. Not stretched out like on a cruiser with floorboards, but it's definitely more foot-forward than a Triumph Bonneville.
I've read accounts of people doing very long distance on their Bolts, putting nothing but a small bag and/or saddlebags on the back. The Yamaha Bolt is just inappropriate for some things people do with them, like flinging them down fire trails or 4×4-only tracks, but part of the joy of riding one is that they're so easy to ride that it's kind of rewarding seeing what they can do.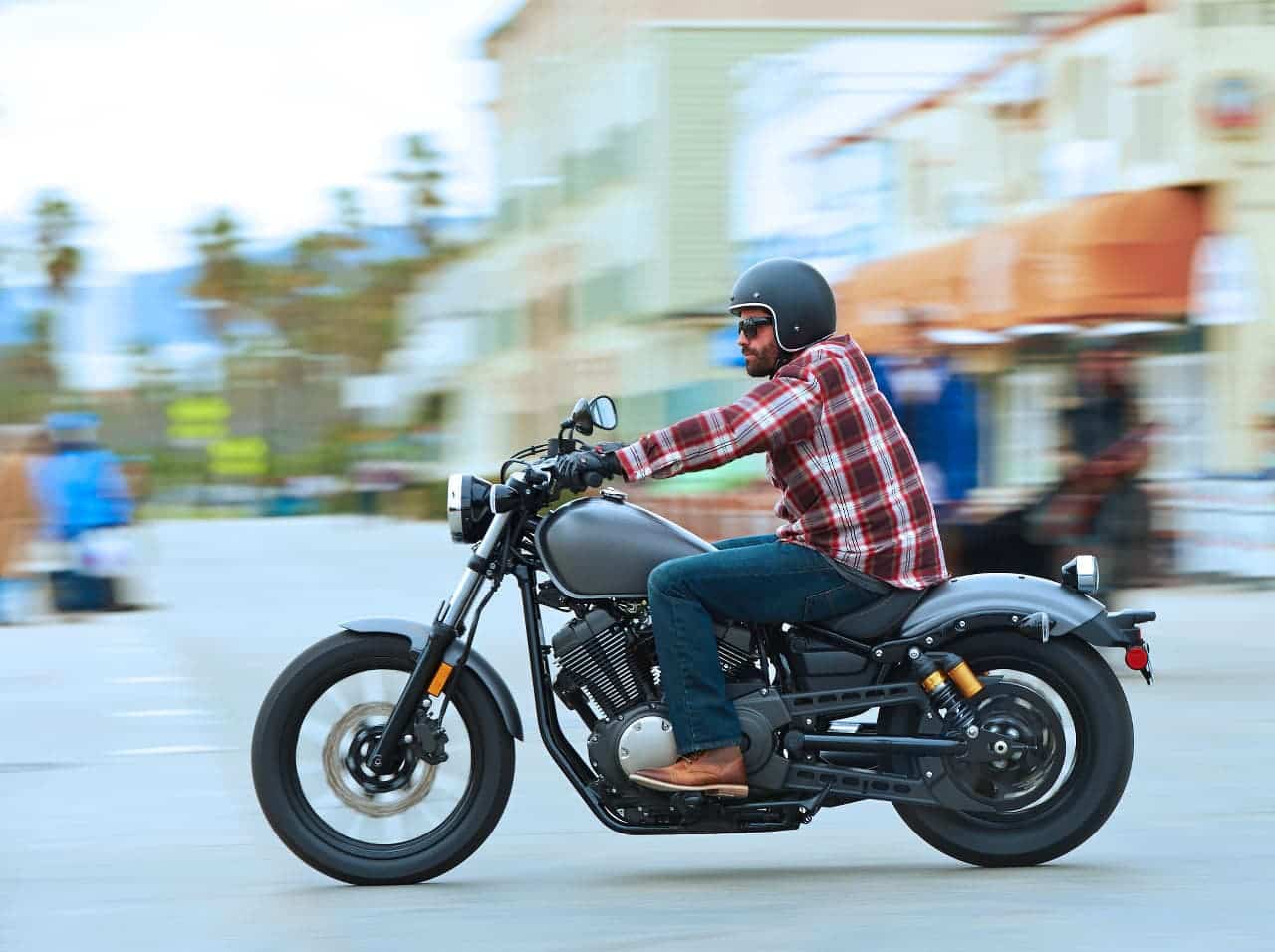 Where your arms sit depends on the model you have. The R-Spec lets you sit a bit more upright, whereas the C-Spec has you slightly forward to reach the clip-on handlebars.
How far you lean over on the Bolt C-Spec depends on your torso height and arm height, and also how aggressive you're feeling. Have a look around online for riders of similar stature to you — or go sit on one! — and you'll get a feeling for it.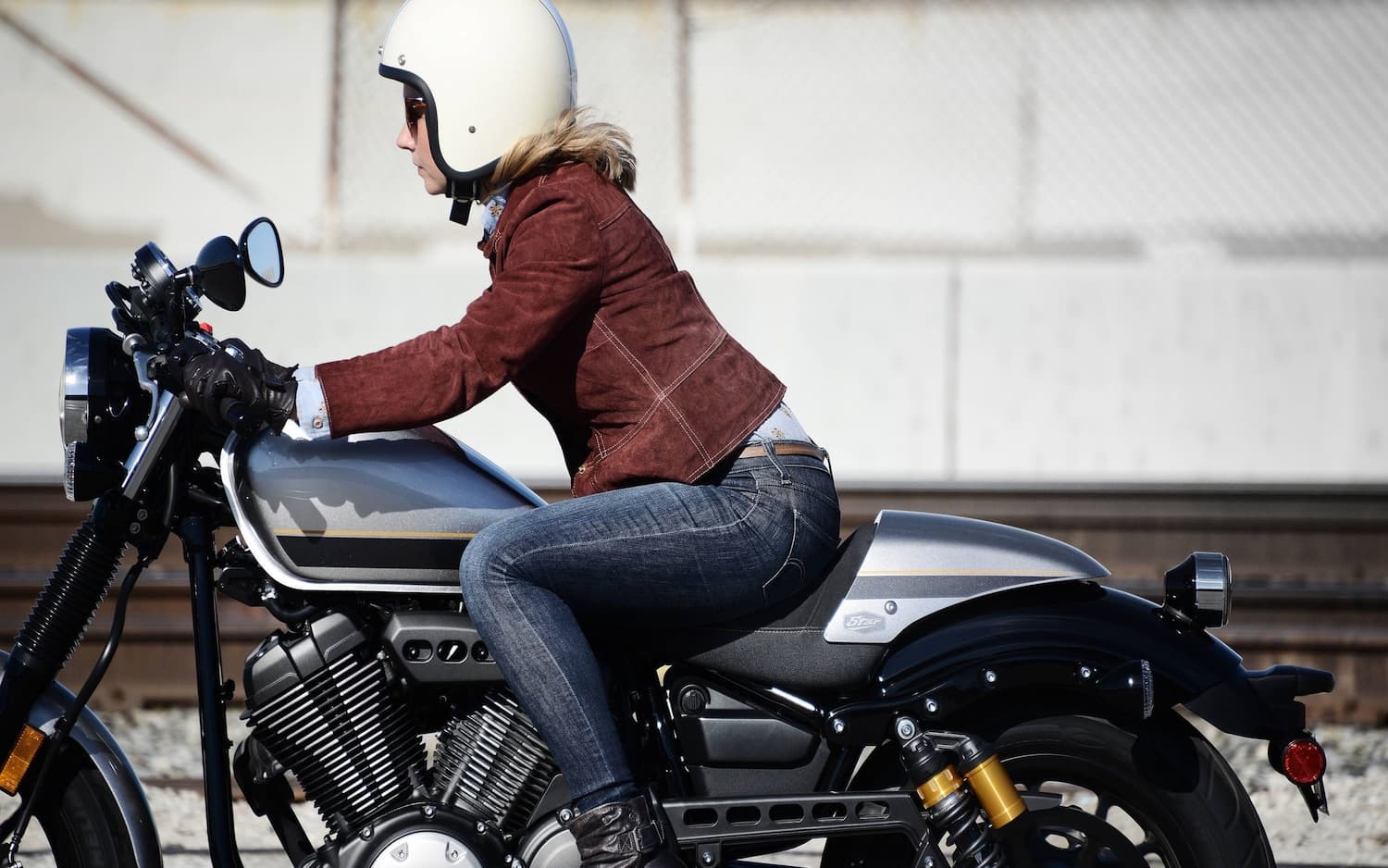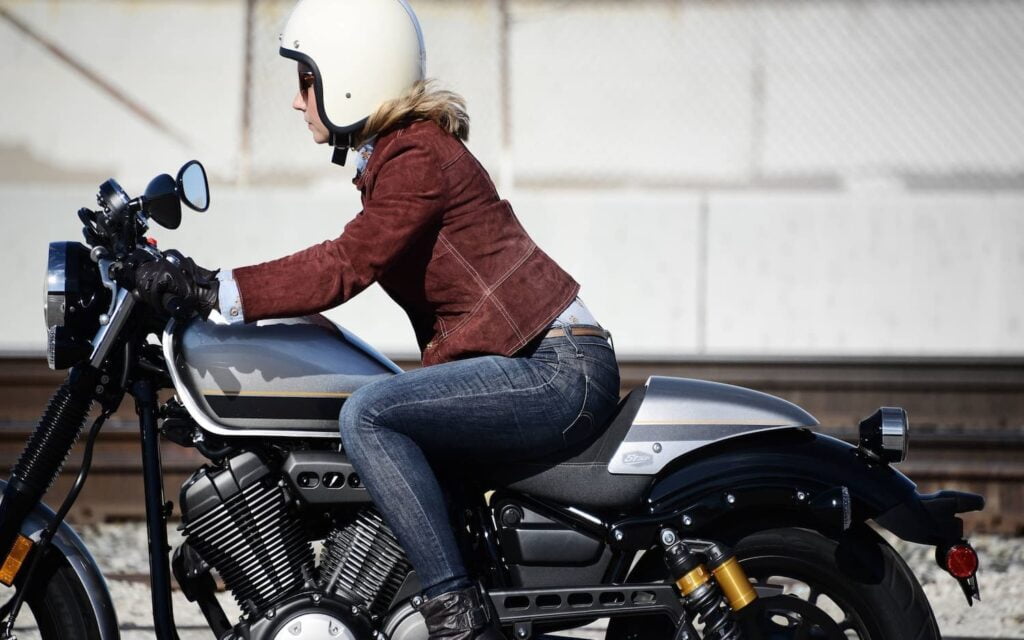 The Bolt is nevertheless easily comfortable enough for what it's intended for, which is city cruising and commuting. I don't read of people getting uncomfortable on them after an hour or two as they might on more aggressive cafe racer-style bikes (like the sadly short-lived R NineT Racer).
Is the Yamaha Bolt powerful enough? Many people coming off sportbikes with 100+ hp (or even 150+ hp) will almost fall over laughing at the Bolt's less than 50 rear wheel horsepower. And big displacement cruiser riders might wonder if a bike with less than 1200cc displacement is even worthy of consideration.
But many riders — including big displacement cruiser riders — know they don't need the road presence of a Road King or the arm-wrenching torque of an M109R for a 5-mile jaunt to work, a blast in the hills, or a cruise to a diner to meet friends for a snack. That's more the Bolt's domain. It's an "easy" bike for which — gasp — you may not even don your full leather race suit.
And the Bolt is fast enough. It gets up to highway/freeway speeds quickly. You'll beat everything but high-end sports cars and bikes at the traffic light GP. You can ride on freeways doing 110-130 km/h (75-85 mph) for long periods — weather permitting. It's comfortable enough for sure.
At highway speeds on the Bolt, your throttle will be less than halfway with more to go if you need it. At highways speeds you'll be doing 3,500-4,000 rpm, with a top speed of around 170 km/h (110 mph) — though most people don't push these bikes that hard.
Yes, the Yamaha Bolt only has a five-speed transmission. But there's enough torque all through the usable parts of the rev range that you can easily pass a car at 50-70 mph (80-110 km/h) in top gear without looking for another gear.
What not to expect from the Yamaha Bolt: The Bolt is a utilitarian bike. Riders who push it and try to keep up with sport or adventure bikes in the mountains are often disappointed. The Bolt will scrape quickly and its suspension does not respond to dive and road imperfections with anywhere near the aplomb of a more advanced bike.
Riders who travel with a passenger may get grumbles. The rear shocks have short throw and are adequate for one rider but the bike is not the ideal set-up for long-distance two-up comfort.
Basically, the Bolt is — in base form — a simple bike meant for city jaunts and that's what it does well. Don't push it too far.
Again, it's not to say you can't do more advanced riding with the Yamaha Bolt. But either make the appropriate upgrades (e.g. to suspension), or live with what it is.
What about the Yamaha Bolt's "death wobble"? The death wobble is one of those things people love to complain about, but which isn't something you're likely to experience in reality unless you go looking for it.
Simply described, the Yamaha Bolt death wobble is this: at certain speeds (like 60 km/h), if you take both hands off the bars, your bike may wobble. Most other motorcycles don't do this. But a simple solution is to keep at least one hand on the bar. I think that's not too much to ask.
Model Variants of the Yamaha Bolt
There are four main variations on the Yamaha Bolt platform — if you include the SCR950 in that group (which I do. It has the same chassis and engine! It just has a different name.)
Not every spec is available everywhere. All of the following are available in America. But only the R-Spec and C-Spec are available in Australia.
Yamaha Bolt R-Spec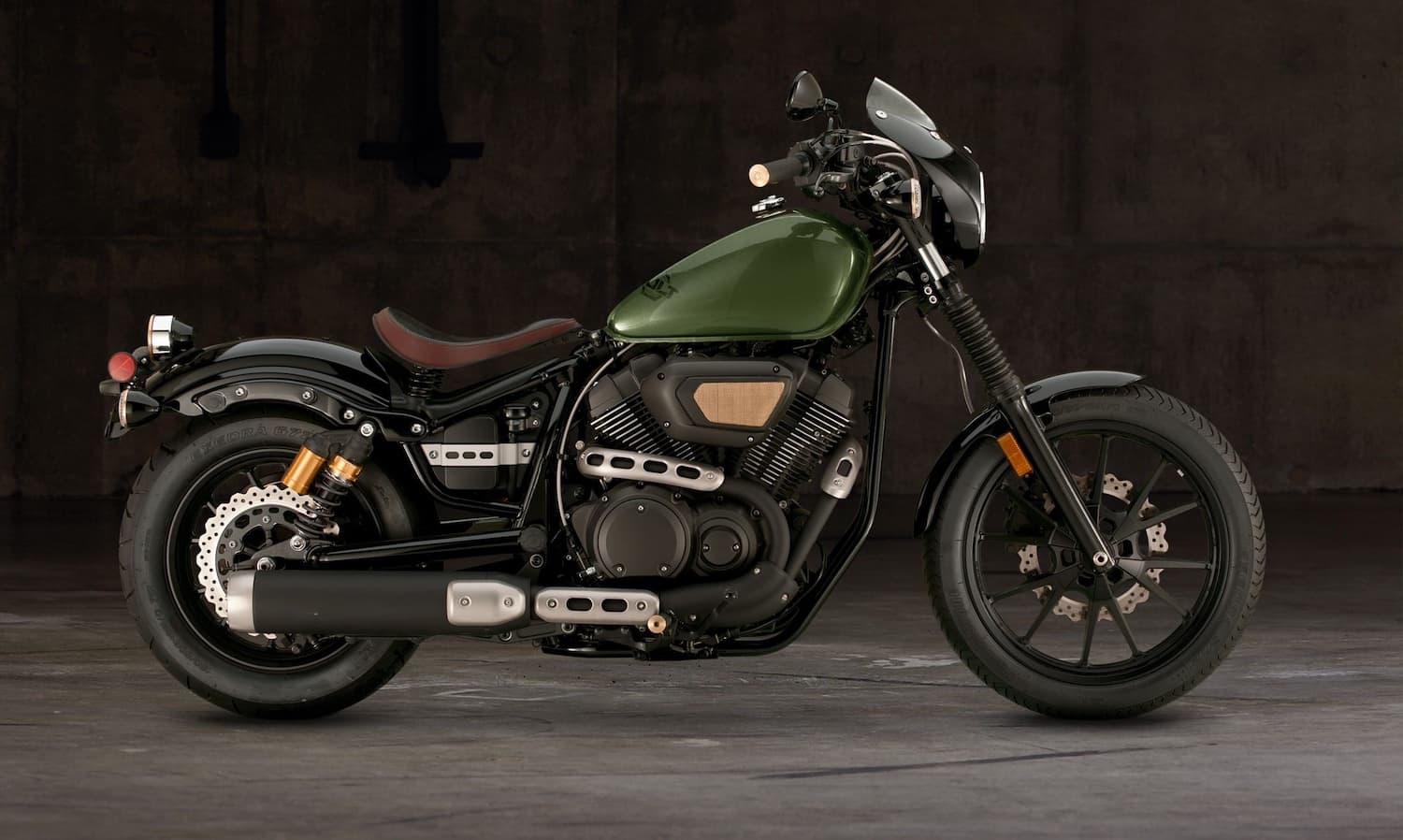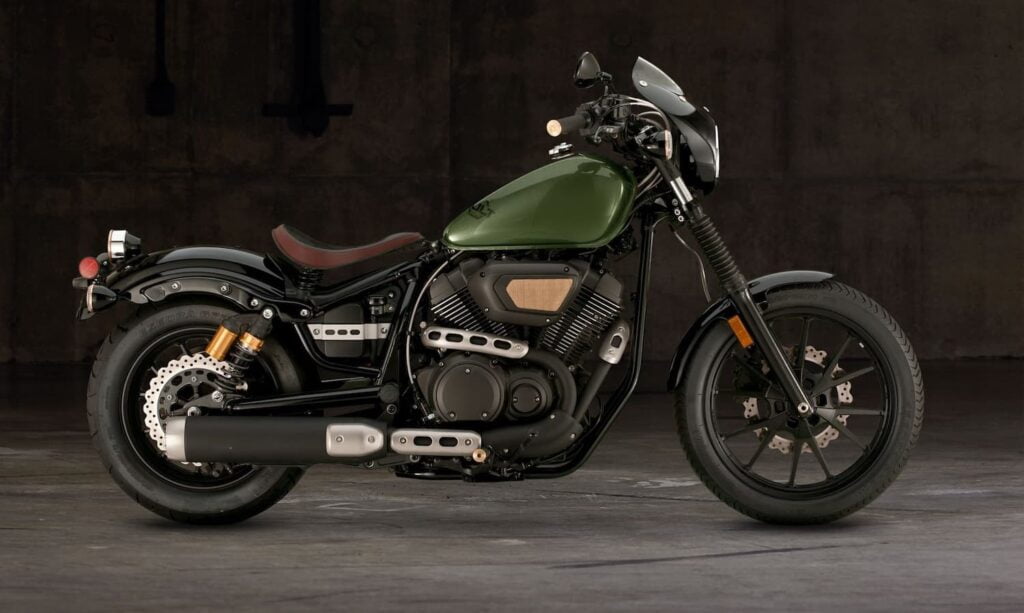 The Yamaha Bolt R-spec is a slightly upgraded version of the base bolt, and a very common choice because it only costs a little more.
The changes for the R-spec include
Cast alloy wheels, rather than wire-spoke wheels (which is interesting because, in some other motorcycles, wire-spoke wheels is considered the "upgrade")
Higher performance rear shocks — with piggyback reservoirs (that look cool)
Different paint schemes
Because the difference in price between the base model and R-spec is minuscule (just a few hundred bucks), many opt for the R-spec. However, modifying the rear shocks and front suspension further is a top priority for anyone who wants to get more performance out of their Bolt. The R-Spec's rear shocks are an improvement, but not a dramatic one.
Yamaha Bolt C-Spec
The "C" in "C-spec" is for café. That's right, this is the café racer version of the Bolt platform. Finally, your hipster dreams will come true!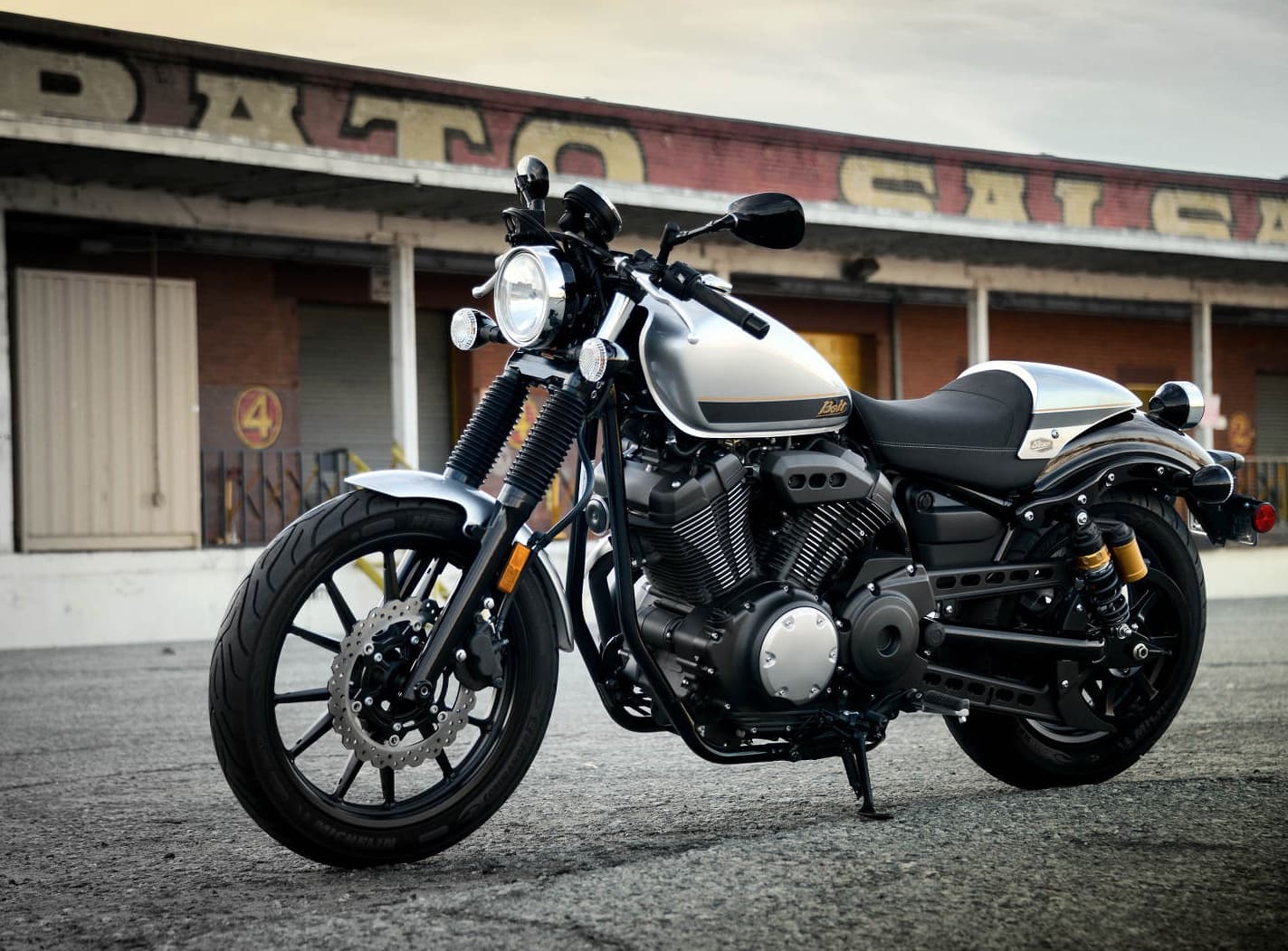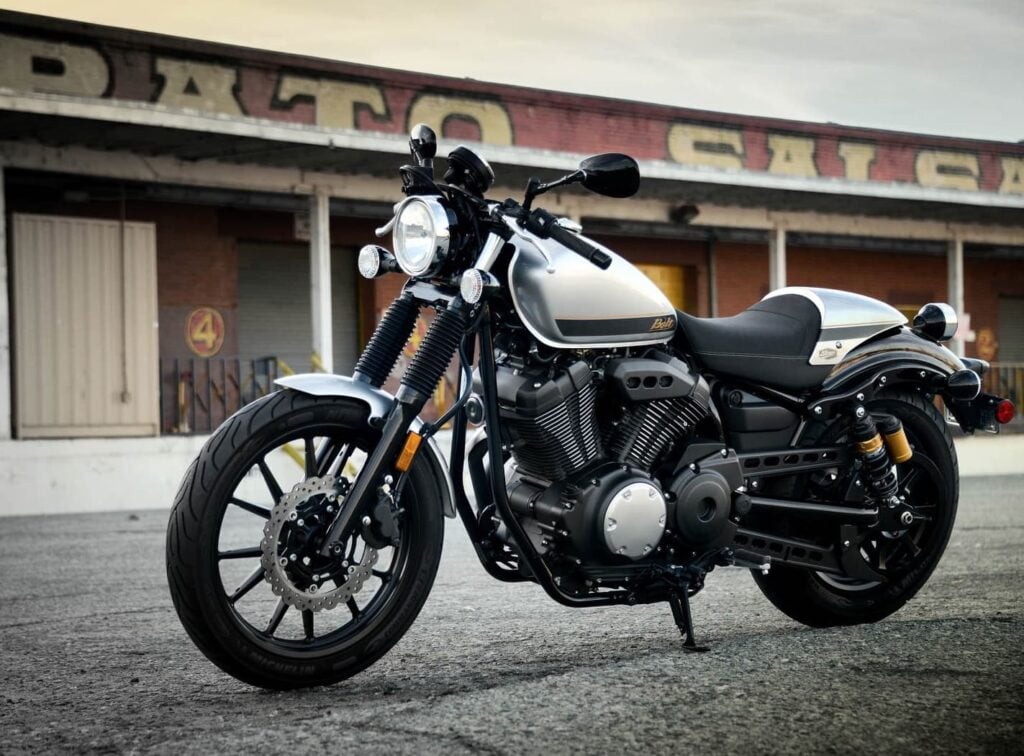 The differences between the C-Spec and the standard Bolt are:
Clip-on handlebars that are a bit narrower for a slightly more forward cant
Upgraded rear shocks with piggyback reservoirs (same as the R-Spec)
Fork gaiters — I guess they look cool?
Different graphics
Standard seat cowl (blocking the rear seat)
Optional headlight mini-cowl (for even more cafe styling!)
I really like the Yamaha Bolt C-Spec — it's my pick of the bunch. Not just because I prefer a slightly hunched-over position (sport touring bikes are really comfortable to me — personal preference), but because the narrower handlebars make lane splitting slightly more comfortable.
Yamaha SCR950 — The "Scrambler"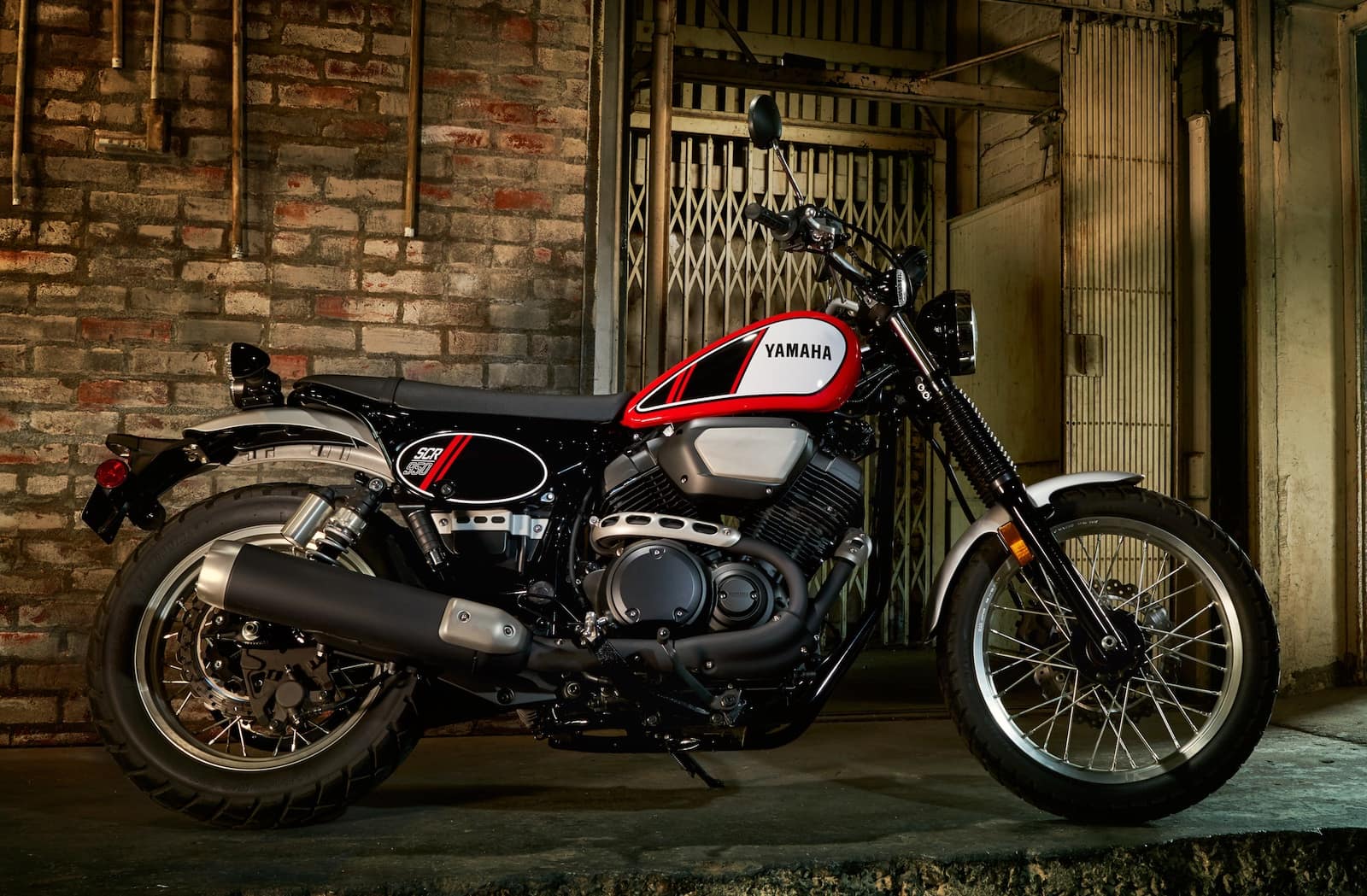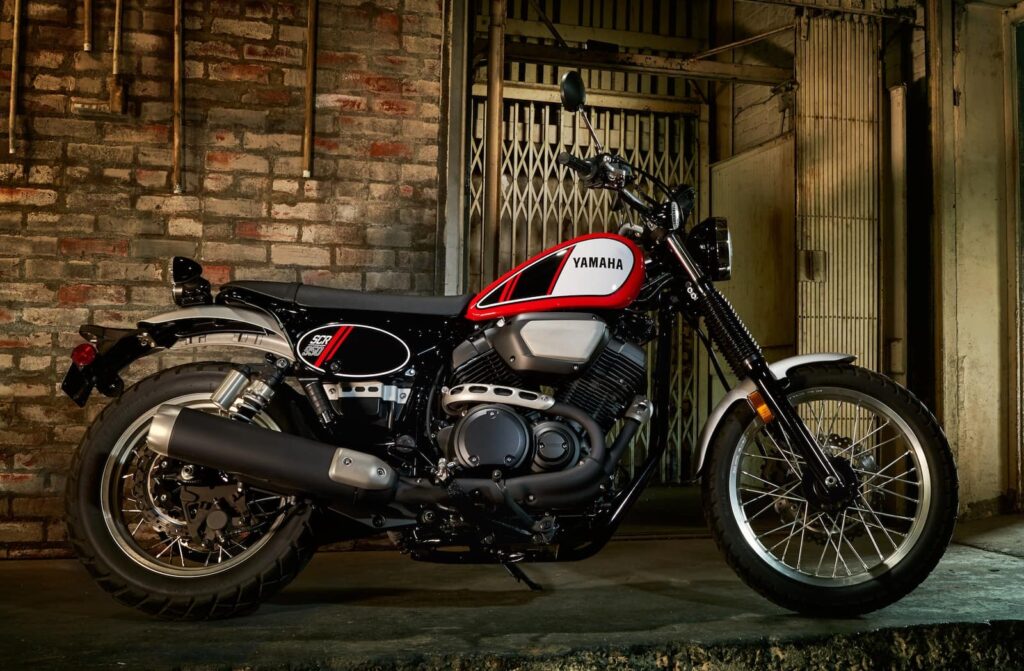 Some people will cry "foul" because the SCR950 isn't a "Bolt". You're absolutely right! The reason I'm including it here is because it shares so much with the Yamaha Bolt, it's more of a variant than an alternative. The engine and frame are the same, and so many other parts are interchangeable.
What's different however is the seating position (and seat), footpegs position, which are more rearward, and the handlebars. The SCR is purportedly the "Scrambler" configuration of the bolt. But, like its competitors from BMW, Triumph, and Ducati with the same name, the SCR950 is too heavy to do much scrambling in the classic sense. These days, most people would look at dirt bikes or dual purpose bikes to climb over rocks.
But the SCR950 is another bike in the Bolt stable that's really fun. Just look at Ryan F9's review of the SCR950, linked below. He finds joy in doing things with a big heavy bike that you're technically not supposed to be doing.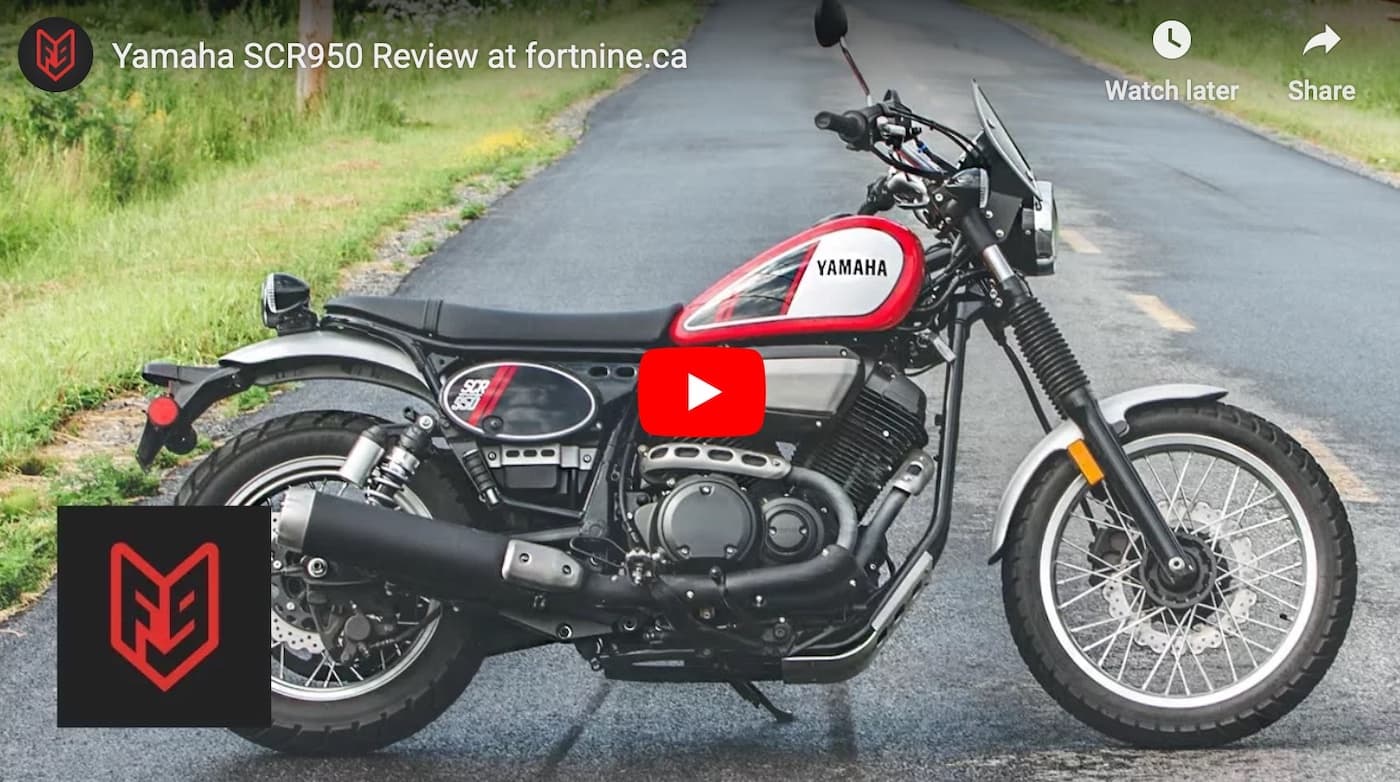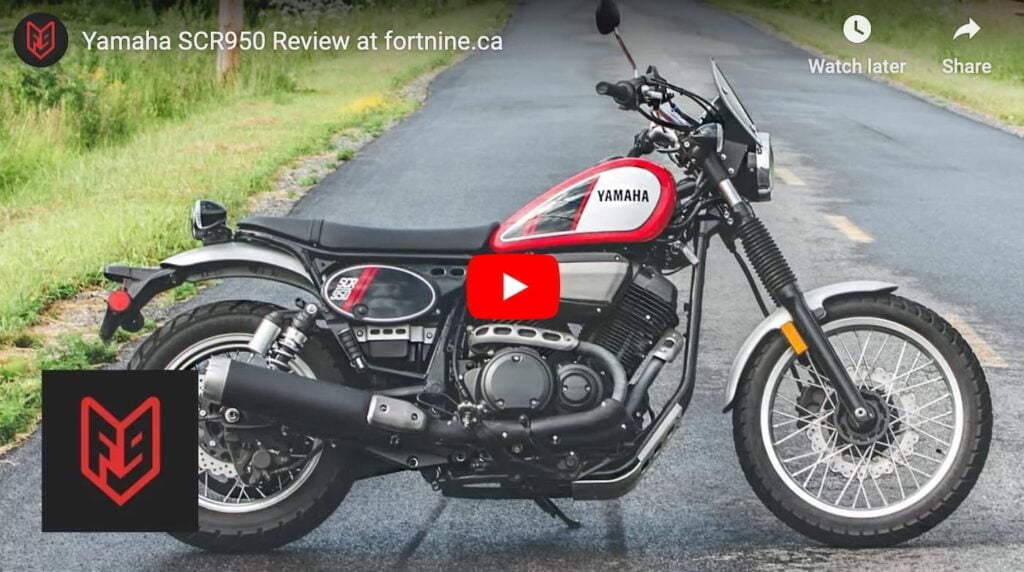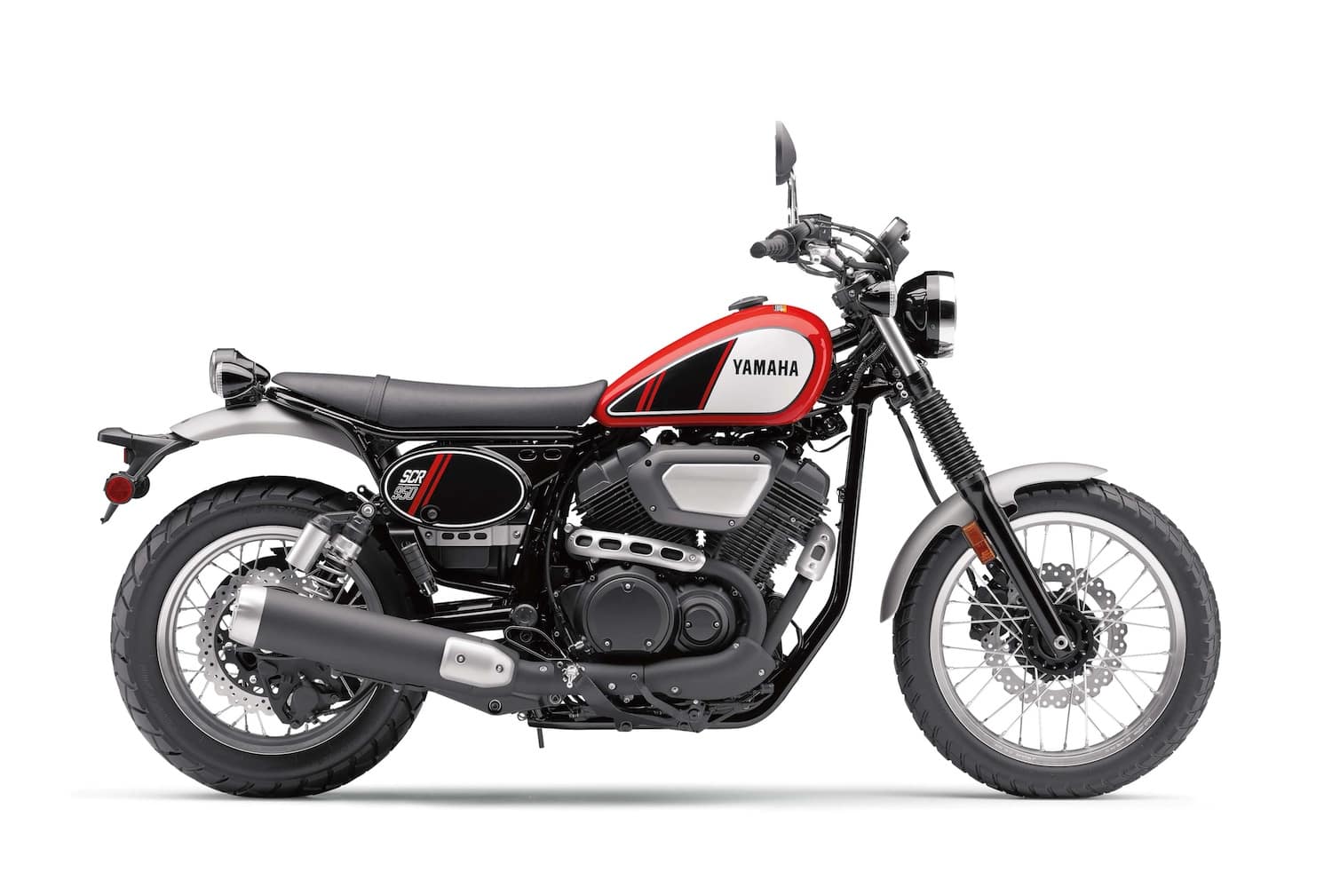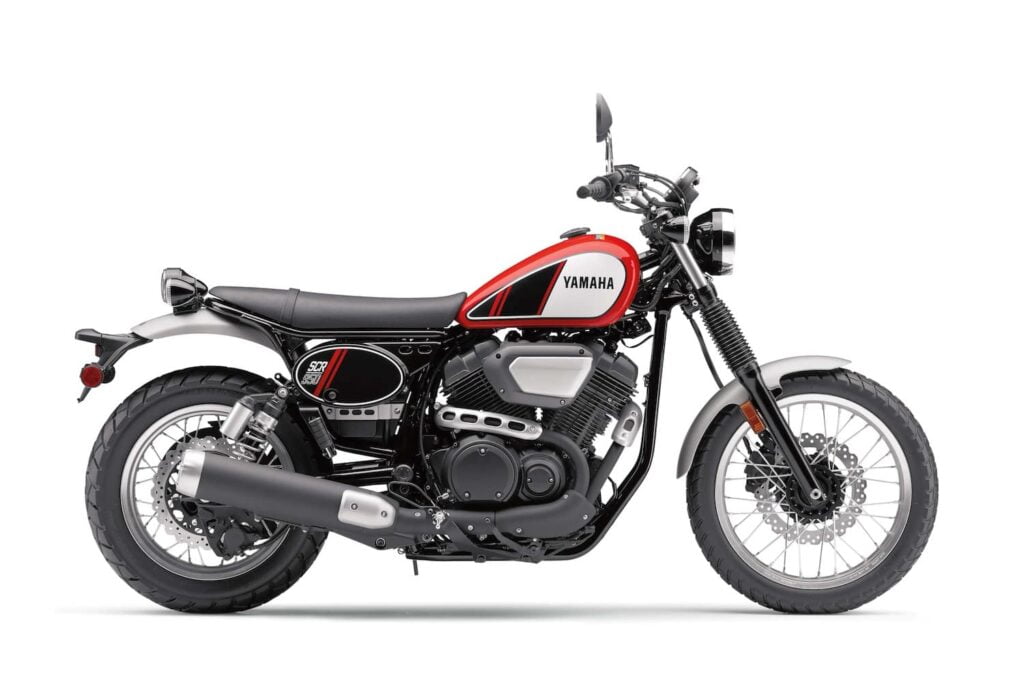 Alternatives and Competitors to the Yamaha Bolt
If you're thinking of the following motorcycles, you're probably also wondering about the Yamaha Bolt.
Some people also like to compare the Bolt to the V Star XVS950A, but that's just a different style of bike. Similarly, the Stryker is a different style of bike with much more displacement. I haven't ridden those (as I am not fully a cruiser guy… I don't like scraping around corners, and I scrape those motorcycles way too often) so I won't comment.
But the two principle bobber-style competitors to the Yamaha Bolt are the Harley-Davidson Sportster 883, whose market the Bolt has been trying to capture, and the Indian Scout Bobber.
Harley-Davidson Sportster 883 (or 1200)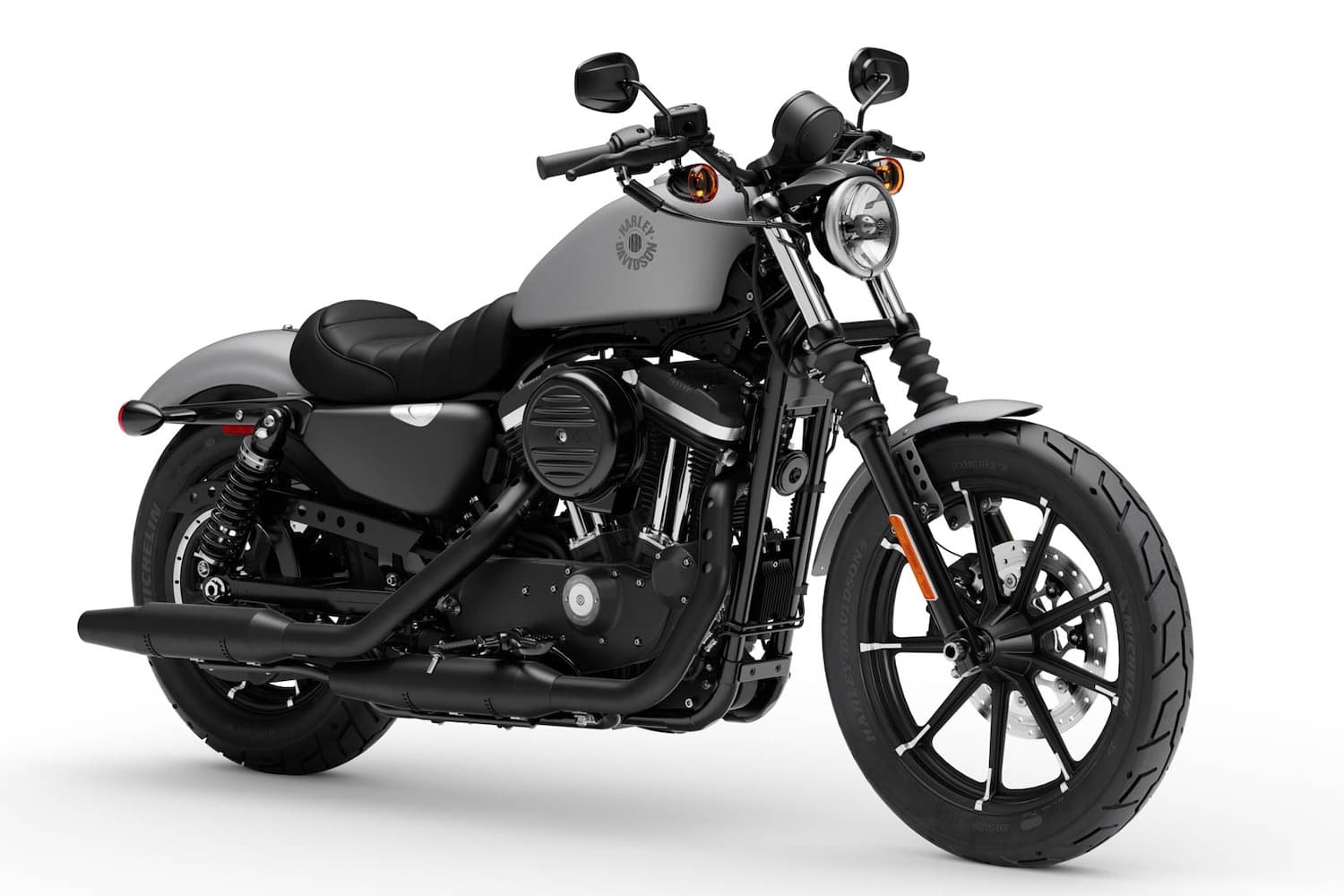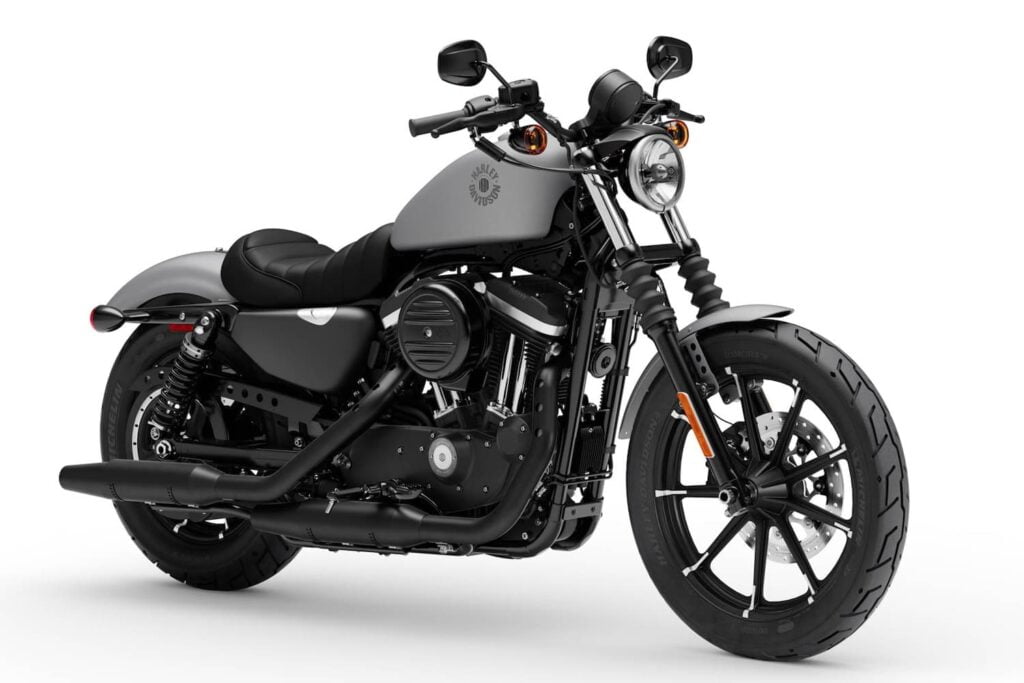 The first and most obvious comparison with the Yamaha Bolt is the Sportster, either the 883 or the 1200. But the 883 is already a lot more expensive than the Bolt, so the 883 seems like a fairer comparison than the 1200.
Generally speaking, you'd pick the Sportster if you like Harley-Davidsons, if you prefer the style (generally, Harley does produce a great-looking bike with a lot of attention to style detail), or if you want something with more resale. While the Bolt is very customisable, the Harley-Davidsons are even more so.
You'd pick the Yamaha if you want the motorcycle that's cheaper to buy and to own, and if you want slightly more power. Neither is so fast that you'd pick it for speed though — if you want a fast bike, you'd probably pick a different bike.
Both the Sportster and the Bolt have short range. The Bolt has a smaller tank, but better economy. Either way, you'll spend a lot of time at service stations if you're doing long-range trips.
It's worth sitting on both to see which fits you better. Sometimes that's what seals the deal.
Indian Scout Bobber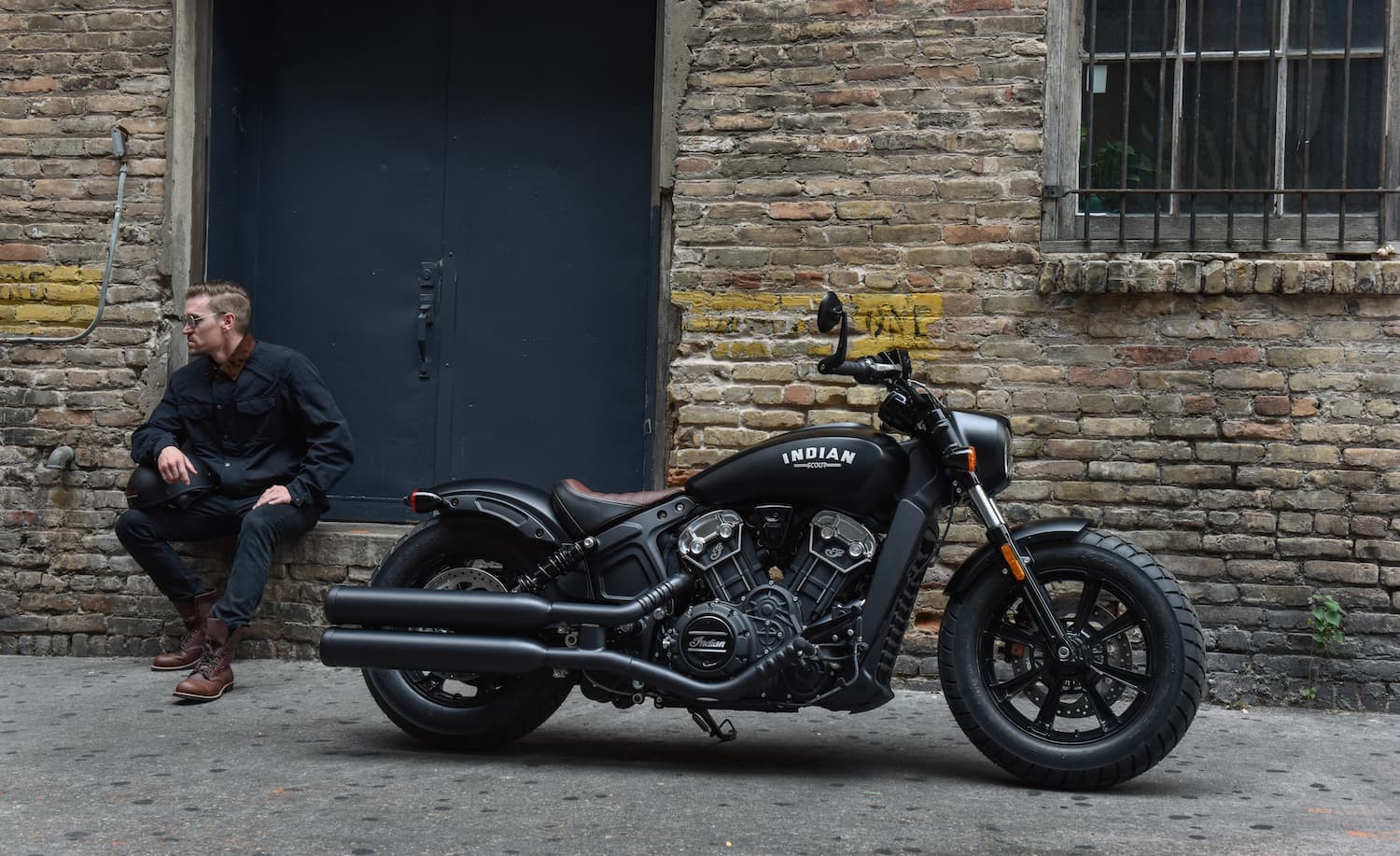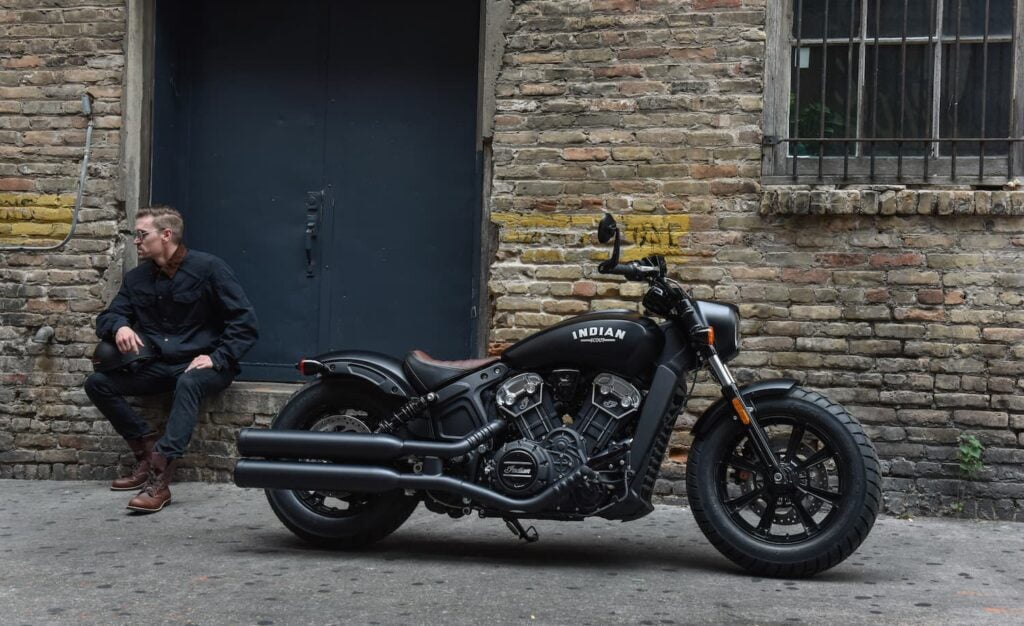 The Indian Scout Bobber (plus other variants, like the Twenty) is quite a bit more expensive — almost twice the price of the Yamaha Bolt.
I pick the Scout Bobber rather than the regular Scout because, per Indian, this is the one with mid-controls (I still find them quite forward), and it has a single seat, like the Yamaha Bolt. "Bobber" has a range of definitions, but they all have are single seats, forward bars (not big cruiser bars), and not-too-forward-mount foot controls.
But even though the Scout Bobber is a lot more expensive, you also get a lot more stuff. Firstly, you get THOSE LOOKS. There's a lot that they did that's subtly done, but the end effect is quite a beautiful motorcycle both in photography and in person.
Secondly, you get a high-revving engine that makes around twice the horsepower, you get water-cooling (which is a detractor for some), and ABS. Despite all that, the Scout Bobber remains a fairly "back-to-basics" motorcycle that is really fun to blast around on wearing your shorts and t-shirt (and helmet and gloves, I'm not a psychopath).
I'd pick the Indian Scout if I wanted a premium brand, a gob-smackingly gorgeous design, a faster bike, and a few mod-cons like ABS.
I'd pick the Bolt if I wanted a cheaper bike and wanted to retain (a lot of) leftover budget for customisation.
Common problems with the Yamaha Bolt
This is the surprising thing… after reading a ton of forums and looking through the maintenance and repairs section, I can't find any problems with the Yamaha bolt that are endemic/unique to the Bolt!
This is of course assuming you keep up with regular motorcycle maintenance.
First mods to your Yamaha Bolt — Power and suspension
Most people who ride the Yamaha Bolt do so for low-end torque and easy cruising, but still, many people wish they could rev a bit higher and get more top-end power.
Those who want to improve the ride will look to suspension mods.
Power mods for the Yamaha Bolt
The easiest and most common mods for any Bolt is to implement two things:
A high-flow air filter + remap from Ivan's Performance
A high-flow slip-on exhaust + remap from Ivan's Performance (performance testing shows better overall performance from a slip-on than from a full exhaust replacement*)
The remap isn't mentioned separately because it's mandatory to unlock any of the gains from the other two mods.
Depending on where you are, you might be able to buy some performance mods directly from Yamaha. For example, in the USA, you can get an Akrapovic exhaust for your Bolt directly from Yamaha.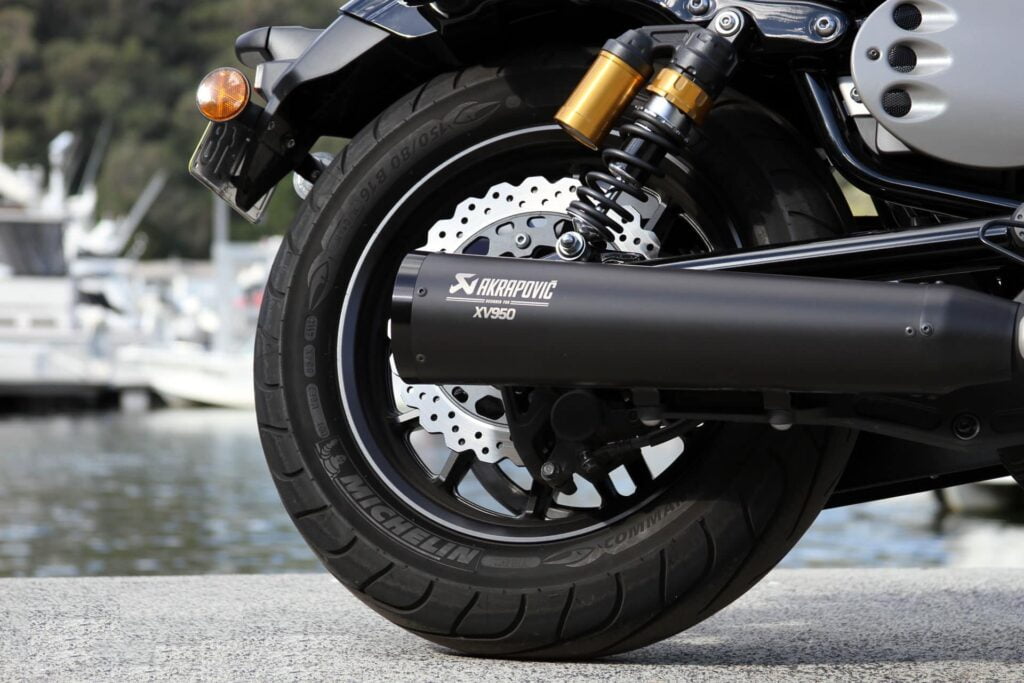 If you're wondering "where do I get a remap for my Yamaha Bolt?", well, you're in luck: there's just one guy who's really famous: Ivan. He has an old-fashioned website but star status in the Yamaha Bolt forums, and he does re-maps for people who send him ECUs from all over the world (yes, even Australia). Contact him to set it up. Postage times used to be lightning-fast, but I think COVID has slowed things down a little.
Ivan's Performance does two things: a) they remove the power restrictions from the stock ECU, and b) upload a custom fuel map depending on your configuration.
So, if you're wondering "how much power can I unlock from the bolt?"
Here are a few scenarios:
| Set-up | Power results |
| --- | --- |
| Stock Yamaha Bolt | 49.4 hp @ 5,300 rpm |
| Removing ECU power restrictions and with custom fuel map | 52.9 hp @ 5,900 rpm |
| Vance & Hines slip-on, performance air filter, + custom fuel map | 61.1 hp @ 6,000 rpm |
Horsepower improvements to the Yamaha Bolt
The peak torque also improves significantly, but his website doesn't have many figures on that.
The effect of the improvements from Ivan's re-maps is that
There is more torque along all of the rev range
Peak power is developed higher in the rev range (and there's more torque/power lower in the rev range too)
Low-RPM surging is ironed out
If you're nervous about posting your ECU overseas, you can also go to a local dyno-tuning shop
* Tuners have found that a full exhaust system does give better top-end performance but at the cost of a little low-end response. Since low-end response is so important to the Bolt, this is considered a negative unless you're really trying to use the Bolt platform to build an all-out race bike.
Suspension mods for the Yamaha Bolt
The suspension on the bolt is basic. The simple design makes for easy repairs and replacement, but it also means that the suspension only works well within a relatively narrow range of parameters. If you brake or corner hard, you might find the suspension too wallowy, and if you go over bumps or corrogations you might find it too hard. That's because of the way damping rod forks work.
A lot of people install longer shocks on the Yamaha Bolt. A common upgrade is the Yamaha performance rear shock set, whose performance is night and day compared to even the upgraded shocks in the R-Spec or C-Spec. Not cheap at US$700, but remember all the money you saved by buying a Bolt!
Increase rear wheel travel by 20% — giving you a plusher ride, and give you adjustable pre-load and rebound damping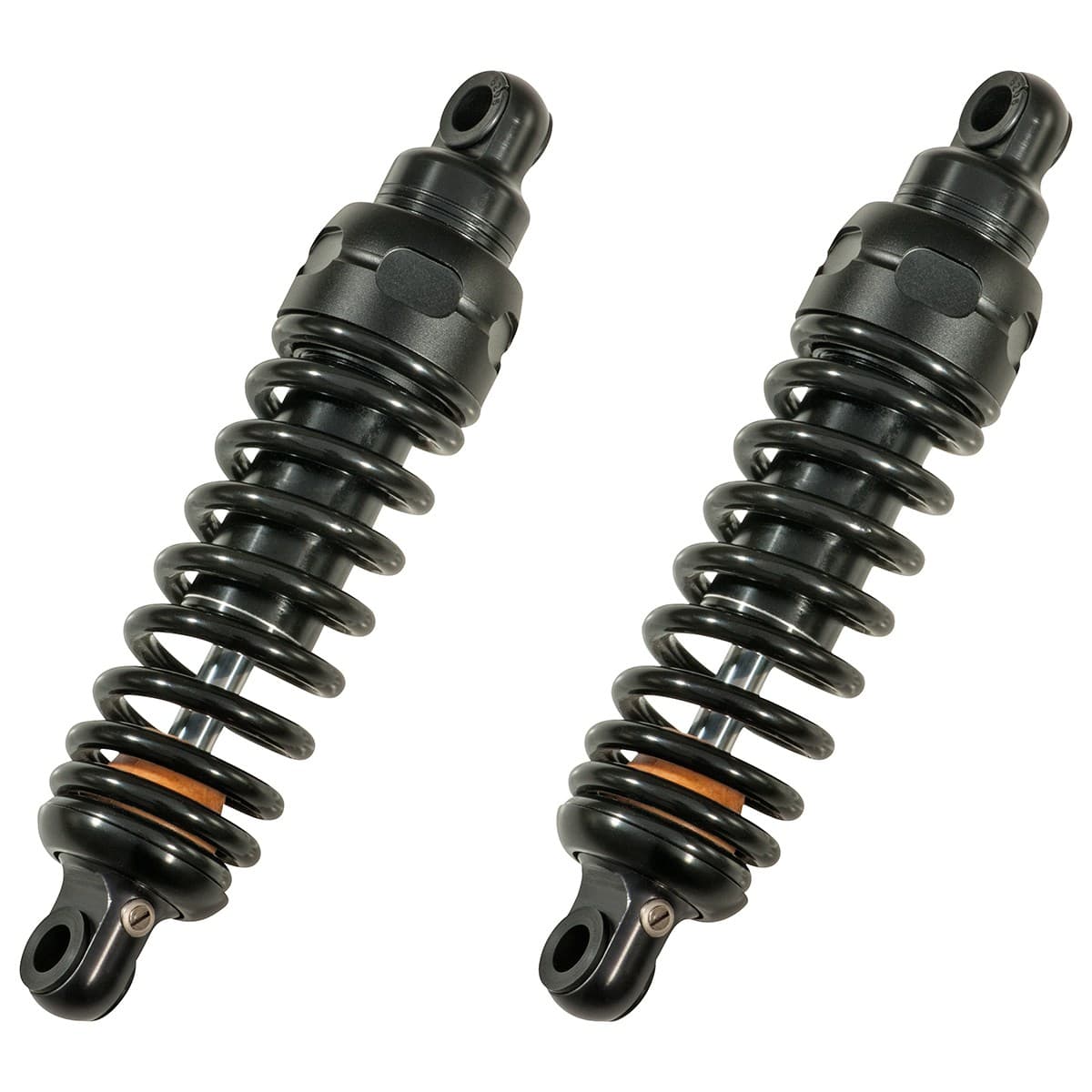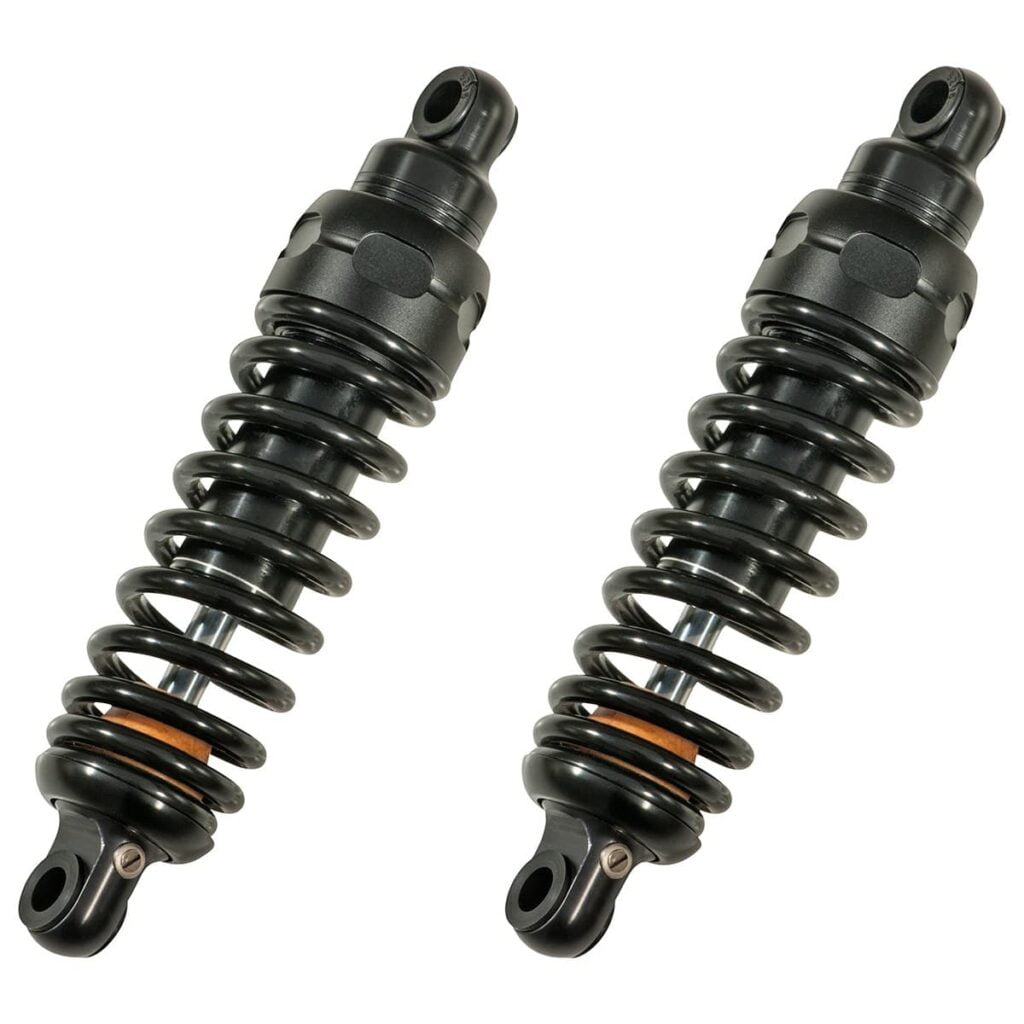 A company called Hagon used to make rear shocks for the Bolt that were a lot cheaper. They don't seem to anymore, from browsing their website.
For the front forks, the cheapest option is to install a Race Tech Gold Valve cartridge emulators. This will give you adjustability over compression damping (see my forks FAQ for more info). They're tunable valves that sit on top of the damping rods, held in place by the main springs. This makes them both simple to install and completely tunable.
The next cheapest option to is Andreani cartridge replacements. These give fully adjustable compression and rebound damping, and much better damping performance over a variety of conditions. Unfortunately, they're not cheap — often US$800 in your hands, plus installation time and costs.