This is my complete buyers guide to the Suzuki M109R, also known as the Suzuki VZR1800 and the Suzuki Intruder M1800R. Or "Boulevard", some times. Make up your mind, people! Some people affectionately call it the "Bully".
But most people know it as the Suzuki M109R, even those of us in the metric world where "109 cubic inches" doesn't mean as much.
Regardless of the name, though, the M109R barely needs any introduction if you're looking into it. It's a big bad-ass motorcycle, well-known as being one of the fastest "cruisers" around, as well as being one of the nicest to look at.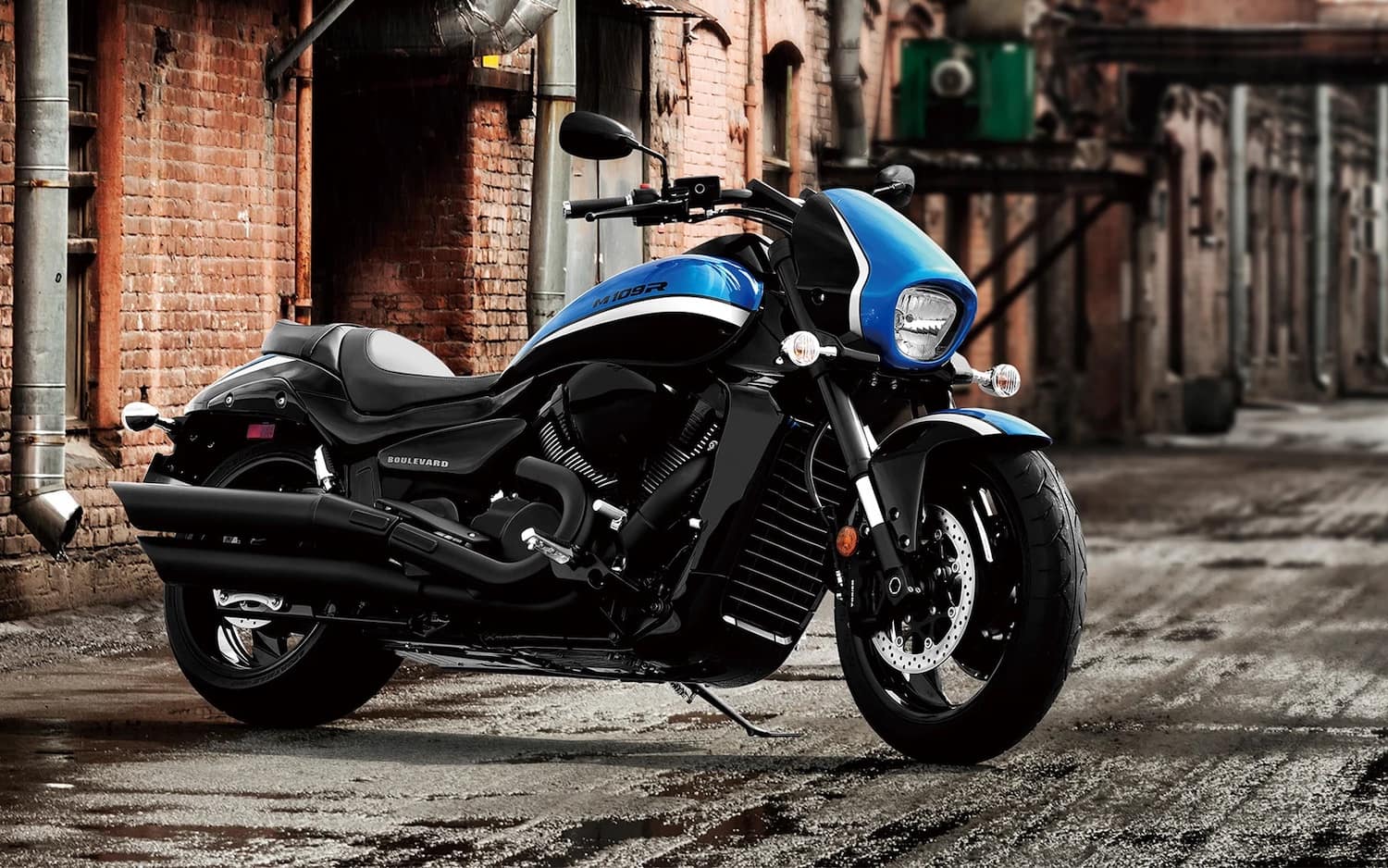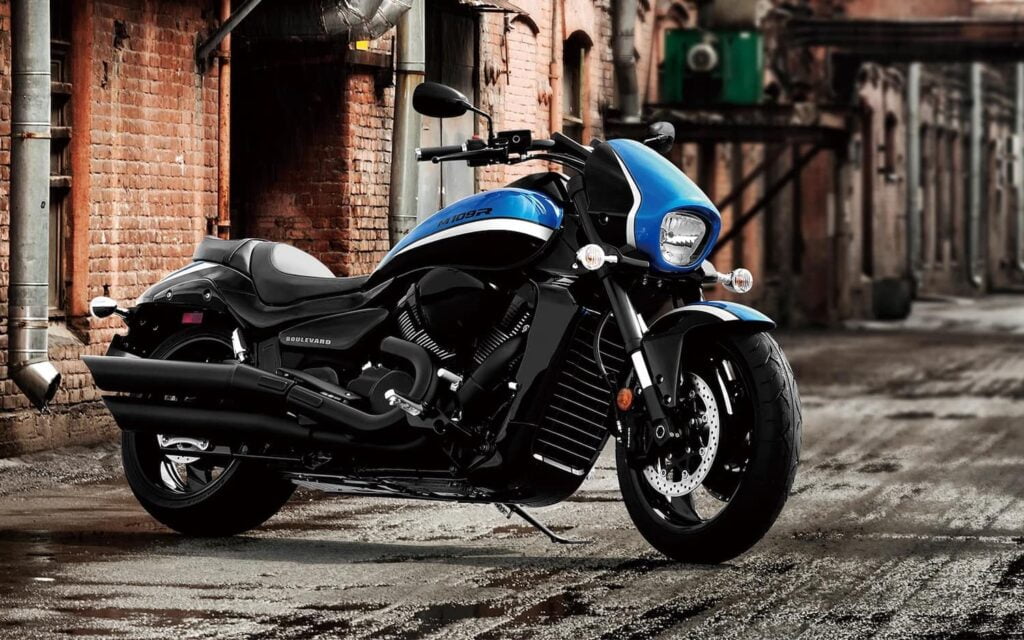 But if you are looking into it, you're probably noticing that over the years there seem to be some differences, and wondering:
What's the Suzuki M109R's model history — How did it change over the years?
Suzuki M109R known issues and common problems — Which are the years of M109R to avoid?
Maintenance of the M109R — What is the best oil to use, the best spark plugs, brake pads, tyres, chain (just kidding!) and how often does it need servicing?
Alternatives to the M109R — from within Suzuki and outside
And more things!
Those are the questions I'll try to answer in this buyers guide to the Suzuki M109R.
Enjoy!
Are you obsessed with motorcycles?
Well, I am. That's why I created this site — as an outlet. I love learning and sharing what others might find useful. If you like what you read here, and you're a fraction as obsessed as I am, you might like to know when I've published more. (Check the latest for an idea of what you'll see.)
General background on the Suzuki M109R
For me, the most amazing thing is how much hasn't changed about the M109R since it was first released in 2006.
Since launch, it has always been the Japanese muscle cruiser to beat. Like the Hayabusa from the same stable, the Suzuki M109R is known as being fast in the cruiser world.
The low-down of the M109R is that it has
A 1783cc (109 cubic inches) liquid-cooled dual overhead cam 52 degree V-twin engine (a cruiser engine but it needs valve clearance checks)
Claimed 118 pound-feet of torque at the crank; measured 96-98 @ 5,100 rpm at the wheel by various magazines
Claimed 92 kW (123 hp) at the crank, measured 81 kW (109 hp) @ 5,200 rpm on the dyno
Engine revs almost to 7,500 rpm — quite high for a "cruiser"
Shaft drive (no chain, not even a belt)
8.5-inch wide, 240 section rear tyre (read: really wide) (240/40R18 spec)
A weight of 347 kg (764 pounds) wet (curb weight)
Twin disc front brakes that are fine
An ignition with a key (some people really hate wireless key fobs!)
Upside-down forks (unconventional for a cruiser)
Liquid cooling in a cruiser? It's more common than you think, and it has a lot of benefits. Check out this piece comparing the pros and cons of liquid and air cooling for a deeper look.
Hop over to one of the M109R Facebook groups and you'll regularly see people talking about dragging such and such a car or other (cruiser) motorcycle… people like the M109R because they like to twist the wrist.
They'll never talk about racing a Yamaha R1 by the way, nor a BMW S 1000 RR or of course even a Hayabusa. Those are outrageously fast motorcycles. But still, the M109R is fast enough (you can do a 0-100 km/h or 0-60 in ~3.5 seconds… or about as fast as a Suzuki SV650), and outrageously fast for a cruiser.
Riding the M109R under various conditions
Riding the M109R is one of those things that's quite difficult to explain unless you've at least sat on one. It's just so different from most other motorcycles.
People have all kinds of questions about the M109R like "Can you do long distance on it?", "Is it comfortable?", and "How good is the cornering clearance?", which are all rational questions that have very little to do with reasons why people buy the M109R, which is that it looks, sounds, and feels awesome. We're all just trying to talk ourselves into it.
In practical terms, there's very little practical reason to buy an M109R. Here's a list of reasons you shouldn't get an M109R:
It doesn't have ABS or traction control, so riding it on a twisty wet downhill road would be a nightmare (unless you're used to it)
It is heavy
It is neither a new-fangled latest-model motorcycle, nor a fully traditional air-cooled cruiser
It is hard to handle around corners
Has no long-distance comforts like heated grips or cruise control (although of course you can add an aftermarket cruise control or throttle lock device to the M109R)
Still needs valve servicing, unlike most big cruisers from Harley-Davidson / Indian, and even a few from Kawasaki
It has ancient technology like a clutch cable (which is fine. Harley went back to them recently.)
Doesn't have a rear seat
The huge capacity makes it expensive to register
That retail price can buy you some incredible, much more modern machines… I could alternatively get a new Africa Twin 1100, a BMW R NineT Pure, an almost-new Yamaha R1, a Harley-Davidson Fat Bob (ok, not more modern, but with better resale) … etc. etc.
But for people like me (and maybe you), seeing the lines of the Suzuki M109R just makes our hearts skip a beat.
Even this one, which isn't my favourite colour, I couldn't stop looking at: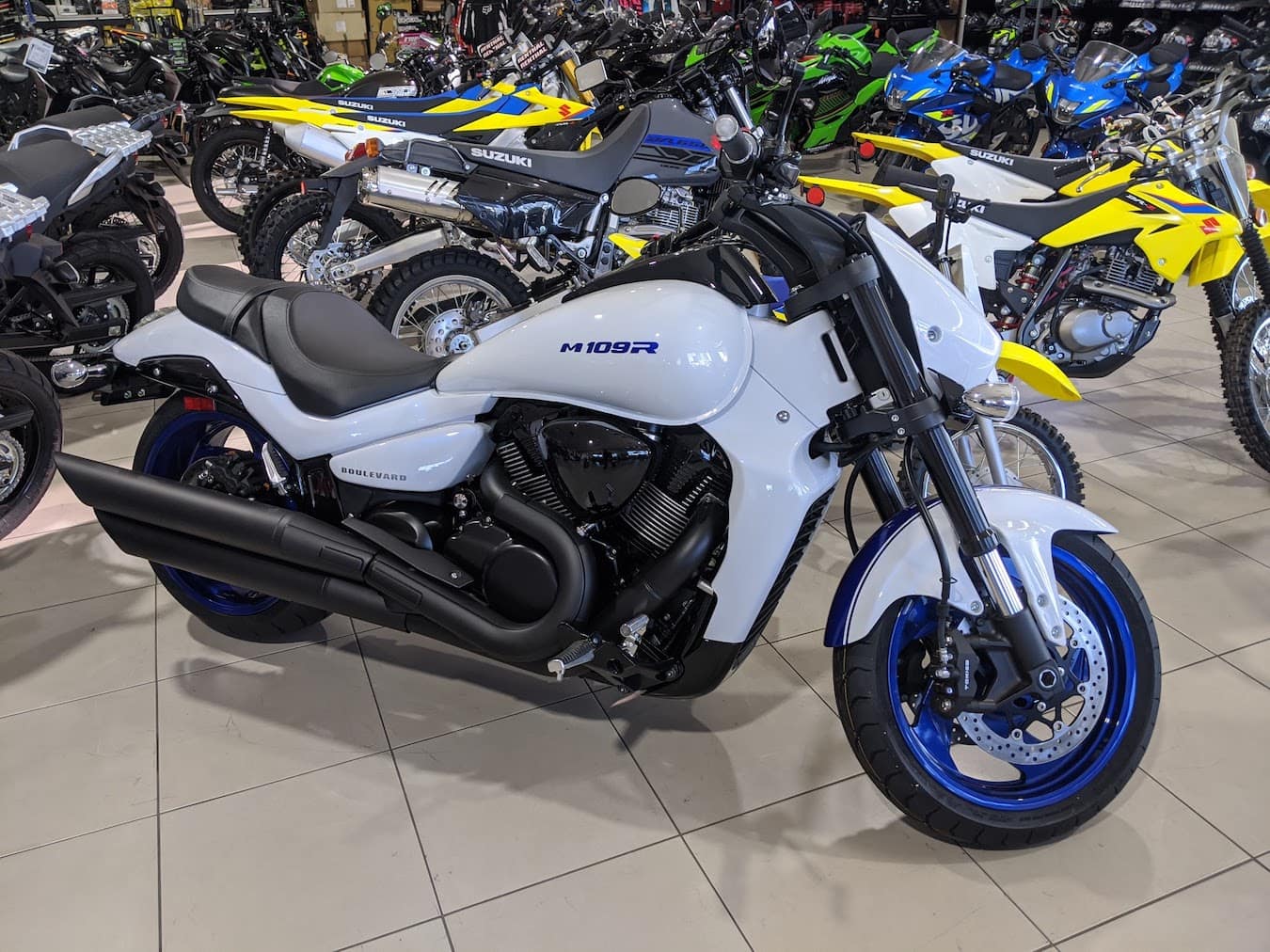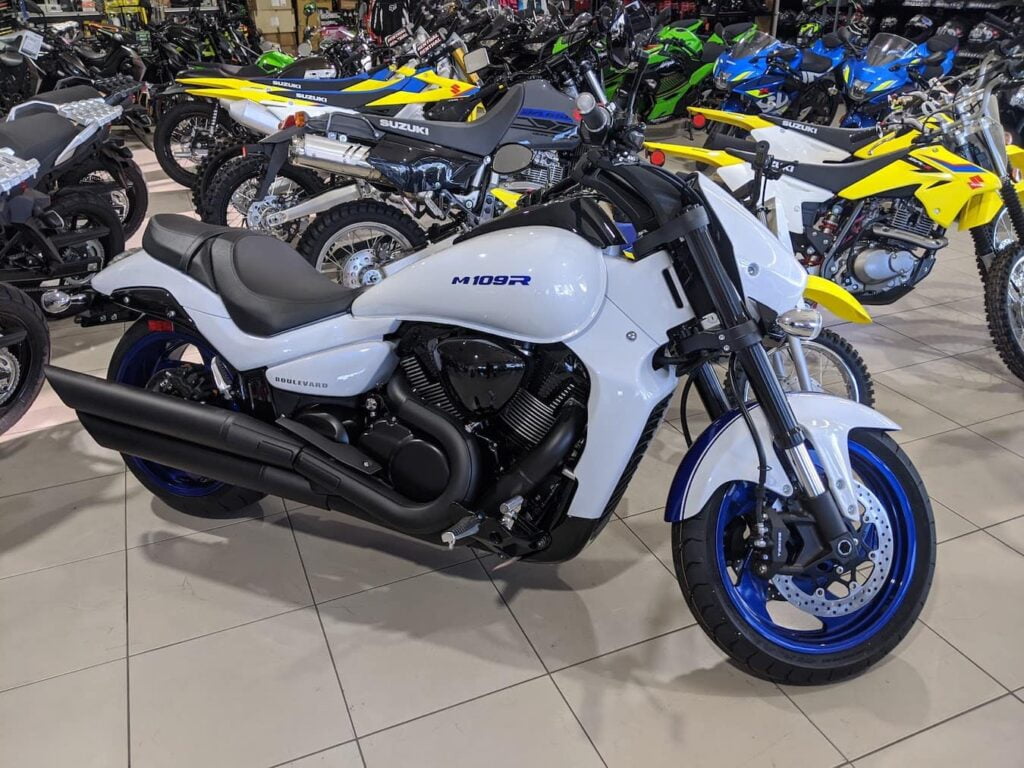 See here for a compendium of what I think are the best colours of the Suzuki Boulevard M109R.
Riding the M109R around town is fine if conditions are good (i.e. it's not rainy, or too cold). Like most big motorcycles, the M109R only feels heavy at a standstill, and is balanced while underway even at a slow speed.
In fact, the M109R is only heavy if you're trying to tell yourself it is. In number terms, it's heavy. It weighs a good 50% more than most other motorcycles I've owned, including 1L+ sportbikes.
But being a cruiser with low seat height, most of the weight is low to the ground. So moving it from side to side is not scary at all. On top of that, you since you can put your feet on the ground, it feels quite safe compared to a very tall motorcycle like an adventure tourer.
The suspension of the Suzuki M109R is firm and short. This means it's fine when the road is smooth. But what this means is that it's not good at soaking up bumps. The M109R gets jarring when going over a bumpy road, and what makes it worse is the "hunched forward" position means your spine soaks up the bumps. You can't stand up on the foot pegs like on almost any other motorcycle. This means: you only ride the M109R on roads that are good. No back country roads, and definitely no dirt roads.
On the other hand, people have done massive back-country distances on the M109R, in spite of the fact that it's not a good idea. Why? Just because the M109R is awesome. Once you've picked the bike that tickles you, you try to find excuses to ride it everywhere.
On the highway, the M109R is in its own element. Depending on your cruising speed, you'll be cruising at 2,500-4,000 rpm in top gear (remembering it only has a five-speed gearbox!). The M109R is totally happy at these RPMs. Some consider it to be "lugging" when around town at M109R, but I'd read that as being not delivering "100% torque". I personally think it's fine. A bike this big doesn't lug.
Cornering on the M109R is an interesting point. Firstly, if you're coming from a sport bike or even a standard, you won't get the cornering clearance you're used to. But secondly, if you're coming from older cruisers, you will be pleasantly surprised on the M109R.
Opinions on the M109R's handling are divided. Some reviewers place other cruisers ahead of it. But general consensus among owners is that once you've figured out how to tame the throttle and move your body, the M109R's handling is as good as you could want. It leans into corners easily, holds lines well, and has enough torque to power out of them with grace.
Acceleration on the M109R can go from docile, if you're gentle with the throttle, all the way up to raucous.
One thing that I don't really like is the idea of riding the M109R in the rain. Apart from the fact that it has no weather protection, it breaks traction easily, and then is not that fun to clean. It is really a good-weather motorcycle. Of course you CAN ride it in all weather, and many do, but if I had two bikes in the stable and the other was a V-Strom 1050XT — I know what I'd pick for a rainy day ride any day.
Suzuki M109R Model History
The Suzuki M109R has remained basically identical in its internals since it was launched in Oct 2005 (for the 2006 model year), save for a few upgrades to fix niggles.
The much more significant differences have been aesthetics. M109Rs has always been a tough-looking bike. But just look at how it changed: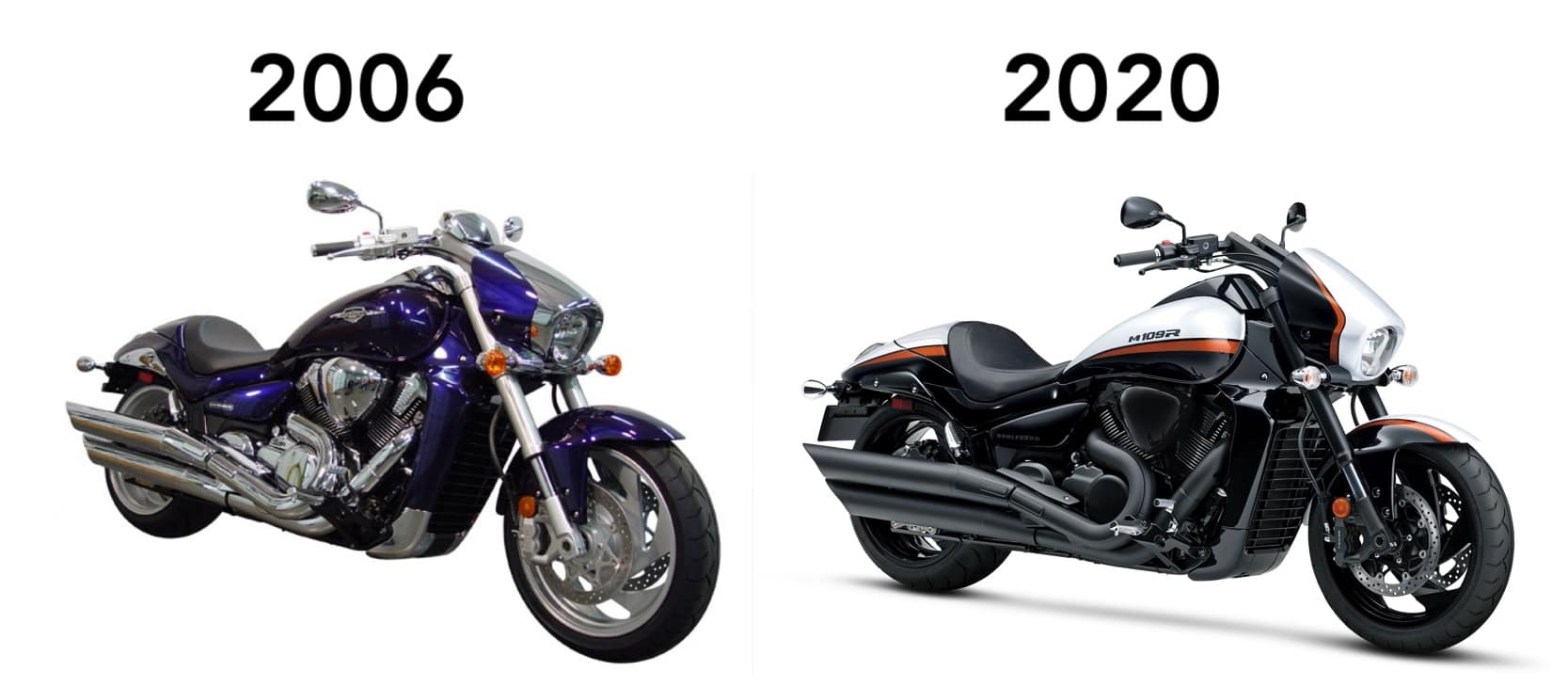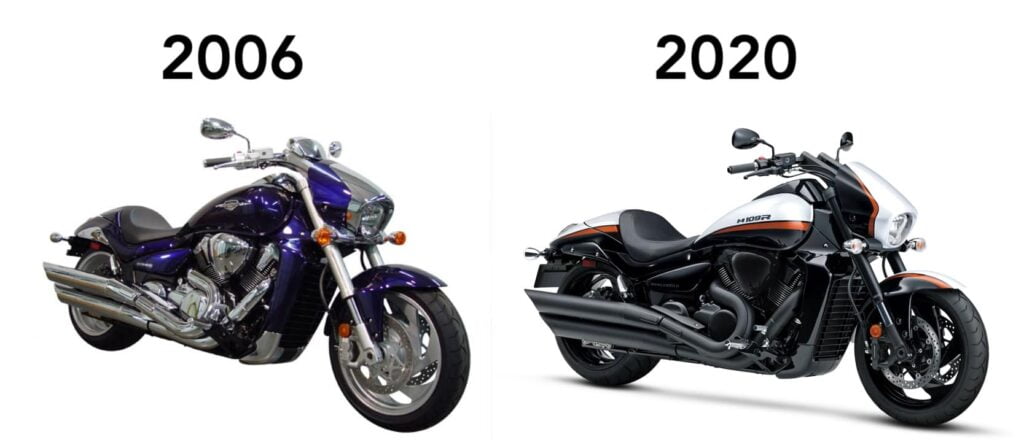 Granted, I picked two random colours, but they're representative in a few ways of how the M109R evolved aesthetically.
What happened?? The M109R definitely evolved aesthetically over time. Loosely you can break it down to:
Less chrome (eventually none!)
Less outrageous paint colours
More blacking out (though not on every model)
A few subtle tweaks to things like lights, the cowl, and other bits and bobs.
I'll try to cover it in "waves".
Wave 1: Glossy paint, lots of chrome, some issues (2006-2009)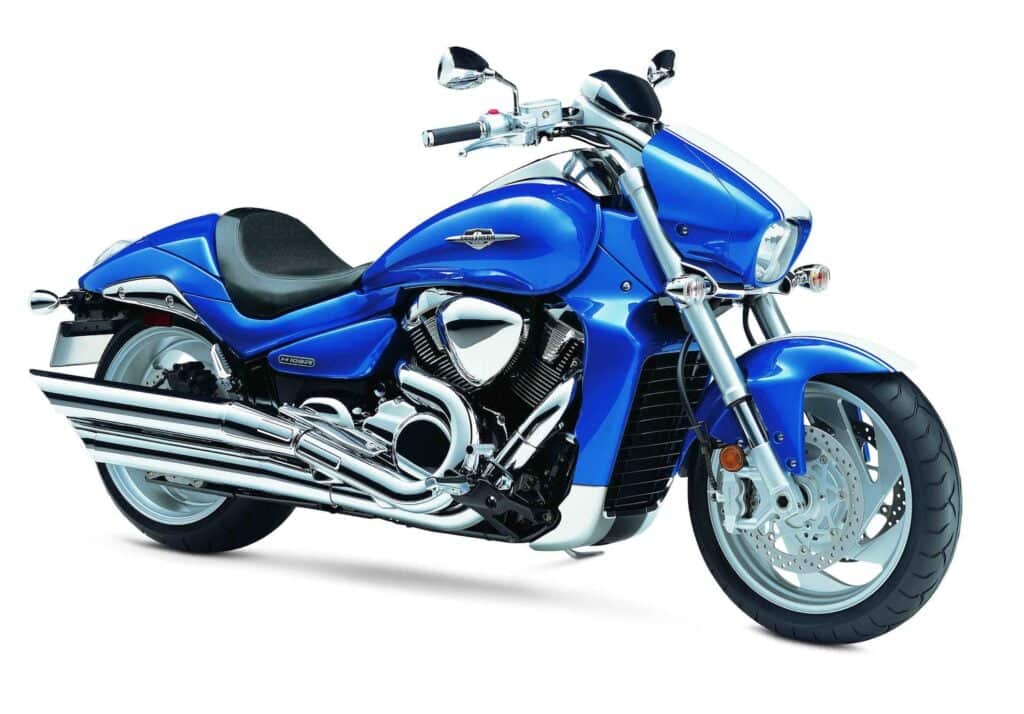 The first models in 2006 were the ones that defined the M109R for years to come.
Internally, they have almost not changed at all. The engine and most of the drivetrain is the same, though there have been some improvements to the clutch and gearbox.
Wave 2: More black, still chrome (2010-2018)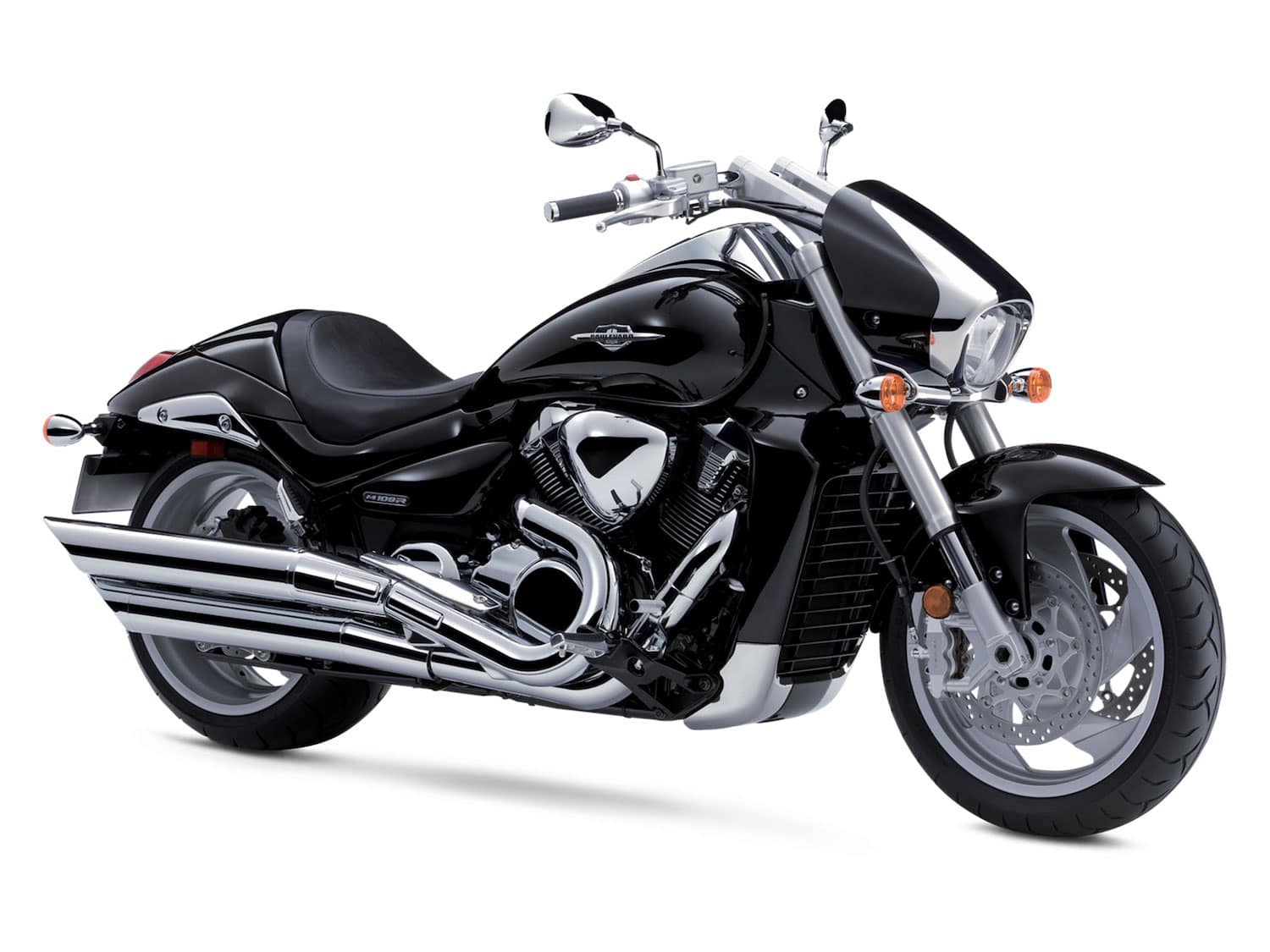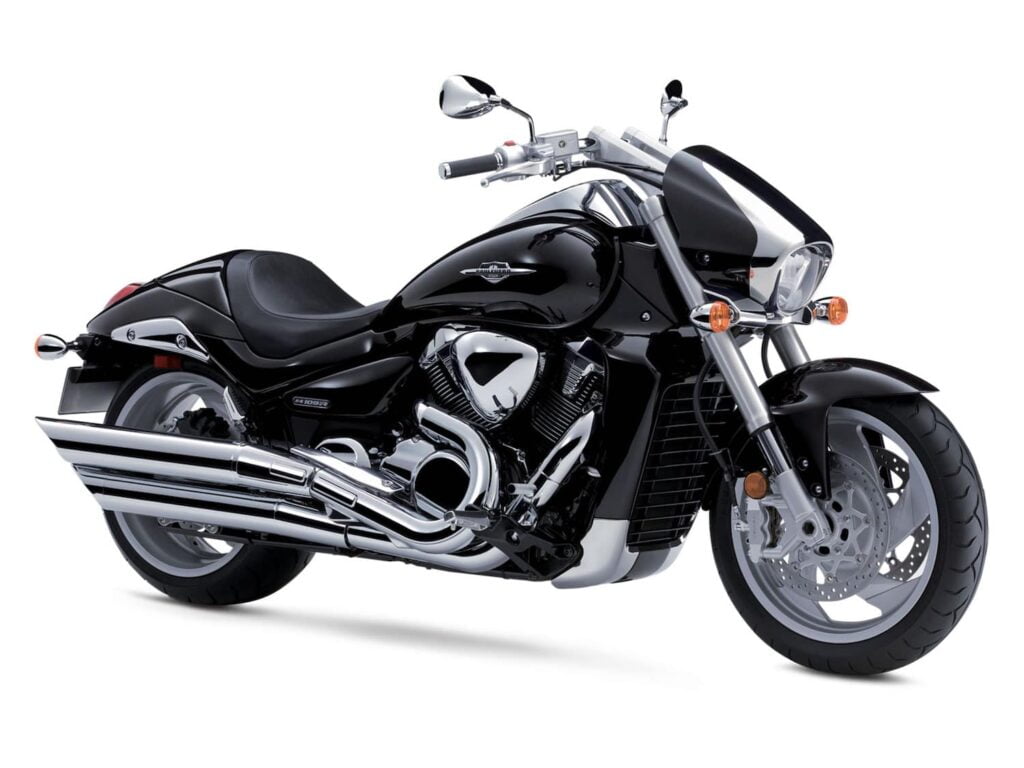 Lighter clutch
Easier shifting first to second
Blacked out wheels from 2015 onward (when B.O.S.S. came out)
The improved clutch has six clutch plates, rather than five clutch plates in the earlier models. This results in lighter engagements, less fatigue on the springs, and less wear on the gears.
Because the engine block is the same, it's possible to upgrade earlier models to later model clutch plates.
In 2011, Suzuki updated the instrument cluster, giving it a digital tachometer and LED indicator light and a gear position indicator, which wasn't previously included. Suzuki also relocated the tachometer from the handlebars to the top of the headlight cowl.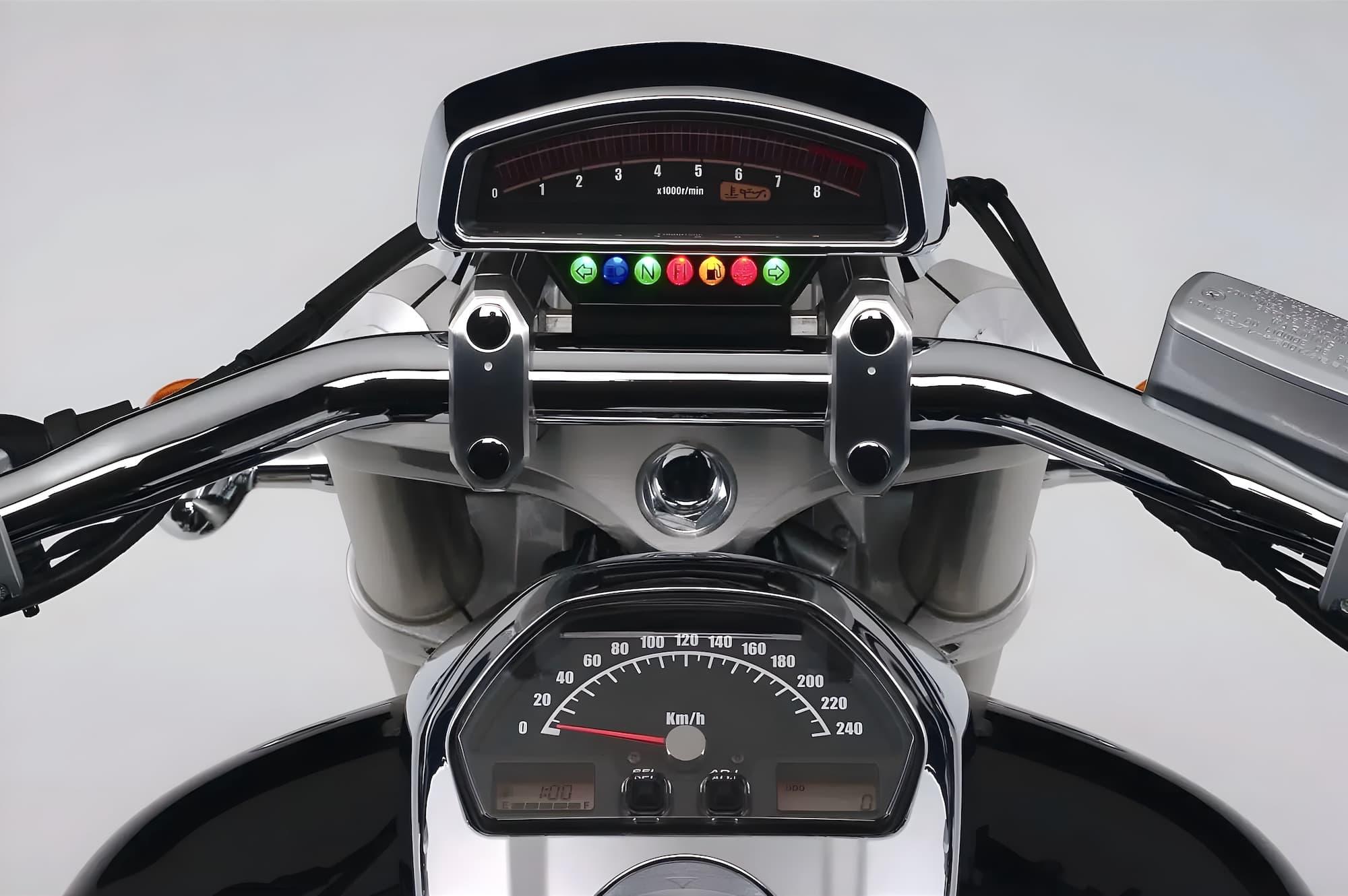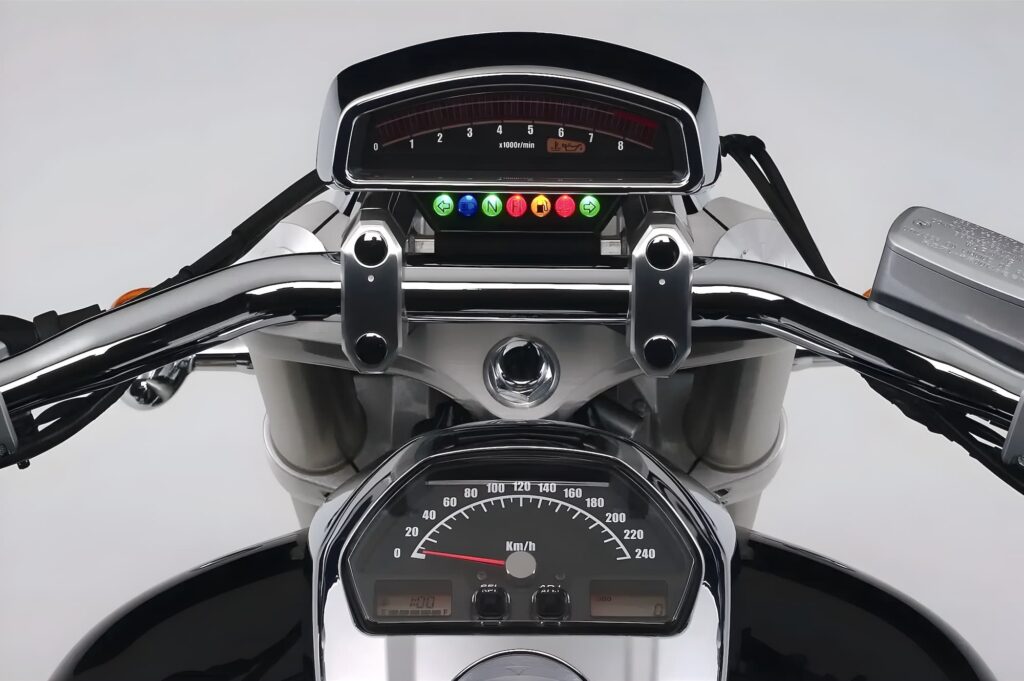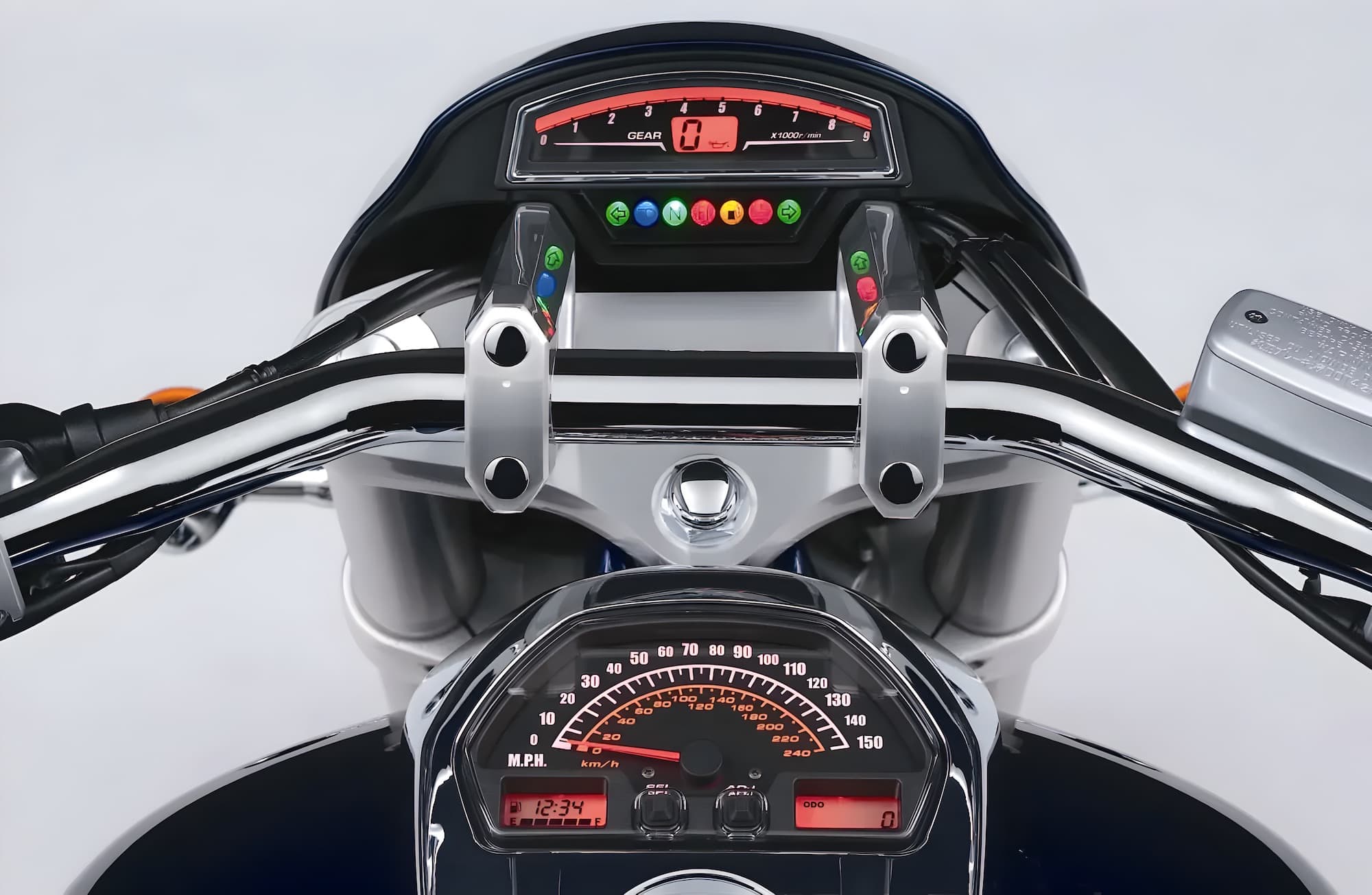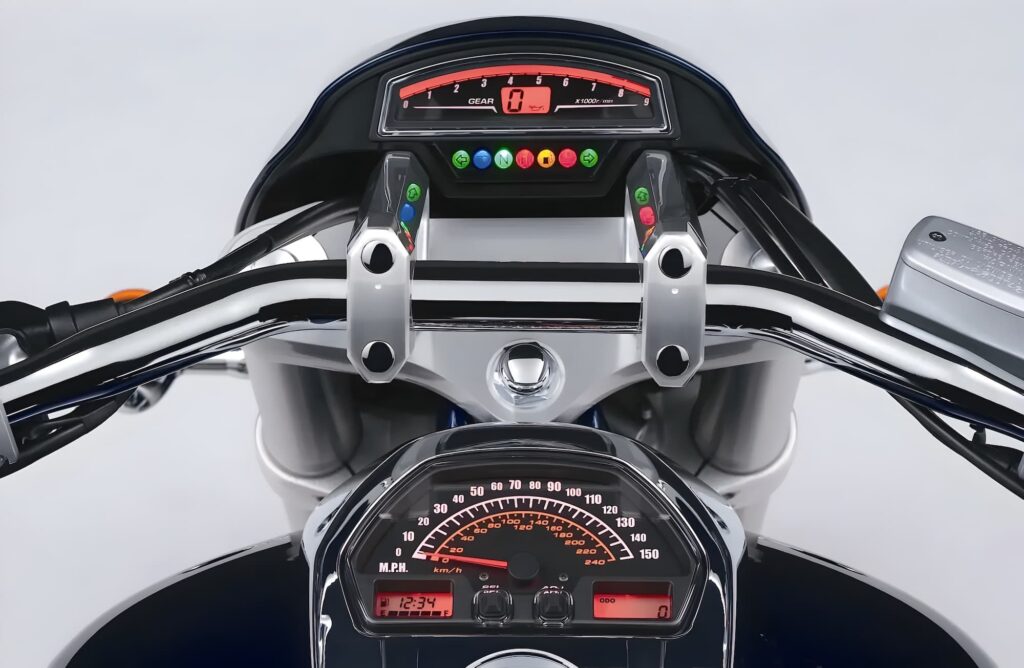 It's easy to add a cheap after-market gear position indicator. But it might not fit the aesthetic you're going for.
After 2018, it seems that Suzuki retired the chrome (non-B.O.S.S.) variants from most markets. I can't find any statement about this. But I just don't see reviews on anything other than B.O.S.S.
Wave 2.5-3: Suzuki M109R "B.O.S.S." editions (2015-2020+)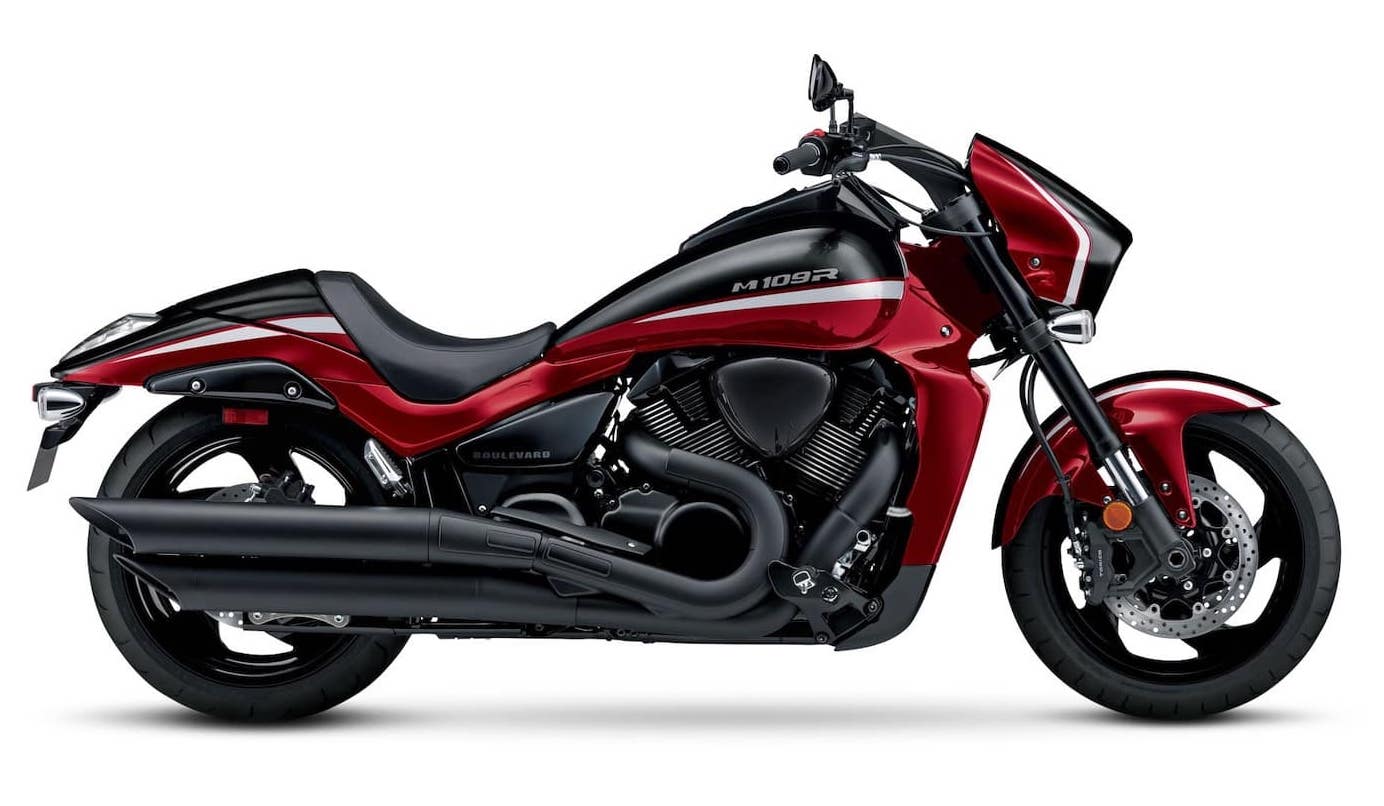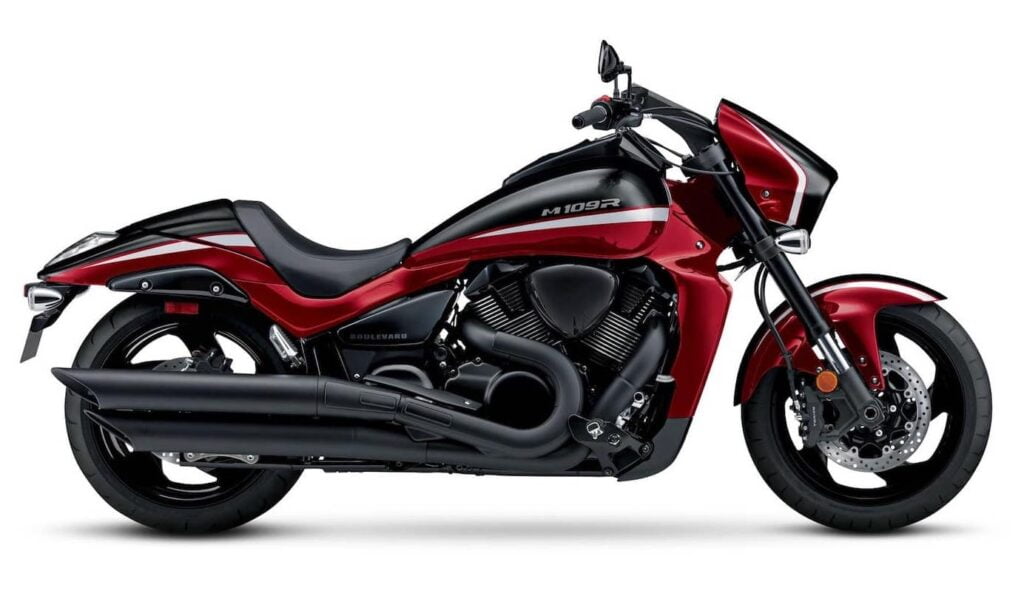 The Suzuki M109R B.O.S.S (which stands for Blacked Out Special Suzuki) models were first released in 2015 alongside the other M109R models, which were identical aside from the colour schemes. The B.O.S.S. editions have blacked out engines and exhausts — no more chrome!
The paint is still glossy, but more muted.
In some markets, the Suzuki M109R B.O.S.S. was known as the Black Edition. (Maybe due to a trademark conflict, not sure.)
The M109R B.O.S.S editions came in various colours, but they always came with blacked-out everything — engine, exhaust, mirrors, and wheels (which are all blacked out on M109Rs from 2015+ it seems, even with the 2015-2018 M109R motorcycles with normal amounts of chrome).
From 2018 onwards, it seems that in the US and Australia, you can only get the B.O.S.S. colour schemes. That's fine with me. For me, it's the B.O.S.S. that's the one to get.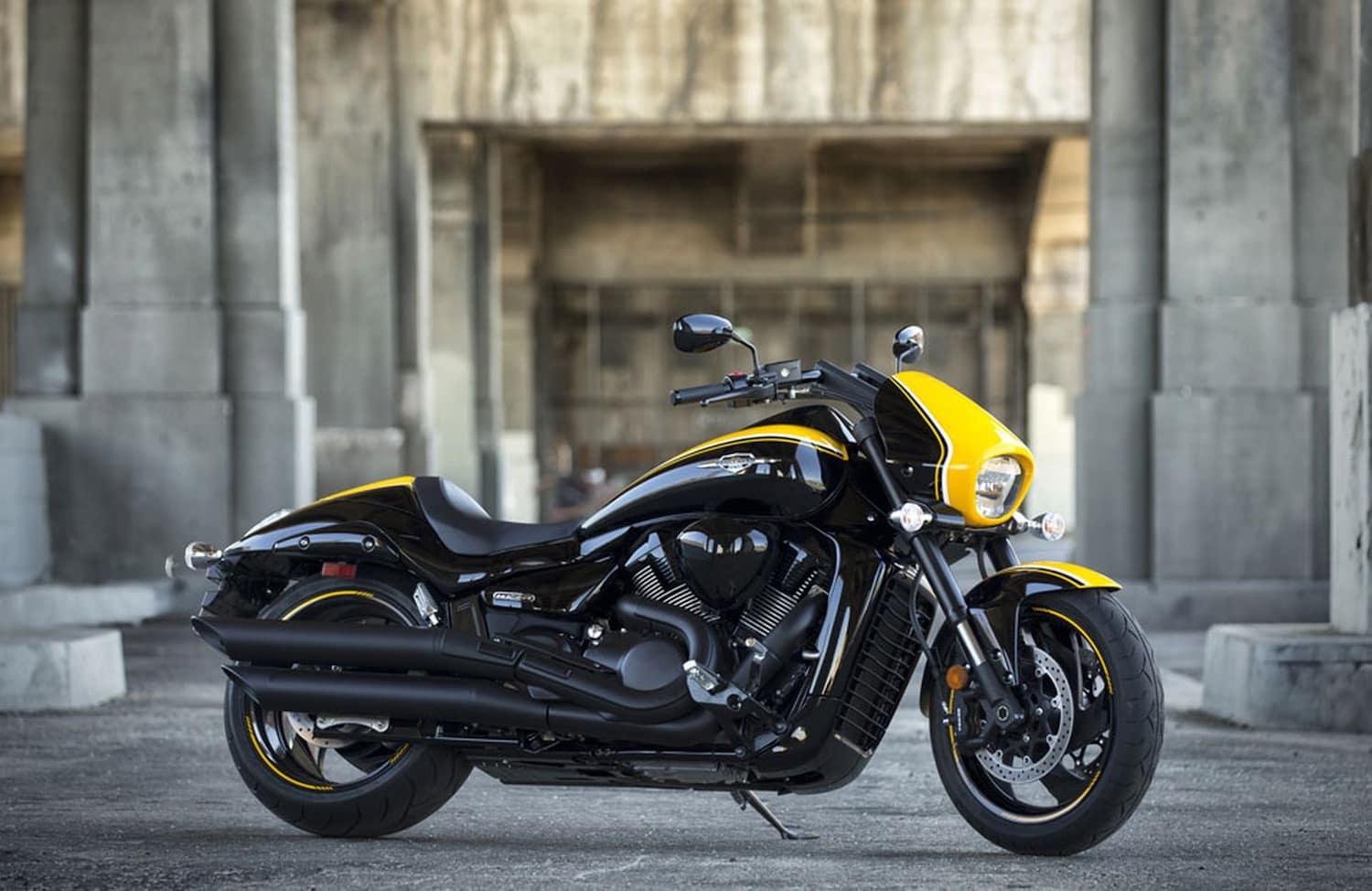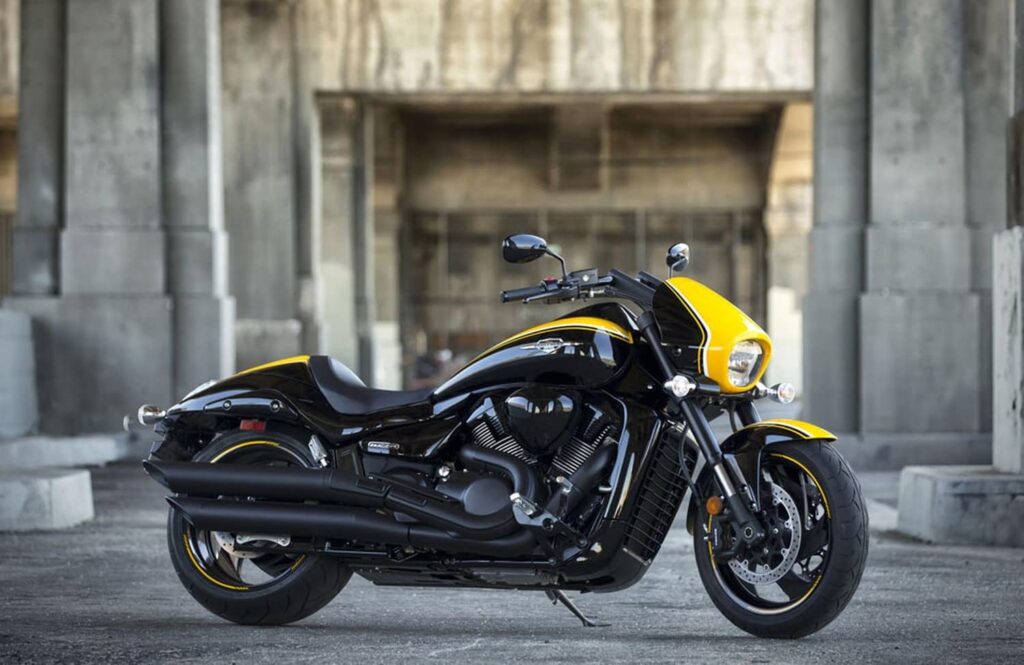 Suzuki M109R known issues and common problems
There are a few problems I've seen people talk about when discussing the M109R. These are a) the gearbox dropping 2nd gear in some years, b) the clutch, and c) the driveshaft. (See the "What to check" section for some ideas of how to do a test ride.)
I generally try to know all the common issues of motorcycles before going to look at them so I know what to look for when inspecting them and taking them for a test ride (where possible).
One general note — all of these problems either reveal themselves under hard acceleration, or could be in part caused by them. I haven't seen accounts by people saying "I'm a gentle rider and still I had this issue". The fact is, people ride the M109R hard — shifting near the redline, hammering the gear lever to get into second gear.
There's nothing wrong with riding this bike hard. It's meant to be able to handle it! But an unavoidable truth is that if you're buying a used bike, it's impossible to know the history. Try to suss out the owner and see if they're the kind of person you trust to either ride gently or take care of the bike.
Suzuki M109R 2nd Gear Issue
On some early models of M109R, it would jump into neutral when shifting into second under acceleration.
I only have 7k on the odometer now and I still don't love the transmission on this bike, frankly it's the worst of any bike I've ever owned or ridden… I came off a 2009 Raider and that bike's tranny is like heaven compared to the 9!

Schmoof, M109Riders
This would generally happen once the bike was worn in — I've seen it mentioned around 10,000 miles, and even at 30,000 miles.
People describe the problem as
Hard shifting between 1st and second gears (and sometimes into third) — you have to "shift like you mean it" and there's a "crunching" sound (different to a clunk, common to many big gearboxed bikes)
Dropping second gear — coming out of second gear (and sometimes third gear) and into neutral under hard acceleration
Failing to shift into second gear at all — basically the second gear stops working.
It seems mostly to affect the 2006-2008 model years (the very first ones). Failure meant rebuilding the gearbox, which could cost thousands of dollars (whatever the currency).
The thing is, the Suzuki M109R gearbox failure also came with hard acceleration. People like pushing their 'Nines as hard as they can. (I mean, why else would you get a bike like this? This isn't a motorcycle for anything other than pushing!)
So what does this mean? How do you avoid the 2nd gear issue definitively? Only buy an M109R that
Has low (or lowish) miles
Where you know the history and trust the owners (and they say it has never had a 2nd gear issue),
Which is 2010+, and/or
Has had the gearbox rebuilt already
People who've had the gearbox rebuilt say it seems to run better than new.
I've never inspected an M109R with a bad second gear. But I know that others (online) who have passed up on cheap M109Rs because the cost of rebuilding them is just too high.
Suzuki M109R Hard Clutch (2006-2009)
All Suzuki M109Rs have slightly harder clutches than most motorcycles. Part of the reason is that it the M109R has a cable clutch (rather than hydraulic), but part of the reason is just that the clutch is quite heavy.
Pre 2010, the M109R was known for having an especially heavy clutch. This added to the difficulty of switching into second gear.
In 2010, Suzuki upgraded the clutch to a six-plate unit from the 5-plate unit pre-2010. This lightened the clutch action and helped shifting become easier. You can also get a 6-plate clutch pack and install it into the 5-place clutch housing on the 2006-2009 M109Rs.
The definition of "heavy" is relative. It depends on your grip strength, and your age. If you're a "mature rider" (we're all on our way!) or just are used to smaller (or just other) motorcycles and you don't like grabbing the clutch hard, then you may find the M109R's clutch lever hard.
Commonly, an M109R's clutch (being a cable clutch) can be lightened by a) applying clutch cable lube (like Motion Pro) or b) adjusting the cable tensioner. If those don't help, a mechanic should look at it.
The procedure to adjusting the cable tension is to:
Pull the rubber cover boot back from the front of the clutch lever.
Loosen the lock-nut on the adjuster.
Turn the adjuster out to remove any gap between the lever and its perch.
Pull the clutch lever in. Put a thick washer or coin in the gap and release the lever, holding the washer/coin in place.
Screw the adjuster in until the washer/coin just falls out.
Tighten the lock-nut.
Replace the rubber cover.
Personally, I've ridden a bunch of Ducati motorcycles that are known for having a "heavy clutch" and it has never bothered me. But my standards are obviously just my own.
Another thing is that the clutch cable will fail at some point on the M109R. Expect it roughly every 10,000 miles or 20,000 km. On the plus side, it's just a clutch cable (rather than a hydraulic system), and replacing it is not hard.
M109R Drive shaft issues
I've read reports of people having failed drive shafts on the Suzuki M109R after a few tens of thousands of kilometres or miles. I believe this happens, again, because people push them hard (and maybe don't change the oil). I don't think its a problem endemic to the bike, and it's one to just budget in to the future some time.
Maintenance of the M109R
The M109R is a simple motorcycle, very low in technology, and is very easy to maintain.
Valve clearance intervals are every 24,000 km or 14,500 miles.
Minor service intervals are every 6000 km (4000 mi), at which points you should inspect both brake hoses and clutch cables.
One aspect of Suzuki M109R maintenance that's more expensive than most motorcycles is the rear tyre. It's really large! On top of that, it only takes a bit of wear for the handling to be quite adversely affected. You can technically get 15,000 km (or 10,000 miles) out of tyres quite often, but many owners end up changing them in half that distance.
The large tyres make Suzuki M109R tyres quite expensive, unfortunately. You'll pay 25-33% more than for a sportbike with smaller but similar-quality tyres.
For a full maintenance schedule with associated service intervals, see here.
What to check when buying a used Suzuki M109R
The M109R is such a simple and popular motorcycle that its a bike that many people like to modify. So the first thing I'd recommend is really learning what the model you're looking at looks like.
Before inspecting one write down (or memorise)
What the controls look like – foot pegs, handlebars, levers. These are the first things to be replaced in a crash.
Wheel sizes
Standard intake and exhaust
Tire sizes
An intake is easy to replace, and people often do with high-flow intakes. Exhaust is more expensive but is a common mod. Unfortunately, it's more rare for people to install a tune to take advantage. So if you notice that the intake and/or exhaust have been modified and the bike tends to lug in low RPMs, or hesitates anywhere under 3,000 rpm, then you might have found a fuelling issue that will need to be sorted through fuelling (likely affecting the closed/open loop fuelling shift).
The rear tire is something that M109R owners often change. The standard M109R has a rear tyre with a profile of 240. But shockingly, this isn't wide enough for some people, and they upgrade to 250, 260 or maybe more!
A larger rear tyre looks cool (and maybe you're into it) but it will also adversely affect the handling. So be aware of that before buying one.
Next, check for heavy clutch and 2nd gear shifting issues. It's normal for the shifting to be a bit clunky on the M109R. But test the 2nd gear shifting by
Shifting into 2nd at moderate RPM (4K+)
Accelerating hard while in 2nd gear, and seeing if it drops out
If it passes those tests, and the owner swears they haven't had them, you should be OK.
I've almost never read of blown engines in M109R. I don't believe it's considered to be a common problem.
Alternatives to the M109R
I think it's worth looking at motorcycles that are mentioned alongside the Suzuki M109R as comparison points.
The first and most obvious are the other ones from the Suzuki stable. The Suzuki M90 (no R) is a 1500cc brute, and if the M109R didn't exist, the M90 would be enough for most people! It looks great and goes plenty hard.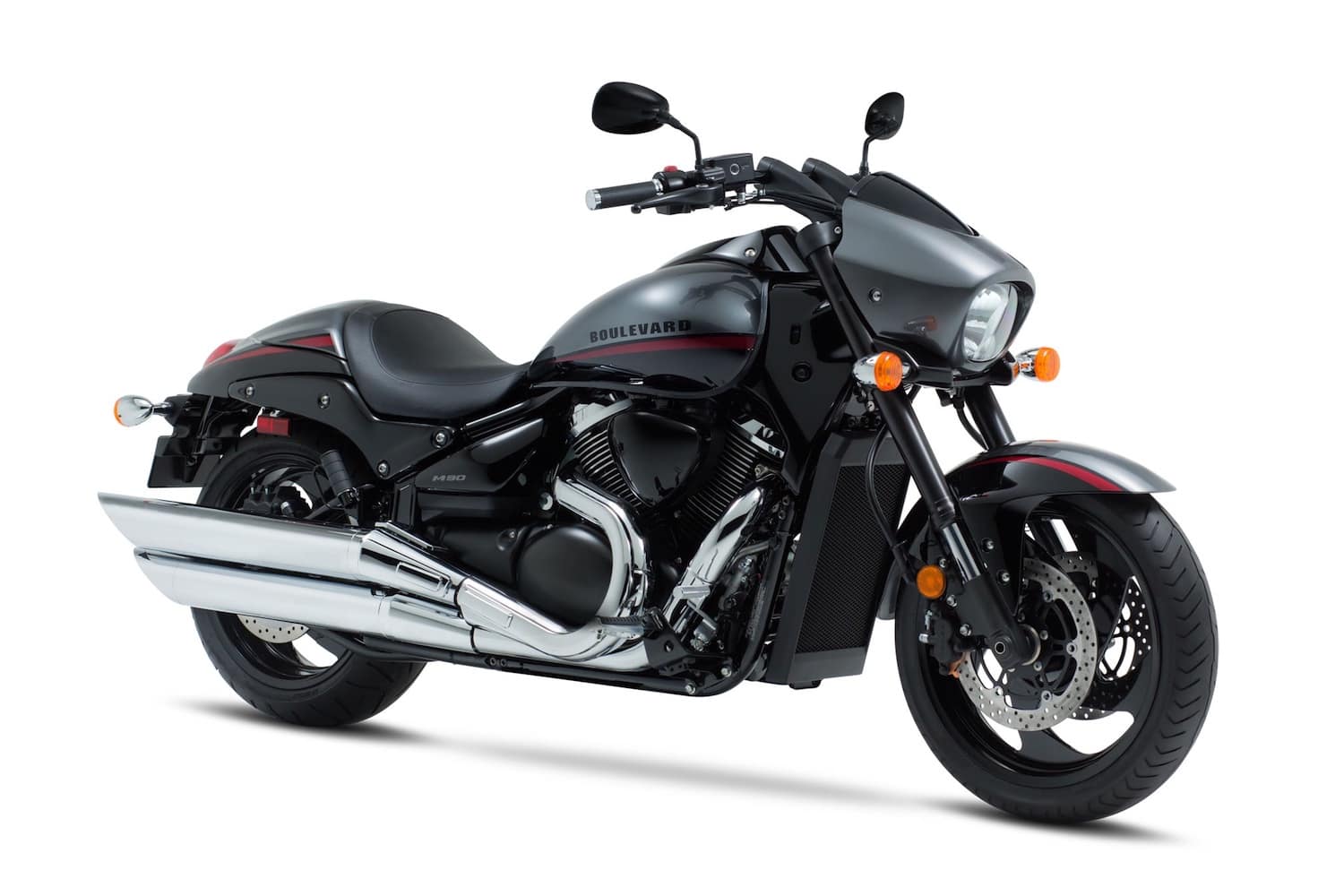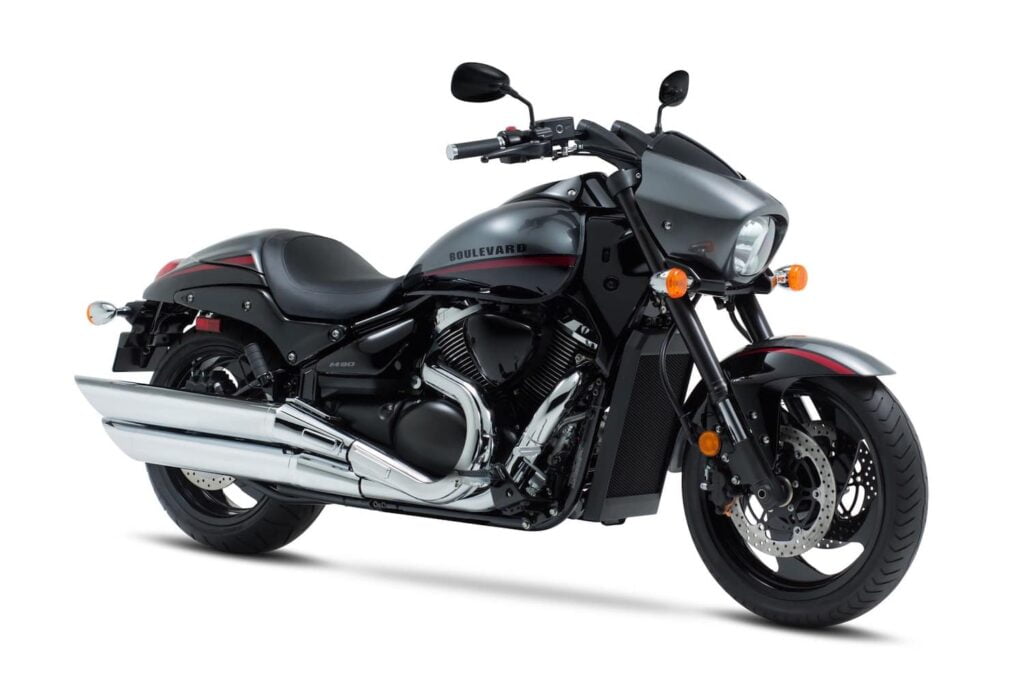 The Suzuki C109 is another motorcycle mentioned alongside the M109R. It is the more comfortable cruiser alternative. Its engine has a heavier flywheel and it thus delivers power a bit differently, with more low-down torque and less top-end power. The C109 addresses a different market segment, but people look at them if they know they want to tour.
Motorcycles from other brands that are often compared to the M109R are:
Yamaha Raider 1900 — bigger capacity, more comfortable, beautiful, but purely air-cooled, and slightly less powerful (and thus slower). Mind you, people say they shift a lot more slickly.
Kawasaki Vulcan 2000 — ye gods, even bigger! And water-cooled! But somehow produces less power and weighs heavier, and is thus slower than the M109R.
Yamaha VMAX (1700) or V-Max (1200) — Yamaha's power cruiser, built around a V4 motor. Well known as being a drag racer's bike. The early gen 1200 didn't handle too well, but the later 1700 gen handles fine, for what it is, which is a somewhat heavy near 200 horsepower muscle cruiser that almost no other motorcycle dares answer back to. Has a shaft final drive, and a comfortable riding position.
Honda VTX1800 — They say this is the bike that inspired the M109R. Looks the business! Like the Yamaha and Kawasaki, less powerful and heavier than the M109R, and slower.
Harley-Davidson V-Rod — The V-Rod, sadly discontinued from 2017, is the Harley-Davidson that sports bike riders often say "If I had to ride a Harley…". It's a good 18kg (41lb) lighter than the M109R, has liquid-cooling (is it even a Harley??), and made a similar amount of power to the M109R. They're unquestionably fast. Being a Harley, and discontinued, they're much more expensive (2-3x!) and are already appreciating in price.