I like boxer motorcycle engines. In the relatively short list of motorcycles I've owned, I've had the pleasure of owning two boxers. And I've ridden a number more.
One of the bikes that I almost never see online (or if I do, not at a convenient time / place / price) is anything from the short-lived but awesome BMW HP2 range.
I first came across these when I had a BMW R 1200 S and belonged to a number of user groups. People showed pictures of their bikes, and occasionally, a variant of the R 1200 S of rare beauty — the HP2 Sport — would show up. Dear god, what was that thing?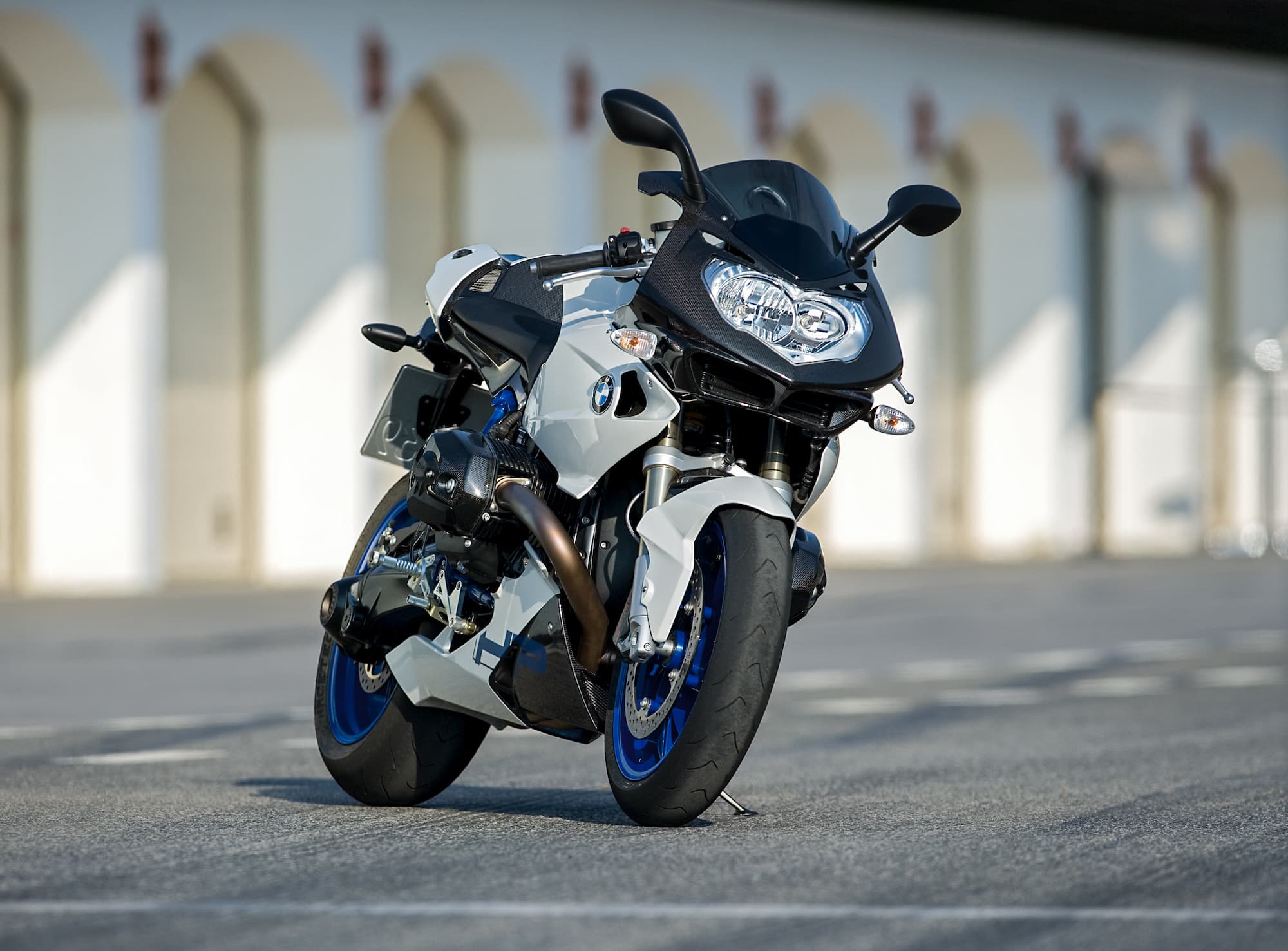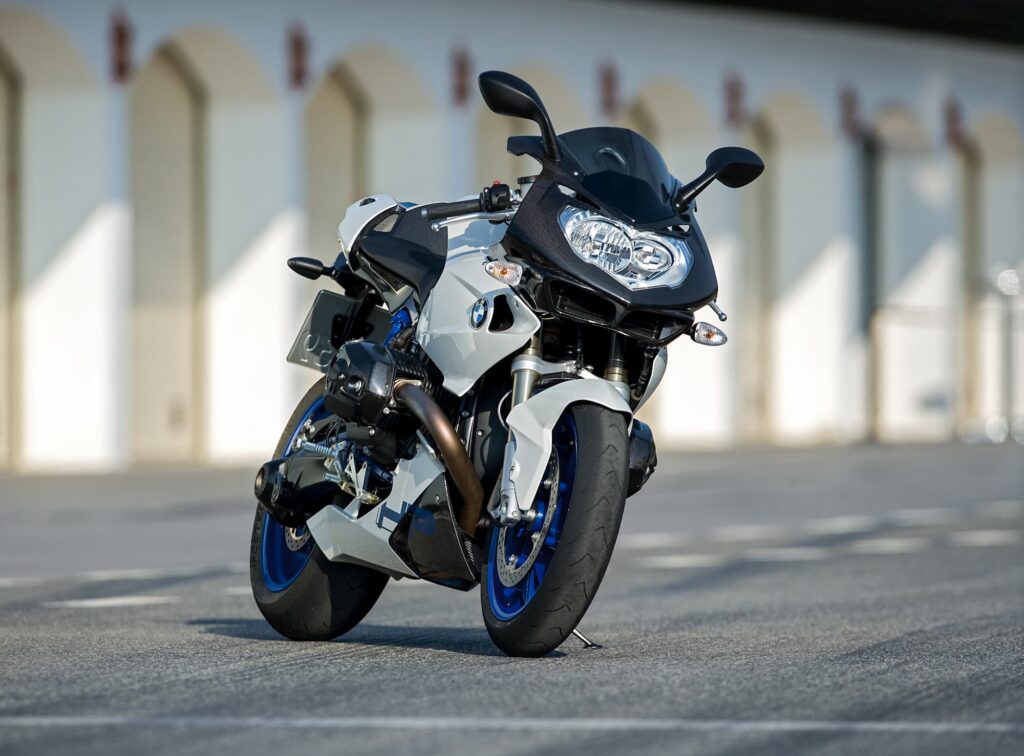 I still haven't seen a BMW HP2 Sport in person. But what's even more shocking is that there are three kinds of HP2 bikes, each of them very rare and almost never for sale.
In a nutshell, the HP2 motorcycles are "high-performance" boxer motorcycles. Each one of them takes the 1200 cc boxer engine that powered many of BMW's motorcycles of the time and shoehorned them into unconventional (for BMW, and for that engine) formats.
There were three:
The BMW HP2 Enduro (originally just called the BMW HP2): A boxer-powered enduro / dual sport
The BMW HP2 Megamoto: A boxer-powered supermotard
The BMW HP2 Sport: A boxer-powered sport bike
Every model of the BMW HP2 series is rarely sold used and is usually expensive (on a relative basis, specs for specs). So it's worth putting a little down about why they're special.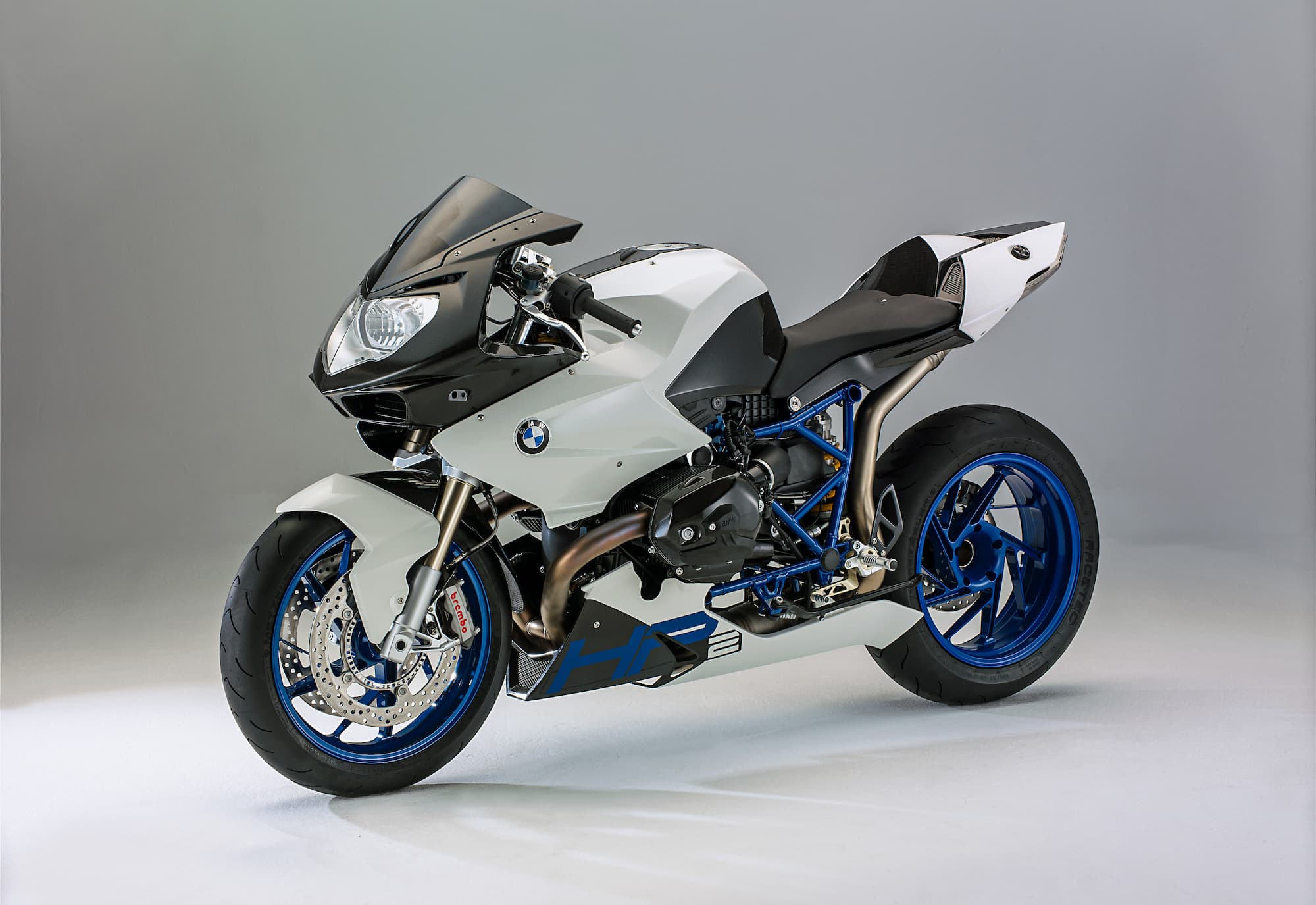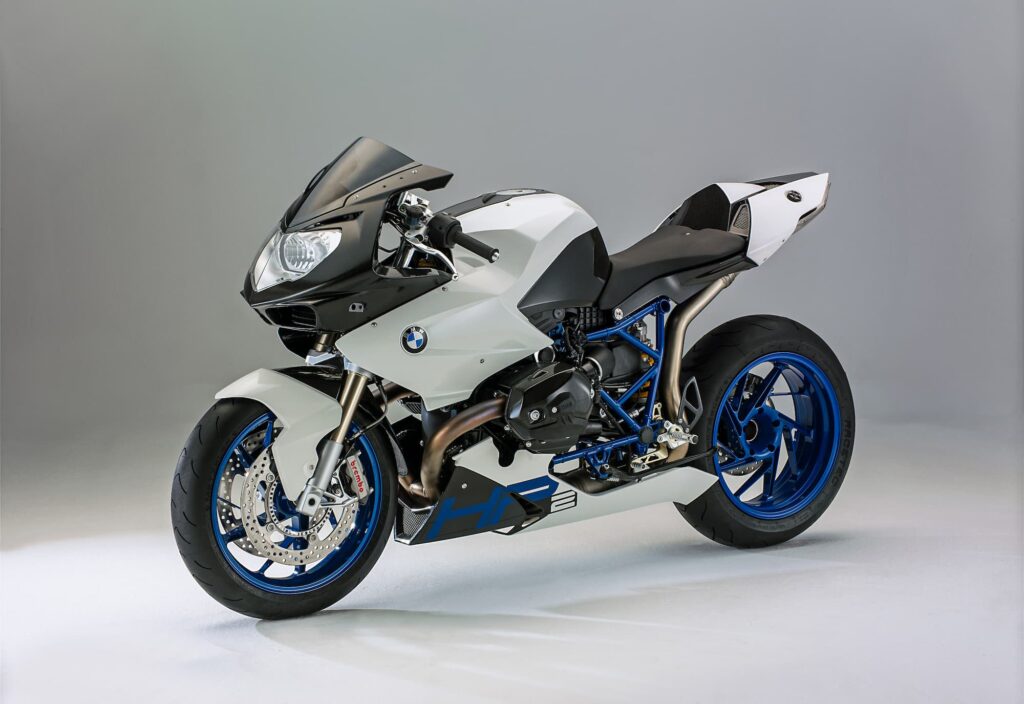 Are you obsessed with motorcycles?
Well, I am. That's why I created this site — as an outlet. I love learning and sharing what others might find useful. If you like what you read here, and you're a fraction as obsessed as I am, you might like to know when I've published more. (Check the latest for an idea of what you'll see.)
Context: Before the BMW HP2 Series
BMW has been building boxer-powered bikes for a long time. Since the beginning, around a hundred years ago (well, not yet 100 at time of writing, but this article will be around for a while).
BMW and boxer engines go hand in hand. But before the HP2 series, BMW had also been building motorcycles with other types of engines:
Single piston engines (generally the small adventure bikes) — sometimes these engines were made by Rotax in the F and G series bikes
Parallel twin engines in the F series
Inline three and four-cylinder engines (the K series)
BMW has traditionally been known for producing relatively sedate motorcycles. They've either been standard bikes, adventure touring bikes, or, more recently, high-speed but comfortable and luxurious tourers.
But BMW historically never produced aggressively-tuned, single-purpose bikes. It wasn't part of their DNA until very recently.
Since we're reading this in the 2020s and beyond, by now you know that BMW is very capable of making sport bikes. Since the BMW S 1000 RR, people like you and me know that BMW is as good at making track-focused superbikes as any other manufacturer.
See here for my guide to the BMW S 1000 RR and how it has evolved over time.
But before the S 1000 RR, BMW mucked around with the idea of making single-purpose bikes on their existing boxer and shaft drive platform.
These were the HP2 bikes in a nutshell — BMW's attempt at taking the boxer twin used in more conventional, mass-market bikes, and making some very specific bikes, and seeing what would stick.
Base Specs of the BMW HP2 Range
We'll go into more detail about the HP2 bikes in further sections. But here's the general rub.
All the bikes share a few things in common. They all have:
An 1170 cc air/oil-cooled engine. (Though there are differences in the states of tune and even in the way they breathe.)
A Paralever rear end, with a shaft drive and an additional strut to mitigate shaft jacking (see more about BMW Paralever here)
And… that's pretty much it. So why are they all called HP2? Basically just because HP stands for "high performance". The boxer twin in each HP2 bike is tuned higher than the equivalent that you'd find in the R 1200 GS or R 1200 RT.
Part
HP2 Enduro
HP2 Megamoto
HP2 Sport
Year released
2006
2007
2008
Engine configuration
SOHC, 4 valves per cylinder
SOHC, 4 valves per cylinder
DOHC, 4 valves per cylinder. Single spark plug.
Peak power
77 kW / 105 bhp @ 7000 rpm
83 kW (113 hp) @ 7500 rpm
96 kW / 128 bhp @ 8750 rpm (redline: 9500 rpm)
Peak torque
115 Nm / 85 lb-ft @ 5500 rpm
115 Nm / 85 lb-ft @ 6000 rpm
115 Nm / 85 lb-ft @ 6000 rpm
Compression ratio
11.0:1
12.0:1
12.5:1
Front suspension
Inverted 45mm fork, 270mm / 10.6 inch travel, travel-dependent damping
Inverted 45mm Marzocchi fork, 160mm / 6.3 inch travel compression damping and rebound damping adjustable
Telelever, Öhlins sport spring strut, fully adjustable
Rear suspension
Paralever, air "spring" shock
Paralever, Öhlins strut, fully adjustable, 180mm / 7.1 inch travel
Paralever, Öhlins shock, fully adjustable
Front brakes
Single 305mm brake
2 x 320mm discs, 4-piston fixed calipers
2 x 320mm discs, Brembo monoblock radially mounted 4-piston calipers, radial master cylinder
Wheels
Cross-spoked rims, 90/90-21 front, 140/80-17 rear, tubeless tires
Sport setup:
120/70-17 front
180/55-17 rear
Forged wheels. 120/70-17 front and bigger 190/55-17 rear wheel.
Wet weight (DIN, 90% full tank)
195 kg (430 lb)
199 kg (439 lb)
199 kg (439 lb)
Instrument Cluster
Analogue + LCD
Analogue + LCD
LCD cluster made by "2D Systems"
Ride aids
None at market entry
ABS from 2008 onward
Switchable ABS, quickshifter (gearshift assistant)
Other cool stuff
Air-spring damper
Akrapovič twin muffler
Adjustable handlebar and levers
Adjustable footrests
Full carbon fibre fairing
Many milled forged aluminium parts
Reference
BMW Press
BMW Press
BMW Press
BMW HP2 Motorcycles core specs
Let's go into more detail on these below.
BMW HP2 Enduro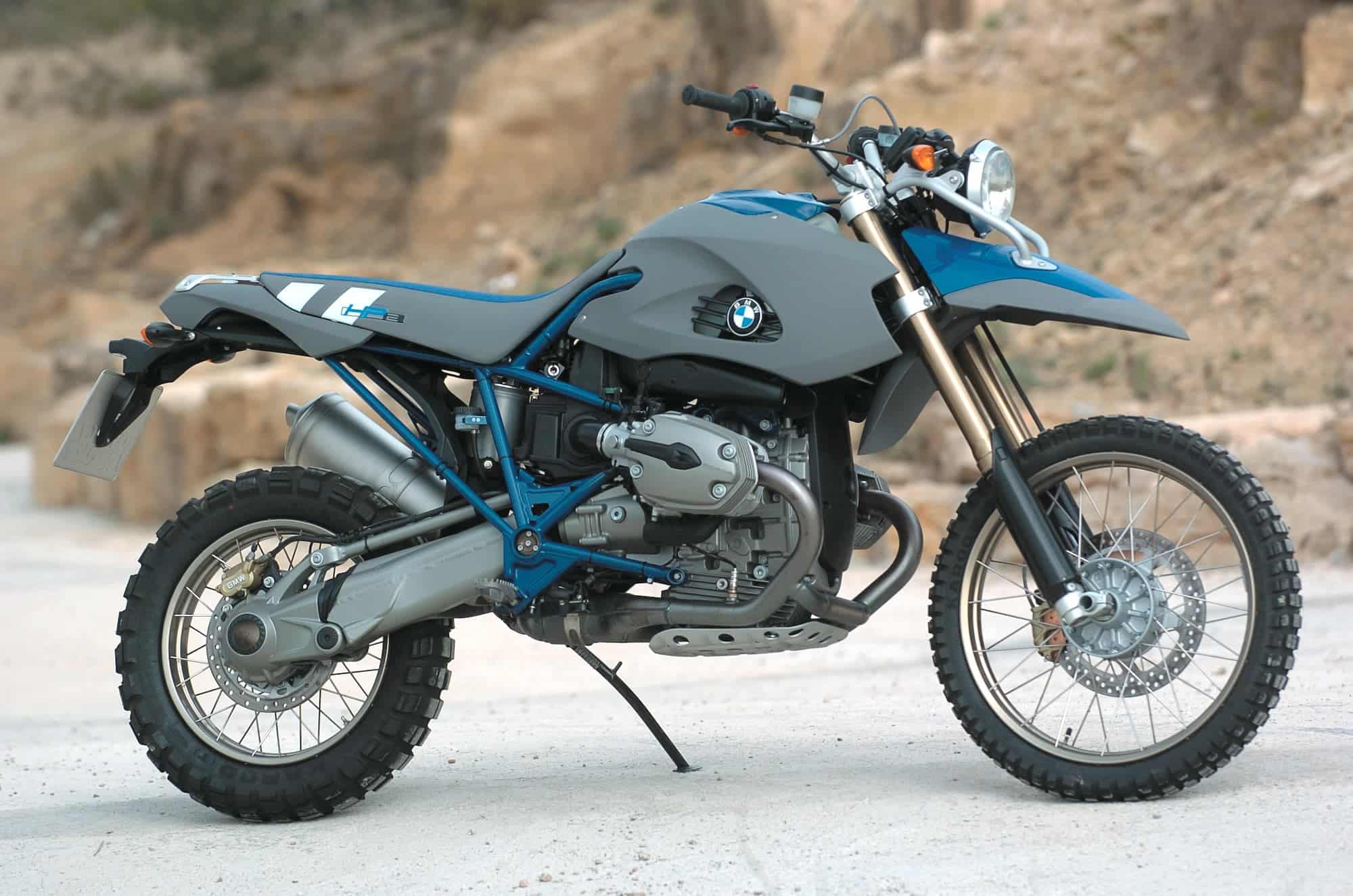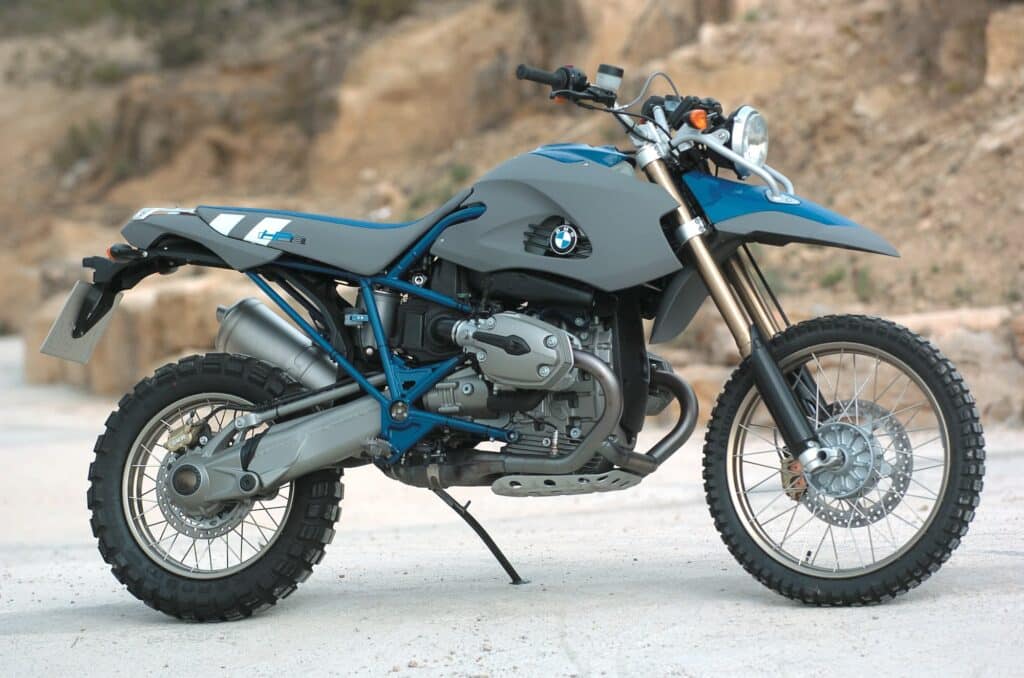 BMW kicked off the HP2 series with HP2 Enduro. In fact, originally, they just called it the BMW HP2 — but in retrospect, after more HP2 models came out, they referred to it as the HP2 Enduro.
Think of the BMW HP2 Enduro as a BMW R 1200 GS but with everything stripped away. On top of that, BMW replaced the front suspension with an inverted fork, and left just one brake disc. The rear is still Paralever, though.
The result is a bike that is quite a lot lighter than the R 1200 GS. The original GS had a wet weight of 256 kg (564 lb) DIN unladen with a full tank, and probably a lot more once you add on the usual luggage and accessories.
The HP2 Enduro weights a sprightly 195 kg (430 lb). Plus, it isn't designed to carry a ton of stuff — it's for shorter excursions. So it's likely you wouldn't weigh it down with baggage and keep it lightweight for those trips.
Here they are side-by-side:
The fork bears some extra attention. Firstly, HP2 got rid of the GS' Telelever suspension. This differentiates the Enduro immediately from most BMW bikes of the time. BMW used an upside down 45mm telescopic fork made by WP with 270 mm / 10.6 inches of travel, more than you can get from a Telelever configuration.
The fork has travel-dependent damping with adjustable compression and rebound damping.
Wait, what's "travel-dependent damping"? I found BMW's explanation very confusing. They said
"…damping in the inbound stage under pressure remains relatively independent of the degree of harshness avoiding any sagging effect of the motorcycle. In other words, ride harshness and firm damping can be set to "hard" without making the inbound damping response in the main operating range of the damper significantly firmer or tauter."

BMW Press release
To which my response is "???" How do you set "firm damping" to "hard" without making the suspension "firmer or tauter"?
The manual explains it (here's where you can see manuals for BMW motorcycles). In the manual for the HP2 Enduro, it makes clear that firstly, you can adjust both the compression and rebound damping of the telescopic fork. That much is to be expected.
But the manual for the HP2 Enduro also says that you can adjust both the "linear" and "progressive" components of the compression damping. The linear component is the basic damping setting, and the progressive component is the extent to which the suspension becomes harder as spring travel increases.
And that's not all. The really unusual part of the BMW HP2 Enduro's suspension is the shock!
The shock, co-designed with a Germany company called Continental Automotive Systems, is based on air — with no oil. It's an "air/spring damper system", but it doesn't actually contain a steel spring — it's the flow of air through plates that replaces the spring effect.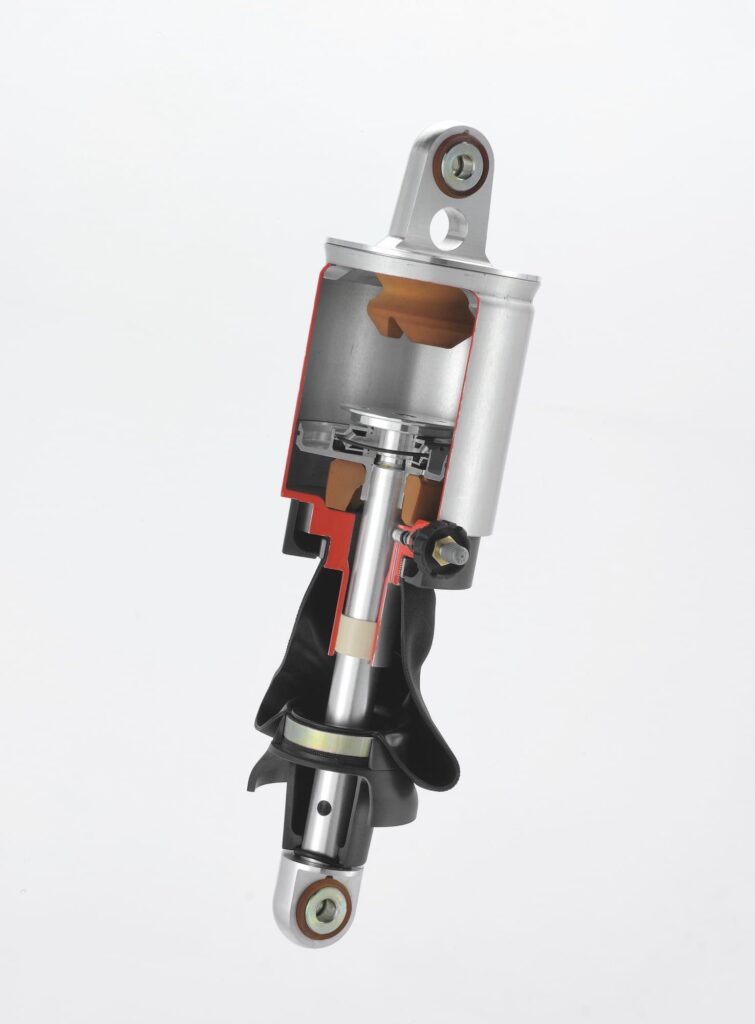 The BMW HP2 Enduro's air/spring strut has three chambers connected by air ducts. There's one below the piston, and two above it. As the piston moves, it pushes air through the plat valves, which dampen the movements.
To adjust the HP2 Enduro's damping characteristics you change the air pressure with a high-pressure pump which comes with the bike.
BMW says there are many reasons for using an air/spring setup:
"Natural" progression of the spring rate under high load (like a progressive spring) as well as of damping effect
Resistance to overheating as air has the same damping effect as temperature increases
You can vary the damping effect as a function of frequency and tune it to the mass of a swingarm/wheel combination, which means you can configure it so that the rear wheel can track uneven or undulating service much more optimally
Complete resistance to dirt / contamination from the outside, as it's a sealed unit, meaning you never have to change seals.
And more things. The air spring strut sounds great, right? I wonder why BMW didn't continue using it. They seem reliable enough, per the denizens on ADVrider. They also used it in the BMW G650 Xchallenge and then it went away forever.
On to other parts… The engine in the BMW HP2 Enduro is the same as in the GS of the time — the single overhead cam "Hexhead" motor with four valves per cylinder and air/oil cooling.
But BMW tuned the engine for slightly more top-end power in the HP2 Enduro. It makes a peak of 77 kW (105 hp) at 7000 rpm, which is 4 kW (7 hp) higher than the original 2004 GS, but in line with the 2007 revision. BMW also removed the balancer shaft to make the engine lighter (and probably a bit less smooth on the highway, which isn't the HP2 Enduro's destination).
The result of stripping everything away is a very light weight of 196.5 kg (433 lb) fully fuelled. It's light compared to a GS, anyway.
The BMW HP2 Enduro was priced pretty high when new. Given its singular off-road focus it didn't sell too well and only a few thousand units sold. According to various opinions online, it isn't as good on-road as a GS, and a GS is fine off-road when you need to get there.
But still, the HP2 Enduro is very unique. And they tend to hold their value from what I've seen online, with used versions coming up very rarely and selling for much more than a GS of their generation.
BMW HP2 Megamoto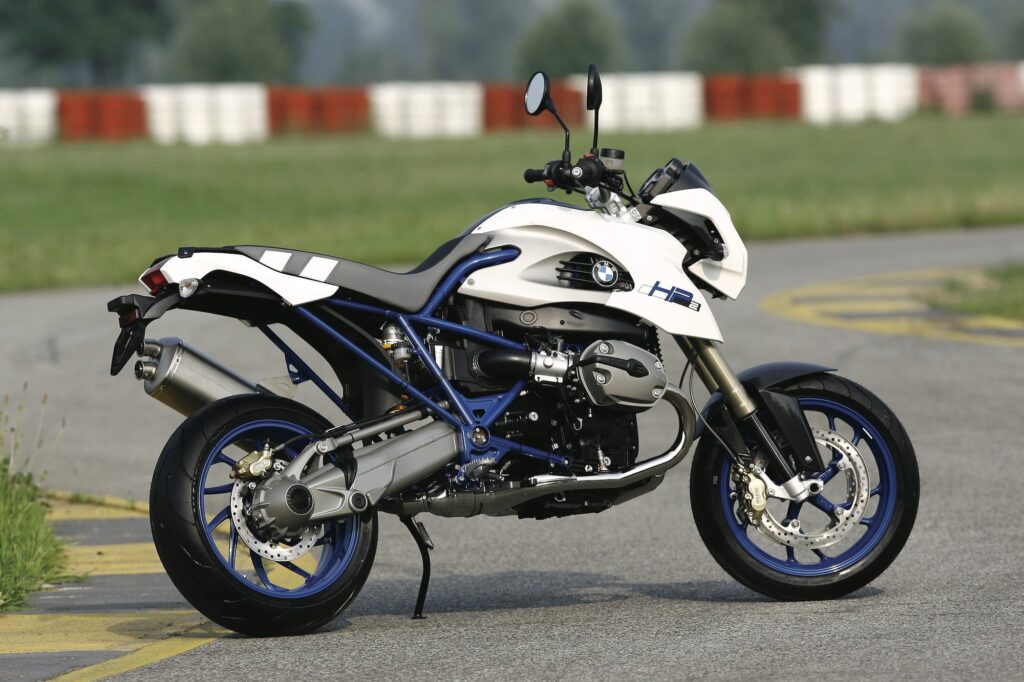 Of all the motorcycles in the BMW brand, the Megamoto is the weirdest one to me. It's essentially a supermotard / supermoto powered by a high-performance boxer twin.
This is a very niche type of motorcycle. There are many supermoto/motard type bikes, but they're usually one-cylinder and focus on lightness rather than using a big, heavy, high-capacity engine.
The closest parallel to the Megamoto is something like the Ducati Hypermotard. Ducati released their first Hypermotard for the 2007 model year, after introducing it as a concept at the 2005 Milan International Motorcycle Show. So you could think of an HP2 Megamoto as BMW's attempt to capitalise on what they saw was maybe a new market.
The HP2 Megamoto is, like most supermoto-style bikes, a very bare-bones, focused sport bike. Id didn't have ABS at launch, and everything about it is high spec — big brakes, competent suspension (with adjustability at the front and even an Öhlins shock at the rear), and an Akrapovič exhaust.
BMW took the basic 1170cc boxer twin that powered the 2007 R 1200 GS and the HP2 Enduro and tuned it for a bit more power. It makes just 6 more kW (8 more hp… or what BMW calls "around 10 more hp") at the crank, but the result of the tuning is an engine that's much livelier than the one in the basic GS.
Other differences between the HP2 Megamoto compared with the HP2 Enduro are:
A 45mm Marzocchi fork and an Öhlins monoshock in the rear
Twin discs / calipers up front
Sport-spec 17-inch tires
A custom Akrapovič exhaust
ABS (not at release, but later in the year)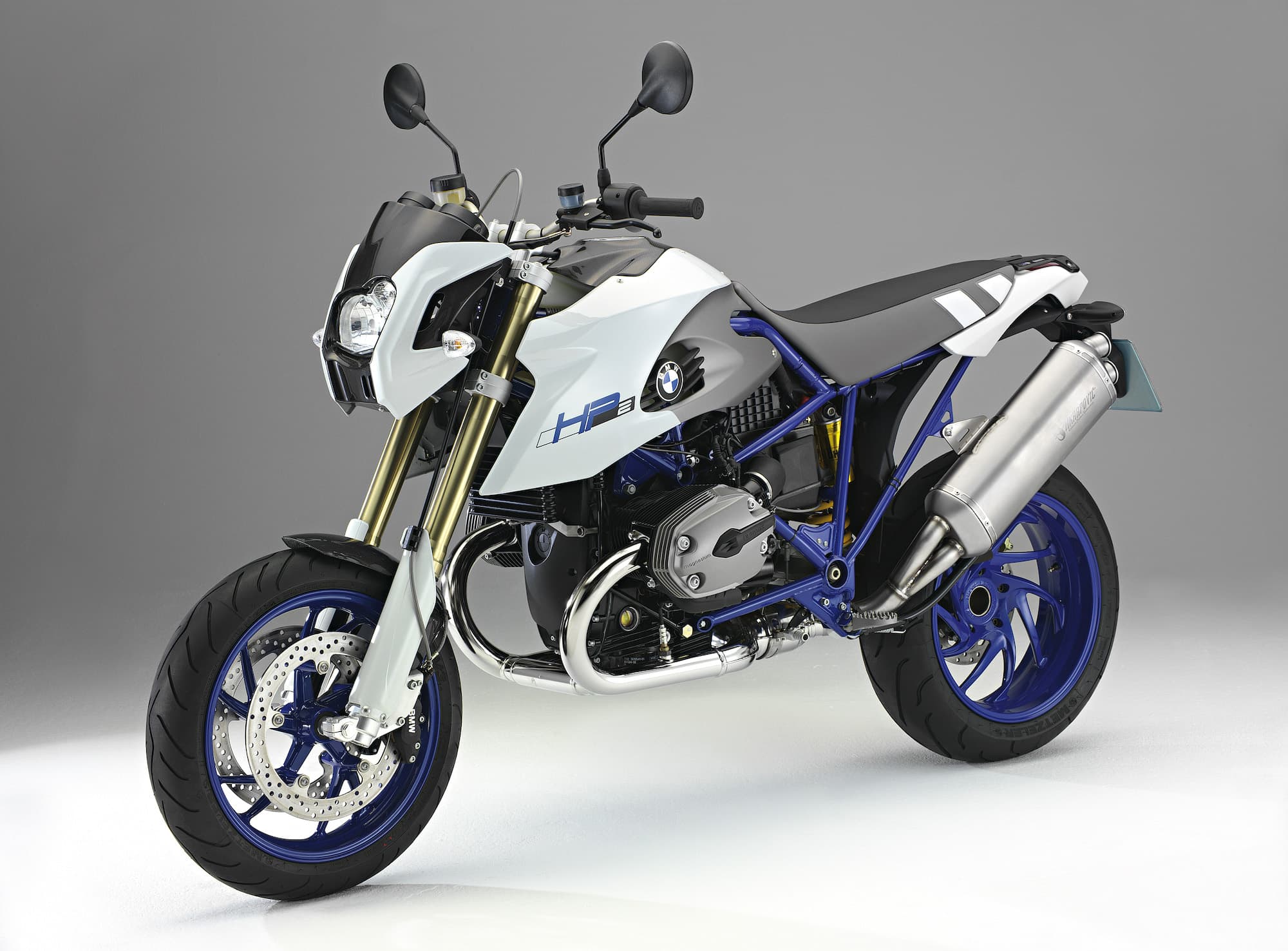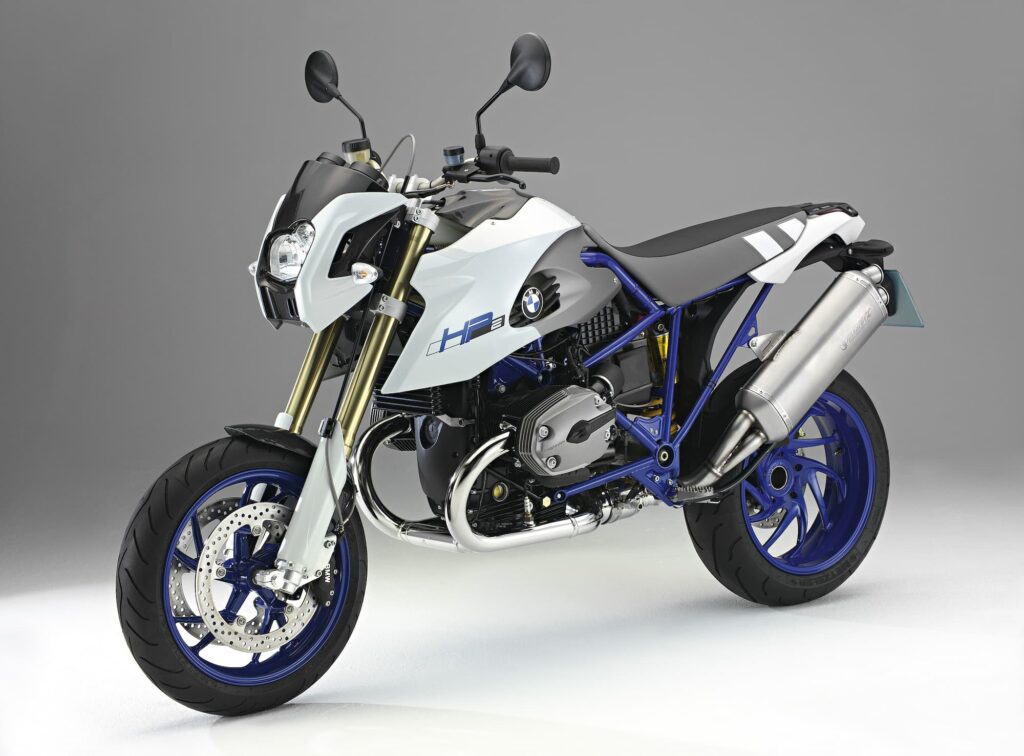 It would be a disservice to both the HP2 Enduro and the HP2 Megamoto to say that they're different versions of the same bike. Look back at the HP2 Enduro's suspension: it's totally different in design and performance. You can't just whack street tyres onto an Enduro and call it a Megamoto by any means. You'd have to replace the suspension, and thus you'd replace the essence of the entire bike.
People LOVED the HP2 Megamoto. The only strike against it was the high list price and then the financial crisis which killed a lot of low-volume projects.
But to my eye, you can get a BMW R nineT and get a portion of what was in the HP2 Megamoto. Just needs a shock upgrade — most R nineT owners put on a Wilbers unit. You still won't have that tall Supermoto-style ground clearance, but eh… you'll probably also spend a lot less money and have an easier bike to resell. (Plus, Supermotos are triumphs of function over form, which is one way of saying that this bike is not as easy on the eye as a modern R nineT.)
BMW HP2 Sport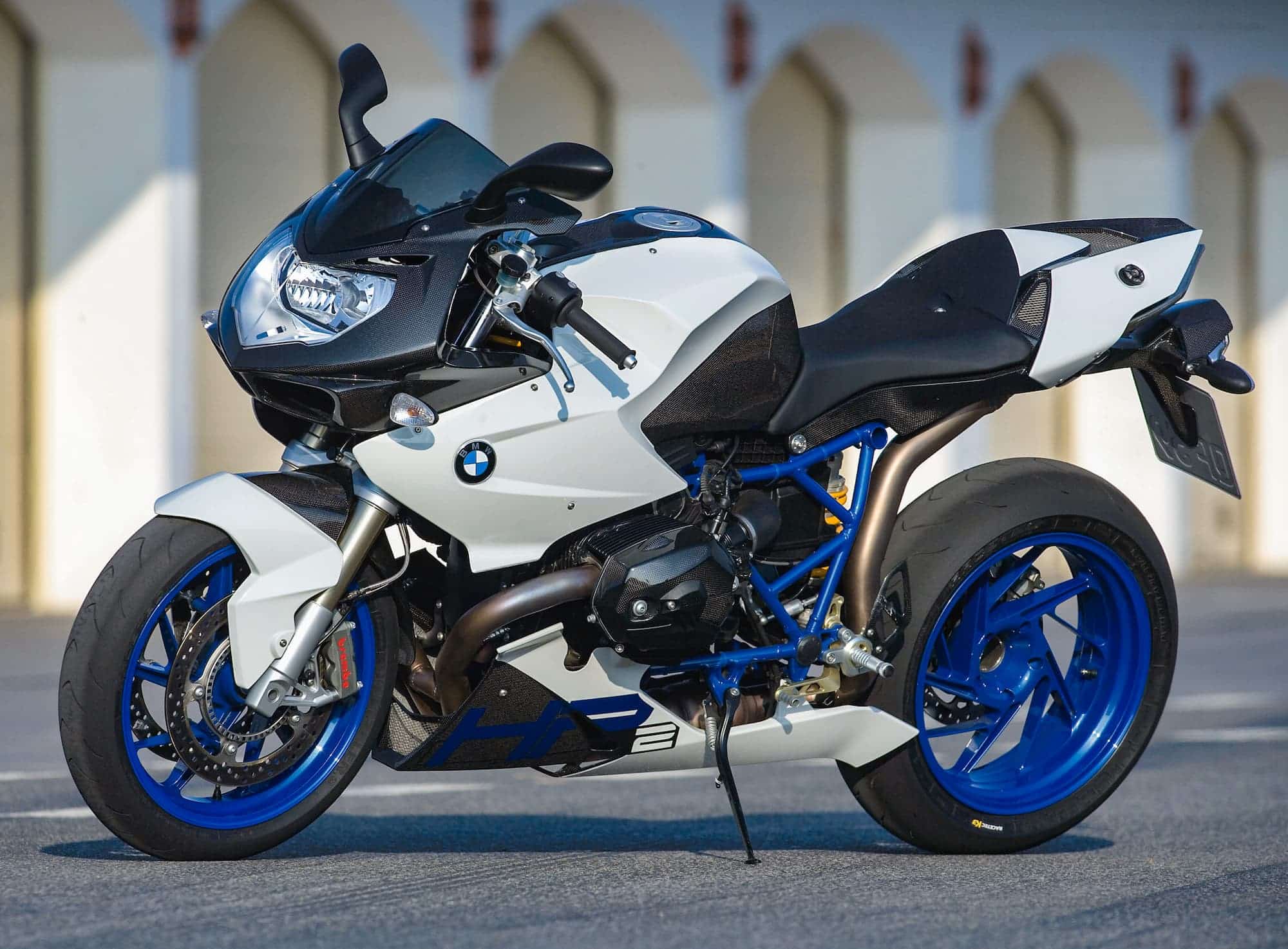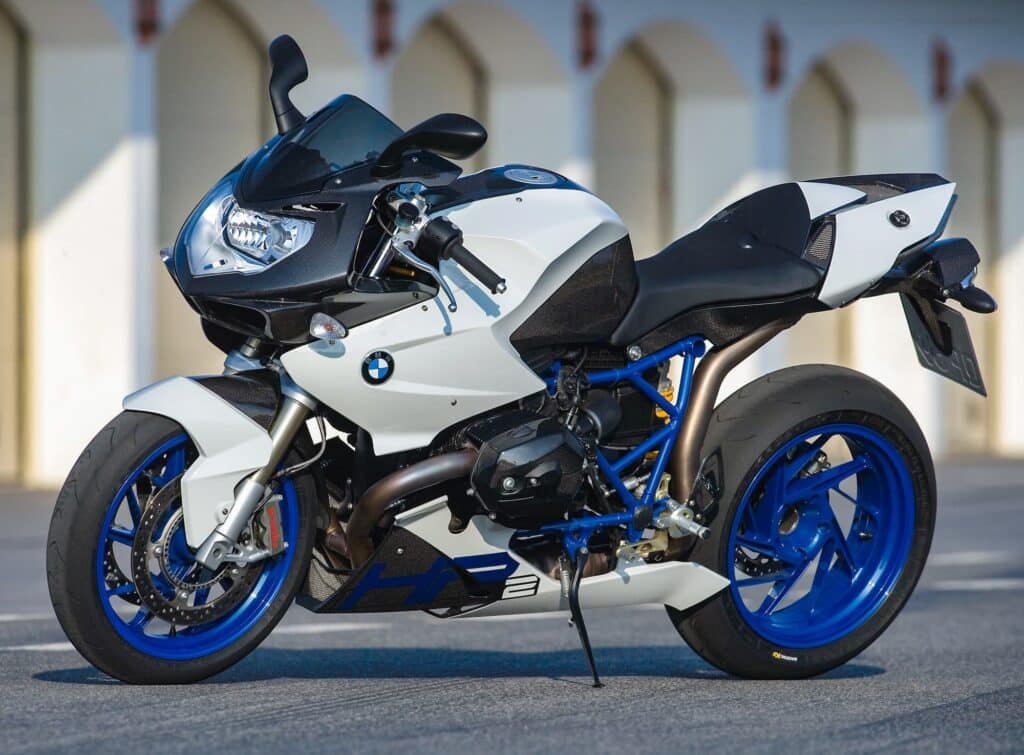 Now, onto my favourite, because I just like looking at sport bikes — particularly unusual ones powered by things like boxer twins.
Before BMW announced the HP2 sport, they had already released the BMW R 1200 S, another boxer-powered sport bike that has a lot in common with the HP2 Sport.
I once had a BMW R 1200 S and have fond memories of it. It had very easy handling, a gentle cracker of an engine, and a paint job that screamed quality. The HP2 Sport is next-level, though — with a next-generation engine and overall higher-quality components (similar to a top-spec, fully optioned R 1200 S).
The BMW HP2 Sport is based on the next-generation twin-cam "Camhead" 1170 air/oil-cooled boxer twin. It's the same engine you'll fine in 2010+ flagship boxer BMWs, but in the HP2 Sport it's tuned for higher power (130 hp at 8750 rpm). It's that advanced engine that primarily differentiates the HP2 Sport from the R 1200 S, which has the older-generation Hexhead engine.
In terms of physical design, the HP2 Sport has a sporty but comfortable riding position, Telelever front suspension, a gorgeous rear wheel exposed by a single-sided swingarm, a shaft final drive, and under-seat exhausts, and a lot of other things that make it quite unique among sport bikes. It has those in common with the R 1200 S.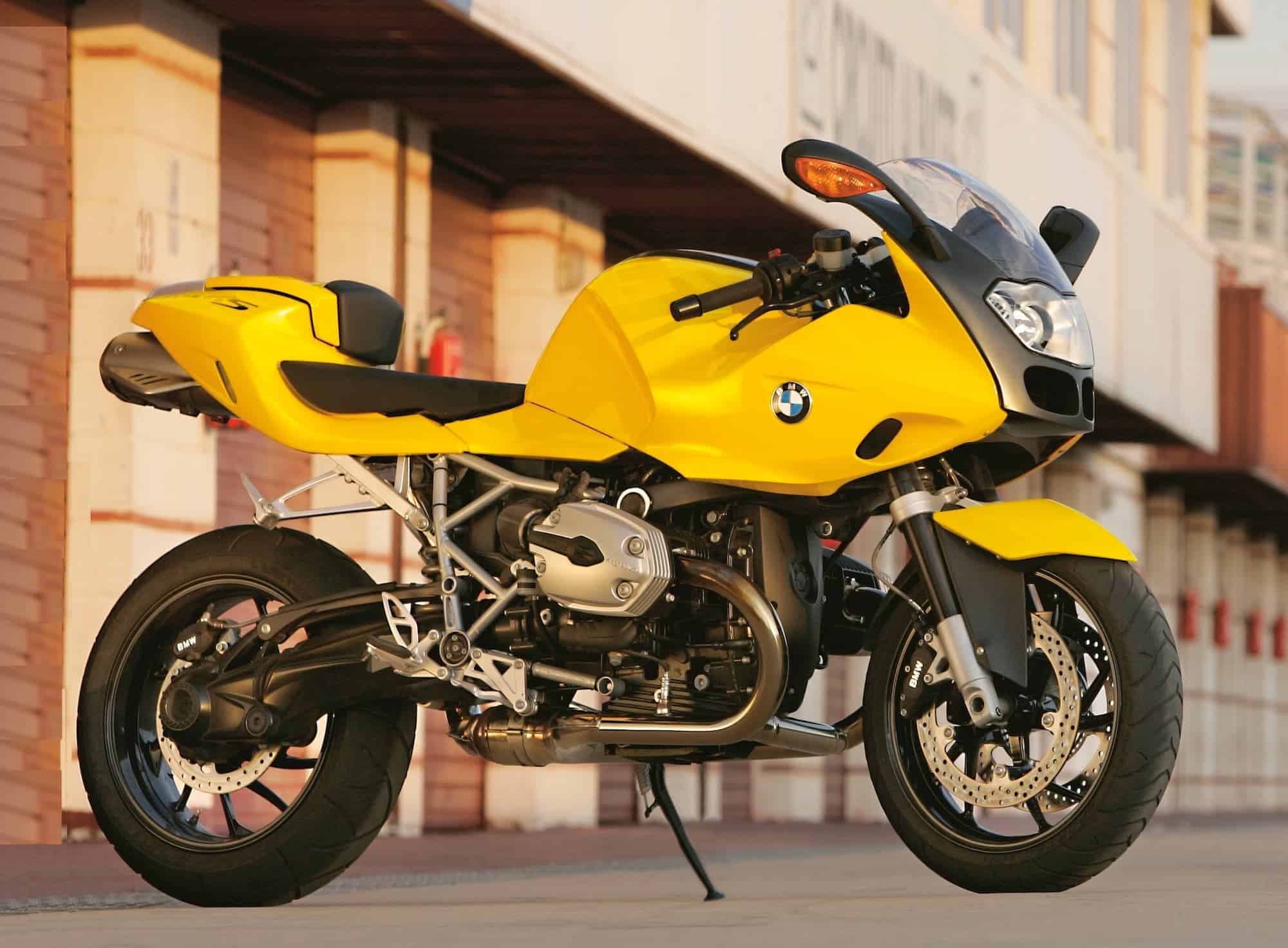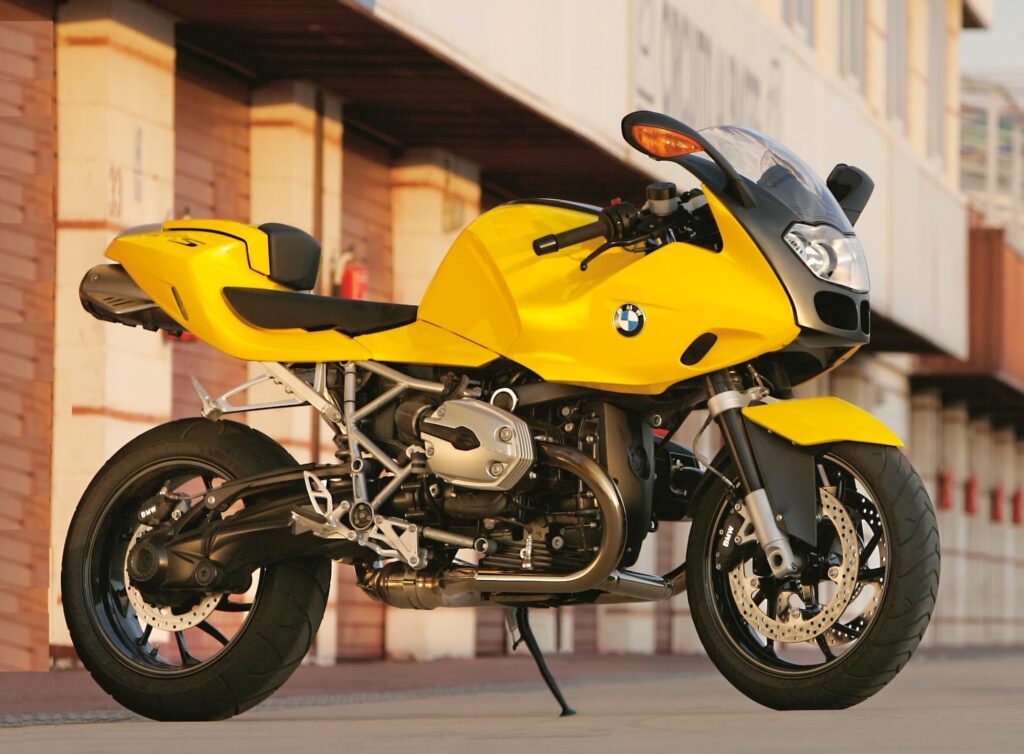 But BMW decided to up the ante with the HP2 Sport.
The BMW HP2 Sport is all that — a boxer-powered sport bike — but also has
The twin-cam engine, a first for BMW
A higher tune, with peak output of 96 kW / 130 hp at 8750 rpm, aided by the higher rev limit of 9500 rpm (quite high for a big air/oil cooled twin!)
Standard quickshifter (gearshift assistant)
Fully adjustable Öhlins strut
A different riding position, allowing for more moving around on the seat and hanging off
Brembo monoblock fixed calipers at the front
A racing dash (LCD), made by "2D Systems"
Carbon parts throughout, including a full carbon fairing
Adjustable handlebar, controls, and footrests
Forged wheels (lighter weight)
A closer ratio gearbox (first and second gears have higher ratios than the R 1200 S)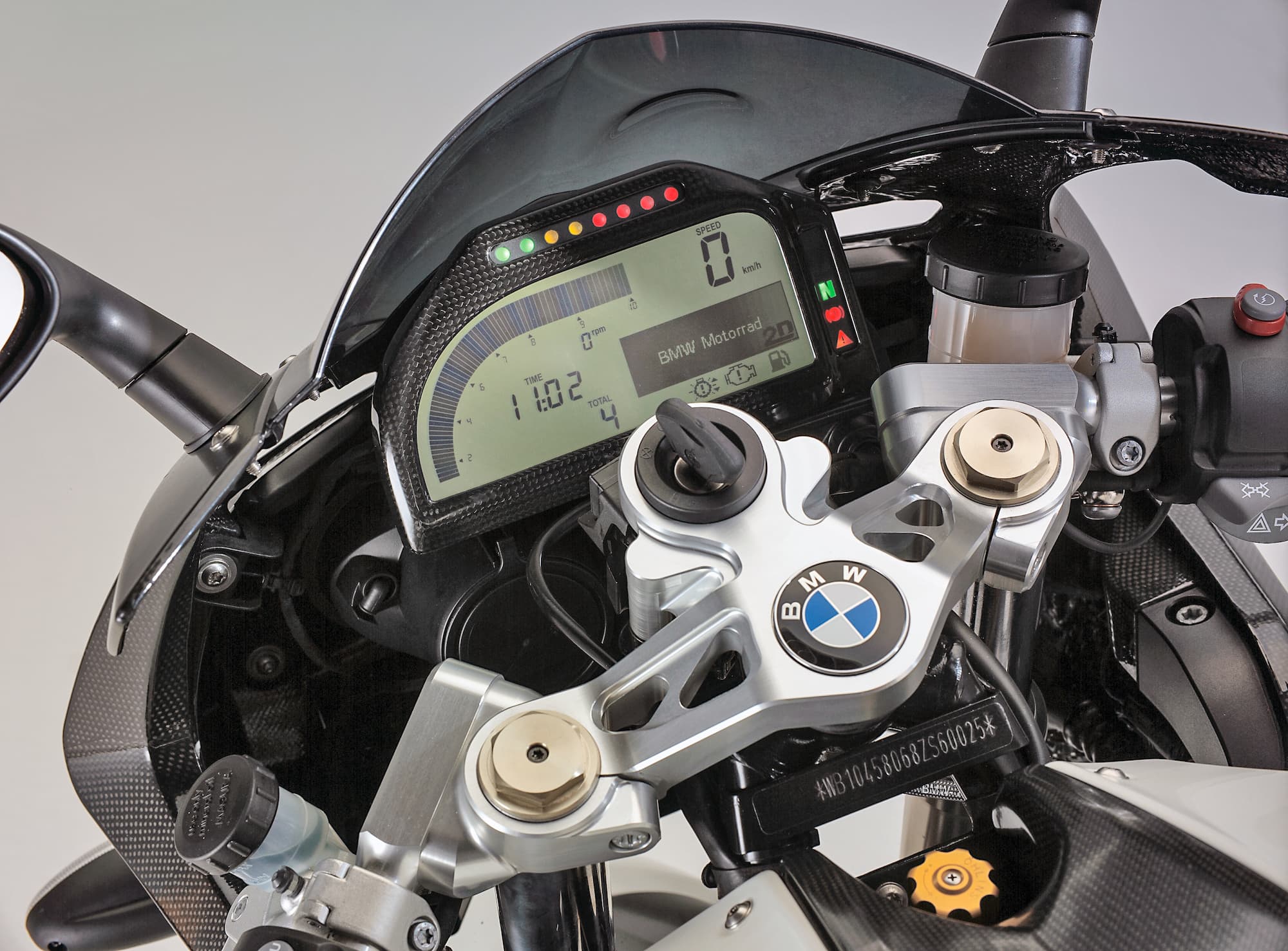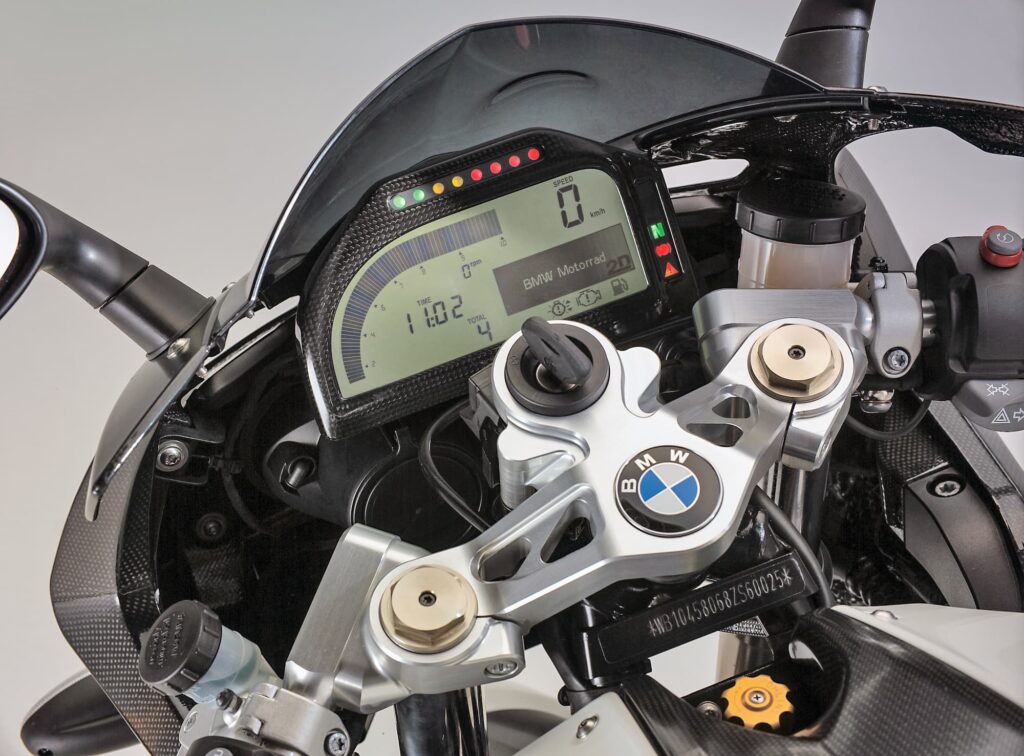 We need to give special mention to the engine, because the engine in the BMW HP2 Sport is different from the engine in other BMW HP2 models (and also different from all other BMW engines of the time).
The HP2 Sport was the first motorcycle to receive the "twin cam" or "Camhead" motorcycle engine. The Camhead design became standard from the 2010 model range onward (e.g. of the BMW R 1200 GS), and is retained to this day in the BMW R nineT line.
See my guide to BMW motorcycle engine evolution.
The engine in the HP2 Sport is also special in that it has
A low-drag and light valve lever throw to help top revs be adjusted to 9500 rpm
A high compression ratio of 12.5:1 (the R nineT has a compression ratio of 12.0:1) — this is sky-high for an air/oil-cooled engine
Larger diameter valves, increasing intake from 36-39mm and exhaust from 31 to 33 mm (the previous engine was also 4 valves per cylinder)
Lightweight forged pistons
Two oil coolers
BMW also released a limited edition "Motorsport" edition for the 2010 model year with special livery. They only made 400 units.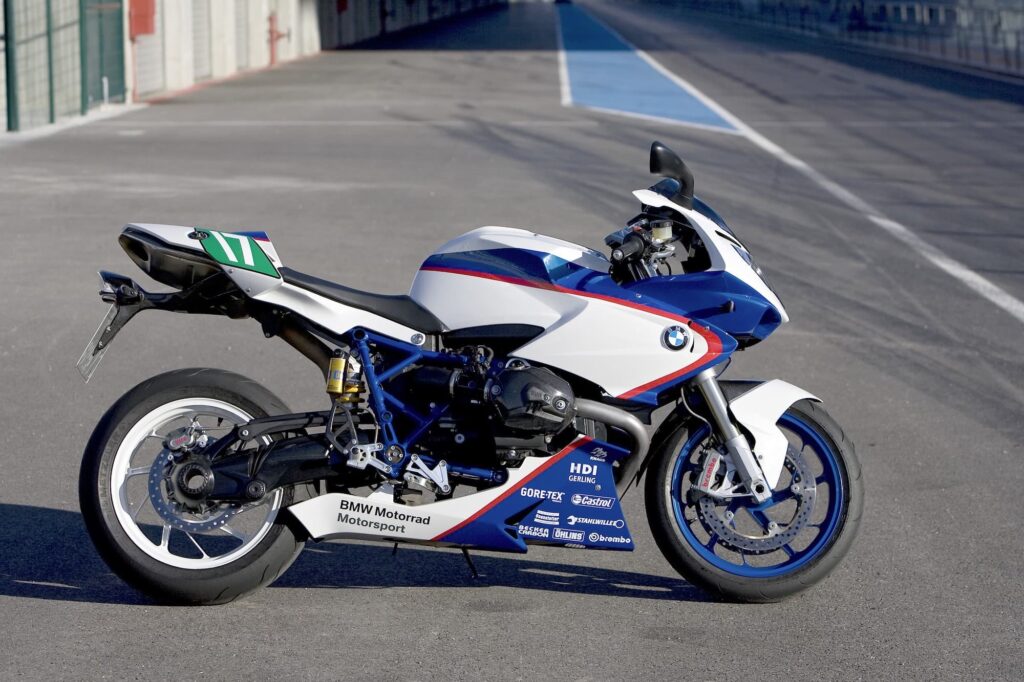 Regardless of whether you can find a Motorsport one or not, the BMW HP2 Sport is very rare and not often sold. You're much more likely to find a BMW R 1200 S that has optional Öhlins suspension fitted and maybe lightweight wheels. I did recently — here it is (it has sold already). Man, that was a good-looking bike!
If you do find a BMW HP2 Sport — they randomly come up for sale — you can expect to pay around the price they initially sold for.
After the HP2
BMW no longer makes HP2 bikes. Other motorcycles based on the boxer-twin are "conventional" and not particularly focused (the engine is in a standard state of tune, and the bikes are multi-purpose).
But BMW still does make high-performance bikes. The boxer twins have evolved into liquid cooled engines, and nobody would call a 100 kW / 135 hp BMW R 1250 RS "low power". It's just that these bikes (and others in the 1200 / 1250 range) aren't as singularly focused as the HP2 series — there's overlap in the things you can do with the R 1250 RS, R 1250 GS, R 1250 R, and R 1250 RT — they're all fun to ride quickly, for long distances, and in urban situations. There's just a different design style for different riders.
See the complete guide to the BMW GS Boxers, from the R80 G/S to today, here.
BMW also does make some markedly high-performance motorcycles based around the 4-cylinder engine in the S 1000 RR. If the base S – RR isn't enough for you, BMW also make the HP4, the HP4 Race, and of course the M 1000 RR.
If you're after something interesting and high-performance, an HP4 or an M 1000 R would be easier to come by. But if you're after something classic and unique, then it might just be worth holding out for an HP2.
If you already have one, send a pic!