Real-world fun and usability. The perfect beginner track motorcycle. The affordable (and more reliable) alternative to the Italian v-twins, like the Ducati Monster. This is the Suzuki SV650!
But if you start poking around used Suzuki SV650 models and looking through forums, you might get a bit confused about what exactly changed between the various years.
So here's my complete guide to buying a used Suzuki SV650 — model history, specs, known issues, and what to look out for.
The Suzuki SV650 is many things to many people, but in summary, the Suzuki SV650 is one of the most well-loved and oft-missed middleweight motorcycles of all time.
Here's everything you need to know about buying a used or new Suzuki SV650: All the motorcycle you need*.
* "Need". Not "want". It's OK to want a Yamaha R1.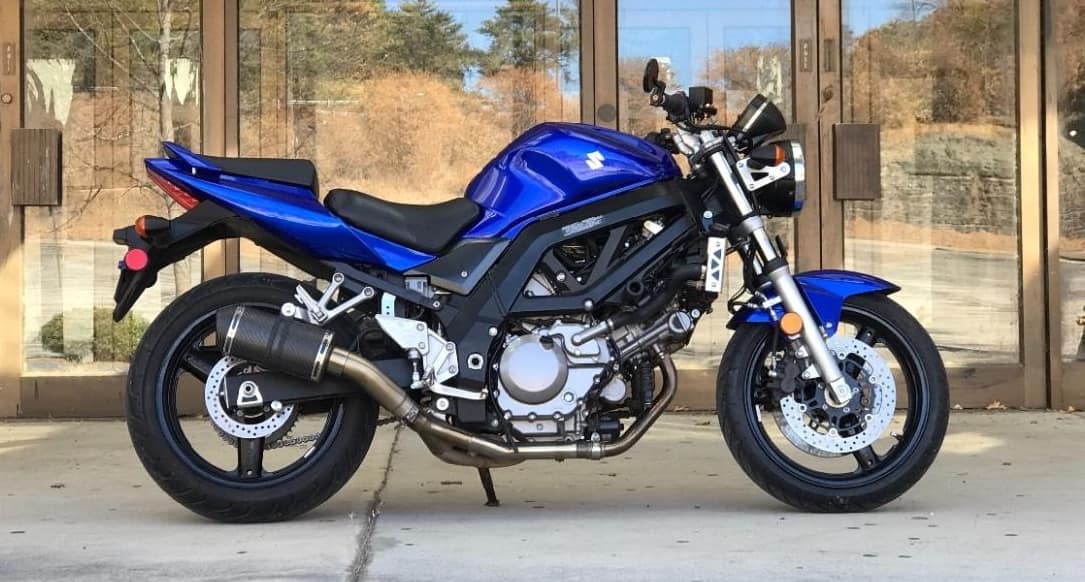 Are you obsessed with motorcycles?
Well, I am. That's why I created this site — as an outlet. I love learning and sharing what others might find useful. If you like what you read here, and you're a fraction as obsessed as I am, you might like to know when I've published more. (Check the latest for an idea of what you'll see.)
About the Suzuki SV650 — A Brief History
The Suzuki SV650 has been one of the most well-loved modern motorcycles over the last two decades.
Suzuki first introduced the SV650 in 1999. They built it to capture what they perceived of an emerging market: Simple bikes powered by characterful V-twins.
Ducati owned the sporty "everyday V-twin" market in those days with the Ducati Monster, which in the 90s they sold in 900, 750, 600, and even 400 cc variants.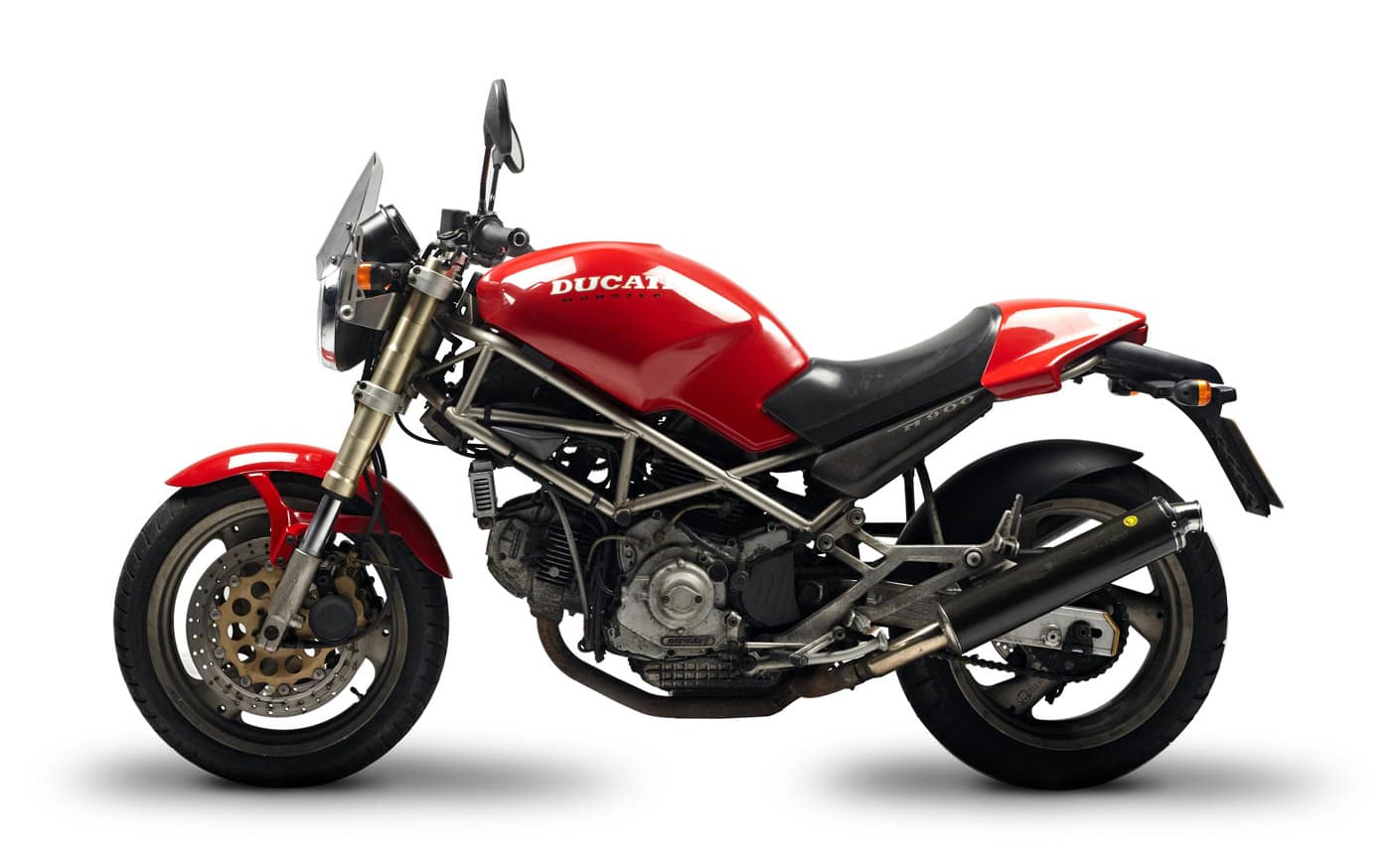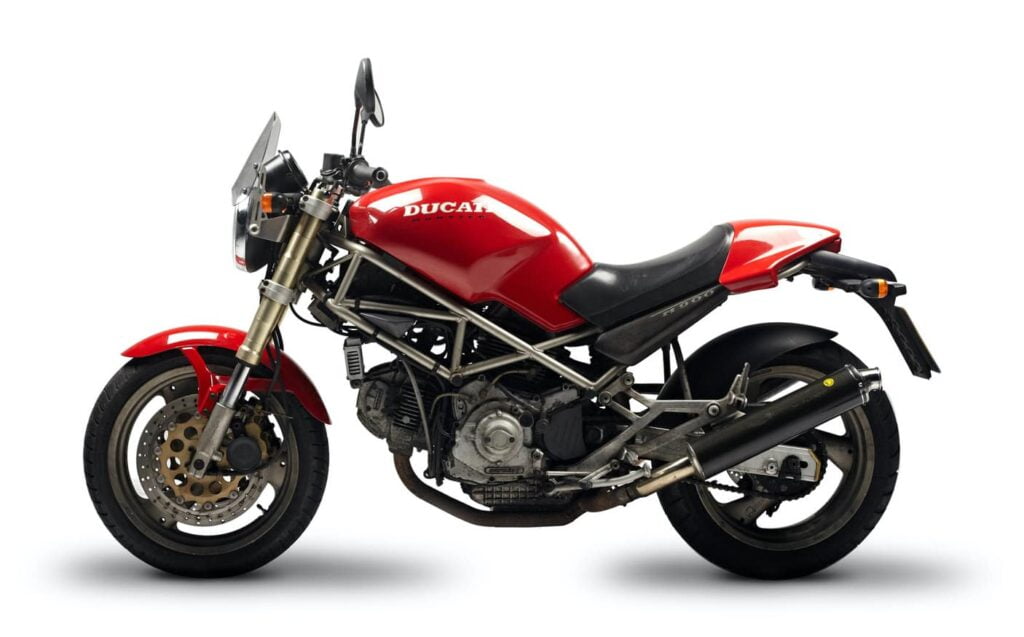 Naked bikes existed before the Ducati Monster, but the Monster helped the market become its own thing. The early Monster was an instant classic with its exposed trellis frame and lively but not overbearing V-twin engine, which Ducati calls an L-twin, because it's leaning forwards.
But there was definitely room for competition. The Ducati is a Ducati, after all — gorgeous and characterful, yes, but also expensive to buy and maintain, and without the strongest reputation for reliability. This is where Suzuki could enter the fray with the SV650 — similar in style and concept as a middleweight sport-bike powered by a V-twin engine, but with lower-cost components, and a much more reliable engine.
(Want to just get a Monster? See my complete model history and buying guide.)
There were other middleweight motorcycles of the time, of course. Honda was making the earlier-generation CB500 (different from today's one — that one was quicker), and Kawasaki made the ER-5 (an early predecessor to what we now know as the Z650). Both of those are great bikes, but they're a bit different in execution, being powered by slightly smaller parallel twin engines. Suzuki differentiated itself by using a V-twin, also leaning forwards like Ducati's, but not as much.
What's Special about the Suzuki SV650?
The Suzuki SV650 was — and still is — known for being a bike for every purpose.
Semi old-hand riders like me don't have a minor crush on the Suzuki SV650 because it's amazing at any one thing. It's not as single-purpose as other bikes from Suzuki's stable, like the Hayabusa (speed), or the DR650 (dirt). It's more because the Suzuki SV650 is capable of so many things, especially for the price, which leaves room to customise it further.
Don't take my word for it. I'll pepper this article with quotes from reviewers, forum posts and bloggers who will unanimously agree.
More than half of us have owned SVs, and we've all recommended the bike to others. Repeatedly. (Motorcyclist, 2017)
The Suzuki SV650 is known for so many things, but among them, it's known for
Balance: Not overpowered (this is from the same time period as the Hayabusa, also from Suzuki, and also the Suzuki Boulevard M109R), but not slow enough that you'll get bored of it
Versatility: A usable power band for the city, but high enough rev range for fun track days
Character: A burbling 645 cc v-twin that feels and sounds great. Especially with aftermarket pipes on it
Style: Especially as a naked, the trellis frame and simple design looks attractive without trying too hard.
The SV is light, nimble, easy to ride, predictable and fast. It also looks like a real motorcycle, with its frame and engine contributing to its essential, functional style. Motorcycle Daily, 2000
Yes, "cafe racers" are a theme that's over-played. But many (including myself) will admit they look nice. So when Suzuki released the SV650X for 2018, I thought… time to bite the bullet and maybe get a new motorcycle!
But you may not want a brand new one. In fact, I have wanted a used SV650 for years.
I've been following the Suzuki SV650 motorcycles for so long (ever since they were first heralded as a "poor man's Ducati" for their trellis frame combined with a V-twin engine) that I thought I'd put down what I know about them.
The SV650 and SV650S are great bikes no matter if you are a beginner or an experienced rider and the fact that the SV has continued to be one of Suzuki's best sellers in this country since its inception a decade ago is testament to how good of a bike it really is. (Cycle World, 2010)
So why do people love the second-generation Suzuki SV650 so much?
Firstly, because it's affordable: New or used, the Suzuki SV650 has always been described as being great value, as a beginner (in the US, or in Australia with restrictions) or experienced (Australia) motorcycle. In every market, it's priced as a budget motorcycle, so you can get them affordably whether new or used.
Secondly, because they're quick enough — in fact, an SV650 can keep up with middleweight inline-four motorcycles until highway speeds. Since the SV650 produces all its torque down low and is geared for everyday performance, it'll keep up with faster 600cc or even 750cc supersport motorcycles until around 100 km/h or 60 mph. After that, it's game over as the 4-cylinder sportbikes keep revving.
Thirdly, reliability. The SV650 has a "reputation for reliability". It means on average that people don't complain about them as much as they might about older European-brand V-twins.
"They say a cockroach is the only thing that'll survive a nuclear strike. Well, that's horse****, as the SV650 could endure two. Despite the modest grunt and zippy motor, chasing tenths wasn't in the design brief so engine longevity is a significant benefit. Spanked, revved, bounced off the limiter and munching miles: you'd have to try exceptionally hard to make one go BANG." – 44teeth
So there you go, a cheap, characterful, reliable motorcycle. How could you go wrong?
Brief model history of the Suzuki SV650
Basically, there are four phases of the Suzuki SV650.
First generation SV650, released in 1999, a.k.a. the "Curvy" for its style. This has carburettors, and the original great. If you're OK with carbs, and find one in good condition, go for it.
Second generation SV650, released in 2003. This is fuel injected, and later got ABS. The second gen ended between 2009 and 2012, depending where you're based.
The controversial "Gladius"/SFV650 Generation
The 3rd gen new incarnation, from 2016 onwards, which is secretly a Gladius with better skin.
Here is how they all compare in a brief table.
Firstly, what the models of Suzuki SV650 have in common. The 1st, 2nd, and 3rd gen (and yses, the Gladius) all have these specs mostly the same.
Part
Suzuki SV650 spec
Engine
90-degree V-twin, DOHC, 4 valves per cylinder
Displacement
645 cc
Bore / Stroke
81 x 62.6 mm
Weight
195 kg / 430 lb. Depends a lot on aftermarket exhaust, fairings or not.
Power
(see notes)
Always around 55 kW / 75 hp @ 8500 rpm
Torque
(see notes)
Always around 62-63 Nm / 46-47 lbf-ft at 7500-8000 rpm
Braking
2 x 290 mm discs, 2-piston calipers
Suzuki SV650 Specs — All generations
On power — why say they're "always around" this power? For a few reasons.
The SV650 isn't a motorcycle in which the designers focused on peak power.
People modify these bikes frequently with things like exhausts, remaps/re-jets, filters, and other stuff.
Bikes change in tune over time as they wear in, or parts wear out.
It's rare for two bikes to be measured back-to-back on the same dyno.
So if there's a 3-5% difference between generations, it won't be noticeable amid the many other factors influencing your ride, like modifications done to a used bike, like how well-maintained the chassis, suspension, and braking is, whether the carbs/throttle bodies have been balanced, the ambient air temperature, etc.
Here's how the generations changed over the years.
SV650 Generation
1st gen SV650
2nd gen SV650
2.5 gen SFV650
3rd gen SV650
Years
1999-2002
2003-2012
(2009 in USA)
2009-2015
2016+
Models
SV650, SV650S
SV650, SV650S, SV650SF (2008)
SFV650 "Gladius"
SV650, SV650X
Styling
Curvy
Angled
Bulbous
Retro
Capacity
645 cc
645 cc
645 cc
645 cc
Fuelling
2 x Mikuni BDSR39 Carburettors
EFI
2007+: Dual plugs
EFI
EFI
Compression ratio
11.5:1
11.5:1
11.5:1
11.2:1
Display
Twin gauges
Analogue tachometer + LCD underneath
Analogue tachometer + LCD to right
Pure LCD
Ride aids
None
Optional ABS
Optional ABS
Optional ABS, low RPM assist
Wet weight (see notes)
~189 kg / 417 lb
~198 kg / 436 lb
202 kg / 445 lb
195 kg / 430 lb
Suzuki SV650 — Model history table
On weight: The reported weight of each generation varies within a small range, but for all the SV650 generations, the stock weight is somewhere around ~190-195 kg (~420-430 lb). Other than the fact that the Gladius generation was temporarily heavier, please don't focus on these exact figures, as they change dramatically with common mods like aftermarket exhausts, altered subframes, removing fairings, etc.
All of the generations of SV650 are good. However, there isn't much of a price difference between the first and second generations (maybe $500), assuming a motorcycle is well-kept. This is because of the way motorcycle prices tend to plateau.
Old bikes, if they're well-maintained, are essentially always around US$2-3K (or the equivalent in other currencies). You'd only pay a tiny bit more for the significant improvements in the second generation. So unless you're a diehard fan of carburettors, get the second-generation onward.
More detail on each of these generations below.
The First-Generation Suzuki SV650: The "Curvy" with Carburettors (1999-2002)
This was the SV650 that started it all. Suzuki launched it in 1999 as a casual, low-cost but high-fun competitor to the Ducati Monster, in the growing segment of "naked" motorcycles.
Because of its rounder design compared to later models, people on forums affectionately call the first-gen SV650 the "Curvy".
For context, Suzuki released the first-generation SV650 in the era of speed wars between the Suzuki Hayabusa vs the Honda Blackbird. It was also the time when the market for litre bikes was heating up from the recently released Yamaha YZF-R1 (see my full buyer's guide for the R1 here), which had thrown down the gauntlet at the CBR900RR.
Suzuki originally released the SV650 as a naked. Its basic specs were:
645cc 90-degree L-twin. Two carburettors, liquid-cooled, 8 valves per cylinder
Wet clutch, six-speed transmission
48kW (64 hp) @ 9,000 rpm, 57 Nm (42 lbf-ft) @ 7,200 rpm
189 kg (417 lb) wet weight – very light!
It might not sound like much power or torque, but in stock form, the first-generation SV650 did an under 12 second quarter mile, and a 0-100km/h (0-60 mph) of mid-3 seconds, if you're quick to shift to second. This is thanks to the way the torque is delivered, plus the stock gearing ratios.
It takes a LOT more torque and power than available in the Suzuki SV650 to get closer to 3 seconds or under, not to mention skills shifting (and a track to do it on).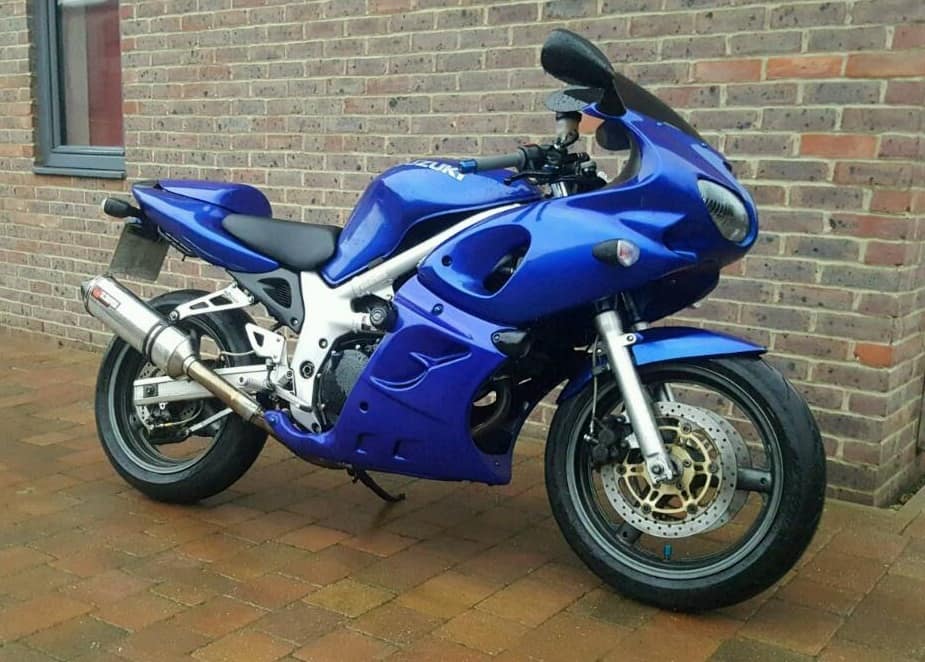 You can still buy first generation SV650 motorcycles and they're not too expensive — they're just in diminishing supply.
In fact, in the past, you could get them for US$1,500 with a bit of haggling and in very good condition, though they were often listed for more. These days, prices may be inflated due to dwindling supply.
In Australia I'd have paid around A$2-3,000 for a first-gen Suzuki SV650 in good condition, depending on the mileage, mods, and condition.
And of course, from a dealer I'd pay a little more.
The thing is, the prices for a 1st gen "Curvy" aren't much of a discount on the second generation, which was significantly improved. I'd only buy this model if you happen upon a great example, really want a carburettor model, or if you're really strapped for cash.
Second generation Suzuki SV650 — Fuel Injected (2003-2009)
In 2003, Suzuki updated their SV650 considerably. This version was sold in the US only until 2009, until the next "Gladius" model took over. In Australia and in the UK though, you could get the same SV650S model until 2012.
The biggest changes for the second-generation SV650 were:
Fuel injection + a digital display (a big tachometer over an LCD)
Slightly more power & torque: 73 hp (55kw) at 8800 rpm, and 47 lbf-ft (64 Nm) at 7000 rpm), but this is splitting hairs
Updated powder-coated aluminium truss frame, making it look awesome
Wet weight for S version: 198 kg / 437 lbs. This is a claimed 9 kg (22 lb) increase from the previous generation. (But modifications will have a big impact on second-hand bikes.)
Like the earlier models, the second-generation SV650 one came in both naked and faired versions.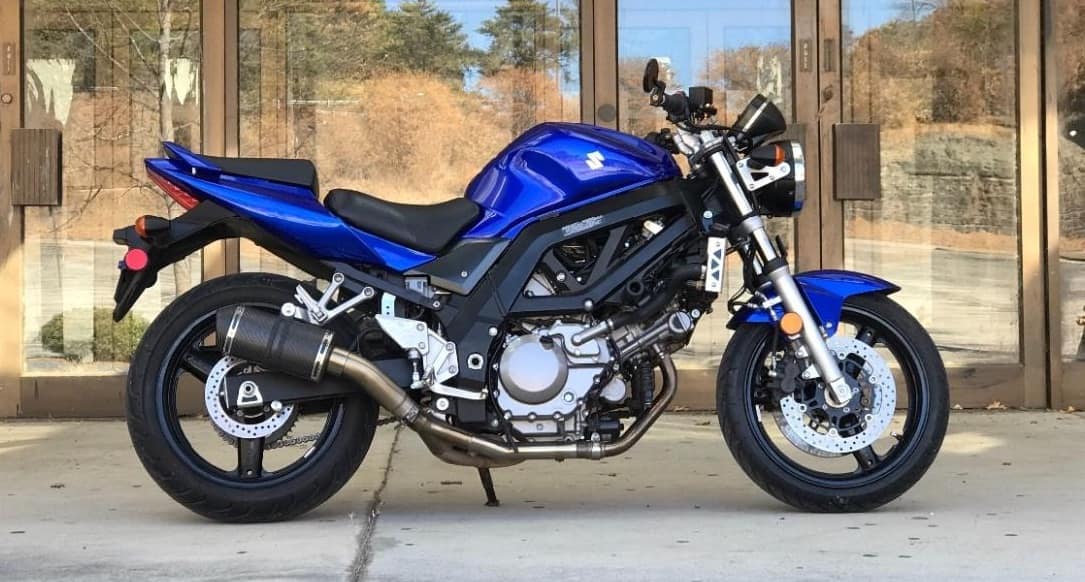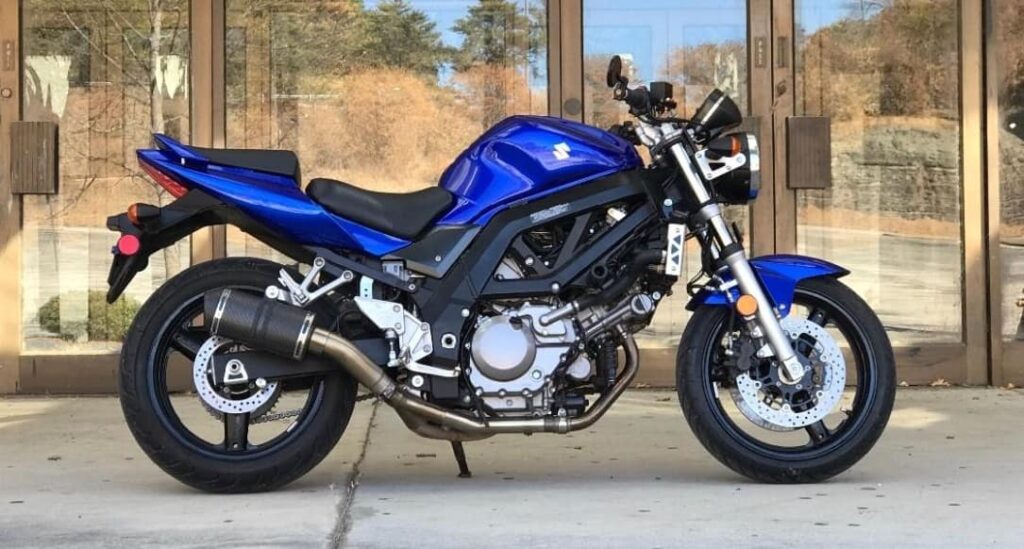 There's nothing wrong with carburetors. But they do tend to need cleaning, and jetting them — while within the reach of a home mechanic — is not as easy as getting your fuel-injected SV650 dyno-tuned.
Because I tend to have multiple motorcycles and sometimes they do tend to sit, I prefer fuel-injected motorcycles. So do many people. This is why the fuel-injected 2nd gen SV650 is popular!
The Controversial Suzuki Gladius/SFV650 Generation (2009-2015)
In 2009 Suzuki replaced the SV with the disappointing SFV650 Gladius, a misfire that in every significant way (weight, performance, looks, and price) was worse than the SV. Like your Uncle Carl who lives out in your backyard in a rusting Airstream with a one-eyed pit bull named Slash, the less said about the Gladius the better. – Motorcyclist
Wow, Motorcyclist. Tell us how you really feel. Is it really that bad? What happened?
Many people would never consider the Suzuki Gladius (or SFV650 as it was renamed in 2013) to be even the same motorcycle. Ostensibly it was supposed to replace the Suzuki SV650, but the things that changed made it lose favour with the faithful were mostly aesthetic.
The core of the Suzuki Gladius / SFV650 is the same as the earlier SV650. It's powered by the same 645 cc fuel-injected liquid-cooled V-twin, making about the same power, with the same general configuration of bike.
Here's what Suzuki changed:
An improved engine, with more torque down low and a similar peak. This came via new camshaft profiles (with more lift, for more power at higher revs), 10% more crankshaft inertia (smoothing things out), and modified and balanced intake/exhaust tracts (to bolster the mid-range).
Noticeably heavier, at 202 kg (446 lbs) wet, largely from the tubular steel chassis (the SV650 used aluminium).
Lower seat height: 31 inches, vs the 32 inches of the earlier SV
The new styling: Described as "bulbous" or "feminine", including the front headlight which became more modern rather than the traditional round headlight
The name, "Gladius", which many equated to "Gladys"
People didn't really like this. They didn't like the weight, they really didn't like the look, and they didn't like the name.
Nonetheless, some people think it's a better motorcycle, especially after the 2012 update that improved how it looked.
Regardless, the SFV650 deserves a mention. No matter what they say, it's a good bike! It has that same sweet engine and it handles really well, holding its own against contemporaries like the Yamaha FZ-07 and the Ducati Monster of the day.
But the naysaying means two things:
You should be able to buy it for less, and
You'll struggle to sell it.
For one thing, the SFV650 is no longer made, which means fewer people are doing searches for them. For another, it was neither popular nor good enough to reach cult status, which means nobody will lust after it.
However, if you find one for cheap and it's in good condition, you can examine it through the same lens as an SV650 and know you'll enjoy it a lot. Maybe a little more.
At least because of the weight, the Gladius was a less attractive contender as a track bike, so fewer have been tracked!
Third generation Suzuki SV650 2016+: New frame, style.
In 2016, after years of being begged to do so, Suzuki brought back the SV650.
They kept it as light as possible, with the ABS model weighing basically what the last model weighed, despite everything needed to keep it EURO 4 compliant.
Major changes for the third-generation SV650 include:
New, lighter frame than the Gladius. Still steel.
Retuned engine, producing 3 more kW (4 more hp), and similar peak torque as earlier of 64 Nm (47 lbf-ft). However, it makes this torque higher in the rev range at 8,100 rpm, vs the earlier model, which made it at 7,200 rpm.
Reduced weight of 197 kg/434 lbs for ABS model. Still heavier than the older SV650S (which didn't have ABS).
Maintained the Gladius' low seat height of 31 inches
Moar electronics! (see below, "Why buy a 3rd gen?")
All this, brand new for US$7,500, or in Australia, A$9,500 on the road (registered). So why not?
Suzuki now also heavily markets their "Café racer" style Suzuki SV650X. The SV650X is the same basic motorcycle, but with a different paint scheme, a little fairing fowl, and lower clip-on handlebars that are somewhere around the "streetfighter" position (not too low, but not as high as handlebars).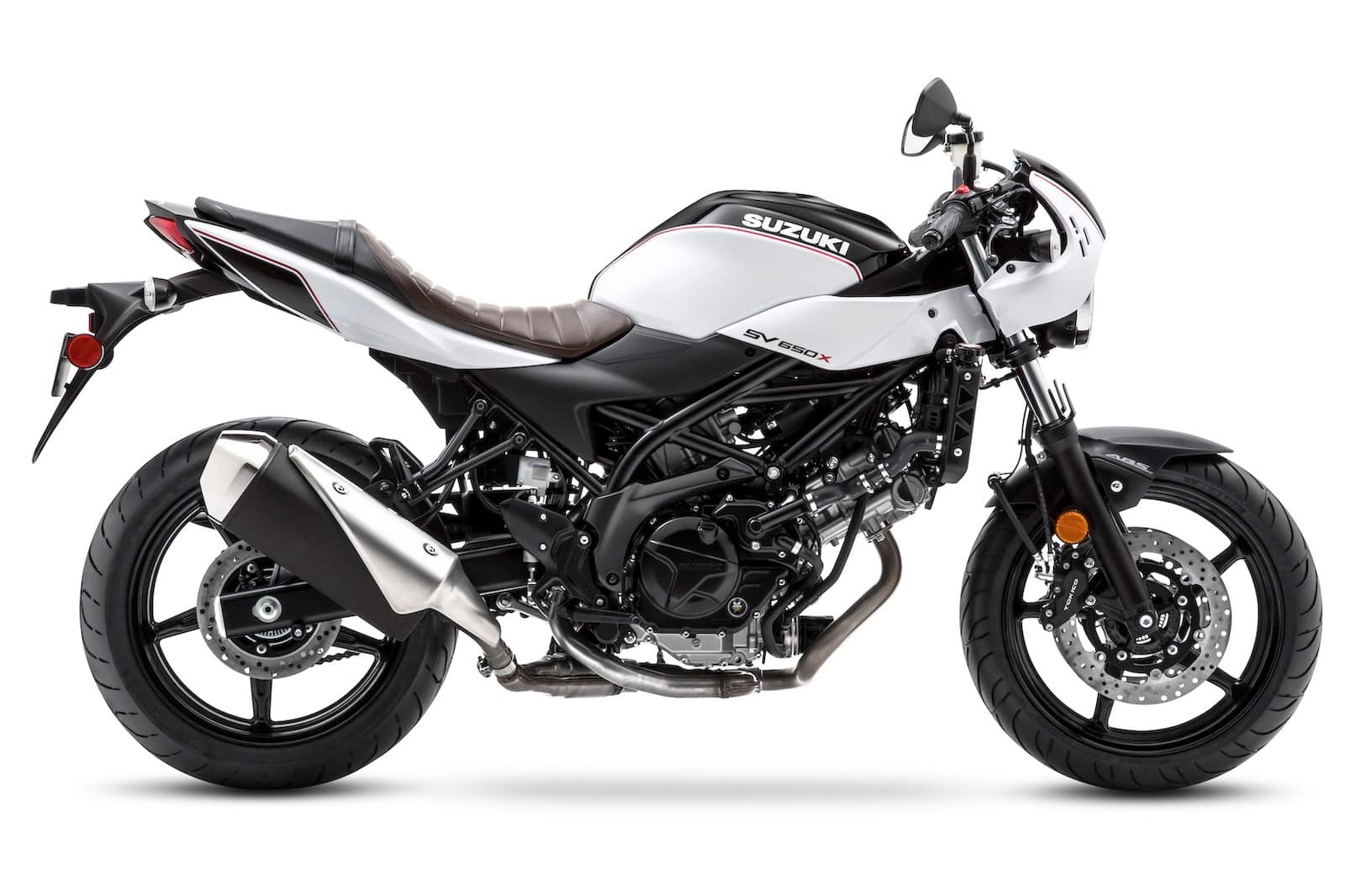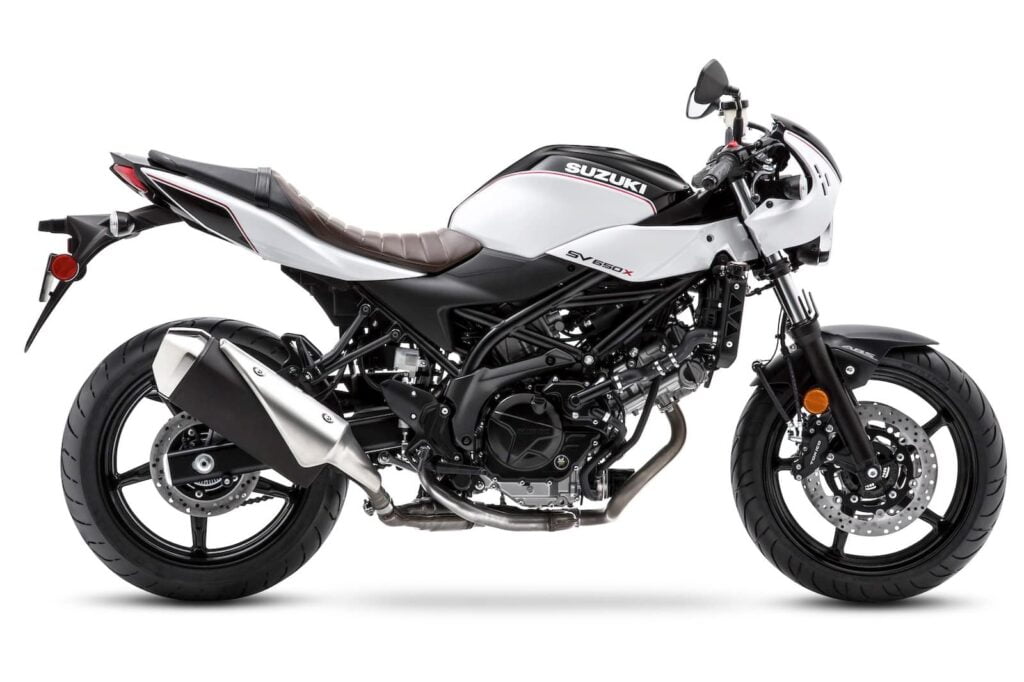 The electronics they added to it are designed to make this user-friendly motorcycle even more user-friendly. Here's what they added.
There are a few features only available on the third-gen one though that make them worthwhile.
ABS: Available as an option previously, now this is standard in many markets (for a bike of the same weight). ABS is one of those features I never needed until I did, one day (oil slicks. Saved me thousands of dollars.)
Low RPM Assist: This basically makes them stall-proof. An SV650 is not easy to stall anyway, but I would be lying if I said it never happened to me at the traffic lights on various bikes (all V-twins, but also all Ducatis). Considering the SV650 gets many entry-level riders, this is a nice plus.
Better display: A bright display shows all kinds of stuff, including average fuel consumption, range, water temp and a fuel gauge.
Easy start: OK, I'm including this because it seems silly. One new "feature" is that you can start the motorcycle in neutral without pulling the clutch lever in.
The main reason for which I'd buy a third-gen would be to have the refinements of the Gladius in the smaller, lighter SV650 package, with additional electronics to make it easier to ride.
So what's it like? The third-gen SV650 is just like you remember it — lightweight, easy to use, with manageable power and versatility that won't let you down whether in the city or in the hills.
The only let down is that the torque is made higher up. This is a common consequence of motors being tuned for emissions compliance. Perhaps an exhaust and remap would take care of it. It's not really noticeable while riding it, unless you're riding it on a dyno.
Here's what others say about the third-gen SV650 / SV650X:
"The Suzuki SV650X is like owning a puppy. It's as impractical as a puppy, but you still love it." – Motorcycle News. (Note — this is about the X, which has a shorter seat and clip-on handlebars)
"The engine is a treat, it churns out lovely dollops of poke in a way only a V twin configuration can provide, that cool exhaust note adding to the pleasure." – Bennetts UK
"Arguably one of the most sensible bikes on the road today." – Superbike Online
Another consequence of tightening emissions standards is that recent model SV650s are a little quieter than earlier ones. This might also be a bonus for you.
As with earlier SV650 models of course, an aftermarket slip-on is a modification owners make fairly early.
What to Check on a Used Suzuki SV650
Generally speaking, not a lot goes wrong with the Suzuki SV650 fundamentally.
A general word of caution for early Suzuki SV650 models: They may not have been treated well.
The Suzuki SV650 was always a cheap and cheerful motorcycle, giving huge bang for the buck. They're often recommended either as a first motorcycle (in the US), or as a first "step-up" motorcycle in the UK or Australia.
For this reason, a lot of old SV650s have been abused to a degree just by the normal learning curve of beginning riders. They almost definitely have been dropped at low speeds or a standstill. The clutch has been abused from inexperience. They might have been poorly maintained.
Just think how your average punter would treat a first or second motorcycle they're definitely planning to move up from. Would they be fastidious about changing the oil, spending $3-500 on planned service intervals, changing the fork oil or brake lines or preventing tank rust? Probably not.
There are a whole host of things to check for on any motorcycle, and I've made a comprehensive guide and checklist here. More guides coming soon, particularly on the major components like the tyres, suspension, chain/sprockets, and the electrical system.
Aside from that, on the SV650, check for these things
Charging system: The regulator/rectifier can go bad on these (as on any motorcycle this age). Make sure the seller isn't pretending everything is fine by having trickle-charged it overnight to mask the issue. Take a multimeter, and make sure the voltage at the battery holds steady when on the gas (it should be lower at idle, then increase with mild throttle, and then not spike up with heaps of throttle). The lights should not dim when off the throttle, either.
(See my guide to testing an electrical charging system)
Exhausts: If it has an aftermarket exhaust and it hesitates or misfires, then it probably hasn't been jetted. Jetting isn't as easy as dropping in a Power Commander unit and uploading the correct map, so many don't do it. Unless you're willing to buy the kit (cheap) and install it (expensive, even if it's your time), think twice.
Rust in the tank: Easy to see if the paint isn't well maintained. If there's a tank bra on it, take it off and have a look underneath. Open the gas cap; if the petrol isn't full to the top, you might see rust right below the level.
Here's a great list of everything that can go wrong and how to fix it easily, courtesy of SVRider.
Like the first-generation SV650, most of the second gen bikes are getting long in the tooth. Apart from this, they were cheap to start with, and often recommended as a first or second motorcycle (depending on licensing restrictions in different countries).
The fact that old SV650s are often first or second motorcycles mean they may not have been treated too well, because the person who bought it knew they'd sell it within two years. If most people know that, they're unlikely to do things like replace brake lines, add power commanders and so on.
If you're willing to live with that, buy used! Otherwise, buy a new one (see below).
Again, see my motorcycle inspection checklist, where I go over charging systems, forks, and so on. Aside from that, here are a few things that are specific to the SV650:
Brakes. You can almost expect them to be soft on an old SV650. Most people don't change their lines. One with braided lines is definitely higher in value, even though the work isn't hard!
Cam chain tensioner: These can get worn and noisy. But it's a cheap fix – about an hour's labour.
Rear sprocket: Check things are as they should be, as given its limited rev range for a sport bike, people may gear the SV650 differently for specific purposes.
Leaky forks. It might have been wheelied. This is a side product of motorcycles capable of doing wheelies!
Aftermarket exhausts without a remap. On lower-cost bikes, many people install an exhaust without a remap, or install a Power Commander without installing the appropriate fuelling map. The result can be a slide reduction in performance, even if it's an improvement in sound. This tends (anecdotally) to happen more on cheaper motorcycles, maybe because of literal "bang for buck", especially if people know they won't on-sell the motorcycle.
Some common modifications to SV650s that are welcome are
Better protection for the radiator. It can get damaged at highway speeds easily.
Protection for the front cylinder's plug, that can sometimes be affected by rain. People either extend the front fender, or put some grease or silicone sealant around the spark plug to avoid water from entering.
Compared: The alternatives to the Suzuki SV650 to consider (or not)
There are a number of worthy alternatives to the SuzukiSV650. Really, since about the year 2000, there have been few "bad" motorcycles.
All of these motorcycles stand on their own two feet, and one in good condition will always be worthy of picking up. But here are the differences and why you should or shouldn't get one.
There are many middleweight sporty motorcycles, and you wouldn't realistically consider them all.
See here for all the other middleweight naked sport bikes available, just in case you do want to consider them all!
I think the main alternatives are:
Another middleweight twin: the Yamaha FZ-07 or Kawasaki Z650. Maybe the Honda CB500F but it's more sedate, and usually compared to the smaller class of bikes.
A middleweight triple or four, e.g., the Honda CBR650F or R, or Suzuki GSR600
The "bigger" alternative, the Suzuki SV1000
The "adventure" alternative, the Suzuki V-Strom 650
Let's go through them all.
Yamaha FZ-07 / MT-07
The Yamaha MT-07 (formerly known as the FZ-07 in the USA) came to the market to fill the hole that the 2nd gen SV650 left. And arguably, it stole the show — because the FZ-07 / MT-07 is a cracker of a bike.
Like the Suzuki SV650, the MT-07 is a bike designed to do everything well and to inject a bit of zest into everyday riding.
The Yamaha FZ-07 / MT-07 is powered by Yamaha's now infamous "CP2" engine, which is a 689-cc parallel twin. The secret sauce in this engine, however, is that it has a 270-degree crank, which thanks to some aggressive tuning from Yamaha, means it has quite a lot of bark to it! With a good exhaust on it, the MT-07 has a surprising amount of roar for what you'd think is a little motorcycle.
Like the SV650, the MT-07 has basic but competent ride gear, with twin front discs and conventional non-adjustable fork.
But unlike the SV650, Yamaha actually updated the MT-07 in 2021, giving it sleek new style and a snazzier LCD dash with some colour elements.
Saving the best for last, the Yamaha MT-07 is quite a lot lighter than the SV650. The Yamaha has a curb weight of 184 kg / 406 lb, a huge 14 kg / 31 lb lighter than the SV650's 198 lb
Kawasaki Ninja 650 (or EX650) / Z650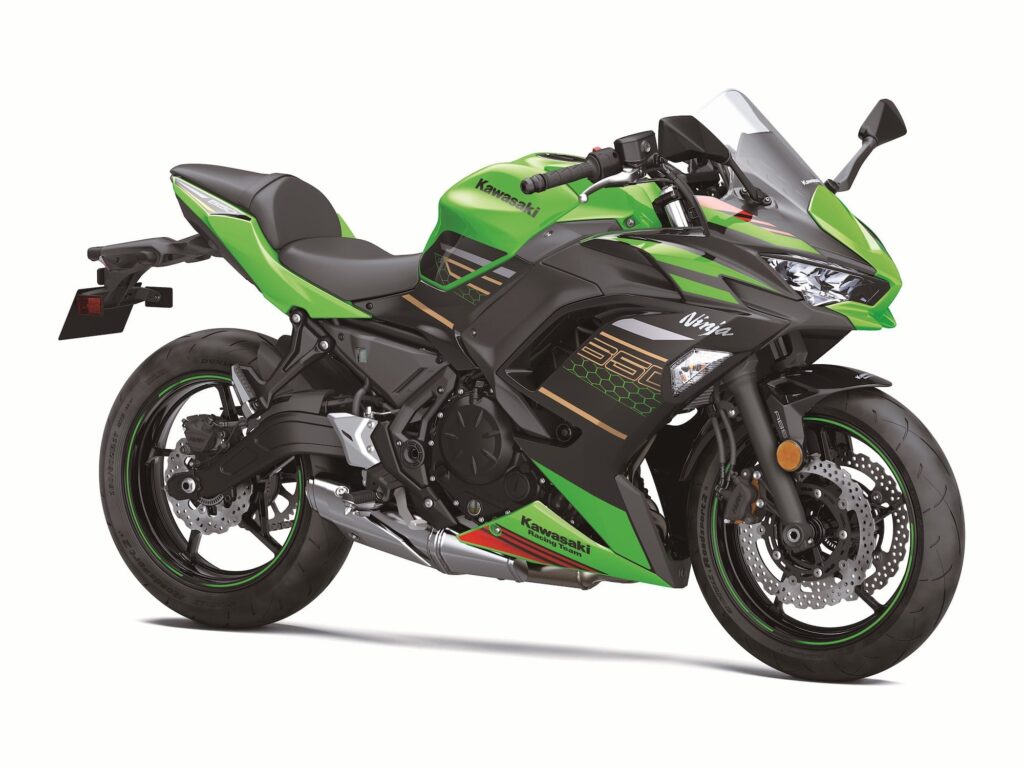 The Kawasaki Ninja 650 (not the 636 or 600, both very different four-cylinder, high-revving and high-horsepower machines) is a similar motorcycle to the Suzuki SV650, producing similar power from a comparable engine.
The Ninja 650's engine is a 649cc parallel twin with a 180-degree firing order, which is part of the reason why it has a somewhat flatter exhaust note — more mechanical and less pleasant than the SV650's exhaust. People don't rave about the sound of the Kawasaki Ninja 650 in stock form (and some say it sounds like a "lawnmower".) That said, with a decent aftermarket exhaust, it sounds good.
For me, the most compelling aspect of the Ninja 650 for me is the fact that it's a parallel twin which means it only has one cam cover. This cuts down maintenance time a lot when it's time to adjust valves. It also has fewer gaskets to replace, fewer bolts to risk accidentally stripping, and so on.
The main differences between the Ninja 650 and the SV650, apart from the engine configuration, is:
The controls: The earlier Ninja 650 with fairings has handlebars, whereas the Suzuki SV650S (which has fairings) has clip-ons. The more recent Ninja 650 has raised clip-on handlebars. They're all similarly comfortable.
Fairing: These days, you can get the Ninja 650 with a fairing or the Z650 without one. But no version of the SV650 has a fairing. So if you want that bit of protection, you'll want the Kawasaki.
Weight: In the past the Ninja 650 was slightly heavier, by about 10kgs or 22lbs. Granted, it had a fairing. However, the 2019 Ninja 650R is 12 pounds (~5kg) lighter than the SV650. The weight discrepancy varied slightly among model years.
Power delivery: When comparing torque curves from various years you can see that the SV650's torque doesn't drop off as quickly in the higher rev range. This gives it more of a sporty feel.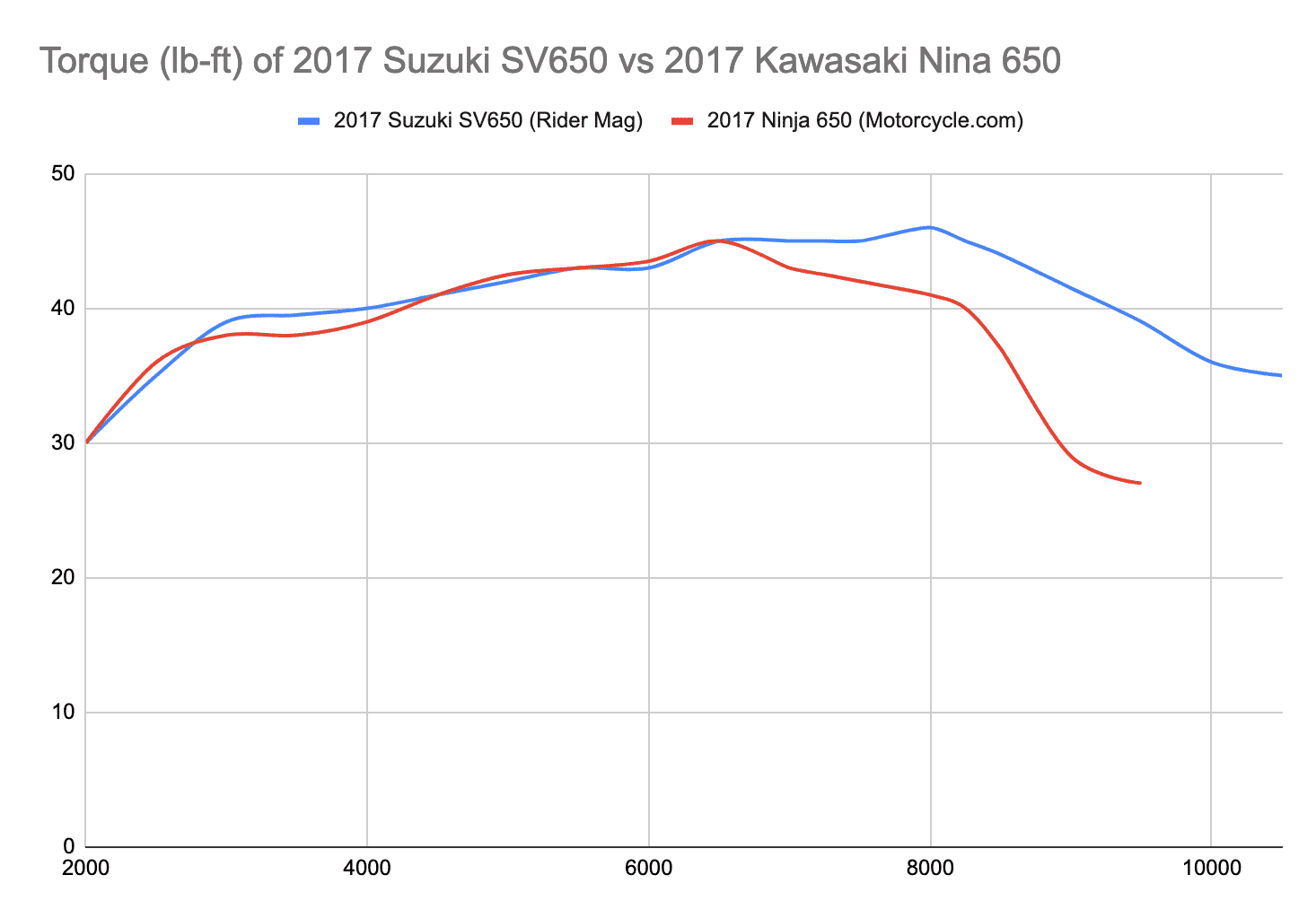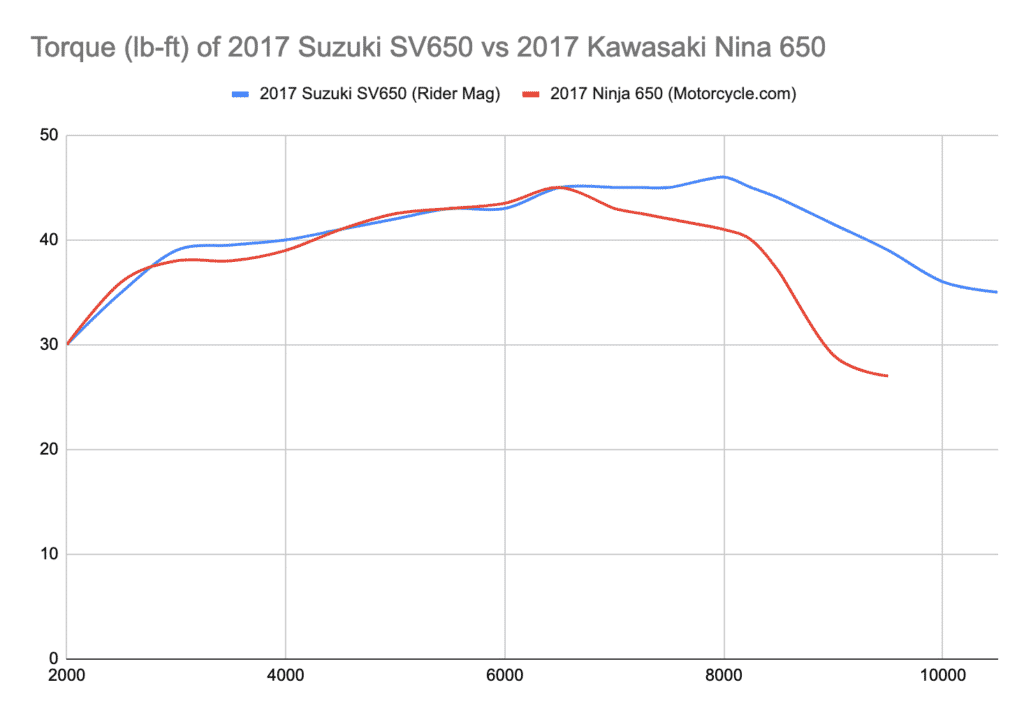 Without going into all the various differences between the two motorcycles, it should be said that they're both very similar. You will probably best choose between them on a test ride and seeing what fits your frame best, based on availability.
The Suzuki SV650 vs SV1000 (and SV1000S)
The Suzuki SV1000 (and SV1000S) is a fine, cheap and fun bike, produced in the same era as the second-generation SV650. I rode the snot out of one for a month and enjoyed it, but didn't fall in love.
It's well-liked as another "poor man's Ducati". The Suzuki SV1000 produces a healthy 89kW (120 hp) at 9000 rpm and gob-loads of torque (peaking at 102 Nm/75 lbf-ft), with a lot of it coming all through the rev range. It has a sweet exhaust note from a 996cc fuel-injected V-twin. It is slightly heavier than the SV650 (218kg for the SV1000S, vs 198kg for the SV650S of the same era, both weights fully fuelled) but still handles similarly, and has more than enough of a power upgrade to make up for it.
The SV1000 is just as reliable, too. The one I was on was pushing 100,000 kilometres (65,000 miles) and still purred, started easily and hadn't needed any major service in over 50,000 kilometres. In fact, at the last few valve service intervals the valves hadn't needed any adjusting, and given the low resale value of the bike (and the expense of the service), there was no economic sense in continuing to do them.
The main criticism of the SV1000 (per many owners) is that they were an upgrade in the engine, but still a cheap-feeling motorcycle. Looking at forum comments, while buyers thought it was OK for a middleweight utilitarian motorcycle to use lower grade components, they weren't as quick to excuse a litre-class motorcycle, which they compared with high-end machines like the Fireblade, GSXR-1000 etc. that were more highly spec in comparison.
This isn't an objective criticism; the Suzuki SV1000 is a great motorcycle. Get one in good condition and you'll like it.
The SV650 vs Various Middleweight "Non-Superport" Fours (Honda CBR650F, Hornet 599, Suzuki GSX650, etc.)
The middleweight four-cylinder motorcycles are in the same price range and you will like any of them/not hate any of them. Each rider may have a personal favourite due to a riding position or personal experience.
They're not quite in the same category, purely because these are four-cylinder motorcycles and produce a different feel and sound. I've ridden Hornets and CBRs and they're great. I particularly loved the CBR600F4i, and will soon be a proud owner. If you're interested in getting one, here's my detailed buyers guide to the CBR600F series.
The most notable difference is in how torque is created. The Suzuki SV650 produces slightly more peak torque, and slightly lower in the rev range, compared to its cousins.
You can see this in the torque curve of the Suzuki SV650 vs the GSX-R600 (they're different years, but in broad terms, the overall characteristics are the same):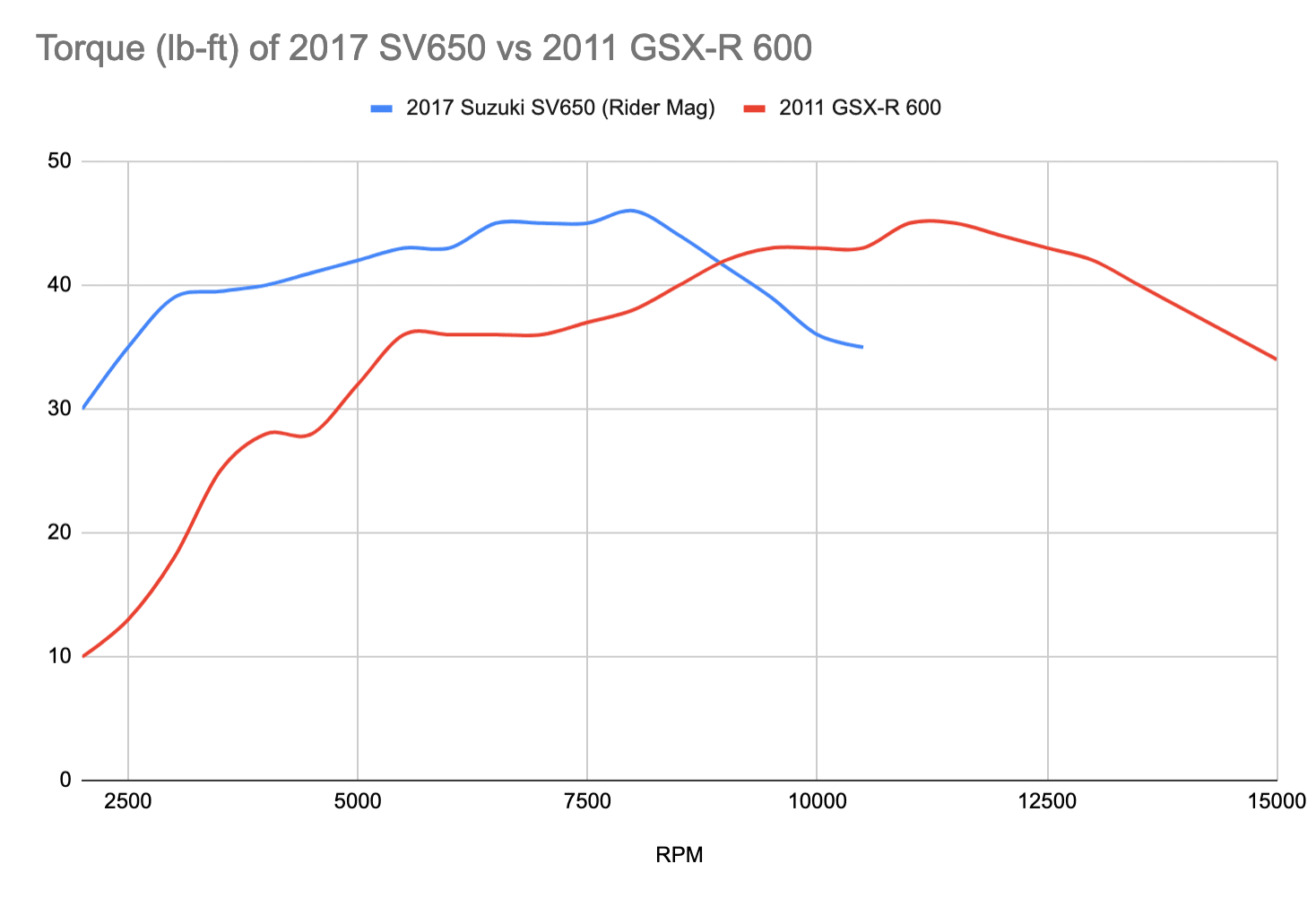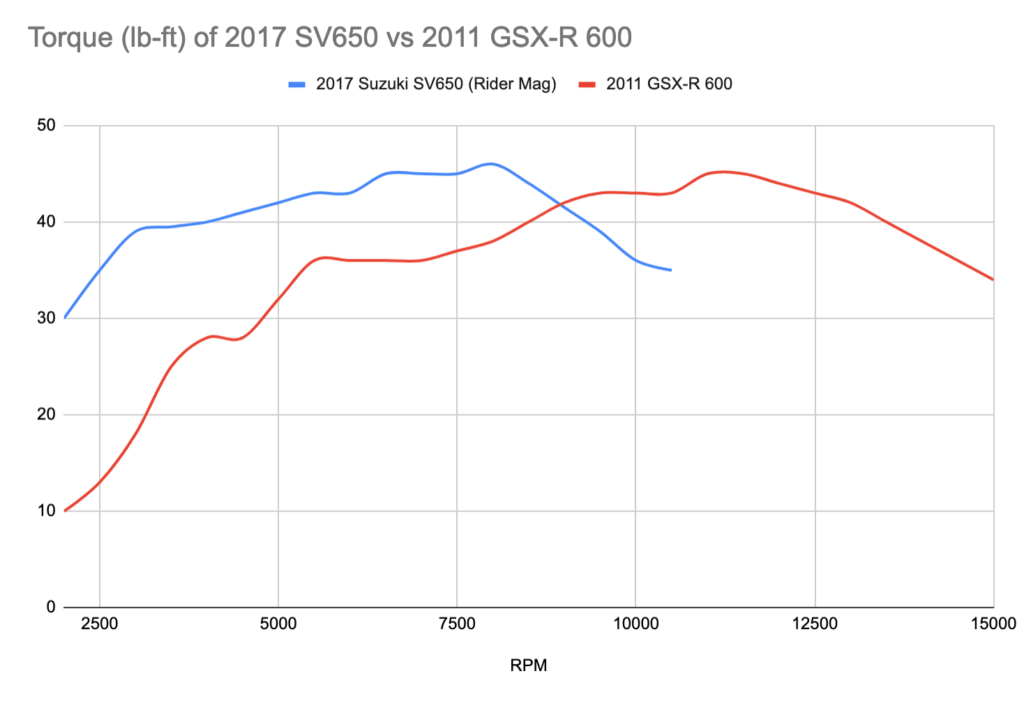 You can see that the SV650 gets near peak torque very quickly, and stays there. But it runs out of puff while the GSX-R's torque is still climbing. The GSX-R revs all the way past 15,000rpm, and since power is a function of speed and torque, the power keeps climbing too. This means the GSX-R also has higher top speed.
The SV650 vs DL650 V-Strom (aka the Wee-Strom)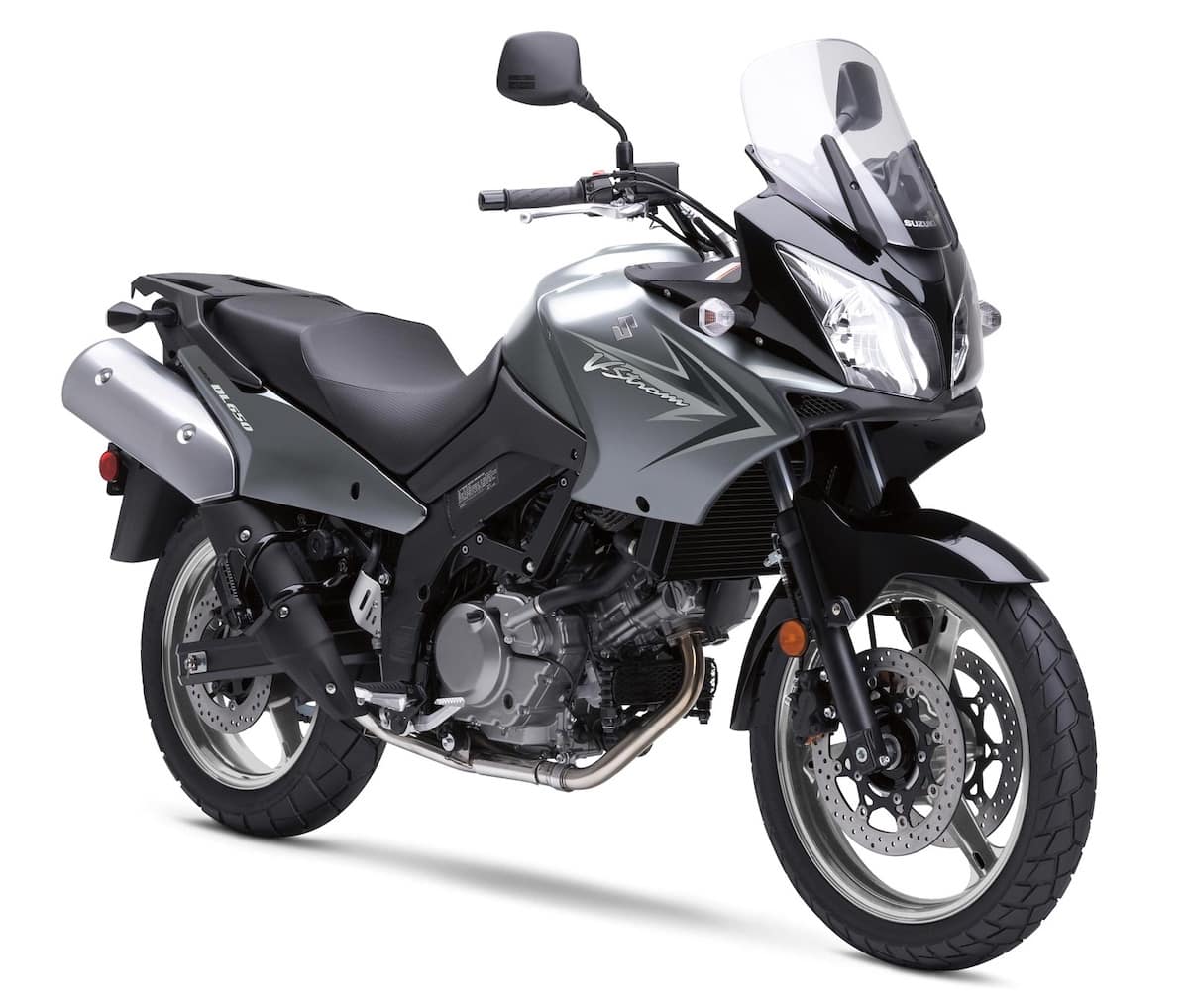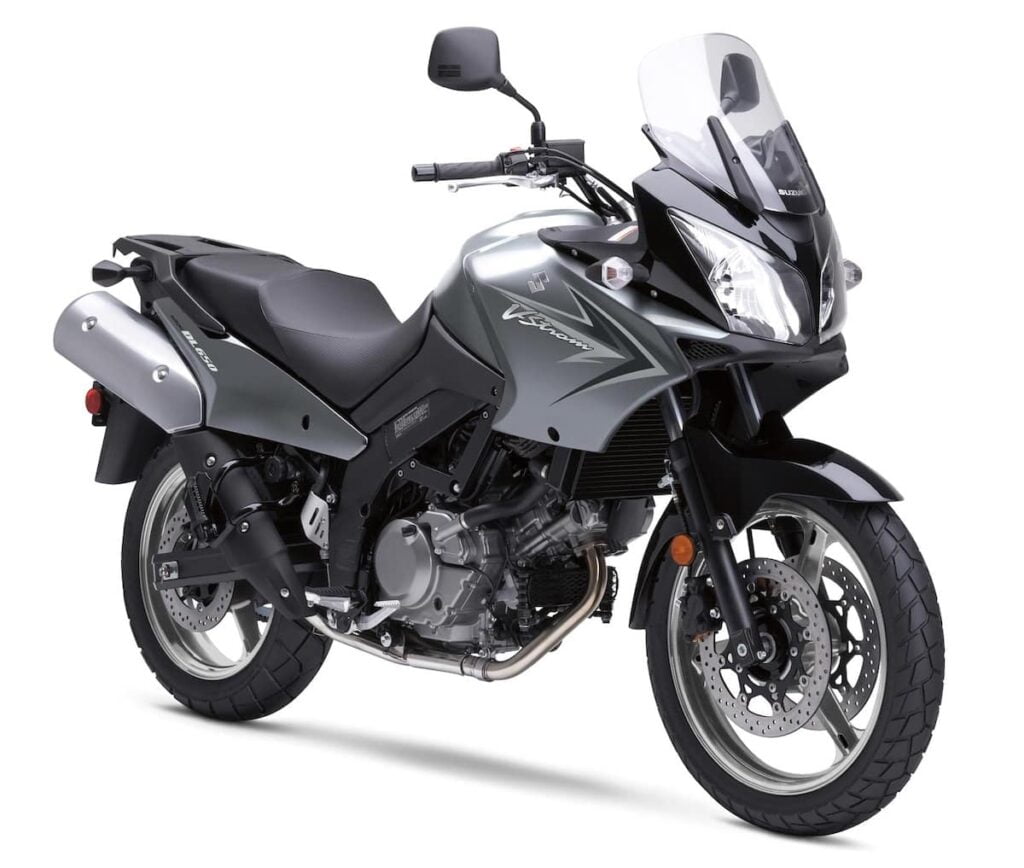 The Suzuki DL650 V-Strom, or the "Wee-strom" as it's affectionately called, is a cult motorcycle of its own. The Wee-strom has a slightly de-tuned SV650 motor in a more upright chassis with wide handlebars.
The Suzuki V-Strom is a favourite for long-distance touring and light adventuring. It can do 400 kms (250 miles) on a single tank! Later models are even good for more serious adventuring, with better crash protection and bigger (19 inch) spoked wheel options.
Both machines have the same engine block, though in the V-Strom it's tuned for more low-down torque at the expense of slightly less peak power. The body is also around 10kg (22 lbs) heavier than the SV650S. On the road, this isn't noticeable; the most noticeable difference is definitely the high riding position of the V-Strom.
According to one SVRider.org forum member who put it concisely:
"You'd choose the DL if you want to ride your SV long distances or in the rain/cold and comfort is your top priority, with performance a close second behind. You'd choose the SV if you want to take corners quickly and don't mind sacrificing a small amount of little comfort."
I personally hate riding in the rain, but it does happen sometimes against my own wishes. Therein lies the appeal of adventure tourers.
The V-Strom also comes in a larger, heavier, and higher-torque/power 1000cc variant which is still made (unlike the SV1000, which was quickly discontinued). You get similar trade-offs to what you'd expect: the 1000 version is more comfortable on the highway (though the 650 version is fine!), but the 650 is nimbler off-road (but neither is fantastic off-road).
Overall: Which Suzuki SV650 should you buy?
My overall recommendation boils down to buying one of the following:
Bargain option — A second-generation SV650 — but only if you're extremely confident it has been well taken care of (valve inspections, power commander with exhaust mods, no parts typically replaced from crash damage), and don't pay close to the price of a third gen.
Undervalued — Get a SFV650 ("Gladius") for a bargain price. Not because they're worse (they're mostly just "different"), but because they're unloved.
Best pick — Buy a used third-generation (the newest) SV650 with more confidence, but with the same caveats, and for not much more.
Or buy an SV650 new. Why not? They're not too expensive…
Sum up — Is the Suzuki SV650 for you?
Many people buy the SV650 and love it for years, thinking "I'll never grow out of it".
The thing is, many of us want to have frequent change in motorcycles. More comfort, more speed, power, more adventure… just something else.
But I really often come across people who say how much they miss their old SV650. It's just like how I talk about my old Monster, which I sold mostly because I was afraid it'd break down again.
The temptation of the SV650 is to have the glorious sound and feel of the Monster in a package that doesn't break down. It's certainly something I want in a motorcycle. Is it something you want?