Q: How do you know if someone rides a Hayabusa?
A: They tell you!
So, here we go with my review of owning a Suzuki Hayabusa Gen 2.
The Suzuki Hayabusa is a motorcycle that had me by the heartstrings the moment I sat on it in the dealer's lot. I didn't buy the first one I saw as I thought "This is silly", but I eventually bit the bullet.
And even though I sold my Hayabusa for inane reasons of "practicality", I regretted that decision within months, and bought anohter.
So, because I fell in love hard with this bike, this review of the the Suzuki Hayabusa (a gen 2) is quite long. But I'll try to answer every question you might have.
I had the pleasure of owning the 'Busa for enough time to really get to know what it's like and get to answer things like:
What's it like riding the Hayabusa every day?
Is the Hayabusa reliable?
Is the Hayabusa dangerous to ride?
Can you ride the Hayabusa slowly, when you have to?
Is the Hayabusa easy to handle?
Is the Hayabusa a sport bike?
Is the Hayabusa too heavy?
Why'd I sell the Hayabusa?
I answer all of these questions below. I also answered a few of them in my original Suzuki Hayabusa Buyers' Guide, which was how I ended up with this Gen 2.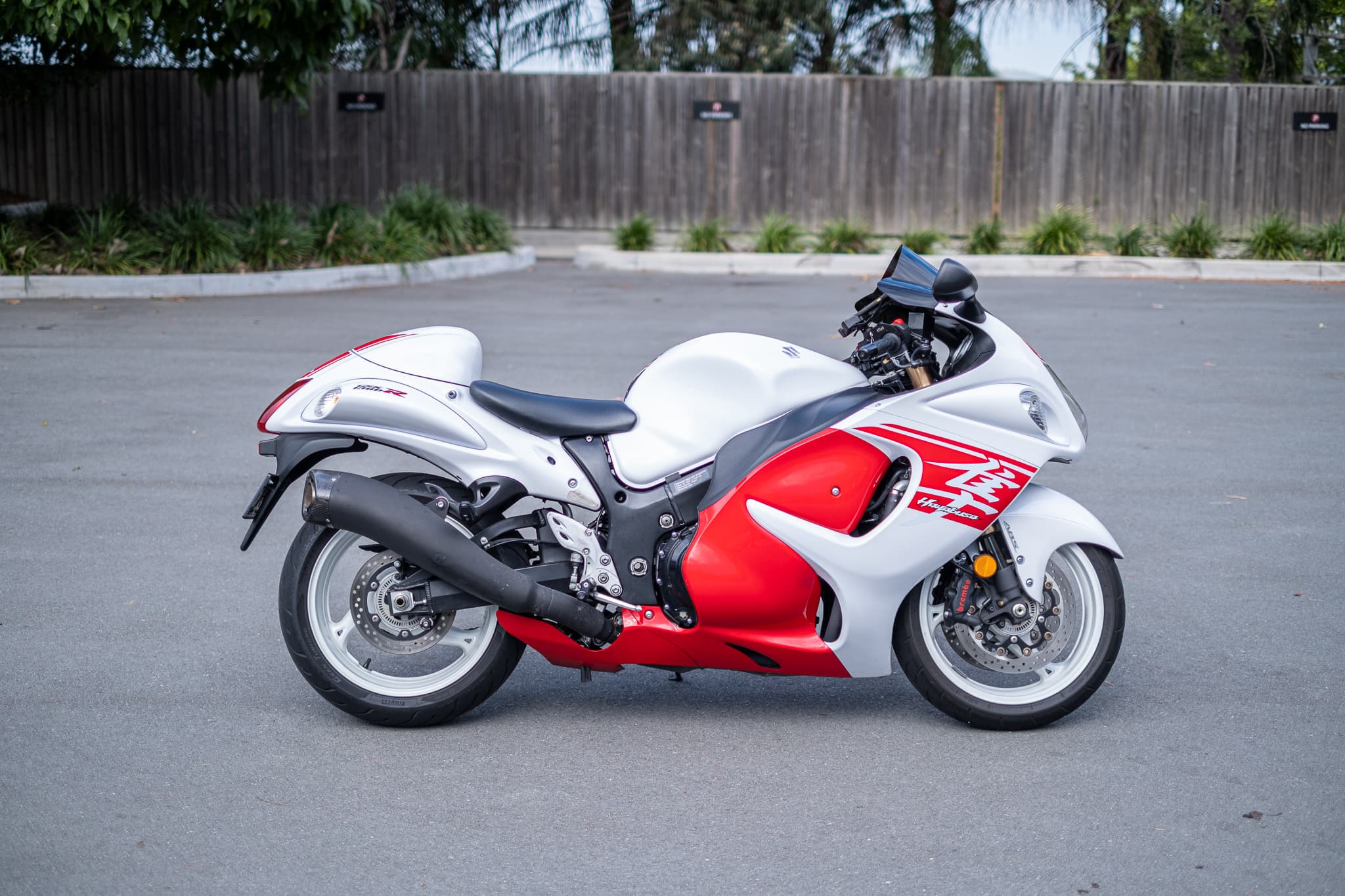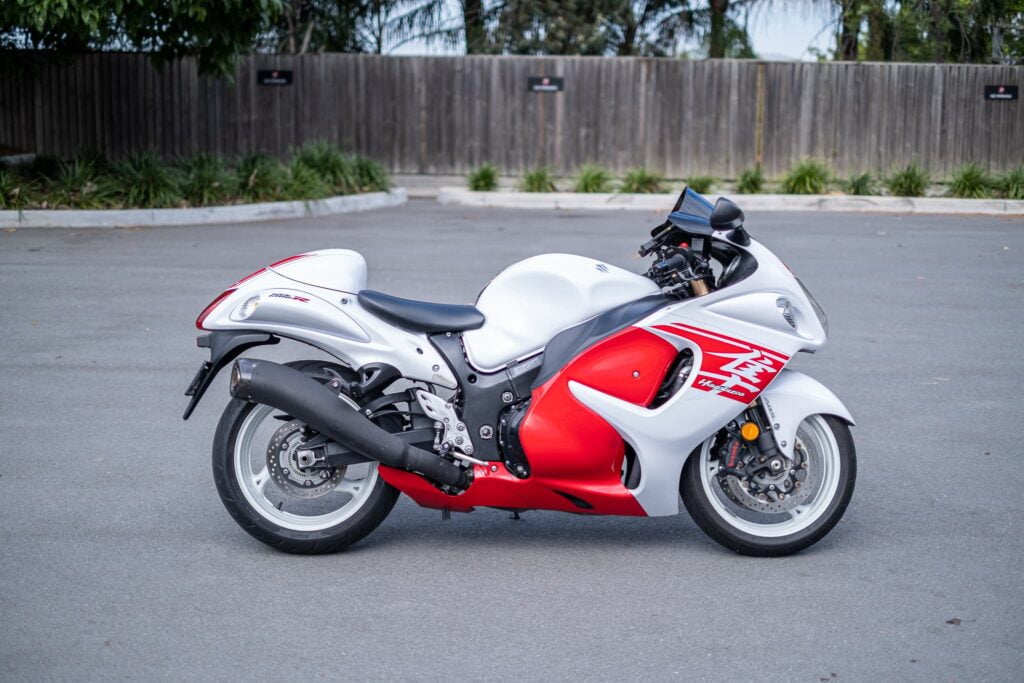 Now, there are some really long-term owners out there who laugh at my ~5000 km on two bikes as a mere dalliance. There are people in the (truly excellent) Australian Hayabusa Owners Club who have had one — or multiple — since the beginning in 1999. They strip down 'Busas, fit stroker pistons and turbochargers/ superchargers and race fairings like it's their only passion in life. If you want to know what it's like to own the 'Busa — or indeed any motorcycle — for 20 years or more, then that's your crowd!
The soundtrack that plays through my head every time I get onto the Suzuki Hayabusa is "The Perfect Drug" by Nine Inch Nails. Here's Trent Reznor apparently describing what the Hayabusa is like to ride:
I come along, but I don't know where you're taking me
I shouldn't go, but you're wrenching, dragging, shaking me
Turn off the sun; pull the stars from the sky
The more I give to you, the more I DIE
Well, not die. Not yet.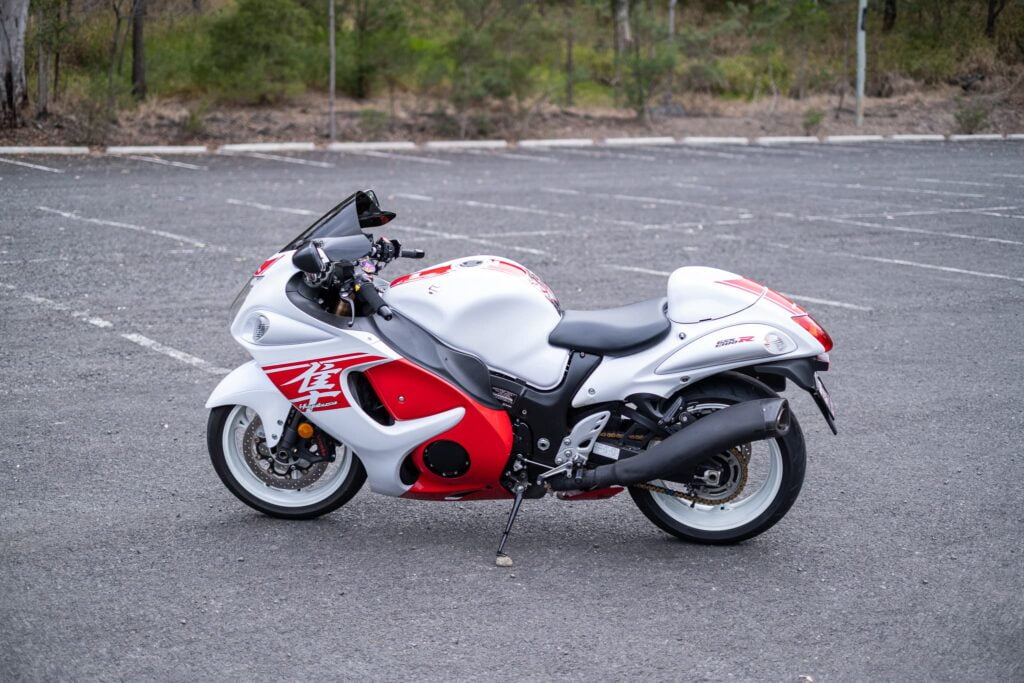 Short answer to why I sold the Hayabusa — I adored it, and will have one again, but it's not the bike for a country with aggressively policed speed limits and small tracks.
Are you obsessed with motorcycles?
Well, I am. That's why I created this site — as an outlet. I love learning and sharing what others might find useful. If you like what you read here, and you're a fraction as obsessed as I am, you might like to know when I've published more. (Check the latest for an idea of what you'll see.)
Background — About MY Suzuki Hayabusa
My Hayabusa was a 2018 Hayabusa in white and red. The official colour name is "Pearl Mira Red / Pearl Glacier White". But I call the colour scheme "strawberries and cream", referencing an Australian candy. (Scroll to the next the photo right to see why.)
My Hayabusa was a Gen 2 from 2018. The Gen 2 was made between 2008 and 2020, but was upgraded in 2013 to get ABS and better Brembo brakes. I think of it as a "Gen 2.5".
If you want to know about the Suzuki Hayabusa generally (its history, variations between the models, etc.), then please read my Suzuki Hayabusa Buyers' Guide.

There, I explain how it has changed over time, and give general advice on which one to buy, including everything up to the "Gen 3" (the 2022+ model, released mid-2021), with niceties like cruise control and a cruise limiter.
Because Hayabusas are rarely left stock, below are some of the modifications done to my Hayabusa (some in the short time before I bought it).
A Micron exhaust system — sounds incredible, with a booming sound (previous owner)
Dyno tune by One Addiction (192 rwhp measured; probably about ~210 hp at the crank) (previous owner)
HeliBars for a slightly more comfortable riding position
Phone mount
Rear rack (actually, never installed)
And that's it.
Oh yeah, the previous owner also installed a system of lights on it. But I disconnected it.
Now you might think "Bleah! I hate that colour!" Well, you're in luck. The Hayabusa is one of those bikes that Suzuki seems to have released in every colour scheme possible (well, not green). There are many gorgeous ones. You can collect them all! Here's a brief gallery of some of my favourites.
You might think I have a penchant for the more recent colours. That's generally true, but it's also that many recent colours were kind of fancier replays of earlier schemes, adding in pearl for example. Check out the 2016 vs the 2005 scheme, for example.
The only colour not in there is the original 1999 copper colour. While it's the classic colour, I don't personally find it aesthetically pleasing.
The photos look nice, but because the Hayabusa is somewhat of a luxury/collector's item, Suzuki seems to really have gone to town with the paint quality. The pearl effects and the shine is really high quality and eye-catching in person, more so than I've noticed on many other sportbikes.
I love the Metallic Oort Silver Hayabusa (the first one). If I got another, that's what I'd go for.
What is the Suzuki Hayabusa? Is it a sport bike? Is it a sport tourer? Is it a hyperbike?
People seem obsessed with classifications, these days. The main reason for this is, I think, you want to know what else a bike compares to so you know how good your bike is.
Firstly, the bike's name is the Suzuki GSX1300R Hayabusa, but everyone just knows it as the Hayabusa, or the 'Busa, or sometimes the "big bird". You definitely don't need GSX1300R in there.
Some people like to say the GSX1300R Suzuki Hayabusa is a "gixxer", or part of the GSX-R series. To me this is really not an important topic, and it either is or isn't a gixxer depending on… who cares.

A smaller number people make puerile jokes about "gixxer" riders, but hopefully readers of this blog tend to be above that and just encourage people to be themselves and ride whatever they like.
British and Australian folk pronounce the "busa" part with a short "u", like if you imagine pronouncing it like a Spanish or Italian word. This is similar to how it's said in Japanese. But you can pronounce it with a long "u", as do Americans, and probably Canadians. It's a brand name after all, and there are no fixed rules.
The Suzuki GSX1300R Hayabusa is in a tiny category of motorcycles that is only shared by the modern-day Kawasaki ZX-14R, and previously the Honda VFR1200F and BMW K 1300 R. There's no precise name for this category of bikes, other than "heavy-ish big-bored sport bikes". Even the Kawasaki Ninja H2 SX is more definitely a sport tourer.
You can understand what the Suzuki Hayabusa is by thinking about what it's not (in stock trim, anyway):
It's not a sport tourer… or is it? You can put luggage on it, and the Gen 3 Hayabusa has cruise control, and it is comfortable at high speeds… but it's not that comfortable. You're still positioned over clip-on bars, even if you're not folded up like you are on a literbike. It's just comfortable for a sport bike (or if you find that kind of position comfortable).
It's not a supersport/superbike (a.k.a. a "literbike" usually, in reference to the displacement). Suzuki's own GSX-R1000 is a superbike, as are other literbikes. You know it because superbikes all make more peak power (these days) than the Hayabusa and weigh much less. Watch people taking the Hayabusa to the track and you'll realise it's not really made for tracks that superbikes dominate — it does better on the straights. It's fun, but it takes more effort to make it lean.
It's not the ultimate hyperbike (any more). Once upon a time, the Hayabusa's specs made it an "ultra fast" sport bike. These days, the supercharged Kawasaki H2 range easily dominates that category. They're much more powerful.
So what's left? Like many bikes, the Hayabusa spans multiple categories. People who own them very long-term get really good at squeezing a lot out of them (one of the benefits of keeping a bike for more than six months), make modifications, and generally can get their bike to perform in any of the above categories.
For example, I've seen Hayabusa owners do these significant modifications:
Fit handlebars to them. The company LSL makes a handlebar kit that you only have to modify the fairing a little to make work. Suddenly your Busa becomes much more like a distance-eating machine. (I fit HeliBars to my 'Busa.)
Make them a lot lighter, removing metal bits and adding a lot of fiberglass. By removing weight, you can get the 'Busa to handle a lot better, making it into a much more track-able machine.
Fit turbochargers and superchargers. You can easily get over 250 rear wheel horsepower out of the 'Busa with a blower kit; some get a lot more.
Because of the resilience of the 'Busa's engine and chassis, they're a very popular platform for upgrades. In fact, "Turbo 'Busa" is almost its own model of bike.
I guess I have my limits as I can't possibly fathom why you'd need that much power — not in my corner of the world anyway. Roads aren't straight enough here, and police are way too aggressive with mobile cameras that just send you a bill in the mail, and even the tracks are too small (the nearest drag strip is two hours away).
If you're from part of the world where a turbo 'Busa makes sense, tell me, as I'd like to visit!
The Suzuki Hayabusa Gen 2 Spec Sheet
OK, you can't ride a spec sheet, as they all say. But once you've ridden a bunch of bikes and seen their spec sheets, you get to know a thing or two about reading them.
Before looking at the spec sheet, read the above section on what the Suzuki Hayabusa is vs what it's not. It'll help keep these specs in context.
| Part | Suzuki Hayabusa Spec Gen 2 (ABS, stock) |
| --- | --- |
| Years made | 2013-2020 (ABS, Brembo) |
| Engine | 1,340cc liquid-cooled inline four-cylinder DOHC/16-valve engine |
| Peak power (stock) | 146 kW (197 hp) @ 9800 rpm |
| Peak torque | 154 Nm / 114 ft-lb @ 7200 rpm |
| Weight (wet) | 266 kg / 586 lb |
| Front suspension | KYB 43mm inverted fork, fully adjustable, with DLC-coated stanchion tubes |
| Rear suspension | Link type 43mm monoshock, fully adjustable |
| Front brakes | 2 x 310mm discs, 4-piston radial-mount Brembo M4.32 calipers |
| Tyres | Stock is Bridgestone BT-015; typically sport touring tyres are fitted |
| Ride aids/electronics | ABS, Suzuki Clutch Assist System (back torque limiter) |
Suzuki Hayabusa Gen 2 ABS specs
The earlier 2008-2012 Suzuki Hayabusa Gen 2 (it's also a gen 2) shares most of the above specs, but it lacks ABS and the Brembo brakes. Still, it's easy to upgrade the brake calipers — though not to ABS necessarily.
See here for our FAQ on motorcycle braking systems, talking about discs, caliper specs, major braking brands, and more, including a discussion of Brembo vs the rest.
One thing really important to understand about the Suzuki Hayabusa is its torque curve.
Because torque peaks at a modest 7200 rpm and peak power is at 9800 rpm, the Suzuki Hayabusa is not a motorcycle that you rev to the moon like you would a literbike or a 600-class sport bike.
In fact, it's possible to get to 10000 rpm in everyday riding… even if just in first gear (maybe the second, depending on where you live).
The more important variable is how much throttle you give it to get up there!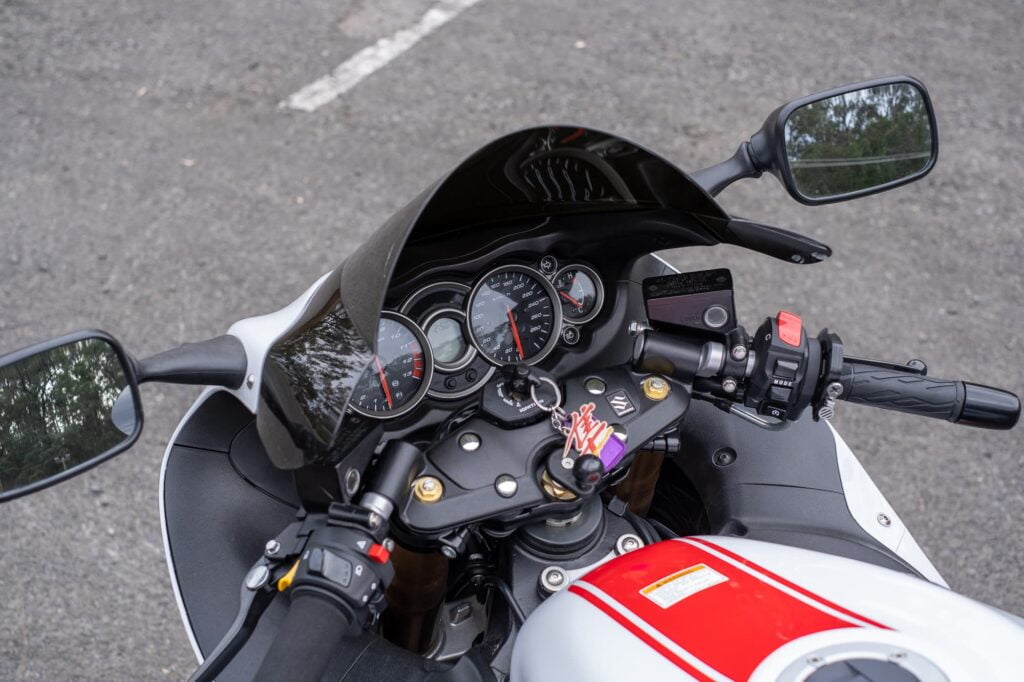 Can you daily a Suzuki Hayabusa Gen 2?
Yes, you can daily a Hayabusa Gen 2. You have a fuel gauge and ABS, which is already more than you need! Here's a photo of my Hayabusa at my office, for example. (Please note I didn't leave it parked there, I grabbed a pic in the shade and moved it.)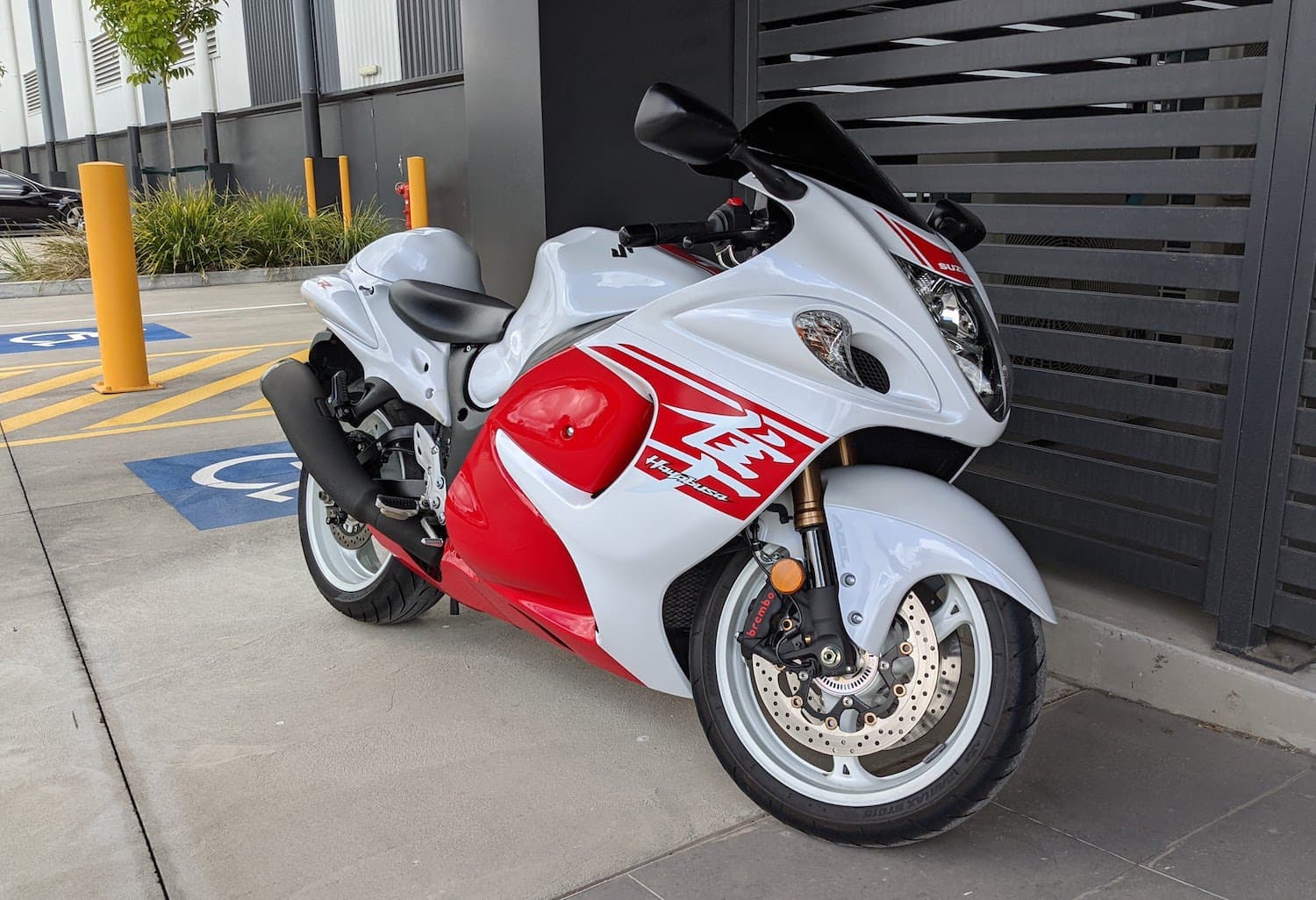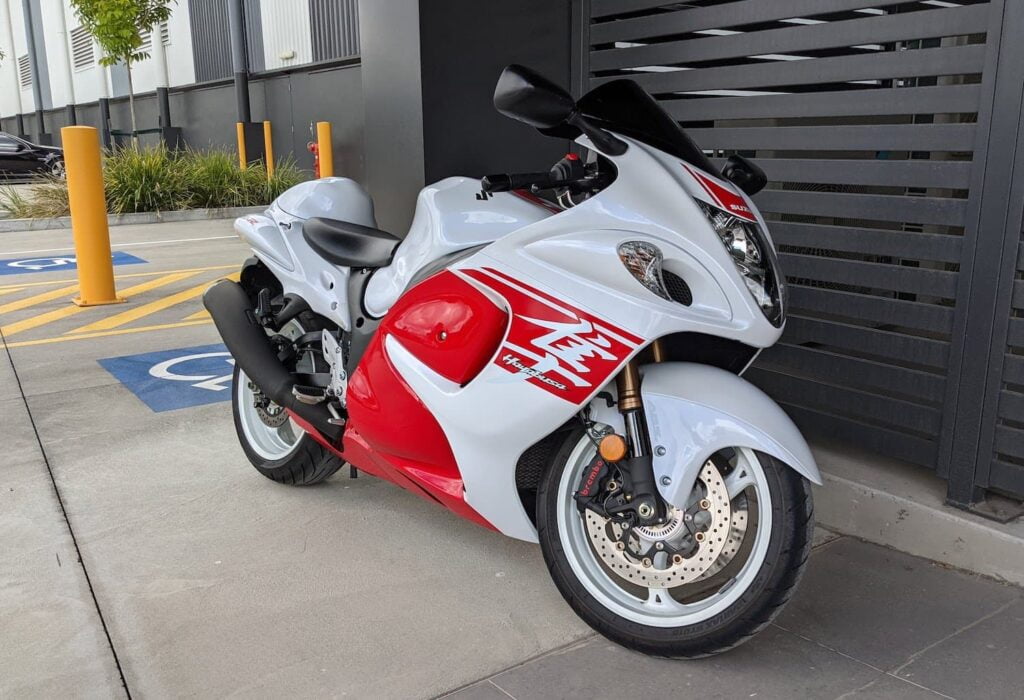 Firstly, I admit that the Suzuki Hayabusa isn't the bike you think of when you think of "commuter". The ideal commuters are lightweight, economical, never too exciting, and extremely practical in a variety of conditions — cold, wet, traffic, and so on.
A good commuter is narrow, doesn't get hot, and can carry luggage without too much fuss.
But I didn't pick the Hayabusa because it's practical. I picked it because it's awesome, and a bike for the ages, and I thought I'd figure the rest out.
The surprising thing for me was that you can daily a Suzuki Hayabusa. It's not the best commuter, but it's pretty good!
For me, there are five main things that a commuter bike needs to have: it must 1. be reliable, 2. not get too hot, 3. be easy to pilot at low speeds (e.g., when lane splitting or in traffic), 4. be narrow enough to lane split, and 5. have ABS for when the roads are randomly slippery (oil slicks, gravel).
So in a nutshell — the Suzuki Hayabusa is all the things a commuter motorcycle must be. It's reliable — it always started, and never stalled. It didn't get too hot in traffic — the needle stayed below the horizontal line (I love having a needle rather than digits!). Mine came with ABS, as all after 2013 did as standard. It's narrow enough to be able to lane split nearly all the time. And finally — yes, the Hayabusa is easy to ride under 40 km/h / 25 mph!
It's not totally easy to ride the Suzuki Hayabusa slowly. To do U-turns or navigate parking lots, I do have to feather the clutch — I can't just leave the clutch out and feather the back brake, like I can with many other motorcycles. I was worried this was me being lazy with technique, but other 'Busa owners have concurred.
A common modification for the Hayabusa as a commuter is a rear luggage rack. There are a number of options, but the one I liked was one I bought locally from a guy in Australia named Shane Pope. He hand-makes them.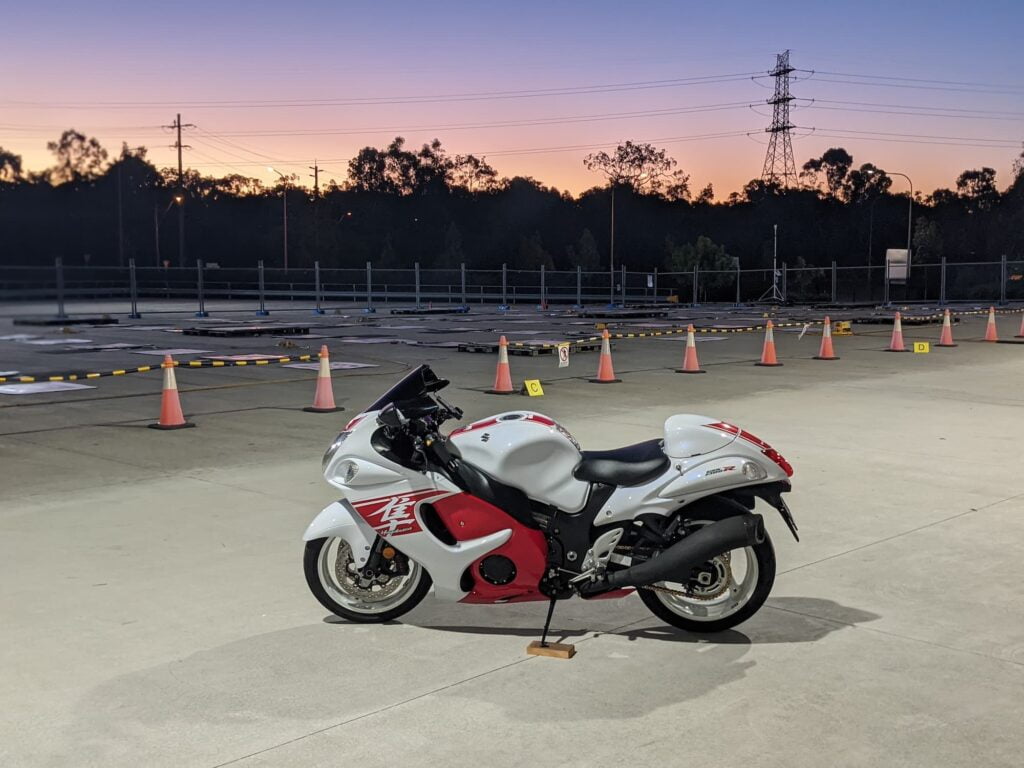 Suzuki Hayabusa Owners — Part of the Joy of Hayabusa Ownership
A difficult-to-quantify part of the Suzuki Hayabusa ownership experience is the other owners. I mentioned above that the members of the Australian Hayabusa Owners Club are top-quality people.
It's easy to stereotype owners so I won't. I suppose I should limit this to being Hayabusa owners I met both a) in Australia and b) online in forums, both Australian and world-wide.
Among Suzuki Hayabusa owners there are
Drag racers who stop at nothing to get their bikes faster (I see more of these in American forums) — stretching their bikes, adding blower kits, etc.
Modifiers, who make their bikes faster but don't necessarily flog them on public roads
People who just enjoy riding an iconic machine (this is my category)
Fake owners — on-lookers who aren't actually owners, but are dreaming… (this was me before buying)
But something nearly universal to Suzuki Hayabusa owners I have met is that they a) take care of their bikes, and b) really like helping other 'Busa owners.
When you buy an older sport bike, it's quite common to find one that has been thrashed; i.e. ridden like it should be ridden, but not often taken care of. So it's hard to find something like a 15-year-old GSX-R750 in still mint condition — many were crashed long ago. If they weren't, they're now in someone's collection.
But it's not hard to find a 15-year-old Suzuki Hayabusa in excellent condition. It may have done a lot of miles, but the paint will still look good, it will have been regularly serviced and washed, and it may never have been crashed. I see it often. Buying an older Hayabusa is a bit like buying an older BMW. And this is a reflection on the owners.
Something that I really love about the Suzuki Hayabusa is the online forums. I've rarely seen forums stacked with experienced professionals who are so willing to share their wisdom. Some of them end up doing a lot of tuning and custom work for other 'Busa owners. It's a very tight community.
Finally, even though owning a 'Busa may be jokingly referred to as "compensating" (if you're a male, and most owners are), Suzuki Hayabusa owners seem like a pretty secure lot. The ones in the forums I frequented really just worry about their own bikes and those of their friends, and never about what Kawasaki ZX-14R or BMW S 1000 RR owners are doing.
Is the Suzuki Hayabusa too heavy?
I personally found the Hayabusa a bit too heavy in specific situations — but not while riding it.
The Suzuki Hayabusa Gen 2 weighs around 265 kg (about 580 lb) wet, which isn't mind-bogglingly heavy. There are many heavier cruisers and adventure tourers. And of course, it makes lots of power (enough to make up for the weight at moderate speeds).
But it's still a lot heavier than a naked bike or literbike of the ~1000 cc range, so you have to know what you are getting into. Those bikes typically make similar power and weigh around 200 kg, give or take. That's a huge difference!
Of course, once you're on the road, you don't feel the weight. Cornering is slightly harder than on a supersport bike, but it's never hard. So what is "too heavy"? It's heavier than I want, compared to other bikes.
My daily life involves navigating a motorcycle when it's off, up and down steep driveways. Living in a mildly hilly city, I seem to always be moving around driveways of homes at significant inclines.
I'm a pretty strong guy — brag alert, but I deadlift over four plates (190 kg / 415 lb), and squat over three (160 kg / 350 lb).
Much more important than my casual brag (hey! I worked hard for that…), many better riders who are less strong and also higher in age than me than me don't complain about the weight of the Hayabusa. It just shows that it's a personal perception and trade-off that some are willing to make (depending on their ride style and local roads) and some aren't.
The main times I found the weight of the Suzuki Hayabusa difficult was when I was backing it in to a car space down a steep driveway. It was also difficult pushing it back out.
When riding around local country roads, I found the bike to be too powerful and heavy for the tight twisties that were best ridden between 60 and 80 km/h (about 35 and 50 mph). So that's how roads near you are a factor.
In situations like these, I need two things: 1. less weight, and 2. more leverage (handlebars). Again, naked bikes (and adventure sport bikes, sometimes/eventually) keep pulling me back.
If you live in a flat area with lots of shallow, fast sweepers, the weight of the Hayabusa may be irrelevant. And of course, for those who ride fast, the weight is an advantage — it feels rock-solid stable for longer periods.
Is the Suzuki Hayabusa too fast?
Many people sell their Hayabusas because it's so fast. After all, it's a bike designed to have a low coefficient of drag and enough power to get to a very high (300 km/h+) top speed.
There are a few ways to see the question of whether the Suzuki Hayabusa is too fast.
Firstly, the Suzuki Hayabusa is not so fast that it's unpleasant to ride slowly. You can ride it slowly and never go past speed limits. Doing so is much like the oft-cited dentist or hair stylist who commutes to work in their Audi sports car. If they can do that, you can definitely do whatever you like. The Hayabusa never complains, unlike many other highly-strung sportbikes that may get hot and whose engines lug at low speeds.
Secondly, the Suzuki Hayabusa peaks in torque under 8000 rpm, and makes a lot of torque under this point. So you can short-shift it between 3-7K and still have a lot of fun, even if you never hear it at full song.
On the other hand… if you're used to revving a four-cylinder bike past 10000 rpm regularly and love that turbine roar at high rpms, then riding the Hayabusa in street situations can be unsatisfying, depending on where you live.
If you live in the countryside, or in parts of Europe or the US with lovely roads and not too aggressive policing, the Suzuki Hayabusa makes a lot of sense.
But if you live in a big city with traffic, or in a place like Australia or NZ with a high density of speed cameras and very strict speed limits, a Hayabusa can actually be stressful (and expensive) to own. You have to be OK with big fines and having your license suspended.
Should you get a Suzuki Hayabusa or a Literbike?
For non-track use, I think owning a Suzuki Hayabusa makes more sense than owning most literbikes!
By "literbike", by the way, I generally mean "fast, race-oriented bike with over ~900 cc capacity". It includes the Fireblade, the GSX-R1000, the ZX-10R, the S 1000 RR, various Ducati superbikes (even the smaller ones like the 899), the Honda VTR1000 SP1/SP2, and so on.
Here's why the Suzuki Hayabusa can be better than a literbike: The Hayabusa is, oddly, better tuned and geared for street use — riding slowly.
I owned a Ducati 1098S once. I loved that damn bike, too, but holding a steady throttle around a roundabout was very stressful. A slight change in position nearly sent me to an early grave several times.
I've ridden other modern superbikes, and they're OK going slow, but they get hot. They also sometimes have poor low-RPM fuelling (which can/is often tuned out) or have high gearing.
One superbike that still calls to me is the S 1000 RR. One day, my pretty…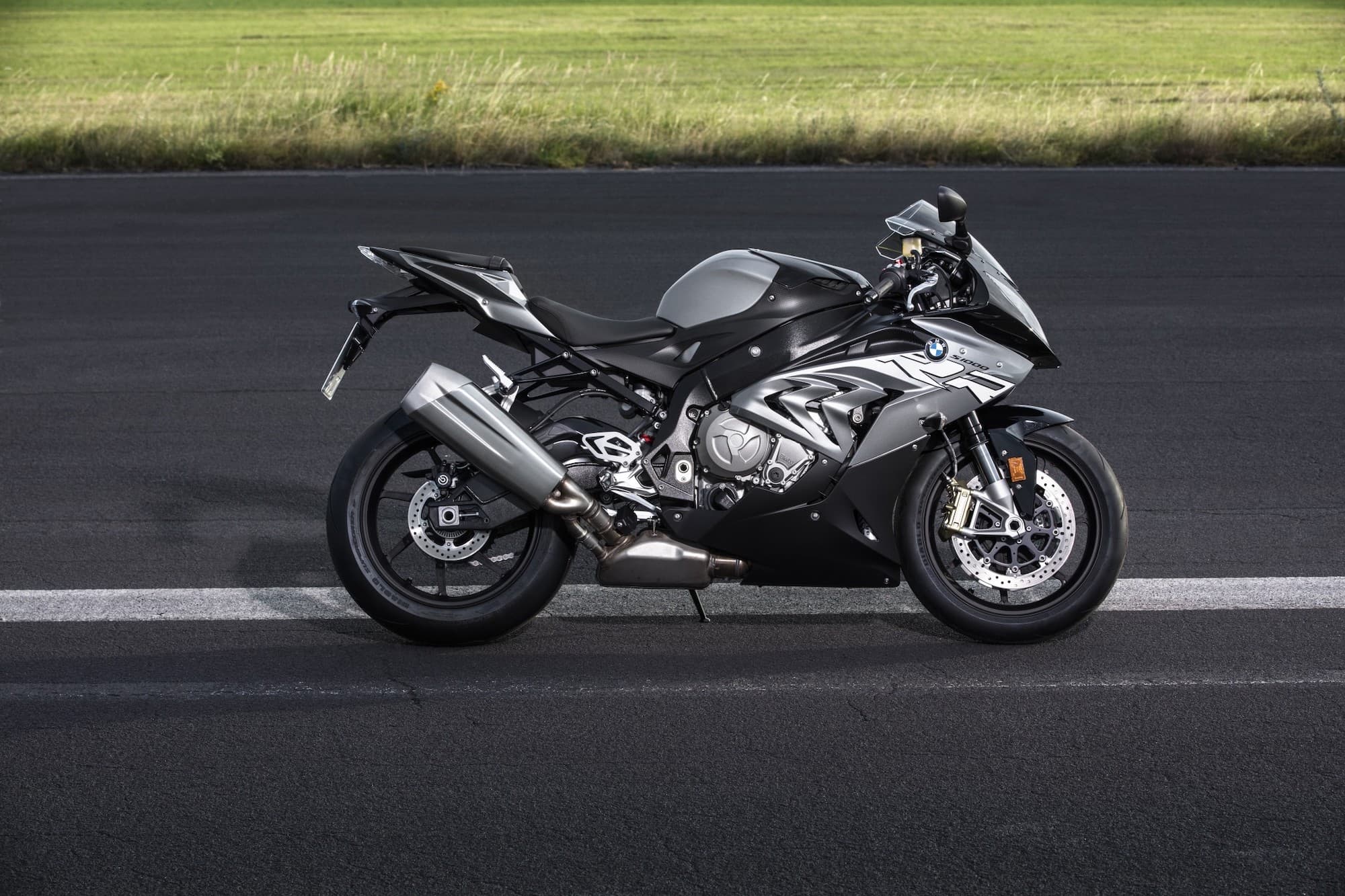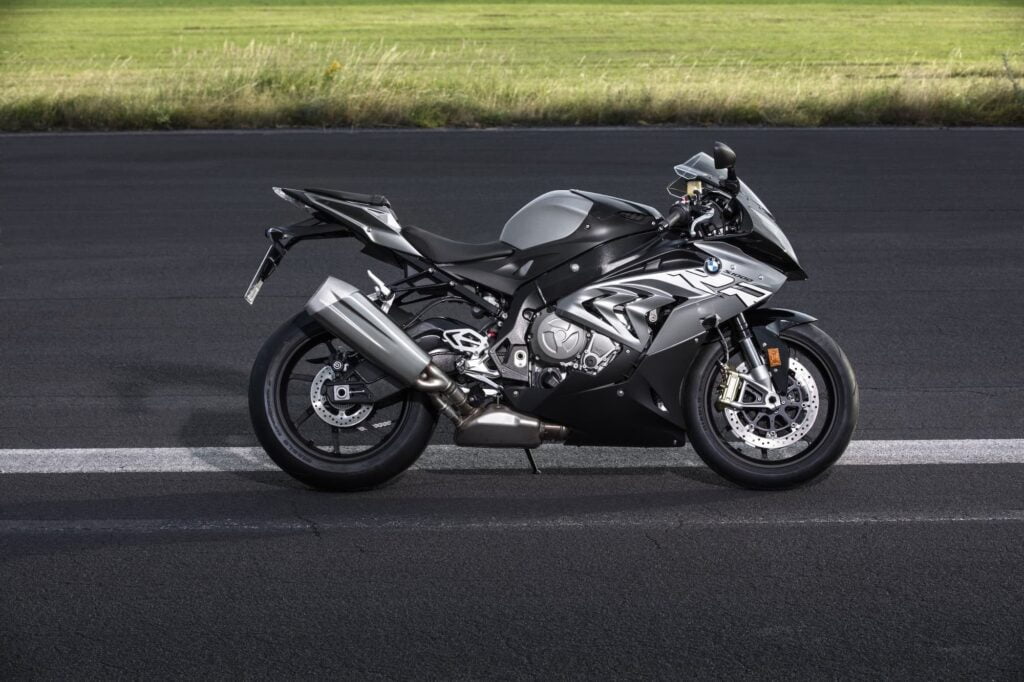 All of those things can be changed in a superbike. You can make a Yamaha R1 rideable every day… but the Hayabusa is actually everyday ride-able from day one.
An interesting way to understand this is that some literbike owners brag that their bikes are faster than Hayabusas. This is no surprise! Many superbikes have higher peak power and weigh a lot less.
So your average 1000cc supersport bike will easily beat the Suzuki Hayabusa at the lights.
The only time the Hayabusa may present a challenge would be top speed challenges or drag-racing to past 200 km/h, where the long wheelbase of the 'Busa (keeping the front wheel down) and drag coefficient comes into play. Even then, many modern liter-bikes will do extremely well.
Alternatives to the Suzuki Hayabusa Gen 2
If you're considering a Gen 2 Hayabusa, then there are a few bikes worthy of considering — I did, definitely.
Below are competitors to the Gen 2. The Gen 3 is in a different league.
Kawasaki Ninja ZX-14R (2012+): The ZX-14R is/was the latest in Kawasaki's series of big-capacity heavy sport/hyper bikes (before the supercharged Ninja H2 series). Some people pick them on looks, just as some people pick the Hayabusa on looks. Either way, both bikes are very similar. They have a similarly sporty riding position. The ZX-14R makes a bit more peak power and has a bit more tech vs the Gen 2 (traction control), but doesn't have the instant brand recognisability that the 'Busa has.
BMW K 1300 S (2009-2016): BMW's last big K sport bike is/was legendary. It made 129 kW (175 hp) at the crank and weighed 254 kg. The K 1300 S is a classic uniquely BMW take on hyperbikes — it has Duolever suspension up front and optional ESA II, a shaft drive, and other BMW tech like a 55-degree forward-canted transversely mounted engine (to keep weight low), traction control, and an optional quick shifter. Its riding position is more upright.
Honda VFR1200F: Honda's V4-powered VFR1200 was unique for Honda. It was a bit unloved — taking over from both the Blackbird and the VFR800, but not adopted fully by fans of each. The VFR1200F has a 1237 cc liquid-cooled 76-degree unicam V4 engine that makes a 127kW (170hp) at 10000 rpm, and 129 Nm of torque (95 ft-lb) at 8750 rpm, and like the BMW it has a shaft drive. It has full throttle-by-wire, ABS, and from 2012 it got traction control. Most interestingly, the VFR1200F got a DCT option — Honda's well-loved automatic gear shifting system.
I considered the above bikes. I was actually close to buying the ZX-14R — but someone put a deposit down on one before I got to even take it for a test ride. I didn't see good examples of the K 1300 S and VFR1200F in the time I was shopping — the ones I did find were a bit long in the tooth. The VFR never grabbed me when I sat on one, either, so I doubt I'd have gone that way.
I do like BMWs though, so it was really just not finding the right example that prevented one from becoming a realistic possibility.
Why did I sell the Suzuki Hayabusa if I loved it so much?
Short answer for as to why I sold my 'Busa: I had my reasons, sold it, regretted it, and bought another one! Here's the second one I bought: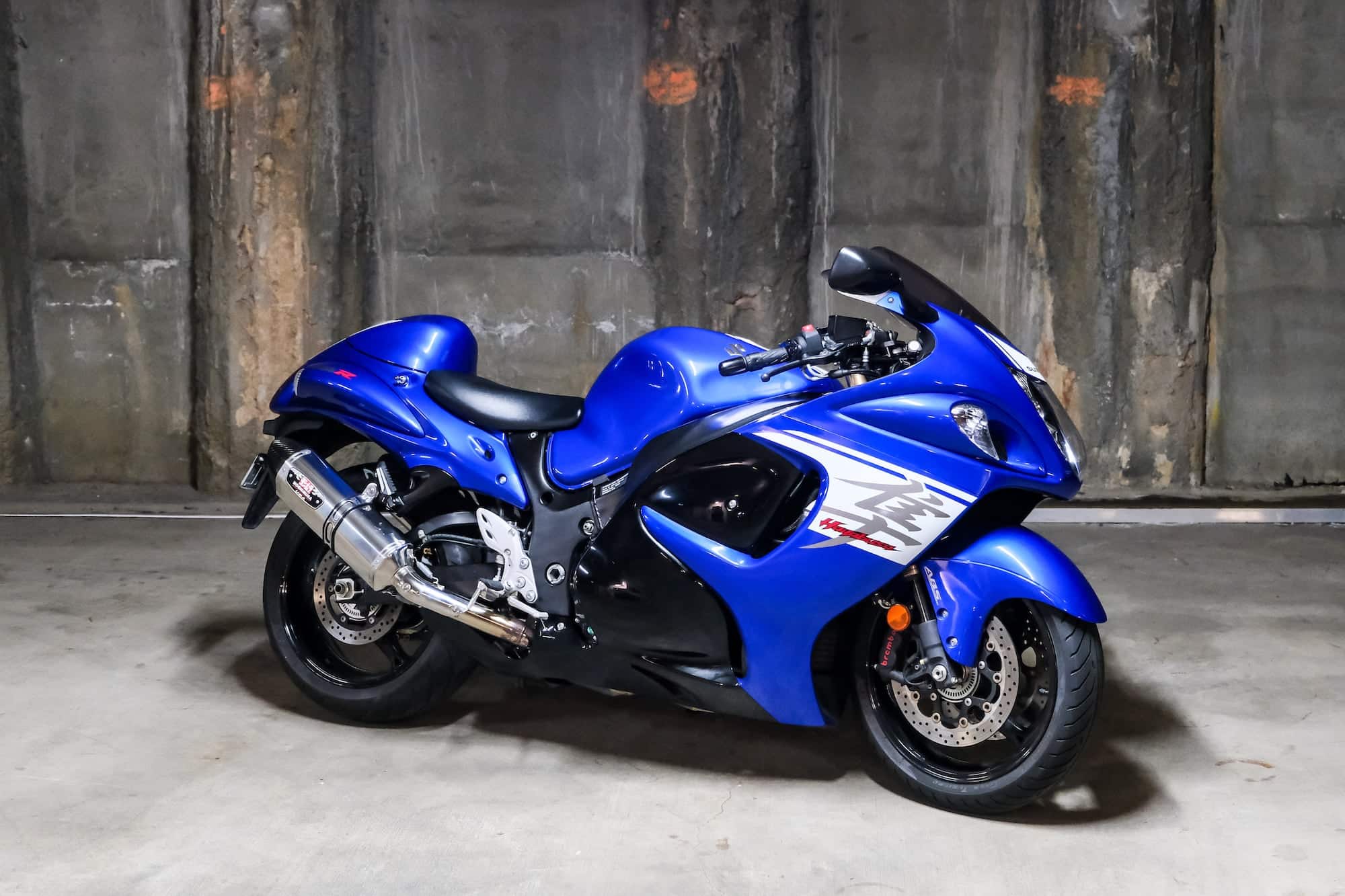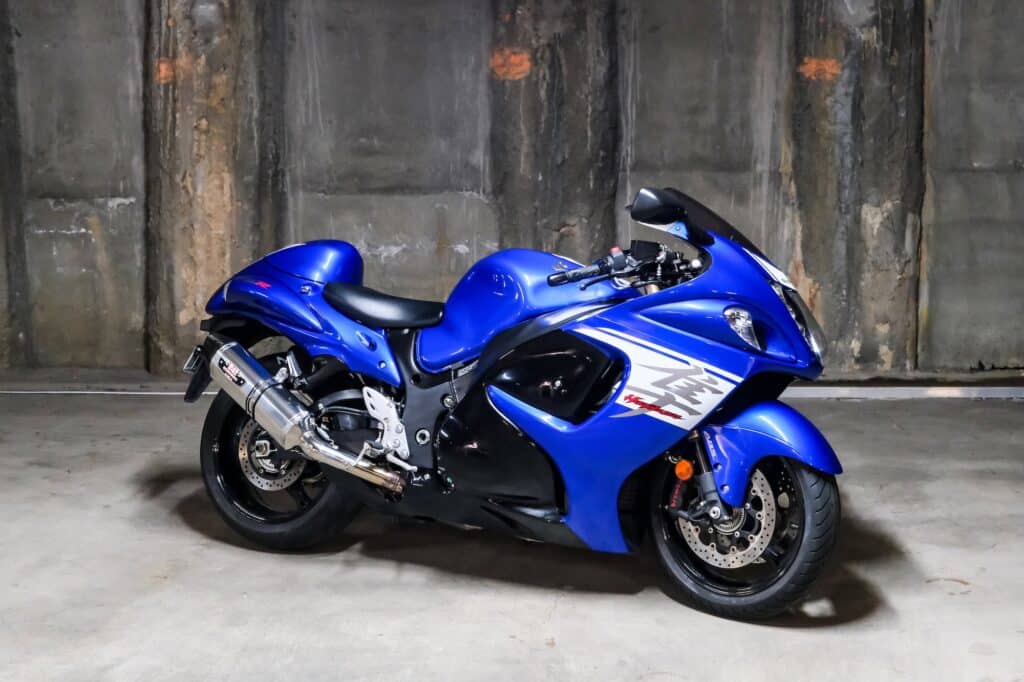 But I'll leave this answer here as it may help your thought process.
There are some bikes that have that "X" factor that I just hate to see leave. The first was my Ducati Monster 900. There have been few in between, but my 2018 Suzuki Hayabusa Gen 2 was definitely the most recent to make me feel that way.
I sold my Suzuki Hayabusa basically because, in a nutshell, while it tickled me and fit most of my daily use cases, it didn't fit all of them. Even though I eventually got another, I think it's useful to list the negatives of a Suzuki Hayabusa
Navigation at standstill. Even though I could ride the Hayabusa daily, I started to hate it every time I had to navigate a steep driveway. Which was really often. I tend to move a lot, three of the last five places I've stayed have steep driveways. Moving a heavy bike with clip-ons around a steep driveway is a nightmare. I get all sweaty and constantly fear I'll drop it. This might sound like a little thing to you, but it's really the most extreme example of how impractical a heavy sportbike is.
Getting it onto a paddock stand is non-trivial. Similarly, getting the Hayabusa onto a paddock stand is more difficult because of its length and the clip-on bars. You need either a front wheel chock or a friend (that you trust). It's not too hard, but it's an added complexity.
Big heavy sport bikes aren't dirt-road friendly. Where I've been riding (Queensland, Australia), dirt roads come out of nowhere. I don't want to just turn around when roads become dirt roads. Dirt roads are already tricky on a 200kg naked bike. On a 250 kg bike with clip-ons, it's very stressful, or a no-go, particularly in adverse conditions like a steep incline — which is what I had to do recently.
Australia is aggressive with speed limits. Australia is a bit of a nanny state. While in the US 85 mph on a highway is commonplace, and there are many highways where 100 mph is the norm too, this is not the case in Australia at all. Similarly, automated cameras are in widespread use in Australia, where in many US states they're rare, and in some they're not permitted by law. So in Australia, automated cameras pick you up for going 3 km/h (2 mph) over the posted limit and send you a fine and "demerit points" in the mail. It takes the wind out of my sails.
The Hayabusa isn't suited to local tracks. There are some tracks in Australia (Phillip Island) that would be fun on a Hayabusa, but they're very far away.
So, it was with a great deal of sadness that I said goodbye to my big bird. It went to a good home. The gentleman buying it said it was his "dream bike". It was my dream bike too, my friend.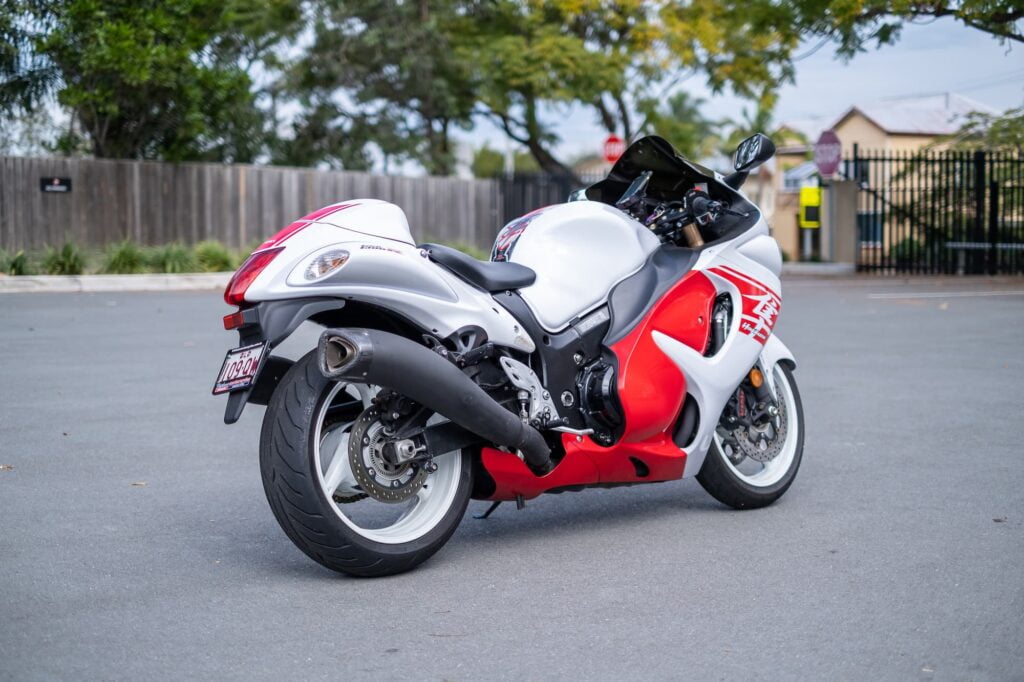 About six months later, I got another Gen 2 — a 2016 special edition that came stock with Yoshimura exhausts. More on it soon…