A full Yamaha Tracer 900 review — the bike previously known as the Yamaha FJ-09, in some places as the MT-09 Tracer, or the Yamaha Tracer 900 GT in other guises. Would I buy one? Yes, but not for the obvious reasons.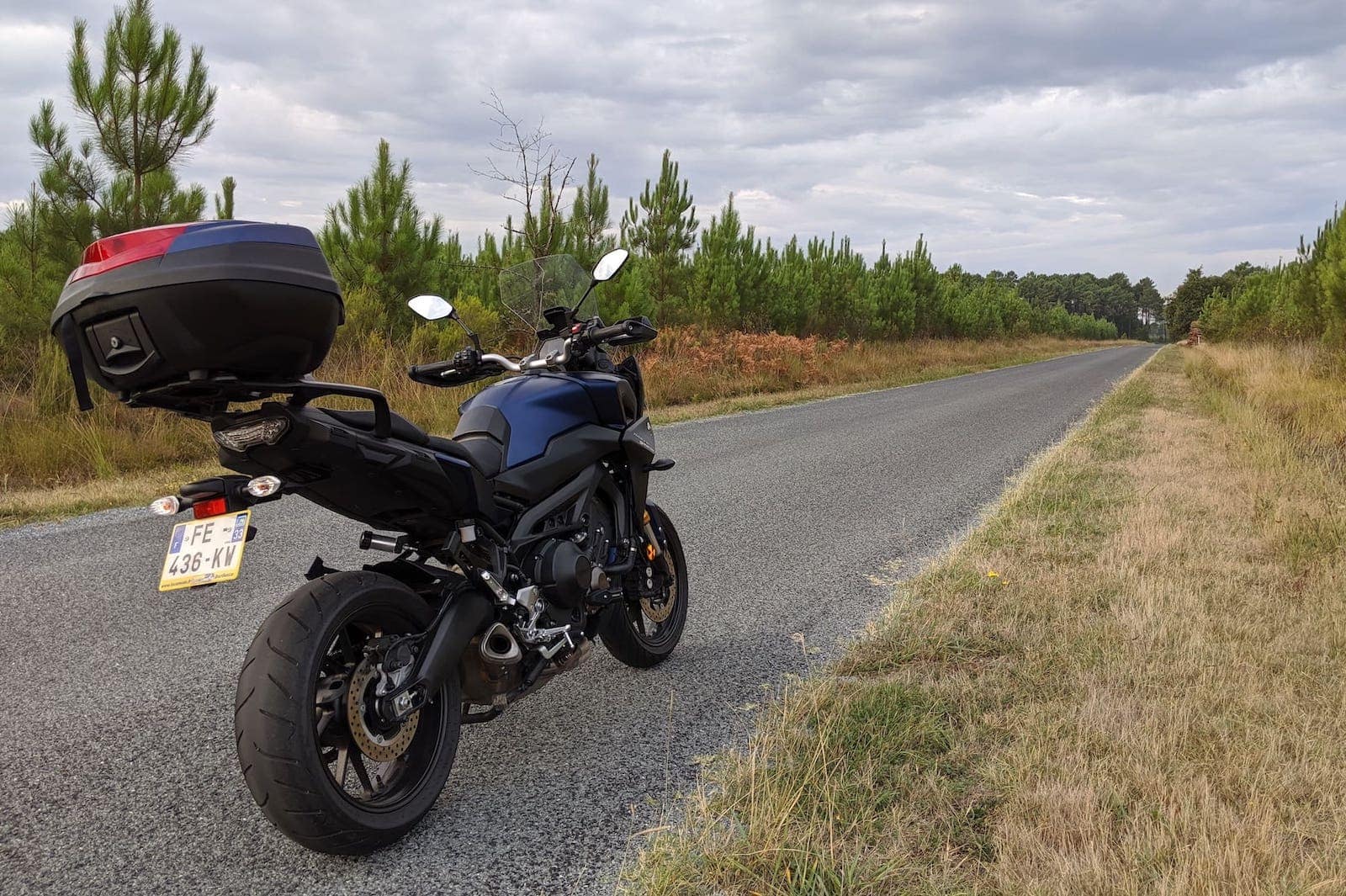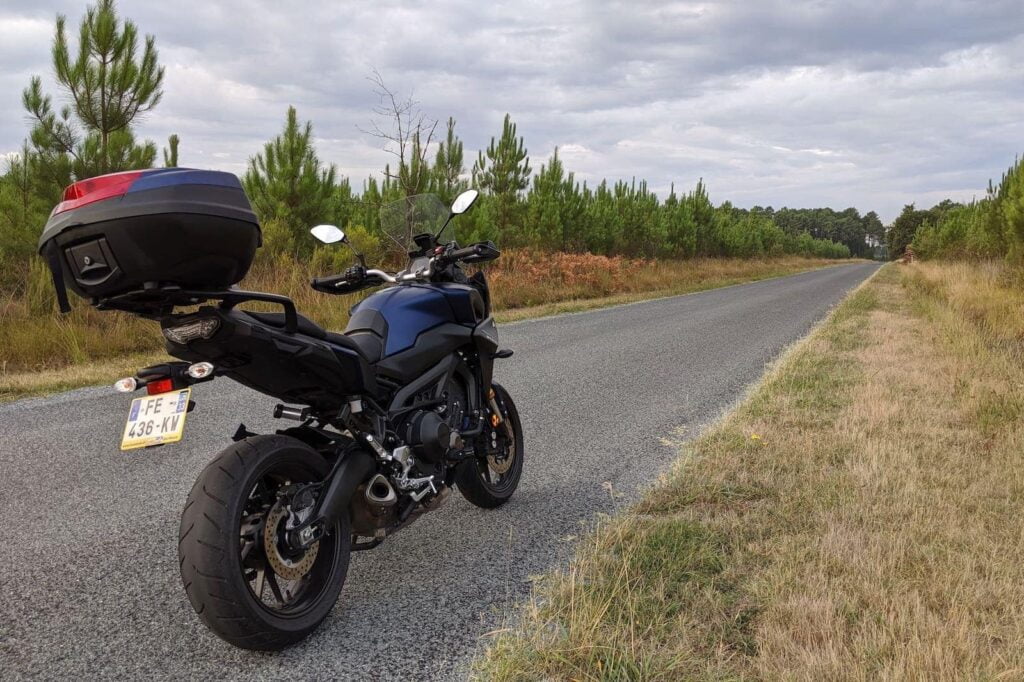 I took out a 2019 Yamaha Tracer 900 GT (formerly known as the Yamaha FJ-09 in the US) for a happy weekend in France, always curious to try out this excitable triple in an upright sport-touring format.
Every time I think about the Tracer 900 (whether GT-spec or not) I realise that it in some ways it defies classification and has no direct rivals. It's amazing that a motorcycle can do this. Am I in too deep? Others outside the motorcycling world look at it and think "ooh, it's blue". Many others would think it's like an MT-09 but taller, or a Versys 1000 but lighter, or a V-Strom 650 but faster and less offroad-capable, or a Triumph Tiger 900 but cheaper to repair or service.
But that's the magic of a motorcycle that can carve its own niche. I don't have to worry about this vs that, like I'd have to do when thinking of any of the 1 000cc sport bikes, and can focus on: how much did I like the Tracer 900, and do I see it as being mine?
Here's what I thought of the Yamaha Tracer 900/FJ-09.
Are you obsessed with motorcycles?
Well, I am. That's why I created this site — as an outlet. I love learning and sharing what others might find useful. If you like what you read here, and you're a fraction as obsessed as I am, you might like to know when I've published more. (Check the latest for an idea of what you'll see.)
General Thoughts – Yamaha Tracer 900 Review Summary
I loved my time with the Tracer 900. I flew around the French countryside way faster than I expected. It was so comfortable that I often forgot how capable a sports motorcycle it really is. And then I took corners, or wound up the throttle on back roads, and quickly remembered.
For context, the Tracer 900 wasn't the first Yamaha Triple I had ridden. The previous month I had spent a couple of days with a Yamaha MT-09 — which has the same CP3 engine (tuned slightly differently), but in a naked chassis.
Overall, the naked MT-09 is a berserk motorcycle. It has a lot of power for its tiny sub-200kg weight. It's so low to the ground that flinging it around corners is ludicrously easy. It felt as light and easy to ride as a Ninja 250, but with 3-4 times the power depending on where you sit in the torque curve.
In fact, the MT-09 had so much power that I didn't really like it. For such a lightweight motorcycle for city riding, I much prefer the Yamaha 689 cc equivalent in the MT-07, or its parallel (well… its V) in the Suzuki SV650.
On the Yamaha XSR900, they did make suspension tweaks to make it not as flighty as the early MT-09, but the throttle response is similarly twitchy. This has been addressed with the full ride by wire system in the 2022 XSR900.
But that imbalance of power for the chassis in the MT-09 changed completely with the Tracer 900, too. Suddenly I was gifted with an engine that had a much more usable power-band, plus a windshield, an upright seating position, hand guards, and cruise control.
The Tracer 900/FJ-09 is some 20kg heavier than the MT-09, and in some ways the motorcycle really needs the extra weight. The power plant is still very ample at 85 kW (115 hp), but it just felt much more appropriate for an upright motorcycle carrying a bit more weight — and maybe some luggage, too.
Yamaha's CP3 Engine — That Sweet, Purring Triple
I think my favourite thing about the Tracer 900 is that triple engine. Triples are sleeper favourites among motorcycle riders. Nobody hates them! They are close enough to twins to have character, and close enough to fours to have smoothness. In short — something for everyone.
Yamaha calls its engine the CP3, the CP standing for "Crossplane", a term that Yamaha liberally uses to mean "it balances itself". All modern motorcycle engines are balanced, though. But anyway, in their marketing materials for bikes with the CP3 engine, they call this "crossplane concept".
I used to think of "Crossplane" as meaning "an uneven firing order". This would be true of the Yamaha R1 (post-2009) or the MT-07, with its 270-degree parallel twin. But each piston in the CP3 engine fires with an evenly-spaced 240 (in a 720 degree cycle) degrees. What gives? Ah whatever, it's just a name.
Regardless, the engine of the Tracer 900 is near perfect for fast European roads. It would also be a treat in the US, with the way they switch between 75-85 mph highways and tight mountain roads. That would be an environment in which the Tracer 900 would be perfectly at home.
The Tracer 900 has torque down low, so much so that it's hard to stall and I never lugged it (something of which there's always a risk with a new motorcycle). And revs up high enough to have fun in without being a ludicrous 4-cylinder screamer like the Yamaha R6.
Don't get me wrong, I love the Yamaha R6… but I just rarely want to be at higher than 12,000 rpm on public roads!
Since the Yamaha 900 triple (well, 847cc in actual fact — closer to 850, but I guess 900 sounds better?) revs to 11,000 rpm, I felt like the power band was perfect for back roads in Europe (and in the US). I didn't often have to shift, and just did to get the engine screaming again!
The exhaust note of the Yamaha Tracer 900 is OK in stock form, but I found it a little dull. Even though I prefer motorcycles to be quiet, I wouldn't have any hesitation putting an exhaust system onto this one. This isn't really Yamaha's fault. EURO-4 and EURO-5 restrictions means motorcycles have to be near silent at idle and so that's what you get.
A quick search for the sound of aftermarket exhausts on YouTube for MT-09/Tracer 900 satisfies me that it'll just take a slip-on to get a lot more growl out of the CP3.
Yamaha Tracer 900/FJ-09 Comfort
The thing that made the Tracer 900 much more of a practical touring weapon is what they've done to the bare-bones format of the MT-09 to make it actually usable.
First, the obvious — the Tracer 900 is much more upright and comfortable than an MT-09 (or an XSR900).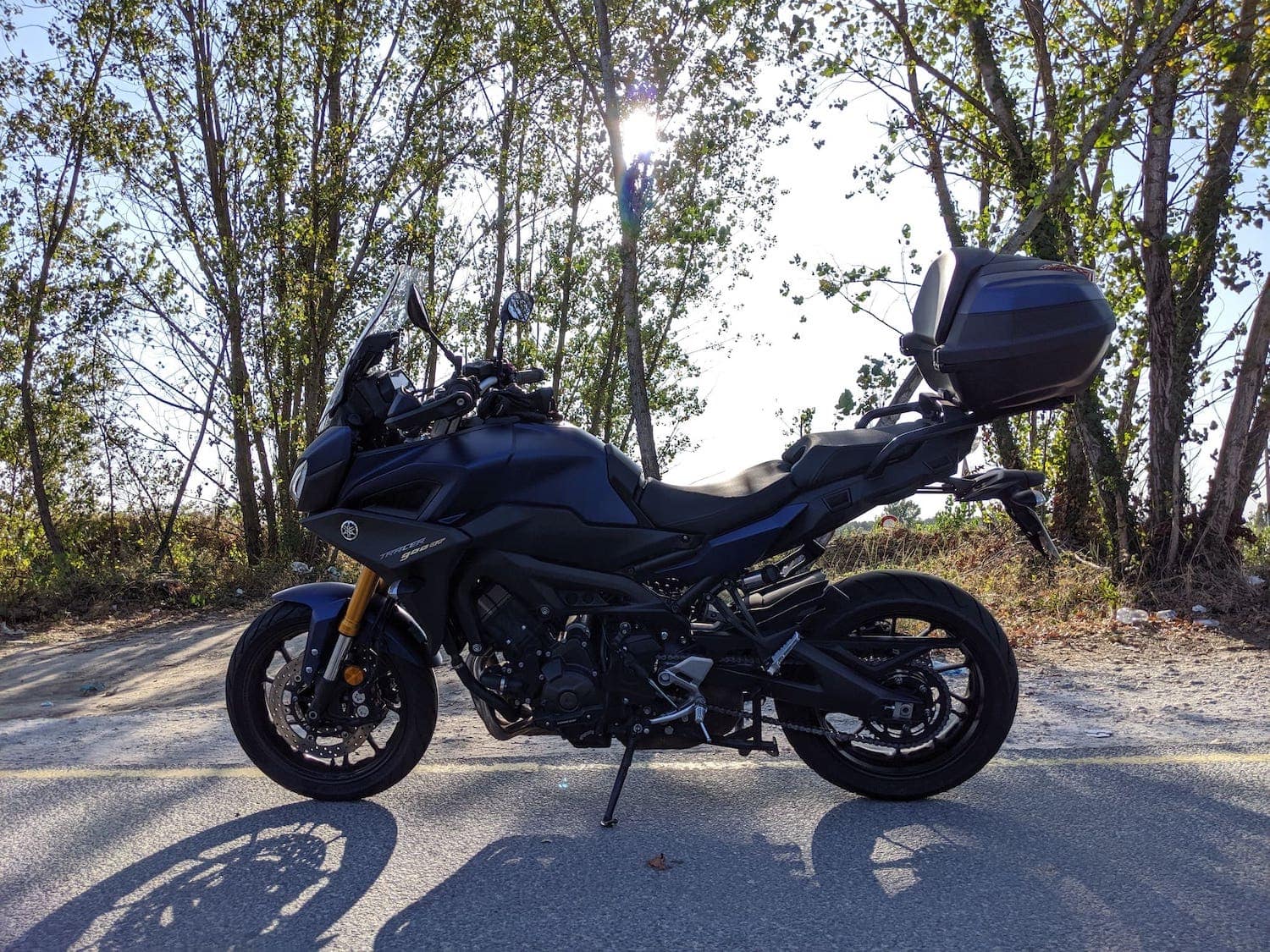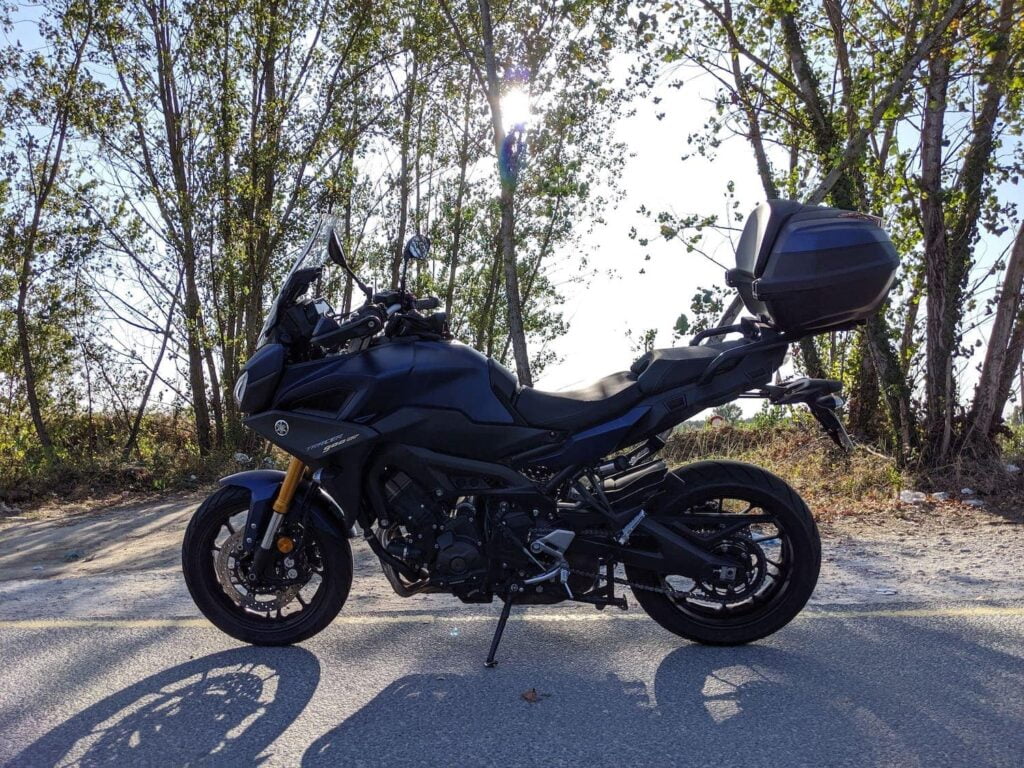 When sitting on a Tracer, your feet are comfortably below you. I'm six feet tall and neither felt cramped nor stretched out.
The seat and handlebars were large, wide, touring style — the kind of seating position and grip you can be in for hours on end without getting aches and pains of any kind. I don't feel as upright as I do on a V-Strom, where I feel like I'm holding the reins of a horse, nor as sporty as on the MT-09. Just comfortably in the middle.
When riding motorcycles my hands sometimes go numb from pressure on my wrist, but that happened very little on the Tracer. It's partly from a) the smoothness of the engine (minimal vibrations) and b) the upright posture, which meant I didn't have to lean down on the handlebars.
Even better, the machine (being a GT spec) had cruise control, which meant I could use almost no pressure at all on the controls! In fact, I learned from my time with this machine just how valuable cruise control can be, and added it to my list of things a motorcycle must have if I'm ever to be on it for more than an hour.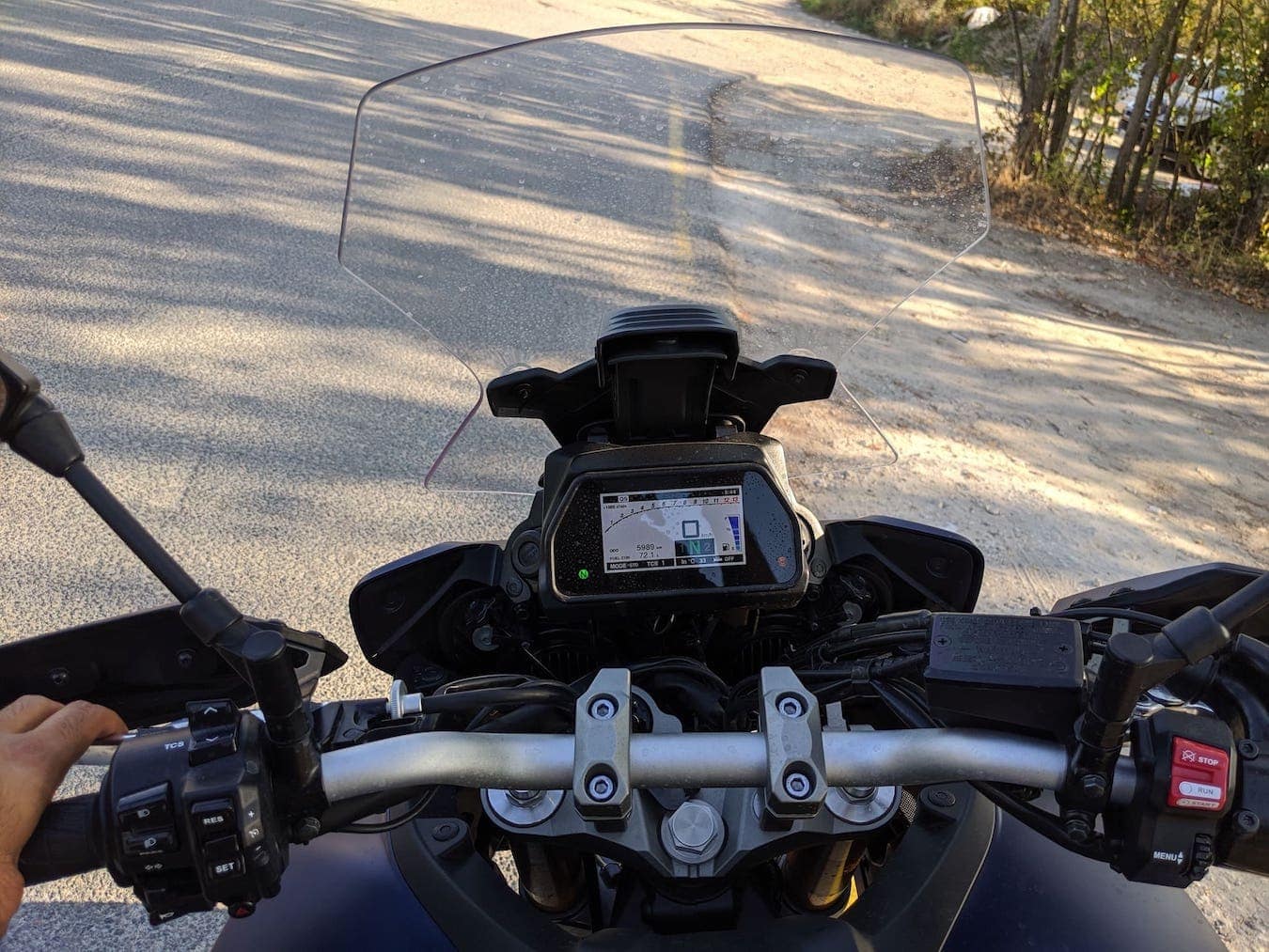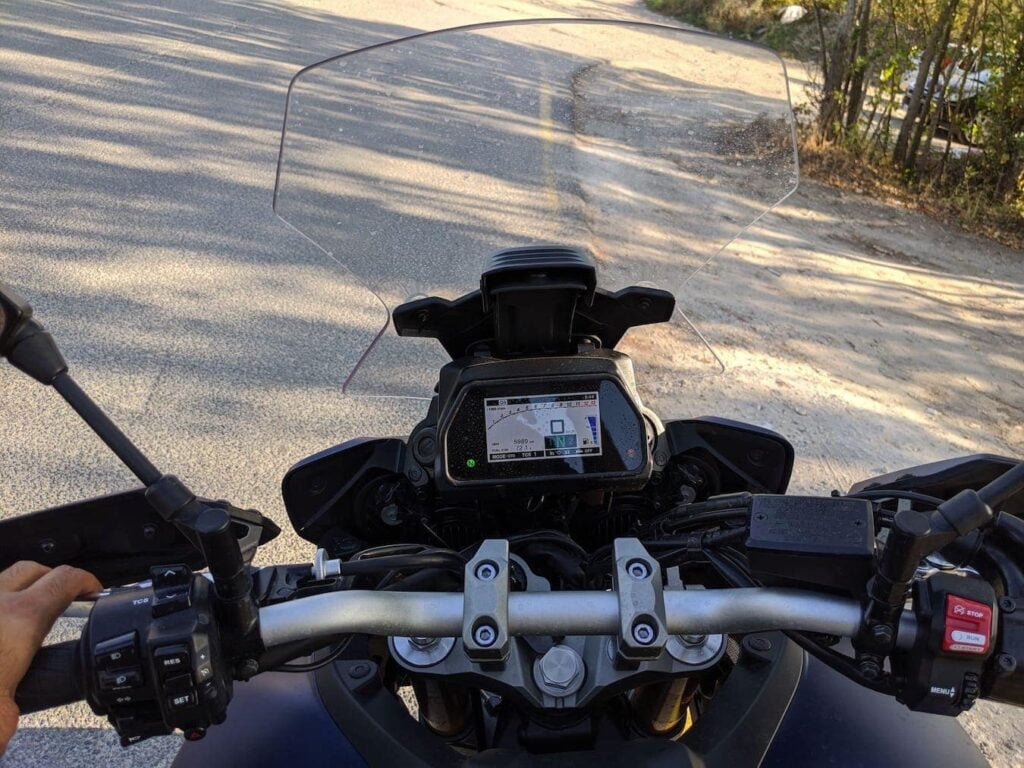 The controls were all very easy to find on the Tracer and the display gave me easy-to-read information at a glance. I didn't find any of it annoying or difficult to use.
The one thing that was lacking on the Tracer 900 was wind protection. On any touring motorcycle with a fairing, I expect to be able to ride without having an ungodly amount of wind around my helmet. On the Tracer 900, I definitely was buffeted by wind. I've got a fairly standard 182 cm (6-foot) 85 kg (185 lb) build (not too long in the torso nor legs), and didn't like the amount of wind around my helmet. I could probably add an extended touring shield (Madstad make one), or ride more slowly, or use better earplugs.
Update — I did get better earplugs, Earmold ones, that are custom made. But that was about a year later.
Riding the Yamaha Tracer 900
Somewhat of an acid test for me when riding any motorcycle is: how much do I look forward to getting onto it?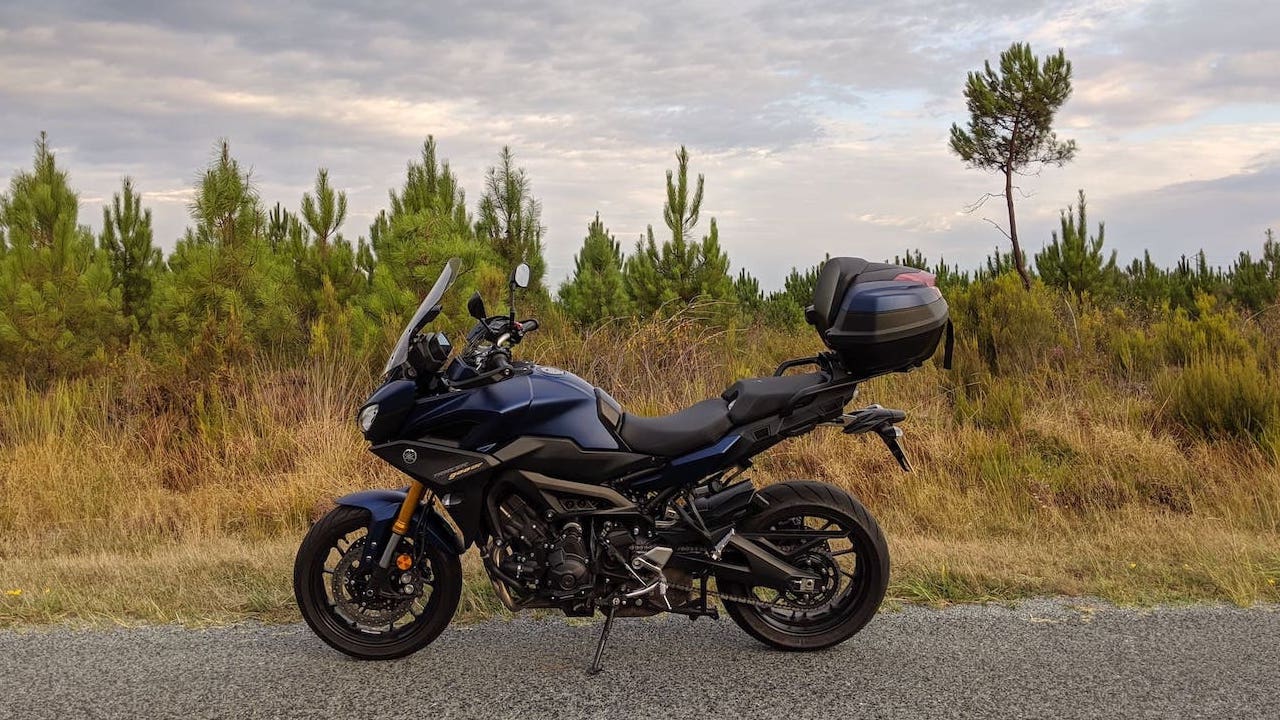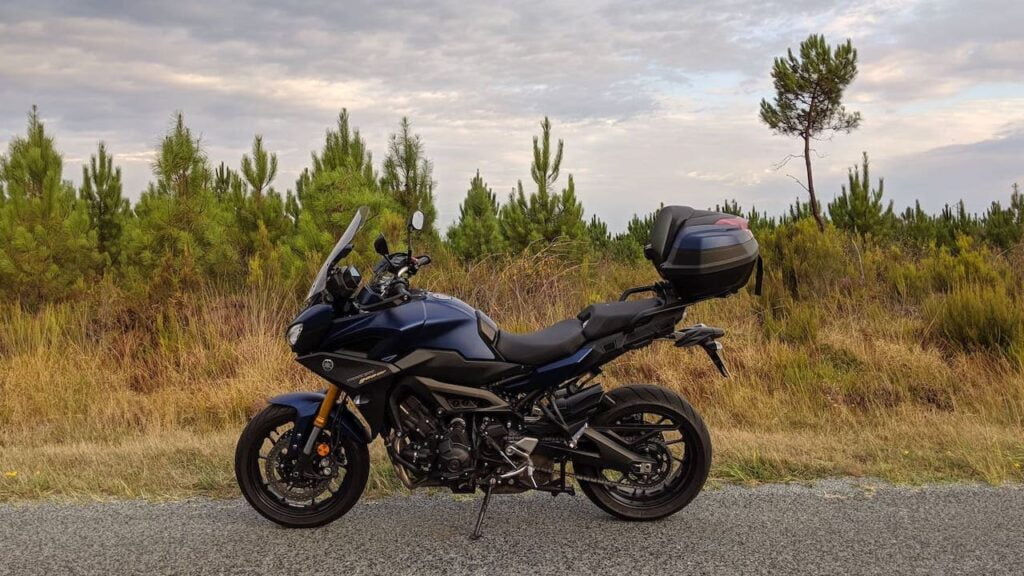 Like, when I walk up to to this motorcycle, do I feel a) dread? That happens sometimes with uncomfortable sportbikes (or bicycles!) after riding them for hours on end.
Or when I'm not on the motorcycle, do I feel b) lust for it and wish I could get back on to it?
For the Tracer 900, I feel I'm somewhere in between. When I got onto the Tracer 900 I was happy, comfortable, and relaxed. I never had aches and pains and generally looked forward to the next leg of riding.
But at the same time, when not sitting on the motorcycle and when chilling in a cafe… I was happy there.
In the past, when I mostly rode my Ducati Monster 900, I missed it all the time. Same when I rode my Triumph Scrambler. I'd think of the roar, the vibrations, and I'd always get excited just thinking about it. The day I sold those motorcycles was difficult both times!
Side note: it's when you see them leave that you realise how much you're going to miss a motorcycle…
Part of what made me lust after the Monster 900 was just looking at it. It was a work of art. Many motorcycles from Italy are, as are a few from every manufacturer (find me the most boring manufacturer, and I'll find a bike they make that I can appreciate in some way!)
The Tracer 900 doesn't look like anything much. It looks functional. That's partly because it is. Get a very impractical but awesome bike and you won't find any of the add-ons that make the Tracer 900 so useful. It's hard to make a centre stand, rear pegs, or handlebars look cool.
On the other hand, you don't see a motorcycle when you're riding it. When you're riding it you see the world around you, your display and controls. The Tracer 900's display and controls are fine. They're convenient, easy to read, and give me confidence. But they don't give me any emotional response, either.
Is it possible to have it all? Can you have the outrageous lust-worthiness of a Ducati's or Harley-Davidson's engine, the comfort of a … well, Harley-Davidson, the sportiness of a high-revving sports bike, and the reliability of anything from Japan? It's definitely something I've been looking for.
I guess that's why many of us motorcycle fanatics have a garage of at least a few vehicles. I don't see that ending any time soon.
Maintaining the Yamaha Tracer 900
Whenever considering whether I'd own a motorcycle I look at its maintenance. What does it really take? Here are a few points in favour of (or against) owning a Tracer 900.
Easy valve service. Valve service is the big, expensive item on many motorcycles (cough Ducati cough). Yes, the CP3 engine requires valve service. But a) they're every 40,000 km (slightly more, if you're using the American manual and converting from miles!), b) the valves rarely need adjusting (according to mechanics), and c) they're all under one cylinder head so access isn't a huge issue.
Centre stand. I don't really like lubricating a chain. I'd rather have a shaft drive. But if I am going to lubricate a chain, it's a welcome relief to have centre stand so I don't have to pull out the motorcycle stand.
Tubeless tires (i.e. tyres). I think it's worth mentioning the tubeless tires, even though most motorcycles have them, because you're likely considering this motorcycle alongside a couple that may have tubed tires, like the Yamaha Tenere 700 or some versions of the Africa Twin. Small point, but one to consider.
You can find a full schedule of the maintenance needed on a Tracer 900 on MaintenanceSchedule.com.
Alternatives to the Tracer 900
It's worthwhile considering realistic alternatives to the Tracer 900.
This isn't a full review on those bikes, just a little intro, and a note saying "hey, they exist, go check 'em out". There are others. (I mean, you can compare a motorcycle to any other motorcycle!)
Kawasaki Versys 1000. I really like the Versys. It's gentlemanly, just sporty enough, and loaded with electronics. The four-cylinder powerplant is smooth and isn't slow anywhere. The only times I didn't like it as much were: a) accelerating in top gear, and b) slow-speed navigation. The Tracer 900 is a lot lighter, and just as capable. In 2021, they're evenly matched for electronics, and the Tracer 900 GT comes with a lot more stuff for less money.
Ducati Multistrada 950. The Multistrada is a nicer-looking, slightly more interesting-feeling motorcycle that costs a lot more to buy and to own. I harp on about valve service intervals a lot, but the truth is that when those service intervals come up on a desmo V-twin, somehow there's always at least one valve that needs adjusting, and that's where the money gets spent.
BMW F900XR. The F900XR is another really nice middleweight tourer that I could easily spend days on without noticing. It has a really pleasant twin-cylinder engine (again, with a 270 degree crank), and has all the things that make the Tracer 900GT special. Again, the Tracer 900 GT is cheaper and comes with more, and will cost less to own. (If buying used, I'd almost always pick a BMW or Ducati, though.)
A few others are the Triumph Tiger 900 (another new model for 2020), V-Strom 1000 (more adventure tourer, heavier, but still great), and the Honda Crossrunner (great bike, but with V4 maintenance costs, quite unattractive, and anyway, no longer in production in most markets, and the latest gen never became available in the US).
In an age where there are no (or few) bad motorcycles, I'd suggest finding whatever you can, looking at them, sitting on them, and seeing what speaks to you.
In what situations would I get a Tracer 900?
There are some times, I admit, when I do long for the Tracer 900. Editing this article over a year later, I think "maybe the 2021 Tracer GT, with its cornering ABS and revised look, is now the one…"
The reasons I think of it are because of all the things that the Tracer 900 does right.
There's a lot to be said for a motorcycle that doesn't let you down. And the Tracer doesn't/wouldn't let you down in a variety of situations.
Cold out? No problem. Heated grips are standard.
Need to lube the chain? Here you go, a standard centre-stand.
Lazy commute? Here, cruise control and standard luggage, all for you.
Switching between highways, dirt roads, navigating around a shopping centre car park, and tight twisty mountain roads? Bring it all on.
Riding at night? Loads of lighting.
Want to grab the brakes mid-corner, in the rain? Do it! (especially 2021+, thanks to the magic of cornering ABS)
Basically, the Tracer 900 passes a lot of tests in the "regret avoidance framework". If I were looking for a commuter (and in some ways, I always am), it'd be top pick.
Unfortunately, the one test it doesn't pass for me is lust-worthiness. The aesthetics of the Tracer 900 – how it looks, and how it sounds — don't "rev the heart", as Yamaha promises they will do.
Reality may strike one day when I really want to ride my M109R to work and it's raining, or cold, or it's too early and I'll wake the neighbours. Those are the times I think: I wish I had something like the Tracer 900 in my garage.
Summary thoughts
I loved my time with the Yamaha Tracer 900 and I'm glad I got that out of my system. I think it makes the ideal "one bike" to own, in many ways.
But for me, it didn't excite me emotionally enough to commit to this being part of my small stable of motorcycles.
Having said that, check back every few months. See whether one of the many reasons to own a Tracer 900 has finally made me pull the trigger.