I owned a Honda Hawk NT650 for about 3 months and 2,000 kilometres/over 1,000 miles. I was intrigued, but I never fell in love. To explain why I bought it, how I evaluated it, and why I'm selling it, I'm sharing my Honda Hawk GT NT650 Review.
I initially bought the Honda Hawk NT650 because I wanted a smaller motorcycle than my Ducati Monster that I'd still like and that I could teach my girlfriend to ride on. (But not as small as the even smaller Honda Bros 400! — which you can't get in America, anyway.)
After reading a bit about the Honda Hawk, I thought — this could be it!
There's a lot to admire about the humble Hawk GT. Because I spent a lot of time with it and had a chance to form a balanced opinion, I wanted to get some of my thoughts down for posterity.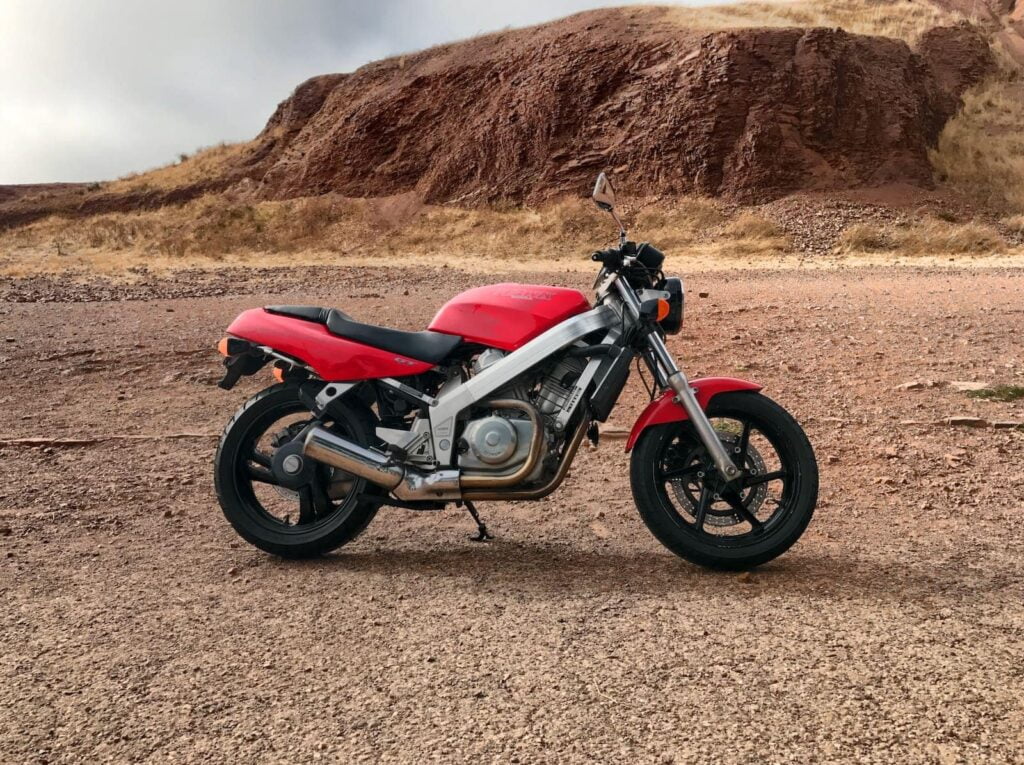 Quick notes about me: I've ridden for twenty years. I'm not a speed demon, I'm not a "get your knee down" road racer, and I'm an intermediate track rider at best. I've owned over a dozen motorcycles and ridden a dozen more and loved all of them in some way. I have many more motorcycles to ride and there's no question that anything on two wheels beats being stuck in a cage when you're on a beautiful, winding road. But I'm still in search of the Forever Motorcycle, those two wheels that will keep me loyal forever. I know they're out there!
Are you obsessed with motorcycles?
Well, I am. That's why I created this site — as an outlet. I love learning and sharing what others might find useful. If you like what you read here, and you're a fraction as obsessed as I am, you might like to know when I've published more. (Check the latest for an idea of what you'll see.)
Background about the Honda Hawk GT — Why buy it?
In summary, what I liked about the Honda Hawk was the cute design, light weight, V-twin motor, Honda reliability, and the rabid fan-base online.
In more detail, there were a few specific things that caught my attention about the Honda Hawk GT:
It has a design that was later hawked (pun VERY INTENDED) by the Ducati Monster, most notably the single-sided swing-arm — previously not often seen on non-race motorcycles.
It pioneered the naked chassis, round headlight design — later made popular by the Monster, the Suzuki SV650, and others. The design still looks good today!
It's compact and lightweight in its class, with a fully-fuelled (wet) weight of 412 lbs (187 kg) — similar to modern designs
The engine is very well "balanced" — producing a modest claimed 55 hp (though a dyno-tested ~40 hp at the wheel), it's not a 100 hp screamer like the CBR600F, nor underpowered for fast American highways like a 250cc Ninja.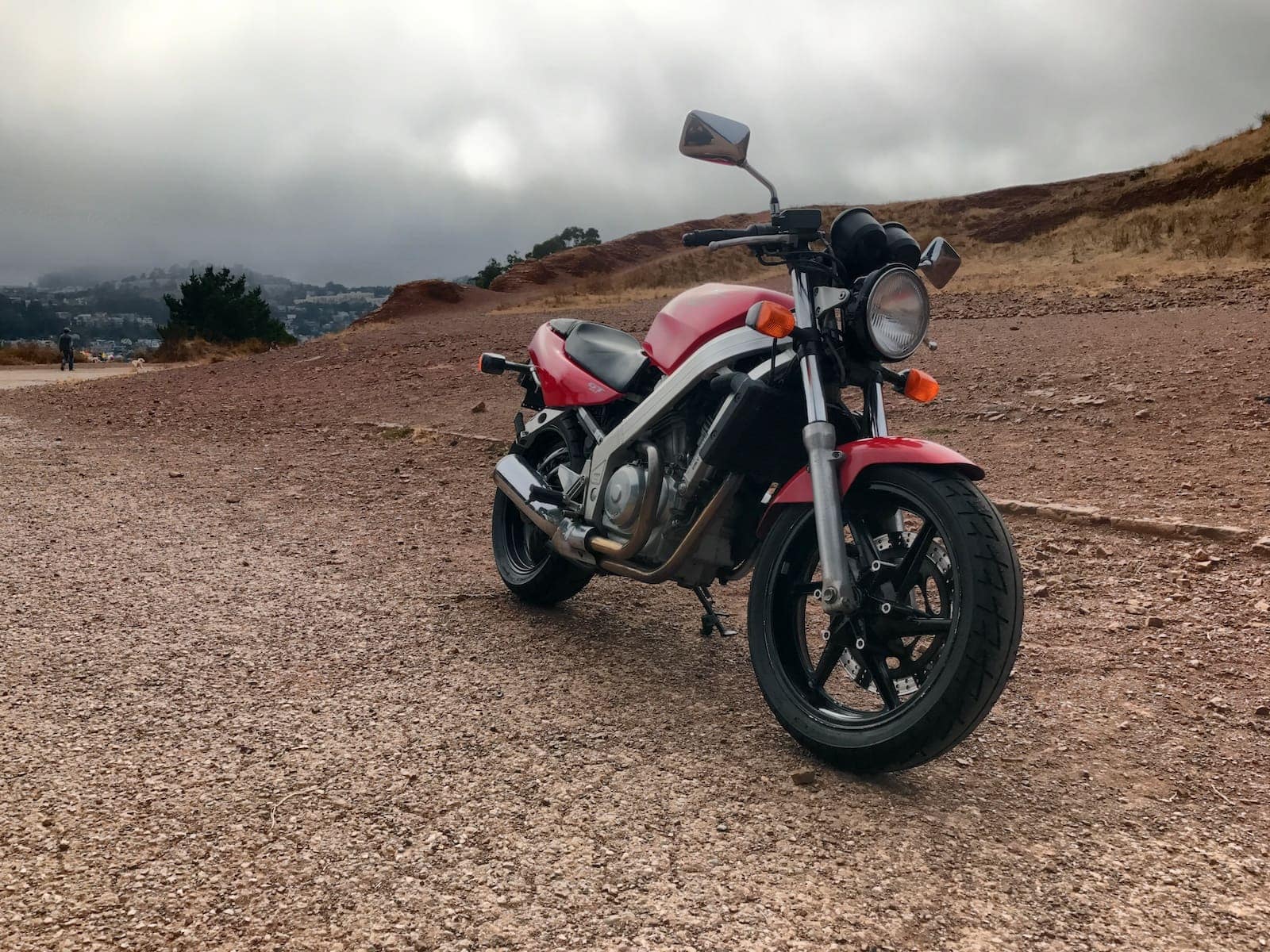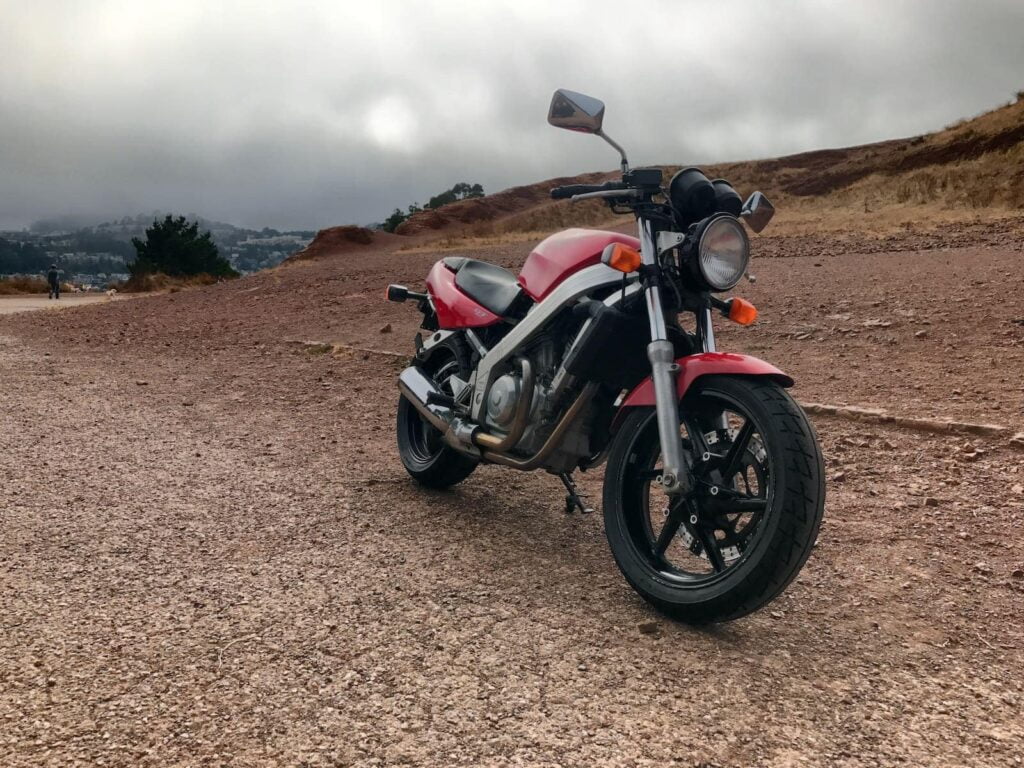 One of my mechanics, Lucy from SF, is a self-proclaimed "big fan" of the Honda Hawk. I'm sure she could make it sing in ways I never was able to. Maybe my tastes aren't refined enough!
On top of all that, I read a review in Canyon Chasers singing the praises of the Honda Hawk.
It included this paragraph:
The loyal following of the bike is legendary!

At a recent international motorcycle show, I spoke with Hondas North American director of R&D.

We had a fifteen-minute discussion on Hawk GTs where she admitted to currently owning two of the humble little bikes and claimed it was her main inspiration for the new line of 500s, the CB500F, CB500X, and CBR500R.

Virtually every motor-journalist has owned one and the Internet following puts the passion of Ducati and Harley Davidson to shame – particularly when you consider the bike was only made between 1988 and 1991.

It is, without question, one of our all-time favourite motorcycles.

Source, slightly edited
Wow! Is this loyalty true?? If so, then the Honda Hawk GT is one of those cult classic motorcycles that everybody regrets selling and reflects on fondly for the rest of their lives. If that's the case then I'd have no regrets buying one. I love me a classic motorcycle.
The thing about cult classics to bear in mind is that the fans are fiercely loyal. Since this isn't a review of falling in love with a motorcycle, I've gotten my share of flak for it. There are some worthwhile criticisms, like that I should have taken it in for a tune. But at the end of the day, not every motorcycle is for everyone — so hopefully I sold it to someone who'll fall in love.
So after finding one for US$2,200 in Berkeley, CA, I wandered over, did some tests to make sure it held together and paid $2,000 to take home a motorcycle I was sure I'd fall in love with instantly.
But didn't fall in love with the adorable Hawk GT. Here's why.
Overview: The Honda Hawk GT is Cute, but Not Fast
There's no question that the Hawk GT still looks great. It even sounds great, even with a stock exhaust… as long as you remove the silencer.
But the first thing I noticed about the Hawk GT was that it was … not fast. Yes, I knew ahead of time that it just had 39 hp under the seat.
I had ridden slow motorcycles before, like the lower-powered Ninja 250 (probably closer to low 30s actually, and delivered higher in the RPM range). And one of my favourite motorcycles is the Triumph Scrambler, which has a claimed 55hp – probably closer to 50 at the crank.
Comparing the Triumph Scrambler and the Honda Hawk GT NT650 — both of which have a claimed 55hp at the crank — is like night and day. The Scrambler has power for days. The Hawk feels like it's struggling as soon as you get to about 75 mph. Yes, the Hawk goes faster (some ride them up to 120 mph… I never took mine past around 100, as it just didn't feel fun), but at that point it's not easy power.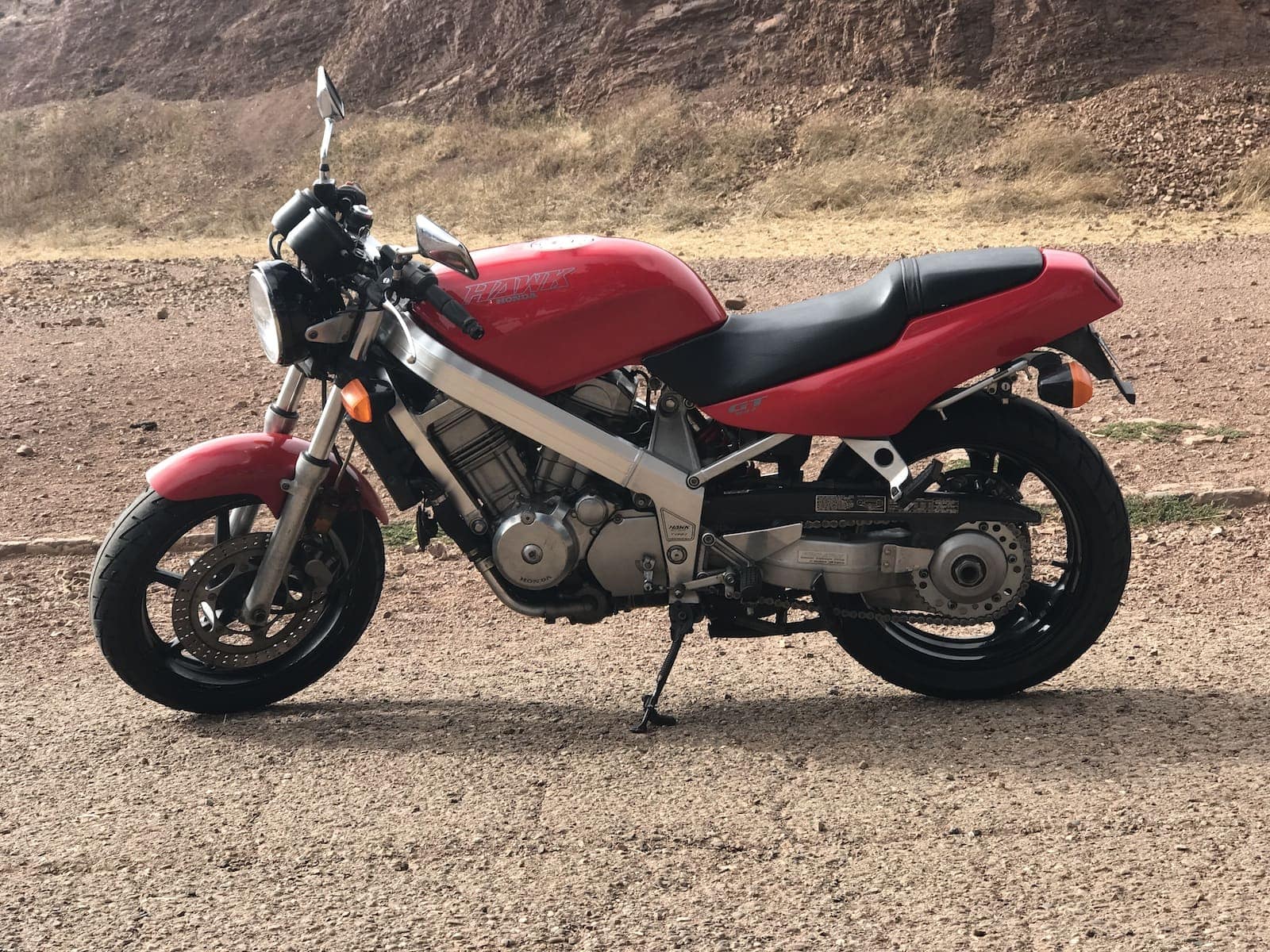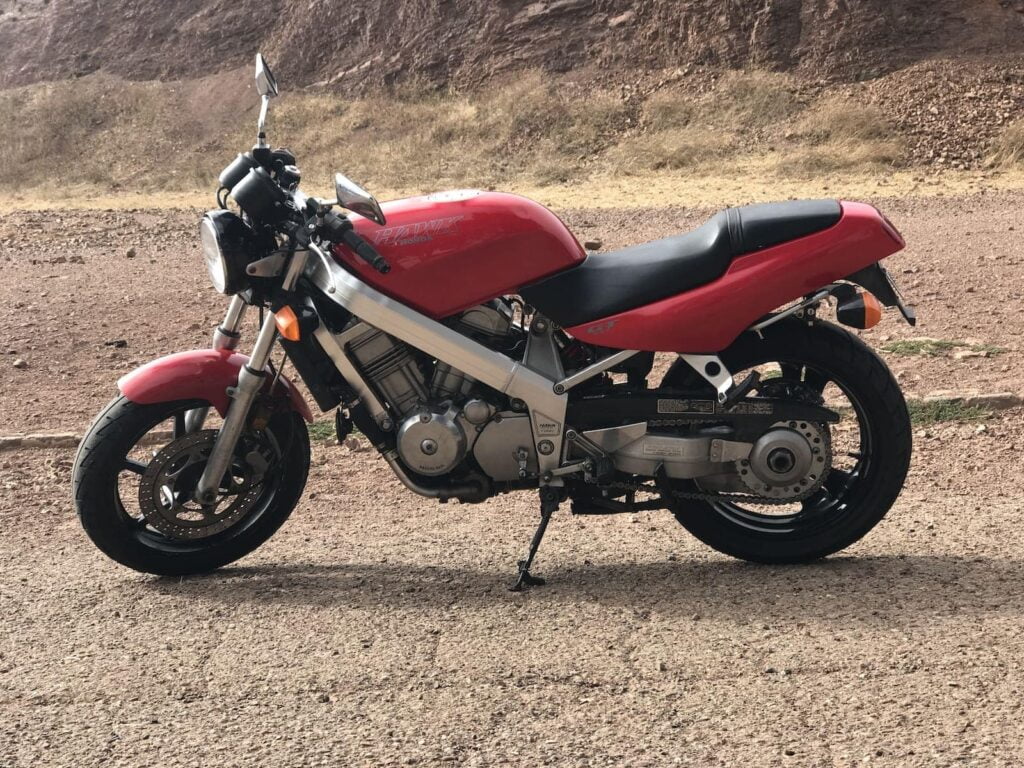 In the US, to stay in traffic on a regular highway you need to do 75-85 mph just to keep up with other traffic. In other words, if you're maxing out at 75 mph, then you're a liability.
When I had the Hawk GT at 75mph, I could twist the throttle further and it would move, but only in a significant way if I downshifted a couple of times. It also felt unstable. Not like it was wobbling, but more that wind was flowing over it and me in an uneven way that didn't feel re-assuring.
Again, this wasn't my first naked motorcycle. I had pretty much exclusively ridden nakeds, and it's well known that I have a love affair with the Ducati Monster. I've also ridden other nakeds that are similar weight at higher speeds. I am very familiar with having wind all over me at highway speeds. But the Hawk GT just didn't feel like that was its zone.
I'm an engineer, but I never studied fluid dynamics. All I know is that you don't need a full fairing to have a motorcycle that's stable in the wind.
A couple of commentators have said that perhaps my Hawk needed to be looked at. It's true — if I could go back, I'd have taken it to a mechanic and gotten them to do a compression check, balanced the carbs, and done a tune. I'm sure I could have coaxed more out of this.
I'm definitely expecting way too much from a motorcycle made 30 years before I bought it. I could definitely have put that $2,000 towards a much more modern Suzuki SV650 — probably with fuel injection and a bunch of other improvements.
Finally, I was hoping the Hawk GT would be lighter. While it was light for the time, it's not light by modern standards, especially for learner motorcycles. So the Hawk GT was not a good motorcycle to help my girlfriend learn. She needed a smaller, lighter motorcycle. This isn't really a fault of the GT — I didn't even get her to sit on it and check it out first! That was something I promised to rectify the next time.
What I learned from the Honda Hawk
There's still a lot I loved about the Honda Hawk GT. I loved how it fired right up, even when cold, despite having a 30-year old carburettor system. I loved the purtle from the exhaust. I loved riding a bit of history.
Like all motorcycles, it taught me about my own personal tastes, and helped me understand that my personal perfect power band is 75-100hp. Everyone's is different (some lower, some much higher). We're all on that journey.
Tastes are a little dependent on location, too. The 40 horsepower just isn't enough for fast Californian highways where 85mph is the norm and 100mph is sometimes acceptable.
But I didn't love that I had to work so hard just for my daily ride. So, with my eye on an even smaller motorcycle from a nearby dealer, I sold it.