The Suzuki GSX-S1000GT is such a tantalising proposition. Really, it's the bike I should get.
As much as I love my pure sport bikes, they're also a little insane. Especially the early days ones whose idea of rider aids were brake levers and an instinct for self-preservation, which I lacked in my twenties. Luckily, I'm older now, but I intend to get older still.
So I do like to temper the insanity by adding a few niceties for the vast majority of the time I'm not on a winding road or on a seductive high-speed curve. I like wind protection on the freeways, cruise control for long trips, and a couple of keep-alive features for when an oil slick presents itself.
I've considered just throwing a big ol' windshield onto a bike I already like, but this tends to make them ugly. Motorcycle designers know what they're doing when they build adventure tourers; somehow, those big shields seem to strike an aesthetic and functional balance.
But I'm not ready to throw in the towel and get an adventure tourer, either. I know, they're really good at what they do. Their time will come in my life. Just not yet.
So if I were to move on from my Suzuki Hayabusa (in theory!), I think it'd be to another four-cylinder sport bike, just one that can do a bit of touring. For me, that leaves just two options — the Kawasaki Ninja 1000 SX, or the Suzuki GSX-S1000GT.
Read my guide to buying a Kawasaki Ninja 1000, with full model history from inception to today.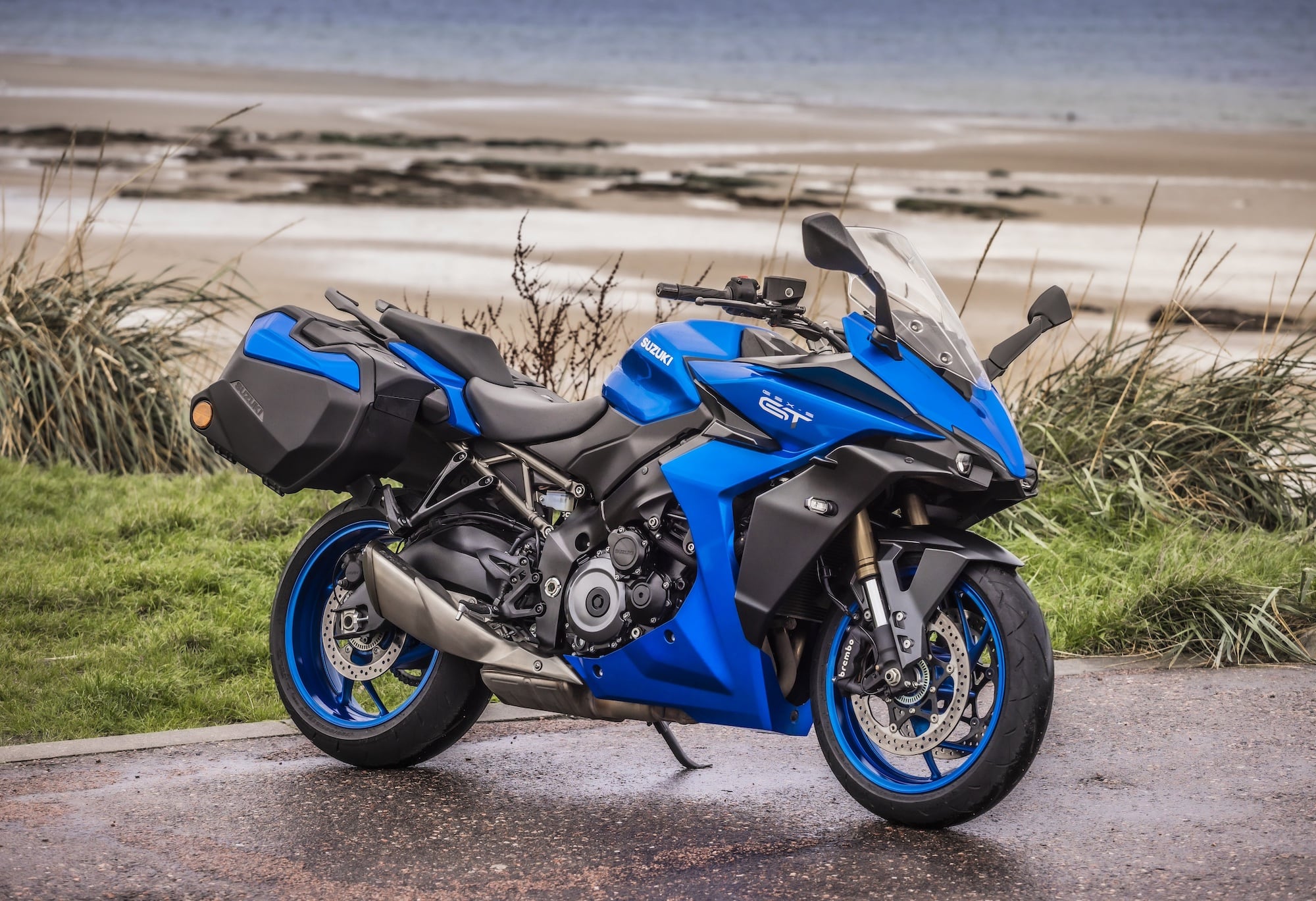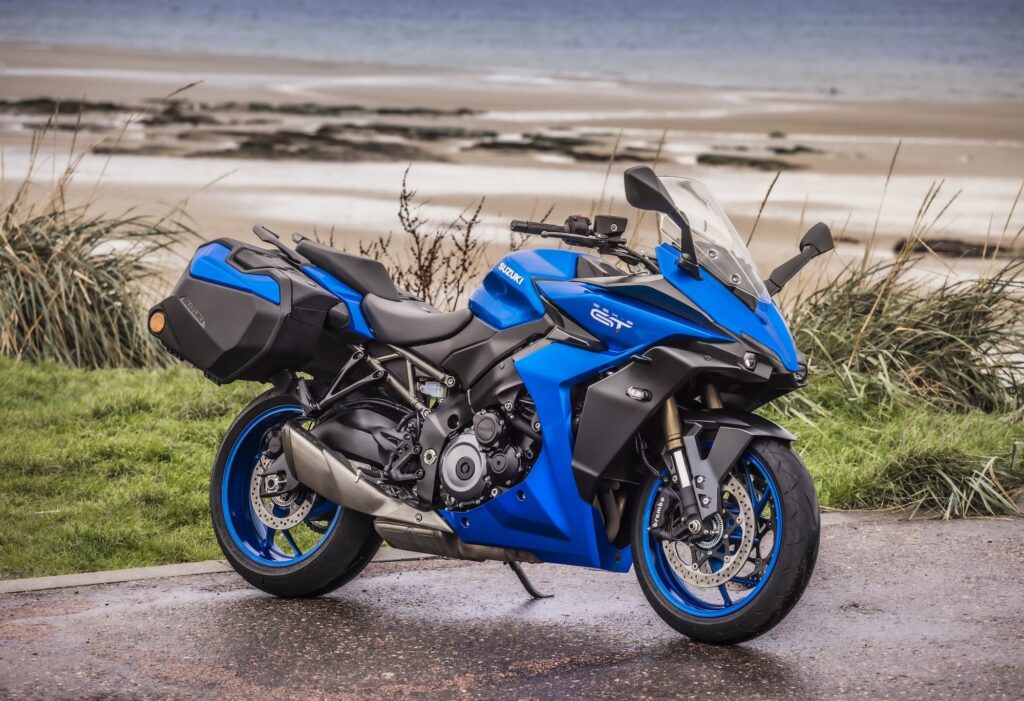 Are you obsessed with motorcycles?
Well, I am. That's why I created this site — as an outlet. I love learning and sharing what others might find useful. If you like what you read here, and you're a fraction as obsessed as I am, you might like to know when I've published more. (Check the latest for an idea of what you'll see.)
The Suzuki GSX-S1000GT In a Nutshell
So what makes the Suzuki GSX-S1000GT special?
… Also, why couldn't Suzuki come up with a more concise name? So many consonants and "s" sounds! I pity people who have pronounce it in languages like Spanish or Italian, where it'd have even more syllables. Anyway.
The GSX-S1000GT is in a very small club of sport tourers.
I previously wrote about the Kawasaki Ninja 1000 as the "last great sport tourer". I gave it that description because in the Ninja 1000 Kawasaki put a motor with superbike heritage into a chassis and overall design that's more for everyday riding — without sacrificing the sporty looks. Kawasaki did an excellent job, took the rug out from under the Honda VFR800, and that bike is still an under-appreciated gem of our time (only underappreciated in that it's hard to resist the allure of the ZX-10R parked next to it).
These days, most sport tourers are better described as "adventure sport tourers". They're more upright and have wider handlebars, like the Ducati Multistrada or the Yamaha Tracer 9 GT. Really great bikes. But they lack the sportbike aesthetic and ever so slightly canted forward riding position that gives the rider a feeling of wanting to cry "Let's goooo!!!"
Sport tourers don't have aggressive nature in aplomb, either. But they have a delicate balance of insanity and sensibility that suits a lot of everyday riders like me.
The Suzuki GSX-S1000GT is just that — a balanced sportbike. It's fast, but not so fast that you'll feel you need to track it. For those who feel embarrassed about chicken strips, the GT is a bike where they can forget about that altogether. And most importantly, the GT is versatile — unlike a sport bike, it is comfortable, doesn't get hot willy nilly, has mirrors that work, and it even comes with cruise control (a welcome improvement from its predecessor).
The balance is evident in that the GSX-S1000GT looks totally at home when
Diving into curves
Being two-up
Wearing luggage on the side
Don't believe me? Have a look at the GT doing these things
There are few other types of bike that look equally at ease in all these situations. Aside from the GT, I'd also include the naked bikes that can come in touring editions, like the MT-10 or the Tuono.
A Brief History of the GSX-S1000GT — How Did We Get Here?
Suzuki has been making the long-stroke 1000 engine that's now in the GSX-S for a long time — since 2005, actually. In its original form, they put it in the 2005-2008 models of the Suzuki GSX-R1000 first, where it was such a popular motor/motorcycle that BMW used the K5 gixxer as a template for their 2009 S 1000 RR superbike (which, if you haven't heard, is quite good). See more about the engine in the section below.
Then Suzuki took a hiatus of seven years before bringing deciding to bring the engine back in the 2016 GSX-S1000 and F models. What happened in the meantime?
See, manufacturers often build standard (or these days, the more aggressive "streetfighter") versions of superbikes. They take the engine from a generation or two ago, tweak the cams/tuning and sometimes the displacement, and swap the fairing and clip-ons for a headlight unit and handlebars.
In fact, most superbike manufacturers do this. Kawasaki makes the Z, Honda makes the CB, Yamaha made the FZ/MT, Triumph made the Speed Triple, and even Ducati made the S4 line (and now the Streetfighter). Not Suzuki! (They previously had made the RF900R in some markets, but they had stopped that by the point of the K5 GSX-R1000.)
Suzuki, instead, built a number of other bikes. They built a hypersport bike, the Hayabusa, which some use as touring bikes (often with a few mods to riding position, luggage capability, and wind protection). They also built an adventure tourer, the V-Strom 1000, in a time when few others were trying to do it.
But the closest thing to the GSX-S1000 bikes was the Bandit platform. The Bandit was / is a standard bike that was — and remains — very good value for an all-rounder. Suzuki first built an air/oil-cooled Bandit 1200, then a 1250, and finally decided to put the naked/bikini-fairing clad roadster into a full fairing. Here it is: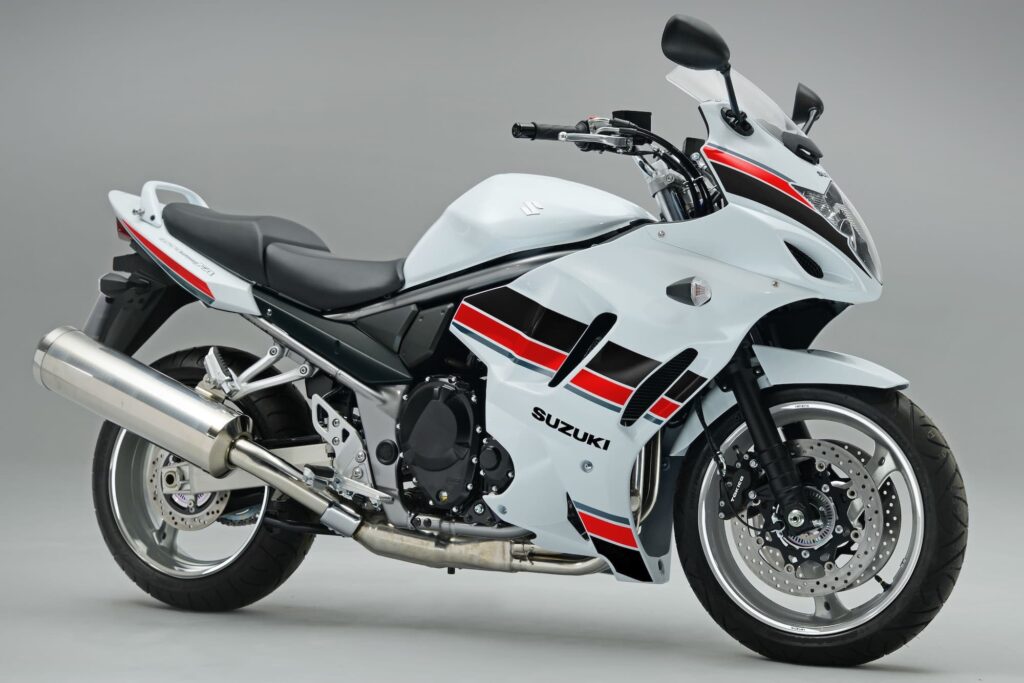 I'm cheating slightly by showing a picture of a special edition… but wow, what a good-looking all-rounder! Suzuki tends to do that — they pack a lot of style into highly functional and affordable bikes (style is according to my very subjective opinion… which is probably irrelevant because I like every bike).
The GSX1250FA is driven by a very torque-forward 1255cc inline four-cylinder engine that makes modest peak power of 71 kW (97 bhp) at 7500 rpm, but which makes huge torque from very down low — the peak of 108 Nm (80 ft-lb) arriving at just 3500 rpm. This low-down torque of the Bandit line made them popular stunt bikes, as they're apparently easy to wheelie.
See the Suzuki Bandit 1200 / 1250 and Suzuki GSX1250FA buyer's guide
But where the FA shone — and shines — is that it's just the basics. There's a fairing to keep the wind off you, handlebars to keep you in control, suspension that works but which isn't very adjustable (preload at front, preload/rebound damping at rear), ABS but no other rider aids. It has very little, and so Suzuki sold it cheaply — even, in the end, throwing in full luggage.
So this did well for a while. Then, in 2016, Suzuki replaced the GSX1250 bikes with the GSX-S1000 naked and GSX-S1000F touring bike — more power, higher tech spec, and much lighter weight!
Both the original GSX-S1000 bikes have the same motor — a resuscitation of the legendary K5 motor. But of course, it's detuned — losing about 20% of peak power, revving lower, AND actually having less torque in the midrange (per various dyno runs). Not really a "compromise"; just less of what we used to enjoy in unrestricted hedony. (See more on the motor below.) You still get a lot. 145 hp (107 kW) at 10000 rpm makes for a very sporty ride, and is a huge jump over the earlier GSX1250 bikes!
But the original 2016 GSX-S1000 bikes suffered from what some would describe as a "snatchy" throttle, and what some described as an "immediate throttle". The result is that, like on the early FZ-09, riders (e.g. also from Paul Tan) preferred the tamer throttle settings. But who buys a sporty bike to not ride it in A mode at least sometimes?
Suzuki addressed this quickly. As early as the following year in 2017, Suzuki cured the GSX-S1000 bikes of the very immediate/snatchy throttle. But it still had somewhat lumpy power delivery, and so still benefited greatly from a tune.
The GSX-S1000 and F models also are reminiscent of the Bandit in some ways. For the modern day, they are simple bikes — but higher spec. The fork was improved to a fully adjustable KYB upside-down fork, while the KYB shock still has adjustable rebound and preload. There's ABS, ride modes, and traction control, and an LCD dash. Finally, the braking is pretty capable — 310mm discs and Brembo radially mounted monoblock calipers, units which have carried over to the GT.
But consider also what the GSX-S1000 and F models lack. There's no colour display with no menus to dive into — an intentional decision. They don't have cruise control, something that was at the time slowly making its way on to this class of bikes (e.g. Yamaha MT-10) — possibly because Suzuki insisted that even the GSX-S1000F is a sport bike, not a sports tourer. And the GSX-S1000F didn't even take luggage as a factory option.
The 2022 Suzuki GSX-S1000GT solved a lot of this. It's now a sport touring bike according to Suzuki's own press. And supporting this is the fact that you can get it with factory luggage for just a little extra.
Core specs of the GSX-S1000GT (and discussion)
You can't ride a spec sheet, unless you glue it onto a skateboard and scoot your way down the driveway. But still, here are the core specs, plus some brief discussion and context.
Model
Suzuki GSX-S1000GT
Engine
999 cc inline 4-cylinder, DOHC, 4-valves per cylinder
Same engine as Katana and the naked GSX-S1000
Rare engine format among sport tourers!
Peak power
150 hp (110 kW) @ 11000 rpm
Slightly higher power than previous gen, but peaks 1000 rpm higher than previous gen
Higher power than adventure sport tourers, e.g. Tracer 9
Peak torque
78 ft-lb (106 Nm) @ 9250 rpm
Same torque as the previous gen, peaks slightly lower
Wet weight (no luggage)
226 kg (498 lb)
Good weight for a full-dress sport tourer, similar to many standards in the 210-230kg range.
Only 25 kg / 55 lbs heavier than the 2017+ GSX-R1000R.
Front suspension
43mm KYB inverted fork, fully adjustable (no semi-active options)
Rear suspension
KYB shock, preload/rebound damping adjustment
Front brakes
2 x 310mm, Brembo 4 piston radially mounted / axial calipers
Same brakes as previous gen, and just as competent
Drivetrain
Chain
Some take umbrage at the chain — but it allows for gearing changes
Cruise control
Yes! (new for the GT)
Display
TFT display (previous model had a black and white LCD)
Ride aids
Quickshifter (up/down), ABS, ride modes, Traction Control… still no IMU (cornering ABS)
Most competitors have an IMU
Options
"Plus" package with standard luggage for not much money
Price
USA: $13799 MSRP
UK: £11799 RRP
Australia: $19090 ride-away (may vary slightly by state)
Core specs of the GSX-S1000GT
The Engine of the Suzuki GSX-S1000GT
The GSX-S1000GT is, like many GSX-S1000 bikes before it (the immediately preceding GSX-S1000F, the contemporary GSX-S1000 naked bike, and also the Suzuki Katana) based on the same 999cc 4-cylinder DOHC engine with lineage that traces back to the K5 GSX-R1000, the so-called "long stroke" engine that was replaced in 2009 for a shorter-stroke, higher-revving (and higher-power) donk.
OK, enough talk — let's have a look at one.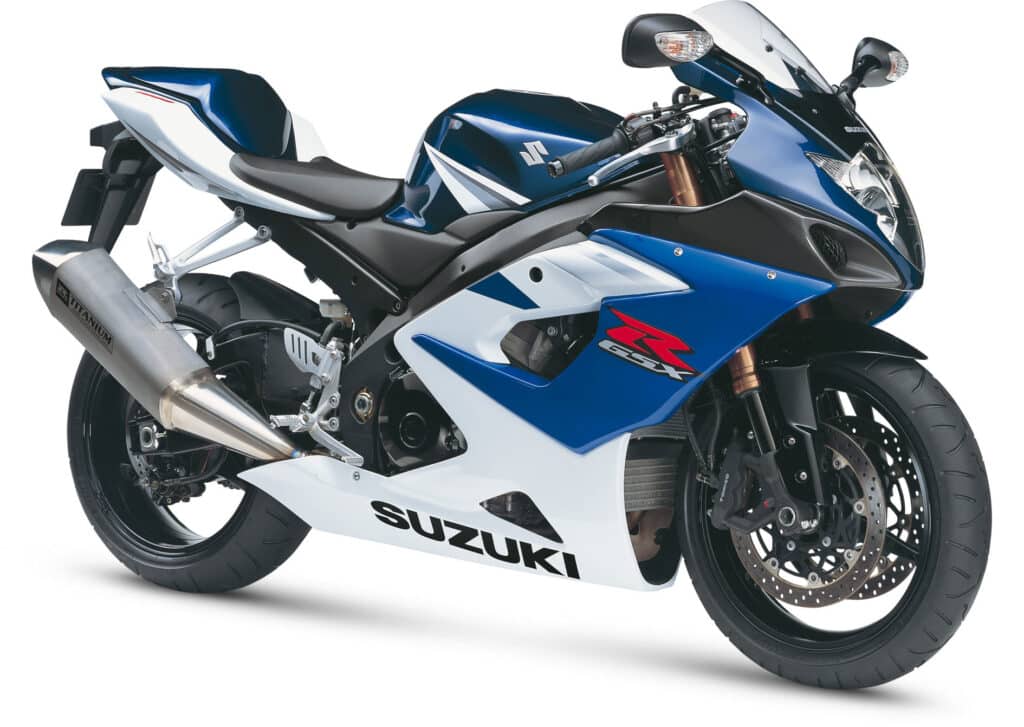 The engine is still oversquare in the modern GSX-S bikes / the old GSX-R, with a 73.4mm bore and 59.0mm stroke, but in the GSX-R bikes that bore increasingly widened over time while the stroke shrunk (the next gen was 74.5 x 57.3 mm), making it more and more oversquare, as suits high-revving sportbikes.
See my guide to bore, stroke, and engine displacement.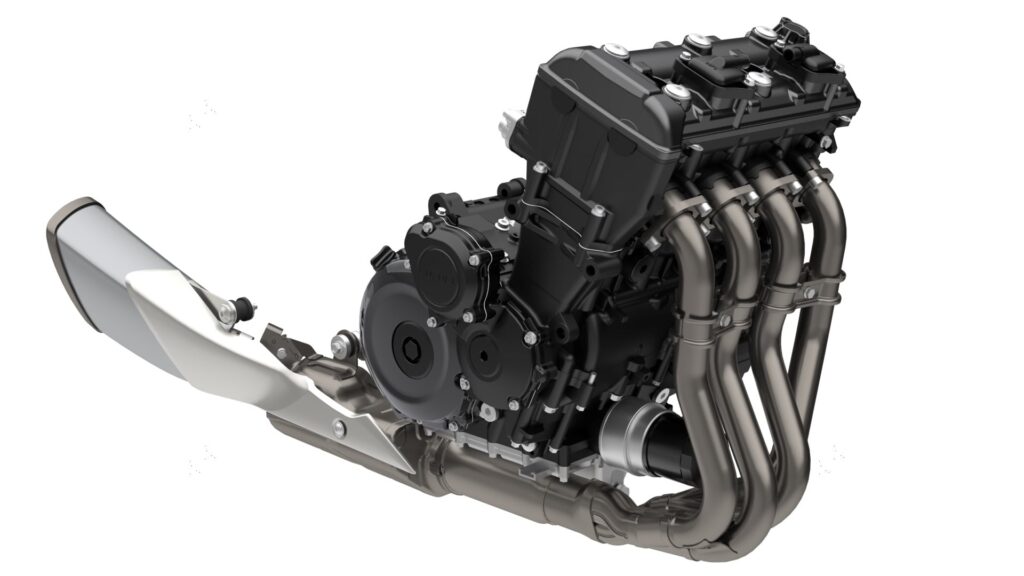 No, the GT — nor any of the other bikes with the same engine — does not make the same power as the GSX-R1000 of old. But it makes plenty of everyday power, and it has been getting better with time.
Yes, the power delivery has improved over the course of the GSX-S, despite EURO5 clamping down its iron jaws on engine tuners' over-eager hands.
The original 2016 Suzuki GSX-S1000F was maligned for having a snatchy throttle. It was something Suzuki quickly rectified as soon as the 2017 model year, despite making almost no other changes. Still, power delivery was a little lumpy, and many dedicated owners took their GSX-S bikes in for a tune.
In Suzuki's marketing materials, they show the relatively lumpy power delivery of the Suzuki GSX-S1000F smoothed out in the new model, saying "Don't worry, we fixed it."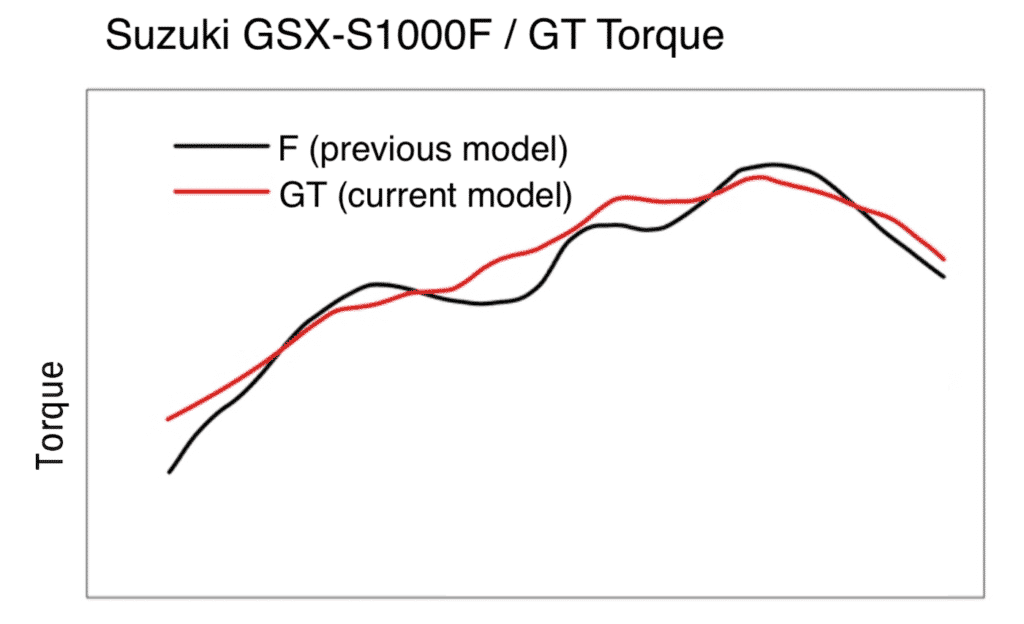 So the GSX-S1000GT (and the contemporary naked) have smoother torque delivery. So what? Because compare it to the GSX-R1000's torque curve of old, and you start to see just why that old engine was so special.
I don't have a comparable dyno curve of the GSX-S1000GT and a stock K5 GSX-R1000. But looking at a) dyno charts of the old GSX-S1000 (which are lumpy, like the above) and b) dyno charts of various K5/K6 GSX-R1000s around the internet, I believe Suzuki may have achieved the original intent of the detuned literbike engine: more torque in the midrange and a smooth/flattish torque curve at the cost of top-end power.
Just in case all this is reminding you you could get all this on an old GSX-R1000… good luck finding one! They're in thin supply as we've all known they're classics for a while. Also, you don't get things like the much more comfortable riding position, cruise control, as much fairing protection, or ABS, should you want any of those (which maybe you do, hence being here).
But anyway, a lot has changed since the time of the K5 GSX-R. Emissions laws, for one. Also, the bike has a different stated purpose, and the engine is tuned as such. The denizens of the gsxs1000.org forum say that with an exhaust system and tune, you can get better rear-wheel torque figures out of the new engine than the old Gixxer (see this thread for example).
Needless to say, the GSX-S1000GT is also geared differently to the old K5 GSX-R. Using my trusty gearing calculator, with everything stock (tires, gearing), I can share the following:
Bike
GSX-R1000
GSX-S1000
Top speed 1st gear at the limiter
158 km/h / 98 mph
131 km/h / 81 mph
Max thrust (G-force) in 1st, 2nd, 3rd
(based on the midrange "plateau" of torque)
1.20, 0.96, 0.80
1.13, 0.90, 0.75
Speed at 10000 rpm, 1st gear
119 km/h / 74 mph
114 km/h / 71 mph
Engine RPM Top gear, 100 km/h (~60 mph)
4200
4400
Engine RPM top gear 75 mph (120 km/h)
5000
5200
Gearing of GSX-R1000 vs GSX-S1000
Suddenly things don't look so bad. In fact, with an exhaust and tune, or a change of gearing (which I would avoid due to the already close gearing), you might have the same thrust levels, with more ability to put it down.
Living With the Suzuki GSX-S1000GT
It's hard to tell too much from a 40 minute test ride, so I corroborated this with my special internet friends (Common Tread, Rider magazine, etc.). Many views I had were the same as they had after longer (up to multi-day/week) test rides.
Essentially, riding the Suzuki GSX-S1000GT is very easy. If you've never ridden a literbike, you might be shocked at how easy it can be with this one. It's comfortable, it's fast, it's not heavy, and it always feels sure-footed.
Comfort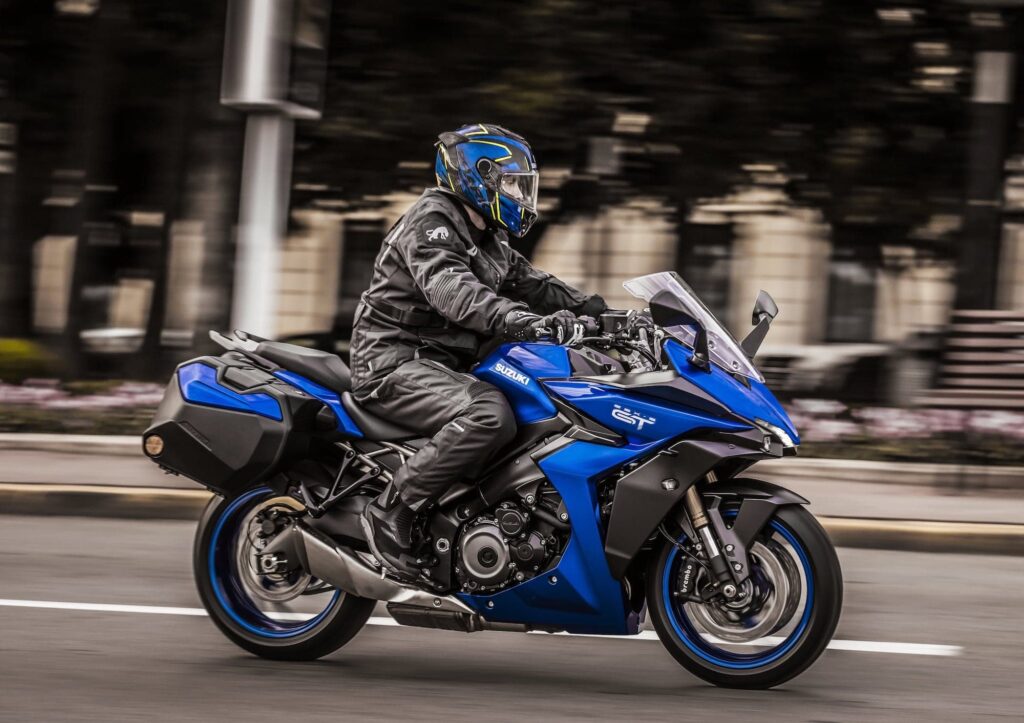 Firstly, comfort levels. The Suzuki GSX-S1000GT is comfortable! The riding position is slightly angled forward, and the feet are slightly behind. It'd definitely not a "standard" like a Bonneville; it's a comfortable sport bike.
That said, the beauty of sport touring bikes that don't have you tip your whole body forward on is that you have the option of winding on the throttle without feeling obliged to. (C.f. every sport bike I've owned.)
The handlebars of the GT are wide, but not "dirt bike"-wide. And finally, cruise control will mean that your hands won't go numb from trying to hold a single throttle position on the inevitable stretches of highway.
I haven't tried the touring screen which is a few inches / 70mm higher, but I take it it works a bit better… neither one will create a Gold Wing-like bubble of air, but they'll both be comfortable on highways.
Engine / Thrust
One thing I really like about the "detuned superbike" style of street bike is that they're easier to rev out in everyday riding.
The GSX-S1000GT is geared like its predecessor (and the Katana). This means that even if you want to shift aggressively at 10000 rpm, you'll be doing 114 km/h or 65 mph. Of course, the same revs in second or third will take you to 142 or 170 (88 or 105 mph)… so beware. Still, you can have a lot of fun shifting just a little earlier, as it's making near peak torque at 7-8000 rpm.
The gearing is also such that in terms of raw thrust levels, it's as fast as it gets. Hammering the engine in first gear will get you around 1.1 Gs of forward thrust in the torque band between 7-10000 rpm.
The only negative about the engine / gearing is that the GSX-S1000GT is geared very tightly. You'll race up through the gears if you shift quickly (around a second or two in each gear past first, depending on throttle position). The flipside to this is that this, like many nakeds / sport tourers, is definitely a bike on which you don't have to shift often. Leave it in fourth and it'll do pretty much anything you need!
You could change the gearing to give it slightly longer legs and better mileage, but then you'll see the redline less often.
Handling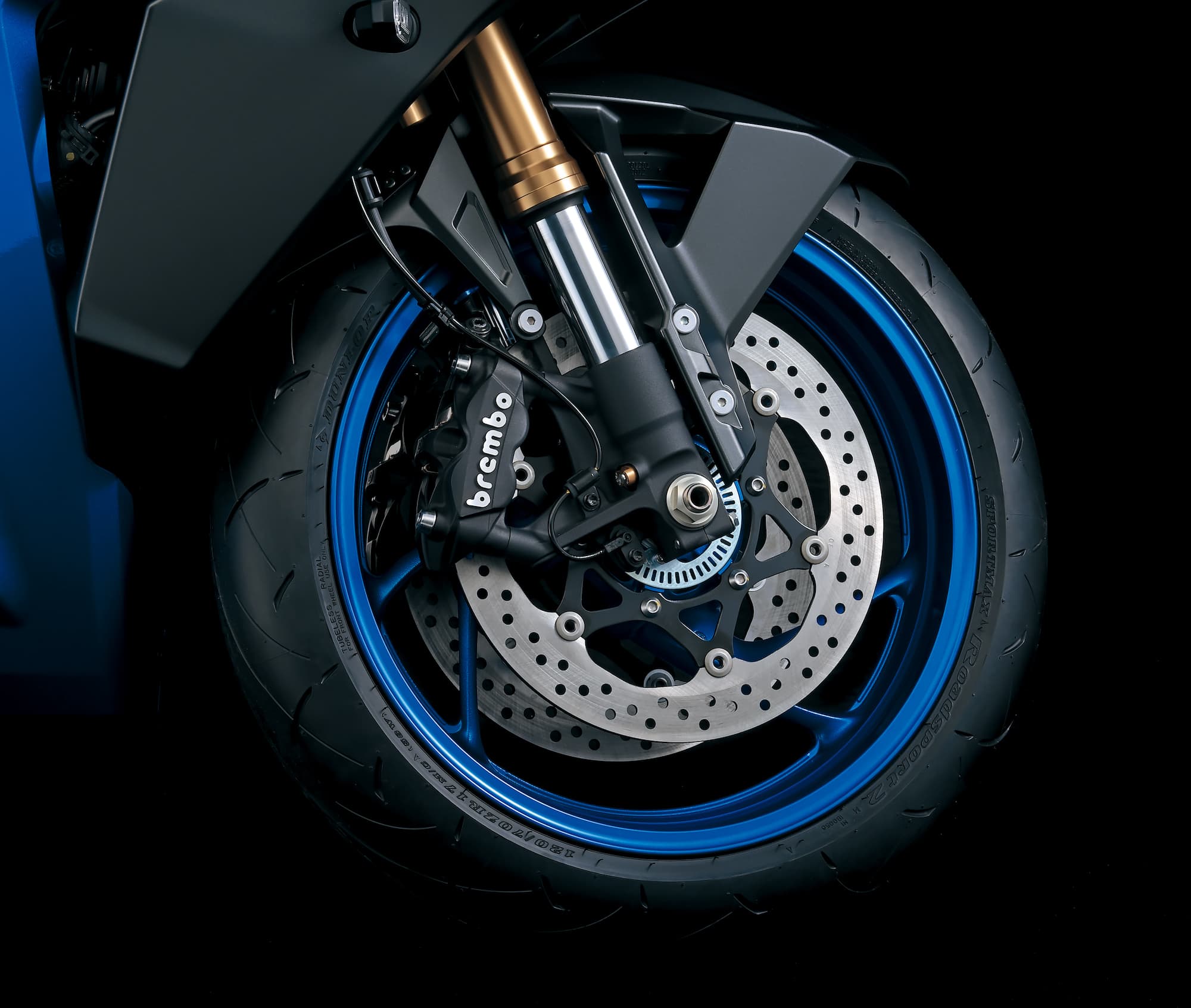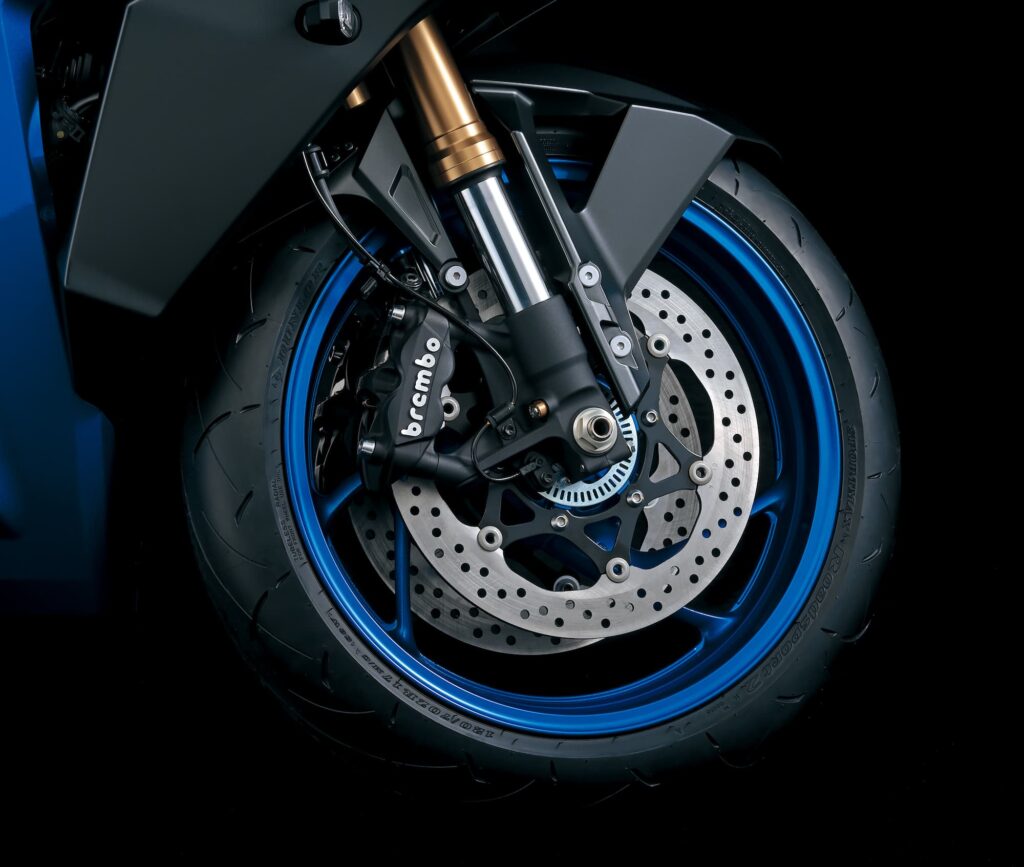 Upside-down fully adjustable forks, Brembo four-pot radially mounted calipers, and relatively light weight: the Suzuki GSX-S1000GT handles just fine. But better than that: you can late brake on it and use that torque-laden engine to power out of corners. It's as fun as any naked liter bike!
Of course, that's not really the personality of the GT. "Panniers" just don't scream "ride it like you stole it". But you can, if you want.
Everyday riding
Coming from a Hayabusa, I'm always pleased by standard bikes and sport tourers. They're MUCH easier to navigate around slow roundabouts and parking lots.
I like sport bikes for lane splitting (which has been legal everywhere I've ridden, though is oddly not legal in most states of the US), and the GSX-S1000GT fits the same requirements: it's narrow enough, even with panniers on.
I don't want to dwell too much on this point other than to say that the GSX-S1000GT is very easy to maneuver at low speeds and through traffic, as you'd expect of a GT bike.
Tech
Look, I don't like TFT dashes. That's a personal thing, because for me, riding is one way of getting away from screens. Dials forever!
But if I had to have a TFT display — and I admit I soon will find it unavoidable — then ones like the Suzuki GSX-S1000GTs are the ones that I like. And it's not just because they represent an analogue tach digitally…
The dash is a 6.5 inch TFT, the biggest one Suzuki has used. You can sync it with your phone, and answer (or make) calls from it… which I have never done, but who knows, maybe one day I will. It also has a built-in navigation system.
One thing I particularly like about the dash of the GSX-S1000GT is that there's not that much to configure! You can go press a button or two to play music or take a call — neither of which are things I like to do while riding — but there's no changing of suspension damping settings on the fly, traction control or ABS intervention levels, or ride mode configuration. Some may view this as a negative, but since I believe in "less is more", I like having as little "more" as possible.
In terms of rider aid tech, the GSX-S1000GT has nearly everything — a quick shifter, ABS, ride modes, and traction control. The only obvious thing missing from the GT (and that most of the competition has) is an IMU, which gives you cornering ABS and lean angle-aware traction control (see our list of bikes with an IMU).
I like having an IMU, but having ABS is already great (for me, that's the non-negotiable for an everyday bike). Since the similarly-priced V-Strom 1050 has an IMU, I do wonder why this new model from Suzuki doesn't have one.
Maintaining the GSX-S1000GT
One important thing I always like to look at is maintenance. This is particularly the case with sport tourers, on which which you might put thousands of kilometers (or miles) in one trip.
Firstly, the GT has a chain final drive, not a shaft drive like some other sport tourers. This means that if you do intend to do touring, you'll need to keep chain lube with you (something portable, like Motul Chain Paste). Unfortunately, the GT doesn't have a centre stand so… that would be a slightly annoying tour!
Apart from that, maintaining the Suzuki GSX-S1000GT is much like maintaining its predecessor. In a nutshell:
Change the oil every 3750 miles / 6000 km, check a bunch of other stuff (that it's not leaking oil, on fire, cursing the moon etc.)
Change the spark plugs every 7500 miles / 12000 km
Change fluids regularly as with any vehicle
Check the valve clearance every 15000 miles / 24000 km
These valve service intervals are pretty standard and comparable with the competition below. Servicing the Kawasaki would cost a similar amount. The Ducati would cost the most, with its desmo service (but we're talking a few hundred bucks every few years).
Alternatives to the Suzuki GSX-S1000GT
If you're considering a sport tourer, then the most obvious first choice is the Kawasaki Ninja 1000 SX. It's the only other four-cylinder sport tourer with similar displacement and comfort levels.
But there are a few others. I don't want to branch out too much because choices are potentially infinite, but let's look at a few.
Here they are in a nutshell:
| Model | Suzuki GSX-S1000GT | Ninja 1000 SX (2020+) | Ducati Supersport 950 | BMW R 1250 RS |
| --- | --- | --- | --- | --- |
| Engine | 999 cc inline 4-cylinder | 1043 cc inline four-cylinder | 937 cc 90-degree Desmo V-twin | 1254 cc Boxer twin |
| Peak power | 150 hp (110 kW) @ 11000 rpm | 140 hp (105 kW) @ 10000 rpm | 110 hp / 81 kW @ 9000 rpm | 136 hp / 100 kW @ 7750 rpm |
| Peak torque | 78 ft-lb (106 Nm) @ 9250 rpm | 82 ft-lb (111 Nm) @ 7500 rpm | 69 ft-lb / 93 Nm @ 6500 rpm | 105 ft-lb / 143 Nm @ 6250 rpm |
| Wet weight (no luggage) | 226 kg (498 lb) | 235 kg (517 lb) | 210 kg / 463 lb | 243 kg (535 lb) |
| Front suspension | 43mm KYB usd fork, fully adjustable | 41mm usd fork, fully adjustable | Marzocchi fully adjustable fork | USD fork |
| Rear suspension | KYB shock, preload/rebound | Preload/ rebound | Sachs monoshock, fully adjustable | Fork, adjustable preload / rebound damping, optional Dynamic ESA |
| Front brakes | 2 x 310mm, Brembo 4 piston | 2 x 300mm discs, 4-piston radial mount monobloc caliper | 2 x 320mm semi-floating discs, radial Brembo M4-43 calipers | Twin 320mm discs, 4-piston radial calipers |
| Drivetrain | Chain | Chain | Chain | Shaft |
| Cruise control | Yes | Yes | No | Yes |
| IMU | No | Yes | Yes | Yes |
| 2022 MSRP (USA) | $13 149 | $12 899 | $13 495 | $15 695 |
Sport touring bike specs comparison table
By the way, why not the Yamaha Tracer 9 GT? It's a great bike, but it has a poise and style that's more similar to the Ducati Multistrada 950, so didn't feel quite right when the Supersport is in this table.
Also, I'm not mentioning the VFR800 as these motorcycles have mostly not overlapped in production. The Ninja 1000 stole the VFR800's crown, but even by the time the GSX-S1000F showed up, the VFR800 was retired from most markets, and was soon to be retired completely.
Here's a quick summary of each of the above, and why you'd choose each one.
Kawasaki Ninja 1000SX
The Ninja 1000 is the obvious choice. It shares a lot with the GT — they're both sport-touring bikes with inline four-cylinder engines of similar capacity.
Since their launch in 2011, all Ninja 1000 models have had a 1043cc inline four-cylinder engine — the same as in the Z1000 which was launched a year prior. All generations have made roughly the same power — ballpark 105 kW / 105 bhp at around 9000 rpm (the most recent one at 9500 rpm).
The Kawasaki Ninja 1000 is a very well-liked series of motorcycles. When I've talked to owners who've sold them, reasons are either to upgrade to a more modern one (as they keep getting better with time), or because they mistakenly bought something too sensible and wanted a more extreme bike. But it's never because they're a bad bike.
What makes the Ninja 1000 special is that it has always been high on the tech side. Since 2017, the Ninja 1K has had an IMU, giving this bike cornering ABS — unique in its class at the time, and clearly still not ubiquitous because the GSX-S1000GT doesn't have one! The Ninja was also earlier with cruise control, TFT display, and other stuff.
The other thing I think the Ninja does well is both visual and aural aesthetics. It not only looks horn; but Kawasaki has nailed intake howl on a wide range of bikes (including the Z900 and even the Versys 1000), which is a pleasure that I get to enjoy without disturbing the neighbours. And it's addictive making it sing…
Ducati Supersport 950
The Ducati Supersport 950 is the latest Supersport, a slight update to the 2017 Ducati Supersport. There's also an S model, which has Öhlins front and rear suspension, but I think it's unfair to compare that as it's a lot more expensive.
The Ducati Supersport 950 is much more a sport bike that's fun to ride on public roads. It's comfortable, but the sportiest of the "sport tourers". You'd pick the Ducati if you like twins, like Ducatis, or agree that it looks the best of the bunch.
The Ducati is actually the lowest-power of the group, too. It uses Ducati's 4-valve 937 cc V-twin engine that makes 82 kW (110 hp) and that's seen on three other bike models (the 2021 Ducati Monster, the Hypermotard, and the Multistrada. But luckily the Supersport is also the lightest of the group, with a wet weight of 210 kg (263 lb).
Maybe because it's a Ducati and probably red, or maybe because of the riding position, but nobody would call the Supersport 950 slow.
You'd get the Ducati if you err on the side of sporty, like twins, or just because you're a Ducati diehard (happens to all of us, sometimes never stops happening). You would have to wear the slightly higher maintenance costs — desmo valves (twice as many clearances, two heads), timing belt changes, and Ducati mechanics typically charge more.
BMW R 1250 RS
Finally, BMW has been making sport tourers for a long time. Did they invent the class with the 1978 R100RT? Possibly. They at least were one of the leaders.
Anyway, pick the BMW if you like the brand (and the dealerships, which are always nice!), the rumbly roar of a boxer twin, or electronic suspension if you get that option.
BMW's tourers are mostly sporty, but the R 1250 RS is the sportiest of the bunch. Still, they're comfortable enough that I know they're in some police fleets as sneaky chase vehicles.
The BMW R 1250 RS powered by an air/liquid-cooled boxer twins, the same as you'll find in the R R 1250 GS of similar vintage (same power, same torque, same everything).
Like the Ninja, the R 1250 RS is a heavier and less powerful than the Suzuki GSX-S1000GT. But it comes with a lot more tech if you get the optional ESA, and of course it comes with BMW branding that means it'll keep a higher resale value should you decide it's not for you. You'll need all the resale you can get though as the BMW is the most expensive of the bunch!
Sum Up
So — my final thoughts on "all-rounder" bikes is always somewhat similar. I often find them to be bikes that could do anything I'd ask of them, but in the end, I'm always left feeling indecisive.
I think it's because there's no way in which they excel in any one way, no defining characteristic. When I ride my Hayabusa, I know it's ludicrous, but I enjoy that knowledge. When I ride a superbike, I know its potential. Even when I ride a cruiser (e.g. the Indian Scout Bobber — a write-up I have yet to do), I know the trade-offs it has made for aesthetics and an engaging ride.
While I really like the idea of a Suzuki GSX-S1000GT being "the one", it doesn't captivate me in any way that's enough for me to fork out the modest but still considerable amount of money they cost. Even though it's the bike I should get, it's maybe not the one for me just yet. If it is for you, then I hope you enjoy it, and send me a photo.