If you are into Ducati Monsters, you might know that the 2001 Ducati S4 was quite a revolutionary motorcycle for lovers of the air-cooled beasts, for being the first liquid-cooled, 4-valve-per-cylinder Monster, with power that cleared the 100 hp (75 kW) mark for the first time.
I've already put together a bigger article going over the Ducati Monster range and history in general.
But because there are so many models of Ducati Monster to cover, and because the Ducati Monster S4 range is quite special and becoming increasingly collectible, I thought it worthwhile to do a bit of a deep dive into it.
So here it is — a guide to the Ducati S4 models made between 2001 and 2008.
Here are a few photos of the Ducati S4Rs Tricolore to get you interested…
Are you obsessed with motorcycles?
Well, I am. That's why I created this site — as an outlet. I love learning and sharing what others might find useful. If you like what you read here, and you're a fraction as obsessed as I am, you might like to know when I've published more. (Check the latest for an idea of what you'll see.)
Ducati Monster S4 range — In a nutshell
Here's a summary table of the specs between the Monster S4 range of motorcycles.
All these motorcycles had in common that they have
4-valve per cylinder liquid-cooled engines borrowed from the Ducati superbikes
Fully adjustable suspension front and rear (would be redundant to repeat it every time)
A dry clutch
320mm front discs, and Brembo brakes (of various generations)
See my deep dive into Ducati Superbikes — Before the Panigale
In the specs below, I've boldfaced the specs that improve with each generation. (That's why I put the S4RT before the S4Rs, because the S4Rs is an improvement, even though it came earlier).
Spec
S4
S4R
S4R
Testastretta
S4Rs
(inc. Tricolore)
Model Years
2001-2002
2003-2004
2007
2006-2008
Engine
916 cc (ex Ducati 916)
996 cc
(ex Ducati 996)
998 cc
(ex Ducati 999)
998 cc
Bore and stroke
94 x 66 mm
96 x 68.8 mm
100 x 63.5 mm
100 x 63.5 mm
Compression ratio
11.0:1
11.6:1
11.4:1
11.4:1
Peak power
74 kW (101 hp) @ 8750 rpm
87 kW (117 hp) 8750 rpm
96 kW / 130 hp @ 9500 rpm
96 kW / 130 hp @ 9500 rpm
Peak torque
92 Nm (68 ft-lb) @ 7000 rpm
96 Nm (70 ft-lb) @ 7000 rpm
104 Nm (77 lb-ft) @ 7500 rpm
104 Nm (77 lb-ft) @ 7500 rpm
Front suspension
Showa 43mm
Showa 43mm
Showa 43mm
Öhlins 43mm
Rear suspension
Sachs with piggyback
Showa (no piggyback)
Sachs with piggyback
Öhlins monoshock
Swingarm
Double sided
Single-sided
Single-sided
Single-sided
Wheels
5-Spoke Marchesini Wheels
5-Spoke Marchesini Wheels
Y-shaped 5-spoke Marchesini wheels (ex-999R)
Y-shaped 5-spoke Marchesini wheels (ex-999R)
Front brakes
2 x 320mm discs, 4-piston axial-mount Brembo 30/34
2 x 320mm discs, 4-piston axial-mount Brembo 30/34
2 x 320mm discs, 4 piston Brembo P4.34 radial-mount calipers (34 mm pistons)
2 x 320mm discs, 4 piston Brembo P4.34 radial-mount calipers (34 mm pistons)
Ducati Monster S4 range summarised
Background — Before the Ducati S4
This is just a brief background into the Ducati Monster for context. If you know all this, skip ahead!
The Ducati Monster started in 1993 with the air/oil-cooled Ducati Monster 900, also known as the M900.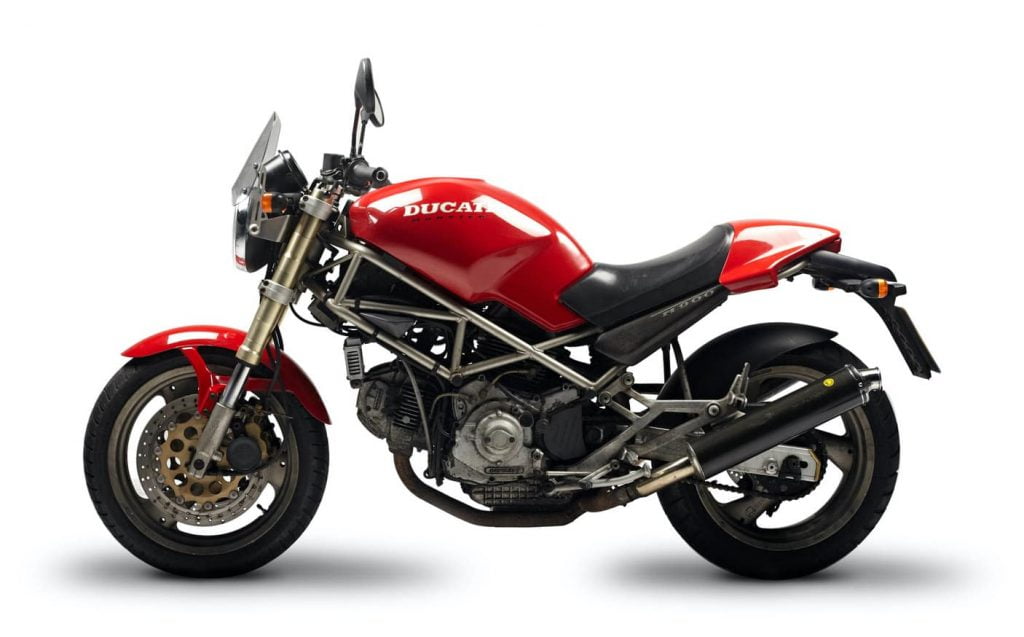 The Monster 900 was a fairly basic motorcycle, and that was its charm. It took the 904cc carburettor-fed air/oil-cooled L-twin (a 90-degree V-twin on its side) from the Ducati Supersport 900, shoehorned it into the chassis of the 888 Superbike sans fairing, and added suspension from a Supersport 750.
The Ducati 888 (which donated its chassis to the original Monster) was the predecessor to the Ducati 916, Ducati's now-iconic superbike that won a slew of titles. But even the Ducati 888 was already liquid-cooled and four-valved, as was its predecessor the Ducati 851.
Ducati was keeping 2-valved engines alive because they could. They still do, in bikes like the Ducati Scrambler! They have been using them for a long time. While they recognised that the future was 4-valved, there was more use to be had from the engines — and the Monsters were one avenue (the Supersport was another).
The Monsters had a carburetted 2-valved engine for most of their life before the first S4, which was released in 2001. It was only in 2000 that Ducati first added fuel injection to the Monster line.
So the Monster had always been based on a concept of being a simple, minimalist motorcycle, with a healthy amount of power, but nothing overwhelming.
The most recent Ducati Monster before the Monster S4 was the Ducati Monster 900 ie. It was very similar to the original Monster — powered by a 904cc air/oil-cooled L-twin in a naked trellis frame. It looked identical to the casual observer, the only difference being that instead of carburettors, the Monster 900 was fuel injected.
Against this background, the Ducati Monster S4 was quite jarring.
Even after the introduction of the S4, Ducati kept using 2-valve motors in Ducati motorcycles in Ducati Monsters until the 1100 motor — which was still in use a decade later in the Ducati Scrambler 1100.
But Ducati Monsters are all 4-valved and liquid-cooled now, and it started with the Ducati Monster S4.
After the last of the S4 line, the S4Rs, the Ducati naked bike lines bifurcated into the Monsters (more street-tuned) and the Streetfighters (more unabashedly naked sport bikes). See our guide to the Ducati Streetfighter model line for more on that.
The first — The Ducati Monster S4 (2001-2004)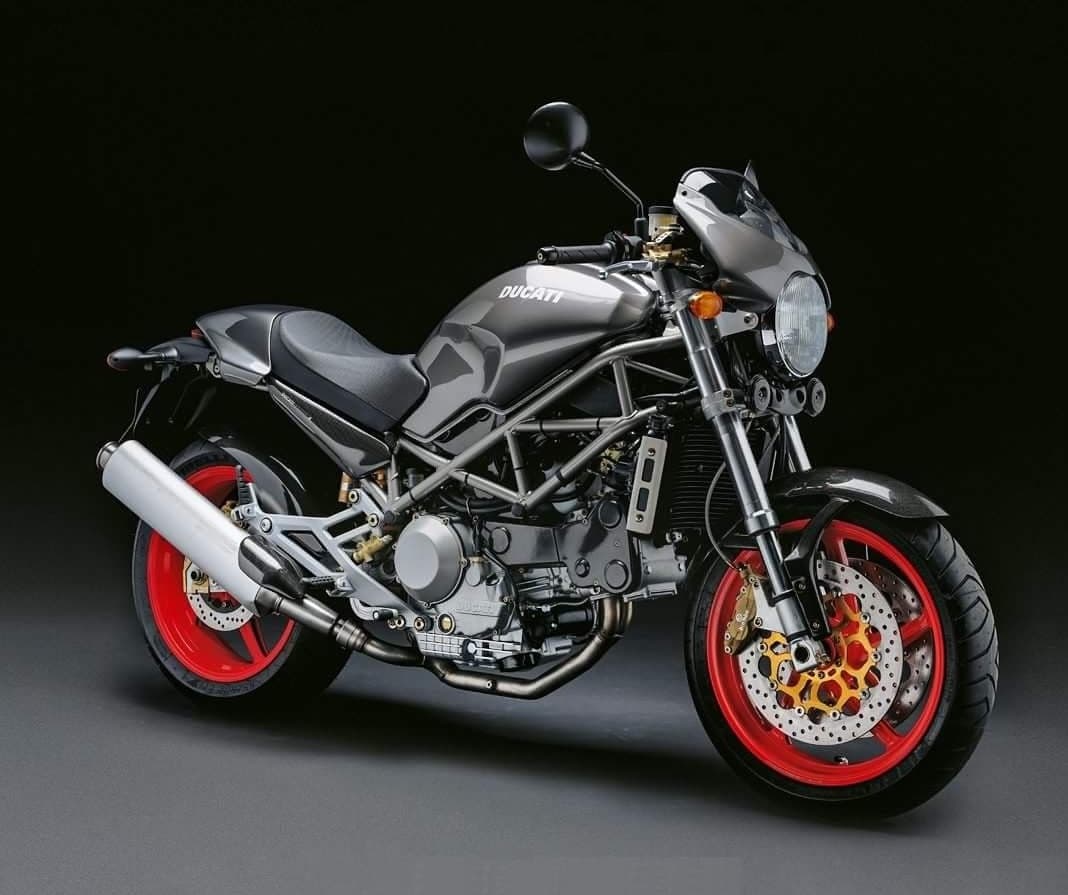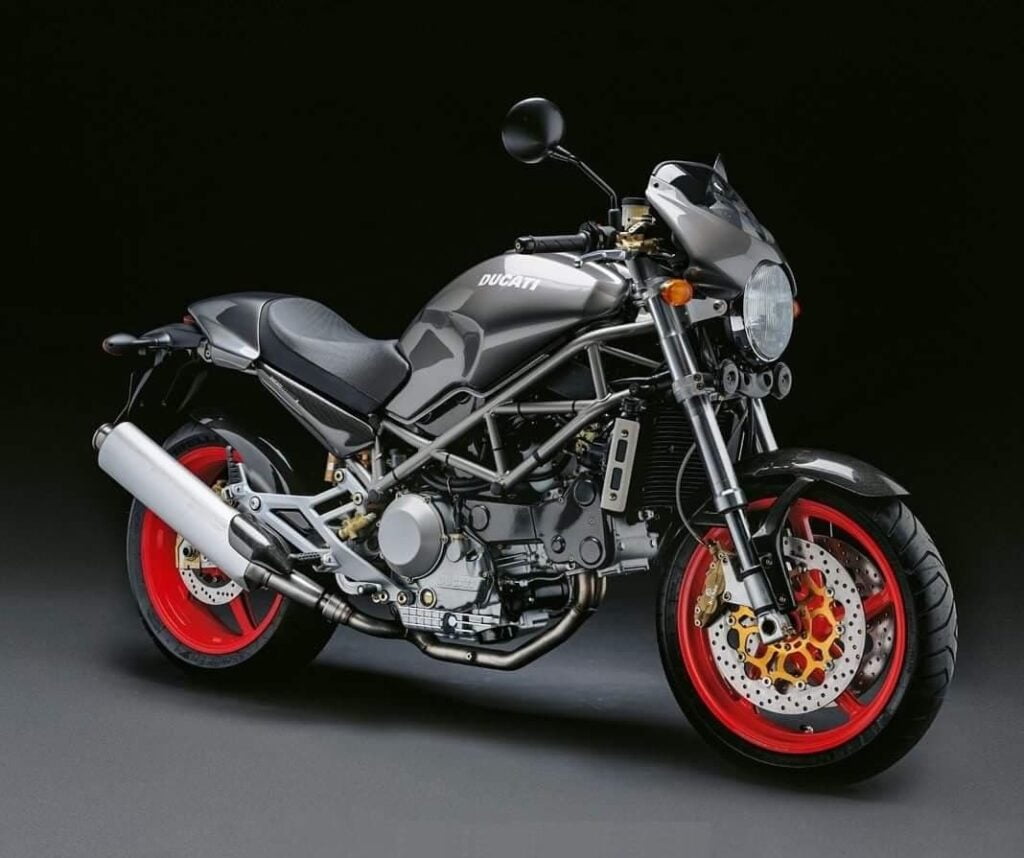 Ducati launched the Ducati Monster S4 in 2001.
The Monster S4 looked like a Monster of the time (the Ducati Monster 1000). It had the same trellis frame, double-sided swing-arm, and exhaust.
But if you compare the front of the motorcycle with other Monsters, you can see that the Ducati Monster S4 has a giant radiator. It's hard to miss once you've seen a bike without one!
The Monster S4 had the 916cc liquid-cooled 4-valved engine from the Ducati 916. The Monster S4's engine was detuned from the original superbike spec and makes a peak of 74 kW (101 hp) at 8750 rpm, and 92 Nm (68 ft-lb) at 7000 rpm.
The valvetrain is belt driven, as with other Ducati monsters of the day. And final drive is via a raucous dry clutch (with hydraulic actuation) and chain drive.
Even though the ride gear improved with later iterations of the S4 bikes, the original Ducati Monster S4 has good suspension and braking. It has Showa 43mm upside-down fully adjustable forks up front, and a fully adjustable Sachs monoshock at the back, with a piggy-back reservoir.
The braking on the Monster S4 is via 2 x 320 mm discs and 4-piston Brembo calipers, axial mounted.
See our motorcycle braking systems FAQ for discussion of calipers, rotors, brands, and so on.
The Ducati Monster S4 came with a few other trick bits, like the seat cowl and the fly screen fairing.
The Ducati Monster S4 also came in a limited edition 300-run "Foggy edition", which is more of a collectible. It's named for Carl Fogarty and comes with custom paint ("Foggy" on the gas tank) and carbon fiber bits, including decals that say "Ducati S4 Fogarty".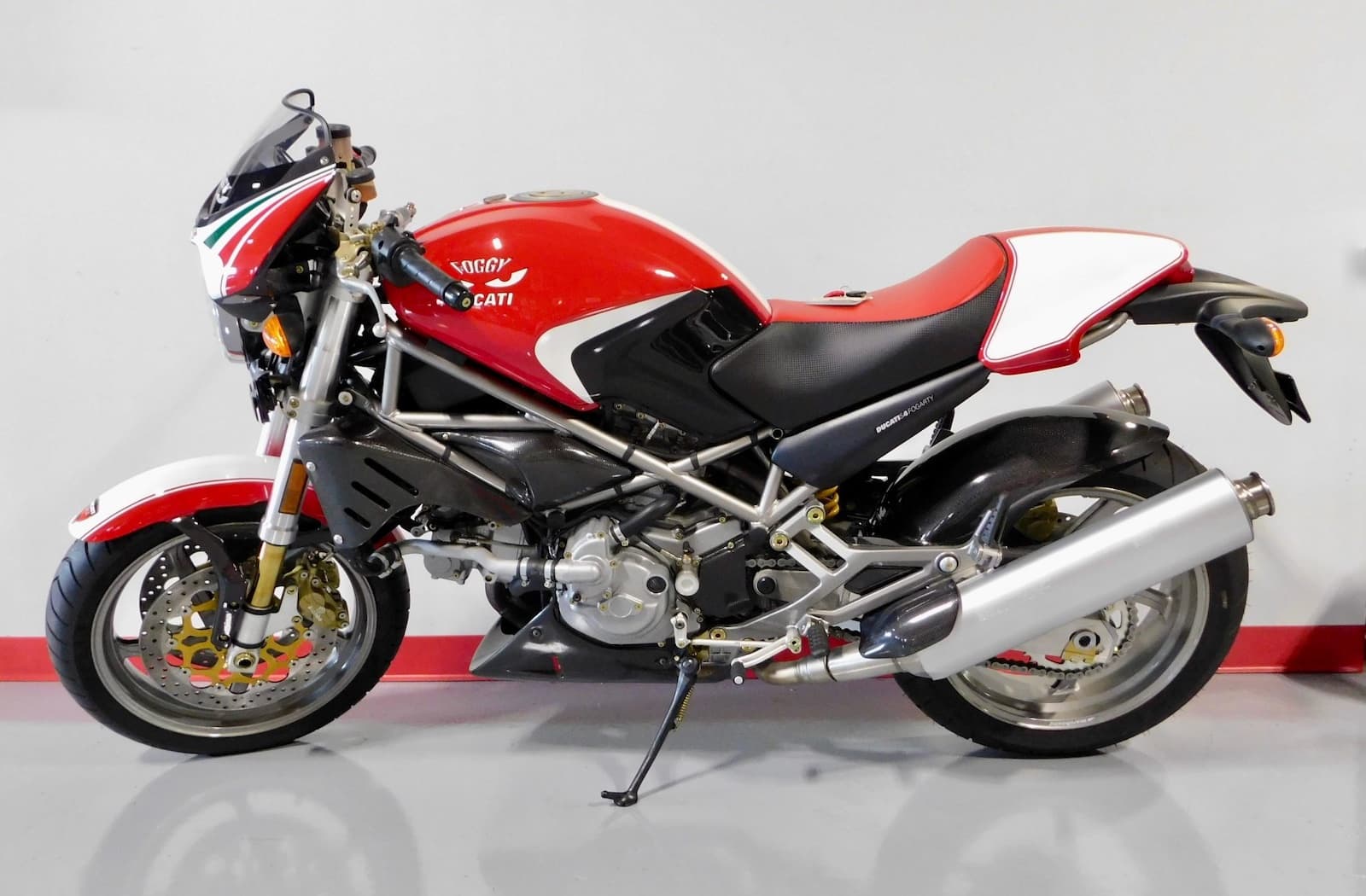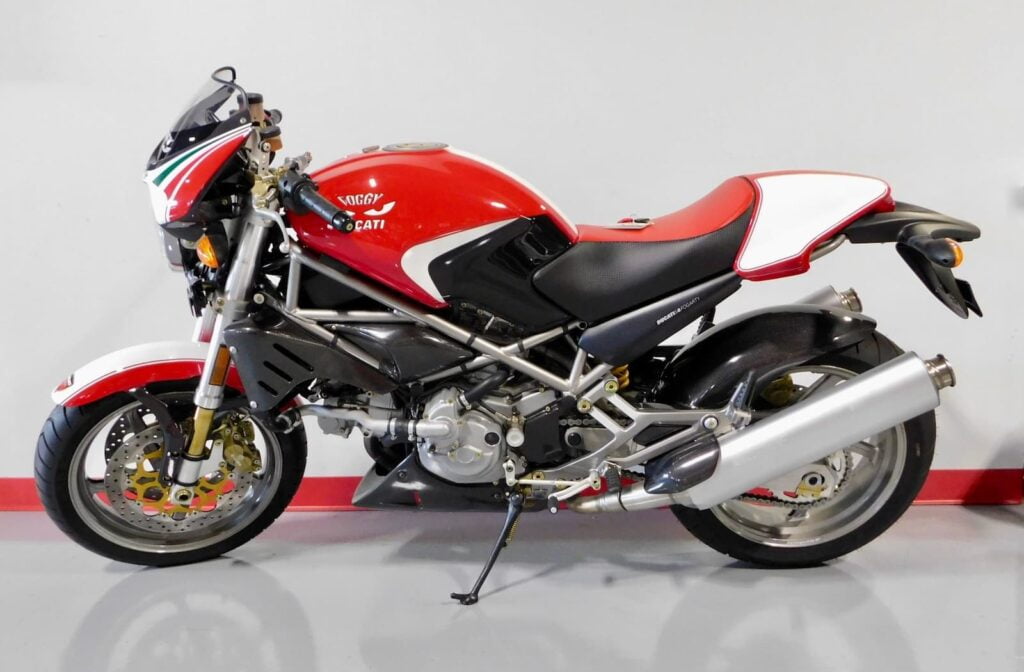 These days, the S4 is the bargain of the bunch. Because they don't look that special compared to their later stablemates, and because it's well known that the Desmo service is quite expensive, they sell for a song (and usually with the service not done).
The big update — The Monster S4R (2004-2006)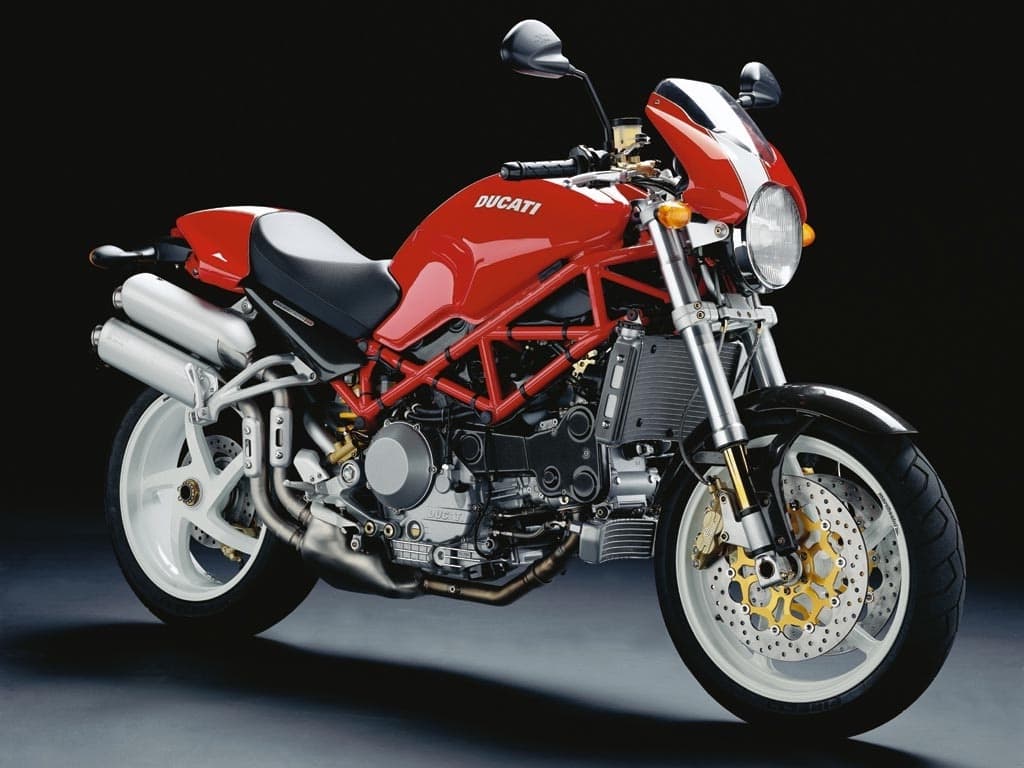 The update that really caused people to take notice was the Ducati Monster S4R.
The S4R got its engine from the 996, the successor to the Ducati 916 (from which the predecessor to the S4R, the S4, got its engine).
The motor is re-tuned slightly for more midrange torque, but engine in the S4R remains a powerful weapon. It's a 996cc liquid-cooled fuel-injected 90-degree L-twin with a compression ratio of 11.6:1. It makes max power of 83 kW (113 hp) at 9500 rpm, and 101 Nm (74 ft-lb) at 7000 rpm. It redlines at 10500 rpm.
The Ducati Monster S4R is still more geared towards winding open roads than stop-start commuting, but it benefits from more mid-range torque than the original S4 (as the 996 did compared to the 916).
But aside from the engine notable change to the S4 was the styling. The Ducati Monster S4 was the first Ducati Monster to get a single-sided swing-arm, with that rear wheel exposed by up-swept exhausts. Ducati in their press briefing admitted that this was for style, but it does have other benefits — I find it easier to adjust chain tension on a single-sided swing-arm. (And you can use a normal rear wheel stand if you know the trick!)
The Ducati S4R retained mostly the same riding gear as the original S4 — Showa 43mm upside-down fully adjustable forks up front. But the rear shock is a Sachs monoshock with no piggyback reservoir — still with full adjustability.
The braking on the Monster S4 is via 2 x 320 mm discs and 4-piston Brembo calipers, axial mounted — again, same as on the S4.
The Testastretta — Ducati Monster S4Rs (2006-2008)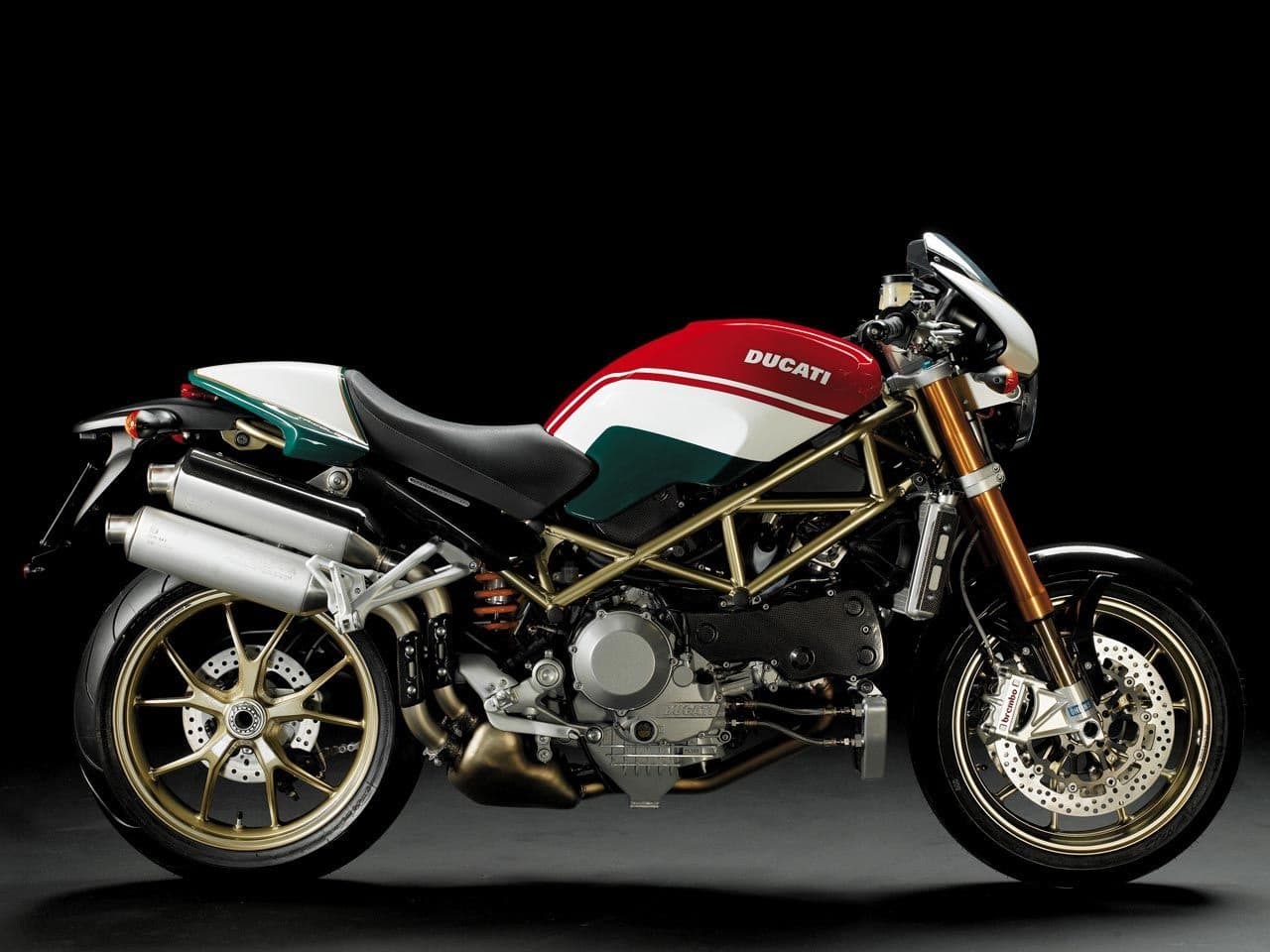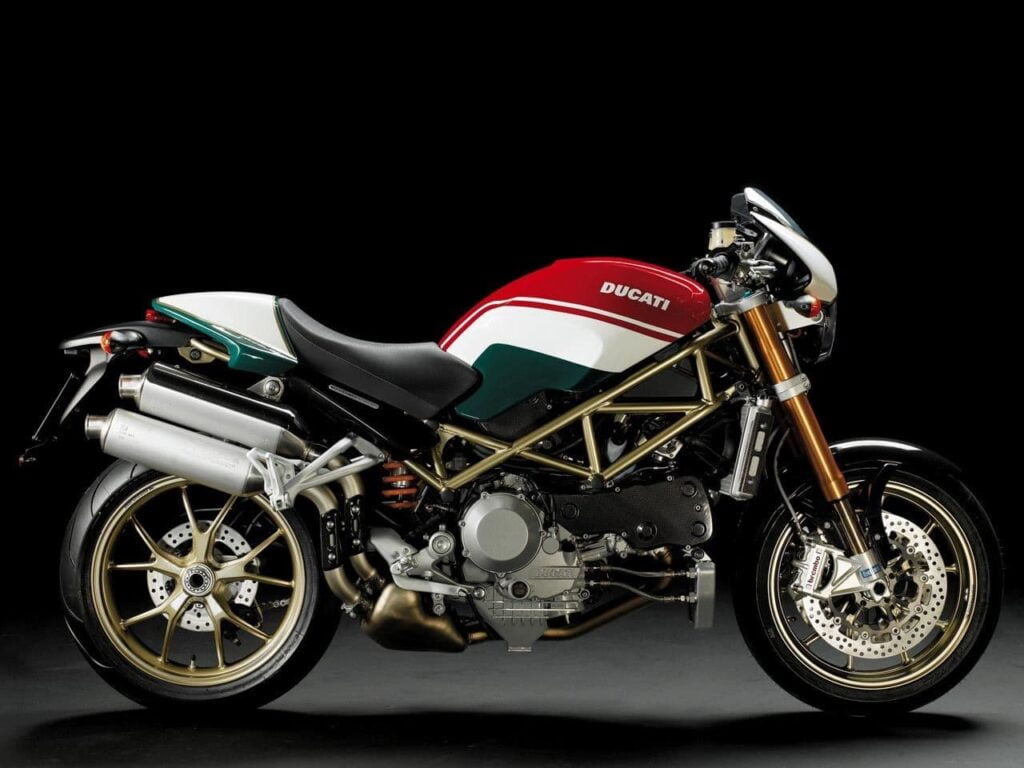 Ducati released the Monster S4Rs in 2006 and made it through to 2008. In its final year, Ducati produced it in Tricolore colors — stunning to look at, rare, and quite valuable. In fact, most photos of the Monster S4Rs that you find around are of the Tricolore, just because it's so beautiful to look at. It's a contender for the best Monster of all time! (Some unabashedly think so, but it's a tough crowd with some interesting and different contenders, depending on your preferences.)
The S4Rs is an incredible machine — beautiful to look at, very fast, and very high-spec.
The Ducati Monster S4Rs is based on the 998cc engine from the Ducati 999 and 999S. It's a 998cc liquid-cooled 4-valve-per-cylinder 90-degree L-twin. In the S4Rs, this motor makes 96 kW (130 hp) at 9750 rpm, and peak torque of 104 Nm (77 ft-lb).
Keen observers will notice that the S4Rs' 998cc motor has a wider bore and shorter stroke than the outgoing 996cc motor. This shorter stroke means the pistons rev up more quickly.
See my guide to bore, stroke, and displacement.
The "Testastretta" motor was a generational change from the Desmoquattro from previous times. It's the same fundamental concept of motor — a liquid-cooled V4 with dual overhead cams and four valves per cylinder. But Ducati widened the bore to make a higher-revving motor, and thus went to great lengths to widen the intake and exhaust ports. To accomodate this, they had to re-arrange the inside, and reduce the valve angle — thus the "Testastretta" design.
See here for a guide to Ducati motorcycle engines, from Desmodue onwards, including the Testastretta and its variants.
Reviews of the S4Rs describe it as arm-wrenchingly fast. Similar to others in the line, it handles very well, and works well in corners but doesn't tip in quite as quickly as a superbike, being slightly heavier.
The most obvious clue that you're looking at an S4Rs is that gold Öhlins front fork. This is what distinguishes it from an S4R Testastretta (see below).
Other distinguishing features are the lightweight Y-shaped 5-spoke wheels, which are from the Ducati 999R, and the radial-mounted Brembo brake calipers (a first for the Monster line).
The Ducati Monster S4Rs is the last Ducati Monster to have a liquid-cooled four-valve engine and a dry clutch.
Ducati Monster S4R Testastretta (2007)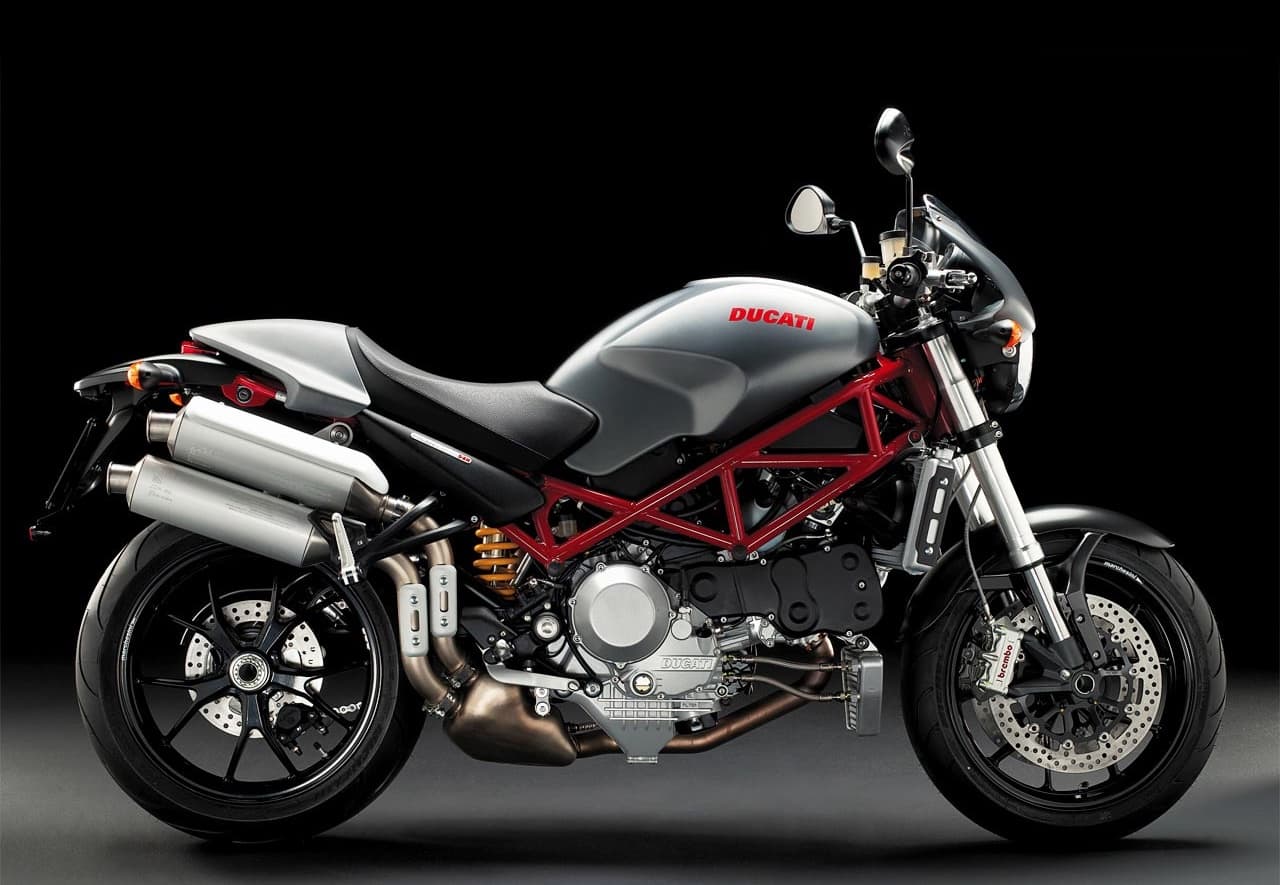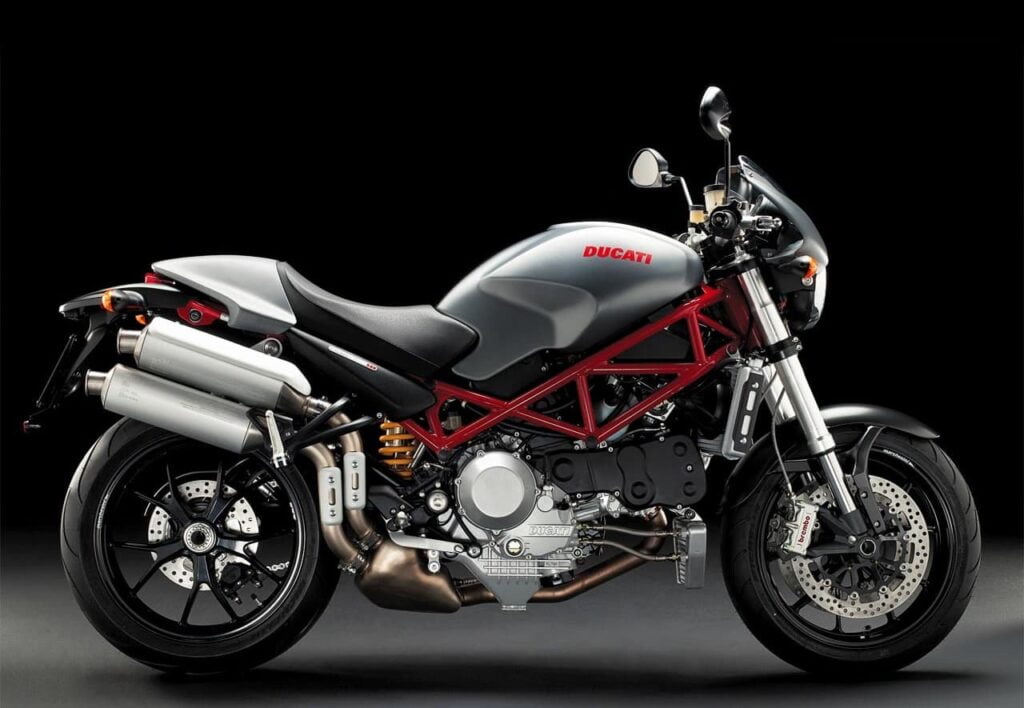 The Ducati S4R Testastretta was a slightly confusing (well, to me) release, looking back through historical archives.
Ducati released the S4R Testastretta after they had already been selling the S4Rs Testastretta. It's basically an S4Rs (same 998cc motor from the 999, brakes, most bits including brakes and wheels), but minus
Öhlins suspension front and rear
Some carbon fibre bling
Essentially, if you see what looks like an S4Rs but without gold front forks, you're looking at an S4R Testastretta.
What to Check when buying a bike from the Ducati S4 Range
I've gone into more detail into what to check when buying a used Ducati elsewhere.
But in a nutshell, here's what to check.
Overall thrashed-ness: In general, these are fast bikes, not more sedate fashionista machines ridden slowly around town like the gentler air-cooled monsters.
As you would if you were buying a used Yamaha MT-09, you could expect that the owners have done one or more of the following: wheelied them, tracked them, crashed them, or broken them. None of those are deal-breakers, but it's better to know.
Valve and belt service. Find out the last time AND mileage at which this was done.
This is an area of confusion. People will say things like "The belts were changed xx kms ago", whereas the distance and time are both important.
Belts have to be changed every 2-5 years (depending on how strict you are) OR on a distance basis, whereas valves have to be checked on a distance basis only (every 10-12000 km, or 6-7500 miles on these models).
If they haven't been done, factor in a minimum of a half day's worth of service at a decent mechanic plus a few hundred dollars worth of parts.
Termignoni exhaust + Tune (you can get the tune done yourself). A Termi exhaust is a valuable and awesome upgrade for these models, making them even more sought after.
You will find it very hard to find a second-hand Termi exhaust system. So ideally be patient and find one with it done.
It's also getting hard to find the aftermarket computers — but that's OK as you can get a tune done.
The "red" key — originally was used to program other keys. It's really just a nice-to-have these days.
Epilogue — what is next for the Superbike-powered Monsters?
The last air/oil-cooled Ducati Monster was the Ducati Monster 1100, the last model of which was the Monster 1100 Evo.
Beyond that, the Ducati Monster 1200 and its smaller stablemate the Monster 821 were liquid-cooled and four-valved machines. This set the pace of Ducati Monsters from then onward.
Today, the only Ducati Monsters sold are the Ducati Monster 2021 model (known as the 937 informally). It gets its four-valve liquid-cooled engine from the Ducati Supersport, completing a circle that began in 1993 with the first Monster — that also got its engine from a Supersport.
See here for more about the Ducati Monster 937.
The Ducati Monster 1200 is in dwindling supply new. But it's the last Monster that is made on the basis of a superbike engine (from the 1198). The 937-cc Testastretta 11-degree engine does have its roots in superbikes, too, but the connection is weaker with the reduced capacity. Still, it's a great motor!
Right now, it seems like the Ducati Streetfighter V4 has taken the place of the old Monster in that it has a superbike engine in a more road-going chassis. (See our guide to the Ducati Streetfighter line here.)
We're yet to see if Ducati will release a Ducati V4-powered Monster. Time will tell.