In mid 2021, Yamaha announced its new R7 (or YZF-R7) with a 2022 model year. It's basically a new motorcycle for Yamaha — a middleweight engine in a sporty chassis, without the extreme specs of the YZF-R6, and with the competent 270-degree crank CP2 engine instead.
For those who don't follow motorcycles obsessively, I want to talk a little about how the Yamaha YZF-R7 is different to all the other middleweight motorcycles in the same category.
It's also helpful to look at how the Yamaha YZF-R7's specs make it a little unique in the motorcycle world. It's an interesting blend of aggressive position, an engine known for strong mid-range (and not necessarily high-end rush), and competent suspension.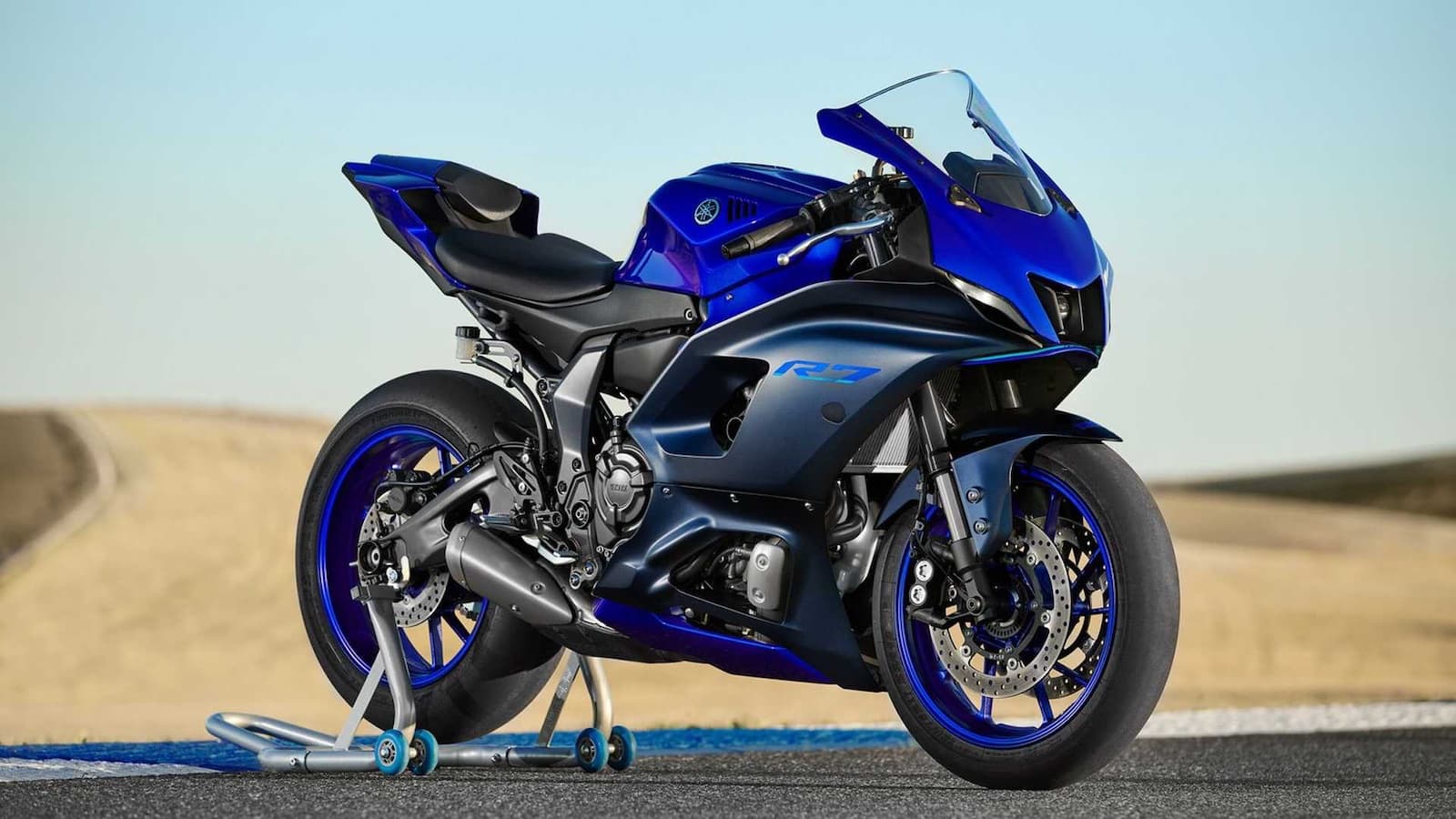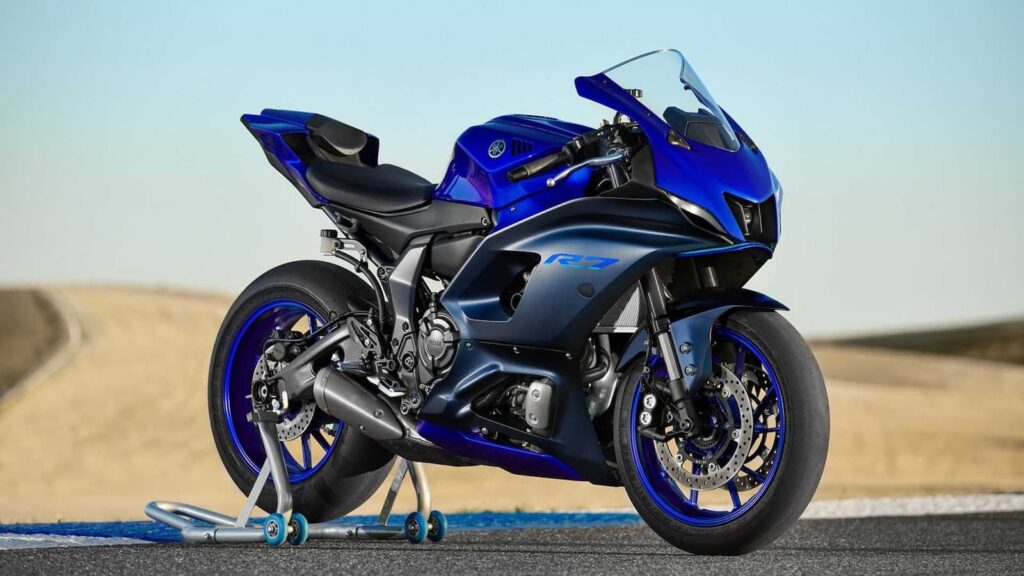 Are you obsessed with motorcycles?
Well, I am. That's why I created this site — as an outlet. I love learning and sharing what others might find useful. If you like what you read here, and you're a fraction as obsessed as I am, you might like to know when I've published more. (Check the latest for an idea of what you'll see.)
Basic specs of the Yamaha YZF-R7
OK, we all know you can't ride a spec sheet, but they ARE informative! Here they are in a nutshell.
| Part | Yamaha YZF-R7 spec |
| --- | --- |
| Engine | 689cc liquid-cooled 4-valve-per-cylinder DOHC parallel twin CP2 engine — same one as in the MT-07, XSR700, and Ténéré 700 |
| Power (claimed) | 54 kW (73.4 PS / 72 hp) @ 8,750 rpm — similar to the power for the engine as it is in the MT-07. |
| Torque | 67 Nm (50 lb-ft) @ 6,500 rpm — good torque, not too high |
| Redline | 10-12K is the red zone, but with a natural shift around 7-8K. Optimum shifting is 9-10K. |
| Wet weight | 187 kg / 414 lb wet weight (fully fuelled/ready to go) |
| Front suspension | KYB inverted (USD) fork, fully adjustable for preload, rebound damping, and compression damping. |
| Rear suspension | Horizontally mounted linked Monocross single shock, adjustable for preload and rebound damping |
| Front brakes | 4-piston radial calipers on dual 298mm rotors with a Brembo radial master cylinder |
| Rear brakes | Single 245mm disc |
| Drivetrain | Six-speed transmission, chain drive, double-sided swing-arm |
| Tyres | Front: 120/70 ZR 17, Rear: 180/55 ZR 17 |
| Price | US MSRP: $8,999 |
Basic specs of the Yamaha YZF-R7
Below I'll look a little different about what makes the Yamaha YZF-R7 special. I'll do this by comparing it to other offerings both from Yamaha and other companies.
The Yamaha YZF-R7 vs the Yamaha R6 — A Grunty Middleweight vs a Top-end Screamer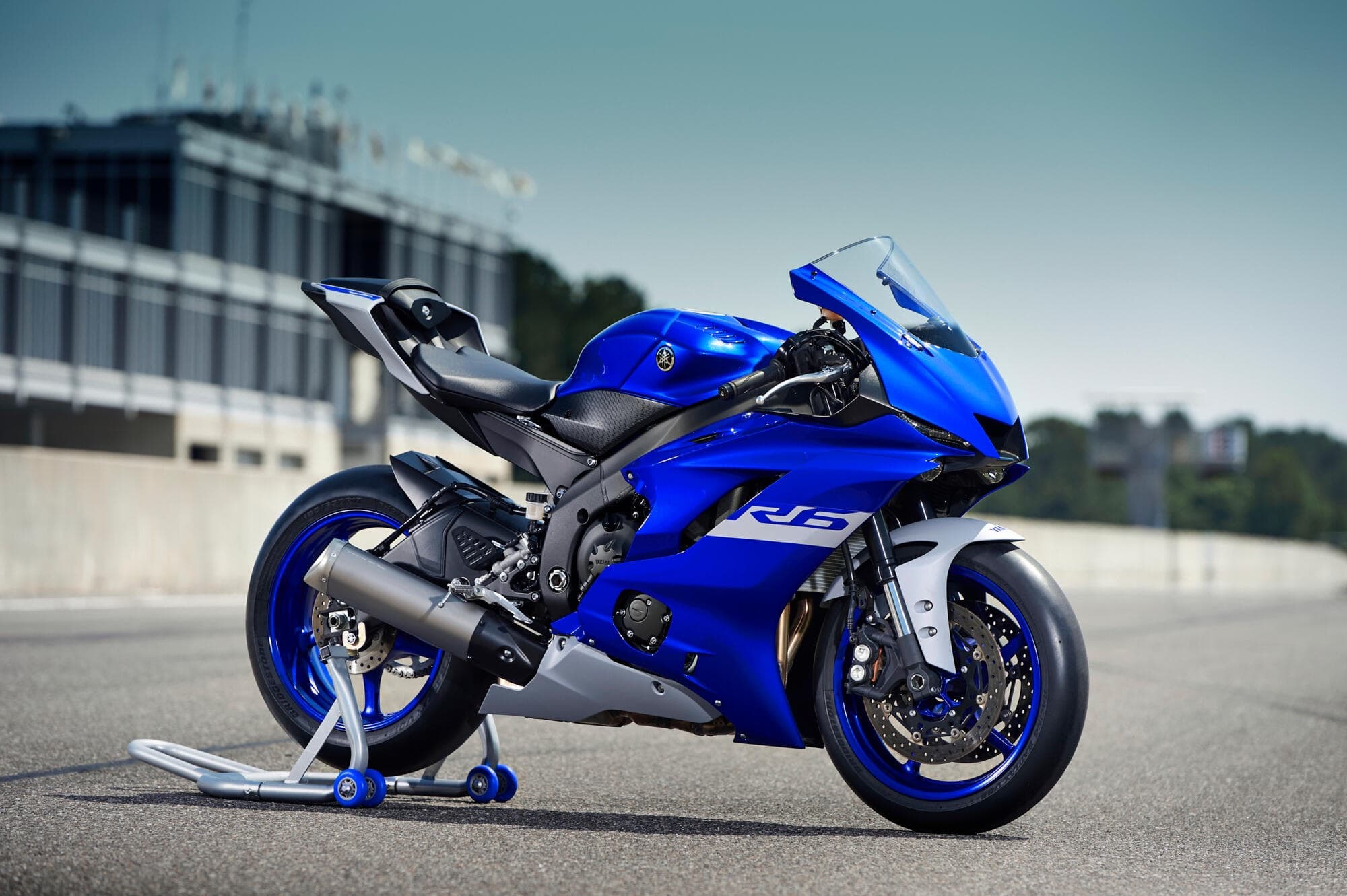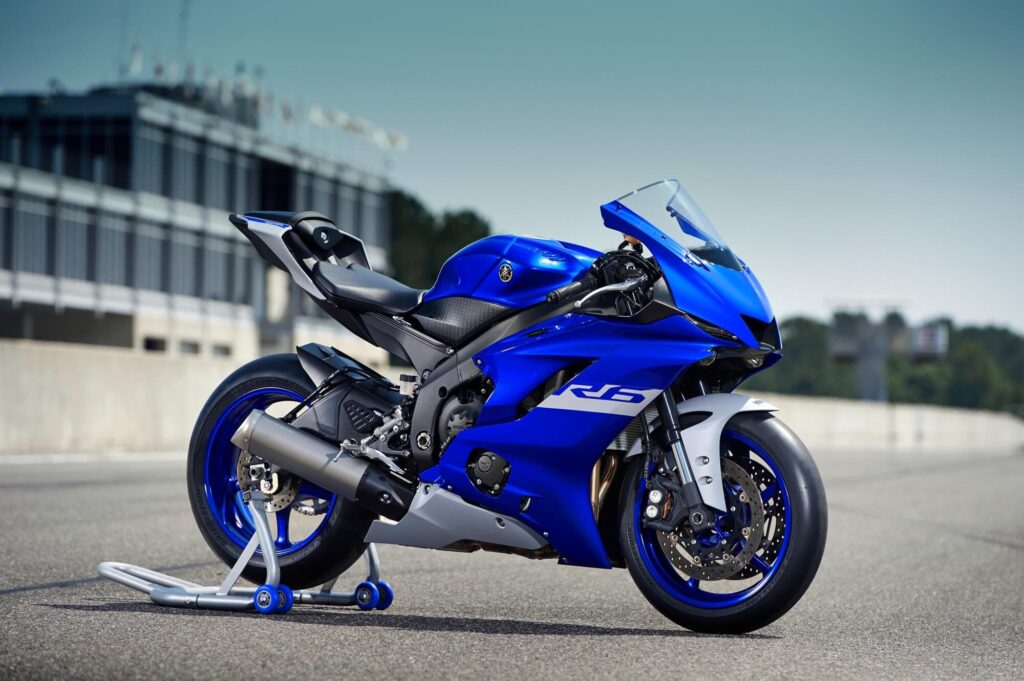 The first thing people will assume is that the Yamaha YZF-R7 is an evolution of the Yamaha YZF-R6, a motorcycle that had racers giddy for two decades before Yamaha retired it from street use in 2020. They still make it, but not for the road (and not available in all markets).
After all, they look kind of similar. Which is a compliment — the YZF-R7 is indeed a very attractive motorcycle.
The tendency, these days, is for manufacturers to make engines bigger to help them comply with emissions regulations. This helps the manufacturers get more power out of them despite the added baggage of exhaust restrictions. This happened, for example, with the 2021 Yamaha MT-09.
But even though the YZF-R7 is a "bigger" engine in terms of absolute capacity, the engine is very different. It's the CP2 engine from the MT-07, which is a "street-oriented" engine. Here are how they're different in a nutshell:
Part
2021 Yamaha YZF-R7
2020 Yamaha YZF-R6
Engine
689cc liquid-cooled 4-valve-per-cylinder DOHC parallel twin with 270-degree crank
599cc liquid-cooled DOHC inline 4-cylinder engine with 16 valves
Peak power
54 kW (72 hp) @ 8,750 rpm
87 kW (117 hp) @ 14,500 rpm (much more power, much higher redline)
Suspension
Front: 41mm KYB inverted (USD) fork, fully adjustable
Rear: 2-way adjustable monoshock (not bad)
Front: 43mm KYB inverted (USD) fork, fully adjustable (stronger)
Rear: 4-way adjustable KYN shock with piggyback reservoir (much more advanced)
Braking
4-piston radial calipers on dual 298mm rotors with Brembo master cylinder
4-pison Nissin calipers, dual 320mm hydraulic discs (bigger discs)
Weight
187 kg / 414 lb wet weight
190 kg / 419 lb wet (slightly heavier/pretty much the same)
Comparing the YZF-R7 and YZF-R6 specs
So, what do the two bikes have in common? The most obvious thing is the riding position. Both the YZF-R7 and the YZF-R6 have an aggressive, "bum-up, head-down" position that most will find uncomfortable on the road for more than 30 minutes. (If you're interested in commuting on the R7, see my guide to sportbike riding position for everyday riding.)
The second thing they have in common is that they're both lightweight motorcycles with competent suspension and braking. Both the YZF-R6 and YZF-R7 weigh in under 190 kg (419 lb), with the R7 being slightly lighter. They both have fully adjustable front suspension and adjustable rear suspension, though the R6 has a more advanced shock.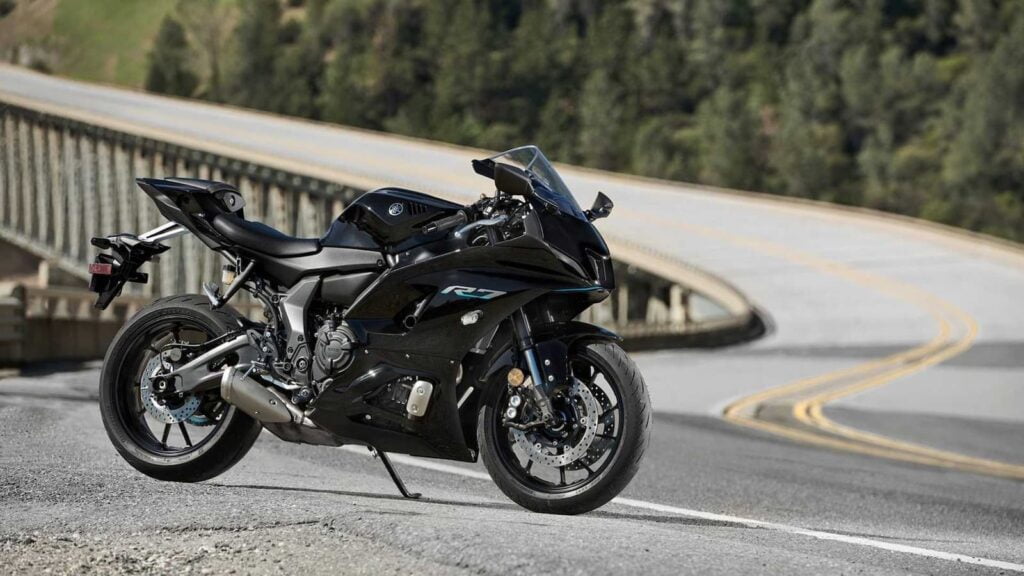 This is an important factor to note because one criticism of most middleweight street motorcycles is that the suspension is too soft (under-sprung) and that it often lacks adjustability. This is something people say about the MT-07, for example — its suspension has no adjustability (but more on that in a second).
Both bikes also have similar tyre profiles.
The most obvious difference between the Yamaha YZF-R6 and the YZF-R7 is the engine.
The R6 has an inline four-cylinder engine with a huge top-end rush of torque and a redline north of 15,000 rpm. Racers will keep it screaming above 9,000 rpm most of the time to get the most out of the peak torque. Torque down low (e.g., when commuting) is like taxiing a fighter jet — a far cry from what the bike is capable of.
The R7 has a parallel twin engine (the CP2) that redlines at 12K RPM and encourages most riders to shift around 9-10,000 rpm at most — and most street riders are totally happy shifting at 5-7K. You make most of the torque from around 4,000 rpm, after all.
The character of the engines is also very different. The Yamaha YZF-R7's CP2 engine is a grunty twin with a lumpy sound that's something like a V-twin, but a modern one (not like an old Harley or Ducati). It has a steady off-beat purr that an aftermarket exhaust system can turn into a loud bark.
The CP2 engine is also notoriously reliable. The inline four of the R6 is not known for being unreliable, though. But I recall Yamaha has claimed (though I can't find the original source) that the CP2 is, by their measure, the most reliable motorcycle engine ever made.
Comparing the YZF-R7 to other middleweight sports bikes that are geared for top-end power — like the 2021 Honda CBR600RR for example — is similar. If you ride on the street, choose mid-range torque over top-end power.
So, let's move on to another comparison.
The Yamaha YZF-R7 vs the Yamaha MT-07
Right, most people who are going to consider the YZF-R7 are going to think "But why would I get this and not an MT-07?" or the other way around. Very good question. Let's look at the core spec differences again.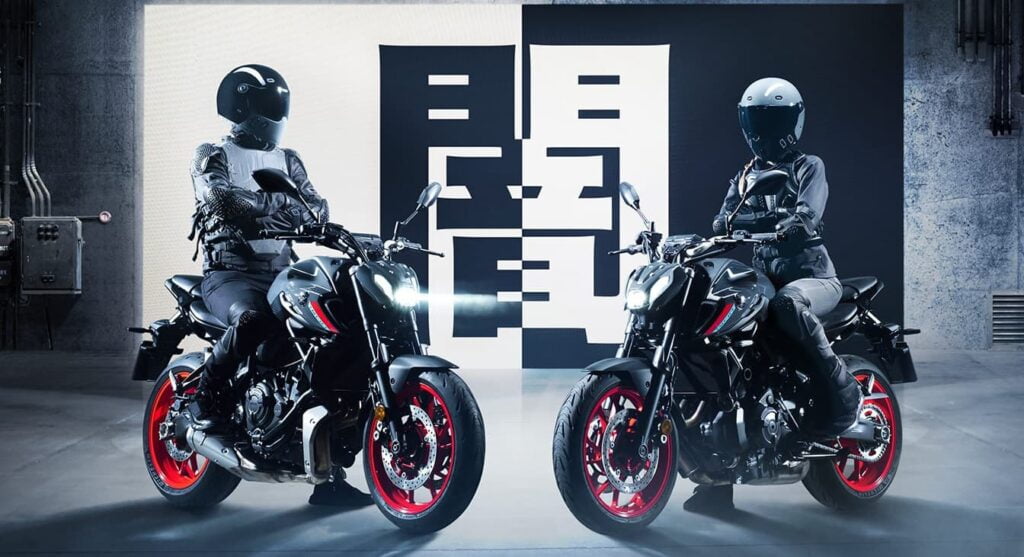 Part
2021 Yamaha YZF-R7
2021 Yamaha MT-07
Riding position
Aggressive — bum up, wrists and head low, with clip-on handlebars
Comfortable — handlebars rather than clip-ons
Suspension
Front: 41mm KYB inverted (USD) fork, fully adjustable
Rear: 2-way adjustable monoshock
Front: 41mm non-inverted fork, non-adjustable
Rear: 2-way adjustable horizontal shock
Braking
4-piston radial calipers on dual 298mm rotors with Brembo master cylinder
Dual 298mm rotors (the pre-2021 model had 282mm)
Weight
187 kg / 414 lb wet weight
184 kg / 406 lb wet weight
Comparing the YZF-R7 and MT-07
The quoted engine and power specs are almost identical, so I'm leaving that out. Let's look at the other core differences between the YZF-R7 and the MT-07.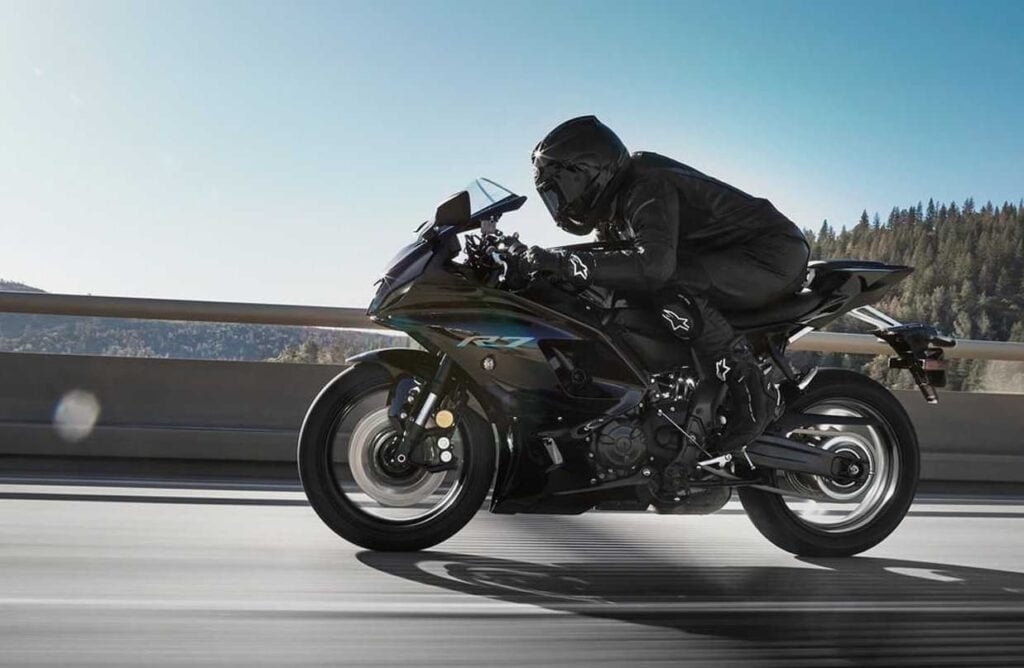 Firstly, the riding position of the YZF-R7 compared with the MT-07. Obviously, with handlebars, the MT-07 has a much more comfortable riding position. This can be both a pro and a con. If you want to spend most of your time in a racing tuck, like in the image above of the YZF-R7, then you might prefer low, clip-on handlebars, and to grip the tank with your knees.
Otherwise, for everyday riding, the MT-07 will be more comfortable for most people.
Another consideration is that sometimes an engine is better suited to a specific riding position. I personally like very aggressive engines, like those that lift the front wheel easily, to let me lean forwards. The MT-07 already has somewhat forward-leaning handlebars, so it's OK for keeping front wheel traction. On the other hand, if you want to do wheelies — the MT-07 with its handlebars is more likely for you!
Secondly, let's look at the suspension of the MT-07 vs the YZF-R7. The front suspension on the YZF-R7 is a fully adjustable inverted fork; the MT-07 has a non-adjustable conventional (non-inverted) fork.
While the suspension on the MT-07 isn't "bad", it's not likely to be suitable for dedicated track work, and people outside the "normal" range of weights (whatever Yamaha has deemed that to be) will find the ride either harsh or undersprung.
(For discussion of the benefits of an inverted fork on unsprung mass, see our front suspension fork FAQ.)
The rear shock of the MT-07 and the Yamaha YZF-R7 is quite similar — a horizontal shock adjustable for preload and rebound damping only. A good track upgrade for the YZF-R7 is likely to be an improved shock (maybe the one off the R6…)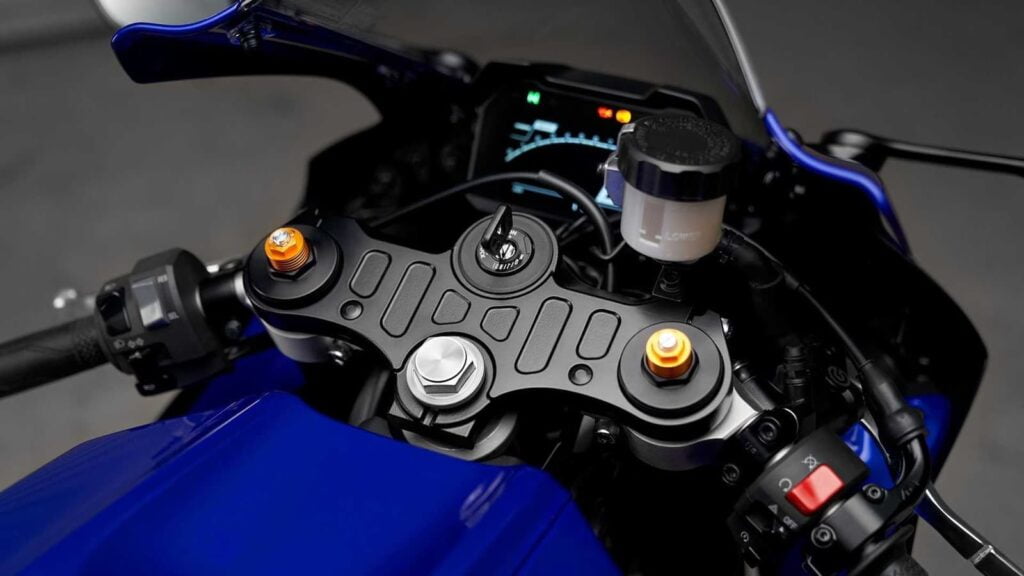 Braking specs are similar, though I'm sure the Brembo-branded master cylinder on the YZF-R7 will help the brakes outperform those on the MT-07 (though it will not be noticeable to casual riders).
The wet weight is also similar, with the MT-07 weighing in slightly lighter. The benefit of having far fewer fairings!
So all in, the main difference between the MT-07 and the YZF-R7 is in the riding position and in the quality of the suspension.
Comparing the 2021 YZF-R7 to a few other motorcycles
The "middleweight sports" category of motorcycles is booming. A combination of factors are driving this, including emissions controls making high-power motorcycles soon to be a thing of the past, aggressive speed policing meaning people want to have fun on their bikes without going north of 200 km/h (140 mph), and riders getting… dare I say it… more mature? More safety conscious, anyway.
Not that you can't kill yourself on any of these (heck, you can kill yourself crossing the road on foot).
Here are a few other "middleweight sports" bikes that people might be tempted to compare the YZF-R7 to.
The Kawasaki Ninja 650. This is a commuter bike, with a fairing but a fairly upright seating position, handlebars, and non-adjustable front suspension. It has Kawasaki's bulletproof but unexciting 650cc parallel twin with a 180-degree crank that most people can't kill without crashing their bike first. The Yamaha YZF-R7's engine has a much better rap as being a fun motor. On top of that, the Yamaha R7 has fully adjustable front suspension, lighter weight, and a much more aggressive riding position.
The Aprilia RS 660. This is a bike I'd compare to the YZF-07 — and the Aprilia comes out on top. It has a sporty riding position, though it's not quite as sporty — the handlebars are actually in a comfortable position (about an inch higher than on a true sports bike). The 659cc 270-degree parallel twin has a similar bite to the engine in the MT-07, but it's tuned for a lot more power, though with less low-end torque. The RS 660 also has some cool tech niceties like an IMU with cornering ABS and even cruise control.
The Honda CBR650R. When available in full-power edition, this is another bike I'd compare to the 2021 Yamaha YZF-R7 (again, favourably). The CBR650R is also more comfortable for a sports bike, with slightly higher-up and splayed-out clip-on style handlebars. The CBR650R makes a lot more power than the parallel-twin of the R7, and the inline-four has a different character — more revvy, more racey. The 2021 CBR650R got a higher-spec Showa Separate Function — Big Piston fork, but it's still non-adjustable.
So which bike would I pick out of the above?
I'm the kind of person who likes the scream of an inline-four, so I'd most likely go with the Honda CBR650R. It's just one of my favourite bikes.
Alternatively, I'd love to see the R7's fully adjustable forks ported over to the MT-07. Suspension upgrades are common on the MT, so this would make a lot of people happy.
But if you like the lumpy bite of a parallel twin with a 270-degree crank and want it on a sport bike, then go for the YZF-R7. I doubt you'd regret it!