How do you "review" a cult bike? A bike which has forum faithful frothing at the mouth about the virtues of the V4? A bike with decades of history that Honda has tried to re-invent and re-introduce a couple of times? That's my problem with writing this VFR800 8th gen review — it's almost impossible to satisfy everyone. Because ultimately, I sold it, and not every aspect of my VFR800 review is glowing.
So this is as balanced a review of my VFR800 as possible. I'm not you, you're not me, but maybe we share some things in common — let's see if my view helps.
---
Early in 2021, I was looking for a commuter bike.
I knew I'd have a 40-50km commute most days of the week for the terms of a 6-month project I had — mostly freeways, a bit of traffic, some sweepers, and a few nice entry and exit ramps.
… But what's a "commuter" bike? You can commute on anything. I've seen people "commute" in supercars and on superbikes. I suppose it's different for anyone, but to sum it up neatly… a commuter motorcycle is a bike you don't mind putting miles on, and on which you can still have fun (it's a motorcycle, after all). So on one extreme, don't commute on your showroom Ducati 916 with zero miles on it, but on the other hand, you don't have to be on a Honda CB500 (not that there's anything wrong with that, though).
After considering a few options that could work for me, I ended up with a Honda VFR800 8th gen. (See my guide to the Honda VFR generations as to why this is commonly called an 8th gen).
My choices were slim. This was Australia, during a COVID-driven supply shortage. Used bikes were more expensive than usual. New bikes were scarce, especially in the ideal colours.
And if I wanted a commuter bike with a bit of bark in it, my choices were slimmer. The two things don't go hand in hand. Commuters are reliable, predictable, and versatile. A fun sport bike is loud, hot, and impractical. How do you combine those two?
Well, you can't exactly… but there are a few sweet nexus points. The Honda VFR800 is one of them.
The VFR800 range has reached cult status — by which I mean the fans are adulatory, more so than the spec sheets would imply. So there was a lot I wanted to know about the VFR800, including
Is the VFR800 truly a "do it all" bike?
Is the VFR800 still exciting, or sporty?
Just how comfortable is the VFR800?
Would the VFR800's V4 engine give me that "berserk" feeling I'm used to from exciting motorcycles?
Here's what I found out.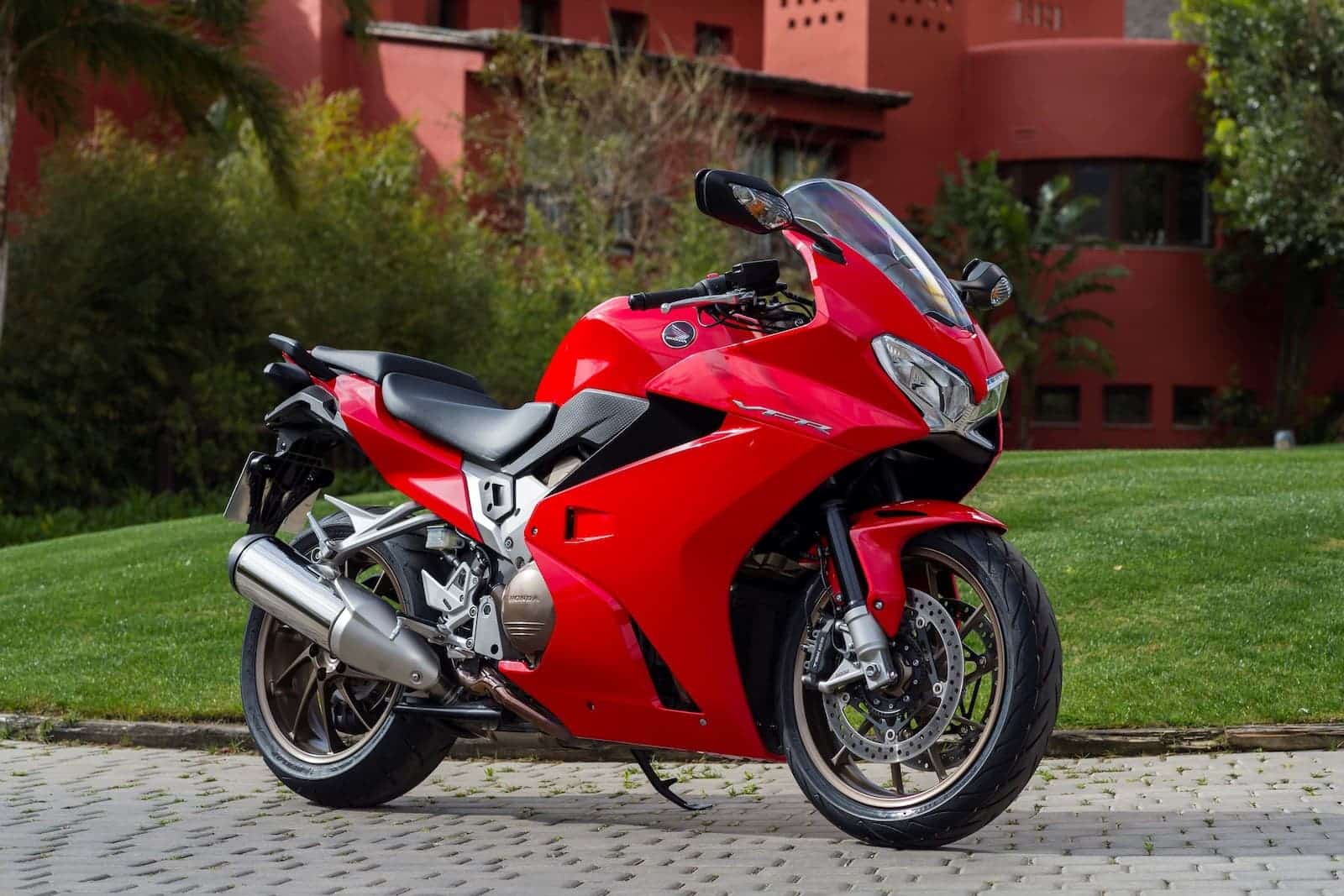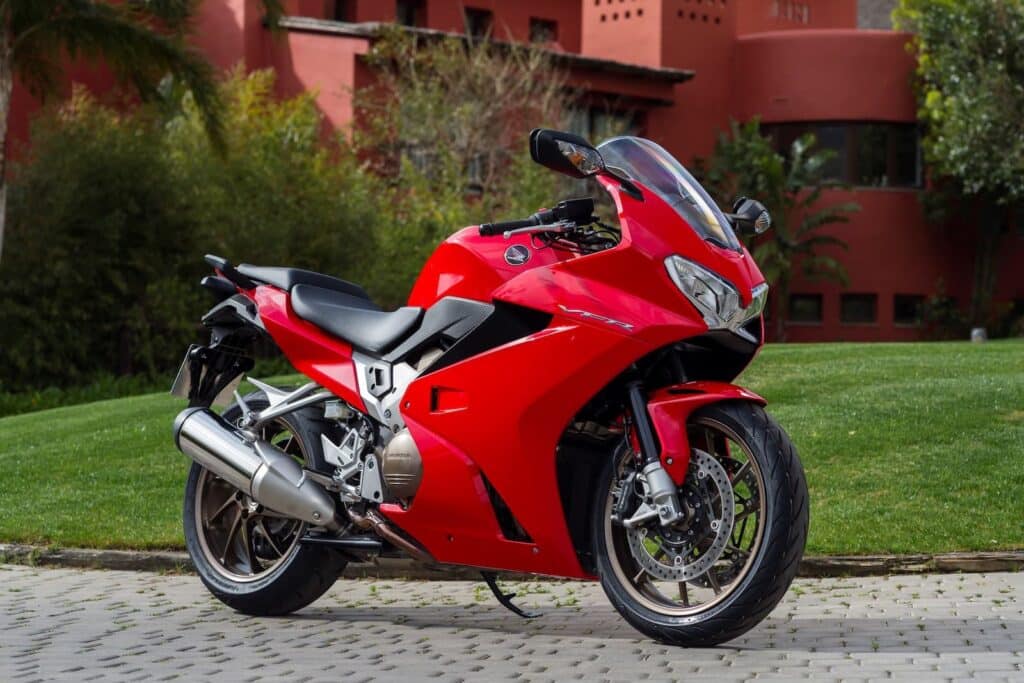 Editor's note: I ended up selling my VFR800 after three months. I enjoyed it, but it didn't light my fire.

A lot of people will tell me that if I want to go fast, ride hard, or get laughing-in-my-helmet thrills, then maybe the 8th gen VFR800 Deluxe isn't the bike for me. Or that I'm missing the point, or that maybe I should "upgrade the rider". All of that is valid.

The thing is, when you strip back any motorcycle purchase… a lot of what makes you love a bike is an ephemeral, entirely subjective feeling. Sometimes the heart knows, and sometimes it doesn't and you give it a try. With so many bombastic reviews spewing forth adulating epithets about the virtues of the VFR, I feel I owe it to the internet to say — cool machine, but it's not for everyone. In the end, it wasn't for me.

But I'll try to share why it might be for you.
Are you obsessed with motorcycles?
Well, I am. That's why I created this site — as an outlet. I love learning and sharing what others might find useful. If you like what you read here, and you're a fraction as obsessed as I am, you might like to know when I've published more. (Check the latest for an idea of what you'll see.)
Quick specs of the Honda VFR800 8th Gen
You want specs, go Google them. You can't really ride a spec sheet. But that said, specs DO let you understand why a motorcycle performs in a certain way, and that's why I look at a few key figures.
| Part | VFR800 8th gen spec |
| --- | --- |
| Engine | 782cc liquid-cooled 16-valve DOHC 90-degree V4 with VTEC valves |
| Power (claimed) | 78 kW (105 hp) @ 10,250 rpm, "not too shabby" |
| Torque | 75 Nm (55 lb-ft) @ 8,500 rpm |
| Redline | 12,000, but with a natural shift around 10K. |
| Wet weight | 240 kg / 529 lb |
| Front suspension | Showa cartridge forks, conventional (non-USD), adjustable for preload and rebound damping. |
| Rear suspension | Single shock with remote preload canister, also adjustable for rebound damping. |
| Front brakes | Tokico dual radial-mounted four-piston calipers with full-floating 310mm discs |
| Rear brakes | Single 256mm disc |
| Drivetrain | Six-speed transmission, chain drive, single-sided swing-arm |
| Price | US MSRP: $8,499. Australia: $14,499 ride away. (Price these days: about 1/2 to 2/3 of that) |
Basic specs of the Honda VFR800 8th Gen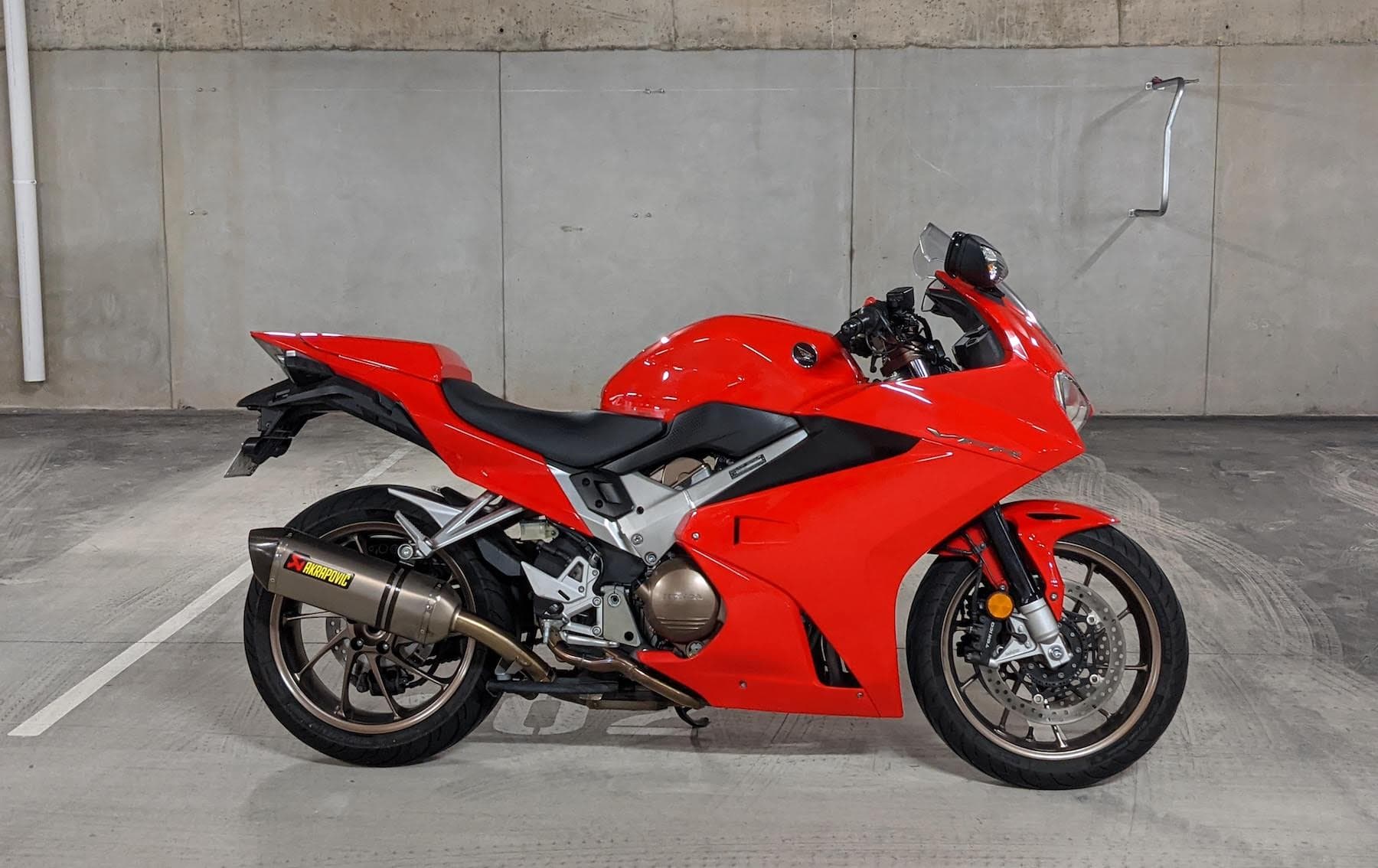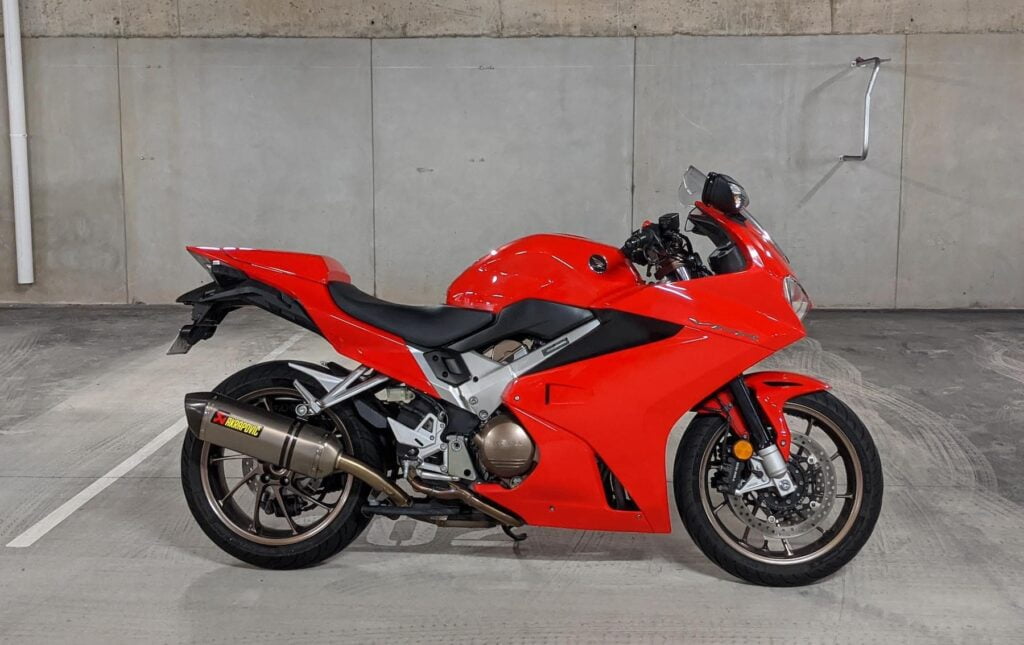 The Appeal of the VFR — Why buy a VFR800?
So, why even try a VFR? Because there's so much that it does right.
Firstly, that engine. It's a charmer. It's a V4 with a lot of character for a reliable donk with a steady purr. It has a lot more burble than that of the Hornet 919, another fast (but not insane) motorcycle from Honda that I really liked.
I always wanted to ride a motorcycle with a V4 engine without having 200hp on tap to freak me out, and the VFR800 seemed like a great contender. I often think 100hp is a good sweet spot for having fun without killing yourself.
That said, the V4 in the VFR800 doesn't produce an angry, edgy rasp like a Ducati V-twin or even the crossplane crankshaft of a Yamaha R1. It's ultimately gentle, but with a bit of an edge to keep things interesting.
Secondly, the VFR800 8th gen (specifically) has a LOT of features that make it just great value. In the "Deluxe" version that most markets get as the only option, you get heated grips, self-cancelling turn signals, a beautiful dash, a centre stand (makes chain maintenance so much easier), ABS, traction control… and at a great price.
You can even get a full set of panniers for the 2014+ VFR, with keys that you can customise to match the ignition.
You can get panniers for earlier generations. But apart from the VFR1200F (the debatable "7th gen", which is a very different motorcycle), you can't get factory, traction control, heated grips, or that sweet dash. You could get ABS from the 6th gen, optional at first, and later standard.
Thirdly, the VFR is dead easy to ride. For some reason, it is easy to throw around. Maybe it carries its (considerable) weight low. I found myself lane splitting with ease like I was on a much smaller bike.
Finally, the VFR just looks really nice. The paint on mine was deep and red and screamed "buy me! buy me!". It has beautiful bronze wheels with a single sided swing-arm. I even like the way it looks front the front — unlike many older bikes, both front lights illuminate, so well-meaning strangers don't tell me a headlight is out.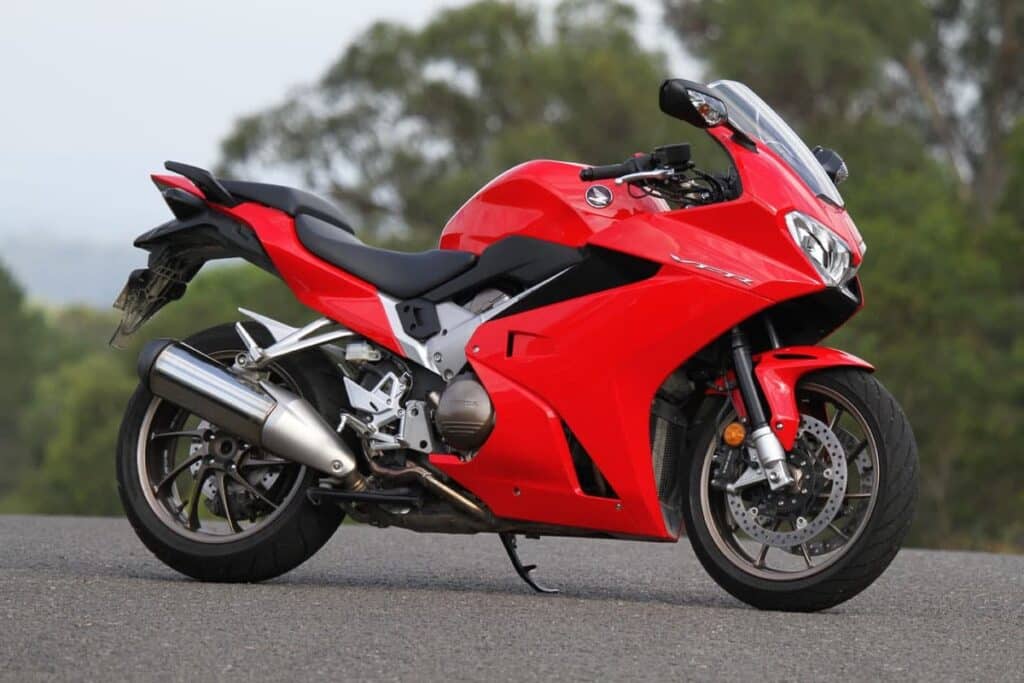 Even the dash is comforting to me — just the right amount of info, and I can turn the bloody engine temperature gauge off (it's always fine, but it is so distracting as I worry when it sometimes goes to around 100 Celsius).
Variants of the Honda VFR800 8th gen (Standard vs Deluxe)
In the US, there are two main variants of the VFR800 8th gen, the standard non-deluxe (VFR800F) and the deluxe (VFR800FE).
There are a number of features in the Deluxe version of the Honda VFR800 8th gen that make it a no-brainer.
Without hesitation, I'd recommend the VFR800 Deluxe. Here are the main differences with the Deluxe version of the VFR800:
Adjustable front suspension for preload and damping (standard has non-adjustable suspension)
Self-cancelling turn signals
ABS and Traction control
Heated grips
Center stand
I've ridden both, and I liked both similarly. Looking through the above things, you can obviously do without all the add-ons of the Deluxe version — many people are happy with their standard Interceptor.
The number one benefit of the Deluxe version is the suspension. Non-adjustable suspension is fine if you are in a sweet spot of rider weights (75-85kg or around 185 lb), but it becomes more important if you go much out of that.
Many people on standard VFRs, if they're not happy, start looking into how to upgrade their suspension. When buying new, common advice if buying the standard VFR was to spend the money you saved on suspension mods.
The second benefit is ABS. I am a big advocate of ABS for commuter motorcycles, and the VFR800 8th gen was primarily my commuter.
Aside from that, heated grips and a center stand were nice conveniences. When lubing the chain (which you should do after riding in the rain… it just happens!) in a tiny car space, it's nice not to have to go and get my stand out.
The self-cancelling turn signals are nice. But to be honest I tried not to rely on them as most motorcycles (including my other one) don't have that feature.
Finally, the traction control was… usually fine, but to be honest, annoying at times. I noticed it sometimes (e.g. launching on a dirt road), which bugged me, so occasionally I turned it off when going on a mildly spirited ride, to ensure I wouldn't get bogged down.
But should you sell your VFR800 standard for a Deluxe? Probably not! This was a question often asked in the forums. Generally, people think you can live without ABS, and spend the money you save on suspension improvements above and beyond those of the Deluxe.
(Personally I think ABS on a commuter is a must-have. You don't need it until you do, and then you're really grateful. Like it saved me from a stupid parking lot accident once when I was being a little cavalier. But that's just one more opinion.)
Riding the Honda VFR800
It's quite hard to describe what it's like to ride any motorcycle. Piecing through reviews, everyone wants to say every motorcycle is amazing at something — because everyone likes reading a positive review. Positive reviews attract fans, who then share them, giving each other confirmation bias.
But what is the VFR800 really like to ride, from someone with no agenda and who has ridden a lot of bikes? That's what I'll try to share, as well as to dispel any myths.
In summary, riding the VFR is like riding a fast enough, reasonably comfortable sportbike. It's definitely faster than you need for a commuter, but without being so powerful that it's champing at the bit and egging you to go on, way past speed limits. It corners easily, and holds itself with grace through everyday curves — it's hard to scrape it in normal everyday riding (well, at least on my route), and that's getting past angles of 35 degrees on turnoffs and roundabouts.
Firstly, the VFR800 is not a sport bike. It's fast enough. For someone who has ridden bikes spanning 10-200 hp and enjoyed them all in different ways, I equate riding the VFR with any number of middleweight commuters — the Kawasaki Ninja 650 (full power), Yamaha Tracer 900 GT, or Honda Hornet CB900 919, just to name a few.
"Blasphemy!" cry the VFR800 faithful. Many people take VFRs to the track, after all, and will be quick to point out that it has its roots in racing, and they know a person (or are that person) who can make mincemeat of more powerful sport bikes because it's more about the rider than the bike.
That's all true. But everything's relative. I guess there are a few definitions of fast — lap times, acceleration times, and just "feeling" fast. By all three of these metrics, a VFR800 will lose to a 600cc sportbike, particularly the last definition. But the degree of importance of each of those is entirely up to you.
Launching the VFR800 is fun. Being a commuter or sport tourer, it doesn't rev to infinity and isn't geared for top speed. So you can give it full throttle and shift into second at around 80 km/h / 50 mph quite naturally, or push it forward to 100 km/h / 60 mph where you really need to shift.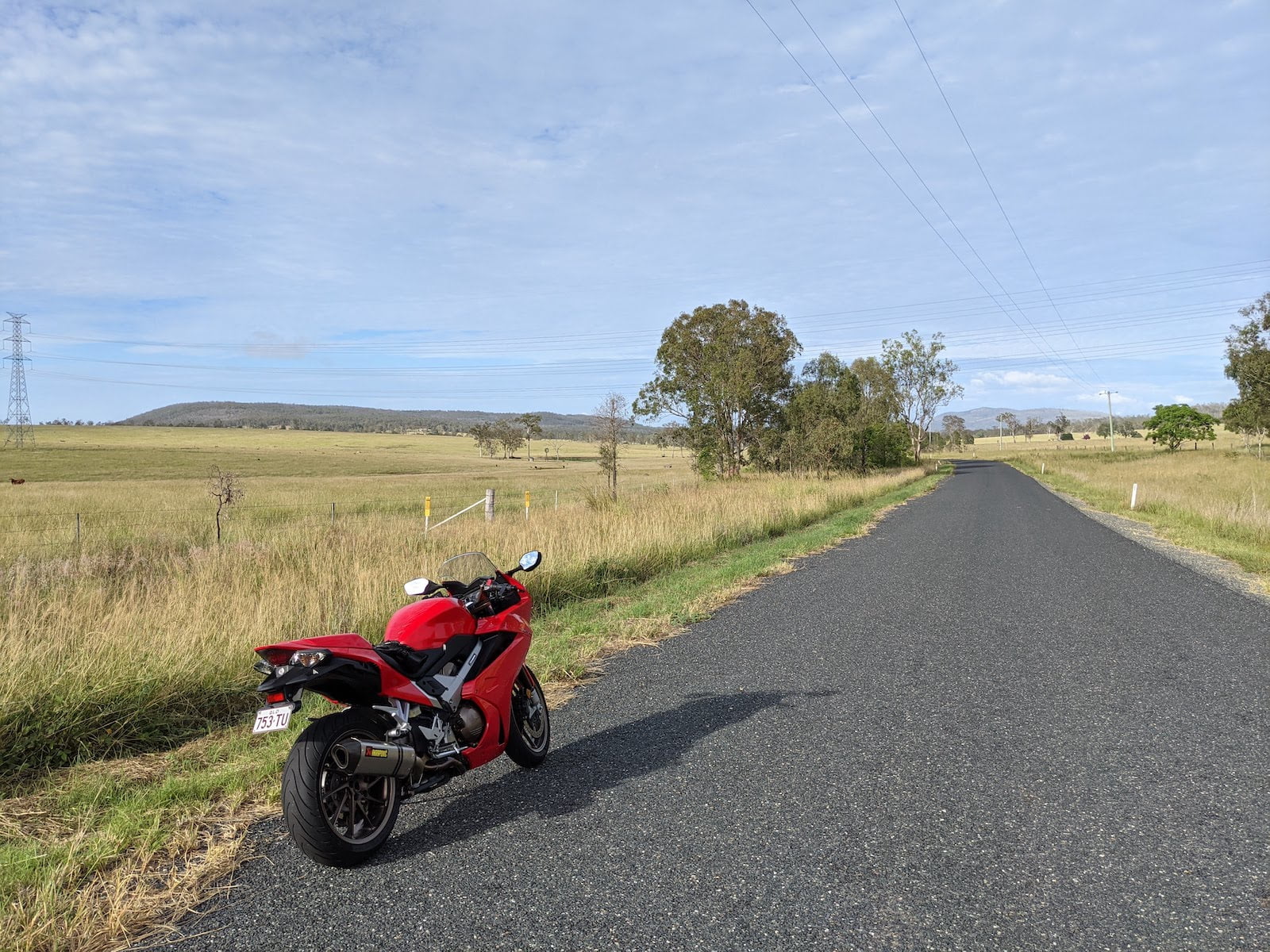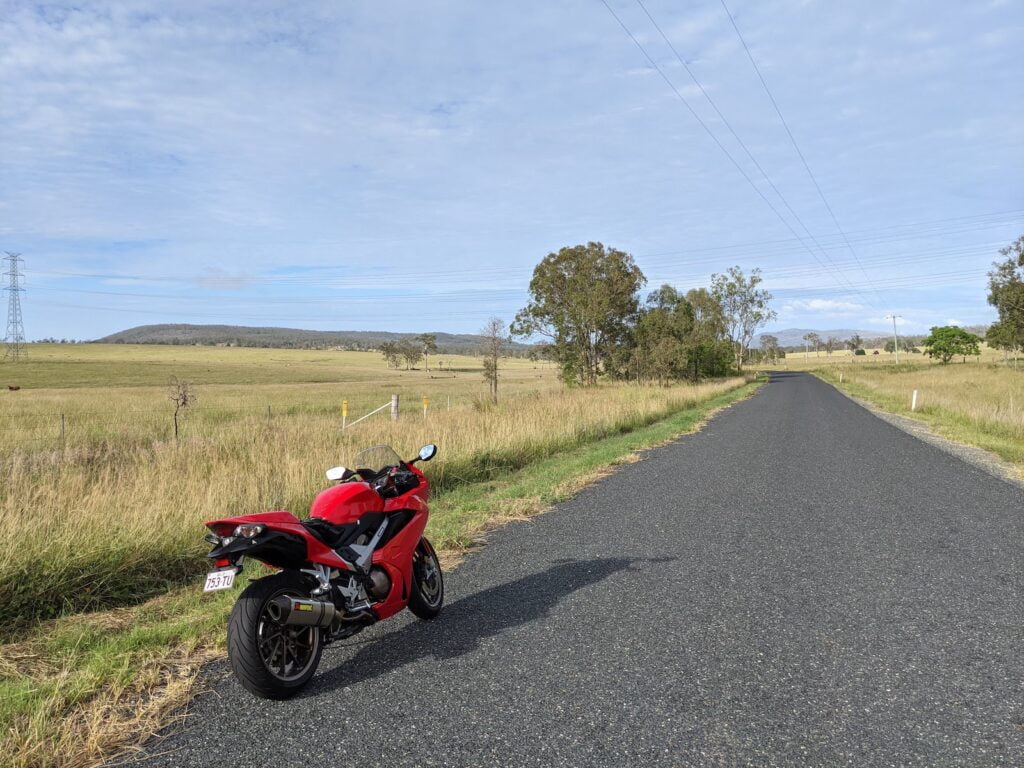 By the time you're at 65 km/h / 40 mph, you're also at the part of the rev range where VTEC actuates. This is where things get really rowdy. VTEC means your bike is now a four-valve V4 sportbike, not a two-valve commuter. You're rewarded with a raspier exhaust note and a sudden surge of power.
Is VTEC sudden? On some earlier models of the VFR800 (mostly 2002-2005), riders and reviewers complained that the VTEC valve actuation was too sudden. I don't find this a problem with the 2014+ 8th gen. Sure, if you're going around a corner and accidentally let the throttle hesitate around the VTEC actuation point, it feels weird. But it's not unsettling. Dare I say it — it's "character".
Because the VFR800 is kind of a sport bike, many think of it as one. It is definitely sportier than a Ninja 650 or Versys 650 (both definitely in the "commuter" category of motorcycles).
But the Honda VFR800 is not as sporty as more intentionally sport-focused motorcycles. My over ten-years-older CBR600F4i has a lot more fire in the belly and corners far more easily. It even had superior suspension — in fact, the F4i's forks are a sometimes upgrade for some generations of the VFR (not often for the 8th gen). And the F4i, like other sportbikes in the 600cc class, revs higher, and is more engaging in the top end of the powerband.
The VFR800 does corner well. I found it quite easy to tuck and lean into curves. The angle of the handlebars is not so wide that you'd be fooled into thinking it was a naked bike, but not so shallow as to make you think you're on a supersport.
Pushing on one handlebar on the VFR meant I'd dive into an on- or off-ramp and hold my corner as I wound on the throttle. Here's one of its virtues as a mid-powered commuter — I never really felt scared of breaking traction. (Not something I can say about the motorcycle that replaced it.)
The times when I most appreciated the VFR800 were the times when I didn't actually want the ultimate motorcycle. Like when it was dark and cold and I was riding home in the rain. At times like that, having a basket-load of torque at the back wheel (and no traction control) can make a commute nerve-wracking. Firing up the VFR and having the beautiful dash light up, and the road well illuminated in front of me, was positively comforting.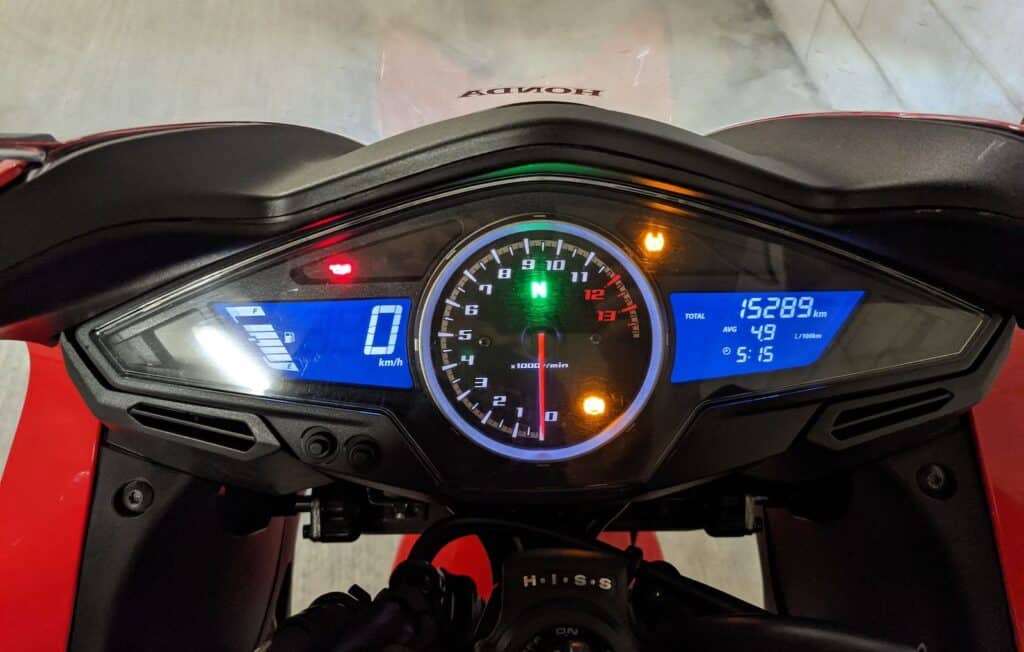 Riding Position of the VFR800 — Is it Comfortable?
The VFR800 is definitely not an upright commuter (like the VFR800X), but nor is it a sport bike on which your wrist is roughly the same height as the seat of your pants. In fact, my favourite thing about the VFR800 is the position — it's not so upright that I think "this is a motorcycle for when I have back problems", nor is it so far forward that I think I'm mooning the car behind me.
Sport touring is one of my favourite categories of motorcycle. It's under-appreciated. Everyone these days seems to choose between adventure tourers, sportbikes, or cruisers… but the sport tourer — bikes like the VFR800, the Ninja 1000, the Suzuki Hayabusa (kinda), and the Ducati Supersport — are such a nice balance of comfort and excitement that I just wonder why they're overlooked.
In standard riding position, with the seat at its lowest position (it has two positions), the VFR800 is acceptably comfortable if you like the sport-touring position. If you keep your arms straight, you'll end up putting pressure on your wrists, so you really should grip the tank. Unfortunately — the tank is quite slippery and doesn't lend itself to gripping without some kind of hugger material added.
Committing to riding a sports tourer, I even installed factory bar risers. These are colour-matched plates that sit under where the handlebars bolt on and give you about an inch more elevation. The difference is shockingly good. Suddenly I was in a position where I thought "I could ride this for days and not get tired OR bored).
I've ridden a number of sport bikes as well as adventure sport tourers (like the Tracer 900). Which bike is most comfortable for you depends on so much, like how strong your core is, how long your legs, torso, and arms are, and how long you want to ride for. For my particular balance, the VFR800 was perfect.
Alternatives to the VFR800
Every motorcycle is an alternative to the VFR800! But I want to address a few of the common "Should I get X vs a Y" questions, particularly for motorcycles I've owned and ridden.
The VFR800 is kind of a sport tourer, and kind of a commuter. I wouldn't call it a sportbike unless you use that term to include slower-paced machines.
Here are what I believe are the main contenders for the VFR800, and advantages and disadvantages of each.
Motorcycle
Why it's similar to the VFR800
Pros and cons
Kawasaki Ninja 650
* Modesly powered, but not "slow"
* Extremely reliable engine — you'll crash it before it dies
* Popular choice of commuter
* Comfortable enough on which to tour.
✓ Easier to maintain (just one engine head!)
✓ More economical to buy and own
✓ MUCH lighter (~191 kg vs 240 kg)
X Less powerful, less exciting engine (50 kW/67 hp, 180-degree parallel twin)
X Less nice to look at (though not bad!)
X Fewer factory features/options like luggage, traction control, heated grips
Kawasaki Ninja 1000
* Sport tourer with options like factory luggae
* Great engine, fast and torquey, derived from the K5 GSX-R1000
✓ Much more powerful — around 100 kW vs 75kW at the crank
✓ More upright/comfortable (could be a pro or a con)
✓ Still made in 2021 with features like cruise control and a quickshifter
✓ Slightly Lighter (228kg wet)
~ Can be too powerful for some
~ Have to add grip heaters
Yamaha Tracer 900/Tracer 9
* A practical version of the MT-09
✓ More powerful (86 kW / 115 hp)
✓ Much lighter (210 kg/ 462lb)— overall, a faster bike
✓ Comes standard with luggage!
~ More comfortable with the VFR; but a less "exciting" position
✓ Later models (more expensive) have cruise control
~ Not as aesthetically nice as a VFR (but still "passable"
Ducati Supersport
* A less extreme Panigale, using the 937cc V-twin
* Sporty, but much less powerful, and more comfortable
✓ It's a Ducati — sometimes the heart knows
✓ Beautiful to look at and with a wonderful sound, even stock
~ Definitely a lot sportier than a VFR800, encourages aggressive riding
X Expensive to buy and to own (though service prices will be similar)
X No standard features (e.g. luggage, grip heaters) other than ABS
Common alternatives to the Honda VFR800
I did consider these three alternatives when picking up the VFR.
The thing I really considered about the VFR800 compared to all alternatives is that Honda no longer makes the VFR800. So if I wanted to ride one, that was my chance, and I took it.
Otherwise, the Tracer 900 is a pretty great bike. The triple does have some character, though it didn't in stock form when I rode one for a couple of days.
The VFR800 Hype & the Engine
One reason I wanted to try the VFR so badly is the hype about this motorcycle.
People are raving fans of the VFR. Many owners have owned multiple generations of the bike. I just wanted to know: Why? What is it about this machine?
The two most popular forums for the VFR800 are VFRWorld and VFRDiscussion. I learned a lot from browsing each one.
There are also a few popular Facebook groups, but you can find those yourself. Like most Facebook groups I'd treat them with caution — there are lots of crazy people out there.
Read those and you'll get a sense for the good as well as the bad (though mostly positive — these are fans!) of owning the VFR.
But what about the VFR800's ENGINE?
The engine is a much-fabled part of VFR ownership. It's quite a special motor — one of the few V4s in production in the last decade, and one of the few that wasn't somewhat berserk (looking at you, Ducati and Aprilia), or very sedate, in an upright sports tourer (Honda ST1300) or a cruiser (like the CTX1300).
So in that sense, it's quite special to have the chance to ride a V4 motor. It has a unique character and it has earned its place in history.
That said… The 8th gen's motor seems to lack the fire of earlier models. When I hear a 5th gen roll past, my ears perk up. Same with the 6th gen with its chain-driven cams. Obviously in both cases, I'm talking about models with an aftermarket exhaust.
The 8th gen, somehow, seems to have lost this spark. Even mine, with an Akrapovic slip-on exhaust (and I tested another with a Jardine unit), just wasn't really audible at speed.
I'm not alone in this.
Pretty much all my motorcycles have had an audible exhaust when riding them. Some more than others. So I was pretty disappointed when I rode my 8th gen VFR with an Akrapovic slip-on through a tunnel and revved it and… could barely hear a thing. Maybe I need a full exhaust system.
On the road, accelerating hard, it does sound raspy and full of fire at high RPM — different to the smooth scream of an inline-four. It's definitely interesting!
A loud exhaust isn't for everyone. Heck, I'm a mild guy — I don't like a blaring exhaust and I try to be a good citizen. So, let's go on to the character while riding it.
Firstly, the VFR has a nice torque curve. Down low it's very responsive, feeling like a good commuter. You reach peak torque by mid 8K, and keep revving past 10K before shifting. This is an excellent powerband for street use, especially with this power range. You never feel like you're running out of revs.
Secondly, there's always a pleasant vibration from the engine when it's running. It's almost cliché to say this, but it's true — the V4 is a nice balance between the smoothness of an inline-four engine and the rumble of a twin. It's mild in the VFR, but it's there.
And finally, the VFR doesn't "scream" like an inline four. If you've taken an inline four-cylinder motorcycle past 14,000 rpm (moments of joy), you'll know what this is like. Or maybe if you listen to motorcycle racing. The VFR doesn't get like that. This is a pro to some, and a con to others! But really, it's just different.
Anyway, whether you're into it or not, a VFR's V4 engine is definitely something to be experienced at least once, if you can.
Maintaining the VFR800
Generally, I like to do my own maintenance.
Maintaining the VFR800 8th gen is like maintaining any modern sportbike. It's a water-cooled fuel-injected four-cylinder motorcycle with a chain drive.
But there are a few things to watch out for that make maintaining the VFR800 a little more expensive.
A V-4 engine means more expensive valve service. Yes, it's a four-cylinder engine, but there are two engine heads. This means two covers to lift off when doing 24,000 km valve inspections, and it means access isn't as easy. This means your valve service (major service) will be more expensive than on a parallel twin or an inline four motorcycle.
The fairings are a bit annoying to take off. You should definitely use a service manual, to avoid breaking things. But even just removing a side fairing means removing a couple of other pieces first. It's not a bike designed to be taken apart willy nilly. You'll need to remove the fairings every 2-4 years to change your brake and clutch fluid and radiator fluid.
The single-sided swing-arm means you need a special tool to adjust the chain tension. The good news is that at least you don't have to worry about rear wheel alignment. (Also, it looks awesome!)
Apart from that, your maintenance is pretty straightforward. Just keep those fluids changed, do oil changes and maintain your chain, and don't forget the valve service!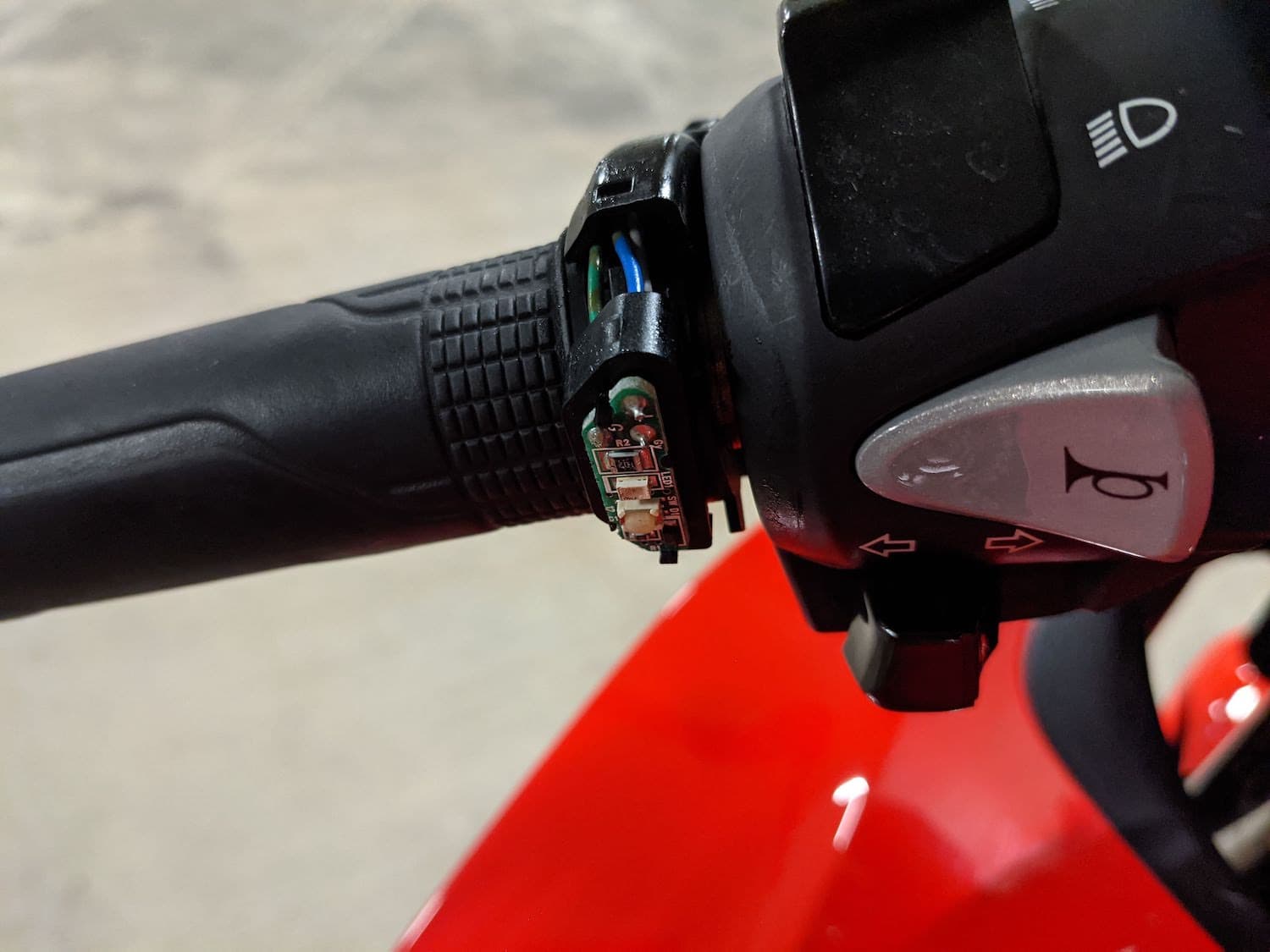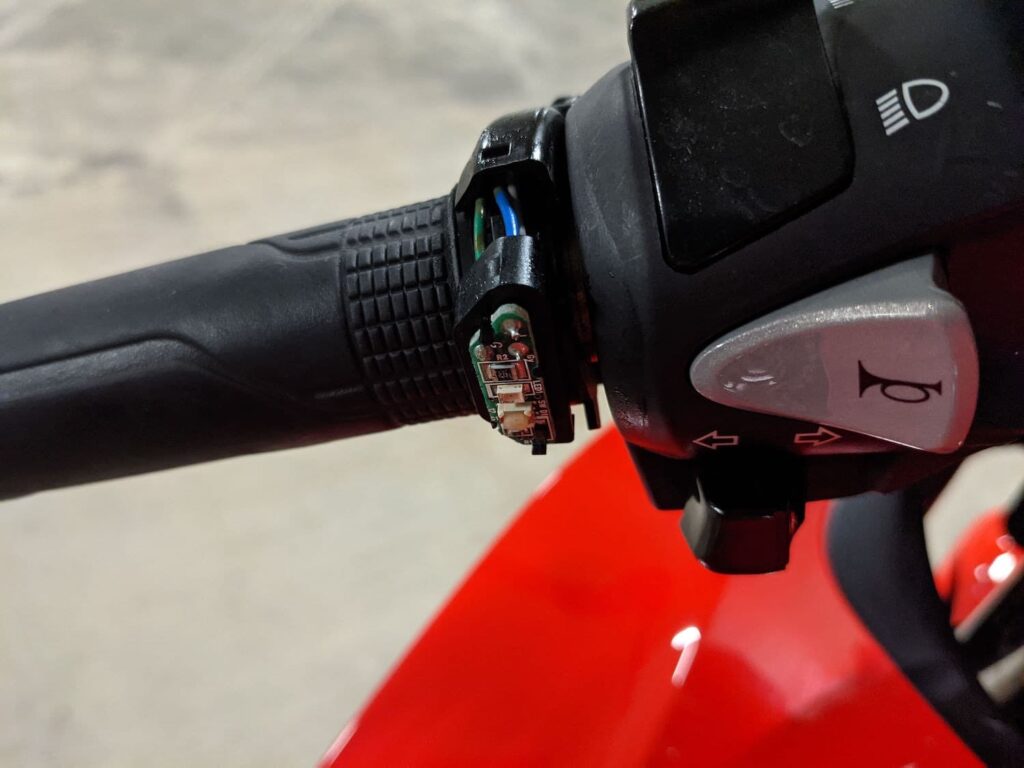 In the time I owned the VFR800, all I did was basic maintenance (cleaning it, lubing it, and maintaining the chain). I also had to replace a heated grip ($150, plus $100 labour because I didn't have time to take the fairings off to plug in the cable) whose switch fell off while I was riding it, mysteriously.
Why did I sell the VFR800?
I thought I'd keep the VFR800 for a long time. It does so much well. But to be honest, it never really lit my fire.
The engine was fun for a commuter, but ultimately it lacked the bark I got from Ducati motorcycles, or from other high-end sport motorcycles.
One day, I went past a dealer and decided to sit on a few bikes. I thought I might go back to a BMW S 1000 R, or switch to another upright standard like the Honda CB1000R.
But then I made the mistake of sitting on a Suzuki GSX1300R Hayabusa. Or just "Hayabusa", I have no idea why I said all that other stuff. Then I made the further mistake of riding it for about 20 minutes, including revving it while in a tunnel. The sound. Oh, that sound!
I rode home on my VFR800 and thought… This is so boring. Even revving it up in the tunnel, I could barely hear it.
I traded in my VFR800 two days later.
There's a lot I'll miss about the VFR800 8th gen. My Hayabusa doesn't have traction control, heated grips, or a terribly comfortable riding position. But the one thing it has in plenty is an engine that feels like it'll completely destroy me.
No, I'll never get the most out of my 'Busa — but nor would I have from the VFR. A hundred horsepower is plenty, and two hundred is just too much. I could launch and corner the VFR better, and felt more comfortable lane-splitting on it than on the 'Busa.
But one doesn't always make rational choices, especially when it comes to motorcycles. I traded it in for something different for exactly the same reason I tried the VFR — if it makes your heart flutter, then give it a try.