A while ago, I spent a couple of months with a Suzuki SV1000S, thanks to my friend John. It was a wonderful period because I had always been curious about these bikes. They're a tempting proposition — a V-Twin sportbike from a Japanese manufacturer with wide service intervals — a more sensible alternative to a Ducati.
Yes, I had always inevitably thought of the Suzuki SV1000S as the "Ducati alternative". Superficially, it has a lot in common with early Ducati superbikes — a V-twin engine, a sportbike riding position, and… I think that's it. Because they're quite different, it turns out (more on that below).
Before temporarily owning and riding the Suzuki SV1000S, I had some inevitable questions:
Why were V-twin sportbikes so rare, and what made them special?
How does the SV1000 compare to other Japanese V-twin sportbikes, like the Honda VTR1000F Firestorm?
How does the SV1000 compare to a Ducati sportbike?
Or are all of those questions unnecessary, and does the SV1000 deserve its own place in the garage?
In my time with the Suzuki SV1000S I rode it everywhere, read a lot about its history and position in Suzuki's lineup, learned about maintaining it, and seriously considered buying it from my friend (though I didn't, but not because of the bike in general, more because of that bike). Here are my thoughts.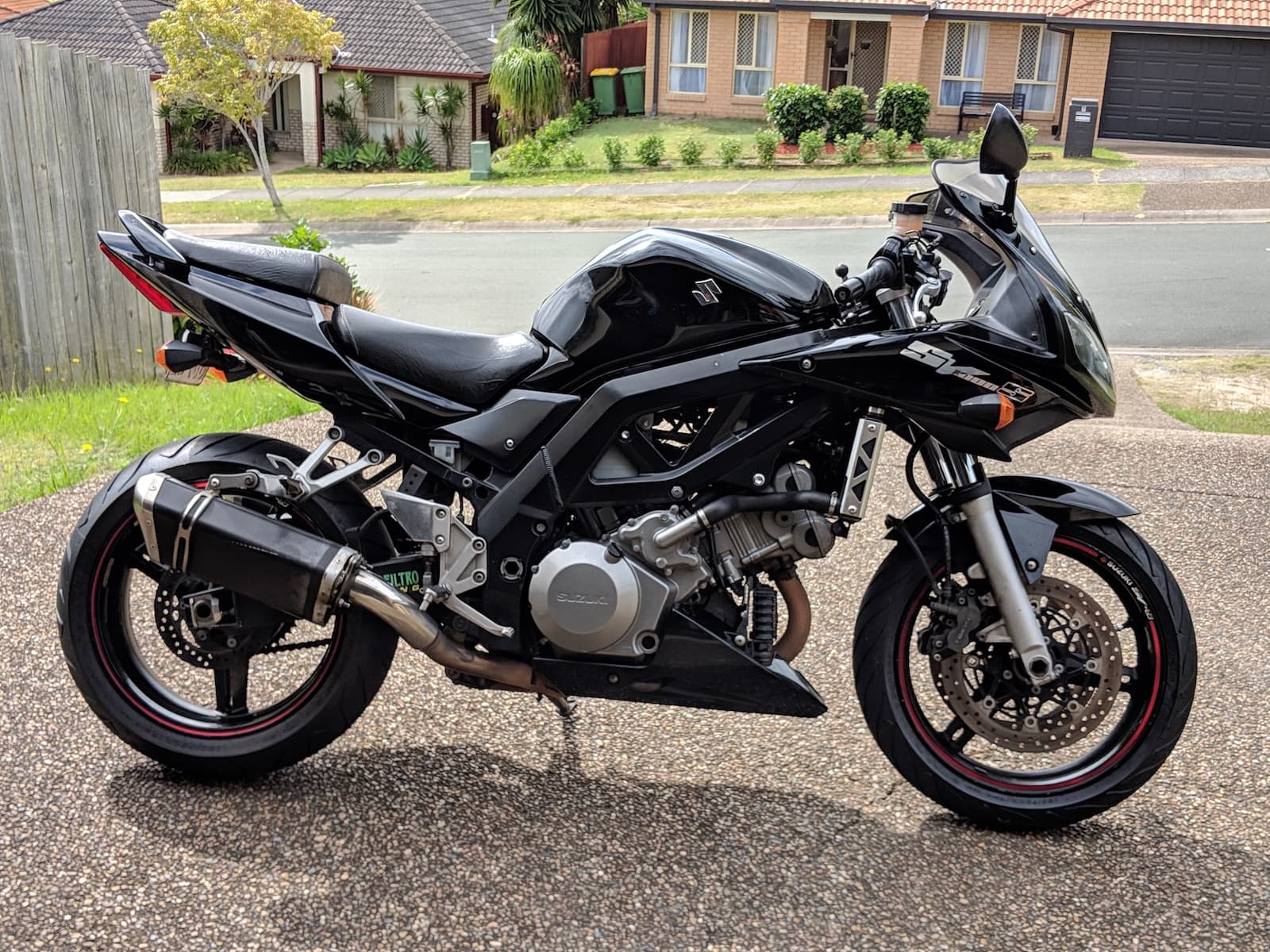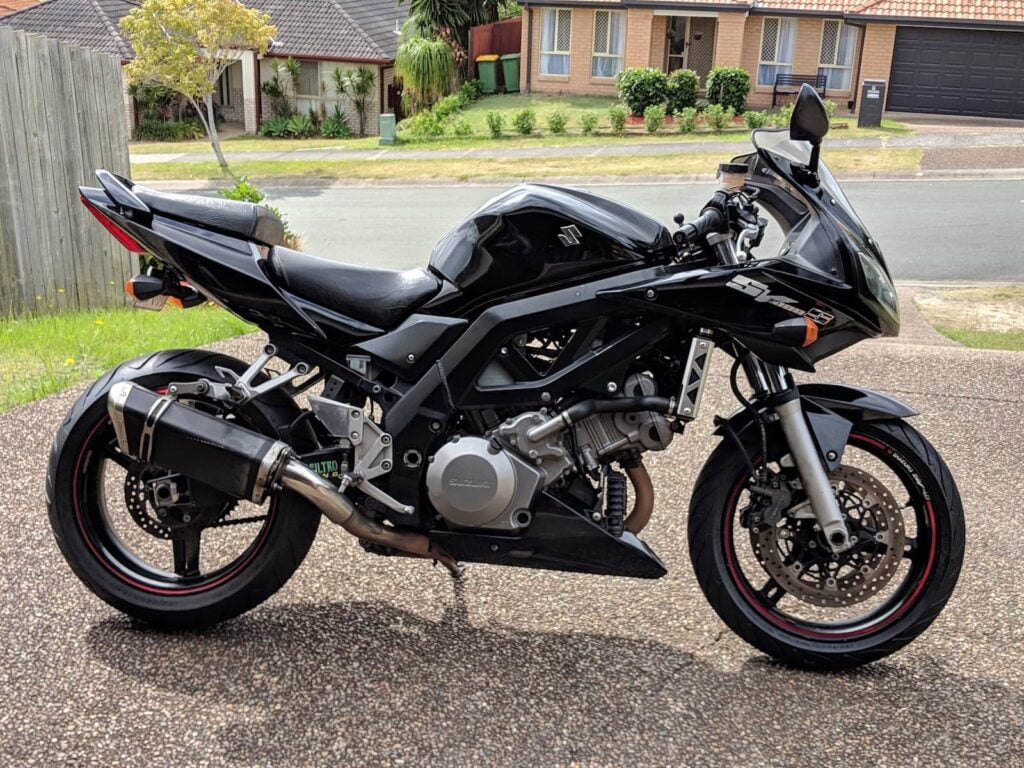 You might also like my review of my time with the Ducati 1098S.
Are you obsessed with motorcycles?
Well, I am. That's why I created this site — as an outlet. I love learning and sharing what others might find useful. If you like what you read here, and you're a fraction as obsessed as I am, you might like to know when I've published more. (Check the latest for an idea of what you'll see.)
Introduction to the Suzuki SV1000S
The Suzuki SV1000S is a V-twin powered sportbike that Suzuki made between 2003-2007. Suzuki was making other, similar bikes at the time, like the lower-spec Suzuki SV650, and the much more advanced superbikes like the Suzuki GSX-R1000.
In fact, it was during the SV1000's era that Suzuki released the now-iconic 2005 GSX-R1000, which has the long-stroke engine now also seen in bikes like the Suzuki Katana or GSX-S1000GT.
Suzuki also made a "naked" version of the SV, the Suzuki SV1000N (or just SV1000). They're largely similar, other than the fairing and handlebars/clip-ons. My time was with the faired SV1000S, but a lot of my observations (other than subjective ones about riding position) apply equally to both.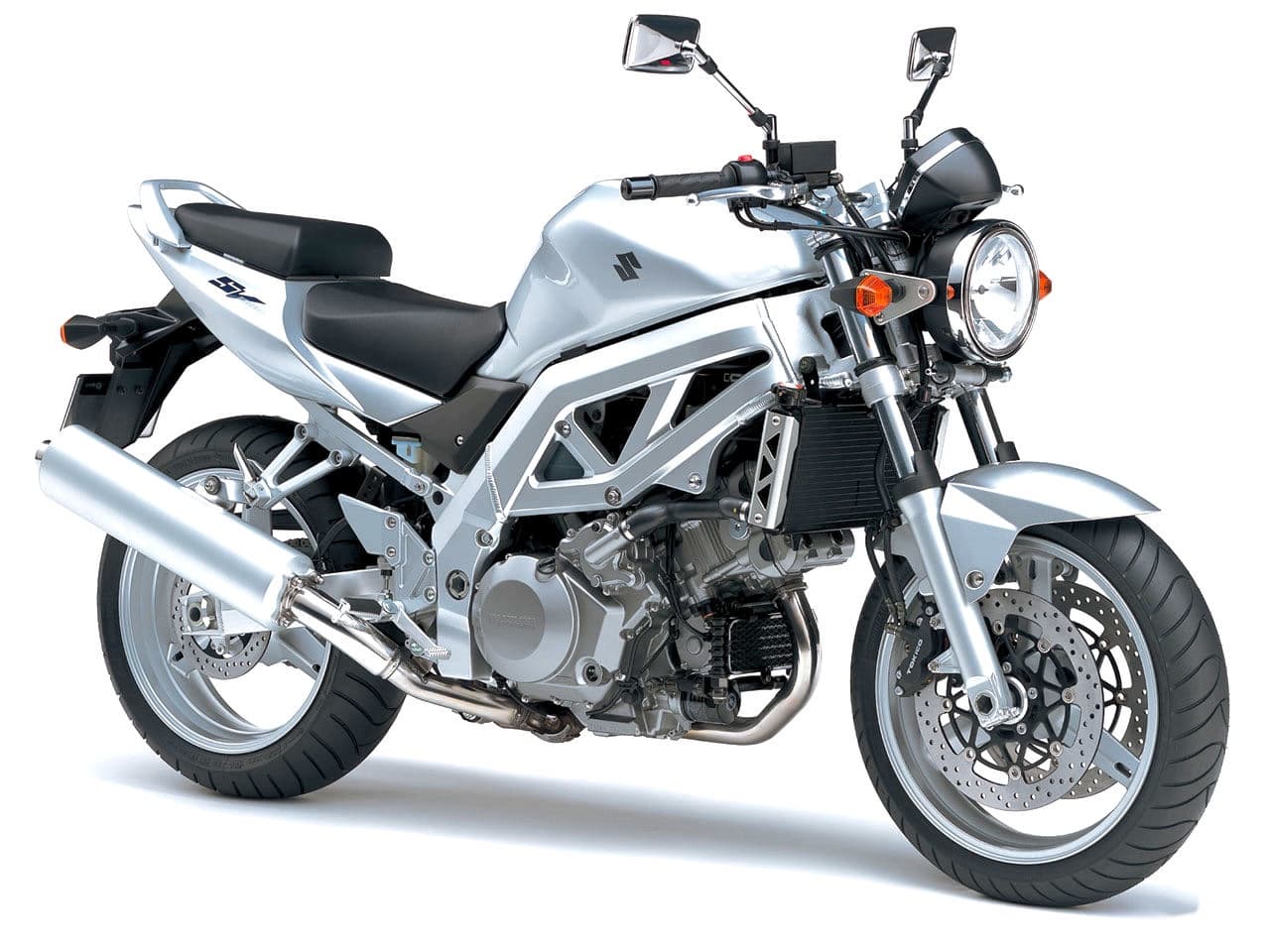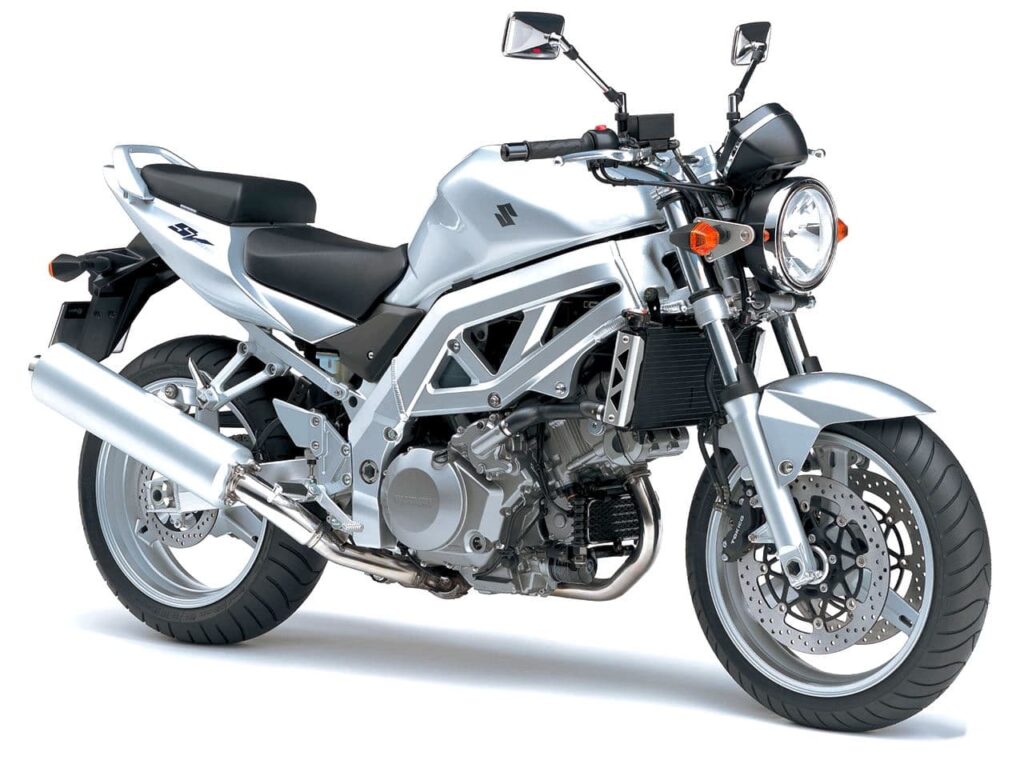 It's interesting to me that in the early 2000s, any Japanese manufacturers felt a need to have sporty V twins litre-bikes. Ducati's market presence must have been strong. The fact that they didn't last (none of the big four now make a big twin sportbike) is evidence that it was just an experiment. Even Ducati now makes V4s for their high-end bikes.
On paper, the Suzuki SV1000S is a lot of bike. It's a 998cc fuel-injected water-cooled V-twin with four valves per cylinder that makes 89 kW or 120 hp at the crank. Sounds great! Wait, did I just describe a Suzuki or the Ducati 998? They actually have a lot in common — but we'll look at that later.
In short, on paper, the Suzuki SV1000S has a lot in common with "big twins" of the time. And that's how people used to think of the SV.
But I think that the Suzuki SV1000S deserves a little love on its own, not least because it's a lot cheaper than the alternatives.
Before the Suzuki SV1000S — How did we get here?
There was a lot that was percolating in the market before we got to the Suzuki SV1000 and SV1000S.
Firstly, Suzuki was very early to the high-spec V-twin game.
In 1997, Suzuki released the TL1000S. This was powered by largely the same engine that graduated into the SV1000. Yes, as early as 1997, Suzuki was making fuel-injected 8-valve liquid-cooled V-twins, responding to the Ducati 916.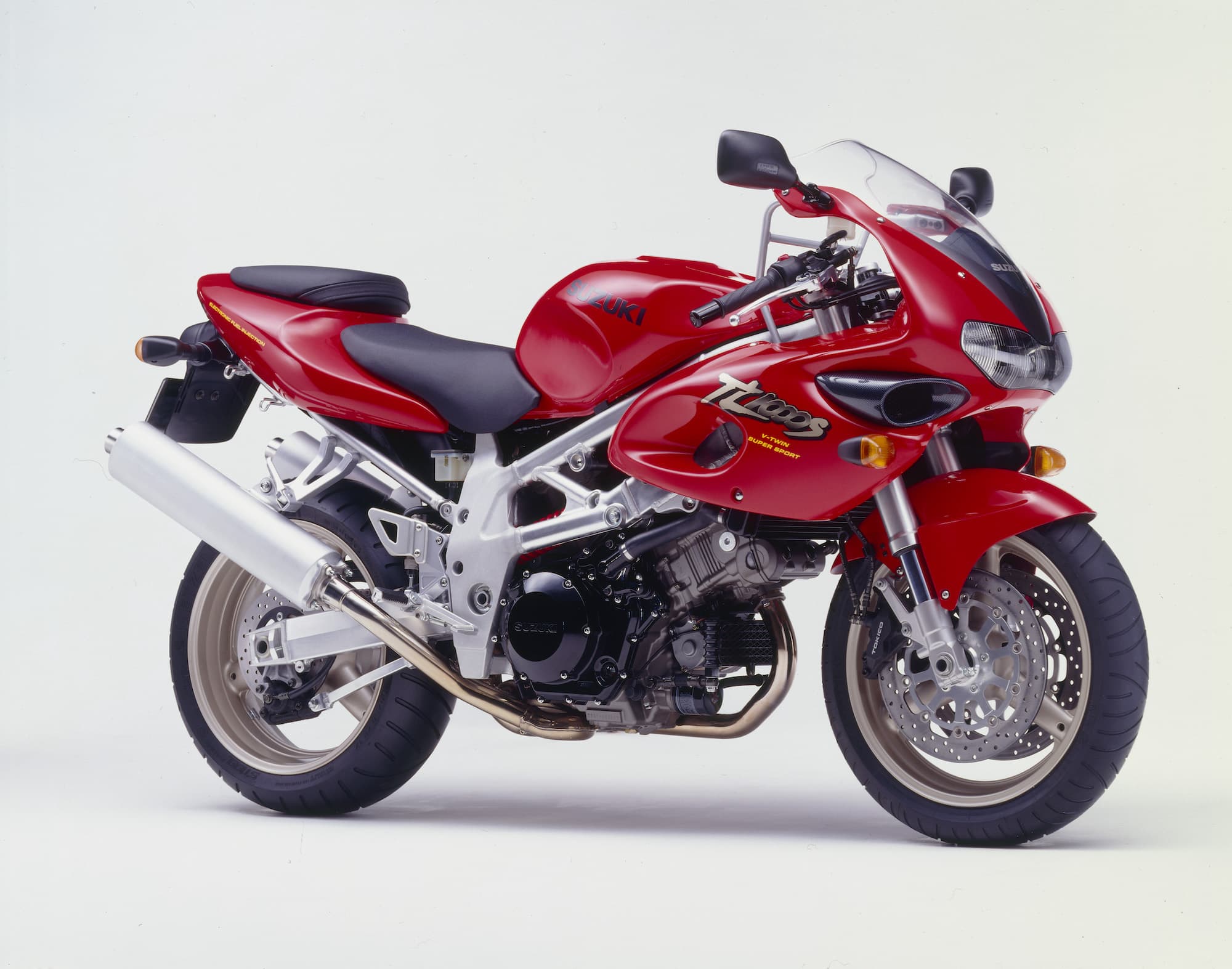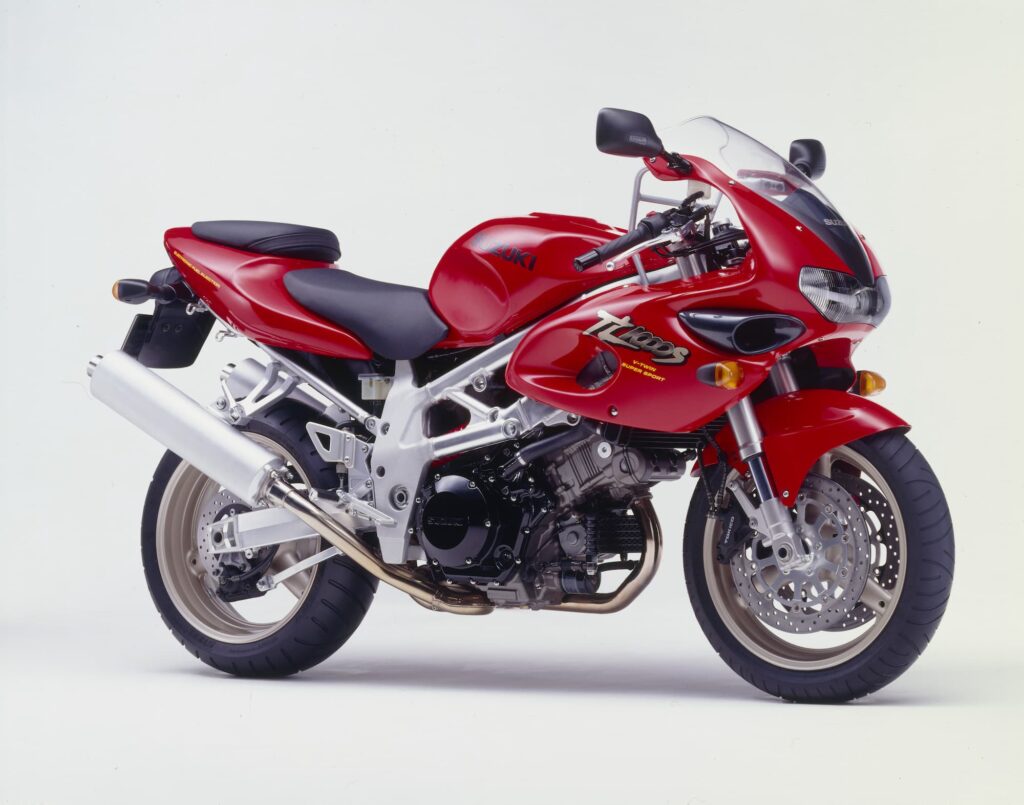 You can tell just from looking at a few elements of the TL that it has the makings of a good bike. It has inverted forks, forced induction from those big front scoops ("SRAD", like on their other sportbikes of the time), and everything looks just "right". No wonder it has become a classic! You can't really buy them these days because you'd spend just as much for an older BMW S 1000 RR and that's a tough sell (unless you just have deep pockets).
The V-twin in the TL1000S was very similar to the one in the SV1000S, but thanks to more aggressive tuning, it made slightly more power.
The TL1000S also came with an unusual and short-lived piece of suspension technology: a rotary damper, something previously mostly used in sports cars (and trucks).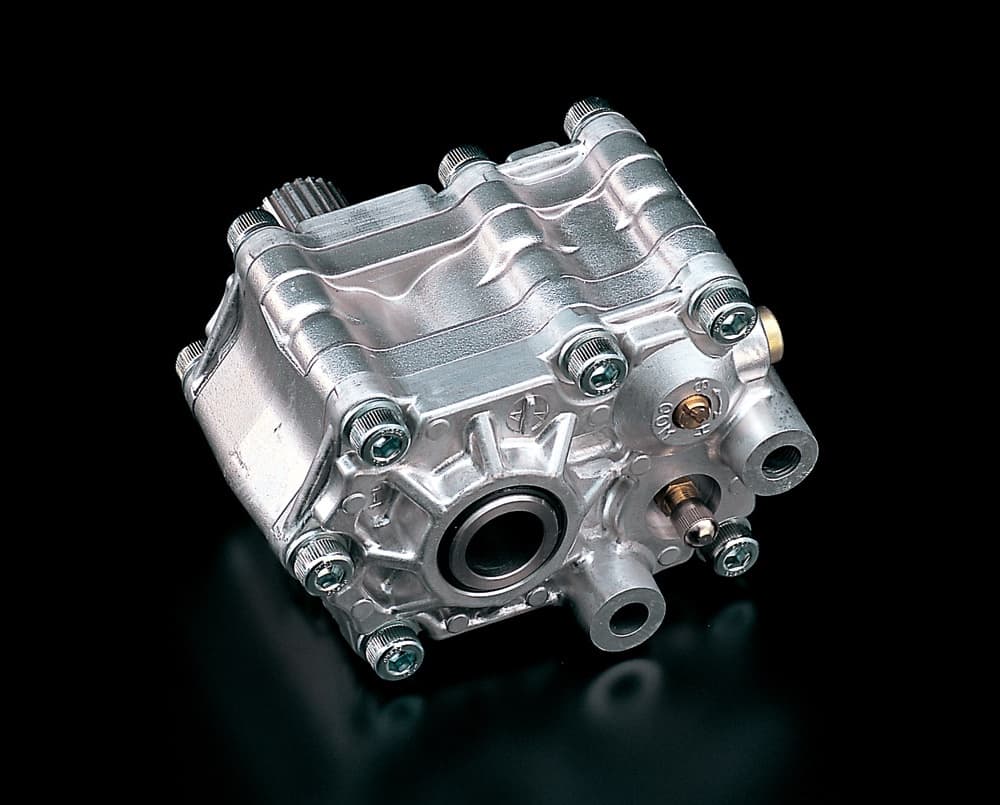 Suzuki and Kayaba teamed together to build this custom solution for the TL1000S to solve the problem of it being too long. Motorcycles driven by V-twin engines can be long because if you keep the engine vertical, it doesn't have enough front-end weight bias; if you rock it forward, the front radiator might limit clearance with the front wheel. So V-twin bikes risk being too long.
Even though the rotary damper was an interesting design, it was short-lived. Owners said it was very harsh, with a lot of compression damping and very little rebound damping. Many owners of TL1000S have long-since swapped out the damper for a standard shock design. You can read a bit more about the rotary damper here.
The problem with the Suzuki TL1000S was the handling. The handling of the Ducati 916 is sweet, predictable, and rock-solid. But by contrast, early riders of the TL1000S said that the TL had issues with front-end stability, leading to tank slappers. Suzuki added a steering damper to solve this (even giving them away to existing owners), but the reputation was set. Many owners on TLZone.net would be quick to disagree that it's a fundamentally bad-handling bike, though.
The story of the Suzuki TL1000S and TL1000R is more complicated than that. It's now an iconic sportbike, and kind of collectible. Read the buyer's guide here.
Then in 1999, Suzuki released its SV650, the iconic middleweight. The first-gen, which fans call the "Curvy" because of its curvy frame, was an instant hit. Exposed trellis frame, modest V-twin, easy and cheap service, oh my!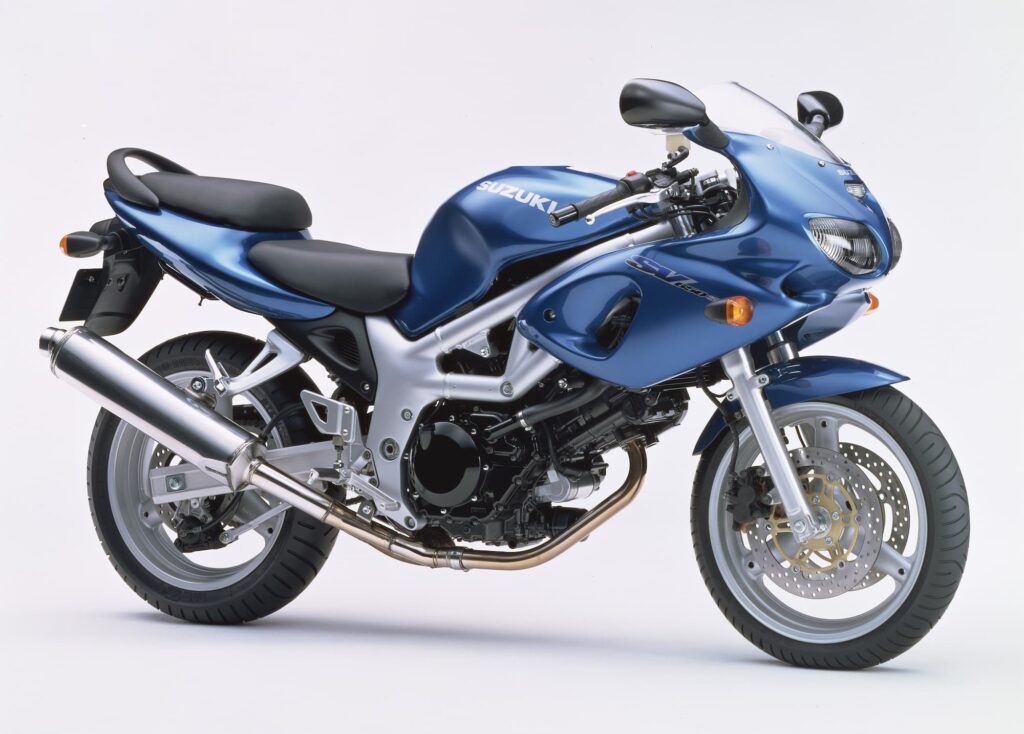 Obviously, the Suzuki SV650 shares a LOT in style with the TL1000S. But it's more comfortable and has a much more approachable engine. It doesn't go as fast, which is probably at least part of the reason that people didn't complain about tank-slappers.
In 2003, Suzuki significantly updated the SV650. They gave it fuel injection and a much more angular style. This one is a real looker in my opinion. They're all long in the tooth and owners think they're more classic than they are, but if a nice person gives you one for a song, snap it up.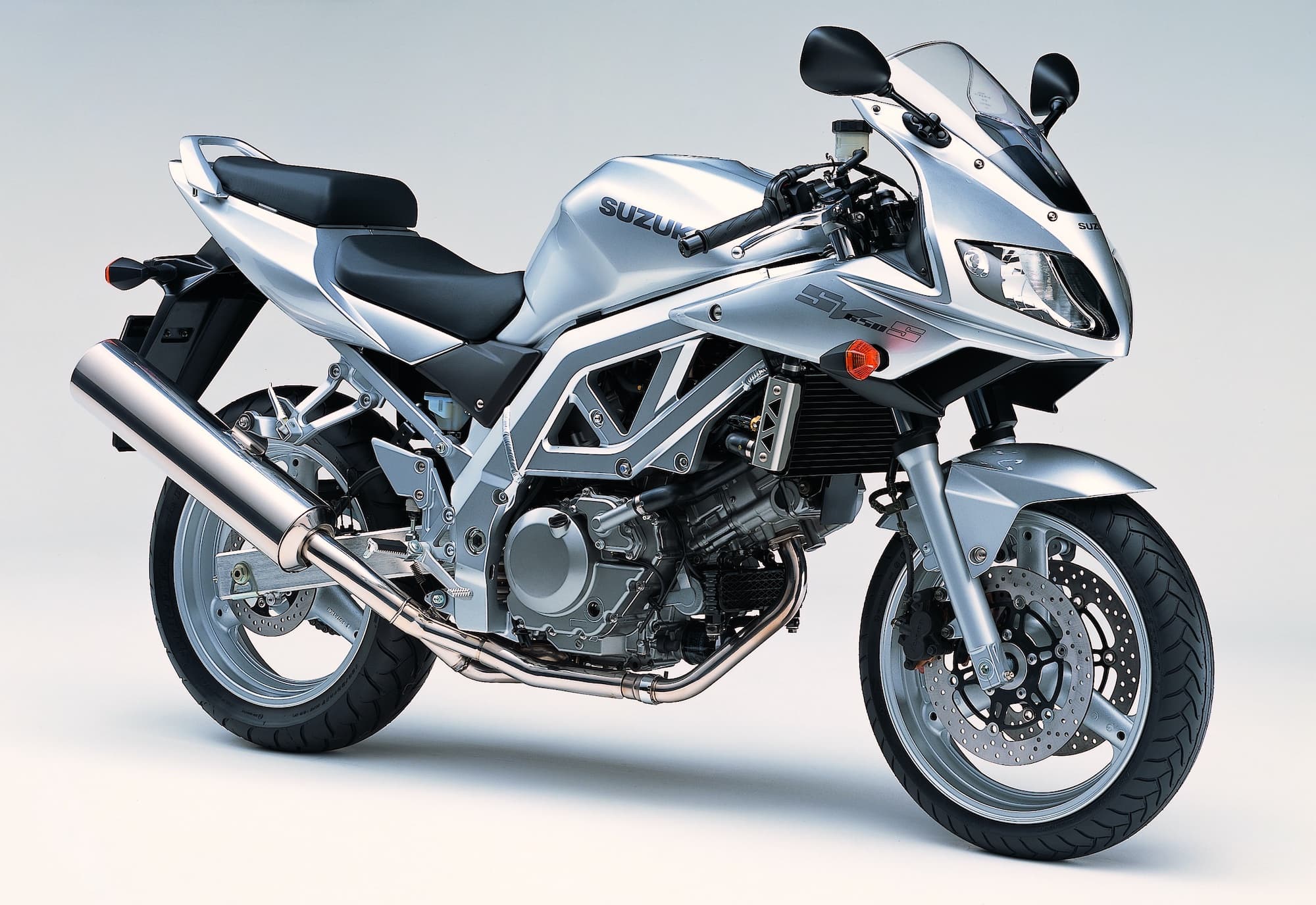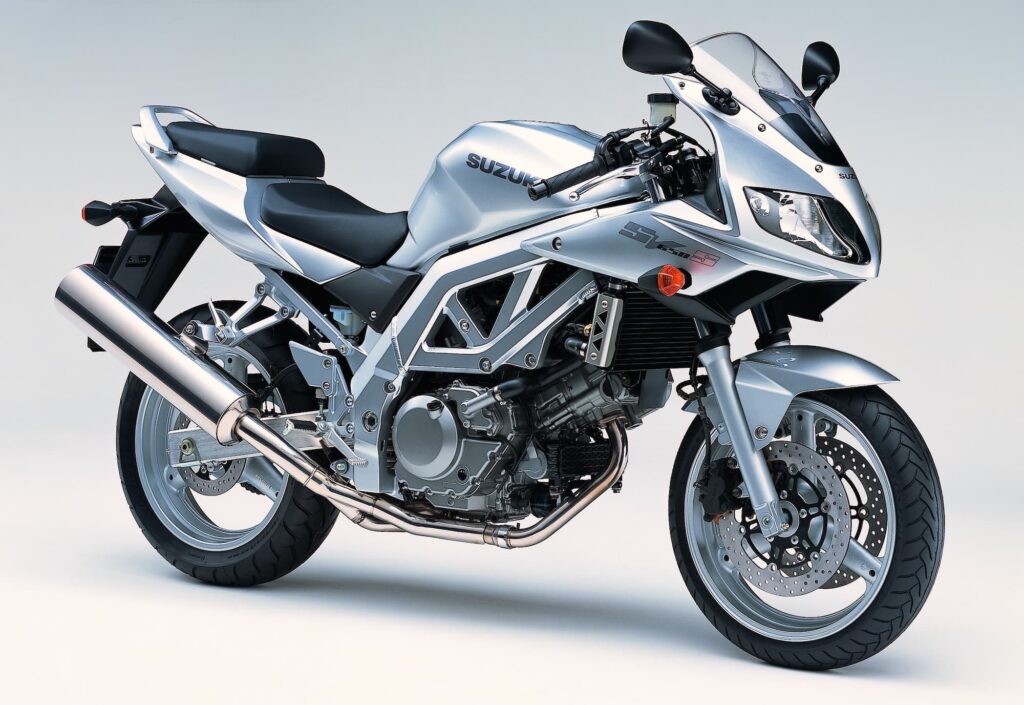 The second-gen Suzuki SV650 was as well-received as the first. It handles well for its class/budget of motorcycle and has a really usable amount of power.
So basically, this is how we got to the SV1000: The looks of the second-gen SV650 plus the engine of the TL1000S, minus the high-end suspension.
Core specs of the Suzuki SV1000S (and how it compares)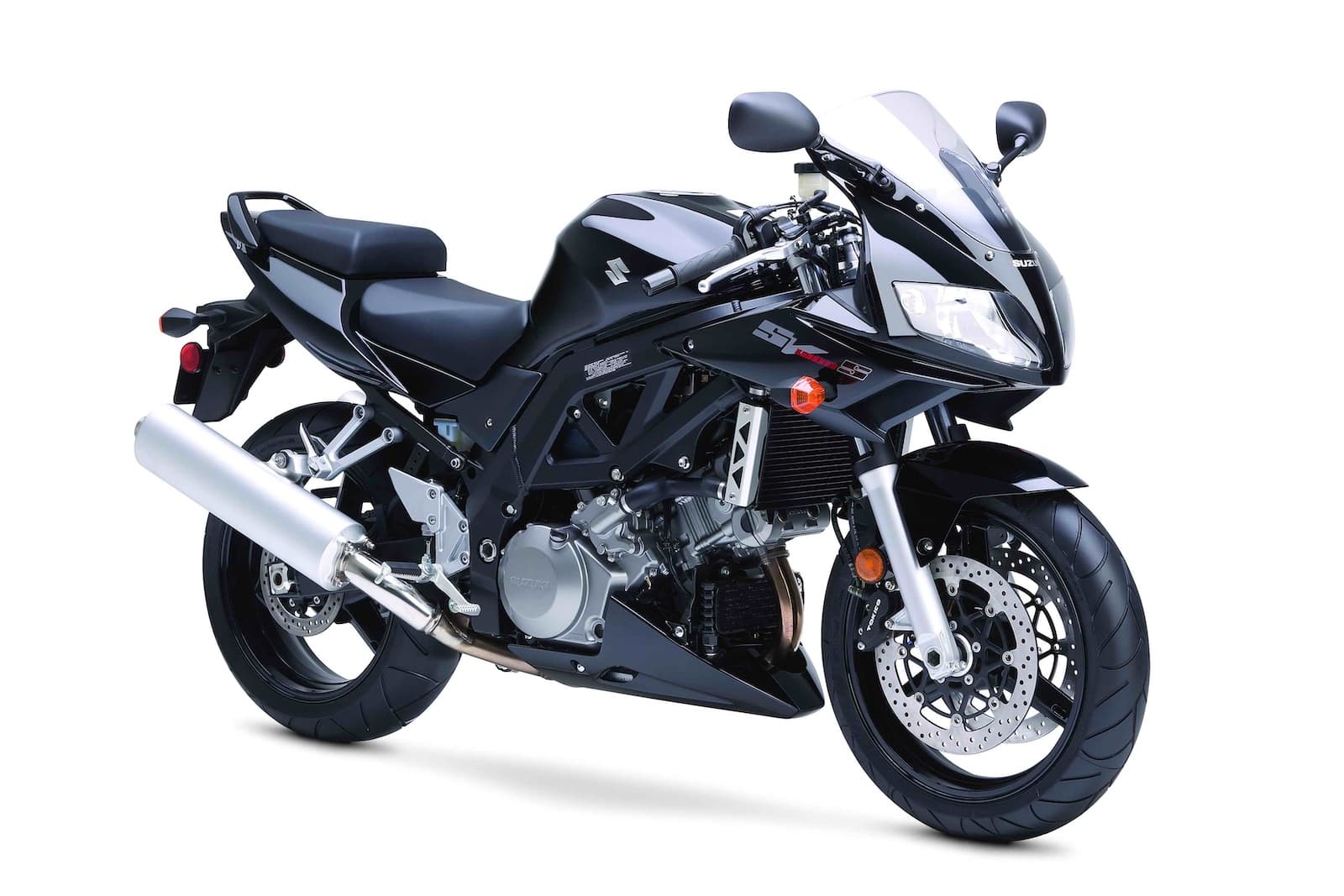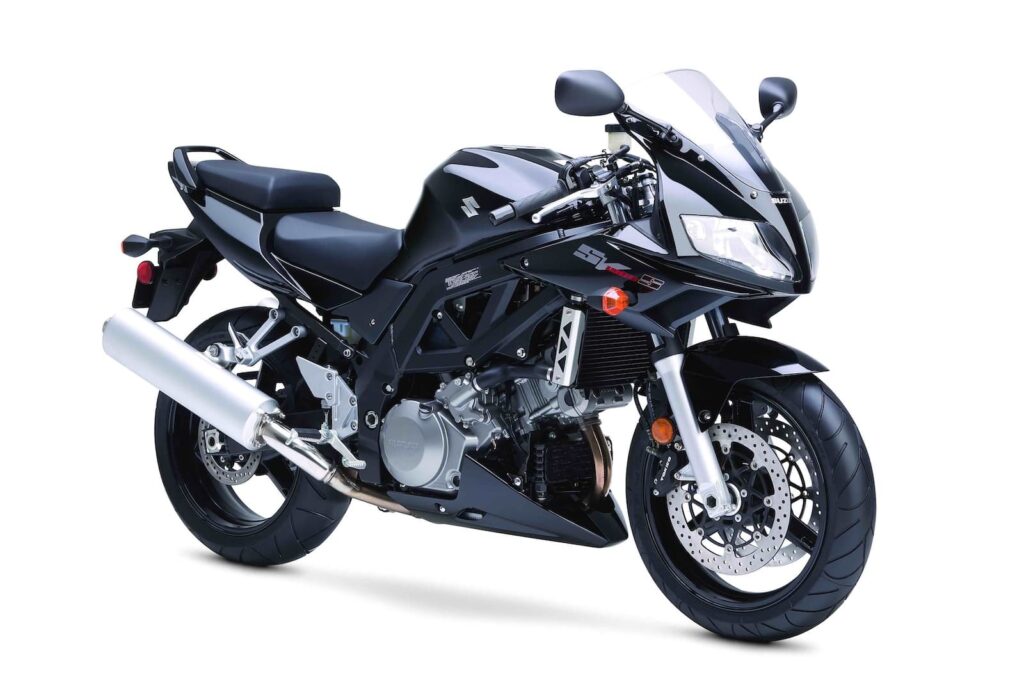 You can't ride a spec sheet, but you can print one out and glue it to your backside and sit on your armchair as you reflect on life, truth, and motorcycles. Let's do that now.
Part
Suzuki SV1000S spec
Notes
Engine
998cc DOHC fuel-injected liquid-cooled V-twin, four valves per cylinder
* Fuel injection — which the Honda does not have
* No desmo drivetrain — easier service than the Ducati superbikes
Compression ratio
2003: 11.3:1
2005: 11.6:1
Higher compression in later models for boosted mid-range
Max power (crank)
88 kW (118 hp) @ 9,000 rpm
Modest, street-happy power-band
Max torque (crank)
102 Nm (75 ft-lb) @ 7200 rpm
Good torque, early enough to be usable
Induction
Dual throttle valve
… More than single throttle valve
Weight (wet)
~207-218 kg (456-480 lb) per
Heavier than most superbikes, but not unbearable
Valve service intervals
15,000 mi/24,000 km
Normal for Suzuki; double that of Ducatis!
Front suspension
46 mm telescopic conventional (non-USD) fork, fully adjustable
Adjustable but not inverted — superbikes of the time had inverted forks
Rear suspension
Progressive Link-type, monoshock fully adjustable
Standard fare
Front brakes
Twin 310mm discs, 4-piston Tokico calipers
Good sportbike spec (though of course they were axial mounted, two-piece calipers)
Core specs of the Suzuki SV1000
So that's the SV1000 / SV1000S on paper. What's it like to ride?
Riding the Suzuki SV1000S
All the examples of the Suzuki SV1000S that I've ridden (I test rode a couple after riding my friend's one, considering buying one) have been 15-20 years old. They've been maintained, but not kept in showroom spec. And maybe that could be an excuse for what I found when riding them, but anyway, I didn't have a negative experience!
Let's start with the best bit: the motor. It's great! It's everything you'd expect. It starts up quickly, usually on first thumbing of the starter, and doesn't stall easily. It produces a ridiculously loud BRAAP! through the aftermarket exhausts, and every SV1000S I've ridden has had aftermarket exhausts on it.
The engine in the SV1000 lacks the raw, arcane fire of a Ducati superbike twin, but that's OK. It also lacks the maintenance schedule (more on that later).
The motor doesn't feel biased towards the top-end in power delivery. It's OK loping around suburbs at 3,000 rpm in third gear, even though obviously that's not where it wants to play. But it does this better than Ducati liquid-cooled V-twins I've ridden. Mercifully, it doesn't get achingly hot doing so, unlike most other superbikes I've ridden. It's not that it's docile, it just seems well-assembled, and suited for everyday riding.
But once you get past your neighbourhood and get to crack open the throttle, it's really rewarding. It lets out a satisfying roar as you get it past 4000 rpm or so, especially when you are giving it more than half the throttle. It's very satisfying to crank it open to get up to freeway speeds, to which it gets very quickly.
I often say this, but around 120 hp (claimed) is the ideal amount of power for me for everyday and local track riding (with no rider aids, anyway) — especially when it's all available by 9000 rpm! I do like to rev bikes slightly higher than that, but all this is very subjective.
Early reviewers complained about stuff like the suspension or weight. That's not fair though, as they were comparing the SV to much more expensive alternatives like the Ducati superbikes, or the high-end GSX-R1000.
The thing is — the handling of the SV1000 is fine. I joyously used all the tire in everyday riding and never noticed it feeling awkward. I do regret not keeping this bike as a track bike, and if I did I might have refreshed the springs and suspension fluid, plus gotten a professional adjustment — and that would easily have been enough to make it a fun weekend scratcher.
Also, bear in mind that these are now ageing bikes. They were always cheaper bikes, so people would have been loath to spend thousands on rebuilding suspension or brakes. But if you do pick one up for a song (I believe the person who eventually bought this one paid a scant A$1500 for it, which in most currencies rounds down to "basically free"), getting the brakes and suspension rebuilt would go a long way to having it feel fresh.
(I'd also get the throttle bodies rebalanced while it's at the shop.)
I say this because I've test-ridden old Suzuki SV1000 bikes that felt weird in handling. So weird that coupled with the price being asked for those bikes (in particular) and the money I knew I'd have to spend on handling, I didn't think I'd ever end up with a bike I'd like.
Changes in the Suzuki SV1000S
Suzuki made minimal changes to the SV1000 during its tenure.
In 2005, Suzuki made some internal changes to the engine. These were
Larger throttle bodies
A lighter flywheel
Higher-lift cams
Higher compression ratio (12.6:1 vs 12.3:1)
New ECU
Revised damping rates
Black trellis frame and swingarm (vs silvery for the earlier years)
The overall effect was to make the 2005+ SV1000 a little more revvy. It also gave it both more mid-range torque AND a hair more to-end power (a claimed 5 hp / 3 kW). However, the difference isn't stark; you'll likely find more differences in the level of care given to any two bikes.
Suzuki also released a fully-faired SV1000 in some markets in 2005 — the Suzuki SV1000SZ.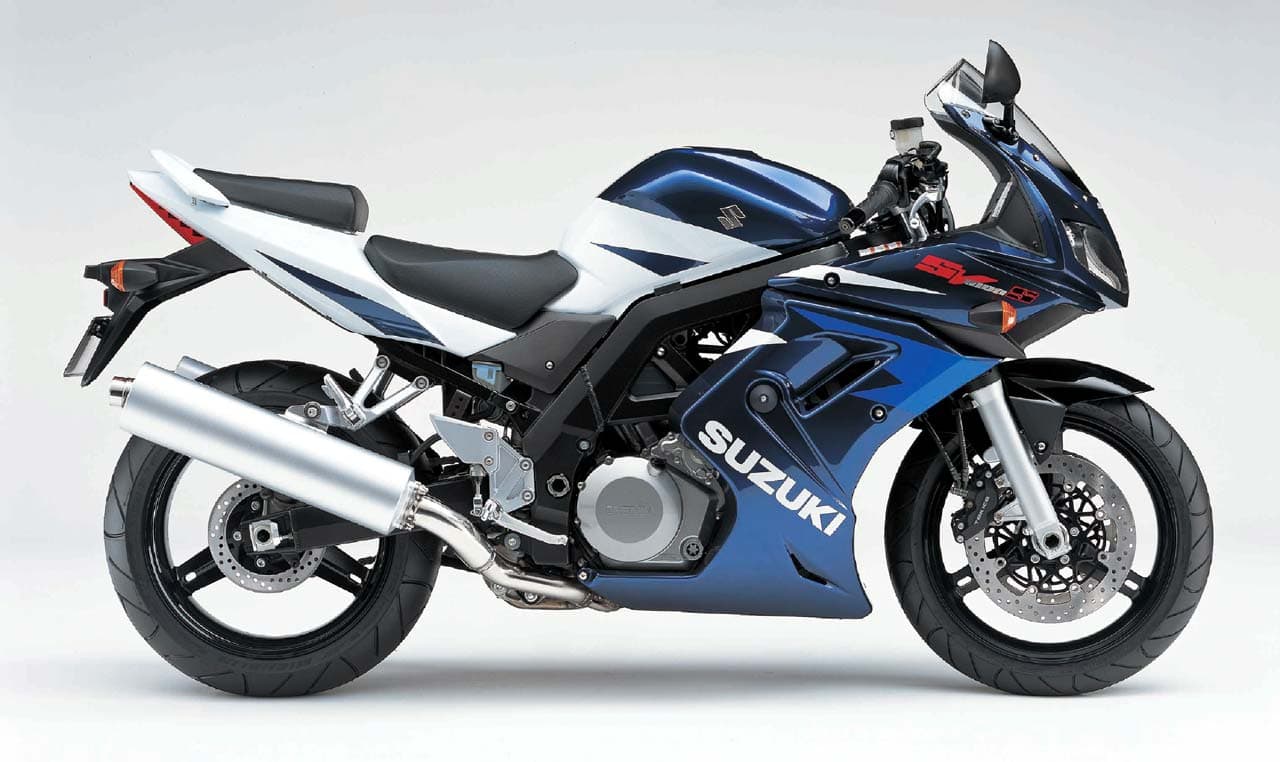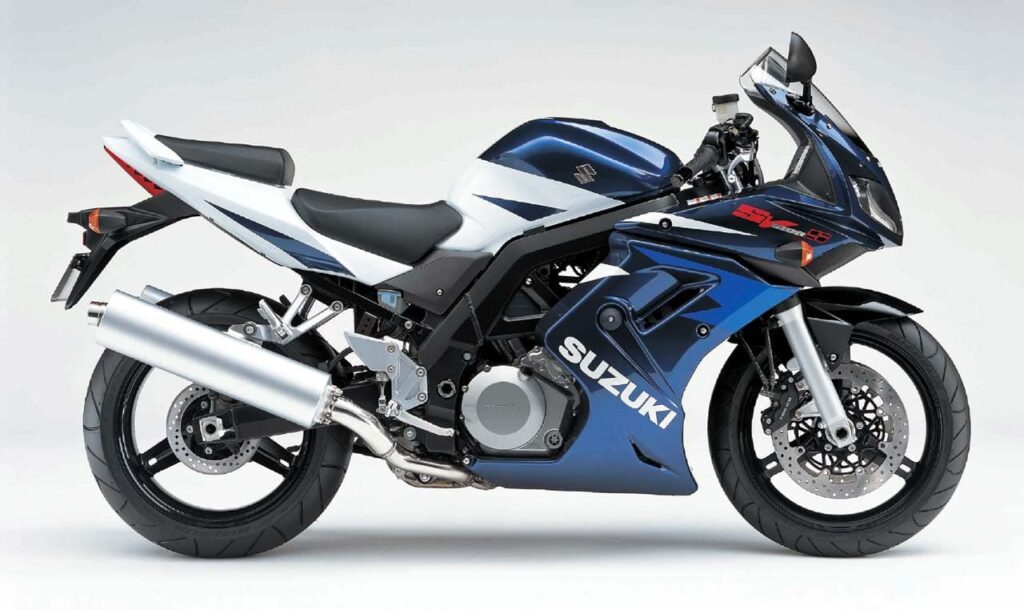 The Suzuki SV1000SZ got styling reminiscent of a GSX-R1000 of the time, and also had the engine improvements listed above. It came in a few other colours, but Suzuki Blue forever!
Why didn't the Suzuki SV1000S Become a Classic?
What happened to the poor old Suzuki SV1000S? I think it's a matter of a bike being damned by faint praise. It existed in a tough market, and lost out on small points to everything else around it:
It wasn't a Suzuki GSX-R1000, which was one of "the" bikes to have of its time. The GSX-R had more power, better components, better handling, and better fit and finish.
It was supposedly a "liter"-class bike, but lacked the fit/finish of its predecessor (the TL1000S), its competitors, or even its stablemate, the GSX-R1000
The suspension wasn't trying hard. Yes, it does fine for everyday riding as I happily noted, but on the spec sheet, it is unimpressive.
Basically, Suzuki didn't capture the zeitgeist they intended to with their V-twin engine in a sportbike chassis.
Ironically, many TL1000S owners do agree that the SV1000S has a lot of virtue, and is in some ways a "better" bike. But at the time, there was only a small difference in price between the SV1000S and bikes like the Honda CBR954RR FireBlade (so light! so fast!), the early fire-breathing Yamaha YZF-R1, and so on. Spoiled for choice in the superbike market, it was difficult for any bike to keep a secure footing.
Let's look at some prices. The below table compares to the Suzuki SV1000 to some of the other motorcycles that would have been top of mind for potential owners
| Suzuki Model | 2005 MSRP (USA) |
| --- | --- |
| Suzuki SV650S | $5949 |
| Suzuki SV1000S | $8599 |
| Honda VTR1000F | $8999 |
| Suzuki GSX-R1000 | $10849 |
| Suzuki Hayabusa | $10899 |
| Yamaha YZF-R1 | $10999 |
| Ducati 999 | $17995 |
Price shopping vs the Suzuki SV1000S
So yes, the SV1000S is the cheap literbike (especially compared to the Ducati 999!). But on the other hand, it doesn't look much better in quality than the SV650S, a bike that's a lot cheaper still.
And motorcycle buyers do consider cost, but it's not the only factor. So would a buyer pay $2000 more to get their "dream" GSX-R1000? I definitely would, if that were my dream. But that's because I've learned that constantly changing bikes is the costliest way to enjoy them (alas, I'm not any closer to stopping…)
As for what happened to the motor in the SV1000S — it might be surprising, but it lived on in the Suzuki V-Strom 1000, a.k.a. the DL1000. The first iteration had the SV1000's motor (detuned) and some other shared components. Look at the chassis and headlights — you can see the family resemblance.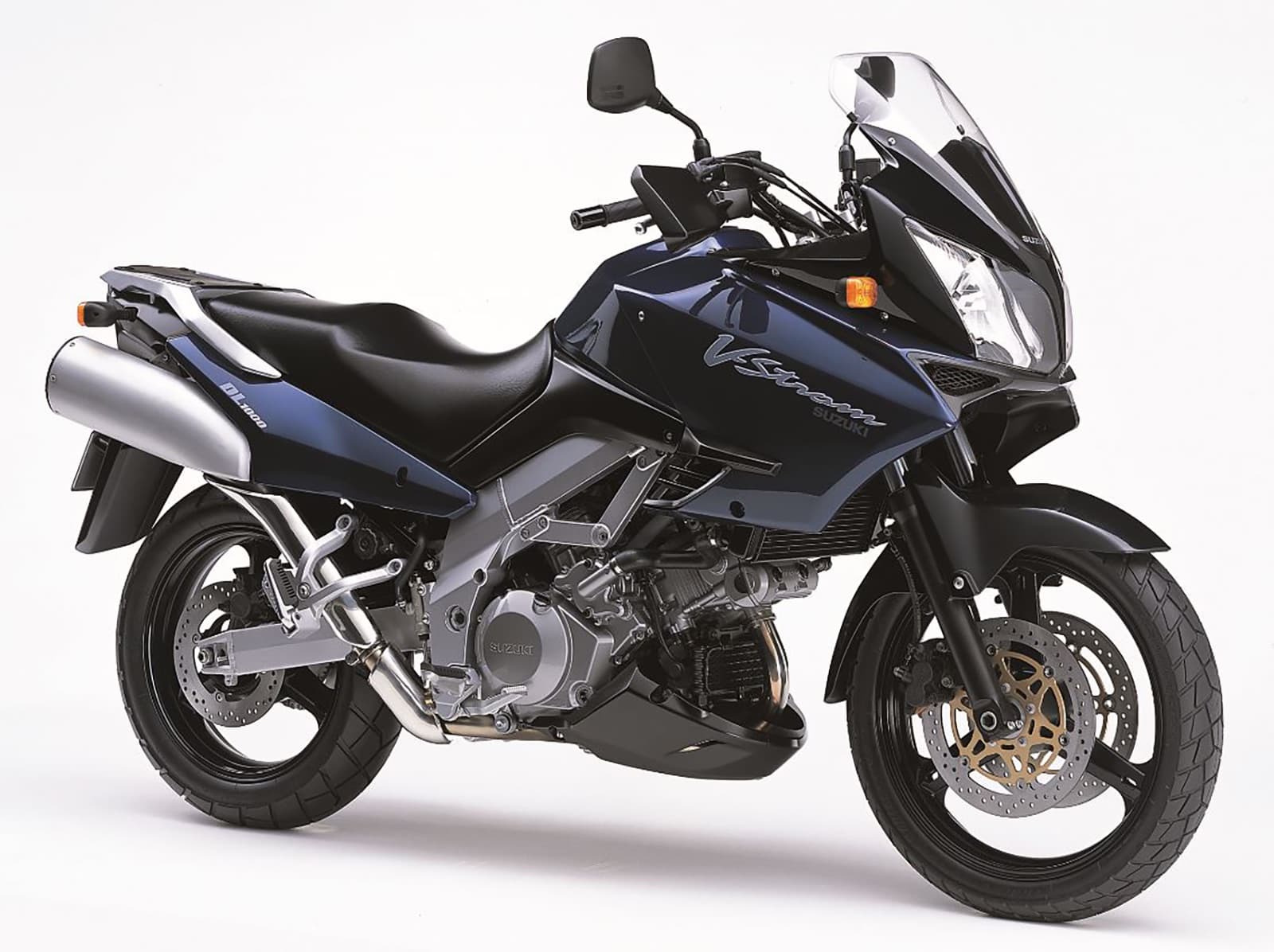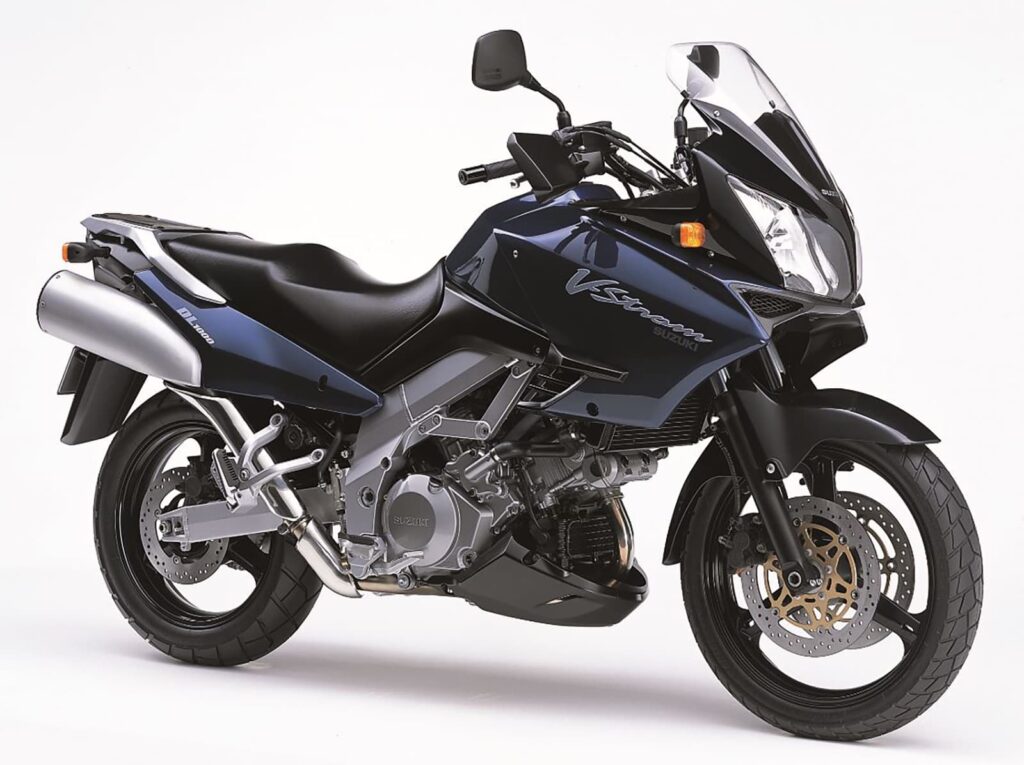 Even the original V-Strom 1000 wasn't as popular as the smaller "Wee"-strom 650. But over time, they both found independent footholds.
Is the Suzuki SV1000S a Poor Person's Ducati?
The contemporary of the Suzuki SV1000S was the Ducati 999 (and higher-spec 999S).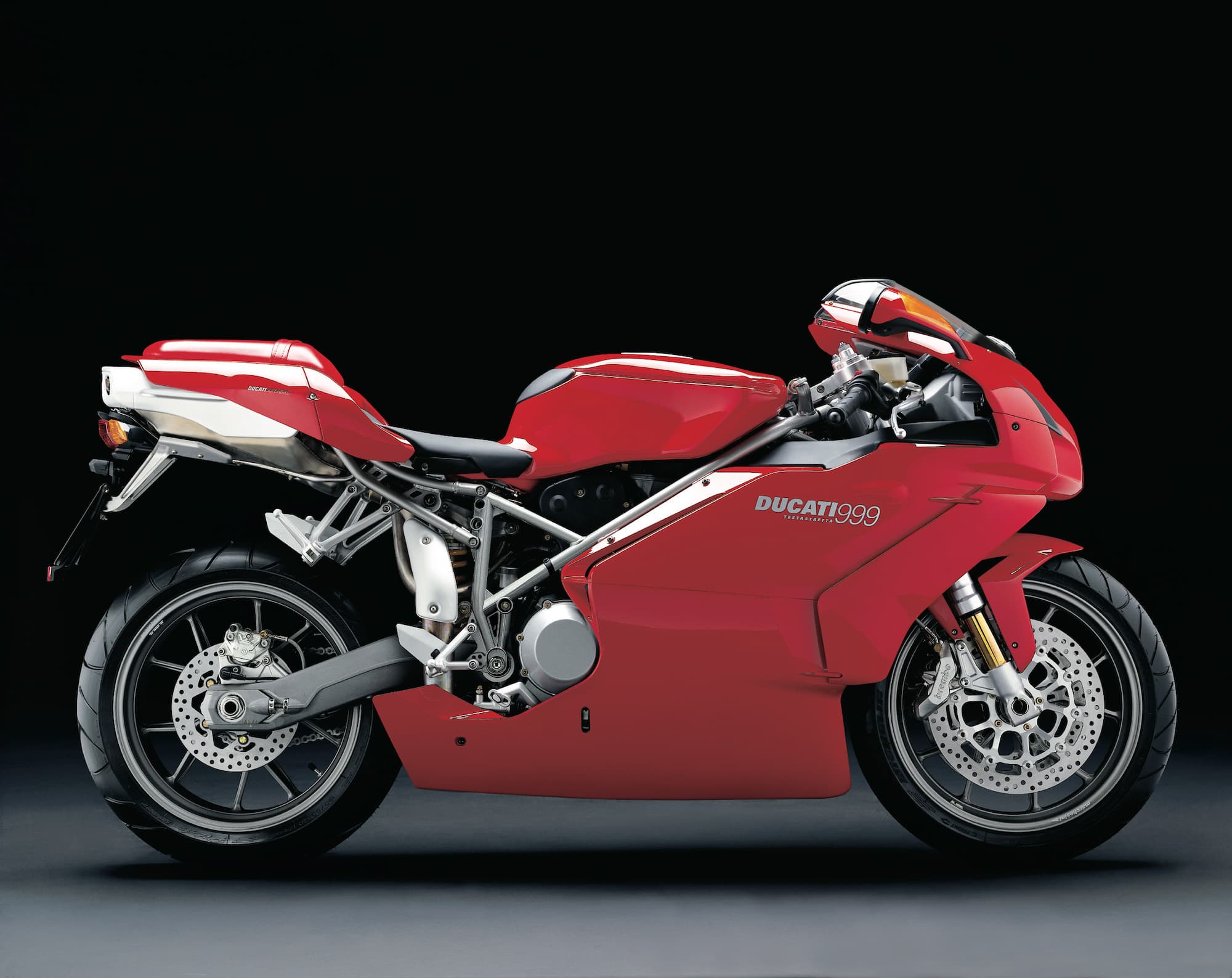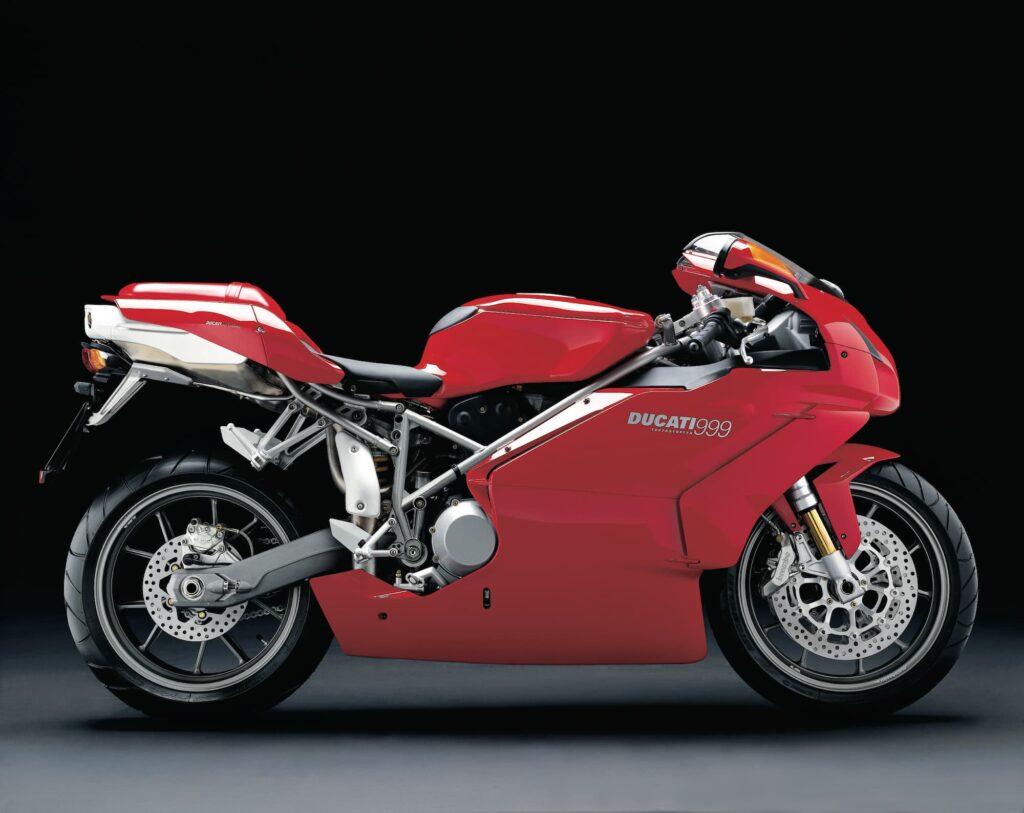 One looking at the Ducati would naturally look at the SV1000S as being a bike with similar displacement, general specs, and riding position, and think: Could I be as much a rider on the SV1000S as I could on the Ducati?
And the short answer is: of course, yes. A good rider on anything will outpace a lousy rider on anything. But that doesn't make them terribly similar bikes.
At the time I had the Suzuki SV1000S, I did think of it as a poor person's Ducati — somewhat with pride, as I like to have the "value" pick. But since then, I've had the fortune to also own a Ducati 1098S (which came after the 999), and I can attest to the fact that these are two very different bikes.
See here for my thoughts on the Ducati 1098S.
The Ducati is: more powerful, more beautiful, hotter (literally, also figuratively), much higher spec, and much less easy to ride. It also unquestionably has a better-sounding and feeling motor. On top of that, it has unique things like a dry clutch, exposed rear wheel, and branding.
It's not just that to call the Suzuki SV1000S a "poor person's" anything would be doing it a disservice. It's that they're in such different classes that I think it's unfair. You'd forget just how much value you're getting out of the SV1000S.
While the Ducati superbikes are really great bikes, they're not built for the road. They need to be on the track, or at least an isolated mountain. The few times I had my 1098S on the open highway, I was always either not on a fast enough road or on a road with too few curves. I didn't even try to stay on the freeway for more than 20 minutes.
The Ducati 1098S was such a hard motorcycle to ride in everyday life that I actually began to question my abilities as a rider (more than usual). I thought: should it be this hard to go around roundabouts? A mere flick of the throttle would dramatically change the angle. And should engines hesitate this much when at low speeds? The Ducati really hated it. There are other Ducatis that are easier at low speeds (e.g. the 899, or my Hyperstrada), but the 1098 was tough.
Look, I loved that machine. But I sold it because it was too much for me as "one" bike. I even test-rode a Suzuki Hayabusa, a bike I had discounted as being impractical, and found it surprisingly to be a better bike for everyday life! If a Hayabusa is more practical, then you know that whatever you're comparing it to is maybe not so practical.
None of those things afflicted the Suzuki SV1000S. Like its stablemate the Hayabusa, it was a decent everyday bike — didn't get too hot, was fine at low speeds (not as gentle as the 'Busa), and not outrageously loud (still quite loud, though).
Even if I were picking a track bike, I'd pick the Suzuki SV1000S for one reason — I wouldn't be weeping if I crashed it. I'd either pay far less to repair it (I shudder at the thought of replacing the Öhlins on the Ducati) or scrap it and move on.
Maintaining the Suzuki SV1000 / SV1000S
Maintaining the Suzuki SV1000S is easy.
Being a liquid-cooled V-twin, most maintenance is similar to other liquid-cooled Suzukis.
Essentially:
Every 3500 mi (6000 km) or 6 months change the oil and check everything. Use judgment if/when you've only been riding it a little in a six month period.
Every two services, change the spark plugs.
Every three services, change the oil filter and air filter
Every 4 services, check the valve clearances.
Change fluids and/or rubber parts every 2-4 years, as specified.
You can see the full maintenance schedule for the Suzuki SV1000 here.
Alternatives / Competitors to the Suzuki SV1000S
If you're looking at a Suzuki SV1000S, you're probably looking at "classic V-twin sportbikes that aren't Ducatis".
The Ducati 999 and the 1098 are sought-after bikes. I rarely see them listed cheaply. I only picked up the one I did for a low enough price because it had been crashed, and I had to replace a fairing and a triple tree, which I luckily found cheaply from owner's groups.
Similarly classic, but a bit cheaper and even more rare, are Aprilias of the time, notably the RSV1000R. These are higher spec (I less commonly see the non-R), and maintenance on these would be similarly high-priced to a Ducati.
So that leaves one alternative: the Honda VTR1000F FireStorm. This is not the superbike SP1/Sp2, but rather the street-oriented bike that's more comfortable and lacks fuel injection.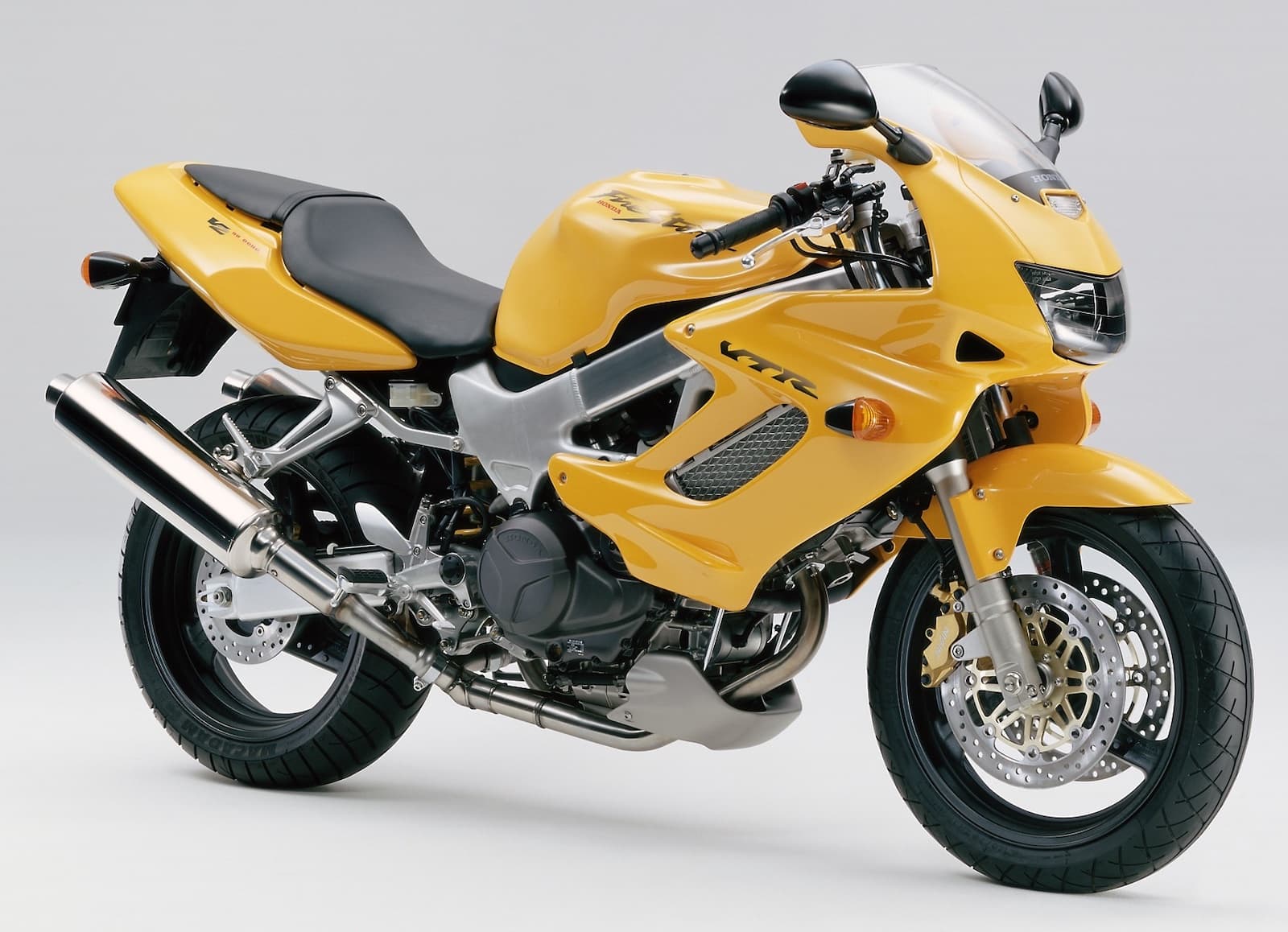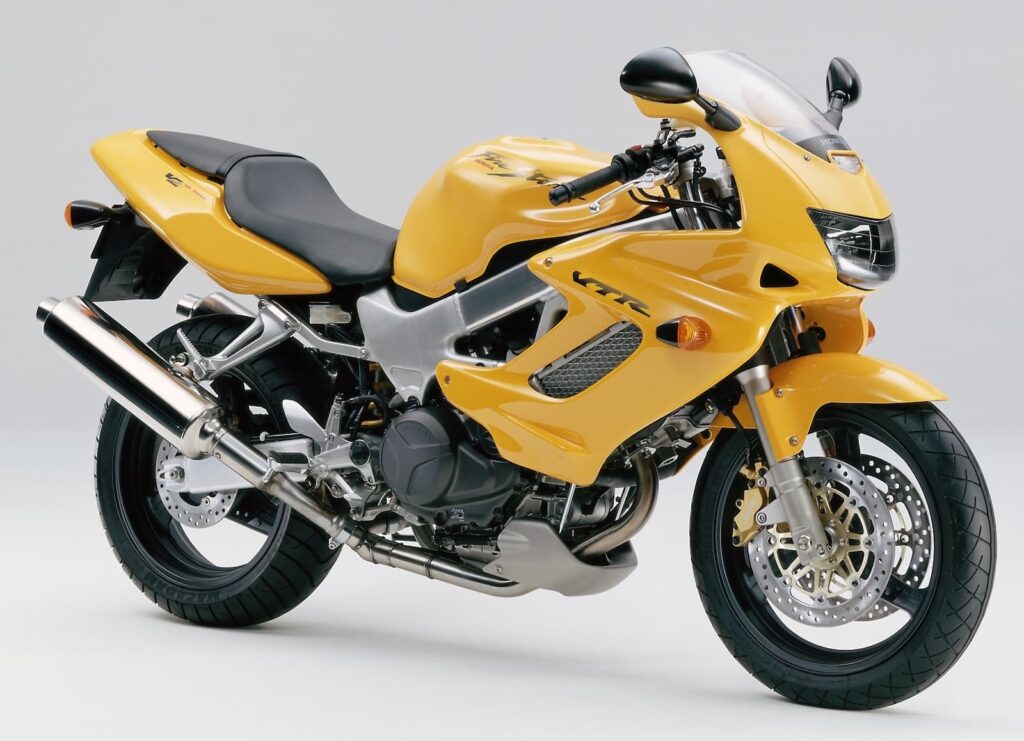 The Honda FireStorm is a very similar bike to the Suzuki SV1000, but it's distinct in a few ways. It is best likened to a Honda VFR800 — a more mature offering.
There are a few ways in which the VTR1000F is distinct.
Firstly, fuelling. The VTR1000F is fed through twin 48mm carburettors, which were the biggest ever fitted to a production motorcycle at the time. There's nothing wrong with carburettors, but my qualm with them is that in some parts of the world, they can get "gummed up" if you let your bike sit.
Secondly, the engine's power delivery. The VTR1000F makes enough power, but it makes slightly less. It also makes less torque. It's not a noticeably different amount, but it's there nonetheless. On top of all that, by most people's measure it uses more fuel, and you'll find yourself at gas stations noticeably more often. Users report below 35 mpg, and some below 30 mpg.
Thirdly, the suspension and handling. You don't get as much adjustability, and the forks are thinner. But still, like the SV1000, the suspension on the VTR is fine. Maybe at low speeds, you might find the limited steering lock to be annoying.
Finally, its looks. Like most other bikes of its class, the Honda VTR1000F Firestorm has better fit and finish than the SV1000S, and this remains true to this day — the paint has withstood decades. I really like that little side scoop on the bikini fairing. It looks distinct, and still to this day, these bikes catch my eye.
Look, if I were picking one bike between the Suzuki SV1000S and the Honda VTR1000F, I know I'd just find the one with the lowest mileage and price and best condition. It wouldn't really matter whether it were the Honda or the Suzuki because I'd likely get the same performance and reliability out of each. If I could pick just one — I'd pick the Honda for the looks. (Especially if a really well rebuilt one like this one comes up again!)
There's no naked version of the Honda FireStorm. So if that's your thing, you're outta luck: go with the SV!
Final thoughts
I didn't buy my friend John's bike. Not because I didn't like it, but because it was pretty high-mileage — 90000 km (about 56000 miles). Yes, it had been serviced, but on well-loved bikes lots of long-term items tend to fall apart, like bearings, the charging system, etc.
I went shopping for a lower-mileage one and didn't find one I liked. The ones I inspected just seemed creaky and not well kept. Perhaps this is because a consequence of a bike being inexpensive at the outset is that people are less fussy about how they keep them.
John eventually sold that Suzuki SV1000S for a song (don't even ask; pre-2020 prices are a distant memory). But I'm grateful for generous friends and glad I had my time with it.