The covers are off the 2021 Harley-Davidson Sportster S — one of the most innovative machines from Harley-Davidson in a long time. The Sportster S is innovative for all motorcycles in a few ways, for the Harley-Davidson brand in more, and for the Sportster line, in nearly every way.
But there are those among us who aren't ardent followers of Harley-Davidson, and might not know how significant this new model is for the brand. Or maybe you have a hang-up about Harley and are convinced that they're eternally doomed to be old-school.
You'd be wrong. There's a lot that's very promising about the Sportster S, and if you're like me, you might be curious about whether you might be tempted. You might be thinking about things like:
How does the 2021 Harley-Davidson Sportster S compare to the previous air-cooled Sportster?
How does the Sportster S compare to the competition — bikes like the BMW R nineT range, or the Ducati XDiavel?
What technologies really stand out on the Harley-Davidson Sportster S, both on the engine and in the bike in general?
Here's a quick overview — a comprehensive overview of what makes the new 2021 Harley-Davidson Sportster S so special.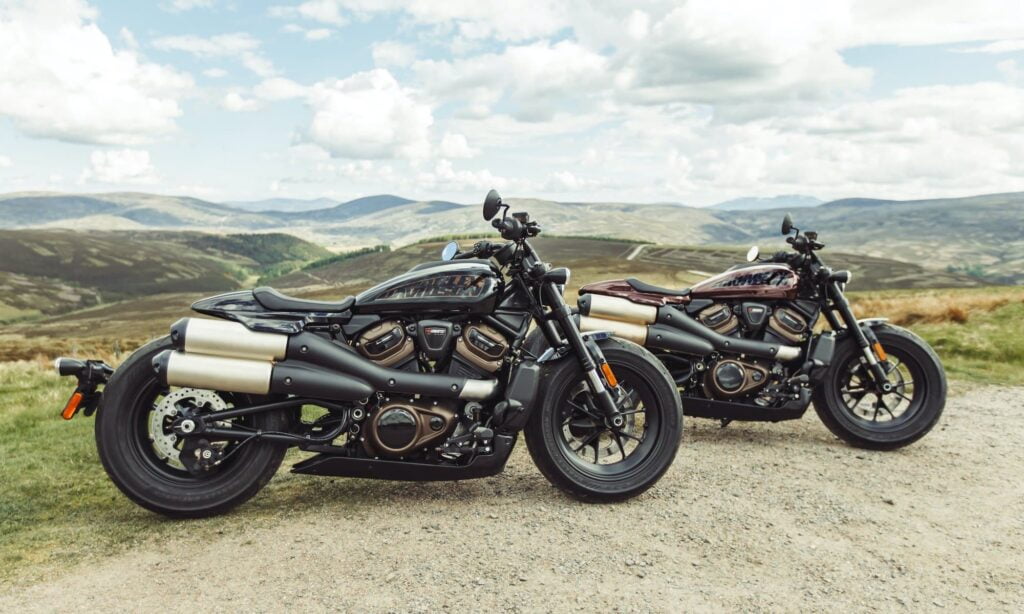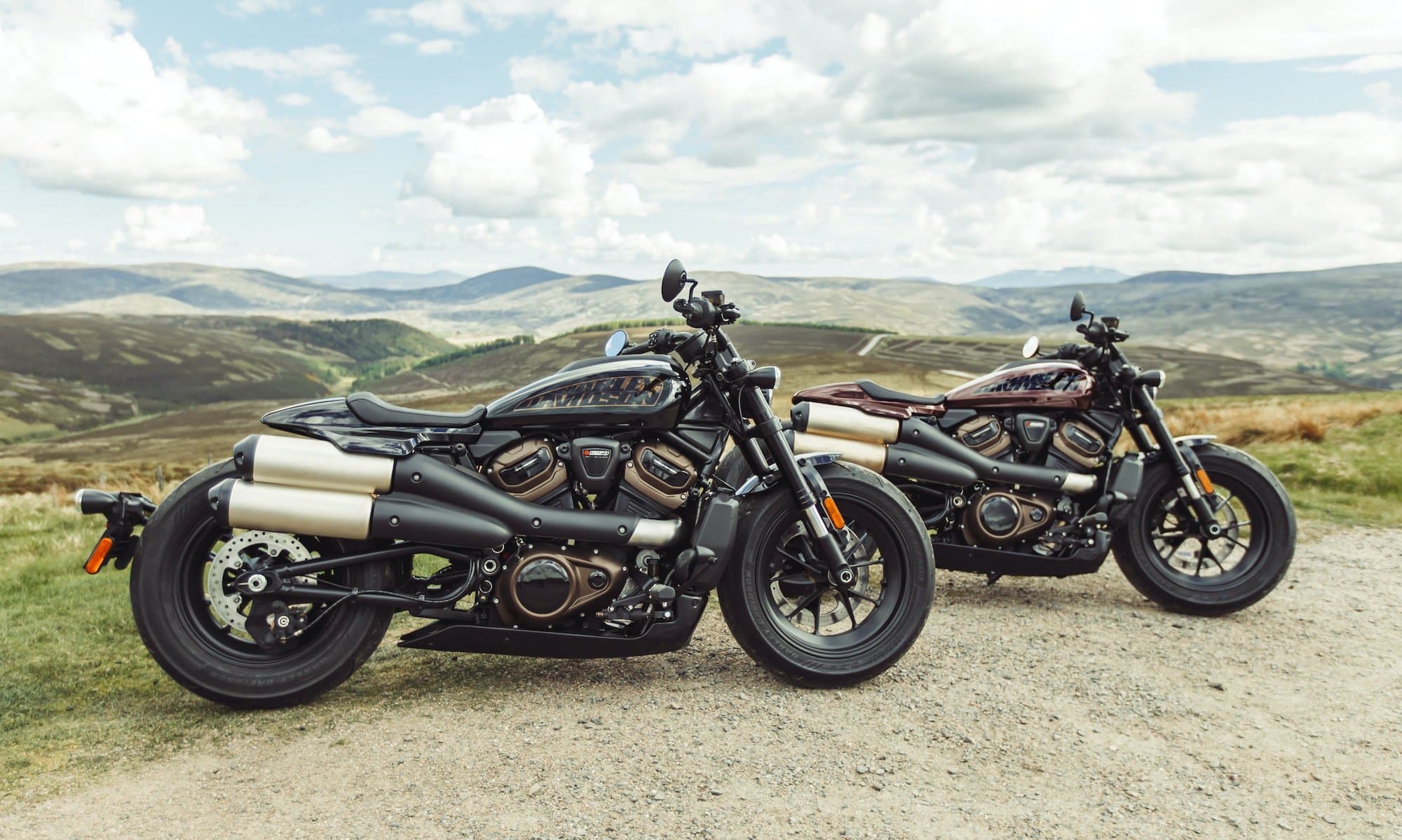 Are you obsessed with motorcycles?
Well, I am. That's why I created this site — as an outlet. I love learning and sharing what others might find useful. If you like what you read here, and you're a fraction as obsessed as I am, you might like to know when I've published more. (Check the latest for an idea of what you'll see.)
Spec Sheet of the Harley-Davidson Sportster S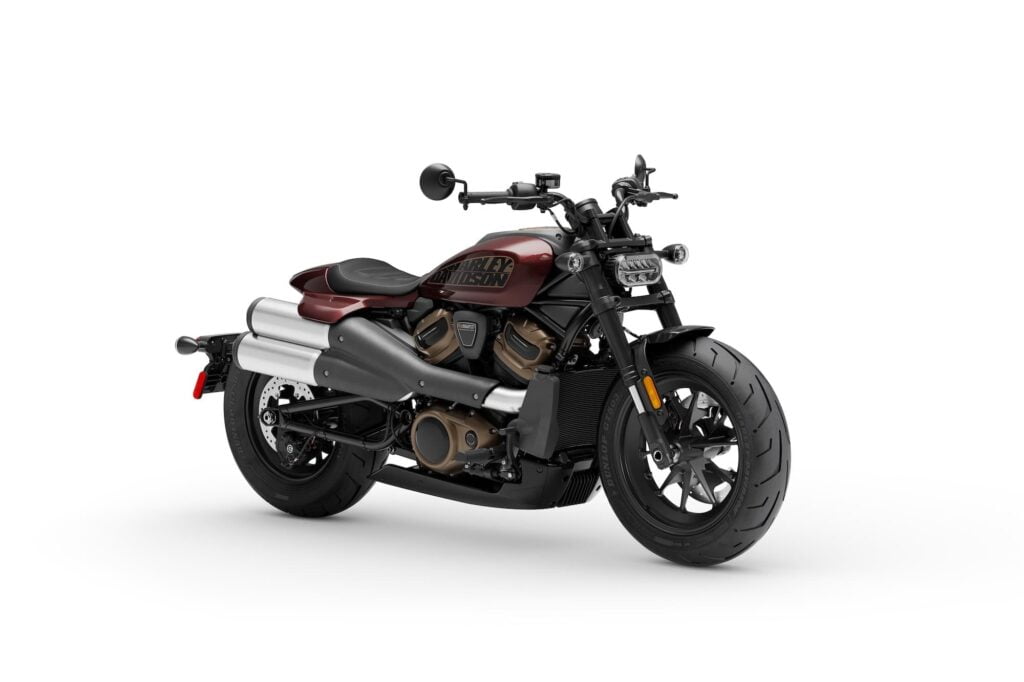 You can't ride a spec sheet — you can only read it!
But a spec sheet can be good context for understanding a motorcycle against its direct competitors. So here's a quick overview of the key specs for the Harley-Davidson Sportster S, as well as discussion about what they mean.
| Spec | Harley-Davidson Sportster S Specs |
| --- | --- |
| Engine | Revolution Max 1250T, 1,252 cc liquid-cooled 60-degree V-twin (previous Sportsters and many H-Ds were/are air-cooled) with 9,500 rpm redline |
| Power | 90 kW (121 hp) @ 7,500 rpm (twice the peak power of the outgoing Sportster 1200, but higher up in the rev range) |
| Torque | 128 Nm (94 lb-ft) @ 6,000 rpm (a lot!) |
| Compression ratio | 12.0:1 (aggressive for a Harley-Davidson; up from 10:1 for the Sportster 1200 and 9.0:1 for the 883) |
| Wet weight | 228 kg (502 lb) claimed — very light for a Harley-Davidson, competitive with other naked roadsters; a whopping 28kg or 62 lb lighter than the 2020 Sportster |
| Front suspension | 43mm Showa inverted fork with full preload, rebound damping, and compression damping adjustability (top-range, sportbike-level suspension) |
| Rear suspension | Rear Showa shock with piggyback reservoir |
| Front brake | Single front disc |
| Ride electronics | Cornering ABS (Lean angle-aware driven by a six-axis IMU), lean angle-aware traction control, 4-inch color TFT, cruise control |
| Final drive | 6-speed transmission (up from 5 from the old 2020 Sportster… but most bikes have 6-speed) |
| Ride position | Forward controls standard, with a factory mid-control kit offered |
| Price | MSRP of $14,999; 50% jump from 2020 Sportster, but competitive in the segment |
Harley-Davidson Sportster S core specs
So you can't ride a spec sheet, but here's a little more you can know to understand the above.
Firstly, Harley-Davidson promises a "flat" torque curve. This usually means lots of torque down low that doesn't peter out up top. A flat torque curve is the ideal for a ride-able bike, at a risk (sometimes, not in this case I'm sure) of making it boring.
Doing a bit of math, if peak torque is 90 kW (121 hp) @ 7,500 rpm, that means it's still making 115 Nm (85 ft-lb) at that point, or 90% of its peak, 1000 rpm above peak torque. That tells us torque doesn't just drop off a cliff. In fact, with a 9,500 rpm redline, the Sportster should feel quite sporty to ride.
Until we get dyno charts, it'll be hard to infer much more about the power delivery of the Sportster S. But peak power of 90 kW / 121 hp, and a redline of 9500 rpm, makes for a very fun-sounding ride.
Colours available for the 2021 Sportster S
There are three colours for the 2021 Harley-Davidson Sportster S — Vivid Black, Midnight Crimson (dark red/brown), and Stone Washed White Pearl. It's good to know the colour names sometimes, just in case you get caught out saying "brownish red" (guilty).
Brief Background of the Sportster S — How did we get here?
Harley-Davidson has been going in a new direction in the last few years, trying to capture a newer generation of riders with bikes that don't just look good and ride well, but which also are functionally quite different to bikes of the past.
The most notable recent innovation from Harley-Davidson has been the Harley-Davidson LiveWire (here's my ride overview), their first electric motorcycle. It was a huge departure for Harley-Davidson because — well, not even just because it was an electric motor. So much about it was uncharacteristic for the Milwaukee brand. It had a neutral riding position, really sophisticated ride electronics (like cornering ABS), and of course… it just bears mentioning again that it doesn't have an engine that goes "potato, potato".
But Harley-Davidson has been trying to do different things for a while. Its current market isn't so interested, but that doesn't stop it from trying (or needing) to do so.
Over a decade ago, Harley-Davidson tried to do liquid-cooling with their V-Rod. It's now an iconic bike that is a collector's item (prices don't drop, and sometimes go up). Unfortunately, the V-Rod line was discontinued in 2017, leaving an obvious gap in the market for another high-power, high-tech muscle cruiser.
In the past few years, Harley-Davidson has been promising a few new things. The Pan America cross-country touring bike made a big splash — a high power, full-featured competitor to top-of-the-line adventure tourers like the indomitable BMW R 1250 GS and Ducati's Multistrada line. Even Ducati was somewhat late to the big adventure touring game (the first Multi came out in 2003 and it was most definitely an on-road machine, even more so than its current models), but they were many years ahead of Harley-Davidson in that specific segment.
And Harley-Davidson gave us a brief, fleeting preview of what they called their Custom 1250 last year. I loved it, enough for me (and around 100 people a day who visit that page) to think it must be one of the best-looking motorcycles of 2021, an opinion of mine which remains unchanged.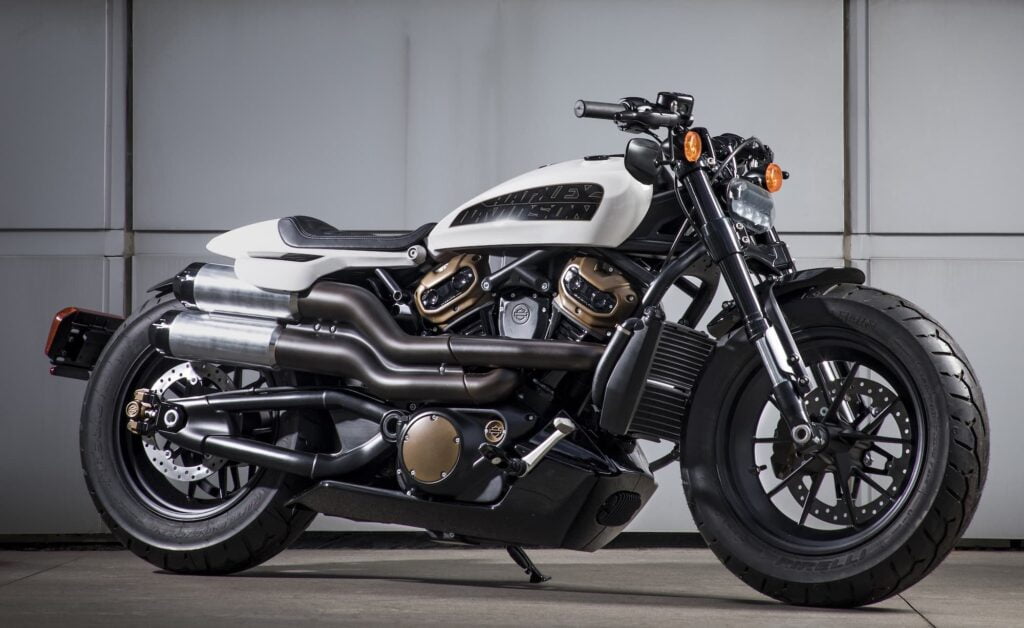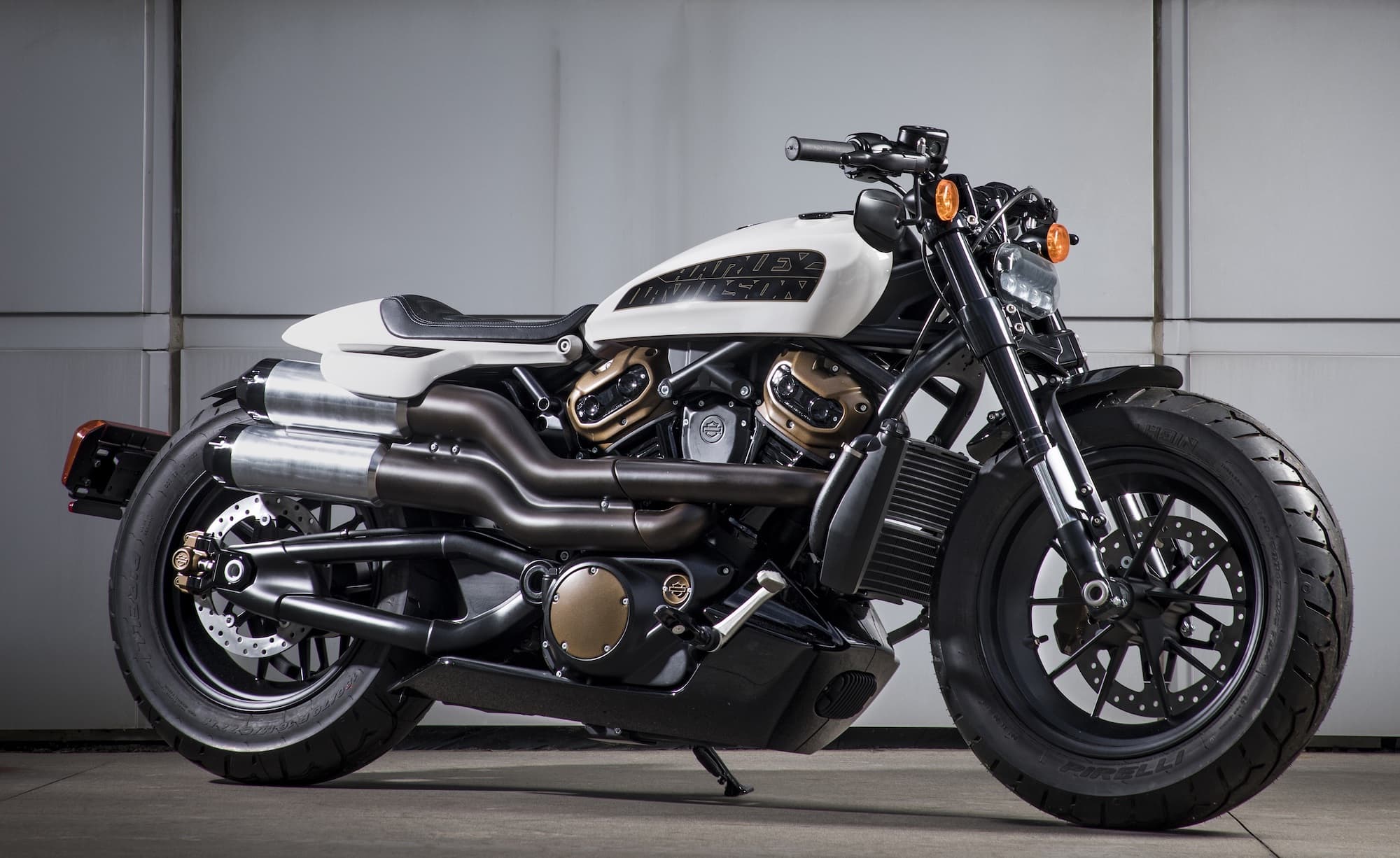 So that Custom 1250 is now this — the 2021 Harley-Davidson Sportster S.
The aesthetic design of the new Sportster S comes from a few different directions. The high-mounted exhaust calls back to Harley's legendary XR-750 flat-track bike. The low, wide design is reminiscent of the Fat Bob. And the single seat, the "bobber" aesthetic, is pure Sportster.
The 2021 Harley-Davidson Sportster S vs the Air-Cooled Sportster 1200 (-2020)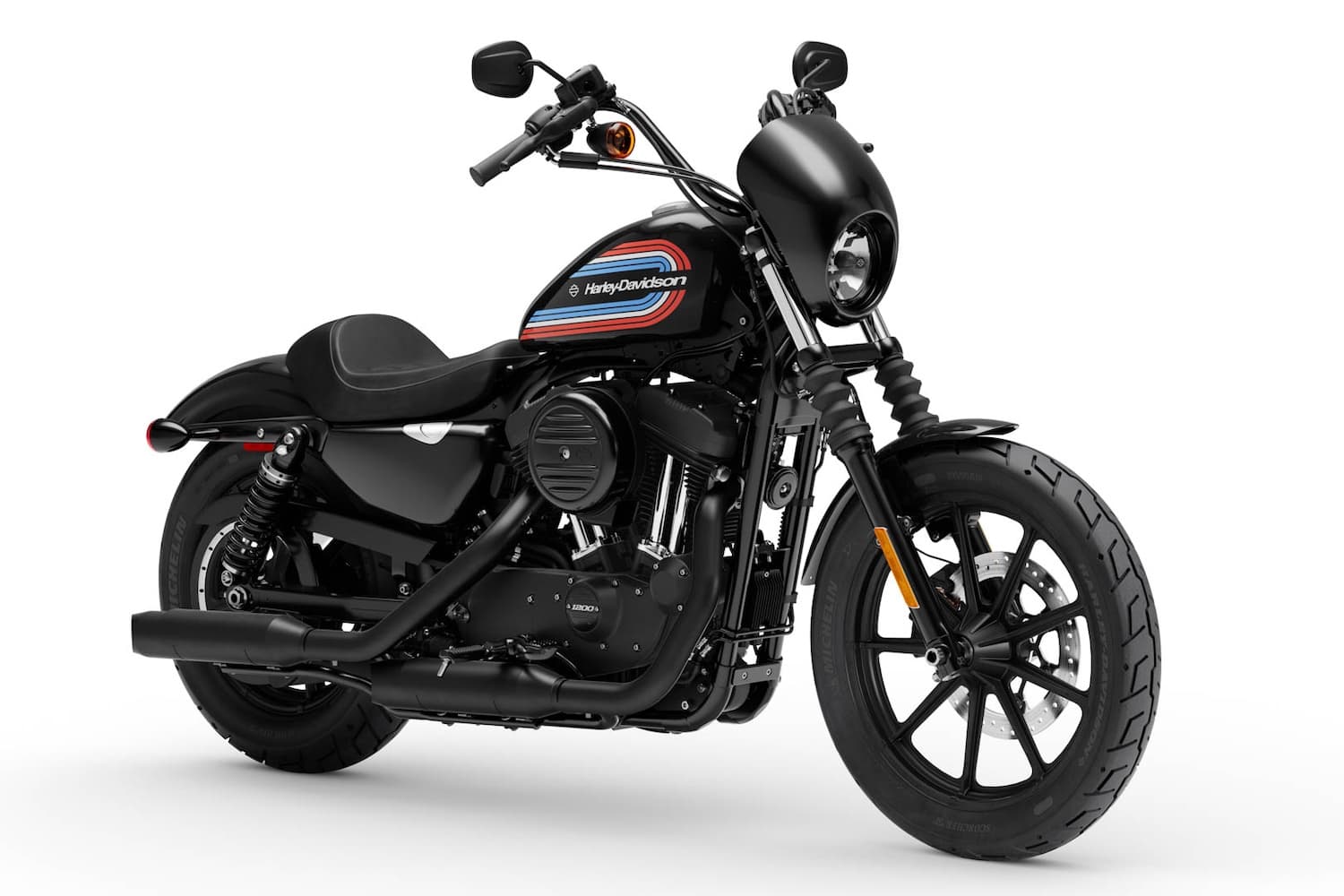 One thing that has caught many people's attention is just how different this Sportster S is to previous Sportsters. It poses somewhat of an existential crisis for many Harley owners, whose sometimes-cited attraction to the more basic bikes is that they're motorcycles and nothing else.
Firstly, it's hard to compare it to the dated outgoing Sportster model. The only way in which it can be compared is that the new Sportster S embodies what the Harley-Davidson Sportster used to be when it was launched in 1957.
Back then, the Sportster was a fast motorcycle; a "giant killer", highly customisable, and was the platform for audacious things like setting land speed records.
Fun fact — in 1970, Cal Rayborn set the Bonneville Salt Flats land speed record on a Harley-Davidson Sportster… worked heavily, of course, with a 1480cc motor. He got it to 265.492 mph (410.37 km/h). Also, it didn't look like your average Sportster.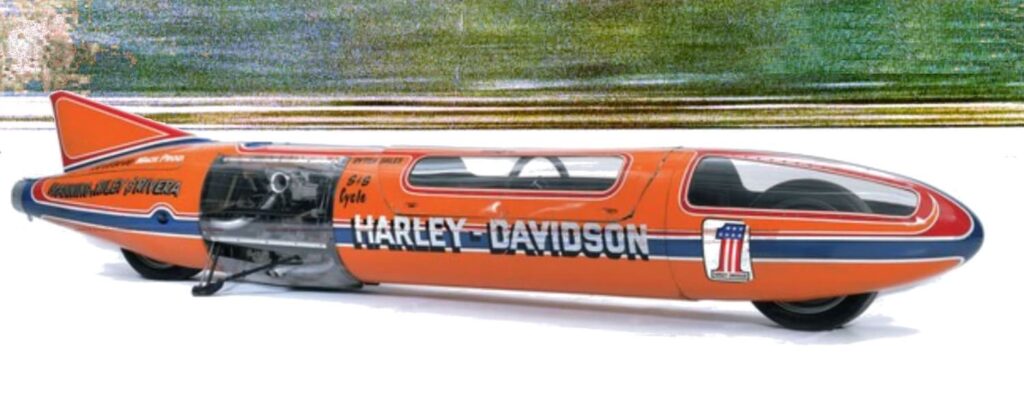 But the Harley-Davidson Sportster has not changed at the same pace as the motorcycling industry over the last fifty years. The last model had the same basic engine block and platform since 1986 (through to 2020 — over three decades!), with recent innovations being things like rubber engine mounts (2004), fuel injection (2007), and ABS (2014). And that's it.
Even in Harley-Davidson's official announcement video they make light of the fact that the 4-inch TFT display in the 2021 Sportster S means riders now get turn-by-turn navigation and don't have to rely on the old-school "Sportster" method of taping directions to the fuel tank.
The last major update to the Harley-Davidson Sportster came in 2014. In 2014, the Sportster gained optional ABS, a keyless ignition system (which I hear many complaining about in every brand, wishing for the old days when a key was a piece of metal), a new display with a gear indicator and tachometer, higher compression ratio, and of course conformity to new emissions guidelines.
But compared the the outgoing 2020 Harley-Davidson Sportster 1200, the new 2021 Harley Davidson Sportster S is…
Twice as powerful — the outgoing model made a peak of ~60 hp from its 1202cc air-cooled "Evolution" V-twin motor. It made nearly as much torque though (well, same order of magnitude) with 73 lb-ft — but the older air-cooled motor couldn't rev as high.
Lighter by 28 kg / 62 lb — this is a lot lighter. Imagine losing that much weight. You don't feel it as much at speed, but you do when parking, when cornering aggressively, and when accelerating.
Much higher-tech — yes, the outgoing 2020 Sportster had ABS. But didn't have ride modes, traction control, cornering ABS, or cruise control. For some people, lower tech is a "pro".
For more advanced riders — this is controversial, but in the US, the old air-cooled Sportster is considered a good "beginner" bike. It can be a bike for anyone, of course. But with over 90 kW / 120 hp on tap, not many would say the same thing about the Sportster S (though I'm sure it'll be the first bike for many people anyway).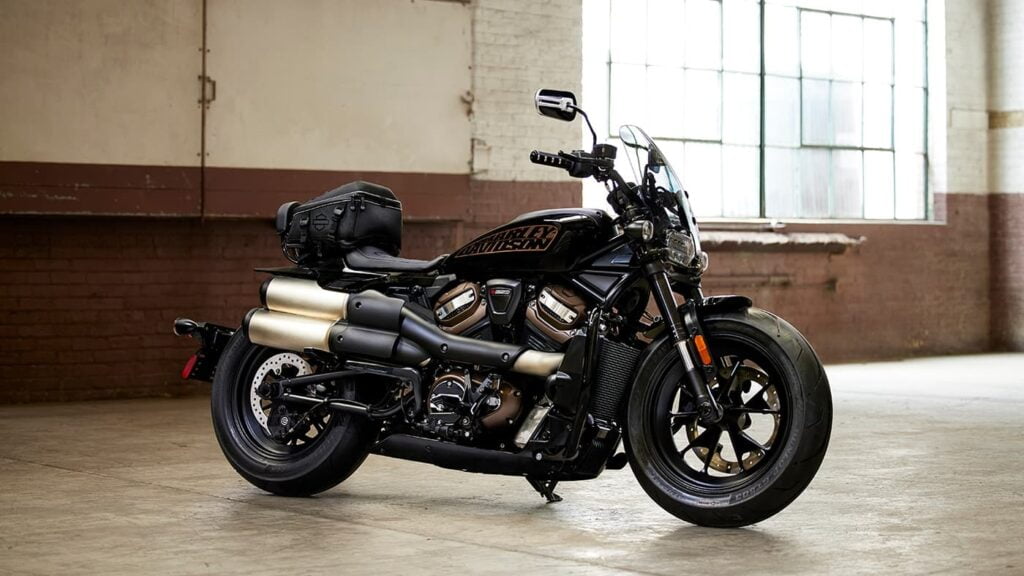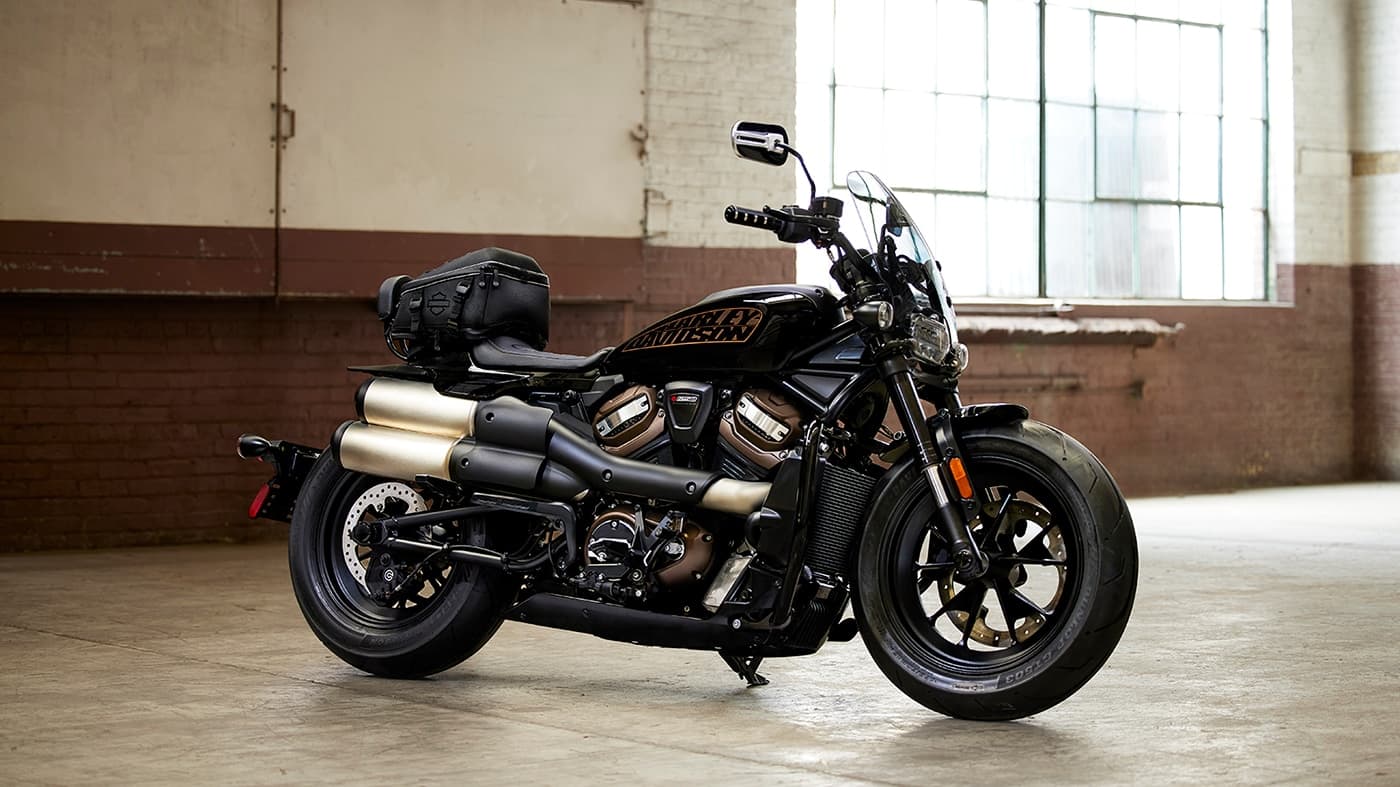 In summary, the new 2021 Harley-Davidson Sportster S is just a very different bike to the outgoing Harley-Davidson Sportster 1200, and will likely appeal to a different generation or type of rider.
About the Engine of the Harley-Davidson Sportster S, the "Revolution Max 1250T"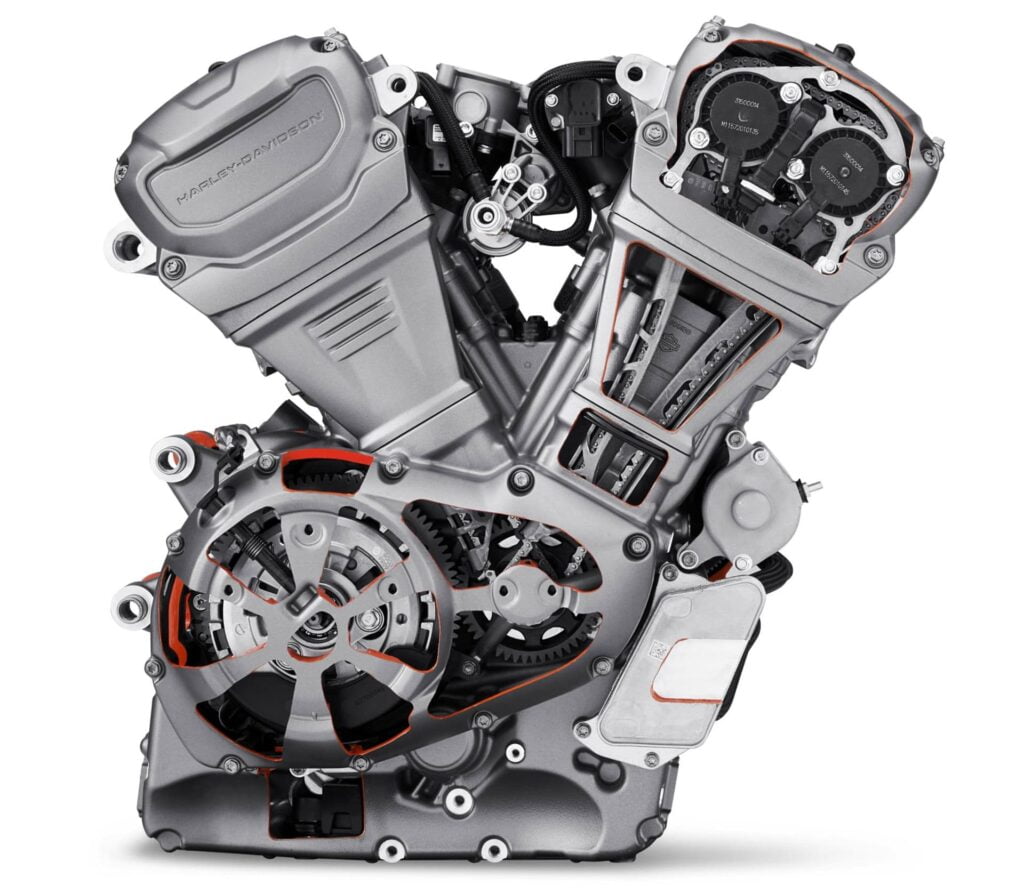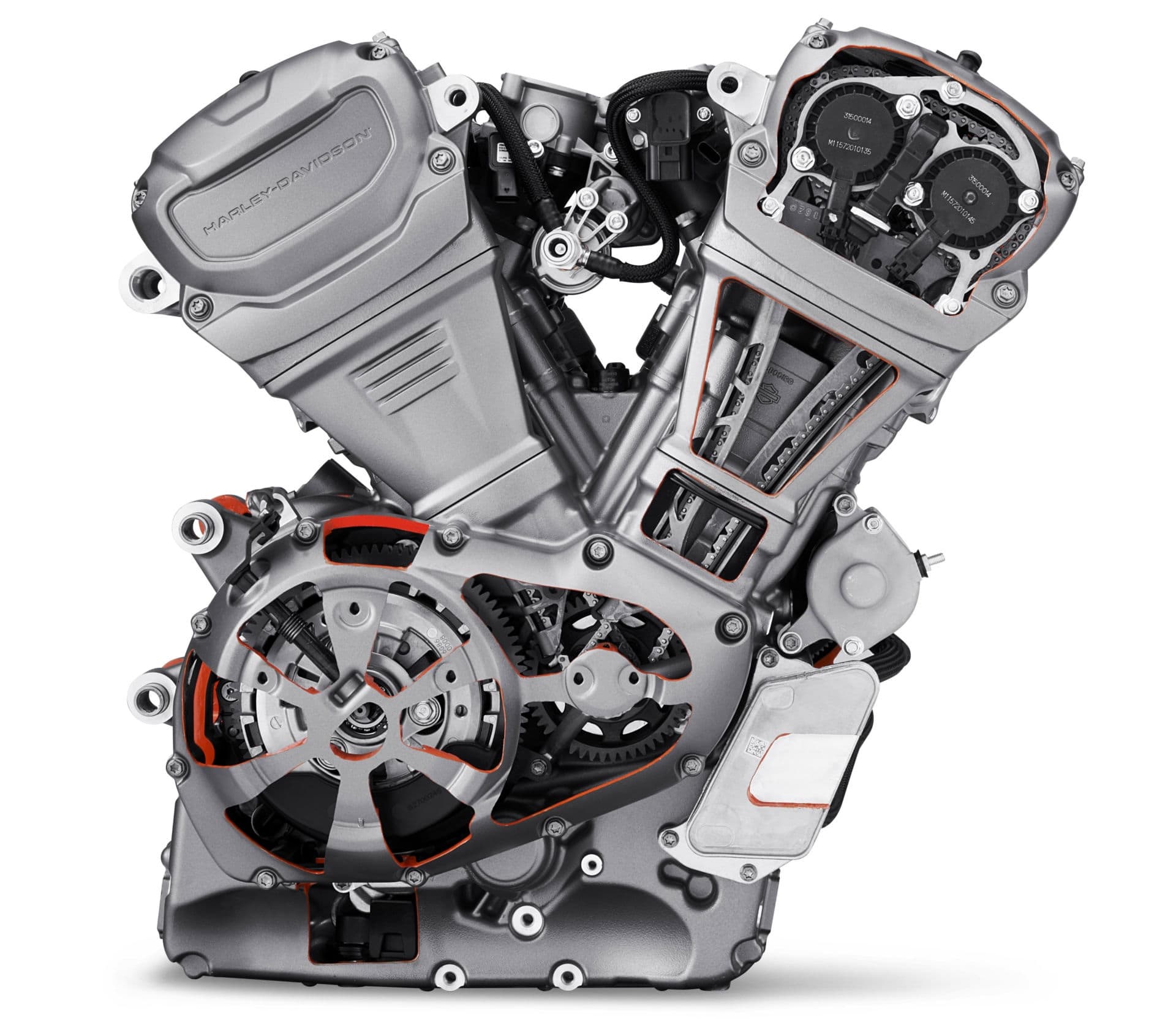 Harley-Davidson are calling their new motor the Revolution Max 1250T.
The only other place you'll currently see the Revolution Max 1250 (without the T) motor mentioned is in the also new-for-2021 Harley-Davidson Pan America. But that motor is in a different, higher state of tune, making 112 kW (150 hp) peak.
The T in the name of the Sportster S' motor, the Revolution Max 1250T, is for "torque". That's what the motor is more tuned for. This is because, I suppose, riders of the Sportster S are expected to spend less time chasing top speed, but let's see how this theory plays out…
But alongside the Sportster S and the Pan America, Harley-Davidson says we can expect to see the Revolution Max 1250 motor in more motorcycles — more models, more variations, and in different states of tune.
At its core, the Revolution Max 1250 is very Harley-Davidson. It's a torque-forward 60-degree V-twin! But there are a few things about it that are different.
Liquid cooling
Firstly, the new Revolution Max 1250 motor is liquid cooled. This is not new tech at all, but it is quite different for Harley-Davidson.
The most notable example in recent history of Harley-Davidson producing a liquid-cooled motorcycle was in the gorgeous and fast V-Rod, also known as the V-Twin Racing Street Custom or VRSC. The V-Rod is the bike that sportbike riders know of and often say they'd choose if they had to go Harley.
The VRSC line was co-designed by Porsche Engineering. It was gorgeous, it was fast, it came in many beautiful variations, and it was suddenly terminated in 2017, with rumour suggesting this was due to tightening emissions regulations. RIP.
More recently, Harley-Davidson has produced other liquid-cooled motorcycles, like the Street 750 (a docile but capable Triumph Street Twin competitor), and of course the much-awaited Pan America. The Road Glide had liquid-cooled heads. But there hasn't been a big fully liquid-cooled muscle bike since the V-Rod's demise.
Even though liquid cooling adds "complexity", it reduces maintenance needs (because the engine never gets as hot), allows an engine to be run to tighter tolerances and with higher compression ratios, and these days liquid cooling is very low maintenance… unless a rock hits your radiator. But I'm sure Harley-Davidson will sell radiator guards.
–> See more about liquid vs air/oil-cooling in motorcycles.
Variable Valve Timing
The second thing notable about the Revolution Max 1250T motor is that it has variable valve timing or VVT.
Variable valve timing is a technology common in cars these days, but more rare in motorcycles, where space is at a premium. Honda had its VTEC system in the VFR800, Ducati introduced it with their DVT motors in the latest Diavels and Multistradas, and Harley had never done it before.
The variable valve timing system in the Revolution Max motor is computer controlled. It works by adjusting the inlet and exhaust valves, with a range of up to 40 degrees of crankshaft rotation. This lets the computer adjust the camshaft duration with a range of input parameters, including throttle position, engine speed, and fuel/air combustion parameters.
The goal of VVT is to deliver optimum torque down low and power up high, but it has a side benefit of increasing combustion efficiency, which pleases the emissions-regulating powers-that-be.
Hydraulic Lash Adjusters for Maintenance-Free Valves
Finally, the valves on the Revolution Max are maintenance free.
This is huge on such a sporty engine. The Revolution Max engine in the 2021 Sportster S have hydraulic lash adjusters which mean that you never have to do a valve service.
Nearly every other motorcycle produced today has mandatory valve service intervals. With complicated designs like the desmodromic 2-valve-per-opening and 4-valve-per-cylinder system in the XDiavel (and other Ducati motors), valve service is time consuming and/or very expensive.
On other motorcycles in the same segment, like the BMW R nineT, a valve service is relatively easy, but it sneaks up annoyingly often, every 6,000 miles (10,000 km).
Other changes in the Revolution Max engine
There are other technical novelties for the Revolution Max engine that aren't as new in the motorcycling world, but which are either new for Harley-Davidson or just worth mentioning.
These are things like dual overhead cams four valves per cylinder (common, though not universal, on other bikes even in the 1990s), dual counter-balancers to smooth out the vibes, the use of lightweight metals, and so on.
Rider aids and Electronics on the new Harley-Davidson Sportster S
Another important note is the rider aids and electronics available on the new Harley-Davidson Sportster S.
Chief among these are
Cornering ABS. There are those to whom ABS is already anathema; "I brake with my hands". Then there's cornering ABS, which modulates ABS depending on your acceleration, lean angle, pitch, and other parameters, always doing its best to avoid you tipping over in any situation. Cornering ABS is becoming increasingly common on premium bikes — here's a list of bikes that have it.
Cruise control. You expect to see cruise control on big touring bikes or adventure tourers, but it's surprising to see it on a naked bike or muscle bike. It's not just for the highway — cruise control can give you a chance to shake out your hand or to just get through a speeding camera-dense stretch of the freeway.
A 4-inch TFT display with turn-by-turn navigation. I'd almost expect this at this stage seeing it's also available on possibly the cheapest new cruiser motorcycle in the world, the Royal Enfield Meteor 350…
Phone connectivity. The new Sportster S lets you connect your phone to your bike. This lets you set features like navigation and get alerts for phone calls. It's all integrated with Harley-Davidson's speaker and mic-equipped helmets, like the Boom! N02.
Some of these features are available on other premium motorcycles from Harley-Davidson, but they're new to the Sportster line.
Competitors/Alternatives to the Harley-Davidson Sportster S
The Sportster S is such a new direction for Harley-Davidson that it's hard to find competitors even within the brand.
Here are the main competitors — from the perspective of a consumer.
Ducati Diavel/XDiavel. Ducati's XDiavel was always an outlier both in cruisers and in motorcycles for Ducati. An ultra-premium cruiser, the 2021 XDiavel's DVT engine makes a peak of 120 kW / 160 hp, has every rider aid you could need — cornering ABS, cruise control, ride modes, and more. Its kerb weight of 247 kg is heavier than that of the new Harley-Davidson, but there's no questioning the XDiavel goes hard and fast, and unlike most cruisers, it can actually lean.
Indian FTR 1200. Indian released their "flat tracker-inspired" (but really a naked/roadster, with a more sporty riding position compared to the Sportster S) motorcycle in 2019 and reviewers love it. It's powered by a 1203cc liquid-cooled 60-degree V-twin with full ride-by-wire. The engine makes 90 kW (120 hp) @ 6,000 rpm, with peak torque of 115 Nm (85 ft-lb) — very similar specs to the Harley-Davidson. Wet weight is 235 kg (517 lb), slightly but not significantly more than the Sportster S. The FTR comes standard with cruise control, and the FTR S and R come with cornering ABS/lean angle-aware traction control.
BMW R nineT. BMW themselves hinted at these being a competitor in their marketing materials, saying that competitors' motorcycles need valve adjustment, "some of them as often as every 6,000 miles". The R nineT uses an old engine from BMW (the Camhead, retired from their premium bikes in 2014). It's air-cooled, but produces an impressive 82 kW/110 hp, powering the rear wheel through a shaft drive. The R nineT weighs slightly less than the new Sportster S (221 kg vs 228 kg). The 2021 models all have cornering ABS and cruise control and so are real competitors. But they'll lack the outright aggressiveness of the Harley-Davidson.
–> See the BMW R nineT range buyer's guide
Of the above, the Indian FTR 1200 S poses the greatest threat to the Harley-Davidson Sportster S. The FTR has been around for a couple of years and you can find used examples for decent prices. If you prefer your feet to be under you a bit rather than a cruiser position, the FTR may be more for you. But if you stretch out, then keep eyeing the new Harley-Davidson.
What else? I'm not sure. Yamaha discontinued the VMAX in 2020. The Suzuki M109R is a power cruiser that's still in production, but it's ancient and hasn't fundamentally changed in over a decade (it doesn't even have ABS), and it's heavy. The Triumph Bonneville Bobber is a cruiser with a similarly-sized liquid-cooled engine, but it's so down on power that it isn't really a muscle cruiser.
If you go on a bit more a tangent, you can compare the Harley-Davidson Sportster S to other high-power streetfighters and standards like the BMW S 1000 R, Aprilia Tuono, or even the Ducati Streetfighter V4. They'd definitely appeal to the same people in principle. But the riding position is markedly different, especially in stock form. Even a bike with mid controls is a far cry from the aggressive "let's go faster!" lean forward that a streetfighter will give you.
Basically, the world mostly forgot about muscle cruisers, and Harley-Davidson swooped back in with the Sportster S and is doing something it does really well.
More high-res photos of the 2021 Harley-Davidson Sportster S
Here are a few more photos to feast your eye on before you see one in person.