I once had a dream that I was riding a Honda CBX1000. It was as vivid as any dream I can remember. I remember the engine head sticking out the sides. I remember the purtle of the exhaust at idle. I even remember awkwardly parking it at a diagonal on a city street, thinking "Wow, this thing is kinda wide."
I woke up and thought: ye gods, was that a premonition? Or a sign? Maybe every other motorcycle is leading up to that one bike. So the sooner I get there, the sooner I can stop trying to get there.
So when I come across a Honda CBX1000 in good condition in a local classifieds at or on BringATrailer, despite the relatively eye-watering price, I always think: is this it? Is it time to sell all the rest and put my money into this one bike? Is it time to make my dreams reality?
Those who dream by night in the dusty recesses of their minds wake up in the day to find it was vanity, but the dreamers of the day are dangerous men, for they may act their dreams with open eyes, to make it possible."

T.E. Lawrence, "Seven Pillars of Wisdom"
And so I went through this cycle again when I saw a Honda CBX1000B — a full fairing model — for sale for A$24995 at MotoMAX in Western Australia. (Photos below are largely of the model from MotoMAX.) It was later discounted to around $22K and is now sold, as it should be.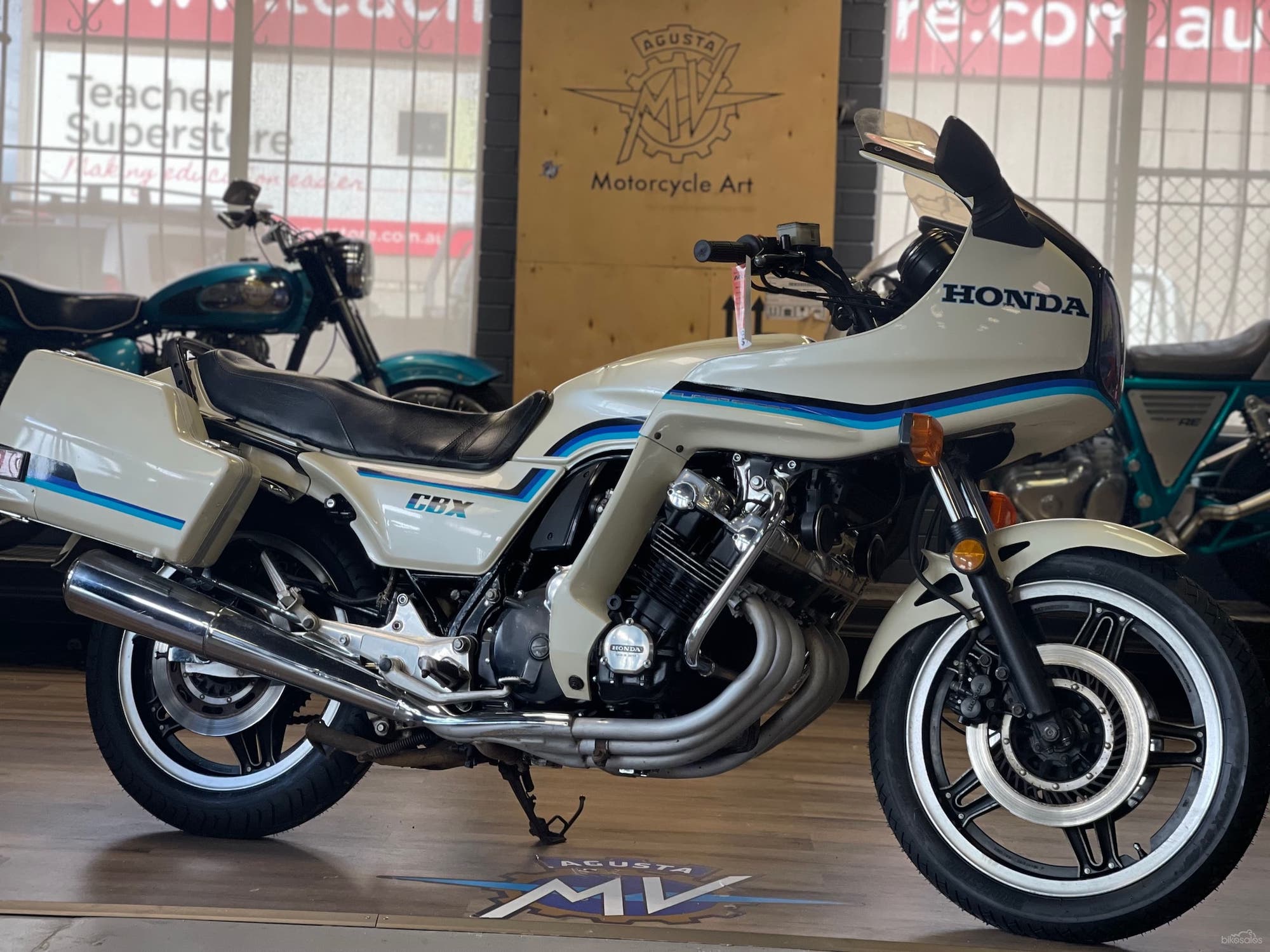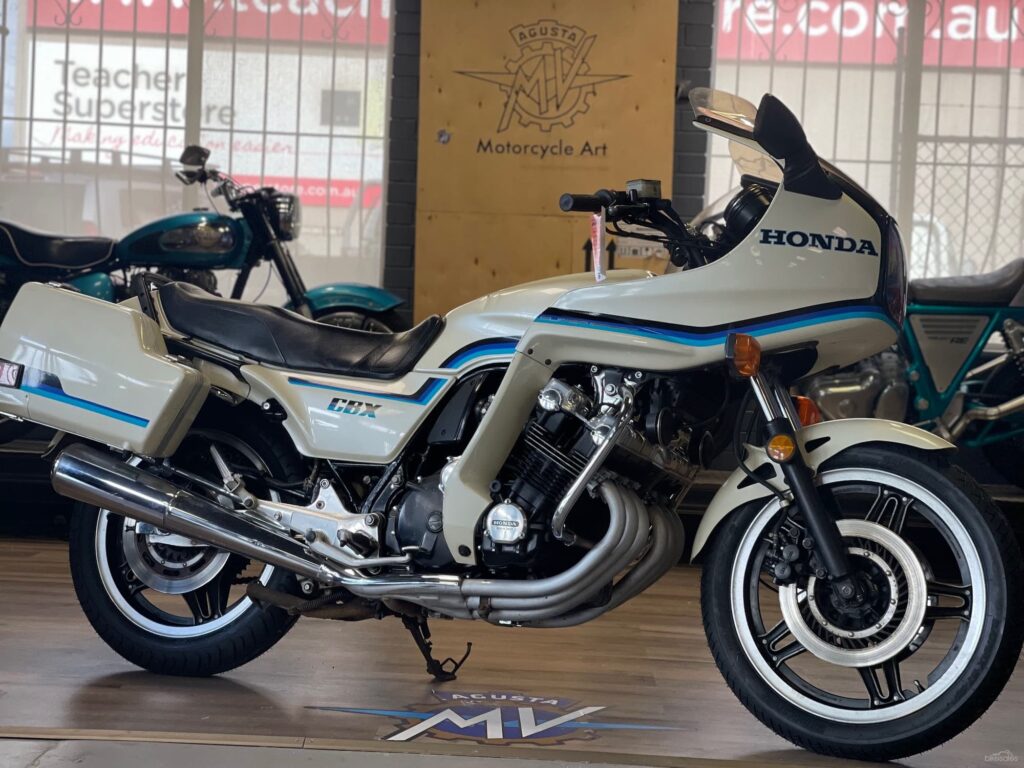 This is the first time I've seen a CBX1000 with a full fairing for sale. I often see the naked equivalent, but this one is special.
I always think:
What makes the CBX1000 so special, again?
What would it be like to own the CBX1000? (the dream vs reality)
What alternatives are there to a Honda CBX1000?
How much should you pay for a CBX1000?
I look into all this below. Enjoy!
PS if you're into Honda motorcycles that you can use as comebacks to people claiming Honda is "boring", I have a whole list of them here.
Are you obsessed with motorcycles?
Well, I am. That's why I created this site — as an outlet. I love learning and sharing what others might find useful. If you like what you read here, and you're a fraction as obsessed as I am, you might like to know when I've published more. (Check the latest for an idea of what you'll see.)
Brief Background of the Honda CBX1000
The Honda CBX1000 almost needs no introduction (to motorcycle nerds), but here is a refresher. In brief, the CBX1000 is of the very few six-cylinder sport bikes ever made.
There are other six-cylinder motorcycles, of course, like the BMW K 1600 GT, or Honda Gold Wing GL1800, both of which which are still being made. And there even was a competitor at the time to the CBX1000 which has its own fans (see below), plus a predecessor from Benelli.
But the Honda CBX1000 has a special place in people's hearts.
The Honda CBX1000 is powered by a transversely-mounted inline six-cylinder engine that's 1047 cc in capacity. It's a modern engine with dual overhead cams and four valves per cylinder and is fuelled by six Keihin 28mm CV carburettors. (Yes, six carburettors… consider that below in the "ownership" section.)
The CBX1000 has five gears and drives the rear wheel via chain drive. And keeping it in check are solid twin front discs with two-piston calipers. So, nothing particularly special in terms of ride gear, but it was standard fare for the time.
The Honda CBX1000 was originally billed as a "superbike". The definition of superbike at the time was essentially any fast bike. We'd call them supernakeds these days.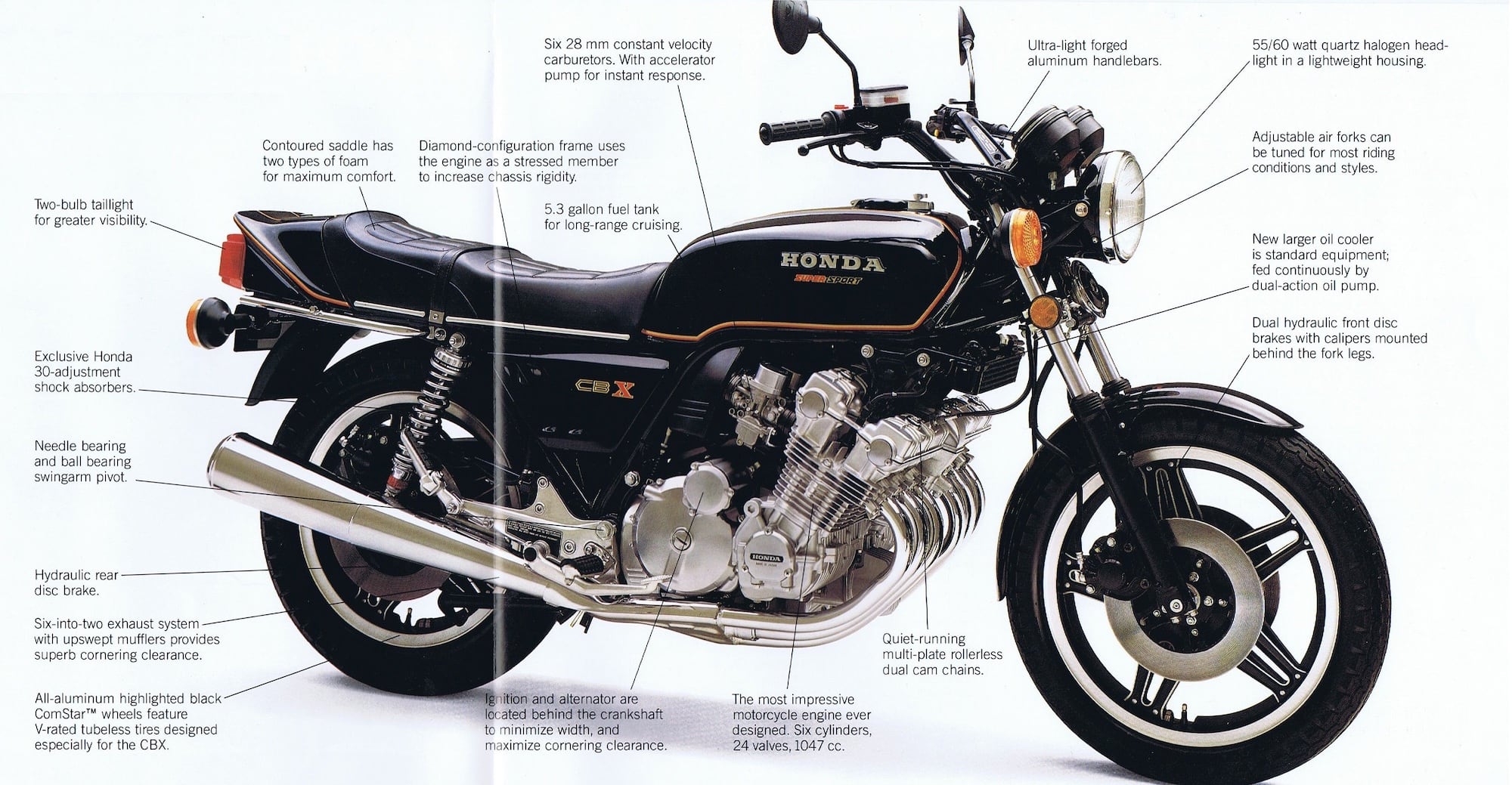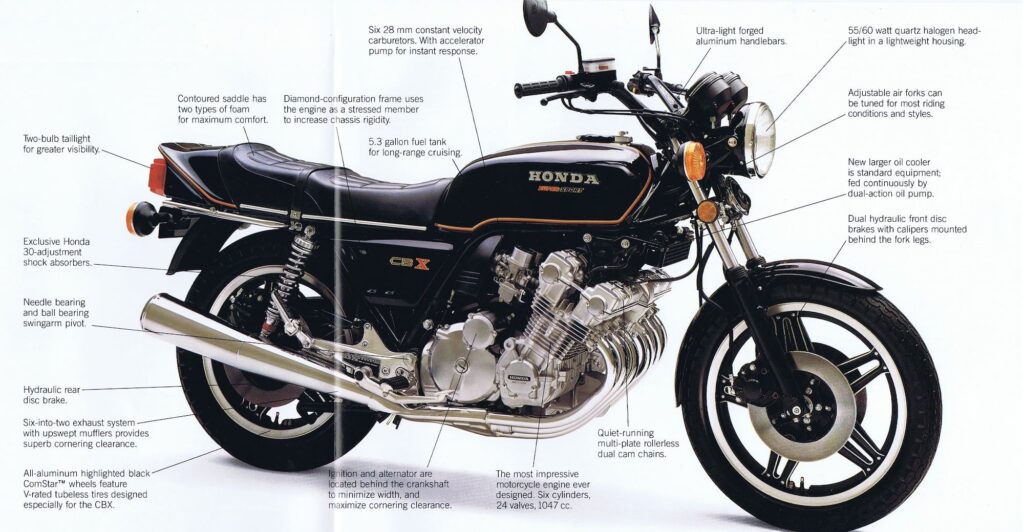 According to various CBX obsessives, Honda designers, led by Project Leader Shoichiro Irimajiri (入交 昭一郎), initially started designing the CBX1000 alongside what became the Honda CB900 (which I owned, which seems ridiculous in retrospect) under the same project — to build motorcycles with six and four cylinder engines using racing-inspired engines, but using chain-driven camshafts.
At the time, Honda had already won a lot of fans with the CB750, a four-cylinder sportbike. The CB750 is still legendary and was a favourite for custom builders… I think they've all been found and rebuilt, by now.
When Honda set to design the CBX1000, they had already used six-cylinder bikes in racing. And other manufacturers (including at least Benelli) had six-cylinder bikes on the market.
Honda launched the first version, the CBX1000Z, in November 1977 at Suzuka, and sent it to European dealers early in 1978. They actually sold very slowly. Insurers were afraid to insure such a complicated machine! So much so that dealers started to discount them.
Honda produced a total of 38 079 CBX1000 motorcycles in Japan. Honda also built 3150 in the USA, known as the CBX1000A (the "A" being for "Air"… or "America!" if you will). The US got the CBX1000A in 1980.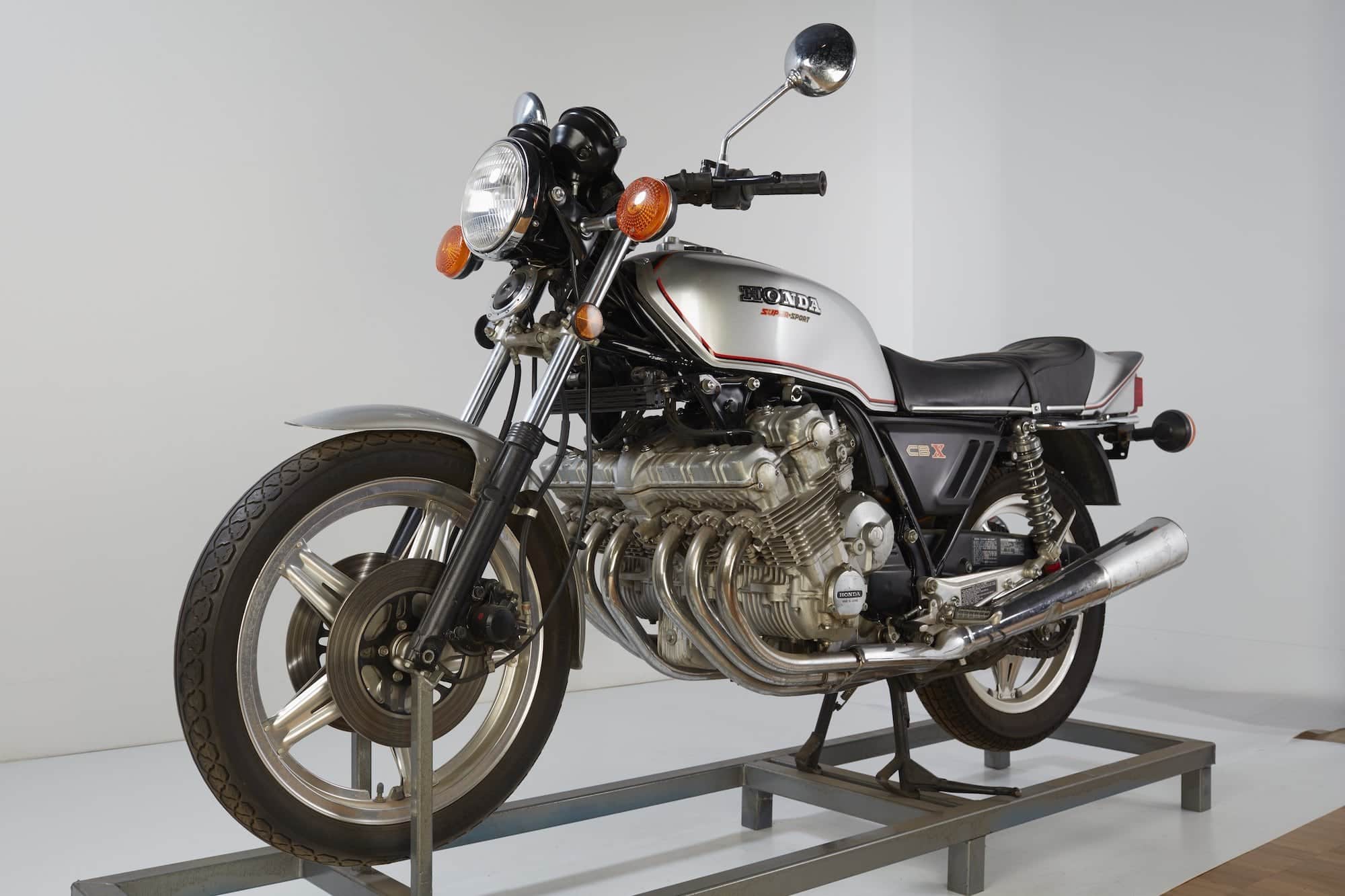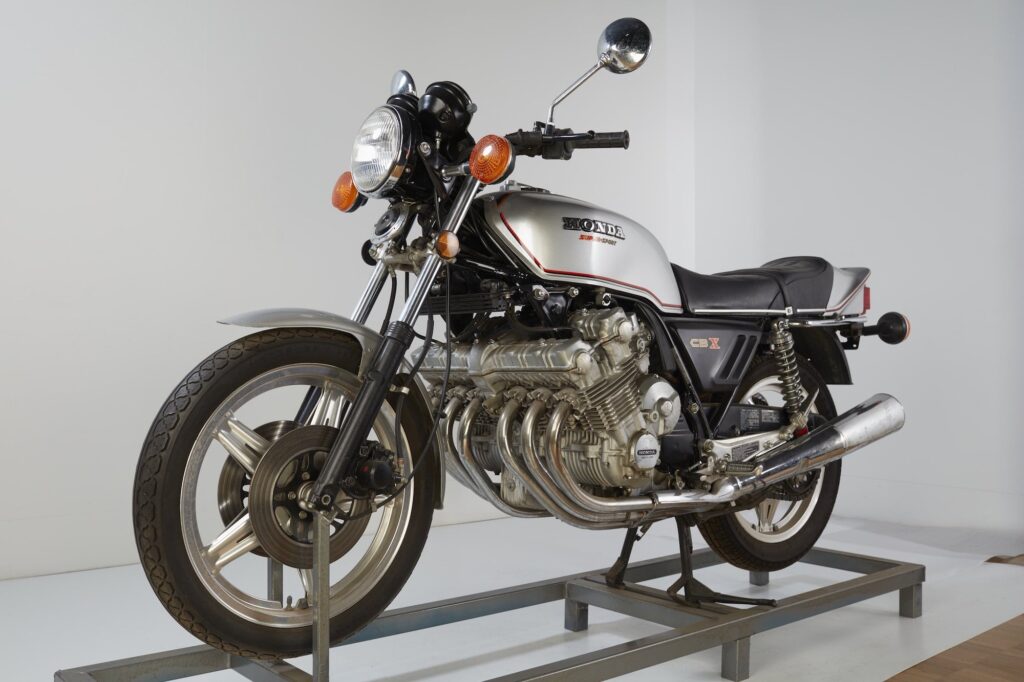 The US Honda CBX1000A models have a number of changes vs the CBX1000Z, including air-assisted forks rather than pure oil dampers, reduced power due to emissions laws (98 bhp vs 105 bhp on the European model), and an 85 mph speedometer because of the prevailing 55 mph speed limits. How times changed…
In 1981, Honda added the full fairing and decided to start selling it as a sporty tourer as the CBX1000B.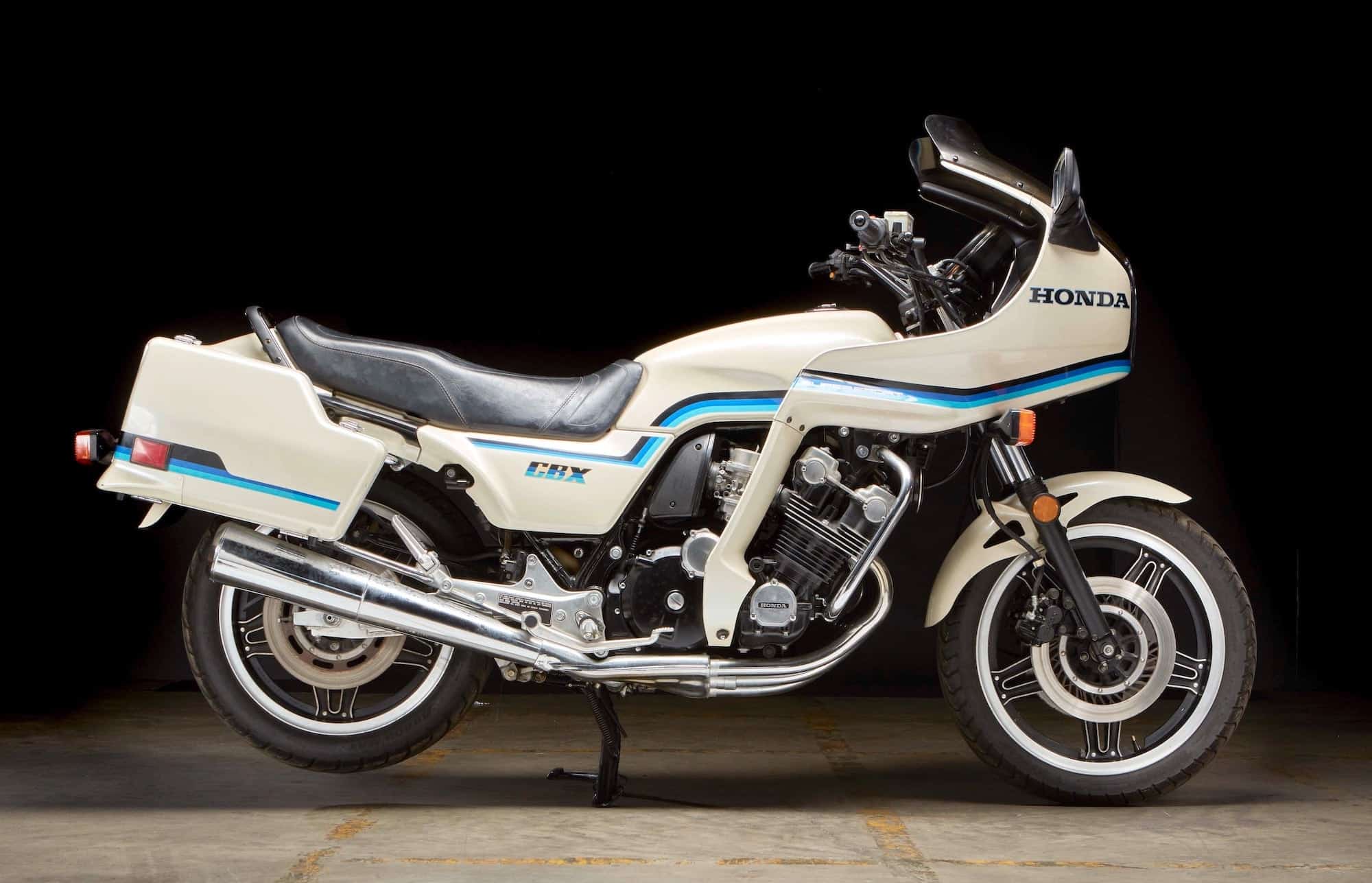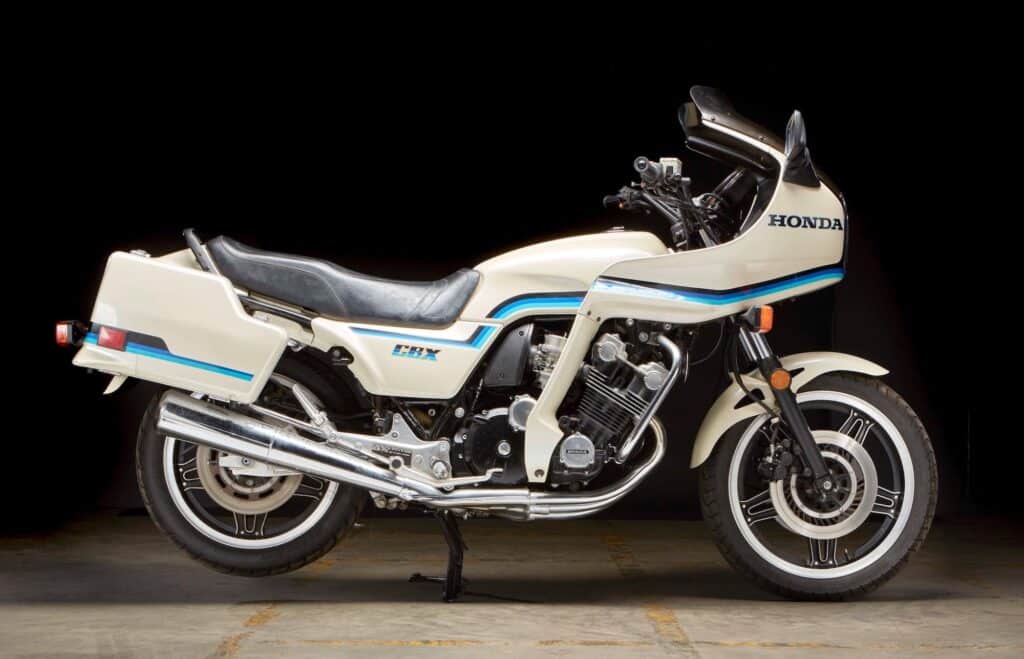 Interestingly, they did the same thing with the Honda GL1000 Gold Wing, so they were essentially pitting the two unusual engine formats (a boxer four vs an inline six) against each other. I guess history tells the tale of who won. The new 1981 model also got Honda's pro-link single shock rear suspension.
Honda stopped producing the CBX1000 after 1982.
This is just a brief history. There's a book called The CBX Book which you can find on eBay sometimes as it's out of print.
What makes the Honda CBX1000 special? Six Cylinders, and THAT SOUND
In a nutshell, the Honda CBX1000 is special because it's a high-revving six-cylinder superbike.
Firstly, even just having six cylinders is somewhat rare. Six-cylinder motorcycles have always been rare, and will definitely eventually go the way of the dodo, just as V12s and even V8s have faded from popularity in cars and trucks.
These days, the only six-cylinder motorcycles still made are touring bikes. They're by no means slow. The BMW K 1600 B, for example, really hustles, with an engine that makes 117 kW / 156 bhp at 7750 rpm. It's a heavy touring bike, but it still moves!
But neither the Gold Wing nor the K 1600 B pretend to be sport bikes. The CBX1000, on the other hand, really does claim to be one. It redlines at 9000 rpm (quite high for the time) and has aggressive camshafts that lead it to sounding like an F1 car when it's at full song.
Listen to it here:
Why does it sound so good?? I don't know exactly, but part of the reason is the way the CBX1000's engine fires. Every piston takes a turn: 1-5-3-6-2-4, and the engine is constantly in motion.
But other six-cylinder engines (e.g. from Honda and BMW) don't rev as high, and even though they're fine engines, they don't produce the symphony of sound that the CBX1000 is known for.
The CBX1000 is special in that it really showcases its engine. You can't help but notice those six pipes coming off the front! It helps that it's air-cooled as there's no radiator to obscure the view for the sake of airflow.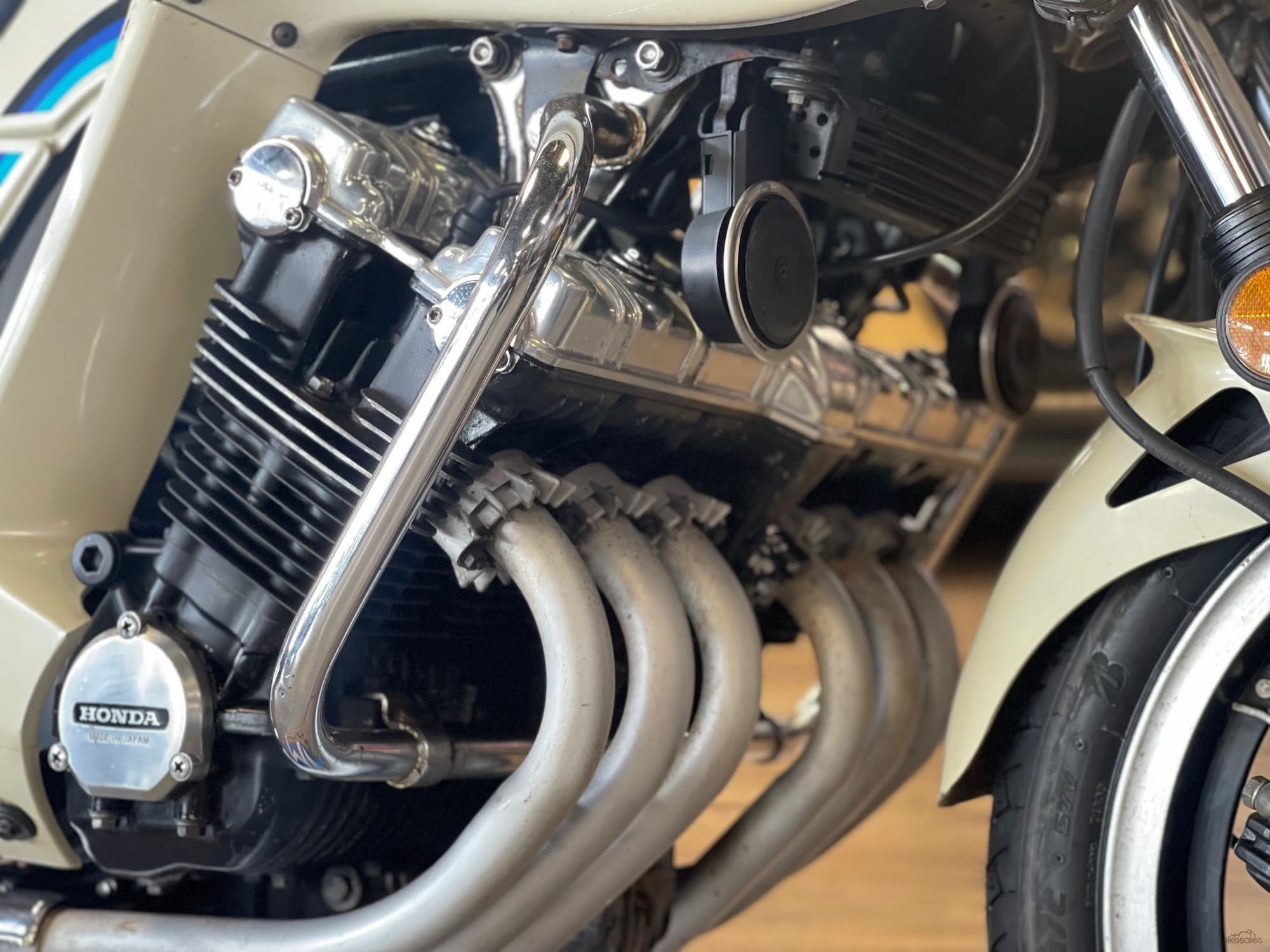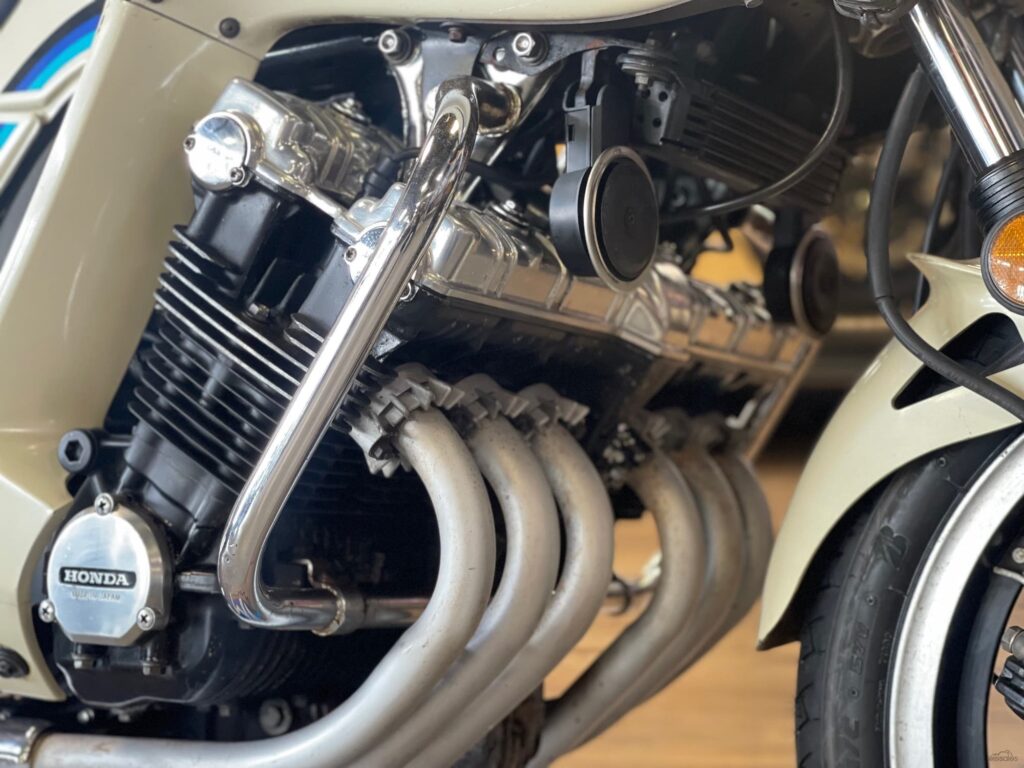 Other six-cylinder bikes hide their engines away under their fairings. The most recent other example of an air-cooled bike that showcased its engine would be the Honda CB1100, which has also been retired. (I'd also pick one of those up, if the opportunity presented itself.)
At first blush, the CBX1000 looks quite wide. But Honda employed a few neat tricks, relocating parts of the engine around to keep width to a minimum. In reality, the width is no more than the rider with their legs, much like on a BMW boxer engine like the R nineT.
The Reality of Owning a Honda CBX1000 – Parts, Modifications, and Maintenance
I think it's important to have a reality check when it comes to contemplating owning a Honda CBX1000 or any vintage motorcycle.
The reality check involves a few compromises.
Firstly, the Honda CBX1000 is expensive.
For the price of a CBX1000, you could get a brand-new Suzuki Hayabusa, an equally collectible Ducati superbike (something like a Ducati 1198S Superbike, probably even in Tricolore livery), or any other number of current or future classics. Heck, you could get a few Honda Fireblades of various flavours.
So it's up to you to decide if that's where you want to send your dollars.
Secondly, parts are hard to come by.
Honda is a reliable brand of motorcycle, but old CBX1000s have unusual bits that are getting hard to find. Air-assisted shocks? Solid brake discs? Fuel tanks, if you dent yours?
Owning a Honda CBX1000 means being part of Facebook groups and scouring eBay for parts. It's fun to do that, but it's not so fun when it's your only bike (and it just might be if you sell all the other ones to afford it).
Thirdly, and this is related to parts — originality.
Whenever something fails on a bike, it's tempting to fit something else that'll fit the bill. Along the way you might even make an improvement! For example, you could fit much more modern suspension or brakes, or you might change out the handlebars, fit an aftermarket exhaust, and so on.
But modifications that reduce the originality of your CBX1000 would drastically reduce the value. I made this mistake with a not-so-collectible bike, a Ducati Multistrada 1000DS. Reducing the originality of a CBX1000, even if through operations that are reversible, would be costly.
Fourthly, carburettors.
There's nothing wrong with carburettors for a bike that you ride regularly. They have a few advantages, including being easier to tune for the home mechanic, and providing the amateur fan a certain amount of joy in servicing something complicated from a time past.
But carburettors also tend to cause problems, like getting gummed up with old fuel if they've sat for a while, float bowls getting stuck, leaking, and so on.
Having six carburettors is increasing your chances of something going wrong sixfold. So you have to be comfortable with those odds.
Finally, the maintenance schedule for the Honda CBX1000 is kind of intense for a road bike.
It's partly as the CBX is an older bike, and partly because it's air-cooled. It's up to you whether to follow it or just go by your instincts (or your mechanic's instincts), but the maintenance schedule says you should change the oil every 3750 mi / 6000 km, at which point you should also check the valve clearances.
And checking 24 valve clearances every 3750 mi / 6000 km… that's quite an annoying job that would make owning a Ducati air-cooled desmodue (just 8 valve clearances, every 6000 mi / 10000 km) seem relatively relaxed by comparison.
So obviously, owning a CBX1000 is a commitment. This isn't a grocery-getter. If you decide a Honda CBX1000 is for you, then you're committing to a relationship much more involved than you'd have with a modern commuter bike (or even a modern superbike).
Alternatives to the Honda CBX1000
The principal competitor of the Honda CBX1000 is the Kawasaki Z1300.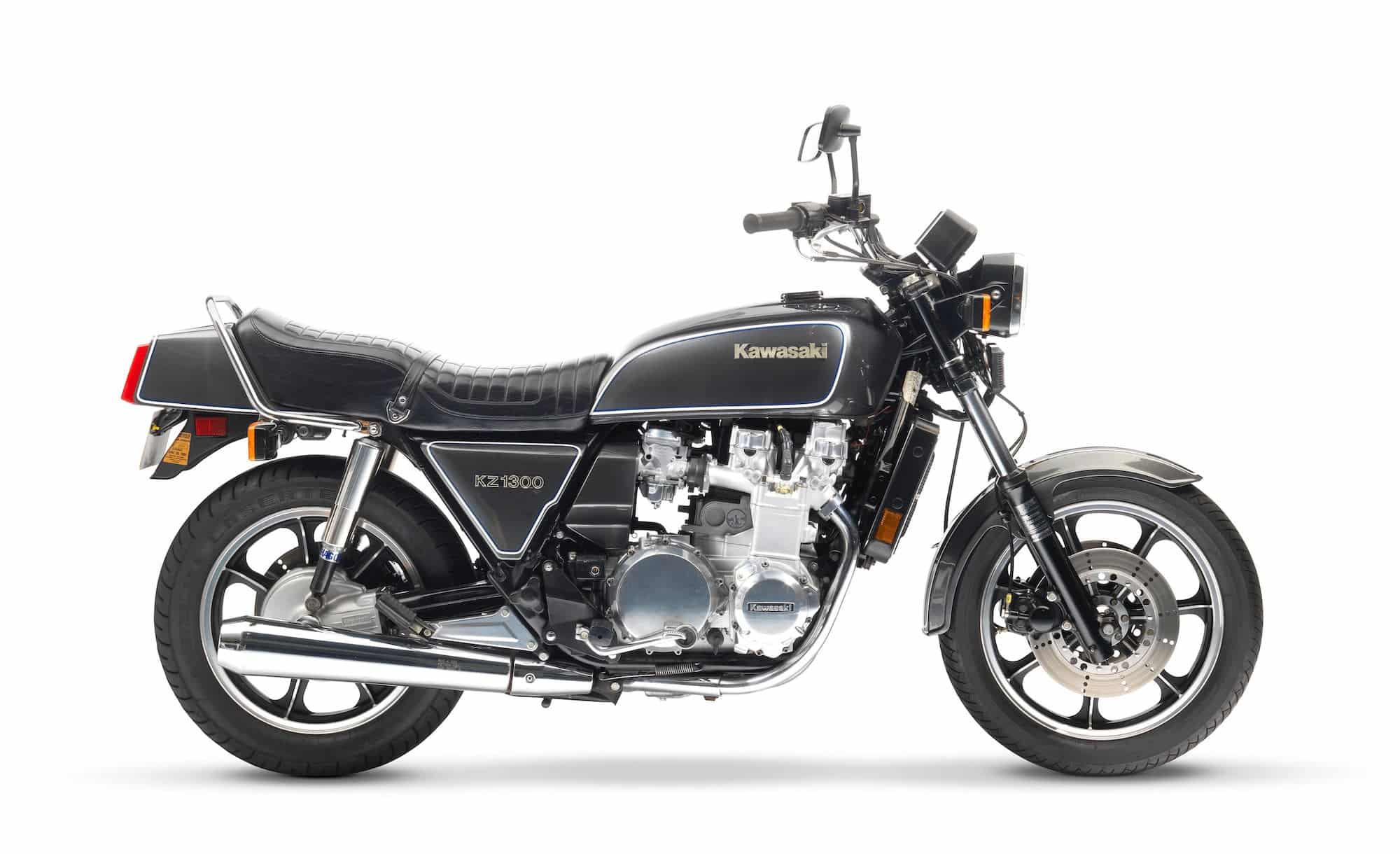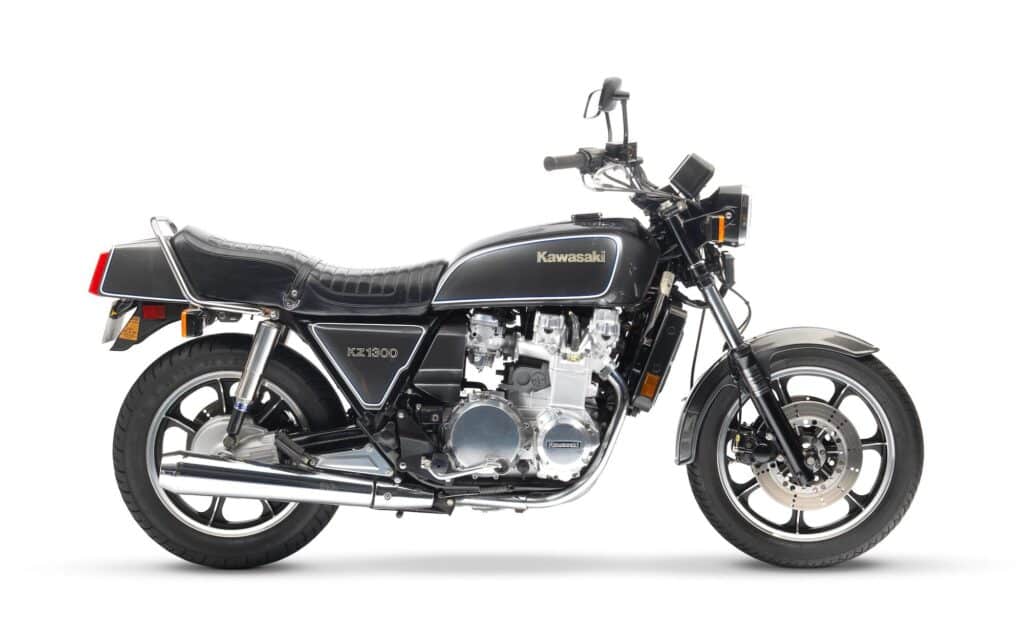 Kawasaki made the Z1300 from 1979 to 1989. It's powered by a 1286cc liquid-cooled inline six-cylinder engine, breathes through three 32mm carburettors, and drives the rear wheel through a five-speed transmission and a shaft drive (vs a chain drive for the CBX).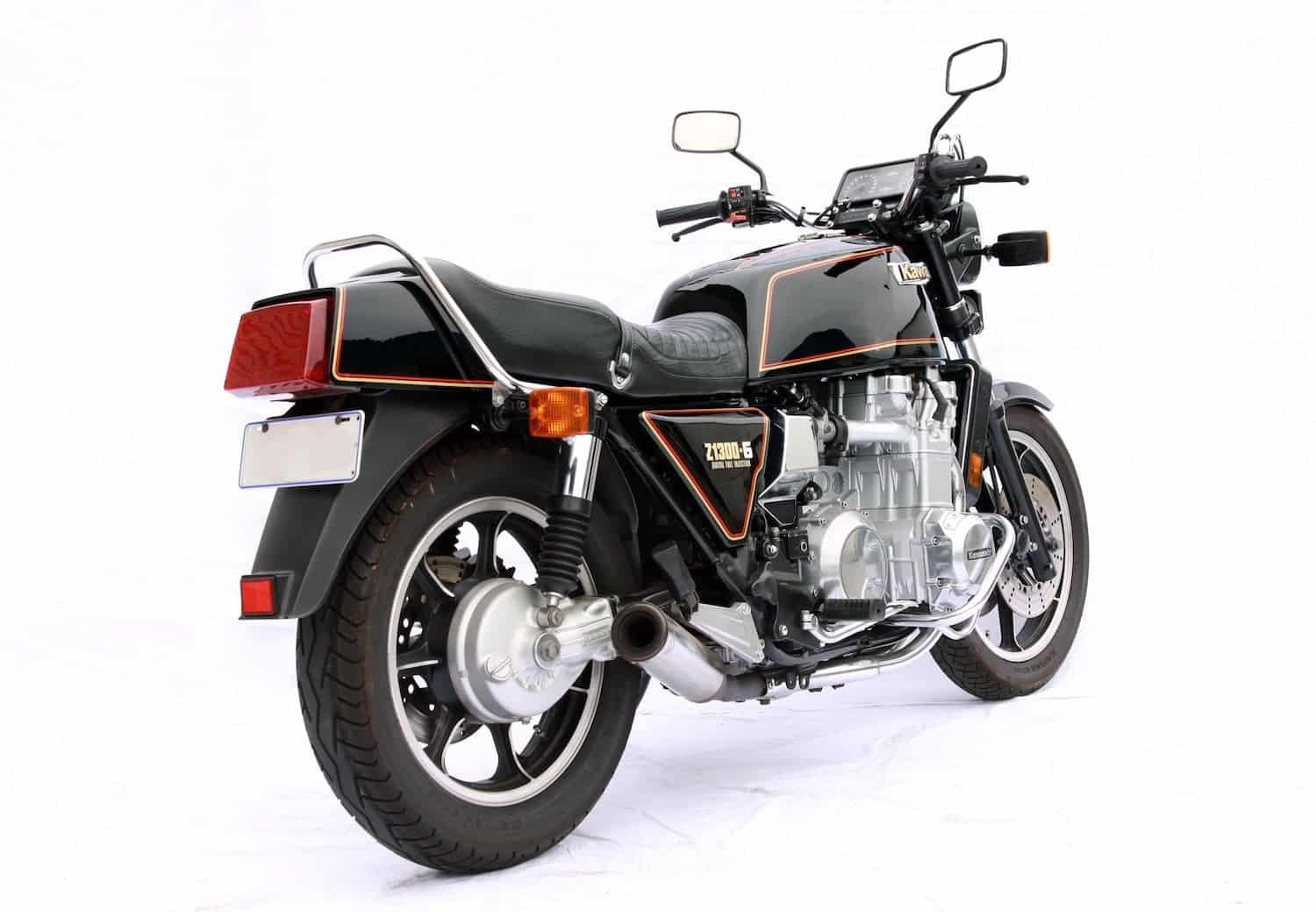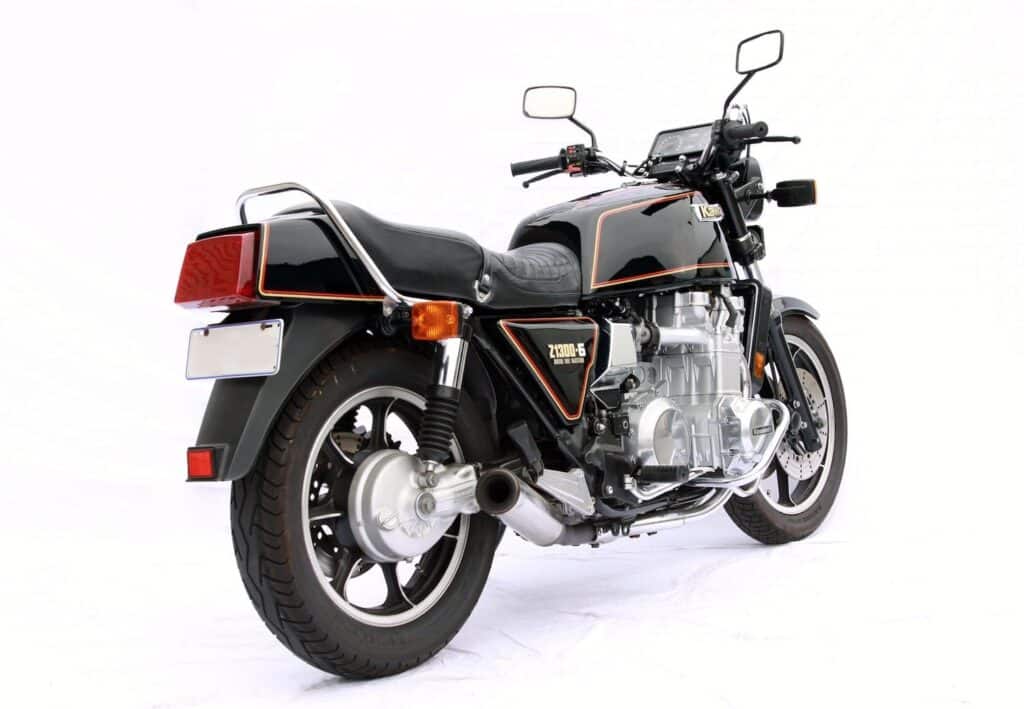 The engine has dual overhead cams, but just two valves per cylinder. So at least when it's time to do a valve service you have half the fiddly work ahead of you.
Everything else about the Z1300 is bigger. It has:
More displacement (1286 cc vs 1047 cc)
More peak power (120 hp / 89 kW vs 105 hp / 78 kW)
More weight: 314 kg / 692 lb vs 272 kg / 600 lb
More top speed… well, this depended on the pilot as neither was much fun at top speed
More cooling: the Z1300 is liquid-cooled (see that big radiator at the top above the exhaust headers)
More tech: During its tenure, the Z1300 even got digital fuel injection — this was in the 1980s!
But nonetheless, like the CBX1000, the Kawasaki Z1300 never sold as well. According to Wikipedia, approximately 25 000 models sold over its 10-year lifetime.
These days, the Z1300 is also a collectible, but it has a more niche following. They're just as expensive.
Another general kind of competitor to the CBX1000 is basically "any future collectible".
It's quite hard to know what's going to be a collectible classic. It has to be a bike that's somewhat special but fails to sell in large numbers as it's outshone by the competition in some ways. My bet would be on something like the Suzuki Katana 1000, which has niche style and nothing special in tech or performance to draw people to it. (I'd be interested in your thoughts!)
About This Honda CBX1000B For Sale (Now Sold)
This Honda CBX1000B was advertised for A$24,995 (before on-road costs… if you even want to take it on-road), later discounted to $22,000, which I think is a very fair price.
This CBX1000B has 25336 km on the odometer and has been restored, but it does need some cosmetic attention. It has a couple of blemishes, but otherwise looks in great nick. See below for more hi-res photos.
If you're just here for the pics (I don't blame you), here's a few high-res pics of this Honda CBX1000B in pearl white for sale.
What should you pay for a Honda CBX1000?
Because the CBX1000 is a collector's item, basically the price you pay is whatever is being asked.
I've seen them sold on auction sites over the last ten years for prices between US$10000 and $22000 (a few under $10000, but they had obvious rust and needed work).
In Australia I've seen them advertised privately for A$20-30000. I've seen them advertised for more, but I'm sure the price comes down. It depends a little on the condition and any restoration work done. For example, if you buy the above one and spend a lot of time cleaning up the plastics and polishing the metal, you just might add a few thousand dollars of value to it.
If you're thinking "I'll buy one as an investment!" well, it wouldn't be the worst investment as at least it wouldn't depreciate in price as quickly as if you bought a new commuter bike.
But obviously there are many better investments than a Honda CBX1000: e.g. index funds, a house two years ago (or better, twenty years ago), Bitcoin at the right time…
For a motorcycle to be an investment it would mean you'd have to be able to afford to store it and maintain it, let alone potentially register and insure it.