There are many classic motorcycles out there. In most cases, the owners know that they're classics, and price them accordingly. But there are relatively fewer affordable classic motorcycles.
There's a few reasons I like affordable classic motorcycles:
Their price will hold (and might even go up)
If I crash them, I can repair them easily (as they're generally older)
They're cool and everyone looks at them at the coffee shop. (Vanity!)
The reason I like classic motorcycles is because I like to look at the damn things and feel like I'm riding history.
Buying a motorcycle, like buying a gas-driven car, is buying a piece of a soon-to-be distant past.
Internal combustion engines will be all but extinct by around 2040 as electric cars and motorcycles like the Harley Davidson LiveWire just keep getting better.
Just like digital cameras, the take-over will be swift, and contradict nay-sayers everywhere. Some people will hold on to traditional engine vehicles as a throwback to a past, a nod to different days, just as some people still use film cameras in 2018 to make an artistic point (or respecting their unique colour qualities), but eventually, the inconvenience and rising price of gas will price them out.
If you're the kind of person to value antiques like old watches, cars and other mechanical instruments, a motorcycle might be just what you're looking for.
Note — This article was published in 2020, and prices move quickly. Many motorcycles in this list are becoming more expensive, and I'll publish an update when time permits.
Are you obsessed with motorcycles?
Well, I am. That's why I created this site — as an outlet. I love learning and sharing what others might find useful. If you like what you read here, and you're a fraction as obsessed as I am, you might like to know when I've published more. (Check the latest for an idea of what you'll see.)
Why buy an affordable classic motorcycle?
There are three reasons (not the only ones) people love motorcycles: riding them (in whatever style), how they look and sound, and working on them.
Classic motorcycles are good for all three of these reasons!
You might love riding above everything else. At its most extreme level, this would mean buying the best motorcycle for riding, irrespective of how practical it is, or how it looks or sounds. You might take a Suzuki V-Strom to the track, or a Ducati 916 to the local shops for chicken and chips.
You might love how motorcycles look and sound. For this, look no further than MV Augusta, who make art on motorcycles. Or any of the other Italian brands, or Triumphs, or the various other beautiful motorcycles from Japanese manufactures, like the Eddie Lawson replicas. Yeah they ride great and they're not necessarily unreliable, but those factors are secondary.
Or you might like working on motorcycles. Keeping them maintained, restoring them or building custom models.
Most motorcycles need maintenance, so you should pick up a motorcycle that's at least a pleasure to maintain (or not a total dog's breakfast).
But I'm here to argue: You can do all three with a classic motorcycle. Buy the right classic motorcycle and you'll have one that's fun to ride, looks fantastic and is enjoyable to maintain.
Here are a few of my favourite affordable classic motorcycles.
A caveat: Older, classic motorcycles generally a) need more regular service, and b) have fewer available parts. If you use a motorcycle to commute on as your primary transport, a classic is not as good an idea.
Ducati Monster M900 (1994-2001)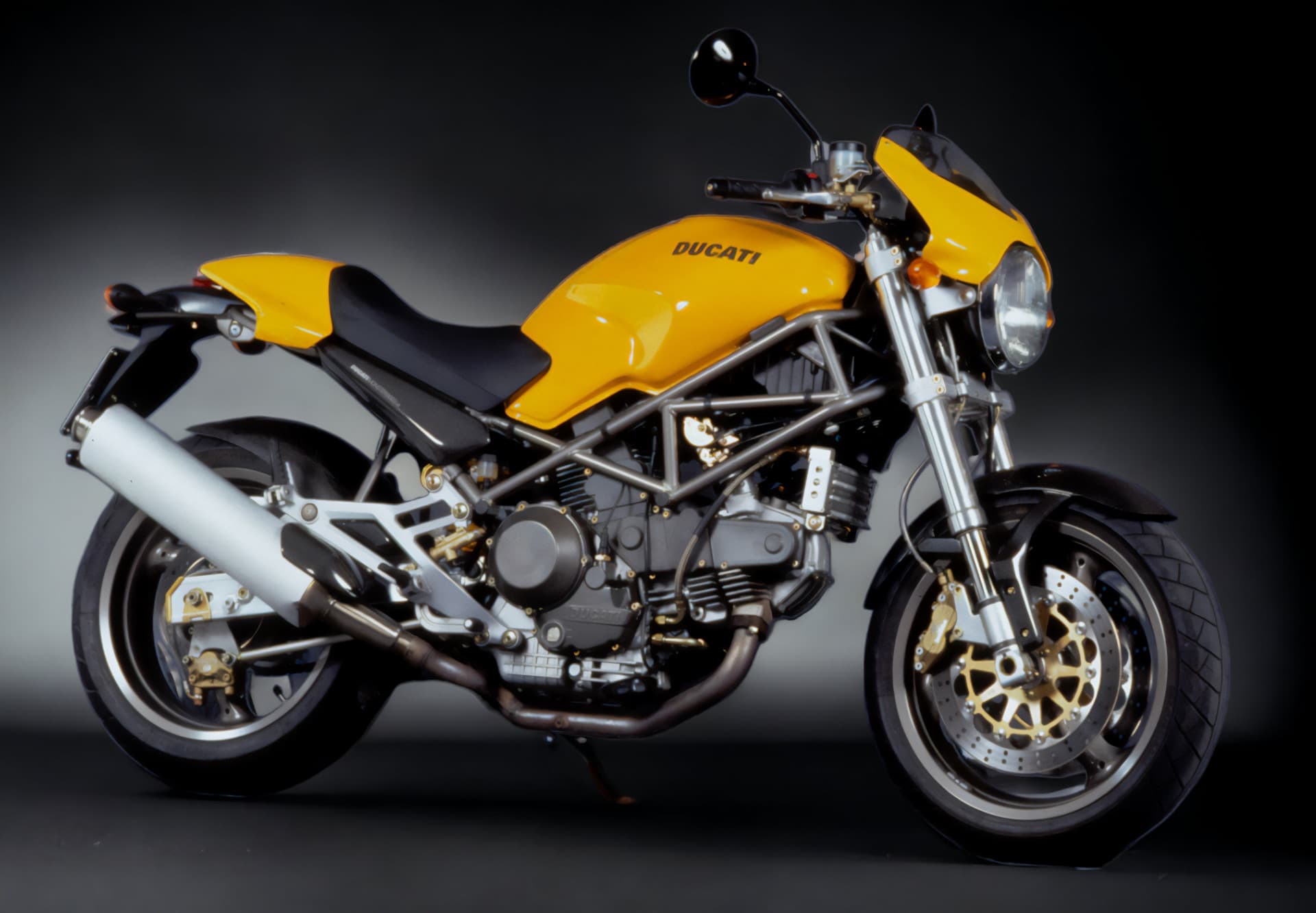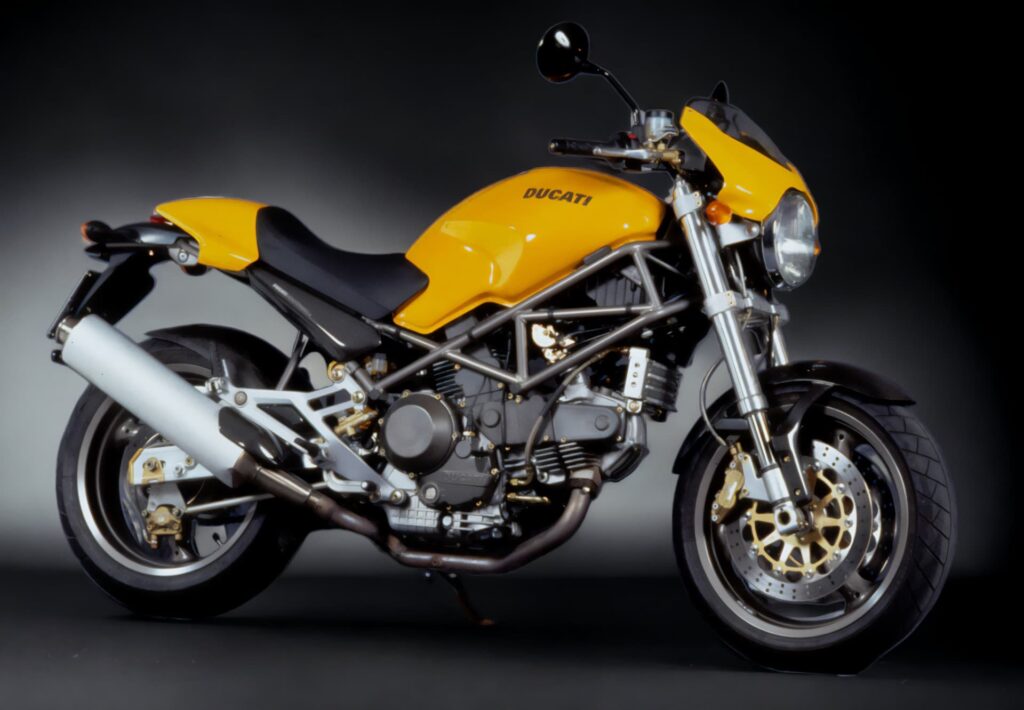 The Ducati Monster 900 was my dream motorcycle when I was a teenager in the nineties. So it was my first port of call twenty years later when I realised I might actually be able to afford one. Since the 90s Ducati released all kinds of variants (and I've written a well-read buyers guide to the Ducati Monster).
The Ducati Monster was originally a "parts bin" motorcycle build, using a frame from one motorcycle, an engine from another and so on, until this iconic design was built. The things that made it stand apart from other motorcycles of the time were:
The "trellis" frame – that attractive gold block-y frame, taken from the 900 SuperSport engine.
The v-twin engine – most engines at the time in standard motorcycles were inline four engines. The L-twin gives it a unique rumble.
The dry clutch, giving the distinctive Ducati rattle and clatter that makes many riders swoon, and many car drivers thinking your engine is about to explode. They're no more or less reliable than wet clutch motorcycles.
What Ducati Monster to buy
The most commonly available motorcycle tends to change as they years go on. Previously, it was the Ducati Monster 900. These days (2020-onward), I find many more examples of the 695, 796, and 821.
Not all of these are favourites. I'd generally pick a few you can find:
The 1100, especially the Evo
The S2R1000
The S4R and S4RS (not the older S4, good bike, it just isn't as nice looking)
The Monster 1000 (a bit more rare)
Avoid the smaller capacity bikes like the 620 and 695. They're good bikes, but lack a dry clutch, and a dry clutch is very "classic Ducati".
If you want more power, look no further than the S4 series, with the S4RS being the pinnacle (producing over 130hp!).
You can also get a Ducati Supersport 900 (commonly known as a 900SS), which was built on a similar platform, but has a fairing and a different riding position. The only downside of the fairing is more parts to remove when you have to do a valve job, and more things to worry about cracking when you crash it.
These were so famous though that a very well-read motorcycle article, the Song of the Sausage Creature, was entirely about the original carburettor-fed 91-97 900SS.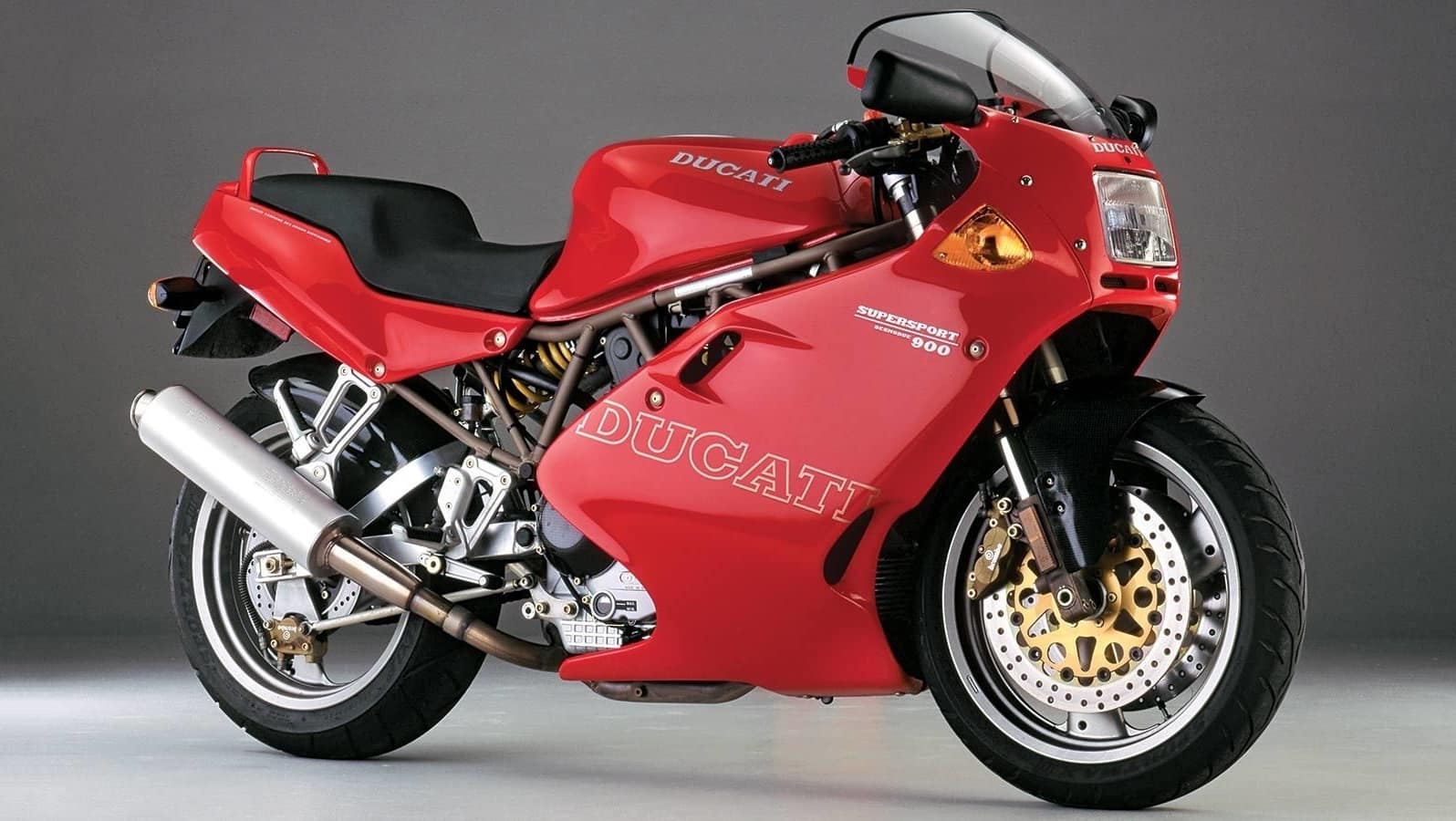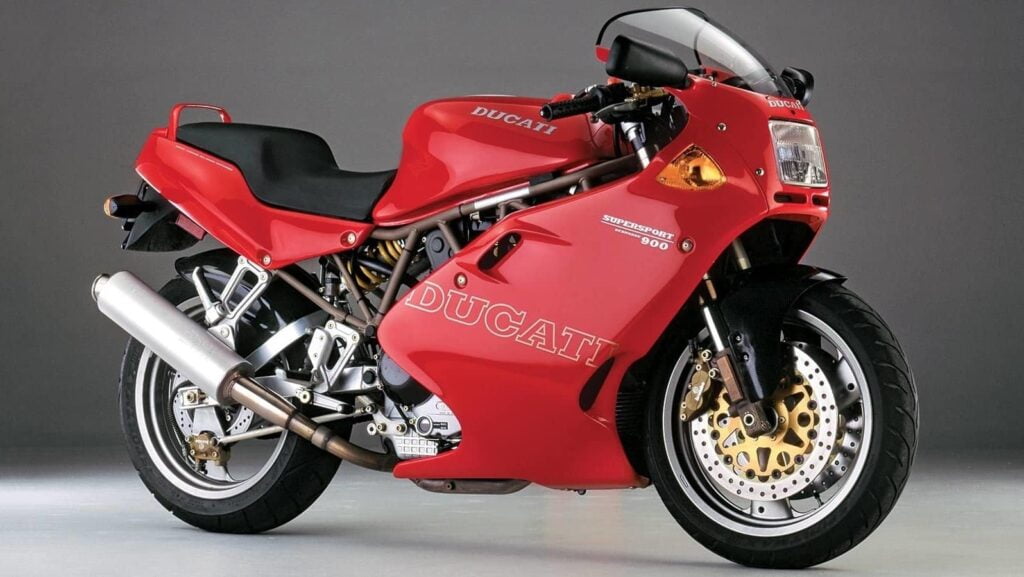 How to buy a used Ducati Monster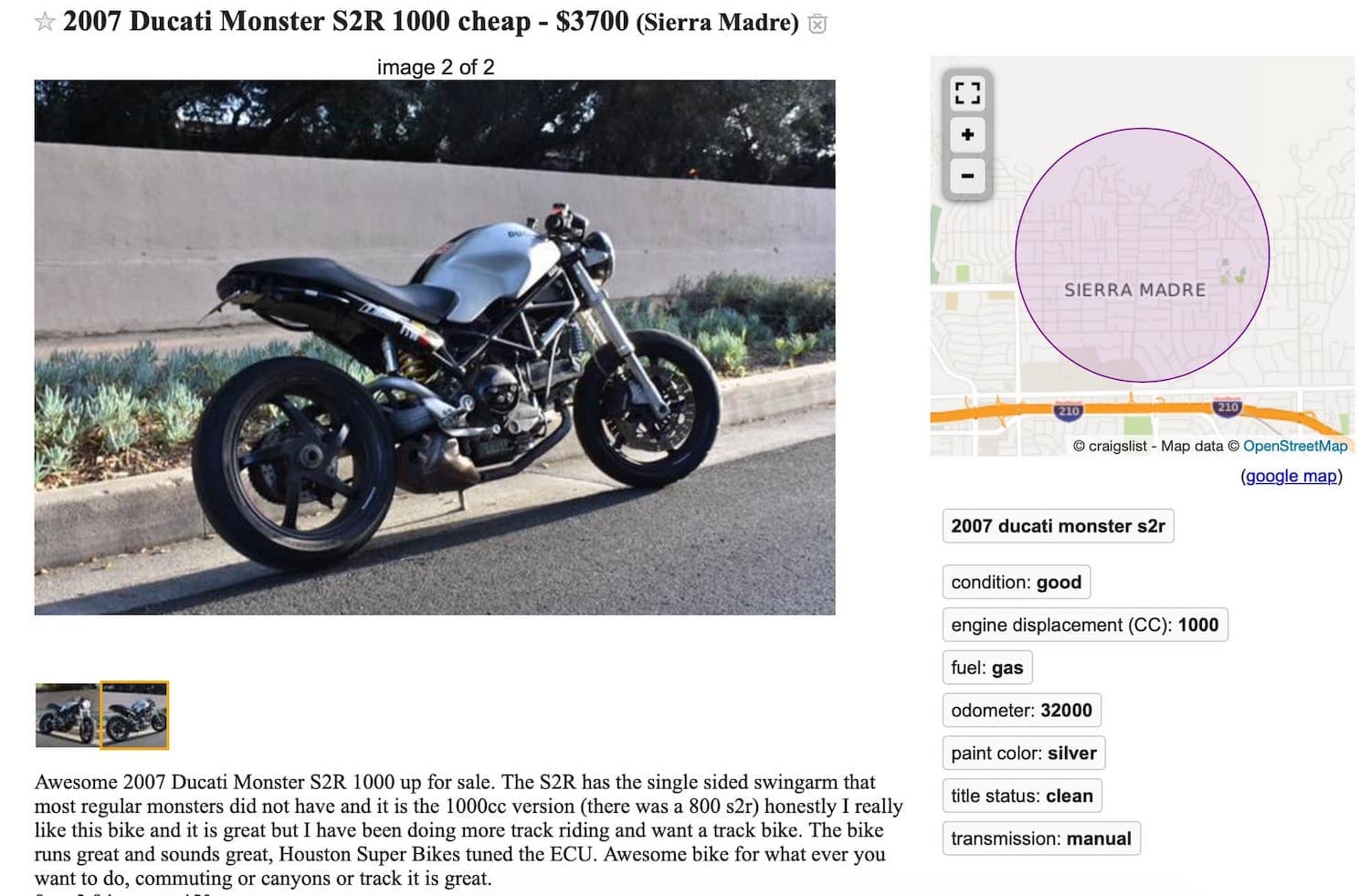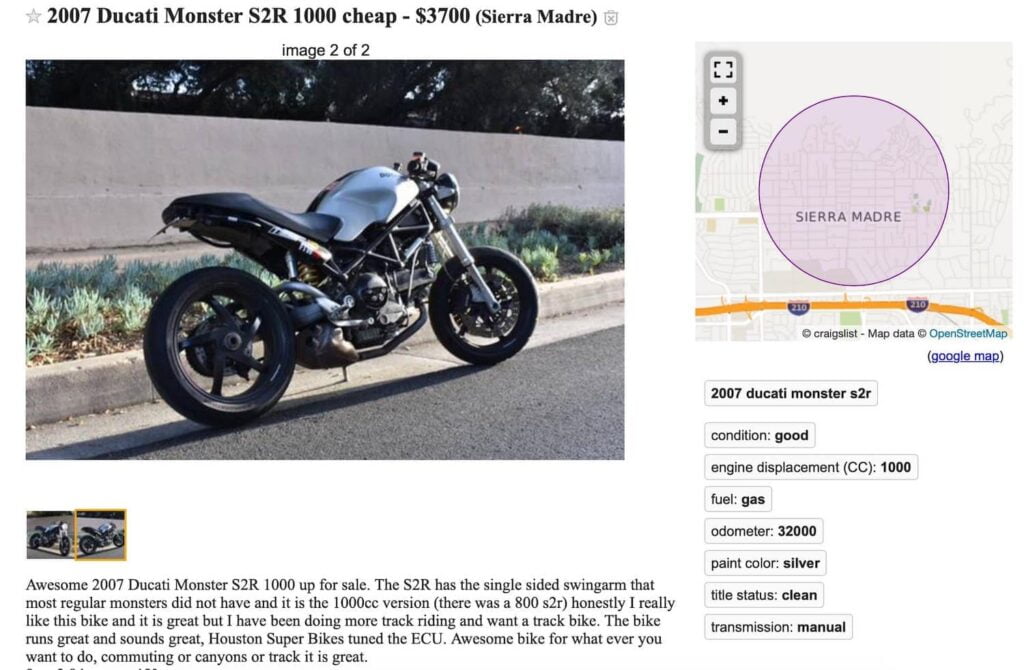 You can get used Ducati Monsters in the US for $2,500-4,000 for one in good condition and that has been maintained.
In Australia, a Ducati Monster typically sells for A$4,500-8,500 depending on condition. I've seen good ones but in weird colours (blue??) for mid-$5K range. And I've seen a Monster 1100 Evo for A$8K… but just once. They normally sell for $10K+.
If it has "high" miles (say up to 50,000 miles or 80,000 kilometers), that's actually OK, as long as it has had few owners and the valves have been serviced regularly. Just use it to your advantage and get a discount. It's very hard to sell a motorcycle that has more than 50,000 miles on it. (But remember: what goes around comes around when it's your turn to sell it.)
I've written a guide to what to look for when buying a Ducati, but here's a quick summary.
Apart from the usual things to check for, look for the following:
Were the valves serviced recently? Were the belts replaced?
Belts and valves need an inspection every 6,000 miles for early Ducatis, and belts have to be replaced half the time (or every two years). Some people just don't do this, in which case you have to plan on doing it yourself. It needs a couple of special tools, plus buckets to put over the shims, and about 4-6 hours of your time.
I did mine under the supervision of an experienced Ducati mechanic, Lucy, at Motoguild in San Francisco. It took me a few hours (and I added on some more time to replace the belts plus change the oil and do a few other things).
Do the electricals all work? Make sure the displays work and that the charging system works (take a voltmeter).
If there's a bad connector, loose wire or other fault in the wiring loom, diagnosing and repairing is kind of a nightmare on a Ducati.
Also, electrical problems are super common. Failed rectifiers are probably the most common on older motorcycles from any manufacturer, and luckily, the easiest to fix.
Is the tank intact? Dents in the steel tank are not only expensive to replace (US$750, as it's very hard to get a second hand tank that's intact!), they're extremely common from the way the handlebars are placed.
Basically if a Ducati has been dropped, even at a standstill, then the tank is dented. It's annoying to look at and hurts your resale. I'd caution against buying one, unless you know a guy who can fix it.
Does it have a Termignoni exhaust? The stock Ducati mufflers under-serve the Ducati motorcycles.
Termignoni exhausts cost over $1,000 new, and people slapped them on (and can get almost nothing for them now, used), so buy one already equipped. It's worth waiting for.
Other exhaust systems are fine too, but just stay away from no-name eBay units, which are more often a sign that a bike was dropped on its muffler than a sign that the owner wanted to invest anything.
Kawasaki ZRX1200R (2001-2005/7)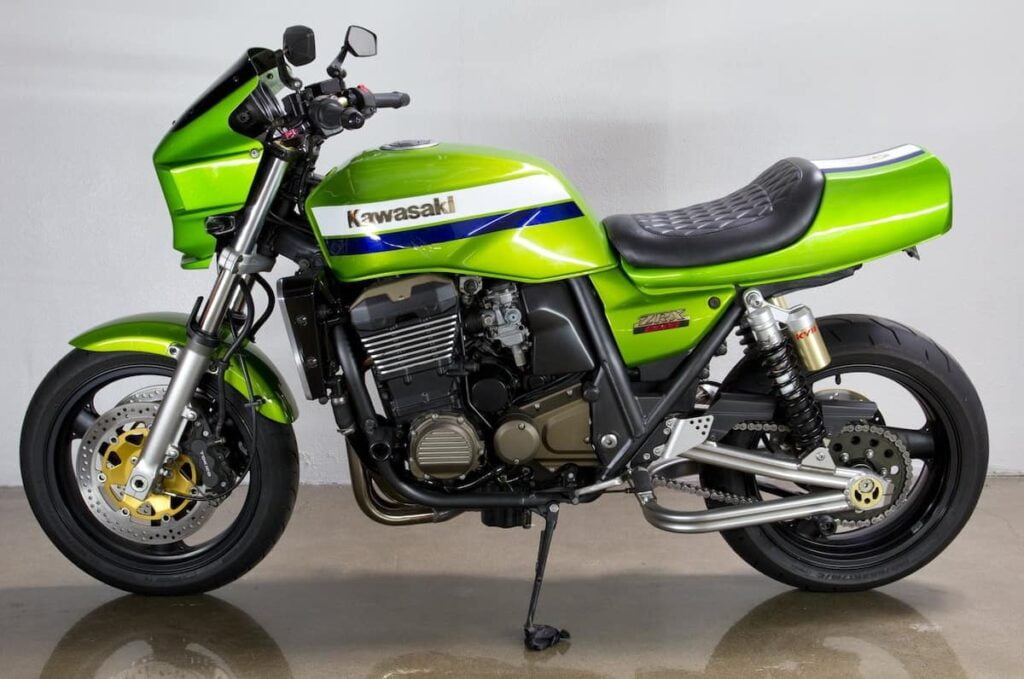 The Kawasaki ZRX1200R was originally built as a throwback machine, a nod to Kawasaki motorcycles of the past, but it has already become a classic again in its own right. They have a smooth four-cylinder engine that produces 120hp in stock form.
If you're interested in the heritage and history of the ZRX1200R, look no further than my guide to the Green Machines!
There were a few other motorcycles in its era that were similar, like Yamaha's XJR1300R and Suzuki's GSX1400. They were all similar – sporty, comfortable and extremely torquey. If you're in Europe, the UK or Australia, you can get the Yamaha or the Suzuki if you shop around. In the US, the ZRX1200R is all you'll find. Also, it was sold until 2005 in the US, but until 2007 in Europe.
See my guide to big-bore four-cylinder motorcycles for some other alternatives.
The ZRX1200R has a carburettor-fed engine with water cooling, with four separate carburettors. So, expect do so some maintenance, especially if it has been sitting. Interestingly, in Japan, it was updated in 2008 with fuel injection… but only sold in Japan. So you might be able to get a grey import, but not cheaply.
What model of ZRX1200R to buy
The models remained essentially the same in the US and Europe. The main variation you'll find is colour.
Green (pictured above) is the classic colour. If you want to be able to sell it easily, or if you want to swoon at your motorcycle more than at any other colour, buy green. You will often pay a premium for green… as much as $1,000 more!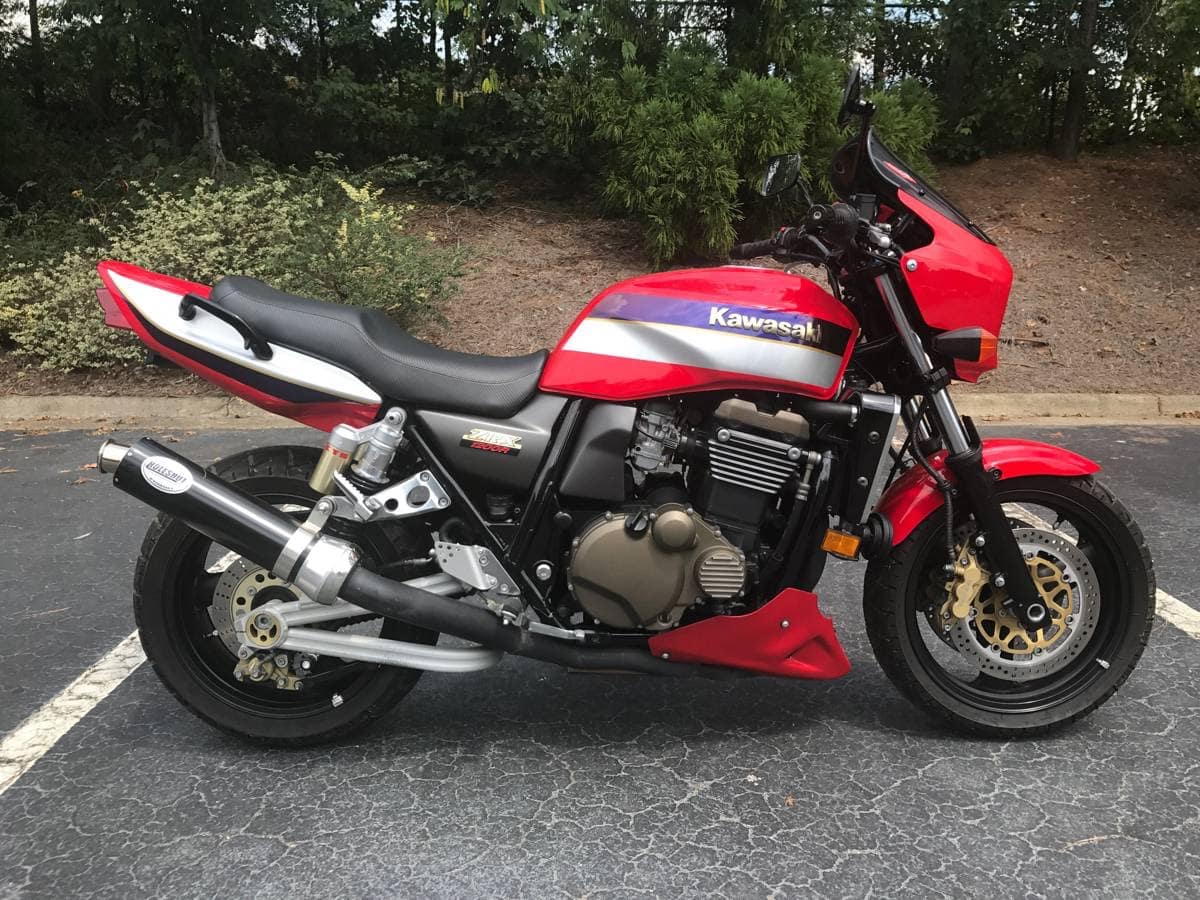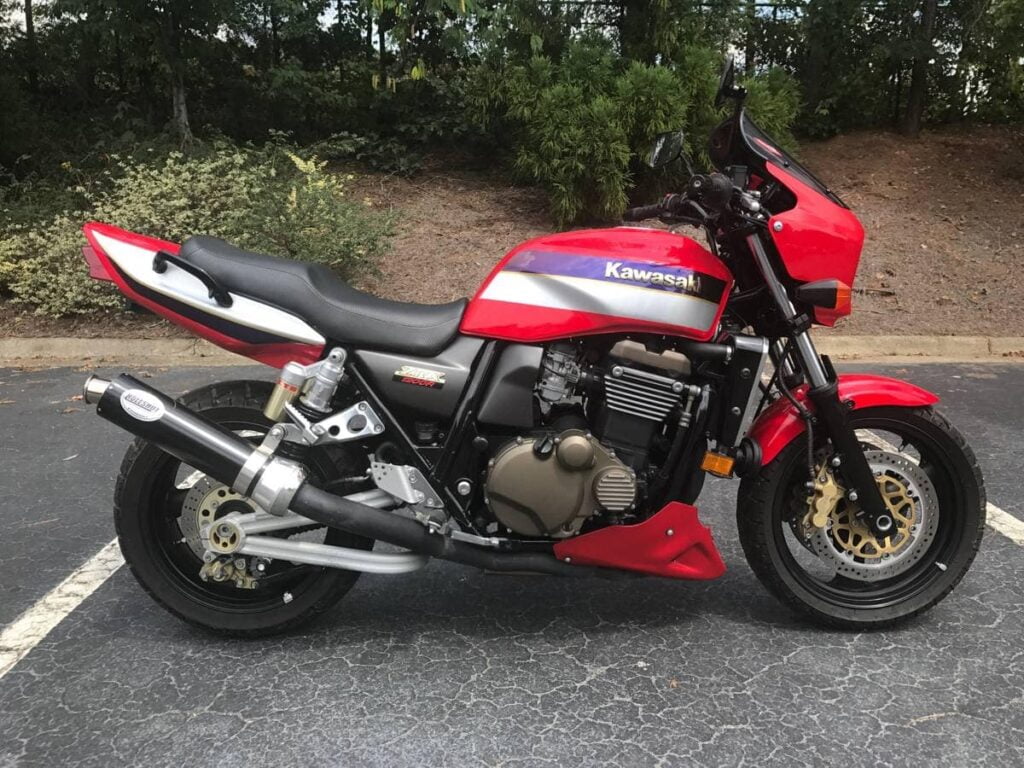 How to buy a used ZRX1200R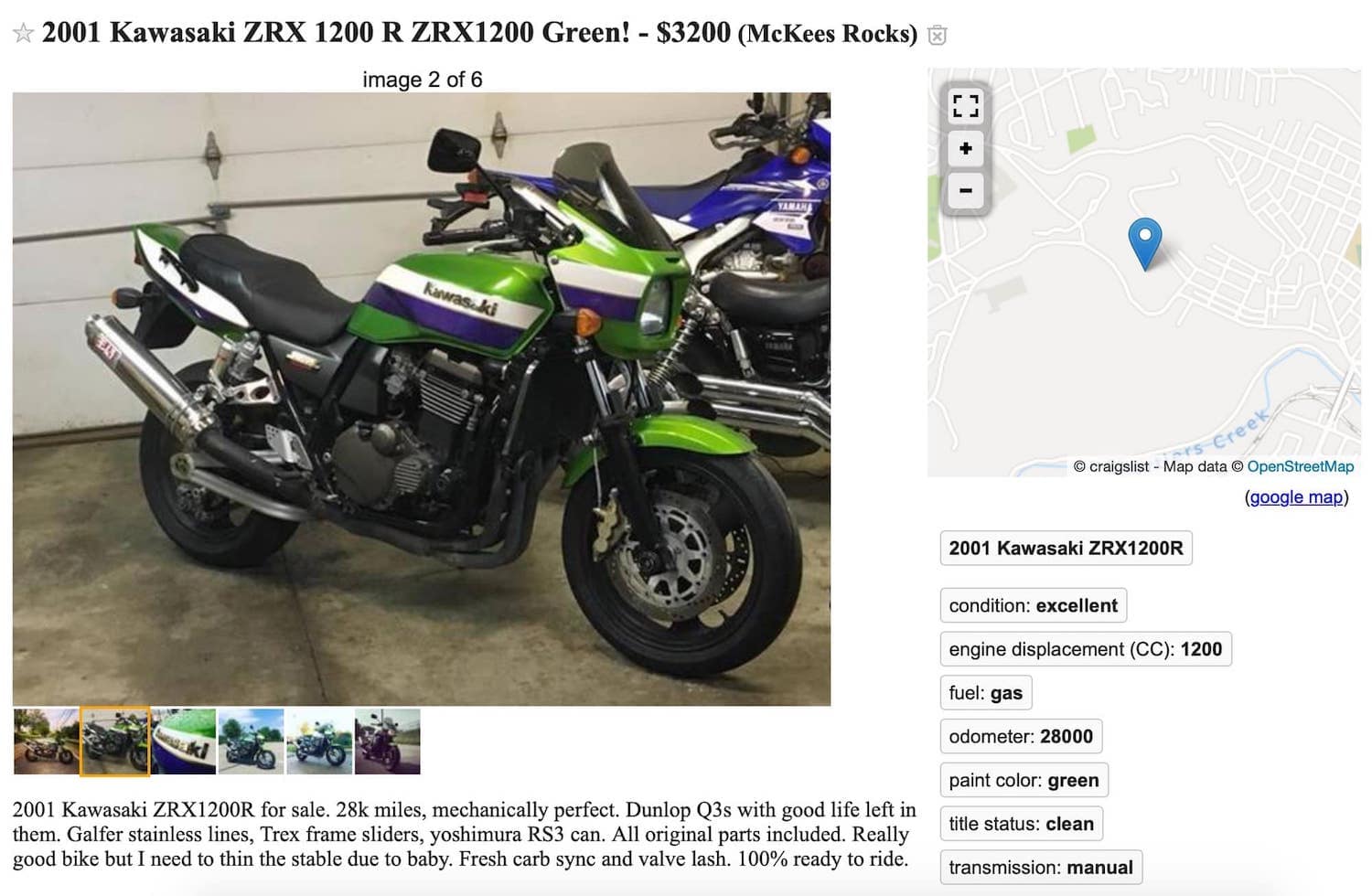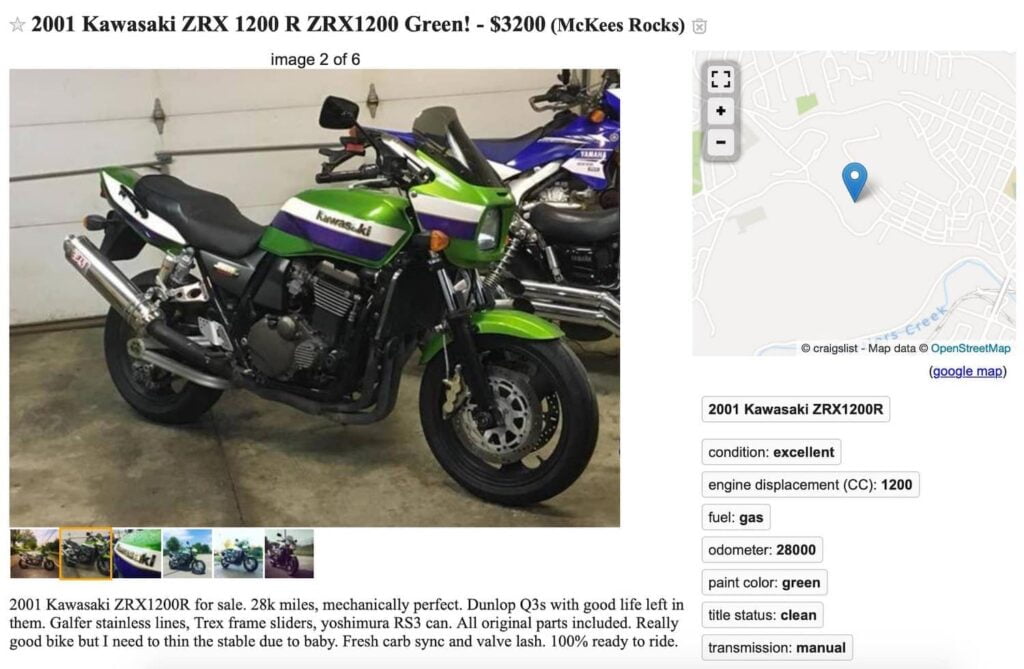 Expect to pay between $2,500 and $4,000 in the US. You'll pay the lower end for something with 50K miles and in red; you'll pay $4-5K for one in green that's intact and has lower miles (around 20K is the norm). I saw one for $4,000 and it vanished within a day.
In Australia, you'll pay more for a ZRX1200R. I've seen them for $5,500-8,000 in Australia. Hard to sell, considering the competition.
Look for the following things unique to the Kawasaki ZRX1200R:
Does it have scratches on the left-hand side? Or a dent in the tank? Unfortunately, the kickstand is only stable when the motorcycle is on a level surface. If it's not, it can tip over. Make sure it hasn't, so you don't have to replace any bits (or the tank!) to sell it again later if you ever want to.
Are the forks leaking? You need to take it for a ride, or even have the owner take it for a ride for a few minutes. Leaky forks can best be found after the wheel has moved around a bit (otherwise the owner might have wiped them down). The ZRX1200R has soft suspension compared to a sportbike, but is often ridden like a sportbike, and might have been wheelied.
Aside from those, the ZRX1200R is known to be "bulletproof" and will last you a long time.
Honda CBR1100XX Super Blackbird (1996-2007)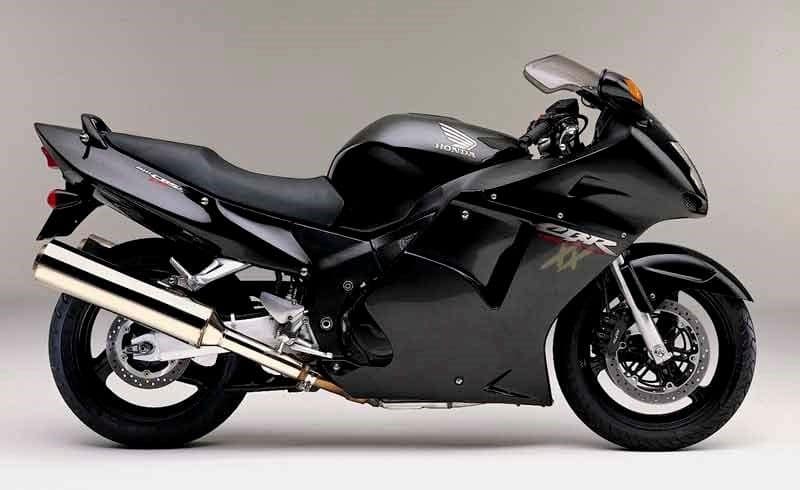 The Honda CBR1100XX Super Blackbird was the original fast bike before the Hayabusa took the crown (keeping it, except for occasional disruptions by the Kawasaki ZX-14R).
Whether it's the fastest or not is immaterial to most people, who shouldn't be riding too fast on the streets because it's illegal and dangerous. Suffice it to say that the CBR1100XX Super Blackbird is fast enough for just about anything with a top speed of over 280km/h.
The Super Blackbird pulls strongly from 3,000 rpm and delivers over 150hp at the top end (over 160hp on the earlier carburettor-fed models).
Plus, it looks the business, and has less controversial styling than the Hayabusa (love it or hate it), and is less aggressively sporty than the ZX-14R. Look, they're all great bikes, I just wanted to include one lesser-acknowledged one, that usually sells for a little less.
What model of CBR1100XX to buy
The CBR1100XX was carburettor-fed for the first few years (1996-1998), after which it got fuel injection. The carburettor-fed model reportedly had a mid-range flat spot that was slightly annoying but not a deal breaker, and can be tuned out.
Many enthusiasts PREFER the carburettor models of the CBR1100XX because they're faster, and had fewer electrical faults.
Electrical faults common to the EFI models of Honda Super Blackbird included:
Failing stator coil (just happens on any old bike)
A diagnostic plug on the wiring loom which can spread corrosion to the rest of the wiring loom (catastrophic failure)
Failing rectifier (also common to carburetted models, and also every motorcycle this age)
The only thing to watch out for when buying a Honda CBR1100XX is the linked braking on the carburettor models which was a little 'unrefined' according to many reports.
How to buy a used CBR1100XX
In general, owners say the Blackbird is one of the most reliable motorcycles you can buy!
Here are a few things to check for
Does it come with panniers/luggage? This is a long-range motorcycle and is actually not well-equipped for the track because of linked braking. If you're going to travel, you'll need luggage, and I doubt you'd want to spend $500-1000 on the aftermarket for new luggage. Panniers are basically thrown in on the used market, so make sure they come with it.
If the exhaust was replaced, was the carburettor re-jetted or the EFI remapped? Look for flat spots under hard acceleration in second or third gear… if you can keep up.
Does it charge? Make sure the rectifier is working. A battery tender would mask this. Take a multimeter and do a preliminary charging system test.
Honda VTR1000F SuperHawk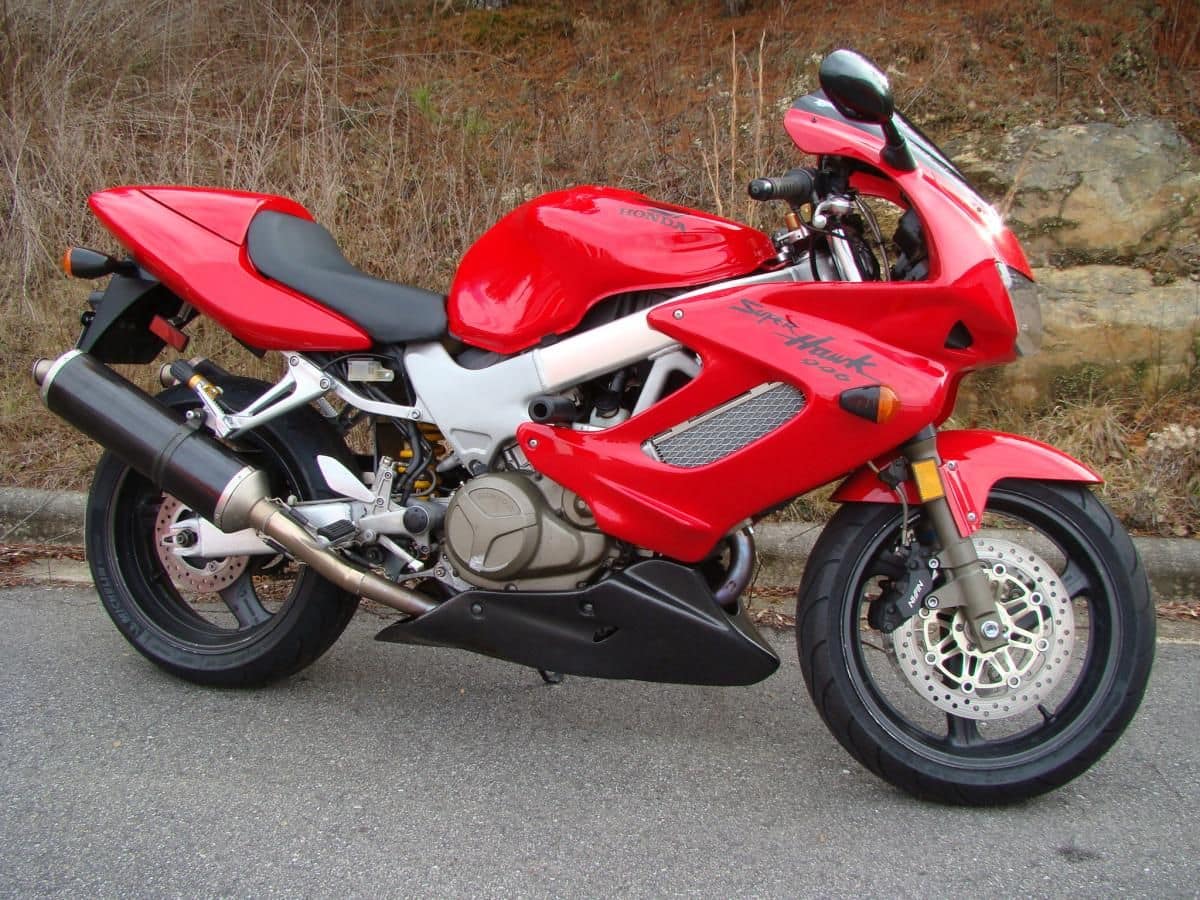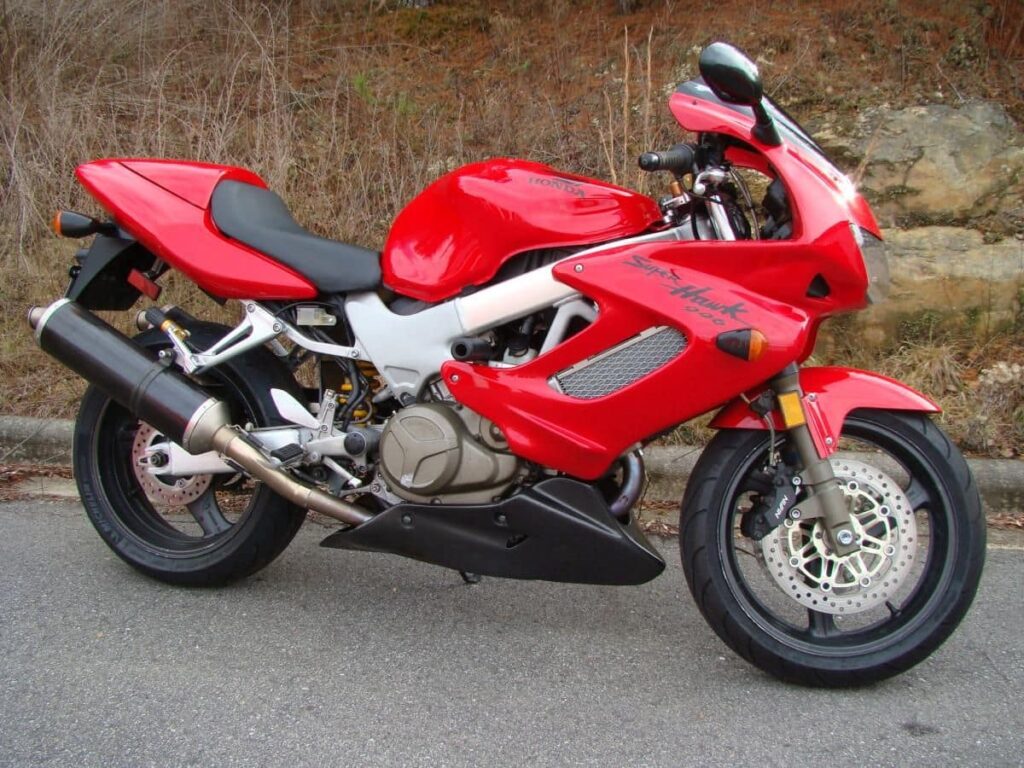 The RC51 is the real darling of collectors (and usually ridiculously expensive), but the SuperHawk is much more easily attainable. You can find them for $2-3K in the US, or $3-4K in Australia where they were more common.
The Superhawk has a 1000cc carburettor-fed v-twin that'll have you laughing. It was Honda's answer to the Ducati V-twin dominance of the late 90s and early 2000s, and it worked quite well.
Only complaints from people are that they run a little hot, have a range of under 120 miles (180kms) and don't handle as well as an SV1000S (which, by the way, has fuel injection). But they have a name that's much cooler (both "Honda" and "SuperHawk").
What model of Honda SuperHawk to buy
Honda SuperHawks didn't change in the time they existed.
You might see some of the race-spec ones, like the RC51, also advertised as SuperHawks. They'll be a lot more expensive — more expensive than their Ducati equivalents, even though they used to be the "cheap" alternative.
Buyers guide for a Honda SuperHawk
There's a few things I'd check on a Honda SuperHawk
Cam chain tensioners tend to fail on these old SuperHawks. If the bike you're testing has a noisy cam chain, then this is on its way out. It's not a difficult fix. It'll also definitely happen while you own it if it never happened before.
Check the charging system. Take a multimeter! The charging system on an older Honda tends to fail, with the regulator-rectifier being the first thing to go.
Check the tyres (see my guide to reading tyre DOT codes). They're likely old.
With those out of the way, you can generally find a decent SuperHawk with less than 30,000 miles or 50,000 kilometres for under US$3,000 or under A$5,000.
Pre-Panigale Ducati Superbikes (748/916-848/1198)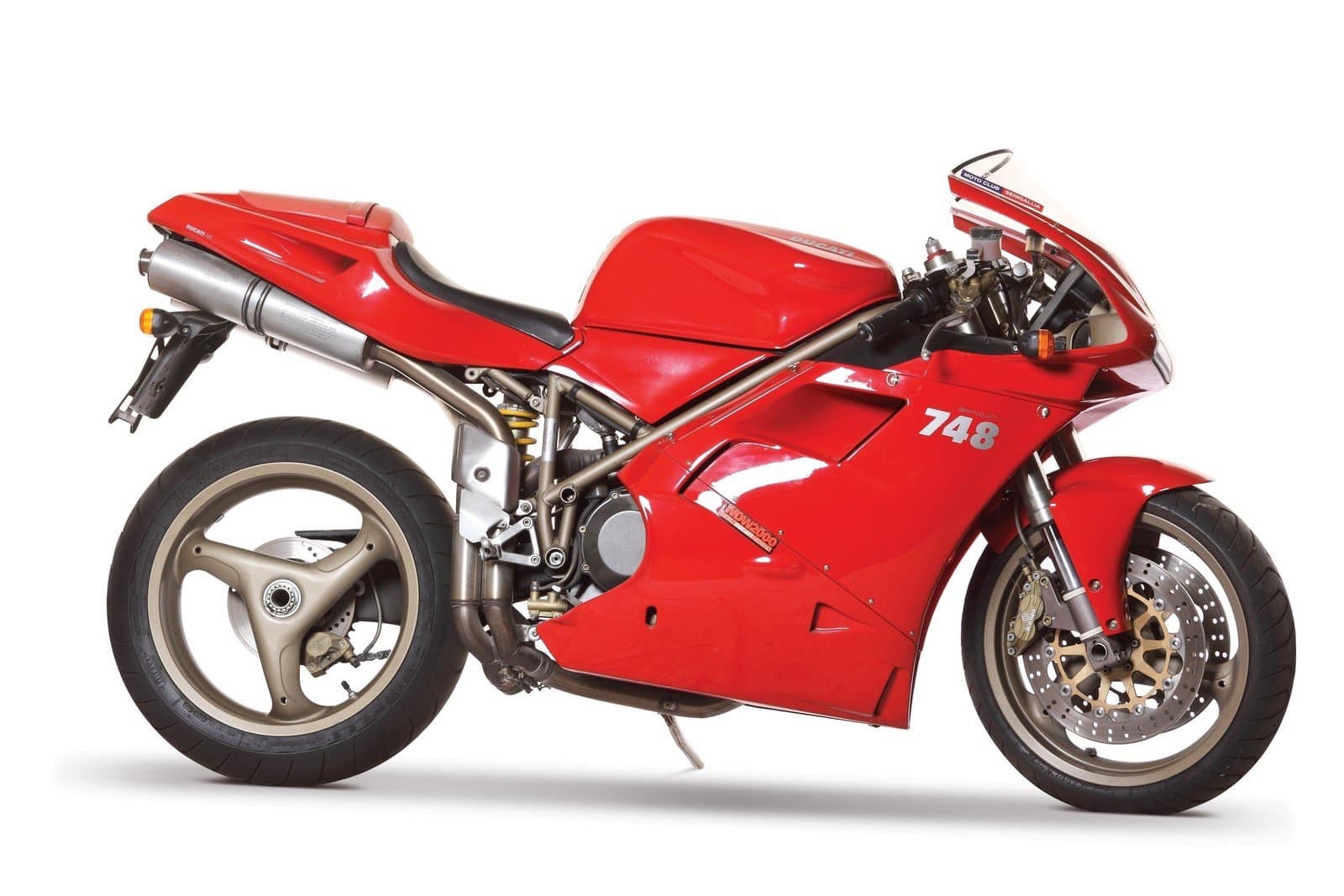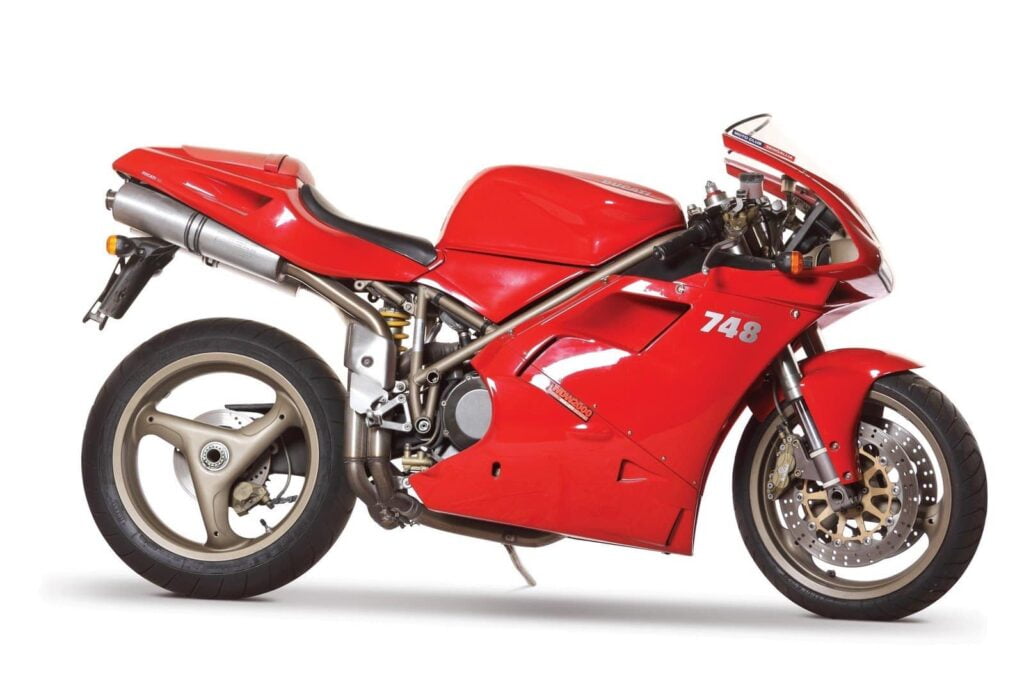 Ducati superbikes motorcycles are/were simply works of art. There are relatively few of the 916 models on the market these days, as owners tend to be getting older, and appreciate them more, just wanting to hang on to them. Same can be said of the fancier versions of the 996 and 998.
However, you can find more examples of their smaller siblings the 748 and 848, especially in the plain versions (not the S, SP, SPS etc.). Even the 848 Evo is available and relatively affordable.
They're not the best Ducatis for racing – they're too classic. And they'll be outclassed by more modern motorcycles, even ones with smaller capacity.
But the early Ducatis are definitely the coolest looking. I owned a 1098S, but I would also gladly own a Ducati 999S — that's my sweet spot in price and classic value these days.
Which Pre-Panigale Superbike to buy
To keep this affordable classic motorcycle under budget, you'll probably have to buy a non-S version of any Ducati superbike you buy.
You can probably fit under the budget a non-red Ducati 999. Red is always about 25% more expensive!
If that's not to your taste, you could also probably find a 998 for a little bit less. You'll however be hard-pressed to find a 998R for anywhere near this budget. Too late!
Either way, you'll be buying a bike with over 30,000 miles or 50,000 kms.
Triumph Scrambler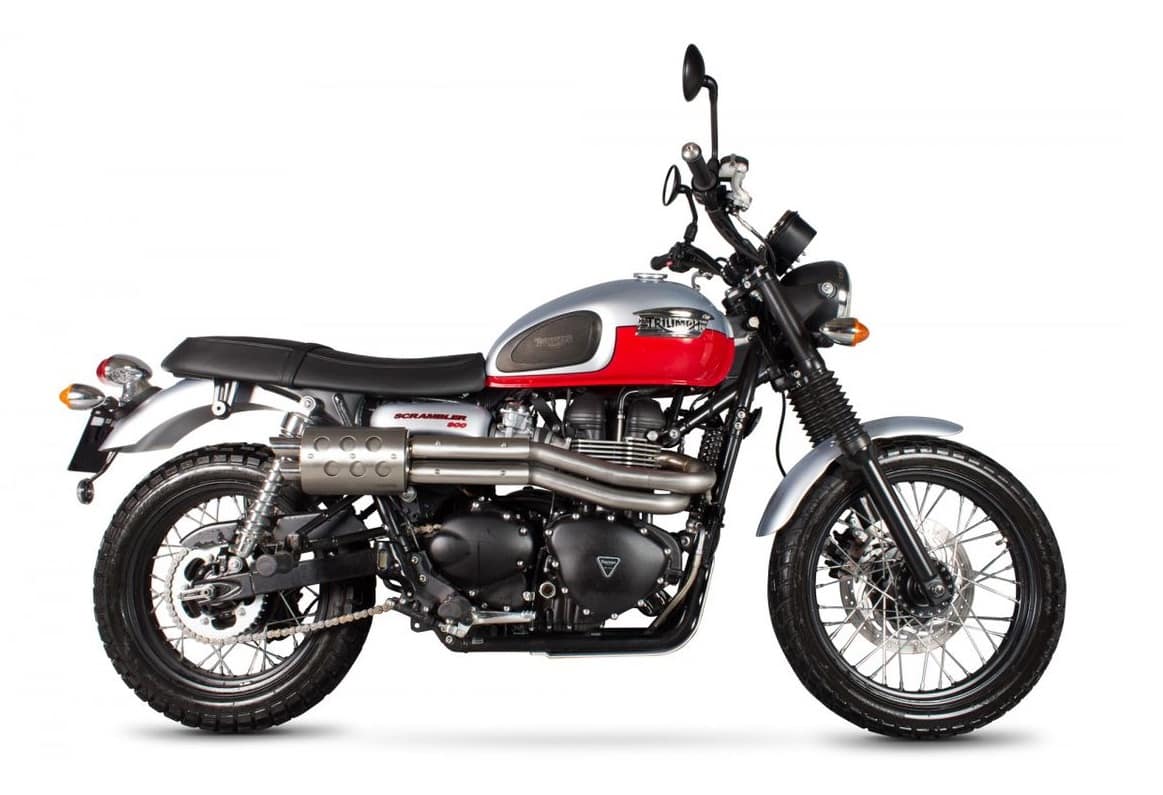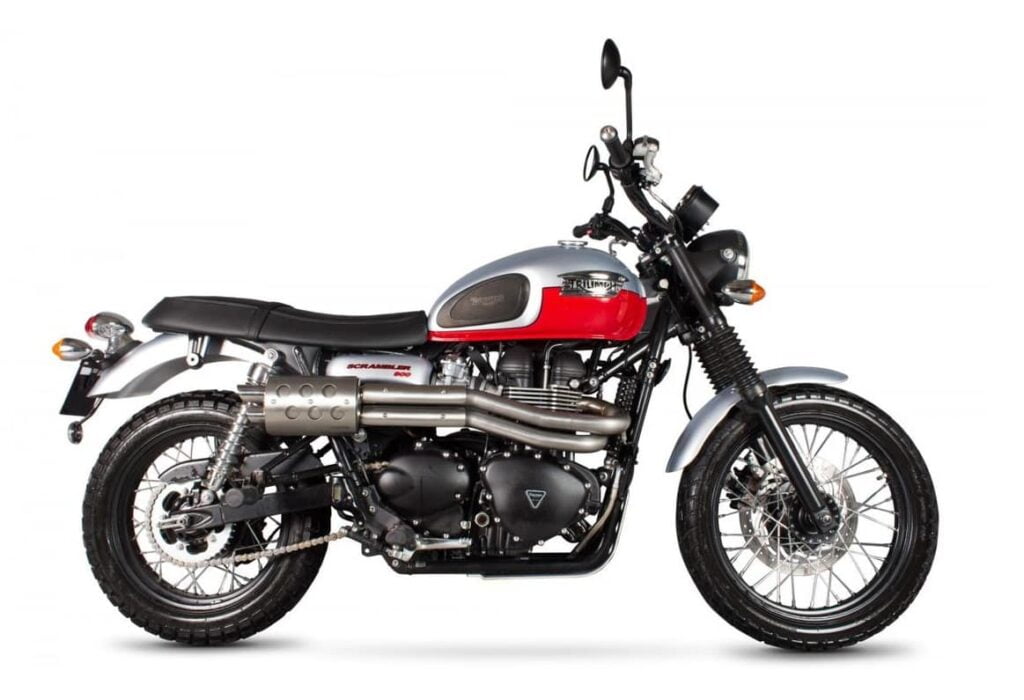 Early model Triumph Scramblers are some of my favourite affordable classic motorcycles.
The Triumph Scrambler is more than just a modified Bonneville, even though that's how it starts.
The most important differences between the Scrambler and the Bonneville are
The Scrambler has a 270-degree firing interval between the pistons. This means one fires, then 270 degrees later the other fires, then 540 degrees later the first fires again. This is in contrast with the Bonneville, which is an even 360-360. In practice, this means there is more torque low down on the Scrambler, as well as a V twin-like roar.
The Scrambler has high pipes and a guard for the engine at the bottom. This is to equip it nominally for going through things like high grass, occasional rocks and sometimes water, without destroying the underside of the Bonneville.
The Scrambler has a tachometer (well it got one in one year, though it didn't have one at launch). Some later Bonnevilles do too, but Scramblers always did.
I like the Ducati Scrambler a lot too. It technically is better in a few ways — it's lighter weight and has much more power. But it just never looked as cool. (This is subjective, I know.)
What model of Triumph Scrambler to buy
Personally, I'd aim for a 2010+ model of Triumph Scrambler so it had a tachometer. If you modify the exhaust, you can re-program the fuel map with an Android app. Pretty sweet.
For most owners, I'd avoid the earliest ones (06-07) because they were carburettor-fed. There's nothing wrong with that, but they may have been poorly maintained, and they may become the object of poor maintenance from you. (But if you're into carbies, then go for it.)
How to buy a Used Triumph Scrambler
Very little goes wrong with a Triumph Scrambler. However, there are a few things to bear in mind and that you should check.
There are oil leaks on nearly all of them. Make sure to check if oil is dripping around somewhere. It's actually usually ok, but might give you a little bargaining power at purchase.
Check the handlebars are straight. A lot of these are dropped by people attempting to "scramble" before realizing how heavy they are. The handlebars bend easily.
If it has an aftermarket exhaust, ensure it has a flat power curve with no hesitation. If the installer was lazy, they might not have replaced the exhaust header gaskets or flashed the computer. (I speak from experience…!)
---
Got another suggestion? Drop us a line on the contact page or leave a comment below.