One class of motorcycle that no longer exists but that many of us remember fondly is the modern big bore four-cylinder motorcycle.
This was (or is, for those of us who still ride them) a group of bikes that many would think of as being "retro" these days. But in their day, they were — or were derived from — pure function: an optimum balance between reliability, smoothness, and everyday usability in a variety of situations.
The most recent generations of big bore four-cylinder motorcycles are no longer available outside Japan. There, you can still get your hands on a Honda CB1300. But all the other models have gone the way of the dodo.
Even more sadly, many of them didn't reach the shores of the US. No wonder that in the US the Kawasaki ZRX1200R — one of the only ones to make it there — is so popular.
Anyway, below I'll look at a brief history of them, then give you an overview of the models. If this is your thing and you're in the land of big cruisers and long roads, it'll help you with a bit of research for importing one from abroad.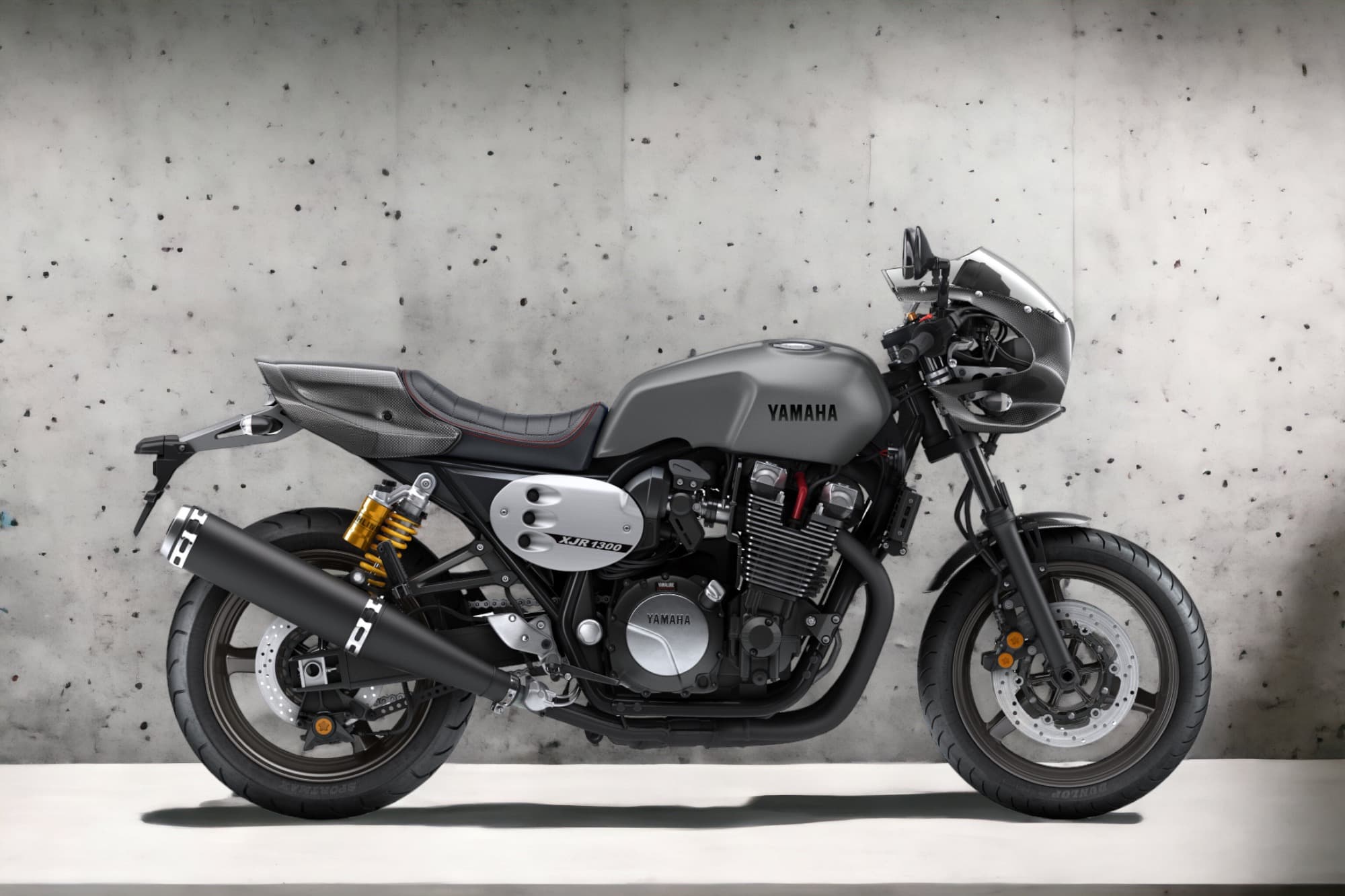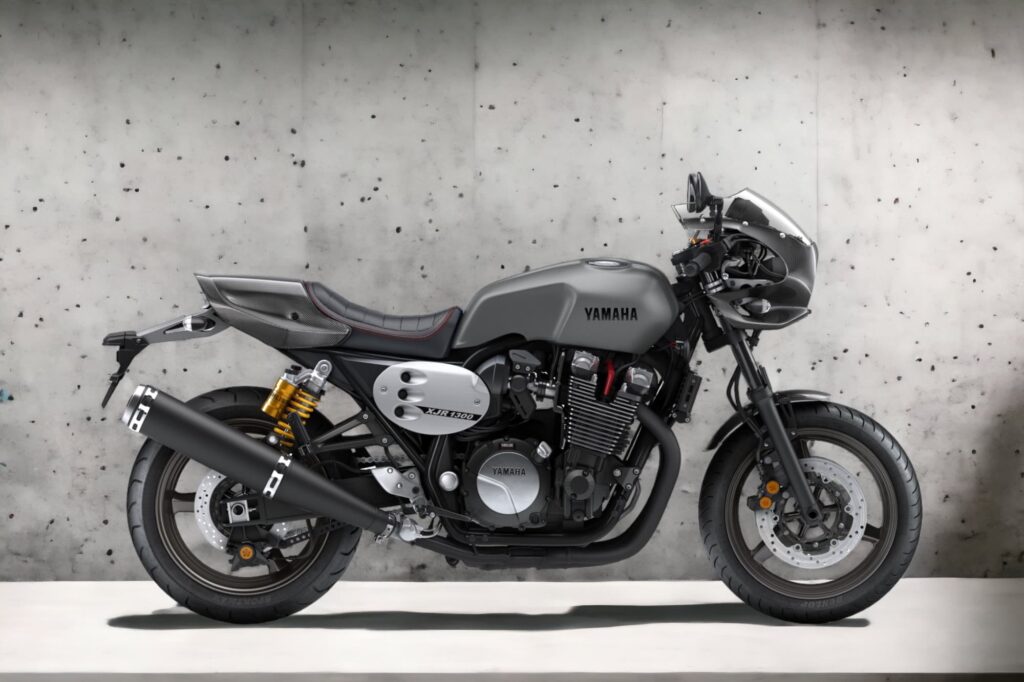 Are you obsessed with motorcycles?
Well, I am. That's why I created this site — as an outlet. I love learning and sharing what others might find useful. If you like what you read here, and you're a fraction as obsessed as I am, you might like to know when I've published more. (Check the latest for an idea of what you'll see.)
A Brief History of Big Bore Four Cylinder Motorcycles — How did we get here?
It's interesting to consider how big bore four-cylinder motorcycles evolved and then vanished. It's especially interesting because at one point they were so ubiquitous that you couldn't wave a stick around without hitting one. And despite that, they've now gone.
Loosely speaking, big bore four-cylinder motorcycles all started with the 1969 Honda CB750, the first motorcycle to be named a "superbike".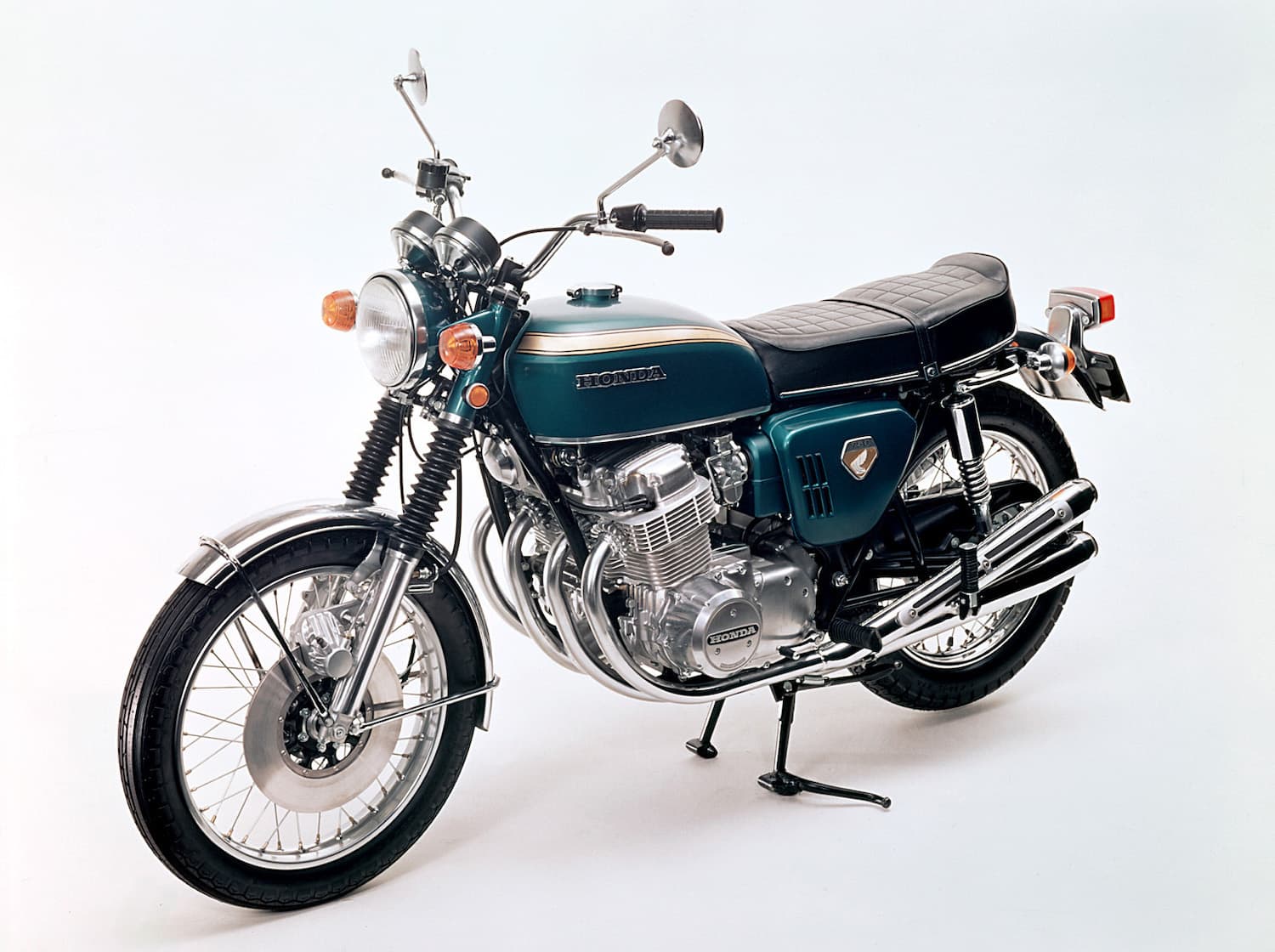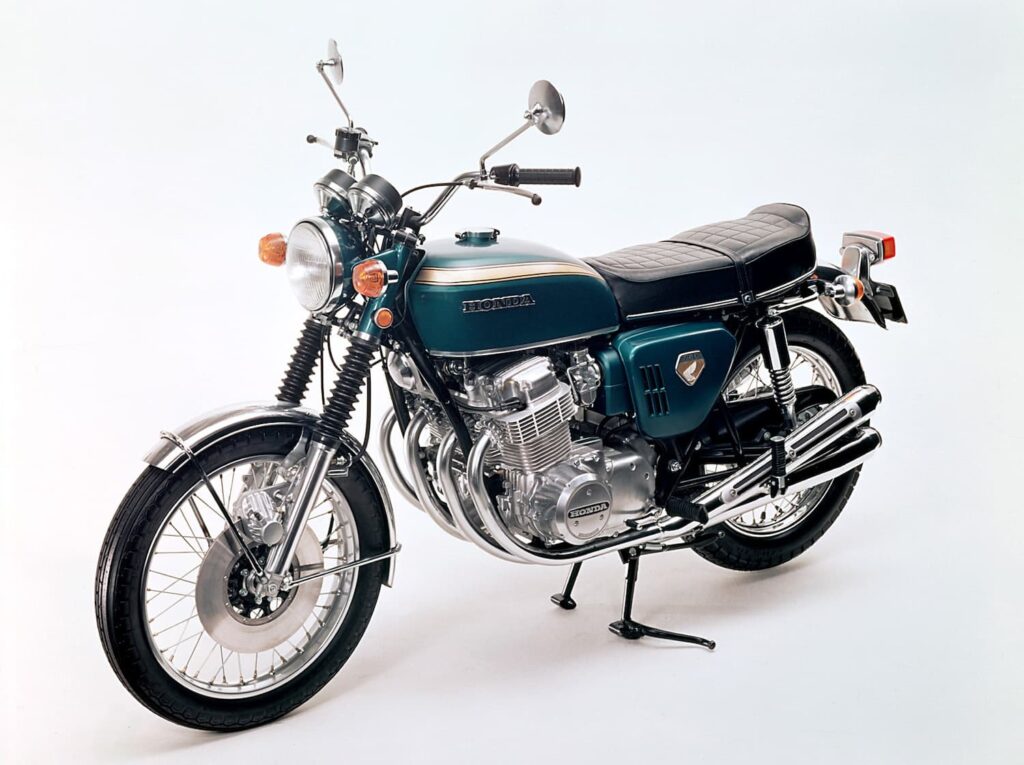 Air-cooled, single solid disc brake, conventional forks, and bench seat, oh my! The definition of a "superbike" definitely has evolved over time. (These days, there are two front disc brakes.)
But the Honda CB750 was somewhat of a template for a whole generation of motorcycles, particularly in the 1980s, and especially particularly from Japan. They all kind of had a lot in common, so earned the name "UJMs" — "Universal Japanese Motorcycles".
The moniker of "UJM" is a bit unfair, because they each have different attributes. Some had shaft drives, some chains. Some were air-cooled, some adopted liquid cooling. Some had gear-driven camshafts, some chain. Anyway, ironically against my own argument, these days when choosing between any two bikes from the UJM period, the main thing I'd look at would be the condition they're in — they're all similarly dated, heavy, vulnerable to the ravages of time, and unabashedly cool.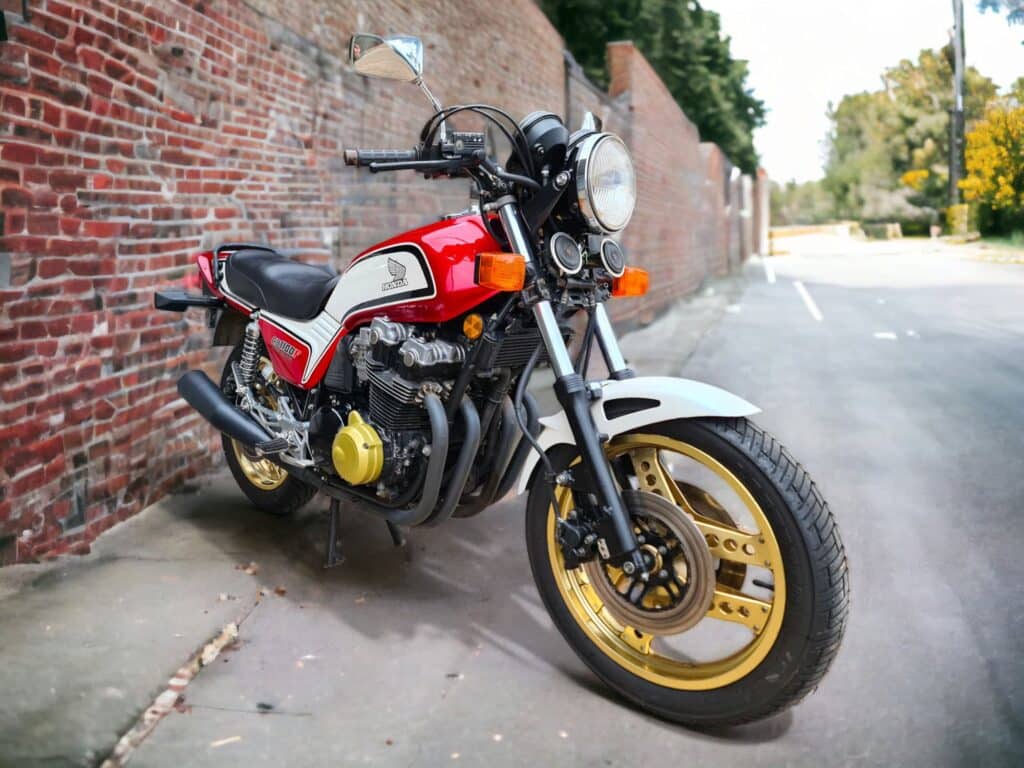 Of course, UJMs weren't all "big bore". They generally spanned 500 to 1000 cc, with a couple of outliers on the other sides. But the big ones got a lot of attention.
In the late 1980s, in the mainstream market, UJMs started to give way to fully-faired sport bikes, like the Honda CBR600F and the like. What people liked started to shift, especially as they watched more races.
But big naked bikes were still cool, and very much a thing. It's just that the engines started to be adapted from the fully faired sport bikes. The Honda CB1000 Super Four, a.k.a. "Project BIG-1", got its engine from the big ol' jelly bean that's the Honda CBR1000F Hurricane. The Suzuki Bandit 1200 got the air/oil-cooled GSX-R1100's engine, with a capacity hike and torque-forward tune.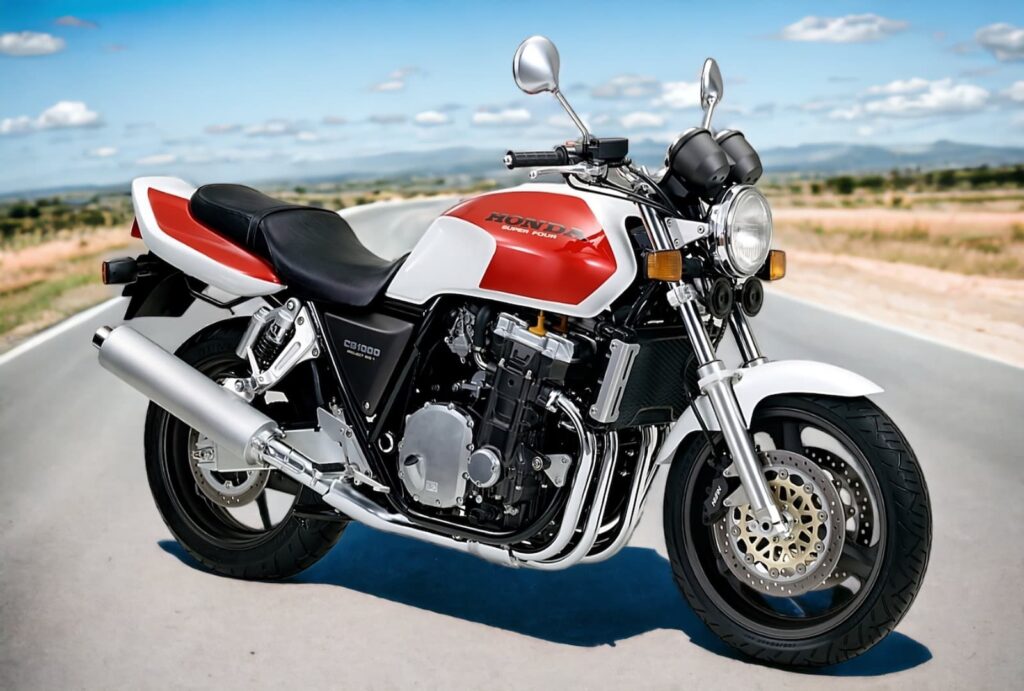 The same isn't the case for all big bore four-cylinder bikes — manufacturers did continue using their own dedicated four-cylinder engines in some — but it was the beginning of a trend that would continue to expand.
The Ducati Monster shook up the market even more. It's credited by many with being the motorcycle that brought "naked sport bikes" to general consciousness. I'm not sure this is true; but retrospectively, it fits the timeline. Anyway, naked bikes started to get sportier — more powerful and lighter, rather than big and torquey.
This brings us to the 2000s, which was the period of the last gasps of the big bore four-cylinder motorcycle era. Manufacturers started building "supernakeds" and "streetfighters". The Kawasaki ZRX1200R gave way to the Z1000, the Honda CB1300 gave way to the CB1000R, and the Yamaha XJR1300 gave way to the FZ1. The new generation were lighter, more powerful, higher-revving, and designed with a much more modern aesthetic.
Since the mid to late-2000s, manufacturers actually stopped actively developing the big bore four cylinder motorcycles, and eventually retired them from international markets in the mid 2010s.
These days, if you're after a brand new four-cylinder motorcycle, you can get a couple of few naked streetfighters, sport tourers or sport adventure tourers, but the days of the "big bore" retro-esque bikes are over.
Big-Bore Four-Cylinder Motorcycles — Overview
All of these motorcycles share a few things. Generally, they all have inline four-cylinder engines with ~1100-1400 cc, dual overhead camshafts, and four valves per cylinder. They also all share the fact that they have a chain final drive, and their suspension is nearly universally comprised of standard forks and twin rear shocks (the Bandits being the exception for the latter).
They all have a fully-fuelled weight of "around" 250 kg / 550 lb. No bike here is a lightweight, especially for the modest power output. But at most sane speeds, none of them feels slow.
Interestingly, they all share a general "console" aesthetic of twin round gauges. I approve!
But they differ in some engine details. Some are air-cooled, some liquid, and some are carburettor-fed and some fuel-injected, and some went through a generational change of one of those things during their lifetimes.
Notes on the specs:
The horsepower and torque specs are at the crankshaft. Most sources vary by 1-2% — which is a reasonable margin of error (things like the ambient temperature and state of tune will affect peak power output more.) Power specs are for more recent models.
Weights are also inconsistent between sources, but they're ballpark.
Model
Honda CB1100
Honda CB1300
Kawasaki ZRX1200R
Suzuki Bandit 1200
Suzuki Bandit 1250
Suzuki GSX1400
Yamaha XJR1300
Years
2010-2022
1998-
2001-2007 (2008+ JDM)
1995-2006
2007-2016
2001-2008
1999-2016
Capacity (cc)
1140
1284
1164
1157
1255
1402
1251
Cooling
Air
Liquid
Liquid
Air
Liquid
Air
Air
Compression ratio
9.5:1
9.6:1
10.1:1
9.5:1
10.5:1
9.5:1
9.7:1
Bore / Stroke (mm)
73.5 x 67.2
78 x 67.2
79 x 59.4
79 x 59
79 x 64
81 x 68
79 x 63.8
Fuelling
EFI
Carb (1998-2002)
EFI (2003+)
Carb
Carb
EFI
EFI
Carb (1999-2006) /
EFI (2007+)
Peak power
66 kW / 90 hp @ 7500 rpm
84 kW / 113 hp @ 7750 rpm
90 kW / 122 hp @ 8500 rpm
74 kW / 100 hp @ 7500 rpm (2001+)
70.5 kW / 97 hp @ 7500 rpm
78 kW / 105 hp @ 6800 rpm
72 kW / 98 hp @ 8000 rpm
Peak torque
93 Nm / 69 lb-ft
116 Nm / 86 lb-ft @ 6000 rpm
112 Nm / 83 lb-ft @ 7000 rpm
93 Nm / 69 ft-lb @ 6500 rpm
108 Nm / 79.7 ft-lb @ 3500 rpm
126 Nm / 93 lb-ft @ 5000 rpm
108 Nm / 80 lb-ft @ 6000 rpm
Redline
8500
8500
10500
11000
9500
9000
9500
Gears
5 (10-13)
6 (14-22)
5 (6: 2021+)
5
(6: 2008+, Asia-only)
5
6
6
5
Front suspension
41mm conventional fork (Some models vary)
43mm cartridge fork, adjustable compression / rebound damping
43mm fully adjustable cartridge
43mm conventional fork, preload adjustable
Conventional 43mm Showa fork, preload adjustable
46mm conventional fork, compression and rebound adjustable
Conventional fork, fully adjustable
Rear suspension
Showa twin shocks
Dual shocks, 5-step adjustable preload
Twin piggyback shocks, fully adjustable
Monoshock, preload / rebound adjustable
Showa monoshock, adjustable preload and rebound damping adjustable
Twin shocks, fully adjustable
Twin shocks, fully adjustable
Front brakes
2 x 296 mm discs, 4-piston calipers (RS has higher spec)
2 x 310 discs, 4-piston calipers (C-ABS: 3-piston calipers)
2 x 310 mm discs, 6-piston calipers
Dual 310mm, 6-piston Tokico calipers
Dual 310mm floating discs, 4-piston calipers
2 x 320mm discs, 6-piston calipers
2 x 298 mm discs, 4-piston calipers
Variants
Trim levels: EX, DLX, RS (select markets)
Super Four, Full fairing: Super Bol D'or
Faired ZRX1200S, Naked ZRX1200C (select markets)
Faired (Bandit 1200 S)
Faired (Bandit 1250 S), Full fairing GSX1250FA
None
Café (select markets)
Source(s)
Buyer's guide
Honda Europe (2010)
Kawasaki
Buyer's guide
Buyer's guide
Suzuki Digital Library
Big-bore four-cylinder motorcycles overview
Honda CB1100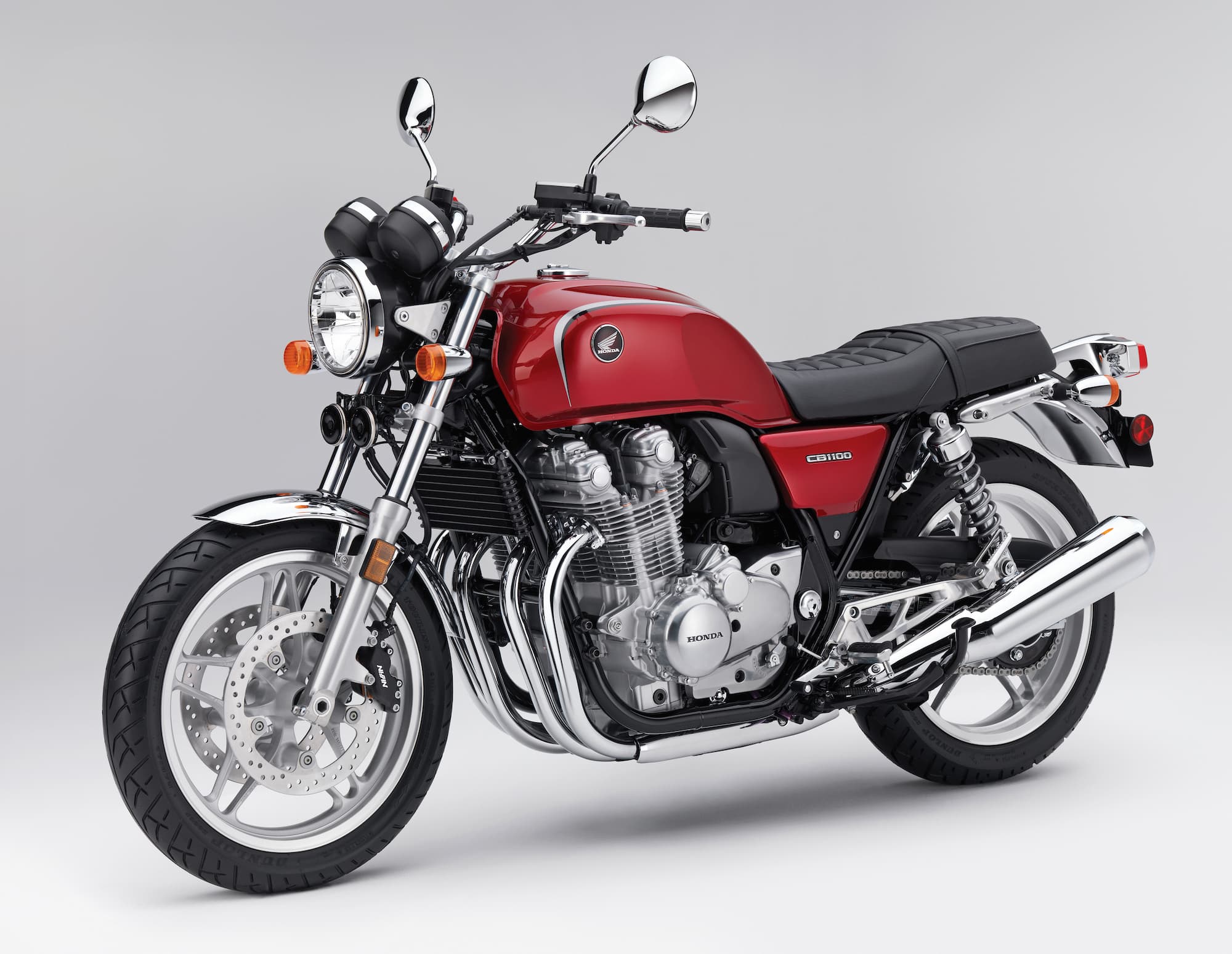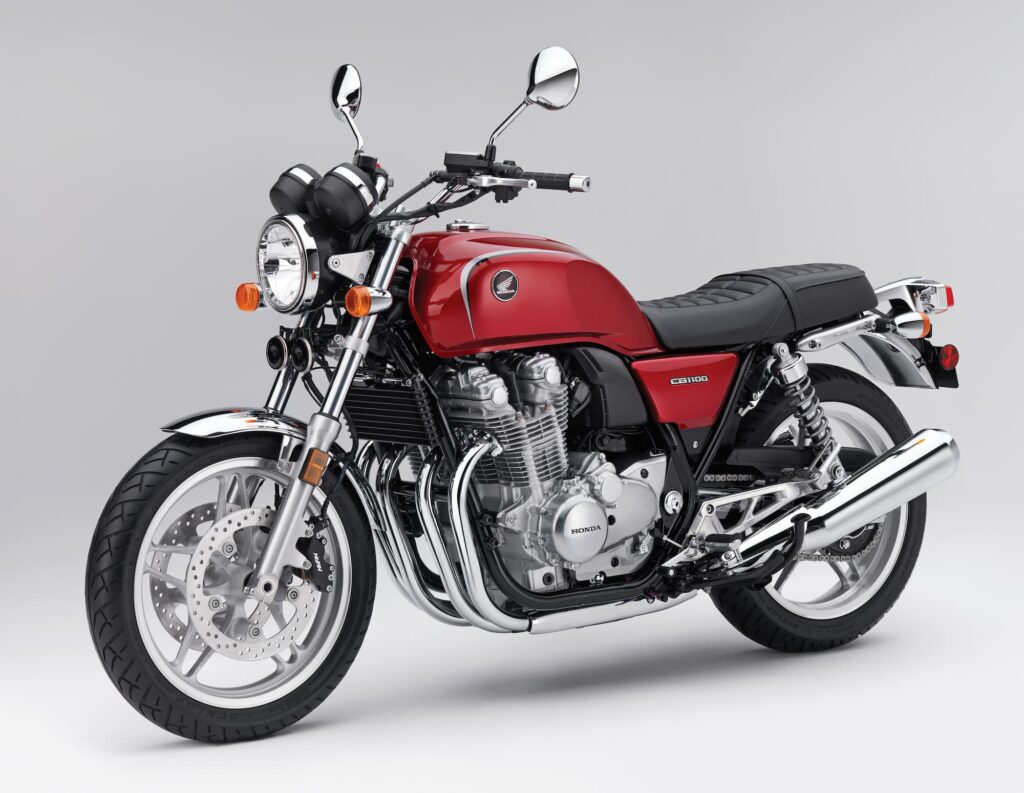 The Honda CB1100 is the newest motorcycle in this list of big-bore four-cylinder motorcycles — however, it, too, has been retired.
I want to mention that the Honda CB1100 is a controversial entrant. It has a smaller engine and is more about being a "retro" than being a big bore torquey beast. I'm mostly including it as it's "nearly" there, and it was the most recently available motorcycle for many of us.
Honda first introduced the Honda CB1100 in 2010, but started bringing it to more markets in 2014. It's a throwback model with a 1140 cc air/oil-cooled inline four-cylinder engine, marketed to call back the UJMs of the 80s to ageing hipsters like, er, me, I begrudgingly admit.
Honda updated the CB1100 over time, mostly aesthetically, e.g. by introducing the seamless tank (see the pic below). They also changed from a single to dual exhaust, and introduced some variants like Deluxe, EX, and RS, for various markets.
See more in the full model guide to the Honda CB1100.
The Honda CB1100 is very well built. It gleams. Unfortunately, Honda cut it, deciding to stop competing in the retro segment against the likes of Triumph and Moto Guzzi who seem to have a better run at it. The CB1100 was just a hard sell in today's market of high-tech, high-power, lightweight roadsters, especially when the 2018 Honda CB1000R came out with its Neo Sports Café styling. The Honda CB1100 never had break-neck torque or power.
The other drawback is that despite being a fairly new bike, the Honda CB1100 is pretty low-tech in its suspension and drivetrain. I don't think that's a major quibble for its potential buyer, though.
The Honda CB1100 has legions of fans. It rides really easily, has a really nice and smooth engine (which dyno runs indicate probably puts out more than Honda claims), and was probably the last new air-cooled four-cylinder bike most people could buy new.
Honda retired the CB1100 on a high note, with the higher-spec (better suspension and brakes plus 17-inch rims) and premium-looking CB1100 RS.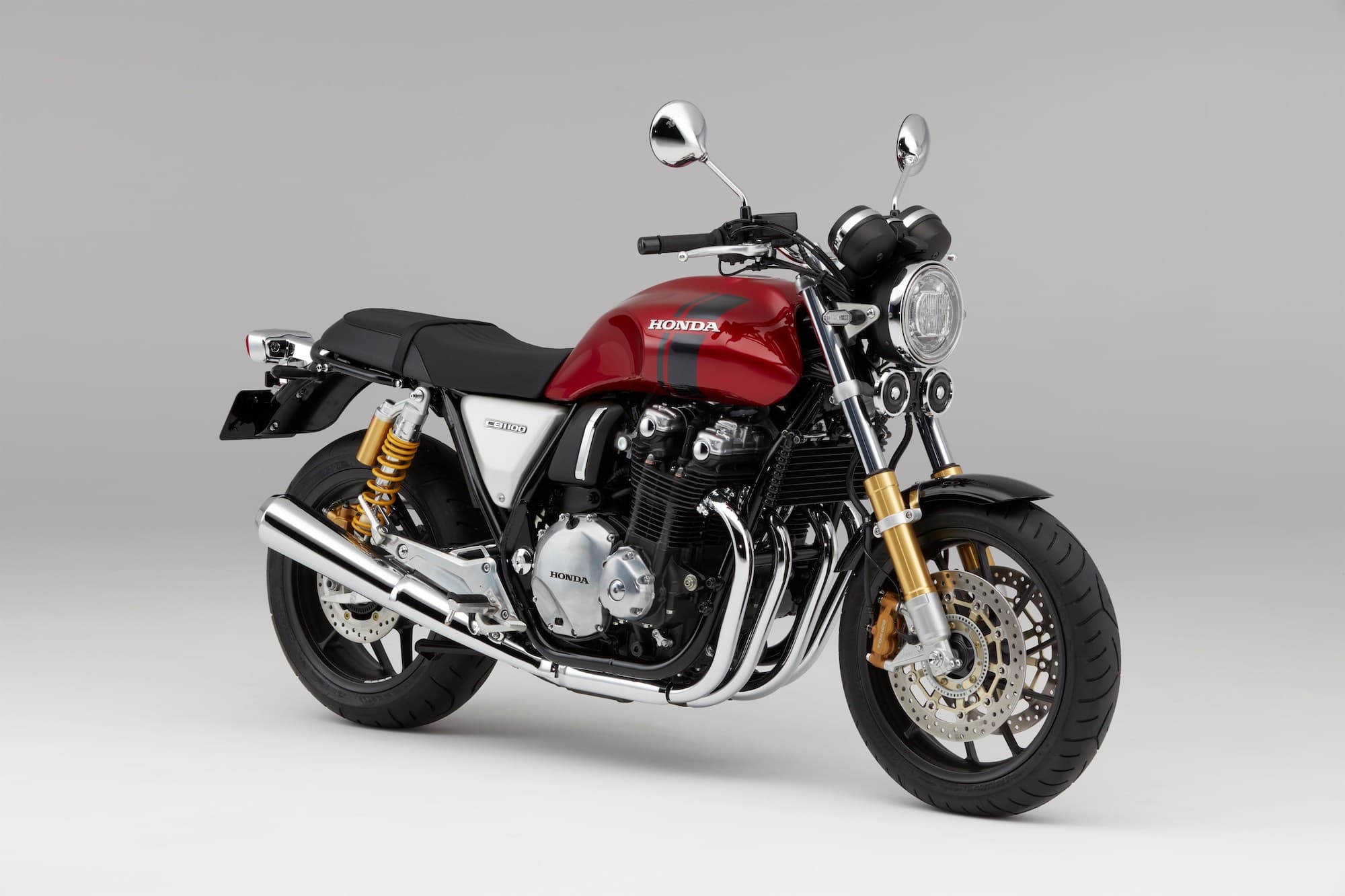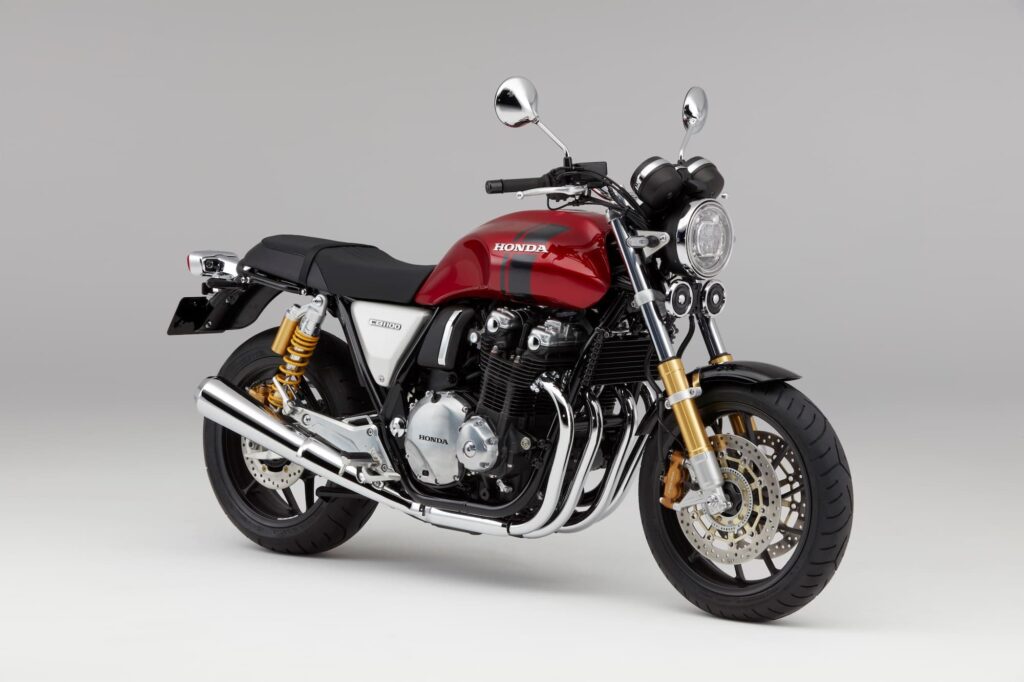 Honda CB1300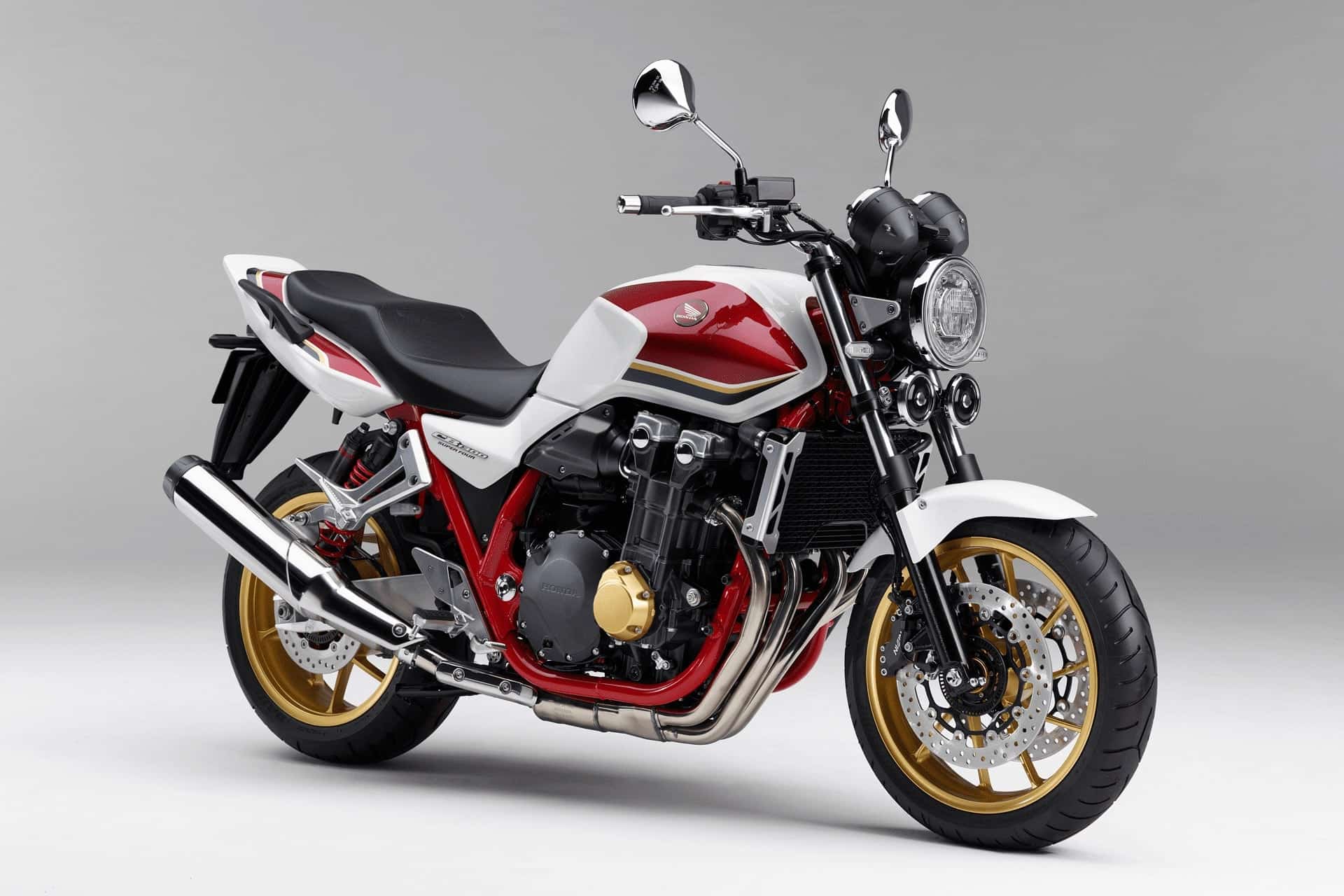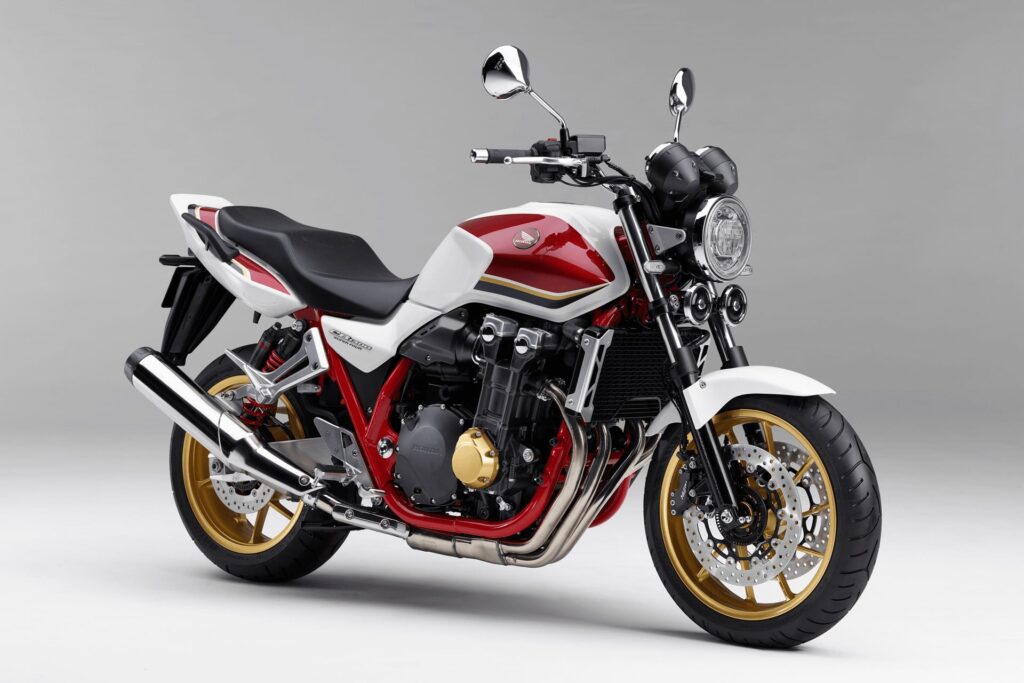 The Honda CB1300 has a much longer history than the CB1100 — Honda released the CB1300 Super Four in 1998!
The Honda CB1300 was the successor to the 1992 Honda CB1000, known as "Project Big-1", which had initially received its motor from the Honda CBR1000F "Hurricane" sport bike (now a retro classic with its bulbous fairings — I love the thing).
The Honda CB1300, on the other hand, didn't take its engine from a sport bike, but rather from the very popular but Japan-only four-cylinder cruiser, the X-4. But Honda had their way with everything, altering the engine, and creating a whole new chassis, suspension and wheel setup, and look.
The Honda CB1300 was initially carburettor-fed, but Honda updated it in 2003 with PGM-FI as well as a new 3-D ignition timing system. Honda also made a few functional improvements, and managed to significantly lighten the chassis — the 2003 model was 20 kg (44 lb) lighter than the 1998-2002 model.
Honda also changed the valve actuation system from rocker arms to a direct push system. This alters, most significantly, the complexity of the valve service job — but not by much.
From 2005, Honda offered a Super Bol D'or variant with a half cowl. I think it looks the bee's knees.
And from the same year, Honda offered optional, and later obligatory ABS.
Honda eventually stopped exporting the CB1300 Super Four and Super Bol D'or. But what pains me is that they're still making it in Japan, and even improving it — just for themselves. There's even an SP version with Öhlins suspension and electronic cruise control.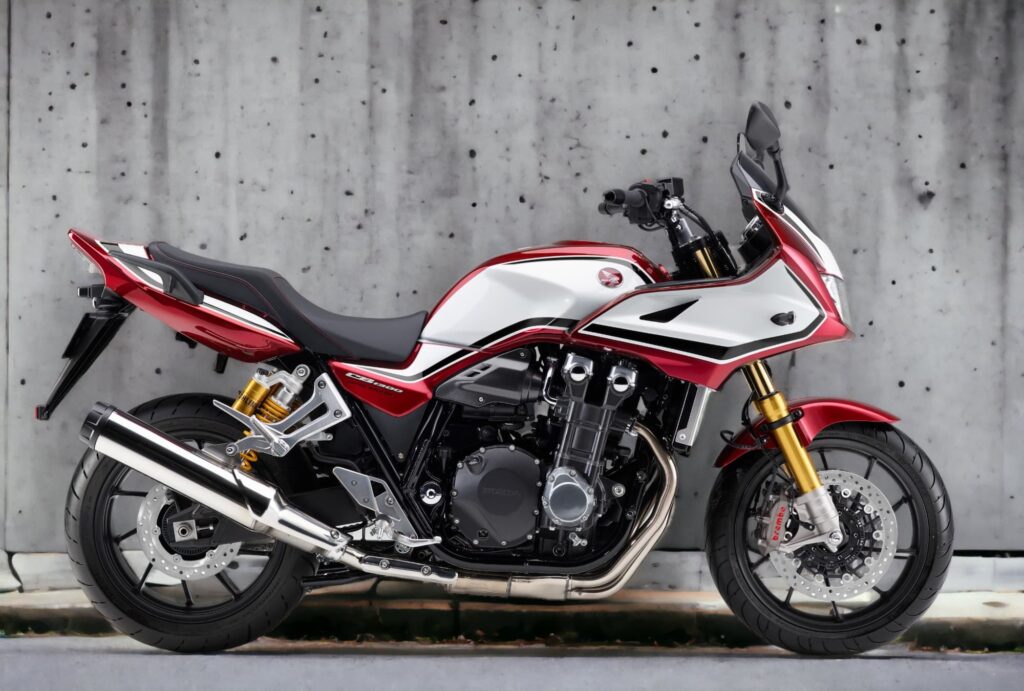 Kawasaki ZRX1200R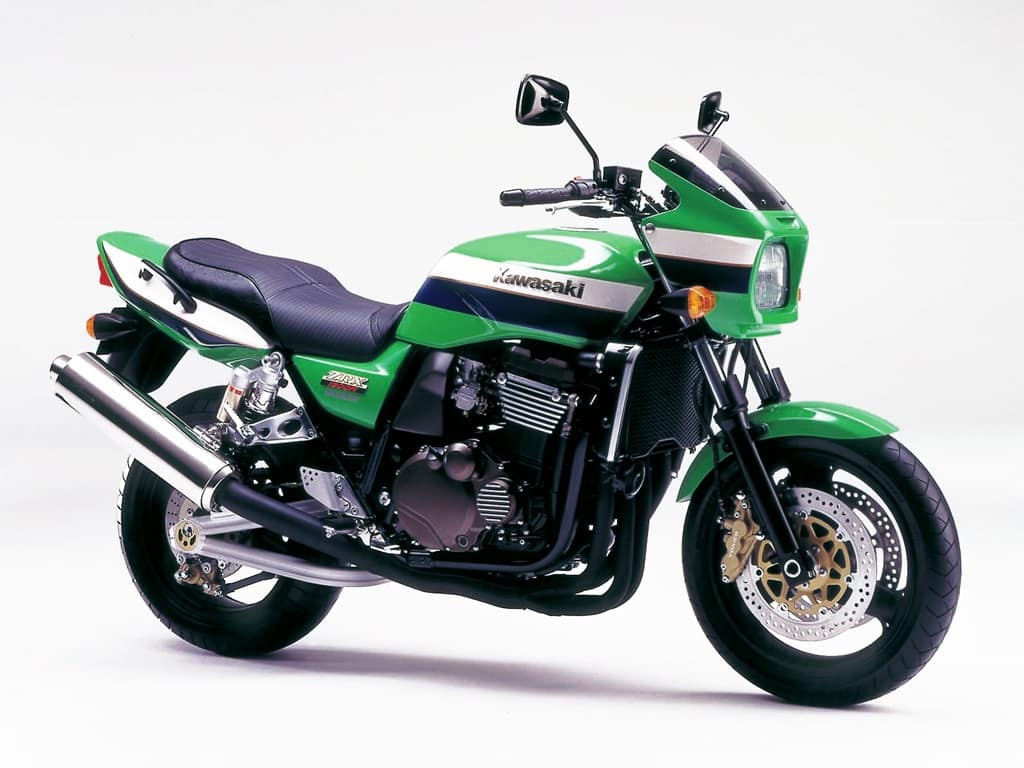 Fans of classic muscle bikes will know this one well. The Kawasaki ZRX1200R is one of the line of "Eddie Lawson Replicas" that Kawasaki has made on-and-off for decades (since Eddie Lawson's win on a KZ1000R).
In some ways, there's still a bike like the Kawasaki ZRX1200R made — the Z900RS. But that's smaller in capacity and physically than the relatively big and heavy ZRX1200R. It's a different kind of motorcycle, more "middleweight" than the ZRX. Besides, the Z900RS, as nice-looking as it is, isn't really an Eddie Lawson Replica — it has modern, though rounded looks, and doesn't call back the boxy KZ1000R in any obvious way other than a general motorcycle shape, engine configuration, and some colour schemes.
See more about the Eddie Lawson Replicas here.
Kawasaki released the ZRX1200R to replace the ZRX1100R, a similar motorcycle. The ZRX1100 was based on a de-tuned motor from the ZX-11 high-speed sport motorcycle's engine. The ZRX1100R, too, is a stunner (in fact, the 11 and 12 look very similar). But the ZRX1200 didn't get its engine from a sport bike — it's just an adaptation of the existing ZRX1100 engine. (The ZX-12R went off and did its own thing.)
Engine
ZX-11 /
ZZR1100
ZRX1100
ZX-12R
ZRX1200
Bore
76
76
83
79
Stroke
58
58
55.4
59.4
Displacement
1052
1052
1199
1165
Compression ratio
11.0:1
10.1:1
12.2:1
10.1:1
Peak power
108 kW / 147 hp
@ 10500 rpm
77 kW / 106 hp
@ 8700 rpm
131 kW / 178 hp
@ 10500 rpm
89 kW / 122 hp
@ 8500 rpm
ZZR / ZRX engine specs
In some markets, Kawasaki also released a fully-faired version of the ZRX, the ZRX1200S as well as a naked.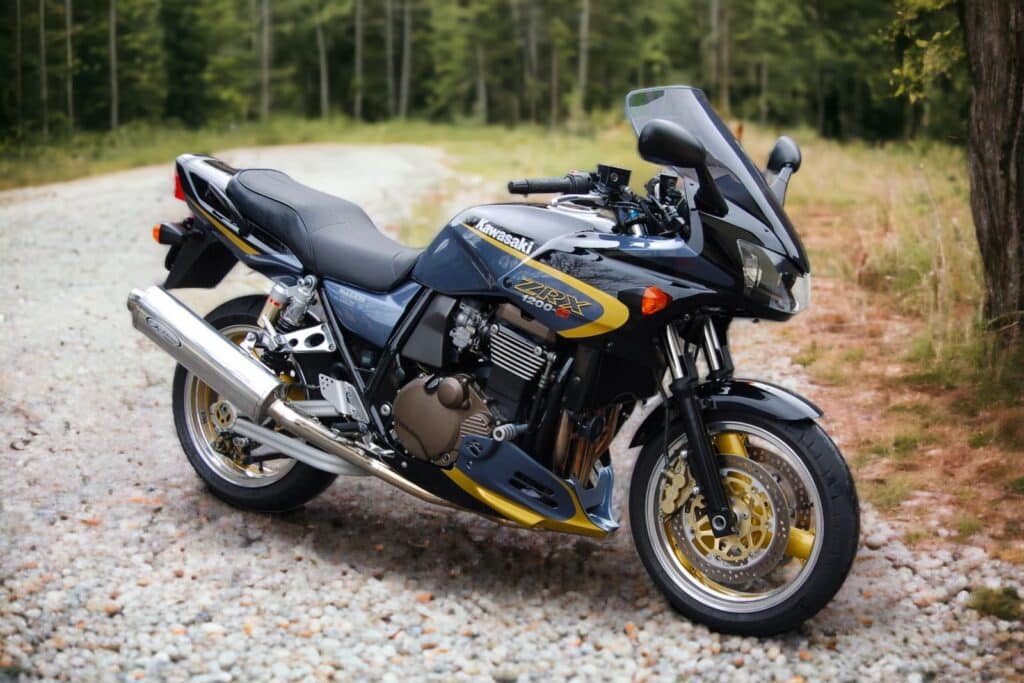 The ZRX1200S is a great bike and sold OK, but the style made it obvious to potential buyers that competitors to the ZRX1200 weren't just big-bore muscle bikes, but also the "super nakeds" that were starting to emerge, like the R1-derived Yamaha FZ1, rather than just the Yamaha XJR1300. Yikes! The FZ1 is a tough crowd — blisteringly fast.
But if you buy the ZRX1200 for style as much as for potential, you'd likely never be disappointed.
Kawasaki continued building the ZRX1200 in Japan for the domestic market and other regional Asian markets from 2018 to 2016 as the Kawasaki ZRX1200 DAEG. It got fuel injection, a six-speed transmission, and a couple of ride aids. There was even a special edition with Öhlins shocks. The 2016 model year was the year of the "Final Edition".
Side note — What Does DAEG Mean?
As for what "DAEG" means in the Kawasaki ZRX1200R DAEG, it took me a LOT of hunting, so here it is: The name "DAEG" is a Kawasaki-exclusive term. It's not a Japanese word, nor an acronym.

Kawasaki gives its explanation only in the Japanese-language press release here. The source is a rune, which is shown in a "ᛞ" logo on the motorcycle (if that doesn't show on your screen, it looks a bit like a square infinity symbol — see below).

Kawasaki clarifies elsewhere that it's pronounced as "DA-E-GU" (ダエグ) in Japanese (though it's not a Japanese word). In English it's safe to say "da-eg". The word / rune means "day" and is the etymological root of the same word in English, via Old English. Here's more about the rune itself.

Kawasaki uses it to mean "progress", "evolution", or "taking a leap". They only ever used it with the ZRX1200R Japan-only model.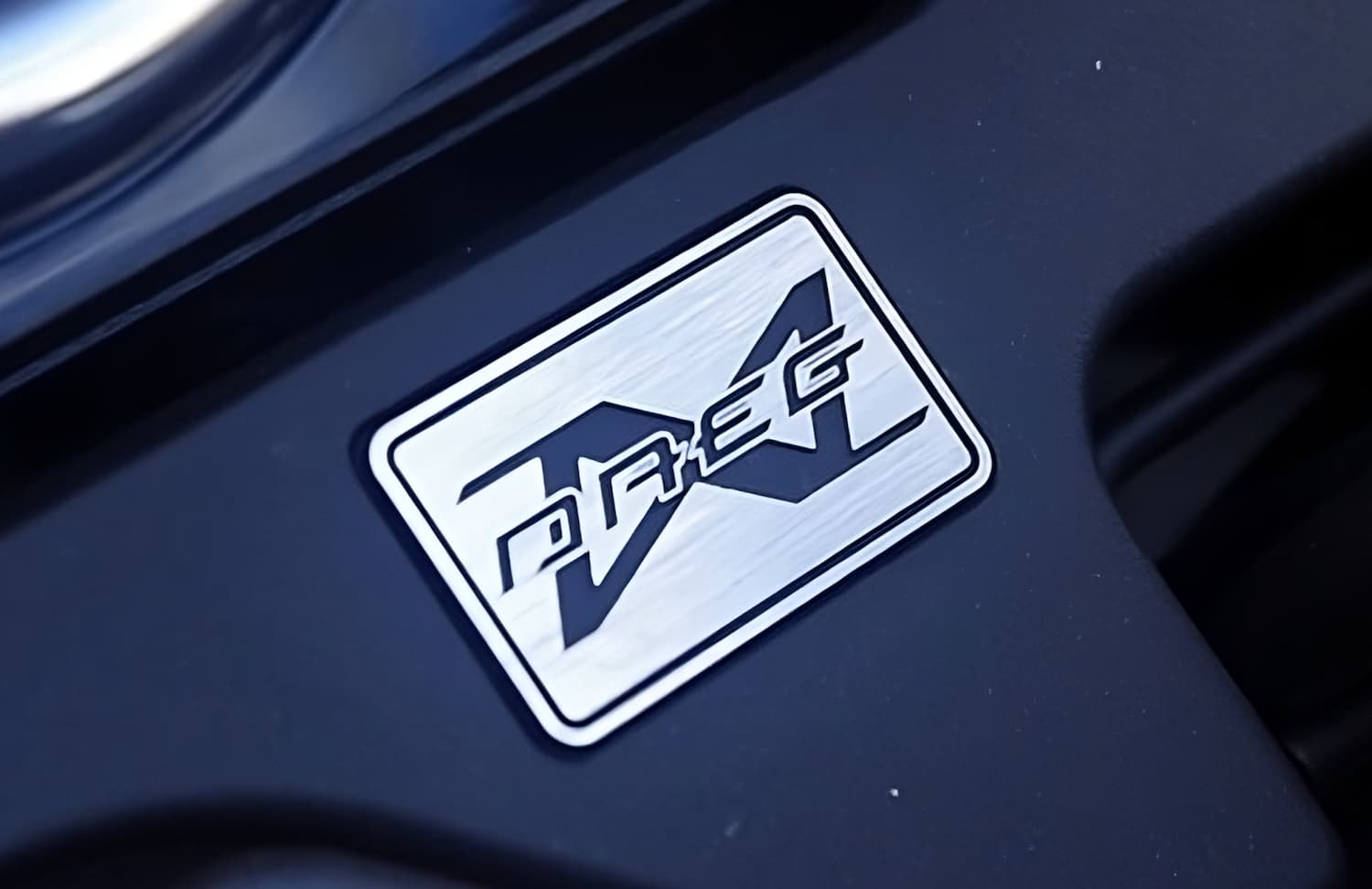 Suzuki Bandit 1200 / GSF1200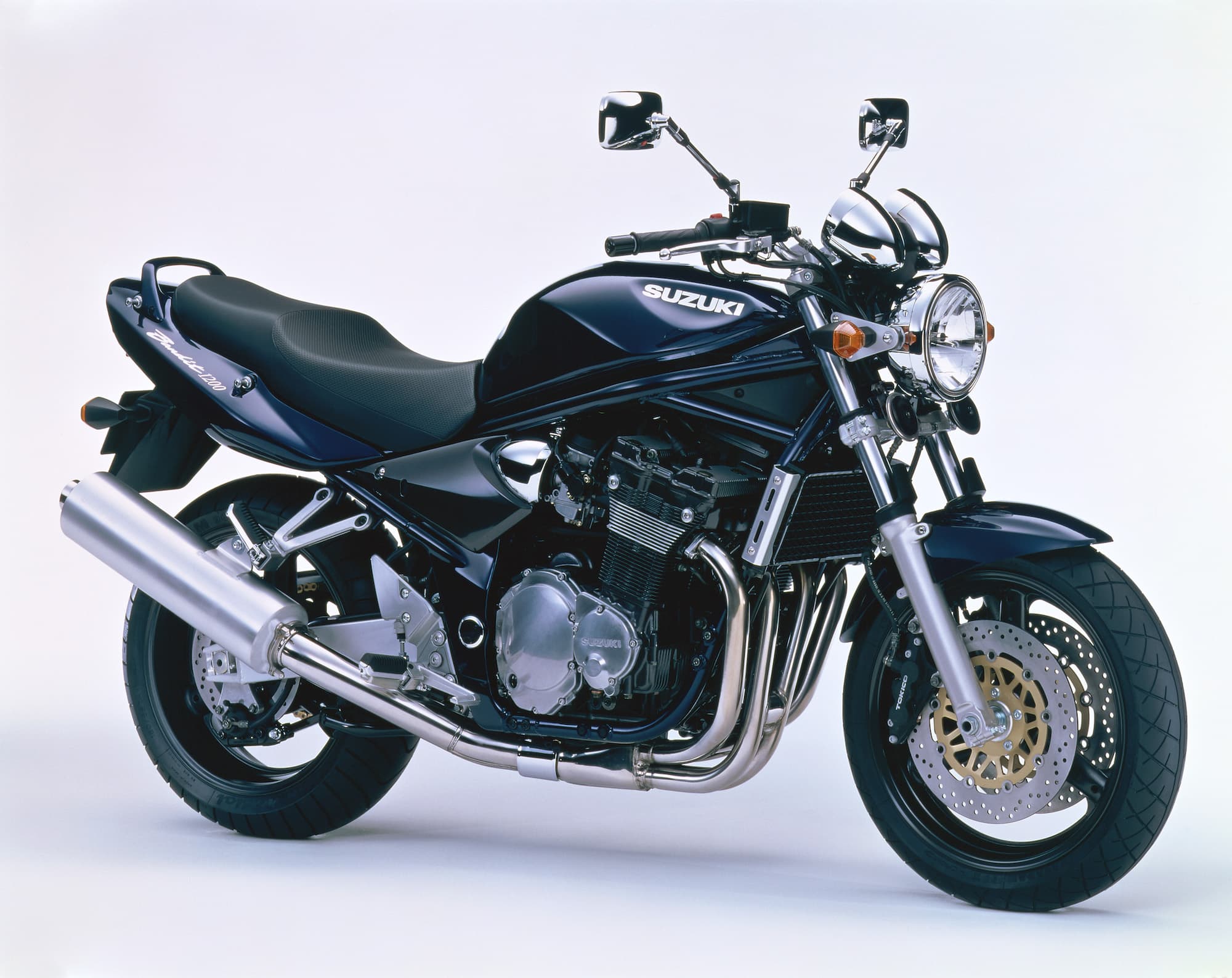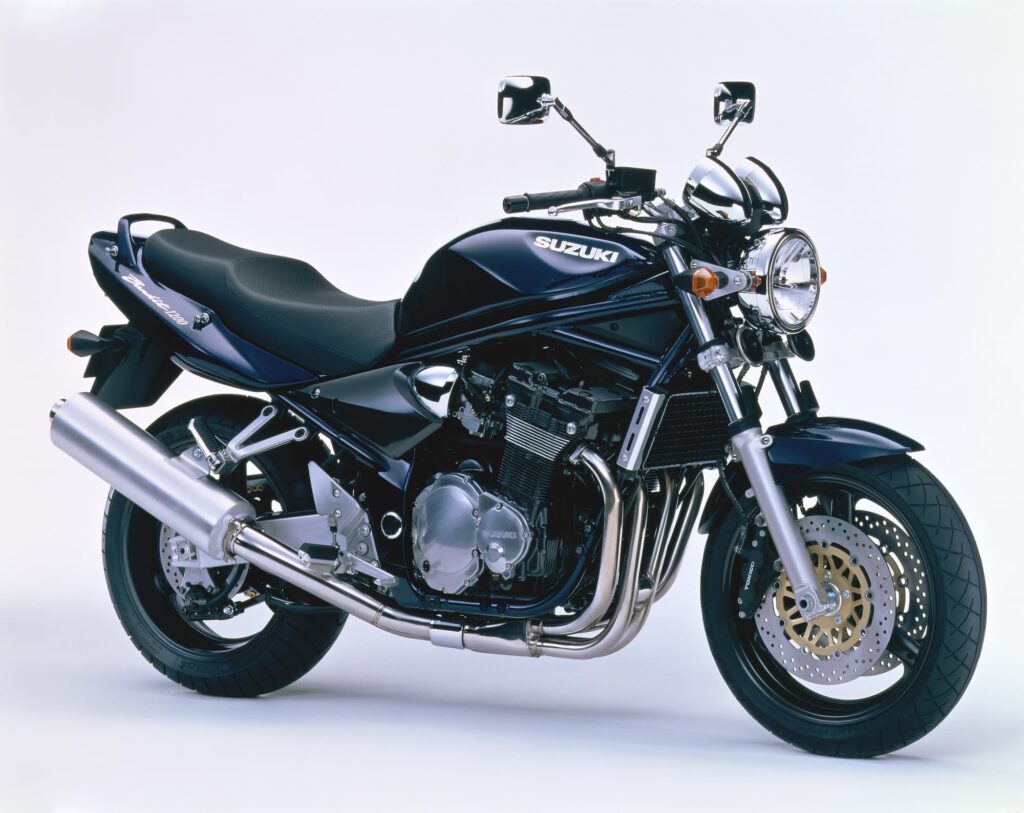 Suzuki released the first model GSF1200 Bandit in 1995, and it has been a raging hit ever since for being a cost-effective but raucous motorcycle that seems to be bulletproof.
The Suzuki Bandit 1200 / 1250 is the budget buy on this list. But that doesn't mean it's a bad motorcycle — far from it, it's great! It just may not win you any style awards or races. But it might win you stunt shows — the Bandit is a popular stunt bike, so looks for signs of that (radical changes in gearing, for example).
In some ways, the Bandit 1200 — and especially the Bandit 1250 — are dark horses on this list. They weren't marketed as "retro" bikes, but rather as functional do-it-all motorcycles built to a budget.
But they're really great bikes for the price (both used now and new at the time), which is why I have a whole model guide dedicated to them.
The Bandit 1200 is also different in that it eschews classic dual shock rear suspension for a monoshock, like sport bikes. The Bandit 1250 kept this in place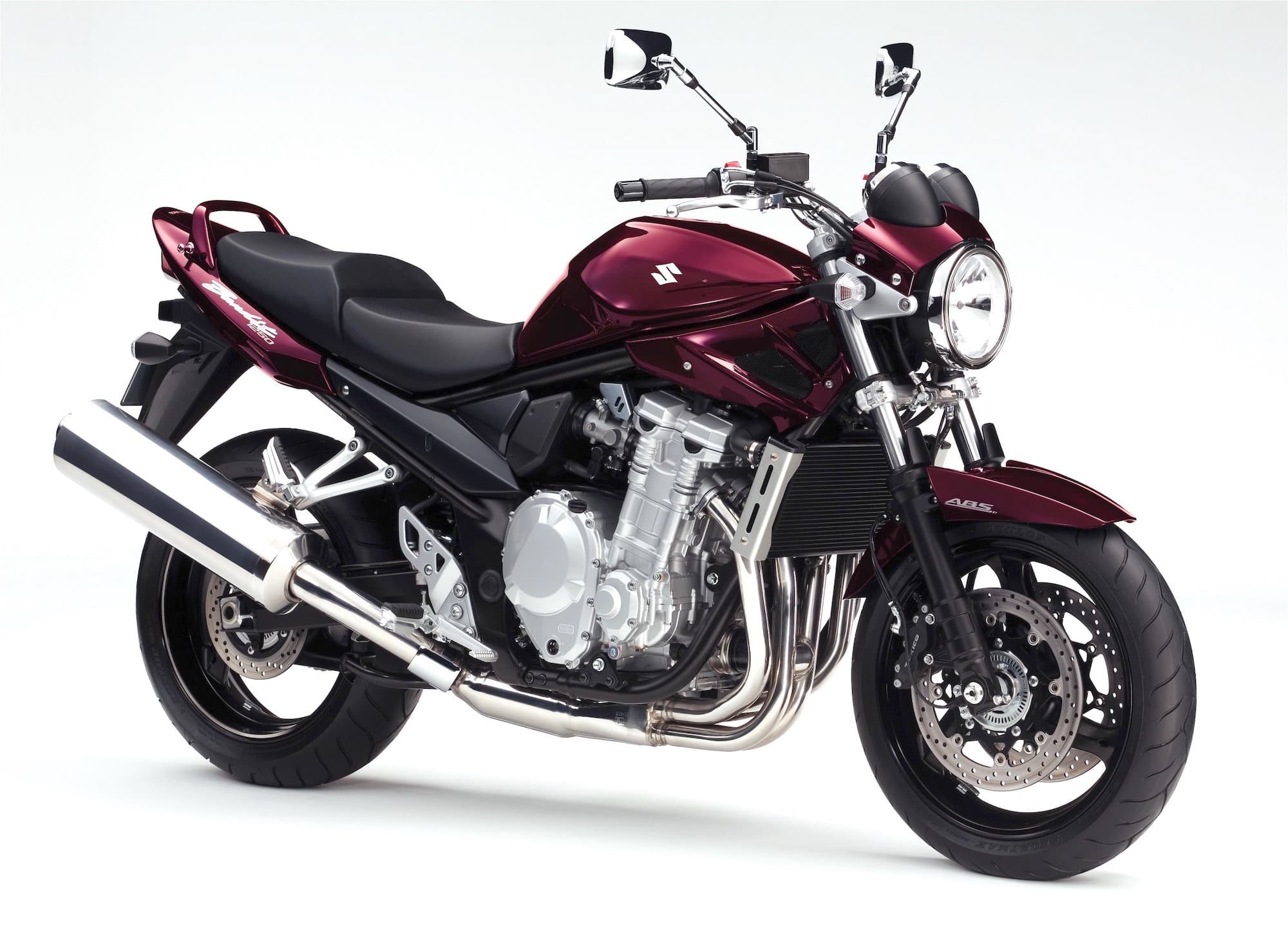 The Bandit evolved quite dramatically between the 1200 and 1250. This isn't just a change of displacement; Suzuki also bequeathed its upgraded model with liquid cooling and fuel injection. The newer bike does make more torque, but peak power is "around" the same level.
But the Suzuki Bandit 1200 / 1250 does what it says on the box: It delivers bags of torque and a raucous roar from tis four-cylinder engine, and does so in style.
Suzuki also released versions of the Bandit with a half-fairing (the Bandit S), and eventually a basically fully faired sport touring motorcycle, the GSX1250FA, which has the same innards but covers them up.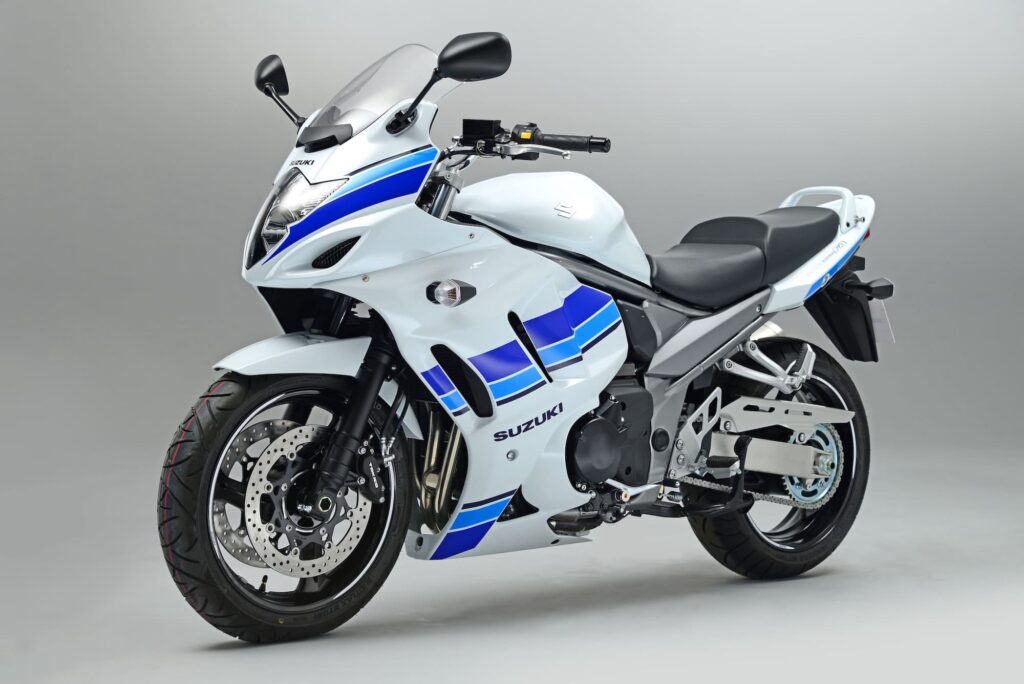 Suzuki GSX1400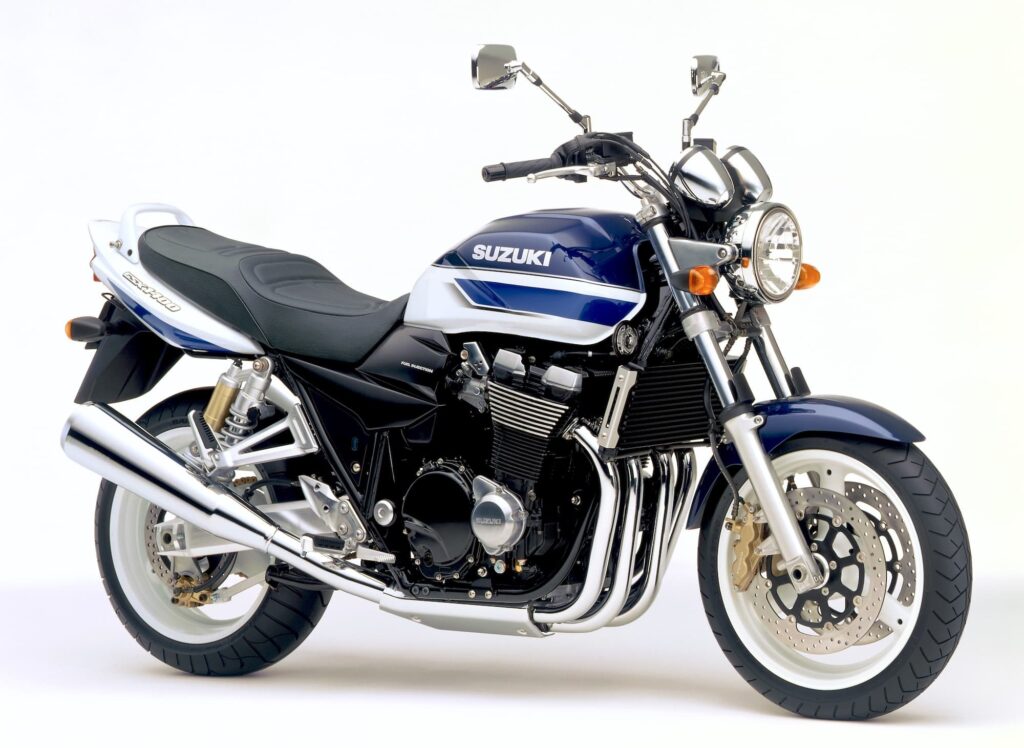 Suzuki decided that the Bandit wasn't enough, so they made the GSX1400. It's huge!
The Suzuki GSX1400 has an engine larger than the Hayabusa of the time (the Gen 1) — but of course, with air/oil cooling and a mild tune, it makes around half the power. Power isn't what the GSX is about though — it's about being able to pull in top gear from basically any speed.
Like many other bikes here, the Suzuki GSX1400 has an air/oil-cooled motor and a steel double downtube chassis. It's not technologically advanced, but you can also see exactly what it is from just looking at it.
The GSX1400 was always fuel-injected. The fuel injection responds well to throttle inputs, unlike modern systems with on/off jerky behaviour.
Despite the fact that it's air/oil cooled, the valves still only need to be serviced every 15000 miles / 24000 km.
One of the only caveats of the Suzuki GSX1400 is the six-piston Tokico calipers. These were popular back in the 2000s on high-performance motorcycles (the Hayabusa had them too), but they tend to get stuck pistons over time. If you can find a drop-in replacement from a later model sport bike that fits, it would likely be an improvement. Some options are K1-3 GSX-R600/750 and K3/4 Suzuki SV1000. (See this thread for more details.)
Suzuki made almost no changes to the GSX, though from 2005 they switched to a single pipe exhaust. The Final Edition (FE) model has a Yoshimura exhaust.
Yamaha XJR1300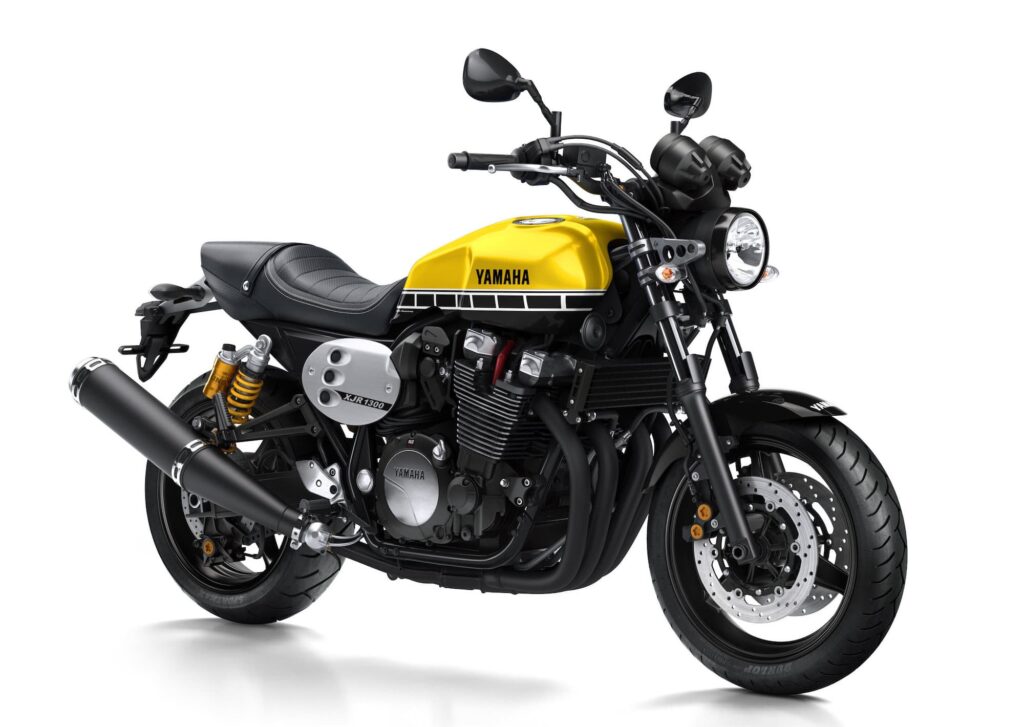 The Yamaha XJR1300 was one of the longest-running air/oil-cooled four-cylinder motorcycles. It outlasted all the other big-bore ones, with only the smaller-capacity and gentler Honda CB1100 running until more recently.
Yamaha released the XJR1300 in 1999 to replace the XJR1200, which had run from 1995 through 1998. The XJR1300 is powered by a 1251 cc inline four-cylinder engine with quite a large oil cooler to keep temperatures down.
From the beginning, Yamaha offered the XJR1300 in "SP" spec with twin Öhlins shocks. Eventually, this became the only spec, and they dropped "SP" as an option.
Yamaha did make some changes to the XJR1300. In 2002, they significantly lightened it, plus added some parts to keep it emissions compliant. And from 2007, Yamaha introduced fuel injection.
Then in 2015, Yamaha dramatically lowered the fuel capacity from 21 litres to 14.5 litres, mostly for aesthetics — something to bear in mind if you're planning on touring on a thirsty naked bike, as it cuts range by 30%!
Aside from these changes, it largely stayed the same bike.
Epilogue
It's hard to say definitively that we won't see big-bore four-cylinder motorcycles again. Fashions come and go. Some other motorcycles I thought long-lost — like small-bour inline-fours, for example — are making a resurgence.
But we won't have many chances left for resurgences, as gasoline gets more expensive, pressure on fuel consumption gets more intense, and competition from higher-quality electric motorcycles increases.
Luckily, there are still a reasonable number of used examples of this class of motorcycle around — plenty for most of us to enjoy.