The "middleweight naked sport bike" is a huge category, mostly because it's so popular. These are bikes that are best at short stints (say less than 30 miles / 50 km), but which can be ridden all day for fun on weekends when it calls for it.
In fact, there are so many "middleweight nakeds" that I have to split them up. Like in boxing or the UFC, there's bantamweight, featherweight, and another few, and I always get them mixed up and have to look up the definitions. But I know who goes against who, and who could probably take who if they put on a few kgs… or horsepower…
I may accidentally exclude something, but I intend to cover every motorcycle that has a "sporting" pretension. This can mean a wide variety of things, but it excludes motorcycles that are designed to be comfortable first, for example, like cruisers.
There are roughly two categories of middleweight naked sport bikes:
Entry-level middleweight naked sport bikes: Like the Honda CBR650R, Suzuki SV650, and Yamaha MT-07, these are bikes with the bare minimum of features, rarely adjustable anything, but which are plenty of fun.
Premium middleweight naked motorcycles: Like the Yamaha MT-09, the Ducati Monster 937, and Tuono 660, these are bikes (usually) with bigger engines and more premium features.
There are of course other middleweight naked bikes, but they're not as sporty, lacking most things you'd expect on a sport bike.
Updated mid-2023 with the CFMOTO 800NK.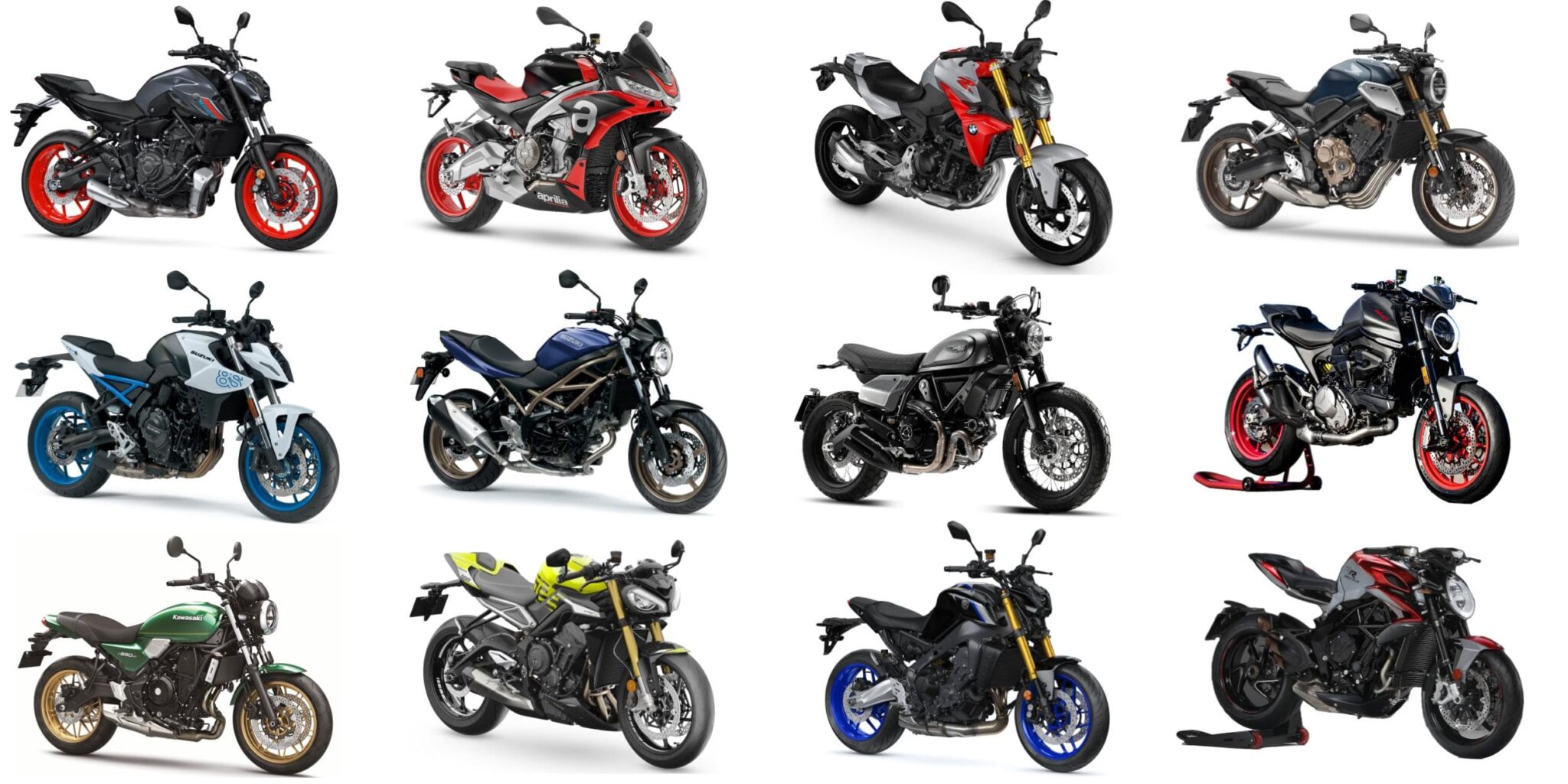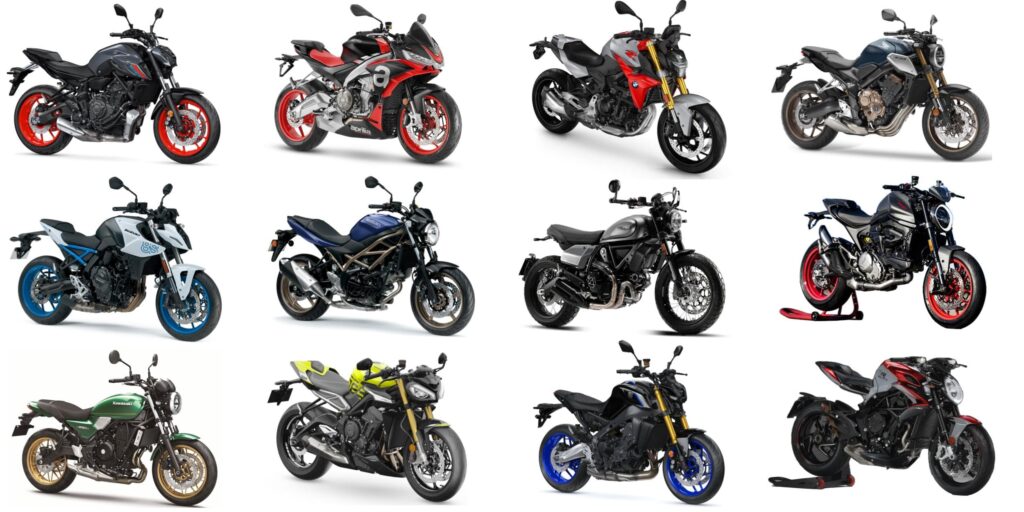 Are you obsessed with motorcycles?
Well, I am. That's why I created this site — as an outlet. I love learning and sharing what others might find useful. If you like what you read here, and you're a fraction as obsessed as I am, you might like to know when I've published more. (Check the latest for an idea of what you'll see.)
Why This Category is Hard (and huge)
The category of middleweight naked sport bikes is hard to narrow down and quite large because it's very hard to neatly categorise every motorcycle, even though it sounds narrow to begin with.
It's tempting to think that there are classes of middleweight naked, like a "small" middleweight and "premium" middleweight. There mostly are, but then exceptions ruin the party.
For example, the Suzuki SV650, Yamaha MT-07, and Z650 are "small" middleweight motorcycles. They're lower power, lower-spec, and cheaper.
Then there's bikes like the Ducati Monster 937, Triumph Street Triple RS, and MV Agusta Brutale 800, which are clearly premium bikes — high power, high-spec, and much more expensive.
But then there are bikes that straddle the middleweight naked sport bike sub-classes in unusual ways. For example
The Aprilia Tuono 660 has high-spec components and a premium price tag, but has a lower-capacity engine that's still relatively high-power.
The CFMOTO 700 CL-X Sport has some high-spec components but a lower-power engine, and is quite cheap.
The Ducati Scrambler 800 has an old-tech, low-power motor, but has some surprisingly high-end gear, including an IMU and optional quick shifter (in the 2023+ models)
The Suzuki GSX-S750 is mostly a budget bike, but with a high-power four-cylinder that engine really sings.
So what's one to do? To not offend anyone, and really show options, I'll include all these bikes in this list.
Generally speaking, these are motorcycles that are intended to be sporty. They're not bikes designed primarily to look and feel cool. This isn't to deride those (everyone wants to look and feel cool!), but brands often make multiple bikes for different target customers — these are the ones more made for performance. They're the kind of bikes you're likely to see at a track day, for example. At the bottom end, think "Suzuki SV650-ish and above". (We've all been destroyed by our fair share of Suzuki SV650s at track days… if you're not that person yourself.)
At the top end of the spectrum, I'll cap it "around 950 cc". Above that and we're in the territory of motorcycles with superbike-derived engines, and that's a whole other class of power, weight, and ride aids. So at the top end, think "Ducati Monster 937 SP and below".
The rest — well, let's look at it all.
The Middleweight Naked Premium / Spec Matrix
One problem with categorisation of middleweight naked sport bikes is that they go along two spectrums — power, and spec level. I think it's interesting to look at them in a matrix.
For power, I categorise it loosely into three groups.
Low-mid power = 60-80 peak hp. (Not "low power", these will still do over 100 mph, just lower power than others here!)
Mid-power = 80-100 hp
High-power = More than 100 hp.
And for spec levels:
Low spec = No ride aids, mostly low-spec ride gear (conventional suspension, simple brakes)
Mid-spec = Only one or two ride aids, low-mid-spec ride gear (maybe some adjustability in suspension, four-piston calipers etc.)
High-spec = A few or all ride aids, plus adjustable suspension and high-spec other parts
Power level
Low-spec
Mid-spec
High-Spec
Hi power
Suzuki GSX-S750
Kawasaki Z900
Kawasaki Z900RS
("SE" is a bit higher spec)
Ducati Monster 937
KTM 890 Duke R
MV Agusta Brutale 800 / Dragster 800
Triumph Street Triple R / RS
Yamaha MT-09 / SP / XSR900
Mid-power
Honda CB650R
Triumph Trident 660
BMW F 900 R
Ducati Scrambler 800
Honda CB750 Hornet
Suzuki GSX-8S
Aprilia Tuono 660
CFMOTO 800NK
Low-Mid power
Kawasaki Z650 / RS
Suzuki SV650
Yamaha MT-07
CFMOTO CL-X Sport
Middleweight naked sport bike spec and power levels
Tech features of Middleweights
Something that differentiates a lot of middleweight naked sport bikes is the standard features they come with. It's sometimes surprising just which bikes come with which features.
A quick note on what these features mean:
An IMU (Inertial measurement unit) gives a bike cornering ABS / traction control. It's a safety feature that saves you when you e.g. slip on gravel while cornering. (See here for more about cornering ABS and motorcycles with them)
Cruise control is electronic cruise control that lets you take your hand off the throttle and keep forward velocity, even on changing inclines.
A quick shifter lets you use the shift pedal to shift up and down without using the clutch. Aside from sounding and feeling cool, it's easier on the clutch hand, and easier to use in corners. (For track day people it'll help with aggressive times.)
An assist/slip clutch has many names, but essentially, they reduce back-torque when downshifting from high revs, avoiding losing the rear tire. They're less critical in middleweight naked bikes (especially the lower-power ones), but they're good if you make a mistake — which is why they're useful on beginner bikes.
Motorcycle
IMU (Cornering ABS / TC)
Cruise control
Quick shifter
Assist / Slip clutch
Display
MV Agusta Brutale / Dragster
Yes (2021+)
Yes (2021+)
Yes
Yes
(+ SCS options)
TFT
Yamaha MT-09 / SP / XSR900
Yes (2021+)
Yes (2021+ SP, 2022+ XSR)
Yes (2021+)
Yes
TFT (890+)
Triumph Street Triple R / RS
Yes (2023+)
Optional — 2023+ RS / Moto2 only
Yes (2020+)
Yes
TFT
CFMOTO 800NK
Yes
Yes
Yes
Yes
TFT
(8-inch on top spec)
BMW F 900 R (Active package)
Yes
Optional — not all markets
Yes
Yes
TFT
Aprilia Tuono 660
Optional
Yes
Optional
Yes
TFT
KTM 890 Duke R
Yes
Optional
Optional
Yes
TFT
Ducati Monster 937
Yes
No
Yes
Yes
TFT
Ducati Scrambler 800
Yes
No
Optional
Yes
TFT (2023+)
CFMOTO 700 CL-X Sport
No
Yes
No
Yes
LCD
Suzuki GSX-8S
No
No
Yes
Yes
TFT
Triumph Trident 660
No
No
Optional
Yes
TFT
Honda CB750 Hornet
No
No
Optional
Yes
TFT
Honda CB650R
No
No
No
Yes
LCD
Kawasaki Z650 / RS
No
No
No
Yes
TFT (2020+)
RS: Gauges
Kawasaki Z900 / RS
No
No
No
Yes
TFT
Kawasaki Z900RS
No
No
No
Yes
Gauges
Yamaha MT-07
No
No
No
No
TFT (2023+)
Suzuki SV650 (3rd gen)
No
No
No
No
LCD
Suzuki GSX-S750
No
No
No
No
LCD
Tech features on middleweight naked sport bikes
Among these bikes, the 2021+ MV Agusta Brutale / Dragster, 2021+ Yamaha MT-09 SP, 2022 XSR900, and F 900 R (with a premium package) are the only middleweight naked sport motorcycles that are fully loaded out of the box. A few other premium-spec bikes get there with options, but even the high-end Ducati Monster 937 doesn't have cruise control as an option.
The BMW F 900 R comes with almost nothing as standard, but it's quite common for BMW buyers to load up at least one package of options. Still, cruise remains optional even with most packages.
While a TFT display is a nice upgrade over a monochromatic LCD, I want to point out that a "Premium" display is sometimes intentionally a high-end analogue display, like on the Z900RS or Z650RS. But these are (unfortunately, if I may editorialise!) rare in this segment.
Looking at the older tech on the SV650 and GSX-S750, it seems likely that Suzuki will discontinue them in favour of the newly-released Suzuki GSX-8S.
Power:Weight Ratio
One dramatic way in which middleweight nakeds vary is through their power:weight ratios.
Why power: weight? Why not just power, and why not just weight? Well, I like to focus on the most important metrics.
In weight, when you include a ~200 lb (91 kg) rider + gear, the difference is not stark. Yes, some of these bikes are light, and some heavy. But all up, the heaviest is about 10% heavier than the lightest — about 30 kg or 65 lb. That might sound like a lot (it is!), but it pales in comparison to the power differences, as many bikes are 50% more powerful than the most pedestrian in this chart, with the MV Agusta Brutale 800 RR a comfortable outlier, making as much peak power as literbikes.
Thus, the power:weight ratio chart actually closely tracks the power chart. See below.
For the power: weight ratio calculation I've used imperial units (for a change, to be inclusive), and added on a 200lb "average rider with gear". Yes, that's ball-park. The reason I added on a rider's weight isn't because it changes the order (it does, but only very slightly and not in a notable way), but mostly because it changes the scale. Without that rider the difference is starker and misleading.
Engine types
One interesting way in which middleweight naked bikes vary is the type of engine they use.
One of the most popular engine types these days is the parallel twin, sometimes called an inline twin. There's a lot to like about a P-twin — they're compact, reliable, easy to cool (no hidden rear cylinder problem like on longitudinal V-twins), have a good balance of character vs smoothness, they're cheap and easy to maintain (just one head on all the modern blocks, with easy access to the camshafts / valves), and they can be tuned for a decent amount of power.
But there are other formats still being used. Nearly all of them! There are middleweight naked sport bikes with V-twins, triples, and inline four-cylinder engines. There are currently no single-cylinder sportbikes — the most recent one, the KTM 690 Duke, is no longer being made.
Engine type
Motorcycle models
Parallel twin (270-degree crank)
* Aprilia Tuono 660
* BMW F 900 R
* CFMOTO 800NK
* Honda CB750 Hornet
* KTM 890 Duke
* Suzuki GSX-8S
* Yamaha MT-07
Three-cylinder (Triple)
* MV Agusta Brutale 800 / Dragster
* Triumph Trident 660
* Triumph Street Triple R / RS
* Yamaha MT-09 / SP / XSR900
Parallel twin (180-degree crank)
* CFMOTO 800 CL-X Sport / Heritage
* Kawasaki Z650 / RS
Inline four
* Honda CB650R
* Kawasaki Z900 / RS
* Suzuki GSX-S750
Liquid-cooled V-twin
* Ducati Monster 937
* Suzuki SV650
Air/oil-cooled V-twin
* Ducati Scrambler 800
Middleweight Naked Sport Motorcycles Engine Types
Fuel requirements — Regular, Super Premium, Premium
One thing that's interesting is what fuel each of these motorcycles needs.
If you're looking at a middleweight naked, then I'd wager that part of what you're considering is fuel costs. A lot of motorcycles in this class use "roughly" the same amount of fuel, with the precise amount more dependent on how frantically you grab the throttle, which is partly up to you, but partly related to the character of a bike.
But if your motorcycle needs premium, then your fuel prices might jump by around a third — usually they're around 30-35% higher (i.e. regular fuel is 3/4 of the price).
So let's look at what fuel each of these middleweight naked sport bikes needs — considering the following nomenclature.
In the US, fuel grades are also referred to "octane". But they're also more clearly specified as "Pump Octane Number", "AKI" number (Anti-Knock Index), or in manuals defined as "(R+M)/2", referring to how they're the average of the RON (Research Octane Number) and MON (Measured Octane Number).
In Europe, Australia/NZ, and indeed the rest of the world (Asia, Africa, etc.), fuel grades are also referred to as "octane", but in these cases they are just talking about RON (Research Octane Number), sometimes referred to in German manuals as ROZ (Research-Oktanzahl, German for the same, though Research is a loanword in this acronym).
To simplify the categorisations, it's easier to think of "regular" and "premium".
Name
US standard
(PON, AKI, or (R+M)/2)
Europe / Rest of World standard
(RON, ROZ)
"Regular"
86-87
90-91
"Premium" or "Super"
90-91
95
Common fuel names / definitions
With that said, here are the fuel requirements.
Notes:
Generally, the lower-power bikes need regular fuel, whereas the higher-power ones need premium. No surprises there.
Some motorcycles work on both, but specify a minimum (e.g. BMW, Triumph)
A few motorcycles are TBD as their manuals aren't available yet. (Update: Manuals now available.)
Model
Fuel requirement
(+ description in manual)
Aprilia Tuono 660
Premium (95 RON)
BMW F 900 R
Premium (95 ROZ/RON, 90 AKI)
OR Regular (91 ROZ/RON, 87 AKI)
Ducati Monster 937
Premium (Shell V-Power, RON 95)
Ducati Scrambler 800
Premium (Shell V-Power, RON 95)
CFMOTO 700 CL-X Sport
Regular (87 Octane)
CFMOTO 800NK
Premium, E5
Assumed based on CFMOTO 800MT + higher tune
Honda CB650R
Regular (PON 86)
Honda CB750 Hornet
Regular (91 RON)
Kawasaki Z650
Regular (87 octane / AKI)
Kawasaki Z900
Premium (AKI 90)
Kawasaki Z900RS
Premium (AKI 90)
KTM 890 Duke R
Premium (ROZ 95)
MV Agusta Brutale 800
Premium (RON 95)
Suzuki SV650 (3rd gen)
Regular (87 (R+M)/2)
Suzuki GSX-S750
Premium (90 (R+M)/2)
Suzuki GSX-8S
Premium (90 (R+M)/2)
Triumph Trident 660
Regular (91 RON)
(Recommended 95 ROZ/RON)
Triumph Street Triple R / RS
Regular (91 RON)
(Recommended 95 ROZ/RON)
Yamaha MT-07 (2021+)
Regular (86 (R+M)/2) / RON 90
Yamaha MT-09 / SP
Premium (RON 95)
Yamaha XSR900 (2022)
Premium (91 (R+M)/2 / RON 95)
Middleweight naked sport bikes — Fuel requirements
---
OK, with all that out of the way, let's look at each of these middleweight naked sport bikes in more detail. With pics!
Aprilia Tuono 660 (2020+)
Right off the bat, the Aprilia Tuono 660 will already cause some eyebrows to be raised as it's not a naked bike. It kind of has a fairing! But it's more naked than its sibling that was announced earlier, the RS 660, and you can see the engine through the fairing. Besides, it has handlebars.
This motorcycle also highlights the problems with categorisation of middleweight nakeds — some bikes defy it in one or two ways, and thus straddle classes. The Tuono 660 is one of those machines. It has a small engine, but makes a decent amount of power, and has lots of ride aids… though some of them are optional.
The Aprilia Tuono 660 is a middleweight naked (or somewhat-naked) sport bike that uses a 659-cc liquid-cooled dual overhead camshaft parallel twin with a 270-degree crank — a familiar configuration of motor, as you'll see poring over this list. It's a small-sounding motor, but Aprilia has tuned it aggressively for peak power of 74 kW / 100 hp at 10500 rpm. (The exact output may vary by region.)
What makes the Tuono unusual is that it comes loaded with features unusual in a bike of this engine capacity. The Tuono 660 has adjustable suspension (though it's not fully adjustable), cruise control, and even has an optional quick shifter and IMU for cornering ABS.
Aprilia hasn't made small sport bikes for a long time, so there's no recent predecessor to the Tuono 660 (i.e. no bargain last-generation option). If you want a sportier alternative, look no further than the Aprilia RS 660.
BMW F 900 R
A somewhat unsung hero (in that it just gets less press / fan attention than others) in the premium middleweight price point is the BMW F 900 R. It makes a bit less power than other premium bikes, and it has a bit less of the shiny polish you might expect from BMWs, and lacks a sporty suspension setup… but it comes stacked with ride aids and premium features when you get the premium packs (which are pretty common, and standard in some markets).
BMW introduced the F 900 R alongside the more adventurous F 900 XR in late 2019 for the 2020 model year. The F 900 R is an update to the F 800 R, and the F 900 XR is an update to the F 800 GT — but in quite different form (that's a story for another time).
The F 900 R isn't just the F 800 R with a bigger engine. BMW changed quite a few other things. But the banner feature is the 895-cc parallel twin engine with a 270-degree crankshaft that makes a peppy 77 kW (105 hp) at 8750 rpm (Europe spec — In the US it makes 99 hp at 8500 rpm). The previous engine had a 360-degree crankshaft, making a boxer-like sound — unique in its own way, but never that thrilling.
BMW loaded the F 900 R with features too, including (sometimes optional, sometimes standard) dynamic electronic suspension adjustment (at the rear), cruise control, keyless ignition, ABS Pro (via Riding Modes Pro), and a quick shifter. Some of these are unique in the middleweight naked segment! Classic BMW. (I have to confirm, but I personally haven't seen keyless ignition anywhere else.)
Other than on tech features, the BMW F 900 R doesn't stand out in any particular way. But in markets where you get the kitchen sink of ride aids (not Australia, alas!), it's a surprisingly affordable high-spec bike with a BMW badge, if that's important to you.
Before the BMW F 900 R there was the BMW F 800 series, which dates back over a decade and has been through many iterations and versions. The most recent one, the BMW F 800 R, had a parallel twin with quite different character, but is still a great bike.
CFMOTO 700 CL-X Sport (2021+)
The CFMOTO 700 CL-X Sport straddles classes, making middleweight power but with a high spec. So it's either a high-spec entry-level middleweight, or a modestly-powered premium middleweight naked sport bike.
CFMOTO, if you're wondering, is a Chinese brand. Chinese brands have mostly been known for making cheap, low-end bikes, but CFMOTO and a few others are trying to crack the semi-premium markets, edging their way up.
Who is CFMOTO, you ask? Many people do, so I answer that question here.
And it's the premium feature set that makes the CFMOTO 700 CL-X a special middleweight naked — especially in "Sport" spec, with slightly lower clip-on handlebars and twin front brake discs.
The CFMOTO 700 CL-X Sport is powered by a 693-cc parallel twin engine that's liquid-cooled and has four valves per cylinder. With an 11.6:1 compression ratio, the 700CL-X Sport makes a healthy 55 kW / 73.8 hp at 8500 rpm, and peak torque of 68 Nm / 50 ft-lb at 7500 rpm.
So far that's fine but a bit pedestrian. What distinguishes the CFMOTO 700 CL-X Sport is the other stuff it gets — some really high-end parts, including:
Twin 320mm brake discs and Brembo Stylema brake calipers — the same calipers you'll get on a Ducati Panigale V4!
Fully adjustable front and rear KYB suspension, pretty rare for a mid-power middleweight
Cruise control! Ah, your aching wrists will get a break
Quite striking good looks — with nice touches like a licence plate holder that doesn't cause an ugly tail section
The 700 CL-X Sport is also pretty unique in having a lower riding position than handlebars, but a higher position than pure sport bikes, clip-ons, and no fairing.
The 700 CL-X Heritage is a very similar setup, but has just a single disc with a J Juan radial caliper. A single brake caliper stops fine, just dissipates heat less effectively, so won't perform as well under pressure (e.g. spirited riding with lots of braking, or a track day).
The 700 CL-X Sport has no direct predecessor, so there's no earlier / cheaper option to go for.
CFMOTO 800NK (2023+)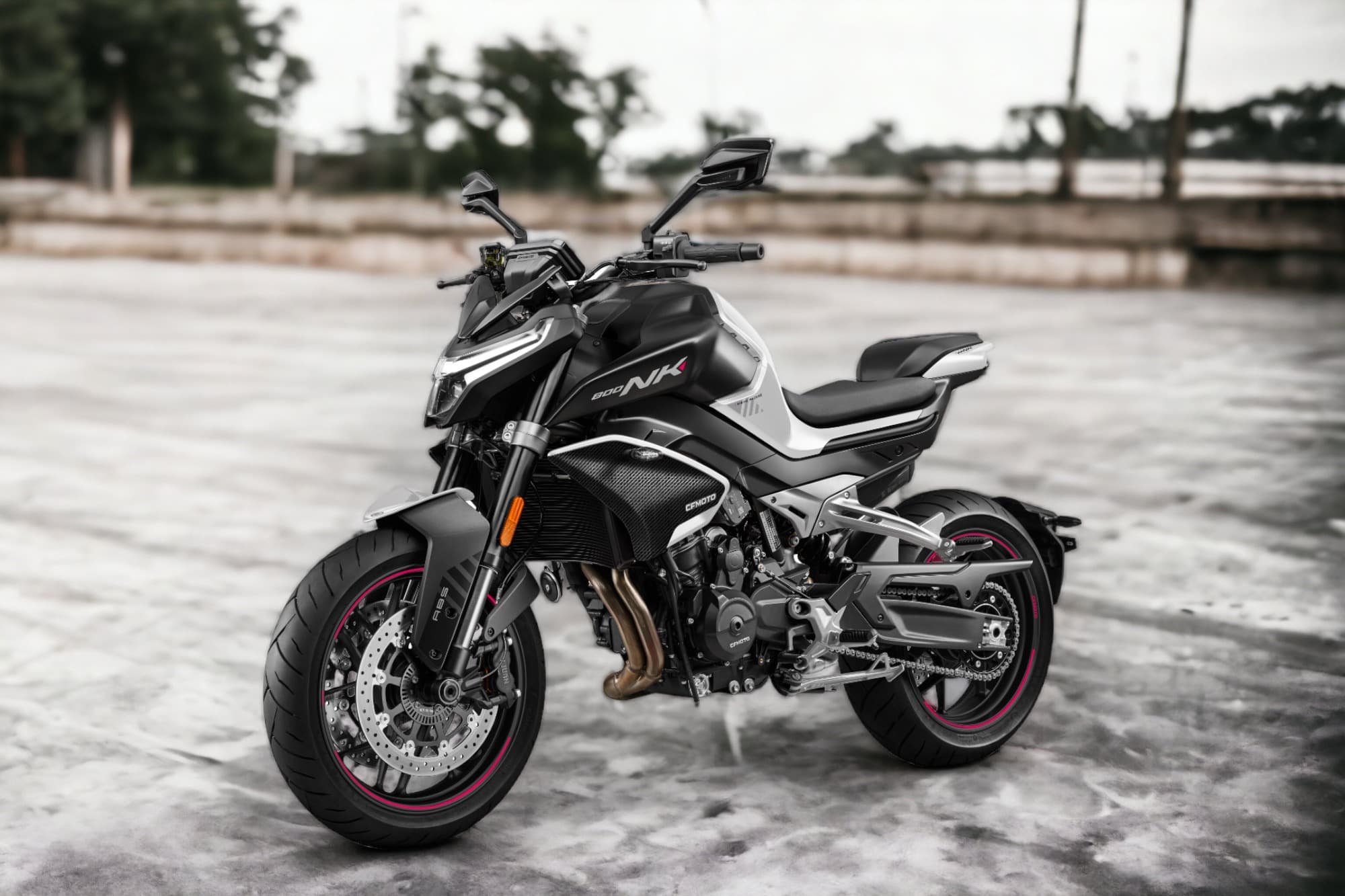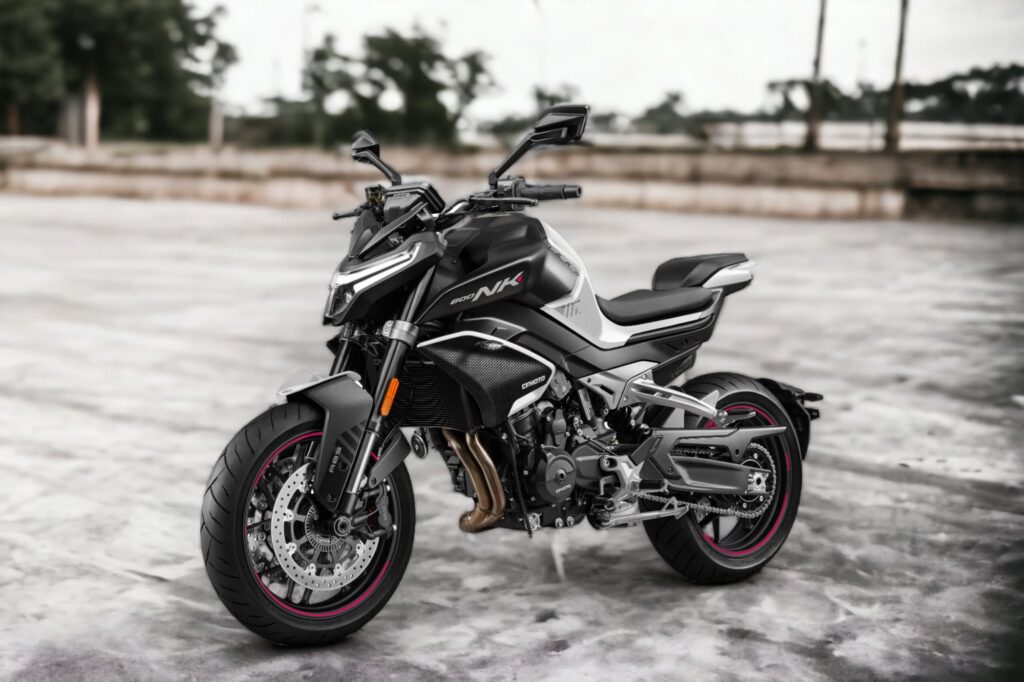 The CFMOTO 800NK is a high-end middleweight naked based on the 799 cc parallel twin that CFMOTO inherited from its partnership with KTM.
It's a similar engine base to that of the CFMOTO 800MT, a high-end middleweight adventure motorcycle.
In the 800NK, CFMOTO appears to have tuned the motor for a bit more top-end. It reaches a peak of 74 kW / 100 hp at 9000 rpm, a shade higher than the peak power in the 800MT.
What's interesting about the 800NK, just like the 800MT, is just how high-spec it is. You get the kitchen sink — cruise control, an IMU, a quick shifter, adjustable suspension, full LED lighting, and a TFT display.
In fact, the "Advanced" spec of the 800NK gets an 8-inch TFT display in portrait mode — something unprecedented in the market. For some, it's too much display!
The CFMOTO isn't available in every market as of mid 2023 (just Asia and some European countries), but it's sure to be available everywhere soon.
Ducati Scrambler [800] (2015+)
The Ducati Scrambler (informally known as the Ducati Scrambler 800, to differentiate it from the later-released 1100) is a perfect example of why the middleweight naked class is hard to define. In the 2023 incarnation, this Scrambler is nearly fully equipped with premium bits (like ride modes, a TFT display, and cornering ABS — the latter since 2019 — and even an optional quickshifter), but it's still powered by a relatively ancient air/oil-cooled motor with only two valves per cylinder that nonetheless makes about the same power as, say, a Suzuki SV650.
No matter that it's ageing tech though because it's a great motor. Just because it uses tech that's three decades old doesn't mean it's bad! Maybe it's "proven"… Anyway, the 803-cc L-twin (a V-twin that leans forward) has always made around 73 hp at 5750 rpm (a few more hp back in the day), with peak torque of 65-68 Nm, with a flattish torque curve that's rewarding to ride right off around 2000 rpm.
Ducati has iterated on its basic platform, adding features, making the 2023-spec Scrambler a compellingly high-spec option.
| Years | 2015-2018 | 2019-2022 | 2023+ |
| --- | --- | --- | --- |
| Peak power | 55 kW / 75 hp @ 8250 rpm | 54 kW / 73 hp @ 8250 rpm | 54 kW / 73 hp @ 8250 rpm |
| Peak torque | 68 Nm / 50 lb-ft @ 5750 rpm | 67 Nm / 49 lb-ft @ 5750 rpm | 65 Nm / 48 lb-ft @ 7000 rpm |
| Clutch type | Cable-operated slipper | Hydraulic slipper clutch | Hydraulic slipper clutch |
| Ride aids | ABS | Cornering ABS | Cornering ABS, TC, ride modes, optional quickshifter |
| Lighting | LED rear light, "light guide" at front | LED DRL, rear light, turn signals | Full LED |
| Display | LCD | LCD | 4.3-inch TFT |
Ducati Scrambler 800 model evolution
The main fly in the ointment is that as an air-cooled motor, it has pretty frequent valve service requirements of every 7500 miles / 12000 km. Plus, you have to change the timing belt… or else. Anyway, budget that in. It's probably quite a while away! (Until it's due, which is either just when you sell it, or just when you bought it.)
The Scrambler is a motorcycle targeted at people who ride for style as much as anything else. So the marketing is replete with style and colour options. Nightshift! Café racer! Desert Sled! Even "Hashtag"… (which was a little too obvious, I think).
Here's a complete guide to the Ducati Scrambler 800 — all the models, how it evolved, and what makes it special.
Ducati Monster 937 (2021+)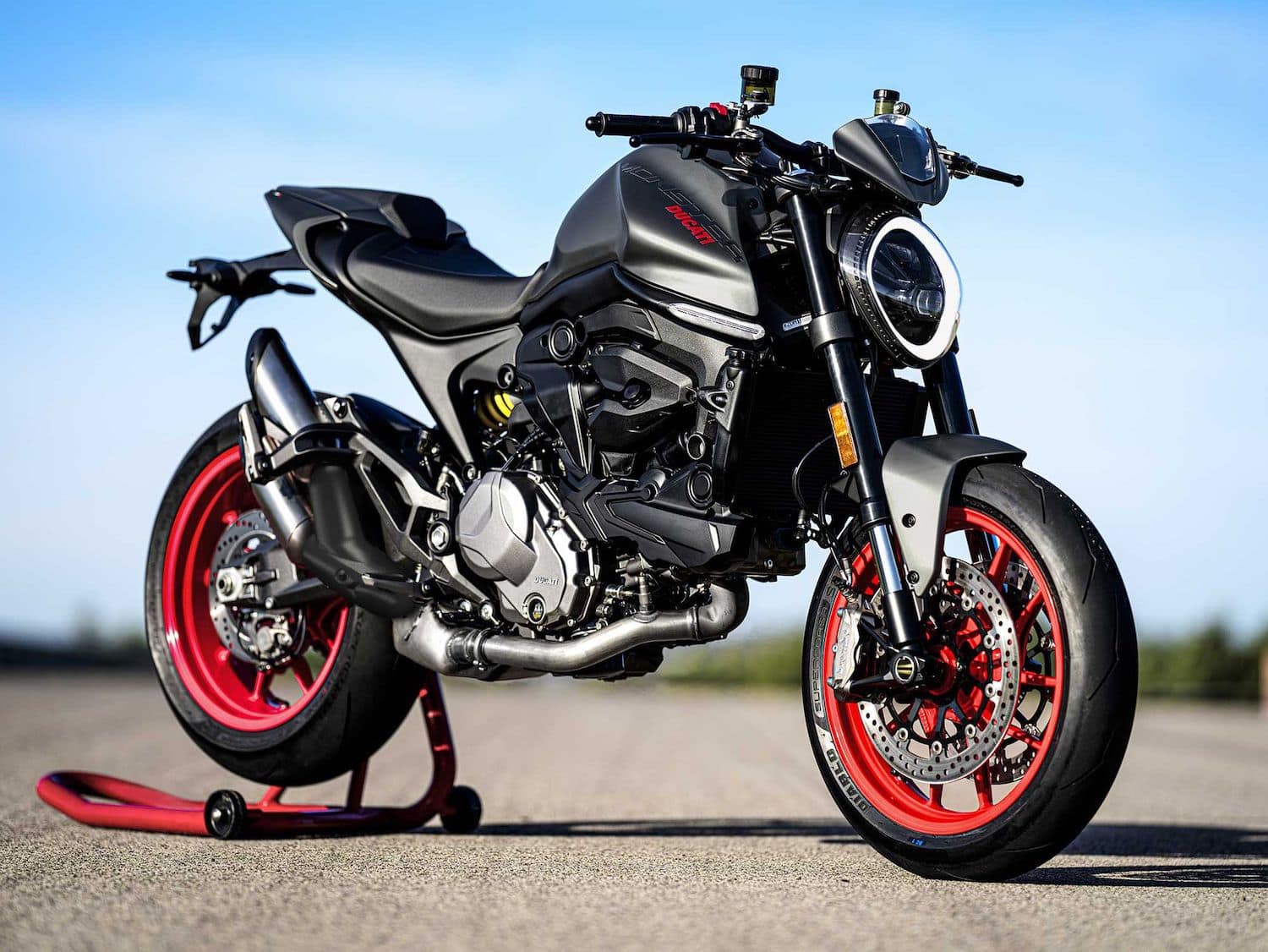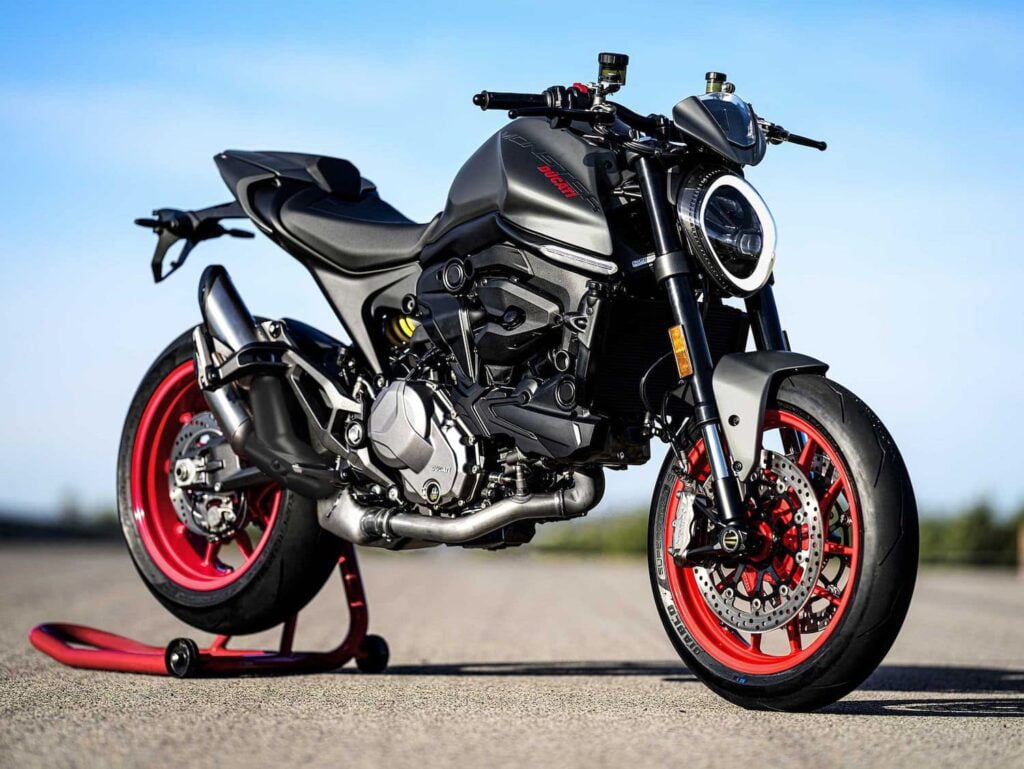 Ducati just calls the 2021+ Monster the "Ducati Monster" (and Monster Plus), which seems to indicate that it's the only one they'll be making — Ducati ended their Ducati Monster 1200 line in 2020. But to differentiate it from all the other models of Monster, most people call it the Ducati Monster 937.
The Ducati Monster 937 is an evolution of the "smaller" Monsters of the last decade or so, with the direct antecedent being the Monster 821 (which co-existed with the 1200), and before that the Monster 796 (which co-existed with the 1100) with the air/oil-cooled 803cc V-twin that's in the current Scrambler.
The smaller Monster was always a middleweight naked sport bike, but the Monster 937 now has engine capacity and performance that is plenty even for many people used to higher-powered machines.
The Monster 937's engine is the same motor that powers all of Ducati's middleweights, including the Multistrada V2 and the Supersport 950. It makes a peak of 82 kW (111 hp) at 9250 rpm, and peak torque of 93 Nm / 69 lb-ft at 6500 rpm — quite low!
The Ducati Monster 937 broke history with former models in a few ways. It shed its trellis frame, committed to the dual-sided swinging arm, and as the only Monster in the line-up, no longer has an engine with direct superbike lineage. Traditionally the larger of the Monsters did (e.g. the 1200 had a re-tuned motor from the 1198 Superbike).
But the Monster 937 is a rare high-end V-twin naked you can buy. If that's your jam — this is your bike. High-power V-twins are a dying breed.
Ducati also makes the Monster in SP spec from 2023, with Öhlins suspension, Brembo Stylema calipers, Pirelli Diablo Rosso IV tires, and a Termignoni exhaust.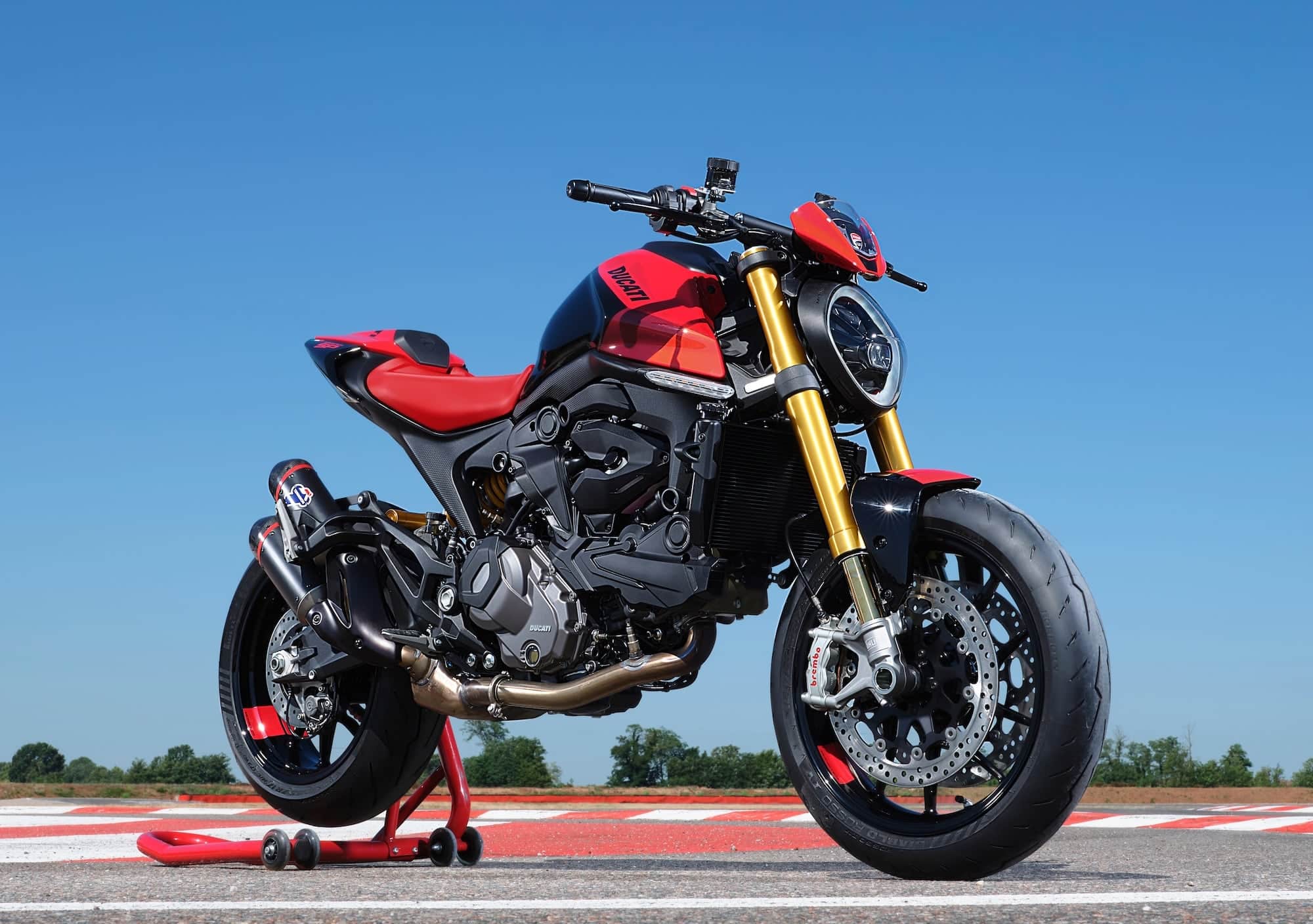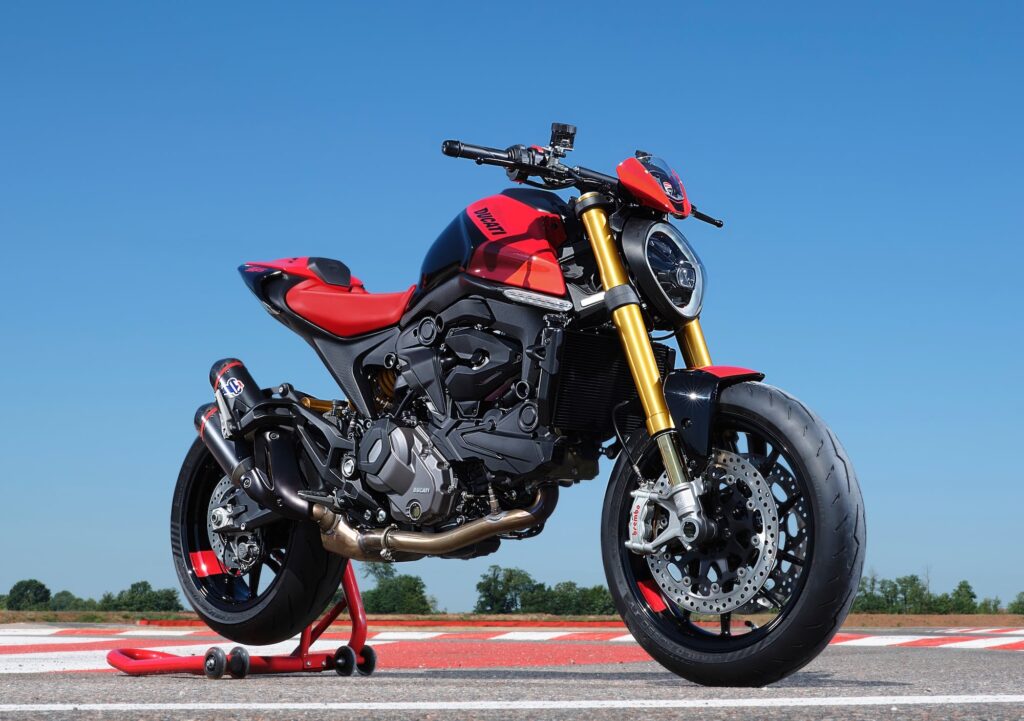 The Ducati Monster SP is maybe evidence that Ducati won't release another big high-spec Ducati Monster, like a Ducati Monster V4 for example. But who knows.
The Monster uses much newer engine tech than the Scrambler, with a "Testastretta 11-degree" engine that needs its valves serviced only every 18000 miles / 30000 km — about 2.5x the service interval of the air/oil-cooled bikes. You still need to change the cam belts periodically though.
See here for a guide to Ducati motorcycle engines, from Desmodue onwards.
Honda CB650R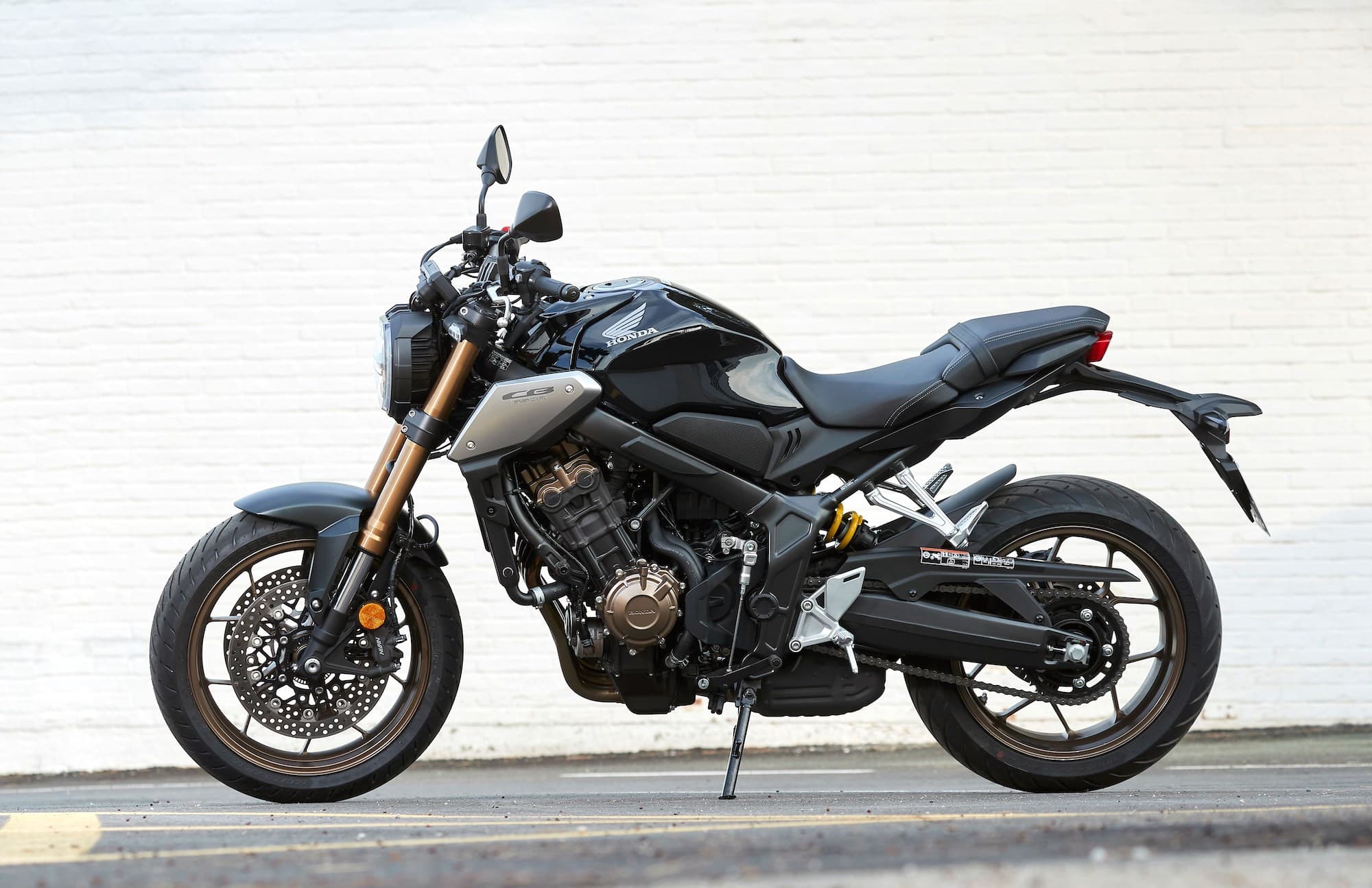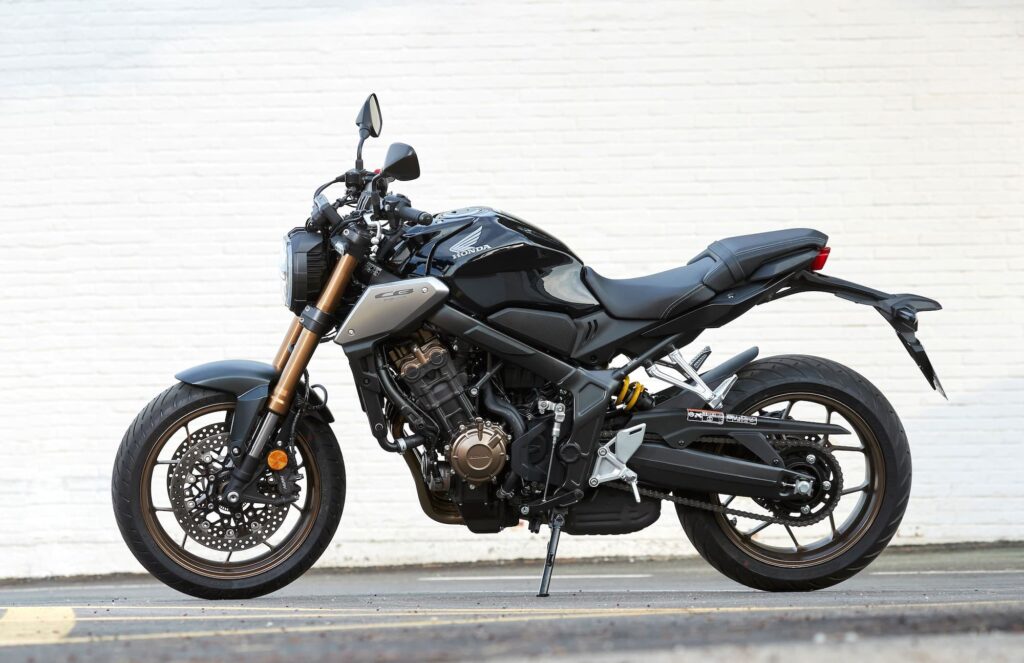 The Honda CB650R, first released in 2019, is an update to the CB650F that preceded it.
It's a bike in the same spirit — an everyday middleweight naked sport bike powered by an inline four-cylinder engine. Honda carefully designed the engine to peak at 70 kW / 95 PS at 12000 rpm, which means that with detuning you can also get the CB650R in an A2 compatible version. But Honda updated a number of things, most importantly the style.
The core of the CB650R is the same as in its contemporary, the fully-faired CBR650R. It's a liquid-cooled 649cc four-cylinder engine with dual overhead cams and 16 valves. It's a lively engine, but designed to make more midrange-focused power than traditional 600-class four-cylinder sportbikes. Still, it does have a bit of a high-rpm kick! It makes its peak power at 12000 rpm after all, and it does that on regular (86 pump octane / 90 RON) fuel.
The Honda CB650R has some nice features for a low-midrange bike, including a Showa SFF-BP fork (non-adjustable), twin 310mm discs with radially-mounted 4-piston calipers, and a slipper clutch (on top of ABS and TC). It's definitely enough to have fun — but there's nothing fancy there.
Aesthetically, the Honda CB650R is pretty nice too. The combination of the round front headlight and those snaking exhaust headers is iconic Honda, dating back to CBs from the 1970s (I think the Honda 400 Four being the first with that style of headers — swipe right below).
Honda CB750 Hornet (2023+)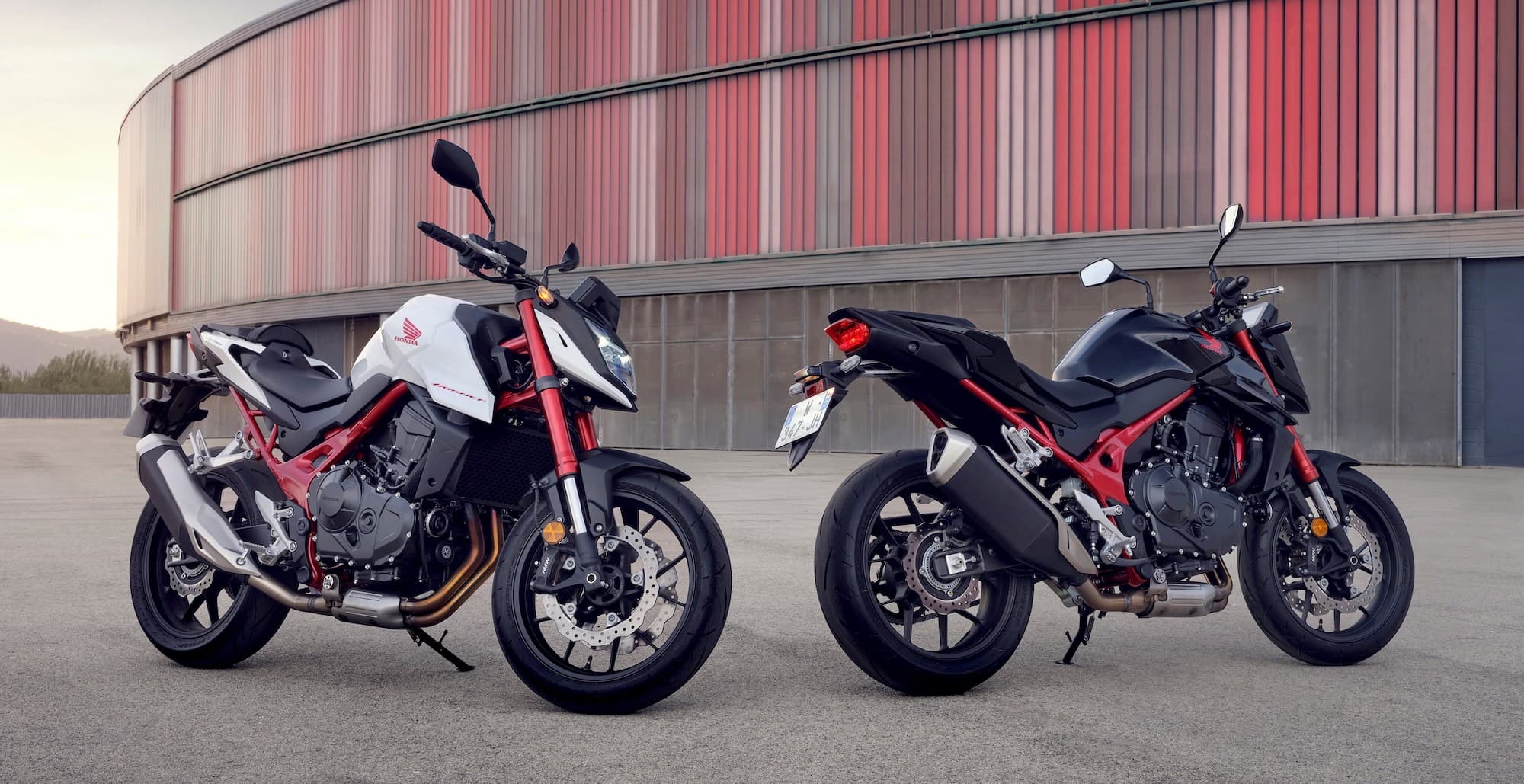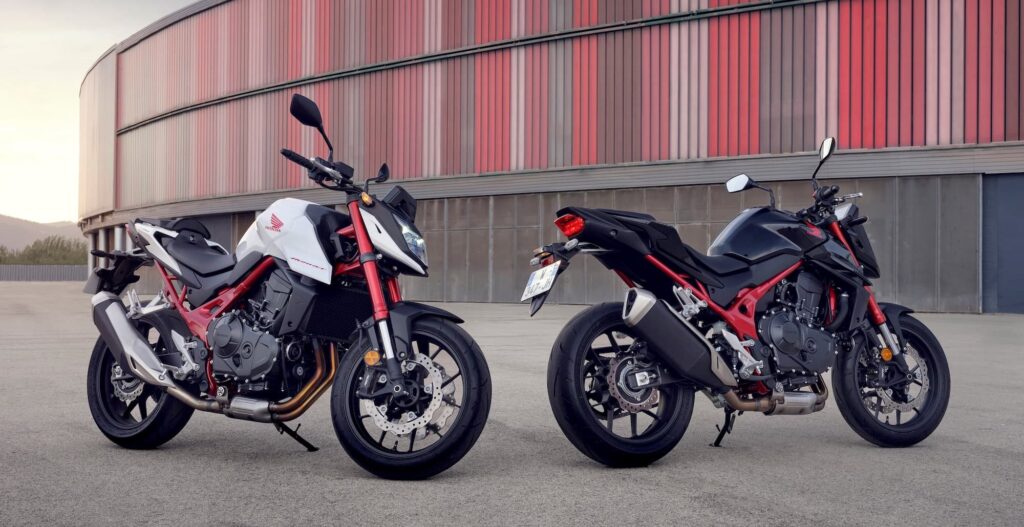 Honda announced a new CB750 Hornet for 2023, a revitalisation of the Hornet brand it dropped a decade ago, the last one being the CB600.
The CB750 Hornet calls back the Gen 1 and Gen 2 CB600F Hornets, and echoes their spirit of being a simple, fun, practical middleweight naked sport motorcycle that can wear a number of hats. It's announced only for Europe and the Asia-Pacific region at this stage.
Unlike any former Hornet (or CB750), the CB750 Hornet has a parallel twin motor. Like many modern twins, this one has a 270-degree crank. But it has a few unique features, like a single overhead camshaft (the Honda "Unicam" design) and a low-ish compression ratio of 11.0:1. This engine isn't designed to rev out too high — it reaches peak torque of 75 Nm / 55 lb-ft at 7250 rpm, and peak power of 67.5 kW / 95 hp at 9500 rpm.
The Hornet, like Hornets before it and also like the CB650R (which is very Hornet-like… why didn't it get that name?), is pretty light on tech, with non-adjustable SFF-BP suspension up front and competent but unexciting dual 296 mm discs with Nissin radial-mounted 4-piston calipers.
A lot of four-cylinder bike lovers and Hornet fans cry foul at the idea of a parallel twin-powered Hornet. It definitely does lack differentiation in the modern market. But they're popular for a reason — easy to maintain, lightweight, and very capable of making a broad spread of everyday torque plus usable top-end power.
Kawasaki Z650 / RS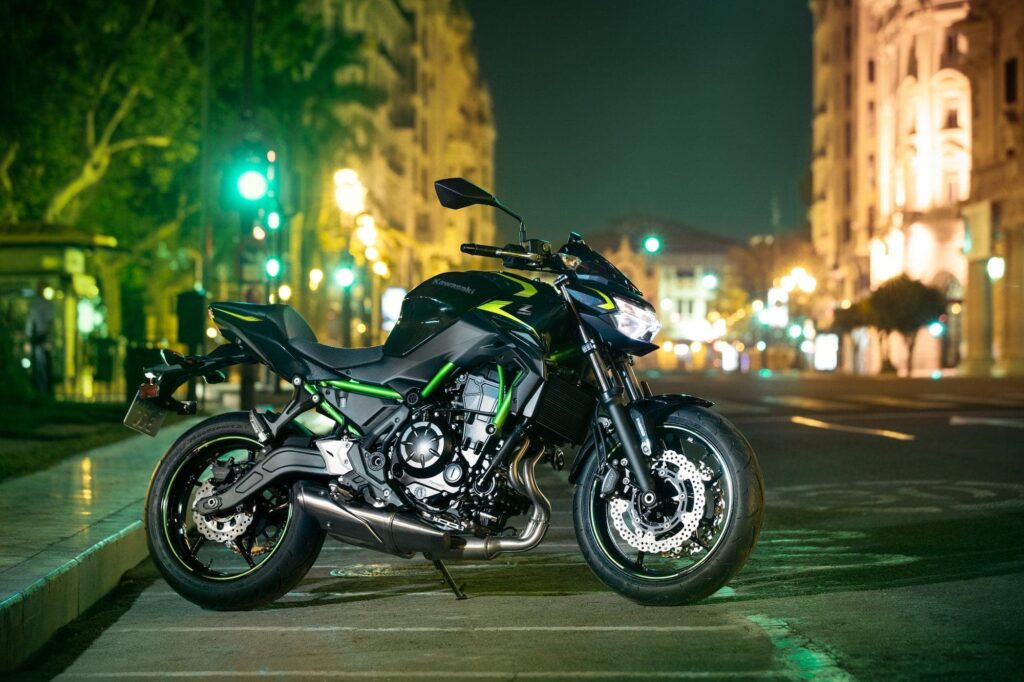 Kawasaki's Z650 is a somewhat unsung hero in the middleweight naked sport bike line-up. I just mean it's unsung in that it doesn't get as much attention as say the Yamaha MT-07, but that's not because it's worse in any way. In fact, it is better in some.
Kawasaki has been making sporty middleweight twins for decades. You can trace the lineage of the Z650 back to at least the ER-5 of the 1990s — possibly earlier. Like those early bikes, the Kawasaki Z650 keeps the same spirit of a simple, sporty middleweight with enough power to have fun and every feature you need without it being excessive.
Kawasaki first launched the Z650 in 2017. The motor has been the same since then (and actually it wasn't that different from the one in the ER-6n earlier), and even comes with a slipper clutch — something you can't assume at the budget end of the middleweight scene.
The core of the bike is a 649cc parallel twin with a 180-degree crankshaft. It makes 50 kW / 68 hp at 6500 rpm. The rest of the bike is pretty basic — conventional (non-inverted) fork, and 2-piston calipers on twin discs. Some people think the motor doesn't sound as exciting as the one in the MT-07, but with a pipe livening it up it definitely can sound great.
But in 2020 Kawasaki upped the ante further, and gave the revised Z650 a TFT display (with access to Kawasaki's Rideology app), sharing an interface with much higher-spec bikes in the Kawasaki line-up.
Besides those features, the Z650 has a unique aesthetic, with an aggressive "Sugomi-inspired" design, those accented colours on the painted chassis, and an under-slung exhaust that stops before the rear wheel. It looks great.
Kawasaki also released the retro-inspired Z650RS, which is essentially the same bike (same engine and chassis) but with a retro round front headlight, different wheels, and analogue-style gauges.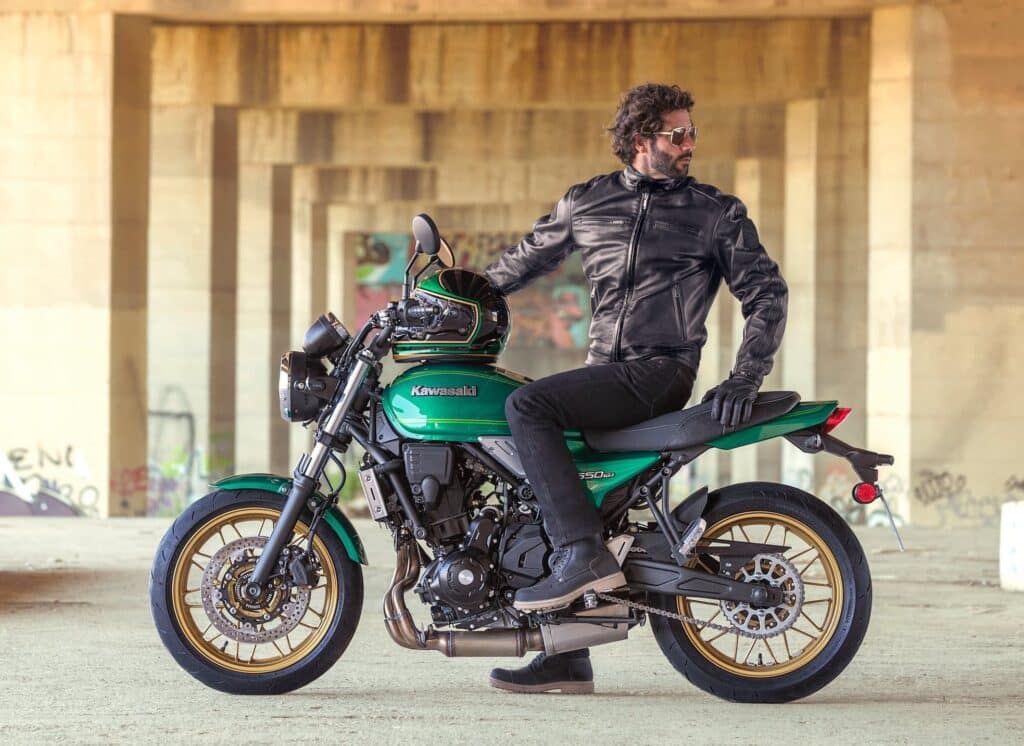 Personally, I'm a huge fan of those twin gauges. It's that kind of detail that really makes the Kawasaki Z650RS stand out next to the other middleweight retro-inspired competition. See pics of the instrument clusters on all three bikes (both generations of Z650, and the Z650RS) below.
You can also get Kawasaki's middleweight engine in a number of other configurations, including the iconic sporty commuter Ninja 650, the middleweight sport tourer / commuter Versys 650, and even in a cruiser, the Kawasaki Vulcan S.
Kawasaki Z900 / SE
I'm a huge fan of the Z900. In fact, for my personal tastes, this might be my favourite middleweight naked sport bike on the list, because I really love the balance of features and bang for buck.
The Kawasaki Z900 is powered by a 948-cc liquid-cooled inline four-cylinder engine. Four-cylinder engines are rapidly vanishing from the middleweight naked market. We used to have tons of small-displacement and mid-sized fours around, but they're rare now. There are just three in this list.
The engine makes peak power of 92 kW / 125 hp at 9500 rpm, and peak torque of a healthy 99 Nm / 73.1 lb-ft at 7700 rpm. This is a very accessible powerband for street riding.
The original Z900 had an analogue dial, but the latest Z900 comes with a TFT display, and even Bluetooth connectivity. There's also a Z900 SE spec (not available in every market) with an Öhlins rear shock, uprated front suspension with more adjustability, and Brembo front brakes with stainless steel lines.
By the way, the Z900 shares a basic engine format with the Z900RS, but the two are quite different. The Z900RS is designed to look good, like a Bonneville or the like, and has some higher-spec bits and an engine that is more torque-oriented than the Z900. It's actually quite hard to succinctly summarise the differences, so check out my guide to the Z900 vs the Z900RS: Who wore it best?
Kawasaki Z900RS / SE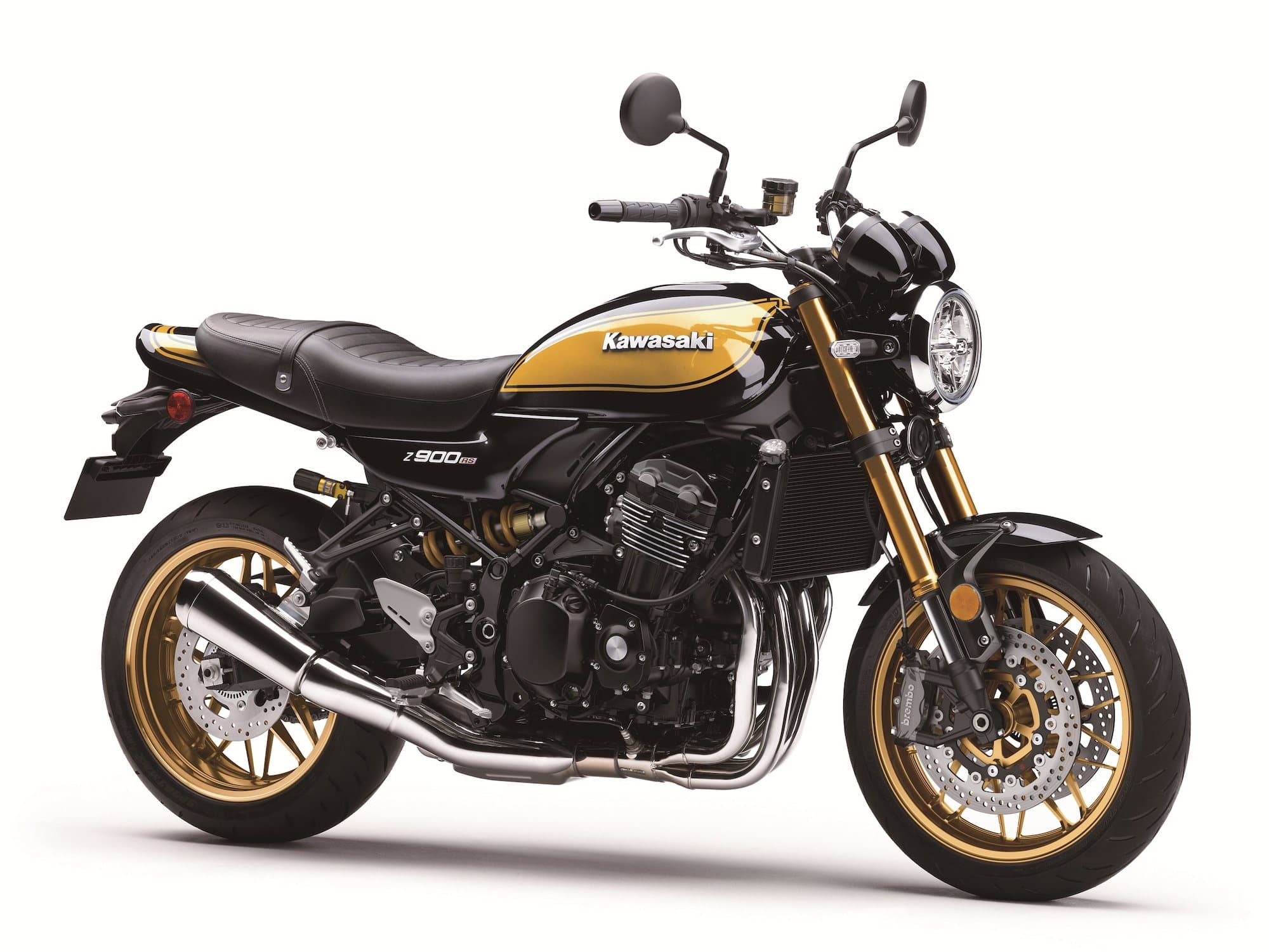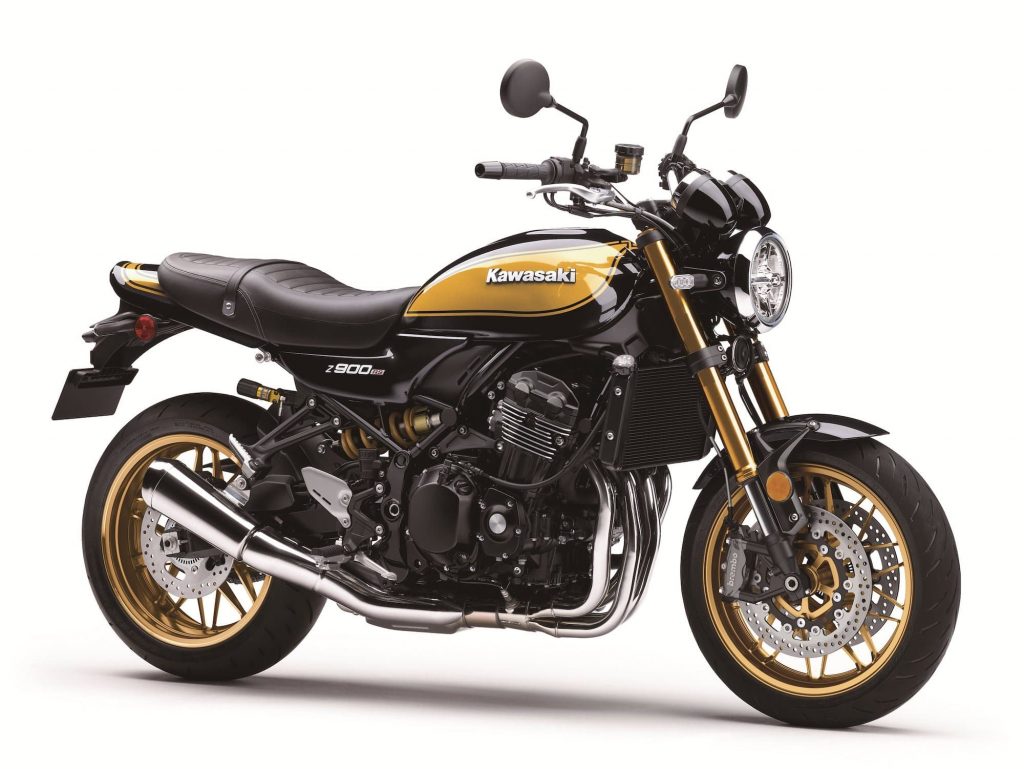 The Kawasaki Z900RS deserves to stay separate from the Kawasaki Z900, even though they're both middleweight naked bikes with ostensibly the same engine — nearly. Unlike the Z650 and its RS stablemate, the Z900RS is quite different on a number of levels.
Firstly, the engine is tuned differently in the Z900RS. It's tuned for more mid-range torque at a cost of top-end power. This suits its intended application (sporty everyday riding). And if you don't like it, it's fairly easy to tune the Z900RS for more top-end (and to iron out fuelling issues), anyway.
Secondly, the Kawasaki Z900RS comes with different ride gear. The inverted fork has more adjustability, and the brakes are slightly higher spec radial mounted calipers, rather than axial-mounted ones.
The playing field is levelled, however, comparing the SE specs. Then it's really a choice of whether you want the higher-powered streetfighter, or the more relaxed everyday classic sport bike.
See more in my discussion here of "Who wore it best? The Kawasaki Z900 vs the Z900RS".
Either way, these bikes are classics, especially the RS. Just a shame the Kawasaki Z900RS Café is discontinued in some markets as it looks the bee's knees. (It's basically the same bike with a fairing and slightly lower bars.)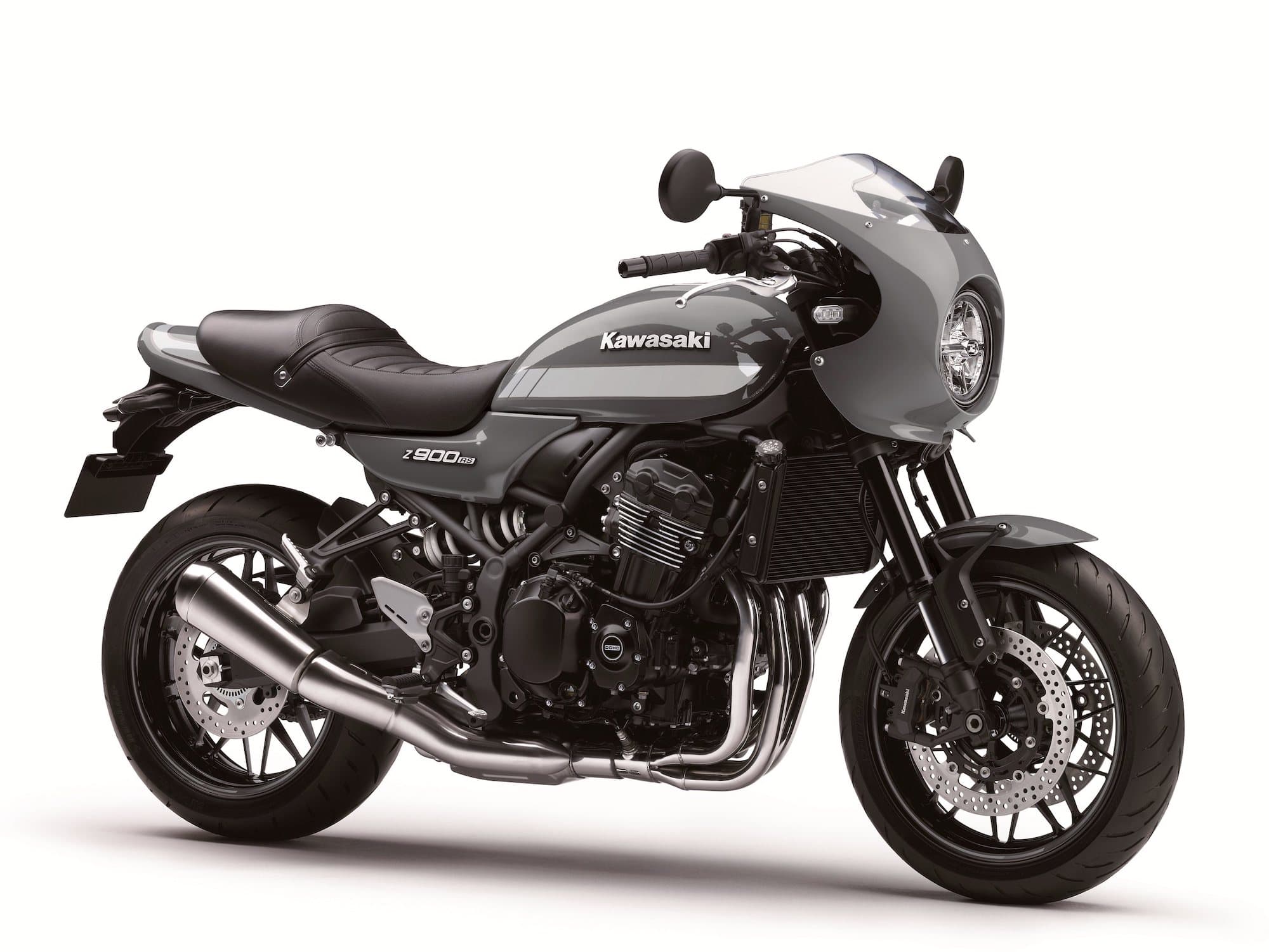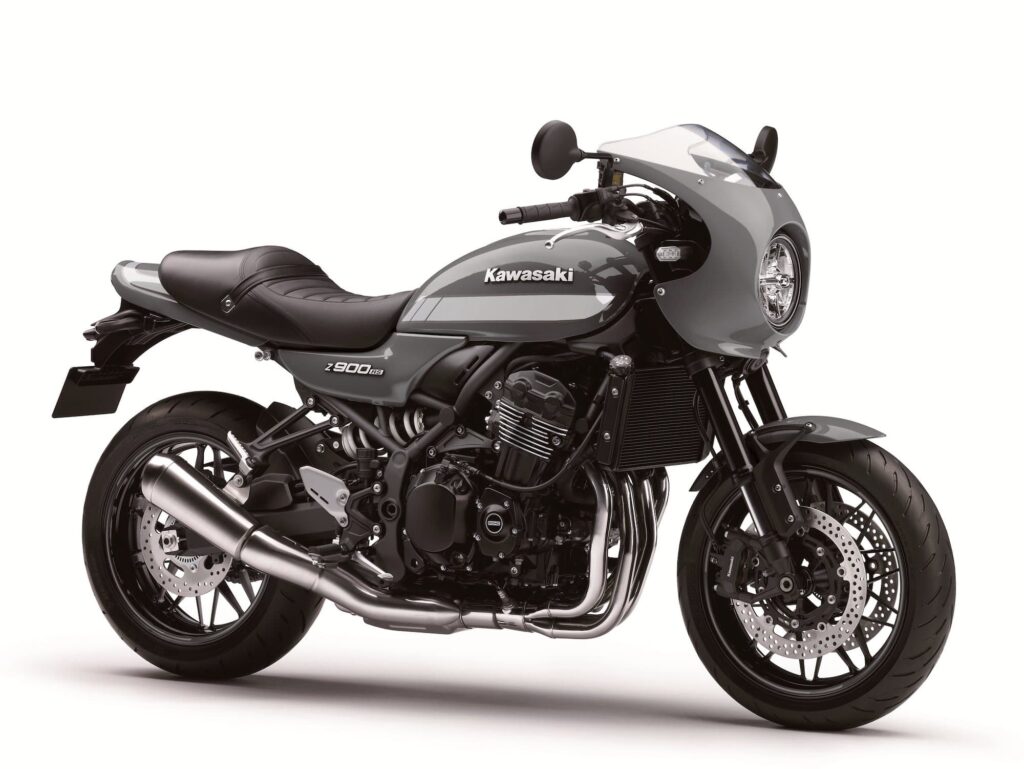 KTM 890 Duke / R — The [Super] Scalpel
The KTM 890 Duke R (and its slightly down-spec stablemate the 890 Duke) is powerful, light, and full of character.
KTM historically didn't do parallel twin Dukes. For years they made single cylinders, pulling a lot of power out of them while keeping the bike light. KTM surprised everyone in late 2017 with the parallel-twin powered 790 Duke, but then surprised (and kind of annoyed) everyone again by suddenly upping the ante with the 890 Duke R, and the 890 Duke non-R shortly afterwards.
The 890 Duke R's engine is an 889 cc parallel twin with a 270-degree crank. It makes a cracking 89 kW (121 hp) at 9250 rpm, with peak torque of 99 Nm (73 lb-ft) at 7750 rpm. All that on a bike with a dry weight of just 166 kg (3.3 kg lighter than the 790 Duke) makes for a lively ride.
The R-spec bike has a fork adjustable for preload and compression damping, while you can even adjust the fully-adjustable shock for high- and low-speed compression damping, something one normally only sees on track-spec bikes.
If you want a cheaper model… look at the 790 Duke, the original "Scalpel". It has basically everything the 890 Duke has, minus a bit of top-end power. But the 790 even has cornering ABS / traction control.
Also, that engine has a lot of history now. It's still being used in Asia-spec KTM 790 motorcycles, and even the CFMOTO 800 series of adventure motorcycles. So it's well-supported.
| Model | 790 Duke | 890 Duke | 890 Duke R |
| --- | --- | --- | --- |
| Engine capacity (cc) | 799 | 889 | 889 |
| Bore x Stroke (mm) | 88.0 x 65.7 | 90.7 / 68.8 | 90.7 / 68.8 |
| Compression ratio | 12.7:1 | 13.5:1 | 13.5:1 |
| Peak power | 77 kW / 105 hp @ 9000 rpm | 85 kW / 115 hp @ 9000 rpm | 89 kW / 121 hp @ 9250 rpm |
| Peak torque | 87 Nm / 64 lb-ft @ 8000 rpm | 92 Nm / 68 lb-ft @ 8000 rpm | 99 Nm / 73 lb-ft @ 7750 rpm |
| Front suspension | 43mm WP fork, split function | WP Apex 43mm (non-adjustable) | WP Apex 43mm (preload / compression damping adjustable) |
| Rear suspension | WP fork, preload adjustable | WP Apex fork, preload adjustable | WP Apex monoshock, fully adjustable (including high/low-speed compression damping) |
| Front brake | 2 x 300 mm discs, radially mounted 4-piston calipers | 2 x 300 mm discs, radially mounted 4-piston calipers | 2 x 320 mm discs, Brembo Stylema calipers |
| Wet weight | 188 kg / 415 lb | 189 kg / 417 lb | 185 kg / 408 lb (measured) |
KTM Duke 790 / 890 / 890 R specs compared
Both models have the same ride electronics, with cornering ABS / TC and even the same "Track" setting.
Kawasaki also makes their motor available in the popular adventure / enduro bike, the KTM 890 Adventure.
MV Agusta Brutale / Dragster (800) / RR
The Italian marque MV Agusta has been making motorcycles named "Brutale" since 2001, and it has had its present concept since the 2012 model year. MV Agusta introduced the first Brutale with an inline-three-cylinder engine (a "triple") at EICMA in 2011 with a 675-cc engine, in which year the F3 Serie Oro got runner-up for most beautiful bike of show.
MV Agusta announced the Brutale with the larger 800 engine in late 2012 for the 2013 model year, and has iterated on the platform since then.
The MV Agusta Brutale is a high-spec and very good-looking middleweight naked sport bike with a cracking three-cylinder engine. And it's worth repeating that it's very easy on the eye.
The MV Agusta Brutale comes in two specs — Rosso and RR. In the chassis, they're very similar, sharing a Marzocchi 43mm USD fully adjustable fork (though the RR gets DLC treatment on the fork inner), a fully adjustable Sachs monoshock, twin 320mm discs with Brembo M4-32 calipers on them, Continental MK100 cornering ABS, and even cruise control.
But the differentiating factor is the engine spec. The Brutale Rosso's engine makes 82 kW / 112 hp at 11000 rpm, but the Brutale Rosso RR's engine makes a much peakier and much higher 103 kW / 140 hp at 12300 rpm, thanks to its higher 13.3:1 (vs 12.3:1) compression ratio, upgraded internals, and more aggressive tune.
MV Agusta initially announced the Dragster as part of the Brutale series — it was called the Brutale Dragster 800 in 2014. It's a more aggressively styled version of the Brutale, but still a middleweight naked.
The MV Agusta Dragster also comes in various higher spec trims — the RR with the higher-power engine, the RR SCS with the "Smart Clutch System", Rekluse's "automatic if you want it" clutch system, and the RC SCS, which comes with an even higher-tech electronic clutch.
Needless to say (I think?) the MV Agusta Brutale and Dragster are relatively expensive.
Suzuki GSX-S750 (2015+)
The Suzuki GSX-S750 is a middleweight naked with the heart of a Suzuki GSX-R750 superbike — albeit detuned, and in a less high-end chassis.
Suzuki has made the GSX-S750 since 2011 (as the GSR750, just restyled), though has sold it in the US since 2015. In 2018, Suzuki gave the GSX-S750 a minor update, giving it an easier breathing (larger airbox, freer-flowing cat), 10-hole fuel injectors, better crankcase ventilation, and revised fuelling for a 5kW / 8 hp higher peak power.
On top of that, Suzuki gave the 2018+ version traction control, and revised Nissin calipers.
| GSX-S750 Year Model | 2015-2017 | 2018+ |
| --- | --- | --- |
| Exhaust design | 4-1 | 4-2-1 |
| Peak power | 77 kW / 105 hp @ 10000 rpm | 84 kW / 113 hp @ 10500 rpm |
| Front brakes | 310mm regular discs, two-piston axial calipers | 310mm petal discs, Nissin radial mount 4-piston monoblock calipers |
| Wheels | 3-spoke | 10-spoke |
| Ride aids | None | TC, Optional ABS, easy start, low RPM assist |
| Display | Analogue / LCD | Full LCD |
| Wet weight | 210 kg / 463 lb | 211 kg / 465 lb |
Suzuki GSX-S750 specs, gen 1 vs gen 2
The good news is that the Suzuki GSX-S750 is very affordable in every market and gives great bang for the buck, with a lively motor (derived from the 2005-spec Suzuki GSX-R750) that makes over 100 hp at the crank, a comfortable riding position, good suspension and brakes, and the right ride aids of ABS and traction control.
The interesting thing is that even though the GSX-S750 has high-end origins, it still has a pretty basic spec level, with suspension only adjustable for preload (on the front and rear), an ageing LCD panel, and not even a slipper clutch.
The cool thing about the GSX-S750 is that it's a high-power but affordable bike. The inline four-cylinder engine doesn't even come in learner-legal tune for Europe, as it makes too much power!
The bad news is that it's pretty heavy. It's heavier than (or as heavy as) many liter-class naked bikes.
The ageing display and lack of updates, the heavy chassis, the fact that the GSX-S750 is unlikely to ever catch up to the Yamaha MT-09, and the release of the GSX-8S all bode ill for the GSX-S750 — I think it's unlikely to stay in the line-up for long.
Suzuki GSX-8S
Suzuki announced the GSX-8S in late 2022 for the 2023 model year, and it hints at the end for the GSX-S750 and probably the SV650 too.
The GSX-8S is based on a 776 cc parallel twin engine that makes 62 kW / 83 hp at 8500 rpm. It has a 270-degree crankshaft, the trend of the time, to give it a bit of character — though Suzuki says it's "smooth" with their cross balancer system.
Compared to the SV650, the engine is more powerful and more responsive. But of course, it's not a V-twin. That's both a pro in terms of weight and maintenance, and a con in terms of classic heritage — it depends on your priorities!
The GSX-8S gets a few things the GSX-S750 and SV650 never got, including a slipper clutch, standard quick shifter, and a TFT display.
In terms of suspension and brakes, though, the GSX-8S is still an entry-level bike. Sure, the suspension may be an inverted KYB fork, but the fork has no adjustability and the shock is adjustable just for preload.
Brakes are similar to the GSX-750S — Nissin four-piston calipers on 310 mm discs. Ride aids include ABS and traction control, but still no cornering ABS.
As Suzuki is wont to do, they've made an excellent all-round package in the Suzuki GSX-8S. It's easy to navigate at low speeds, responsive at intermediate speeds, and while it's not a high-rpm sport bike, it has no problem passing other traffic — though you may need to downshift, as it lacks the top-end rush of some of its higher-revving counterparts (it redlines just under 10,000 rpm, but peters of well before then).
Suzuki has also released the same motor in the Suzuki V-Strom 800DE, a middleweight adventure bike.
Suzuki SV650 / X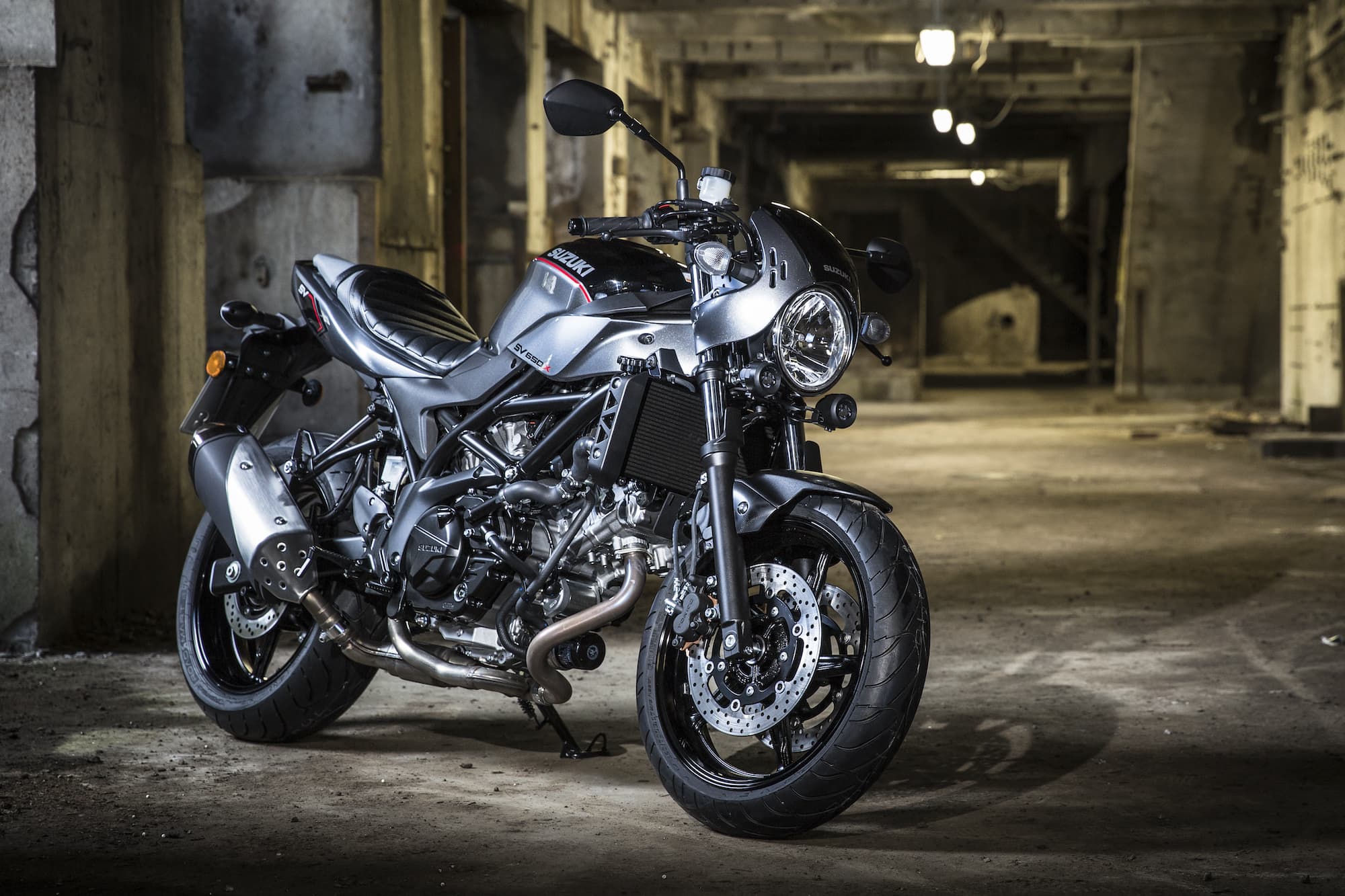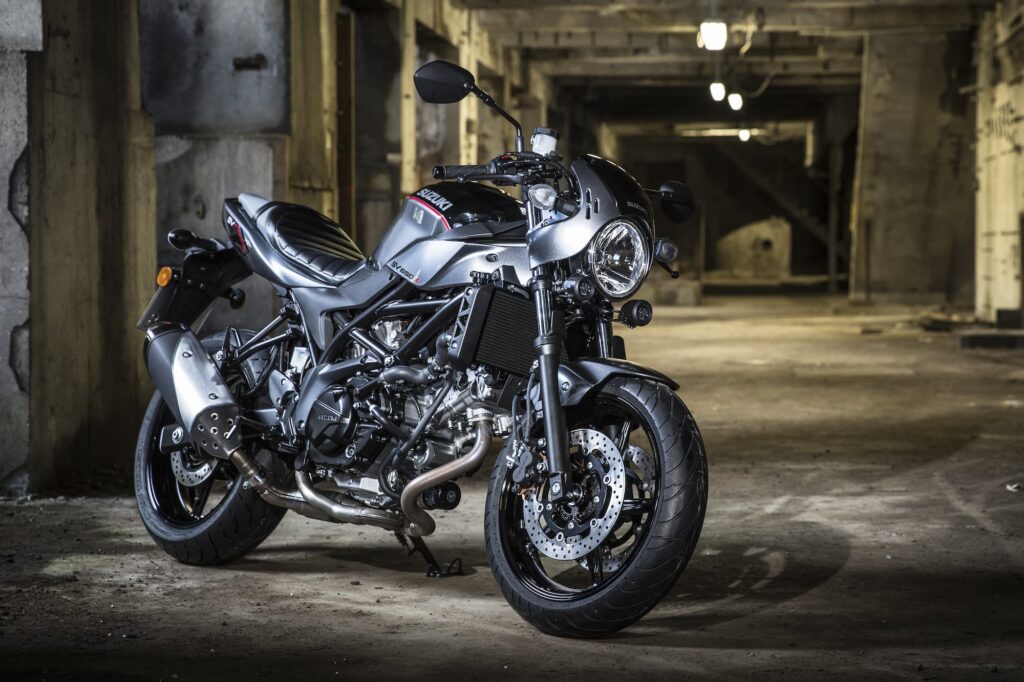 The Suzuki SV650 has been around for decades now, the first version released in the late 1990s. In its first decade it was one of the first middleweight naked sport bikes around.
And what's more surprising is that the basic layout of the engine — even the bore and stroke — hasn't changed since then. But a lot of other things did.
The core of the Suzuki SV650 is a 645cc liquid-cooled 90-degree V-twin. It's nothing fancy — the SV650 has an LCD console and apart from ABS has no ride aids, not even a slipper clutch. The engine makes a modest 56 kW / 75 hp at 8500 rpm, which may not sound like much if you're into sport bikes with triple digit power figures, but it's enough for sub 4-second 0-60 times (if you're quick with the shift pedal) and to keep up with any sport bike until freeway speeds.
My favourite thing about the SV650 is that engine. The Yamaha MT-07's engine gets a lot of attention these days, and for good reason, but Suzuki had been delivering mid-size character for over a decade before Yamaha figured out the formula.
The Suzuki SV650 is now in its fourth generation (if we include the Gladius / SFV650) since 2016, but prices aren't terribly low for the early ones, as they were never expensive. Nor is the latest one expensive! It's definitely one of the best bang-for-the-buck bikes out there.
Aside from releasing the sportier SV650X, Suzuki hasn't updated the SV650 since its latest generational release.
See here for the full history and buyer's guide to the SV650.
You can also get Suzuki's middleweight V-twin in adventure format, the Suzuki V-Strom 650XT, though that's inevitably going to be replaced by the 800DE.
Triumph Street Triple 765 R / RS / Moto2
The Triumph Street Triple has been a fan favourite middleweight naked bike since the first gen back in 2007, and Triumph has constantly improved on it ever since, improving the engine, adding high-end components, and of course electronics.
Triumph has made the Street Triple as a 765-cc sport bike since 2017. Triumph has updated the series twice since then, improving the tech spec and upping the power both times.
Triumph's killer features in their Street Triple have for a long time been a powerful, character-rich three-cylinder engine (it feels and sounds different from Yamaha's) and very lightweight design. In fact, it's always one of the lightest bikes in the class, irrespective of engine size.
Over time, Triumph has dramatically improved the "Striple" (as it's affectionately called by fans), and the latest generations have (as options) the very most recent ride tech you can get.
For 2023, the Street Triple is available as an R, RS, and a (new for 2023) limited Moto2™ edition, the latter of which has full Öhlins suspension and clip-on handlebars — a first for the Street Triple. The Street Triple R is plenty of bike for most riders, but the RS would be tempting for any of a number of reasons (even just the display).
Here's how they differ:
| 2023+ Models | Street Triple R | Street Triple RS | Street Triple Moto2™ |
| --- | --- | --- | --- |
| Peak power | 88 kW (118 bhp / 120 PS) at 11500 rpm | 96 kW (128 bhp / 130 PS) at 12000 rpm | 96 kW (128 bhp / 130 PS) at 12000 rpm |
| Front brakes | Brembo M4.32 | Brembo Stylema | Brembo Stylema |
| Front suspension | Showa Separate Function — Big Piston | Showa Big Piston | Öhlins NIX30 |
| Rear suspension | Showa | Öhlins STX40 | Öhlins STX40 |
| Ergonomics | Regular handlebars | Regular handlebars | Lower clip-on handlebars |
| Instruments | Multi-function instruments, Colour TFT | 5-inch TFT | 5-inch TFT |
| Cruise control | Unavailable | Optional | Optional |
| Ride modes | Road, Rain, Sport, Rider-configurable | Road, Rain, Sport, Rider-configurable, Track | Road, Rain, Sport, Rider-configurable, Track |
2023+ Triumph Street Triple R, RS, and Moto2™ model spec differences
See here for the full history of the Street Triple and all the variations of the model over the years.
Triumph Trident 660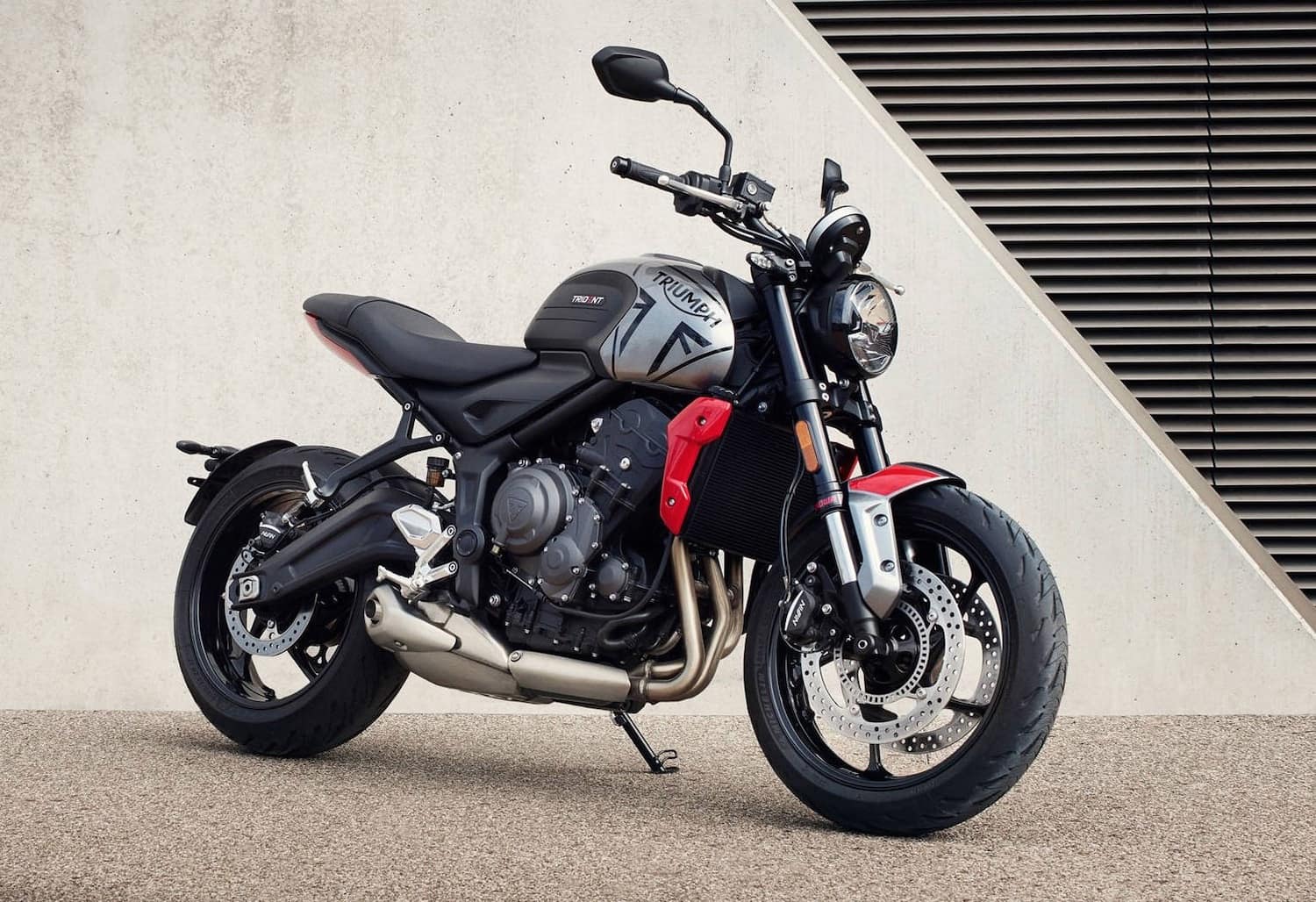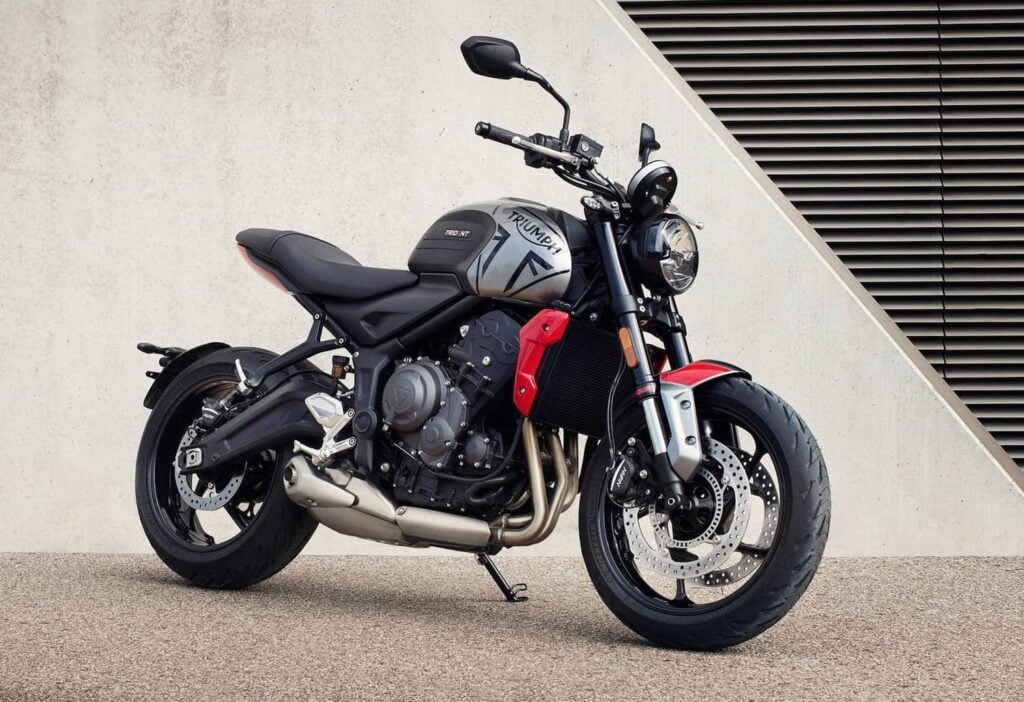 Triumph expanded their line of motorcycles in 2021 with the Triumph Trident 660. This is an entry-level middleweight naked motorcycle, somewhat like the older Triumph Street Triple S with the smaller 660 engine, intended as an affordable first bike, and able to be tuned as learner-legal in many markets.
The Triumph Trident 660 is more everyday in style and design than the Street Triple, which in its highest trims is a track-ready sport bike. Not the Trident! It actually bears a lot in common with the original Street Triple, from the 2008 model year, as both bikes are simple sporty everyday fun, with not too much adjustability nor everyday tech features.
The Trident is powered by a 660 cc inline three-cylinder engine that makes peak power of 81 hp (80 bhp / 60 kW) at 10250 rpm. It can also be restricted down to a LAMS / A2-friendly 35 kW / 47 hp.
It might not sound like a lot, but the Trident has gearing that helps you make the most of it. You'll get a BIG rush of acceleration in first gear if you pin the throttle and second isn't bad either. Of course, you'll have to shift to third to reach freeway speeds (fourth, if you're in a place where you cruise regularly above 75 mph, like California or Texas).
The Trident 660 has basic ride gear, with non-adjustable Showa SFF suspension, and just two piston axial-mount calipers. But it does have traction control, ride modes, and even a TFT screen.
The best part is that the Triumph Trident looks great — like a classic everyday bike. This would be a great contender to downsize to if you feel like modern bikes do all the riding for you.
Triumph makes the same basic bike in adventure sport format — like a mini Yamaha Tracer — called the Triumph Tiger Sport.
Yamaha MT-07 / XSR700
How did it take this long to get to the Yamaha MT-07? Simple, "Y" comes late in the alphabet! But the MT-07 is one of those bikes that's so well-liked, and so often recommended, that it does deserve to be mentioned earlier.
The MT-07 — launched initially as the FZ-07 — is a middleweight sport bike powered by Yamaha's almost-iconic "CP2" engine, which is a 689cc parallel twin with a 270-degree crankshaft. The MT-07's motor is lively and fun, making the bike a little hooligan machine, even though the specs on paper (54 kW / 72 hp at 8750 rpm in the latest gen) aren't that exciting.
The same could be said of the rest of the bike. It has a conventional telescopic fork, axial-mounted calipers, and a monochromatic LCD. But the MT-07's secret sauce is that it's very lightweight, coming in at a paltry 184 kg / 406 lb fully fuelled. Combined with its torquey motor and short wheelbase, the MT-07 is an easy wheelie practice machine.
Yamaha launched the XSR700 shortly after the FZ-07. It's much the same bike, but more hipster looking. It works for me!
In regions where there's a 660cc capacity limit for learner bikes, Yamaha released a 655cc MT-07, detuned to make about 2/3 of the peak power of the original. Pro tip if buying used — look for those with a full system exhaust (Akrapovič is a popular choice), because those are ones that the previous owners have sneakily tuned to make much more than learner-approved power. Just be aware of the ramifications on your insurance and licence (both severe).
You can get Yamaha's middleweight naked in a wide variety of other configurations, with the engine basically in the same state of tune. There's the adventure-ready Ténéré 700, the sport bike YZF-R7, and the Tracer 7 in Europe.
Yamaha MT-09 / SP / XSR900
The Yamaha MT-09 (initially FZ-09 in the US) has been a cracker since it was first released in 2014 — a brilliant three-cylinder motor in a very light and responsive chassis. Over time Yamaha has tamed the beast a bit, but also given it more power. The 2021+ MT-09 and 2022+ XSR900 are brilliant, to the point where I'm afraid any more changes will upset the balance!
The modern 2021/2022+ triples are based on an 890-cc inline three-cylinder engine, bigger than the 847 of the original, and making marginally more power but more torque in the midrange.
Yamaha also fixed a lot of things that people complained about (but not too loudly).
For 2021 onwards, the larger-capacity 890cc Yamaha MT-09 gets a more powerful engine, plus a different riding position and improved suspension, and even cornering ABS by default. The SP has loads of premium features, including fully adjustable suspension (and an Öhlins shock at the rear), and even cruise control.
The 2022+ XSR900 is middle ground, with semi-premium suspension (though no Öhlins), but it does come with cruise.
Of course, if you want to save some money, look at the older MT-09s and XSR900s with the 847 cc engine. They're excellent bikes, but be aware that the very early MT-09s have quite under-sprung suspension, so budget getting that improved.
See here for my full ride review of the 2021 Yamaha MT-09 SP.
You can also get Yamaha's fire-breathing triple in the bigger and fully-equipped Tracer 9 adventure sport tourer. There's word of a new street/sport bike with clip-ons and a fairing, the Yamaha YZF-R9, but nothing official has been mentioned — yet.
Bikes not on this list
This is a list of sport bikes. So it doesn't include "heritage" or "classic"-styled middleweights with old tech and low specs. You might notice absences like the Triumph Speed Twin 900 — well, it's heavy, not that fast, and Triumph makes multiple bikes that are sportier in a number of dimensions. (We used to compare the Ducati Scrambler to the Triumph small class of bikes — but the Ducatis have always been lighter and more powerful, and recently have also distinguished themselves on other fronts.)
Similarly, Moto Guzzi's style-forward motorcycles are more aesthetic than sport-forward, and while you could definitely blast about on a Harley-Davidson Nightster, it's a cruiser by anyone's definition.