As much as I love a 600cc sport bike, sometimes I want a bit more midrange — a feeling of thrust between 3000 and 8000 rpm. That's usually where I live in everyday riding. So, I've been considering a lightweight standard bike, like a Yamaha MT-09 SP or a Kawasaki Z900.
But I thought — What about the retro special, the Z900RS? And how do the Z900 and Z900RS compare?
So, while reading a few reviews and checking out a few local samples, I realised that while the Z900 and Z900RS share the same underlying platform, there are quite a few differences that make choosing between them non-trivial and a bit confusing to buyers.
I was left with a few important questions:
Which is more powerful (or faster), the Z900 or Z900RS?
What are the spec and feature differences between the Z900 and Z900RS?
How do the Z900 and Z900RS compare on looks?
Are you obsessed with motorcycles?
Well, I am. That's why I created this site — as an outlet. I love learning and sharing what others might find useful. If you like what you read here, and you're a fraction as obsessed as I am, you might like to know when I've published more. (Check the latest for an idea of what you'll see.)
Kawasaki Z900 and Z900RS — An overview
Both the Kawasaki Z900 and Z900RS share the same basic platform: a 948cc DOHC inline-four liquid-cooled engine in a naked bike chassis, driving a rear wheel through a six-speed transmission and chain drive. Both motorcycles are sporty naked motorcycles with a standard-ish riding position.
But there is a difference between the two, and they'd appeal to different riders.
In a nutshell: The Kawasaki Z900 is the more aggressively positioned, more powerful, and more modern-designed of the two. The Kawasaki Z900RS is the more comfortable, less powerful, but torquier, higher-spec'd, and more expensive of the two.
Kawasaki announced the Z900 in 2016 at EICMA for 2017. It was a replacement for the earlier Z800 (another four-cylinder standard), replacing it as well as the Z1000 in the US, and somehow improving on both at the same time. In other markets, the Z1000 is still sold and is considered the big bruiser, to compete with the Honda CB1000R, BMW S 1000 R and the like.
The Z900 has a larger engine than the Z800, and a smaller one than the 1043cc Kawasaki Z1000. It's a 948cc DOHC inline four-cylinder engine with smallish 36mm throttle bodies, giving it good low-end response (at the cost of top-end scream). The Z900 makes a claimed 92 kW (125hp) at 9,500 rpm, making max torque of 99 Nm (73 ft-lb) at 7,700 rpm.
The Z900 weighs 212 kg fully fuelled, which is fairly standard for this class. But this is not just lighter than the Z1000 (221 kg / 487 lb), but lighter even than the lower-powered-but-somehow-heavier Z800 (at 229 kg / 505 lb), which was always considered heavy for its class. The Z900 managed to hit a sweet spot for inline four-cylinder motorcycles so well that Bikereview.com.au gave it a solid 10/10. Perfection!
In the years since its launch, Kawasaki hasn't updated the Z900's engine significantly, though in 2020 Kawasaki updated the dash and made it compatible with Kawasaki's Rideology The App, which lets you download data and send notifications to the TFT display. The 2020+ model also has switchable traction control and four ride modes, including a custom setting, and ABS is no longer an option in any market (it's standard everywhere).
The Kawasaki Z900RS, first released at EICMA in 2017 for 2018, is the classically designed (read: "vintage", or to some people "hipster") version of the Z900. It's an evolution of classic Kawasaki motorcycle design language that goes back to the Z1. See the history of "Eddie Lawson Replica" motorcycles if you're interested to know more.
The first Kawasaki Z900RS Café released was in classic lime green. It's pretty striking! And not for everyone.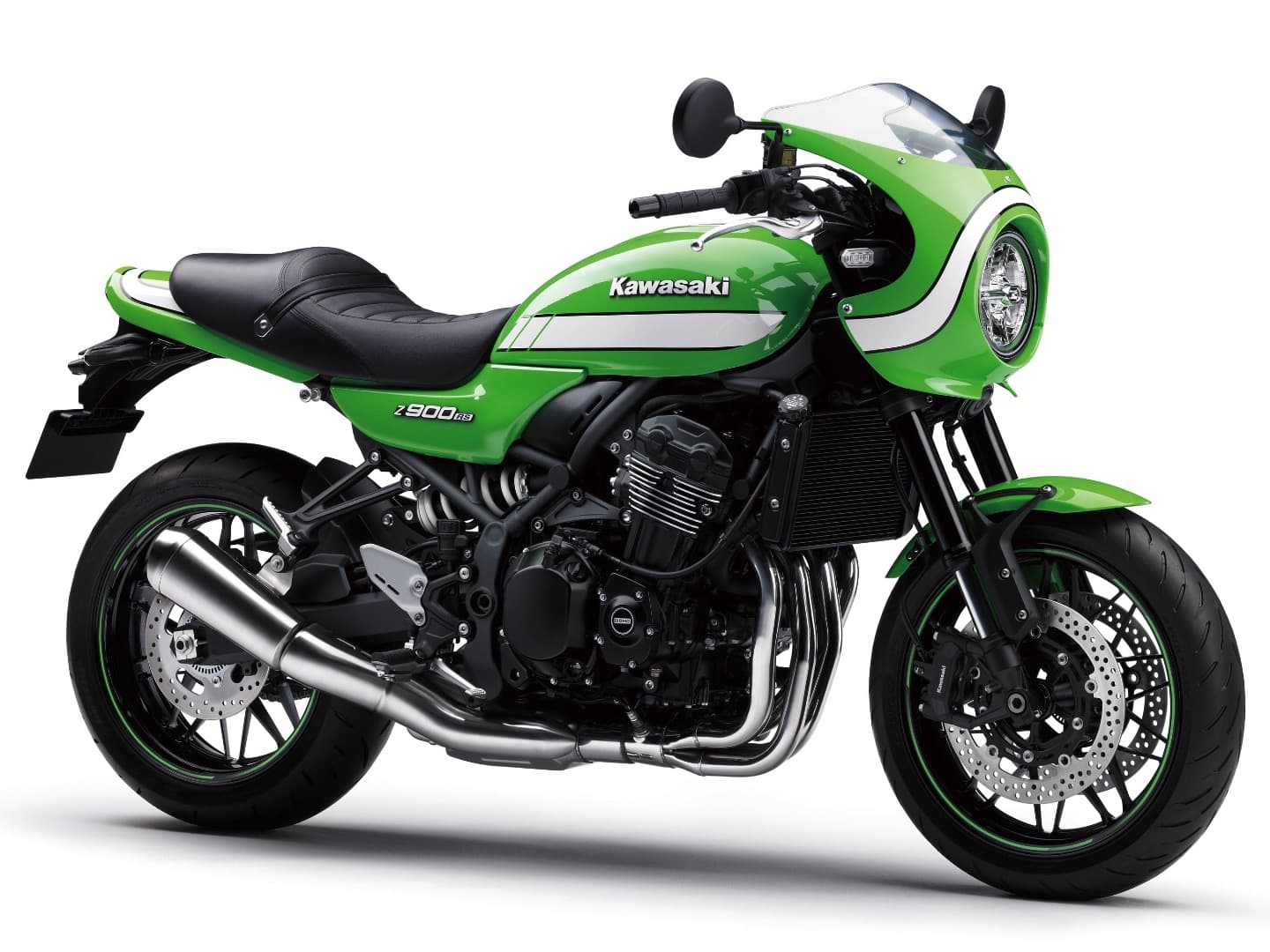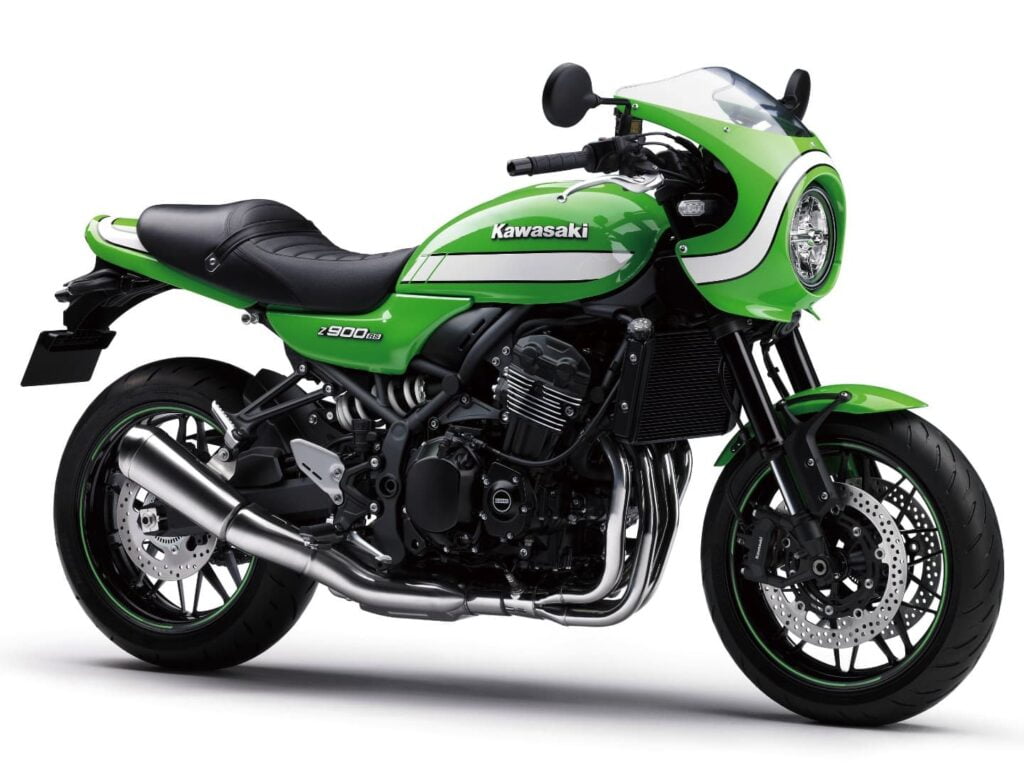 Again, not everyone is into the lime green of the original Kawasaki Z900RS Café. So luckily for other people who have to look at my bike while I'm riding it, Kawasaki has released some pretty hot other colour schemes for the Café version. See below for all the colour schemes of both the standard Z900RS and Z900RS Café.
OK, enough about colours. But really, aesthetics is a big part of the Z900RS and Z900RS Café. (This isn't to say it's purely a looker — it's a great bike to ride, for sure. It's just that it is a looker and everyone knows it!)
Even though it's based on the same platform and same engine, the engine in the Z900RS and Z900RS Café has been detuned for less power, favouring earlier torque. It makes the same peak torque, but the torque comes on earlier. The chassis is also slightly heavier, and the front forks have been improved.
The riding position of the Z900RS is also significantly more relaxed. It has higher bars, lower pegs, and a much more comfortable seat. While the Z900 is a streetfighter, the Z900RS is definitely more of an upright standard.
All in, the Z900RS is a more advanced but also slightly more sedate platform.
See more on specs compared below.
Kawasaki Z900 vs Z900RS — The Spec Sheet
You can't ride a spec sheet… but dang it, that doesn't stop us from trying.
See below for a comparison of the core specs of the Kawasaki Z900 and Z900RS, as well as an examination of their dyno curves.
The engine dimensions are the same between them — a 948cc DOHC fuel-injected inline four-cylinder engine, so I won't repeat that.
| Spec | Kawasaki Z900 | Kawasaki Z900RS |
| --- | --- | --- |
| Peak power | 92 kW (125 hp) @ 9,500 rpm (more top end) | 82 kW (110 hp) @ 8,500 rpm |
| Peak torque | 99 Nm (73 lb-ft) @ 7,700 rpm | 98 Nm (72 lb-ft) @ 6,500 rpm (Similar peak torque, but gets there faster) |
| Front suspension | Inverted 41mm telescopic fork, semi-adjustable (preload and rebound damping) | Inverted 41mm fork, fully adjustable (preload, rebound & compression damping) (slightly more adjustable) |
| Front brakes | Dual 300mm petal-style discs with four-piston calipers, ABS | Dual 300mm discs, dual opposed piston monobloc calipers (slightly better) |
| Wet weight | 212 kg / 468 lb (slightly lighter) | 214 kg (472 lb); 215 kg (473lb) for Café |
| Design | Modern, "Sugomi" streetfighter | Classic, vintage roadster/80s UJM |
| Riding position | Sport standard, slightly leaned over (think: Ducati Monster) | Upright standard — relaxed and comfortable (think: Triumph Bonneville) |
| Price | Competitive; cheaper than MT-09 | 20-30% more expensive than Z900 in all markets |
Specs of Kawasaki Z900 and Z900RS compared
I've boldfaced where I think one has an advantage over the other. I haven't boldfaced design or riding position because they're entirely subjective! People will have strong opinions (which is great – there's a bike for everyone).
For more on the power delivery — see the next section.
Kawasaki Z900RS SE VS Z900 SE
In 2021, Kawasaki announced the SE models of the Z900RS and Z900S. You can't get these in every market, unfortunately.
On paper, these updates bring the two models closer together — but there are some subtle differences.
Here are the major ways in which the Z900RS SE and Z900S SE have been upgraded over the non-SE models
Brakes — Both SE models now have Brembo M4.32 brake calipers. This brings them to a level playing field.
Front Fork (suspension) — Both SE models now have a 41mm inverted fork with adjustable preload, compression, and rebound damping. Again, this is now the same between them.
Rear shock (suspension)* — Both SE models have an Öhlins S46 shock. But there's a minor difference. On the Z900 SE, the shock is adjustable for preload and rebound damping. On the Z900RS SE, it's also adjustable for compression damping.
So again, the SE model of the Z900 RS remains slightly higher spec in suspension. But the difference is smaller.
* While I checked multiple documents, there's a chance this was an omission from Kawasaki. I'll update this if so.
Comparing the engines of the Z900 and Z900RS
Many reviewers and some owners complain: "Why didn't the Z900RS get the full-spec motor from the Z900?"
The thinking is: You're paying more for a higher-spec motorcycle that's even slightly heavier (not much, but in motorcycles sometimes a few kilos or pounds is a big deal, e.g. in changing out an exhaust). So why not get the full-power motor?
Riders who ride both do feel that the Z900RS's lower power but also forward-shifted torque curve is totally adequate, and might even be more appropriate for the riding position and style of bike. The more upright your seating position, the more likely you are to be blown backwards by a blast of wind.
So let's also compare the way that power is made by looking at the torque curves on a dyno.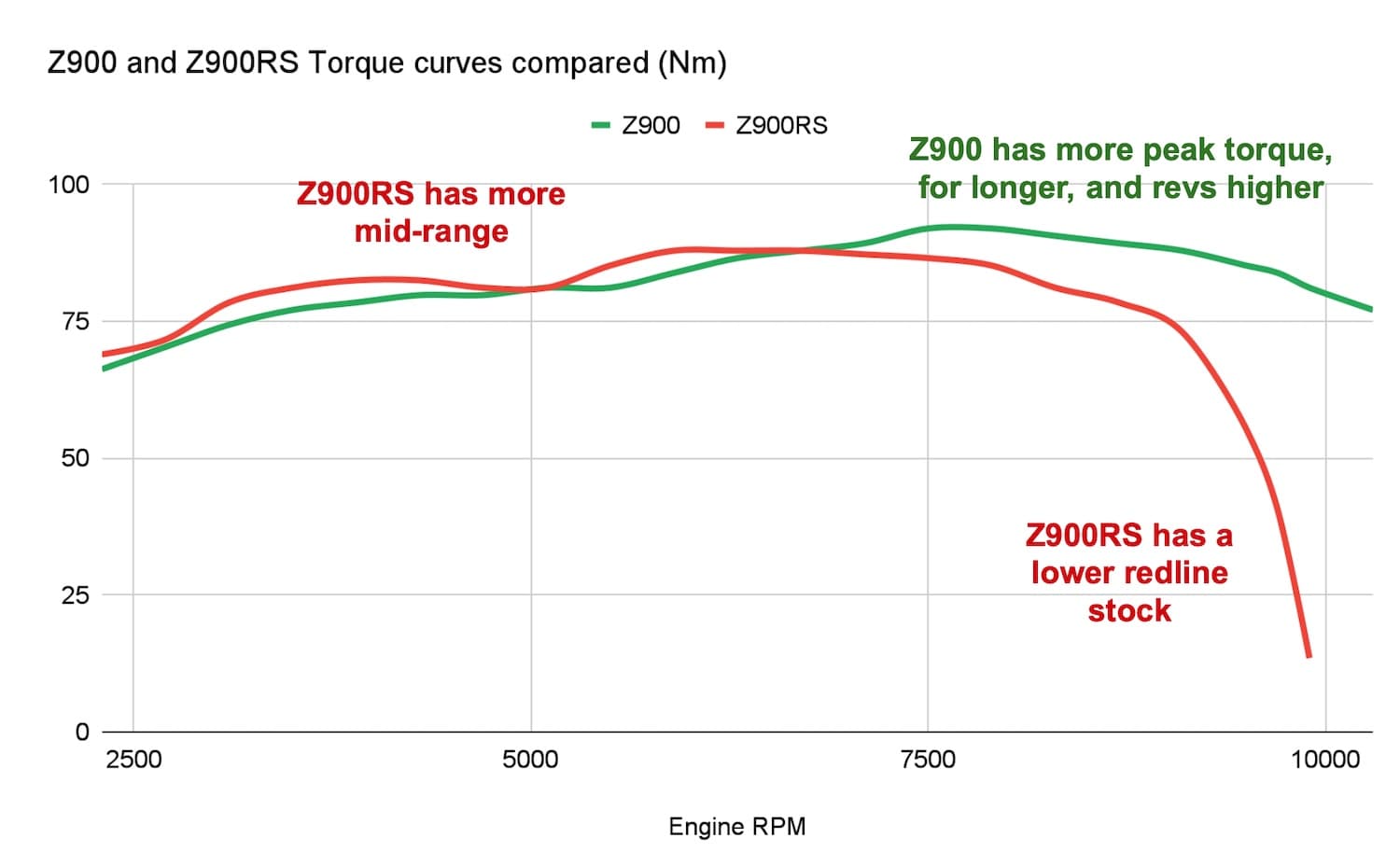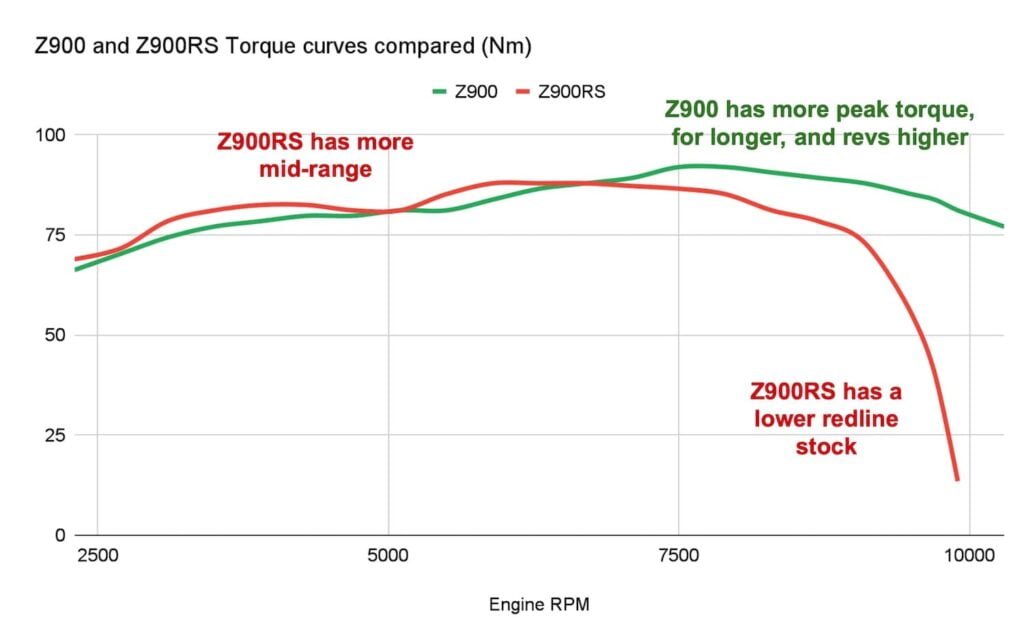 Looking at the above dyno, it's clear that the Z900RS is more geared towards low-end and mid-range power, while the Z900 is more about top-end. The thing is, the Z900RS does sacrifice a lot of top-end for just a small mid-range gain.
So you have to ask yourself: Where in the RPM band do you like to sit? Do you regularly go between 5-10K RPM at full throttle? If so, the Z900 is for you.
That's not the full story, either. Seeing they share the same basic engine block, it doesn't take much to get a lot more power out of the basic Z900RS engine. You can do a few simple mods — an exhaust system, freer-flowing exhaust headers, velocity stacks, and a tune (which includes raising the rev limiter), and Ivan's performance in the US can get a whopping 20% increase in power for 121 hp at the rear wheel. Not bad.
Another common complaint of the Z900RS is that it has a twitchy throttle stock. The fuelling is quite "on-off" at low throttle openings. This is, luckily, something that a tuner like Ivan's Performance can tune out. Unfortunately, from anecdotal reports, it seems like a must-do.
Riding position of the Z900 and Z900RS compared
The Z900RS has a decidedly more relaxed, more comfortable riding position than a Z900. It's fairly easy to see the handlebar position difference, but there are other differences, too.
Let's first look at the riding position of the two motorcycles, courtesy of Cycle Ergo: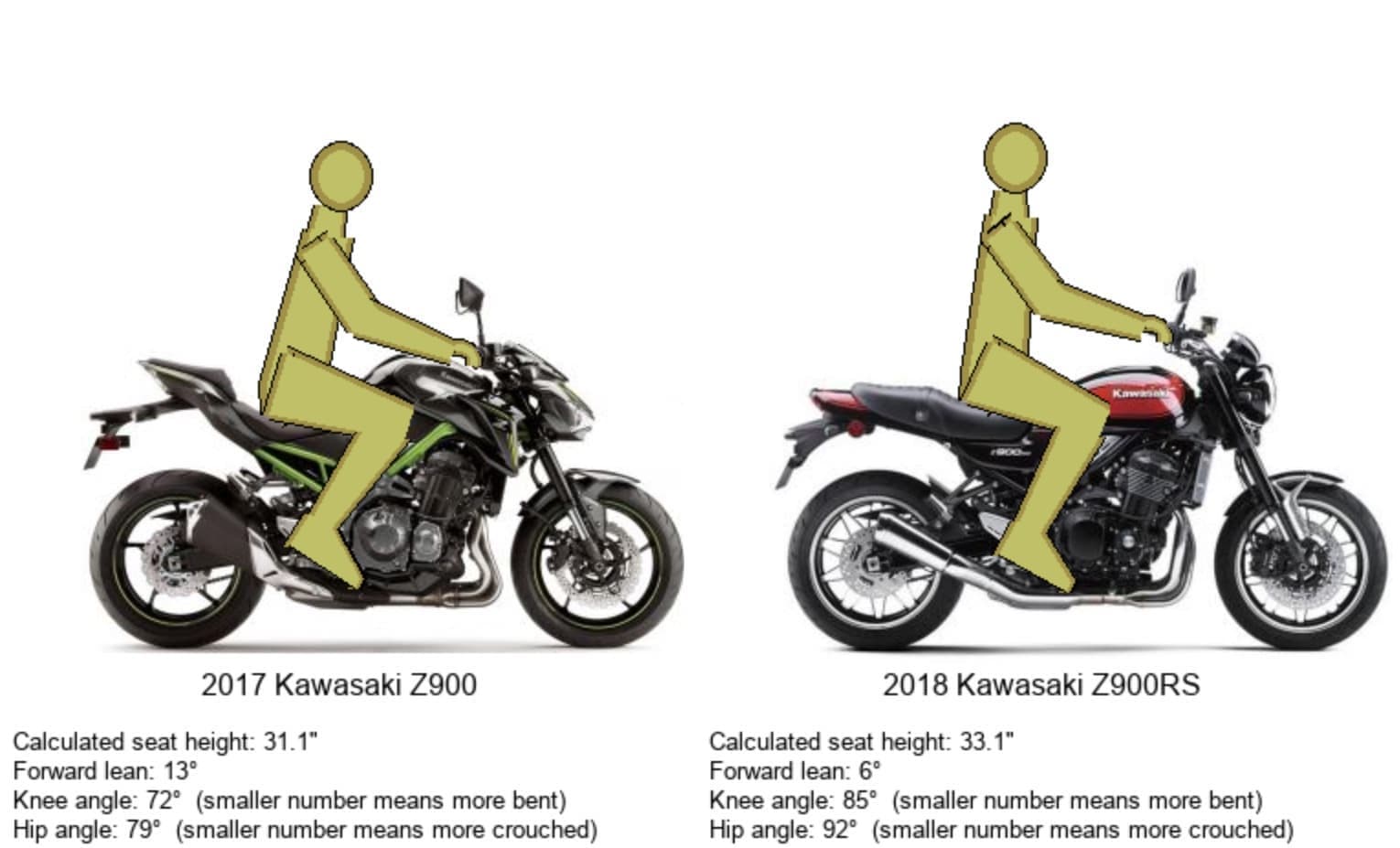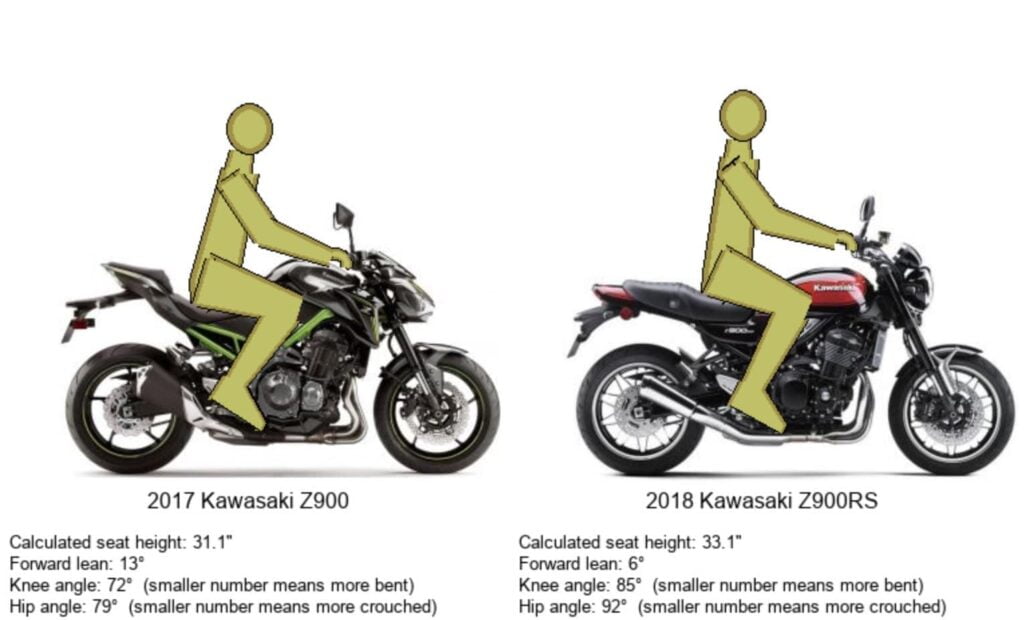 In terms of riding position, compared to the Z900, the Z900RS has the following four changes:
A higher upper triple clamp: It's 40mm higher, giving a higher handlebar position
Wider, flatter handlebars: 30mm wider, 65mm higher, and 35mm closer to the rider, which is more comfortable as well as looking more "retro". The Z900RS also has 2 degrees more steering angle (35 vs 33), helping with low-speed manoeuvring.
More comfortable seat: A ribbed, stepped seat with a wide seating area and good comfort for both the rider and passenger.
Lower footpegs: 20mm lower, and 20mm farther forward, meaning your knees are less cramped.
All in, the Z900RS is more comfortable for both the rider and passenger. But if you prefer to be slightly hunched over and in a sporty position, the Z900 is more your cup of tea.
Which looks better, the Z900 and Z900RS?
This is subjective. But basically, the views of people are
The Z900RS looks great; but for real retro fans, it didn't go far enough
The Z900 is not as universally praised (and is not liked by the retro crowd), but it has its own legion of fans — and from many angles it does look good, if you like that look.
One part that people often have strong opinions on are the displays of the Z900 and Z900RS. The Z900 had a large tachometer in 2017-2019. This was updated in 2020 to a TFT display. The Z900RS, on the other hand, has old-fashioned gauges.
Here they all are, side by side:
Yes, I personally like the Z900RS gauges + LCD more than either of the other designs aesthetically. But I also really prefer a digital speedometer (it's easier to read, especially when switching between bikes so I don't have time to get used to a new design), so functionally I'd rather have any of the Z900 dashes.
Aside from the gauge cluster, Z900 definitely has a more modern design… but it uses design language that Kawasaki has been using for years. They call it "Sugomi", and we first saw it on the 2014 Kawasaki Z1000.
What does Kawasaki's "Sugomi design" mean?
Here's a more detailed look at Kawasaki's "Sugomi Design" philosophy.
Kawasaki mentions "Sugomi design" constantly like we're supposed to know what it is. Even on Kawasaki's website today you can see this word. Japanese speakers may intuitively know what it is, but I didn't, so I looked it up.
In a nutshell, "Sugomi" is a Kawasaki design philosophy that Kawasaki has used since the 2014 model Z1000. It is written in Japanese as 凄み (a Kanji character and a Hiragana character), often just abbreviated to 凄 in graphics.
The word 凄み translates to "amazing" via Google translate. Other dictionaries translate it as "intimidating or threatening", or even "ghastly" or "weird". Great, thanks, dictionary…
(Chinese readers will recognise the first character as meaning "bitter/cold" or "miserable" in Chinese, pronounced qī in Mandarin. Not a very helpful translation either!)
As for how Kawasaki interprets sugomi in their design language, Kawasaki describes it as "a machine with the palpable energy and appearance of a predatory animal stalking its prey."
You can see aspects of sugomi in design elements like
The crouching, forward leaning stance
The low-positioned head
The up-swept tail
While this is apparent in the Z900, it's more apparent in the Z1000, which is no longer available in the US.
Kawasaki uses sugomi design philosophy not just in external aesthetics, but also in the way they engineer the bike to respond. It's supposed to be "exciting" — so, which would translate to
Stimulating engine response, "rev-happy"
Ample low-end torque
Good rider feedback through the chassis
All of these are characteristics that are discernible in the Z900 — more so than in the Z900RS.
Kawasaki also released some "Sugomi edition" Z800 and Z1000 models. They haven't yet done for the Z900. But a core part of those upgrades was the standard Akrapovič silencer which is imprinted with a 凄 character.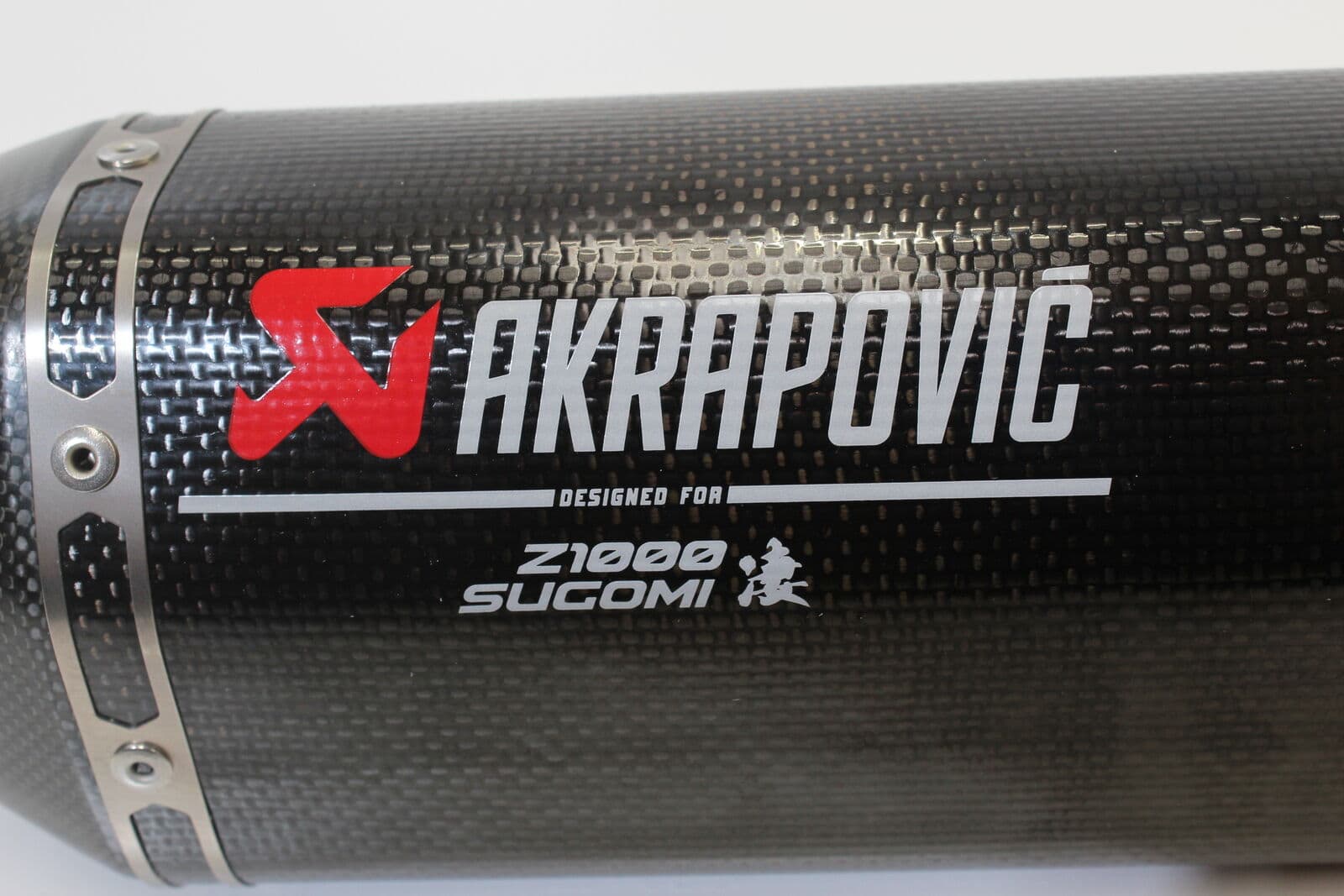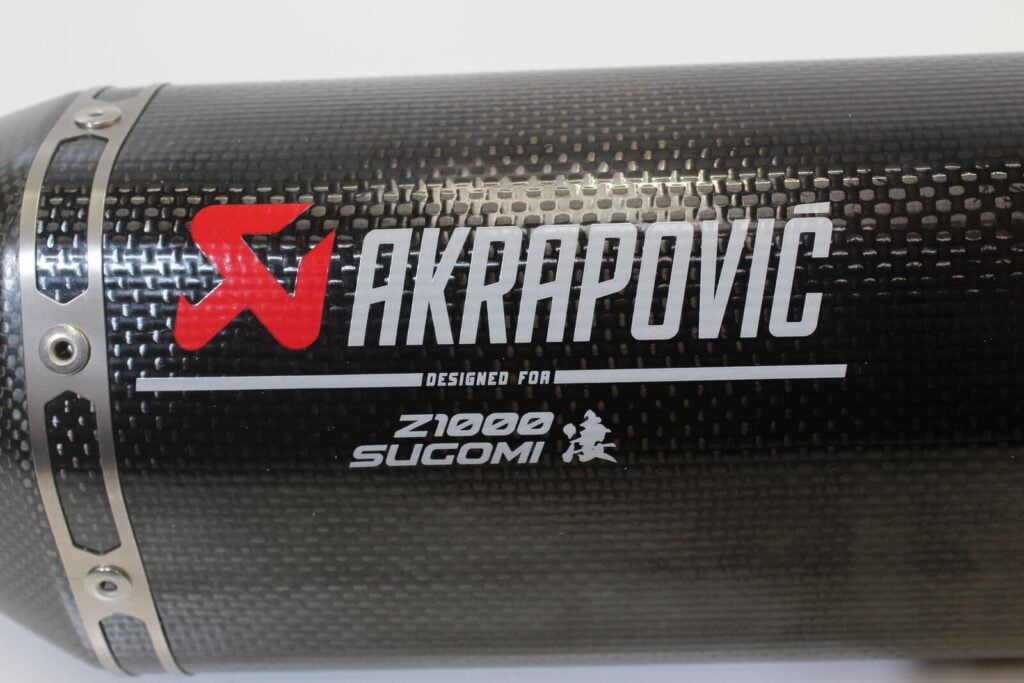 I kind of wish Kawasaki went further with using the character, much like how Suzuki uses the Hayabusa character (隼) on their iconic sport bikes, or how they use the Katana (刀) character on their Katana resurrection.
Branding aside, "aggressive" design language is not unique to the modern Kawasaki Z range. The "forward canted, aggressive standard" is also known as a "streetfighter", and is a design philosophy that has been around since the mid-2000s. Ducati even named their motorcycles of the time the Ducati Streetfighter, and there are definite design parallels. Aesthetically and in terms of temperament, the Z900 shares a lot with the Yamaha MT-09.
See our guide to the history of the Ducati streetfighter.
But I'm all for kanji used in design (like on my Hayabusa, or on the Suzuki Katana), so I'm hoping the 凄 character makes it onto a body panel somewhere.
Riding the Kawasaki Z900 and Z900RS
Any comparison of these two has to include a section on what they're like to ride in different situations.
Of course, a lot of the difference in riding style is just dictated by the engine character and the handlebar position. But what is it actually like in practice?
First, the Z900. Riding the Z900 is exhilarating. I don't use that word lightly. It's not a word I'd use to describe competitor motorcycles. For example, I'd describe the Yamaha MT-09 (before 2021) as "frantic", the Honda CB1000R as "brawny", and the new Suzuki Katana as "raw" (ok fine, maybe also "exhilarating").
The power delivery of the Z900 is great. It's smooth and predictable, without low-RPM hesitation that's so, so common on modern emissions-restricted systems, and without flat spots in the torque curve. Torque comes on early, so you can pootle about in fourth gear at 30 km/h if you want, and you can rev it out past 10,000 rpm to its 10,750 redline.
Basically, power delivery is the kind we used to assume was normal. A linear power curve, a high RPM redline.
Handling of the Z900 is also better than you'd expect for a middleweight, mid-spec motorcycle.
The suspension of the Z900 is adjustable for preload and rebound damping, but not for compression damping (which governs how it would respond to bumps). The most advanced suspension out there has low- and high-speed compression damping adjustability, which would dictate how a bike responds to braking and bumps of varying intensity… the Z900 has none of that.
Despite that, the Z900 seems to have good suspension for an average size rider like me. I found the pre-2021 MT-09 to be too soft, even though the one I rode was a 2019 model with stiffer springs than the earlier generation. I'd say the same for most standard motorcycles I've ridden — soft and bouncy, even for everyday use. I don't think of the Z900 this way.
As with many motorcycles (basically anything other than a 600cc supersport or 1000cc superbike), experienced riders would modify aspects of the Z900 for track work. But that's a given. It's just to say that the ZX-10R's suspension is more advanced — as you'd expect.
Riding the Z900RS, on the other hand, is gentler. Still sporty, but gentle. The entire experience reminds me of riding a Japanese UJM like my first bike, a CB900F — well, maybe a version of my first bike that was in good tune and condition (mine was not).
One of the things that stands out about riding the Z900RS (or the cafe) is the attention it gets. It's a shiny, good-looking motorcycle. People stop and ask you all kinds of things. I would know, I've been one of those people! "What year is it?" is probably the most common question.
The Z900RS' engine has been re-tuned so that torque comes on earlier, and you can definitely feel it. Neither motorcycle feels lethargic in low RPMs, but the Z900RS definitely feels more eager to deliver.
Even so, you still do need to encourage the Z900RS to deliver its peak torque by winding it up to 5-9K RPM, much like you would a sporty car, rather than a screaming sport bike.
And the ~95 hp you get at the rear wheel is enough to get you from 0-100 km/h (0-60 mph) in less than four seconds, if you really wanted to, and to take you well north of 160 km/h (100 mph). But on a naked bike, I'm not sure why you'd want to, other than just to see if it could.
Aside from the more relaxed riding position, one of the less obvious improvements in rider comfort on the Z900RS is the seat. It's just so much more pleasant to sit on. It's the kind of seat that people would install on the Z900 as a comfort option — except it's standard on the Z900RS. This, and the other aspects of the bike, makes the Z900RS a much more pleasant bike for longer distances.
The major downside to riding the Z900RS comes as a result of its benefits — you'll scrape at some point. It's around the 40-degree level. So yes, you do have to be riding enthusiastically, but I found that I could even scrape the pegs on an enthusiastic launch at an intersection when turning.
Another small downside is that the tuning on the Z900RS isn't as wonderfully balanced as on the Z900. Where the Z900 seems to just be perfect, the Z900RS has a little on-off hesitation on low throttle that comes as a result of aggressively trying to meet emissions restrictions (see my guide to understanding open and closed loop fuel injection systems to understand this better). But take it to a local shop for a tune and it should come up a lot better.
Kawasaki Z900RS colour schemes
The Kawasaki Z900RS is a more aesthetically-focused bike than the Z900. So it stands to reason that a large part of deciding whether or not you want one would be deciding if there's a colour scheme you like!
Here's every colour scheme for the Z900RS that I've found on the Internet. There might be more — they keep cropping up.
Collect them all!
Not all of these are necessarily available in every market.
Vintage Lime Green and Ebony Grey

Black/Brown (Cafe)

Candytone Blue

Vintage Lime Green Kawasaki Z900RS Cafe

Candytone Brown/Candytone Orange

Metallic Flat Spark Black

Covert Khaki Flat Ebony

New Metallic Green

2020 Vintage Lime Green and Ebony (one of the less over

Metallic Spark Black

Ebony

Kawasaki Z900RS

Black Edition a.k.a. Metallic Diablo Black

Grey

Kawasaki Z900RS SE Yellow Ball (2022)

Metallic Diablo Black / Imperial Red (2023)
Wrap-up — Who wore it best?
After figuring out all of the above I'm genuinely torn as to which I'd prefer. Do I pick the cheaper, sportier Z900, or the one that everyone's going to go ga-ga over? I have an ego, after all.
I'm not in any rush, as both the Z900 and Z900RS are still in production. I'm also certain that in the coming year or two, either (or both) will gain niceties like an IMU and maybe even cruise control, in part because Kawasaki has had that for years with the Ninja 1000, and in part because of pressure from the 2021+ Yamaha MT-09 SP.
If I had my 'druthers, I'd buy a Z900RS Café and get an Ivan's performance tune on it with an aftermarket set of headers and an intake. Or an SE Café when that becomes a possibility.
But being the cheapskate that I am, it's quite likely that my next standard is going to be a Z900. More power out of the box and a digital speedometer seals the deal. Watch this space.