There are a few bikes I've had the pleasure of checking out that leave unforgettable impressions. They're usually the bikes that have no direct parallel with other models. Even if I don't end up buying them, I remember them forever. One of these is the Honda CTX1300.
I first saw a CTX1300 by accident, just browsing one of the local dealers for fun (guilty!). But since then I've always kept my eye on the big CTX. They have a weird combination of things, some of which I know I'll end up with — like that tantalisingly neutral riding position, not too forward, not too kicked back…
It's hard to pigeonhole the CTX1300. So I don't. The decision process in thinking about a CTX goes something like this:
"I want to be very comfortable for a long time"
"But I don't want to spend Gold Wing or Road King money"
"Also, I want a V4, but I don't want a Multistrada or an older cruiser"
"I like those weird cult bikes!"
If so, then maybe the Honda CTX1300 is for you. And you'd be one of the rare few able to say so!
The Honda CTX1300 is, on the face of it, an odd bike. It's one of the easy rebuttals to the statement that Honda makes boring bikes (see our list of unusual Honda motorcycles, including this one). And it didn't do too well — Honda made it just for the 2014 model year before admitting "OK folks, maybe that one wasn't quite right."
But there's something about the CTX1300 that may call to you. If you're curious, you're probably curious about the same things I was:
What exactly is the Honda CTX1300?
Core specs of the CTX1300 (the good and the bad)
How the Honda CTX1300 makes power vs the ST1300
Alternatives to the CTX1300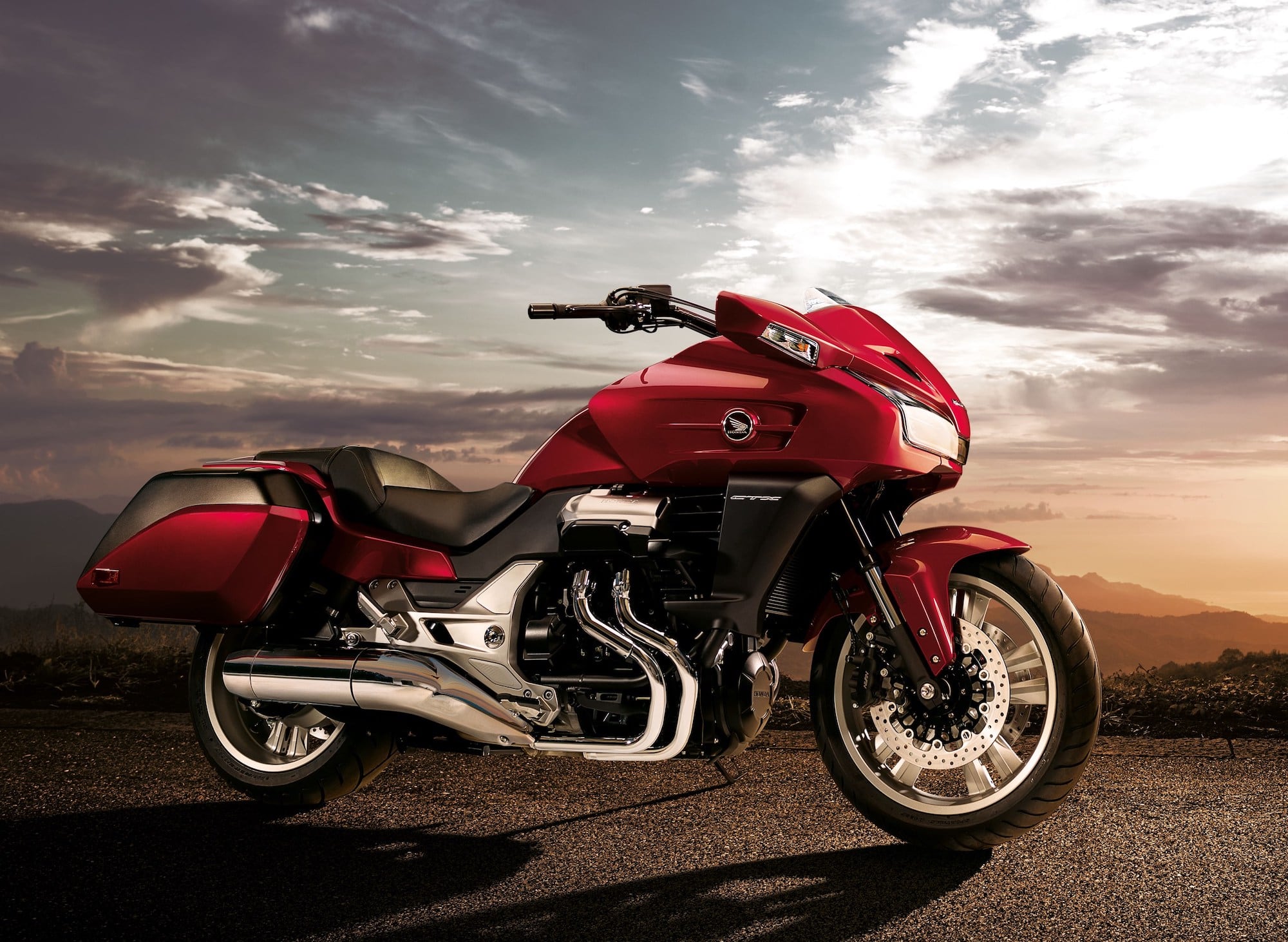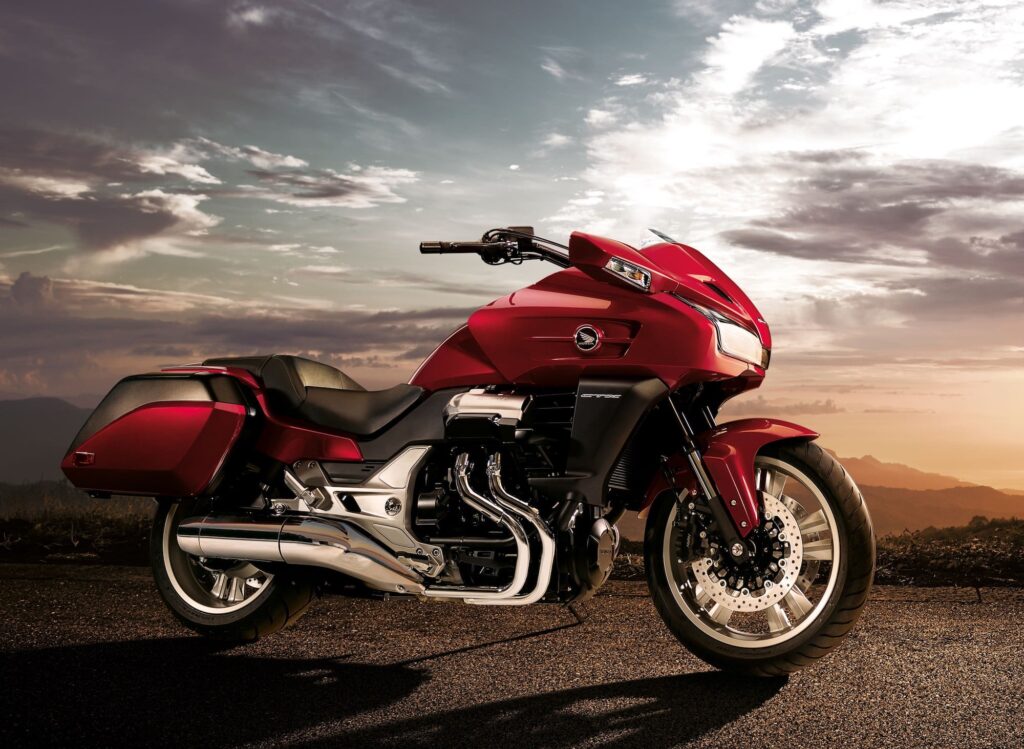 Are you obsessed with motorcycles?
Well, I am. That's why I created this site — as an outlet. I love learning and sharing what others might find useful. If you like what you read here, and you're a fraction as obsessed as I am, you might like to know when I've published more. (Check the latest for an idea of what you'll see.)
Core specs of the Honda CTX1300
You can't ride a spec sheet, but you can get a feel for whether a bike is for you or not!
Here's what you need to know about the CTX1300 without going into extreme detail.
Part
Spec
Notes
Engine
1261 cc liquid-cooled V-4. DOHC, four valves per cylinder
Same base engine as in the Honda ST1300
Compression ratio
10.0:1
Mild
Final drive
Five-speed transmission, shaft
Five speed is common on cruisers. Shaft is low-maintenance
Peak power
83 hp (61 kW) at 6000 rpm
Redline at 7500 rpm
Modest peak power, reflecting the low redline
Peak torque
78 ft-lb (106 Nm) at 4500 rpm
Modest torque, but peaks early
Front suspension
Inverted 45mm fork
Rare to see inverted forks on a cruiser!
Rear suspension
Twin shocks, preload adjustable
Front brakes
Twin 310mm discs
Curb weight
332 kg / 731 lb (Deluxe; standard is slightly lighter)
Quite heavy, but lighter than the 5th gen Gold Wing (417 kg / 919 lb for ABS version), and even lighter than the F6B
Ride aids
ABS, TC
Comfort options (Deluxe model)
Audio + Bluetooth, Heated grips, Centerstand, Self-cancelling turn signals
Standard in most markets, but in the US only with the Deluxe model
Core specs of the Honda CTX1300. Ref: Honda
Overview: What Exactly Is the Honda CTX1300?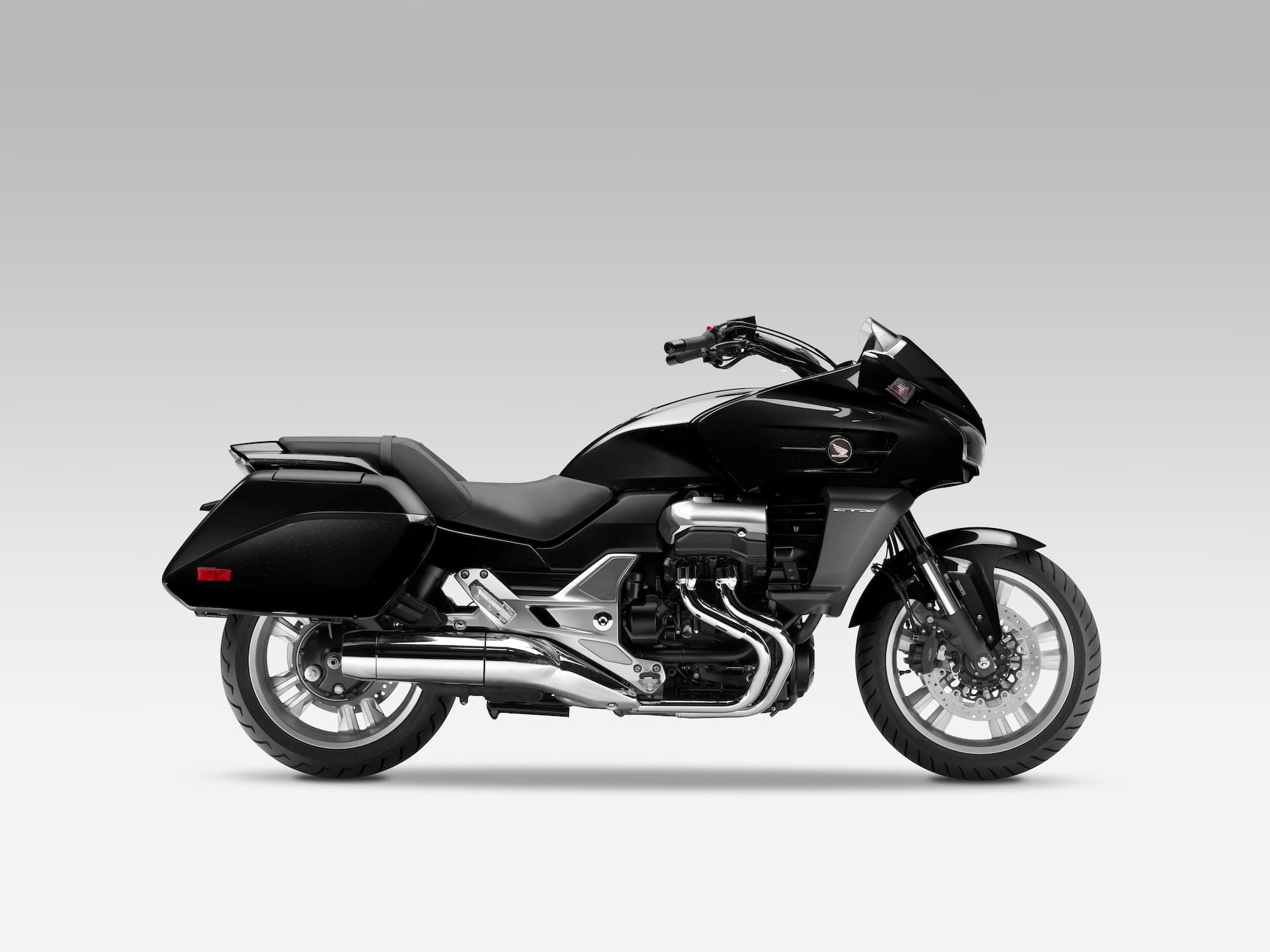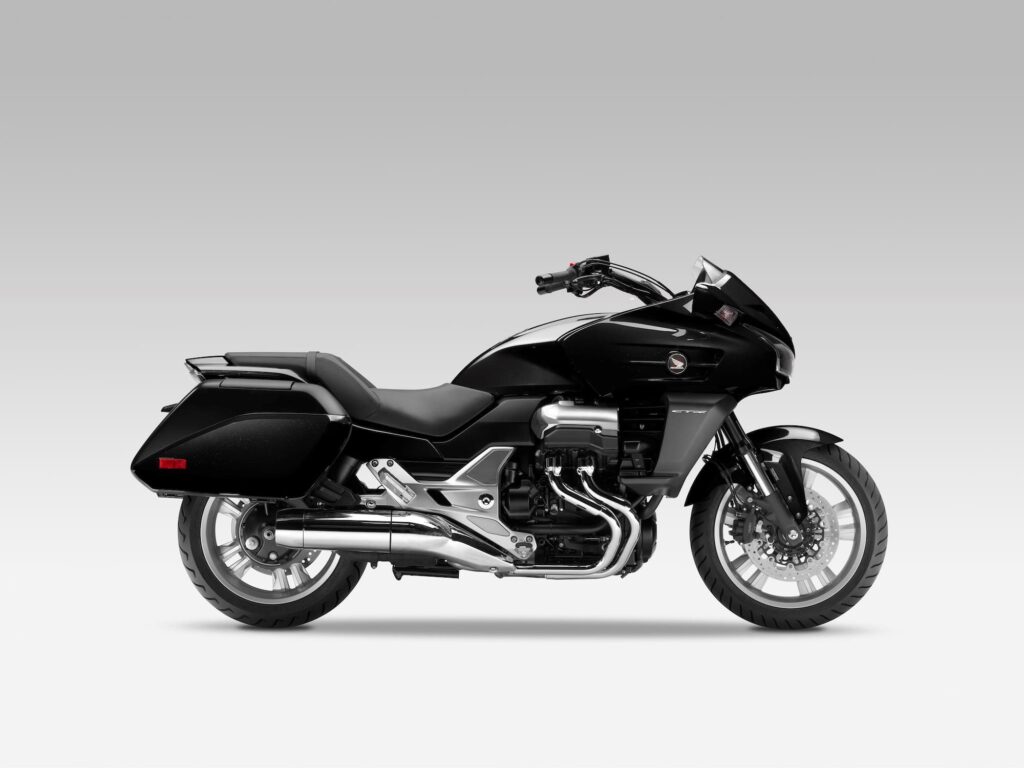 What is the CTX1300? Is it a cruiser? A sports tourer? Or a bagger?
The Honda CTX1300 is, in a nutshell, a motorcycle that makes it obvious that definitions of bikes are flexible. It's a motorcycle that you could describe as any of the following:
Like a V-twin bagger, but a lot more "Honda" — Quieter, smoother, easy to handle, but with a lot less of the V-twin rumble that many like
Like a Gold Wing, but lighter, and with a different character to the engine
Like an ST1300, but with more of an emphasis on comfort than sportiness
But however you slice it, the Honda CTX1300 is, in summary, a fairly large, very comfortable, and extremely unique way of slicing up long distances.
There's a lot about the CTX1300 that made me curious. Is it heavy? Is it fast? Is it fun to ride, or will I feel like a retired cop? It's hard to tell how you're going to feel until the first time you sit on one, and probably not until you've taken it for a spin.
In terms of where it sits in Honda's line-up, the CTX1300 is one of Honda's attempts to make something for the cruiser or bagger market. They've done this a lot. Honda has of course had decades of experience with the Gold Wing, with legions of fans who are as devoted to that one model as others are devoted to entire brands.
Honda has also made many variations of the Gold Wing, like its Valkyrie cruisers and even a bagger variant, the F6B (which is an obvious competitor to the CTX1300).
But while Honda still makes the Gold Wing and even still produces the Honda Fury for the US, the CTX1300 didn't strike a chord.
There are a number of reasons why it didn't last. A few of these discussed a lot on forums are
Initially very high list price (MSRP US$17,499 for the Deluxe in 2014). That just buys you a lot of bike.
Unusual style that didn't quite hit — shiny and cool looking, but without the bling and raw appeal of many other cruisers (for the mass market)
Very significant detuning from the ST1300 (losing 31 kW or 42 bhp) without much torque benefit
Let's look a bit more at the engine.
The CTX1300's Engine
I have to make special mention of the engine of the Honda CTX1300 because it's so unusual.
Yes, it's the same basic block that we see in the Honda ST1300 (a.k.a. Pan European, a.k.a. "Pan Europ" by its fans), which you probably know from that last time you were pulled over.
This already is an unusual starting point. Most cruisers aren't in V4 format. There have been a few in the past, like the Yamaha V-Max 1200 and VMAX 1700 (they changed the way they wrote the name) power cruisers, the Honda Magna, and the Yamaha Royal Star, but by and large we know that most cruisers are V-twins. This is even true of those from Japanese manufacturers.
(In 2022, Ducati announced the Ducati Diavel V4. It's not an XDiavel, but I suspect one will come in later years.)
Anyway, Honda sunsetted the ST1300 / Pan European after a decade of service with no direct replacement, but brought the motor back for one last hurrah in the CTX1300.
Honda made a number of changes to the engine's internals though. Here's how they shake up:
Engine
ST1300
CTX1300
Compression ratio
10.8:1
10.0:1
Peak power
93 kW (125 bhp) at 8000 rpm
62 kW (83 bhp) at 6000 rpm
Peak torque
125 Nm (92 ft-lb) at 6000 rpm
106 Nm (78 ft-lb) at 4500 rpm
Secondary drive ratio
(Primary / final / all gear ratios are the same)
0.925
0.878
(~10% taller)
Honda ST1300 vs CTX1300 specs
Honda got the torque to peak lower by revising the cam timing and also the intake, and tuning the engine to suit.
The thing I have to question is: is it worth it? The Honda ST1300 isn't short on low-end torque. Nobody would say so. And the CTX might reach its peak earlier, but the peak is so much lower that many may realise that the ST1300 makes just as much torque at that point.
Here's an overlay of dyno runs. This is indicative only as I've put these together from a number of runs by major publishers on the internet.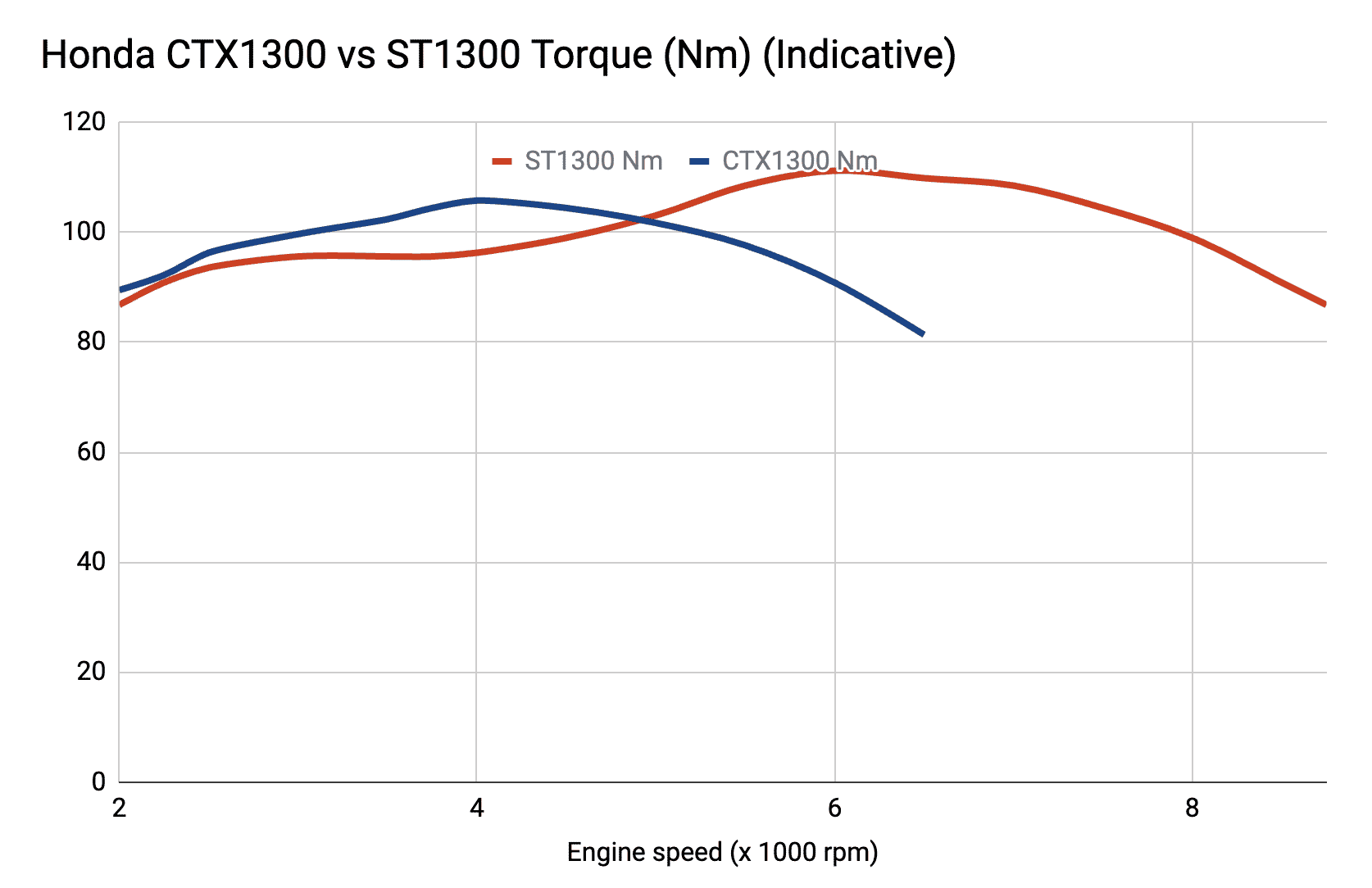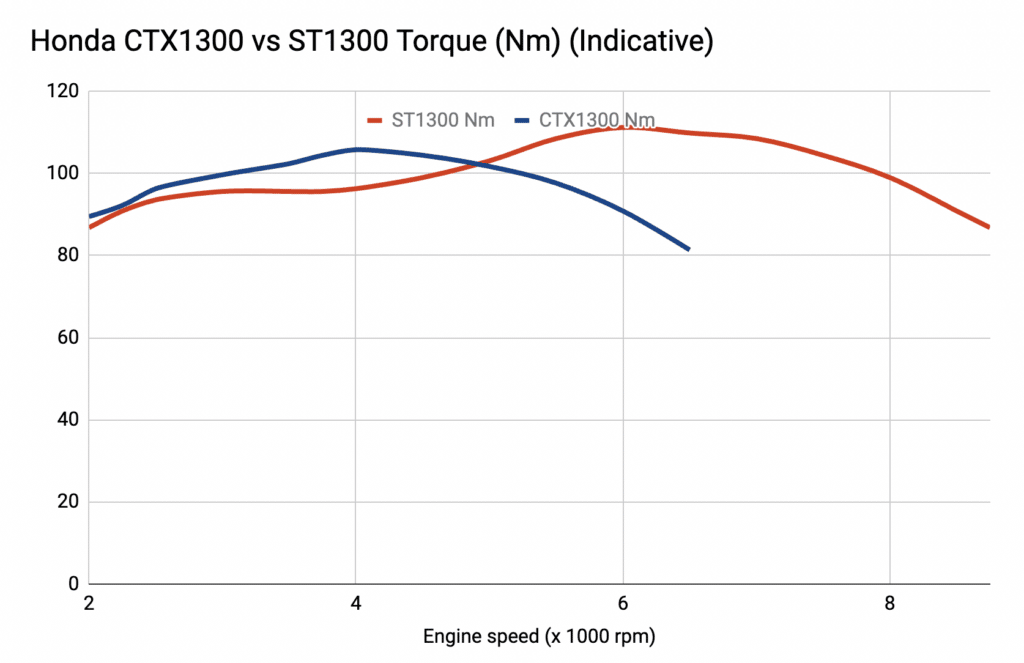 What you can see is that both the CTX1300 start out strong, with tons of torque from down low. The CTX1300 does have a ~10% fatter midrange, but things even out by 5000 rpm, after which torque for the CTX drops precipitously. At that point, the ST1300 is just getting started.
Honda also lengthened all drive ratios in the CTX1300 by modifying the gearing of the secondary drive. This gives the CTX1300 a lazier feel, which suits the riding position and torque delivery.
After 5000 rpm, the ST1300 keeps climbing in torque, like a big-bore sport bike, though with the RPM compressed to below the 8500 rpm range. This is the "S" in "ST"1300. It's why cops ride bikes like the ST: because if they have to get to 200 km/h (130 mph) to chase after some cheeky devils, they can (in theory; in reality that's usually quite dangerous).
The CTX1300's engine, on the other hand, gives you torque in steady doses, and doesn't ever climb up dramatically. It does drop off earlier, though, but a bagger rider isn't going to be hammering the throttle (I presume).
The trade-off in the CTX1300 looks a lot like that which you get in a lot of sport bike / naked bike re-tuning situations. While the CTX1300 doesn't have a shocking, unavoidably tire-smoking amount of torque, it has plenty of push.
In terms of usable power / torque, the CTX1300 doesn't ever feel lacking. I feel like part of this is the riding position: I just don't ever feel the need to rev this thing to the moon. It's one of the reasons why cruisers and baggers are better than sports bikes for keeping your license. I mean, it's the rider, not the bike… but the right bike doesn't egg the rider on.
Still, I personally think it would have been totally reasonable to keep the ST1300's engine intact in the CTX1300 and keep the gearing the same, too. You'd shift just slightly more and have a lot more top-end. The result would be a sporty cruiser, not unlike an XDiavel. Sounds good to me! (The CTX1300 came out a few years before the first XDiavel, though.)
Controls and Display of the Honda CTX1300
One of the things I'm a little obsessive about is the instrument cluster, controls, and display of any bike. Everyone's got their thing. Some people always look at fuel economy, some at the mirrors, some (like my brother) at storage… I like a good cluster.
It's easy to admire a bike from the outside. But the reality of riding for me is that I experience a bike from the controls and display. If the gauge is ugly or if the switches / levers are unpleasant to use (or also ugly), then it kind of ruins the whole riding experience. Yes, I'm usually looking at the road or the scenery, but the console is in my field of vision.
I *really* like the controls and cluster of the CTX1300. This generation of Honda is great — a bit digital but not overly so, bright and easy to read, and bathed in nice colours. It's just like the one on my 8th gen Honda VFR800.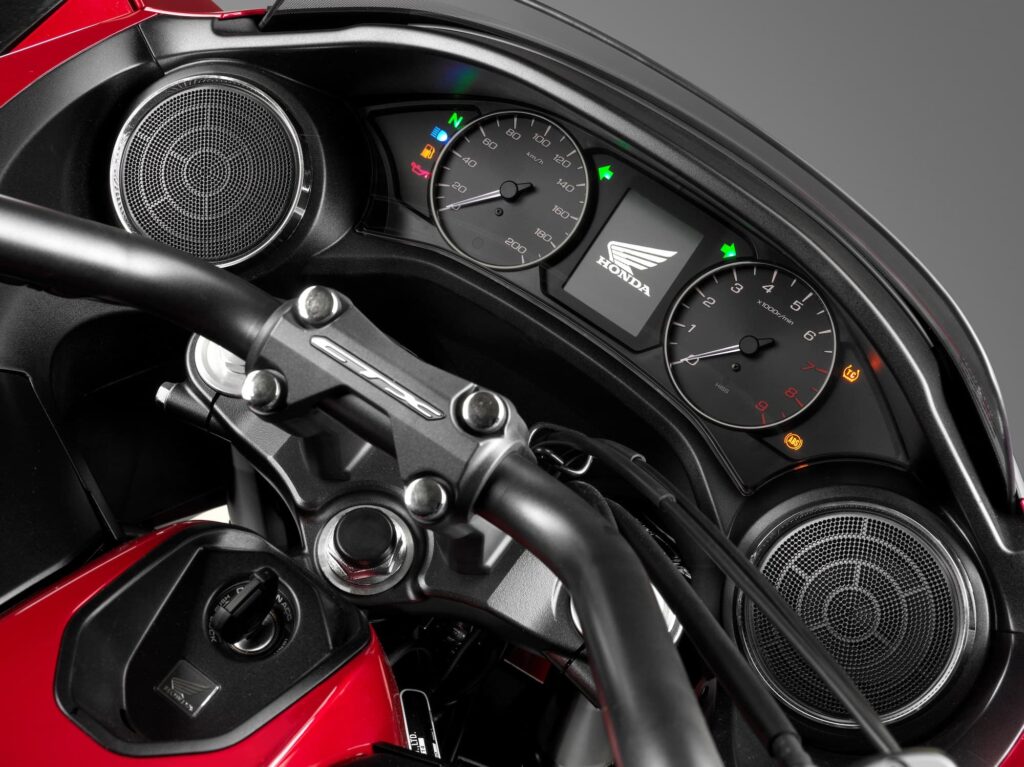 Twin gauges are where it's at. I know that modern single panel systems give a lot of extra functionality, but I like gauges. When I ride bikes with customisable TFT displays, I choose a gauge setting.
The digital part of the CTX1300 gives loads of information too, including a trip meter, fuel consumption, and clock. There's no gear position indicator, but there's a neutral light.
The only caveat is that if you're in the US and have a base model, you'll have non-functioning speaker grilles where the Deluxe model owners and those in the rest of the world will have working speakers.
I've seen some used CTX1300s with missing grilles, too — so make sure they're there.
Riding experience by way of a FAQ
Generally speaking, riding the Honda CTX1300 is what you think it is: it's a relaxed, smooth, easy-to-ride bagger that doesn't feel as heavy as you think it will. The gearing is easy, throttle response is tame, and the overall riding experience is sedate.
If you're after a CTX you're probably generally aware of what it is (an unusual cruiser / bagger), but wondering about a few things that I was. I'll address these in turn.
Is the Honda CTX1300 big and unwieldy?
In a nutshell — nowhere near as much as you might think, but sometimes it feels big.
Walking up to the Honda CTX1300, it looks huge. But once you're sitting on it (or in it, rather), it doesn't feel so imposing. Part of this is the relatively low seat height (~29 in / ~735 mm, a few inches shy of a typical sport bike), and part of it is because the centre of gravity is quite low.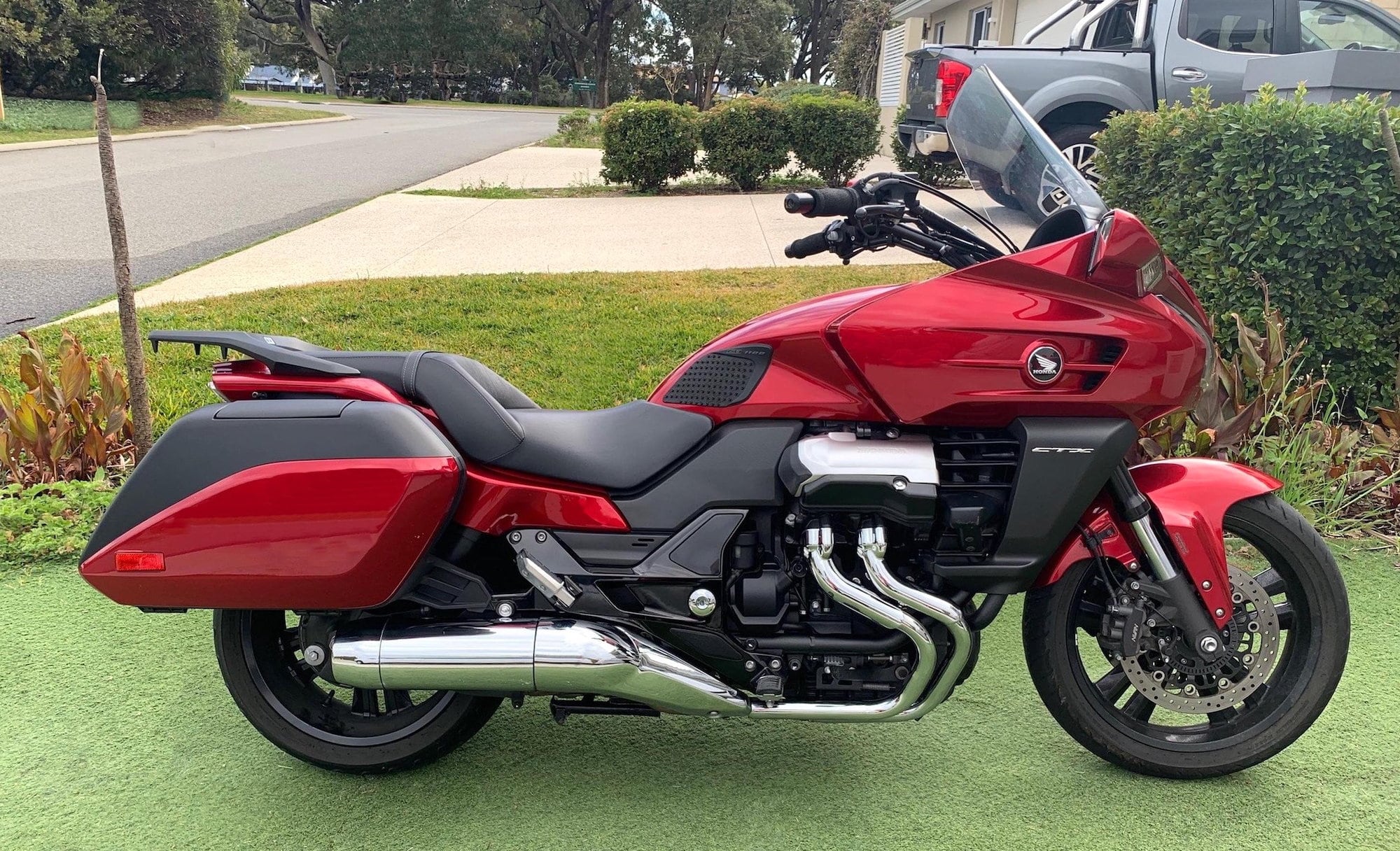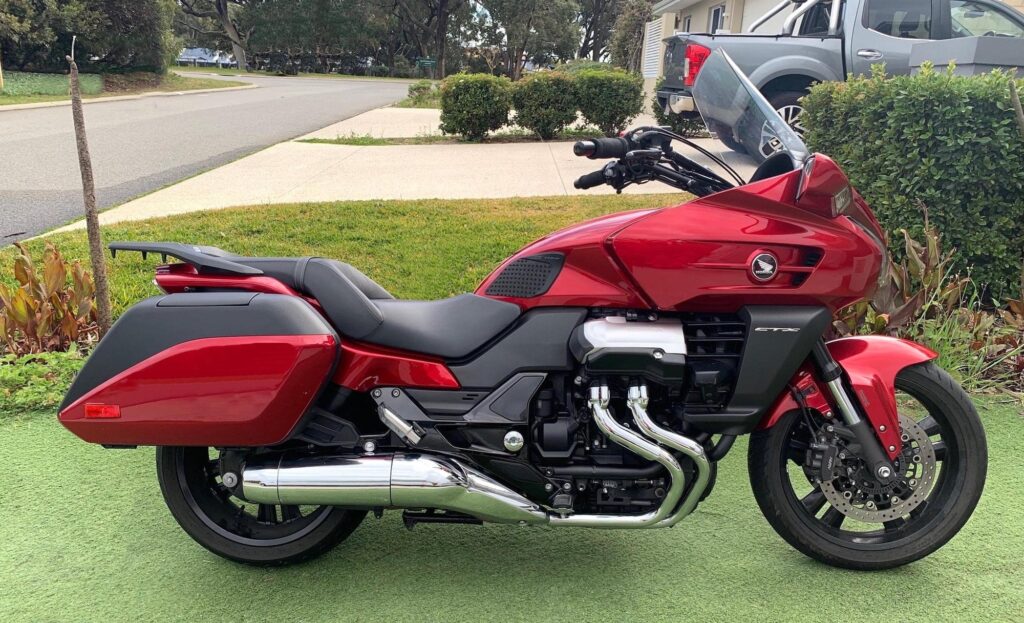 Once you're moving, like many heavier Hondas (like the Gold Wing or the ST1300), you don't notice the weight of the CTX1300 at all. It's quite easy to manoeuver even at parking lot speeds. You always feel in control, unlike how you might on old top-heavy adventure bikes, for example.
In everyday riding, the Honda CTX1300 is VERY easy to handle. Pushing on the handlebars has it tipping from side to side quickly. Of course it'll have a slower turn than any lighter bike, but you don't really feel hindered by it.
As you might imagine though, the weight makes it a not very good choice for unsealed roads with inclines. You could do them if you had to, but I wouldn't stop on them.
So, Honda has done its usual magic on big bikes. If you've ridden a Valkyrie or a Gold Wing, you may have experienced this already.
Is the Honda CTX1300 fast? (or slow?)
This depends on your perspective. But personally, I wouldn't call it "fast", other than in the fact that you could definitely get to illegal speeds on it without any trouble. I could say the same about a Ninja 400 though.
Because the CTX1300 only has five gears and relatively short gearing, it's not a bike that you'll have to downshift on more than once to do a highway pass. But you may run out of puff as the rev limiter kicks in quite low — almost like an air-cooled bike. So you may have to downshift to do higher speed passes.
By the way, on gears — I know, people think five gears isn't enough. It IS enough. The overall gearing is the same — top gear is an overdrive. It just feels like not enough because mentally, if you're used to six gears, you subconsciously count (I do, anyway).
The "fast" feeling is subjective, but for me it's a combination of riding position and an engine / bike that champs at the bit and pushes me to go further. While the CTX1300 doesn't hold you back, it also isn't a bike that you will lust after speed on. So I'd think of riding it like driving a modern SUV. While you won't feel like you're in a hurry, you can up the pace if you need to.
In terms of thrust — if you go full throttle in first and second gears, you definitely have to hold on. It feels about as strong as my R nineT, so I imagine it's like a lot of mid-range sports bikes. That's not bad!
Is the Honda CTX1300 "characterful"?
Here's where I think the CTX falls over for many riders (at least, for me).
I like to have a bit of rumble in my everyday riding. I get this from Ducatis, most BMWs, and some older sport bikes I've owned. Triumph triples, Aprilias, and so on. But I don't find the V4 engine in the CTX1300 to be that interesting.
From the moment you fire up a Honda CTX1300, you'll notice that it has a very quiet engine. In terms of character I'd liken it most to my Honda VFR800. It's a bit more chortly than an inline four-cylinder engine, and has a noticeably different sound. But it's nothing like a similar displacement V-twin, even from the same brand, like on the VT1300 (e.g. the Honda Fury) for example.
It's possible to put aftermarket exhausts on the CTX1300. But I'd definitely keep the stockies, because the target demo for the CTX would value that quiet.
It's not to say that it's without character. In a vacuum, I'd definitely say the CTX1300's engine has personality. It's just that if you do a back-to-back with most other baggers you'll find it lacking.
The Honda CTX1300's engine is definitely smooth and it's torquey enough. But while that suits some people, I personally want a little more anger in an engine — even if, on balance, the result is "worse".
CTX1300 Deluxe vs Standard — What do you get?
In most markets, all you get is what in the US they know as the Deluxe. But in the US, you get the option of a standard or a Deluxe CTX1300. This is a similar situation to the Honda VFR800 8th gen, for example.
If you're shopping in the US, you may be curious to know what the Deluxe and Standard offerings give you.
With the Deluxe version of the Honda CTX1300 you get
ABS and Traction Control
Self-cancelling turn signals (which you can't have without ABS — it uses the ABS sensor ring to know how far you've gone)
A sound system with Bluetooth
Heated grips
Center stand
Panniers (Side luggage)
Blacked out rims and some body parts
Here's a fun fact — the Honda CTX1300 is the first bike that Honda released with Bluetooth connectivity. In fact, it's quite interesting that it's a rare instance of a bike that can play your cellphone's music and that doesn't have a TFT display.
In addition, you could get as options on the CTX1300
A taller windshield
Fog lights
12v accessory socket
Matching top case
So how do you pick a Deluxe if you're not sure if the ad is correct (which is surprisingly often)? Look for the ABS ring. It's tempting to just look at the presence of the speakers, but the standard version has the same grills in front of some absent speakers.
I'm not sure why people accidentally mark a base model CTX1300 as a Deluxe. Maybe they just all seem "Deluxe"!
There's just one feature I think the CTX1300 visibly lacks and that's cruise control. I've seen some fitted with MCCruise's aftermarket unit, and that makes sense to me. The ST1300 lacked it too, but many hoped that the CTX would have it.
The Honda CTX1300's Online Community
Just like all niche / cult bikes, the Honda CTX1300 has an active community.
The first forum is the CTX1300 Riders forum which gets a few posts a day. It has a wealth of resources on repairs, part numbers, and more.
The second one worth looking at is the CTX1300 Facebook group. There's another group, but the one linked here is currently more active.
Alternatives to the Honda CTX1300
The Honda CTX1300 is a somewhat unique bike, but you could also say that a decent alternative to it is any distance-oriented cruiser or sport tourer.
Even within Honda's stable there are several alternatives. People looking at unusual bikes like the CTX1300 would be likely to consider the below.
CTX1300 alternative
CTX1300 (reference)
Honda Gold Wing F6B
ST1300
CTX700/N
Years
2014
2013-2016
2002-2013 + leftover stock
2014-2018
Style
Bagger
Bagger
Sport Tourer
Bagger / Cruiser
Engine
90-degree V4, 1261 cc
Flat Six, 1832 cc
90-degree V4, 1261 cc
670 cc parallel twin
Compression ratio
10.0:1
9.8:1
10.8:1
10.7:1
Peak power
61 kW (83 hp) at 6000 rpm
87 kW (117 bhp) at 5500 rpm
93 kW (125 bhp) at 8000 rpm
35 kW at 6250 rpm (A2-friendly)
Tank capacity
19.5L
25L
29L
12.4L
Gears
5-speed
5-speed
5-speed
6-speed Manual / DCT
Curb weight
332 kg / 731 lb (Deluxe)
385 kg / 849 lb
329 kg / 729 lb
244 kg / 538 lb
MSRP at launch (USD)
US$17,499
($12,499 a year later)
$20,999 (Deluxe)
$18,230
$7,799
Honda CTX1300 alternatives
Honda Gold Wing F6B (2013-2016)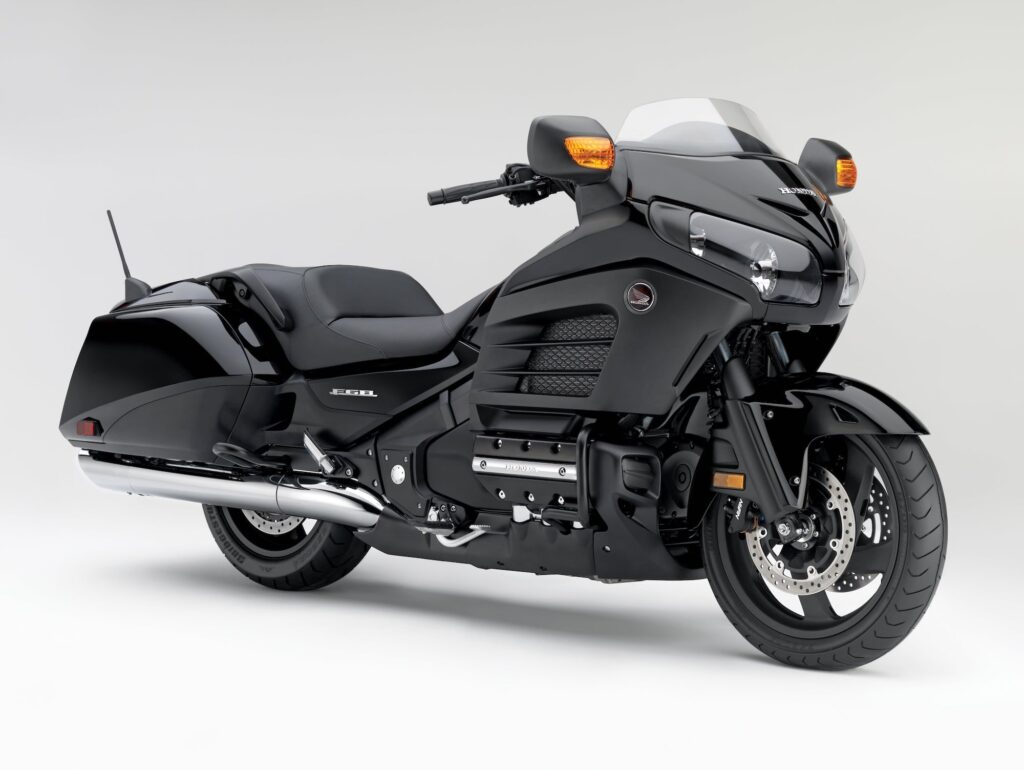 The first and most obvious competitor to the CTX1300 is Honda's Gold Wing F6B. The Honda Gold Wing F6B is a stripped-out (albeit mildly) version of the 5th gen Honda Gold Wing.
It's powered by the same 1832 cc flat six as in the same gen Gold Wing that makes peak torque of 123 ft-lb / 167 Nm at 4000 rpm (most of it from very low), with peak power of an impressive 117 bhp / 87 kW at 5500 rpm.
To make the F6B, Honda attempted to simplify / streamline the Gold Wing, maybe for a younger market. So Honda ditched a lot of the features Gold Wings came with, removing the rear box, cutting the windscreen, eliminating sat nav and airbag options, auto cancelling signals, and seat heaters. They kept the sound system, though.
More controversially, Honda also stripped cruise control and the reverse gear, both of which are fairly central to the Gold Wing experience in my opinion. Honda eventually fixed this in 2014 for the 40th anniversary edition of the F6B (MY 2015).
At launch, the F6B was a few thousand dollars more expensive than the CTX1300. But they were in the same ballpark. As time has worn on, the F6B is still generally more expensive.
Honda ST1300 (2002-2013 + leftover stock)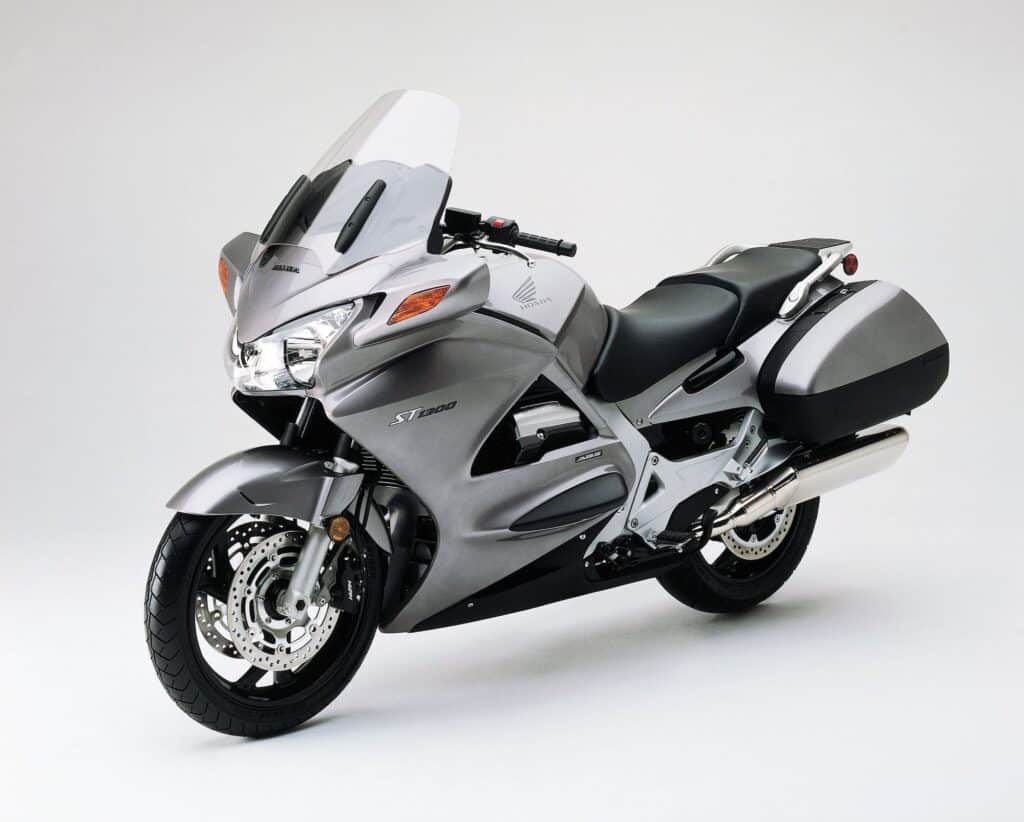 Another obvious competitor to the Honda CTX1300 is the bike from which it got its engine — the Honda ST1300.
If you're after a bit more sportiness, and a more sport-touring than a sport riding position, the ST1300 may be your cup of tea.
The Honda ST1300 is, for most people, a better bike. It's comfortable, much faster than the ST1300 (and much sportier feeling — though still somewhat sedate in the world of sport tourers), and well-regarded as being a bike that lasts for well over 100000 kms. It was a favourite for many police departments around the world.
One of the simpler reasons to recommend the ST1300 is that because it has been around for much longer (11 years — 2002 to 2013 model years, and with many sold as leftover stock for years afterwards), has many more riders, and so many more active forum members to help you with repairs, parts, and general knowledge.
But if even the fairly comfy position on the ST is uncomfortable for your knees or wrists (we all have our limits), then it's a no-go!
As a small perk of the ST1300 — you get nearly 50% more fuel range, which means a functional range of ~300 miles of highway riding. This is a great bike for doing the SaddleSore 1000 as you'd only need to fill up three times.
Honda CTX700 (2014-2018)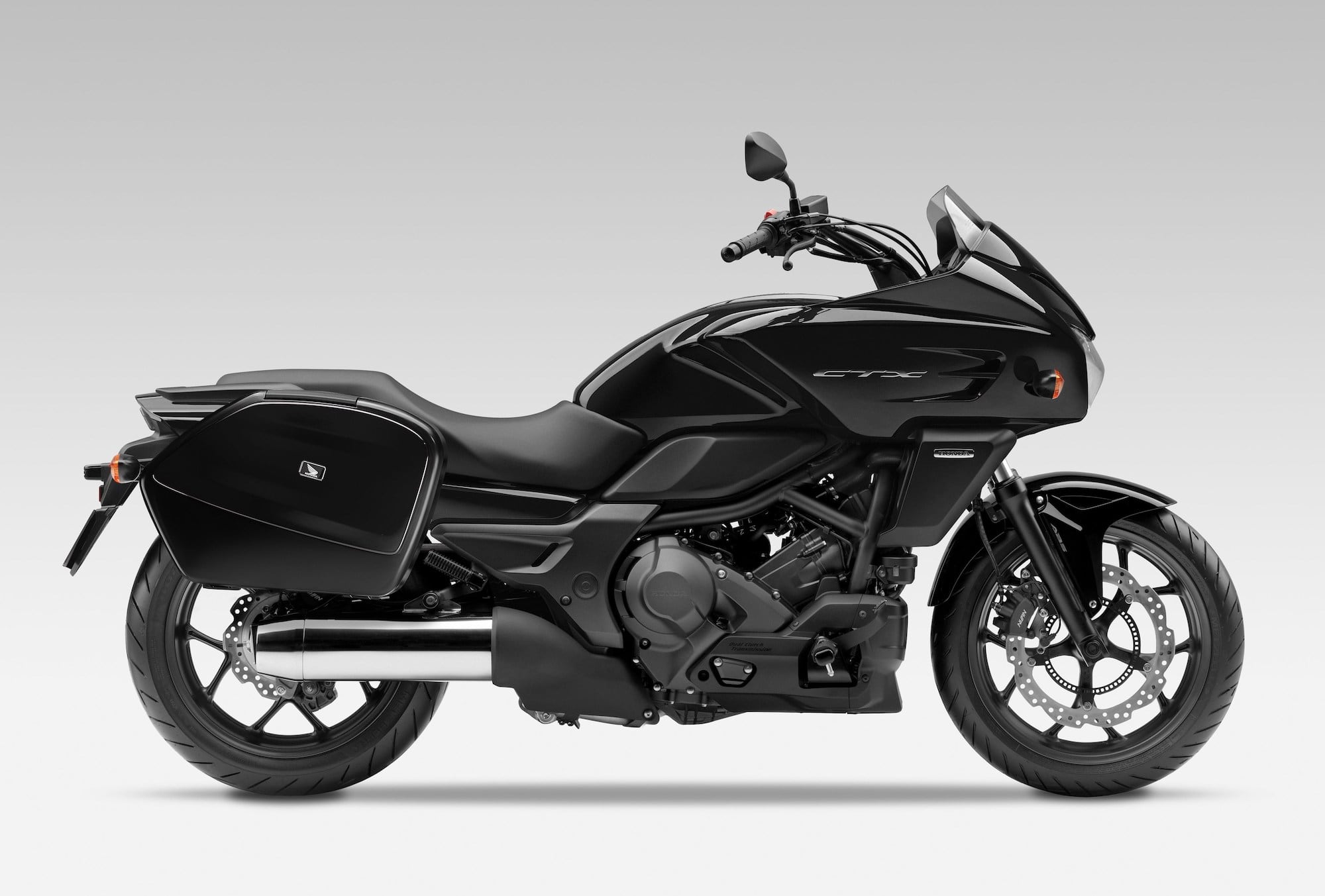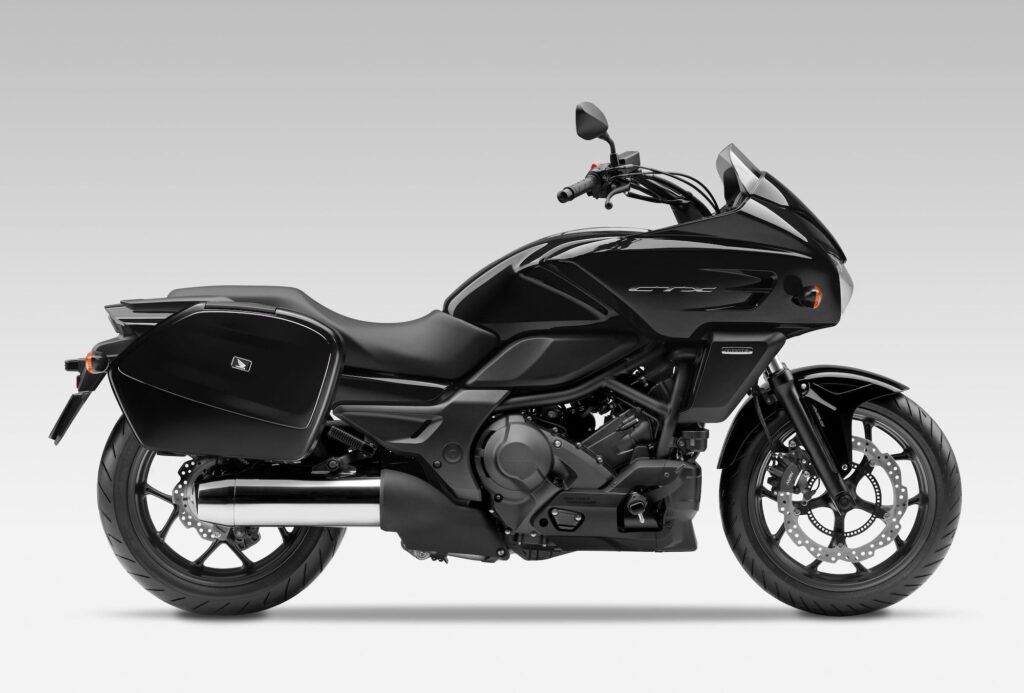 The final major alternative to the CTX1300 is the CTX700. Depending on where you live and the kind of roads around you, the smaller CTX may make more sense.
Honda also released the CTX700 for the 2014 model year. But unlike the CTX1300, they kept making the 700 for a few more years.
The Honda CTX700 hit a few more notes than the CTX1300. It's also a relaxed cruiser with futuristic styling and a neutral (rather than foot-forward) riding position.
But it's lighter, A2-friendly (though not LAMS-friendly in most states of Australia, as it's slightly over the cc limit), and even comes in a naked version, the CTX700N.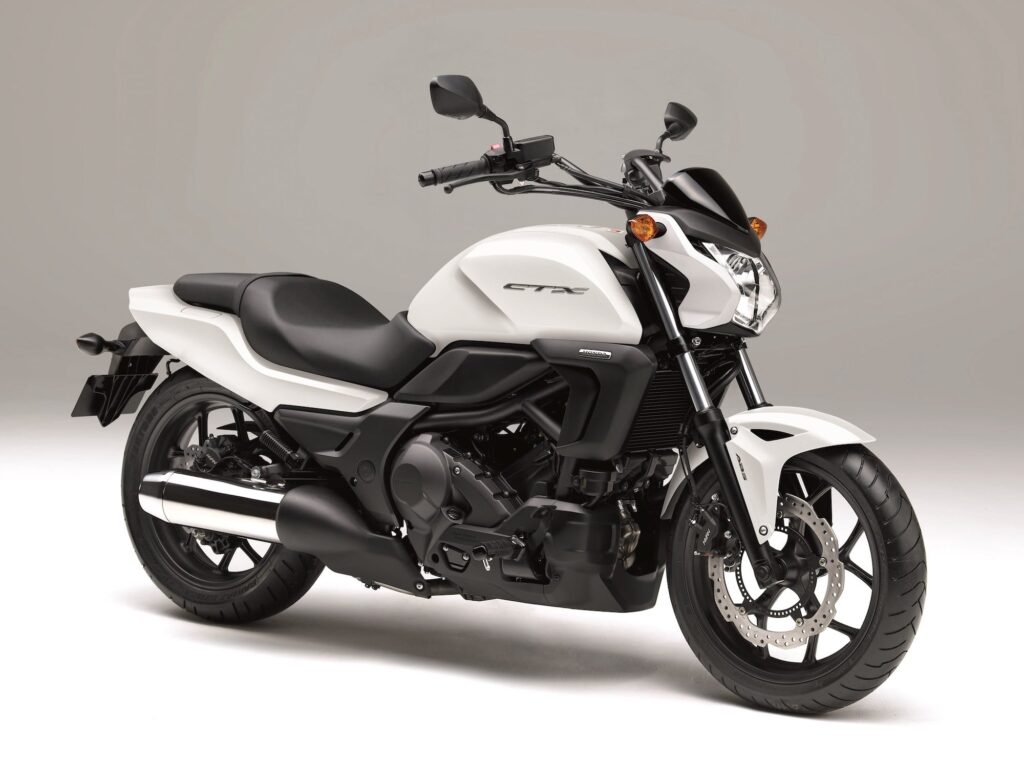 That twin-cylinder engine, by the way, is a gem. It's under-stressed and not terribly exciting, but for its class it has a decent amount of character. At any rate it's no more or less interesting than the V4 in the CTX1300, but with much cheaper service (just one cylinder head, and of course half the number of cylinders).
The real draw of the Honda CTX700, though, is that it comes with Honda's Dual Clutch Transmission (DCT) as an option. This means either automatic or paddle shifting, making for a very comfortable ride.
People hoped that Honda would release a CTX1300 with DCT, but they never did.
No, the CTX700 isn't very high-powered, but neither is the 1300. Nor is it very high-spec. But look at that that price! The CTX700 was less than half the price of the CTX1300 new, and you got a lot of bike for the money. The same is true now on the used market — but there are relatively few of each.
Sum Up — Is the CTX1300 for you?
In the end, the CTX1300 isn't quite for me. It just lacks the rumble and fire I want in a cruiser, or even a tourer. But that's not to discount the fact that it has a LOT going for it.
When it comes to cruisers for mile munching, I'm still more likely to go for something unoptimised for the job, like an Indian Scout, and try to make it work.
But there's no doubt that there are lots of happy CTX1300 owners out there who think it's the perfect bike for them. You may be one of them, too. If you are, tell me what you love about it!