If you're interested in a retro classic, it's hard to look past the modern re-invigoration of the Triumph brand. And the best classics they make are in the part of the larger-engine "1200"-series.
But picking one member of the line-up gets a bit bamboozling in the showroom. Because these motorcycles are sold on aesthetics, all the chrome and high-quality paint can be distracting! Which one's for you? You may sit on all of them and get closer, but there's devil in the details.
So if you want to make a decision, it's better to be armed with information. Because there's more than just aesthetics that separates the Triumph 1200 motorcycles. Triumph gives each of the 1200-series bikes surprisingly different specs, tuning the engine differently, and granting them all different wheel sizes, suspension, and brakes.
Note — this model guide is about the Triumph "Modern Classic" motorcycles, including the Scrambler (XC and XE), Bonneville T120, Speedmaster, Bobber, Speed Twin, and Thruxton. We're not talking about the Triumph Tiger 1200, which uses a three-cylinder engine.
The purpose of this guide is to be a one-stop shop so you can look over all the Triumph 1200 line and think "Ah, this is what I'm looking for. And in fact, maybe I don't want it new, and one from last year will be fine, or maybe even one from five years ago if it's cheap."
I'll address things like
Every bike in the Triumph 1200-series of Modern Classics, and how they're different
How each motorcycle evolved since its launch — changes and improvements
How the 1200 series compares to the 900 series in brief
Alternatives to the Triumph 1200 line
Here goes!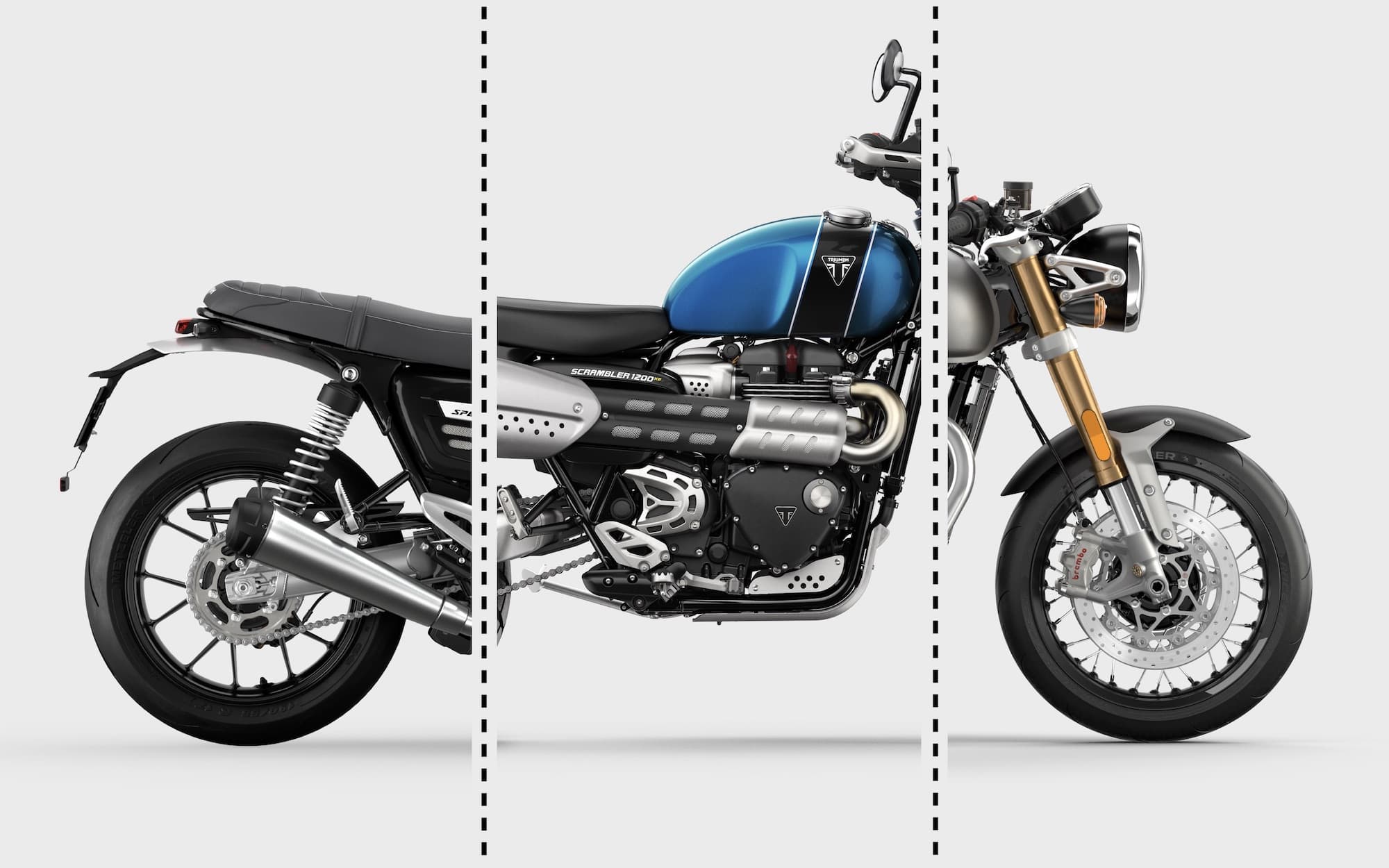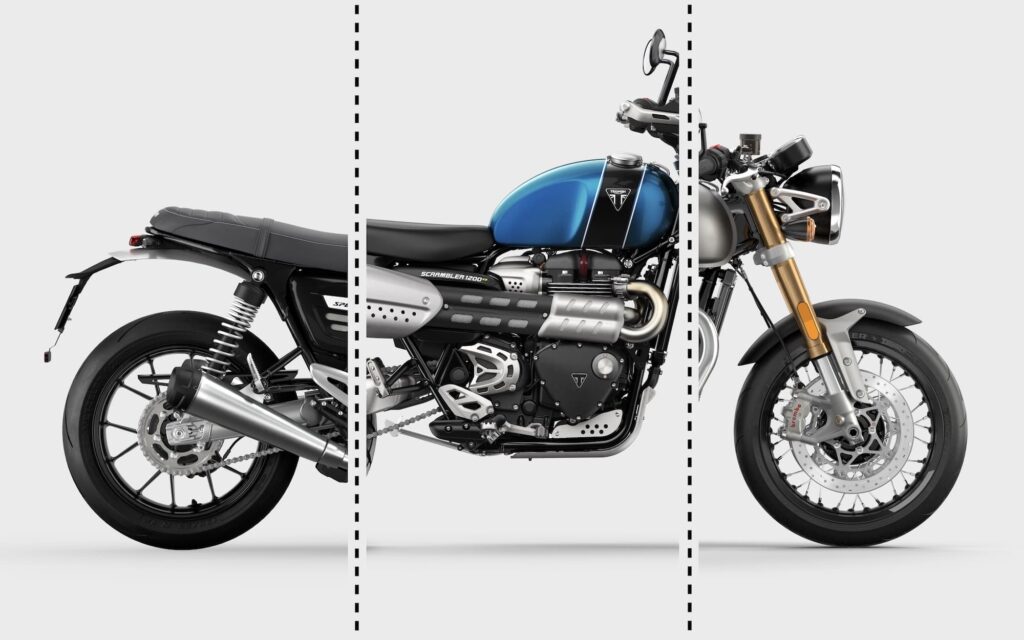 Are you obsessed with motorcycles?
Well, I am. That's why I created this site — as an outlet. I love learning and sharing what others might find useful. If you like what you read here, and you're a fraction as obsessed as I am, you might like to know when I've published more. (Check the latest for an idea of what you'll see.)
The Triumph 1200 Line — In a Nutshell
This is a very brief intro to the Triumph 1200 line of modern classics.
If you're looking at one of the Triumph 1200 motorcycles, then you're looking at a premium model from the Triumph "Modern Classics" line. These are retro-inspired motorcycles, some of which have names that date back decades — though the modern bike has little to do with the old one (other than aesthetically).
The core of every one of these motorcycles is the same single overhead cam 8-valve parallel twin engine with a 270-degree crankshaft. That's a mouthful! I'll go over the engine more later. But it's important to note that even though it's the fundamentally same engine "block" — same design, same displacement — it performs differently in each bike, revving higher or lower, and making its torque higher or lower, as suits the motorcycle.
Compared to the smaller 900 range, the Triumph 1200-series Modern Classics are bikes with high-end features to go along with the bigger engine, typically better suspension and brakes, higher-quality finish, and features like cruise control and an IMU (for cornering ABS).
Triumph has many other lines, but the main alternative one to the Triumph 1200 line you might be considering is the 900 line — including the Triumph Bonneville T100, the Triumph Speed Twin 900, and so on. This is a great series of bikes too — good-looking, fun to ride, and very capable. But they lack the high-end features of the Triumph 1200 line.
One thing I want to clarify is that this list does NOT include the Triumph Tiger 1200 line, nor the Speed Triple 1200 lines. Those a very different products — large, full-featured adventure motorcycles or sport motorcycles based on three-cylinder engines. They're awesome, but not heritage-inspired in the same way, and much more about performance under special conditions.
I'll introduce each motorcycle briefly in the slider below. You can read more about them below.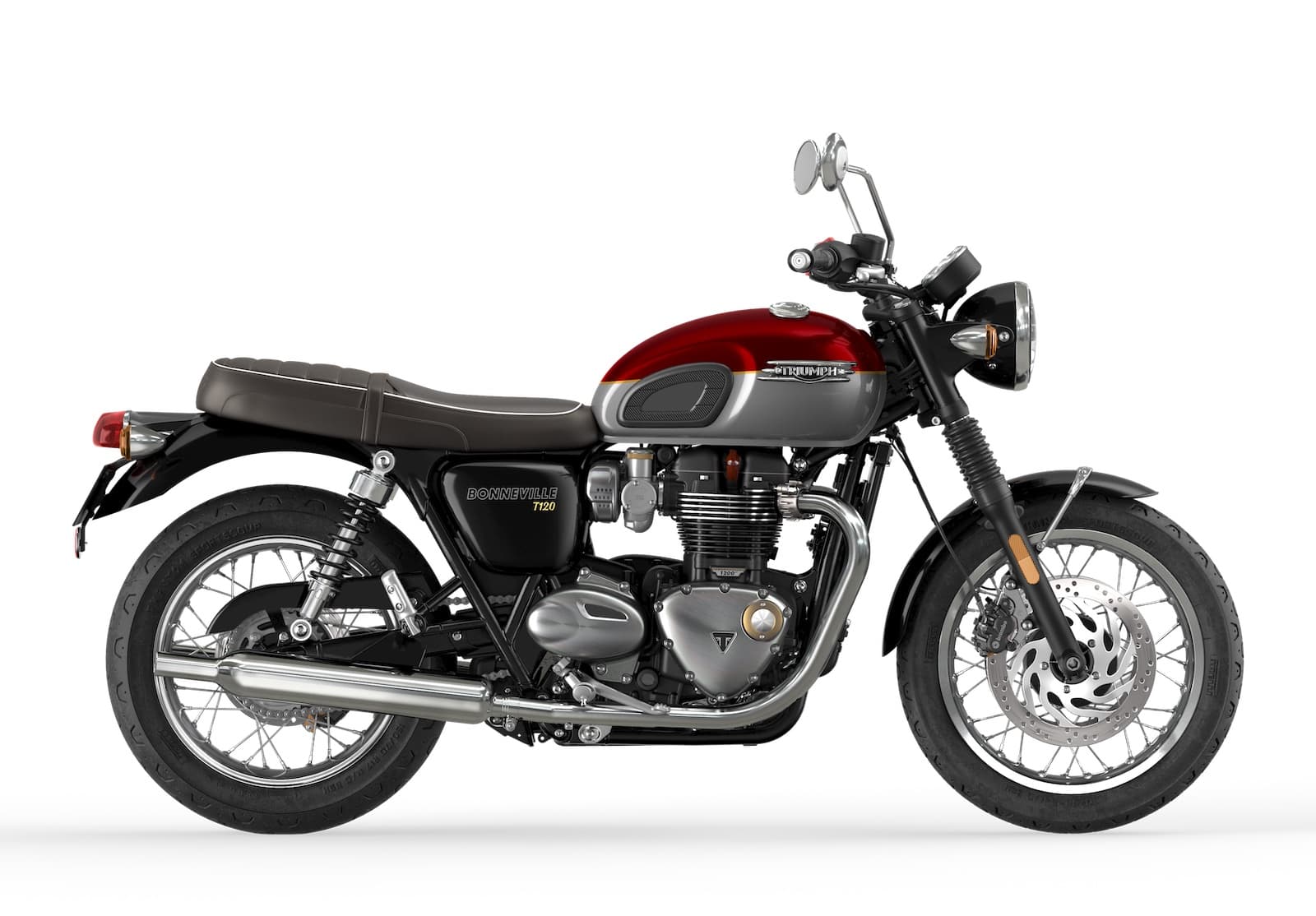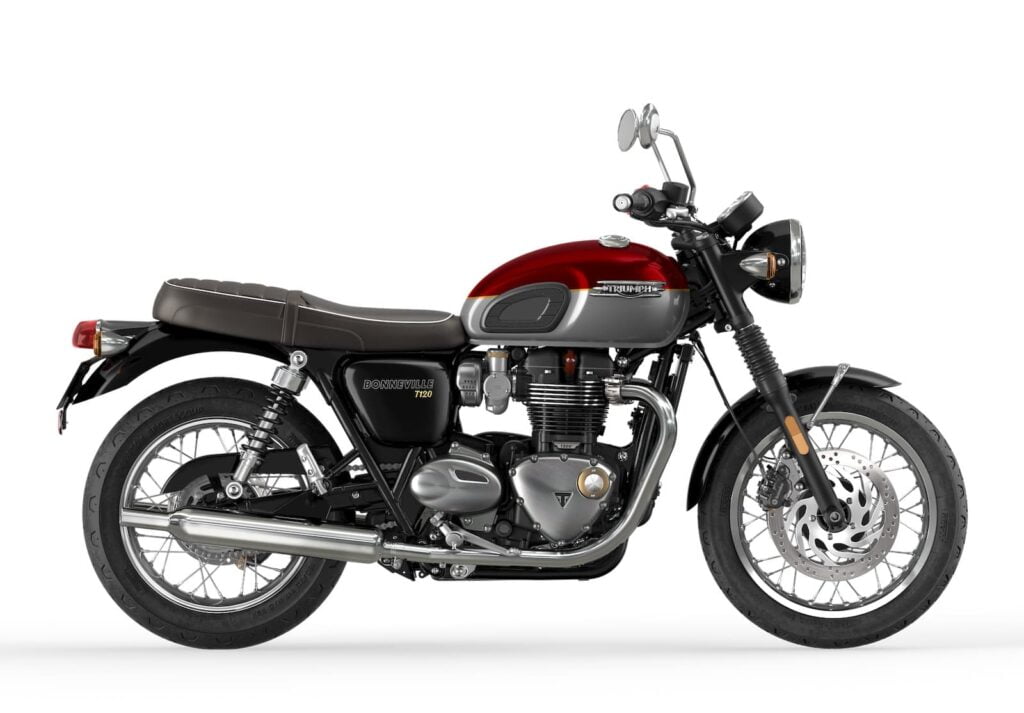 The Triumph Bonneville 1200 is the "comfortable" bike in the Triumph 1200 range. It's the iconic Triumph design. In fact, maybe the iconic motorcycle design. You have a very relaxed riding position on a Bonneville, sitting upright, but with a comfortable bend in your knees.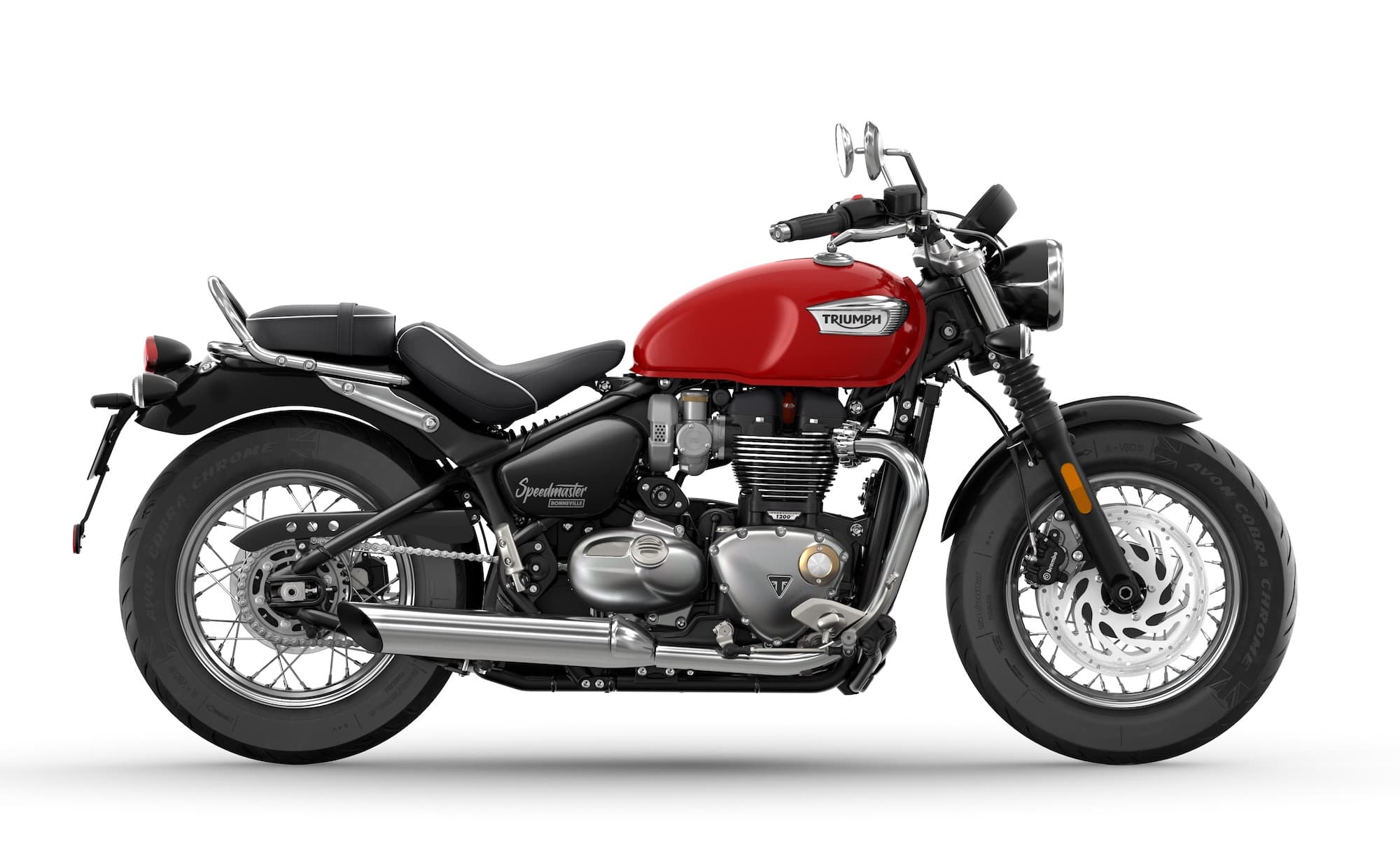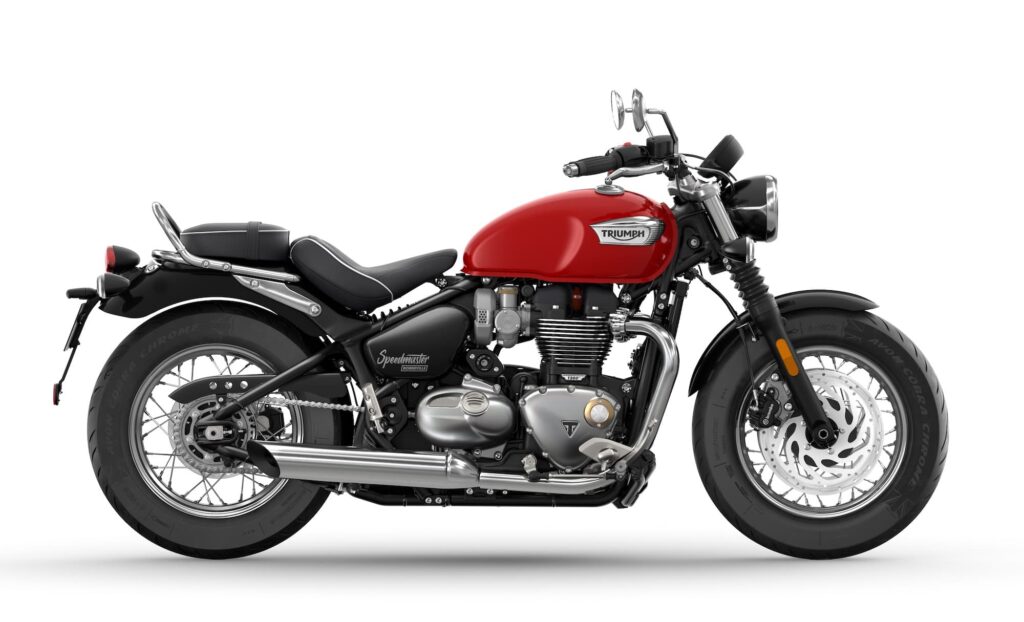 The Triumph Bonneville Speedmaster and Bonneville Bobber are the cruisers, and are unique to the Triumph 1200 range. You sit upright, but your feet are a little bit in front of your knees. Since 2021, the Speedmaster and the Bobber are basically the same bike. The engine is tuned to make torque way down low, but not make a ton of high-end power — which suits the riding position.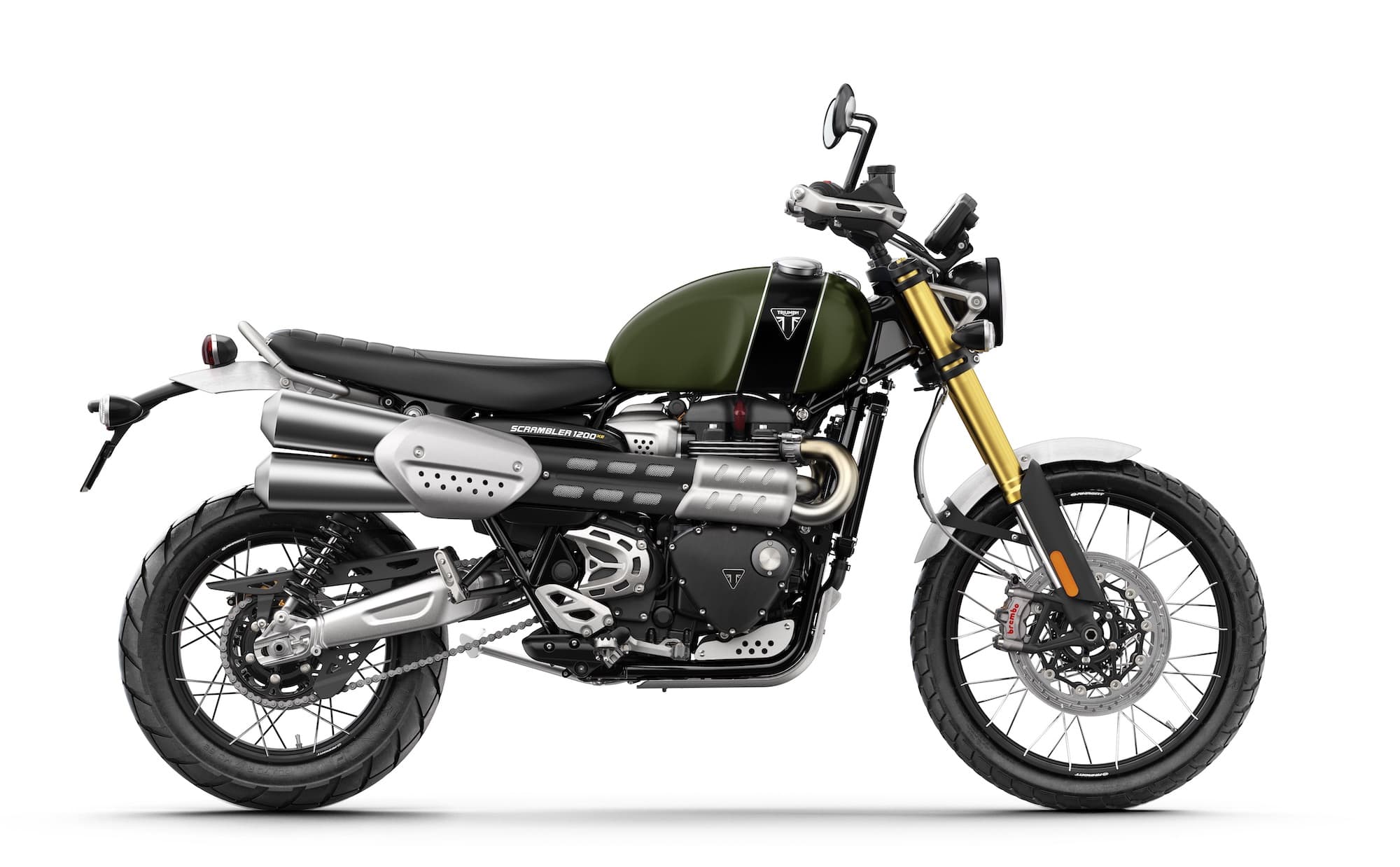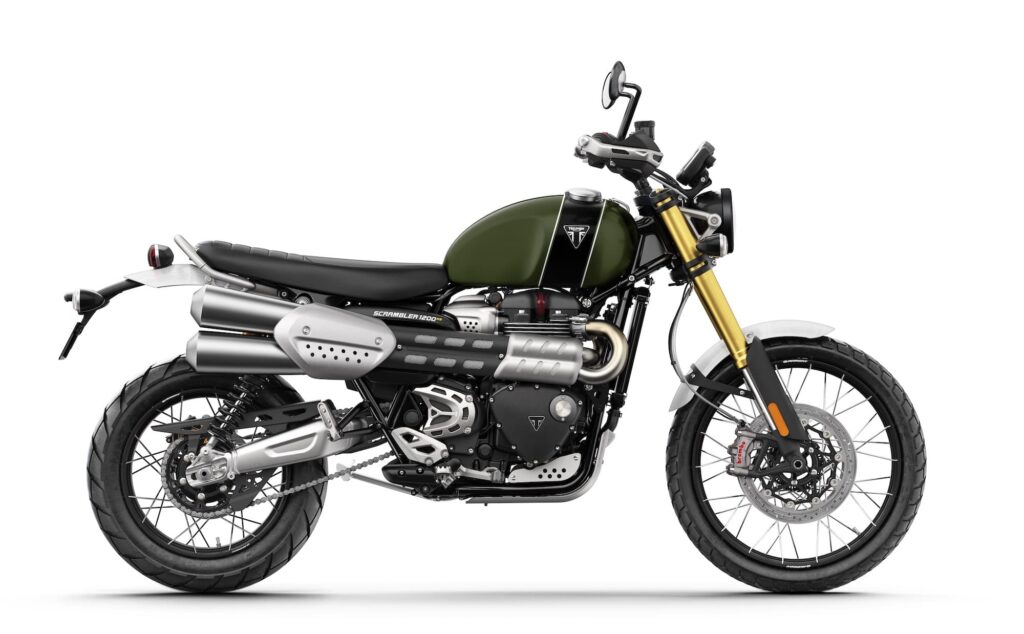 The Triumph Scrambler 1200 is a bike with some off-road ability. It has more ground clearance, a big front wheel to help it clamber over rocks, and exhausts that sit high up so they don't drown. It's still a big, heavy bike, with a lot of pretty shiny parts, so it's not most people's first port of call for "serious" off-roading, in which dropping a bike or just getting it scratched up are serious possibilities.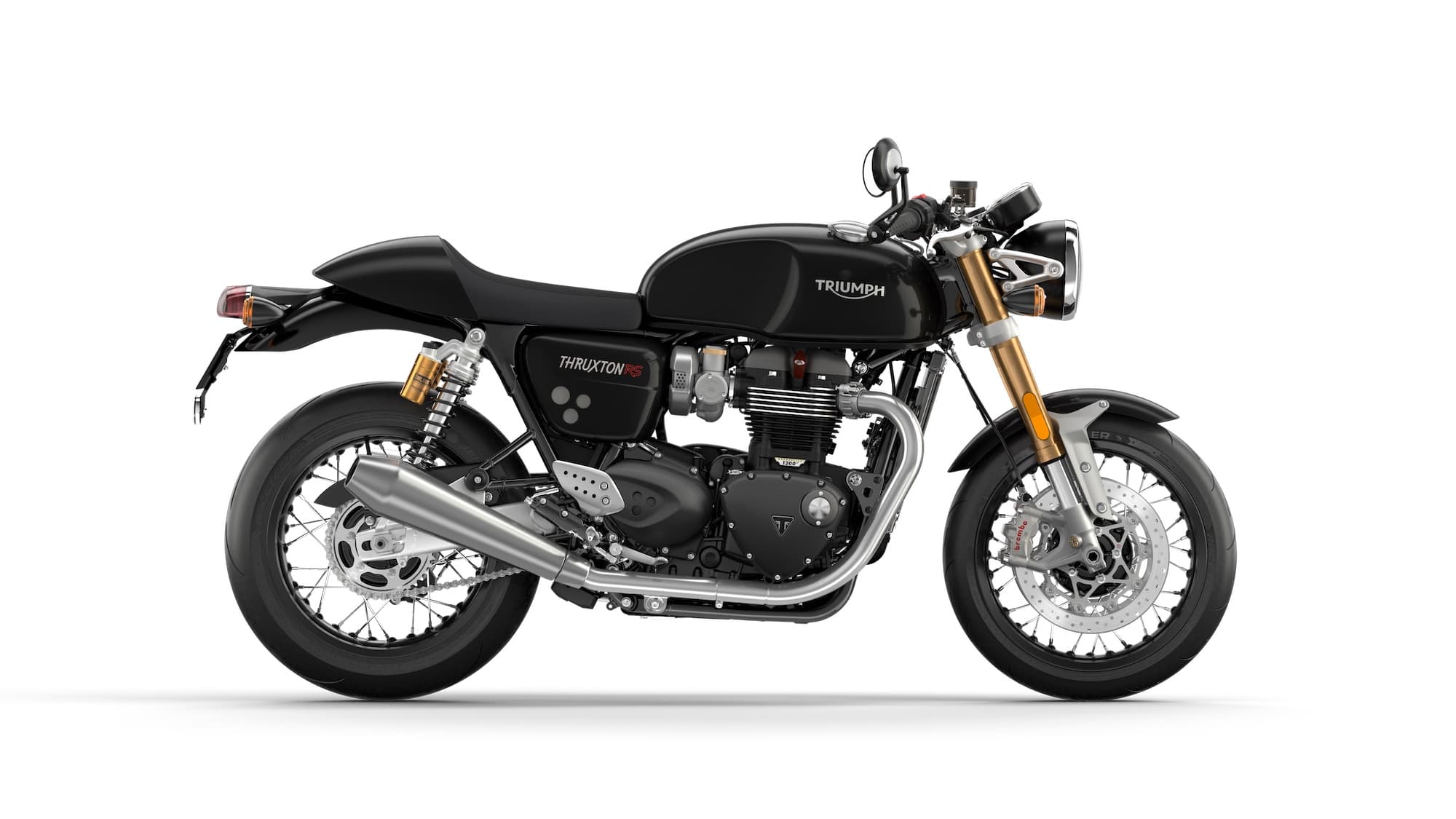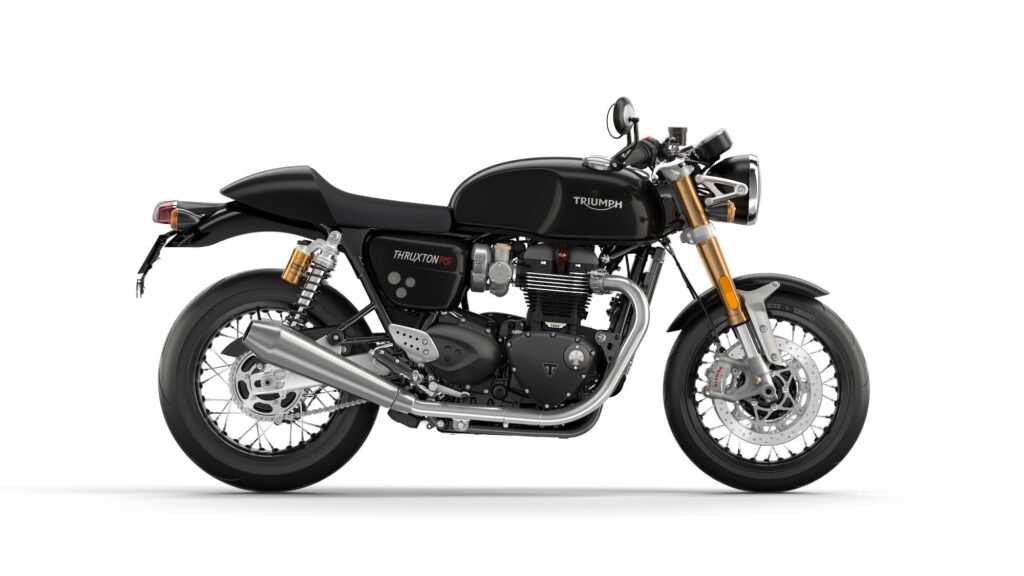 The Triumph Thruxton is the sportiest bike. It has high-end brakes and suspension, and is tuned for more power. You're leaned forwards on it, but not crazily so (not like a full-on sport bike like a Daytona).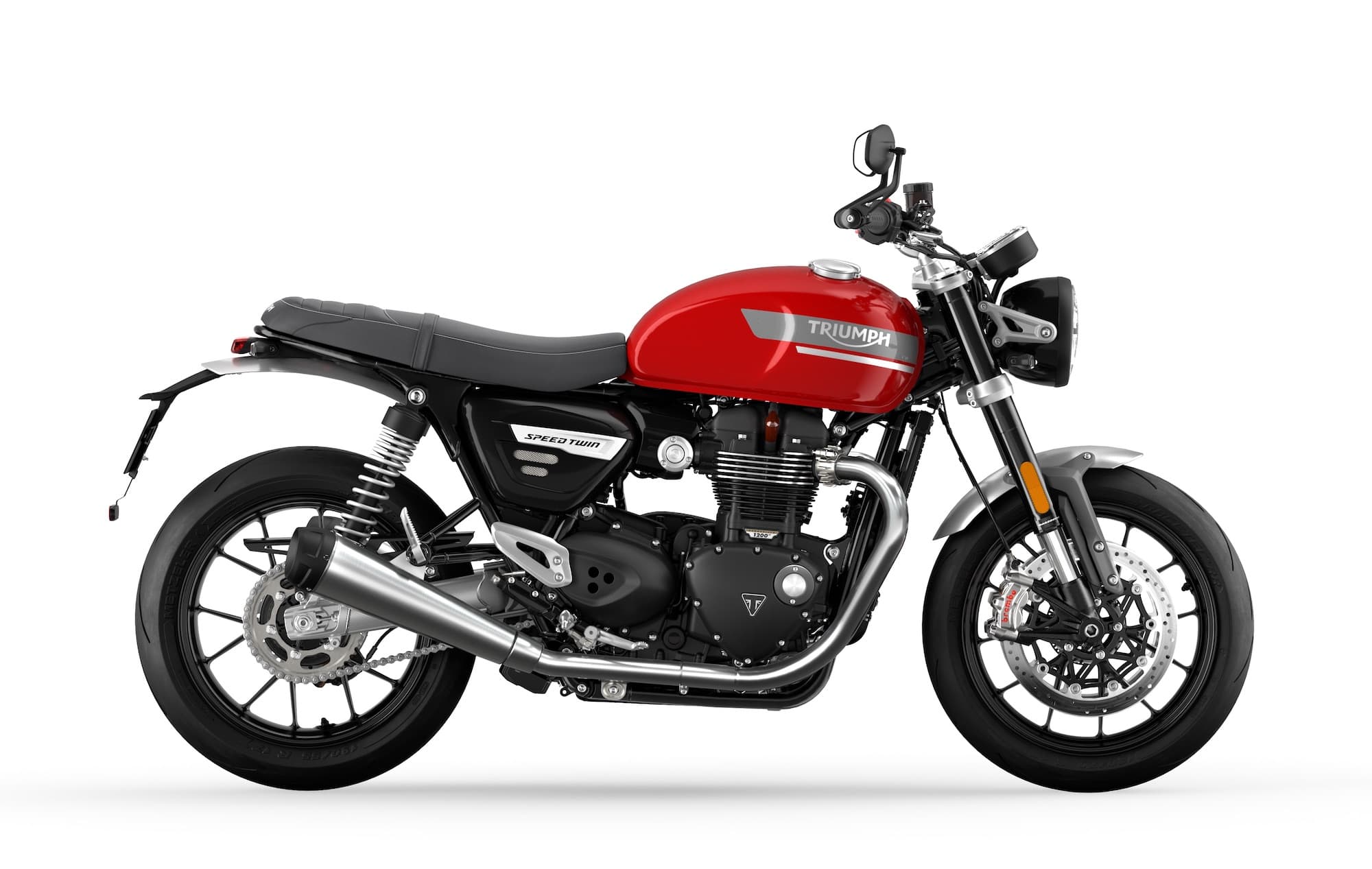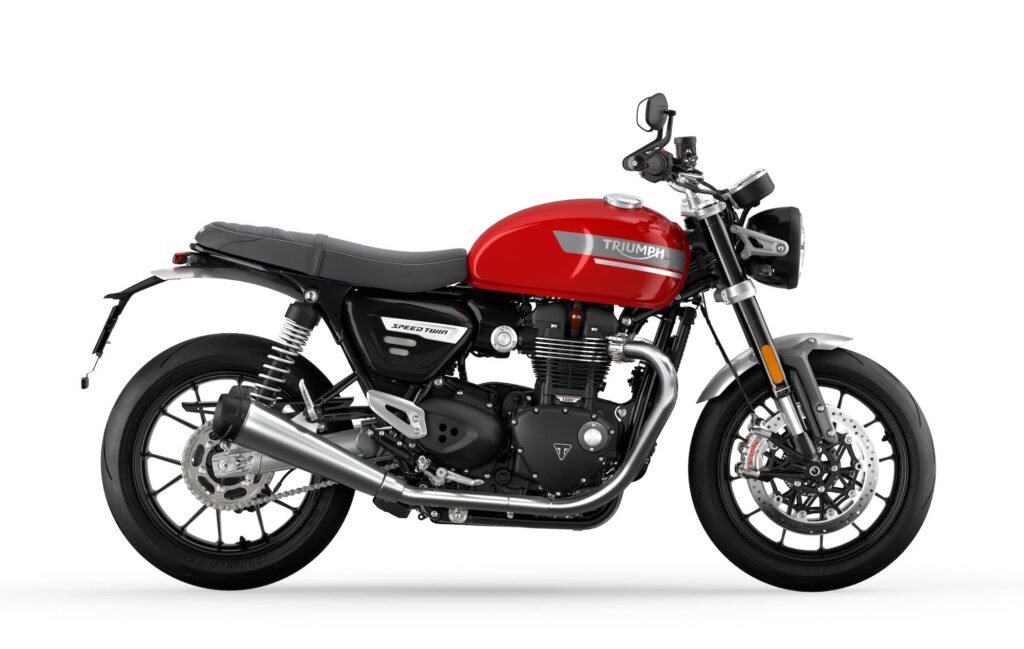 The Triumph Speed Twin is the naked sport bike. It's between the Bonneville and the Thruxton — with a better engine tune and more high-spec brakes and suspension than a Bonneville, but with a handlebar — though not leaned as far forwards as on a Thruxton.
Common specs across the Triumph 1200 Line
Firstly, it's important to point out what all the Triumph 1200 bikes have in common.
Aesthetically, all Triumph 1200 motorcycles are part of Triumph's "Modern Classics" line. This means they're bikes intentionally built to reflect Triumph's heritage as a builder of old-world bikes — motorcycles with charm and style, not intended to be the "best" at everything.
If you're after a competent sport bike, get a Speed or Street Triple. If you're after an adventure bike, you're after a Tiger.
But the "Modern Classic" line focuses on looking and feeling good — while also being decent bikes at the same time. Depending on your priorities, this might make them better.
Part
Spec
Notes
Engine design
Liquid-cooled parallel twin, SOHC, 270-degree crank
Engine capacity (cc)
1197
Not exactly "1200" despite the official specs
See our bore and stroke calculator
Bore and stroke (mm)
97.6 x 80.0
Suspension setup
Fork at front, twin shocks at rear
Worth noting as twin shocks are unusual these days in high-spec motorcycles.
Brake setup
Twin front discs and calipers (310-320mm), single rear disc
The 900 line bikes have single discs.
All 1200 line bikes also have Brembo calipers up front — but of very different spec levels
Final drive
Six-speed, chain
The 900 line bikes have five-speed transmissions
Triumph 1200 motorcycle line — Common specs
The core of course is the engine of the Triumph 1200 series.
Even though it's in a different state of tune in each bike, it's the same fundamental engine — a 1197 cc parallel twin with a single overhead cam and eight valves, and a 270-degree crank. Let's examine each part of these separately.
Firstly, a parallel twin. This is also sometimes called an "inline twin" — same thing. It just means two pistons next to each other, rather than in a V configuration (like a V-twin, like Harley-Davidsons) or an opposed configuration (a boxer twin, like on many BMW motorcycles).
The two-cylinder engine is a very popular modern engine configuration because it's smoother than a single and less complex than a four. Further, two-cylinder engines have a lot of rumbly character that people love, no matter what the brand of bike.
A parallel twin is a popular design, too, because it's so simple. There's only one cylinder head, so when you have to open up the engine (e.g. to check the valve clearances), you only have one cover to remove, and you don't have to do anything special to get to the rear cylinder like on a V-twin.
The parallel twin is also thinner than a triple or inline four-cylinder engine, which helps keep width to a minimum.
Finally, the single overhead cam design. The valves are actuated via rocker arms which are removable. This is one of the less well-known awesome things about the 1200 motors. The valve service interval for the whole Triumph 1200 line — T120, Thruxton, Bobber, Speed Twin, and Scrambler XC/XE — is already a massive 20000 miles / 32000 km.
One of my favourite things about the Triumph 1200 engine is that the valve service is not only wide in its service interval, but also very easy. This is something NOT to be taken for granted on modern motorcycles!
Unlike many other modern engines, the Triumph 1200's valves are actuated by rocker arms from the single overhead camshaft. (See the screen grabs below, from Jed's helpful video tutorial here.)
The implication of the rocker arm design is that if at the time of valve clearance adjustment you have to change a clearance, you don't even have to take out the camshaft. Removing a camshaft that's controlled by a chain normally means the possibility of timing errors re-installing the timing chain, which even experienced mechanics make.
On the 1200 motors, you just remove the rocker arms, change the shims, replace the rocker arms, and you're on your way!
Triumph 1200 Line Specs
Below are the specs for the Triumph 1200 line — the things that change between each model.
This is the most up-to-date set of specs for the bikes, which were last updated in 2021 (in other words the 2023 model year is the same, other than some different paint colour options).
Model
Bonneville T120
Bonneville Bobber / Speedmaster
Scrambler XC / XE
Speed Twin
Thruxton RS (2020+)
Year of first model
2016+
2016+
2019+
2019+
2016+
Style
Standard
Cruiser
Scrambler
Standard sport
Sport
Compression ratio
10.0:1
10.0:1
11.0:1
12.1:1
12.07:1
Peak power
80 PS / 79 bhp @ 6550 rpm
78 PS / 77 hp @ 6100 rpm
90 PS / 89 bhp @ 7400 rpm
100 PS / 98.6 bhp @ 7250 rpm
105 PS / 103 bhp @ 7500 rpm
Peak torque
105 Nm / 77 lb-ft @ 3500 rpm
106 Nm / 78 lb-ft @ 4000 rpm
110 Nm / 81 lb-ft @ 3950 rpm
112 Nm / 82 lb-ft @ 4250 rpm
112 Nm / 82 lb-ft @ 4250 rpm
Front suspension
41mm KYB cartridge forks, non-inverted
47mm Showa cartridge forks, non-inverted
Showa 45mm USD, fully adjustable, 200mm travel
XE: 250mm travel
Marzocchi 43mm USD fork
Showa 43mm USD big piston fork, fully adjustable
Rear suspension
Twin KYB shocks, preload adjustment
Mono shock, linkage and preload adjustment
Öhlins twin shocks, fully adjustable, 200 mm travel
XE: 250mm travel
Twin shocks, adjustable preload
Öhlins twin shocks, fully adjustable
Front brakes
Twin 310mm discs, Brembo 2-piston calipers
Twin 310mm discs, Brembo 2-piston axial calipers
Twin 320mm discs, Brembo M50 4-piston monoblock radial calipers
Twin 320mm discs, Brembo M50 4-piston monoblock radial calipers
Twin 310mm Brembo floating discs, Brembo M50 4-piston radial monoblock calipers
Rim (wheel) type
Wire 32-spoke
Wire 32-spoke
Wire 36 / 32-spoke
Cast 12-spoke cast
Wire 32-spoke
Tyre (tire) type
Tubed
Tubed
Tubeless
Tubeless
Tubed
Front tire
100/90-18
16-inch MT90B16
90/90-21
120/70 ZR 17
120/70 ZR 17
Rear tire
150/70-17
150/80-16
150/70-17
160/60 ZR 17
160/60 ZX 17
Instruments
Twin gauges + LCD
Speedometer + LCD
Single digital gauge cluster
Twin gauges + LCD
Twin gauges + LCD
IMU (Cornering ABS / TC)
No
No
Scrambler XE only
No
No
Wet weight
236 kg / 520 lb
251 kg / 553 lb
Speedmaster: 263 kg / 580 lb
229 kg /505 lb (XE)
216 kg / 476 lb
226 kg / 498 lb *
Specs of the Triumph 1200 line
For all the above specs, these come from Triumph Motorcycles UK, as well as from the Triumph media archives.
Instruments / Gauges / Clusters
I always look at instruments. These days, if it's not a TFT, then it's worth talking about.
Like all heritage-inspired bikes, Triumph tends to focus on analogue instrument clusters. And the 1200 line of motorcycles all have different instrument clusters depending on the style of bike.
Have a quick look at the images below.
The cruisers have a single gauge, the sportier bikes have twin gauges with a tacho, and the Scrambler 1200 has an outlier of a digital display with analogue layout.
The redline on each tachometer (where there is one) is at the same point — the digits turn red at the 7000 rpm mark, even though the Speed Twin and Thruxton RS make their peak power above that point.
Engine / Power delivery differences
Because each bike has a different tune, it's worth noting how power is delivered differently.
Riding each bike and watching the tachometer, it's interesting to note that the needle behaves differently on each one. On the Speed Twin and Thruxton RS you tend to spend more time in the second half of the gauge (I did, anyway), whereas on the lazier-engined motorcycles, it stays more around the middle.
See this chart of peak power and peak power RPM. Note that the axes are compressed so you can see the difference more clearly.
There is a difference in peak power and how it's delivered, but it's all definitely within a narrow range. You don't rev any of the Triumph 1200 series above 8000 rpm. These are all fairly low-revving engines, closer to cruisers than sport bikes.
The peak power of course only tells part of the story. You also have to look at the way power is delivered by each motor.
On paper, the peak torque for each of the 1200 motors is very similar, within a narrow band between 77 and 82 lb-ft (105-112 Nm).
But they all get to and maintain torque differently.
| Model | Peak torque / rpm | RPM |
| --- | --- | --- |
| Bonneville T120 | 105 Nm / 77 lb-ft | 3500 |
| Bonneville Bobber / Speedmaster | 106 Nm / 78 lb-ft | 4000 |
| Scrambler XC / XE | 110 Nm / 81 lb-ft @ 3950 rpm | 3950 |
| Speed Twin | 112 Nm / 82 lb-ft | 4250 |
| Thruxton RS | 112 Nm / 82 lb-ft | 4250 |
Peak torque RPM for each Triumph 1200 motorcycle
You still may have some questions. How does the Thruxton have exactly the same peak torque spec as the Speed Twin, but make a tiny bit more power? Well, in a nutshell:
The cruisers (Bobber and Speedmaster) and the T120 reach their torque peak early, but start dropping off gradually after that. By about 5500 rpm, it's time to shift.
The Scrambler revs out a little longer, but it's also likely you'd ride it differently (especially when lightly off-roading)
The Speed Twin and Thruxton do rev out more — you can shift at 6500 or 7000 rpm and it still feels good. The Thruxton revs slightly more, and most owners would agree it feels "fast".
The torque curves, combined with the gearing, is what gives each motorcycle a different feeling of thrust at different gears.
Gearing ratios
One thing that's interesting about the Triumph 1200 line of motorcycles is that aside from changing the engine tune, Triumph also dramatically changed the gearing of each motorcycle.
All engines have the same primary drive ratio and gear ratios (it's a little annoying to change those in an engine). But they all have different final drive ratios (the ratio between the front and rear sprockets) and rear tire diameters.
A quick explanation of the below — people thinking of the specs of motorcycles (or cars) get fixated on torque or a torque curve. But you also have to look at how a bike is geared — which means looking at the primary drive ratio (between the engine and gearbox), then the gearbox ratios, the final drive ratio, and then the wheel. All of that translates to how many times the engine has to turn for the wheel to turn. And that translates to "thrust" which is the feeling of accelerating quickly.
This is why you can do burnouts on a small-capacity bike, and it's why middleweight bikes can feel plenty fast at low speeds. But low-geared bikes have another advantage other than thrust: They're easier to use at low speeds, because the engine won't be lugging at low speeds.
Motorcycles have a natural limit of thrust dictated by traction. On roads it's somewhere around 1G, and on a track (with track slicks) it's around 2G.
Spec
Bonneville T120
Bobber / Speedmaster
Scrambler XC/XE
Speed Twin
Thruxton RS
Final drive ratio
17:37
(2.176)
17:37
(2.176)
16:44
(2.75)
16:42
(2.625)
16:42
(2.625)
Rear tire size
(Diameter in mm)
150/70-17
(641.80)
150/80-16
(646.40)
150/70-17
(641.80)
160/60-17
(623.80)
160/60-17
(623.80)
1st gear thrust (Gs)
0.85
0.85
1.10
1.3
1.3
2nd gear thrust (Gs)
0.60
0.60
0.80
0.9
0.9
Speed at 2000 rpm, 1st gear
(km/h / mph)
25 / 15
25 / 15
20 / 12
20 / 12
20 / 12
Engine speed at 65 mph / 110 km/h, top gear
2900
2900
3700
3600
3600
Gearing ratios of the different Triumph 1200-class motorcycles
So as you can see, the Scrambler is geared quite low, to help with low-speed work. And the Speed Twin and Thruxton are also geared in a way that seems more natural for their slightly higher-revving motor.
Triumph Bonneville T120 (2016+)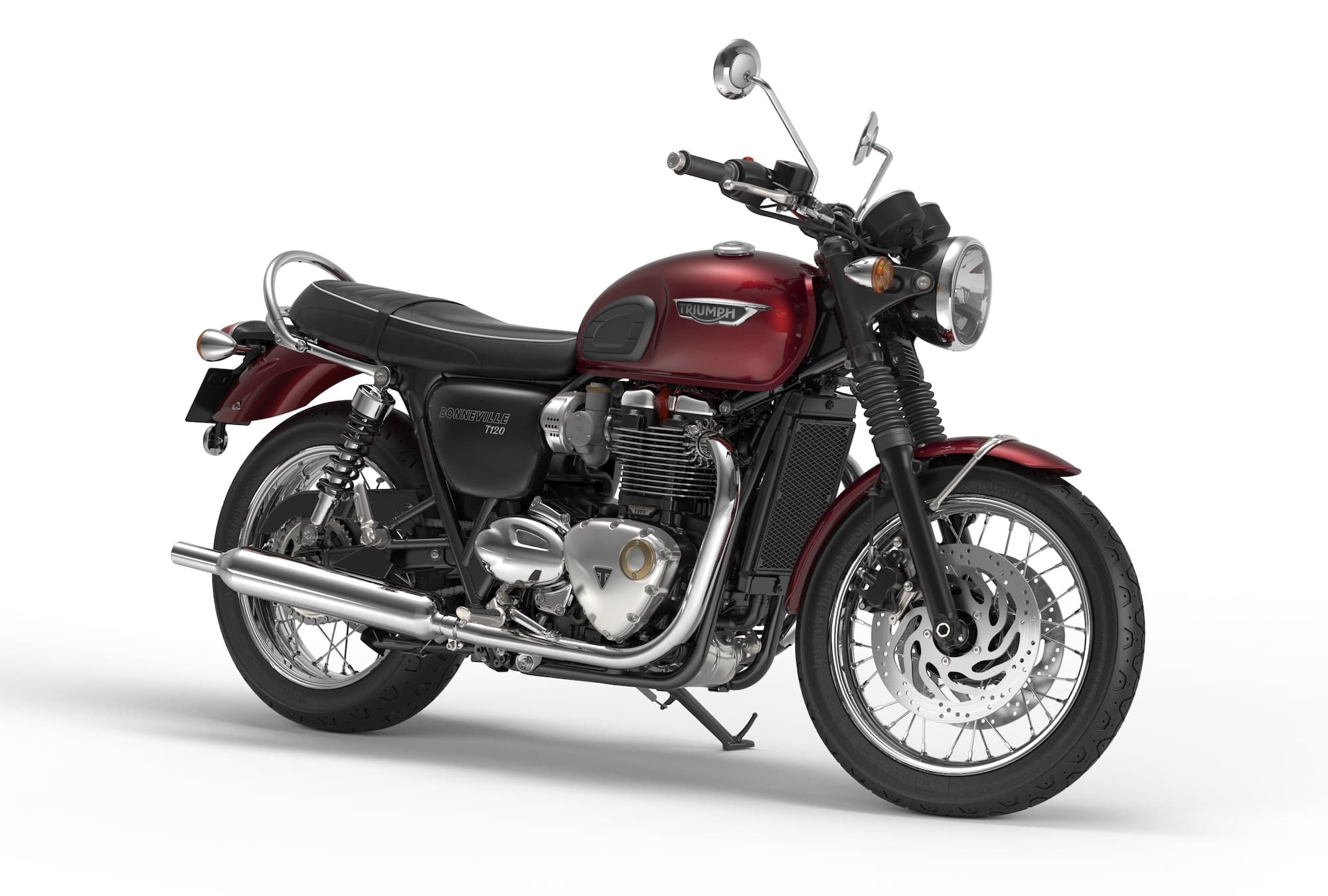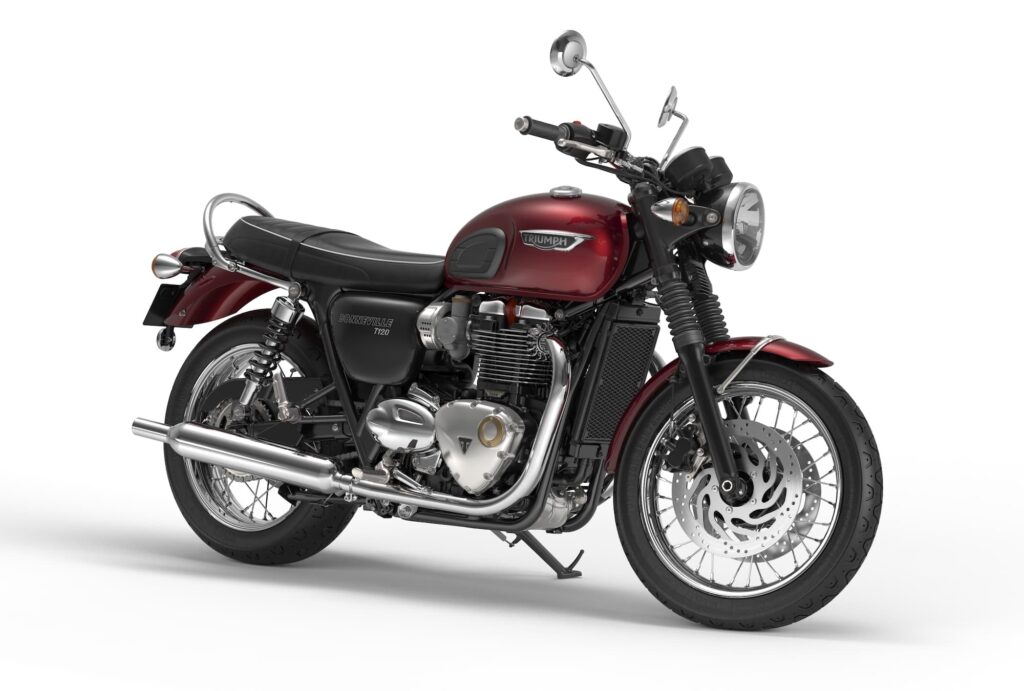 First up, the Triumph Bonneville T120. What a looker. The T120 is the "big" Bonneville. It might sound like just a small difference to T100, but it's not just a difference of "20" — the motor is a lot torquier from a lot lower, and every bit of the bike is upgraded.
The Bonneville is the archetypical "standard" motorcycle. It's not a sport motorcycle, nor a cruiser — it's just a comfortable motorcycle with a goldilocks (for me) seating position that leaves me feeling in command, but comfortable. Not a nice comfortable chair, though not a sofa.
Triumph launched the Bonneville T120 in 2016, one of the new line of Triumphs with a liquid-cooled parallel twin engine.
Since then, Triumph hasn't updated it dramatically. In 2021, Triumph made a modest update available for the 2022 model year (though available from mid 2021). They re-tuned the engine for Euro 5, with the same torque / power specs, but a more responsive engine meaning peak torque crept up in the rev range from 3100 to 3500 rpm.
Triumph also gave the new 2021+ Bonneville T120 Brembo calipers (still 2-piston sliding axial calipers, which I didn't know Brembo even made these days…), an upgrade from Nissin, standard cruise control, enhanced rider modes, and some "3-D" badges and aesthetic improvements.
By the way, many riders might also be happy with the Bonneville T100. It's just as comfortable, and it's no slouch, and you can cruise at 90mph with no problems on it, plus have a lot of fun on weekends.
Triumph Scrambler 1200 XC and XE (2019+)
Triumph released the Scrambler 1200 in 2019, based on a relatively torque-forward version of the motor.
The Scrambler 1200 is a pretty interesting design from Triumph because it goes further than any other "Scrambler" on the market in being something that has some actual off-road potential.
Aside from the fact that it's quite heavy (compared to a lightweight dual sport), the Triumph Scrambler 1200 does have a few things that mean that you won't feel terrible about taking it on rocky roads, things like:
A high-slung exhaust (not unique to the Triumph Scrambler, but not all the competitors have it)
Long-travel suspension — particularly in the XE (250 mm / 9.8 inches)
Undercarriage, fork, and hand protection, though no crash guards
The Scrambler 1200 models both have the same engine, a high-torque version of the 1200 motor. They both also have
A Showa fully-adjustable inverted fork up front (though with different diameter and travel — see below)
Öhlins fully-adjustable piggyback twin shocks
320mm brake discs and Brembo M50 calipers
Cruise control
Keyless ignition
Torque-assist clutch
TFT instruments
Optional Bluetooth and TPMS
Metzeler Tourance tires, with optional Pirelli Scorpion Rally
Plus loads of other features.
But below are the specs that distinguish the XC and XE models.
I kept forgetting which one was the off-road version. My mnemonic is that the C in XC stands for "Conventionally good", and the E in XE stands for "Extra Good".
| Part | Scrambler XC | Scrambler XE |
| --- | --- | --- |
| Purpose (per Triumph) | On and off-road | On and off-road, but extra off-road |
| Front suspension | Showa 45mm, 200 mm travel (Black fork) | Showa 47 mm, 250 mm travel (Gold fork) |
| Rear suspension | Öhlins shocks, 200 mm travel | Öhlins shocks, 250 mm travel |
| Swingarm length | 547 mm | 579 mm |
| IMU (for cornering ABS) | No | Yes |
| Ride modes | Five (Road, Rain, Sport, Off-Road, Custom) | Six (adding Off-Road Pro) |
| Foot controls | Folding | Adjustable folding |
| Heated grips | No | Yes |
Triumph Scrambler XC vs XE specs
In fact, it's worth pointing out that the Triumph Scrambler XE is the only motorcycle in the Triumph modern classics line with cornering ABS.
See here for all the motorcycles with cornering ABS.
Triumph has also been making a smaller Street Scrambler in parallel, powered by the liquid-cooled 900cc motor.
Triumph Speedmaster and Bonneville Bobber / Black (2016+)
Triumph launched its first cruiser on the 1200 High Torque engine in 2016 — the Triumph Bonneville Bobber. They launched it with a 19-inch front wheel, Nissin calipers, and a 41-mm fork.
Then in 2018, Triumph launched the Bonneville Speedmaster, on the same platform, with higher-spec components, including a 16-inch wheel, a beefier fork, Brembo calipers, and cruise. At the same time, Triumph launched the Bonneville Bobber Black, with those same high-spec components as in the Speedmaster. (I previously suspected "Black" was just a colour scheme! It's not.)
The Bobber Black outsold the Bobber by such a wide margin that from 2021, Triumph discontinued the base model Bobber and upgraded them all to Black (but no longer calls them "Black").
So, from 2021 onward, the Bobber and Speedmaster are essentially the same bike — just styled differently. Most significantly, the Speedmaster has a rear seat!
Here are the changes that occurred in detail.
Spec
Bonneville Bobber (2016+)
Bobber Black (2018+)
Speedmaster (2018+)
Bobber (2021+)
Suspension
Showa 41mm cartridge (conventional)
Showa 47mm cartridge fork (conventional)
Front Wheel size
19-inch
16-inch
Brakes
310 mm discs, Nissin 2-piston calipers
310mm discs, Brembo 2-piston calipers
Cruise
No
Yes
Triumph Bobber and Speedmaster Specs
Triumph Speed Twin (2019+)
The Speed Twin is kind of an in-between bike between the Triumph Bonneville and the Triumph Thruxton. It's a sporty standard, something comparable to a Kawasaki Z900RS.
Compared to the Bonneville T120, the Speed Twin has a higher-power motor, lower handlebars, and higher-grade components (especially in the 2021+ version). But it's not quite at the level of the Thruxton. (I do suspect we'll see a Speed Twin R or Speed Twin RS in the future.)
Triumph initially released the Speed Twin in 2019 with conventional (non-inverted) forks and Brembo calipers but of a lower spec. They updated it significantly in 2021, improving the motor for more responsiveness, and upgrading the suspension to an inverted fork (still non-adjustable) and Brembo M50 calipers. They also made a number of cosmetic changes, but both models look great.
Here's what changed between 2019 and 2021.
| Part | 2019 Speed Twin | 2021 Speed Twin | Notes |
| --- | --- | --- | --- |
| Peak Power | 71.5 kW / 97 PS / 96 bhp | 73.6 kW / 100 PS / 98.6 bhp @ 7250 rpm | A few more horsepower up top |
| Peak torque | 112 Nm / 82.6 lb-ft @ 4950 rpm | 112 Nm / 82.6 lb-ft @ 4250 rpm | Peak torque lower in the rev range |
| Compression ratio | 11.0:1 | 12.1:1 | |
| Front suspension | 41mm conventional cartridge forks (non-adjustable) | 43mm Marzocchi USD (non-adjustable) | Better, but still not adjustable |
| Front brakes | Twin 305 mm discs, Brembo 4-piston calipers | Twin 320mm discs, Brembo M50 4-piston radial monoblock calipsers | Superbike spec! The 1299 Panigale had these calipers |
| Tyres | Pirelli Rosso Corsa 3 | Metzeler Racetec RR | |
| Wheels | 7-spoke cast aluminium wheels | 12-spoke cast aluminium | |
2019 vs 2021 Triumph Speed Twin
Triumph Thruxton 1200 / R / RS (2016+)
Triumph has been making the Thruxton for a while. But before the 2016 Triumph Thruxton, the Thruxton was powered by the air/oil-cooled smaller-capacity 865 cc motor. It looked nice, but it wasn't powerful or fast.
Things changed with the 1200-series and Triumph added a ton of high-spec gear, starting with the motor but also including the brakes and suspension.
Be aware when shopping classifieds — the Thruxton 1200, as it's commonly known, is officially just called the "Thruxton", maybe with R or RS on the end. There's no "1200" in the name. This is because Triumph retired the 865 version for the 1200 from 2016 on — there's no small-capacity Thruxton being made. (The closest thing would be the short-lived Street Cup.)
Triumph launched the Thruxton at the same time as the Thruxton R. They both got the same motor, but the Thruxton R got higher-spec suspension and brakes.
These days, you can only buy the Triumph Thruxton RS new. Triumph launched the Thruxton RS in 2020, giving the bike a higher-power motor and further enhanced brakes.
The modern Triumph Thruxton RS has fully adjustable Showa inverted fork up front, and fully adjustable Öhlins shocks at the rear. Most sport bikes don't use twin shocks (rather using a "monoshock" or single shock absorber), but to have Öhlins and full adjustability means business.
Triumph also has high-spec brake calipers on the front of the RS — Brembo M50 calipers on relatively big 310mm discs. Brembo M50 calipers are superbike-spec, e.g., we saw them on the Ducati 1299 Panigale superbike.
| Model | Thruxton | Thruxton R | Thruxton RS |
| --- | --- | --- | --- |
| Years | 2016-2020 | 2016-2020 | 2020+ |
| Peak power | 71.5 kW / 97 PS / 96 bhp @ 6750 rpm | 71.5 kW / 97 PS / 96 bhp @ 6750 rpm | 77 kW / 105 PS / 103 bhp @ 7500 rpm |
| Fork | KYB 41mm cartridge, conventional, non-adjustable | Showa big-piston fork, inverted, fully adjustable | Showa big-piston fork, inverted, fully adjustable |
| Shock | Twin KYB shocks, preload adjustable | Öhlins twin shocks | Öhlins twin shocks |
| Brake | 2 x 310mm discs | 2 x 310 mm discs, Brembo monoblock 4-piston radial-mount calipers | 2 x 310 mm discs, Brembo M50 monoblock 4-piston radial-mount calipers |
Thruxton 1200, Thruxton R, and Thruxton RS differences
The Thruxton also has looks to die for, especially with a bullet cowl (which I have a weak spot for…)
Here's a pic of the limited-run Thruxton TFC, for example, which comes with the bullet cowl.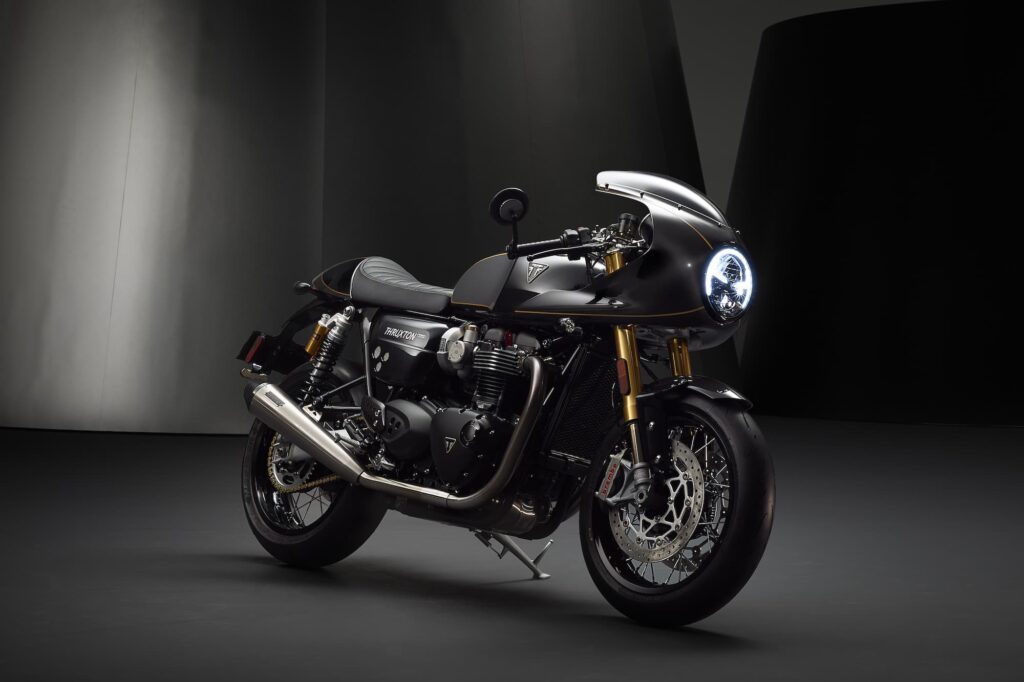 Triumph 1200 vs 900 line — Which One's for You?
Some of the Triumph 1200 motorcycles have 900-series equivalents. Sitting in the showroom next to each other, you might very reasonably be tempted by the 900 line — after all, they make nearly as much power!
Riding the 900 line is also very rewarding. Though they're slightly slower than the 1200 line, they're not slow in any absolute sense, and nothing in this league of motorcycles is "fast". If you want a blisteringly fast bike, get a sport bike, like the Triumph Speed Triple 1200 RR. THAT is fast.
I've had the fortune to ride the T100 and T120 back-to-back. My experience is that they both felt just as "fast" — same pull on the handlebars, same "comfortable" top speed of ~85 mph (~140 km/h) before it gets too windy — though the T120 is more OK with 90-100 if you do want to go there. The T120 needs a bit less shifting, though.

But the T120 feels so much heavier, that — features aside — I personally like the T100 a lot more for day-long outings, mostly in the hills / canyons. And I've ridden a lot of bikes!

So, speaking as an acknowledged hooligan, don't assume bigger is always better — it depends on you, your style of riding, where you ride (beach? canyons? travel?), and a lot more.
Anyway, Triumph makes the 900 class motorcycles for three of the above motorcycles. But not all of them!
Class
1200 class
900 class
Standard
Bonneville T120
Bonneville T100
Cruiser
Bobber / Speedmaster
– None –
Street sport bike
Speed Twin 1200
Speed Twin 900
(Street Twin up to 2022)
Scrambler
Scrambler XC / XE
Scrambler 900
(Street Scrambler up to 2022)
Sport bike
Thruxton RS
– None –
(Sort of the Street Cup 2017-2020)
Triumph 1200 vs 900 class of motorcycles
The 900 class of Triumph bikes certainly do the job for all-round cruising. But bear in mind that they don't just miss out on the bigger engine, the smaller bikes also lack
Advanced suspension (where applicable) — they all have conventional, non-adjustable forks (which some of the 1200 series do, too)
High-end brakes — the 900-series have 2-piston calipers on a single disc (but under most conditions this is fine)
Advanced ride aids (no cruise, no cornering ABS on any model)
Still, for many people, the 900 class is perfect. Quite a few riders one of each class!
Alternatives to the Triumph 1200 line of Modern Classics
If you're looking for a premium modern classic motorcycle but not necessarily one from Triumph, there are a number of other lines worth looking at.
Here's what I'd focus on.
Ducati Scrambler 1100. Even though they all bear the name "Scrambler", there's actually a variety in the Scrambler 1100 line, spanning a range something like between the Thruxton RS and something between the T120 and Speed Twin. None of them have quite the offroad readiness of the Triumph Scrambler 1200 in terms of wheel size and suspension travel, but they ARE lighter. See here for our guide to the Scrambler 1100 line.
BMW R nineT. BMW has been using the twin-cam air/oil-cooled boxer (last seen in the mid 2010s on their premium line of motorcycles) to make the R nineT since 2014. Since 2017 comes in a number of flavours, including Scrambler, standard, and even briefly a "Racer" style. See our guide to the BMW R nineT range here.
Indian FTR and Scout. These are Indian's smaller motorcycles — but they are pretty comparable to the Triumph 1200 line, in being design- and aesthetic-led. The FTR is a flat tracker-inspired standard sport bike, and the Scout is a cruiser. Both are driven by liquid cooled, modestly powered V-twins, and are very cool-looking. These are my thoughts on riding the Indian Scout Bobber.
You might also be tempted to look at the whole Harley-Davidson line, or the same from Moto Guzzi, both brands that use traditional designs and technology, other than a few new models in recent years.
Aside from those, there are individual models that are kind of comparable to a few of the above. For example, you could compare the Speed Twin to other heritage-inspired standard sport bikes like the Yamaha XSR900 or Kawasaki Z900RS. Or you could compare the Triumph cruisers to the Harley-Davidon Forty-Eight.