One of the generations of motorcycles that I miss and that's often looked over is the sport tourer with handlebars and a windscreen. And a prime candidate in this group is the Honda CBF1000 (and its near-identical evolutionary successor the CBF1000F, two generations of the same bike). Yes, CBF, not CBR! Stay with me.
And yeah, "sport tourer with handlebars and windscreen" is a boring way to describe what some may think is a boring class of motorcycles. But these bikes are underdogs, and so they deserve an underdog description. "Two-wheeled trundler?" I don't know. The Honda CBF1000 is so much more than that! (And don't get started — Honda makes plenty of non-boring motorcycles!)
Besides, sport tourer" is just the best way of describing a bike that's the sweet spot of so many things: power, handling, comfort, and just enough sleeper factor to mean you don't have to go hard when you don't want to, but you can surprise that young whippersnapper (or old bloke) on their R1 when you get the chance.
Anyway, the Honda CBF1000 is all that. The "Biffer", as it's affectionately known, is a jack of all trades. It's comfy, fast enough, and best of all, these days it's unreasonably cheap. It's cheap despite motorcycle prices being through the roof and supply dwindling to zero. Can't find one near you? No problem, fly to where you can find one, because covering 1000 km in a day on a CBF1000 is easy.
For those of you who're still not convinced, here's everything you might want to know about the Honda CBF1000, plus some bits you never thought to think about.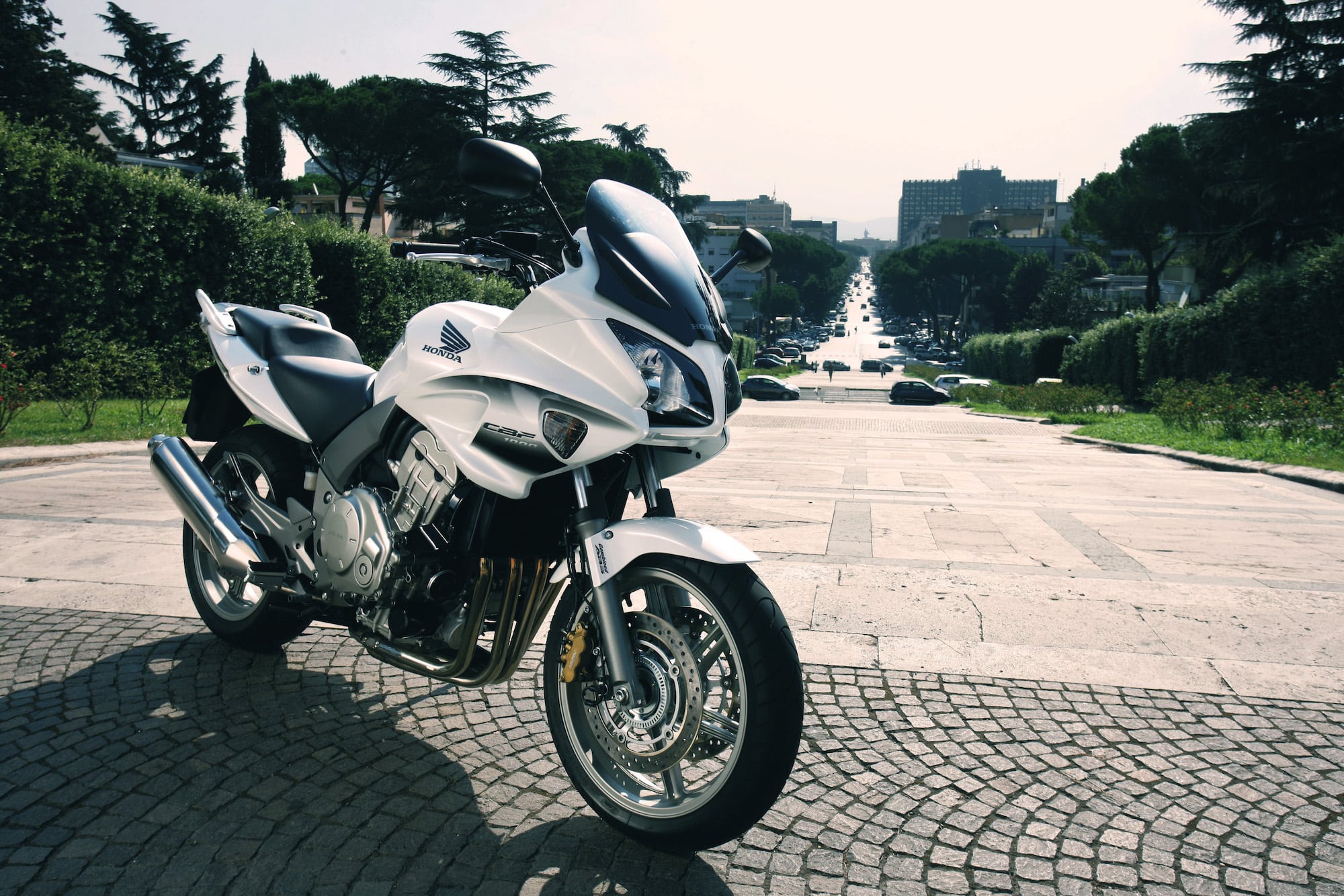 Are you obsessed with motorcycles?
Well, I am. That's why I created this site — as an outlet. I love learning and sharing what others might find useful. If you like what you read here, and you're a fraction as obsessed as I am, you might like to know when I've published more. (Check the latest for an idea of what you'll see.)
Context for the Honda CBF1000
These days, sport touring motorcycles are a pretty small segment of the market. Most riders are interested in adventure motorcycles of some form or in naked bikes. There are still a couple of sport tourers — Suzuki recently released its GSX-S1000GT and it went into backordered status promptly — but they're still in the minority.
But in the 2000s, there were plenty of fast and roomy fours with roots in sportbike engines, even in different capacities. Honda, Yamaha, and Kawasaki all had four-cylinder bikes of every kind — naked, faired commuters, and sport bikes of multiple sizes.
Honda themselves had also made fully faired commuter and sport-touring motorcycles. One I particularly liked was the Honda CBR1000F, also known as the Honda Hurricane. This was in another power category — it had much more "sport" than most sport tourers. But it still wasn't a superbike.
Honda made the CBF1000 between 2006 and 2018, though not in every market, and discontinued earlier in others. It was produced by Honda Italia, along with a small selection of Europe-focused Honda motorcycles. You can also get the CBF1000F in Australia and Asian countries, but it didn't make it to the US.
You could see the CBF1000 as a bigger sibling to the CBF600, or as a comfortable version of the CBR1000RR, or as a faired and further de-tuned version of the CB1000R. Honda really does try to make a bike for everyone!
After discontinuing the CBF1000, Honda has focused on adventure touring motorcycles. From 2022 they did re-introduce a sport touring bike, the NT1100, but it's based on a parallel twin.
Specs of the Honda CBF1000
Let's get one bit out of the way: the spec sheet. There are some funky bits in here so it's worth going over.
These are from a spec sheet for the Mk1, but it's largely the same for the Mk2.
Part
Spec
Notes
Engine
Liquid-cooled fuel-injected inline four-cylinder, DOHC
From the 2004-2007 CBR1000RR Fireblade
Capacity
998cc
You can tell the cool kids that you ride a "literbike"
Bore and stroke
75 x 56.5 mm
Same bore / stroke as the Fireblade
Compression ratio
Mk1: 11:1
Mk2: 11.2
Mild-ish; c.f. 11.9:1 compression ratio on the Fireblade. But you can use regular pump gas (90 RON) per the manual
Peak power
Mk1: 72 kW / 97 hp at 8000 rpm
Mk2: 79 kW / 106 hp @ 9000 rpm
About 40% the peak power of the Fireblade, which makes 126.4 kW / 172 hp @ 11250 rpm
Peak torque
Mk1: 93 Nm / 69 ft-lb 6500 rpm
Mk2: 96 Nm / 71 lb-ft @ 6500 rpm
Front suspension
41mm cartridge fork, conventional (non-inverted)
Very run-of-the-mill commuter suspension
Rear suspension
Pro link monoshock with gas-charged damper, 120mm travel
Basic commuter shock, too
Front brakes
Dual 296mm discs.
Standard: black two-piston sliding calipers
C-ABS: 3-piston linked sliding calipers (Gold-coloured on Mk1)
Kerb weight
~250 kg (C-ABS)
Yow, heavy.
Honda CBF1000 specs. Source: Hondanews.eu, Gen 1 press pack, Gen 2 press pack from 2011 (PDF)
After that, let's look at the distinct generations of the CBF1000.
Generations of the Honda CBF1000 / CBF1000F
In short, there are just two generations of the Honda CBF1000. They're generally informally known as the Mk1 vs Mk2. The Mk2 is formally known as the CBF1000F, but people usually keep the name the same.
The 2010-onward Mk2 got a new analogue / digital gauge, a new top fairing, and new, slimmer headlights.
Looking at the exhaust headers, you can pick a Mk2 from the snaky exhaust headers that go to a single pipe on the right. This is in contrast with the straighter pipes on a Mk1 that lead to twin silencers.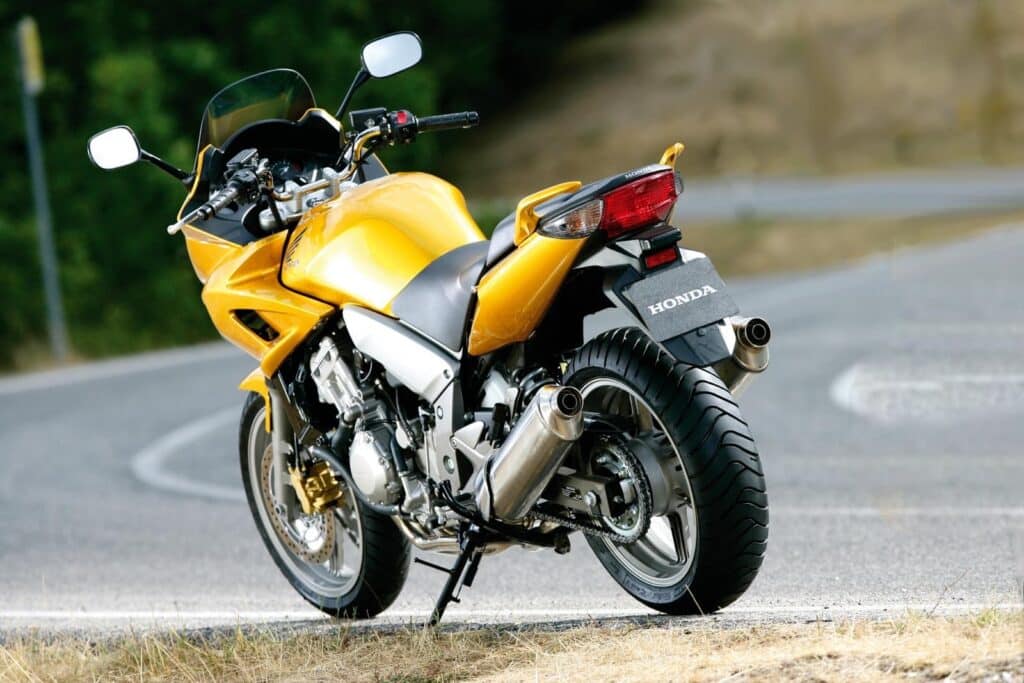 But at its core, the bike is still the same, with fundamentally the same engine (though with different mounting points, ECU, and connected instrument panel) and ride gear.
Interestingly, some people prefer the aesthetics of the Mk1 over the Mk2. Personally, I don't mind either way. The Mk1 does look more vintage, I suppose.
In terms of ride position — the Mk2 has a slightly more forward position. But it's still not sporty. They're both comfortable. If you're unsure, many bars fit on both bikes, as do riser kits.
Generation
Mk1 (2006-2009)
Mk2 (2010-2018)
Years
See note below
2006-2009
2010-2018
Model names:
CBF1000, CBF1000A (ABS)
CBF1000F, CBF1000FA (ABS)
Silencers
Twin
Single
Engine / wheel colour
Silver
Black
Instrument cluster
Analogue
Analogue / Digital
Honda CBF1000 Mk1 vs Mk2 main differences. Information pieced together from various posts on cbf1000.com
Honda did make some improvements to the tuning of the engine in the Mk2. Generally, Mk1 owners find the engine hesitant around the 5000 rpm mark. Honda ironed this out on the Mk2 — it's more willing to rev. However, you may be able to fix this with a tune.
Honda did upgrade the gauges of the Mk1 from mostly analogue to a big tachometer plus digital information panels on the Mk2.
CBF1000 Mk1 mostly analogue gauges

CBF1000 Mk2 analogue / digital gauges
On year of registration: This isn't a definitive guide to whether it's Mk1 or Mk2. Note that the Honda CBF1000 was never a big seller. It's not the sexiest bike, and it has lots of competition, even within Honda. This means that some Mk1 bikes may have been registered after 2010 — I've seen some as late as 2014. They're still Mk1 models.
About the Honda CBF1000's Engine
The Honda CBF1000's engine, Honda will be quick to remind you, is derived from the one in the CBR1000RR Fireblade.
Yes, on paper, it's the same basic block: same capacity and bore/stroke as the 2004-2007's Fireblade. In 2008, Honda upgraded the engine in the Fireblade with a slightly bigger bore and slightly shorter stroke, to help it rev higher.
But the CBF1000's engine doesn't need to rev higher. In fact, it revs lower than even the longer-stroke 2004-2007's engine. Honda tuned the CBF's specifically for mid-range torque. So it peaks in torque at 6500 rpm, but what's more, dyno charts show that it makes 90% of that torque between 3000 and 8500 rpm, which is where most people spend their time riding every day.
Anyway, here's how they compare on paper:
| Bike | CBF1000 | Fireblade (2004-05 spec) | Fireblade (2006-07 spec) |
| --- | --- | --- | --- |
| Claimed Peak power | 72 kW / 97hp at 8000 rpm | 128 kW (172 hp) at 11000 rpm | 132 kW (177 hp) at 11250 rpm |
| Redline | 10000 rpm | 11500 rpm | 12200 rpm |
Honda CBF1000 vs Fireblade specs
Here's the catch though — most public dyno results show that these results for the CBF1000 are what it produces at the rear wheel, rather than at the crankshaft. For example, MCN recorded 74 lb-ft at the rear wheel. Normally, this implies another ~15% at the crank. Honda has done this a fair bit — they also under-claimed the power of the CB1100.
Here's a rear wheel dyno based on MCN's data (published online).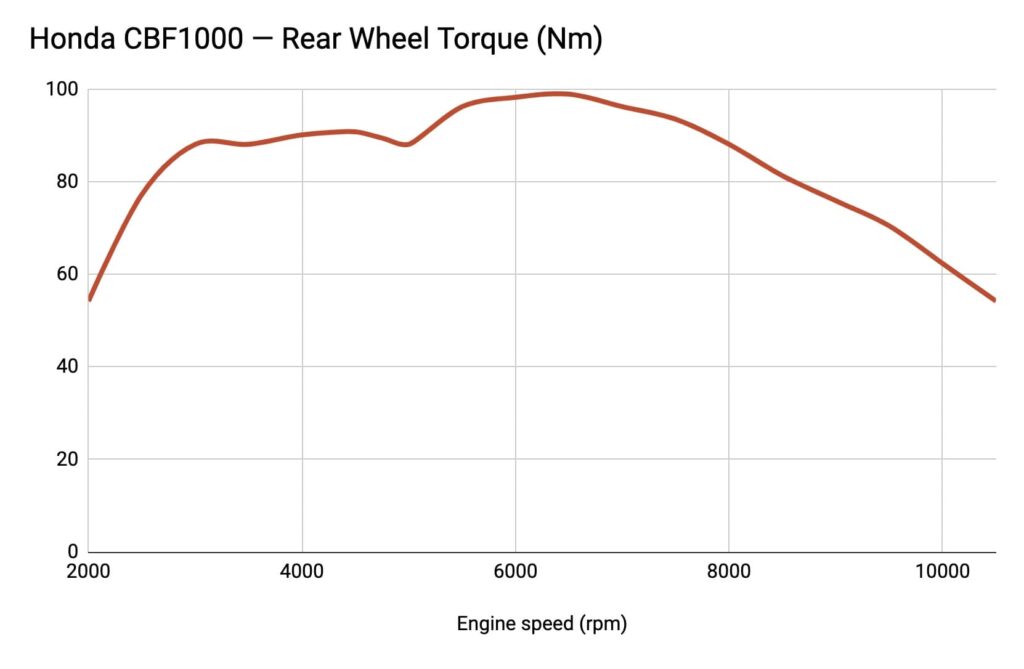 As you can see, the CBF1000 is making a ton of torque down low. Aside from a small flat spot around 5000 rpm, it has a relatively flat torque curve.
Importantly, back-to-back dyno runs with other sporty standards of the day show the CBF1000 to be much less peaky in power delivery — there's no point revving this one to the moon.
What Makes the Honda CBF1000 Special?
The Honda CBF1000 is a mid-spec upright sport tourer motorcycle with a 1000-cc four-cylinder engine. I admit that this description would have a lot of people tuning out.
Despite putting out bikes like the Rune, the NM4 and the CX500 Turbo, Honda has a reputation for producing boring, functional motorcycles that achieve their purposes and do nothing more. This is where many would suspect the CBF1000 would fit in, except for that last bit. Because the Honda CBF fulfils its purpose as a sporty tourer and then goes a lot further.
Firstly, less talk about this class of motorcycles — the literbike sport tourer with handlebars. There aren't many bikes in this format anymore. The 2022 Suzuki GSX-S1000GT is the best modern equivalent, and they're back-ordered in many markets. Aside from that… The Honda CBF1000 is somewhere between the Kawasaki Ninja 1000 (sportier) and the Kawasaki Versys 1000 (more upright) in riding position. Yamaha's sport tourer is a triple, and Honda's other modern one (the NT1100) is a twin. BMW makes the excellent S 1000 XR, but it's absolutely not mid-spec. I mean, it has electronic suspension!
Honda made the CBF1000 between 2006 and 2018, though not in every market, and discontinued a little early in others. It was produced by Honda Italia, along with a small selection of Europe-focused Honda motorcycles, and made available in March 2006 mainly for the European market (including the UK). You can also get it in Australia and Asian countries, but it didn't make it to the US.
The CBF1000 is actually the bigger size version of the 2004 CBF600, which had an even smaller market. You could also see the CBF1000 as a bigger sibling to the CBF600, a comfortable version of the CBR1000RR, or a faired and further de-tuned version of the CB1000R. Honda really does try to make a bike for everyone!
Honda likes to make motorcycles that can be used in everyday riding, like the Honda VFR800 for example. But the Honda CBF1000 has an inline four-cylinder engine, which gives it a unique revviness and engine sound that the VFR doesn't have (the VFR does have a much more unique V4 — they're just not for everyone. Here's a list of motorcycles with V4 engines.)
Where the older CBF is distinct from most other motorcycles in the category are that it has
An adjustable windscreen, handlebars, and seat. Other comfortable Honda motorcycles, like the VFR, don't have quite this degree of adjustability (you can modify the seat height, but changing the clip-on handlebar height requires using a spacer plate)
ABS — more common these days, but less so back then, and even combined braking (the rear pedal partially operates the front brakes)
Surprising amount of ground clearance — plenty for dirt or gravel roads (a must for explorers)
A standard centrestand! Putting an exclamation point after this shows my age, perhaps
Good range of about 290 km (180 miles)
Optional luggage (including even a top box) which a lot of people go for
Basically, the Honda CBF1000 is one of those bikes that will make a mockery of everyday riding, even those involving bumpy roads and rocky gravel, but still have more than enough pep for occasional fun.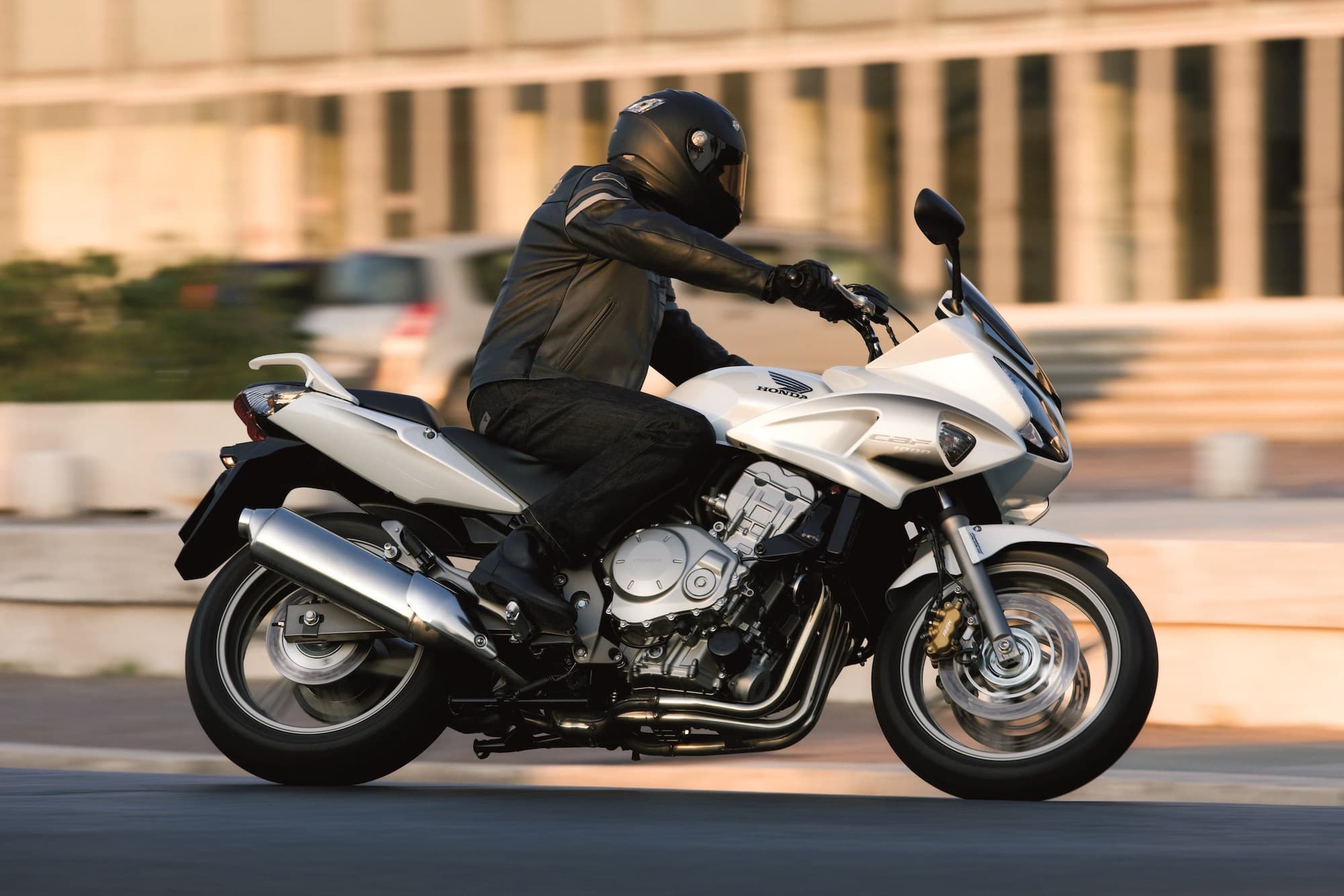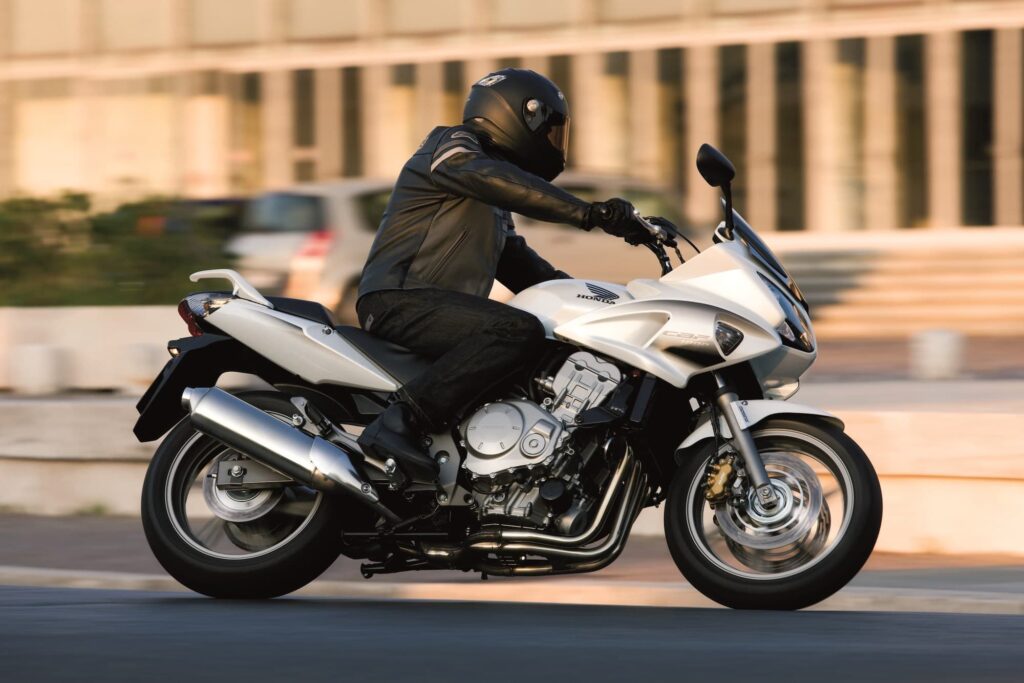 "But 100 hp isn't that much," you cry. "Pep, codswallop. In fact, it doesn't even make 100 hp!" I hear you; I hear you. This used to be cause for alarm for me, too.
And what's even more alarming is that the CBF1000 makes so much less power than its superbike stablemate. It makes about three fifths of the power! That's such a huge drop — usually the naked sportbike takes something like a 25% hit. But the CBF makes only a bit more than half the peak power of the CBR.
The secret, as is usually the case with sport tourers, is mid-range torque, coupled with gearing. See the section on the engine above. The Honda CBF1000 has usable torque from 2000 rpm (a blip off idle) and is making most of its torque by 3000 rpm. This is what makes it so easy to ride. And if you decide to rev it out, you'll be making that torque all the way through 8000 rpm. If you rev much higher than that, then maybe you do need a sportbike.
The gearing adds fuel to the fire. Because the CBF1000 has a redline at 10000 rpm (with a hard stop to the party at 10500), you can't just rev it to the moon. To hit highway speeds you'll have to shift once or twice (and a third time to be in a comfortable part of the rev range). But in first gear, there's more than enough torque to pull the handlebars up, even though it's a hefty bike.
Pretty much the only fly in the ointment of the CBF1000 is that weight. Even though you don't feel it at speed, weight is weight. I mostly feel weight when I have to move around at low speeds on an inclined surface — those times when I lust after a reverse gear. But aside from that, the CBF1000 can do a lot of things.
Alternatives to the Honda CBF1000
In short, there aren't a ton of alternatives to the CBF1000. If you're looking for one, you're likely considering affordable sport tourers based on an older superbike engine. In that case the primary contenders are:
The Yamaha FZ1 Fazer
The Suzuki Bandit 1200S / GSX1250FA
The Kawasaki Versys 1000
There's also the BMW S 1000 XR, but it's much more high-power and high-spec, and not at all "affordable", so shouldn't really be in the same category.
See the model guide to the BMW S 1000 XR.
You could also be looking at the 600-class of motorcycles. It seems fair to mention the various other Hondas like the CBF600, or just the CB600. Then there's the CBR1000F, and so on… in short, there's a ton.
But here are a few bikes to which I most often see people comparing the Honda CBF1000 / CBF1000F.
Bike
Honda CBF1000 (for reference)
Yamaha FZ1 Fazer (2nd gen, 2006-2016)
Suzuki GSX1250FA (2011-2015)
Kawasaki Versys 1000 (Gen 1, 2015-2018)
Engine
998 cc inline four-cylinder engine, 4 valves per cylinder
998 cc inline four-cylinder engine, 5 valves per cylinder
1255 cc inline four-cylinder engine, 4 valves per cylinder
1043 cc inline four-cylinder engine, 4 valves per cylinder
Peak power
72 kW / 97 hp at 8000 rpm
110 kW / 150 hp at 11000 rpm
71 kW / 97 hp @ 7500 rpm
87 kW / 118 hp @ 9000 rpm
Peak torque
93 Nm / 69 ft-lb 6500 rpm
106 Nm / 77 lb-ft @ 8000 rpm
108 Nm / 80 lb-ft @ 3500 rpm
102 Nm / 75 lb-ft @ 7700 rpm
Front suspension
41mm cartridge fork, conventional (non-inverted)
43mm KYB USD fork, fully adjustable (Separate function)
43mm conventional fork, preload adjustable
43mm inverted fork, preload / rebound adjustable
Rear suspension
Pro link monoshock with gas-charged damper, 120mm travel
Monoshock, preload and rebound damping adjustable
Coil shock, preload adjustable
Horizontal back-link monoshock, rebound and remote preload adjustable
Front brakes
Dual 296mm discs, 2-piston sliding calipers or 3-piston calipers for ABS version
2 x 320mm discs, 4-piston calipers (axial mount)
2007+: Optional ABS
2 x 310 mm discs, 4-piston Tokico calipers, ABS
2 x 300 mm discs, 4-piston calipers
Wet weight
250 kg (C-ABS) / 551 lb
221 kg / 487 lb
257 kg / 567 lb
249 kg / 548 lb
Honda CBF1000 vs alternatives
Yamaha FZ1 Fazer (2006-2016)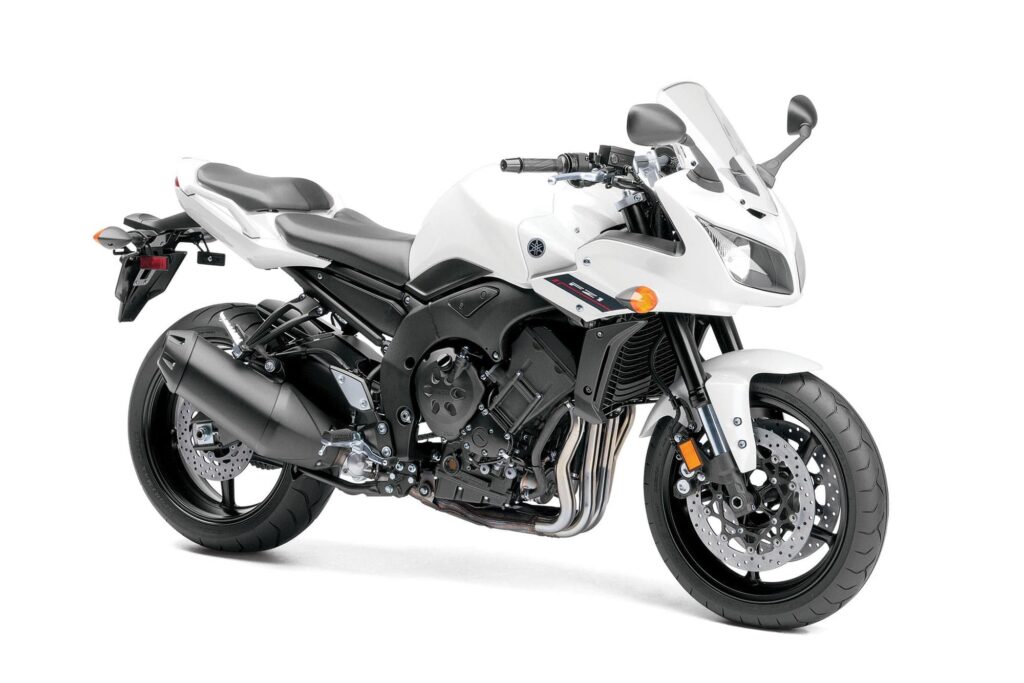 I feel like I shouldn't give this one away, because the Yamaha FZ1 Fazer is one of those bikes that's way too good for the price. They'll outpace many superbikes in performance, are a doddle to ride in everyday conditions, and you can get them for a song (I may just see one in my future).
See here for more about the Yamaha FZ1 (including a generational guide).
There are two versions of this bike, the FZ1 naked bike and the FZ1 Fazer. But if you're browsing classifieds, look for either FZ1 or Fazer, as some people get the names mixed up, or think "Fazer" is its nickname (like "Gixxer" I suppose).
The Yamaha FZ1 Fazer is based around the 998 cc 2004 Yamaha YZF-R1's motor. That generation R1 was fuel-injected but also had five valves per cylinder. For the FZ1, Yamaha detuned the engine slightly, altering the camshaft profiles and increasing the weight of the flywheel, also reducing the compression ratio.
But the net effect of the down-tuning isn't even that crazy — the Yamaha FZ1 Fazer still makes a healthy 150 hp (148 bhp / 110 kW) at 11000 rpm. That's a huge amount of power! Couple it with the FZ1 Fazer's relatively light wet weight of 221 kg / 487 lb, and this is a wild ride.
The catch is that the Yamaha FZ1 Fazer's power delivery is much peakier. It makes less torque down low compared to the Honda CBF1000 (though by no means little torque), and more power higher up. So, this might suit you if you have sporty inclinations, but that's a different target market to that of the CBF. Some people trade their FZ1 for a CBF for this very reason — they want the same kind of bike, but a bit more comfortable and sedate.
The rest of the story with the FZ1 is similar to the Honda CBF1000 — it's a mid-spec bike, with lower spec suspension and brakes than superbikes.
Suzuki Bandit GSX1250FA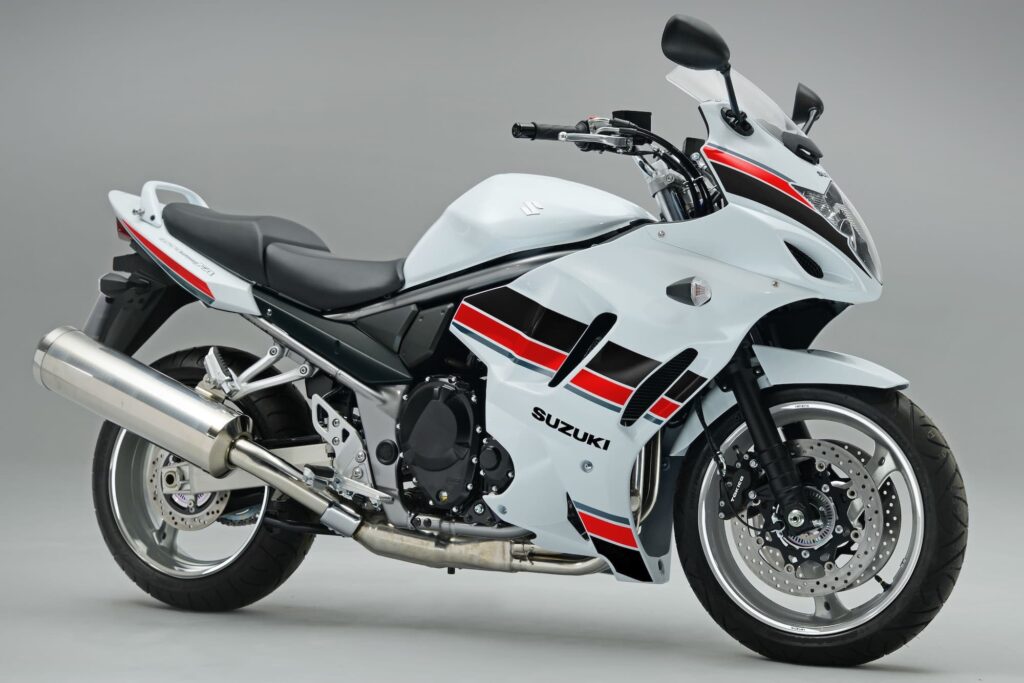 The Suzuki GSX1250FA is a mouthful of letters and numbers, but Suzuki's laziness in coming up with a sexy name was just because they spent all their energy making an awesome, affordable, and understated sport tourer.
It's another bike I feel shy about giving away. Give them all to me! They were cheap when they came out and they're still cheap now, especially since it has been a long time since the updated GSX-S1000 line stole their limelight.
Suzuki made the GSX1250FA between 2010 and 2016. It's based on the same 1255-cc liquid-cooled engine as in the Suzuki Bandit 1250, but has a more comprehensive fairing, and in some markets came with luggage and a taller windshield.
The magical thing about the GSX1250FA and the Bandit line is how much torque they make, all the time. It's just SO MUCH and you get it from just off idle, like on the Honda CBF1000. The Suzuki peaks in torque at 3700 rpm, but even at 3000 rpm you're getting nearly all of it.
One thing that keeps the GSX cheap is that its only rider aid is ABS. No traction control, no ride modes. This is fine, but just bear in mind that with that much torque on tap, you might break a rear wheel loose in the wet or on gravel.
See the Suzuki Bandit 1200 / 1250 / GSX1250FA buyer's guide.
Kawasaki Versys 1000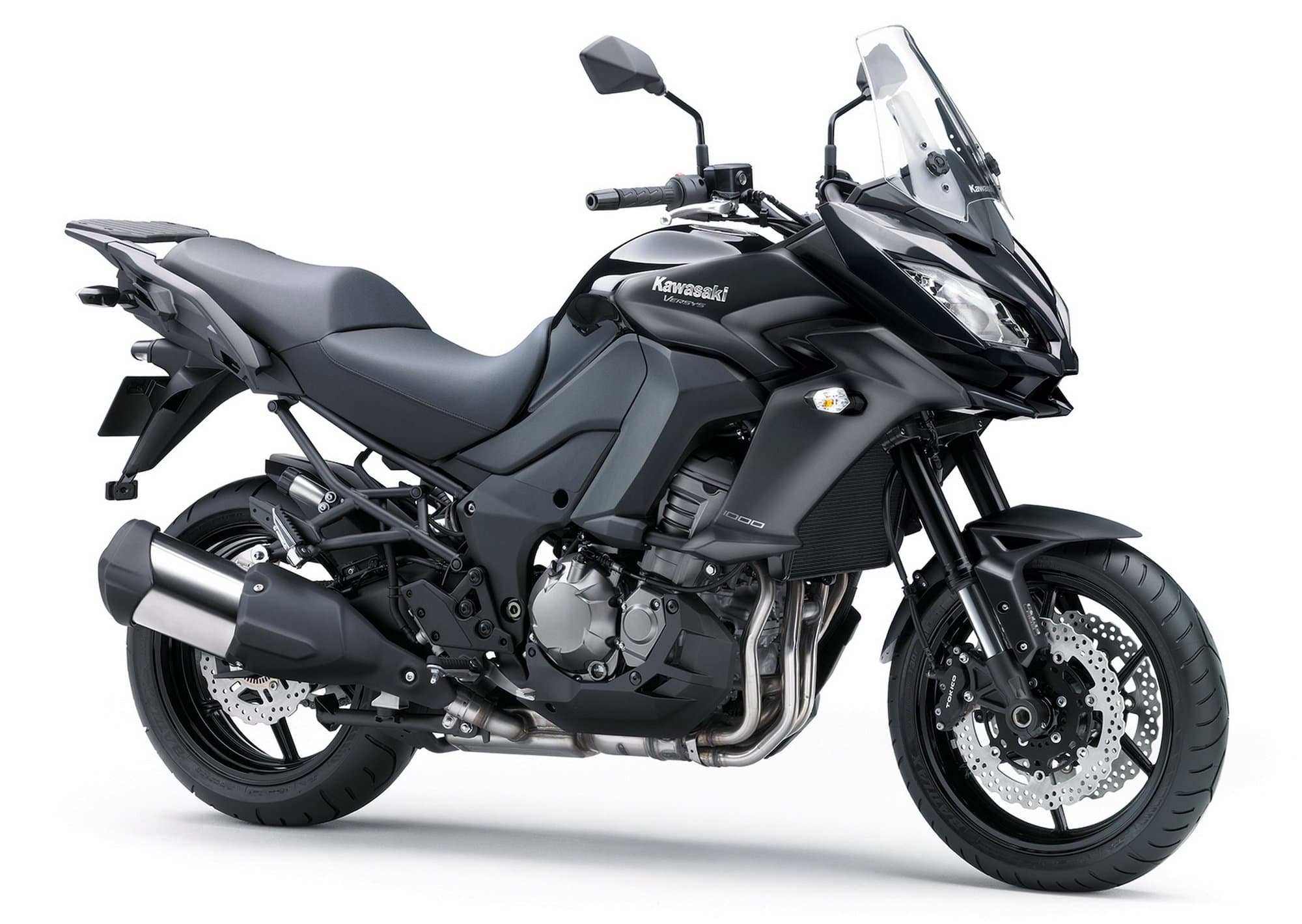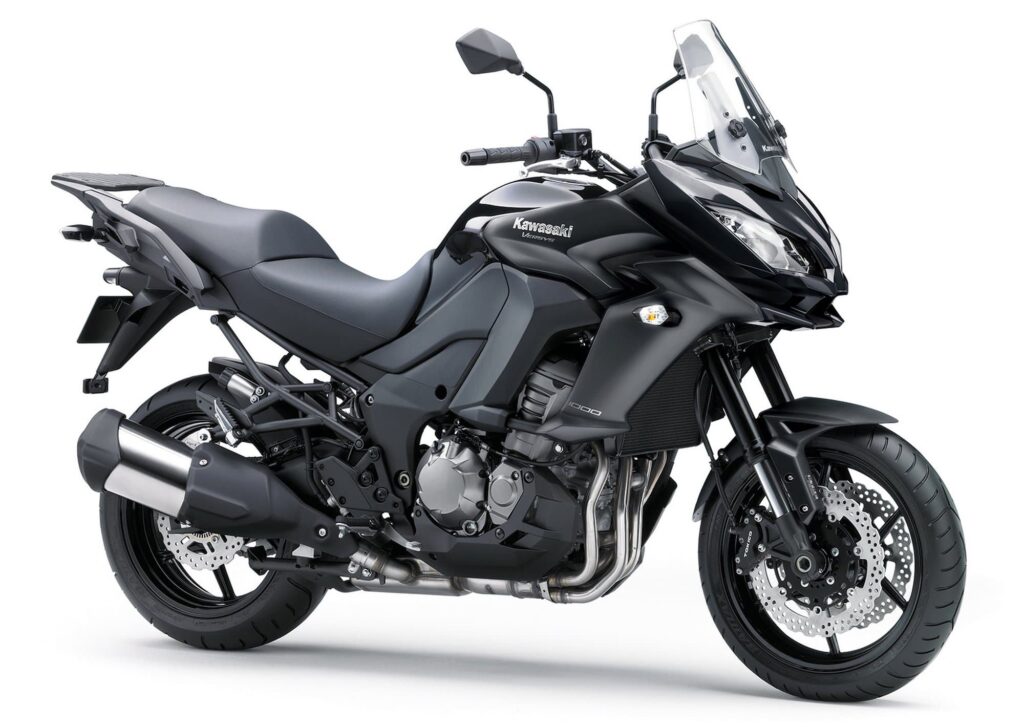 The Kawasaki Versys 1000 is another alternative to the Honda CBF1000.
Truthfully, I wasn't sure which to show — the Ninja 1000 or the Versys 1000. The Honda CBF seems to be more like the Versys, though, as it focuses on comfort and the engine isn't as powerful as that in the Ninja.
The Kawasaki Versys 1000 is based on a 1043-cc inline four-cylinder engine, originally released in the Z1000 naked bike, and also used in the Ninja 1000. The engine has stayed the same through the multiple generations, but Kawasaki is still making them. So you can get an early one from 2012 relatively cheaply, or get the latest one (2019+) that's decked to the nines with cornering ABS and active "Skyhook" suggestion that makes for a magic carpet-like ride.
Even second gen, which was more widely available than the 1st, is already pretty high spec. It has an inverted fork with some adjustability, and twin 4-piston calipers. Plus, in true Kawasaki fashion, they've given this model a few ride aids, like traction control, ride modes, and of course ABS.
The Versys 1000 is generally newer and recognised as being a higher spec bike, so it's more expensive than the Honda CBF1000.
See here for the complete Kawasaki Versys 1000 buyer's guide.
Wrap up
Yes, there are alternatives to the Honda CBF1000 that are faster, newer, or sexier. But that's just what makes the Honda CBF1000 such an appealing bike — it's an underdog. It does what it's told, and doesn't break easily. It has legions of fans, and if you're curious, I'd encourage you to try one out.