The BMW R 18 (which some call the BMW R18, though BMW insists on spaces) is a massive 1802cc cruiser that caused a big stir when BMW launched it in mid-2020. It's a thing of beauty — large, long, gleaming.
But the R 18 is not the first cruiser that BMW ever launched. Years ago, in 1997, BMW launched the R 1200 C cruiser, releasing it in a few models, and even getting it featured in the James Bond movie Tomorrow Never Dies.
Pierce Brosnan wasn't the greatest James Bond. But I felt a quick moment of empathy when he was arguing about whether to take a car in the motorcycle chase scene. "No! Motorbike! Motorbike is quick!"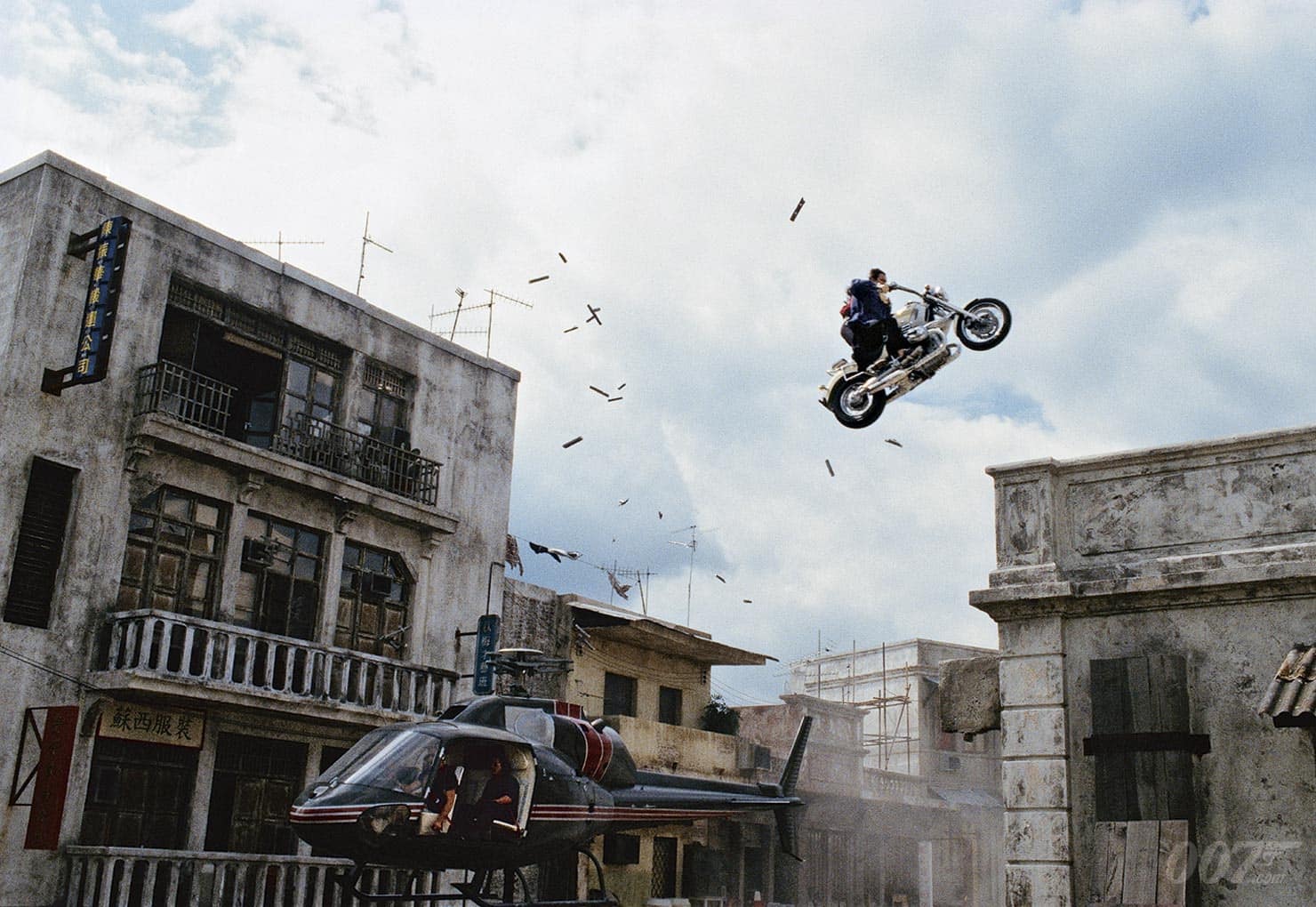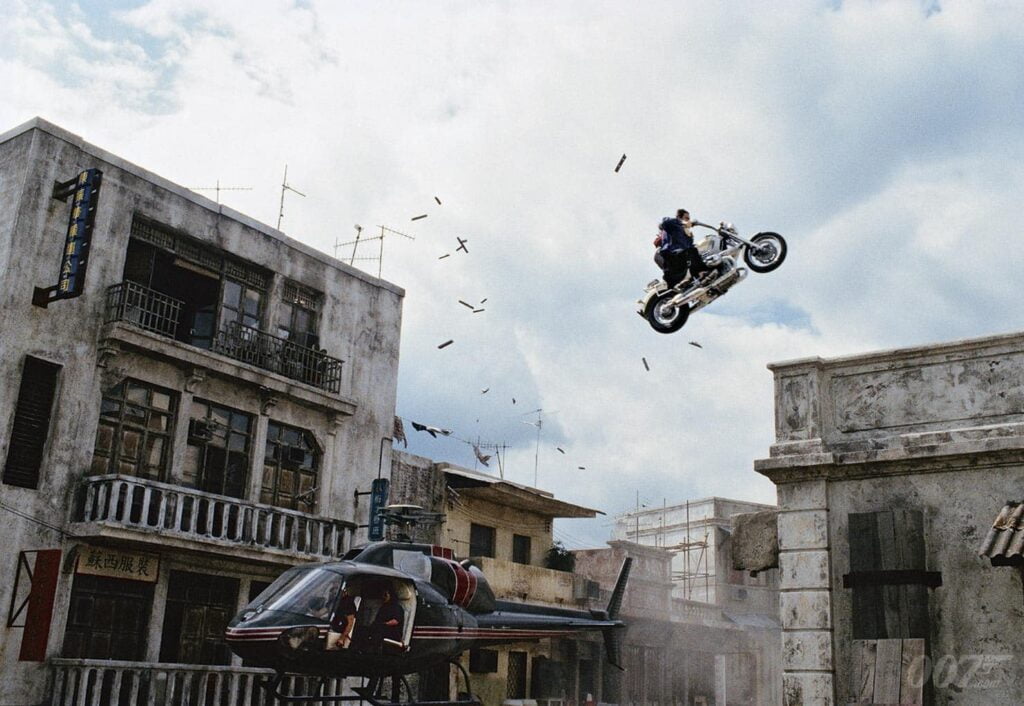 I don't know how they got the R 1200 C to do a wheelie though. That stunt rider has some mad skills!
Anyway, regardless of whether or not the R 1200 C would have been my choice for a getaway motorcycle in a busy Asian market… this is the story of the BMW R 1200 C — and a guide to buying one used.
For what came after the BMW R 1200 C — See also our BMW R 18 buyer's guide.
Are you obsessed with motorcycles?
Well, I am. That's why I created this site — as an outlet. I love learning and sharing what others might find useful. If you like what you read here, and you're a fraction as obsessed as I am, you might like to know when I've published more. (Check the latest for an idea of what you'll see.)
Background of the BMW R 1200 C
The BMW R 1200 C was one of the "oilhead" era of BMW motorcycles. BMW initially released it in 1997, when most of their motorcycles were 1,085cc (marketed as "1100" models).
See my guide to BMW motorcycle engines — oilheads, airheads, and so on.
It doesn't take much to see that BMW was trying to take a stab at the American cruiser-obsessed market. But apart from the relaxed riding position, the heavy use of chrome, and the high build quality with attention to design and detail, there wasn't much in common technologically between the BMW R 1200 C and the Harley-Davidson motorcycles of the time.
Most obviously, Harley-Davidsons are V-twins, and the R 1200 C is a boxer twin. The pistons lie flat, transverse to the direction of travel, and stick out the sides of the engine. Apart from having different engine character and sound, this means the R 1200 C can't ever be as relaxed as a big cruiser with floorboards — because the cylinder heads get in the way! The same is true of the R18 today, by the way.
The re-tuned engine was quite different to the 1100 engine on which it was based. The R1100RS made more power (88 hp vs the R 1200 C's 61 hp) and more torque, but it took longer to get up there, so the power was made higher up in the rev range.
The R 1200 C, on the other hand, makes a lot of torque down low. And it doesn't taper off by much until it hits the (relatively low) redline. But it produces so much torque that you feel like you could tow a car on it. This is probably partly a factor of the gearing, too.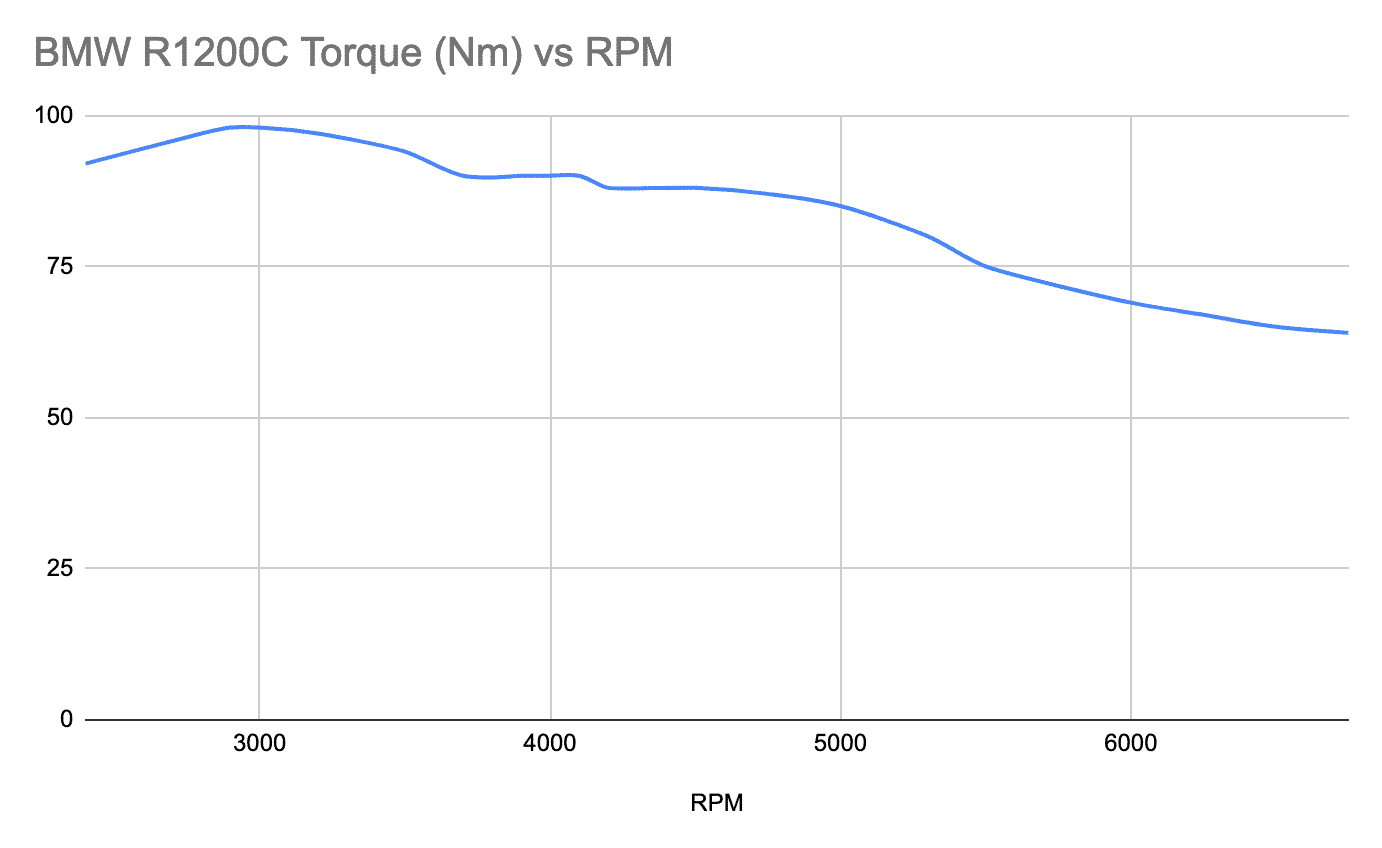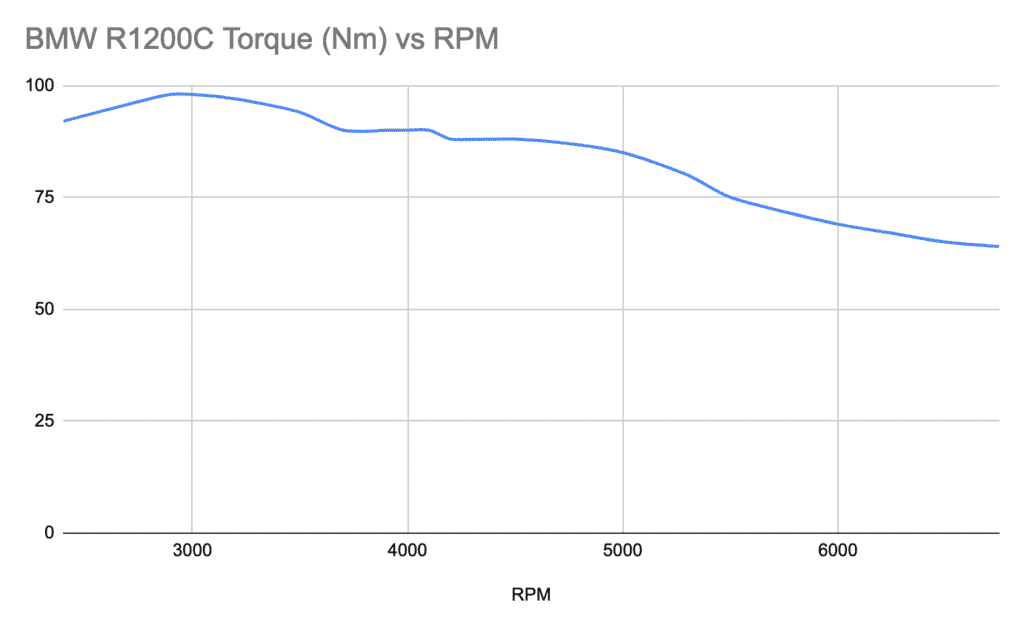 Other BMWs of the time were known for having a Paralever swing-arm that is mounted on the frame instead of on the gearbox. The BMW R 1200 C has a much longer swing-arm and suspension design, called the Monolever.
BMW opted for Monolever because they could afford to have a longer swing arm on the R 1200 C, because it's a lower-performance motorcycle that wouldn't experience as severe shaft jacking. It's a simpler design, but it still does an effective job of damping the torque reaction from the shaft drive. (See more about BMW Paralever here.)
Core specs of the BMW R 1200 C
I won't bore you to tears with the specs of the R 1200 C. But there are a few that you should know.
| Item | BMW R 1200 C spec |
| --- | --- |
| Engine | 1170cc boxer twin, fuel-injected 4 valves per cylinder, air/oil-cooled (an "Oilhead", one of the last when it was finally in production) |
| Power (claimed) | 44.5 kW / 61 hp @ 5000 rpm |
| Torque | 98 Nm / 72 lb-ft @ 3000 rpm |
| Redline | ? Not that high, but that's not what this bike is about |
| Wet weight | 265 kg / 584 lb ("in road trim" per the press release) |
| Front suspension | Telelever, central strut |
| Rear suspension | Single-sided swing-arm with remote spring preload-adjustable Monolever suspension |
| Front brakes | 2 x 305 mm discs, 4-piston callipers (ABS option) |
| Rear brakes | Single 285 mm disc, 2-piston calliper |
| Drivetrain | Five-speed transmission, dry clutch, shaft drive |
Basic specs of the BMW R 1200 C
That's not a lot of power, considering its weight! So the top speed of the BMW R 1200 C was a fairly uninspiring 178 km/h or 111 mph. In reality, people rarely take it north of 150 km/h.
But like many cruisers, it's tuned for low-down torque, with a lot from 2,000 rpm and producing most of its torque around 2,500 rpm.
The engine has similar capacity to later 1200-series motors (the Hexheads). It's a bored and stroked R1100 engine (which was 1,085cc) with a new intake system, adding fuel injection and an automatic choke.
Riding the R 1200 C
The R 1200 C is kind of a cruiser, or kind of a relaxed standard like a Bonneville. It's neither and it's its own thing.
First and foremost, the BMW R 1200 C is not a fast motorcycle. It's not slow, and it'll boogie — it has enough torque to get you going well over 110 km/h (65 mph) when you need to, passing cars in top gear if you want without downshifting — although not at a blistering pace.
But the R 1200 C isn't about going fast. It's definitely a motorcycle about looking good. Every review mentions the style. The press releases talk about the style. And people coming up to you to look at it — and they will — will comment on the paint, the chrome, and the crazy fact that "This is a BMW?!"
One of the models, the Montauk, is named after Montauk, New York, because it's a holiday destination. Say "Montauk" to anyone from the area and they'll think of summer travel and lazy holidays of times gone past, and that's the spirit that the R 1200 C is trying to evoke.
The R 1200 C shares a lot of the character of other boxer twins. Grab a handful of throttle at standstill and it'll jerk over to the right, reacting to the centripetal acceleration of the engine. You do this a few times for fun and realise that it's just part of the joy of having a big transversely mounted engine!
On the road, the R 1200 C is easy to ride. Once you convince yourself that riding a 250+ kg bike is going to be OK and you get going, you're always in control. You're low enough to the ground that flat-footing is easy (unless you are much shorter than average… in which case, you would have similar troubles on most motorcycles). It's a vibey ride, but you pick a big cruiser twin because that's what you after. And besides, the vibes aren't of the frustrating, teeth-chattering type — they're re-assuring, alive, and comforting. This is a big twin cruiser and it's letting you know that it's there.
The suspension is a little unusual — particularly on the Montauk with its wide front tyre. You don't corner on this like you do on a superbike, diving into corners, body hanging off. But neither do you have to have the tentative fear of scraping that you might on a big cruiser with floorboards. The Telelever/Paralever do their job pretty well and can always keep up with the kinds of cornering speed you're likely to throw at a big cruiser.
On the Montauk in particular, the Telelever suspension can feel a little vague. It doesn't give you the feedback that forks do. But you never lose your footing, and you learn to trust it.
The question that will plague most people who want to buy a BMW R 1200 C in modern times is "Is 45 kW or 61 hp enough?" And if you're asking the question, the answer is likely to be know. The truth is if you're used to revving up past 10,000 rpm (or even just past 6,000 rpm), transitioning to a low-revving, moderate power heavy cruiser is going to be hard. You don't get on to an R 1200 C to flog it. You ride the R 1200 C to enjoy the scenery, and when you step of it, to admire it.
Choosing an R 1200 C then is mostly an exercise in style. What colour do you want? What amount of chrome do you want? And so on.
Thus, I can't really convince you to buy an R 1200 C. Look below at some of the pictures. Think: Is this something you want to see in the garage when you walk in there? Is it something you want to be seen on when you head out to the cafe? If the answer is "yes" to both those questions, then the R 1200 C isn't going to disappoint.
Variants of the R 1200 C
There were five variants of the R 1200 C produced. Or six, if you include the trike! I'll go through them all below.
BMW R 1200 C "Classic" (1997+).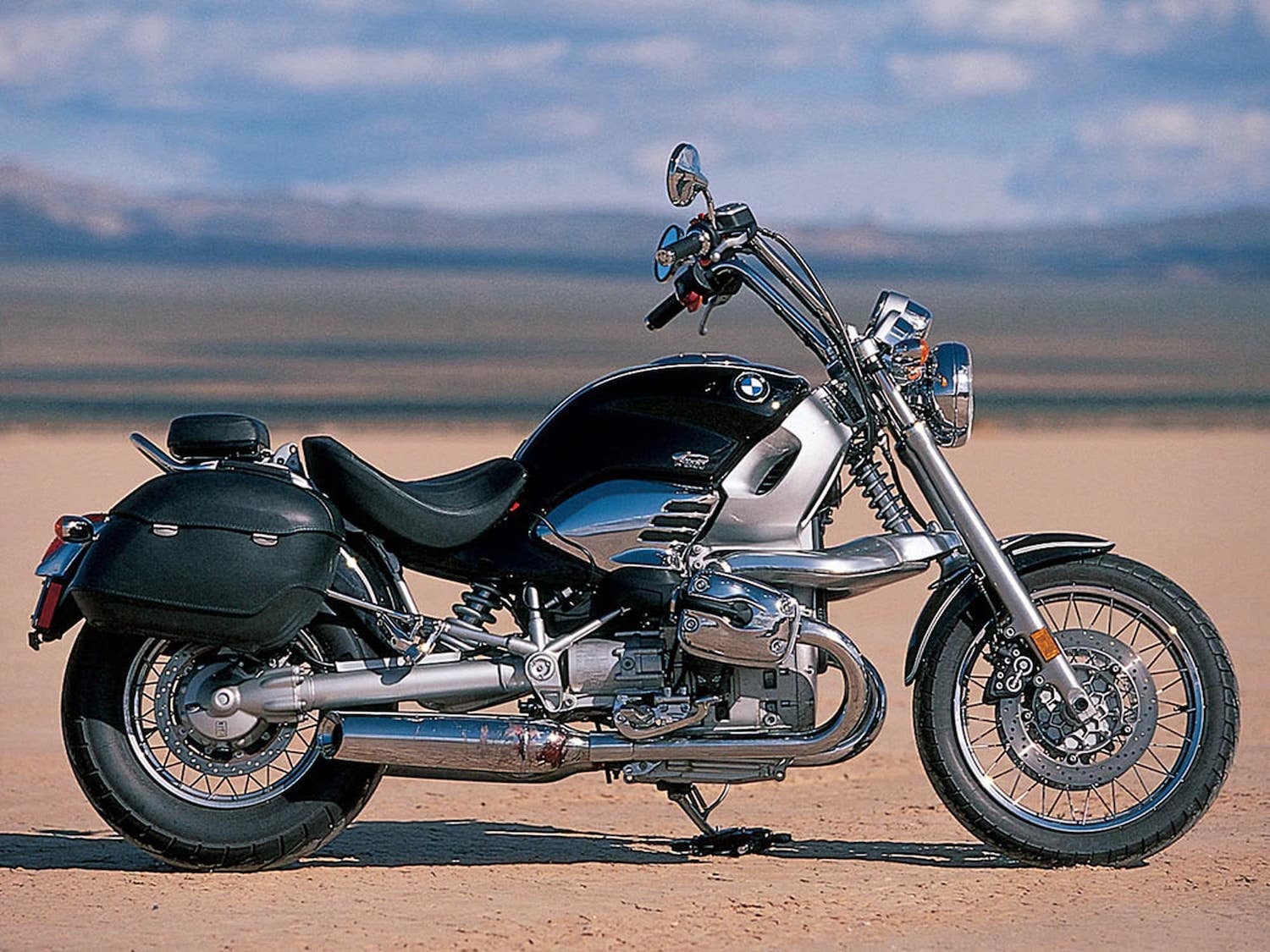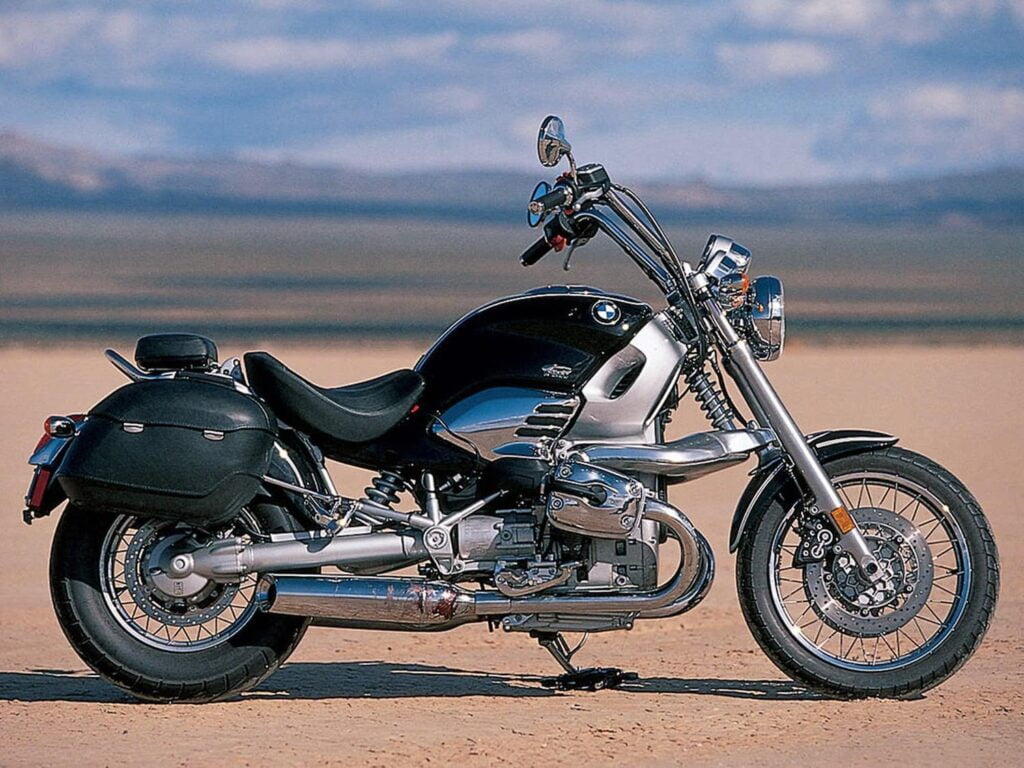 The original BMW R 1200 C became known as the "Classic" in later years. If you go shopping for one, you'll see it called a "R 1200 C Classic".
Telltale sign of the Classic: Big, swept back handlebars.
The base specs were already mentioned above. The engine stays the same as the model in the whole series, but a few things change for the Montauk and the CL — stay tuned.
On the base model, ABS was an option. I'd recommend finding one with the option, but do expect it to go awry at some point (and cost quite a bit to fix).
The base model Classic came in black (which I like), silver (which is fine), and beige (which I hate, but which seems to be the only one people sell… blergh).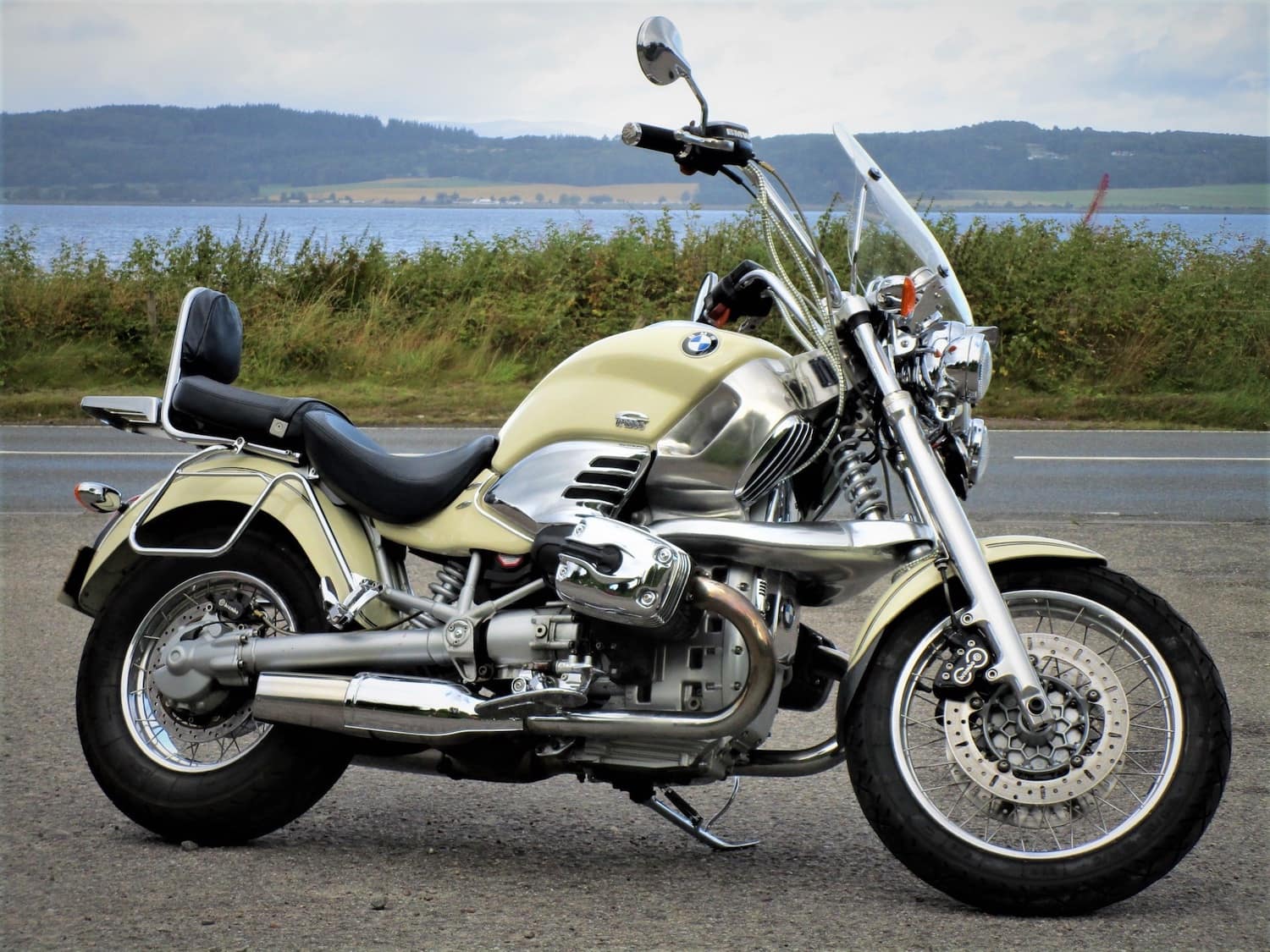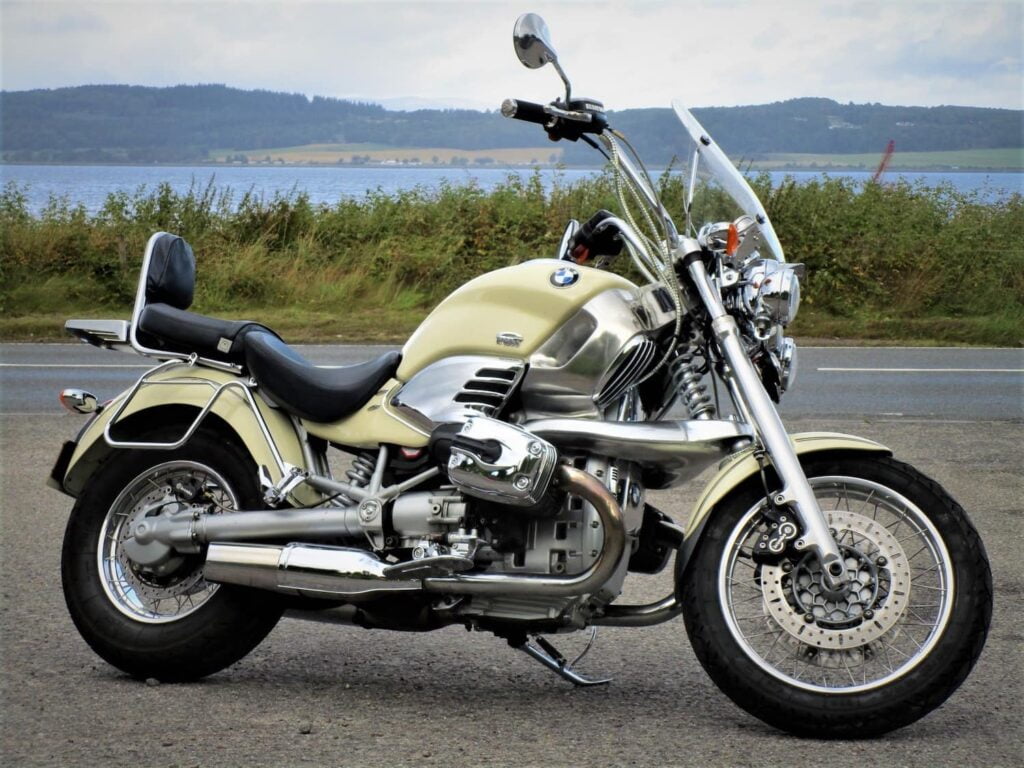 Colours for the BMW R 1200 C Classic: The Classic was released in many colours over its lifetime. These included:
Ivory (Beige), Dust, Flashtone, Night black
Metallic colours: Mocha Brown Metallic, Sorrento Blue Metallic, White Aluminum Metallic, Peach Metallic
Green: Oxford Green, Toscana Green, Boston Green
Blue: Frost Blue, Stahl Blue, Pacific Blue
Red (and violet): Canyon Red, Amarena Red, Techno Violet (Purple)
Not all these colours were imported everywhere.
BMW R 1200 C Avantgarde (1999)
The Avantgarde model was a gentle restyling of the Classic. It had less chrome and medium height bars. ABS stayed as an option, and it kept the wire-spoke wheels.
Colours for the Avantgarde were:
Dust Metallic (with a black seat)
Frost Blue metallic (with a black seat)
Peach metallic
Stiletto Black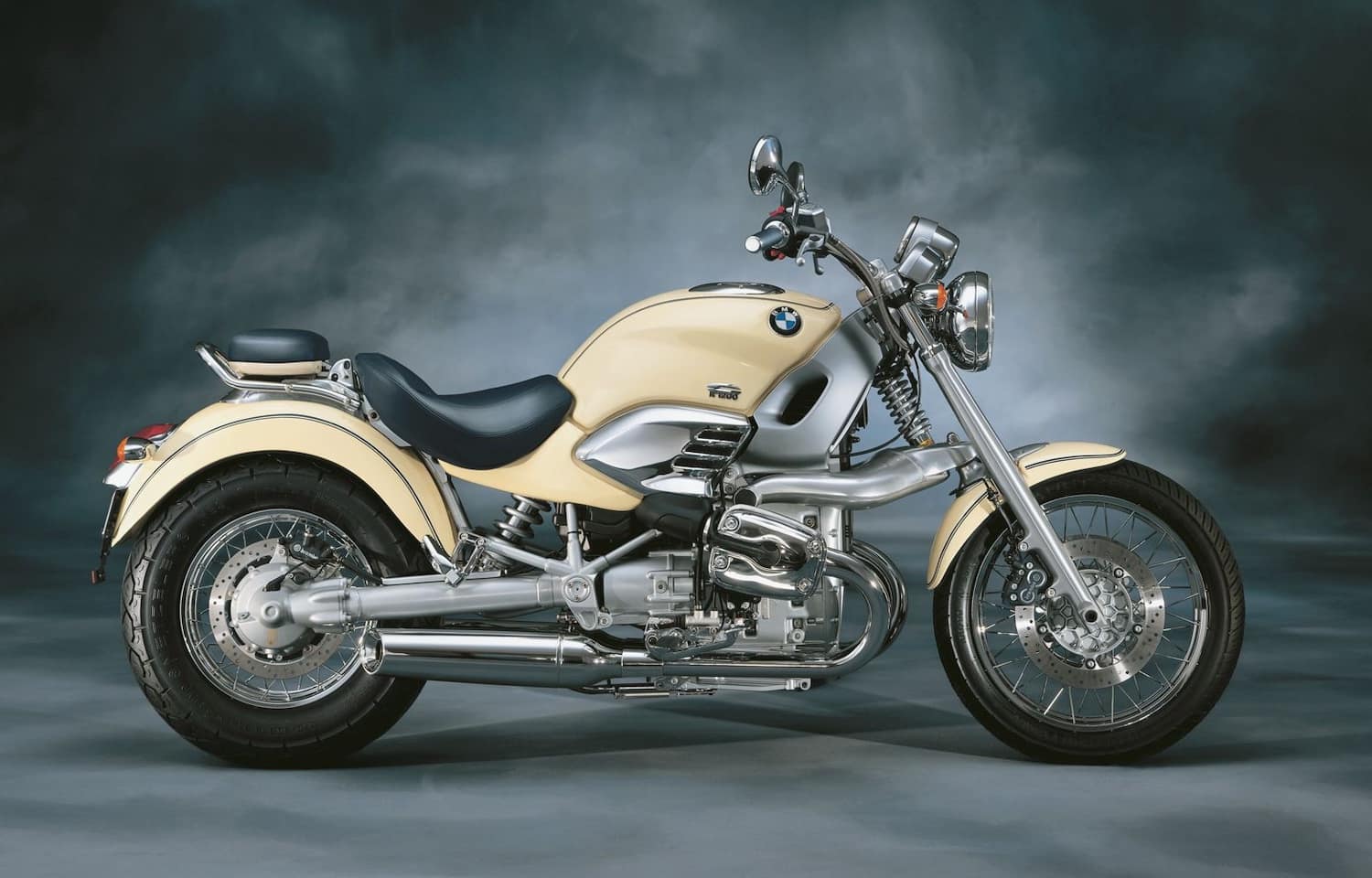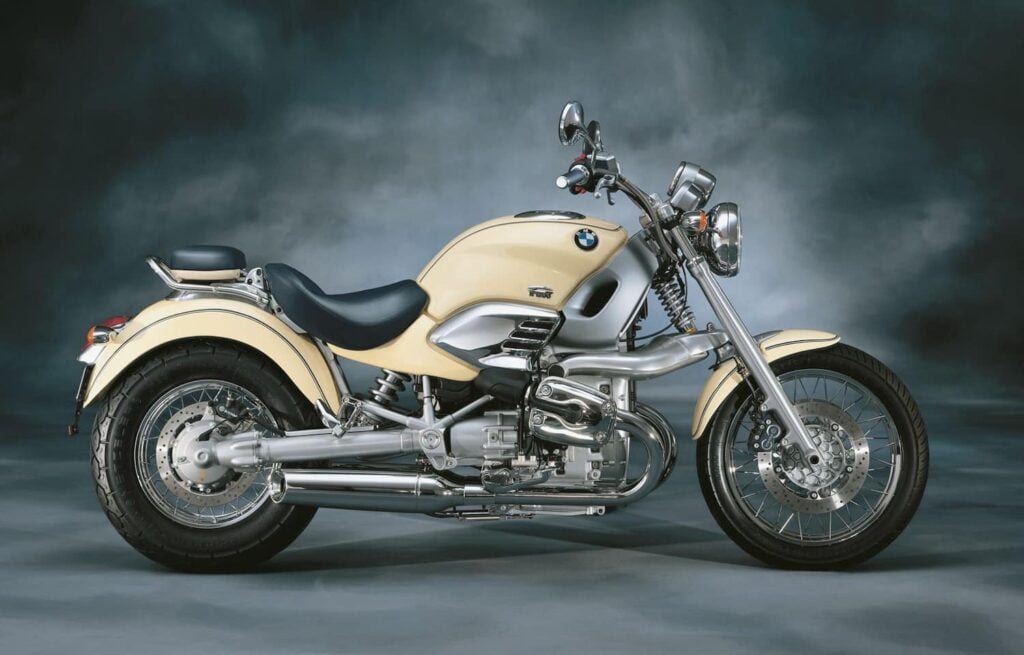 Telltale sign of the Avantgarde: lower handlebars, but still wire-spoke wheels.
Who told them beige was a good idea? When is beige ever a good idea for a motorcycle?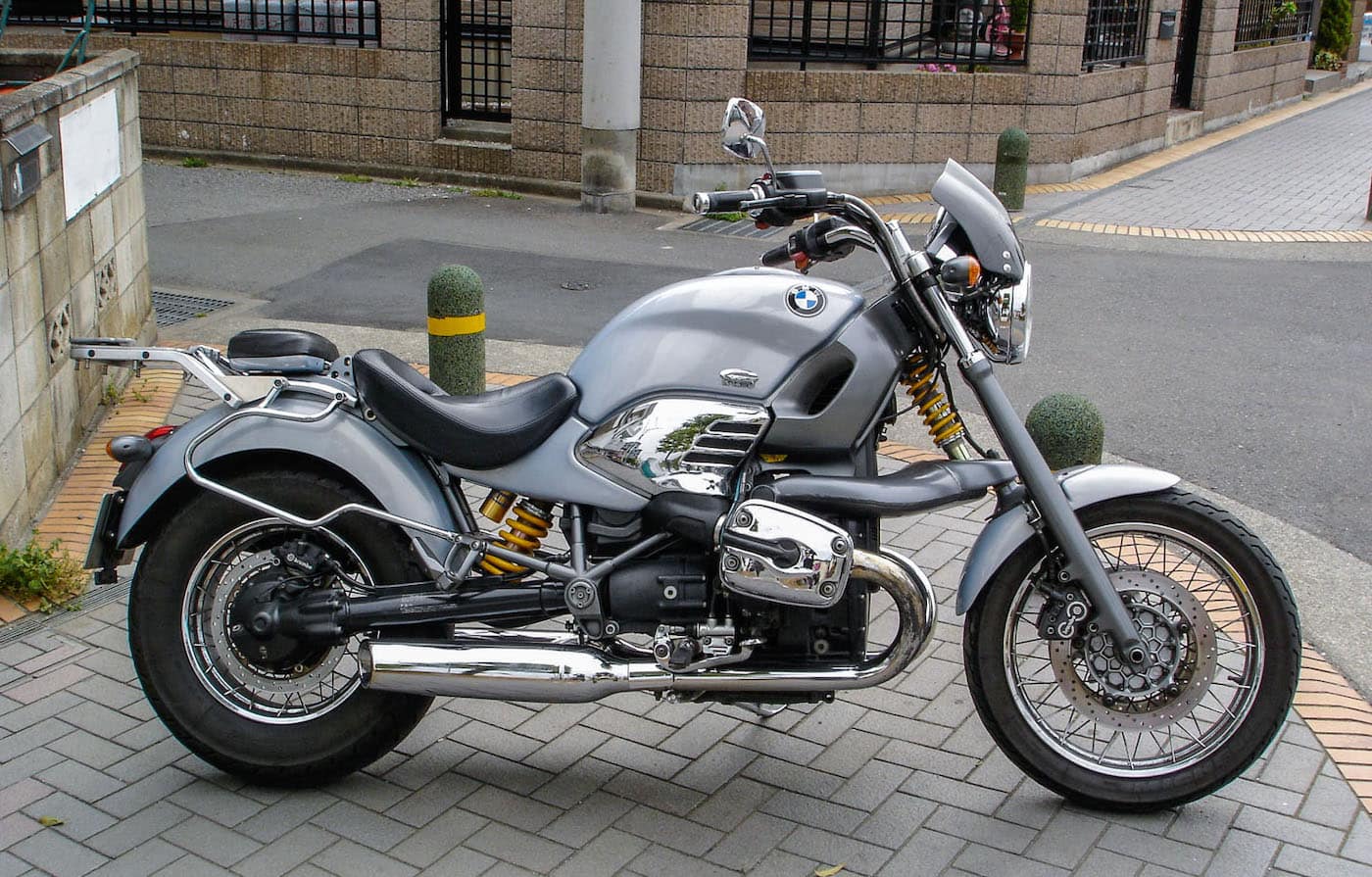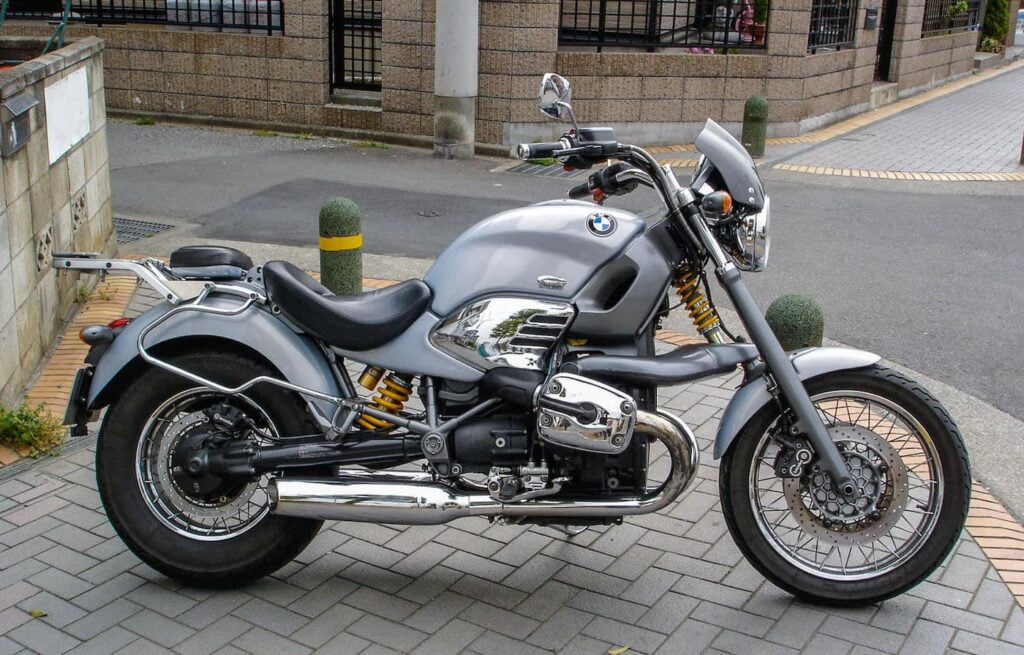 BMW R 1200 C Independent/Phoenix (in US) (2000)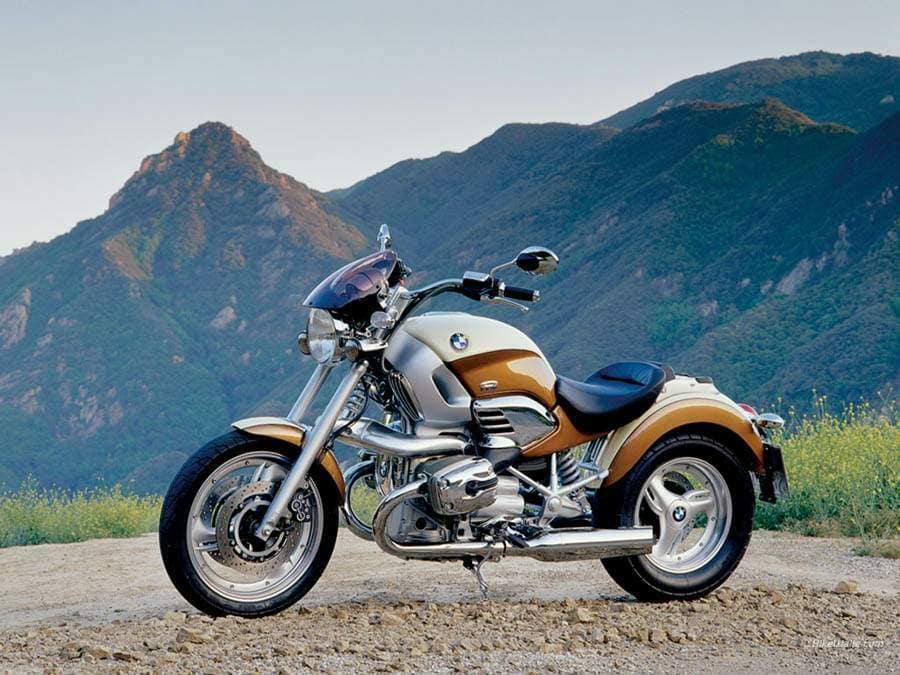 BMW announced the R 1200 C Independent (known as the R 1200 C Phoenix in the US) late in 2000 with a few more changes, still all aesthetic.
Single seat (passenger seat and foot pegs optional)
Aluminium wheels, replacing the wire spoked wheels (why would you?)
A little windshield
Fog lamps
White indicator (turn signal) lenses
Telltale signs of the Independent/Phoenix: Lower handlebars like the Independent, but aluminium wheels replacing the wire-spoke wheels.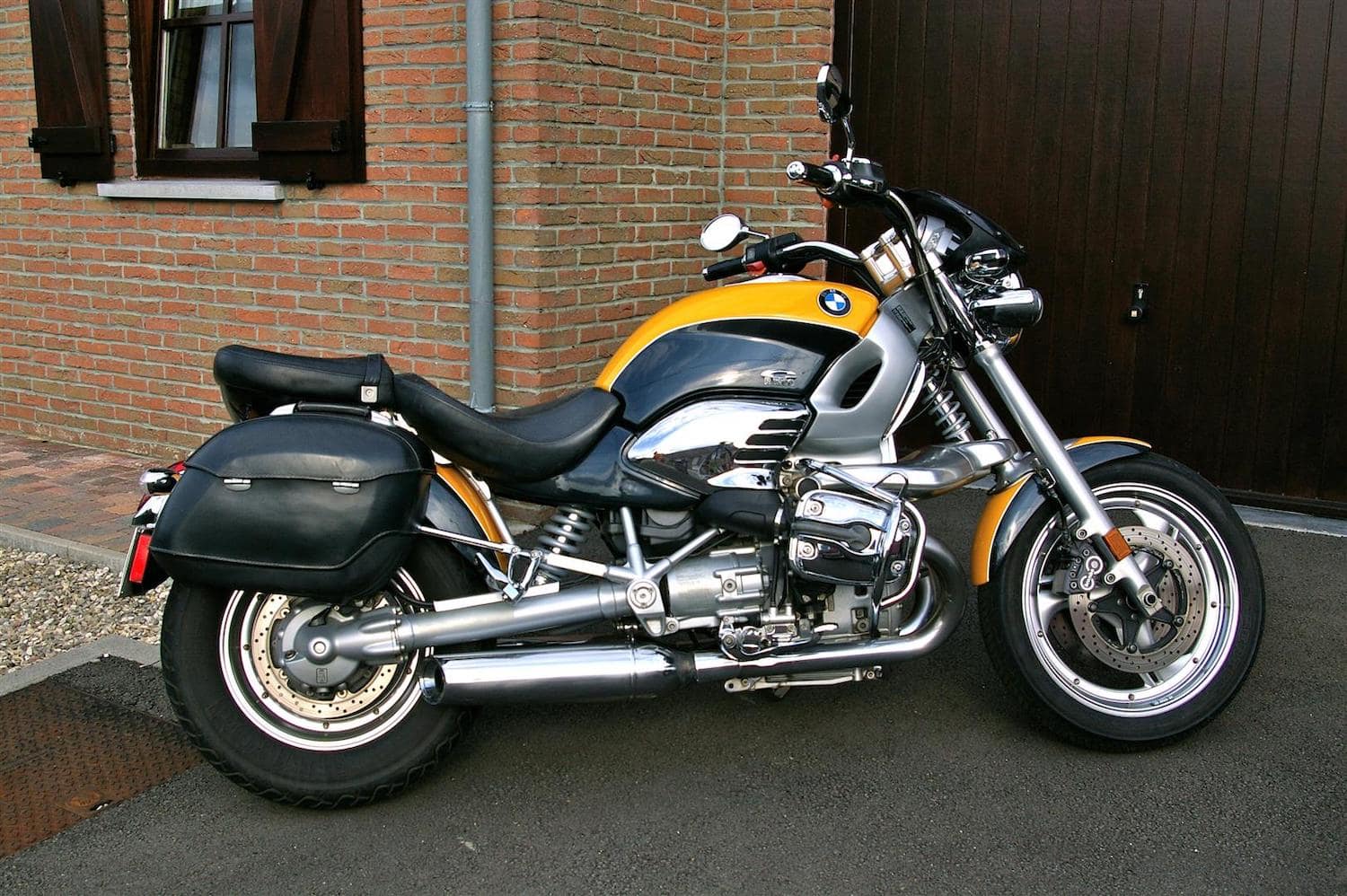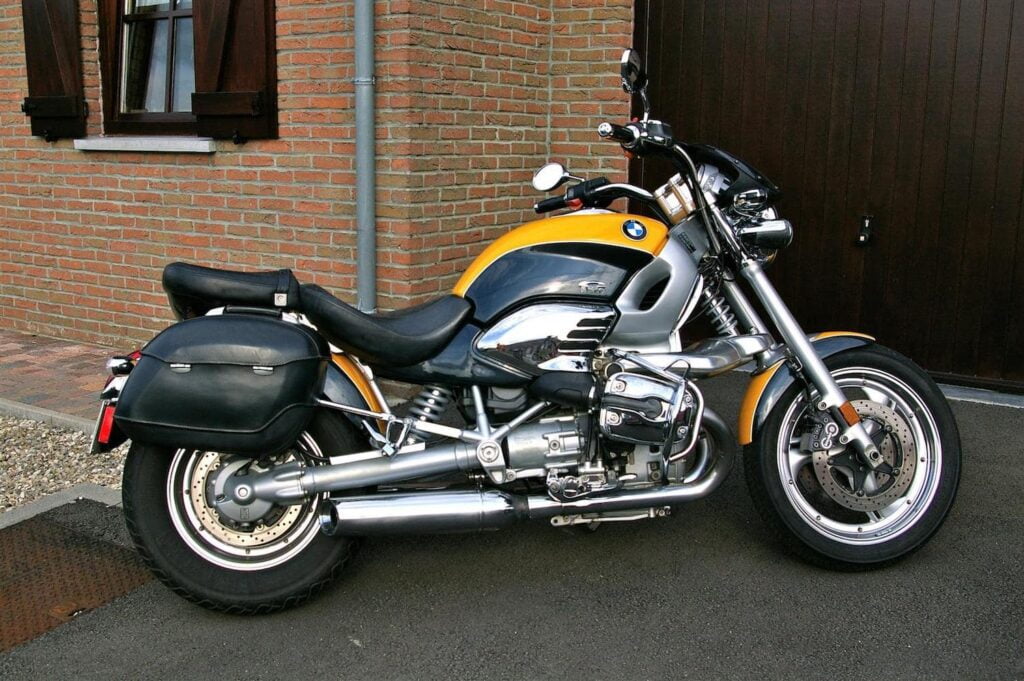 Colours for the Independent included:
Ivory/Bronze metallic (white and brown)
Mandarin/Graphite metallic (Orange and Grey)
Piedmont Red Metallic/Titan Silver Metallic
Ivory/Orient Blue metallic (released later)
These days, wire spoke wheels are more in vogue, especially when the tyres are tubeless (as is the case here).
R 1200 CL "Cruiser Luxury" (2003)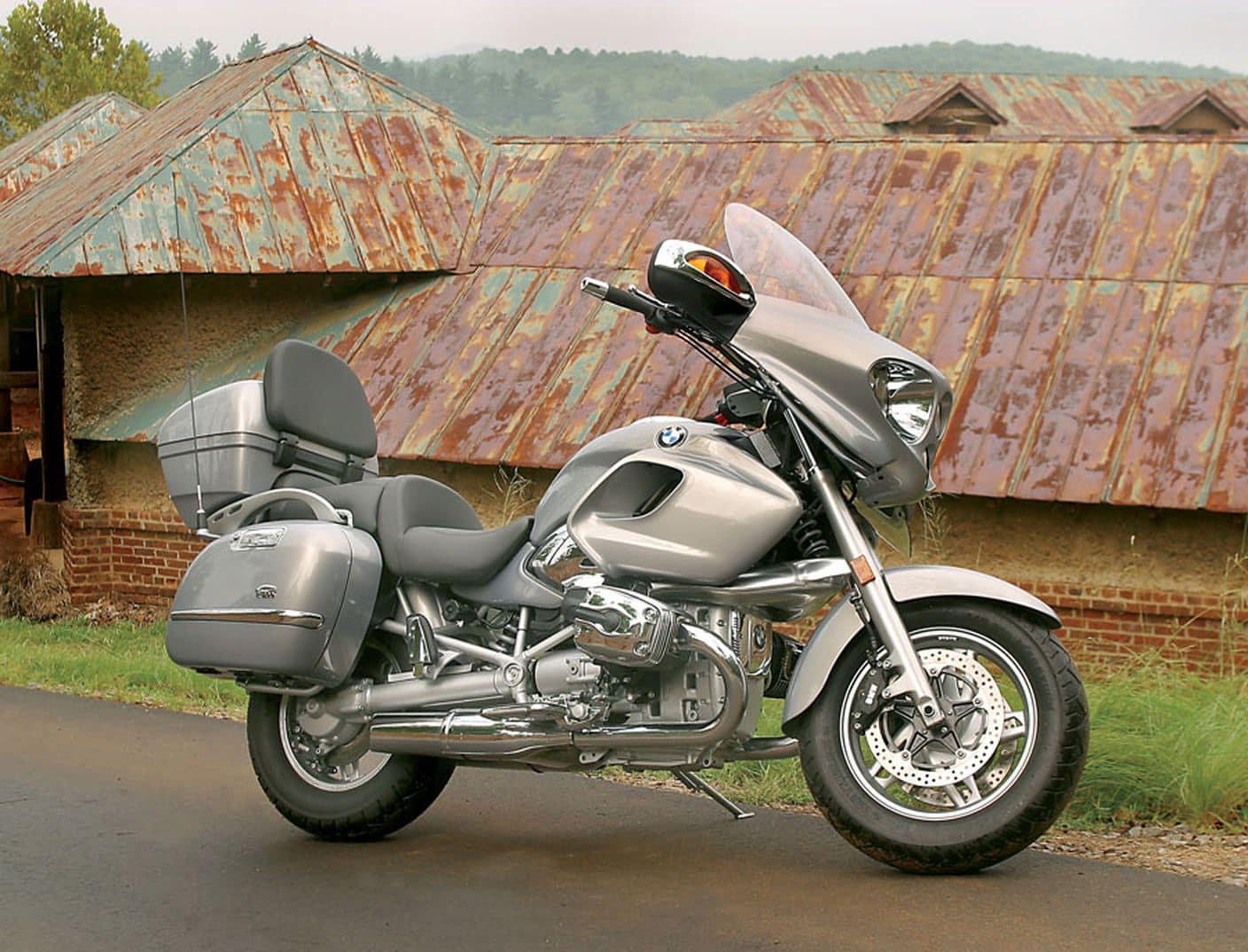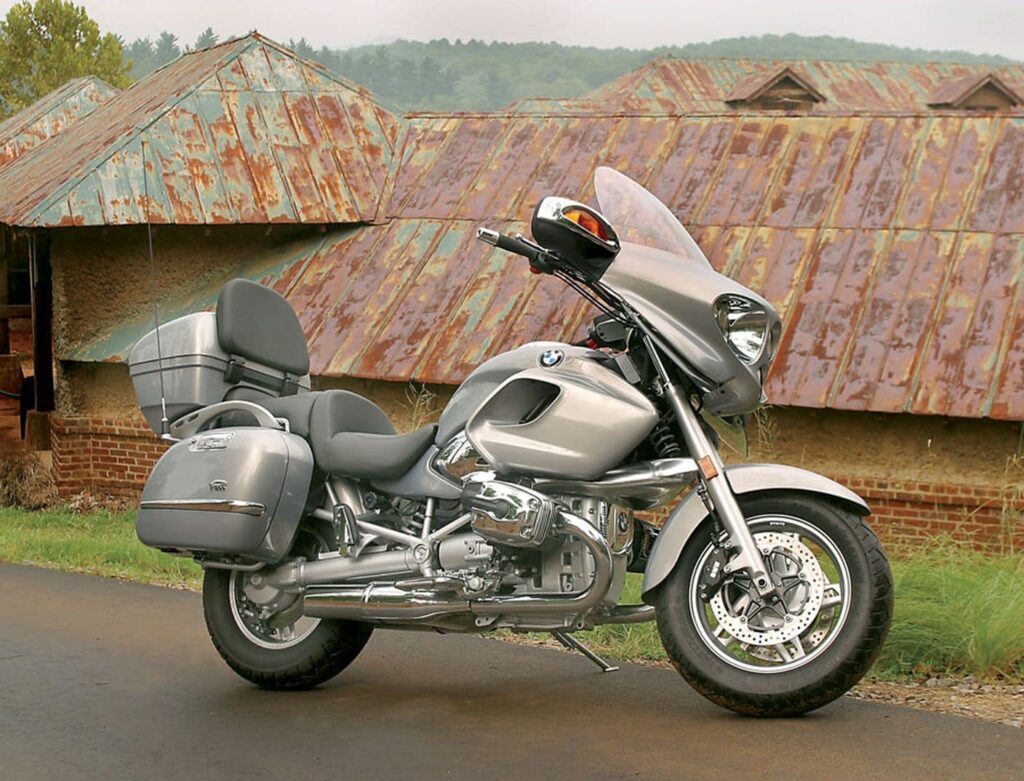 The CL model is the full-dress bagger version of the BMW R 1200 C line. I It has the same engine, though.
Telltale signs of the R 1200 CL: All that bodywork and luggage!
Even though it has the same engine, the R 1200 CL got a host of upgrades, including
Integrated hard luggage
Spacious seating
Improved dash, with tachometer
A very different handlebar-mounted fairing
And aside from aesthetics, the R 1200 CL got a few new drive-train components, borrowing them from the more up-market K1200LT:
Lighter six-speed transmission
Redesigned Telelever suspension (for the wider front tyre)
Stronger Monolever rear suspension.
The CL came in an even fancier version called the CLC, with standard ABS, a CD player, a radio, more chrome, a deployable electric skateboard, satellite television, a washing machine, etc. etc.
Unfortunately, the CL also got a lot heavier. The R 1200 C was never a lightweight motorcycle, but 308 kg (679 lb) — about 20% heavier — the engine doesn't really seem up to the task, especially compared to other heavyweight baggers of the day like the Harley-Davidson Electra Glide or the Yamaha Venture. It was also a little harder to ride, with the revised front suspension giving a feeling of vagueness in cornering that people didn't like.
Colours for the CL included:
Sapphire Black Metallic
Capri Blue
Mojave Brown Metallic
Pearl Silver Metallic
BMW R 1200 C Montauk (2003+)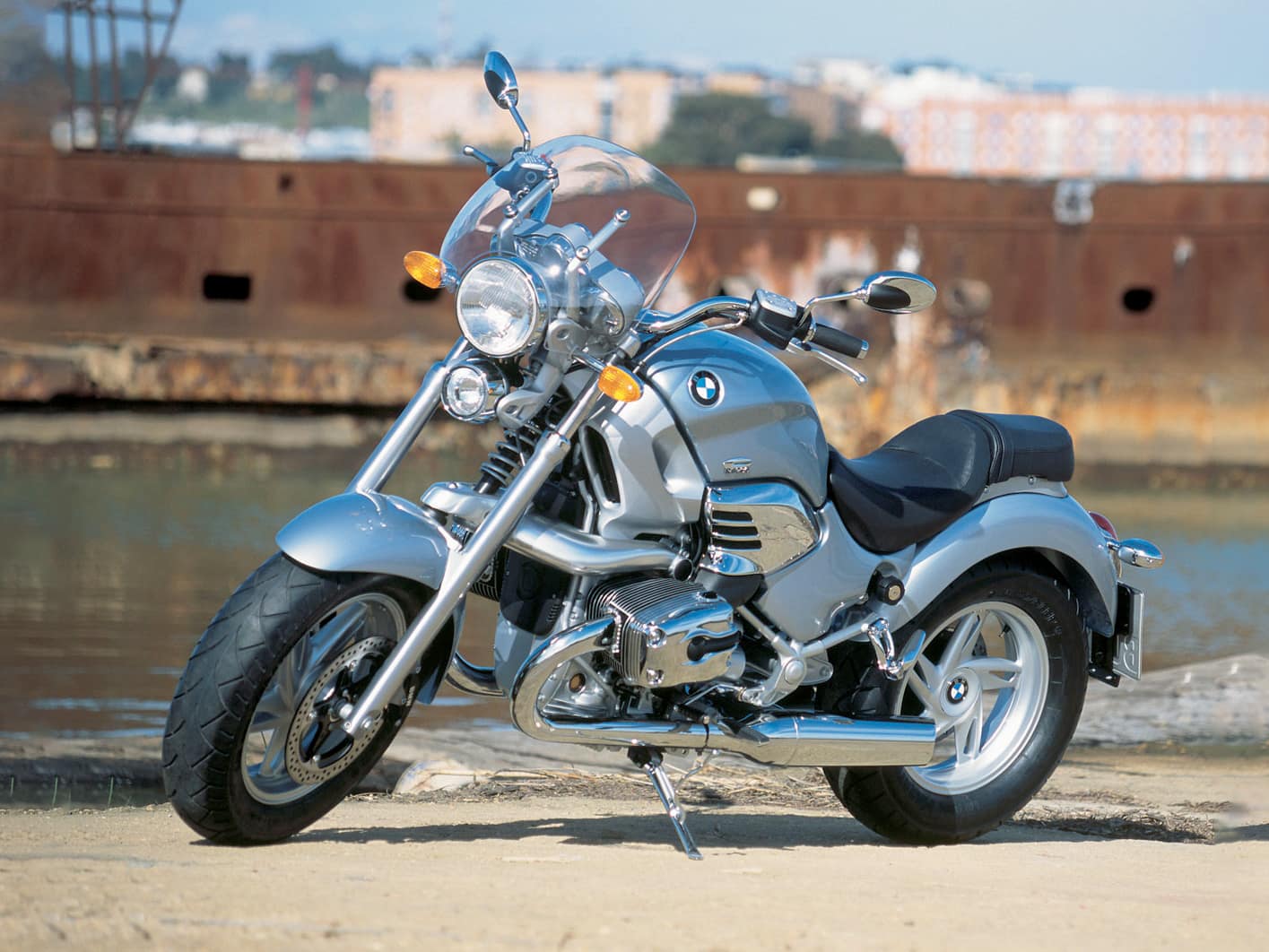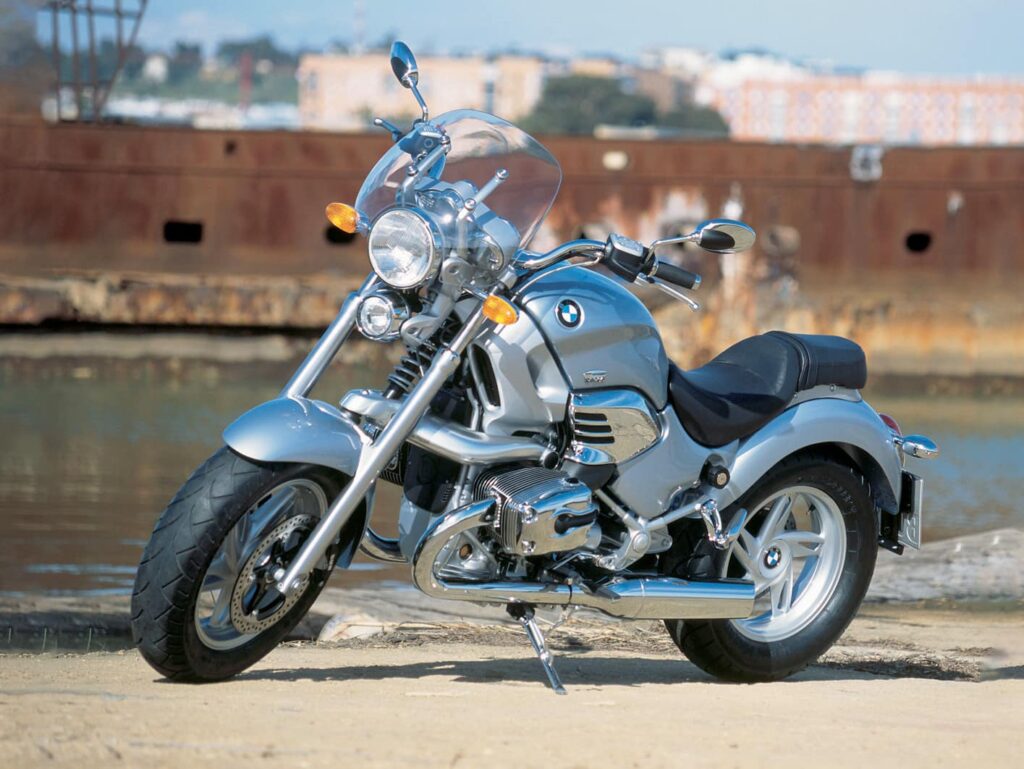 The BMW R 1200 C is a "beefier" R 1200 C, borrowing some of the redesigned components from the R 1200 CL, but shedding the weight from the bagger model.
Telltale signs of the Montauk: Bigger tyres, "turbine"-style wheels, stacked front headlights
The Montauk is named after the town in New York State, in case you were wondering.
Changes to the Montauk from the base model are
A wider handlebar, similar to the one on the Independent
Beefier tyres, including a wider front tyre
Extended rake front-end from the R 1200 CL
Revised telelever fork (same as the R 1200 CL) to accommodate the big front tyre
Instrument and dash from the R 1200 CL (including a tachometer)
Smoother gearbox from the CL, but only five speeds (which is fine)
Small windshield
Vertical stacked headlight
A narrower but more padded rear seat
Braided brake lines
Standard ABS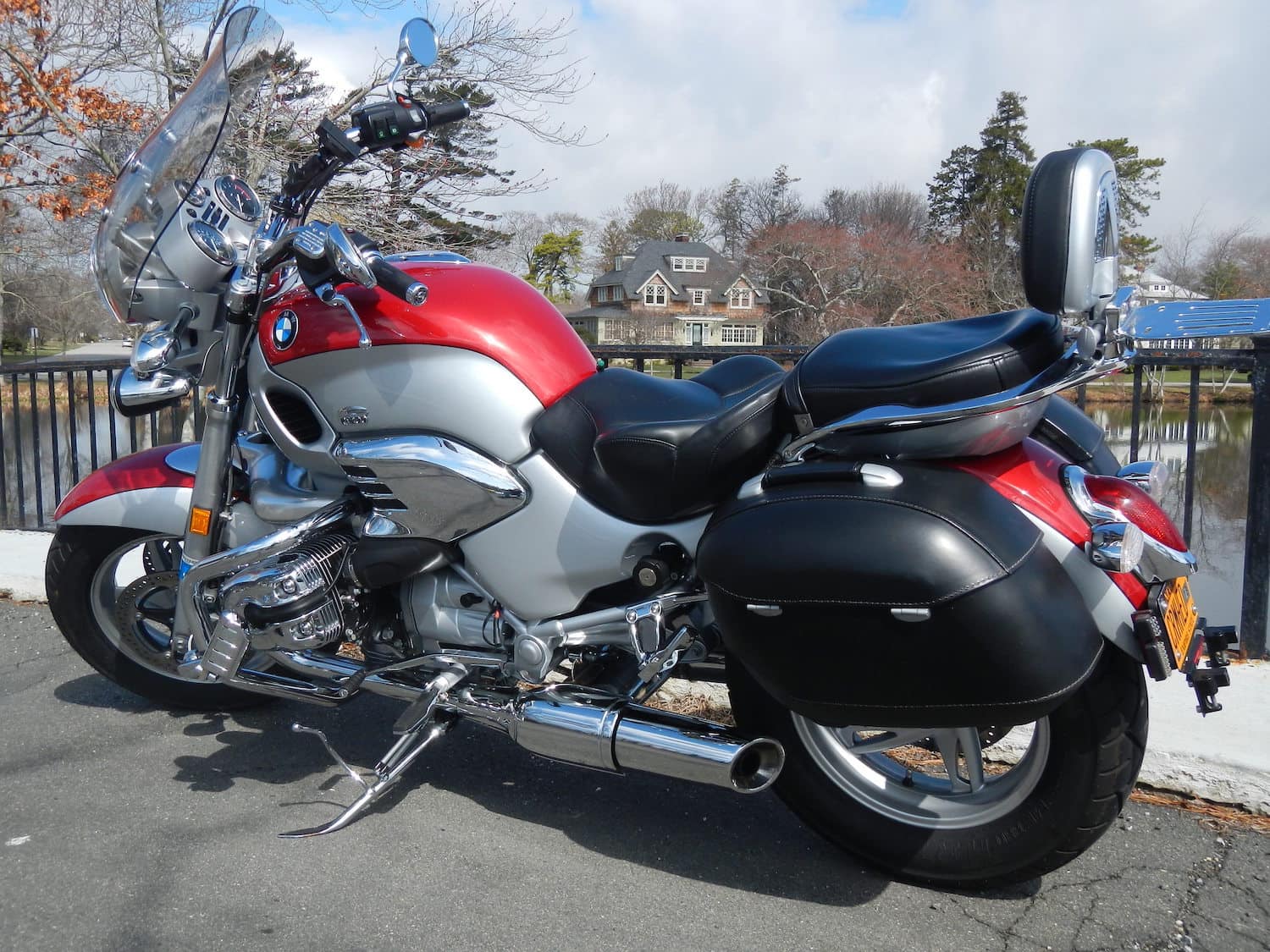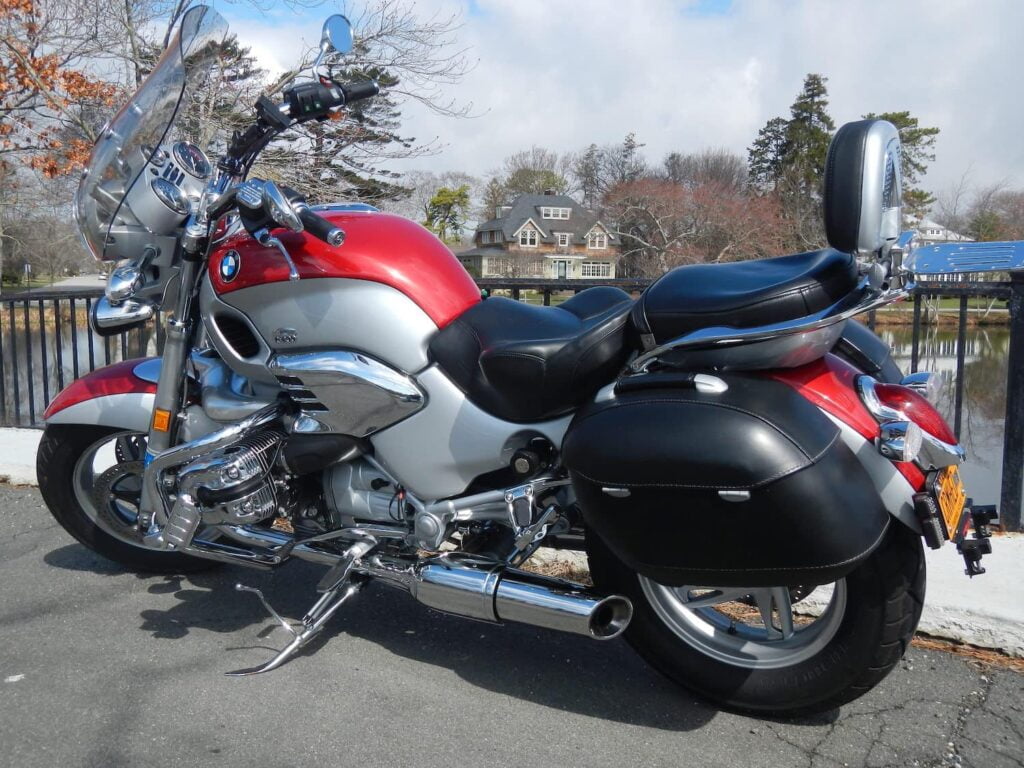 Colours for the BMW R 1200 C Montauk included:
Black ("Black Sapphire metallic")
Blue ("Arctic Blue metallic")
Beige (which they call "Champagne metallic"… it's definitely beige)
Piedmont Red Metallic/Titan Silver
Which variant of the R 1200 C should you buy?
Reviewing all the options above, the choice is clear for me: the R 1200 C Avantgarde. It has lower handlebars and wire-spoked wheels.
The Montauk would be my second choice. The wheels aren't wire-spoked, but they're fine-looking. However, I'm a bit wary about reports of the handling being not as good.
In reality, it's a little hard to find exactly the right R 1200 C. And even if I did, I'd be highly tempted to cut it back and make it a proper bobber. So I'd be open to any of them…
How much to pay for a used BMW R 1200 C
In the US, you can find good examples for under $5,000. The bigger challenge is finding one near you somewhere that's a configuration or colour you like.
Luckily, because BMW owners are a nerdy bunch, the R 1200 C examples I've seen online are generally in pretty good condition. They just might not be terribly nearby. Have a hunt on Motohunt to browse Craigslist and dealerships nation-wide in the US.
In Australia, people seem to price them higher for no good reason. I wouldn't pay above $8,000 for one with around 20,000 km on it, and ideally, I'd pay around $7,000. Yes, they're a "classic". But when you look at what else $7,000 can get you, the competition is fierce. (At least, when the market isn't distorted by a pandemic, which it currently is.) I see some listed for $10K but they won't sell.
Maintaining the BMW R 1200 C
Since the BMW R 1200 C is a shaft-drive, air/oil-cooled motorcycle with very little bodywork, maintaining it is quite easy.
A few people put off things that are hard, including
Adjusting the valve clearance (which isn't hard, it's just tricky)
Adjusting synchronisation
Replacing the fuel filter
Replacing the alternator belt
When you're buying an R 1200 C, check to make sure those have been done — especially the alternator belt. If it fails (when it fails), you're out of luck. Luckily, it's cheap and easy to replace.
Assuming yours has had it's running-in check, this is what you have to do.
Minor R 1200 C service — Every 10,000 km (6,000 miles)
BMW R 1200 C minor service checklist
Change engine oil with engine at operating temperature, replacing oil filter
Oil change, rear-wheel drive (every 2 years)
Check battery acid level
Clean and greasing battery terminals
Check front and rear brake fluid level
Check front and rear brake pads for wear
Check front and rear brake discs for wear
Changing brake fluid, front and rear brakes
Check clutch fluid level
Change the clutch fluid (every 4 years)
Check operation of side-stand switch
Grease side stand pivot
Check condition of spark plugs
Adjust valve clearance
Check freedom of movement of throttle cable and checking for kinks and chafing
Check/adjust synchronisation
Checking spoke tension
Check tire pressures and tread depth
Check lights and signalling equipment
Minor service for the BMW R 1200 C
Major R 1200 C service — At 20,000 km (12,000 miles), and every 20,000 km (12,000 miles) after:
BMW R 1200 C major service
Change oil in gearbox, warmed to normal operating temperature
Replace the fuel filter (every 40.000 km)
Replace intake air filter
Perform visual inspection of the brake pipes, brake hoses and connections
Check rear wheel bearing play by tilting wheel
Check swinging-arm pivot mount
Replace alternator belt every 40,000 km (every second major service)
Replace spark plugs
Major service for the R 1200 C
Resources about the BMW R 1200 C
There's a pretty devoted group of fans of the BMW R 1200 C over at chromeheads.org. It's an old website (it may even show up as an "insecure connection"), populated by older people. I liked the thread about colour options for example.
The BMW R 12
In May 2023, BMW announced the R 12 nineT for the 2024 model year, and later announced the R 12 cruiser. The R 12 is positioned between the nineT and the old R 1200 C.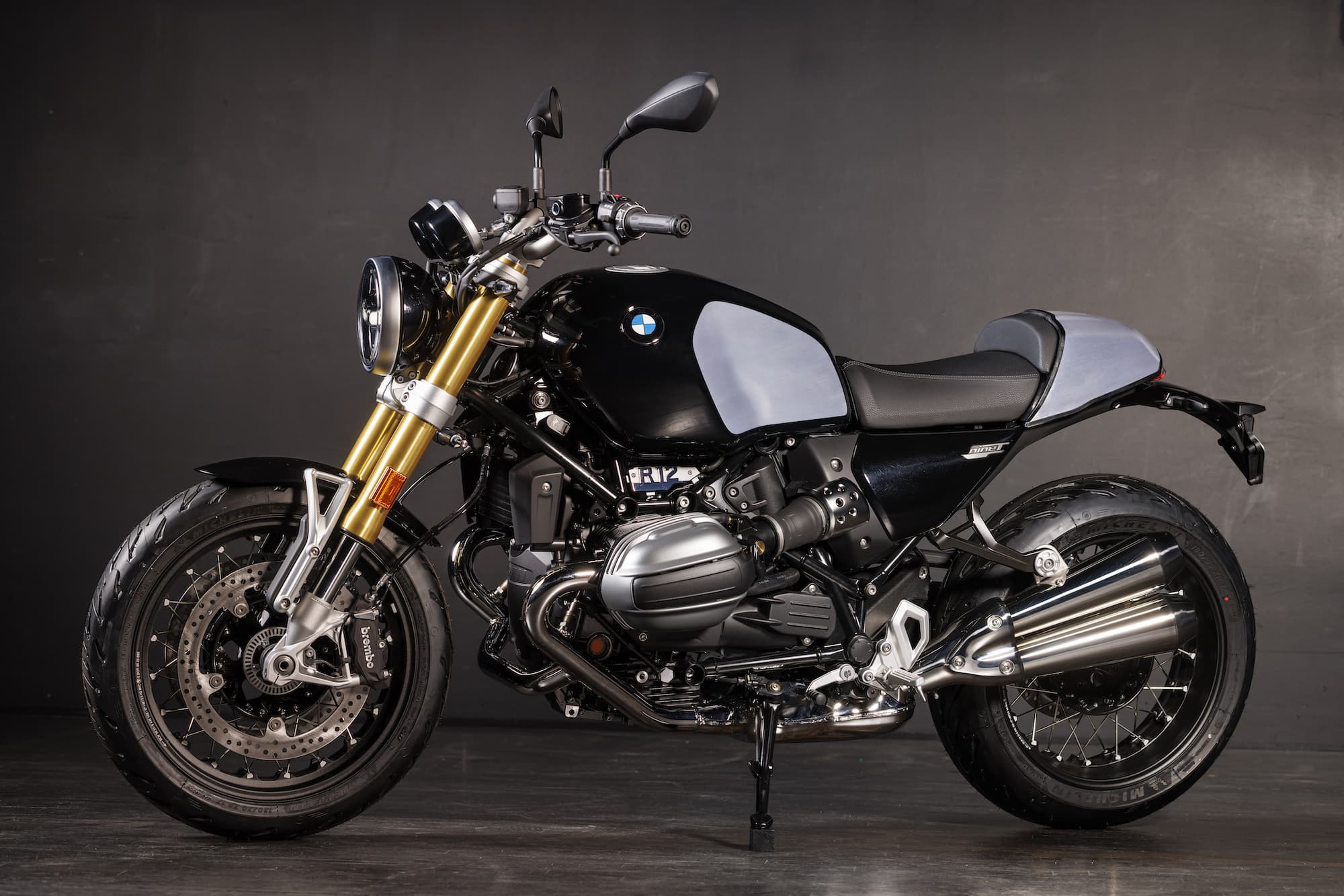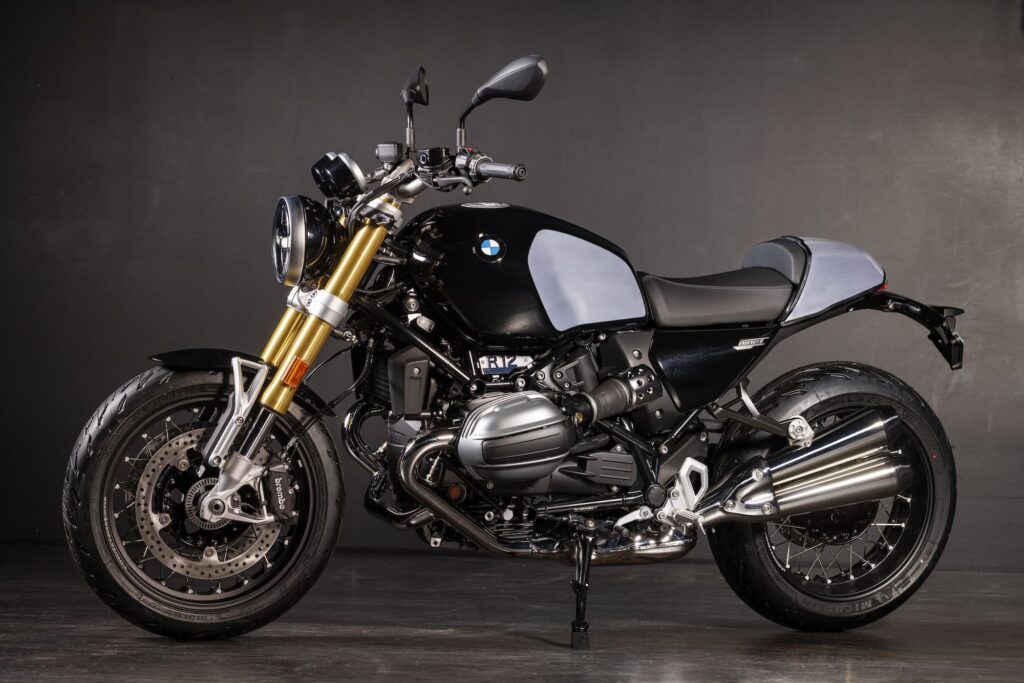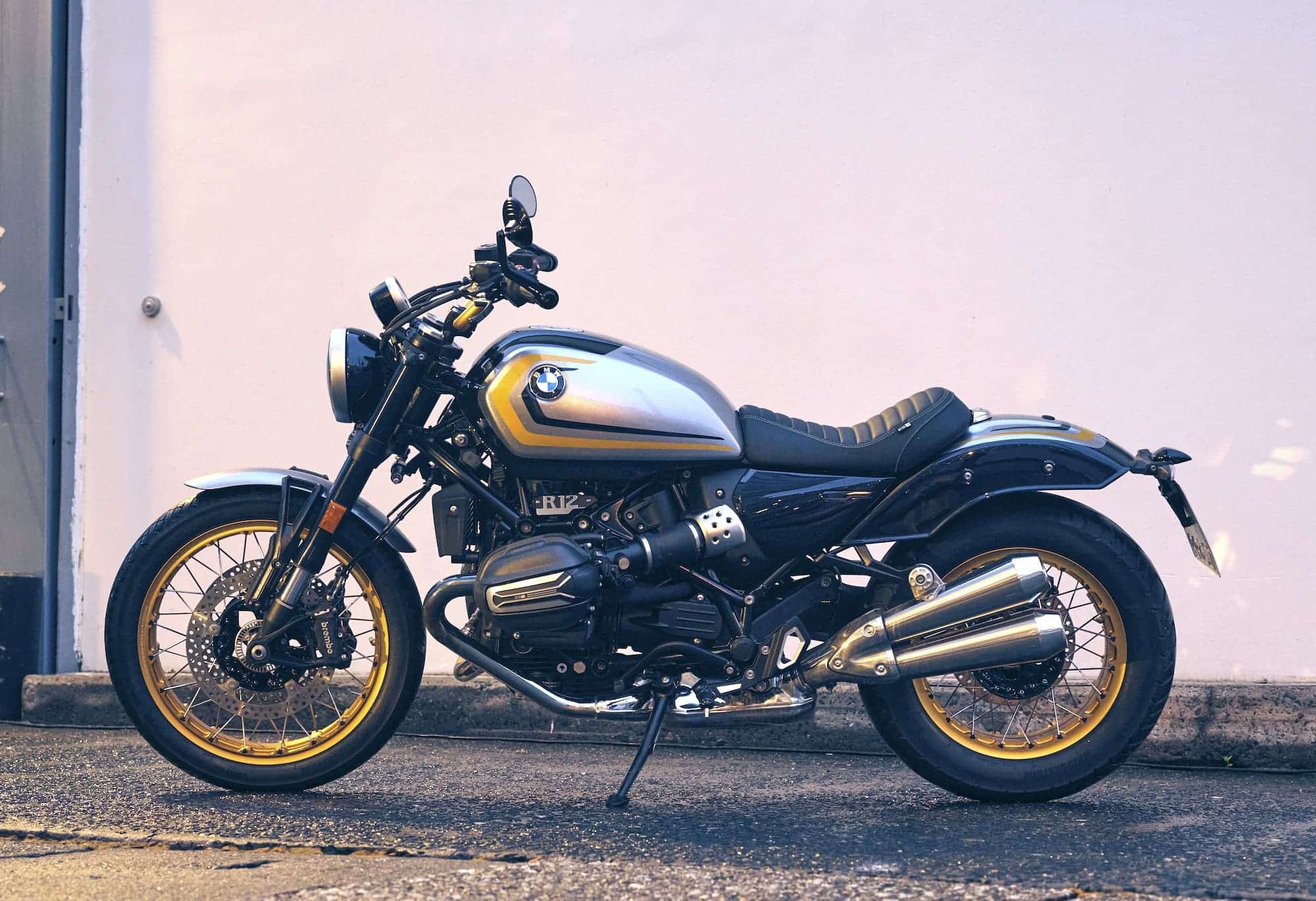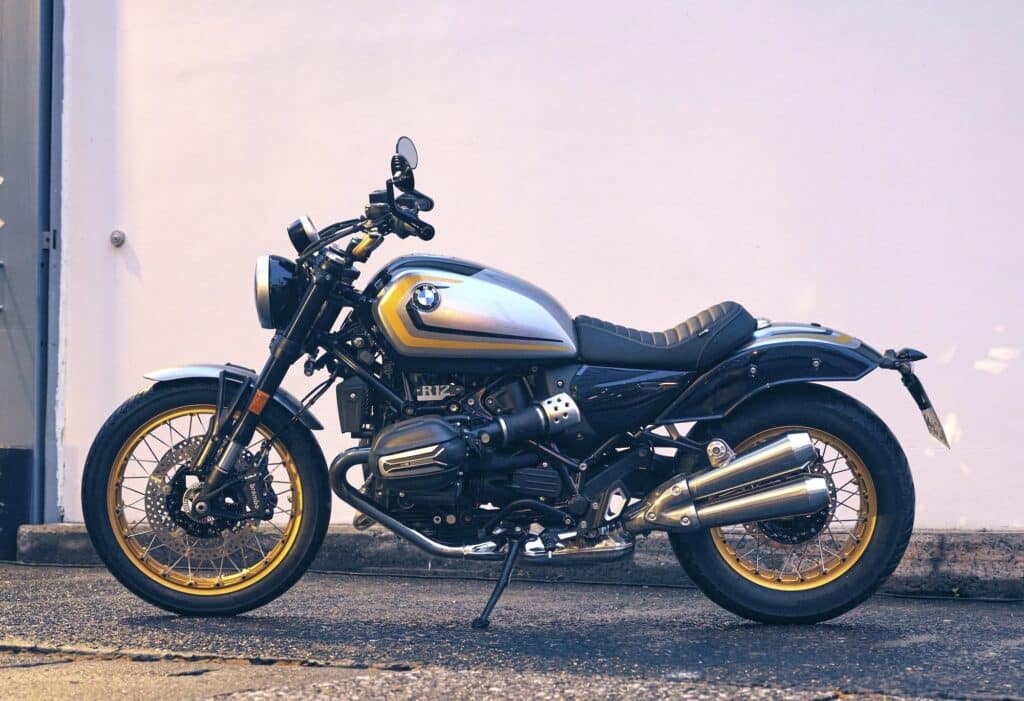 The BMW R 12 has the same air/oil-cooled boxer engine, but has a bit of peak power lopped off the top. It has a relaxed riding position (you can see that the controls are positioned further forward), a single gauge, non-adjustable suspension, and more relaxed rake and trail than the R nineT — and also the R 12 nineT.
The R 12 is somewhere between the old cruiser aesthetic of the R 1200 C and the R nineT. It's more powerful than the R 1200 C, and not as relaxed. I'm sure it'll be a hit with many, especially those who liked the "Pure" BMW R nineT.