The BMW R 1150 GS is, these days, a relatively unsung hero in BMW's motorcycle history. It has been eclipsed by many motorcycles after it — multiple generations of the R 1200 GS / Adventure, the R 1250 GS, and even the R 1300 GS (not yet even formally announced at time of publication).
But there's a lot to love about the R 1150 GS and its Adventure counterpart.
Yes, the BMW R 1150 GS is heavy. No, it's not that powerful. And yes, there are "better" bikes out there for both highway cruising, off-road work, and probably everything else you could ask of a motorcycle. Including just about every R – GS bike that came after it. Stop looking at those sexy things!
But if you are like me, and just love a huge hunk of metal that does what its told, goes forever, and is really easy to bang back into place with a hammer, then the BMW R 1150 GS is a solid contender.
Here's everything I love about the dang thing, including:
An overview of how we got here — a brief history of adventure motorcycles
What makes the R 1150 GS special
Riding the R 1150 GS compared to its later siblings
Servicing the R 1150 GS (yourself)
Some alternatives to consider
OK, let's go.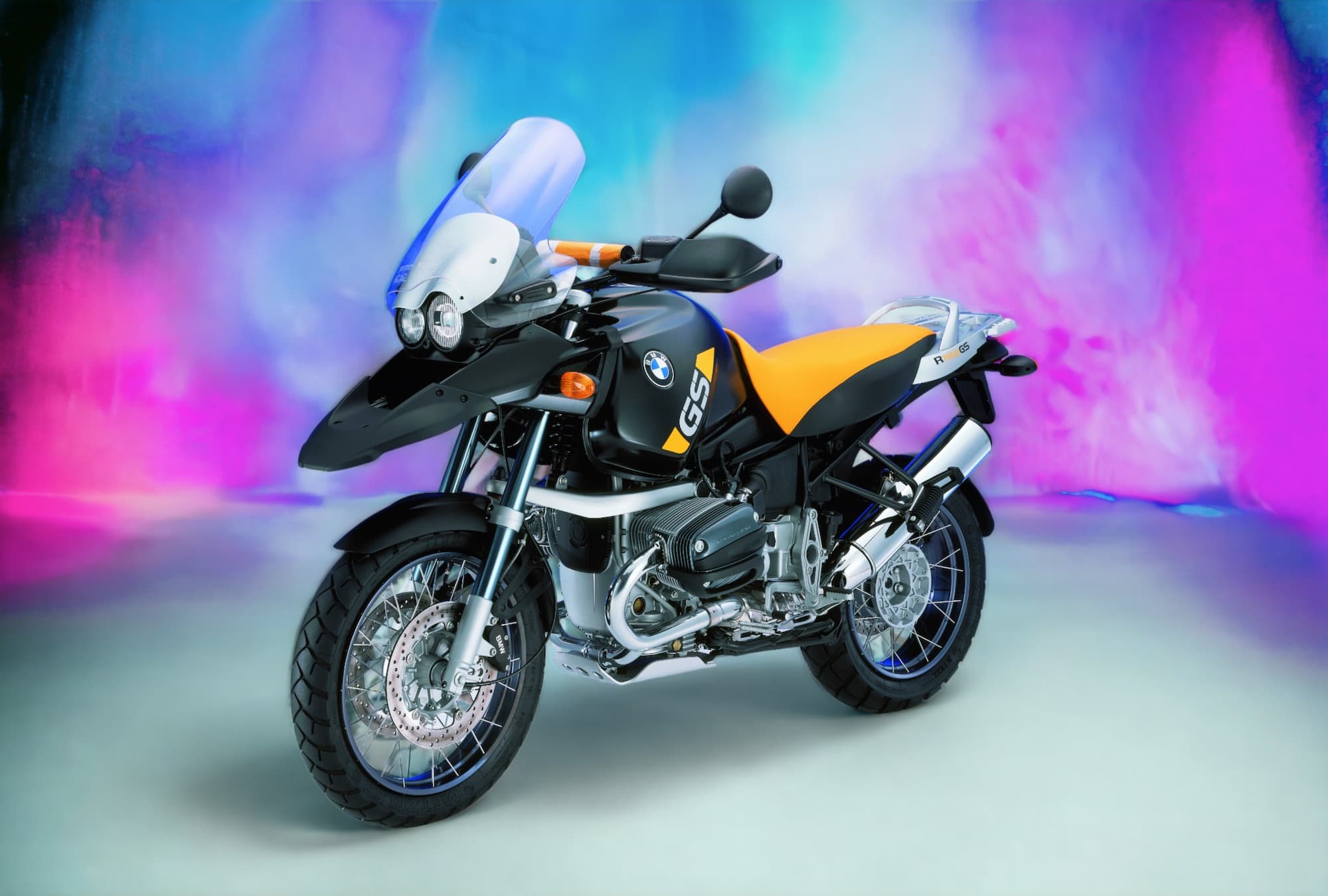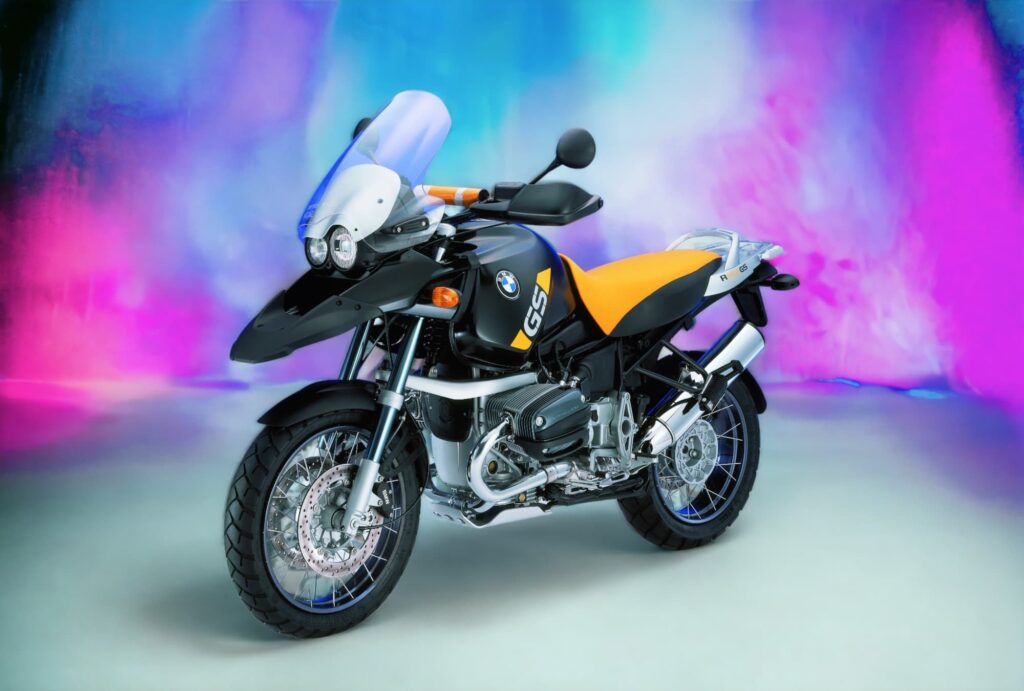 Are you obsessed with motorcycles?
Well, I am. That's why I created this site — as an outlet. I love learning and sharing what others might find useful. If you like what you read here, and you're a fraction as obsessed as I am, you might like to know when I've published more. (Check the latest for an idea of what you'll see.)
History — How We Got to the BMW R 1150 GS
See the complete guide to the BMW GS Boxers, from the R80 G/S to today, here.
The bike immediately preceding the R 1150 GS was the R 1100 GS. But anyone thinking of any GS bike — or even a GS-inspired bike (like the R nineT Urban G/S) — will be thinking back to the first Gelände / Straße, the BMW R 80 G/S (before the Straße became Sport).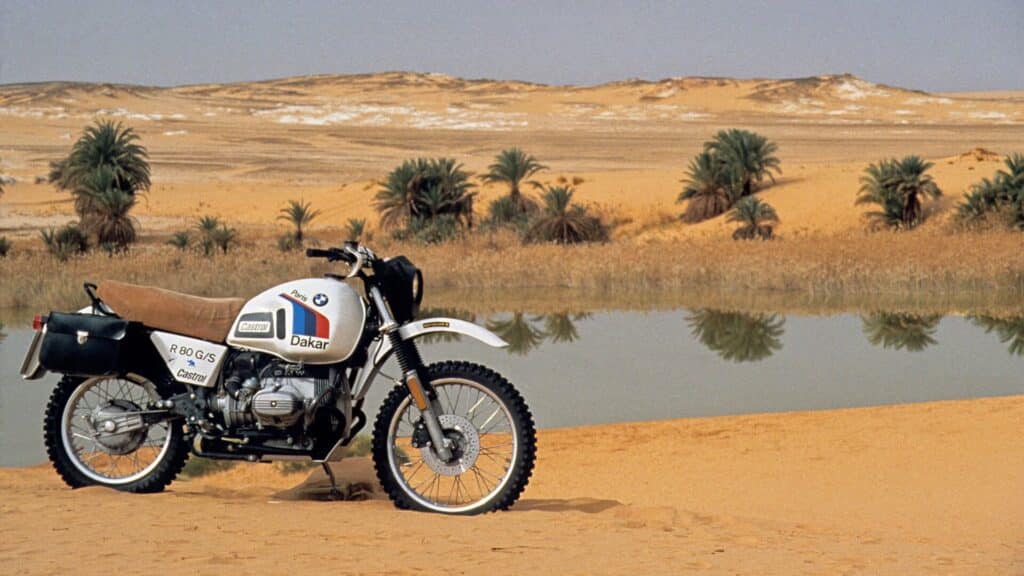 The R 80 G/S was, for its time, a phenomenon. By today's standards, it's essentially a dual sport bike — lightweight (for the time), torquey, not that powerful, full of character, and reasonably reliable / easy to fix if it goes kaput. You essentially can't get one unless you're a collector with friends in high places, or pick one up from a deceased estate, and nor would I particularly recommend one to anyone but a diehard fan. But they're very cool, if you have the patience for that kind of thing.
The R 80 G/S has evolved a lot in the decades between it and the R 1150 GS, but the things that the GS line have kept are the boxer engine, a shaft final drive, and some pretension of being designed to live off the road.
Since then, the BMW R – GS line has picked up a lot of stuff. Along the way, the GS motorcycles lost the forward slash between G and S, got a smaller front wheel, picked up a lot of weight, and have obviously picked up technology. Even by the time of the R 1150 GS, they picked up an LCD component on the instrument cluster and optional ABS. But most people would notice the size, first and foremost.
Also notably, competition has really picked up. If you want to buy a classic adventure motorcycle, you can look at one of the old Africa Twins (that were V-twins), a Yamaha Tenere XTZ750, a Cagiva Elefant, or a few others.
But these were all smaller-bore, carburettor-fed, and not ridden in 'The Long Way 'Round' (I'll get to this). That's why you might be interested in an R 1150 GS.
BMW R 1150 GS Quick Stats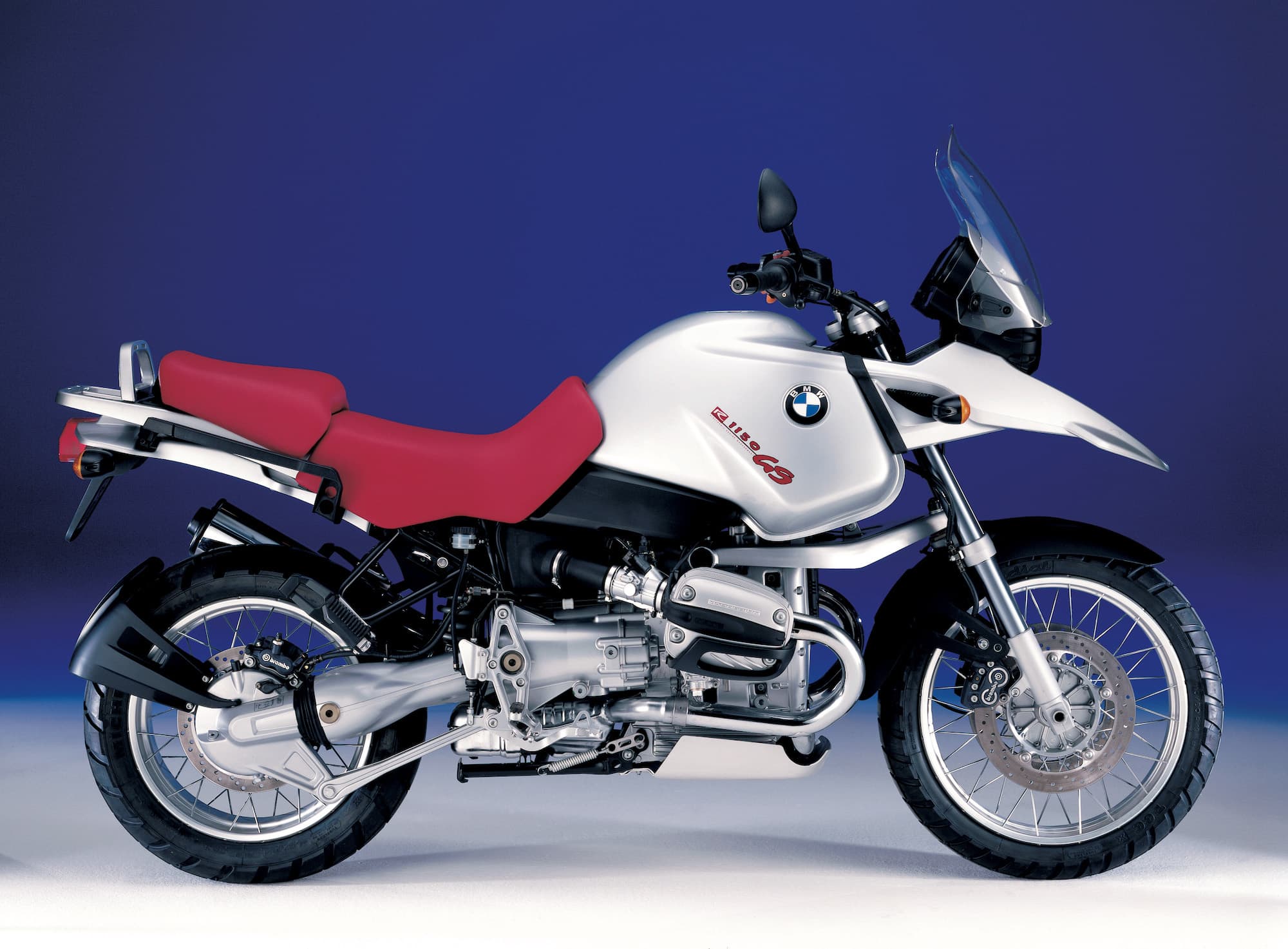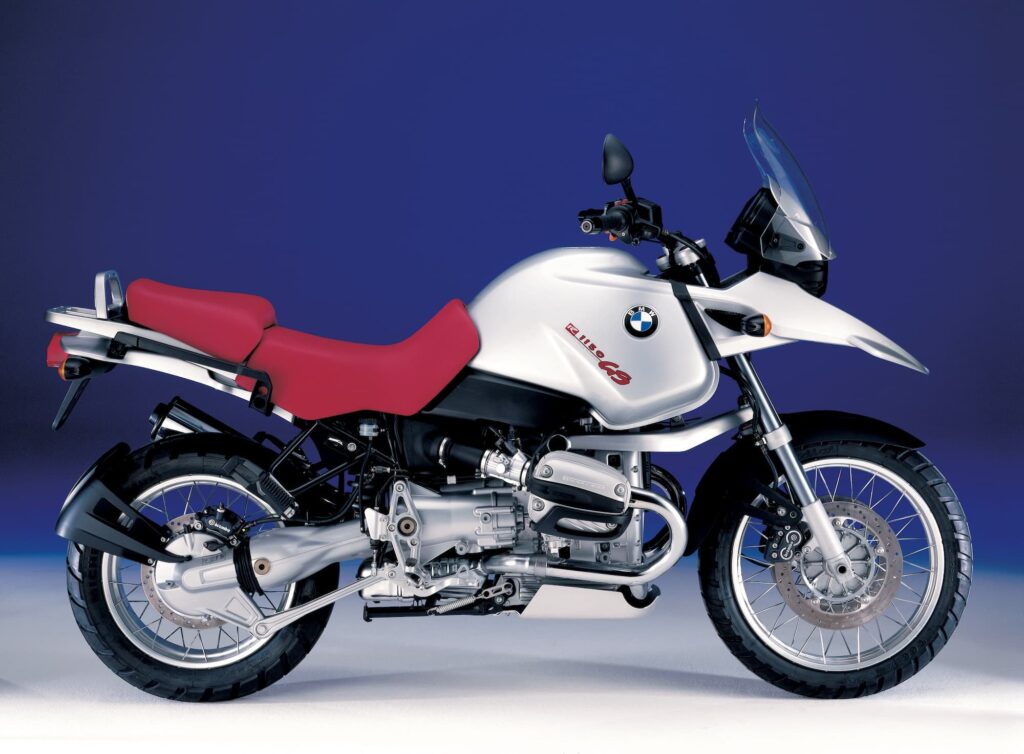 Here's a bunch of numbers on the R 1150 GS, plus some commentary on how they're relevant.
Item
Spec
Unsolicited opinion
Engine
1130 cc boxer twin, "Oilhead" (oil cooling)
Pre-Hexhead. See the history of BMW engines.
Up from 1085cc of the 1100, with 2mm bigger bore.
Peak power
62.5 kW / 85 hp @ 6750 rpm
up 3kW / 5 hp from the R 1100
Peak torque
98 Nm / 72 lb-ft @ 5250 rpm
Maintains above 88 Nm / 65 lb-ft from 3-6500 rpm
Compression ratio
10.3:1
Mild
Fuel requirement
Super / Premium fuel
Both US and Europe manuals require 95 RON fuel (corresponds to 91 in the US, a.k.a. "Premium")
Final drive
Six speed box, shaft drive
Ooh, six-speed. Not to be assumed, at the time
Standard vs Adventure have different gear ratios
Front suspension
Telelever
"Light" Telelever, from the R 1100 S sport bike
Rear suspension
Paralever
Single sided swing-arm
Front brakes
2 x 305 mm discs, 4-piston callipers
Front wheel
110/70 B 19 TL
Not a 21-inch wheel, but does the job.
Both wheels are spoked, but have tubeless tires.
Rear wheel
150/70 H 17 TL
Core specs of the BMW R 1150 GS
BMW R 1150 GS vs GS Adventure differences
Nearly two years after releasing the BMW R 1150 GS, BMW released the R 1150 GS Adventure (in September 2001, to be precise).
This was the first GS "Adventure" that BMW released. These days, people call the models "GSA" for short.
If you're wondering what the difference is between the two, the GS Adventure primarily has a larger fuel tank, an engine knock sensor so you can use fuel from the middle of nowhere, taller suspension and different gear ratios for slightly slower going.
The GS Adventure is overall quite tall, with a very high seat height of 900 mm / 35.4 inches. It's a very tall bike. It's also quite heavy with a full tank, and would be even more so with gear on it, so do know what you're getting into.
Item
R 1150 GS base model
R 1150 GS Adventure
Years made
1999-2005
2000-2006
Engine knock sensor
Allows running on lower-grade gasoline when needed
No
Yes
Fuel tank capacity
22L / 5.8 US Ga
30L / 7.9 US Ga
1st gear ratio
3.864
4.465
6th gear ratio
1.316
1.504
Front wheel travel
190 mm / 7.5 in
210 mm / 8.26 in
Rear wheel travel
200 mm / 7.9 in
220 mm / 8.66 in
Included standard equipment (Note that these affect the weight)
None
* Wider windshield — 13cm higher, 12cm higher
* Engine protection bars
* Auxiliary lighting
* Second auxiliary lighting socket
* Front fender beak
* Single bench-type seat
* Alu skid plate
Kerb weight (full tank — note GSA has larger tank)
249 kg / 549 lb
276.5 kg / 609.6 lb (with all equipment fitted, and the larger tank full
Seat height
840 / 860 mm (33.1 / 33.9 in), adjustable
900 mm (35.4 in)
BMW R 1150 GS vs GS Adventure differences in detail
What's special about the BMW R 1150 GS?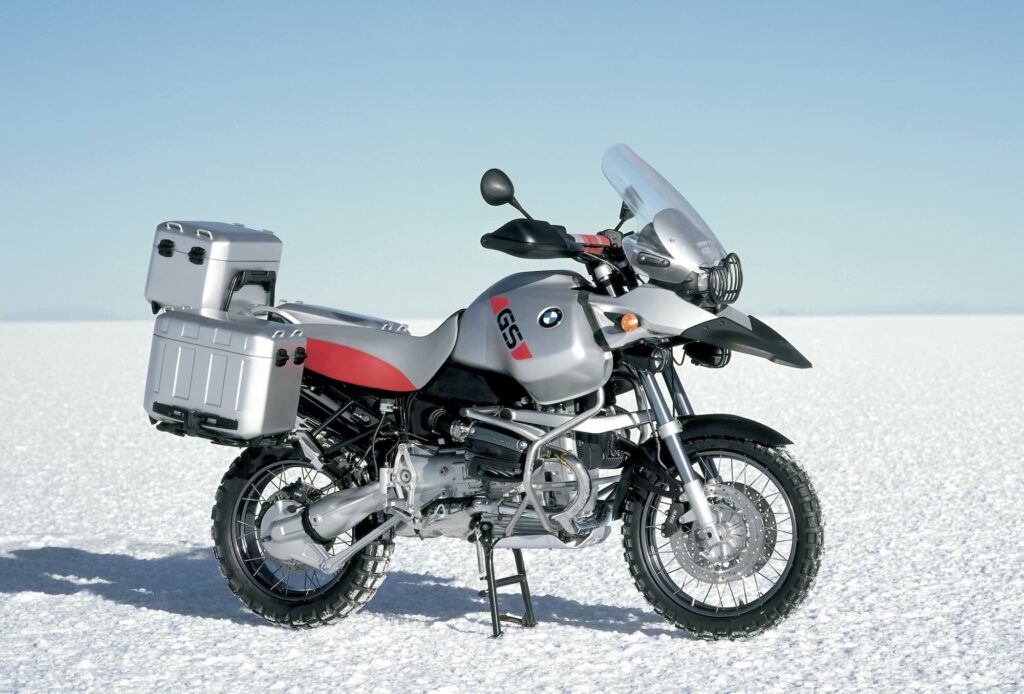 OK, enough already. What's so good about this bike?
First, a disclaimer — the R 1150 GS is not a perfect bike. It has flaws. The maintenance comes up often, even if it's easy. They're old, so parts break and need repairing, even if they're not hard to do. And it's heavy and not that fast.
But it's a tank, it's affordable, and it'll do most jobs people need.
The reason I wanted to put this together is that I think they're worth a look as an adventure rig, particularly if you have an eye for earlier generations of bikes, if you are a bigger, taller person who can see themselves lifting this thing back up when it tips over, and if you're on a budget.
Because the first thing that draws me to the BMW R 1150 GS (and GS Adventure in particular) is that for an adventure motorcycle, it's cheap these days.
The BMW R 1200 GS and up are expensive. For used bikes, being a desirable brand in a hot segment, they have really high retail prices, even those from unfavourable years with bits that tend to fail, and even those with high mileage on them. (This is both a pro and a con; because if you buy high, you can also sell it for not much less — or maybe break even.)
Part of the reason for the high price of the R 1200 GS is that the 1200 (even the first-gen… aside from the servo brake years) is a huge improvement over the 1150 GS, with more power and far less weight. The liquid-cooled versions onward are decidedly sporty in their power delivery. There's nothing they can't do well.
But the BMW R 1150 GS Adventure was the bike that really kick-started the craze for adventure motorcycles that shows no signs of abating. This is the bike that Ewan McGregor and Charlie Boorman rode to make the film Long Way 'Round!
So, even though those actors complained about their bikes' weight and cumbersome size at times, it's clearly capable of doing the trip. This isn't to say that other bikes aren't (they, of course, are), but the BMW machines are the ones that have the reputation.
(I don't know if their bikes were replaced during the journey. Some people claim they went through multiple.)
OK, so the R 1150 GS can do the trip (or at least a trip), and you can get it for a song. But that's not all I like about it.
The second thing I like about it is that the engine is simple, reliable, and easy to work on. (More on the engine below in the next section.)
A caveat is that you've got to like boxers. This isn't necessarily the case for everyone! In fact, some people don't really care what kind of motor is under them, as long as it's reliable and not too vibey. For me, and quite a few riders, I have to like the character of an engine.
I don't personally love BMW boxers the most, but I do like a lot about them. I like the way they kick over when you rev the motor, I like their gentle warplane-like purr and roar, and I like how easy they are to work on.
BMW motors of this vintage (pre-cooling, in particular) really do feel quite "agricultural". It's a word people often use to describe BMW motorcycles from the period.
"Agricultural" sounds bad to some people, but to me, it just means that they're shaky and visceral, like a tractor. Have you ever ridden a tractor or any other agricultural machinery? It's really fun! Tractors are a hoot. That said, I'm not sure "tractor-like" is the feeling I want to have every day on a long journey, but it's definitely a feeling that would leave a visceral memory.
Thirdly, I like the look of the BMW R 1150 GS. Give me a 1150-onward GS in any colour other than grey, and I think it looks big, tough, and ready for anything. This is worth highlighting because it's not like every old bike looks good. There were good and bad periods. The R 1150 GS, to me, looks good.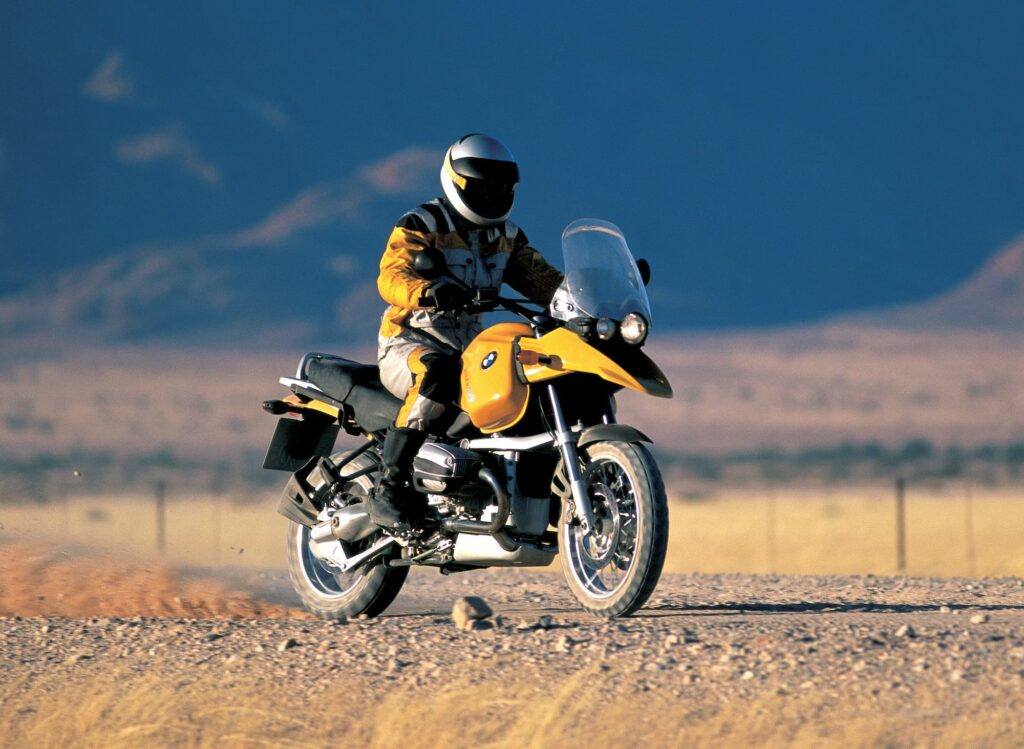 Yes, I even like them in yellow, perhaps especially so (feel free to disagree, so we won't be fighting over the same model). I've always been partial to asymmetrical headlights — I was a bit sad that BMW moved away from them in recent iterations of the S 1000 RR, for example.
The instrument cluster of the BMW R 1150 GS looks like it was designed by the same people who designed space ship movie sets from the 1950s. That light panel looks like it was borrowed from Darth Vader's uniform. Though I'd hate to replace a bulb (I don't think they're LEDs…)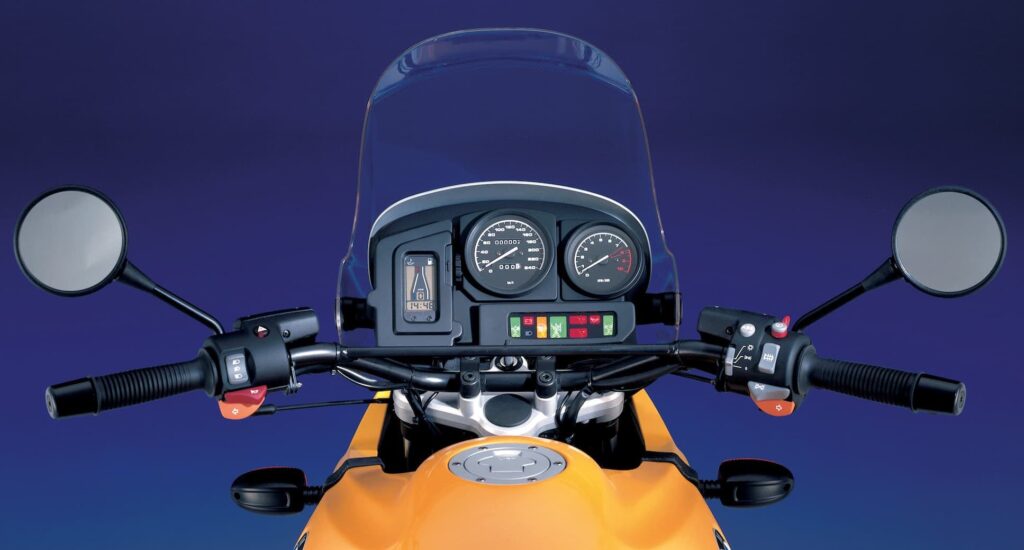 The BMW R 1150 GS, you might note, is from the era of paddles for turn signals. The big red paddles are to signal to left and right, and the grey switch on the right is to turn it off. I don't hate these, but was glad when they did away with them. And, there's no cruise control, so make sure you buy something like a Go Cruise 2.
On off-road capability — mostly, my intentions in off-road riding are to a) not feel like an idiot when on a rocky, downhill dirt road that was indicated as a normal road on Google Maps, b) not have my butt bounced into oblivion on corrugated roads, and c) not cry when I drop a bike at low speed (or have to pick it up).
My off-road riding is basically roads that are dirt roads and going to cool places, or very bumpy and poorly-maintained country roads. I don't voluntarily go off into the forest on big motorcycles.
In fulfilling those goals, any GS will do, including the BMW R 1150 GS. I don't have MX friends I have to keep up with, and I don't want to ride on sandy beaches.
More experienced off-roaders will tell you that the GS can't do "single track" (unless you're very experienced / skilled), but that's not really my thing anyway. When it comes time to wander off into the woods, I usually use a much more specialised tool (often a lightweight dual sport that I've rented locally).
About the BMW R 1150 GS' Engine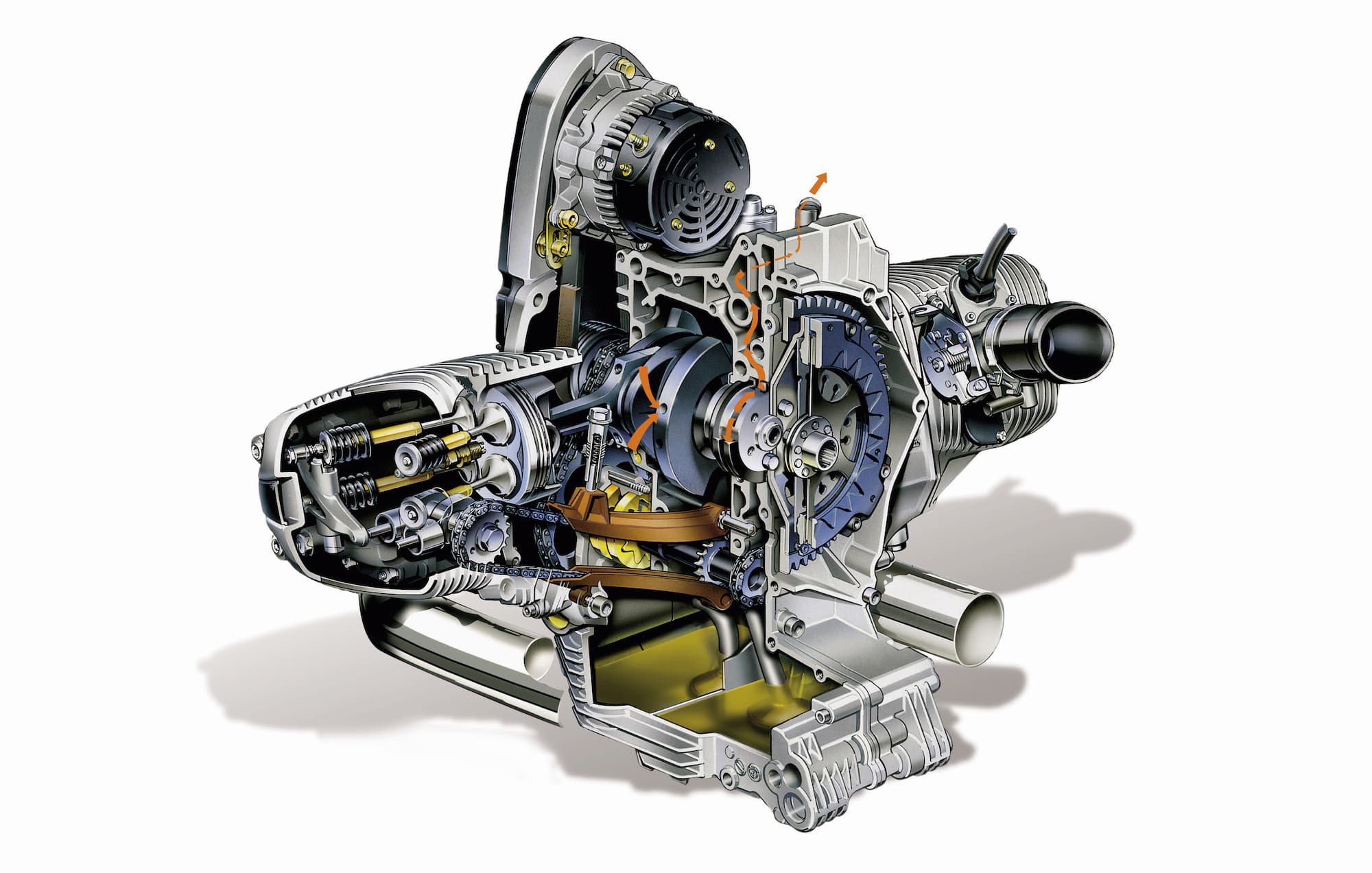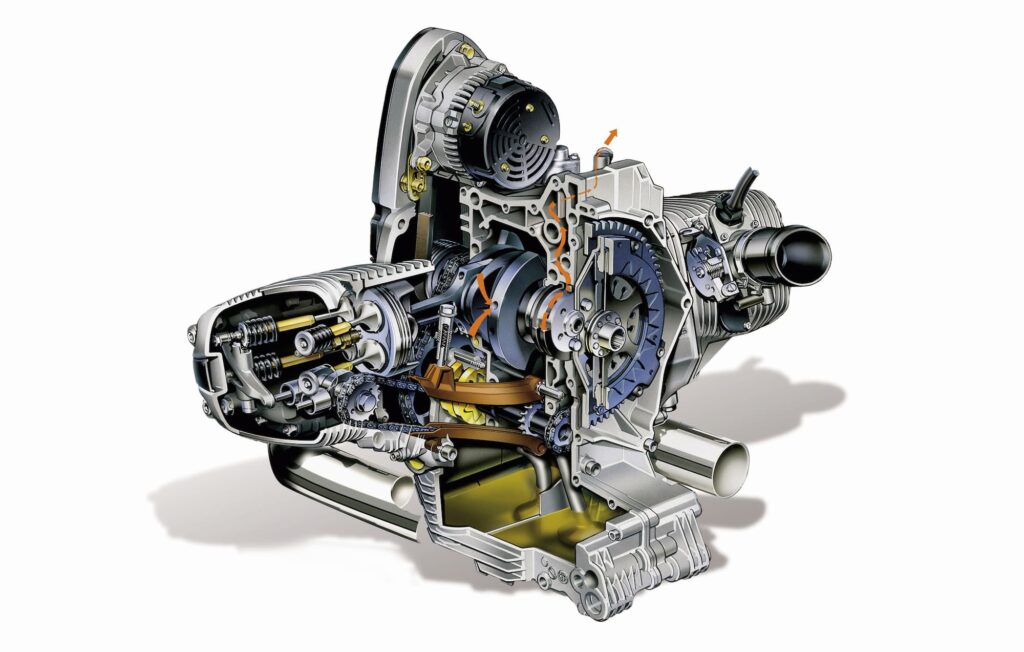 Like every other R – GS engine, the engine in the BMW R 1150 GS is a "boxer twin" — shorthand for being a two-cylinder engine with horizontally opposed cylinders.
The format has advantages and disadvantages. In brief, what I like about it is that it's more conducive to even air-cooling, because there's always air flowing over the cylinders. This is in contrast with, for example, Ducati and Harley-Davidson air-cooled V-twins, which always have some problem of cooling of the rear cylinders.
The other thing I like about the boxer format is that it's really easy to access the cylinder heads. The service that seems always to be waiting to strike me, like the Sword of Damocles, is the valve adjustment. On air-cooled motors, they tend to come up more frequently — so being able to easily get to the valves is a blessing.
Oh, that's another great thing about the R 1150 motor in particular. The valve adjustment is a screw-and-locknut type, which means it's super easy. This remained true for the first-gen 2004-2009 "Hexhead" motor.
And actually, the valve adjustment on the 2010 twin cam boxer engine isn't hard either, but screw and locknut is truly a doddle. You can do it in the middle of nowhere with no spare parts.


The BMW R 1150 GS' engine is known as an "oilhead" for being an oil-cooled boxer. In other words, it's from the time when BMW recognised that oil played an important part in engine cooling. This is in contrast with earlier "airheads", that made do with just airflow (and did of course use oil for lubrication).
See more about BMW engine nicknames — airhead, oilhead, and so on, here.
For the 1150 GS, BMW increased the size of the oil cooler, to improve the ability of the oil flowing through the engine's head to do its work.
Otherwise, the R 1150 GS has a lot in common with the 1100 engine. It has a single camshaft, driven by a chain, activating the four valves via a pushrods and rocker arms.
BMW R motors have always been torquey. As they evolved, they developed the ability to spin up better, with higher RPM ceilings and thus power. So late-model R motors feel quite sporty. Not so much this early gen. It's not a slow bike — you can do a 0-60 faster than most cars (under 5 seconds) — but the party's really winding up after 6500 rpm, and there's a rev limiter just shy of 8000 rpm.
What's really interesting about the R 1150 motor is its reliability, by several measures, despite the caveat that it might start to consume oil. Apart from anecdotal evidence on forums, a great indicator is just how many BMW R 1150 GS bikes there are for sale with over 100,000 miles. They run fine, and they go cheaply, making this one of the most affordable big-bore adventure motorcycles around.
Servicing / Owning the BMW R 1150 GS
I like to go into owning a motorcycle eyes-wide-open. So here's what you need to service the R 1150 GS.
According to the maintenance schedule for the BMW R 1150 GS, the R 1160 motor has 6000 mile / 10000 km service intervals. Bear in mind that at every service, BMW wants you to do a valve inspection — but also, it's quite easy once you've dropped the oil, as it's a screw-and-locknut type adjustment.
At every service, you
Change the oil and filter (Motul 7100 10W-40 oil or another high-quality 10W-40 oil, and a HF163 filter)
Change the air filter
Check the valve clearances
Check the synchronisation
And check levels of all other fluids.
Every two services, you also
Change the spark plugs (NGK BKR 7 EKC for the primary plug. 2002+: NGK DCPR 8 EKC for the secondary plug.)
Change the fuel filter
Change the transmission oil (Hypoid gear oil API GL 5)
Change the rear wheel drive oil (EPX 90 or SAE 90 API gear oil)
And of course, you have to replace the brake fluid every year, and clutch fluid every two years (BMW DOT 4). You also should regularly check your bike for leaks and work parts.
In terms of general reliability, the R 1150 GS is tough but of course no motorcycle is invincible.
Over time, you will have to expect to do all the long-term things necessary on any bike, including replace wheel bearings, and possibly rebuild the final drive. The good news is that those repairs aren't terribly expensive or time consuming.
I've also heard of an input spline problem plaguing some R 1150 bikes. This issue involves the regular stripping out of the clutch splines, necessitating a massive rebuild. Correcting this issue on shaft-drive bikes requires splitting the bike in two.
Unfortunately, the input spline problem is inconsistent. It does only affect a minority of bikes, but in dispute is how small that minority is.
Apparently, if you buy a high-mileage example, it is less likely to be present (as it will probably have already manifested). There's one advantage of a high-mileage bike… which they mostly are!
Servicing later model GS bikes did become more complicated. From 2010-onward, they ditched the screw-and-locknut for a shim and bucket system. But then from 2013 onward, the GS (and a year later, the GSA) got liquid cooling, which doubled the service interval (i.e. halving the service requirements). So… pros and cons to spending 2x the money.
Year models to buy / avoid
BMW made the R 1150 GS from 1999, and the R 1150 GS Adventure from 2000.
In 2002, BMW updated both the GS and GSA models. Most significantly, BMW updated the engine to run from twin spark plugs per cylinder, for better combustion and higher efficiency, and also changed the ABS system to servo-assisted combined braking.
Servo-assisted ABS is cool and interesting when it works. I find it has a surprisingly solid bite. The feel is different, but whatever. The feel of the whole bike is different! But note that off-road riders do sometimes say that they find servo-assisted brakes too grabby off-road.
The main problem with the servo-assisted ABS, aside from the feel, is that a) the system tends to fail, and b) replacing an ABS modulator (the most significant failure) costs several thousand US dollars. It's so expensive that people often opt to just remove ABS from a motorcycle altogether, or to bypass it if it's in the rear wheel only, where it has less of an impact on riding.
When the ABS fails (for whatever reason, a loose wire, air in the system, whatever), you're left with what BMW calls "residual braking". Your brake lever still works, but it only has around 10% of the force — basically, it feels like you have very stiff brakes, like when your car is off.
Diagnosing and repairing ABS faults in servo-assisted brakes is a dark art and can be the cause of many headaches. Wires get old on old bikes. There are countless threads on BMWMOA.org and ADVrider.com. See this one, for example.
On top of this, it's very hard to find someone who'll still rebuild the servo brake units, and they're probably very far away from you (there may be one person doing it in the UK, one person doing it in the US, etc.). Bleeding the R 1150 brake system is expensive and/or time consuming. Newer brake units do fail, but finding someone to rebuild them is simpler, as is replacing them.
BMW kept this servo-assisted ABS system until the 2006 model year. From 2007 onwards, the then BMW R 1200 GS got a different, far more reliable ABS system.
Personally, I'd avoid any BMW motorcycle with servo-assisted ABS, which would be the 2002-onward versions of the BMW R 1150 GS, plus the first few years of the other R – bikes (and maybe some other BMWs). So this basically leaves just the 2000-2001 BMW R 1150 GS Adventure as the best models to buy.
Alternatives to the R 1150 GS
So, you're after a classic big-bore adventure motorcycle, are you?
In the early 2000s, BMW was temporarily quite unique in this market (specifically the big adventure motorcycles). Ducati was still making solely road-going Multistradas. Honda was making the Transalp, but the Transalp was a smaller bike, and was becoming more and more like a commuter.
KTM was in the fray though with their KTM 950 Adventure. It was new at the time.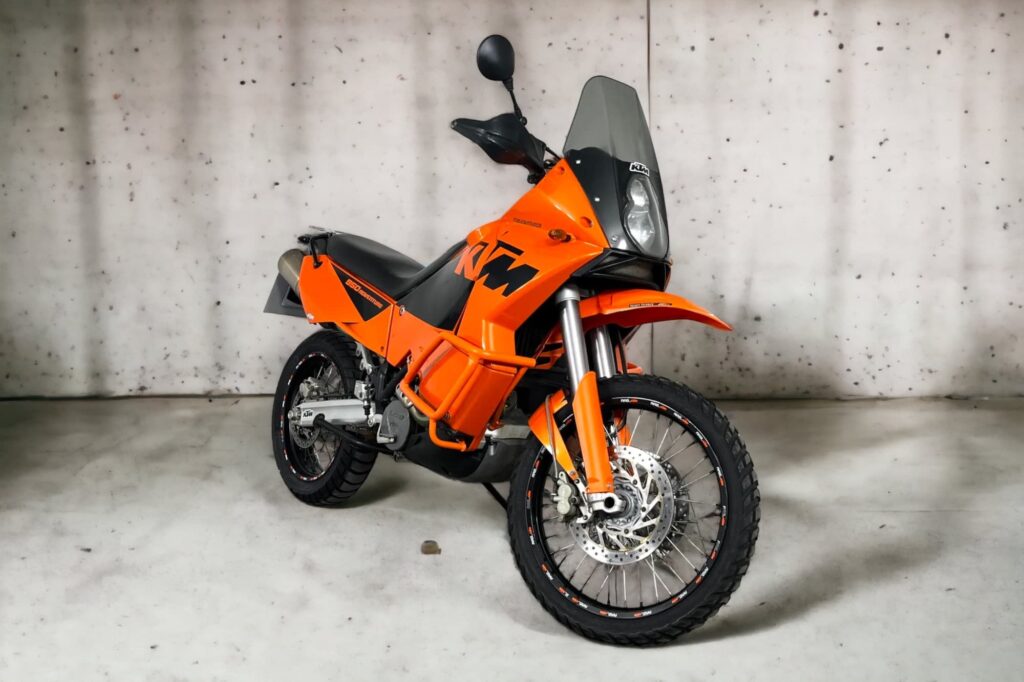 There is some chatter that KTM turned the 'Long Way 'Round' crew down, but I'm not sure if that's true. Anyway, KTM has had zero problems selling their adventure line of motorcycles over the years. But at the time, you couldn't get the KTM 950 Adventure in every market.
The 950 Adventure is what Cycle World's adventure editor describes as an "adrenaline shot to the adventure movement". Spend any time looking at KTMs, and once you rub the orange from your eyes, you'll realise that these are race bikes that can do it all.
The 950 Adventure is powered by a 942 cc V twin that's liquid-cooled and has a higher 11.5:1 compression ratio, which help the smaller-capacity bike make more power than the R 1150 GS — peak power of 71 kW / 98 hp at 8000 rpm. It also has decent pull, with torque of 95 Nm / 70 lb-ft at 6500 rpm.
The KTM 950 Adventure has more travel front and rear (240mm), a 21-inch front wheel, and a more powerful engine. What's not to love? OK, it's not as comfortable as the GS, not as sedate, and it feels like "blasting Baja rooftop-down in a trophy truck with your pants on fire" as Cycle World put it. If you're hot-blooded and want an adventure bike, then the KTM 950 (or 990 or a later model) is a good port of call — if you can find someone willing to part with it.
There are questions of KTM reliability, of course, but these bikes have been through so much by this stage (time, road, dirt, past owners), that it goes without saying that you'll need to have either some time or money for maintenance on your hands.
Really, your best alternative to an R 1150 GS is probably an older or a newer GS.
Immediately prior to the R 1150 GS there was the R 1100 GS. In some ways, the R 1100 GS is everything the 1150 is — but just more so. It's a bit less powerful, and it's a bit easier to repair as there's even fewer electronics on it.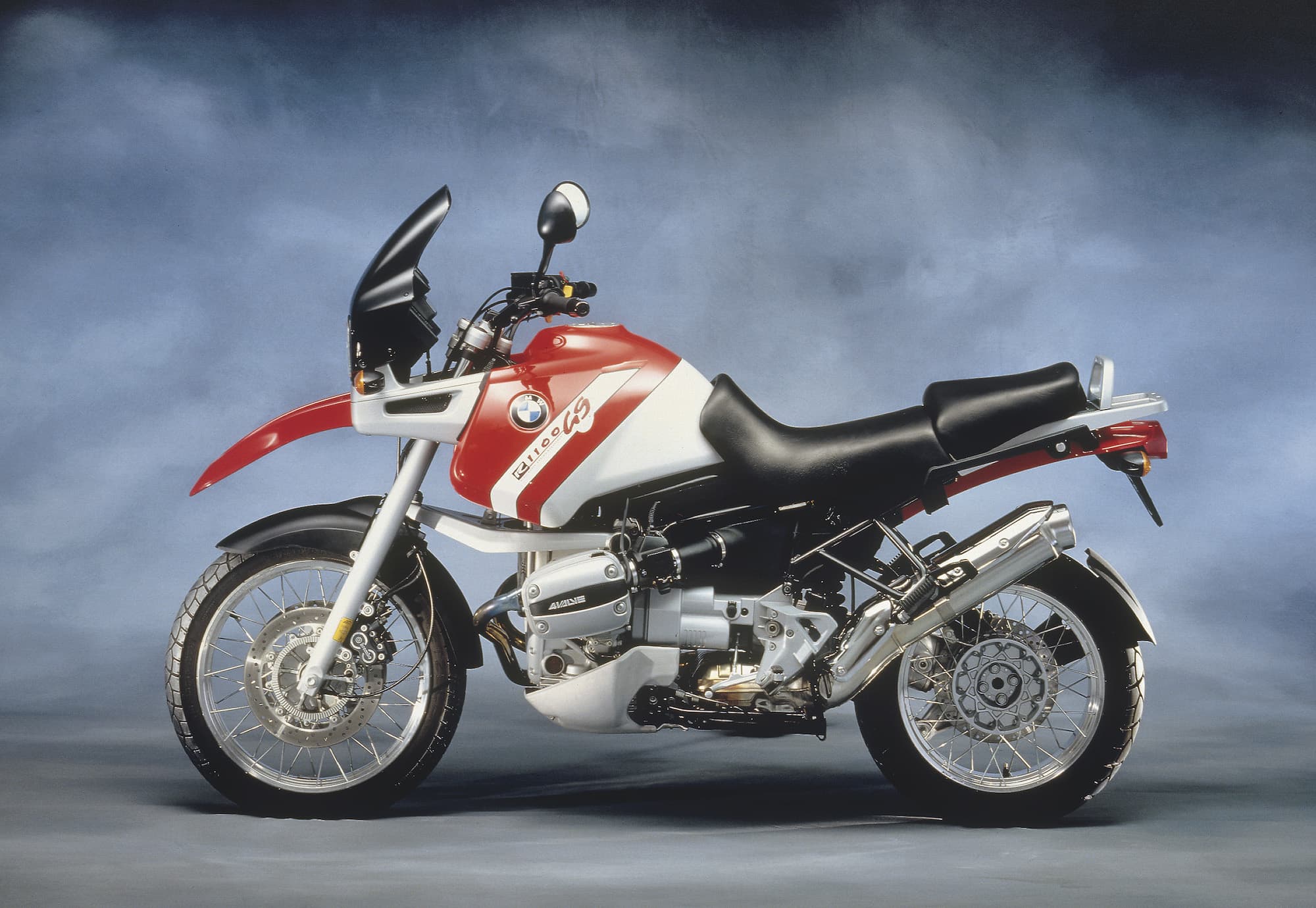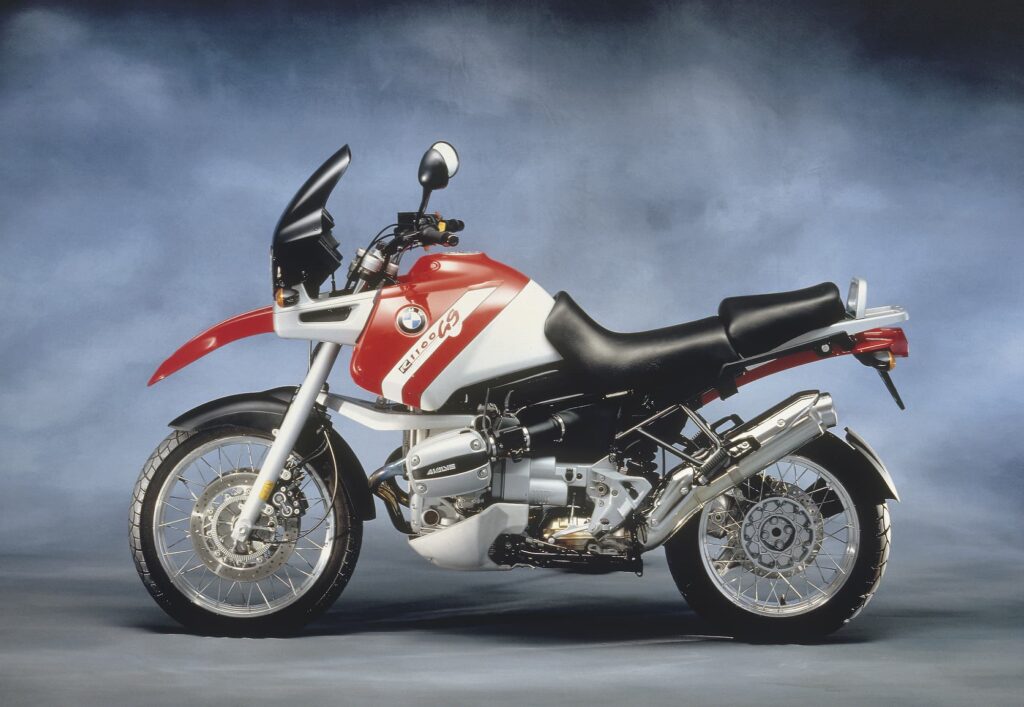 The R 1100 GS is a great bike. It doesn't have the dual headlights of the R 1150 GS, which might actually be a pro for some. Nor does it come in a big-tank GS denomination… but in fact, in standard trim, it has a 25L tank — right between the standard and GS versions of the 1150.
The 1100 engine is still a four-valve-per-cylinder engine, with a single chain driven camshaft plus pushrods. The BMW R 1100 GS even has standard or optional ABS. In those terms, it's quite similar to the R 1150 GS.
Oh, and the 1100 still has a cool dash, with 80s science vibes.
If you do add a few more Gs to your wallet, you can also opt for a later model R 1200 GS. But as I mentioned above, I'd start with the 2007 model year to avoid the complications of servo-assisted ABS, and this means you're now spending significantly more.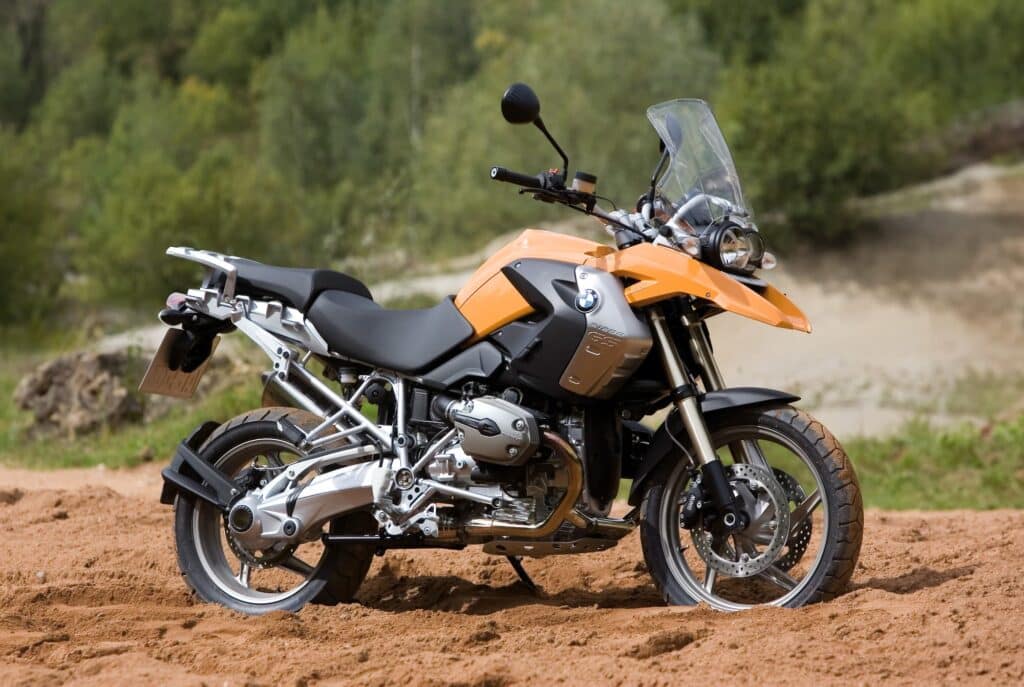 However, to paraphrase Biggie Smalls, more money does tend to imply the possibility of further complications. The later model GS bikes gradually added more tech, notably the CAN bus system. The CAN bus is designed to simplify wiring, but also means that diagnostics needs special tools (a GS-911) rather than a continuity tester.
More on the CAN bus system here.
Still, if your budget can stretch it, there's zero reason you wouldn't get a more recent GS.
The only caveat is that many people who've had both the 1150 and 1200 they each have their charms. Some hang on to both, saying they're different enough bikes to warrant it! So it's worth trying both and seeing what you like. Maybe the tractor is for you.
Sum up
I'm not alone in loving old bikes. Every time I see a TFT I think "Neat!" and then immediately go stare for a long time at the white-faced dials of an old BMW (or Moto Guzzi or Ducati).
If you also like old bikes and old tech, and like the idea of working on your bike as you pilot it around the world — and doing so on a relative budget — then the 1150 GS has a lot of appeal.