If you've been to a BMW dealership, you've probably noticed that huge hunk of metal and chrome ostentatiously stealing all the looks and light beams. That's the BMW R 18.
The R 18 is, unabashedly, BMW's attempt at stealing a slice of the cruiser market dominated by Harley-Davidson. Many have tried before, and had some success (I shed a tear for the lack of investment Japanese brands have put into the sector lately), but BMW never really did. Its only attempt in the past was the BMW R 1200 C — which, as awesome as it was, wasn't a popular motorcycle either overall or even for BMW.
Unlike most cruisers trying to eat a piece of Harley-Davidson's pie, the BMW R 18 isn't based on a V-twin with a belt drive. BMW is doing their own thing (surprise!), and instead is basing their cruiser line around what they call the "Big Boxer" — an air/oil-cooled 1802 cc opposed twin that by itself weighs more than some smaller motorcycles.
If you're wondering about the BMW R 18, you're probably wondering the same things I was, like…
How did we get to this point in history where BMW thinks this is a good idea?
Is this thing any good or is it all show and no go? (Or is that OK?)
That looks low and heavy. Am I going to scrape on every corner?
Is it more reliable than a Harley-Davidson?
What's the difference between all the models? Which ones get a reverse gear, radar, and so on?
How hard is it to maintain?
Probably some other things, too. Let's have a look!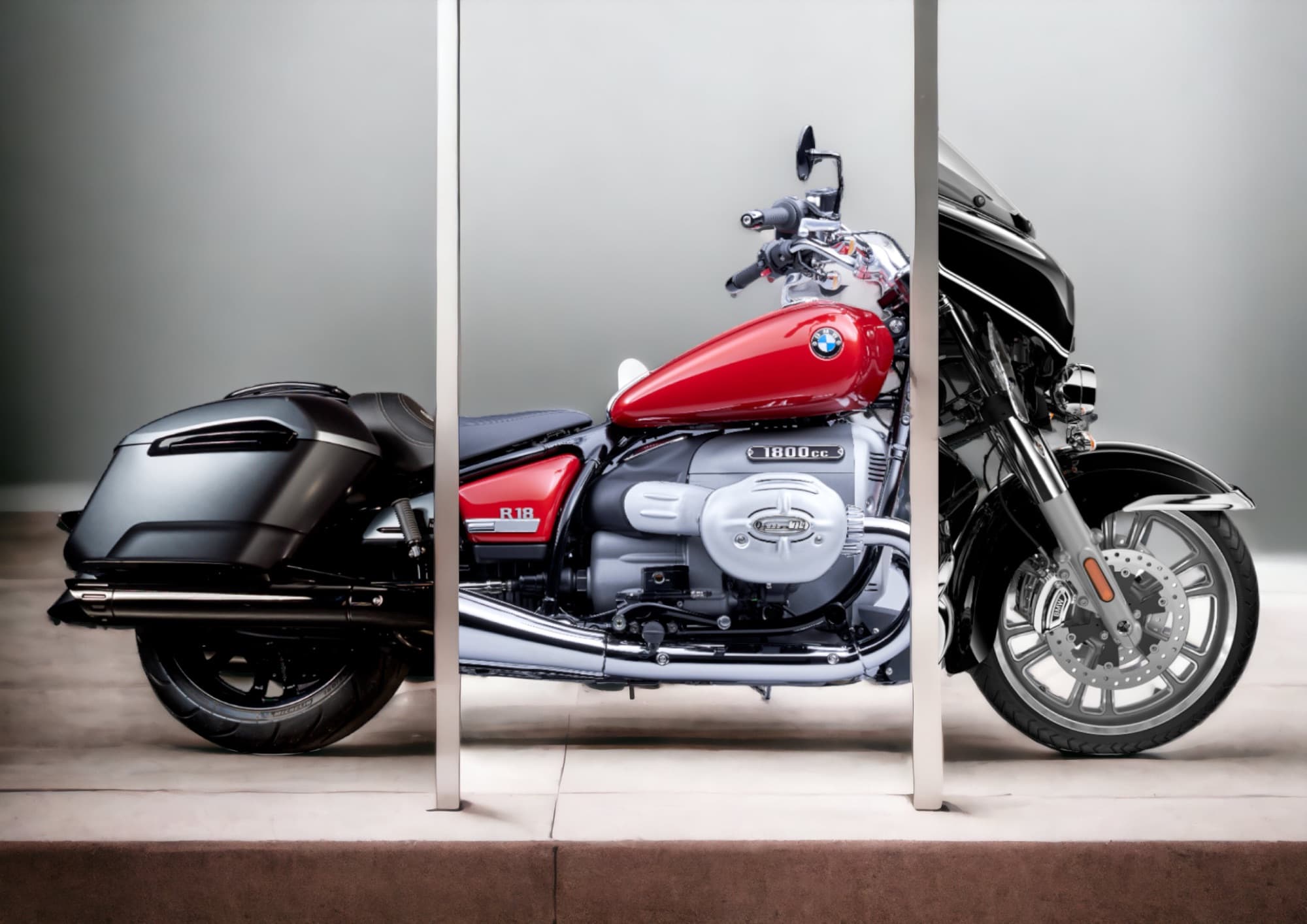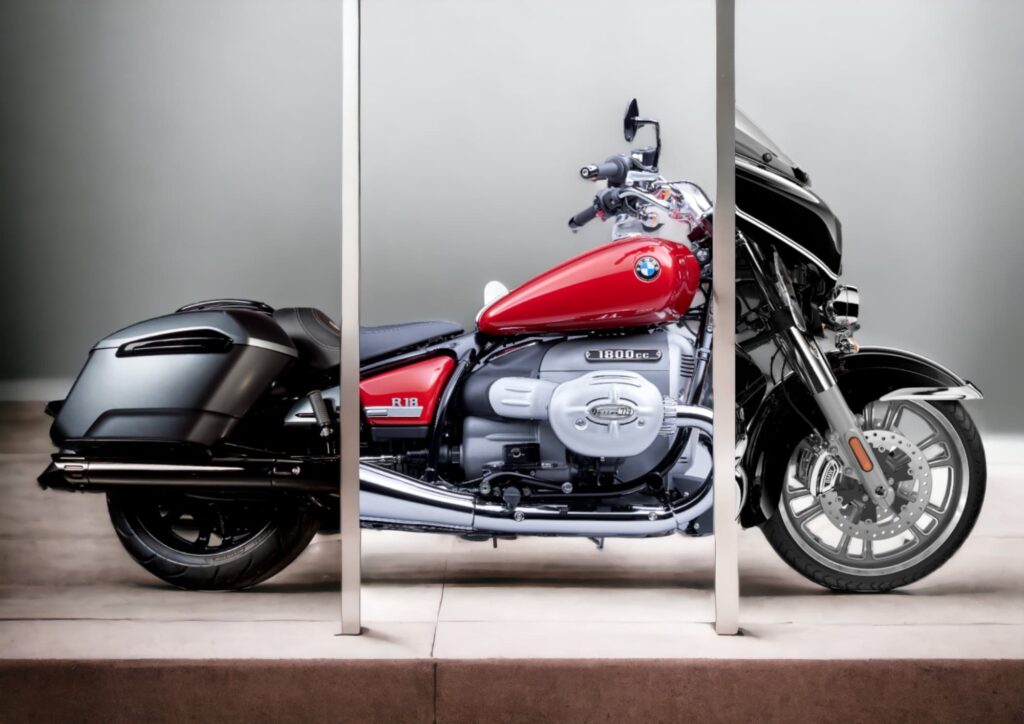 Are you obsessed with motorcycles?
Well, I am. That's why I created this site — as an outlet. I love learning and sharing what others might find useful. If you like what you read here, and you're a fraction as obsessed as I am, you might like to know when I've published more. (Check the latest for an idea of what you'll see.)
A Brief History — How Did We Get to the BMW R 18?
There's a few ways of slicing up the history of motorcycles that led to the R 18.
Let's start with what BMW says, then look into what the R 18 is on the face of it, and make a brief mention of other "cruisers" that BMW has made.
In BMW's press release for the R 18, they made numerous references to the BMW R 5, and showed photos of a model made in 1936, shortly before I was born. (I kid, but I'm no spring chicken.)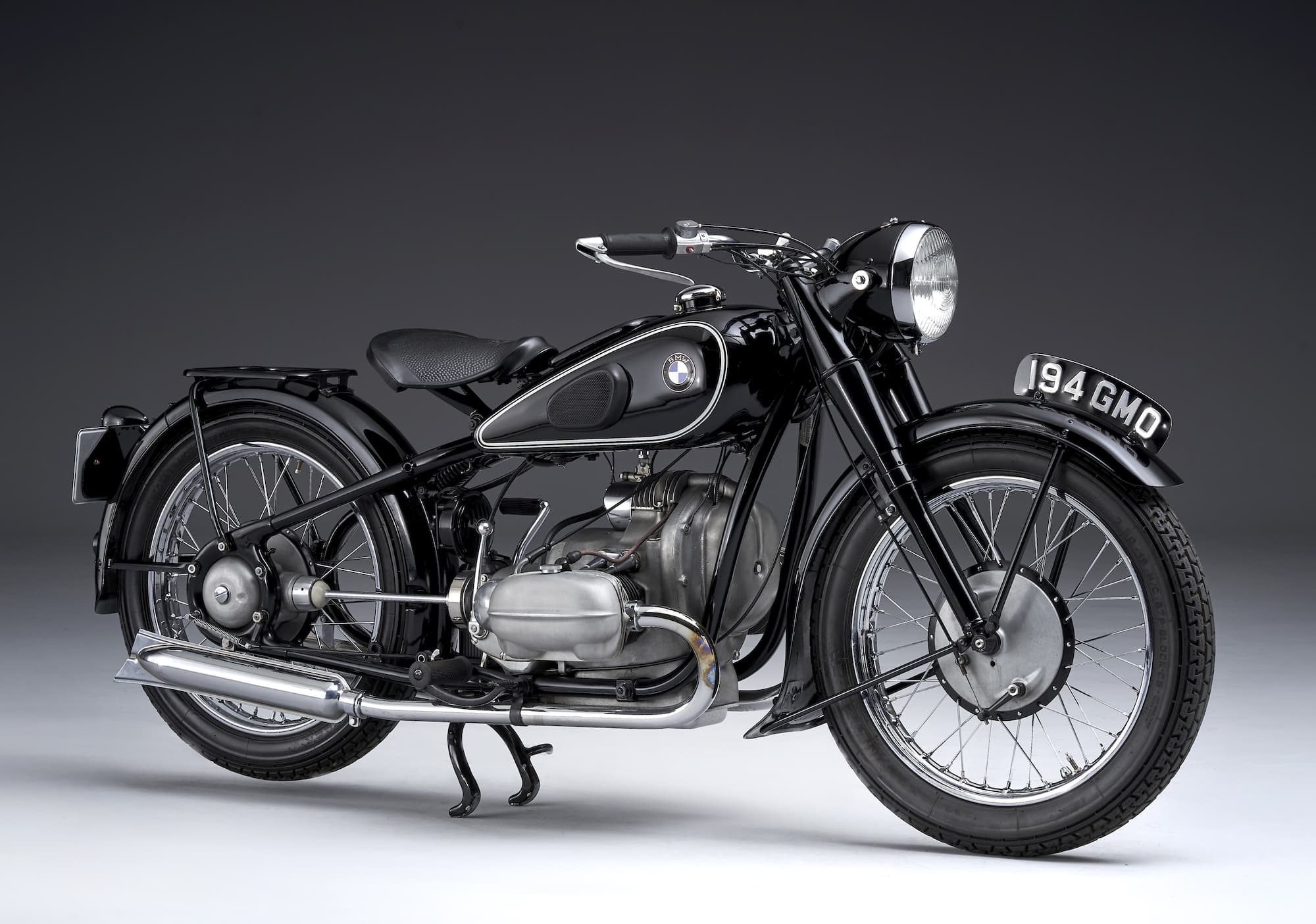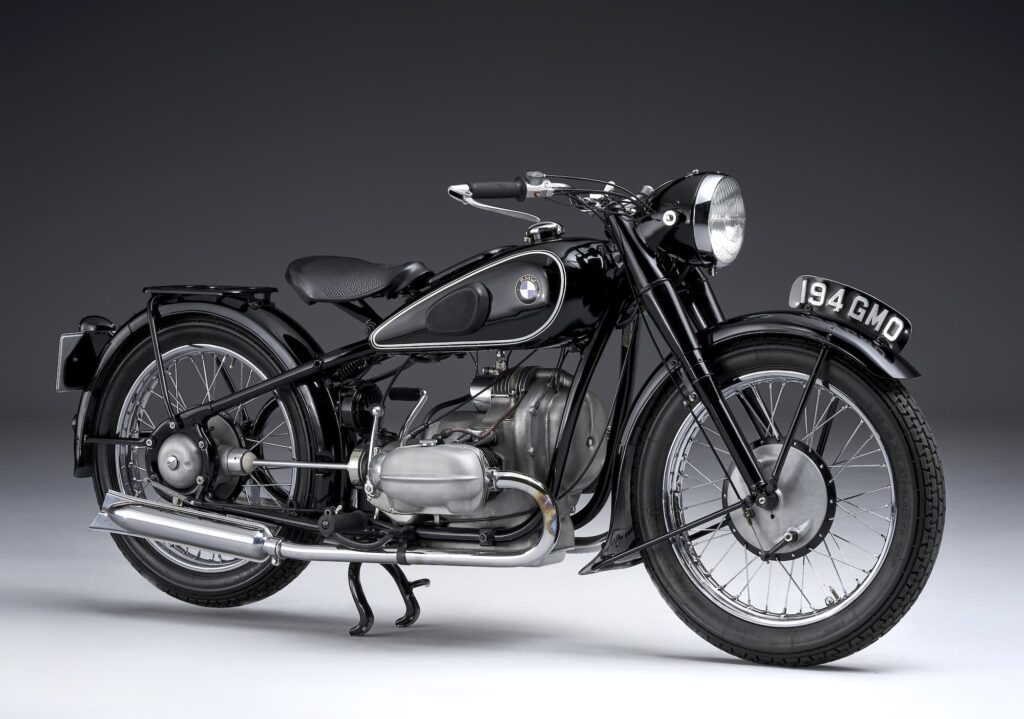 Despite being nearly a century old, the BMW R 5 (which fans also call the R-5 or R5) has a lot in common with modern BMW boxers. It's powered by an air-cooled 494 cc boxer twin and has a shaft drive. Plus, it just takes one look at the R 5 to see how many design elements the designers of the BMW R 18 borrowed.
BMW specifically make mention of
Double loop frame (a.k.a. double-downtube)
Tear drop-shaped tank
Open exposed driveshaft
A faux rigid frame (with concealed rear suspension) — the R 5's frame actually was rigid
Fork sleeves surrounding the tubes
Double-sided swing arm
OK, so that's BMW's aesthetic design inspiration.
Aside from that, of course, the BMW R 5 / R 18 both design elements with many BMW motorcycles since the R 5.
While we think of the R 18 as a "cruiser" (partly because BMW calls it that), the riding position on the R 18 is actually much closer to a "standard motorcycle". Your feet aren't kicked out that far forwards, to the chagrin of people who want to sit on an armchair.
So you could pull any number of old BMW motorcycles — roughly before the /5 series — and find a not-dissimilar, still pretty comfortable riding position. But it's true that BMW did generally get "sportier over time.
Look over BMW's historic models on their official microsite, and note just how many of them look a bit like the BMW R 18 in some way!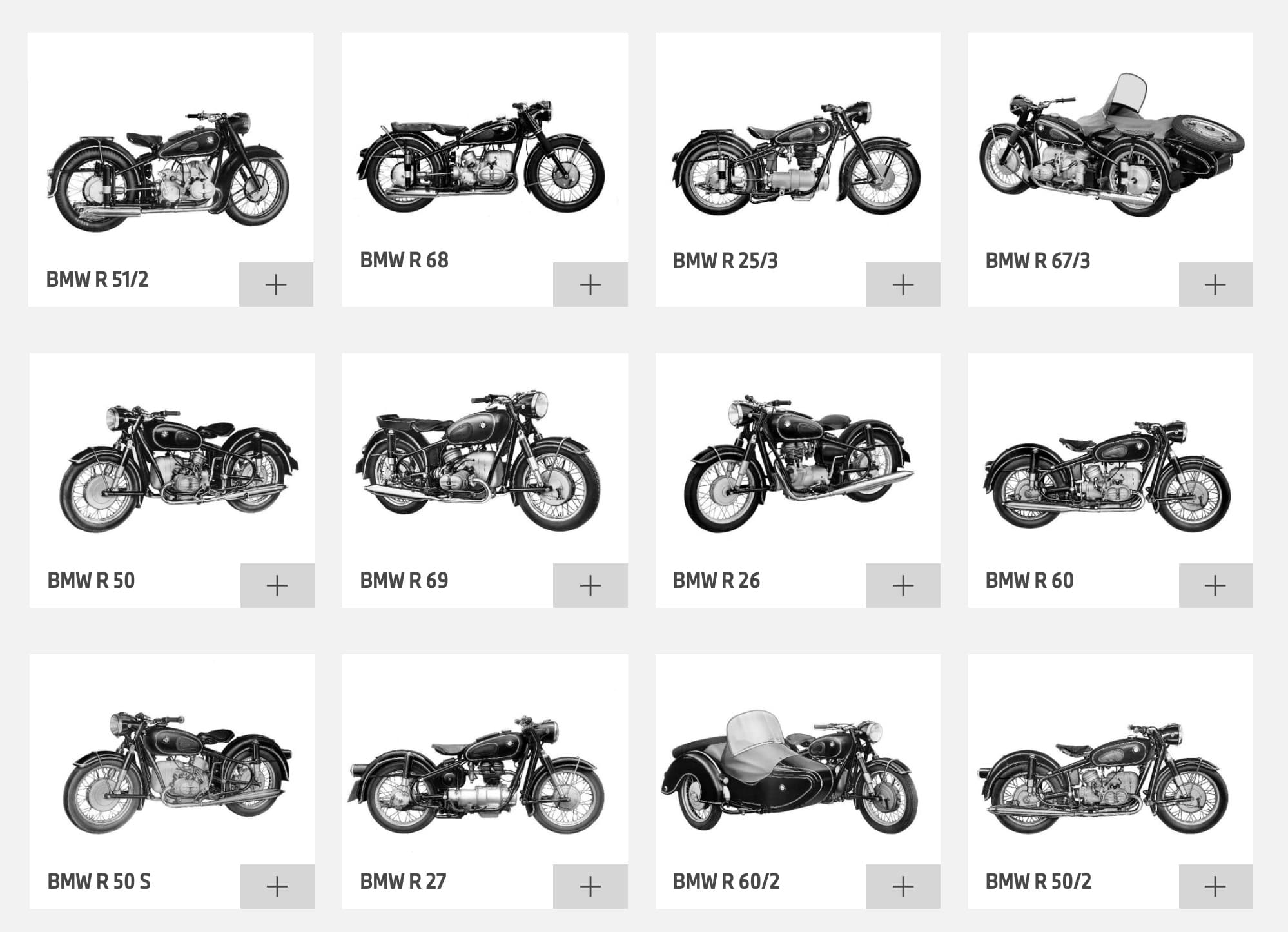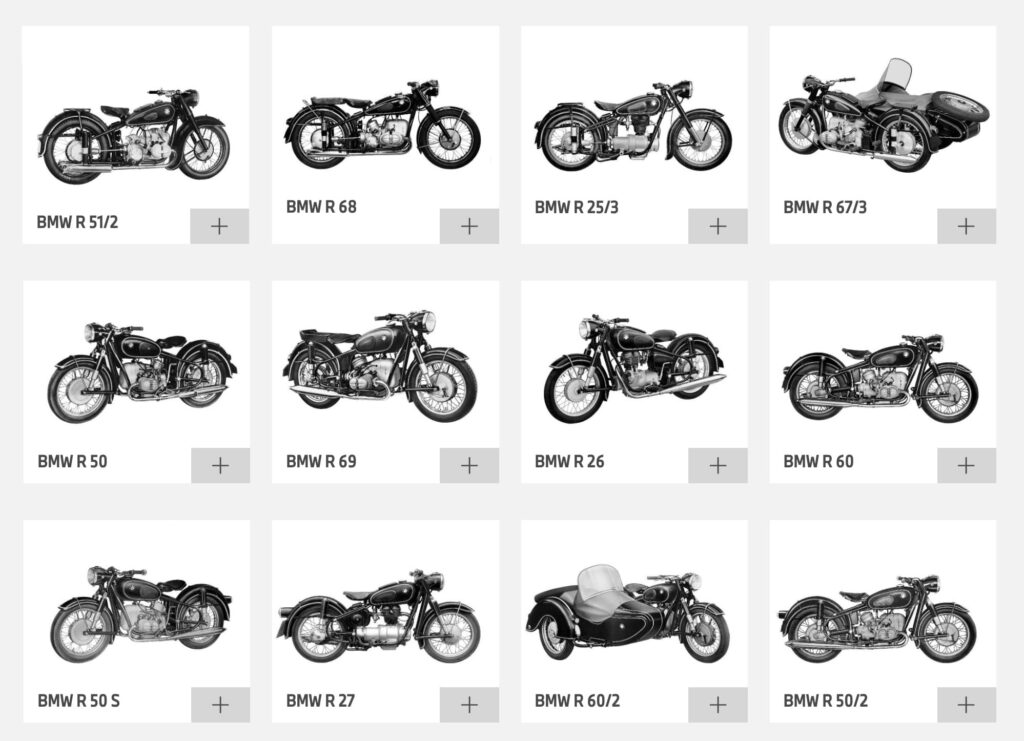 It wasn't until the 5 series that the style diverged a bit. Those got a bigger, fatter seat, and an aesthetic that reminds me more of a modern naked sportbike.
Finally, we have to acknowledge the most recent time BMW made a cruiser: the R 1200 C. They don't always call it a cruiser, but it does have a "C" at the end of its name.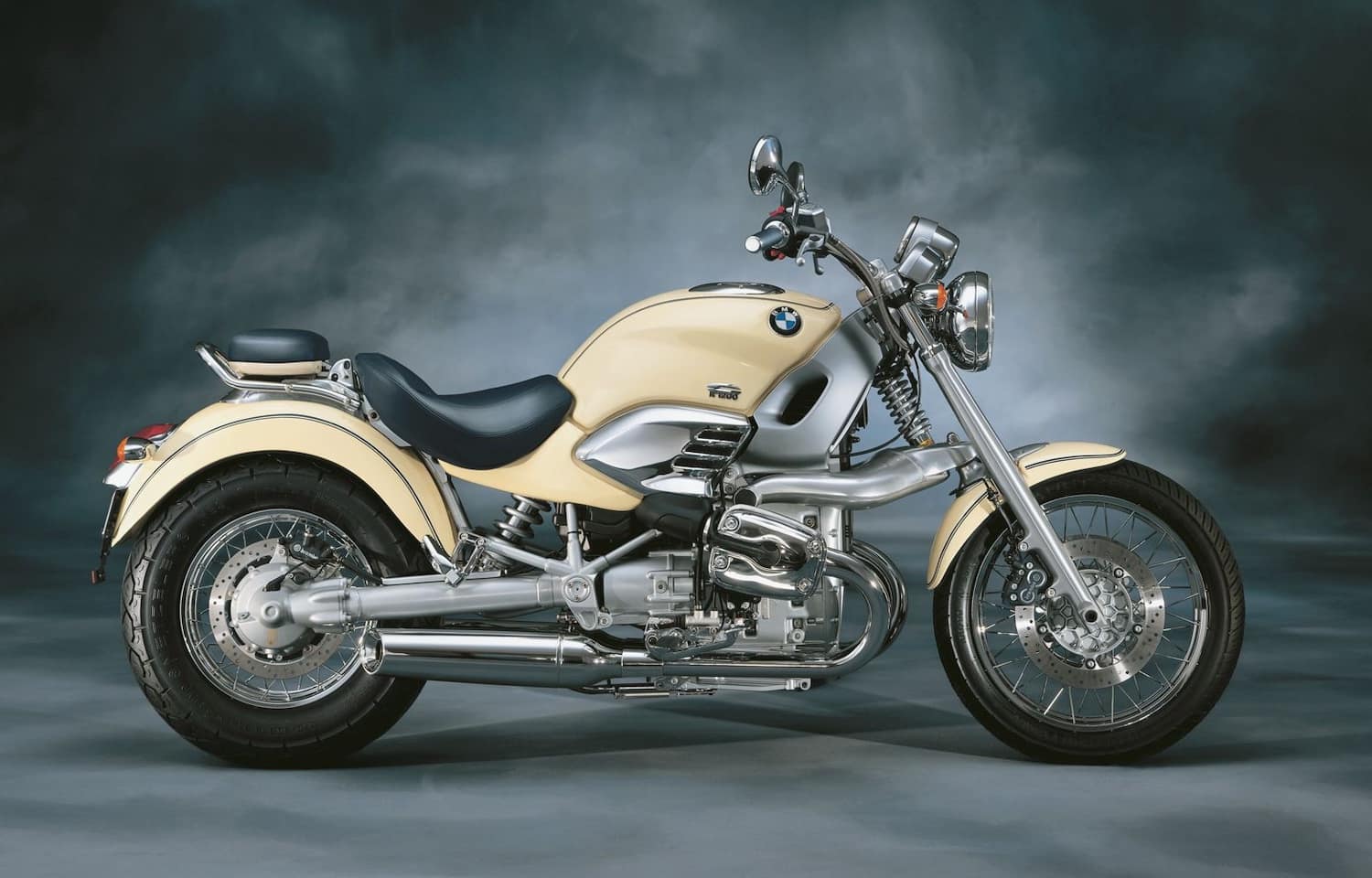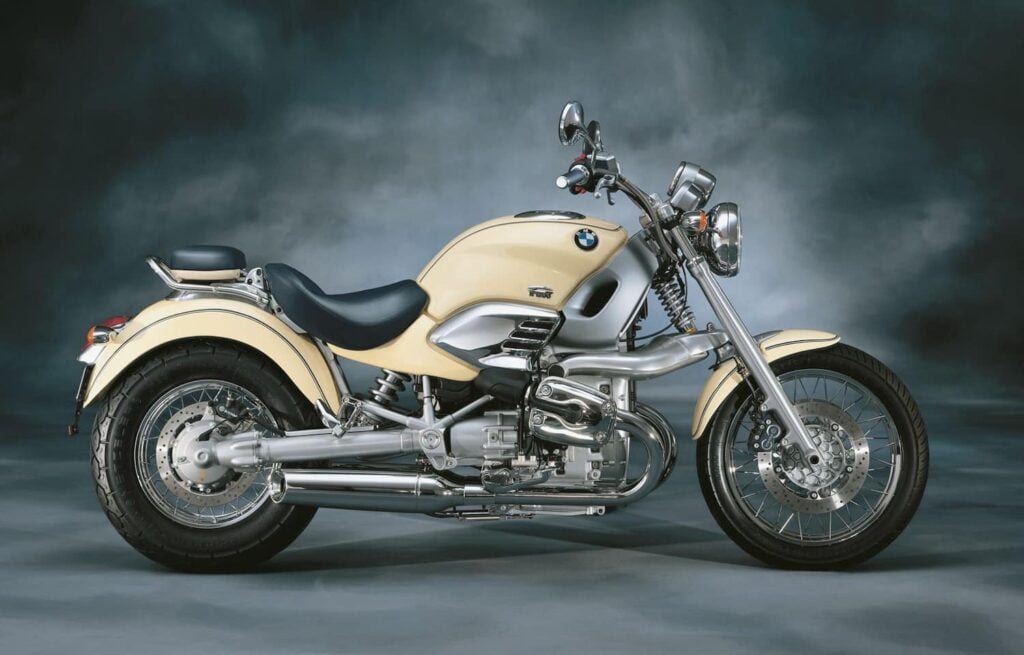 BMW made the R 1200 C between 1997 and 2005. It's based on an "oilhead" engine. And like the BMW R 18, it has a relaxed, feet-comfortably-forward riding position. Not everyone agrees it's a "cruiser", though.
The BMW R 1200 C is a pretty chill bike. It's not designed to go fast, and it doesn't. BMW de-tuned the specs of the engine slightly to suit the relaxed ergonomics.
It never really found its feet in the motorcycle world, and after a few model variants and even an appearance in a Bond film, BMW killed off the line. But it still has its legion of fans who congregate at Chromeheads.org. I still think it looks cool.
If you're interested in seeing more about the BWM R 1200 C, see this guide to the various models.
After BMW retired the R 1200 C, they focused on other things. The 2010s were mostly about them trying to win races with the BMW S 1000 RR, then giving up on racing and just making an awesome sport bike (as well as the variants based on the same engine). But in 2020, they gave us BMW's latest entry into the cruiser world.
BMW R 18 Core Specs
Before we get into the variants of the BMW R 18, let's look quickly over its specs. Every motorcycle in the BMW R 18 range shares the same engine, chassis, and drivetrain.
Here's what they all have in common.
Item
Spec
Notes
Engine
1802 cc air/oil cooled boxer twin
BMW's "Big boxer" — Largest BMW boxer motor ever
Peak power
67 kW / 91 hp at 4750 rpm
Peak torque
158 Nm at 3000 rpm
Over 150 Nm of torque available between 2-4K rpm
Very torque-forward
Bore / Stroke
107.1 / 100 mm (~square)
~Square dimensions
Compression ratio
9.6:1
Low compression ratio
Fuel requirement
Premium (95-98 RON)
$$$, but the whole thing is relatively expensive
Final drive
6-speed, Shaft final drive (exposed)
Front suspension
49mm telescopic fork
Non-adjustable. Also, this isn't Telelever!
Rear suspension
Cantilever strut, travel-dependent damping, preload-adjustable
Notably not Paralever, used on most shaft-drive motorcycles.
Front brake
2 x 300 mm discs, 4-piston fixed calipers
Weight (wet / road ready)
345 kg / 761 lb
Ride aids
3 x power modes, ABS, ASC, cruise control
No cornering ABS.
Some models have radar-assisted cruise.
BMW R 18 Core Specs
What makes the BMW R 18 Special?
The BMW R 18 is not just an existing BMW engine shoehorned into a different chassis. Everything about it is new, relative to other current models.
There are a lot of pejorative things you can say about the R 18. It's big, heavy, wide, old-fashioned, and some even say it's ugly (has to be subjective, as I've seen opinions from very experienced riders ranging from "absolutely gorgeous" to "the ugliest bike BMW has ever made" — such a range!).
But there's something that still draws me to the thing, every time I sit on one or have a chance to throw a leg over. Is it just appealing because it's big, metallic, and shiny? Well… yes, partly! Big, shiny, metal things remind me of toys I had as a kid. The more metal they had and the shinier they were, the more I liked them. The marketing starts when we're young.
Aside from shininess, there are a few reasons why I can think owning a BMW R 18 make sense. These are: It's engaging to ride, it has a design with special elements that aren't going to age, and it has probably one of the last air-cooled (OK, I know, air/oil-cooled) motors we'll ever see.
Polarising motorcycles don't tend to last long. The R 18 has only been around for a few years. It has a niche market, but I don't see its future as being very long. But I'm 100% confident we'll look back on it in 20 years time as an example of the zeitgeist of the 2020s, when we weren't ruthlessly chasing energy efficiency, we were still allowed to pilot non-autonomous vehicles, and hadn't run out of dinosaur juice.
So it'll definitely be a classic with a cult following. Whether that makes it a good bike — well, that's up to you.
So the BMW R 18 is special on three fronts:
Engine — the all-new "Big Boxer"
The "old but new" design
Drivetrain — The exposed driveshaft
The BMW R 18's Engine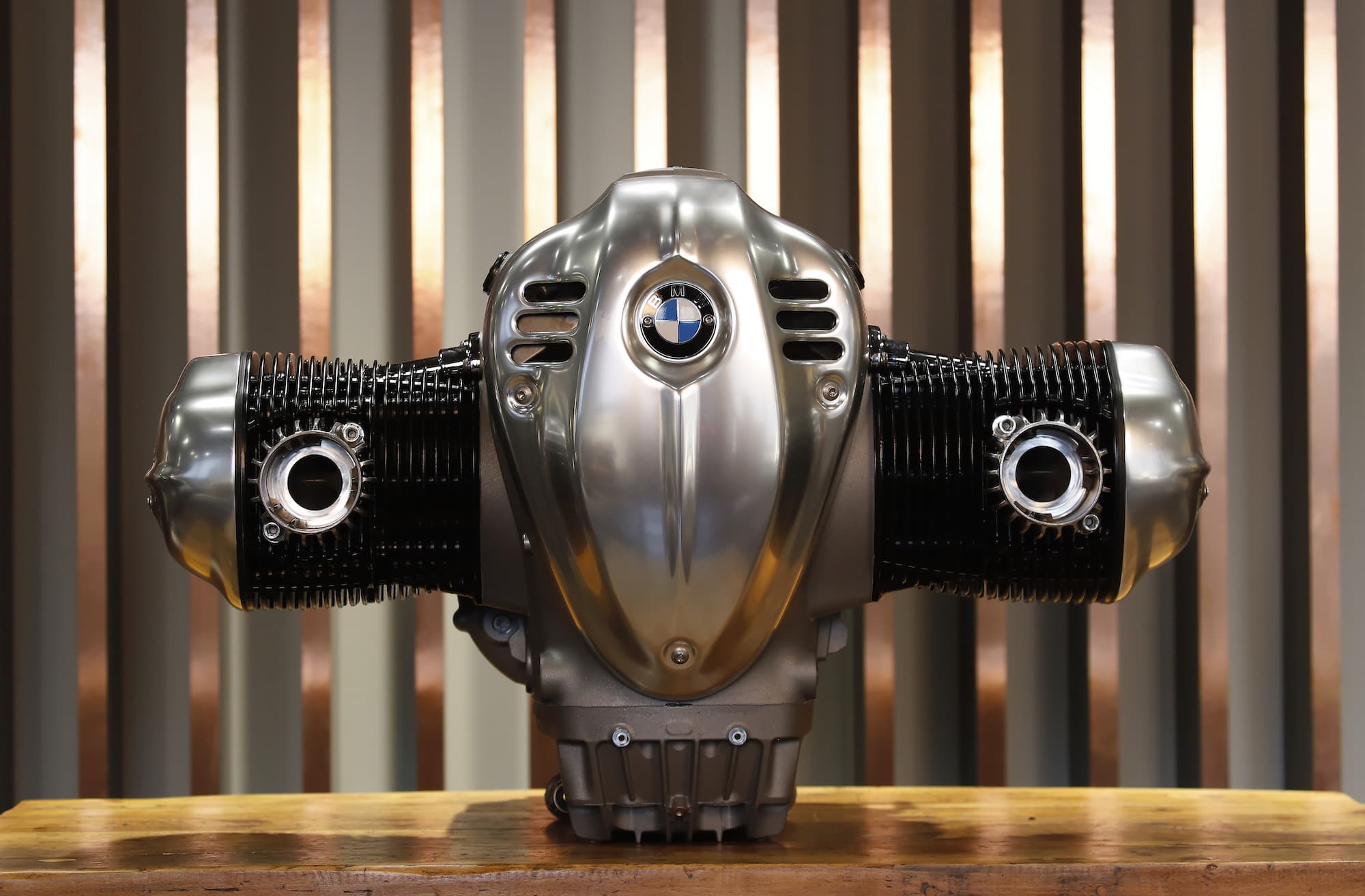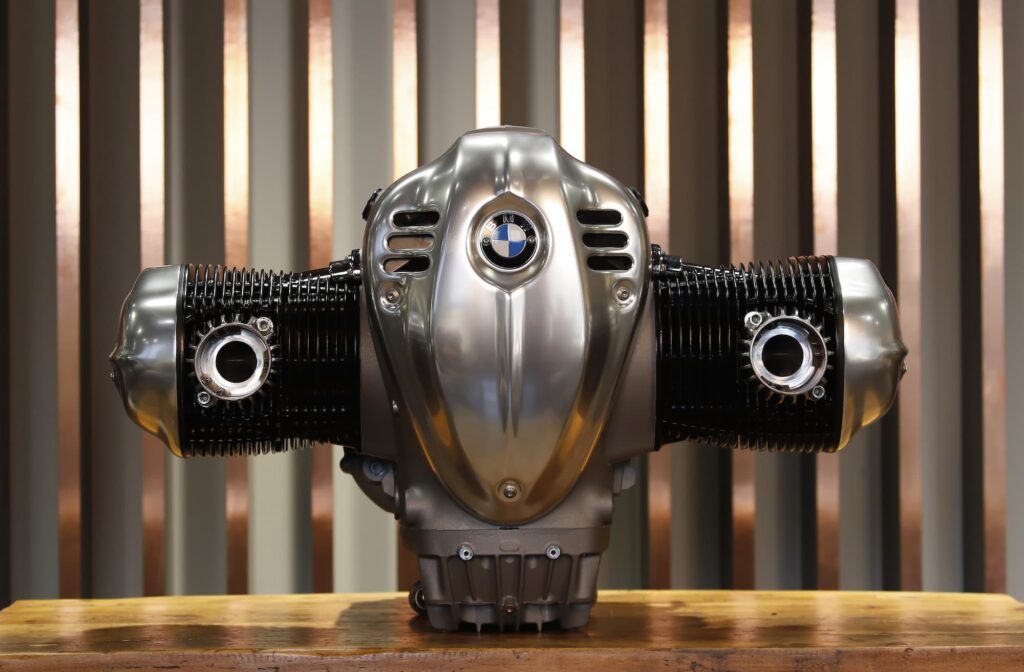 The engine is the stand-out feature of the BMW R 18. Look at that thing! It's massive. It's torque-rich, low-revving, smooth despite the huge displacement, and will kick the R 18 over to one side when you grab the throttle at idle. If the bike didn't weigh 350+ kilograms, it'd probably just throw you to the ground.
The R 18's engine is air/oil-cooled. It's one of the last remaining air/oil-cooled motorcycles you can buy; they're going to go the way of the dodo with tightening emissions (which includes noise) regulations. But they're still here, and this one's quite special.
The whole engine weighs 110.8 kg (244 lb). That's more than some lightweight motorcycles! Throw that onto a bar and I'd feel proud to squat it for reps. Why's it so heavy? Displacement aside, Because the R 18's engine is air/oil-cooled, it needs metal mass for head and sound absorption and dissipation. The cylinders are heavily ribbed to dispel the heat into the air, for your pleasure.
The R 18 is designed, as an air/oil-cooled engine, to make a lot of torque down low, but not to be revved very high. The BMW R 18's motor does have a lot of torque, but it's important to know how gearing comes into play.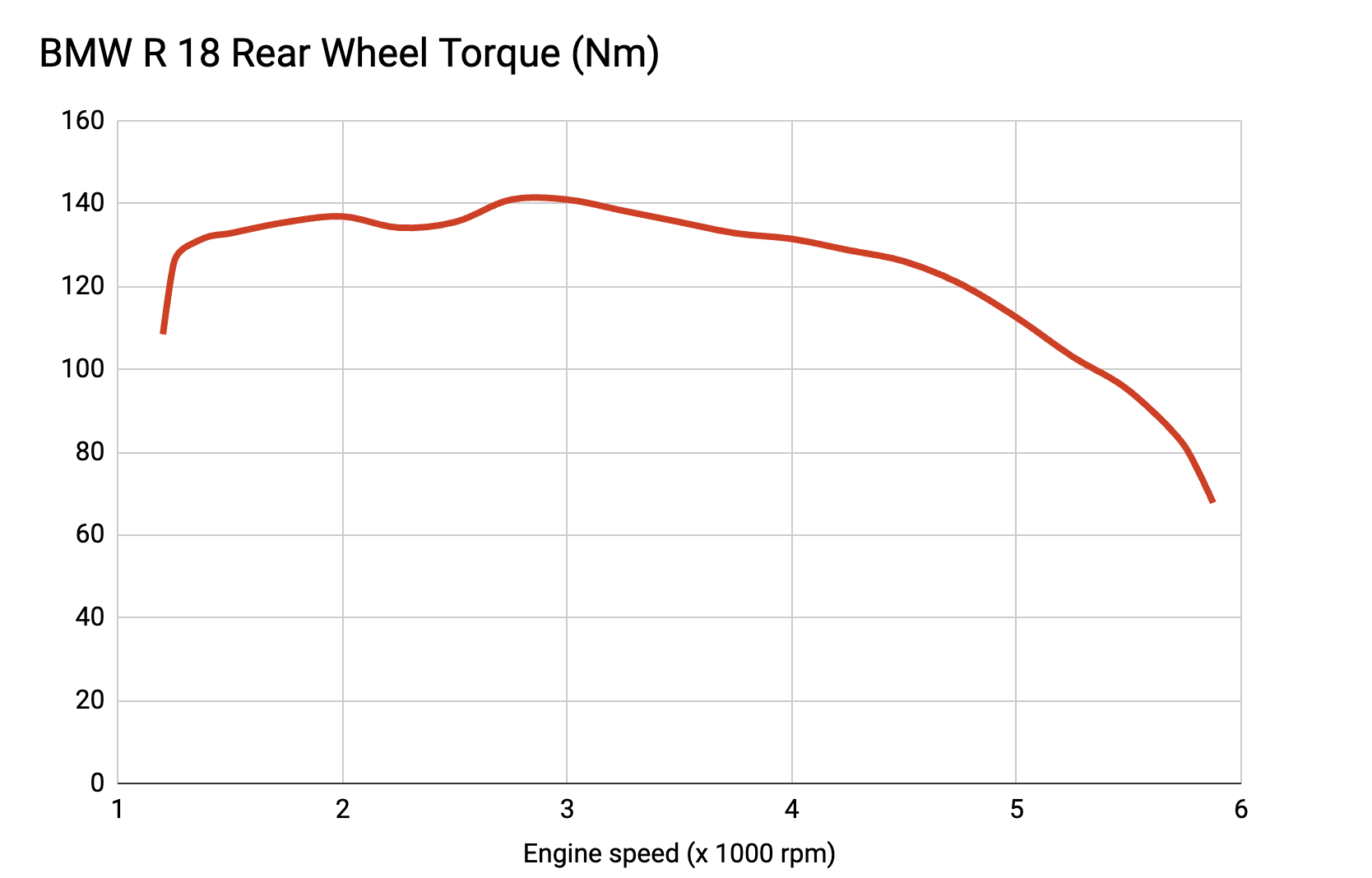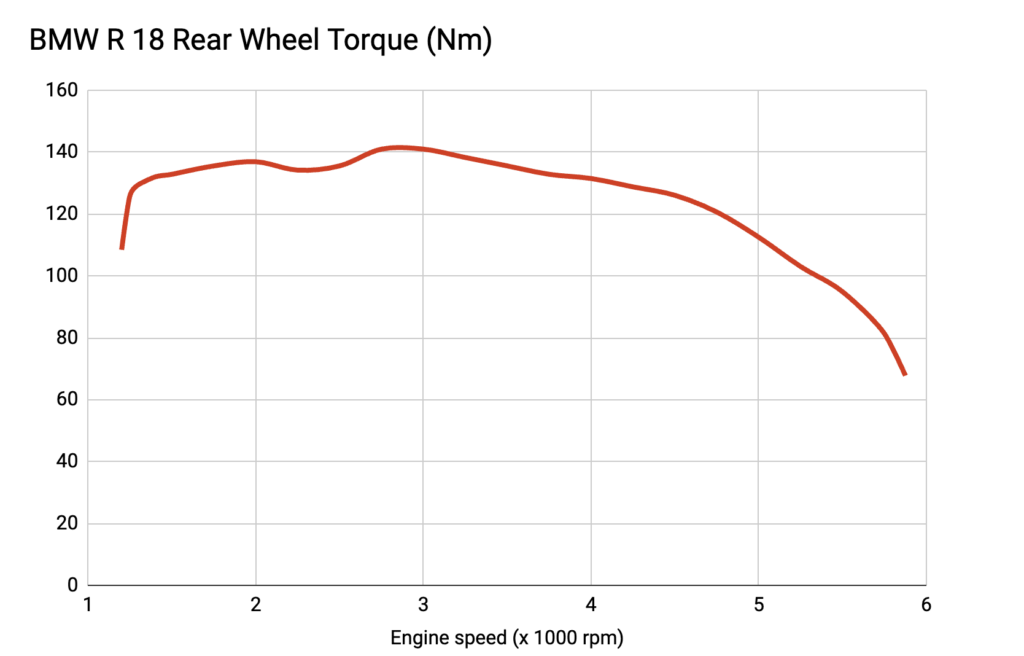 As you can see in the rear-wheel torque data, there's a solid plateau of torque between 2000 and 4000 rpm, just as BMW claim.
In real life though, the gearing of the bike and its considerable weight come into play. The end result is that full throttle on the R 18 doesn't give you the massive pull-back on the bars that you might expect. There are plenty of faster-feeling bikes out there. In fact, most of BMW's middleweight and sport motorcycles (including the R nineT) feel faster.
The gearing of the R 18 is such that you have to change gears at least once (and usually two, unless you like revving this engine out) to get to highway speeds. And you can cruise at 65 mph / 110 km/h at between 2 to 3000 rpm (though you won't really know on the base model or classic, as there's no tachometer!).
So yes, it's a cruiser. And as cool as it is to have a huge lump of metal underneath you, don't expect the R 18 to get out from under you.
The way in which the BMW R 18's motor makes sense is how it feels. It has that re-assuring, balanced, modern, smooth boxer feel — it purrs, without the lumpy idle of a V-twin. I quite like it, but it's not for everyone.
"Old But New" Design
There are motorcycles out there that are designed to look like old motorcycles, but which are thoroughly modern, with complicated engine internals and advanced ride aids like cornering ABS.
But the base models of BMW R 18 are — to the extent that modern regulations permits — motorcycles with old technology but which can be bought brand new.
In that sense, it's a little bit like buying a resto-mod version of an old motorcycle. Yes, the BMW R 18 has modern emissions control, fuel injection powered by an ECU, and ABS. But aside from that, it's quite old conceptually, including:
The steel double-cradle chassis design — about as old a motorcycle chassis design as they come, but enhanced with a single rear shock, concealed under the seat. (Notably, the modern Harley-Davidson Softail chassis is similar.)
Large diameter front forks with no adjustability and a monoshock rear with limited adjustability.
An engine with screw-and-locknut adjusters for valve clearances (see below in the "maintenance" section).
The old-but-new design means that repairing the BMW R 18 is something that needs fewer technical tools than other modern motorcycles. In theory, anyone that can weld steel can repair the R 18's frame. Though to do a basic service, there is still quite a bit of fiddling to do.
There are other motorcycles out there with old-but-new designs. Some of them are mentioned in the "alternatives" section below.
Bear in mind that if you go for the BMW R 18 B or Transcontinental, you do get high-tech add-ons like a huge TFT display, a modern entertainment system, and even radar-assisted cruise control. Those bikes live between a twilight world between old-world feel and new-world amenities, much like a Harley-Davidson Sport Glide or Street Glide.
I actually really like that we can get that compromise. Give us 20-50 years (I don't know how long it'll take), and all motorcycles will be 100% modern, with electric motors and self-rightening technology. The fact that we can get a big piston's thrum but a TFT display is actually quite special to me.
BMW R 18 Drivetrain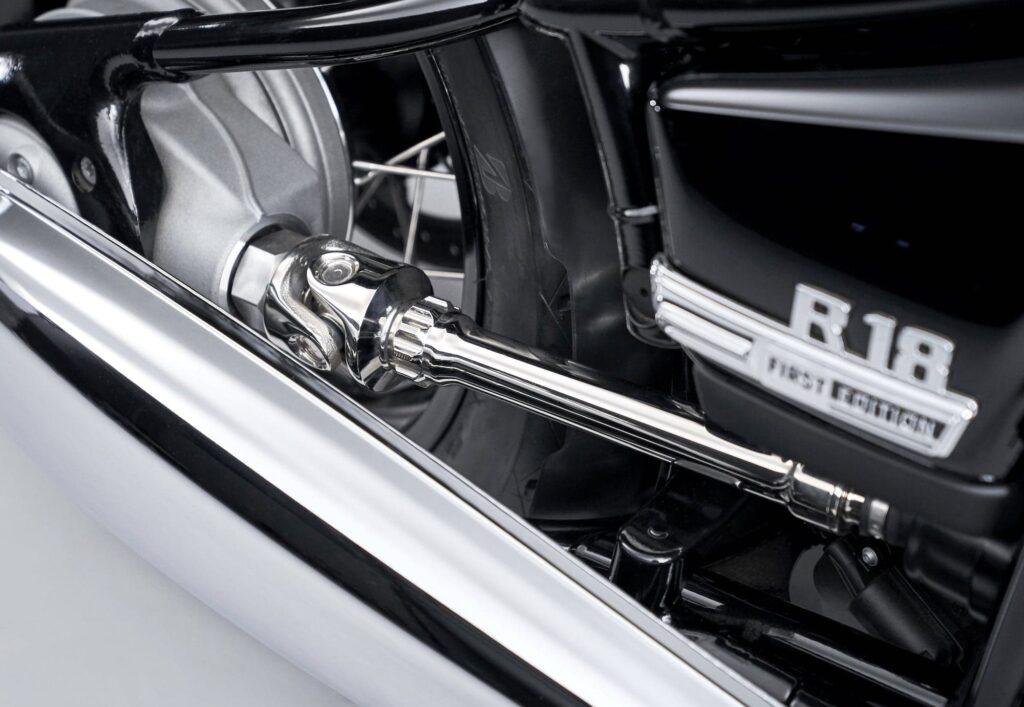 A boxer motor and driveshaft is nothing new for BMW.
But what makes the R 18 a little special is that this is a cruiser motorcycle with a driveshaft. There are very few cruisers motorcycles with driveshafts still made, and they haven't been updated in a while. There's the Suzuki M109R for example (I nearly wrote it "M 109 R"… BMW-style!), but it hasn't been updated in ages (or ever, in some ways).
What's even better is that it's an exposed driveshaft. It gleams at standstill. If only I could look down and see the thing spinning while riding!
A driveshaft means even less maintenance than a belt. But the downside is that once a driveshaft fails, repairs are much more involved.
BMW R 18 Model Variants
Unless you see them in person, it can get bamboozling going through all the model variants of the BMW R 18.
What all the BMW R 18 models have in common is the engine and chassis. But they come with different add-on bits, and it can add up to quite a bit of difference in weight and features. Staring over a single analogue gauge is quite different to looking through a windshield atop multiple gauges and a 10.25-inch TFT display.
| Item | Base model | Classic | B (Bagger) | Transcontinental | Roctane |
| --- | --- | --- | --- | --- | --- |
| Fairing | None | Removable windshield | Full fairing, low shield | Full fairing, high shield | None |
| Bags | None | 2 soft bags | 2 hard bags | 3 hard bags (incl. top box) | 2 hard bags |
| Instrument cluster | Analogue gauge | Analogue gauge | Multi gauge + 10-inch TFT | Multi gauge + 10-inch TFT | Analogue gauge, integrated into headlight |
| Wheel sizes (F/R) | 19/16, wire spoke | 19/16, wire spoke | 19 / 16, cast | 19 / 16, cast | 21 / 18, wire spoke |
| Cruise control | Optional (market-dependant) | Standard | Standard, optional adaptive | Standard, optional adaptive | Standard |
| Reversing aid | Optional | Optional | Optional | Optional | Optional |
| Fuel tank | 16 L | 16 L | 24 L | 24 L | 16 L |
| Weight (DIN unladen) | 345 kg | 365 kg | 398 kg | 427 kg | 374 kg |
BMW R 18 model variants
Belos are instrument clusters of the various R 18 models.
One more thing. When perusing ads for BMW R 18 models, you may see names like "Highline", "Deluxe", or "Custom". These are references to trim levels.
Because the nomenclature can vary by market, and different things come standard in different places, it's best to check with your local BMW website.
BMW R 18 Base model + "First Edition"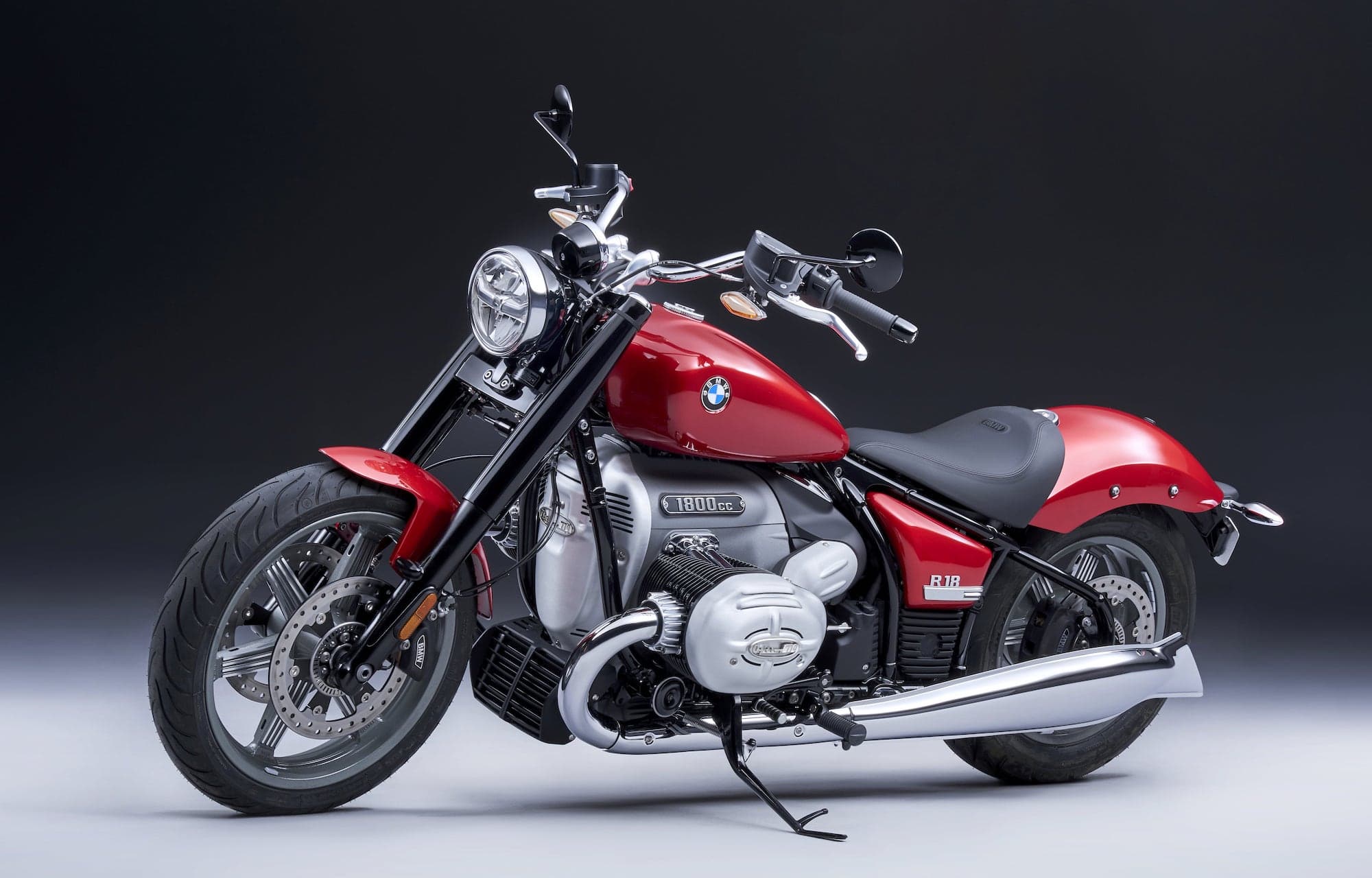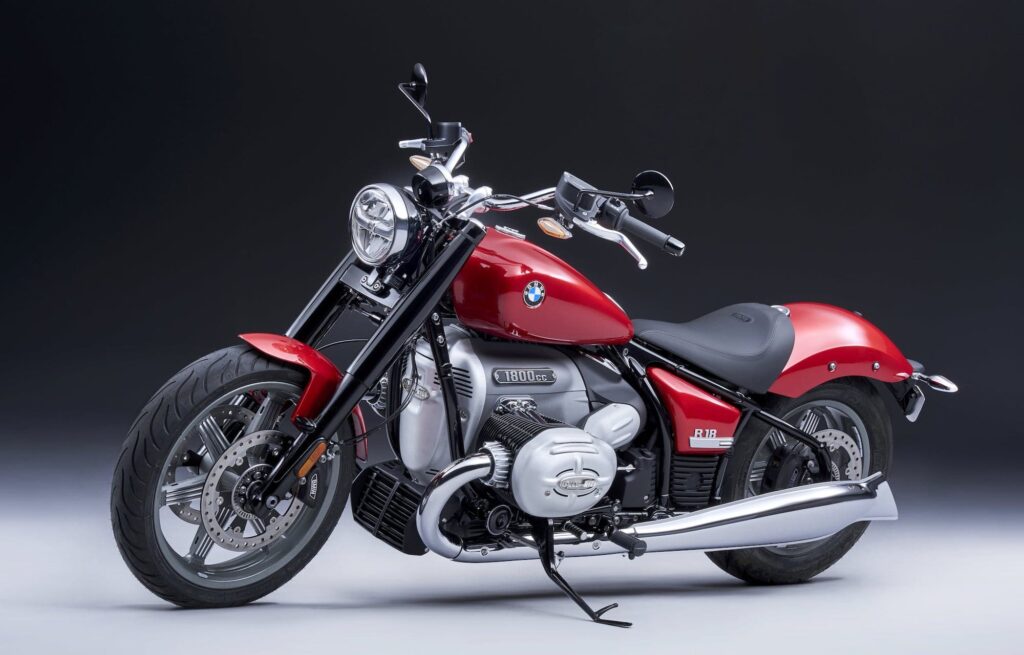 The base model BMW R 18 is… well, it's the base model, which is sometimes the "First Edition" in some markets.
The base model is priced competitively for the segment, and it stands out with its high quality paint and copious chrome.
The base model R 18 also came in a few variants. Most notable is the R 18 First Edition, which gets white double-lined paintwork, more chrome (e.g. on the front engine cover and the cylinder head covers), and a few other details. Actually, the "base model" R 18 isn't available everywhere.
It's easiest to think of the base model / First Edition by comparing it with the others and seeing what it lacks.
It lacks
A multi-gauge cluster and TFT display
A fairing
Hard luggage
The option for adaptive cruise control
If those are things you're interested in, check out the other variants below.
BMW R 18 Classic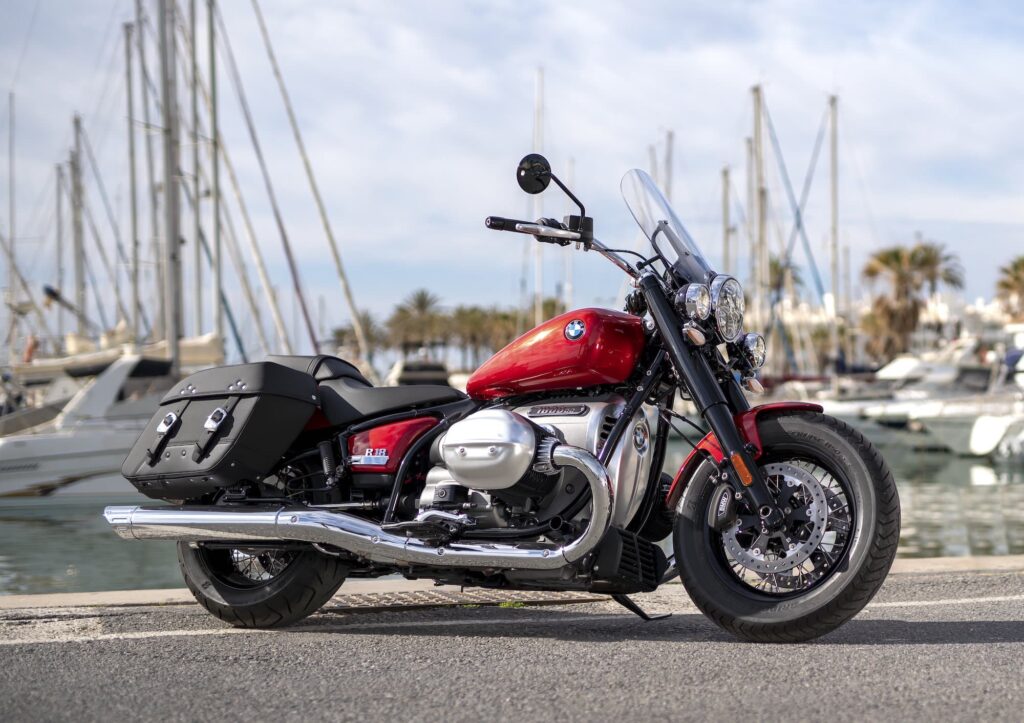 The BMW R 18 Classic is fundamentally the same as a BMW R 18 base model, but gets a removable windshield, removable saddle bags, and a removable passenger seat.
It also has LED headlights and standard cruise control.
You can also get the R 18 Classic in "First Edition" trim.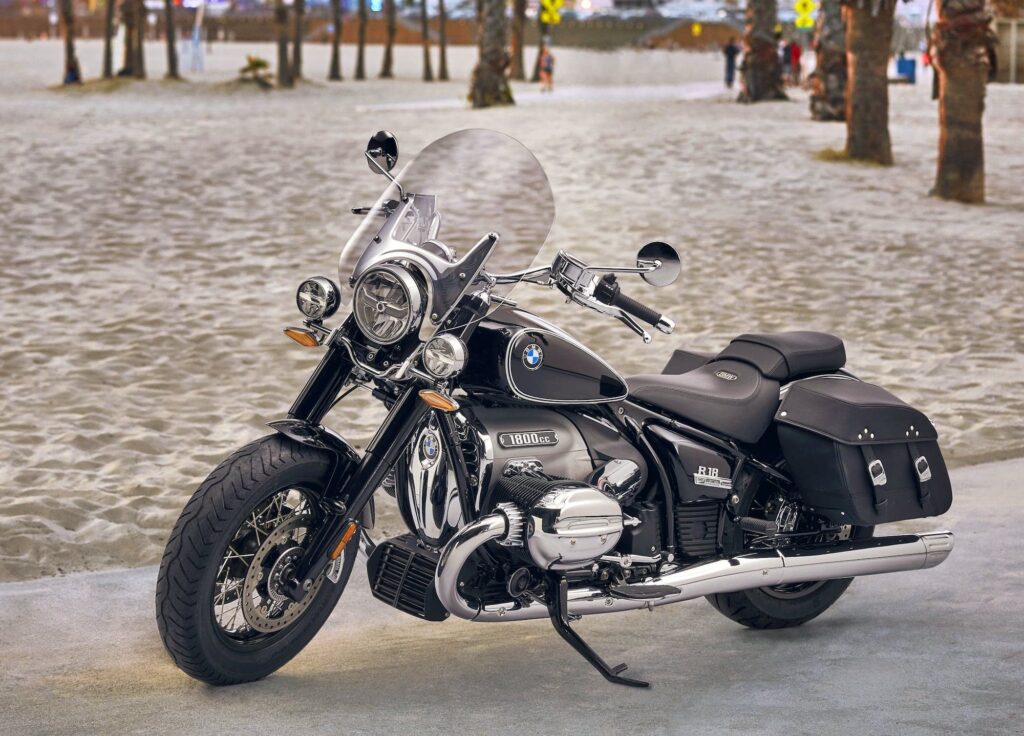 The R 18 Classic is attractive because you get the option to have all the cool cruiser stye of the base model, plus optional comfort when you need it.
BMW R 18 B(agger)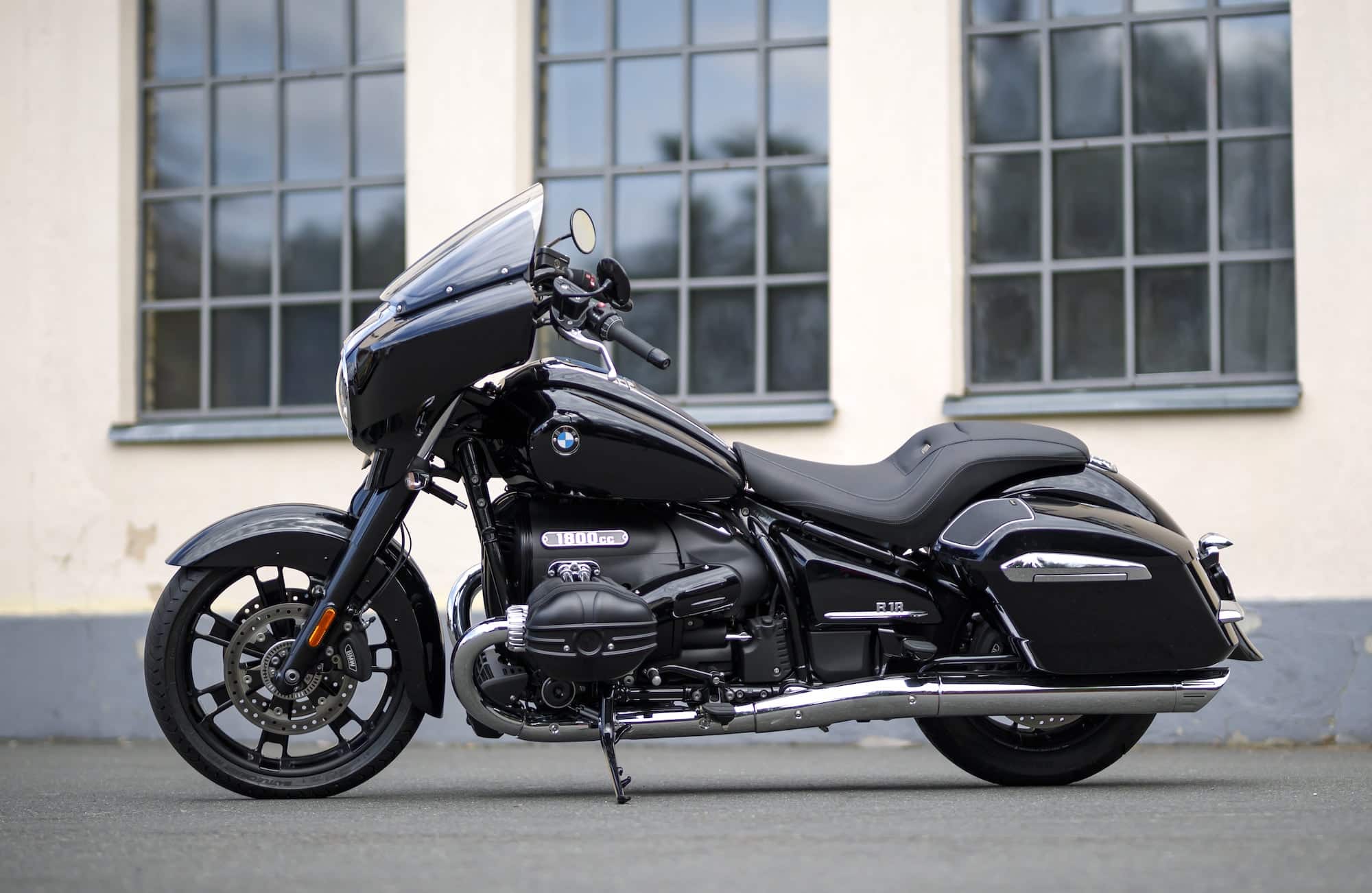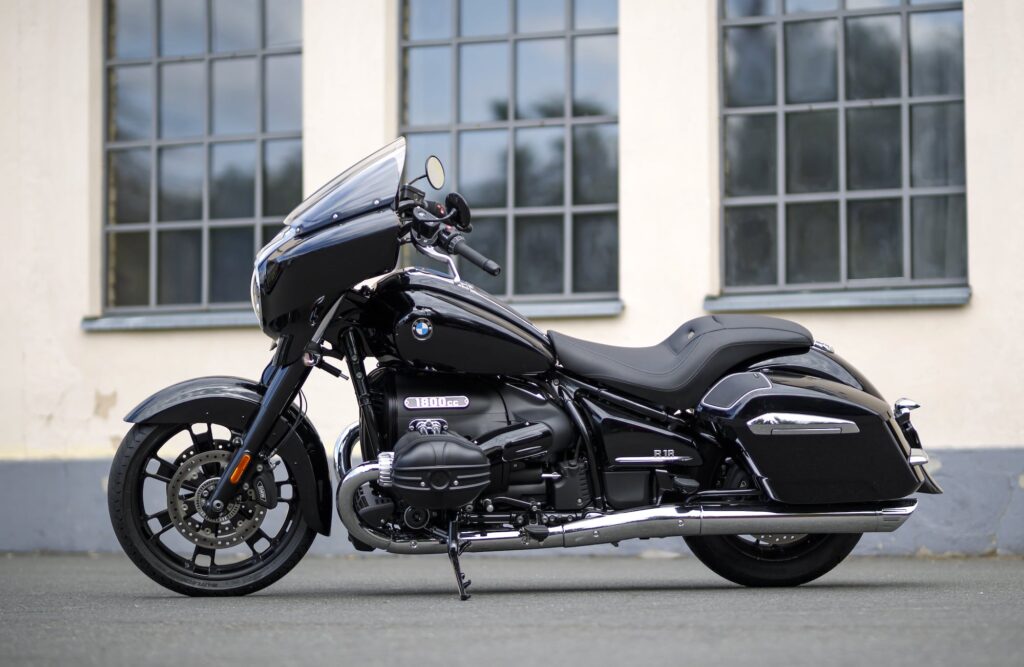 In mid-2021 (see global press release), BMW introduced two new models — the R 18 B and the R 18 Transcontinental.
These two models are quite similar. They get a large front fairing, the Transcontinental getting a taller shield. But they both share the same big 10.25-inch TFT with multiple gauges and a full entertainment system.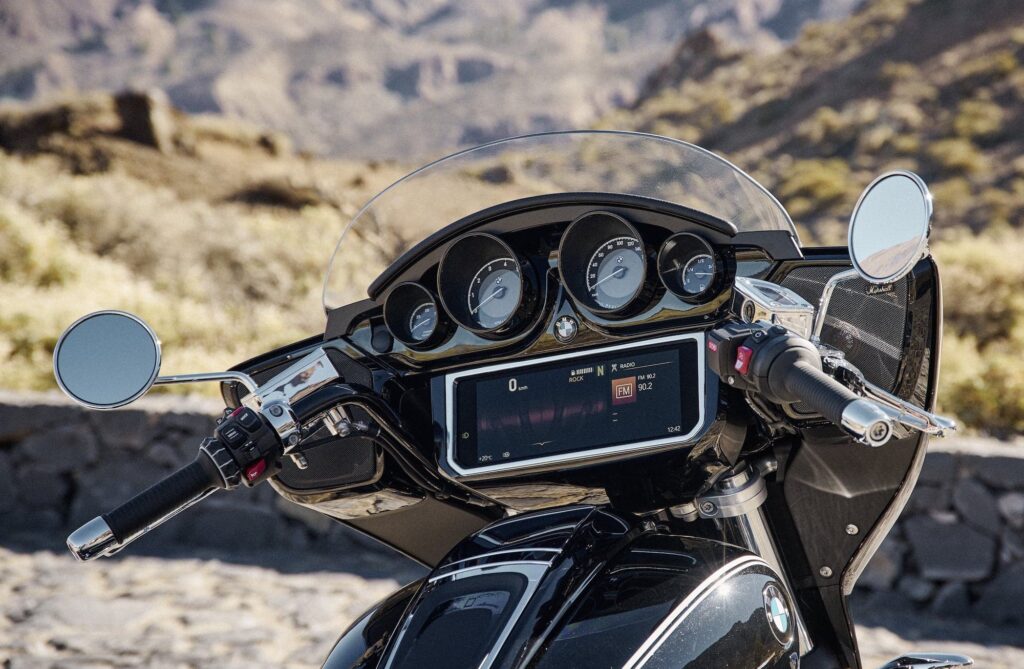 The infotainment system on the R 18 and Transcontinental is quite impressive. You can play music or the radio through the Marshall speakers on the outside of the fairing. This isn't for everyone, but it's not until you rent one for a day and see what it's like riding down highways with music blasting that you can be sure it isn't a thing you enjoy — at least occasionally!
One option that makes the R 18 B and Transcontinental quite unique in the cruiser world (for now) is radar-assisted adaptive cruise control.
Very few motorcycles have this feature (see here for the current list), and the R18 B / T are two of those few. It means that cruise control also takes an input from a radar that senses the speed of a vehicle in front. If the vehicle in front is going more slowly, the R 18 adjusts its cruising speed to maintain a safe distance. Magic! It removes the necessity of having to make micro-adjustments in cruise control out on the open road.
Adaptive cruise is an option though. Regular cruise control is standard.
Both the R 18 B and Transcontinental have cast rims and tubeless tyres. The Bagger has a blacked out engine.
BMW R 18 Transcontinental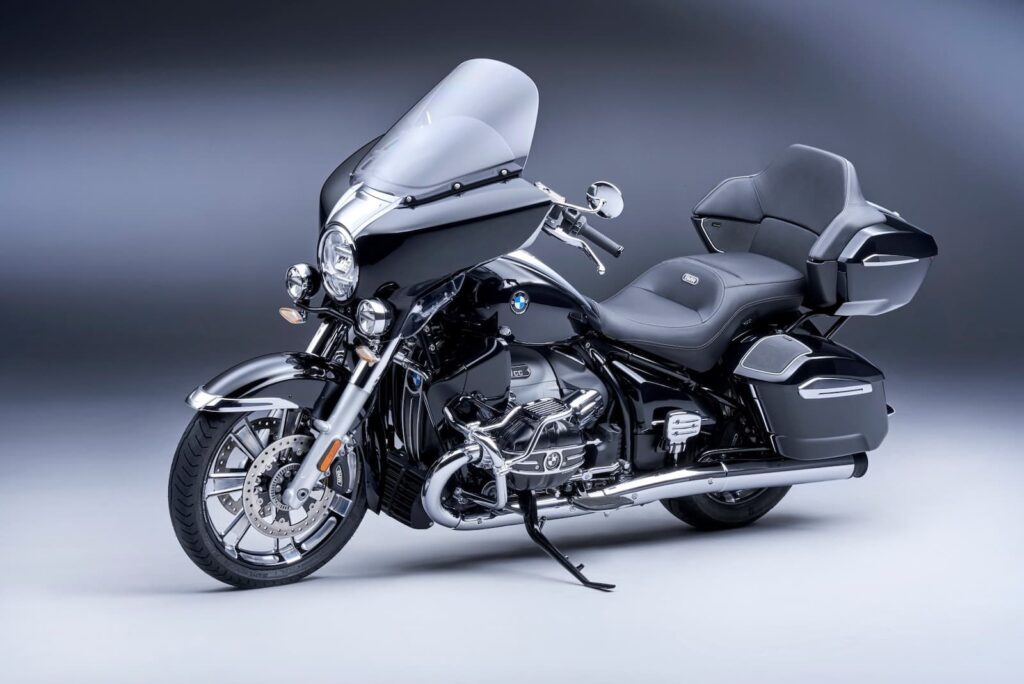 If you love your pillion, then your pillion will love you if you have a bike like the R 18 Transcontinental.
Like the R 18 B, the R 18 Transcontinental has a huge TFT display and multiple gauges.
The cockpit of the BMW R 18 B / R 18 Transcontinental is a nice place to be. I feel very at home there. I just like lots of gauges and a screen!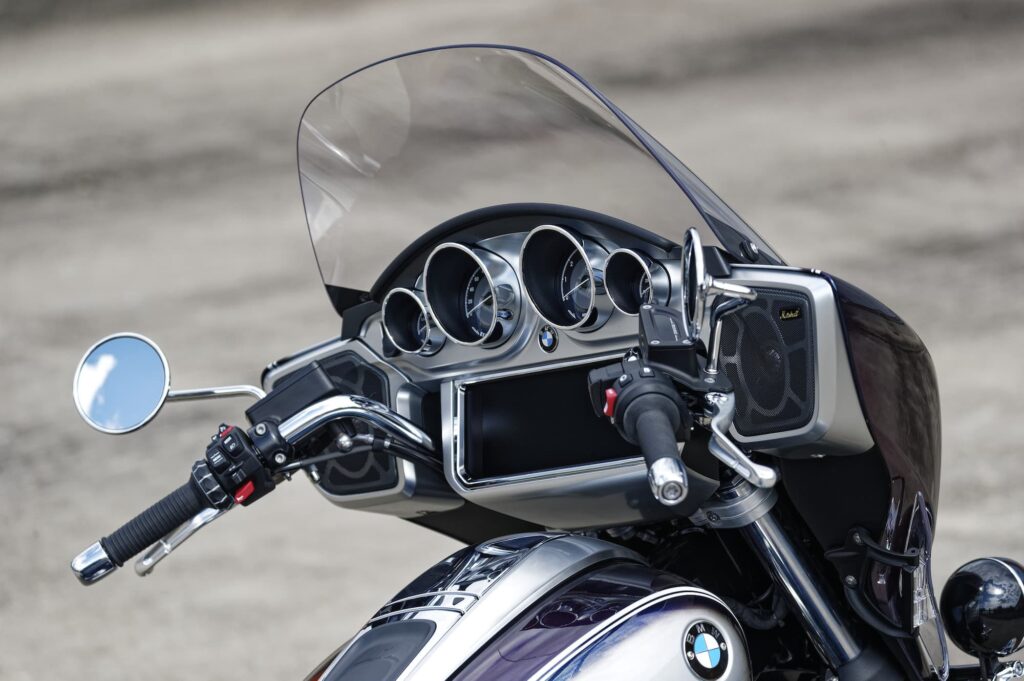 Those who prefer to travel two-up with just one motorcycle can feast their eyes on that sumptuous rear seat, complete with speakers. My own partner tends to fall asleep even when there's no backrest, so I am fairly confident she'd pass out on this perch.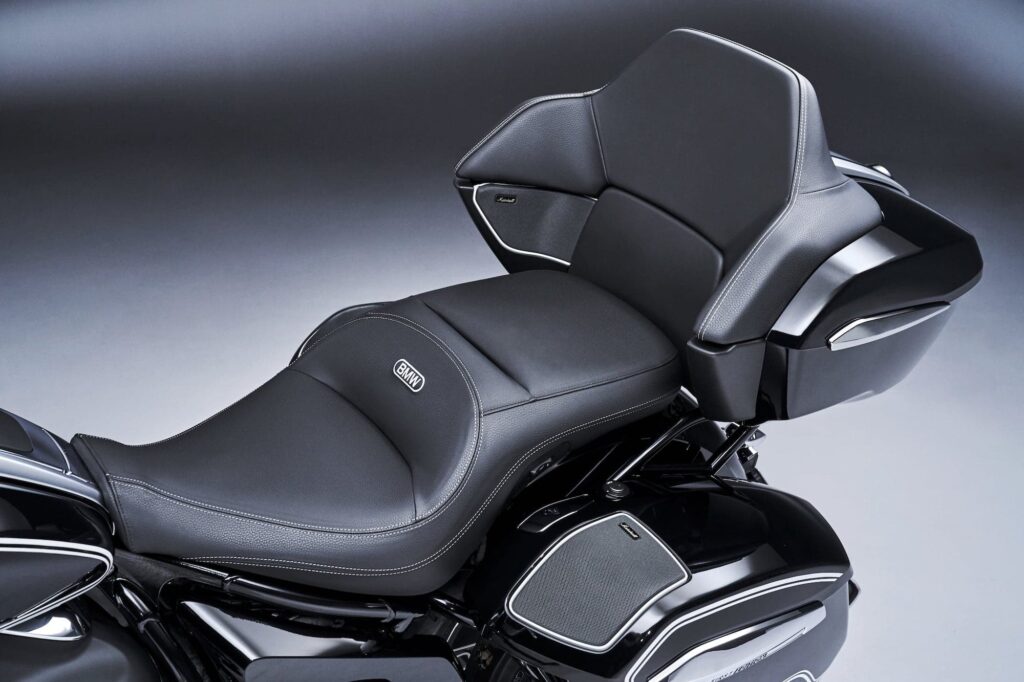 The Transcontinental also has a taller shield, mini floorboard footrests, and a heel-and-toe shifter, just like other big cruisers (…or a Honda CT125 Super Cub).
BMW R 18 Roctane (2024+)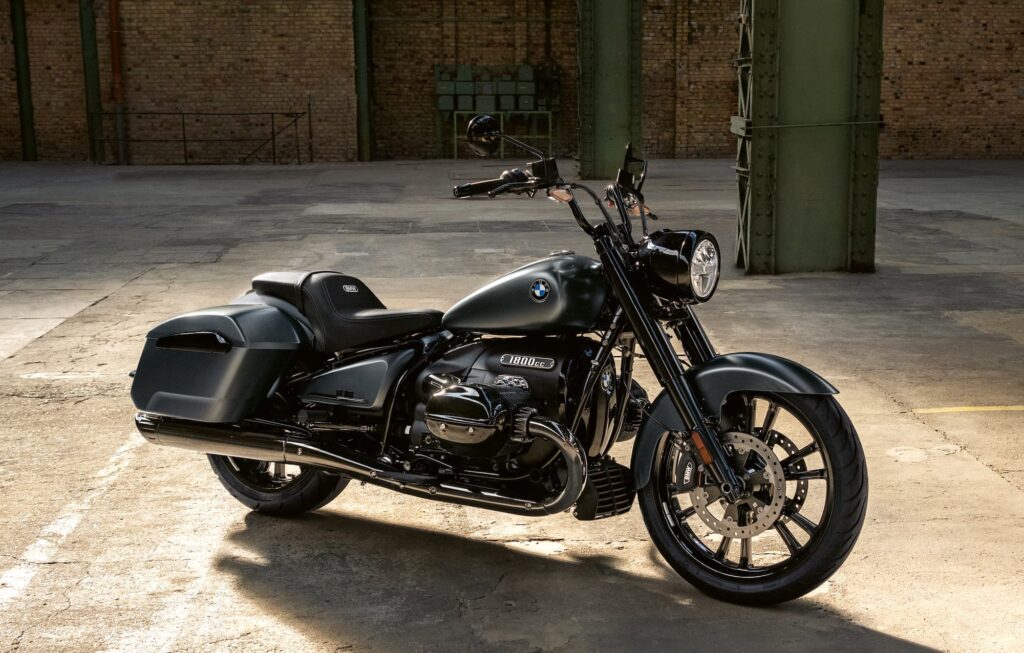 In mid 2023, BMW released the fifth member of the R 18 family — the R 18 Roctane.
The BMW R 18 Roctane is a stripped back bagger with high bars, hard bags, and no screen. In terms of style, it most reminds me of the Harley-Davidson Road King Special.
The Roctane is quite a form-over-function bike. The lack of a screen means wind in your face, making it not that great an option for actual distance. It has a 21/18-inch tire combo, which again is a feature of style-forward bikes like the Harley-Davidson Breakout.
Still, it does look cool!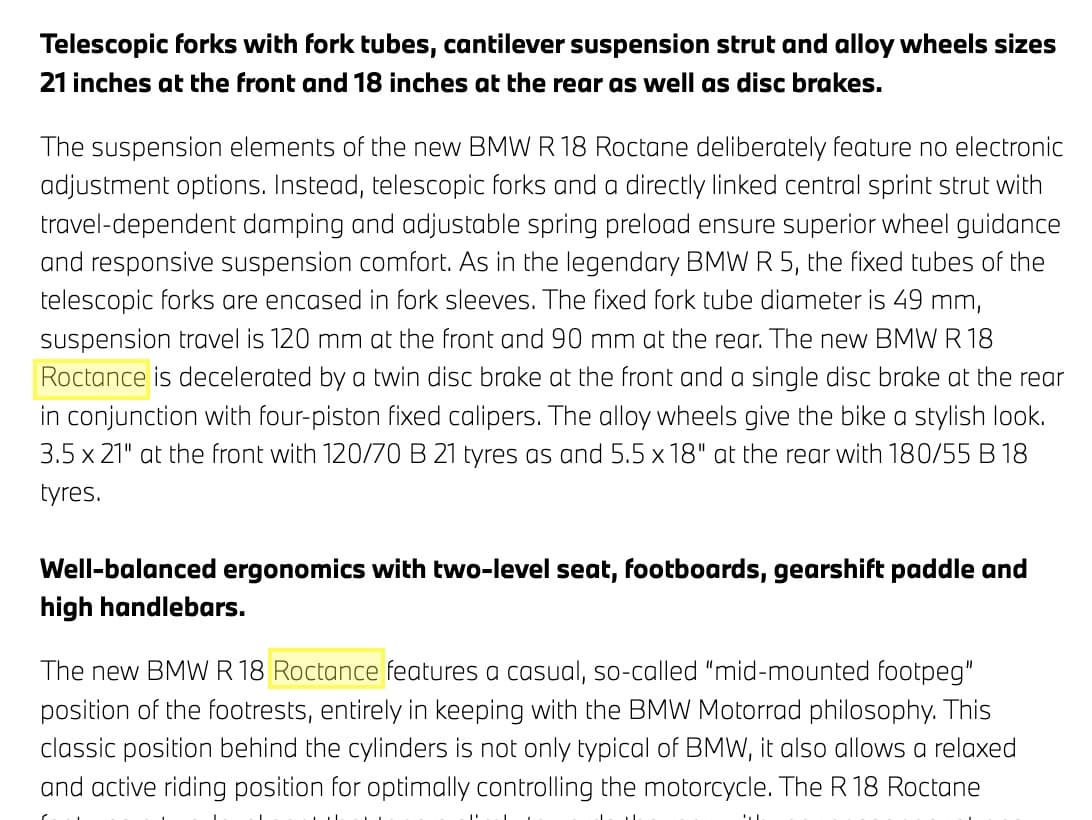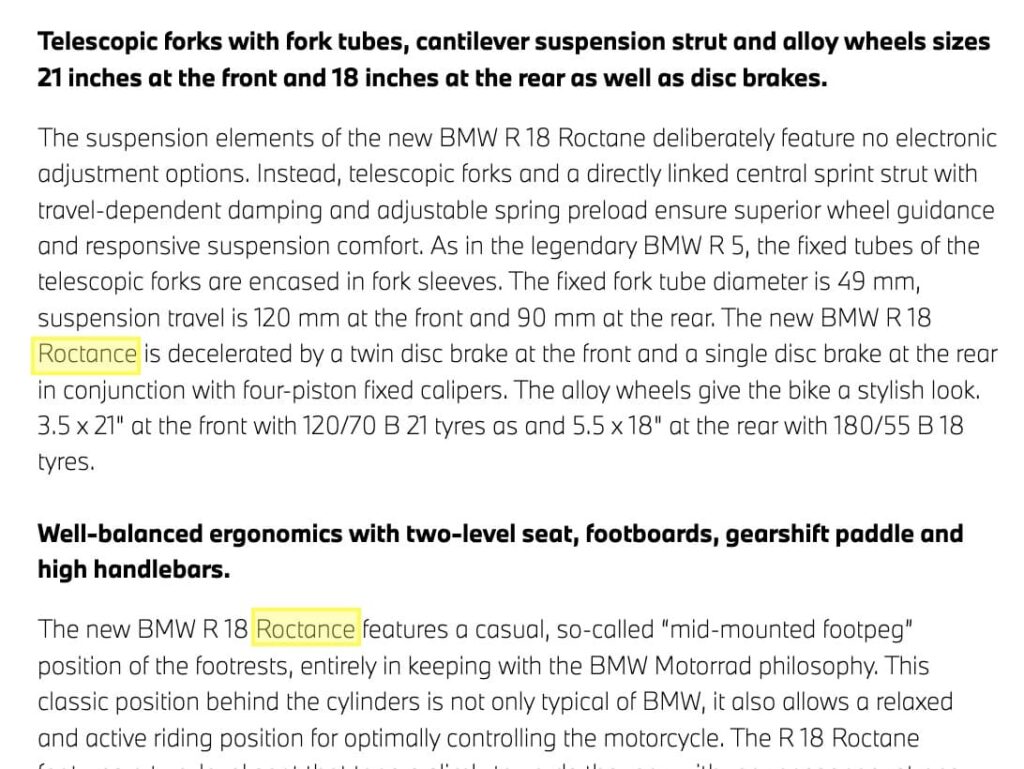 The one thing I'm not really sure about is the name. "Roctane"? It reminds me of the Rockster, which was a cool bike (from the time of the R 1150 engine), but it doesn't seem on-brand for BMW.
It seems BMW wasn't too sure about "Roctane" either… they spelled it "Roctance" twice in their own press release.
Common Complaints about the BMW R 18
There are a few pitfalls regarding the BMW R 18. I've experienced some of them myself, and have heard others say the same. I'll mention them here and address them in turn.
Weight: Yes, it's Heavy. But That's OK (usually)
A common refrain about big, heavy motorcycles is that they're big and heavy, surprisingly. And also that the "weight disappears once you get rolling". Both of these are true in the case of the R 18.
You do notice the weight when you lift the R 18 off the kickstand, but the weight melts away when you get rolling. So once you're going, the weight is fine, and can be in your favour — e.g. when going past trucks (or when trucks are going past you), or while riding where there's a lot of wind.
However, there are a few times when weight is impossible to miss. After all, it does weigh ~350-430 kg (~770 – 950 lb). And that's before the rider, gear, and whatever you stick in the luggage!
So you'll notice the weight in low-speed manoeuvring, when you're pushing it around. For this reason, I'd say the reverse gear option is nearly indispensable. In fact, I'd find it shocking if you opted to not get the reverse gear option on the heavier options (the B and the Transcontinental). In some markets, they're standard.
Once you've used a reverse gear on a motorcycle, be it an R 18, a Honda Gold Wing, or a BMW K-bike, it's very hard to see why every heavy motorcycle doesn't have one. Steep driveway? Check. Backing it up onto a ramp? No problem. Awkward inclined kerbside parking outside that cool cafe? Way less awkward.
If you're spending bucks on an R 18, spend a bit more for this option.
Handling: Surprisingly Good, but Not a Sport Bike
You'd expect a big, heavy cruiser to not handle that well. Well, this is one area where the BMW R 18 outperforms — for a cruiser.
Yes, the R 18 does have limited cornering clearance. It's a long, heavy, low cruiser, after all.
However, that said, it handles well. A lot of reviews tend to mention that the R 18 scrapes easily (Common Tread's, for example). But just as many don't, acknowledging that the R 18 isn't a bike you're meant to dive into hairpin turns with.
Once you're on the road, the R 18 is easy enough. It's not going to stop on a dime (though the brakes, but it never feels difficult to handle.
The first time when you'll notice how big and heavy the R 18 is when you're moving it around a parking lot at low speeds. The turning circle isn't the best. But once you're used to anticipating turns a little earlier, it's not unwieldy.
The second time you'll notice the handling is when you're going around a tight corner and you attempt to lean it very hard. If you're not used to cruisers, as most BMW riders aren't, you'll be chastised into not riding quite as aggressively as you would even on an R nineT.
Some people enjoy scraping pegs. I don't really. It throws me off. So on bikes like the R nineT, I adjust my pace on tighter roads. Ultimately though, it's not really a limitation I particularly enjoy having.
I want to point out that the R 18 scraping is not a detriment to the R 18 specifically; it's this whole class of motorcycles. You'd scrape other cruisers just as often, if not more often. But if you're coming to the R 18 not as a cruiser rider (which is how I'm coming to it, as a BMW R nineT rider), then it's a detriment.
Riding position: Fine for some, but make sure you test ride it for 1 hour.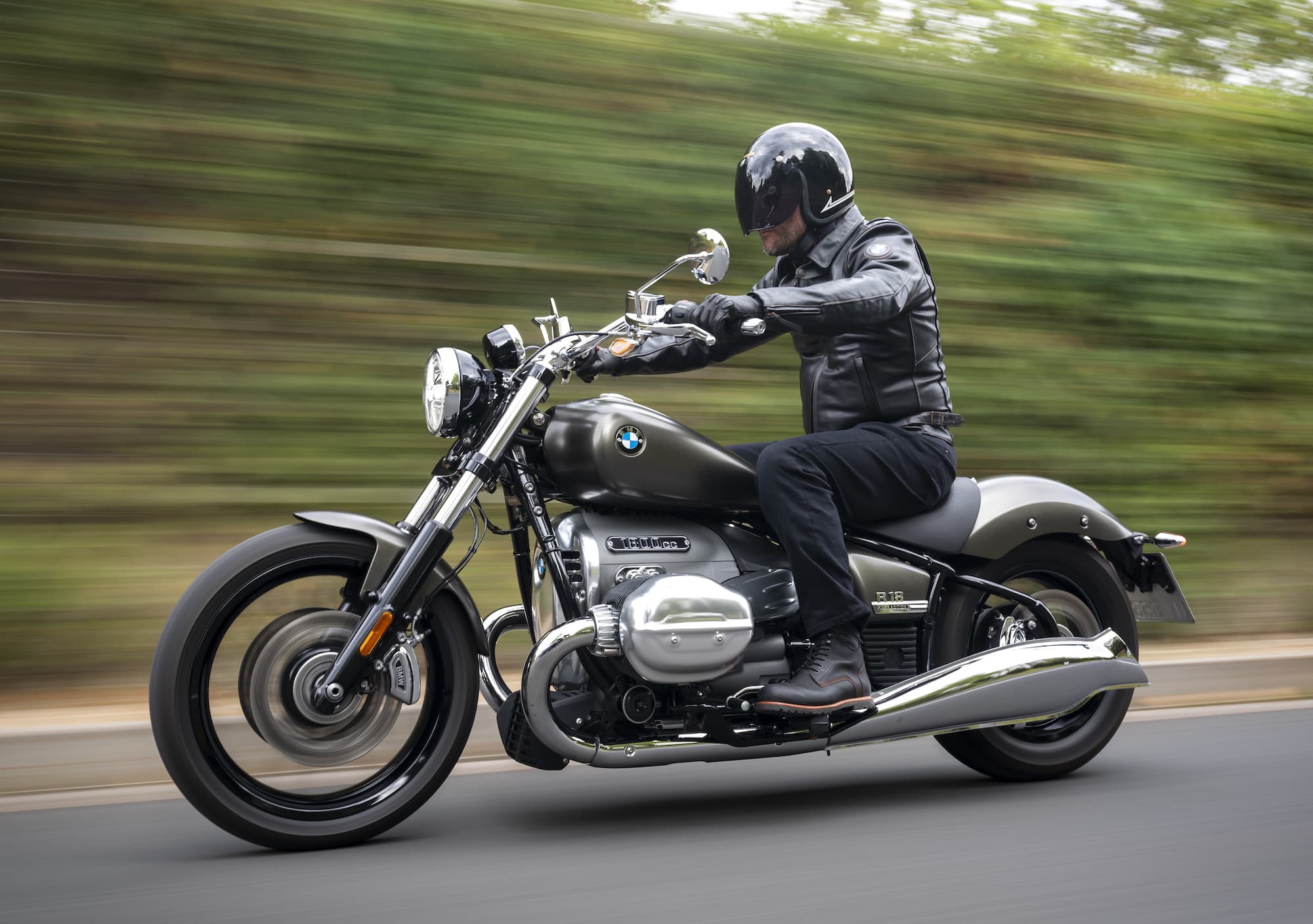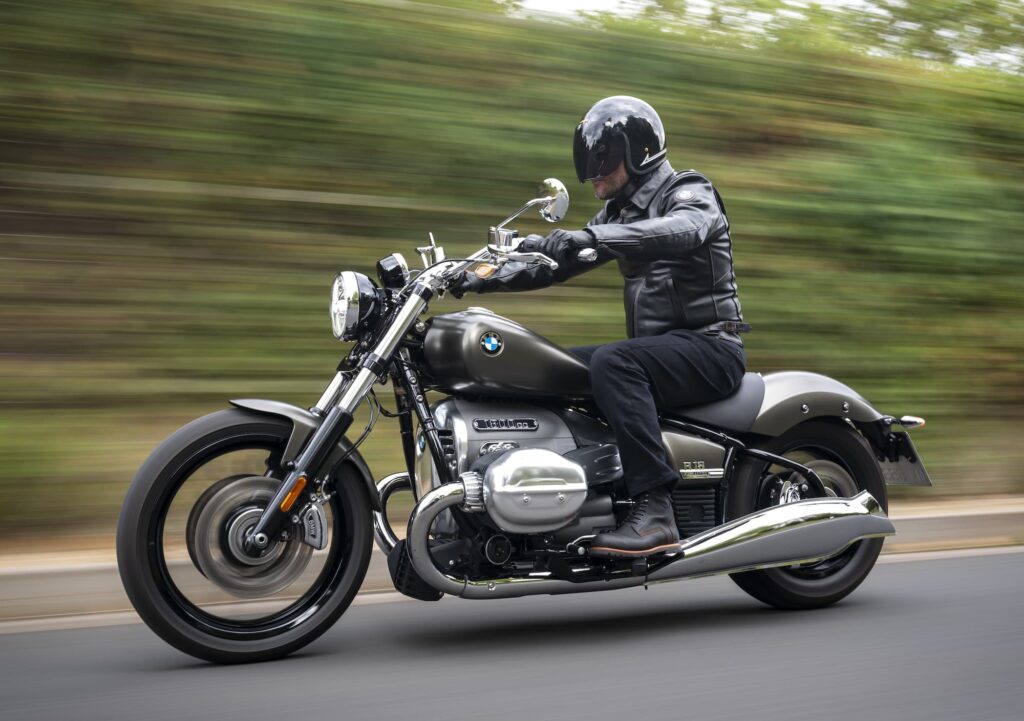 The moment I sat on the R 18 — any variant — I felt comfortable. I'm a big fan of the "knees at right angles" riding position for everyday riding.
But this opinion isn't universal. You have to ride the bike for a bit to actually get used to it.
After a ride on the BMW R 18, I still felt comfortable. But I've read of people who hated it and wanted their legs in front of them. Every body is different; make sure you can stand yours for the relative time period.
"That Exhaust is Ugly!"
It's not for everyone, what can I say? It's pretty big and the "fishtail" shape isn't in fashion. I'd prefer it if it were cylindrical and shorter, but it's not a problem for me.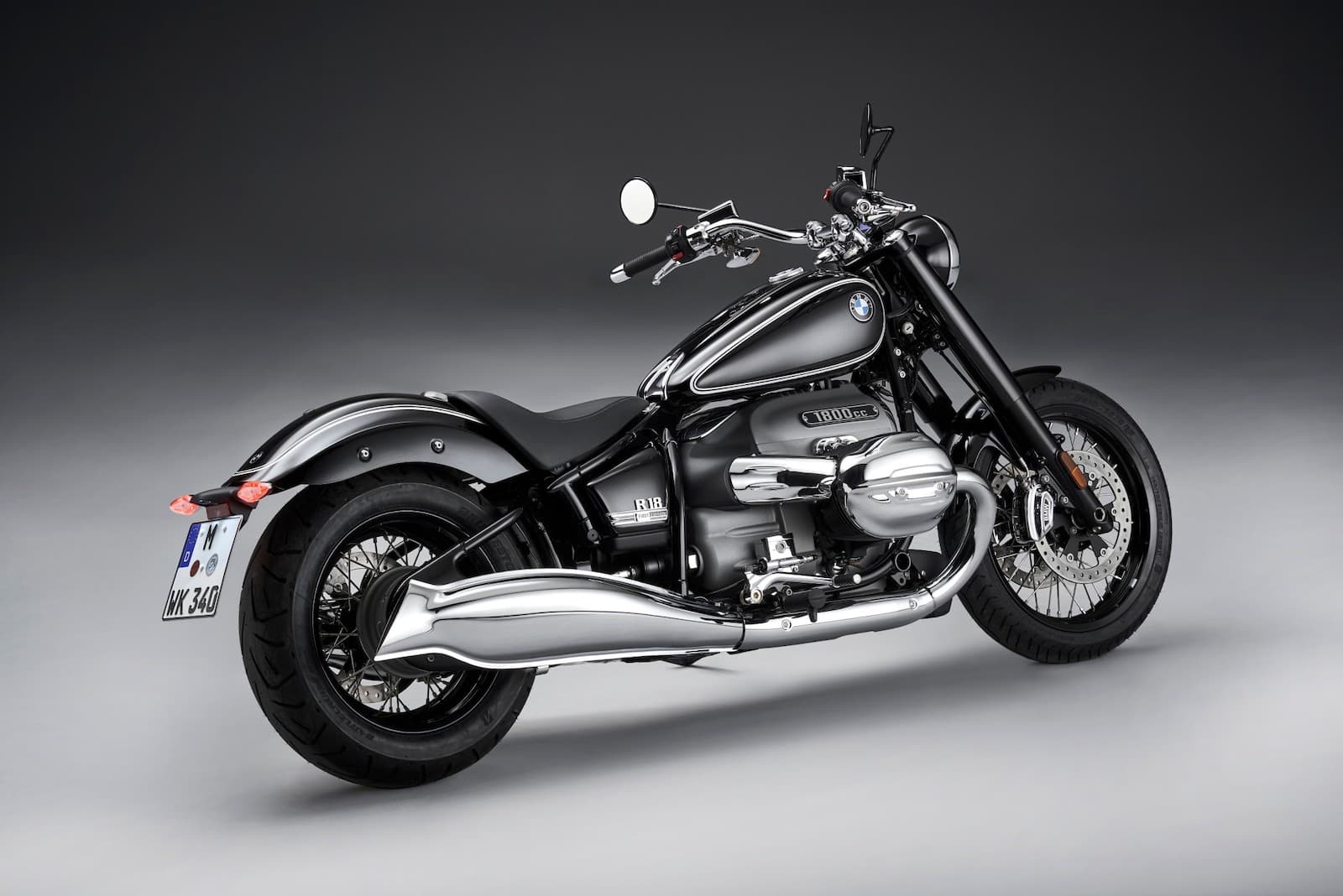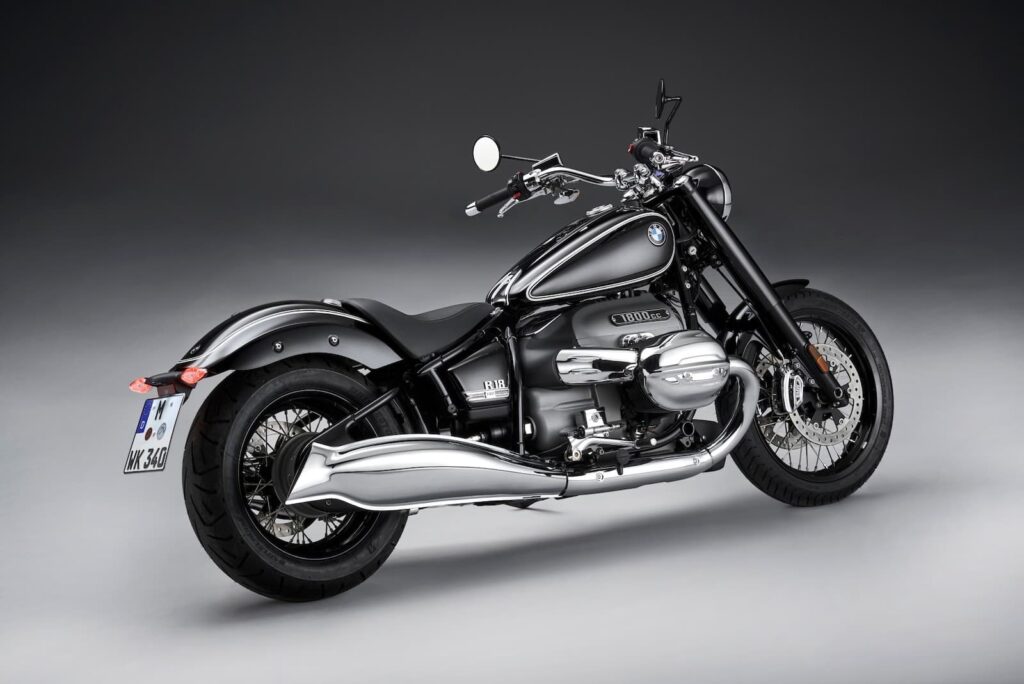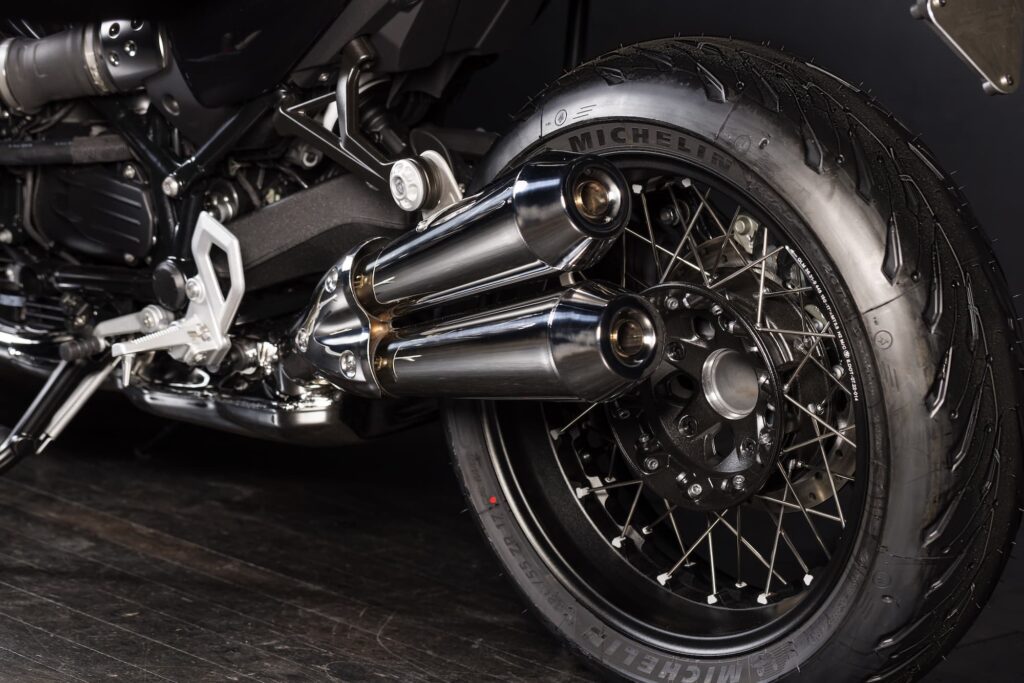 The exhaust on the R 12 nineT is much better looking. So BMW does know what they're doing, style wise.
That said, the R 18's exhaust is inspired by the one on the BMW R 5, if that helps sway your opinion.
And if you still don't like it, it's easy to swap out. But keep the original, because some people think it's a work of art.
Maintaining the BMW R 18's "Big Boxer"
One of the major things to bear in mind about any big, expensive motorcycle is the maintenance. And maintaining the R 18 boxer motor is very easy.
You have to periodically replace not just the engine oil, but also the oil in the rear bevel gears and also the transmission (but those are less frequent). At least you don't have to check belt tension or adjust it, let alone worry about an errant rock damaging it.
The maintenance schedule for the BMW R 18 does specify that you have to service the valves at every oil change, every 6000 miles or 10000 km.
This may seem daunting, but the good news is that the valve job is definitely within the job of a reasonably mechanically competent owner. The R 18's valves are adjusted by a "screw and locknut" type adjustment, which means you need very few tools — just hex keys and wrenches, feeler gauges, and a torque wrench.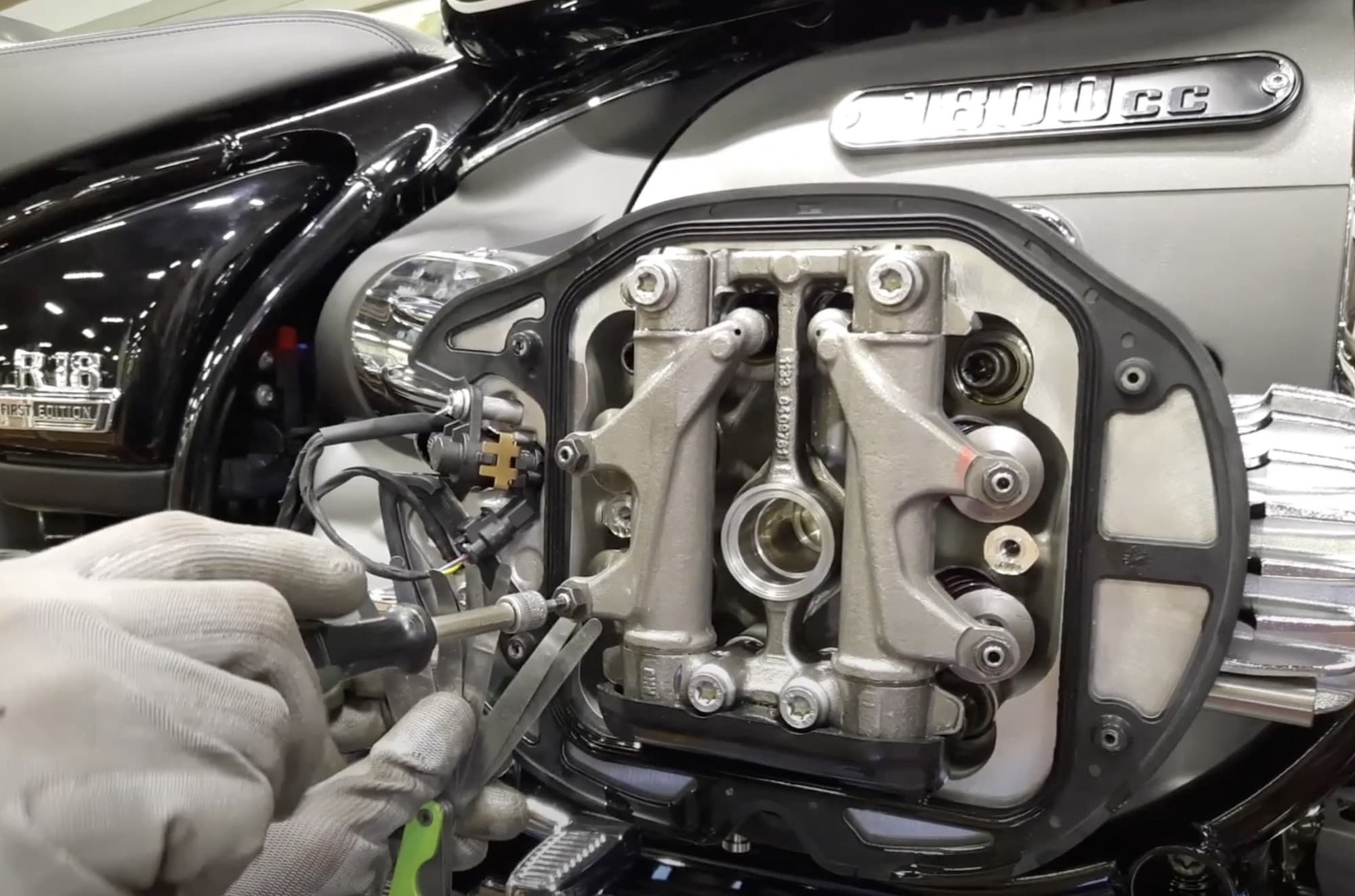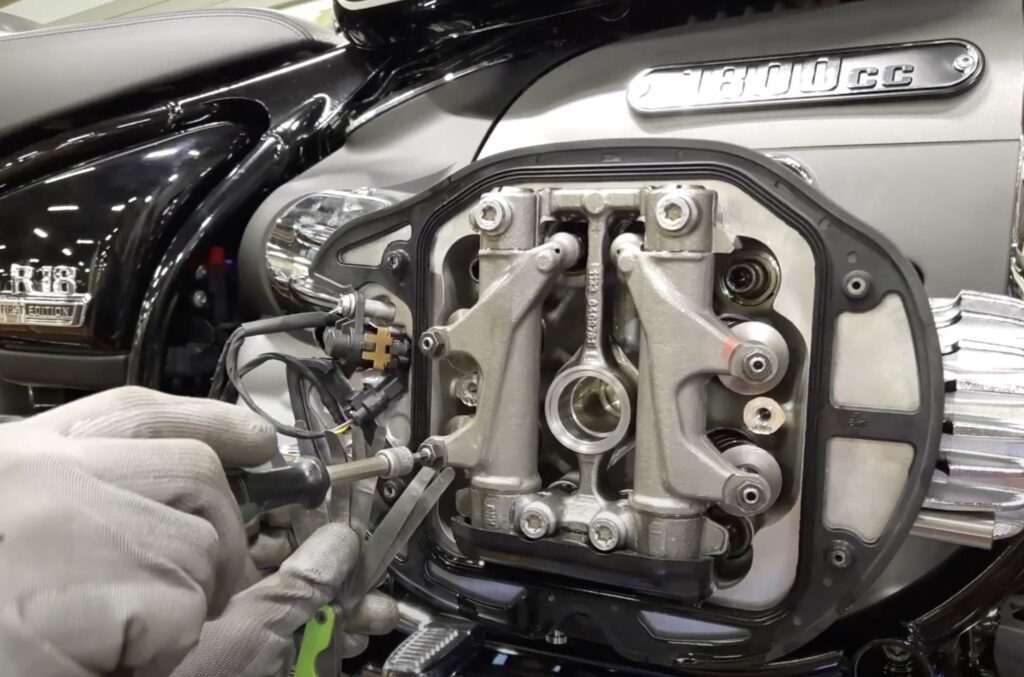 It's the same as valve adjustment on any motorcycle with screw-and-locknut adjusters — loosen the locknut, use the feeler gauge and adjust the screw to the right position, then tighten the locknut.
It's pretty cool that such a big and new bike has the same valve adjustment style as motorcycles from decades prior ago (last the BMW R line had it was the R 1150 motor).
Alternatives to the BMW R 18 Line
The BMW R 18 line of motorcycles is best compared to other similar "lines" of motorcycles.
Generally, if you're into the R 18, then you're looking for something that's got a big, solid metal feel to it, and is powered by an old-school, air/oil-cooled engine. Here are some contenders.
BMW R 12 nineT (or generally the R nineT line)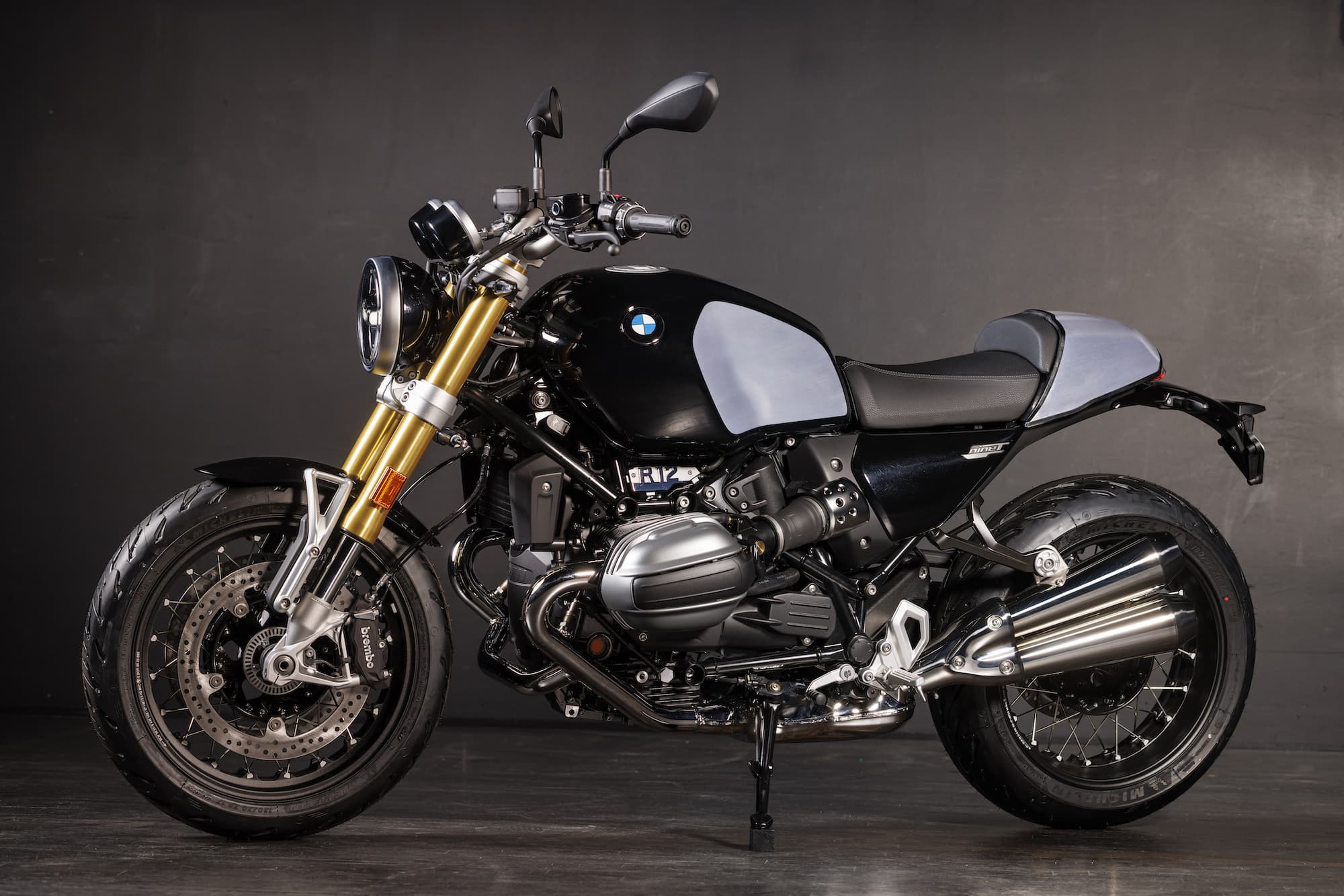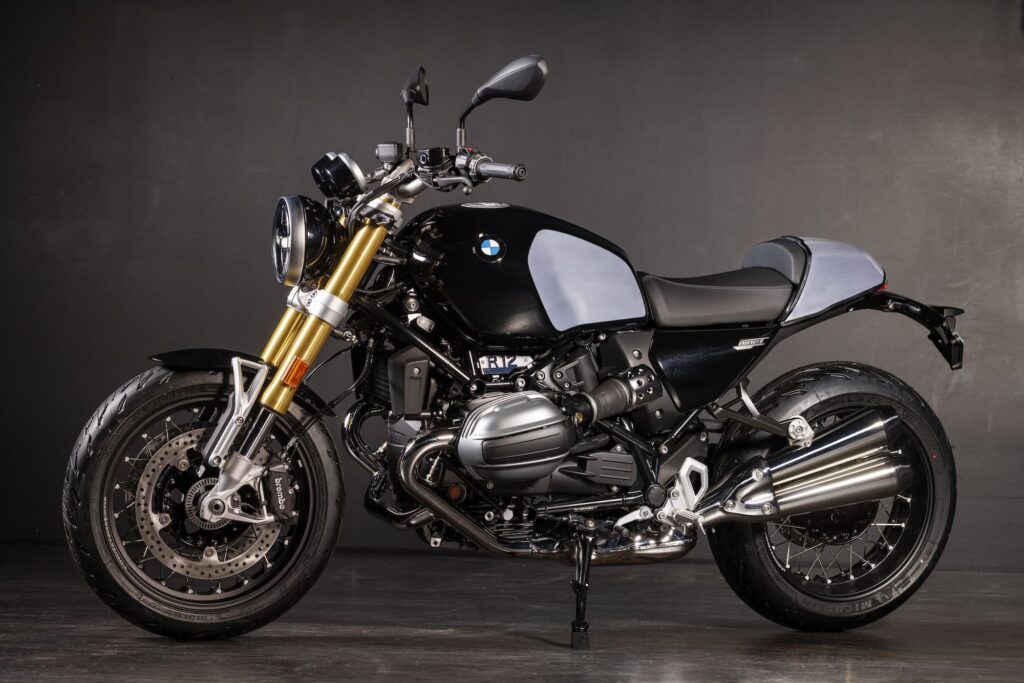 Firstly, within BMW, you might also be interested in the BMW R nineT line. How do you know if you're more of an R 18 person or an R nineT person? Both lines are "heritage" after all, style-forward, with high-quality motorcycles.
The main difference is that the R nineT motorcycles are sportier. They're lighter, more powerful, and generally just a bit more hooligan-like (though they're still sedate in the class of middleweight sport bikes).
The 1170 cc boxer twin in the R nineT makes 81 kW / 110 hp, and revs a lot higher. Though, again, it's not a high-revving bike — this is still a middleweight. It's happy to be lugged around, and above 8000 rpm isn't its happy place.
I really like the R nineT. I like its rough-but-refined character. I do miss a bit of the high-RPM buzz of sport bikes, and hoped it would keep me out of trouble as a lower-speed bike, but… what can I say, it hasn't.
The other main difference is that the R nineT handles really well. It's not a motorcycle I ever was worried about scraping or running out of clearance on when riding on the road.
Harley Davidson Softail Line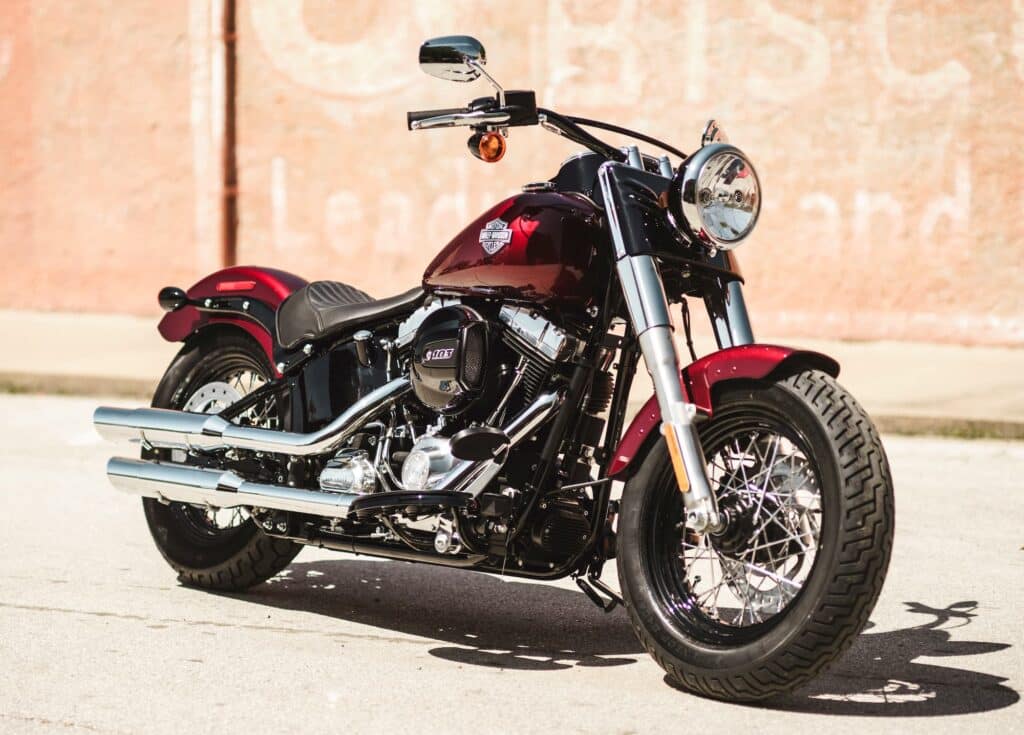 Another obvious alternative to the BMW R 18 is anything from the Harley-Davidson Softail or Touring lines. Many bikes would be contenders, but an obvious one would be the Softail Slim.
The "Softail" is most reminiscent of the BMW R 18 because it uses a hidden rear shock under the chassis to hide the suspension, giving it a hard tail look, same as the R 18's mimicry of the R 5. The 2018+ Softail chassis does this particularly well — most of the community agrees the chassis is better, and that the Milwaukee Eight motor makes more power and torque, though some prefer the Twin Cam motor's character.
There are a few other bikes that resemble various motorcycles from the BMW line, like the Softail Slim, the Road King Special, the Street / Road Glide… anyway, if you're into Harleys, you know where to go look.
The main advantages of modern Harley-Davidsons are the huge dealer networks, the massive community (and even if you don't identify with it, it's so big that you can find like-minded souls), the resale value, customisability, and that Harley-Davidson really know what they're doing with cruisers. This is their wheelhouse! Why are Street Glides and Road Glides everywhere? Because they do their job very well.
But of course, the R 18 is a counter-cultural choice, and not a bad one. You'll definitely be more unique. They have plenty of special things, too, like shaft drives and adaptive cruise control on some models.
Indian Chief / Chieftain line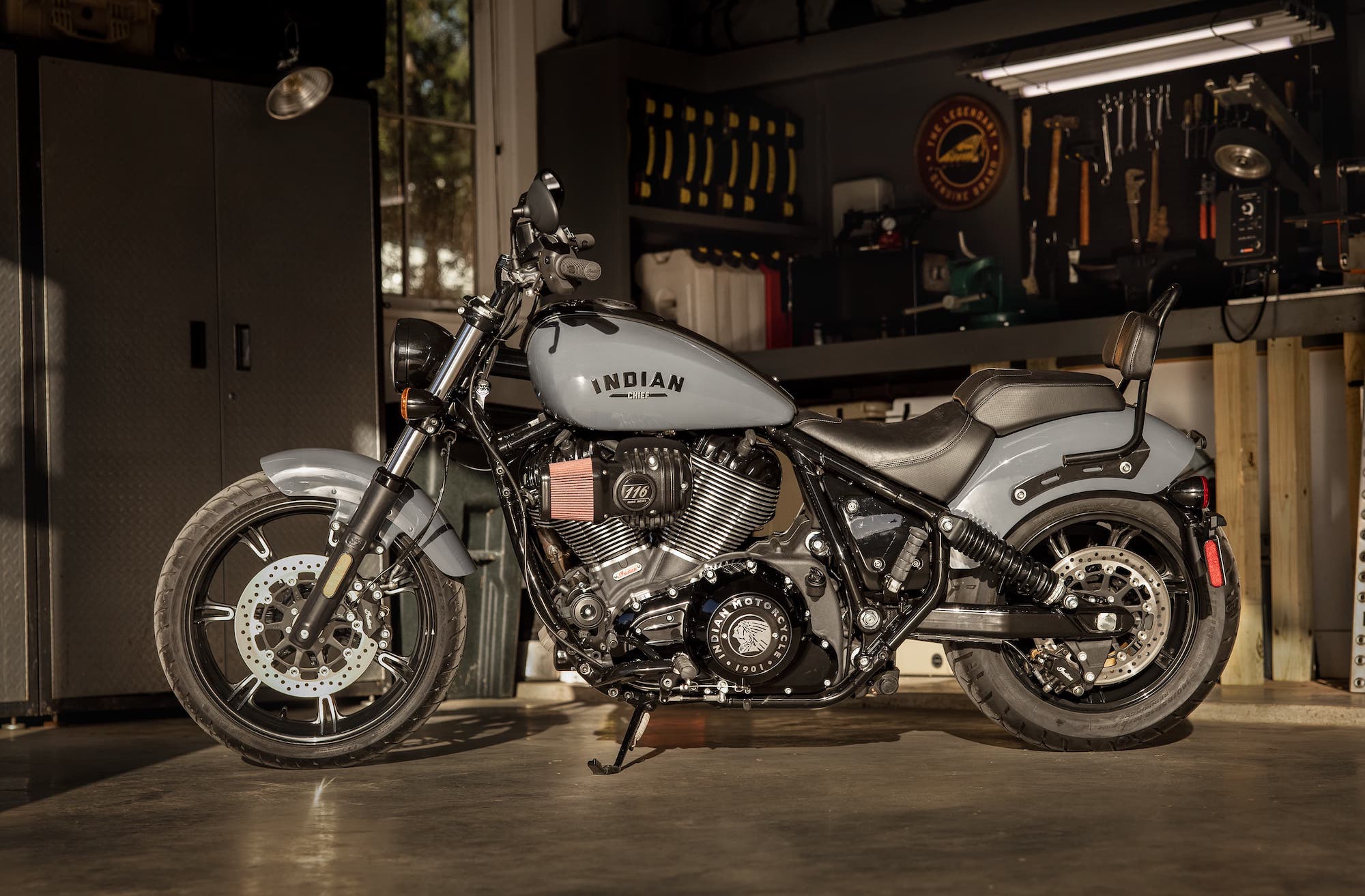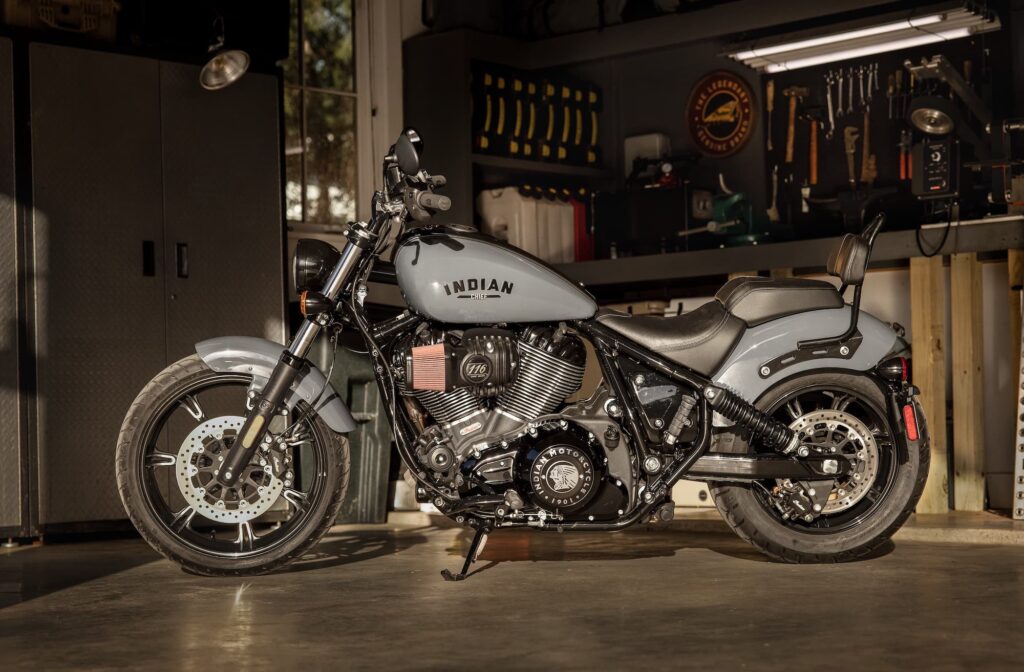 Finally, Indian (reborn under Polaris' ownership) makes its own line of air/oil-cooled V-twin motorcycles in a double downtube frame.
The Chief line competes with the Softail lineup, although it is better seen as a replacement for the Dyna line, as you can see the twin shocks at the rear.
I'm a huge sucker for the Indian Chief from 2022 onwards. If I make a million bucks (share this post with your friends and help me get there! I hope you have tens of millions of friends…) the Sport Chief will be my present to myself, and I'll ride that thing around the world, even places it shouldn't go.
There are various variants of the Chief, all sharing the same air/oil-cooled Thunder Stroke motor. There's also the Chieftain and the Springfield, which have the same motor, but different exterior bits.
Unfortunately Indian dealers are nowhere near as widespread as Harley-Davidson ones. But many people are very happy with their Indian bikes. I hope the reborn brand lasts a long time and reclaims some of its claims to history.
Wrap Up
The BMW R 18 is a polemical choice of bike. It's equally easy to find people who love it as well as hate it.
Part of the reason for that is that it's not a logical choice. I mean, no motorcycle is… but if you want a motorcycle that is useful, either generally (like a commuter) or for specific purposes (like a track or adventure bike), then you'll end up with very different motorcycles. Or just a Toyota Corolla, or heck, a subway pass!
But cruisers like the BMW R 18 (or Harley-Davidson or Indian motorcycles of various lines) are going after your heart with their particular feel and style. It works for some people, but it doesn't for others.
Best thing, of course, is to go and try to rent one. There are definitely a few on Riders Share around the US! And if you can't, at least sit on one and have a photo taken with it. See if that tickles your fancy.