If you're really into modestly-powered air-cooled single-cylinder fuel-injected motorcycles, you're probably considering these three motorcycles
Royal Enfield Meteor 350
Honda CB350/H'ness 350
Or even:
Royal Enfield Bullet 350 or Classic 350 (maybe not, but it's worthy of a mention so you can have some context)
All of these bikes seem similar. They have similar base specs, prices, and aesthetic styles.
But you might be wondering — what's the difference? Which is the best quality, the best value, the best to drive, or the most reliable out of the Royal Enfield Meteor 350, Honda H'ness 350/CB350, and the Royal Enfield Bullet 350 (and the very similar Classic 350)?
Let's look at these questions in detail below to figure out: Which is the best value 350cc single?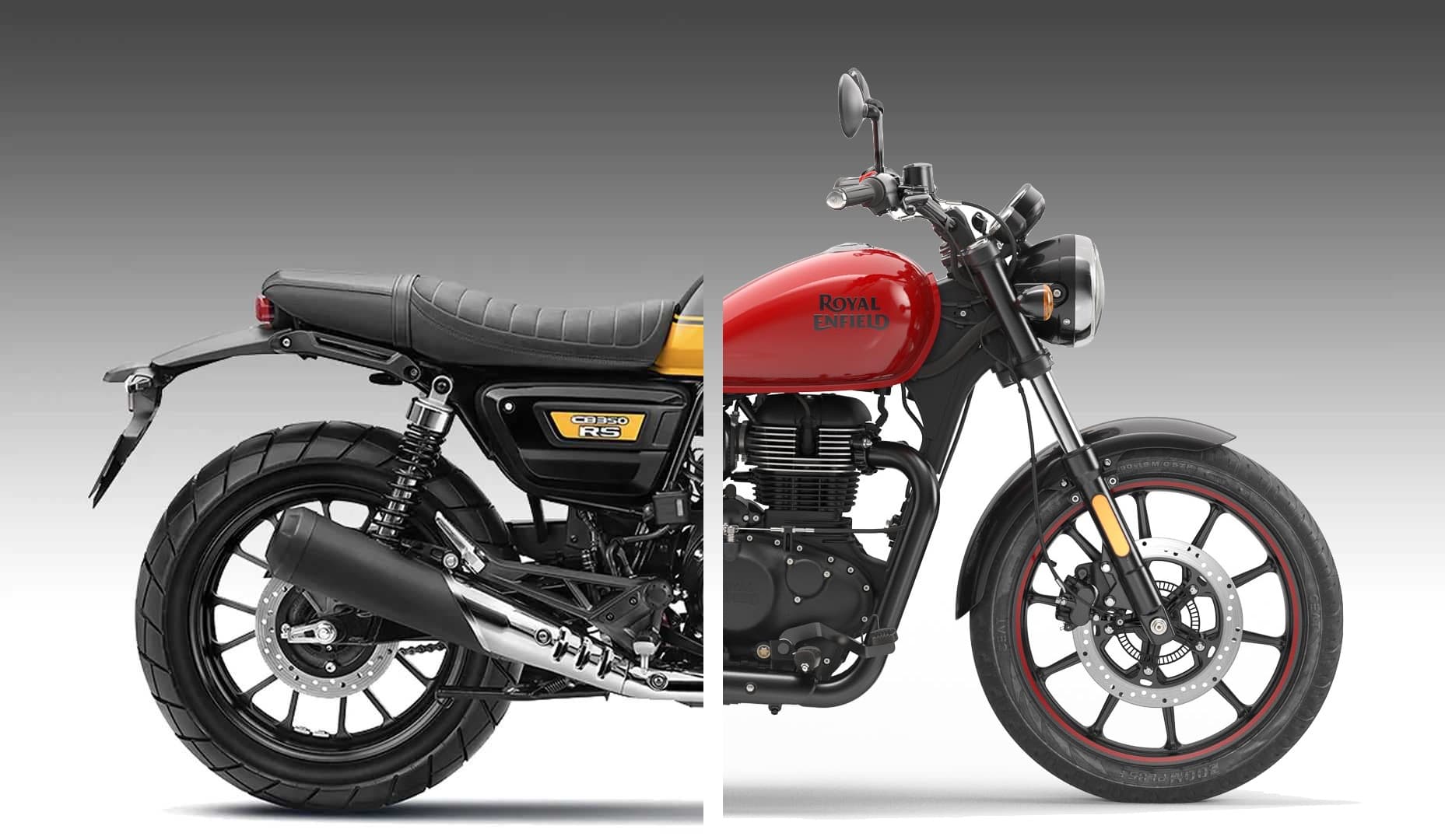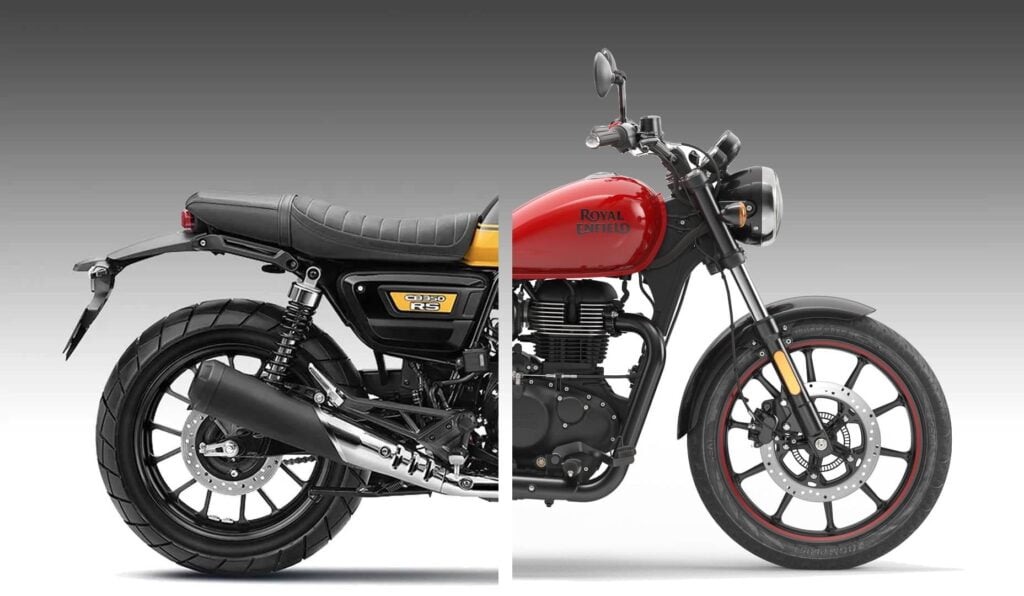 Are you obsessed with motorcycles?
Well, I am. That's why I created this site — as an outlet. I love learning and sharing what others might find useful. If you like what you read here, and you're a fraction as obsessed as I am, you might like to know when I've published more. (Check the latest for an idea of what you'll see.)
Modern 350 Singles — Overview
In general, these motorcycles all share a lot in common — they're all ~350cc single-cylinder fuel-injected standard or naked motorcycles.
The Honda CB350/H'ness 350, and especially the Honda CB350RS, is a worthy competitor for the Royal Enfield Meteor 350.
But the Royal Enfield Bullet 350 and Classic 350 — even with fuel injection in the latest BS6 (India's "Euro 5") version of the engine —  togetherrepresent the past of Royal Enfield. The older 350 singles are distinctly lower-tech than the other two in this comparison, and its days are probably numbered.
That said, all three of these motorcycles are low (or low-ish) cost and best suited to riding under 100 km/h. They'll do that speed if you want (and even more), but it's not a place you'll want to be for many hours on end… between re-fills, of course.
Here's a quick overview of the specs between them:
Spec
Honda CB350/H'ness CB350
Royal Enfield Meteor 350
Royal Enfield Bullet/Classic 350 (EFI)
Years
2021+
2021+
2020+
Engine
348.3cc single, SOHC, air-cooled, 2v
349cc single, SOHC, air-cooled, 2v
346cc single, SOH, air-cooled, 2v, twin spark
Rider aids
ABS
Traction control
Slipper clutch
Voice control/Bluetooth integration
LED lights
ABS
Visual turn-by-turn nav
ABS
Bore x Stroke (mm)
70 x 90.5
72 x 90
70 x 90
Compression ratio
9.5:1
8.5:1
8.5:1
Max power (engine)
15.5 kW (21 hp) @ 5500 rpm
15 kW/20 hp @ 6100rpm
15 kW (19.8 hp) @ 5250 rpm
Max torque (engine)
30 Nm (22 ft-lb) @ 3000 rpm
27 Nm (20 ft-lb) @ 4000 rpm
28 Nm (20 ft-lb) @ 4,000 rpm
Brakes
310mm disc front
240mm disc rear
300mm disc front
270mm disc rear
7 inch front drum brake
6-inch rear drum brake
Front suspension
Telescopic forks
41mm forks
35mm forks
Rear suspension
Dual shocks
Dual shocks, 6-step adjustable preload
Dual shocks, 5-step adjustable preload
Front tyre
100/90-19 inch
100/90-19 Tubeless
3.25 x 19, tubed
Rear tyre
130/70-18 inch
(CB350RS: 150/70-17)
140/70-17 Tubeless
3.25 x 19, tubed
Wet weight
181 kg / 399 lb
191 kg / 421 lb
191 kg / 421 lb
Comparing specs of Honda CB350, Royal Enfield Meteor 350, and Royal Enfield Bullet 350
The standout things to mention are
The overall power-weight ratio of all motorcycles is very similar, but the CB350 makes its peak torque and peak power lower in the rev range.
None of the motorcycles has a tachometer.
The Honda H'ness CB350 has the highest-tech rider aids with traction control and a slipper clutch.
The CB350 has the best biggest brakes; the Bullet 350 has drums rear AND front.
Honda CB350 a.k.a. Honda H'ness CB350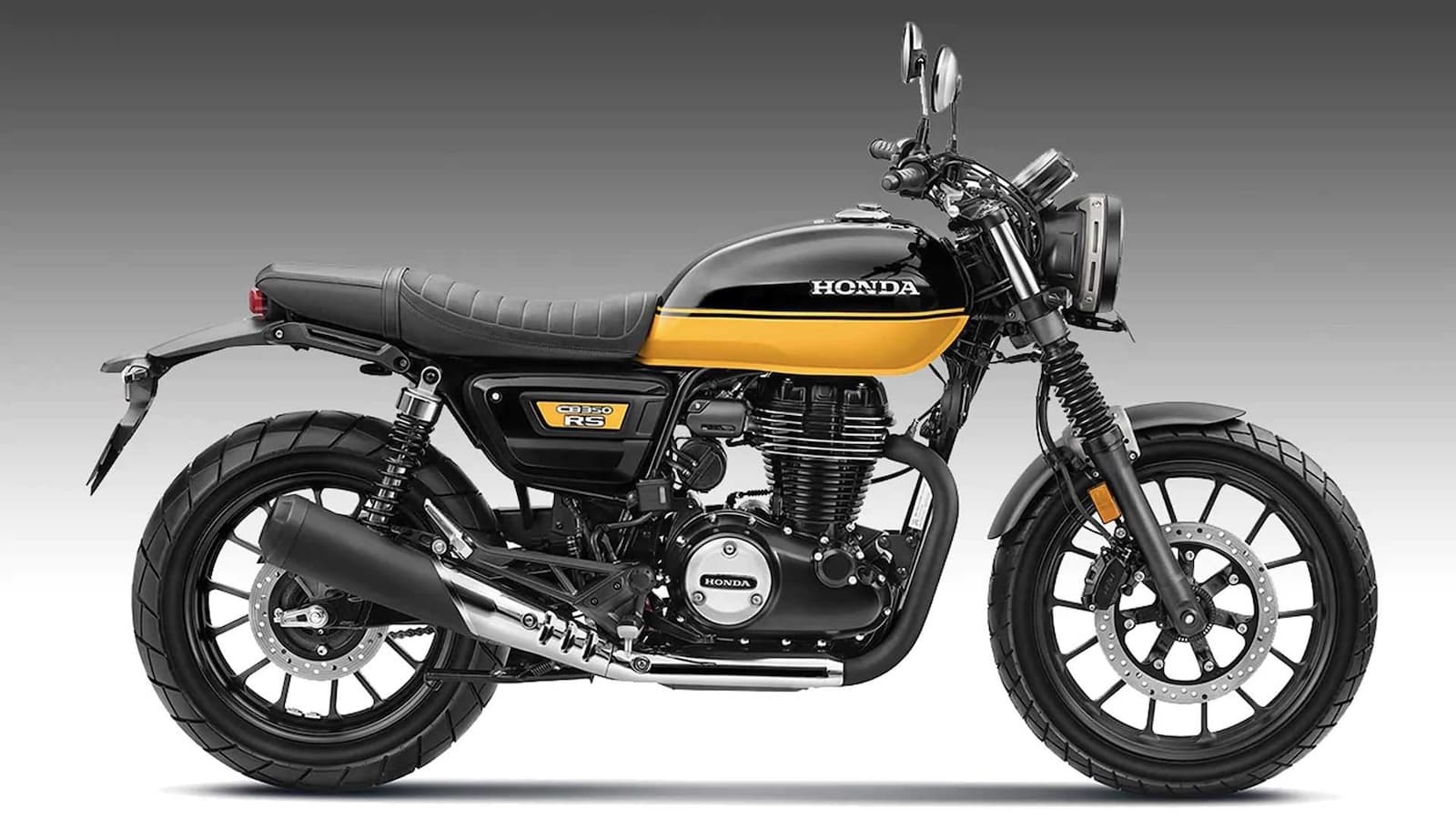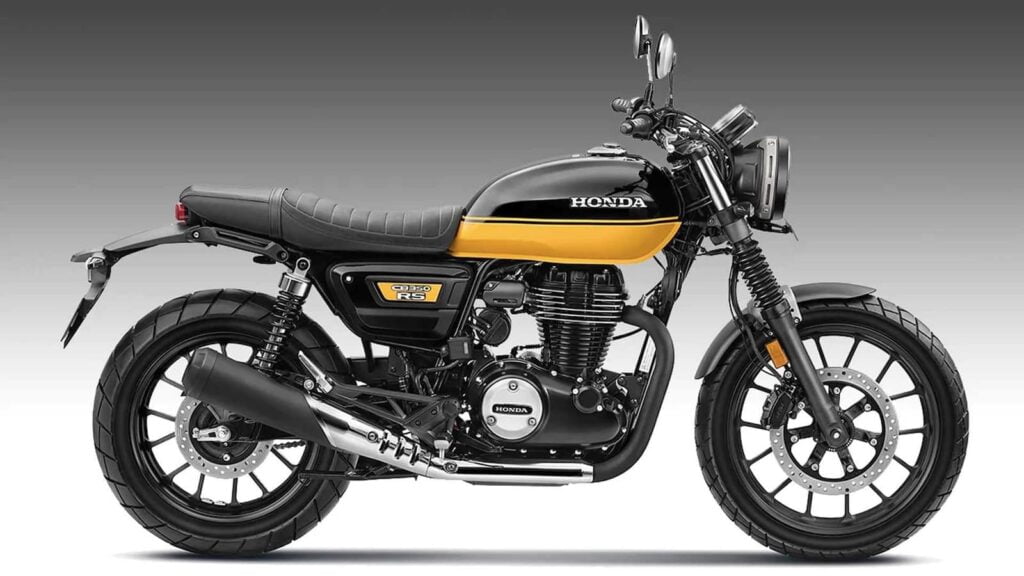 Honda released the CB350 in 2021 to compete with the likes of the Royal Enfield Meteor 350 and the Bullet 350 in fuel-injected form.
It's a very similar motorcycle to the Meteor 350 at its core — it's an elegant, well-built, style-conscious 350cc single-cylinder air-cooled engine with a few surprising electronic features.
In India, it's initial target market, it's known as the Honda H'ness CB350 (before you ask, you pronounce it "highness"; it's a nod to the regality of the bike). In other markets it's simply known as the Honda CB350.
Despite its low price (in India you can get one off the showroom floor for under US$3K), the Honda CB350 has high build quality. It has gleaming polished parts and a deep tone to the paint.
The Honda CB350 also has some surprisingly high-end features for a) a low-powered bike and b) one that's quite cheap. These include
Honda Smartphone Voice Control System (HSVCS) — a system that (with the assistance of your smartphone) lets you control your smartphone via a handlebar switch and voice control, and let you operate functions like navigation, messaging, hands free voice calls, and music.
Honda Selectable Torque Control (a.k.a. torque control) — detecting wheel slip and limiting engine output
Mileage indication on the display
An assist and slipper clutch
LED lights
These are features that many high-end bikes didn't have just a few years ago. The voice control system itself is interesting — it's the kind of thing you normally expect on top-of-the-line cruisers.
There's also a Honda H'ness DLX Pro version that comes with a dual horn and dual-tone point.
And then there's the Honda CB350RS that has:
Dual tone paint
Blacked out engine parts (e.g. exhaust)
A different seat
Re-styled body parts, e.g. rear fender, and headlamp
LED taillight
Single horn only (no DLX Pro version)
Wider 17-inch rear wheel vs 18-inch on the H'ness
No HSVCS option (oddly)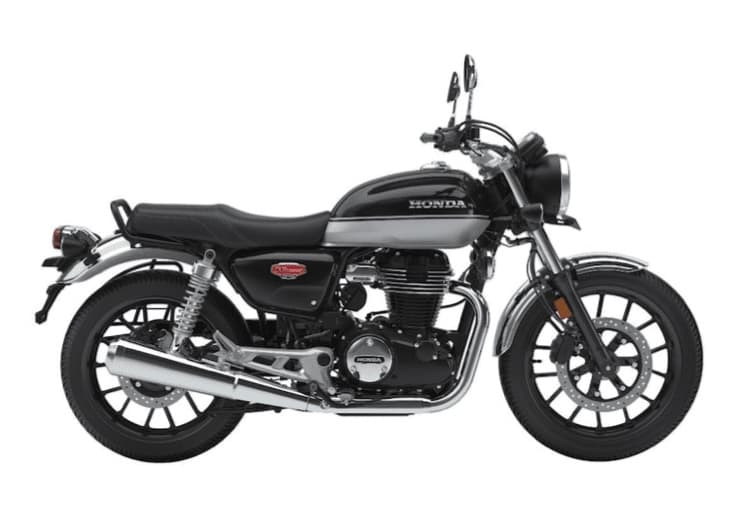 The Honda H'ness CB350 was very popular in its home market, selling 1000 units in 20 days after its launch.
Given the CB350RS' aesthetic advantage, it's odd that it misses out on HSVCS — I expect this to be rectified in the near future.
Royal Enfield Meteor 350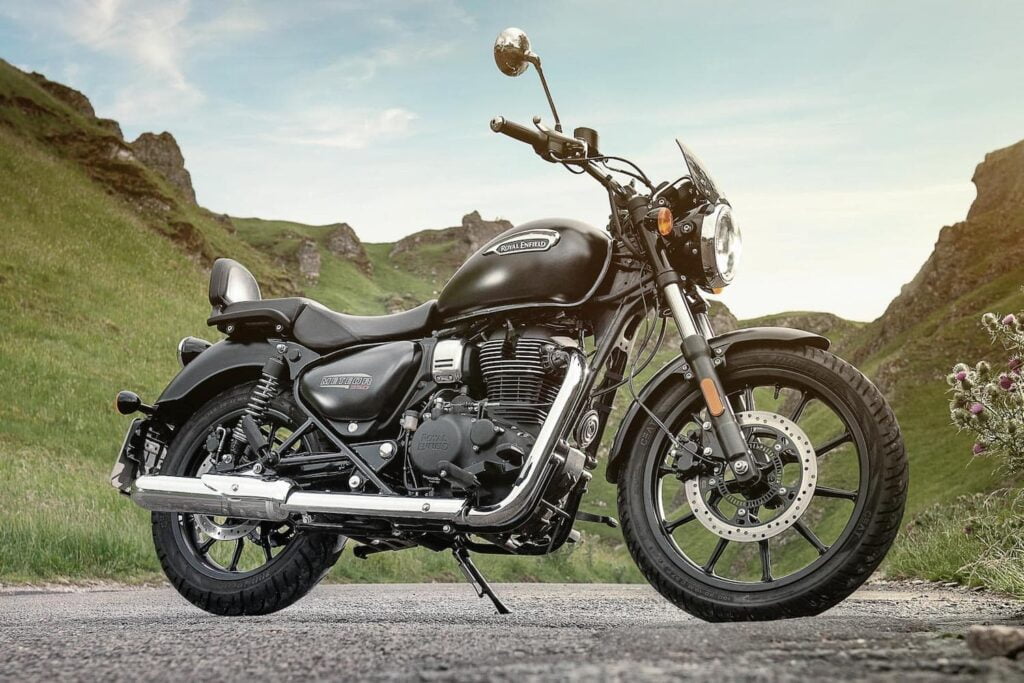 The Meteor 350 is the chief competition for the Honda H'ness CB350 in any incarnation.
The Royal Enfield Meteor 350 uses a different engine to the classic Bullet 350. But it's very similar in concept — a 349cc single-cylinder fuel-injected engine with 2 valves, making around 15 kW (20 hp).
The Meteor 350 is marketed as a "cruiser". Since the foot pegs/controls allow for a relaxed ~90 degree bend, it definitely puts less pressure on the knees. But it's barely a cruiser as it's not like your legs are out in front of you (unlike, for example, other small capacity cruisers like the Yamaha V-Star 250).
The Meteor 350's doesn't have Honda's fancy voice-controlled navigation system… but it does have one trick up its sleeve: its "Tripper" on-board navigation system.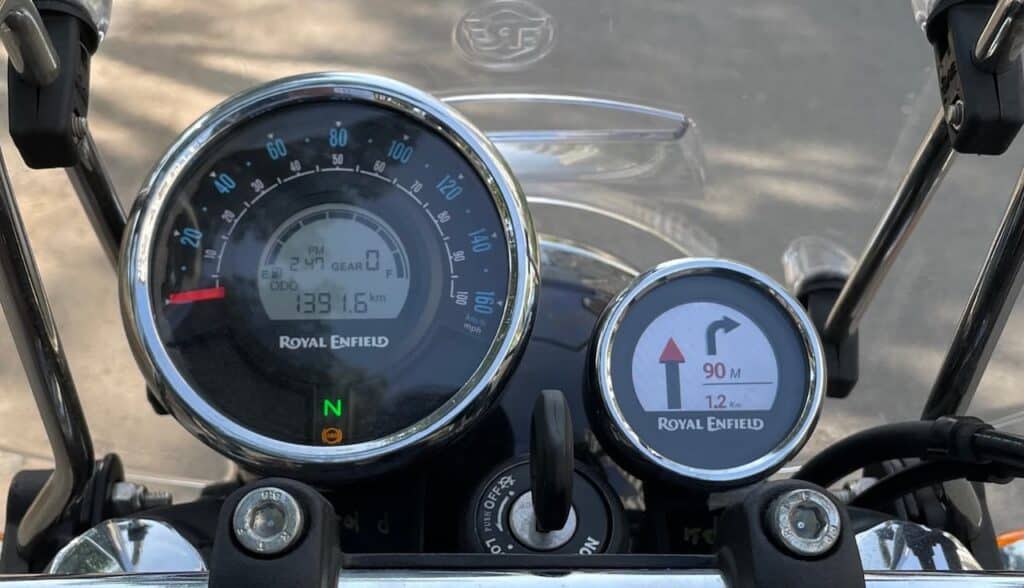 The Tripper system works via your phone. You pair your phone with the device via Bluetooth, and then navigate via the Royal Enfield app, which uses Google Maps.
Royal Enfield Bullet 350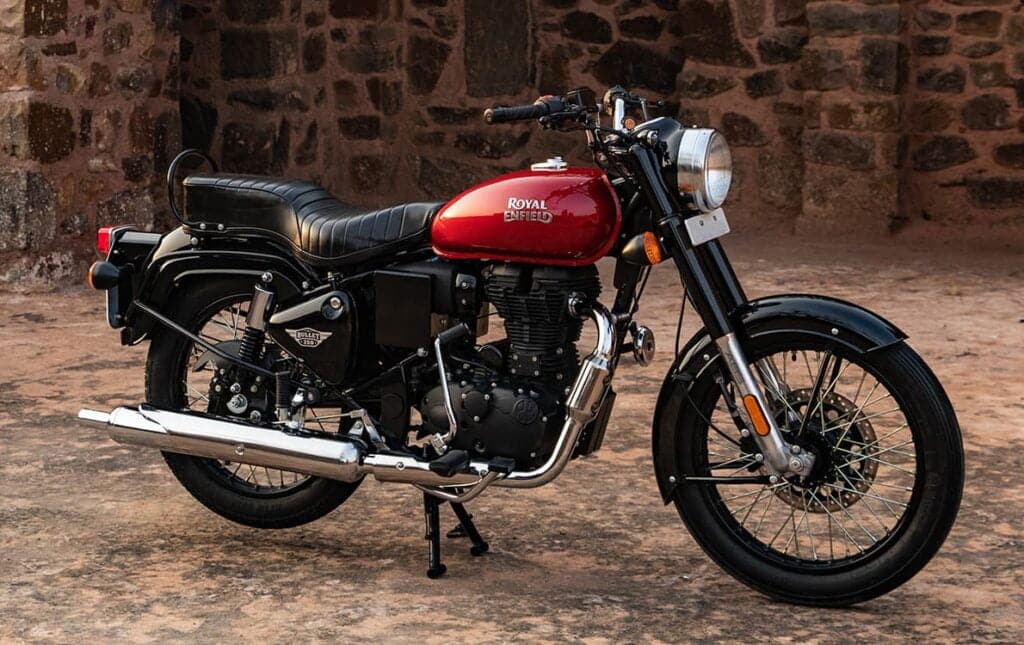 Finally, it's worth mentioning the Royal Enfield Bullet 350 EFI as another contender.
The EFI Bullet 350 is still in production (it just gained EFI in 2020) — but bikes like the Meteor 350 mean its days are likely numbered.
While the Bullet brand is synonymous with Royal Enfield (it has been there since the beginning nearly 90 years ago!), Royal Enfield already sunsetted the Bullet 500 in share of the 650 twins.
The engine is conceptually similar — a fuel-injected 350cc single with 2 valves.
But the Bullet 350 suffers against the Meteor 350 in terms of
Raw specs — it has a rear drum brake
Handling — the Bullet 350 doesn't handle "badly" for what it is, but it doesn't handle as well as the Meteor 350. It's described as "under-sprung and over-damped"; suitable for rough roads, but nothing aggressive.
Tech — yes, it has gained ABS, but it lacks the tripper system (or anything the Honda has)
Design — the Bullet 350 is a "yesterday" design
So yes, the Bullet 350 will always have the quintessential appeal of an iconic bike, much like the Harley-Davidson Sportster. But it's not really a contender in this race.
Which is better — the Honda H'ness CB350 or the Royal Enfield Meteor 350?
Putting the Royal Enfield Bullet 350 to one side, let's consider the CB350 and the Meteor 350 as the two leads in the race.
Both the Honda H'ness CB350 and the Royal Enfield Meteor 350 are high-quality bikes with good paint and generous touches of polish and chrome. Neither feels like a "cheap" bike, either in parts, or in ride quality.
Both motorcycles are manufactured in India, and both are priced similarly.
Consulting their maintenance schedules online, they're quite similar, both needing valve inspections around every 5,000 km. Honda does have a better record for reliability in general, though — it's frequently cited as one of the most reliable brands.
So choosing between the Honda and Royal Enfield is more likely to come down to three questions
When you sit on one, which one is more comfortable?
Which brand do you identify with more — the Japanese brand or the Indian brand?
Do you want to get navigation instructions by voice (Honda) or using the simple visual display (Royal Enfield)?
In terms of the last question, it's quite likely that most owners of either motorcycle would attach a phone mount.
Given that, and given the considerable tech advantage of the Honda CB350 over the Meteor 350 (traction control and voice control), my vote is for the Honda.
But if you throw a leg over the Meteor and that's the bike that speaks to you, I doubt you'll regret your choice.