The Ducati Monster 1200 was the last — for now — of the "big" Ducati Monsters. Ducati gradually upped the ante, increasing over time from the original 904 cc Monster 900 up to the latest 1198 cc Monster 1200, before taking things down a notch and focusing on just the "mid-sized" monsters which represent a sweet spot for a lot of riders.
Nonetheless, you might be after one of these big-bore Monsters. If so, you're probably wondering a few things many do, like
What makes the Ducati Monster 1200 special?
What are the general specs of the Monster 1200?
How does the Monster 1200 compare to the Monster 1100, or perhaps the Ducati 1198 Superbike, the superbike from which the engine is supposedly derived?
What are all the variants of the Monster 1200 and how do they differ in spec?
What's the character of the Monster 1200 like?
What are some alternatives to the big Ducati Monster 1200?
How is it to maintain the Monster 1200?
Here's everything you might want to know. Enjoy! Oh, but let's start with a pic… the cream of the Monster 1200 line, the 2018 Anniversario model.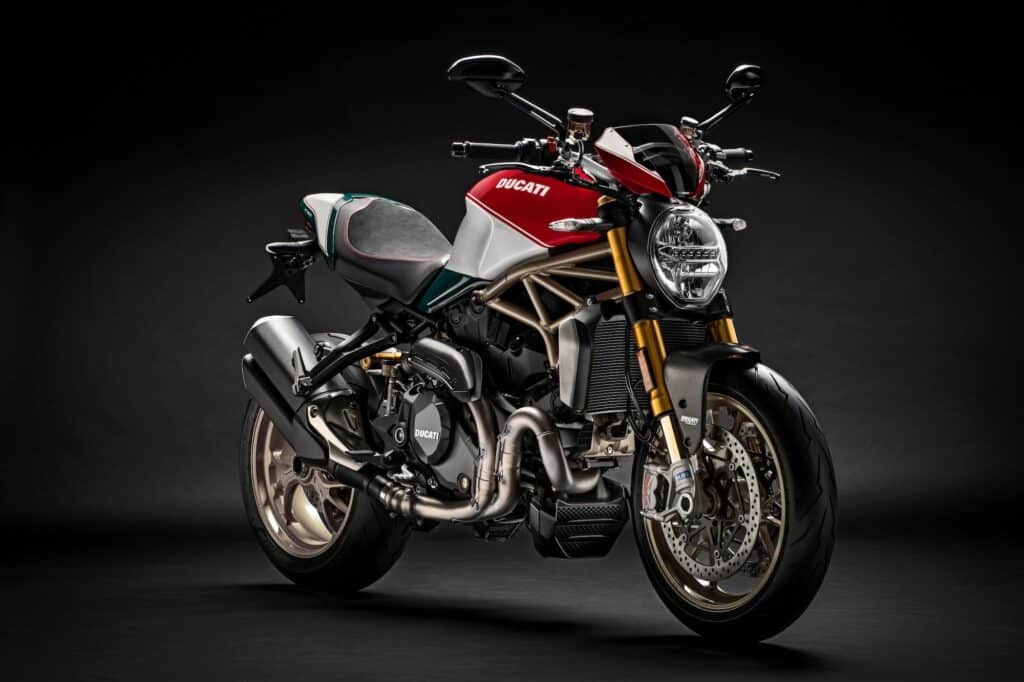 Are you obsessed with motorcycles?
Well, I am. That's why I created this site — as an outlet. I love learning and sharing what others might find useful. If you like what you read here, and you're a fraction as obsessed as I am, you might like to know when I've published more. (Check the latest for an idea of what you'll see.)
What Makes the Ducati Monster 1200 Special?
The Ducati Monster 1200 is a fairly unique bike compared to the range of big naked bikes out there today.
The Ducati Monster started out as being essentially a sport bike with a midrange-focused engine, handlebars, and very little else. People often credit the Ducati Monster for starting the trend of "naked" motorcycles that are lighter and sportier than the "standard" motorcycles that preceded them.
The original Monster, which Ducati launched in 1993, was definitely a "sporty middleweight", distinct compared to its brethren for having a more aggressive stance (the lean onto the handlebars), a bigger engine, and being very unique in style with its trellis frame and sculpted looks.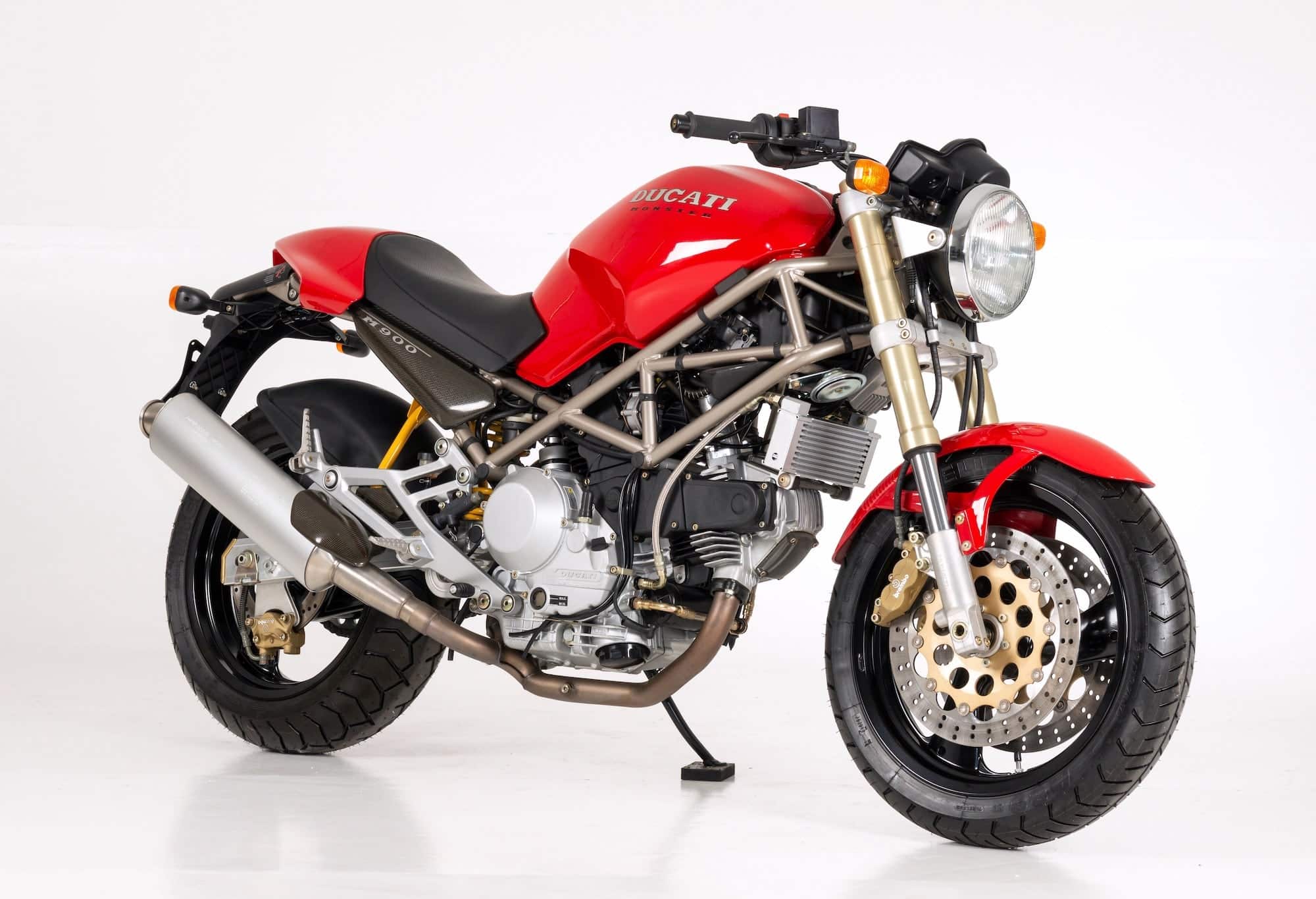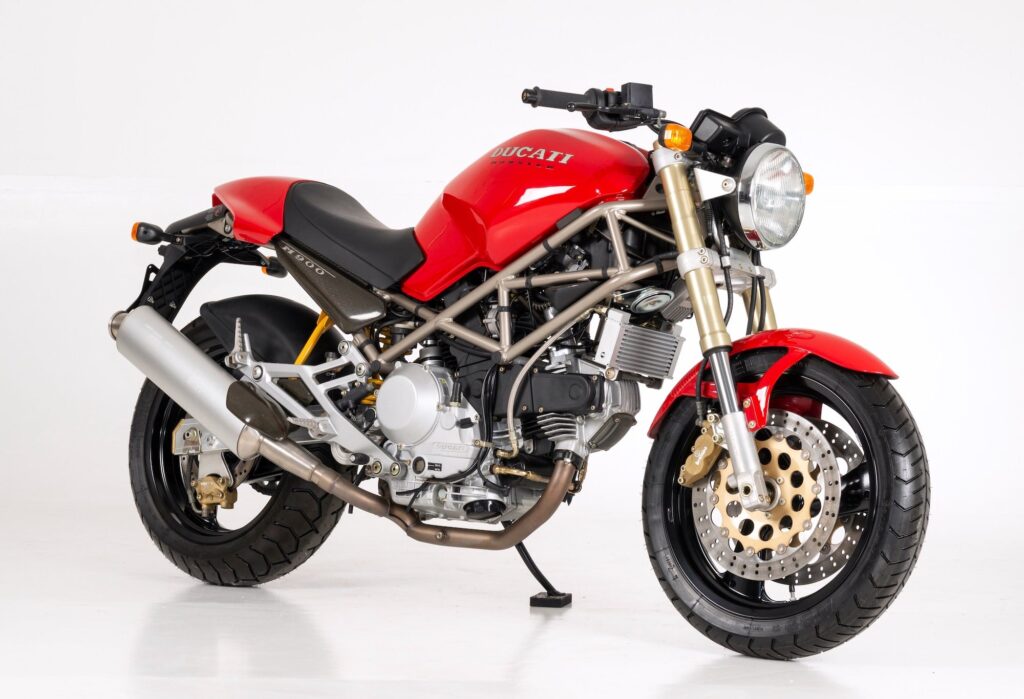 But over time, Ducati realised how popular the Monster was, and they started developing its personality.
After adding fuel injection in the early 2000s, Ducati created a new line of liquid-cooled, superbike-powered Ducati Monsters — the S4 line.
The Ducati Monster S4 line (including the S4R, S4Rs, and S4Rs Testastretta) are more powerful, higher-spec, and have some unique design elements, like a single-sided swing-arm (that the S2R and a couple of models also got).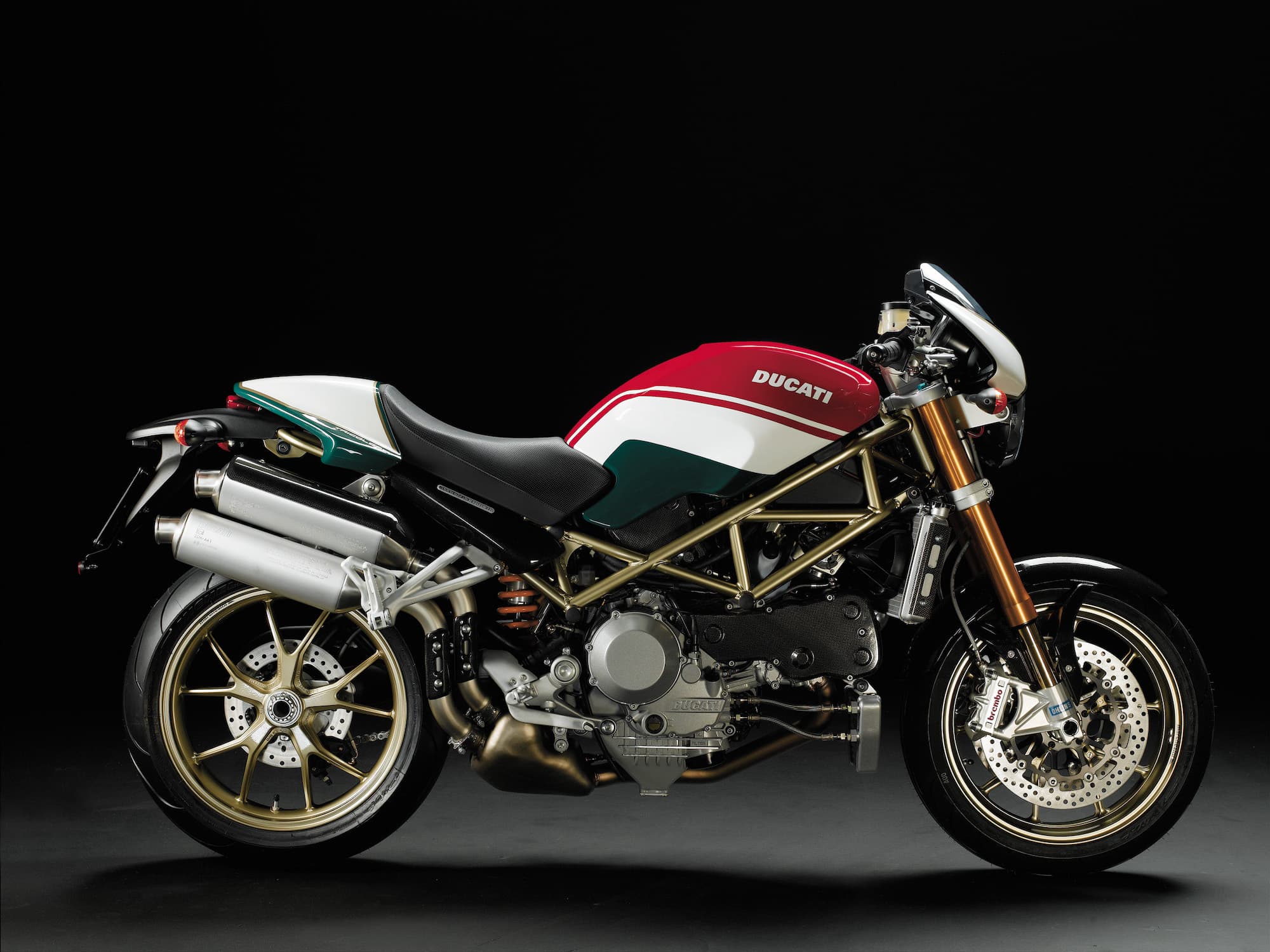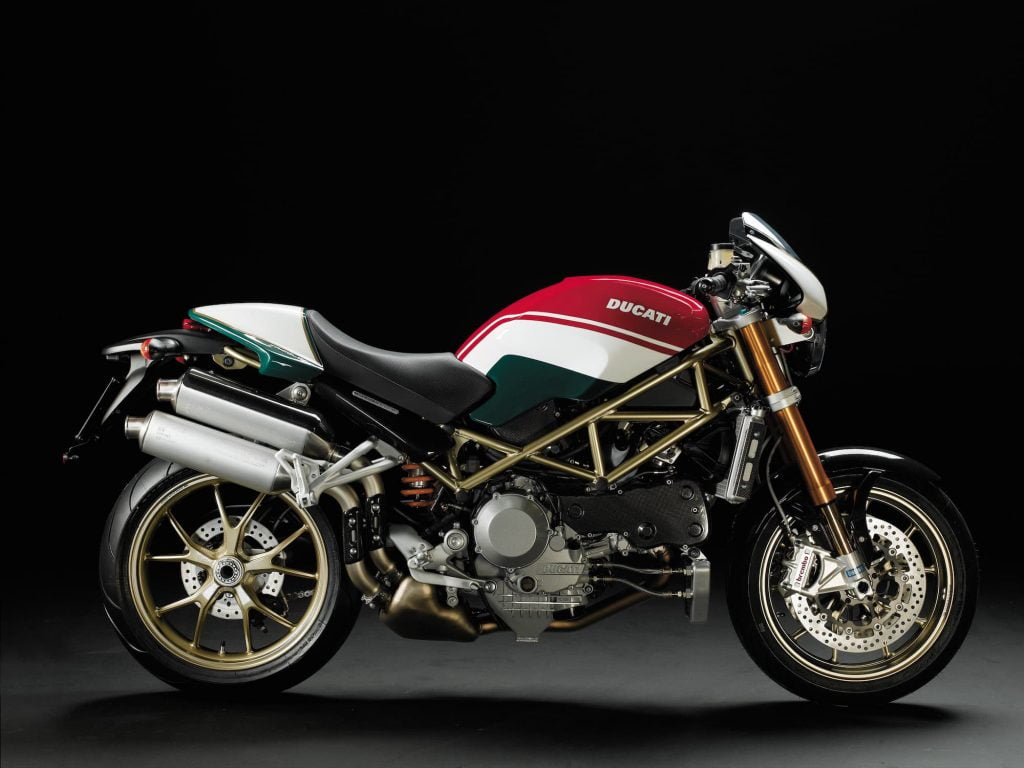 But what distinguished the S4 line was that Ducati put in a liquid cooled four-valve-per-cylinder engine that came basically straight out of the Ducati Superbikes, from the 916 to the 999.
Ducati eventually retired the S4 line, replacing it with the even more aggressive Ducati Streetfighter line, which is much more obviously just a superbike without the fairings, and with a low handlebar.
So what was Ducati going to do with the rest of the Monster line? At this point they were still based on air/oil-cooled engines. The last of the generation was the Ducati Monster 1100 (in base model, S, and Evo / Diesel incarnations). And the last of the last of this phase, the Evo and the Diesel, started adding bits of technology that we'd see in the next phase of Ducati Monsters, like a wet clutch, ABS, and traction control.
As time has marched on, manufacturers have been more and more constrained in how much power they can pull out of air/oil-cooled engines. That's why there are very few available today. If you want an air/oil-cooled Ducati, you're limited to the Scrambler line.
In fact, the Ducati Scrambler 1100 uses the same basic engine as in the Ducati Monster 1100. But it makes about 15% less power these days.
In the early 2000s and 2010s, other manufacturers were releasing sporty standards with more and more power. Kawasaki had the Z1000, and Yamaha was making the FZ-1, its detuned 20-valve YZF-R1 engine making a massive 150 hp.
Over on the European side, Triumph was making its Speed Triple, which from 2005 was in 1050 cc form, and had looks to go with its cracking power.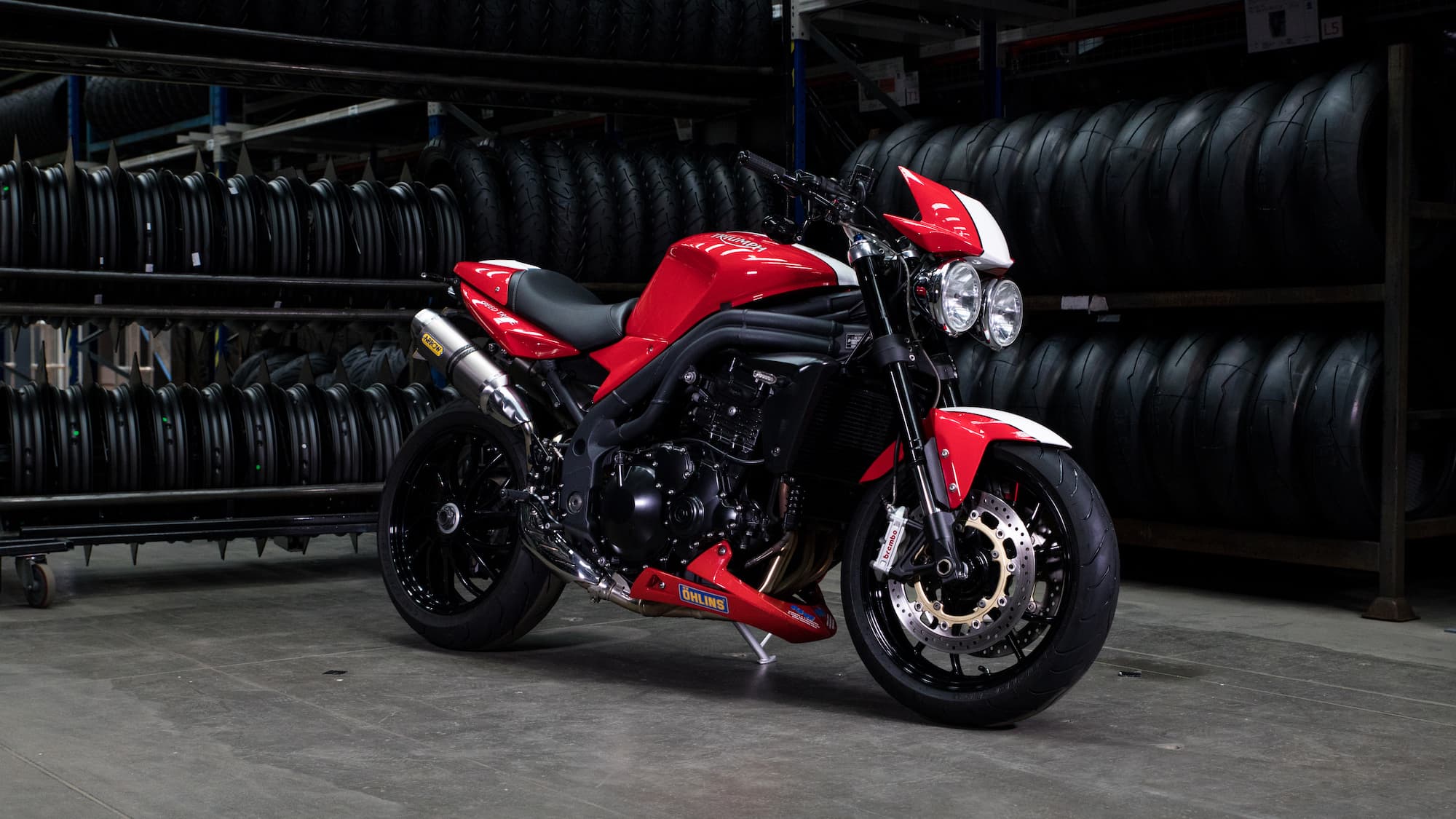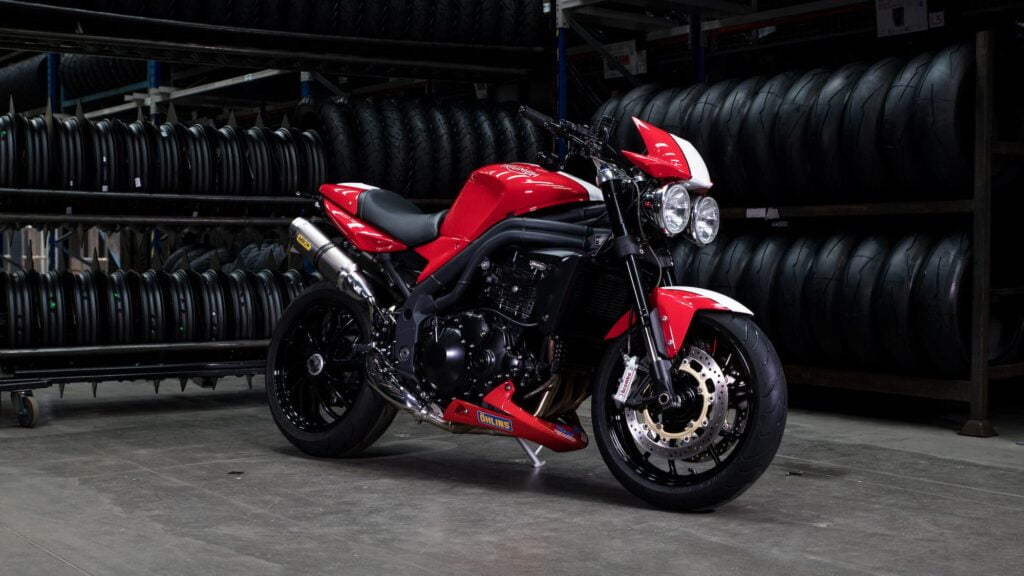 So with Ducati having split off the high-power Monster line into the Streetfighter line, and facing increasing pressure to reduce emissions while increasing power, they released the first Ducati Monster 1200.
Ducati took the Ducati 1198 Superbike's Testastretta dual spark engine and tuned it for torque in the 2014 Ducati Monster 1200 and 1200 S. (Note that this is a different engine, longer-stroke engine from the one in the Ducati 1199 Panigale, even though they have the same capacity of 1198 cc — when rounded, anyway.)
Interestingly, Ducati chose to release the Ducati Monster 1200 in two different tune levels — the S model makes more power. (See below for more spec differences.)
Ducati took the 1198 Superbike's engine and reduced valve overlap from ~41 degrees to 11 degrees, giving it its name of "Testastretta 11-degree". This comes at a cost to peak power, but gives the engine much more mid-range response.
In terms of design for the Monster 1200, Ducati used all the elements that had made its most recent Monster models stunning to look at — a single-sided swingarm, a side-mounted exhaust, a somewhat-circular front light, and a trellis frame.
The 2020 Ducati Monster 1200 was the last Monster with a trellis frame, by the way — the 2021+ Ducati Monster (937) lost this aesthetic feature in the name of weight savings.
The (somewhat biased*) crowd at the EICMA show in Italy agreed that the Monster is a looker — it won the Motociclismo-run vote for "most beautiful bike" of EICMA in 2013. (See our complete list of EICMA winners here).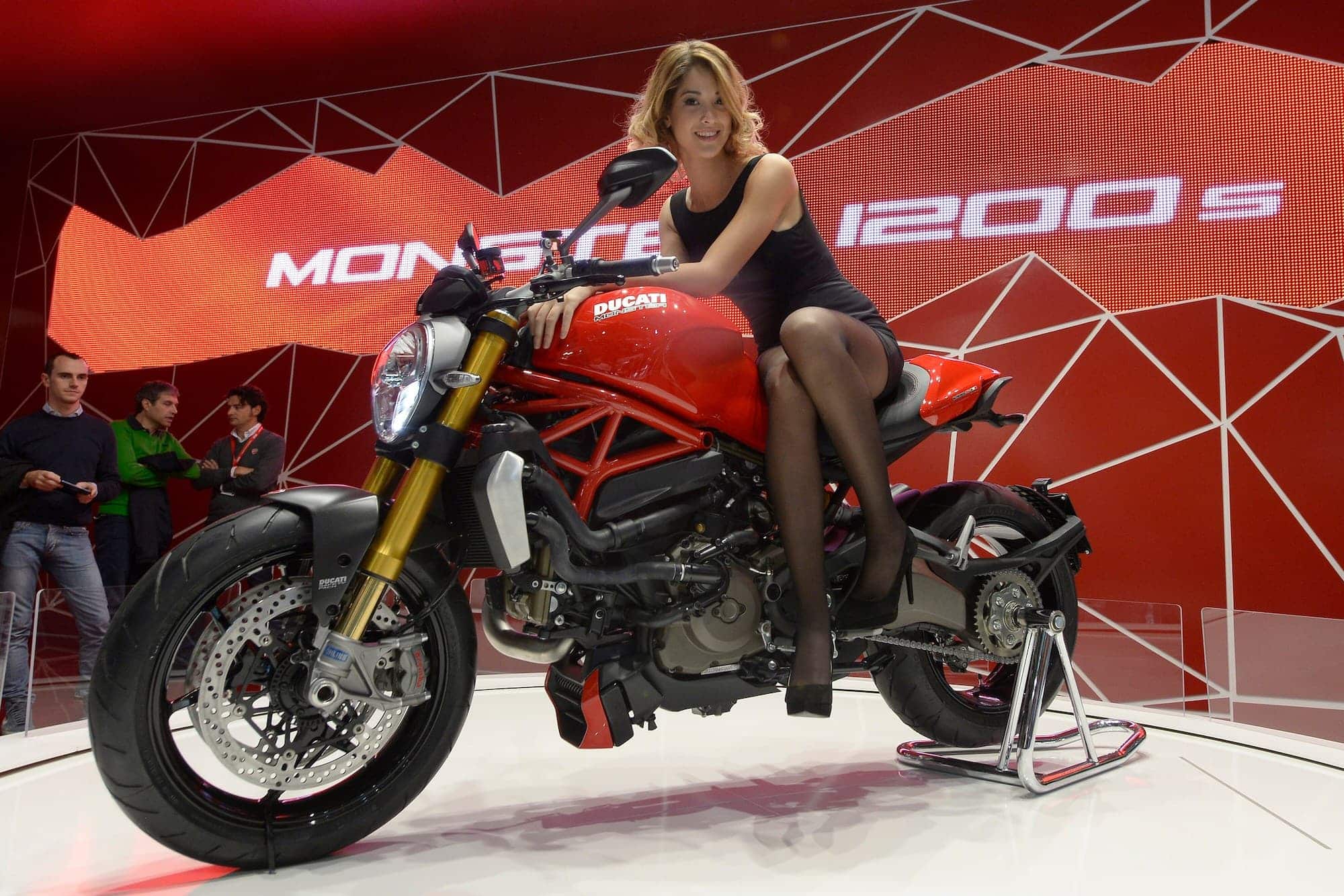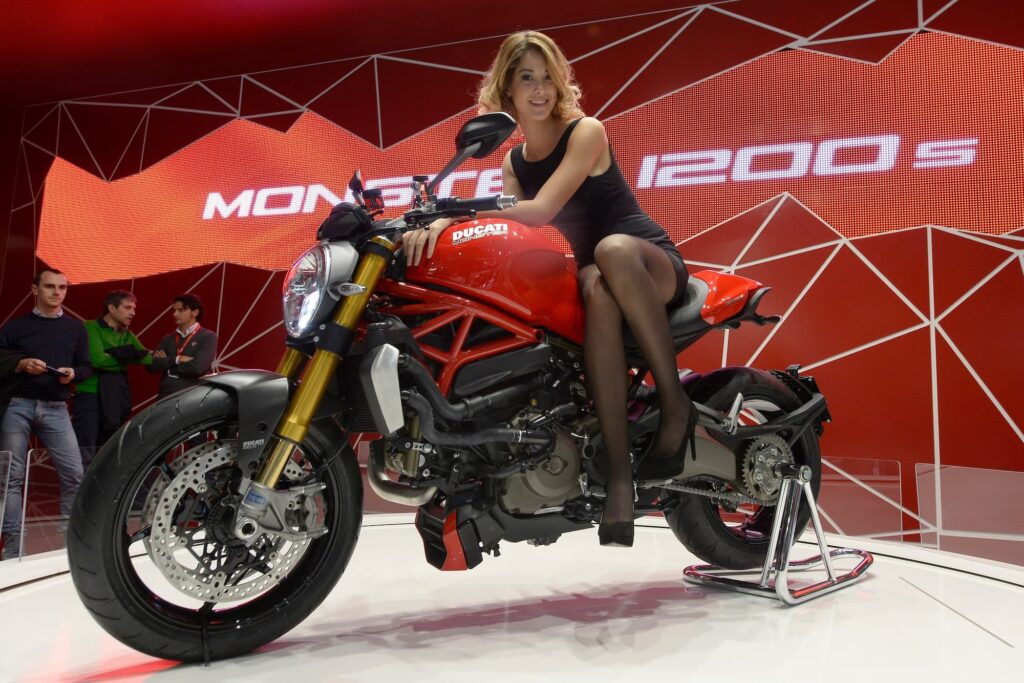 * The bias comes from the fact that the popular vote is run at an Italian show and by an Italian language magazine.
Spec Overview of the Ducati Monster 1200 line
There are certain things that the Monster 1200 have in common, but then some specific things that separate out the rest of the line.
Common specs across the Monster 1200 line
Item
Spec
Engine
Testastretta 11-degree liquid-cooled L-twin, 4 valve per cylinder, Desmodromic timing, belt-driven camshafts
Displacement (cc)
1198.4 cc
Bore x Stroke (mm)
106 x 67.9 mm
Display
TFT
Clutch
Wet hydraulic clutch, self-servo action on drive, slipper action on over-run
Gearing
15:41
Kerb weight
(DIN 90% fuel)
209-211 kg (461-465 lb) for range (from base model to R)
See power:weight ratio section below
Monster 1200 — Common Specs
Weight isn't the same across the range — but it's very close. Most owners interested in weight reduction will do so in more aggressive ways after taking ownership.
Ducati Monster 1200 Spec Differences
Now here's how the various Ducati Monster 1200 models vary.
Spec
Monster 1200 (1st gen)
Monster 1200 S
(1st gen)
Monster 1200 R
Monster 1200
(2nd gen)
Monster 1200 S
(2nd gen)
Monster 1200 Anniversario
Model years
2014-2016
2014-2016
2015-2019
2017-2020
2017-2020
2018
Compression ratio
12.5:1
12.5:1
13.0:1
13.0:1
13.0:1
13.0:1
Peak power
99 kW / 135 hp @ 8750 rpm
107 kW / 145 hp @ 8750 rpm
118 kW / 160 hp @ 9250 rpm
110 kW / 150 hp @ 9250 rpm
108-110 kW / 147-150 hp @ 9250 rpm *
108 kW / 147 hp @ 9250 rpm
Peak torque
118 Nm / 887 ft-lb @ 7250 rpm
125 Nm / 92 ft-lb @ 7250 rpm
131 Nm / 97 ft-lb @ 7750 rpm
126 Nm / 93 ft-lb @ 7750 rpm
124-126 Nm / 91-93 ft-lb @ 7750 rpm *
124 Nm / 91 ft-lb @ 7750 rpm
Throttle body size
53 mm
53 mm
56 mm
56 mm
56 mm
56 mm
Front brake
2 x 320 mm discs, Brembo M4-32
2 x 330 mm discs, Brembo M50
2 x 330 mm discs, Brembo M50
2 x 320 mm discs, Brembo M4-32
2 x 330 mm discs, Brembo M50
2 x 330 mm discs, Brembo M50
Front suspension (USD)
KYB 43 mm
Öhlins 48 mm, TiN-coated
Öhlins 48 mm, TiN-coated
KYB 43 mm
Öhlins 48 mm, TiN-coated
Öhlins 48 mm, TiN-coated
Rear monoshock
Sachs, adjustable preload/rebound
Öhlins
Öhlins
Sachs, adjustable preload/rebound
Öhlins
Öhlins
Wheels
10-spoke light alloy
3-spoke machined light alloy
Marchesini Tri-W forged alloy
(+200-profile tire)
10-spoke light alloy
Y-shaped 3-spoke light alloy
Marchesini Tri-W forged alloy
Steering damper
None
None
Öhlins
None
None
Öhlins
Ride aids
ABS, DTC, RbW, ride modes
ABS, DTC, RbW, ride modes
ABS, DTC, RbW, ride modes
IMU (Cornering ABS / DTC / DWC)
IMU (Cornering ABS / DTC / DWC), Up/down Quickshifter
IMU (Cornering ABS / DTC / DWC), Up/down Quickshifter
Ducati Monster 1200 spec differences
* In 2017, Ducati released the Monster 1200 models with slightly higher quoted power than from 2018 (including the 2018 Anniversario) onwards.
Power, Weight, and Power:Weight Ratios
One thing that increased over time as well as with spec level is the power:weight ratio.
Weight is fairly consistent across the range, so power is the determining factor.
| Spec | 1200 (2014) | 1200 S (2014) | 1200 R | 1200 (2017) | 1200 S (2017) | 1200 S Anniv. |
| --- | --- | --- | --- | --- | --- | --- |
| Peak power | 99 kW / 135 hp | 107 kW / 145 hp | 118 kW / 160 hp | 110 kW / 150 hp | 110 kW / 150 hp | 108 kW / 147 hp |
| Wet weight (kg / lb) | 209 kg (461 lb) | 209 kg (461 lb) | 207 kg (456 lb) | 209 kg (461 lb) | 211 kg (465 lb) | 210 kg / 463 lb |
| Power / Weight (kW / kg | 0.474 | 0.512 | 0.57 | 0.526 | 0.521 | 0.514 |
Ducati Monster 1200 range power:weight ratios
Ducati Monster 1200 vs 1198 Superbike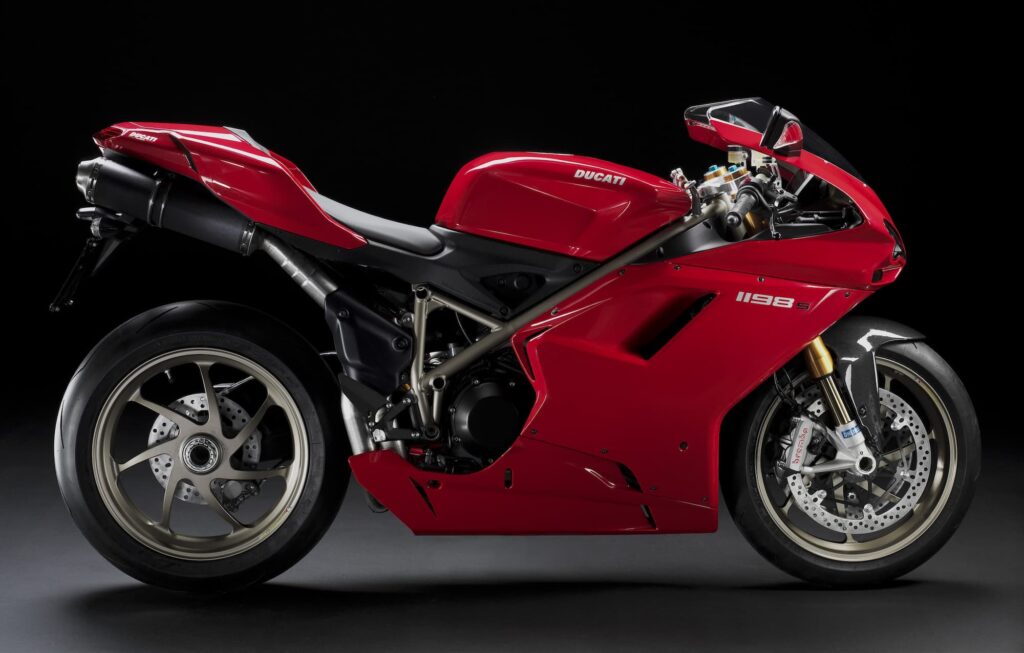 One comparison some people think of is the Monster 1200 vs the 1198 Superbike, which donated its engine to the Monster 1200.
The Monster obviously has a different audience to the superbike. Just look at the Superbike! It comes with a low, aggressive riding position that's really oriented towards for going quickly and diving into corners.
But with a feisty engine and high-end brakes and suspension, the Monster models (and especially the Monster S) make very capable track day fun bikes, too. In fact, the track may be the best place to enjoy them.
I think it's most instructive to compare the first-gen Monster 1200 S with the 1198 S Superbike. The core difference is in the power, gearing, and weight, with the superbike being more oriented towards higher speeds. There's a pretty huge dry weight difference, too.
| Bike | Monster 1200 S (2014-2016) | Superbike 1198 S |
| --- | --- | --- |
| Peak power | 106.6 kW / 145 hp @ 8570 rpm | 125 kW / 170 hp @ 9750 rpm |
| Peak torque | 92 lb-ft @ 7250 rpm | 131.4 Nm / 75 lb-ft @ 8000 rpm |
| Compression ratio | 12.5:1 | 12.7:1 |
| Drive ratio (other gears same) | 15:41 | 15:38 |
| Clutch | Wet | Dry |
| Front brakes | 2 x 330 mm, Brembo M50 | 2 x 330 mm, Brembo M34-4 |
| Front suspension | Öhlins 48mm USD with TiN | Öhlins 43mm USD with TiN |
| Rear shock | Öhlins fully-adjustable monoshock | Öhlins fully adjustable monoshock |
| Wheels | Y-shaped 3-spoke light alloy | 7-spoke forged light alloy |
| Dry weight | 182 kg (401 lb) | 169 kg (372.5 lb) |
Ducati Monster 1200 S vs Superbike 1198 S
OK, with all that out of the way, let's look at the different models.
Original Ducati Monster 1200 (2014-2016)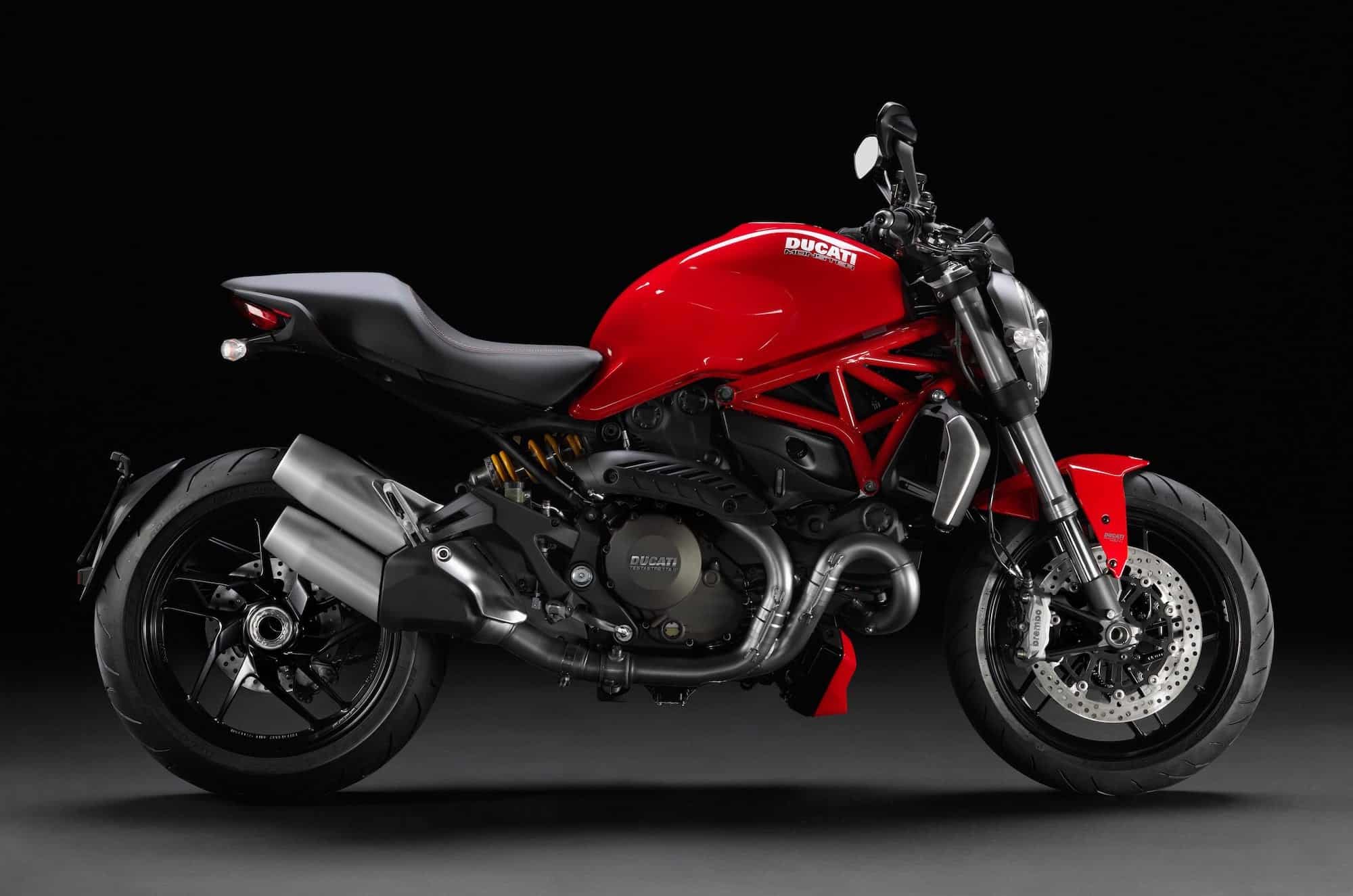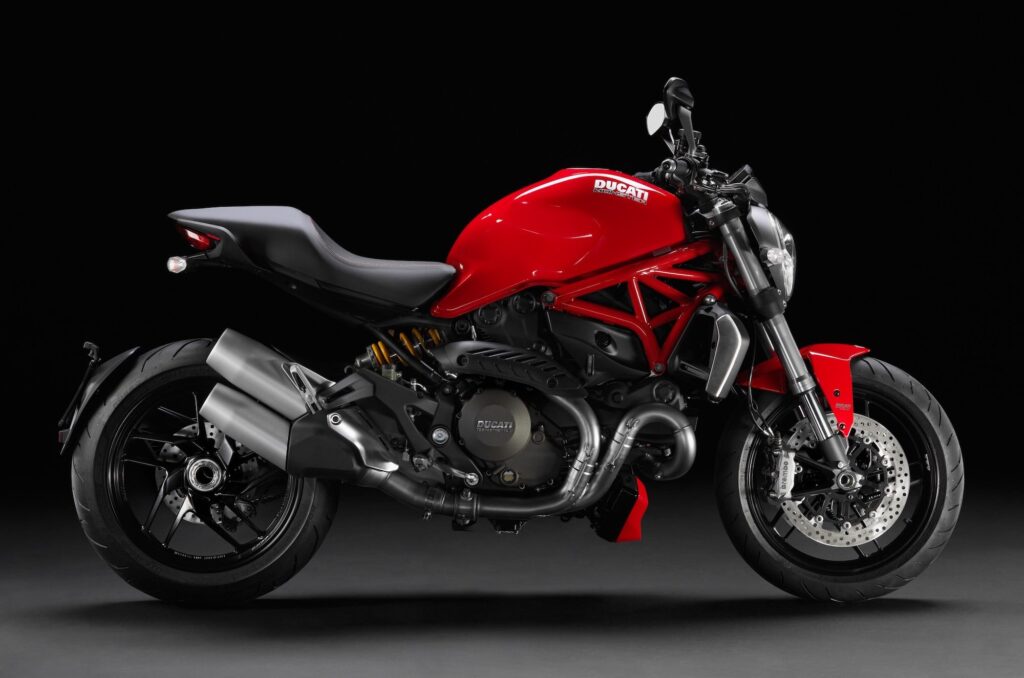 Ducati released the first base model 2014 Monster 1200 as the entry-level bike in the line.
You'd know an original Monster 1200 from the shape of the wheels (the 10-spoke design pictured above), the standard suspension (not gold), and the cylindrical exhausts — unless they've been replaced.
It's still a great bike, with more than enough power for ludicrous fun. It makes a shade less peak power than the Monster 1200 S, but most people wouldn't miss it.
What's important is that in the original Ducati Monster 1200 you get nearly everything you got in most other models. Because it's a bit less attractive, it's especially good value today.
After all, while you don't have Öhlins suspension, you do have a very competent and highly adjustable Kayaba fork, as well as a Sachs monoshock. Many everyday riders wouldn't notice the difference.
All that makes the original Monster easier to buy for cheap, but it also makes it harder to sell for more than cheap. So if you want liquidity in your motorcycle and aren't worried about money, then it's probably safer to go for an S model.
Original Ducati Monster 1200 S (2014-2016)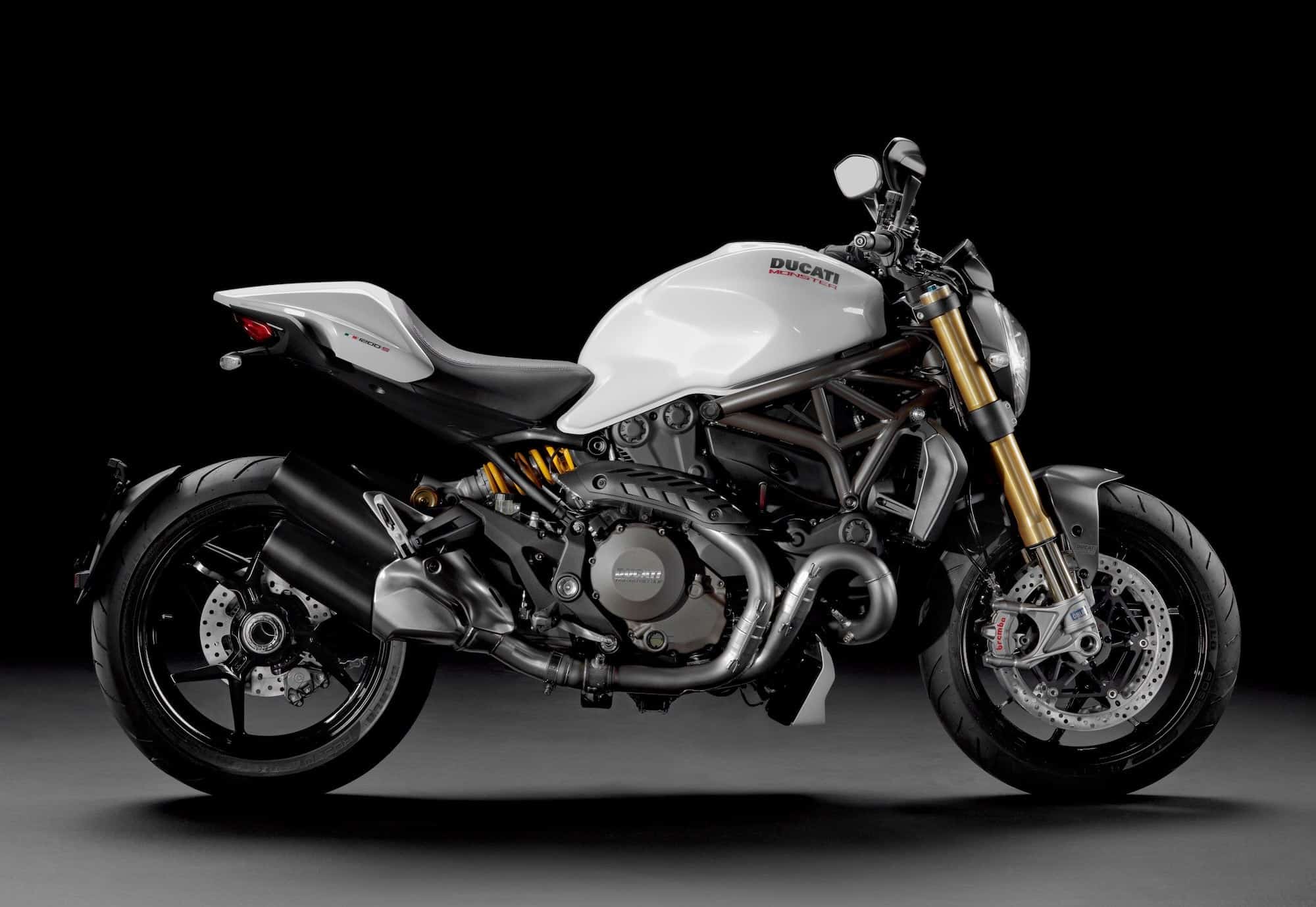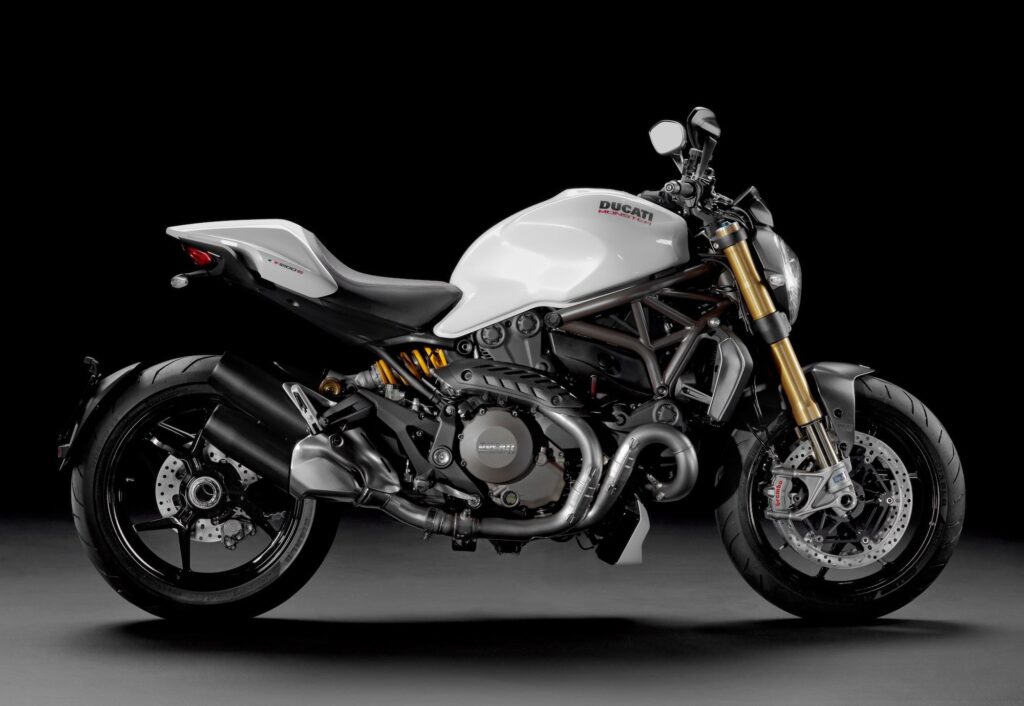 Ducati simultaneously released the 2014-2016 Ducati Monster 1200 S.
They gave it the "usual S treatment" (in Ducati's words), with gold Öhlins forks (with TiN treatment) and lighter wheels. You can pick it from the wheel shape and the gold forks, plus the fact that it also came in white (which is why it's pictured that way above).
But unusually, Ducati also tuned the motor differently in the Ducati Monster S, squeezing out 10 more horsepower 97 more kW) near the peak. This would be harder to tell from the outside!
The extra power in the Monster 1100 S doesn't just come from raising the rpm; it comes from raising the torque through the powerband.
Ducati gave the S model a few extra features. One unusual one is the "hazard" function, which lets you activate hazards by holding the left turn signal for four seconds. Why they thought this was S-specific, I don't know — maybe for track days, to help with yellow flag alerts, or to say you're going back to the pit? But it doesn't seem like a function worth excluding from other motorcycles…
Ducati Monster 1200 R (2015-2019)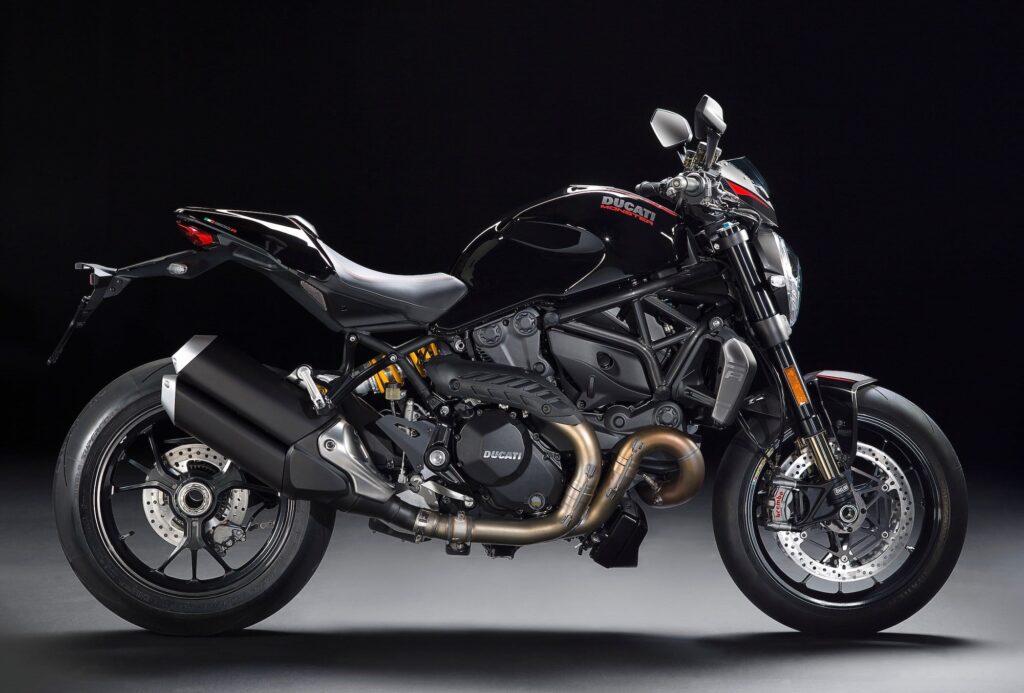 Ah, the 1200 R. The premium Ducati Monster 1200!
Ducati released the Monster 1200 R earlier than the 1200 / S, but while it was around it was the peak Ducati Monster 1200.
The headline feature for the Monster 1200 R is the upgraded engine. It's still the same Testastretta 11-degree motor, but Ducati increased peak power considerably (even over the S) to 117.7 kW / 160 hp at 9250 rpm, making 10% more power and 5.5% more peak torque.
Ducati gave the Monster 1200 R the same chassis upgrades they gave to the Monster S, including the bigger and higher capacity brakes, and Öhlins suspension.
But Ducati gave the R lighter weight wheels, "tri-W" design (which is the most reliable way to pick an R) and even gave it an Öhlins steering damper, a feature which no other Monster 1200 got until the Anniversario. This causes mild fomo among most other Monster owners, but adding a steering damper is an expensive outlay with difficult to perceive gains for most people, so most don't do it.
Other than that, the lightweight parts (and slimmer tail) mean that the Ducati Monster 1200 R is even lighter than the 1200 S, with a dry weight of 180 kg (397 lb), compared to the first gen 1200 S' dry weight of 182 kg (401 lb). It might not seem like much, but every kilo or pound counts… though many owners obsessed with weight will find other ways to reduce weight (of the bike, to be clear).
One final noteworthy difference is that the Ducati Monster R came with a 200-profile rear tire (200/55 ZR17), compared with the 190 profile tires on the other Monsters (190/55 ZR17). They all have six-inch rims.
2nd gen Ducati Monster 1200 (2017-2020)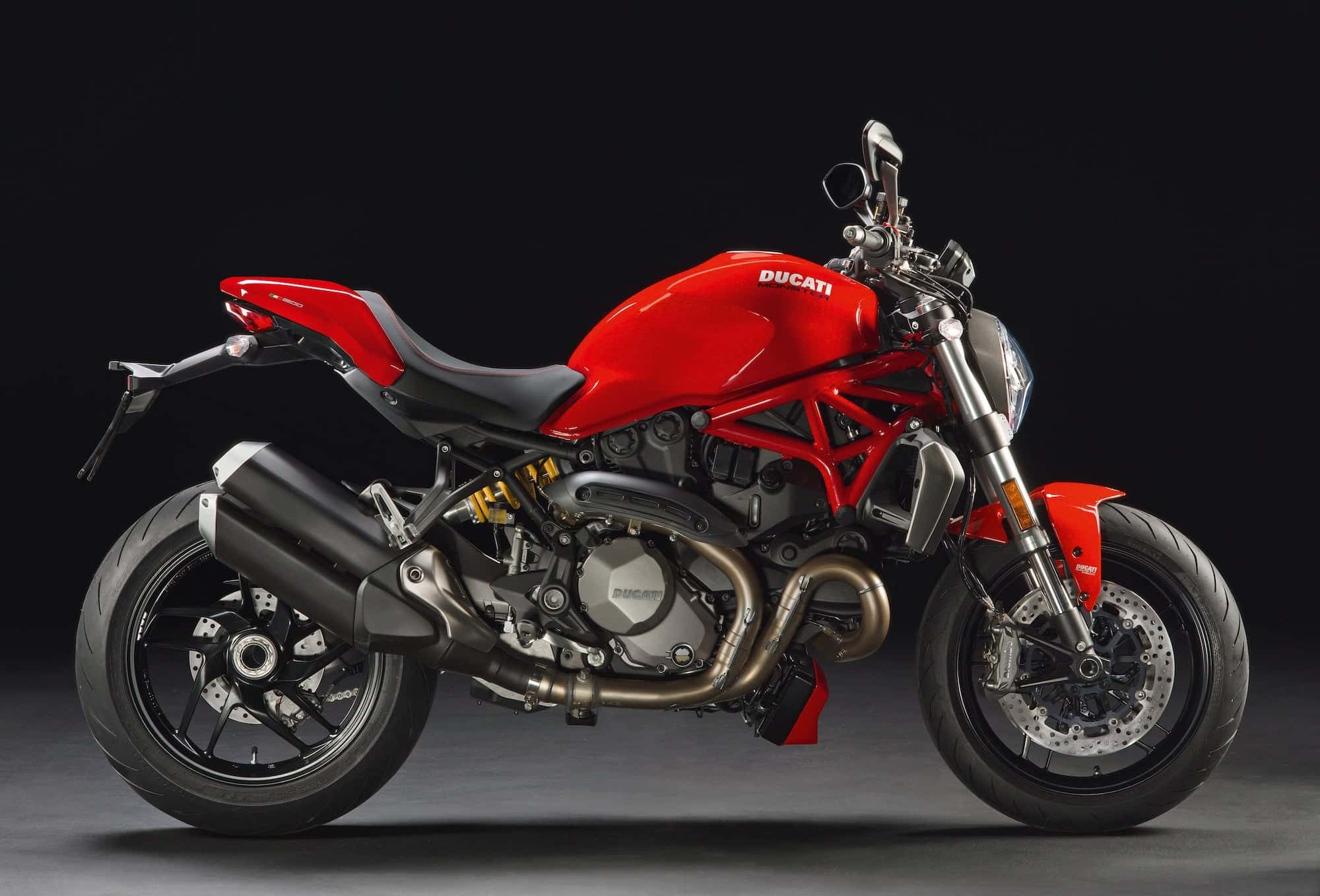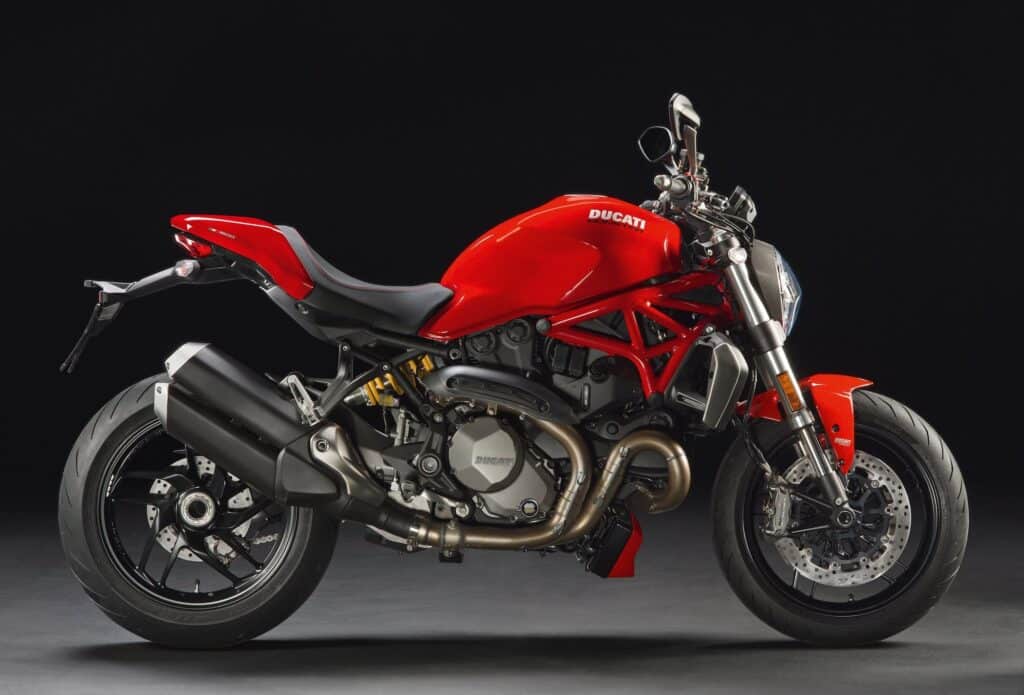 In 2017, Ducati updated the Ducati Monster 1200 line. They did sunset the 1200 R shortly afterwards, but they also made a host of upgrades to both the Monster 1200 and 1200 S that made them more than acceptable as upgrades in most people's eyes — even though the 1200 R remained the most powerful Monster made.
The banner update to the Ducati Monster 1200 is more power from a re-tuned engine, but importantly to a lot of people, the 2017+ Monster 1200 also got an IMU (giving it cornering ABS and traction control), part of the enhanced Ducati Safety Pack that had been gracing a few other models – but not the 1200 R.
These days, cornering ABS is standard on basically every Ducati motorcycle. But just be aware that if you're after a 1200, then it's an added feature on the 2017+ model. For earlier models, don't let sellers tell you it's basically the same bike. The earlier ones do have ABS and TC and that's a good start, though.
Both the 2017 1200 standard and S models share the same engine that makes 150 horsepower. Even though this is slightly down on the 160 that the R model produced, again, it's not noticeable to most riders. Besides, Ducati made a concerted effort to focus on the midrange, and the effort paid off — riders seem to agree that the 2nd gen 1200 doesn't have any of the throttle twitchiness that so often accompanies motorcycles with ride-by-wire throttles and aggressively lean tuning.
See more about aggressive tuning here in our article on closed / open-loop fuel injection switching.
From 2018, Ducati re-tuned the engines of the Monster 1200 and 1200 S slightly, resulting in a slight peak power and torque drop, but nothing newsworthy (2 kW / 3 hp at peak, and 2 Nm / 2 lb-ft at peak).
2nd gen Ducati Monster 1200 S (2017-2020)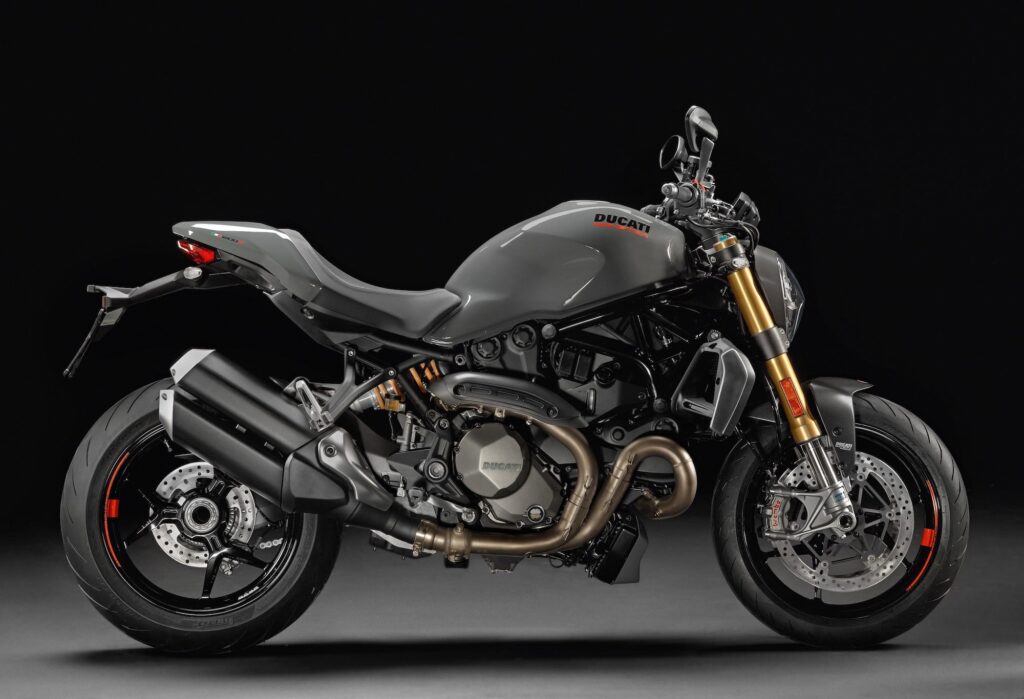 Like with the previous generation of the Ducati Monster 1200, the 2017+ Ducati Monster 1200 S is much higher-spec, with Öhlins suspension (rather than KYB / Sachs), Brembo M50 calipers on bigger 330 mm discs (rather than Brembo M4.32 calipers on 320 mm discs), and lighter wheels.
But one difference between the 2nd gen and 1st gen is that both Monster 1200 models have the same engine tune. In the 1st gen, the Monster 1200 S made 10 more horsepower at peak, thanks to a richer torque curve.
I also quite like the "Liquid Concrete Grey" colour that the S came in. It's quite a rare colour shade to be seen in Ducati's line-up, and I think it looks great.
Ducati Monster 1200 S Anniversario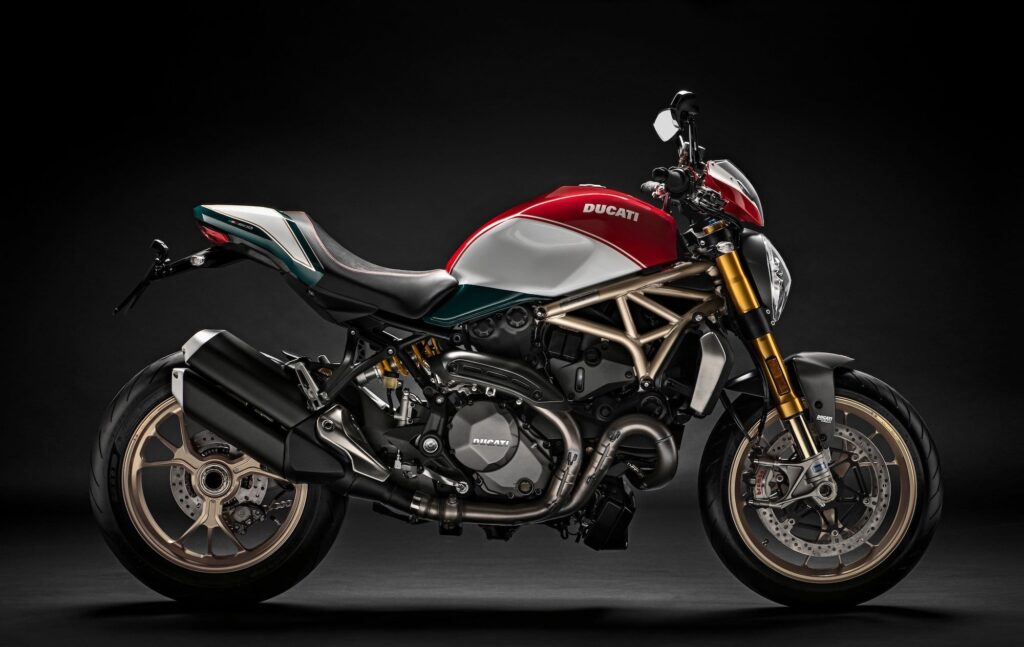 The 2018 model Ducati Monster 1200 S Anniversario was the last hurrah, the last unique model from Ducati for the 1200, though they continued to sell the Monster base model and 1200 S afterwards for a few years. Ducati only made 500 numbered examples of the 1200 S 25 Anniversario. You'd be lucky even to see one in the flesh.
The Monster 1200 S Anniversario is great to look at, even if just looking at pictures. Gold-tinted wheels! Gold fork to symbolize having Öhlins internals! That "tricolore" paint scheme!
If it looks familiar, Ducati has made other motorcycles based on the same colour scheme. This specific design was inspired by the 2008 Monster S4RS Testastretta Tricolore, pictured below.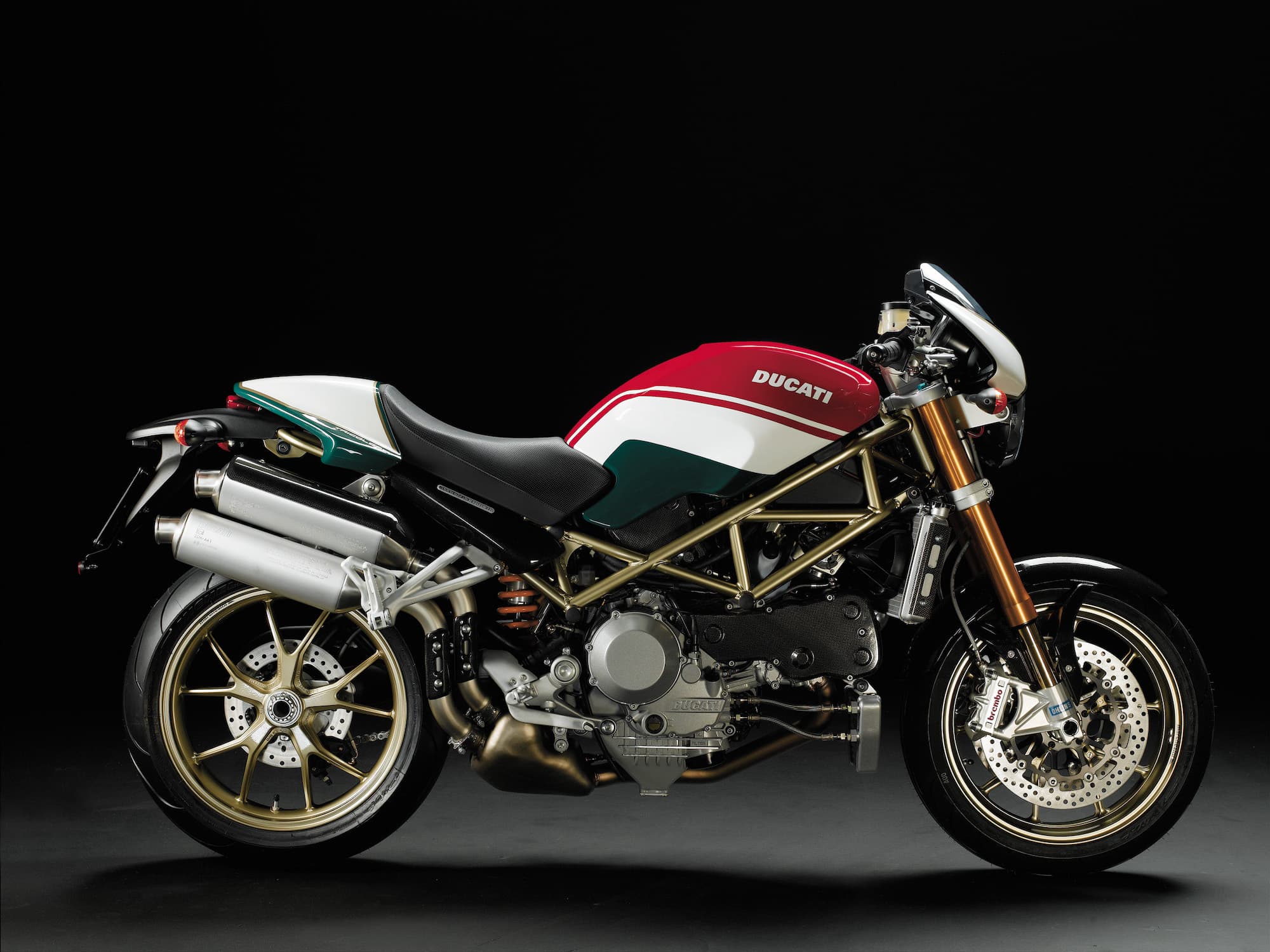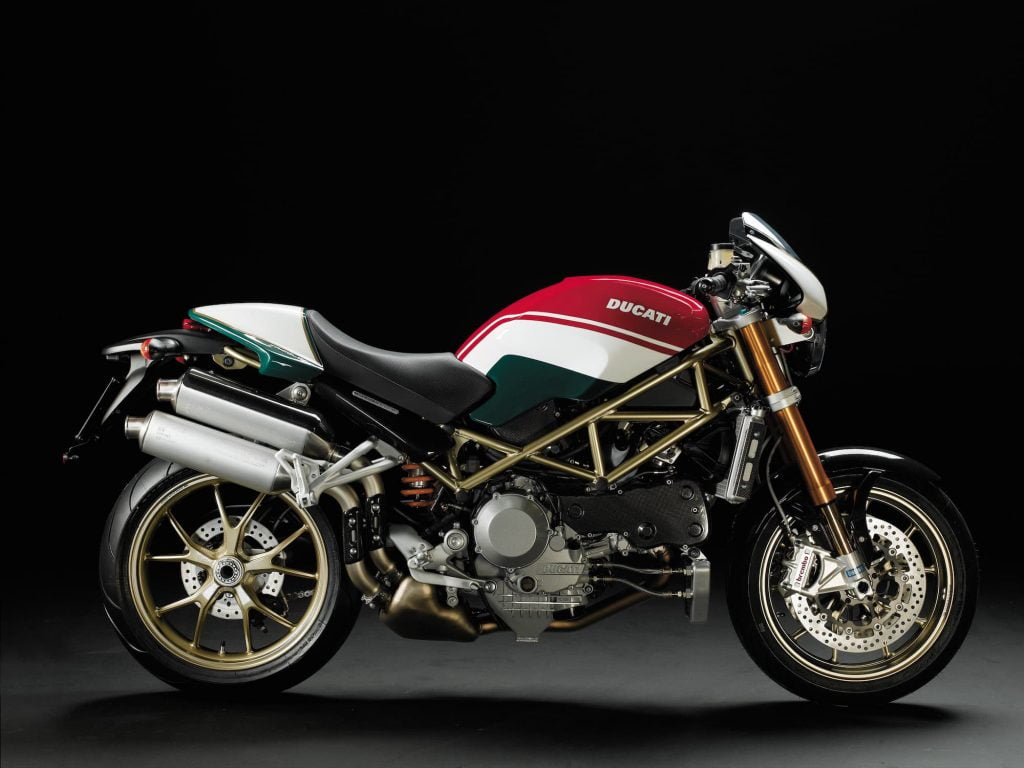 The S4RS was pretty great in its time — pretty great today, too, and a definite classic. High-powered, high-spec, and gorgeous. In terms of practicality (does there exist such a thing in the world of Ducati motorcycles? Maybe, to a degree…) the modern 1200 is easier to own, with much wider service intervals.
In terms of specs, there's very little that distinguishes the 1200 S Anniversario from the regular 1200 S, but there still are a few things:
The wheels — the Anniversario gets Tri-W wheels, like the 1200 R.
A steering damper — the Anniversario gets one standard, again like the 1200 R.
A little cowl, which looks nice (and prevents bug splatter on the gauge cluster)
The engine in the 2018 Monster 1200 Anniversario makes, on paper, 147 hp — three less than the quoted specs for the 2017 Monster 1200 / S, but the same as the rest of the line from 2018 onward.
Maintenance for the Ducati Monster 1200
The Ducati Monster 1200 motorcycles all have the same basic service intervals, across generations:
Minor oil change service: every 9000 miles / 15000 km or annually
Major valve service: every 18000 miles / 30000 km
The Monster 1200 has belt-driven camshafts, four valves per cylinder and Desmodromic valve timing.
This means that there are eight valve clearances to check per cylinder, or 16 total. Combine this with two cylinder heads, the fact that there's often a valve out of spec in Ducati motorcycles, that an out-of-spec opener usually means an out-of-spec closer, and the higher price of Ducati mechanics and you may get an idea for why the "Desmo" service is a source of fear for many potential or current Ducati owners.
But at least the liquid-cooled motorcycles have much wider service intervals than their antecedents, which had 7500 mile / 12000 km service intervals between oil changes and valve services.
See here for more on servicing the Ducati Monster 1200.
Alternatives to the Ducati Monster 1200 range
If you're after a Ducati Monster 1200 but considering an alternative, you're somewhat spoiled for choice.
Sporty nakeds have been a huge section of the market for over a decade now. By "sporty naked", I mean a naked bike that has an engine derived from a superbike, usually detuned, slightly heavier, but with not too much of a downgrade in specs like brakes and suspension.
The interesting thing is that in this field, there are almost no V-twins. They're a dying breed. In fact, most of the alternatives have four-cylinder engines, with one other triple in the mix.
In terms of fire-breathing character, most of the competition comes from within Ducati. If you want to go more extreme, you might consider a Ducati Streetfighter — though they skipped the 1200-series engine. If you want to go more relaxed, you might consider a Ducati Diavel, which initially came with the same engine as in the Ducati Monster 1200.
But from other brands, if you want a V-twin naked, you'd look at the KTM 1290 Super Duke R.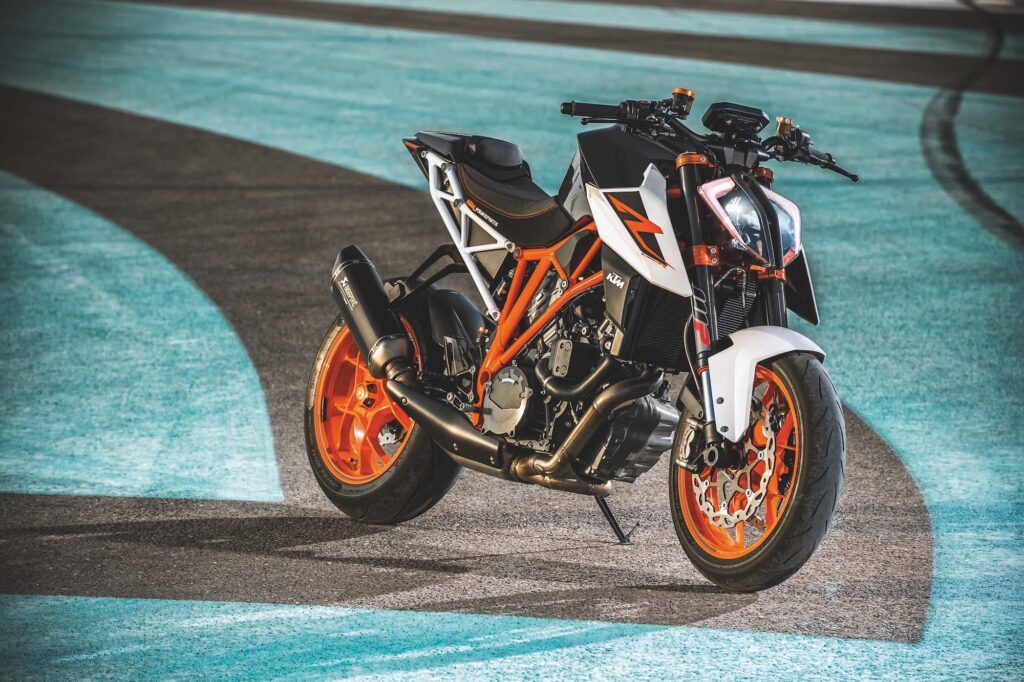 The KTM 1290 Super Duke R has been amazing since its first launch in 2014. It's powered by a 1301 cc 75-degree V-twin motor that has maintained its dimensions and always made roughly the same power of around 132 kW / 180 hp, though that peak power point has crept up in the powerband as engineers have rushed to make engine improvements to combat emissions restrictions.
So the original 2014 bike is a cracker — fast, mean-looking, and high-spec. It's an often-cited "favourite" bike for many riders, though the same could be said for many motorcycles… there's just a passion with the way they say it. They're not qualifying it, like saying "it's the best value" or "pound for pound", they just say it's the "best" — for commuting, for the track, and even for touring.
Yep, touring with the 1290 Super Duke R. You can tour on any bike, but KTM specifically recognised that people may want to do it on an SDR by releasing a GT version with saddlebags and a screen.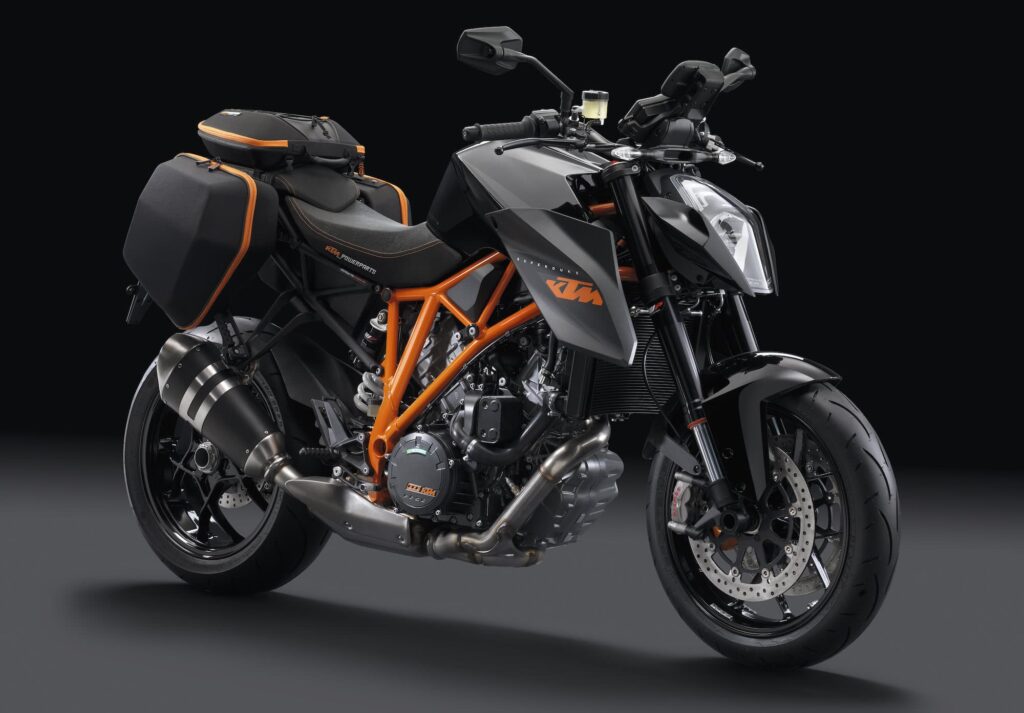 End of the line for the Ducati Monster 1200? What's next for the Monster 1200?
Ducati removed the Monster 1200 for the 2022 model line-up. The last year it was available on the website was 2021.
The only bike in the Monster model range from 2022 is the Ducati Monster / Monster+, which is informally known as the Ducati Monster 937 to distinguish it.
The Monster 937 is most concretely an evolution of the Ducati Monster 821. It's based on the same middleweight engine that powers the Ducati Supersport, Multistrada V2, Hypermotard 950, and other middleweight motorcycles. It's not a high-power sport bike, but one designed to be more of an everyday hooligan's bike, something like the Yamaha MT-09.
See here for more about the Ducati Monster 937.
So, there's a vacancy right now in the top-tier spot for the Ducati Monster line. I'm not sure if Ducati intends to fill it. It's nearly curtains for petrol-powered engines, and Ducati has made various commitments towards electrification by 2025.
But if they do, my bet is that Ducati will follow their act with the Ducati Diavel V4 and release a Ducati Monster V4 in the coming years, say 2024 or 2025. In the past, the Monster 1200 came after the original Diavel and Multistrada 1200. So, all other things being equal, the Ducati Monster V4 may come next. We'll see!