I won't ever forget my ride with the Honda CB1100. It has left an indelible impression on me for a number of reasons: 1. It reminds me of my first bike, 2. It's a special bike on its own, and 3. The circumstances in which I got to ride it were particular in themselves.
And now, it's likely to have been the last air-cooled four-cylinder bike we could have bought new (if we didn't).
How I got to ride it is a brief but good story. I had had a bad day at work — stressful and kind of pointless — the kind that led to me eventually quitting.
I bailed a little early (it was Friday) and went to my nearby motorcycle dealer just before closing. "Looking for something?" he asked. "Nah," I admitted. "I just had an annoying day and wanted some motorcycle therapy on my way home." I was happy to just look and dream — one of the bikes on display was a Kawasaki ZRX1200R, which I can never get enough of.
"I had a bad day too," he said. "Hey, you want to take some bikes for a ride? No obligation."
He made my day — I'll never forget it, Moto Mike!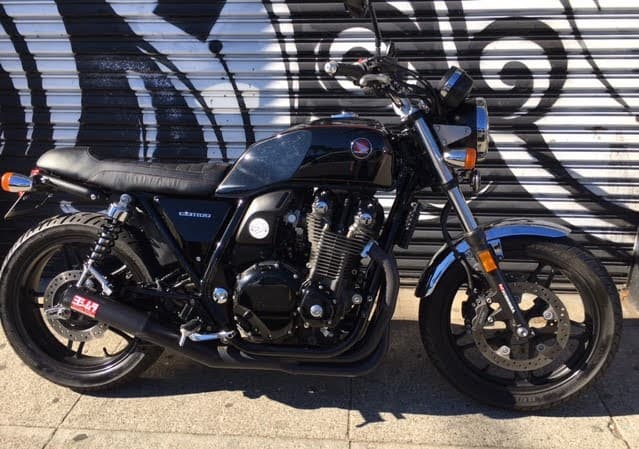 Anyway, among the bikes he had was a Honda CB1100. Just bought from an auction show, lightly modified, and cool looking as heck. I only have this low-res pic, so it'll do.
Even though I had my eye on the always-sexy ZRX1200R, he insisted I try the Honda CB1100. "The ZRX is cooler," he said. "But this one's faster."
I don't know if that's true — I mean, there are many definitions of "fast". But the CB1100 was definitely fast enough.
What baffles me is that the Honda CB1100 never really garnered market traction. I get it, there are alternatives out there. But the CB1100 deserves its own little corner of the market. And I can barely find them, used. Why is that? Did they barely sell, or do people barely sell them?
But anyway, that ride satisfied a few questions I had before ever getting to throw a leg over a CB1100. These were:
Is the Honda CB1100 actually "fast"? Or is it a leisurely cruiser like the Bonneville?
Is the Honda CB1100 as good looking in person as it is in photos? (Spoiler… yes)
Is the Honda CB1100 "too heavy" as the spec sheets imply?
Anyway, here's what I found out.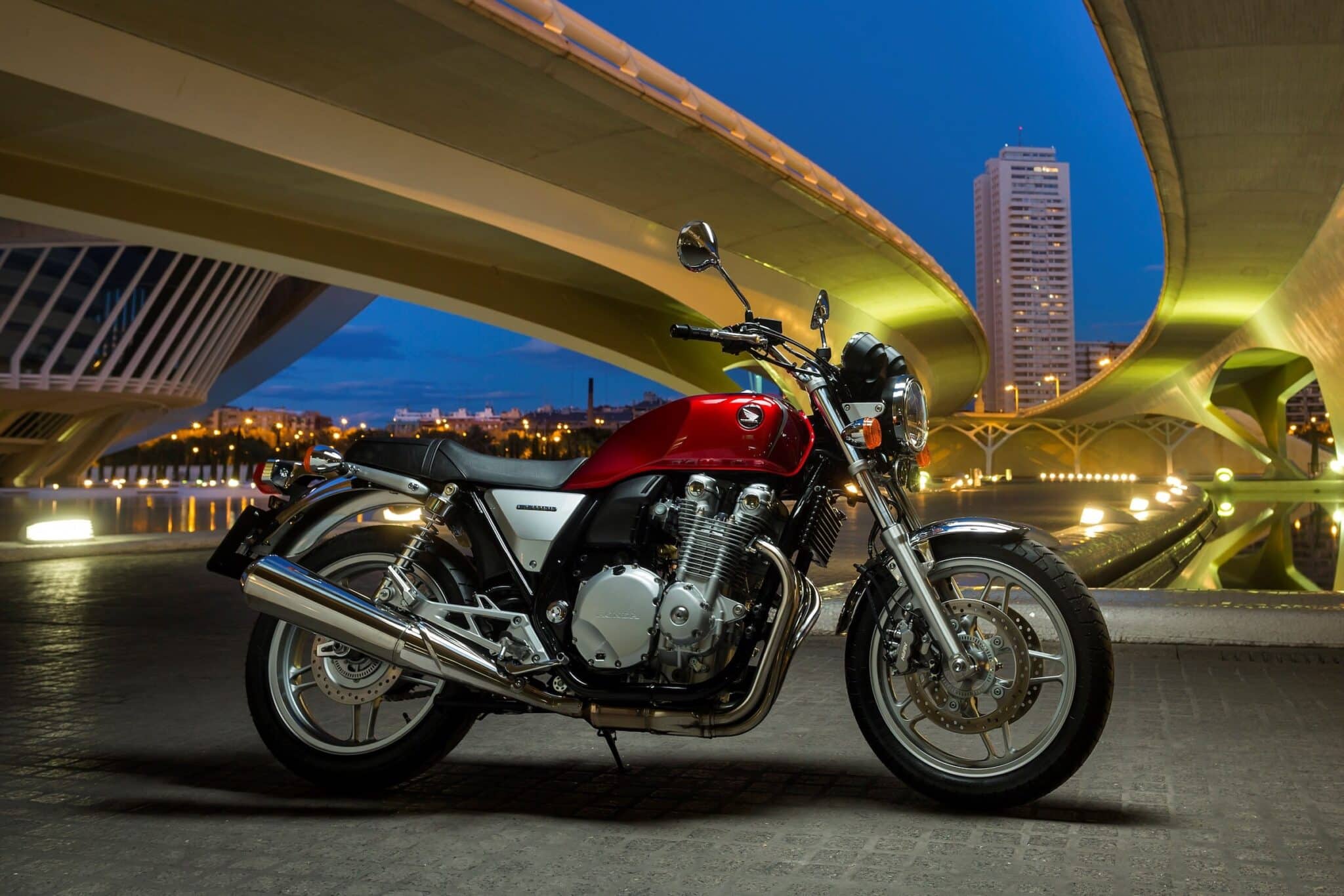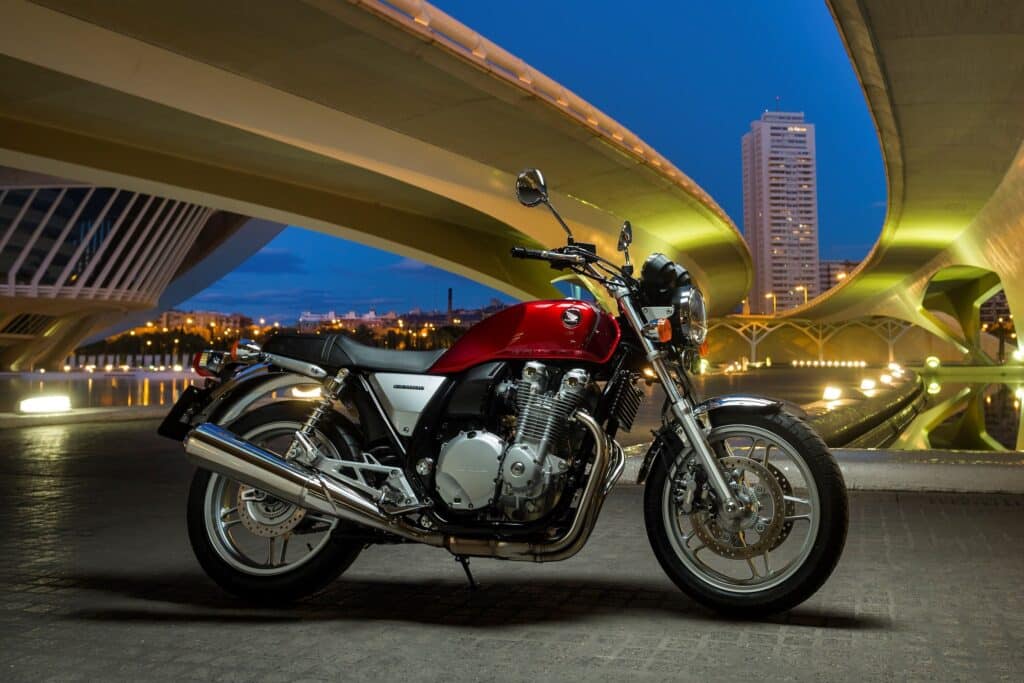 Are you obsessed with motorcycles?
Well, I am. That's why I created this site — as an outlet. I love learning and sharing what others might find useful. If you like what you read here, and you're a fraction as obsessed as I am, you might like to know when I've published more. (Check the latest for an idea of what you'll see.)
A Brief History of Time and the Honda CB1100
If you are old enough to remember a world before the Internet (crikey! Those grey hairs are advancing), then you may remember a genre of motorcycle called the UJM — the "Universal Japanese Motorcycle".
The UJM is a slightly derogatory (but co-opted) term to describe Japanese motorcycles of the 1980s that shared a lot of features: usually four cylinders, an upright seating position, and a general aesthetic of "standard motorcycle". Also two wheels, and a chain drive, by the way.
But a lot of those common things shared by UJMs were good! Despite their relative homogeneity, UJMs began to dominate motorcycle sales because of their easy good looks, reliability, and performance.
My first "big" bike was one of the now classics that I sold for roughly one thirtieth of its current market value: A Honda CB900F Bol d'Or. See my article on regret and my first motorcycle.
Anyway, anecdotally, UJMs started to become less popular in the 90s. That was the era of sportbikes. Ducati started making very pretty things with single sided swingarms. Honda decided to pursue the concept of "Total Control" with the CBR900RR FireBlade, creating the "literbike" category in one fell swoop. And adventure bikes were in their embryonic stage.
Still, Japan (mostly) was producing four-cylinder standard bikes. They were gradually getting bigger in capacity and more and more powerful. Honda made the CB1000 "Big One" Super Four, with a detuned 998 cc liquid-cooled engine from the Honda CBR1000F.
Suzuki took a similar path with the first Suzuki Bandit 1200 / Suzuki GSF1200, which had an engine from the air-cooled GSX-R1100, though with a bigger bore for more CCs, and again, detuned. Suzuki kept the Bandit low-spec and low-cost, so everyone loved it and it sold like hotcakes.
See the Suzuki Bandit 1200 / 1250 / GSX1250FA buyer's guide.
Yamaha released the XJR1200 as a knee-jerk reaction to the GSF1200, and while it's an awesome bike, it never quite hit home with sales volume like the Bandit did. Nor did the Yamaha XJR1300, even though it lasted until 2015.
By the 2000s, the "big naked" market started to morph into the "big naked retro" market. For example, the advertising copy for the 2001 Kawasaki ZRX1200R was "You must have known your past would catch up with you sooner or later".
These big retro bikes started to become liquid-cooled one by one. In my guide to understand liquid cooling vs air cooling, I point out that there are lots of benefits to liquid cooling — more power, more engine reliability, and wider maintenance intervals — albeit with a trade-off because you have more tubing and things to check.
See the guide to big-bore four-cylinder motorcycles here.
And as sportbikes in the 90s and then adventure bikes in the 2010s became more popular, the popularity of UJMs waned… The US never even got the Yamaha XJR1300 or Suzuki GSX1400! There was much wailing and gnashing of teeth over the affair. I still don't really know why Australia got them and the US didn't. It's usually the Aussies who don't get stuff.
At the same time, "retro"-style motorcycles made a bit of a resurgence in the 2010s.
Triumph led the charge with their "new" Bonnevilles out of the Hinkley plant, starting in 2001 with the Bonneville 800. They used the same basic platform (expanding in CCs, and changing things) for a range of bikes, including the Scrambler.
Ducati tried to follow suit with the Sport Classic (2006-2010) line, but timing and pricing was off.
As for other brands… I can't think of another that was consciously trying to capture the hipster market. Until Honda decided to release the CB1100.
The Arrival of the Honda CB1100
Honda first announced the Honda CB1100 late 2009 at the Tokyo Motor Show for the 2010 model year.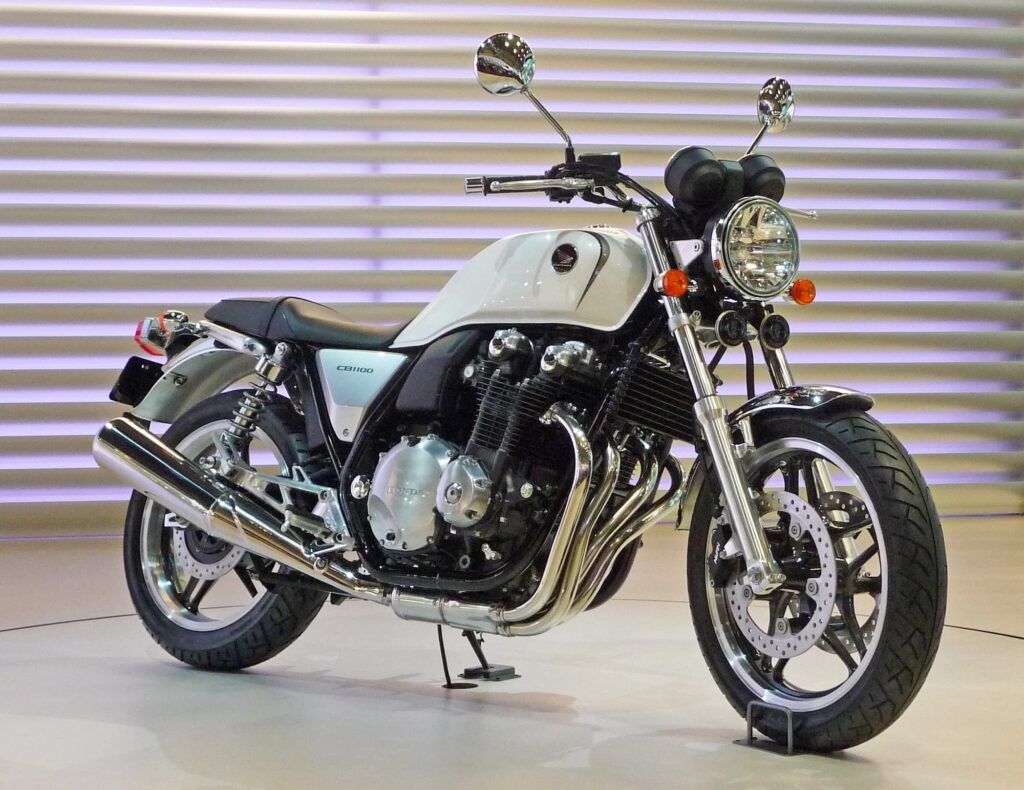 In principle, the inspiration for the Honda CB1100 was the 1975 Honda CB750 Four, a classic motorcycle from the seventies that was the first to be described as a superbike. That's right, the CB750 was a superbike! We use that word to describe 1000-cc bikes these days, but the Honda CB750 had what was considered a massive motor at the time.
These days, people are for some reason not impressed by the CB750's 748 ccc air-cooled motor that makes about as much power as a Bonneville T100. With similar power and weight specs to something like a Suzuki GSF650, it'd be what many Americans would call a "good beginner bike" or "decent commuter".
But what we all acknowledge is that the CB750 Four is a very good looking motorcycle. Look at it!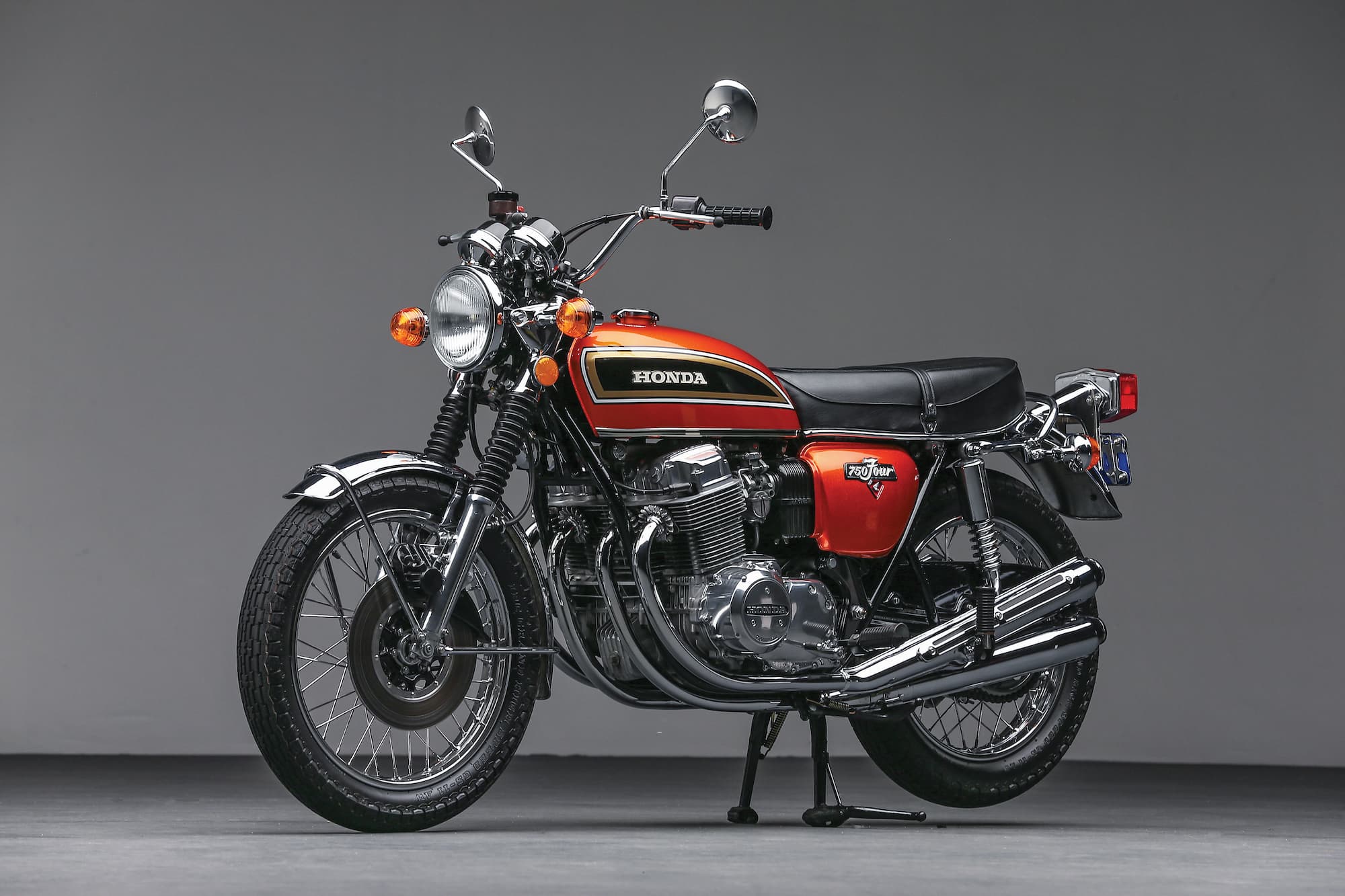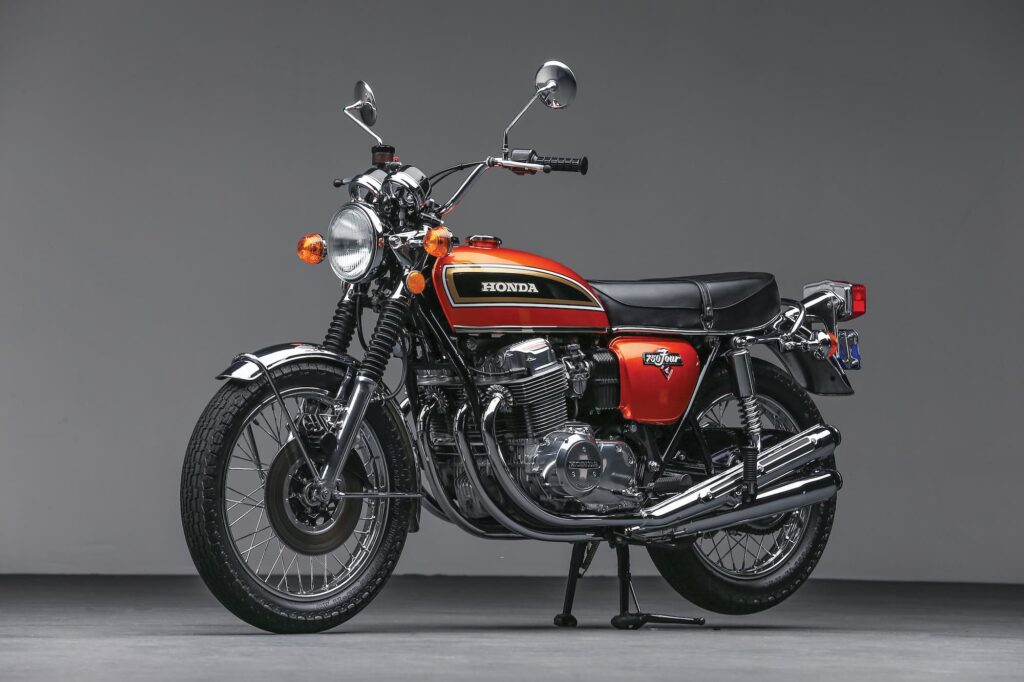 So that's the inspiration for the original CB1100. Honda thought: Can we rebuild this, with decent specs, and meet current emissions requirements?
To do this, of course, Honda realised they'd need to up the capacity. The Honda CB1100 has more capacity and runs at a higher compression ratio, so it needs some cooling. This is in the form of oil cooling. Oil carries some heat away from the engine and dissipates it through the oil cooler, which you see up the front. The CB750 had no oil cooler.
Honda managed to squeeze an 1140cc air/oil-cooled engine into a motorcycle that's the same size and weight as the original CB750 Four, thanks to decades of technological improvements in stronger, lighter alloys, and in frame and component design.
In 2013, Honda decided to bring the CB1100 to Europe, and in 2014 Honda made some changes and it finally made its way to the US.
Quick specs of the Honda CB1100
Common to all of the CB1100 variants is the basic engine configuration of an 1140 cc fuel-injected air/oil-cooled (there's an oil cooler up front) inline four-cylinder engine with dual overhead cams and four valves per cylinder.
The engine has a bore and stroke of 73.5mm x 67.2mm, making it fairly long-stroke, which corresponds to its torque-forward tuning. And it runs a very mild 9.5:1 compression ratio, which means it's quite a low-tuned engine — which usually translates to one that will last a long time.
In all generations of the CB1100, the peak power output is 66 kW (89 bhp or 90 PS) at 7500 rpm. But peak torque drops somewhat in the later 2017+ model, as shown in the table below.
Note that the 2010-2013 model wasn't available everywhere. Australia got it in 2010, and Europe in 2013, just before the change to 6-speed.
| Part | Honda CB1100 Spec (All Models 2010-2022) |
| --- | --- |
| Engine | Air/oil-cooled 1140 cc inline four-cylinder engine, dual overhead cams, 16 valves |
| Bore / Stroke (mm) | 73.5 x 67.2 |
| Compression ratio | 9.5:1 |
| Peak power | 66 kW (89 bhp / 90 PS) @ 7500 rpm |
| Front suspension | Conventional, non-inverted fork (spec varies), all only preload adjustable |
| Rear suspension | Showa twin shocks (spec varies), all only preload adjustable |
| Weight | ~250 kg |
Common specs of the Honda CB1100
Aside from that, many of the smaller aspects of the Honda CB1100 changed over the years and with the release of a couple of sub-models.
Honda CB1100 Dyno Torque Curve and Gearing
The usual story with motorcycle power specs is that the manufacturer will quote a number for power "at the crank", and then on the dyno, you can usually measure something like power of 85-90% of that figure "at the rear wheel".
The explanation for this is that there's drivetrain power loss, which we mostly experience as heat that's radiated via the radiator(s), engine casing, and exhaust. The chain and sprockets also all get hot.
Every dyno run is different, as there is a variation between equipment used, fuel, ambient temperature, and so on. But usually for a new bike, competent operator (e.g. magazine reviewers), and "normal" temperatures, there's not a dramatic variance between dyno runs.
But I didn't see the same difference between claimed peak power / torque and measured rear wheel power / torque. The claimed peak power for the Honda CB1100 is 66 kW (89 bhp or 90 PS) @ 7500 rpm as mentioned above. So I expected from dynos somewhere between 55-60 kW, or 70-80 hp.
Instead, here's what dyno runs show:
| Source | Model tested | Measured rear wheel peak power | Measured rear wheel torque |
| --- | --- | --- | --- |
| Motorcycle.com | 2013 CB1100 | 81.5 hp @ 6900 rpm | 64.6 ft-lb @ 5200 rpm |
| Cycle World | 2013 CB1100 | 82.5 hp @ 7200 rpm | 64.7 ft-lb @ 5000 rpm |
| Rider Magazine | 2013 CB1100 | 85 hp @ 7300 rpm | 67 ft-lb @ 6700 rpm |
| Motorcyclist Online | 2014 CB1100 | 85.3 bhp @ 7200 rpm | 65.5 ft-lb @ 5390 rpm |
| Motorcycle.com | 2014 CB1100 | 83.5 hp @ 7200 rpm | 65.8 ft-lb @ 5800 rpm |
| Motorcycle.com | 2017 CB1100 EX | 88.3 hp @ 7500 rpm | 66.8 ft-lb @ 6300 rpm |
Honda CB1100 Dyno Run Results
All of these figures actually imply that the CB1100 makes more power than Honda claims at the crank. Curious. By my estimates, around 100 bhp at the crank.
As for how that power / torque is delivered, here's a composite of dyno runs from various runs on the internet done by big magazines. There's not much variance between them. They all show a fairly flat torque curve, with most torque available most of the time.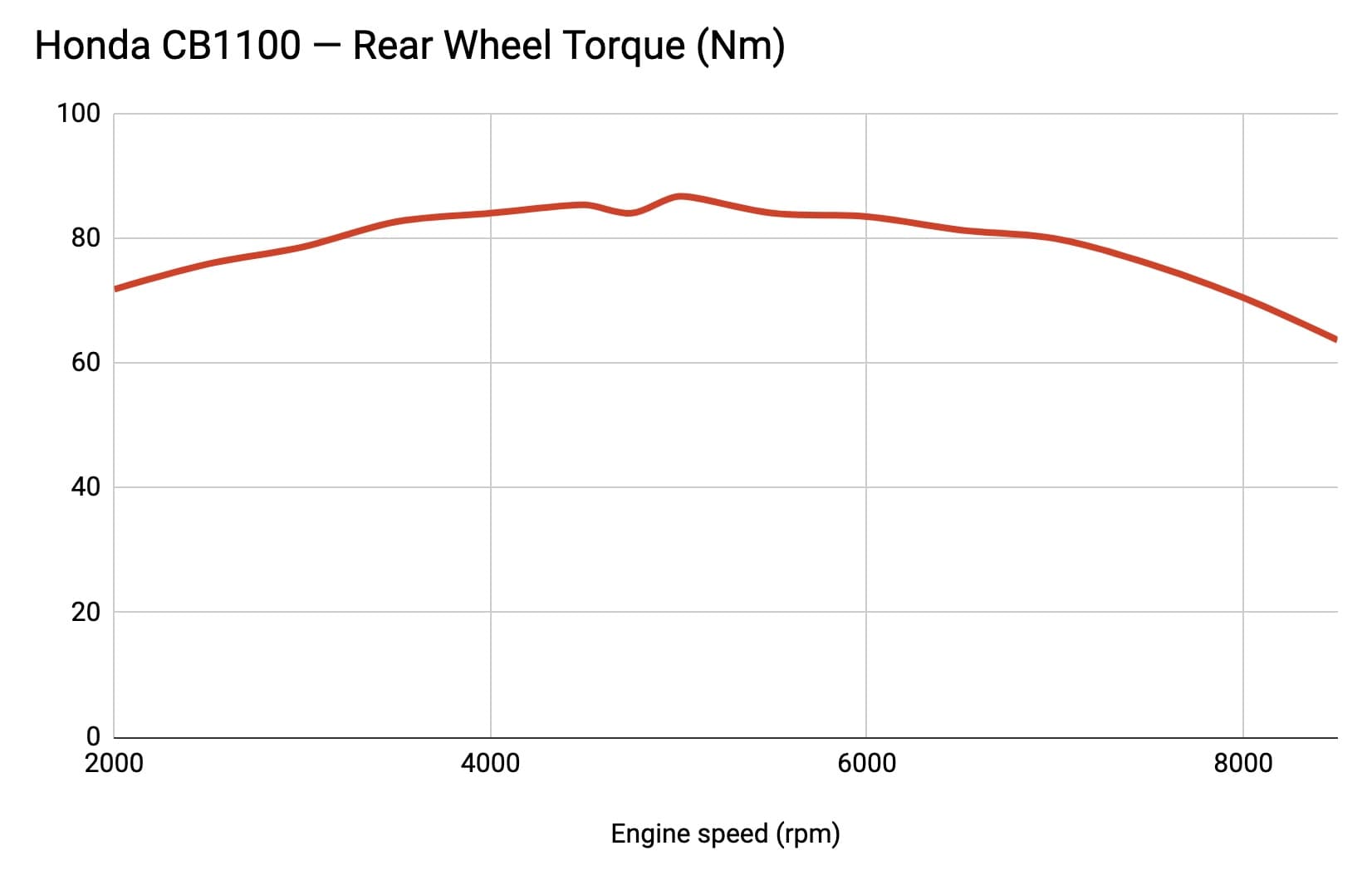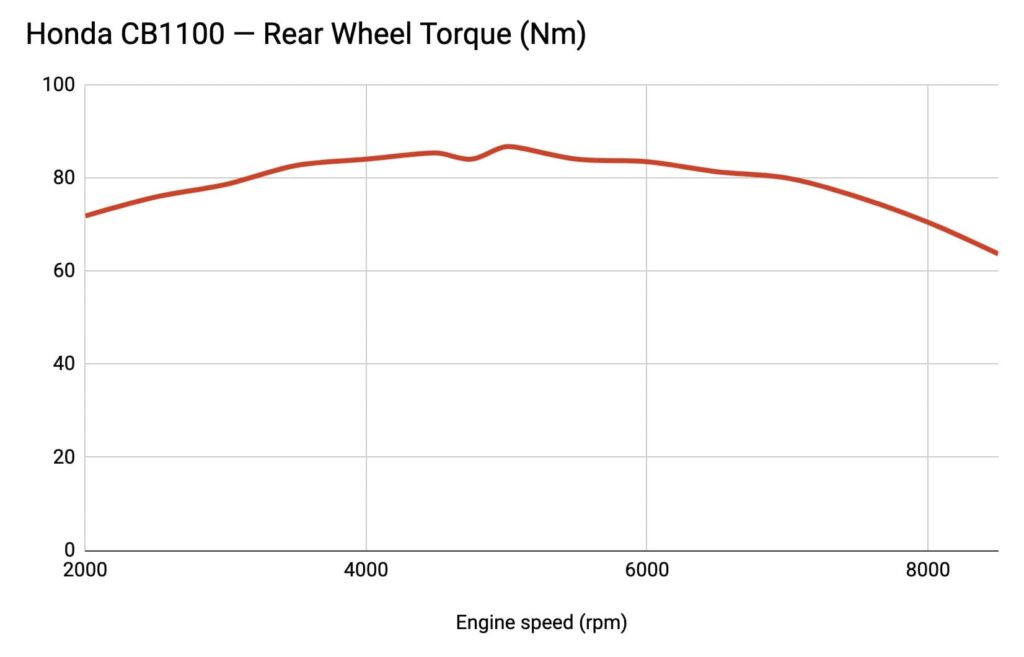 Some people talk about low-speed open/closed throttle hesitation, but if you do experience that, there are various standard ways out of it (I'd pick a remap).
The gearing also plays an important part in how "thrust" feels. I rode a model with an 18-inch wheel, which changes gearing slightly, but nonetheless — the CB1100 is torque-y enough to get the front wheel feeling light in the first couple of gears. You can definitely wheelie the CB1100 (I've seen enough evidence of this online), though it won't happen by accident, and I didn't try (not my bike).
Anyway, in a nutshell, if you're really hammering the CB1100, you'll normally shift gears somewhere around 80 km/h or 50 mph. I mean, that's what I'd do if I were racing up a freeway onramp with no other cars. But usually I'd have shifted once or twice before getting there.
With normal riding, the Honda CB1100 is the kind of bike that's happy in pretty much any gear above 40 mph / 60 km/h. I usually had it in third or fourth around town, when cruising, and didn't worry too much about it.
CB1100 Model History — How did it change?
As mentioned above, Honda kept the engine intact over the course of the CB1100's history. But Honda did make some subtle changes to the bike, including the gearing, instruments, lights, aesthetics, suspension, and braking. Some of this was in the different models released, too.
Below is a summary of the changes in the Honda CB1100 over the years and in different models. Bear in mind the things above that remain constant — e.g. peak quoted power remains constant, but the way torque is delivered changes.
Note on "spokes": The cast wheels are known as five-spoke wheels in Honda's marketing language, but they're actually ten spokes — two parallel spokes in a five-pointed star. I'm not trying to be annoying (this time), I just noticed some magazines call them "ten-spoke".
Year / model
2010-2013
2014-2016
2014-2016 DLX
2014-2016 EX
2017+ EX
2017+ RS
Peak torque
93 Nm @ 5000 rpm
93 Nm @ 5000 rpm
91 Nm @ 5000 rpm
91 Nm @ 5000 rpm
91 Nm @ 5500 rpm
91 Nm @ 5500 rpm
Gears
5
6
6
6
6
6
Front suspension
41mm telescopic fork
41mm telescopic fork
41mm telescopic fork
41mm telescopic forks
41mm Showa Dual Bending Valve
43mm Showa Dual Bending Valve
Rear suspension
Showa twin shocks
Showa twin shocks
Showa twin shocks
Showa twin shocks
Showa twin shocks
Showa twin shocks, remote reservoir
Front brakes
2 x 296mm floating discs, 4-piston Nissin calipers
2 x 296mm floating discs, 4-piston Nissin calipers
2 x 296mm floating discs, 4-piston Nissin calipers
2 x 296mm floating discs, 4-piston Nissin calipers
2 x 296mm floating discs, 4-piston Nissin calipers
2 x 310 mm floating discs discs, 4-piston radial mount calipers
Rear exhaust
4-2-1 single
4-2-1 single
4-2-2 twin
4-2-2 twin
4-2-2 twin
4-2-2 twin
Wheels
18 inch, 5-spoke
18 inch, 5-spoke
18 inch, 5-spoke
18-inch, spoked (48-spokes)
18-inch, stainless steel spoked (40 spokes)
17-inch cast aluminium
Tires
Tubed
Tubeless
Tubeless
Tubed
Tubed
Tubeless
New Features
–
Updated dash
Updated dash
Updated dash
Full LED lighting
Assist / slipper clutch
Full LED lighting
Assist / slipper clutch
Tank capacity
14.6 / 3.9 Ga
14.6L / 3.9 Ga
17.5L / 4.6 Ga
17.5L / 4.6 Ga
16.8L / 4.4 Ga
16.8L / 4.4 Ga
Kerb weight
243 kg / 536 lb
247 kg / 545 lb
259 kg / 571 lb
260 kg / 573 lb
255 kg / 562 lb
252 kg / 556 lb
Reference
2010 Press release (Japanese)
2014 press pack
2014 Specs
2014 EX press pack
2017 EX Press Pack
2017 RS press pack
Honda CB1100 changes / model history
OK, let's start with the baseline 2010-2013 Honda CB1100. Here's another picture of it, because that's why many visitors are here.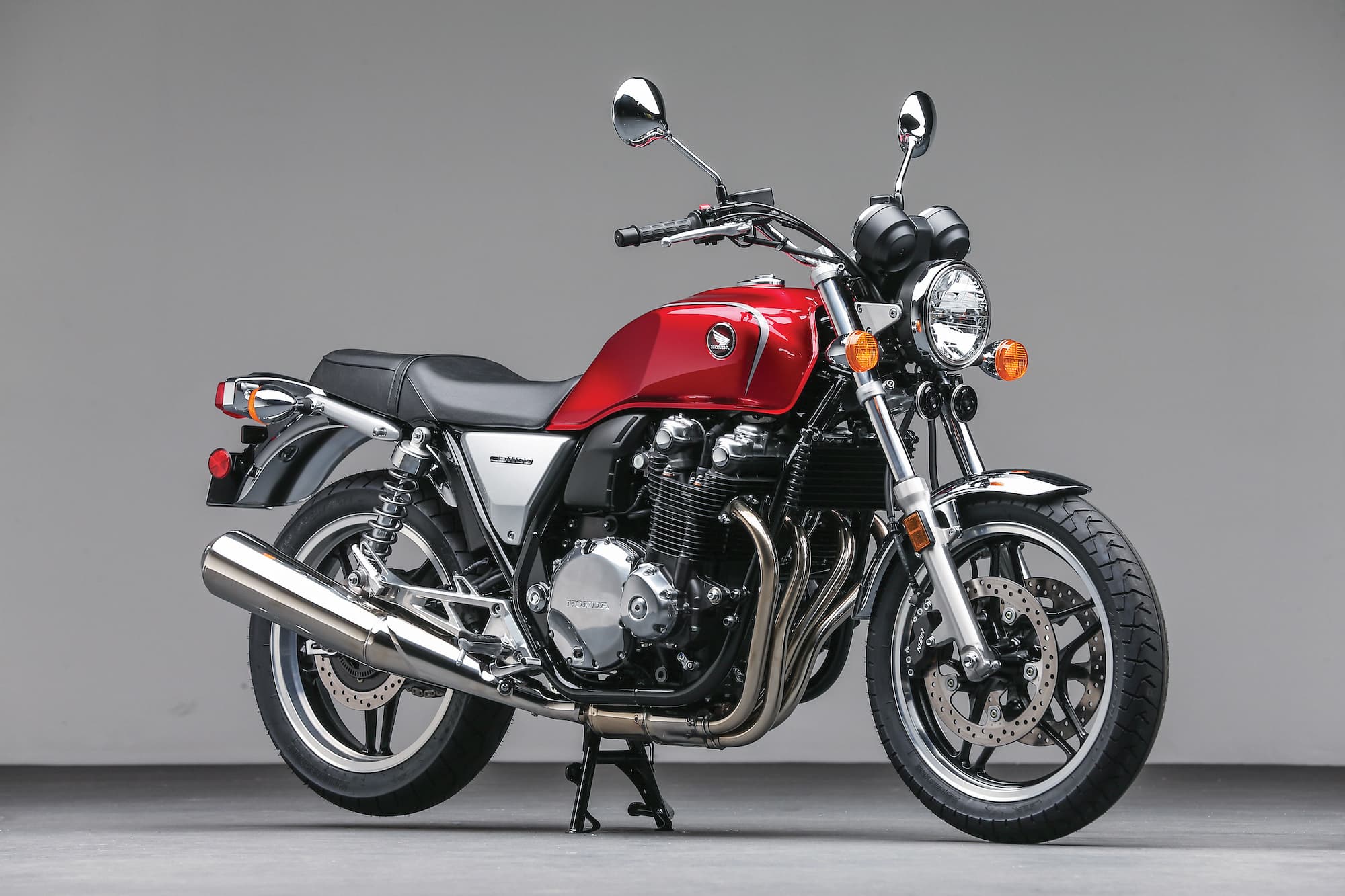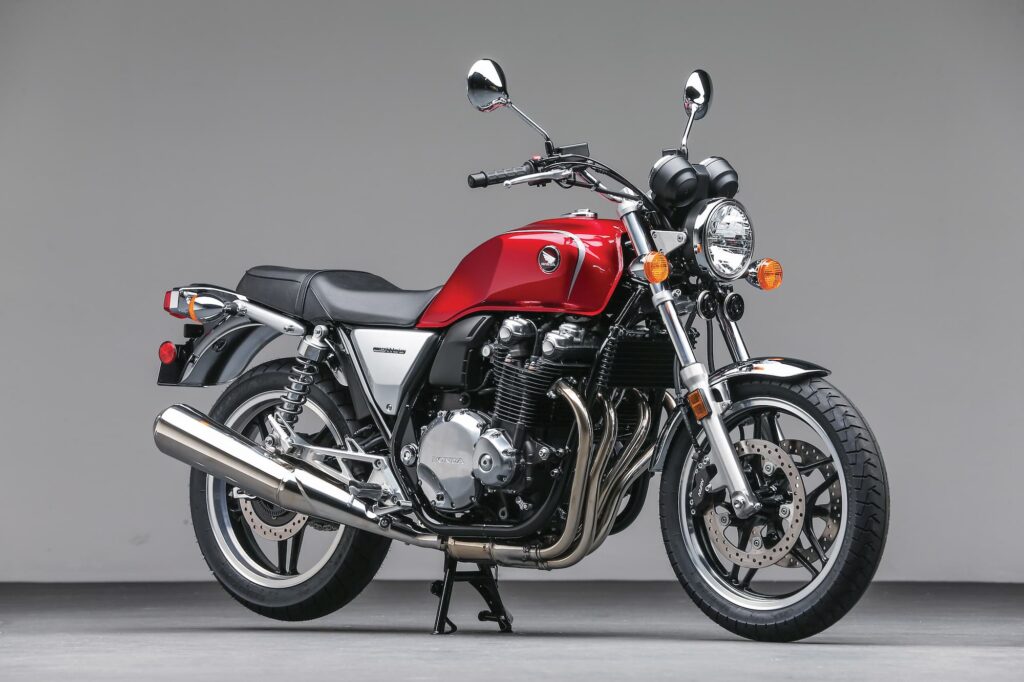 Man, that's easy on the eye.
Visually, the first CB1100 looks nearly identical to later versions. But of course, Honda started making subtle changes.
In 2014, Honda revised the CB1100.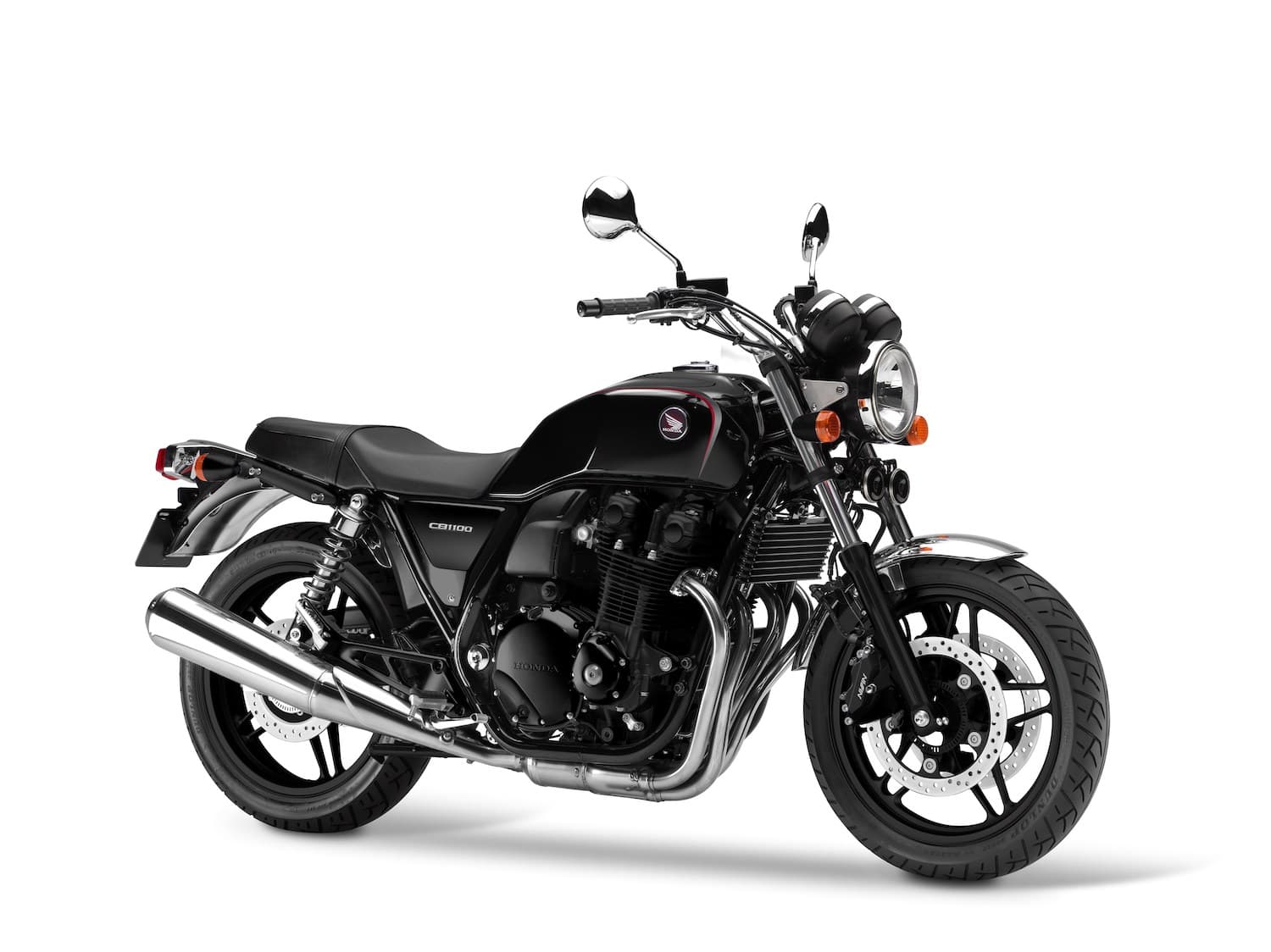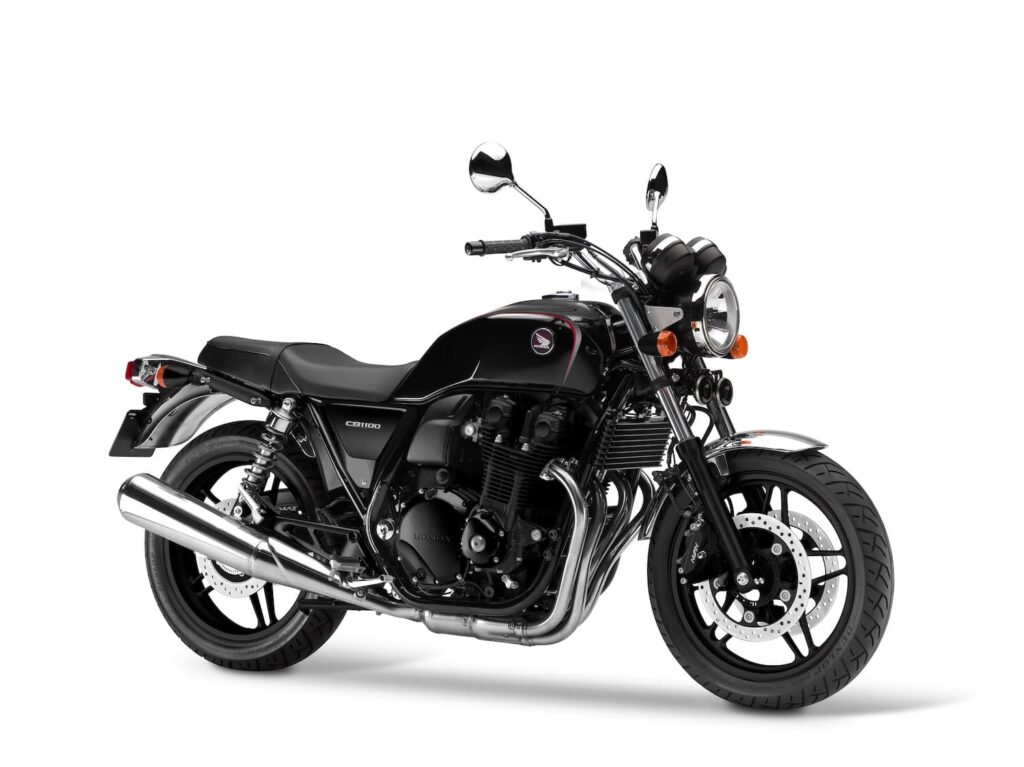 The banner update for 2014 was that the 5-speed transmission got an overdrive (the other ratios stayed the same), for better highway cruising. The 2014+ Honda CB1100 is six-speed, like most motorcycles. It's a tiny difference, but when you're used to six-geared bikes (the majority), or if you just have more than one motorcycle (glorious times), you find yourself constantly looking for that extra gear on the highway.
Another change Honda made for the 2014 model (all of them) is an improved center console/display. Here's how the change looks. Ooh, a gear position indicator. So deluxe.
Speaking of "deluxe", in 2014, Honda also released two slightly uprated versions of the CB1100, the EX (Europe) and the Deluxe / DLX (USA).
These both got a larger capacity fuel tank and twin exhausts. The twin exhausts give it a more "balanced" look, but take away the snaky exhaust pipes of the single exhaust. And they add weight! I know, it's no lightweight, but come on, we don't need more. In fact, on many other heavy bikes (like my beloved Busa), people super keen on reducing weight ditch the twin exhausts for a single one.
But I agree, balance does look good. If you're not desperate to cut off 10 kg / 22 lb, then whatever. Owners of the first-generation Honda CBF1000, which also had twin exhaust pipes that changed to a single pipe for the second gen, also tend to agree that they prefer the aesthetics of the twin pipes. (See the Honda CBF1000 Buyers' Guide.)
I would suspect the twin exhaust was done for emissions reasons (like on the 2007 Suzuki GSX-R1000, to the disappointment of many fans of the legendary K5), but there was still a base model available with a single-sided exhaust. See the below photos of all three versions.
In 2017, Honda made some more changes. Firstly from 2017 onwards Honda only made available the EX model — no "base" model" — plus a new RS model.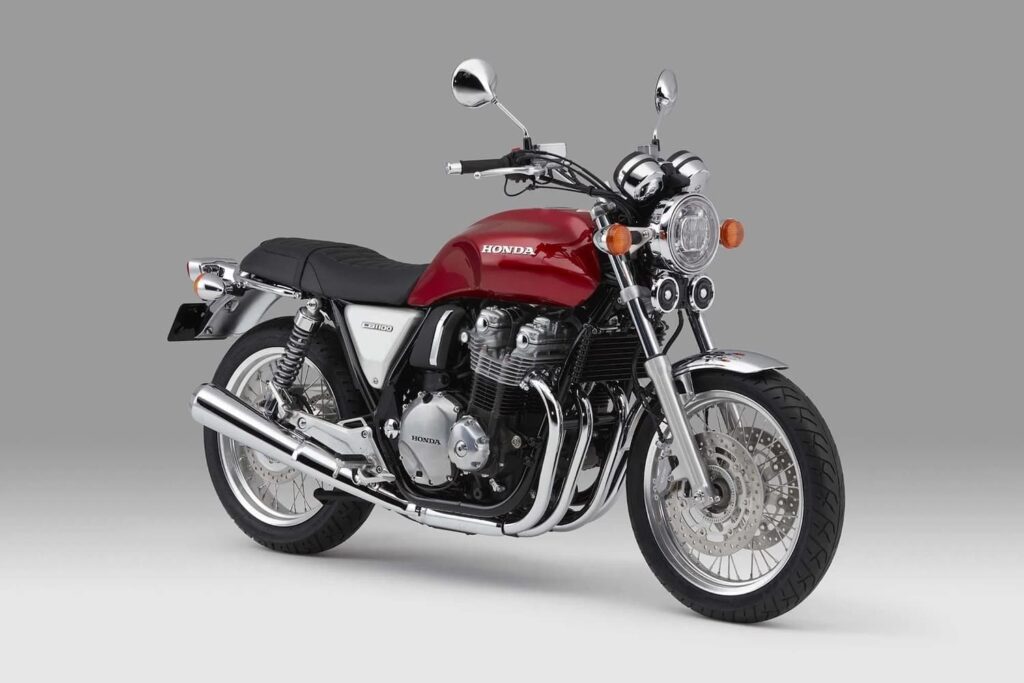 Secondly, the bike is Euro 4 compliant. It's an unexciting technical detail, but hey they worked hard to keep this air/oil-cooled bike legal to sell and we appreciate it.
Other improvements the 2017+ CB1100 got include:
LED front and rear lights
Spoked wheels on the EX are stainless steel. Still 18-inch.
Improved shocks — Showa "Dual Bending Valve" fork on both models (different fork diameters)
Lighter twin exhausts
Assist / slipper clutch (for easier downshifts)
A "seamless tank"
The seamless tank looks really nice. It looks like the kind of work you only see on custom bike builds. I bet that's a doozy to replace. In a decade or so, owners of CB1100 bikes will be wondering where they can get a second-hand seamless tank at a reasonable price.
Here's the 2010-2016 CB1100 tank with seam (like most tanks) next to the 2017+ CB1100 model's seamless tank:
In 2017, Honda also released a higher-spec CB1100 RS — for Europe and the UK only. It looks very "RS", with hints of gold around the place.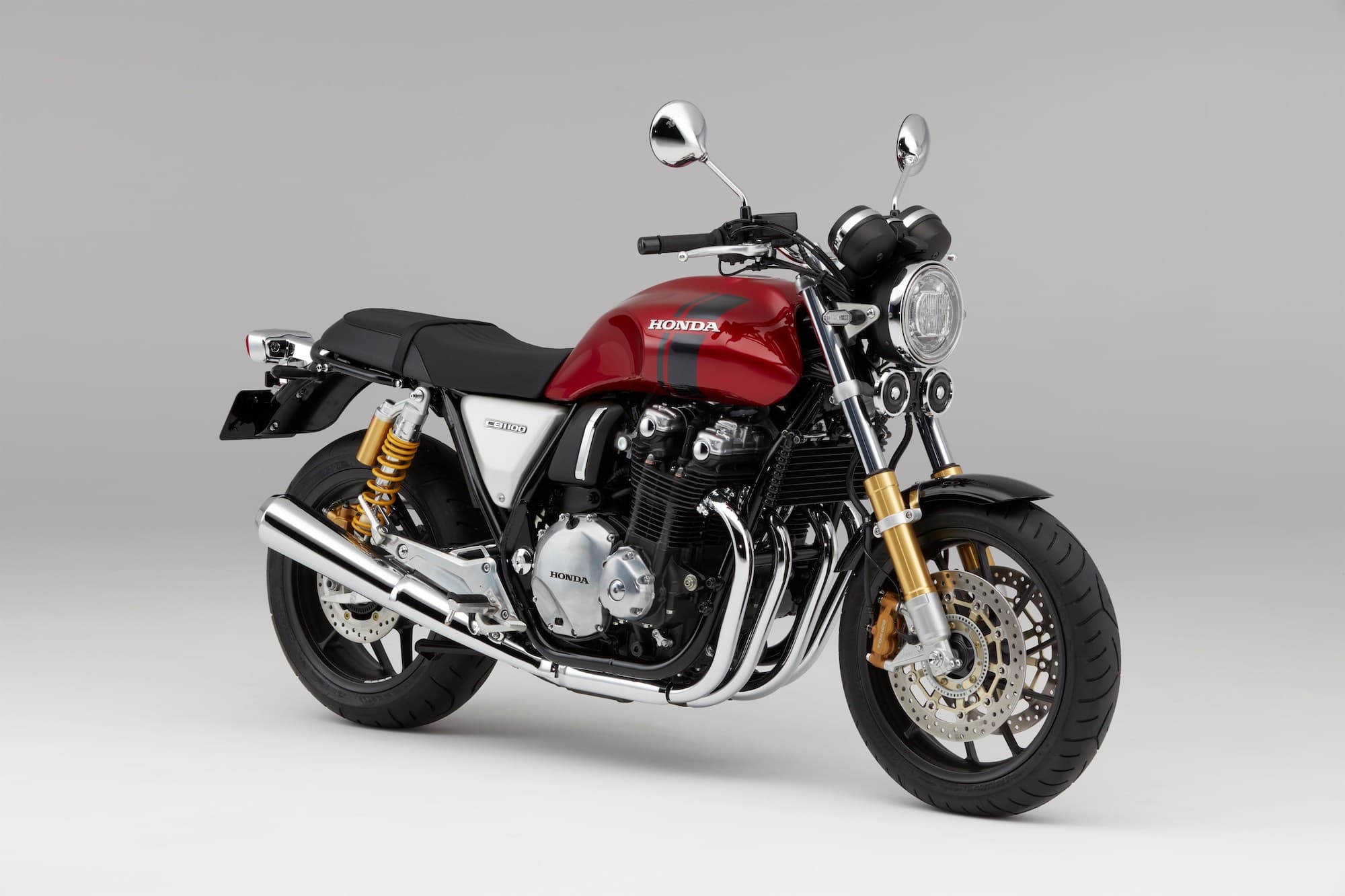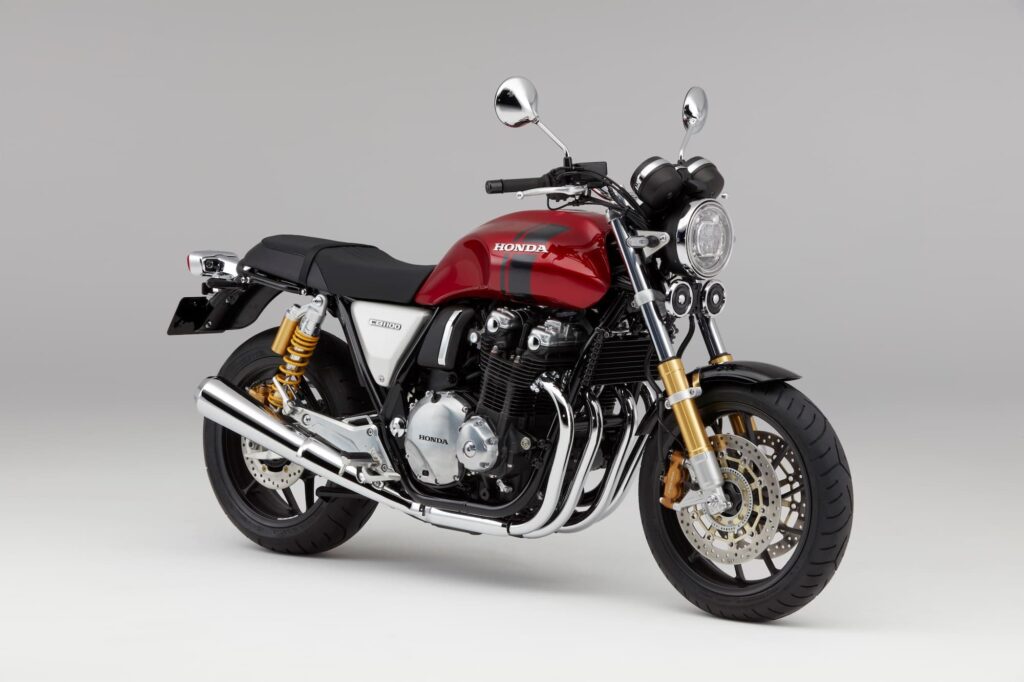 The CB1100 RS gets all the improvements of the 2017+ CB1100 model (seamless tank etc.) plus also
43mm Showa fork, rather than 41mm. It's also firmer.
Showa remote reservoir rear shocks
17-inch cast aluminium wheels, rather than 18-inch spoked ones
Radial mount Tokico (vs axial mount Nissin) calipers on bigger 310 mm discs (vs 296 mm on the EX and all past models)
Lower, more aggressive riding position (7mm forward handlebar) … maybe just a consequence of the different tire diameter
More aggressive rake/trail (26 degrees/99mm on the RS vs 27 degrees/114mm on the EX
The engine in the RS is exactly the same. It's not slow, but it won't set your pants on fire, especially not pulling around this heavy a bike. If you're looking for a fast bike, the CB1100 is probably not what you're looking for. Maybe you want a Honda CB1000R — see the alternatives section below!
After 2017, Honda kept the CB1100 the same, just releasing more editions, until releasing a final edition for 2022.
Riding the Honda CB1100
So it's a heavy, moderately powered, low-spec bike with a four-cylinder engine, which according to some are boring. Is that it? Should we write off the Honda CB1100, damning it because of a spec sheet?
This would be a tragedy because the CB1100 is a lot more than it seems on paper.
Needless to say, the experience of riding the Honda CB1100 starts with what I call "the approach".
I talk about this elsewhere, but I'm in the camp of wanting to ride bikes that look nice. There are some who say you can't see a bike while you're riding it, and of course it's true. (You do see the instrument cluster, which is why I also think that's an underappreciated part of aesthetics… But that's another topic!)
But there are many times the aesthetic experience impacts our joy. Think of a beautiful house or hotel. Driving along a tree-lined driveway, opening up to a clearing, and then seeing a magnificent building sets you up for a positive experience. Once you enter the building you can't see it, and just hope that the experience inside matches the approach.
So the first time I saw a gleaming Honda CB1100, its snaking front exhaust headers and old-school twin gauges beckoning to me, I was hooked. At a risk of being vague, it just looked so motorcycle! The rest was up to the CB. Was the experience going to match the look? I couldn't wait to find out.
The CB1100 I rode had some modifications done to it. It had an aftermarket exhaust and I believe a tune. I'm not sure what else. But the drivetrain and engine were original.
Firing up the Honda CB1100 is like any four cylinder Honda. It has no complaints as it starts after the briefest of button pushes and settles into a purring idle, classic Honda. Every manufacturer does four cylinder bikes differently. Honda's four-cylinder engines have a little purr, never quite sounding at rest. All the ones I've ridden or owned have been like this.
A question many have about the CB1100 is: Is it too heavy? Well, it depends.
If you're a beginner and don't consider yourself very big and strong, it may be too heavy.
If you have a steep driveway and will be pushing it around a lot to get it into a parking spot, it may be too heavy.
And if you do a lot of slow speed navigating through standstill traffic… It's not too heavy, but a lighter bike will make your life easier.
But if you're an experienced rider and are happy with the performance limitations that around 40 extra kilos / 100 extra pounds (over other standards) give you, then the CB1100 isn't too heavy.
Once you've pulled away, like with many heavy Hondas (cough Gold Wing cough), the weight vanishes.
The next thing I started paying attention to is the instrument cluster. It's a beauty! Particularly the 2014+ version.
Honda does some of my favourite instrument clusters. I've liked them on so many bikes.
The one on the CB1100 is of the general "mid-2010s" generation, which means clear dials and an LCD with a soft blue backlight at night. It's comforting and I feel at home on it.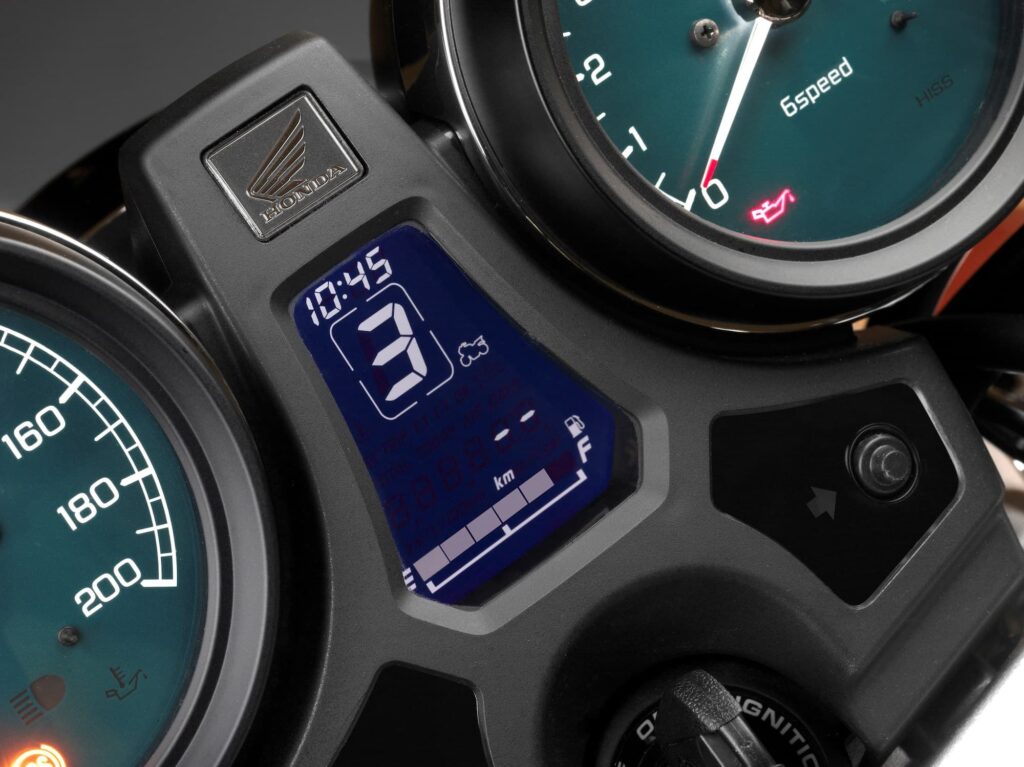 Oh, and the 2014+ models come with a gear position indicator. This one goes up to six. The previous models only had five gears, but Honda put on a gear position indicator to show just how many gears the 2014+ CB has.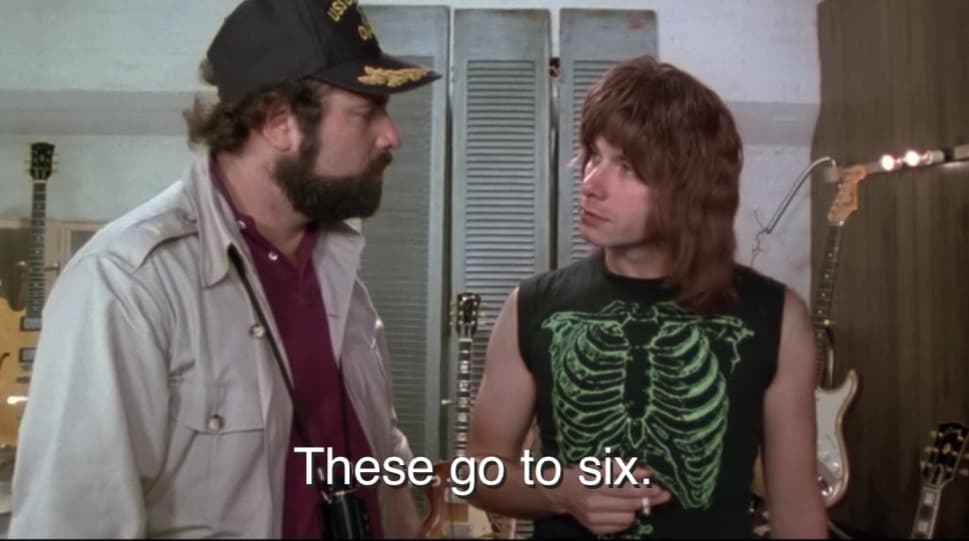 On to riding the CB1100. What's it like?
If you're used to riding 4-cylinder bikes, the first thing you might think is that an 8500 rpm rev ceiling (the redline) is pretty low.
The Honda CB1100 is tuned for mid-range torque, not for high-end power. The engine drops in torque around 6500 rpm before its 8500 ceiling. If you're riding it hard, then 7000 rpm feels like a natural shifting point.
But riding the CB1100 hard is not something you'd intuitively want to do. It's not what I wanted to do, anyway. I let on the throttle modestly, compared to most sport bikes I ride, and shifted around 5-6000 rpm like a regular human.
In that sense, it's a lot like short-shifting a sportbike — without paying the penalty of limited low-down torque. Because the CB1100 has plenty of it!
It's also pretty rewarding riding the CB1100 at low RPMs. I don't know how some manufacturers do it with just some bikes, but I really like the sound of the CB1100's engine. I mean, I like it more than I like most four-cylinder engines. Maybe it's the air/oil cooling, maybe it's the lack of fairings (letting me hear a bit of engine noise), or maybe it's just a confluence of factors including the camshaft timing and exhaust choices. Whatever it is, the CB1100 isn't "boring" — it's got a bit of fire to it.
Alternatives to the Honda CB1100
So you're in the market for a Honda CB1100 but want to know what else is out there in terms of modern retro bikes.
Well, it's a fairly broad market. Bikes like the Kawasaki Z900RS, Yamaha XSR900, and Honda CB1000R are retro-esque bikes, even if they have modern liquid-cooled engines, more competent suspension and brakes, more of a focus on weight reduction, and more advanced ride aids (at least traction control).
So to limit it somewhat, let's think of modern air-cooled standard bikes. With one exception — the Honda CB1000R, for the simple reason that the new buyer would have seen it in the showroom next to it. I certainly did, and it made a huge impact on my own preferences, so I'm including this as the outlier alternative that just shares a brand name and general aesthetic.
None of the direct competitors to the Honda CB1100 have an air-cooled inline four-cylinder engine. They're all twins! So it's very likely that if you want an air-cooled four, then the CB1100 will be your last chance ever.
Here's a summary table of alternatives to the Honda CB1100.
Spec
Honda CB1100
BMW R nineT
Ducati Scrambler 1100
Kawasaki W800
Honda CB1000R (2019+)
Engine style
Inline four, air/oil-cooled
Boxer twin, air/oil-cooled
L-twin (90-degree), air/oil-cooled
Parallel twin, air/oil-cooled
Inline four, liquid-cooled
Style (s) of motorcycle
Standard
Standard, Scrambler, Cafe Racer (2017-2019)
Standard, Scrambler, Cafe Racer-esque
Standard, Cafe Racer
"Neo" Sport standard
Engine capacity (cc)
1140
1170
1079
773
998
Peak power (kW / bhp / PS
66 kW (89 bhp / 90 PS) @ 7500 rpm
81 kW / 109 bhp / 110 PS @ 8500 rpm
63 kW / 84 bhp @ 7500 rpm
35 kW / 47 bhp / 48 PS @6500 rpm
107 kW / 143 bhp / 145 PS at 10500 rpm
Final drive
Chain
Shaft
Chain
Chain
Chain
Wet weight
~250 kg (~550 lb) depending on model
219 kg (483 lb): Pure, 2021
206 kg / 454 lb
222 kg (491 lb)
213 kg / 470 lb
Suspension
Showa conventional forks and rear shocks, both preload-adjustable
Most models: Non-adjustable conventional fork, preload adjustable monoshock
Marzocchi 45mm fork, fully adjustable. KYB rear shock, preload/rebound-adjustable
41mm fork, dual shocks with adjustable preload
Showa SFF-BP USD, fully adjustable fork, HMAS damper with rebound and damping adjustment
Ride aids
ABS (optional/standard)
ABS, TC
2021+: Cornering ABS & TC, cruise
Cornering ABS & TC, ride modes
ABS
ABS, TC, Ride modes
Alternatives to the Honda CB1100
BMW R nineT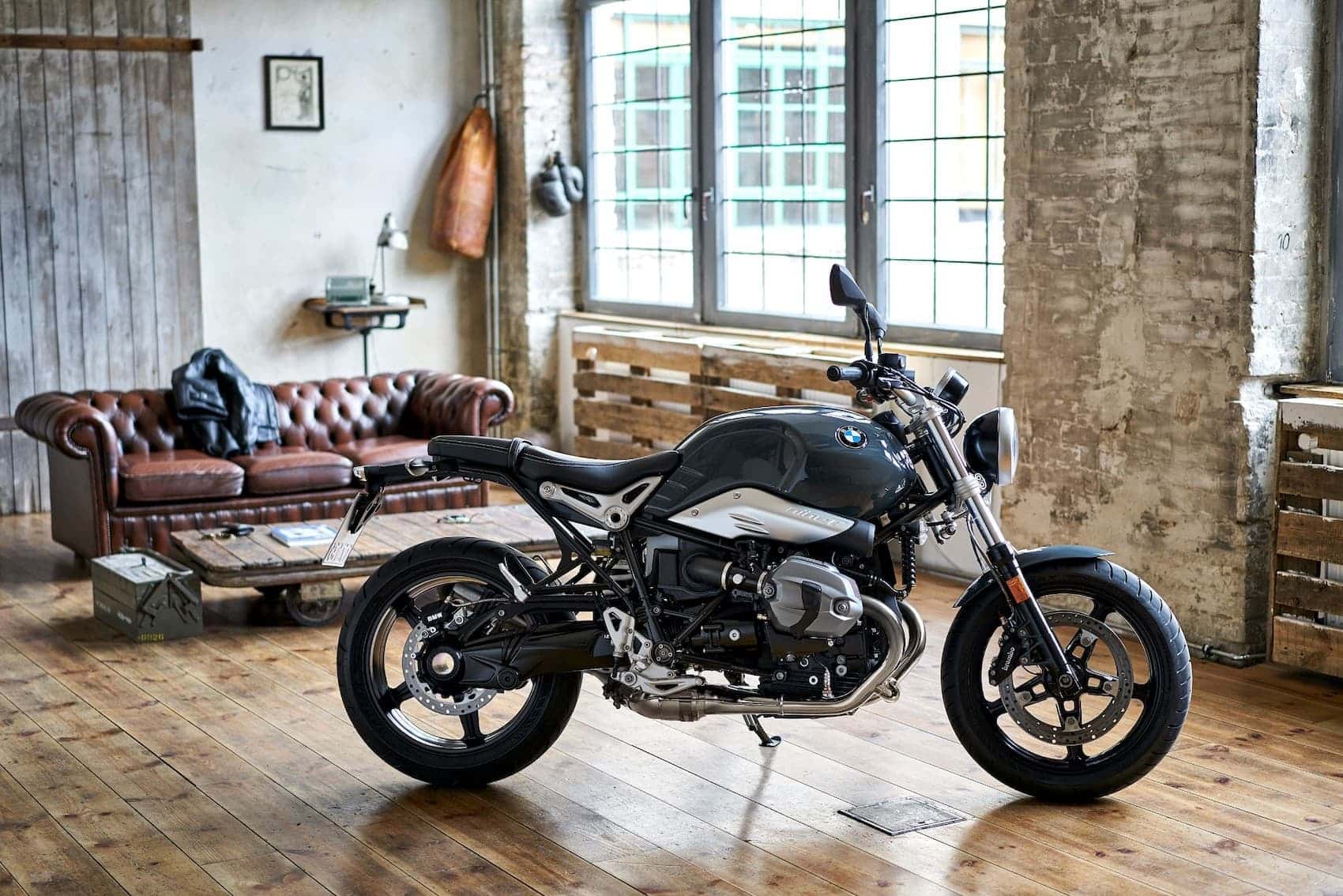 The first alternative to the Honda CB1100 is a BMW R nineT. (Spoiler: I ride one of these and love it.) Pictured above is the cheaper but still great Pure.
The R nineT is a kind of similar concept of bike — a roadster based on an air/oil-cooled engine. It's retro-styled and calls to mind a lot of the modern R-bike airhead roadsters of the 70s or 80s. Though the R nineT isn't based on an R 90 — the "nineT" is, according to BMW marketing copy, BMW Motorrad celebrating its 90th birthday by giving a present to itself. And to us!
The R nineT bikes (all of them, whether base model, Pure, Scrambler, Urban G/S, or Racer, and of any year) are based on an 1170 cc air/oil-cooled boxer twin that we last saw in the early-mid 2010s in the premium BMWs. Those premium bikes (like the RT, GS, etc.) all graduated to water-cooled and eventually ShiftCam VVT engines, but the R nineT kept the modern (it does have four valves per cylinder after all), but now relatively old-school design.
The engine is pretty spritely, and even though it doesn't rev past 8500 rpm, it makes a healthy 81 kW / 110 PS / 109 bhp at 7500 rpm (give or take one or two, depending on the emissions spec you get).
It pairs this with a shaft drive, single sided swingarm, classic good looks, and really good handling, in part because of its relatively low weight (they all weigh around 210-215 kg or 465-475 lbs, a lot lighter than the CB1100).
The R nineT comes in a number of flavours, from the top-spec one with adjustable suspension and twin gauges, down to the Pure with a non-adjustable conventional fork and a single gauge. See our BMW R nineT Buyers Guide for more.
You'd pick the R nineT if you like boxers, shaft drives, generally higher-spec (particularly the base model R nineT)/higher-tech bikes (particularly 2021+), or just the BMW brand. But you'd also spend a lot more.
Ducati Scrambler 1100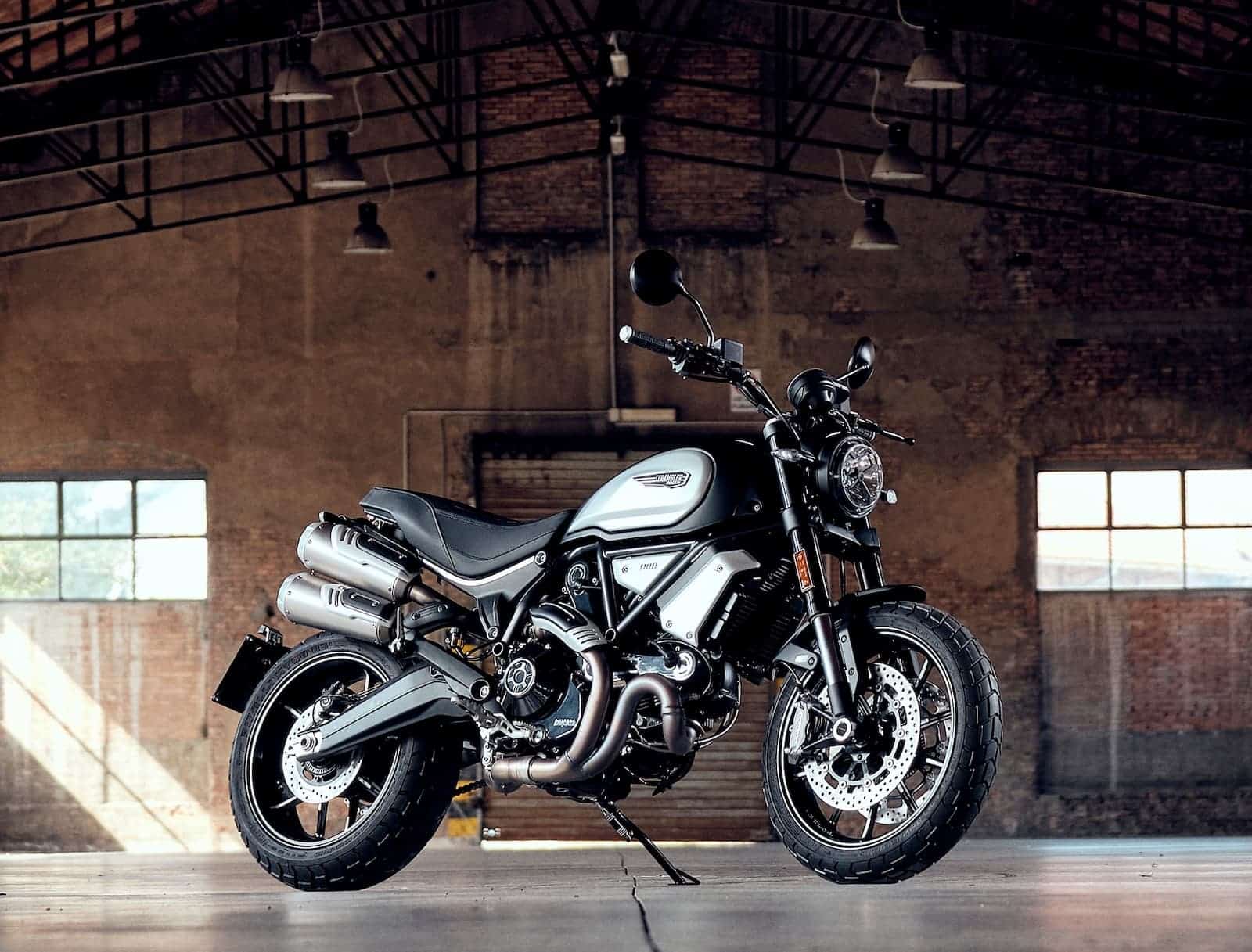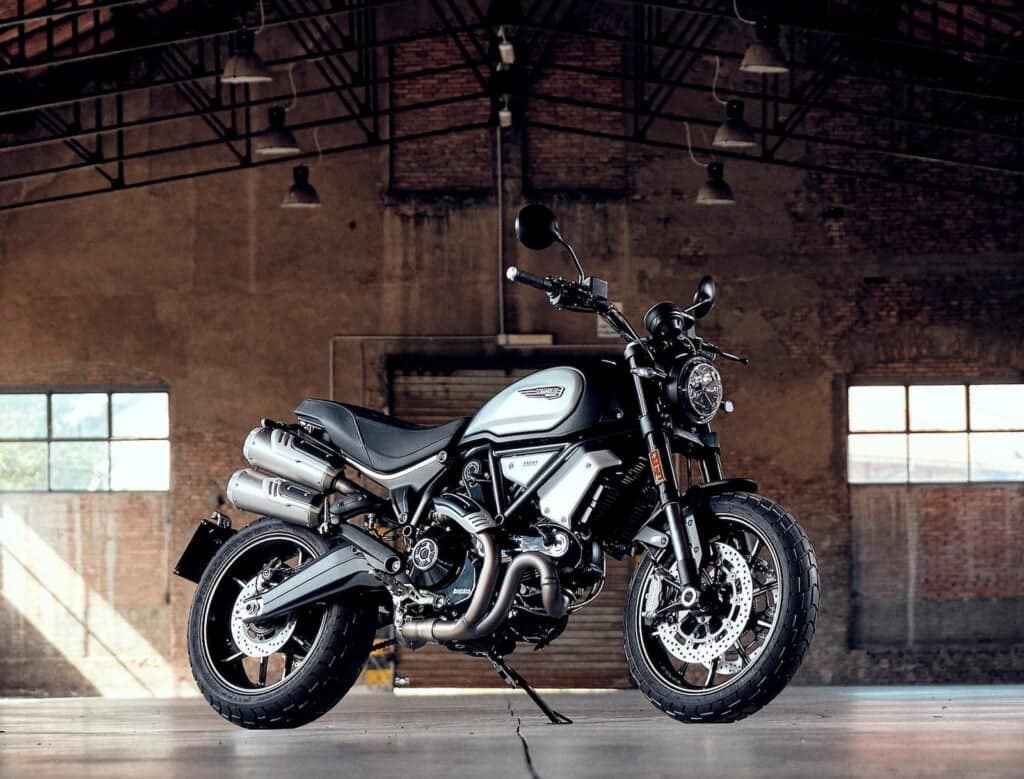 The second alternative to the Honda CB1100 is the Ducati Scrambler 1100.
Ducati has been making Scramblers since the mid 2010s, but the 1100 model is newer — in fact, so new that it came around the time that the CB1100 was retired from most western markets. No matter, it's still an alternative!
Like the CB1100, the Scrambler 1100 is based on an air/oil-cooled motor, an L-twin we originally saw in Ducati bikes like the Ducati Monster 1100 and the original Ducati Hypermotard.
But unlike the inline four of the CB1100, air/oil-cooled V-twins aren't quite a thing of the past yet. There are a number of them around, like in the Harley-Davidson, Indian, and Moto Guzzi ranges. There are even some from Japan, like the Yamaha Bolt. Though the Scrambler may be your last chance to ride a Ducati air/oil-cooled twin. Most of the range is now liquid-cooled.
The Scrambler 1100's motor is a 1079 cc L-twin with two valves per cylinder that makes a peak of 63 kW (86 hp) at 7500 rpm — very similar spec to the CB1100.
But the Scrambler is much lighter, weighing only 206 kg / 454 lb, and has much higher-spec suspension — all models have fully adjustable forks and mostly adjustable rear shocks, with the top-spec ones having Öhlins units. So this feels more like a performance bike.
One thing to note is that the Scrambler isn't really built for off-road work. Despite its name, it's a road-going bike, just like the CB1100.
If you want a much livelier ride, prefer a V (ok, "L", Ducati) twin, or just like Ducatis, then the Ducati Scrambler 1100 is for you.
See the full Ducati Scrambler 1100 buyer's guide.
Kawasaki W800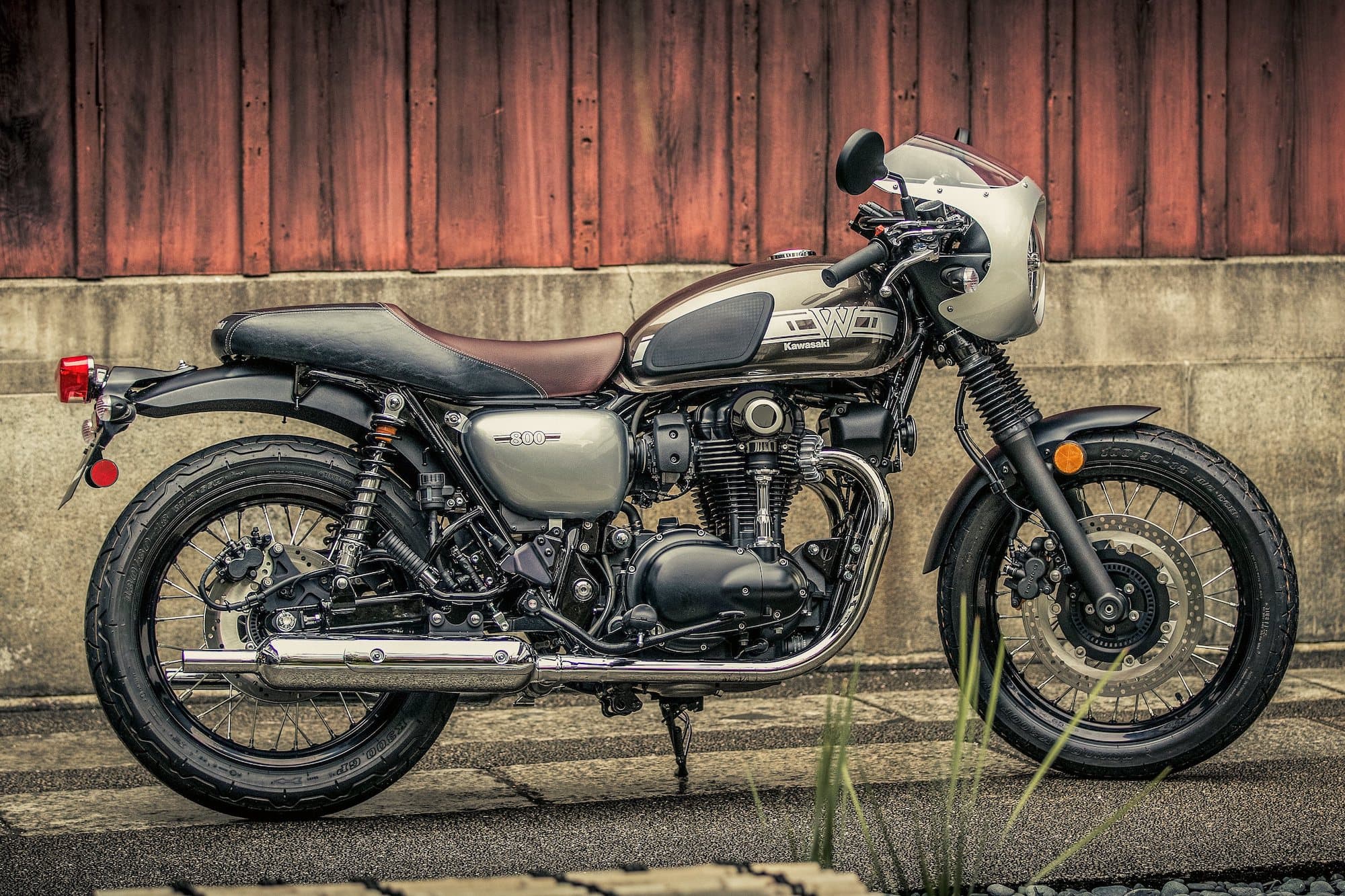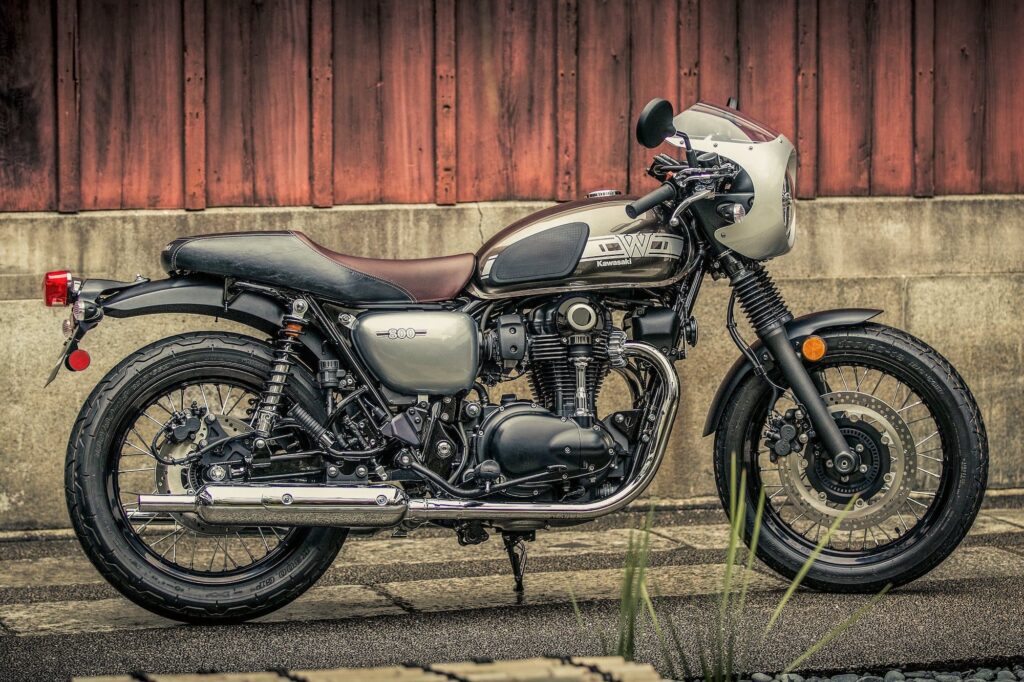 Lastly, the Kawasaki W800 is also an alternative to the Honda CB1100.
There are very few air/oil-cooled standard bikes that Japanese bikes make. In fact, the W800 is the last one in production, given the CB1100 is no longer available in most markets. Yamaha makes the Bolt, but that's a mid-capacity cruiser. And Suzuki doesn't have anything similar right now.
So the Kawasaki W800 it is. It comes in two guises — café or standard. They're both pretty comfortable, and I think the standard makes more sense, given it doesn't make a ton of power.
The 773 cc parallel twin makes peak torque of 62 Nm (46 lb-ft) at 4800 rpm, and peak power of a very gentle 35 kW (47 bhp) at 6000 rpm, making it A2 compliant in Europe / the UK, but not LAMS-compliant in most of Australia / NZ.
The rest of the bike is similarly low-spec. There's a five-speed transmission, a non-adjustable fork and a preload-adjustable pair of rear shocks, and at the front there's a single 320mm brake disc with a 2-piston Tokico caliper to pull up the W800's not-inconsiderable 222 kg (491 lb), as measured by Cycle World.
But it does have ABS, and it's standard in some markets.
If you want an even simpler bike than the CB1100, and would be happy with (or prefer) the burble of a twin, then the W800 is for you.
Honda CB1000R 2018+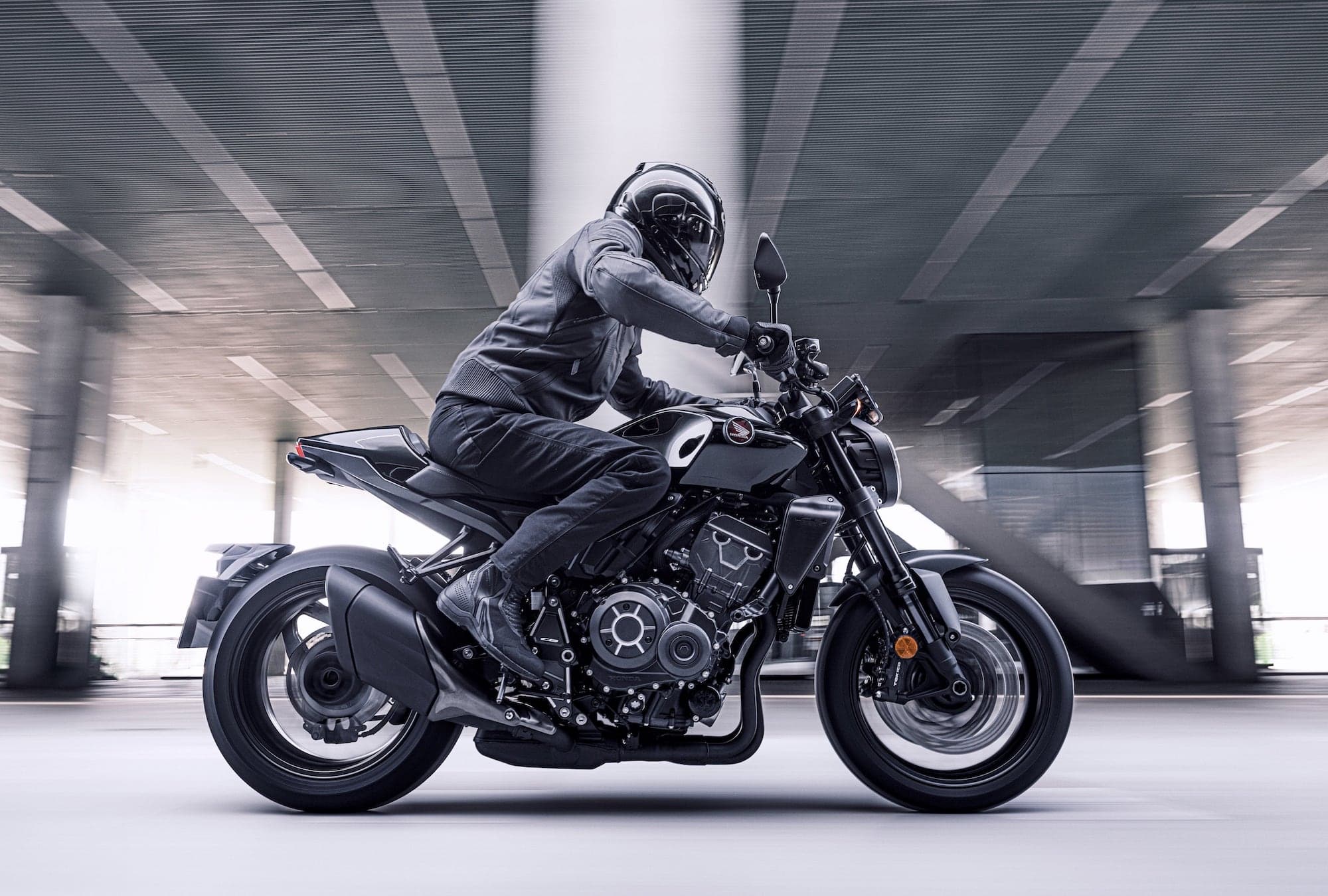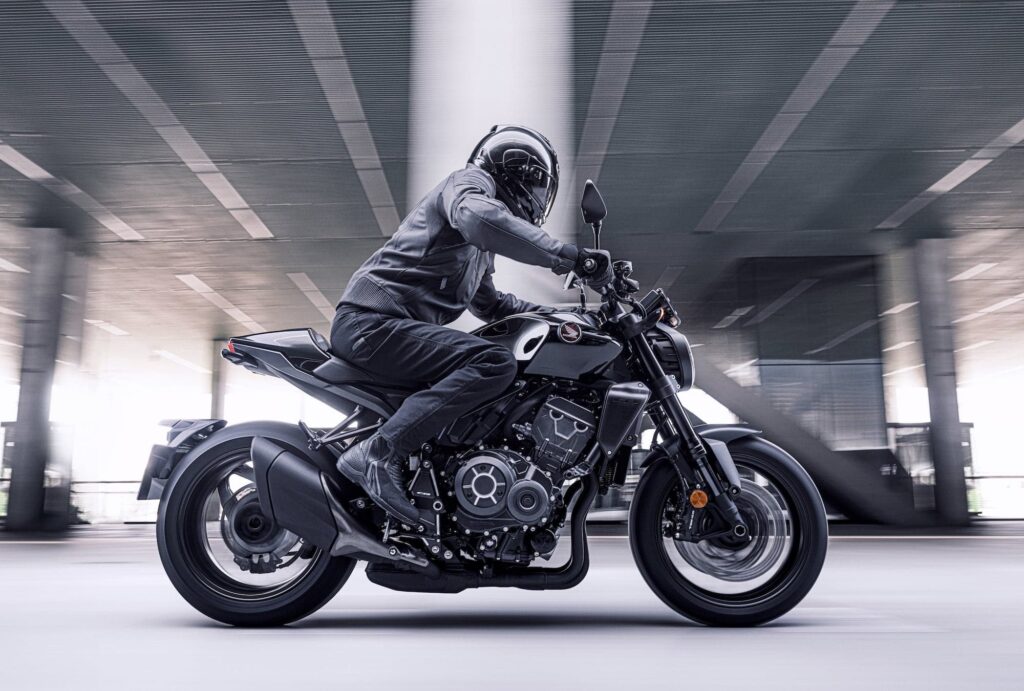 Finally, there's the "Neo Sports Café" re-release of the Honda CB1000R.
The Honda CB1000R was already a good (if under-appreciated) bike before its redesign, but the 2018+ modern/retro version is a real looker.
It's designed to have some classic elements, like the round front headlight, but also is unabashedly a modern sport motorcycle. The 998 cc engine puts out what was a once superbike-like level of power, 107 kW (143 bhp / 145 PS) at 10500 rpm. After all, the engine is based on the block from an older (2006) CBR1000RR Fireblade.
And all that power goes through a really nice-looking exposed rear wheel (thanks to the single-sided swingarm), and the bike is considerably lighter than the CB1100 — about 15%.
The CB1000R is stacked with high-spec equipment, from a fully adjustable inverted fork at the front (and a mostly-adjustable rear shock), radial-mounted calipers, and ride aids including ABS, traction control, and power modes.
The CB1000R has some tough competition among its direct peers, and has been squeezed out of some markets by the super-popular Yamaha MT-09, among others. But that's not what we're talking about here — we're comparing it just to the CB1100.
Basically, the CB1000R is what you'd get if you want a Honda standard and you're after performance.
Something else to bear in mind is that thanks to a) the optimisation of the CB1100 for low-end torque and b) the fact that the CB1000R has a higher-revving engine, the air/oil-cooled CB1100 doesn't feel that much slower. If you give each bike the beans, up to 7000 rpm you can have a barrel of fun on either bike, more than enough pull for most humans, and enough to wheelie if you're not careful.
So if you really want to feel fast between 7-11000 rpm, the R is for you. Otherwise, the CB1100 just might be enough.
See the full Honda CB1000R history and buyer's guide.
What's next for the Honda CB1100?
In 2022, Honda released its final edition CB1100. Final means that's the end of the line — no more orders are being taken.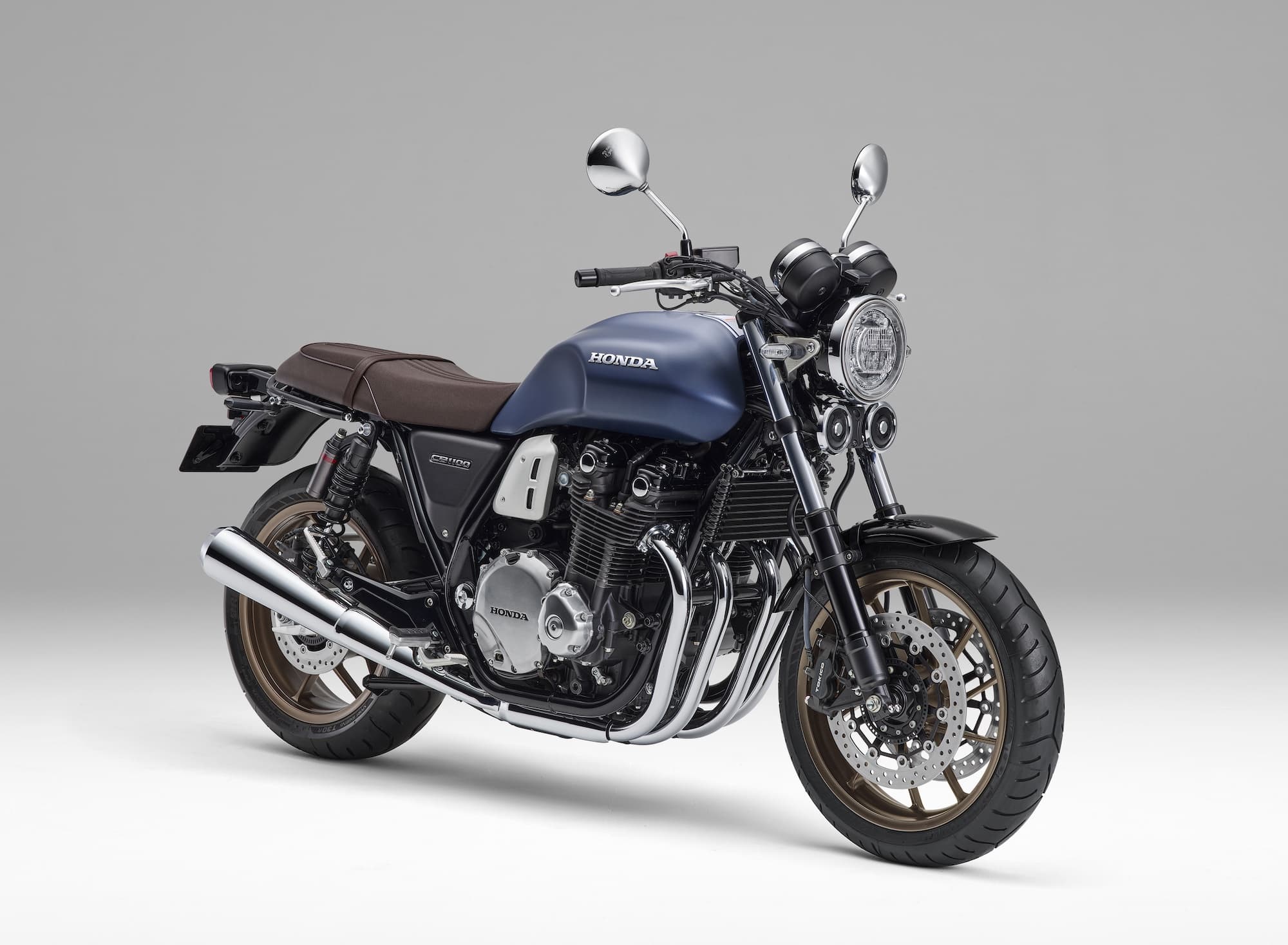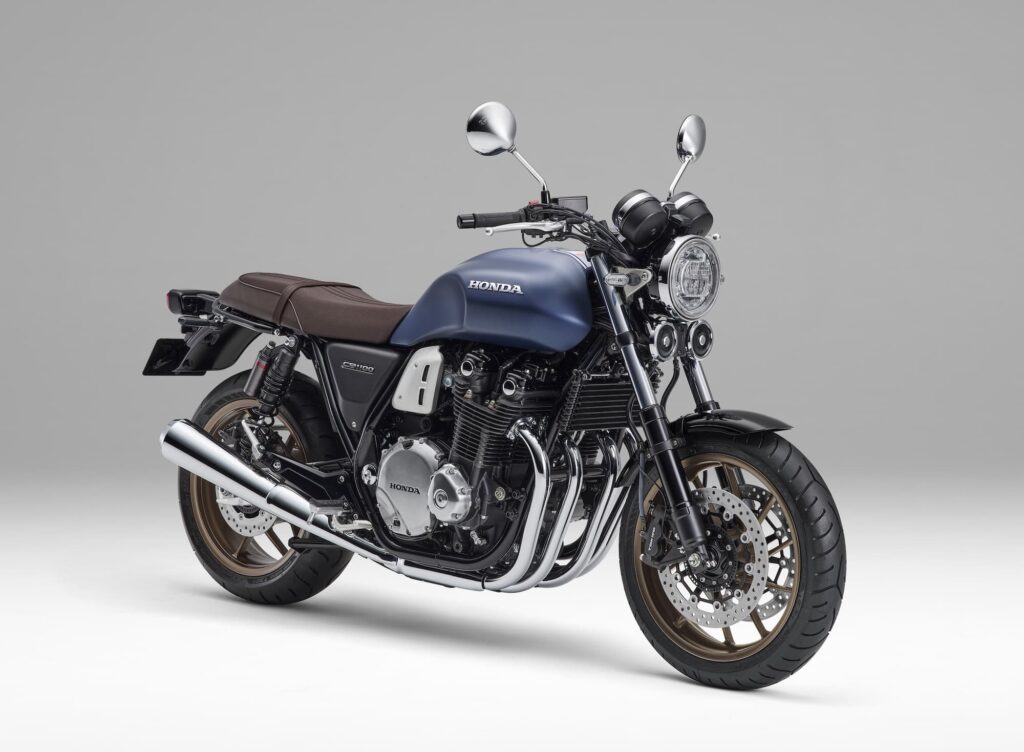 Even this final edition was only offered in Japan and maybe a few other places in small quantities.
There are so few air/oil-cooled bikes available to buy that it's quite likely that the CB1100 was the last air/oil-cooled four cylinder bike we'll ever see. At some point we'll say the same about liquid-cooled four-cylinder bikes, which are also becoming less popular. And at some point, we'll say the same about gasoline-powered bikes altogether.
Part of why I even thought about the CB1100 was when I realised that 20 years after their demise, the Honda CBX1000 is now very expensive and hard to find. The experience of riding an inline six is now available to only a select few. The same will be true of an air-cooled four at some point.
This means that if you're really after a Honda CB1100 and come across one, don't hesitate too long. Prices are quite low now — I see quite a few advertised for $5-7000 in the US. But in a few years, they'll be rising again.
Of course, if you really just want a four, and don't care too much about the air-cooled aspect — there's always the Honda CB1000R!