A few months ago someone offered to trade me his Honda CB400 for my CBR600F4i. I didn't take the trade (he wanted money on top and I didn't think it was worth it), but I wondered if his would be the last low-mileage example I'd see.
Because for many around the world, the Honda CB400SF is unobtainable. And in the future, bikes of its class — little four-cylinder bikes with variable valve timing (VTEC) — will be impossible-to-find classics for all of us. So, do I owe it to Future Me to get one now? I screw Future Me over so often, maybe I should do him a favour once in a while. Hmm…
---
It's a shame most people won't ever get to ride a four-cylinder 400cc sportbike, because there's so much to love about the class in general, and especially about the Honda CB400 in its latest incarnation, the Honda CB400SF.
The Honda CB400SF is a classically-designed, high build-quality and easy-to-ride yet exciting standard that keeps people entertained for a long time — not just while they're learning to ride.
But it was only briefly imported to the US in any incarnation, and not for a long time, and a long-time ago.
Without further ado, let's have a look at the latest generation in the form of the CB400SF Bol D'or to see what we (all those of us outside Japan) are missing out on: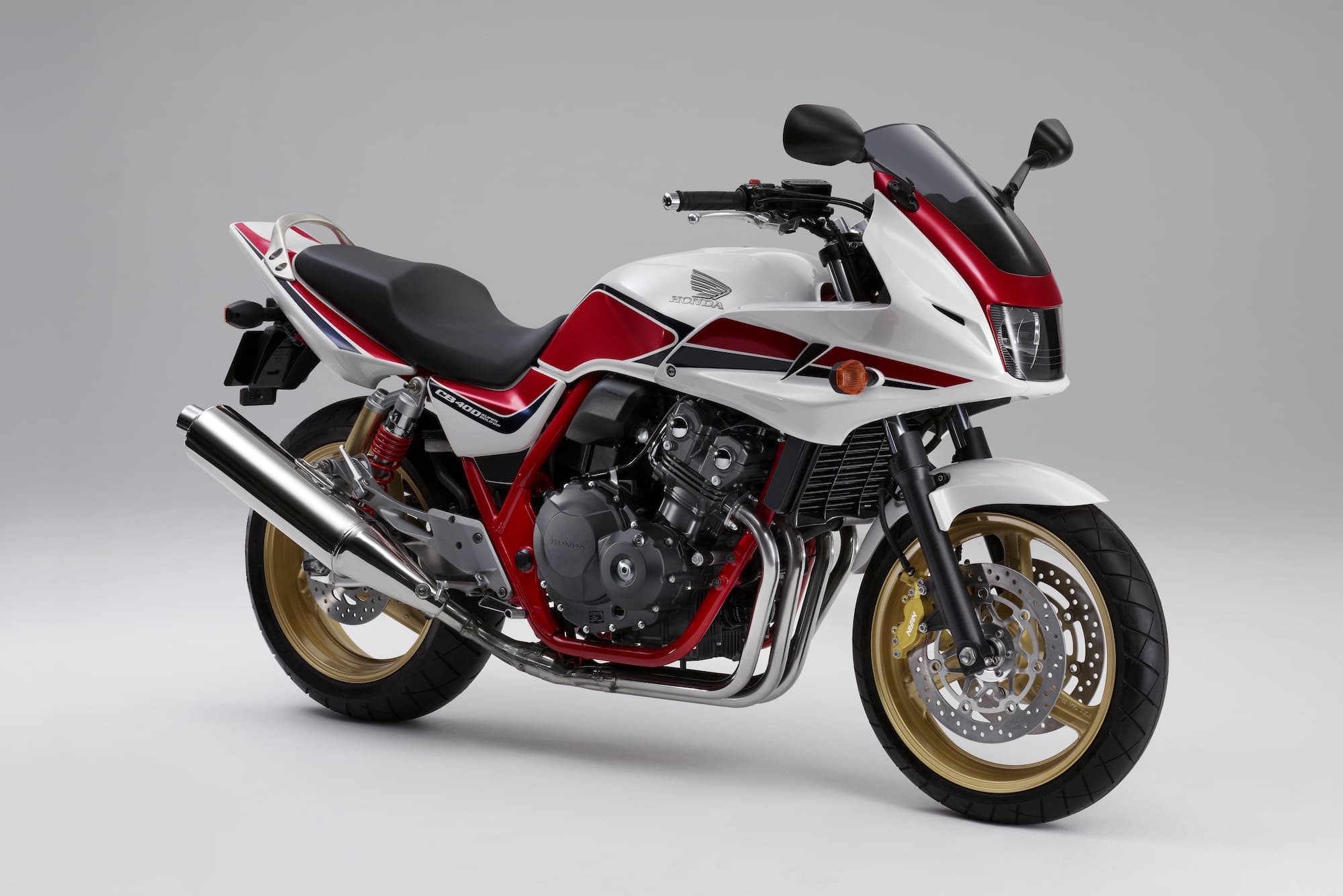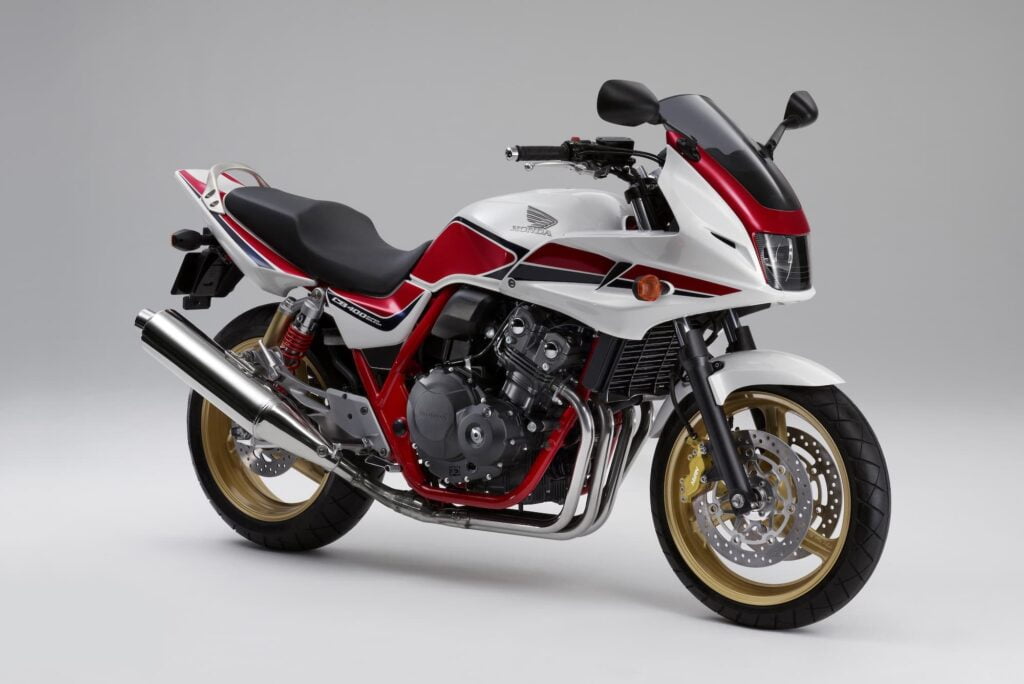 So how did we get here? Let's look at a brief history of the Honda CB400 series — Honda's 400cc sport bikes.
Are you obsessed with motorcycles?
Well, I am. That's why I created this site — as an outlet. I love learning and sharing what others might find useful. If you like what you read here, and you're a fraction as obsessed as I am, you might like to know when I've published more. (Check the latest for an idea of what you'll see.)
Before the CB400 — Other Honda 400cc Inline-Fours
Honda has been making 400cc inline four-cylinder standards for a long time.
Of course, "standard bikes" were just "motorcycles" a few decades ago. At some point, we started noticing differences like foot positioning or the presence of fairings, and started calling bikes different things.
So we can just say that Honda has been making 400cc motorcycles for a while.
Before the modern generations of the CB400F, there were some other models that had most things in common but differed in some fundamental ways.
Honda CB400F (1974-1977)
The first 400cc four-cylinder motorcycle that Honda made was in 1974: the Honda CB400F. It was made through to 1977.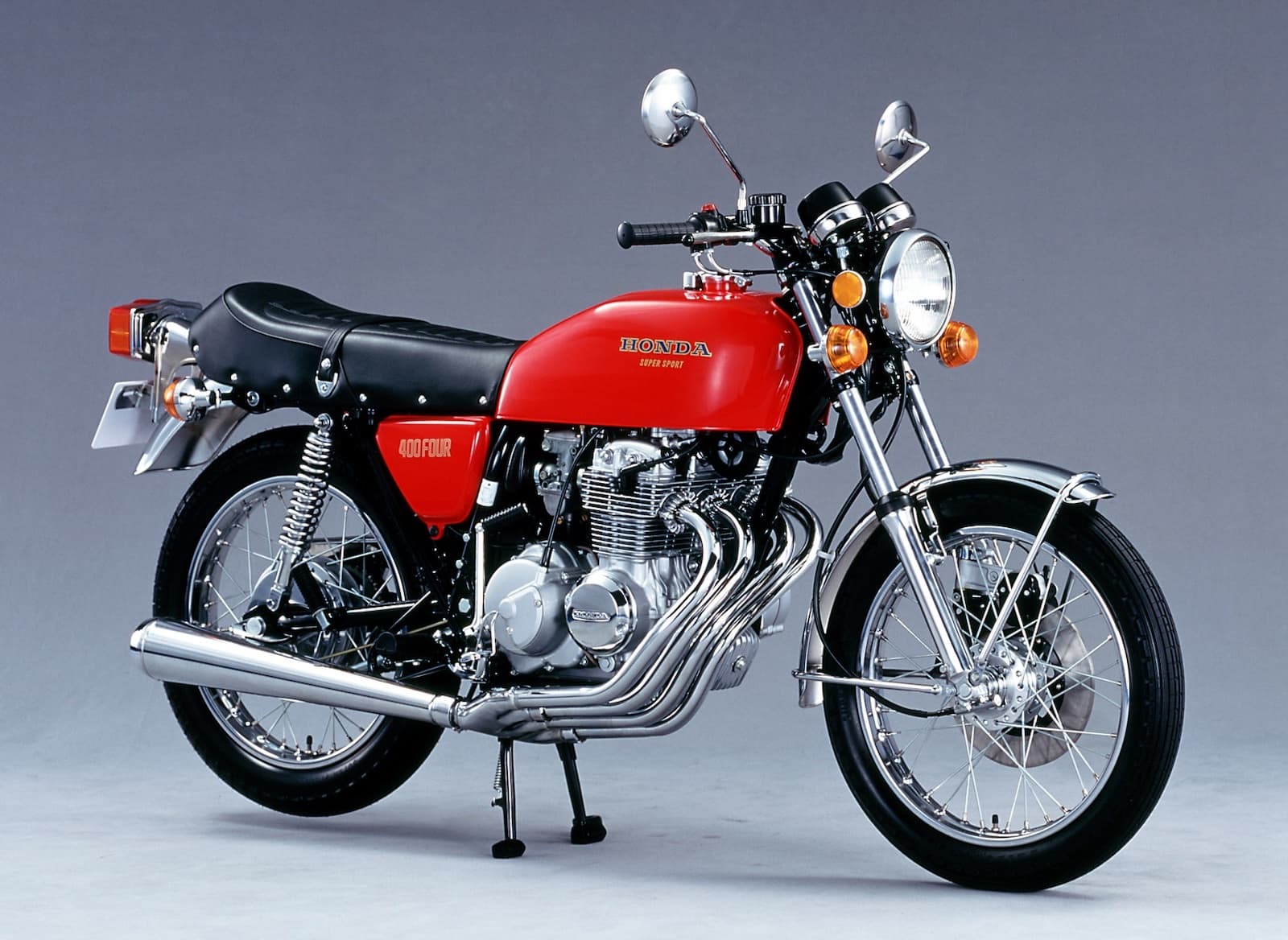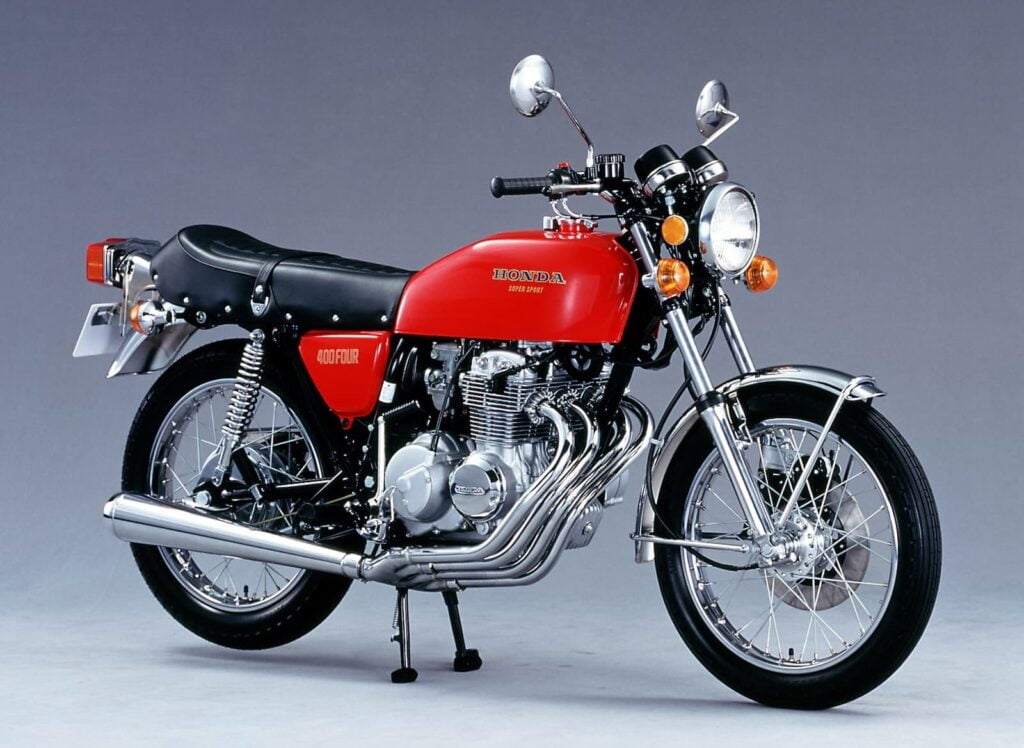 The original Honda CB400F was also known as the Honda Dream or the Honda 400 Four (the words stamped on the side panel), or even the Honda CB400X/4 according to some Honda archive files.
Yes, CB400 shares a name with later bikes, but a few other bikes came in between that separated these lines historically.
Honda produced the CB400F from 1975 to 1977. It was based around an air-cooled transverse-mounted 408cc inline four-cylinder engine with two valves per cylinder. It was fuelled by four 20 mm Keihin carburettors, and made a peak of 28 kW (37 bhp) @ 8,500 rpm — impressive especially for a 2-valved air-cooled motor!
The CB400F put power down through a 6-speed transmission (a first for Honda) and a chain drive.
The first CB400F was basically an upgraded 350 model from the previous year, with increased bore and a modified cylinder head to increase the compression ratio (the CB400F ran a 9.4:1 compression ratio).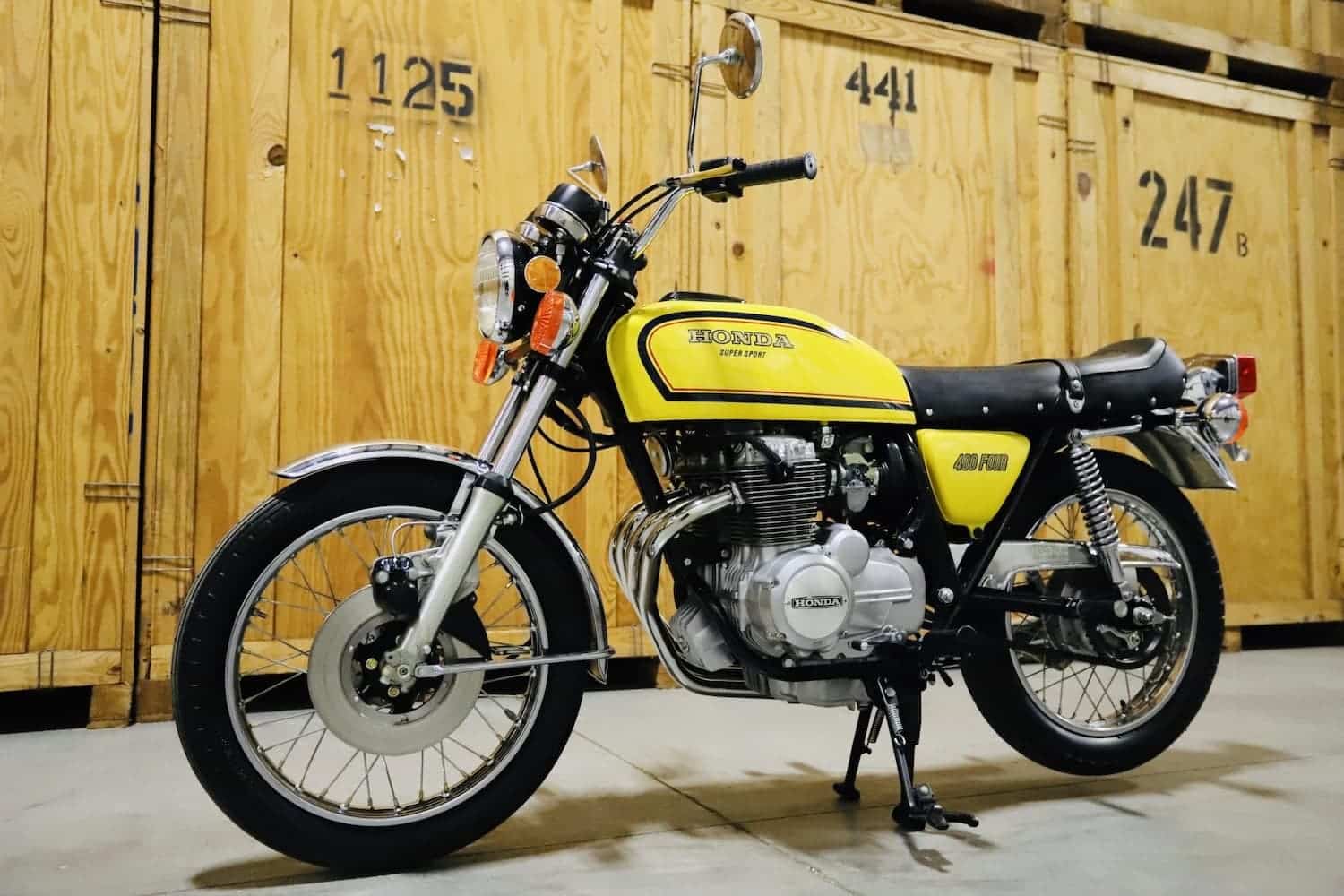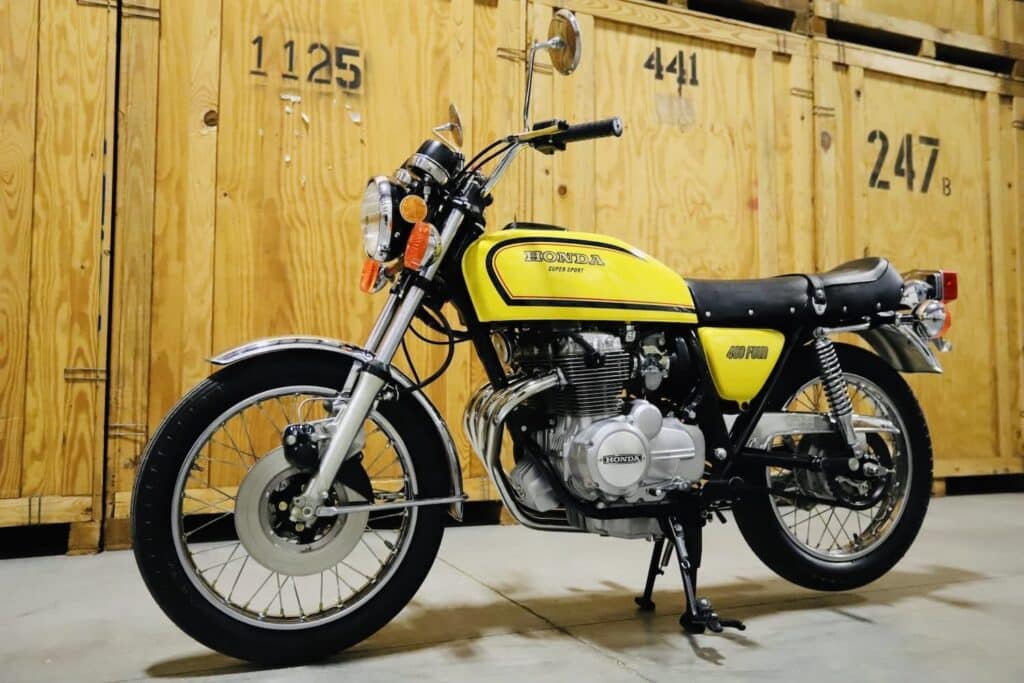 What made the CB400F special was that it didn't look like its bigger sibling, the CB750 — the CB400F had lower handlebars, rear-set footpegs, and a more aggressive style.
The little 400 also had those gorgeous exhaust header pipes which have become a hallmark of Honda motorcycle many years later, seen in the more recent 2018+ CB650R, for example.
Honda CBR400 (NC17, 1983)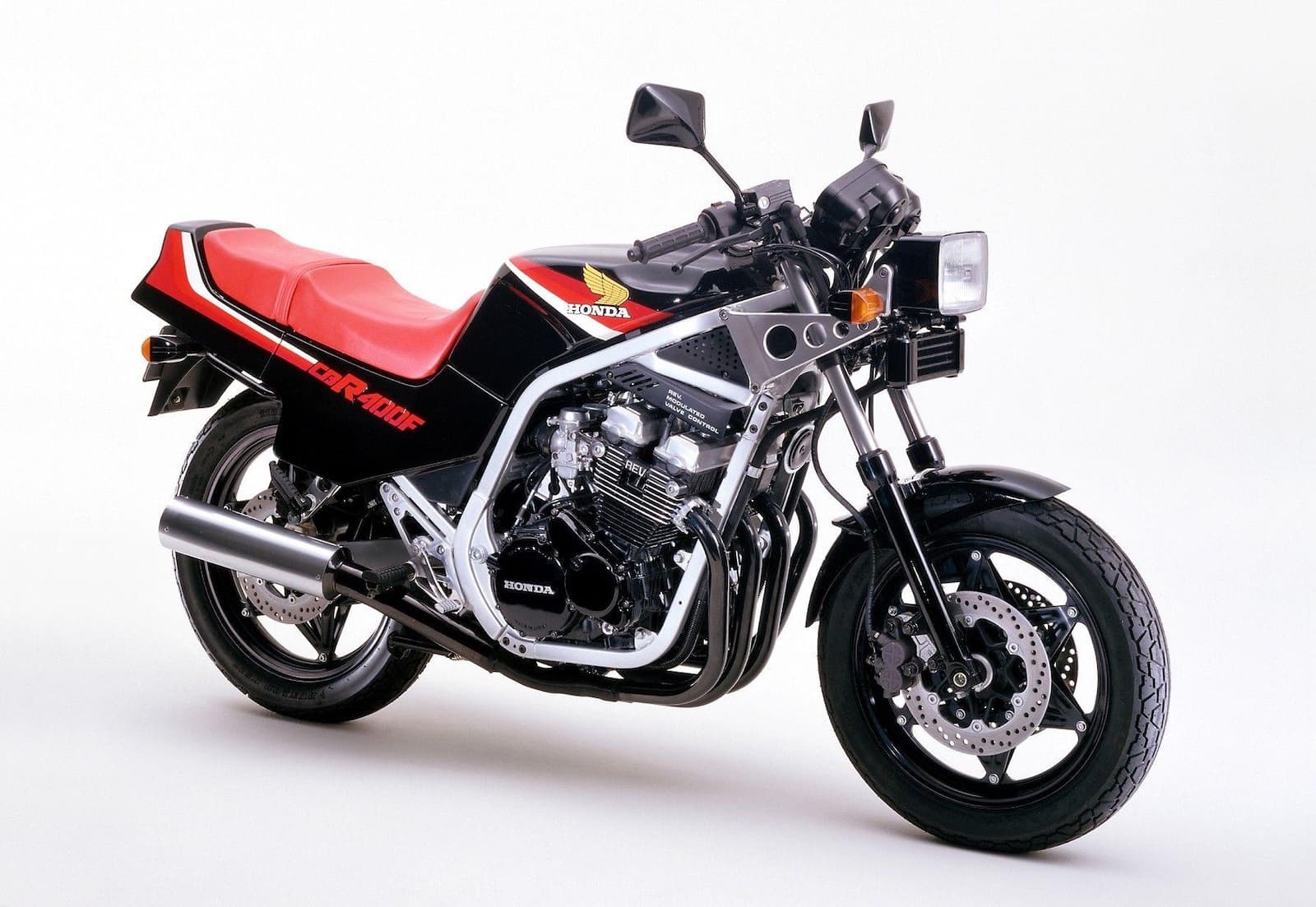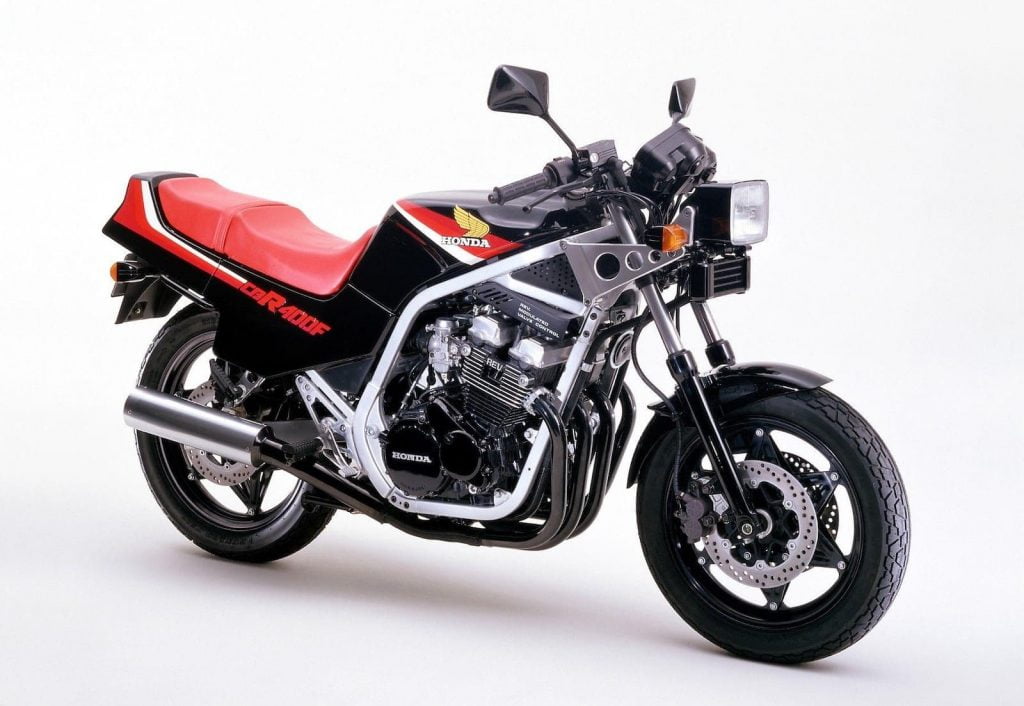 In 1983 Honda made a sport motorcycle (still a naked) with a 399cc four-cylinder engine. The photo above is actually of a naked bike, not just a faired bike with the fairing removed (which is how it looks to me) — but there is also a version with a fairing.
These CBR400 motorcycles were powered by a 399 cc 16-valve air-cooled DOHC engine with a rotational speed valve stop mechanism called REV that changed the valves that opened from two to four at 8500 rpm — an early version of VTEC.
Even though these bikes were air-cooled, and had a modest compression ratio of 9.6:1, they still made a claimed 43 kW (58 bhp) at a high 12300 rpm (and presumably redlined shortly afterwards).
Honda CB-1 (1989-1990)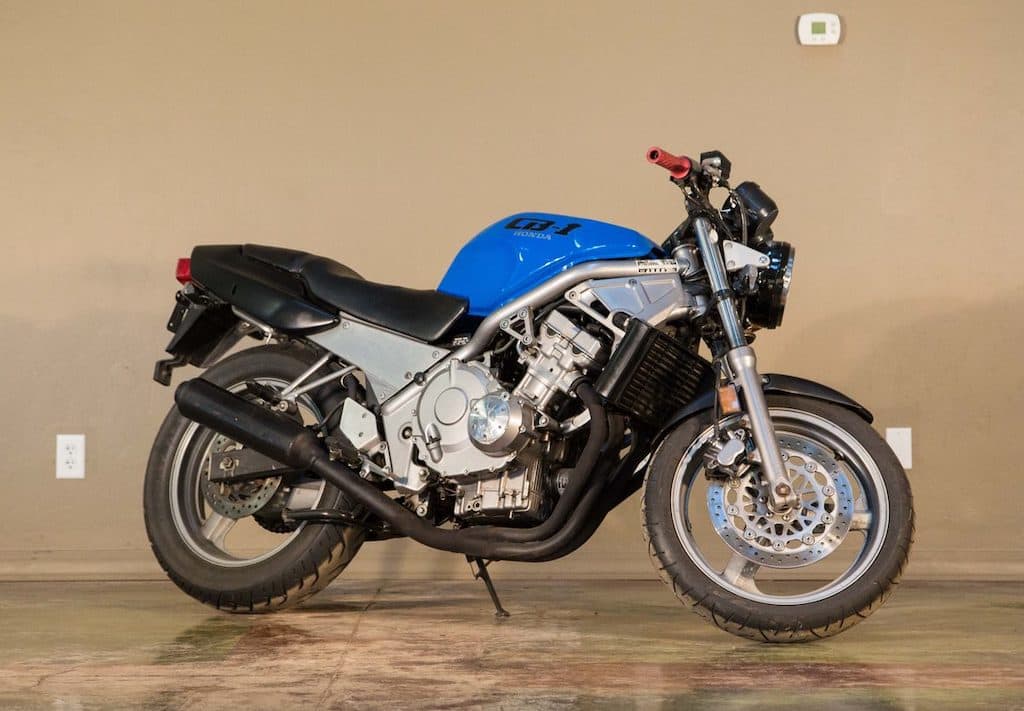 The CB-1 sounds like it'd be a huge motorcycle (like the Big One of the mid 90s), but actually it was very similar conceptually to the modern CB400 — a 4-cylinder 399cc engine with dual overhead cams and 16 valves, liquid-cooled, in a naked chassis with a round headlight. This was still carburettor-fed, though.
The Honda CB-1 was more highly tuned than its air-cooled predecessors. It ran a 11.3:1 compression ratio and revved higher, making a claimed 41 kW (55 hp) at 10,000 rpm, with torque peaking at 9,500 rpm at 39 Nm (29 lb-ft).
Actually, the Honda CB-1 was a detuned version of the CBR400RR, a four-cylinder sportbike with a fairing — and twin disc brakes. (There were a few other fairing-clad 400cc sportbikes but I'm trying not to get lost in history here.)
See our guide to motorcycle braking specs for discussion of calipers, discs, brands, and so on.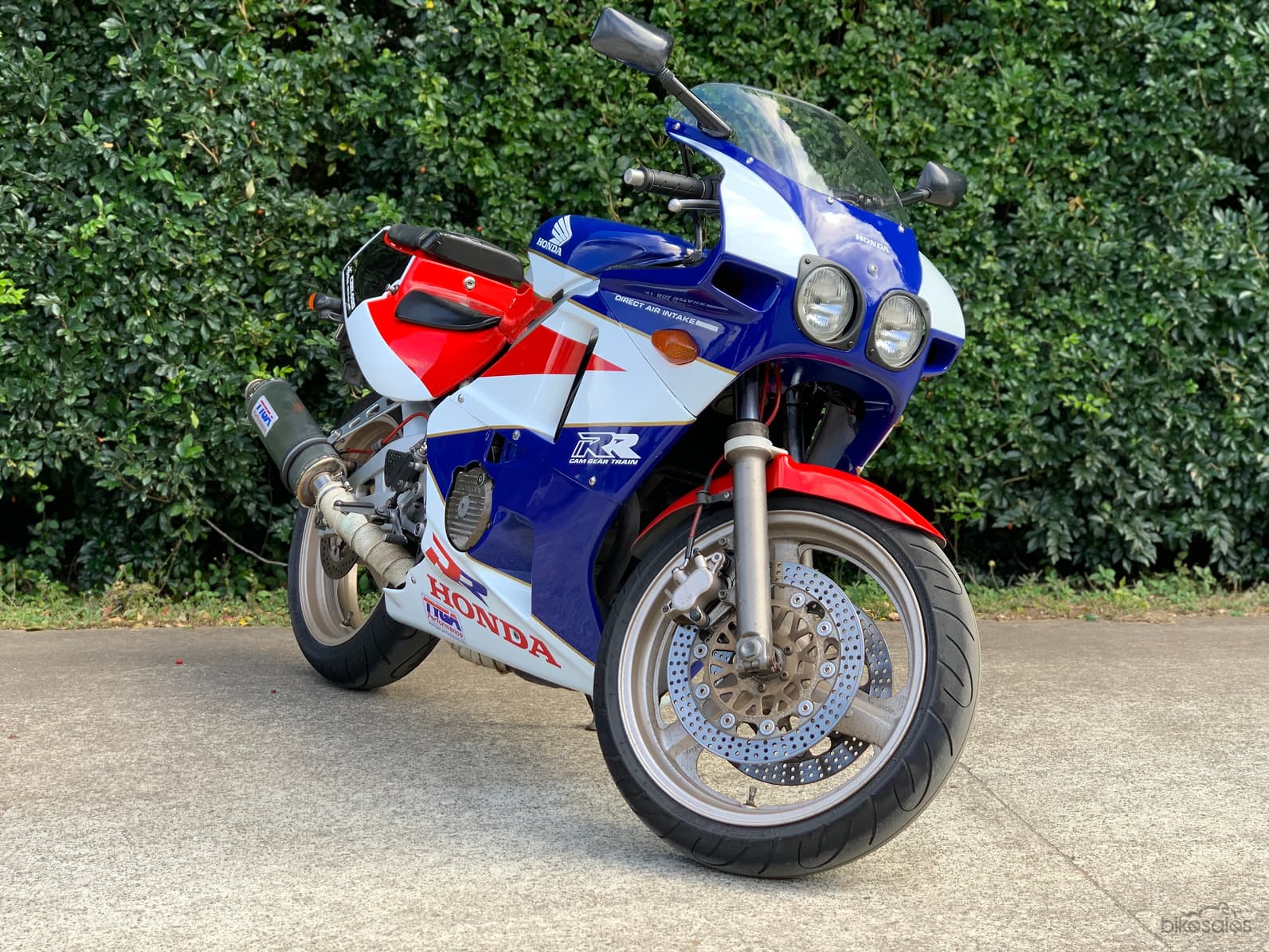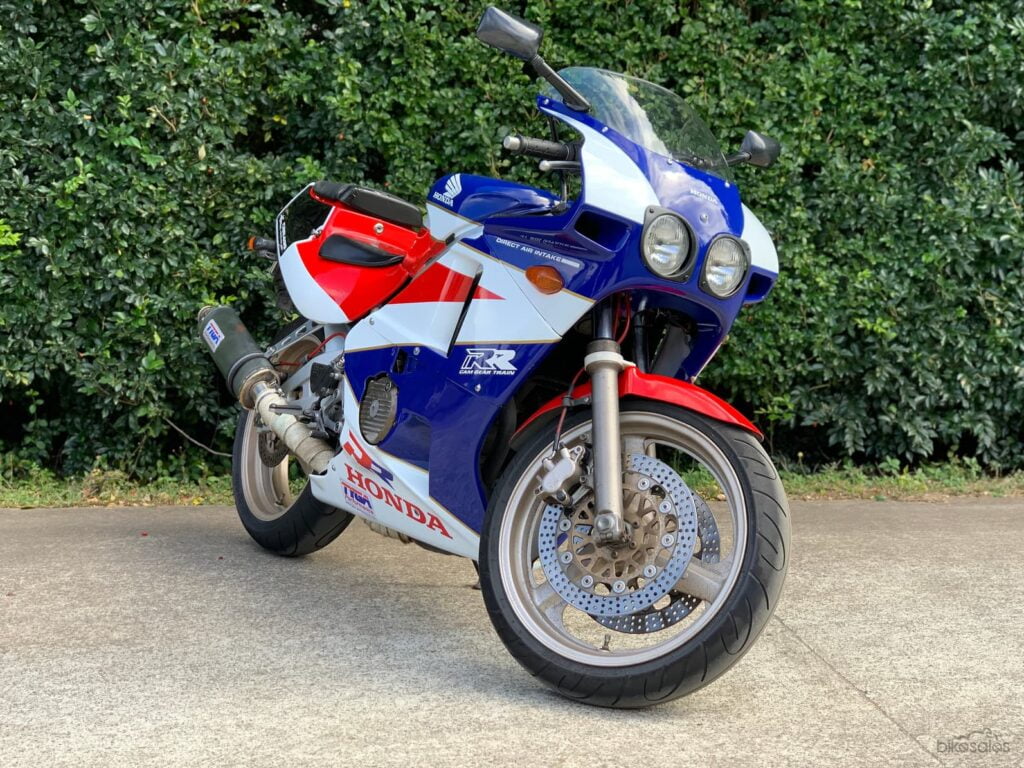 The CB-1 breathed through two 30mm Keihin CV carburettors. It still had a single brake disc up front (in contrast with its full-fairing sibling), which shouldn't be surprising given the size of the engine, but the bike does weigh around 200kg (440 lb) fully fuelled, and it can do north of 100 mph… so don't push it too far.
Visually, the Honda CB-1 wasn't as striking as the original CB400F. It looked a lot like the Honda Bros (a.k.a the smaller sibling to the Honda Hawk GT NT650).
The CB-1 was only made for a couple of years, but was sold as leftover stock for a while later.
The Modern Honda CB400 motorcycles — Model History
The modern Honda CB400 range as we know it started in 1992. These were liquid-cooled 399cc four-cylinder standard bikes. They all made around 40 kW (53 bhp), somewhere north of 10000 rpm.
A lot of the below information came from Honda's Japanese press archives.
Honda CB400 Super Four (1992-1998)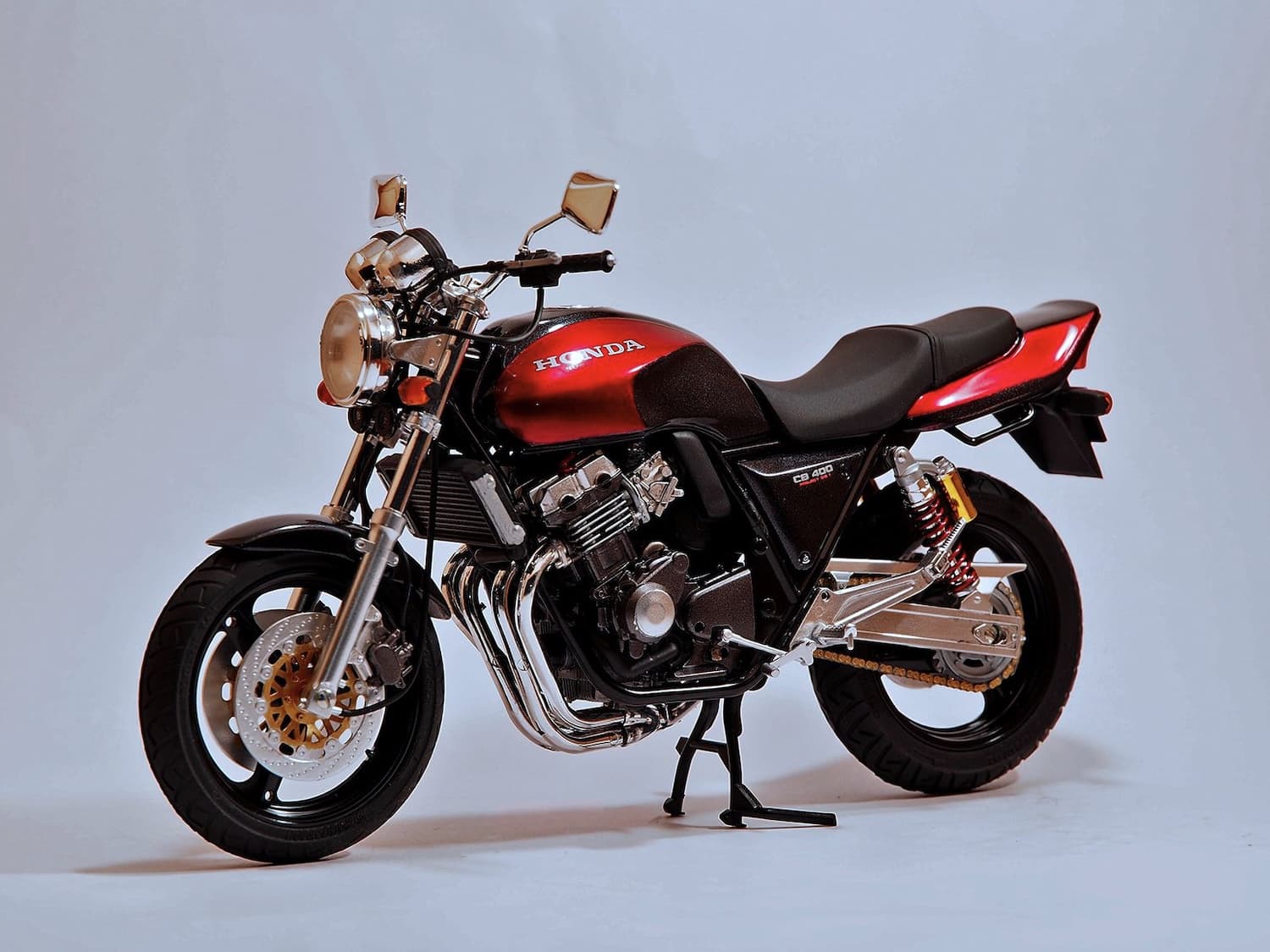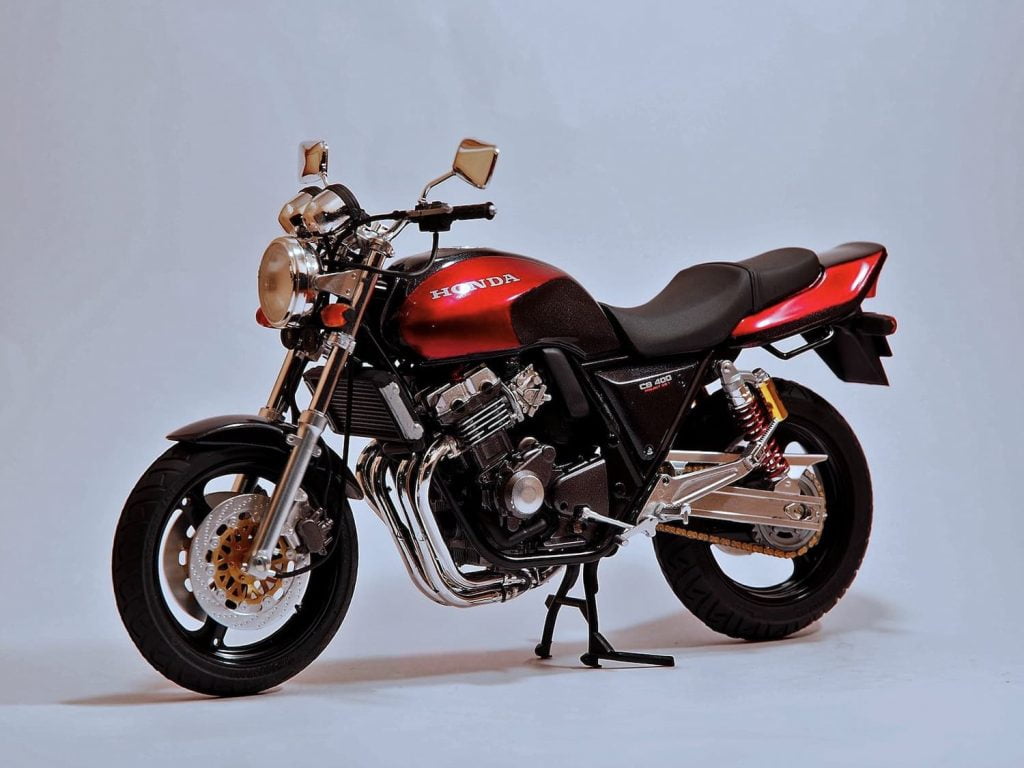 This was the first generation of Honda CB400 motorcycles. They all had side-draft constant velocity carburettors and chain driven cams with a 12500 rpm deadline.
During its lifetime, Honda made various updates to the combustion chamber, the exhaust, and the ignition timing, but the bike wasn't changed fundamentally.
Before the next version (1999), these bikes didn't have VTEC
There was also a Super Four version S (1996-1998) with Brembo brakes and Showa suspension.
Honda CB400SF Hyper VTEC (1999-2007)
In 1999, Honda introduced the Hyper VTEC system, which is Honda speak for variable valve timing.
In the original 1999 version, there was a hard trigger at 6750 rpm. This stayed the case until 2001. Below that threshold, one pair of intake and exhaust valves was disabled, making it effectively a two-valve engine. The goal of this is to optimise low-end torque, while allowing for the high-rpm performance of a four valve engine at high rpms.
Honda also made some other changes to the 1999 CB400SF Hyper VTEC, including
Using a lightweight aluminium muffler
Reducing the wheelbase by 40 mm
Adding suspension from the CBR900RR for better handling
During its tenure, Honda made various updates to the carburettor-fed CB400SF Hyper VTEC.
2002 VTEC Spec II: Honda changed the VTEC system to trigger at 6300 rpm, revised the ignition timing map, and added a revised LCD dash with a fuel gauge. Honda also added some lightweight components (e.g. brake calipers) from the CBR900RR, and HISS security.
2004 VTEC Spec III: Honda revised the VTEC system, leaving the trigger at 6300 rpm for most gears, but changing it to 6750 rpm for 6th gear. Honda also updated the front suspension, and made various aesthetic improvements.
2005: Honda added preload adjustability for the front suspension. Honda also made available the faired CB400 Super Bol d'Or from this year onward.
Honda CB400SF Hyper VTEC Revo (2008+)
At long last, we come to the model that was exported to Australia and New Zealand, and which is still being made and sold in Japan. This was a huge revision for the CB400SF.
In a nutshell, the 2008 CB400SF got
Revised VTEC operation that takes into account throttle position (the previous iterations only took into account engine speed and gear)
Fuel injection replacing carburetors (with fuel mapping that could keep up with the VTEC Revo system)
Optional combined ABS
Here are a few pics of the Honda CB400SF in its latest incarnation, in both faired and naked form:
Honda is still making this latest generation of CB400SF — you can find it on the Honda Japan website. But unless you're in Japan (or a few other South-East Asian countries, like Thailand or the Philippines), you're outta luck.
The modern-day Honda CB400SF Hyper VTEC Revo is based around a 399cc liquid-cooled inline DOHC four-cylinder 16-valve engine, much like its predecessor — but with the revised VTEC system and fuel injection.
Like its predecessors, the CB400SF Hyper VTEC Revo makes a peak of 40 kW (54 hp) at a fun 11,000 rpm, so you can expect to regularly hit the redline in first, second, and maybe third (where you'd be doing about 115 km/h or 70 mph). Fun!
The VTEC variable valve timing system became "VTEC Revo". What does the "Revo" mean? Well, "revolutionary"… or maybe just "revised".
Honda kept the VTEC rpm operation as before (triggering at 6300 rpm in gears 1-5, and at 6750 rpm in 6th gear). But in addition to using engine speed and gear selection as inputs, the new 2008 Honda CB400SF Hyper VTEC Revo also detected throttle position.
At low throttle positions (e.g. when just cruising), it'd keep in 2-valve mode, and when accelerating, it'd opt to switch to four valve operation. So at wide open throttle it definitely shifts as you hit the requisite engine speed.
The 2008+ Honda CB400SF also got fuel injection, which Honda calles PGM-FI ("Programmed Fuel Injection").
Fuel injection wasn't just an environmental requirement, it started to become a necessity with the added complexity of the new VTEC system. There are now so many inputs into determining fuel/air mixture!
The Honda CB400SF Hyper VTEC Revo also came with optional combined ABS, which added 5 kg (11 lb) of weight, but which some opted for if they were riding it as a first bike. It eventually came standard.
Honda made some changes to the 2008+ model CB400SF during its still ongoing tenure:
2014: Revised display with a gear position indicator, heated grips with a higher spec level (with the E package, I don't think available in Australia), LED lighting, revised frame geometry (a bit more comfortable with a slightly more upright riding position)
2017: ABS became standard on all models
Aside from that, Honda has made some incremental changes to things to keep the bike in line with Japanese emissions regulations.
The CB400SF comes in a few incarnations — naked, with a fairing, and somewhere in between. Unfortunately, to Australia, only the naked (sans fairing) version was exported. They look like this:
Even though it's liquid-cooled, the modern CB400SF Hyper VTEC Revo has a small radiator, which means you can still see the exposed chromed pipes. It's quite a looker.
But it's the Bol d'Or version (the Honda CB400 Super Bol d'Or) that looks really special with its bikini fairing:
Unfortunately, the CB400 Super Bol d'Or never was exported out of Japan. Its look-alike bigger sibling, the Honda CB1300 (one of the big bore four-cylinder motorcycles, of which many were air-cooled — another classic generation of bikes), was exported — and not that I'm complaining (great bike), but you know, we want more!
Core specs for the Honda CB400SF Hyper VTEC Revo
It's a little hard to find the specs for the important bits online, so I thought I'd include them here in detail.
| Part | 2008+ Honda CB400SF Spec |
| --- | --- |
| Engine | 399cc liquid-cooled inline-four 16-valve |
| Bore x Stroke | 55.0 x 42.0 |
| Compression ratio | 11.3 |
| Peak power | 41 kW (56 PS / 55 bhp) @ 11000 rpm |
| Peak torque | 39 Nm (29 ft-lb) @ 9500 rpm |
| Front tyre | 120/60 ZR17 M/C (55W) |
| Rear tyre | 160/60 ZR17 M/C (69W) |
| Front suspension | Conventional telescopic fork with stepless preload adjustment |
| Rear suspension | Showa shock with reservoir, 5-step preload adjusment |
| Front brakes | 296mm dual floating discs with Nissin 4-piston calipers |
| Rear brakes | Single disc, 2-piston caliper |
2008+ Honda CB400SF Hyper VTEC Revo specs
What is VTEC?
What makes the CB400SF quite unique is the VTEC valvetrain in a small-capacity motorcycle.
VTEC is Honda's variable valve timing system. It stands for Variable Valve Timing & Lift Electronic Control. Why it wasn't called VVTLEC I don't know; maybe VTEC rolls off the tongue (it doesn't, really).
You commonly hear variable valve timing abbreviated as VVT.
There are quite a few cars with variable valve timing, but relatively few motorcycles, and even fewer Hondas. In fact there are only two Honda motorcycles with VTEC: the VFR800 series (since 2002) and this one, the CB400SF, since 1999.
These days, variable valve timing is a rarity, and something only seen in very high-end motorcycles, like the 2019+ BMW S 1000 RR, or the Ducati Multistrada or Ducati Diavel with the 1200 DVT engine (and subsequent models).
So to see variable valve timing on a small displacement motorcycle is pretty special. As far as I know, the CB400 is unique for this.
Should you get a Honda CB400SF?
This is a question I ask myself. Should I get one? And if so, what year?
There are a few psychological obstacles to buying a Honda CB400SF — should that option be available to you.
The first challenging thing about buying a 400cc sport bike (when you're not on a learner license) is that in many ways, it's like buying a 600cc sportbike but without the post-8000rpm rush. Instead of screaming to the redline, it takes you up there at a gentler pace. After all, a 600cc sportbike still does have acceptable torque under 8000 rpm — just not bucketloads of it.
So you could just as easily buy an older Honda CB600 Hornet or the like and have just as much fun — if not more. (This is also why I didn't trade my CBR600F4i.)
The second obstacle is that because these bikes are becoming more rare (in markets other than Japan), you pay more for the privilege. You may find yourself paying as much for a 10-year-old bike with 20-40 000 km on it as you would on a much newer Honda CB500F, a bike that will on paper outperform it (making more peak torque and lower in the rev range) in many day-to-day situations.
This brings us to the third obstacle. In terms of outright performance — they won't dramatically outperform a bike like the Kawasaki Ninja 400. In fact, the Ninja 400 is likely to do better in most situations, because it's a lighter bike that makes its similar peak torque a little lower.
What these other bikes all lack, of course, is the Honda CB400SF's VTEC boost feeling, the scream of a four-cylinder engine, the unique high-end design of the CB400SF, and the fact that you're riding a modern classic.
And that's the main reason you should buy the CB400SF. Do you want VTEC on a bike where you'll hit it even more regularly than on a VFR800? Then this is your bike, and there's unlikely to be another like it ever again.