If you're after a Ducati Superbike from the pre-Panigale era, but don't want to pay sky-high prices for what people consider "vintage" or "collectible" superbikes, then I want to draw your attention to the Ducati ST series — just in case you missed them.
The Ducati ST bikes are highly underrated in the scheme of things. Next to superbikes from Ducati and and high-power sport touring (or hyperbikes even) from every other brand, the ST bikes might not look like they have much to offer, especially as they've aged. Lots of plastic and only around a hundred horses? It's a tough sell.
But for Ducati fans, the Ducati ST series is hard to miss. A V-twin burble, superbike-level suspension and brakes, and that glossy red (or yellow or charcoal) paint — how could you ignore them?
Take this shiny Ducati ST4s with reasonable miles at one of my currently local dealers (it just sold). It was about half the price on the road as would be a similar 996. And you get luggage, to boot!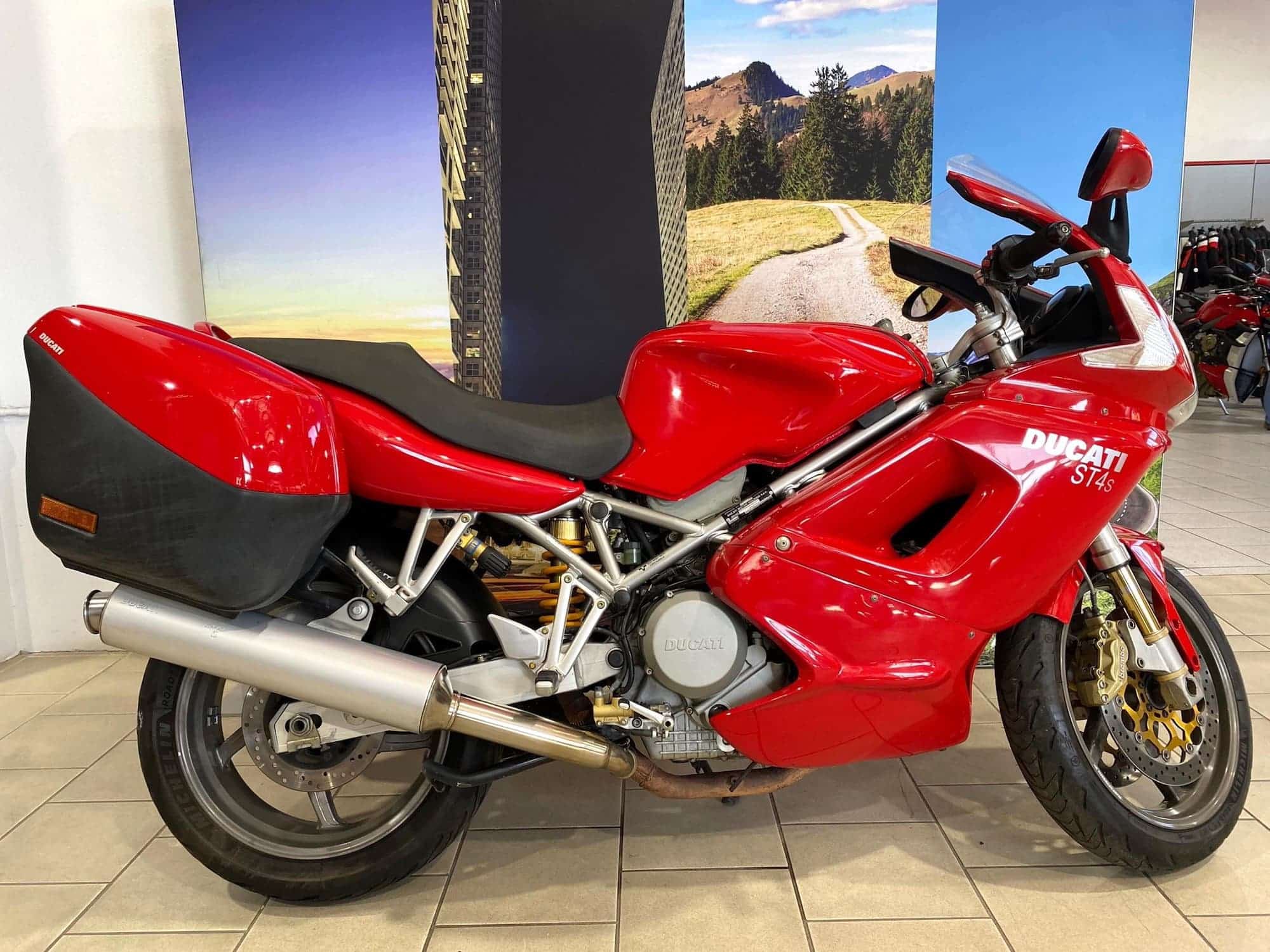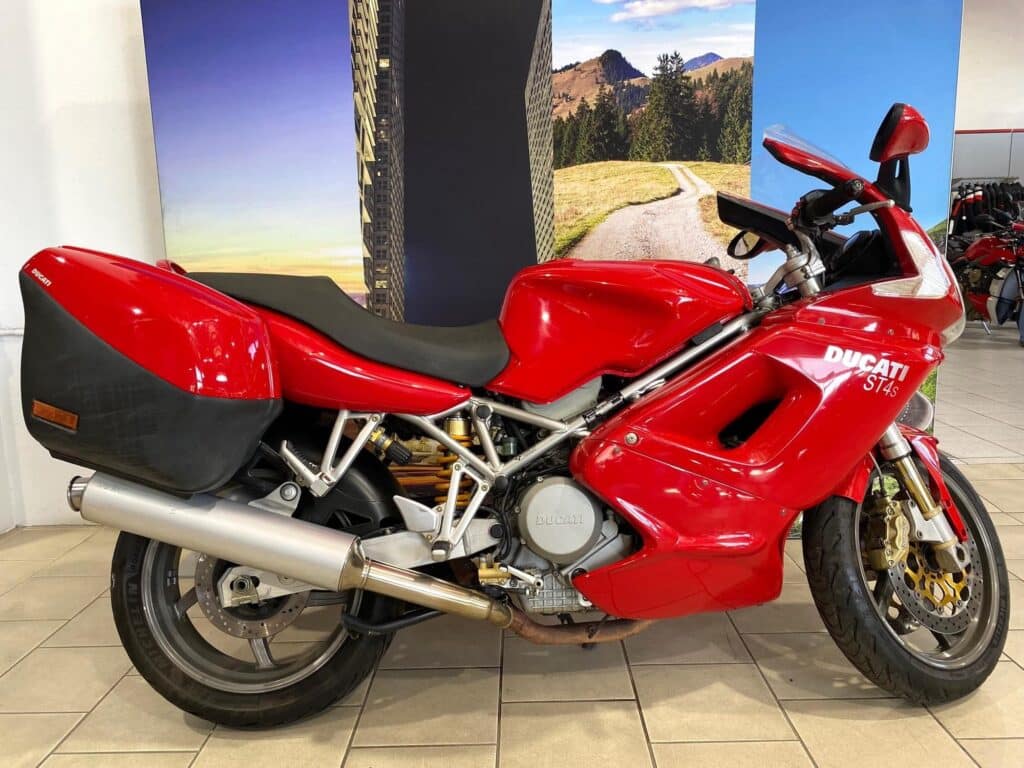 In spite of these obvious "Buy me! Ride me!" cues, the Ducati ST bikes have been underdogs on the used Ducati market for a long time — even though we've always known exactly what they are, which is superbike engines (or at least "sport touring" engines, for the ST2) in more comfortable bodies. They even keep a lot of high-spec bits like brakes and suspension.
But even though everyone knows this, bikes in the Ducati Sport Touring or ST series are still competitively priced. You will pay about half for an ST4s than you'd pay for an "equivalent" Ducati 996.
So if you want that Ducati Superbike performance but in an everyday package and maybe with a much lower price tag to boot, look at the below buyers guide.
I'll go over
Some context for the Ducati Sport Touring motorcycles — How did we get here?
An overview of the Ducati Sport Touring series, with model differences
Tips for buying a Ducati ST motorcycle used
A few alternatives to buying a classic Ducati Sport Touring motorcycle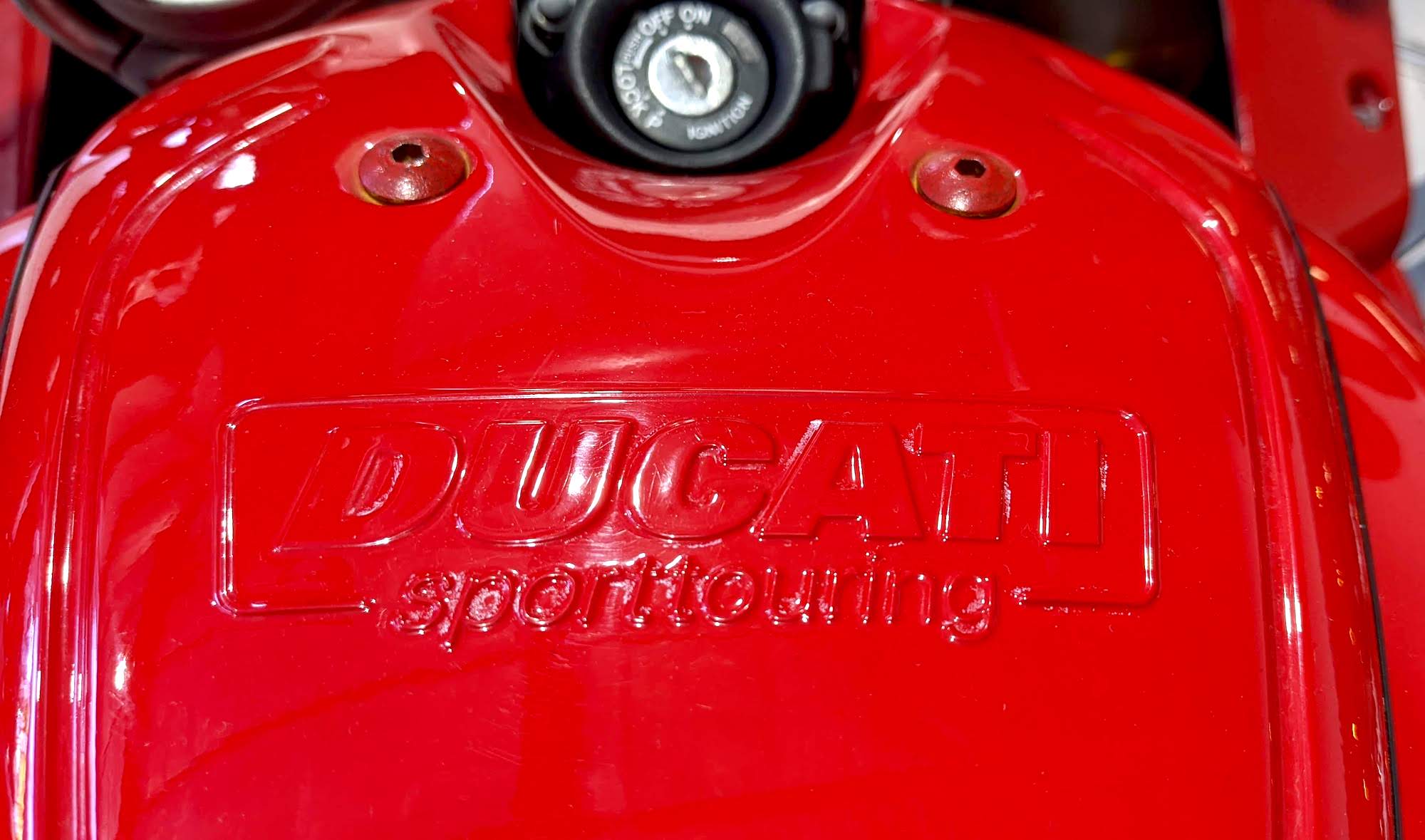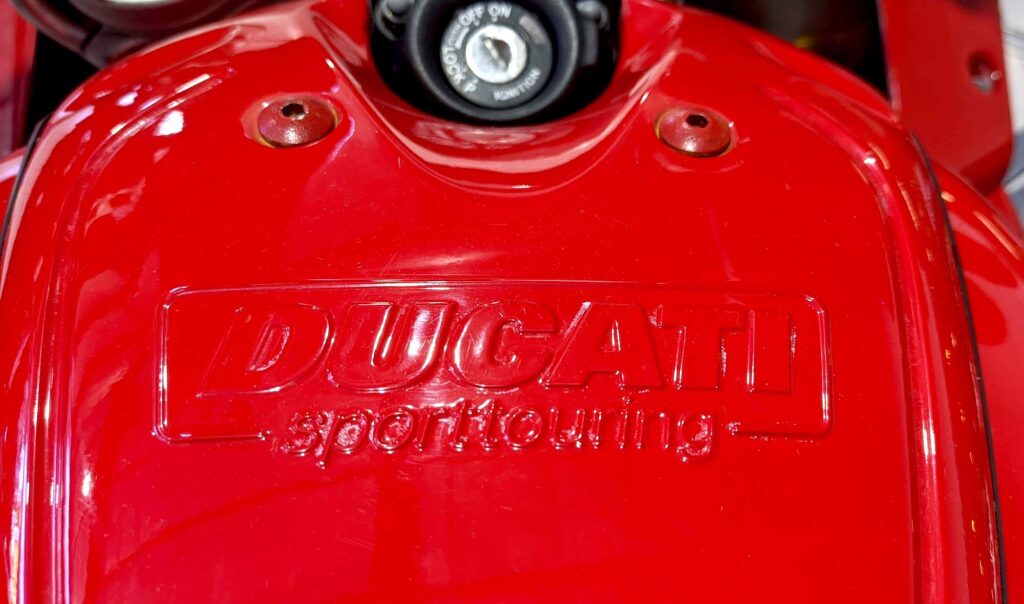 Insurance:
You don't need it until you do!
Are you getting the best value coverage?
Your ZIP code:
Are you obsessed with motorcycles?
Well, I am. That's why I created this site — as an outlet. I love learning and sharing what others might find useful. If you like what you read here, and you're a fraction as obsessed as I am, you might like to know when I've published more. (Check the latest for an idea of what you'll see.)
Context for the Ducati Sport Touring (ST) series. How did we get here?
Sport touring motorcycles have been around for decades, but they've gone in and out of fashion. And even so, they've always been a smaller niche of motorcycles, overshadowed at different times by more single-purpose sport bikes, naked bikes, and adventure bikes — and even by very multi-faceted adventure sport touring bikes.
Even within the niche of "Sport Touring" there's a wide variety of motorcycles, from middleweights all the way to very large but still sporty tourers, like the Kawasaki Concours 1400. (They're huge, but sportier than big V-twin tourers, anyway).
In the 1990s, the middleweight sport tourer to beat was the Honda VFR750, which evolved into the VFR800 by the time the Ducati ST came around. The VFRs ("Viffers") were the bikes that the Ducati ST bikes were intended to compete with. In fact, the early Ducati ST2/ST4 have more than a passing resemblance with the Honda VFR750.
(See here for the Honda VFR buyer's guide.)
The Honda VFRs and the Ducati STs each have strong and unique points. The VFRs have that sexy single-sided swingarm and the double front light. The Ducatis have the iconic trellis frame, significantly lower weight, and much higher-spec riding components (inverted forks, Brembo brakes).
Anyway, both great bikes. Ducati and Honda have taken inspiration from each other over the decades, and each have made many winners of their own. This is just to say that the VFR kept the sport touring market bubbling for Ducati to decide to come back in and have a shot.
Before the ST, Ducati had an older sport tourer in its stable — the Ducati Paso. Ducati had expanded the Paso 750 to become the Ducati Paso 906 in 1989 (actual capacity being 904 cc), which they kept in production until the early 90s, giving it fuel injection for the Paso 907 i.e. But the Paso has a very old-school, 80s design. These days, it's quite "retro".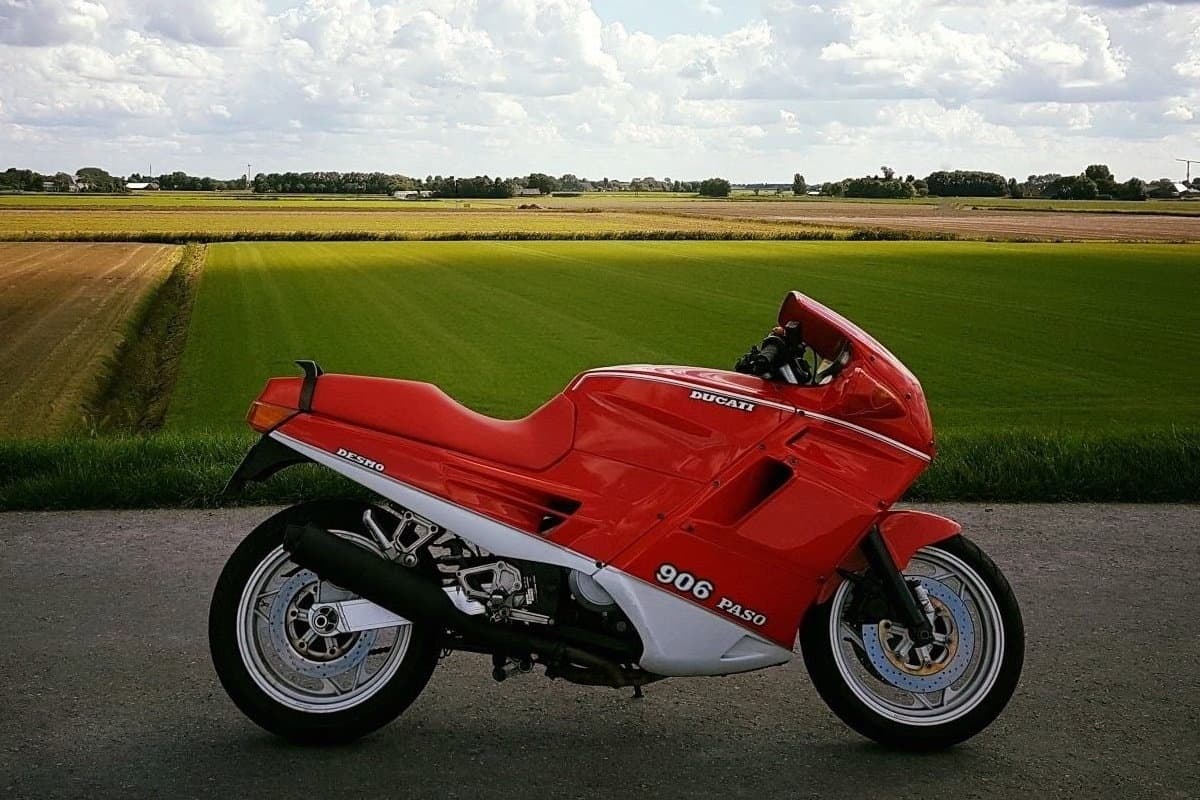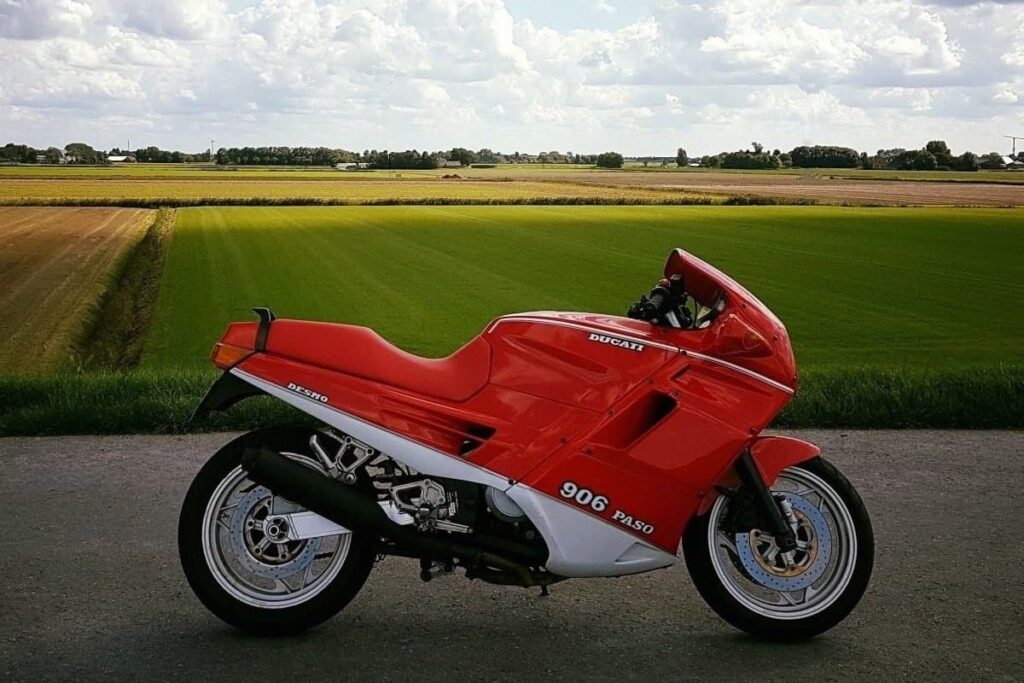 Ducati took the engine from the Ducati Paso, bored out the cylinders a tad, and put it in a more modern-looking bike that you could fit with bags. This was the Ducati ST2 in a nutshell! Oh but they also gave it very good ride gear, with fully adjustable suspension including inverted forks and Brembo brake calipers up front for the entire range.
Ducati released the first ST2 in Europe in 1997 and the same bike in the US in 1998. The rest of the models come after that — see the full model history of the Ducati ST series below.
Why the name "Ducati ST2"? Why "2", I mean? At first, people might have thought it'd be because it's based on a V-twin engine. But later ST models — the ST4 and then ST3 — seemed to be named after the number of valves in the cylinder heads, 4 and then 3 respectively. So maybe they had all models planned out at the time. Odd naming scheme, but unique at least.
What the Ducati Sport Touring / ST series has in common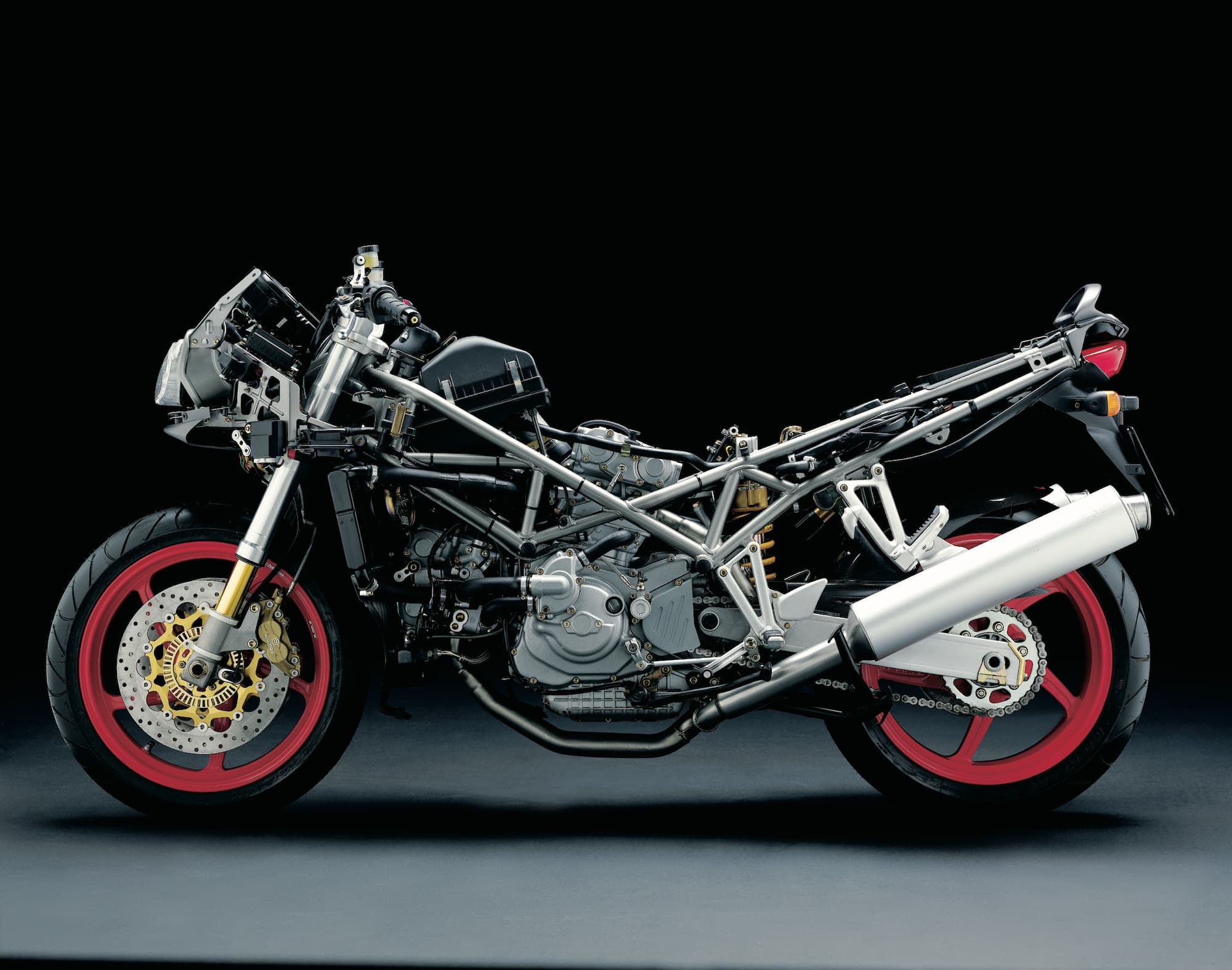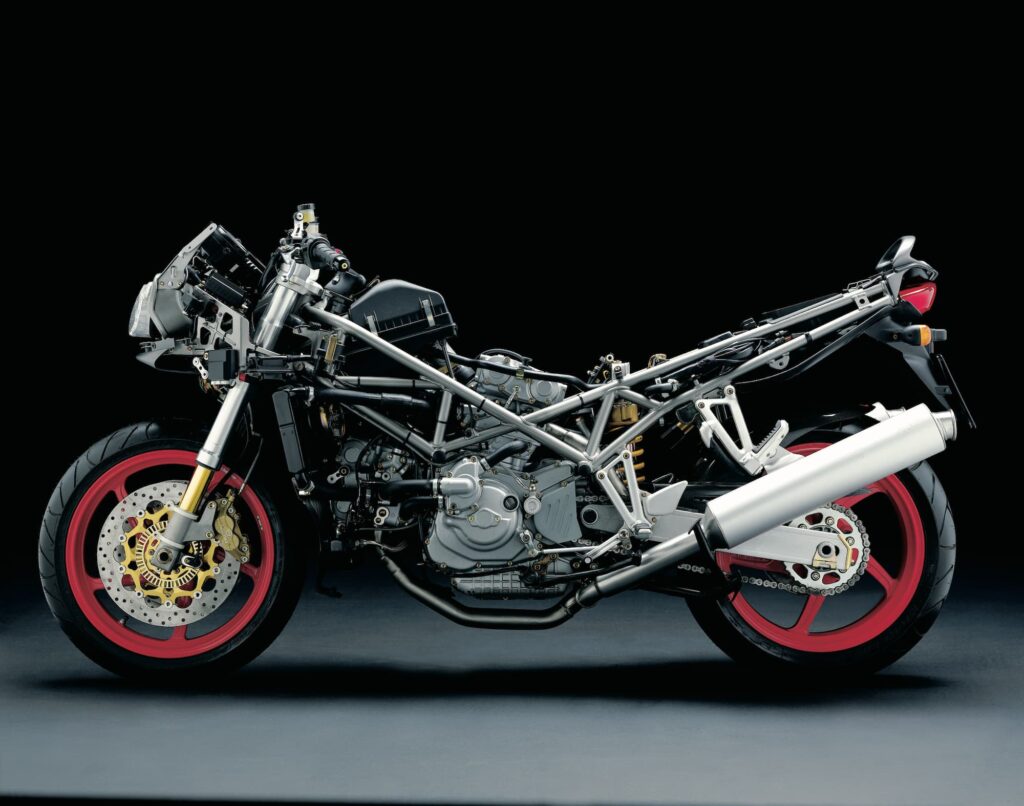 All of the Ducati ST motorcycles — the ST2, ST3, ST4, ST3s, and ST4s — look very similar from most angles.
In fact, if you don't look at the lettering on the side of the fairings, and if you're unfamiliar with the the way the headlight changed or the colours they came in, you might mistake one for another. So you should make sure they have the original fairings (or the equivalent ones).
The first bikes, the Ducati ST2 and ST4, look particularly similar. But Ducati changed the styling a bit with the other bikes, improving the headlight look significantly, and also adding some more swoops and curves to the fairings. See the photos below.
All the bikes in the ST series have
V-twin engines, or rather L-twin (the Ducati term for 90-degree V-twins canted forward). Until recently (when Ducati started doing V4 engines) this would not have been worth mentioning.
Desmodromic engines — valves opened and closed by camshafts (rather than by a return spring assembly). This means valve services are a little more complex, as you have more clearances to check and a greater likelihood that some will be out of spec, on top of the classic Ducati shorter valve service schedule.
Belt-driven camshafts (so you have to change the belts regularly, too)
A stylish trellis frame and dual-sided swingarms (i.e. conventional, not single-sided swingarms)
An inverted fork up front and a single monoshock at the rear
Brembo brake calipers
A center stand (hooray!)
Full fairing
Matched luggage (often sold with the bike)
A dry weight of around 212-215 kg (empty tank).
But the individual bikes vary dramatically in spec. They have different specs of valves per cylinder. And one model has lower-spec suspension. Which one it is may surprise you!
Ducati Sport Touring specs compared
Below there's a general overview of the specs of the Ducati ST motorcycles.
Some specs are the same on every bike:
All the engines are liquid-cooled and fuel-injected.
Front fork is a 43mm Showa upside-down unit with 130 mm travel — but the degree of adjustability changes
The rear shock is a progressive monoshock, but also the degree of adjustability changes.
The front braking is via twin 320mm discs and Brembo 30/34-4 calipers
Model
ST2
ST4
ST4s / ABS
ST3
ST3s / ABS
Model years
1997 (1998 US)-2003
1999-2003
2002-2005
2004-2008
2006-2008
Valves per cylinder
2
4
4
3
3
Capacity
944
916
996
992
992
Bore x Stroke
94 x 68
94 x 66
98 x 66
94 x 71.5
94 x 71.5
Compression ratio
10.2:1
11.0:1
11.5:1
11.3:1
11.3:1
Max power
61 kW / 83 hp @ 8500 rpm
78.6 kW (107 hp) @ 9500 rpm
86 kW / 117 hp @ 8750 rpm
75 kW / 102 hp @ 8750 rpm
75 kW / 102 hp @ 8750 rpm
Max torque
82 Nm @ 6500 rpm
84 Nm @ 7250 rpm
98 Nm @ 7000 rpm
93 Nm @ 7250 rpm
93 Nm @ 7250 rpm
Rev limit
9000 rpm
10000 rpm
10000 rpm
9500 rpm
9500 rpm
Wheels
Three-spoke light alloy
Three-spoke light alloy
Three-spoke light alloy
Three-spoke light alloy
Five spoke light-alloy
Front suspension
Fully adjustable
Fully adjustable
Fully adjustable
Preload adjustable only
Fully adjustable
Rear suspension
Fully adjustable
Fully adjustable
Fully adjustable
Preload adjustable only
Fully adjustable
Rear brake
245mm disc, P34 caliper
245mm disc, P32 caliper
245mm disc, P34 caliper
245mm disc, P34 caliper
245mm disc, P34 caliper
Clutch
Dry
Dry
Dry
Pre-05: Dry
2005+: Wet
Wet
Ride aids
None
None
Optional ABS (2003+)
None
Optional ABS (2003+)
Dry weight
212 kg
215 kg / 474 lb
212 kg (217 kg ABS)
212.5 kg
212.5 kg, 215.7kg (ABS)
Final drive
15:42
15:43
15:38
15:42
15:42
Rear tire
170/60-ZR17
180/55-ZR17
180/55-ZR17
180/55-ZR17
180/55-ZR17
Spark plug
RA 4 HC
RA 59 GC
RA 59 GC
RA 4 HC
RA 4 HC
Specs of Ducati ST2, ST4, ST4s, ST3, and ST3s
More detail on each of these models below.
Ducati ST2 (1997-2003)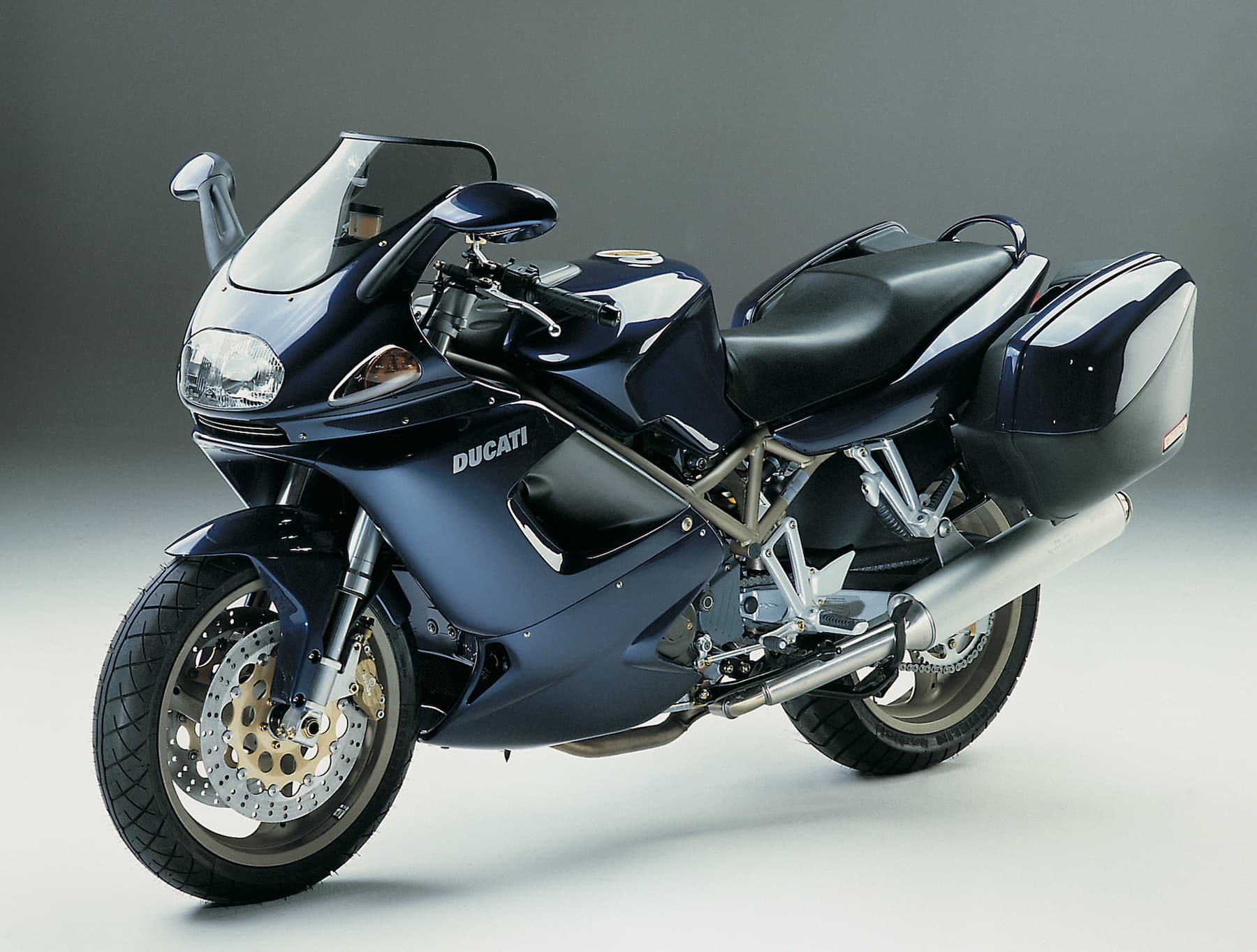 Ducati released the ST2 in 1997 in Europe and brought it over to the states in 1998.
This is the Ducati ST that started Ducati out in modern sport touring. It inherited the basic engine from the Ducati Paso 907 i.e. — a 904 L-twin with belt-driven desmodromic valves — but with the cylinders bored out 2mm to 944 cc.
The Paso's engine was already liquid-cooled, though Ducati used the same basic engine type with air/oil-cooling in other motorcycles, like the original Ducati Monster M900. And like the Ducati ST2, the Ducati Paso 907 i.e.'s engine had already acquired liquid cooling in 1991.
The ST2 may have a simpler 2-valve engine, but many of its other bits are high-end. There's fully adjustable suspension at the front and rear — a Showa inverted fork and a monoshock at the rear that actually is from the 916 superbike, just reworked with softer damping for touring.
And the front brakes are twin 320 mm floating discs with Brembo four-piston calipers.
The main thing that's different about the ST2 vs the later ST bikes is that it's the only one with a 2 valve-per-cylinder engine. So yes, it's lower-revving. But don't write it off! It makes a lot of low-down torque, and you only notice the drop-off in power if you rev it out past 7000 rpm, where torque starts to drop off and it gets a bit wheezy.
The engines with more valves engines all rev out more. Many ST2 owners on Ducati forums think the ST2 is the best of the bunch, though.
Aside from that, in terms of style, the ST2 and ST4 look like period bikes and lose out a little on style compared to later models. I'm not a fan of the front headlight, but it depends on how much you value "retro".
If you want a fuel-injected 2-valve-per-cylinder Ducati L-twin, without the superbike high-stress motor but still with awesome suspension and brakes, the ST2 is for you.
Ducati ST4 (1999-2003)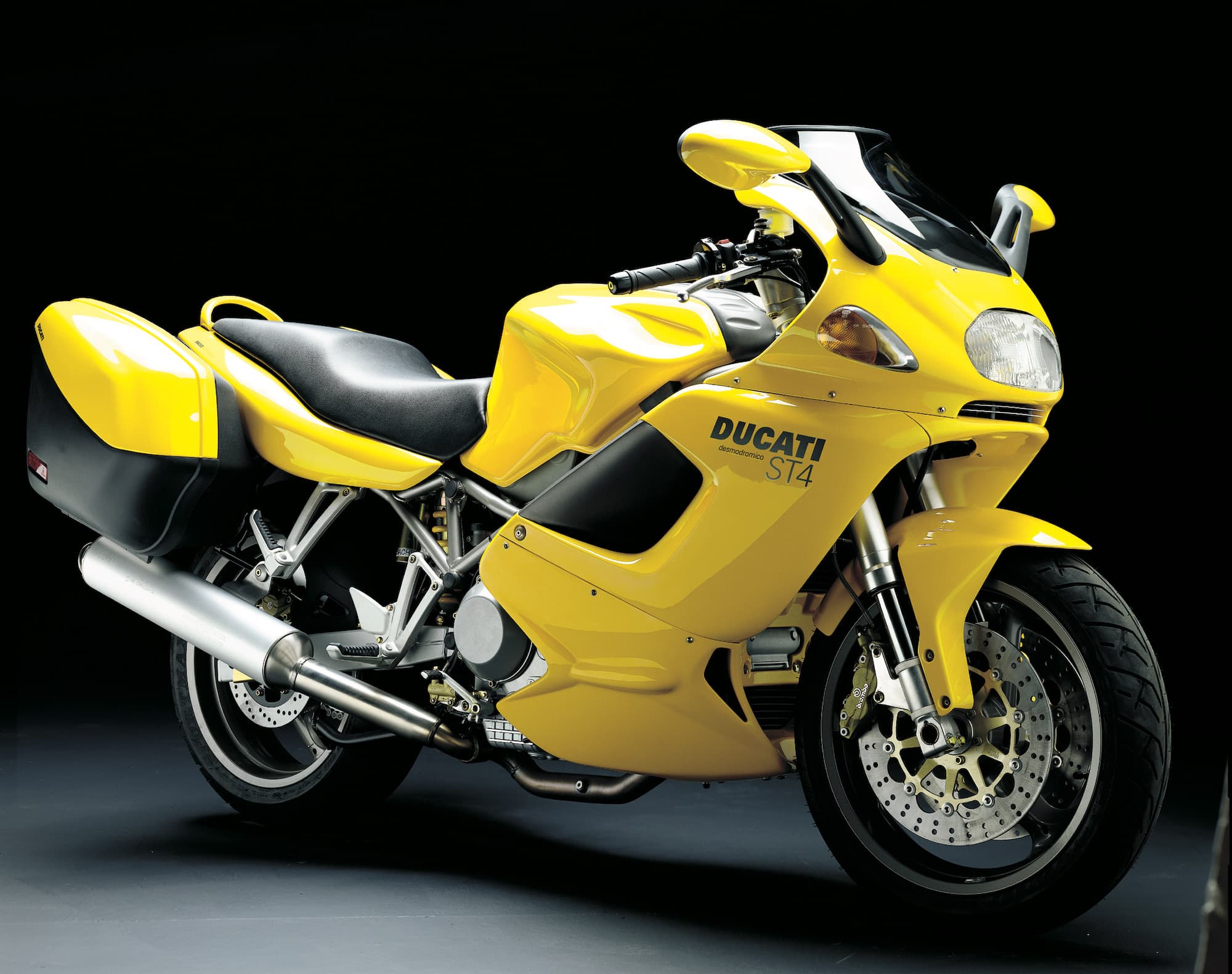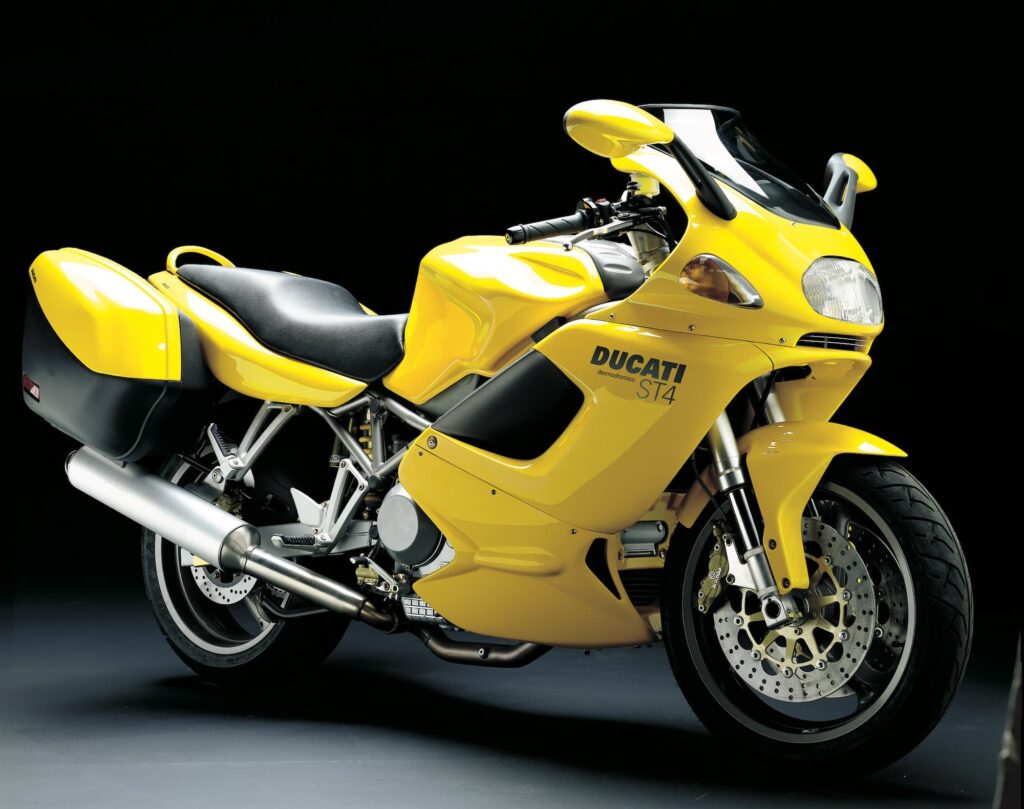 Ducati released the ST4 in 1999. This is the first real superbike engine in a sport-touring, road-going chassis.
The Ducati ST4's engine comes from the Ducati 916 superbike. Both bikes have a lot in common. (See below for how they differ.)
But essentially, Ducati barely detuned the 916 engine for the Ducati ST4. In fact, I'm not really sure what changes they made at all, since the 916 seems to make the same peak torque at lower RPM. It's likely the result of slightly different cams and breathing, with associated tuning.
The Ducati ST4 is a lot like the ST2 in terms of style and equipment. But it has that engine that revs out and has notably different character from the 2-valve engine in the ST2. The ST4 is unquestionably a faster bike.
In this sense, the Ducati ST4 is a lot like the Ducati Monster S4. The S4 and the ST4 share the same engine, derived from that of the Ducati 916.
See my guide to the Ducati Monster S4 models, including the S4R, S4RS, and some smaller variants.
You can consider the Ducati ST4 to basically be an everyday rideable version of the base model Ducati 916.
Ducati ST4s / ABS (2002-2005)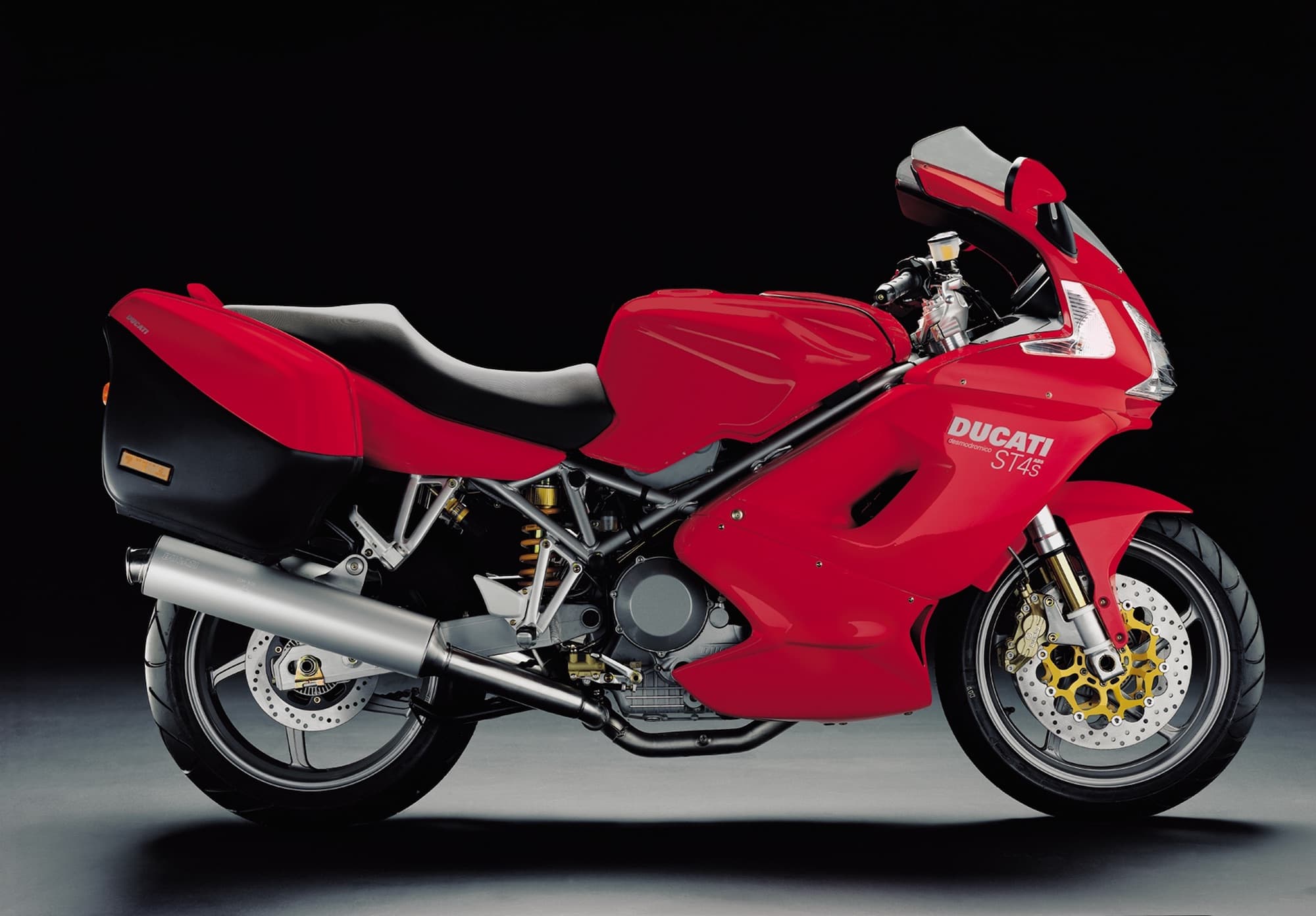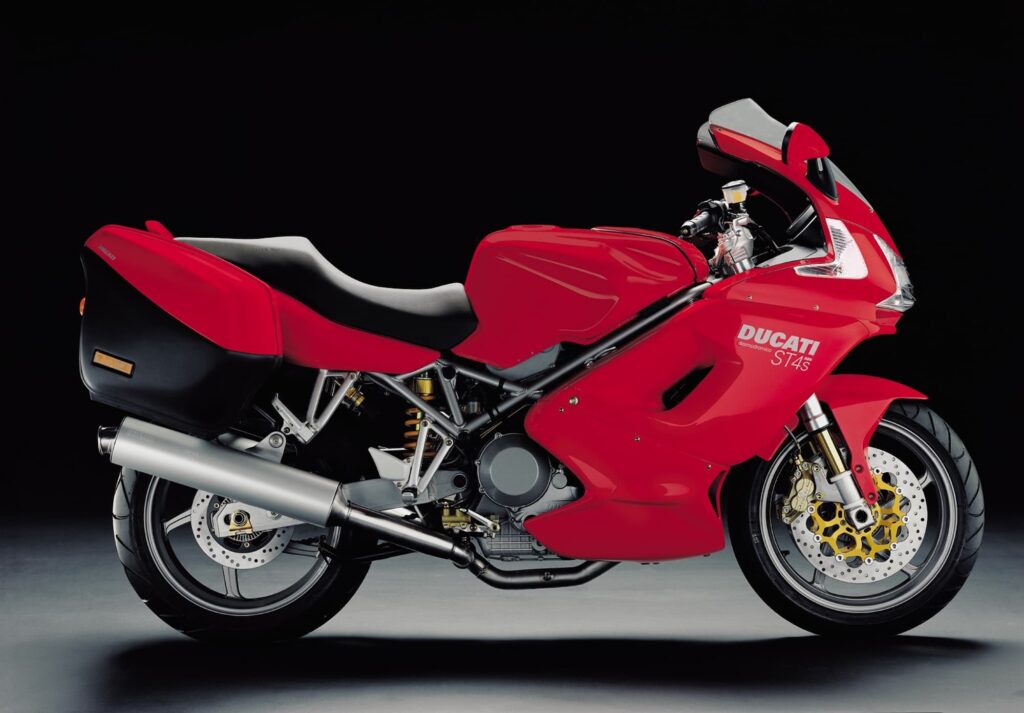 The Ducati ST4s is the highest-end ST bike, despite being phased out in favour of the ST3s, which Ducati did to pass emissions regulations. The ST3s also has less required maintenance (well, it does have fewer valves…)
The ST4s is a big upgrade from an ST4. Ducati likes to stick an "S" onto bikes to show they're higher spec. In recent times, this has just meant higher-end suspension, wheels, and maybe a bit of carbon.
But the Ducati ST4s is much, much improved over the ST4. The biggest difference is the engine. The original Ducati ST4 was based on the 916; the ST4s is based on the more recent and more powerful 996. There's more power and torque everywhere.
Ducati barely changed the 996's engine for the Ducati ST4s. Mostly, they reduced the throttle bodies from 54mm to 50mm in diameter, for about 14% less surface area (and air flow).
Since the engine barely changed, riding the Ducati ST4s has a few bugbears similar to riding other Ducati superbikes of the era. Basically, they don't like to go slow. It needs revs — below 3000 it actually stumbles a bit.
Ducati messes around with the gearing a bit, but per the manual, the ST4s ships with a 38-tooth rear sprocket, a massive drop from the 43-tooth rear sprocket of the ST4. (Note: this spec changes from source to source, but the manual quotes 38 tooth.)
There's a bit of internet lore going on about the "reliability" of Ducati ST4 bikes. But there's just as many people who have had them relatively problem free for many years.
The major caveat with buying an ST4 is the cost to service a Desmodromic 4-valve-per-cylinder engine every 6000 miles / 10000 km. Depending on where you live (and the hourly rate of your mechanic), it can get expensive — a roughly 6 hour job including the full service and taking off the fairings. With parts, it often adds up to over US$1000 or A$1500. That's quite a lot for a service that comes for most every 1-2 years…
The service cost is not much less for the Ducati ST2 (or any other Ducati with short service intervals), though.
The Ducati ST4s also came with optional ABS.
Essentially, you'd pick the Ducati ST4 if you're after that superbike motor and feel of a Ducati 916, can live without the drop-dead gorgeous looks, and don't have quite the flexibility to be in a race tuck all the time.
Ducati ST3 (2004-2008)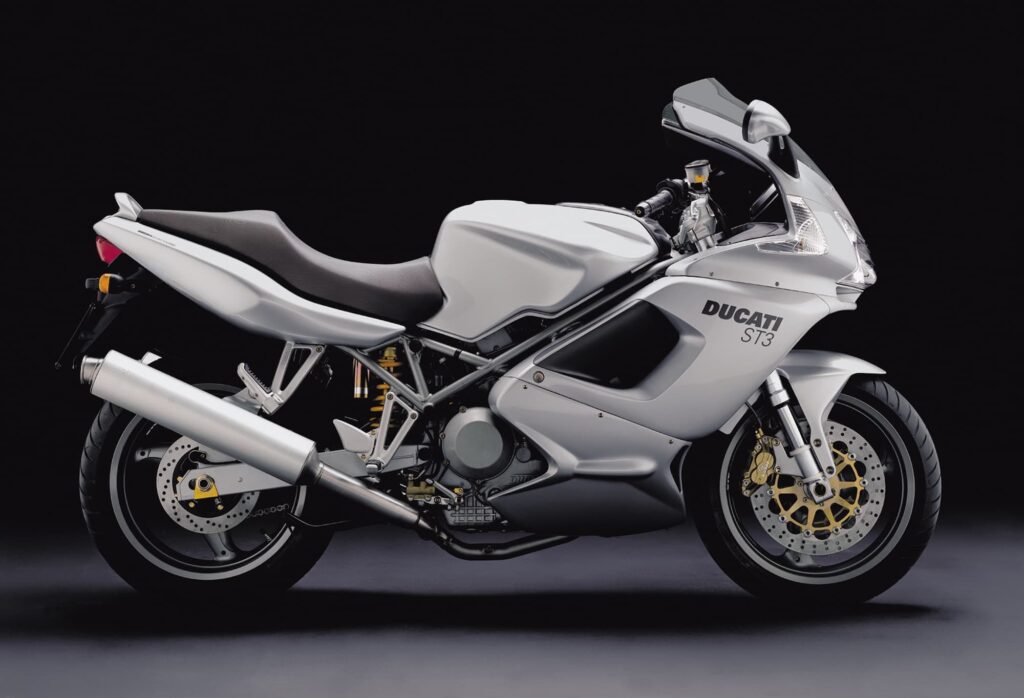 The Ducati ST3 has a very unique DesmoTre engine with three valves per cylinder. Ducati replaced the ST4 with the ST3 because it was a path towards reducing emissions as well as maintenance costs, both of which help Ducati with sales (and legal compliance).
See here for a guide to Ducati motorcycle engines, from Desmodue onwards, including notes on the DesmoTre.
Ducati didn't use the DesmoTre on any other motorcycles. In fact, they didn't use it on many motorcycles at all, because the ST3 didn't sell too well. Everyone wanted superbikes or streetfighters, I guess! This makes the ST3 rare, but that doesn't mean it's a "classic". More savings for you!
Ducati intended the 3-valve design to be a middle ground between 2-valves and 4-valves per cylinder. The low-down performance of a 2-valve, and the top-end of a 4-valve. Or somewhere in between, anyway…
The actual concept of the Ducati ST3 engine is quite interesting. It is derived from the same engine block as the Ducati Monster Multistrada 1000DS (same bore and stroke, thus same displacement). But unlike that bike (or the similarly-engined Monster 1000 / S2R1000), the Ducati ST3 has liquid cooling and that three-valve head. And of course higher compression and more power.
The reality is that the Ducati ST3 engine does exactly what it says on the box. It makes nearly as much power as the ST4 engine – with more torque, to boot. It just doesn't rev quite as high (which is what having less breathing capacity will do), so it can't make that top-end power.
There's more to the ST3 than the engine change, though.
Ducati also gave the ST3 lower-spec suspension. The fork is still inverted, but it's non-adjustable, just as you'd find on many economy bikes. And the rear shock is only adjustable for preload.
There's another plus to the ST3 — aesthetics. Ducati also really improved the style, giving it a design that I think kept it looking current until some time in the mid 2010s. Even now, I don't think it looks "retro"; more like a "classic sport bike".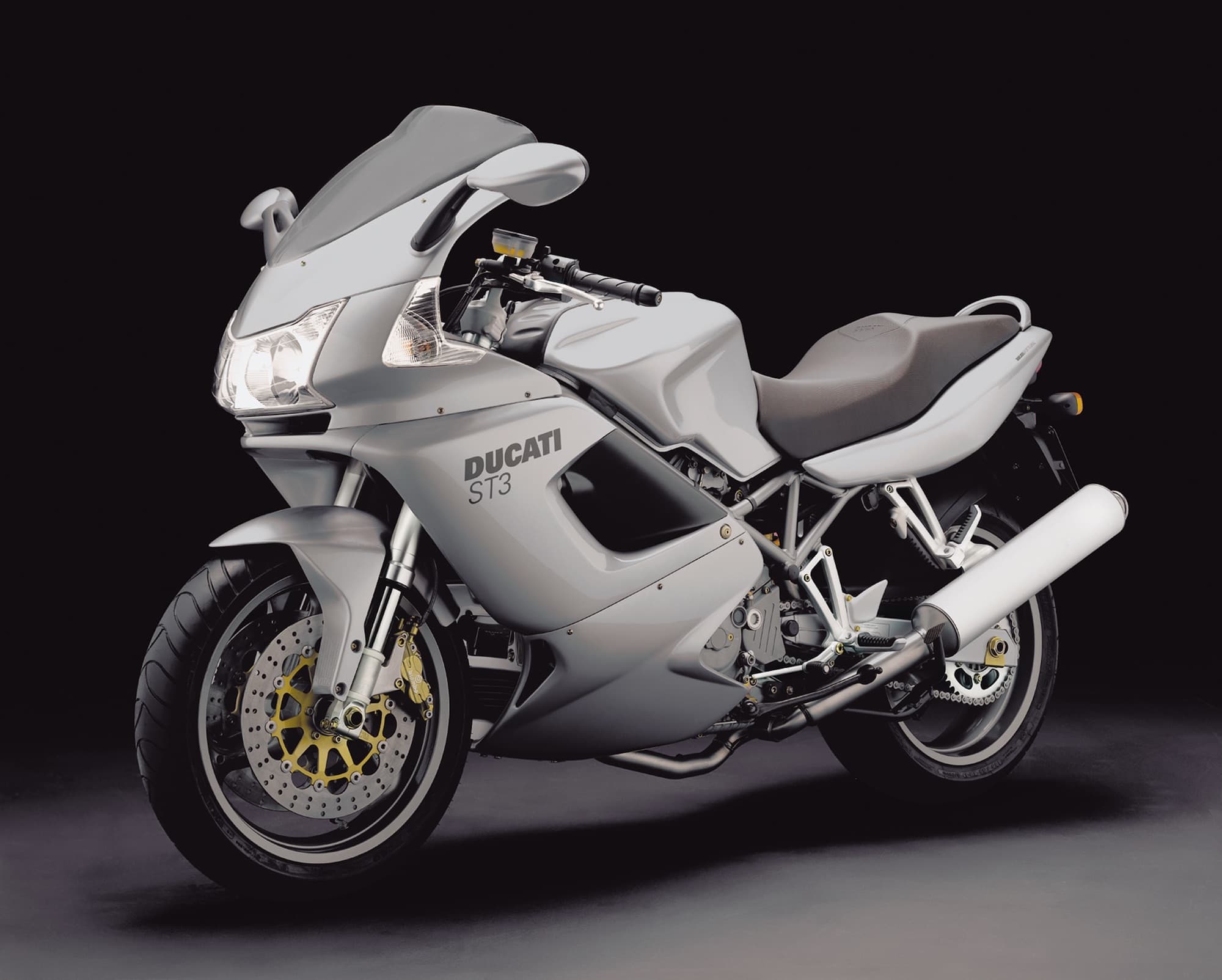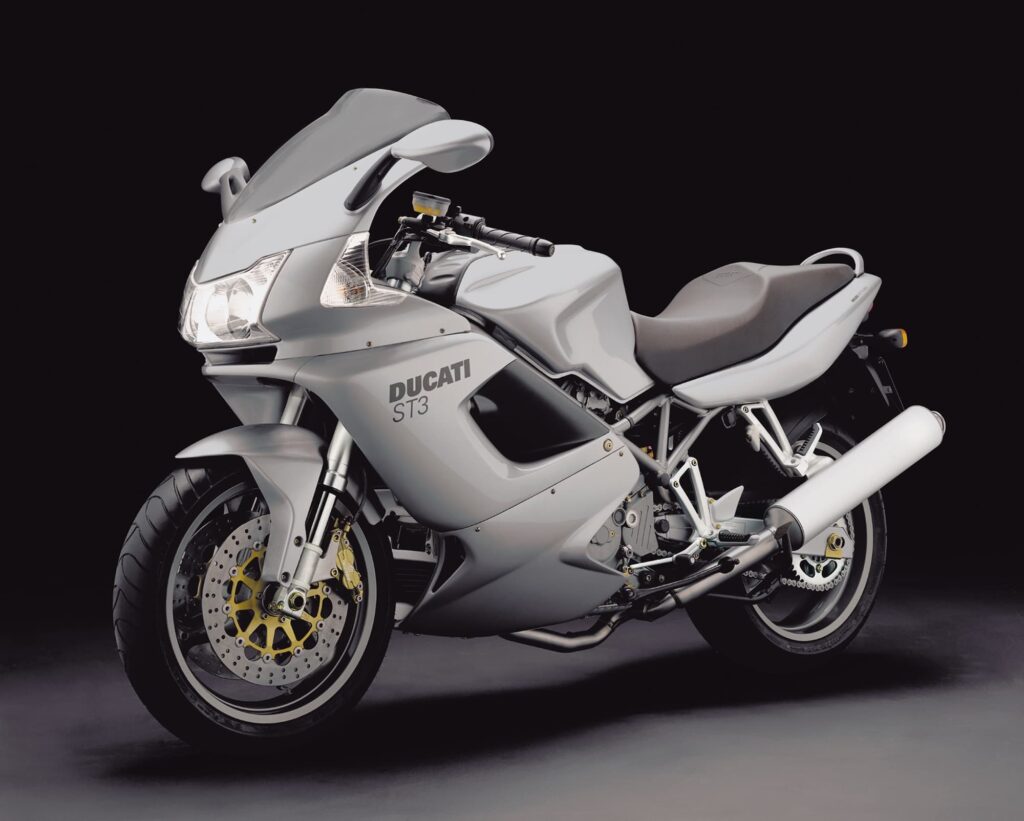 Ducati made a number of less-obvious changes to the ST3, too. They improved the CAN bus wiring, gave it a more advanced digital dash, and even adjustable ergonomics.
From 2005, Ducati abandoned the dry clutch for a wet one.
If you're looking for a sporty bike but maybe not one you will pretend is a superbike, the ST3 may be the one for you.
The only downside — not too many sold, so you might find it hard to find one.
Ducati ST3s ABS (2006-2008)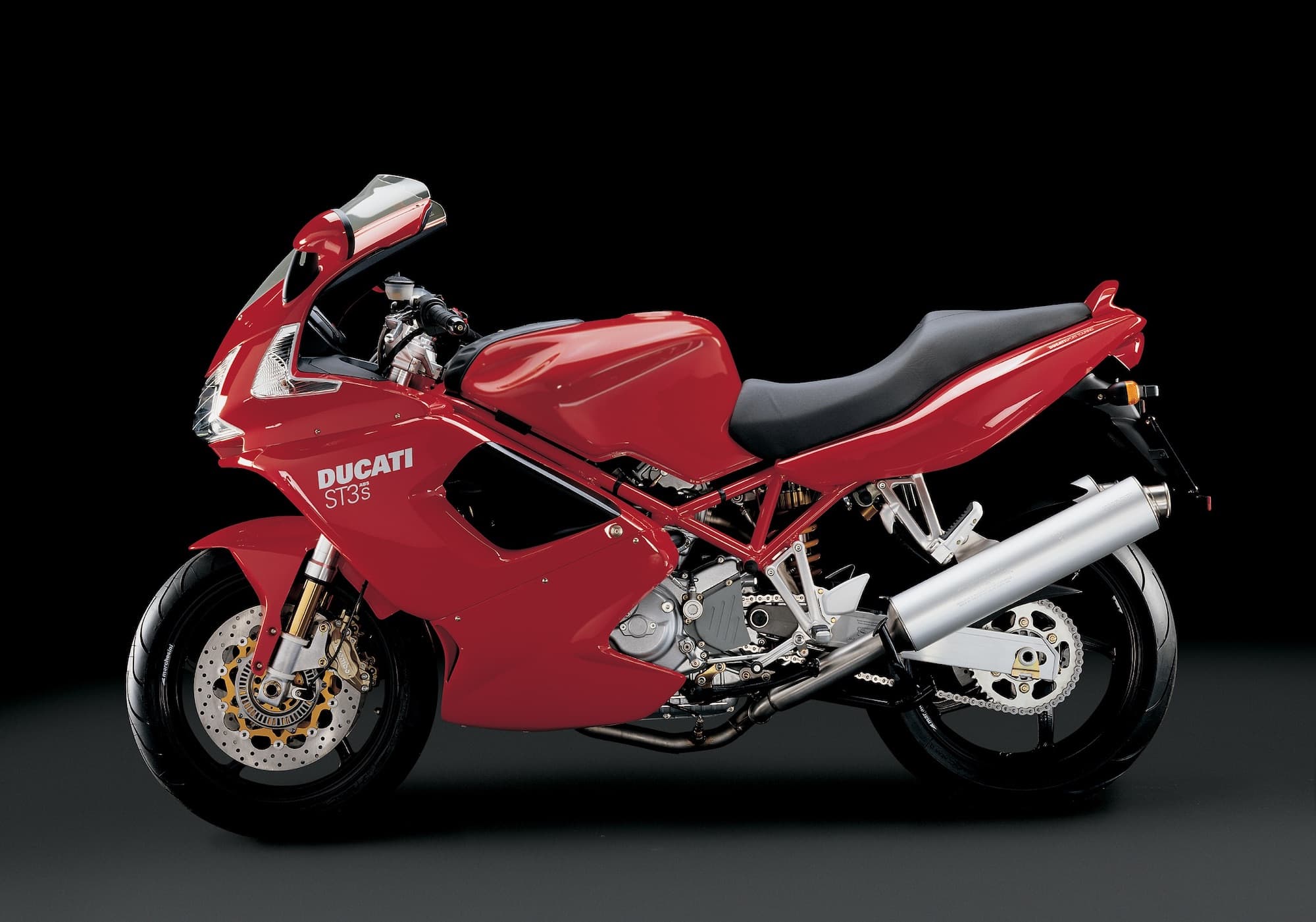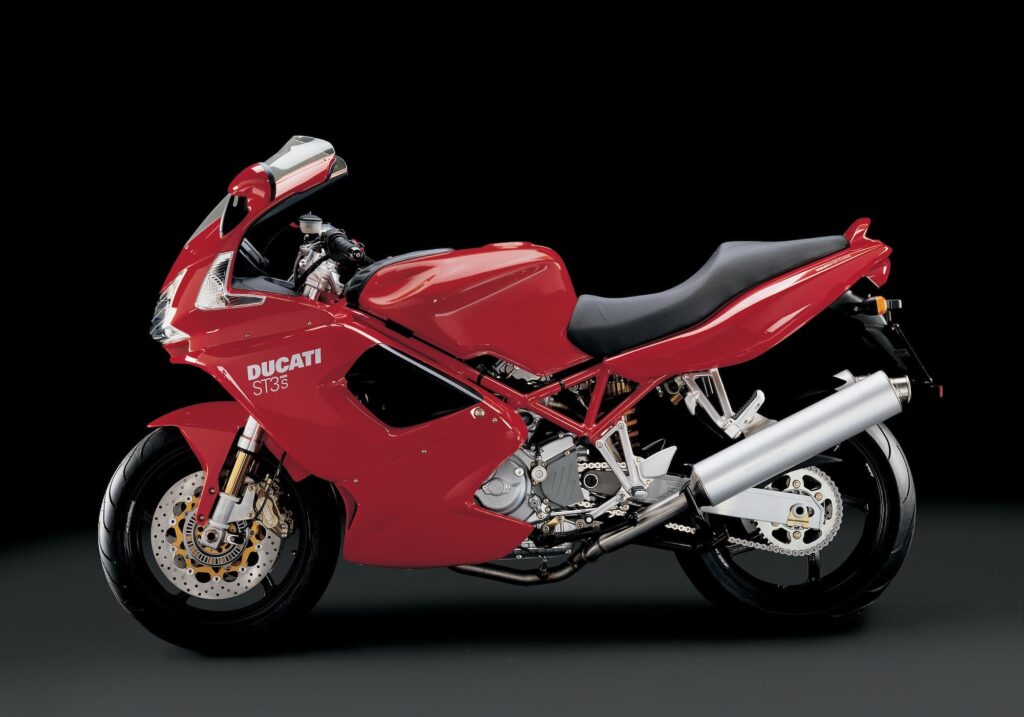 The most recent motorcycle in the Ducati ST line to be released is the Ducati ST3s.
The ST3s is basically an ST3 but with the same high-end suspension as the other ST bikes — fully adjustable at the front and rear.
It otherwise has the same engine as the ST3, and many of the other same components as the other ST motorcycles (Brembo brakes, the trellis frame, and so on).
One caveat is that as it's a post-2005 bike, the ST3s only came with a wet clutch. "Boo!" you may cry, and I understand. The dry clutch sound is signature Ducati. Well, if it's any consolation, this cantankerous old Ducati rider did eventually get a bit tired of the open clutch chatter — I covered my open Ducati dry clutches again to deaden the sound. It gets a bit old for some people, if you ride your bike all the time.
And even with a wet clutch, the DesmoTre sounds FANTASTIC. It's still a superbike-like motor, even though it wasn't technically on any superbike.
Finally, the ST3s came with optional ABS, just like the ST4s.
How do the Ducati ST motorcycles compare to the Ducati Superbikes?
Firstly, this isn't a really fair comparison. Most people considering a Ducati ST bike probably aren't thinking "should I get the ST4s, or the 996?". Maybe you would have twenty years ago, much like how today someone might consider either a Ducati Panigale V2 or a Supersport 950. But these days, if you're after a 996, and are loosely aware of the entry price, then that's what you want.
These days, for similar money to a used Ducati ST3 or ST4 / s, you can pick up a superbike from the mid 2000s of very high quality — something like a Ducati 999 for example. Even before you get to the S spec, the Ducati 999 is an excellent superbike whose design looks a lot better today than it used to.
Anyway, of the Ducati ST motorcycles that compare with superbikes, it's only really worth comparing the ST4 or the ST4s with their respective engine donor bikes.
The Ducati ST2 has an engine that's derived from the air/oil-cooled twins and it's more like a Ducati Supersport 900 (the fuel-injected ones made from 1998, like the Ducati Supersport 900 i.e. I used to have), and not as much like a superbike. It's more like the Supersport 900 with more fairings and bags, and liquid cooling for extended touring through a hot summer.
The Ducati ST3 is more like the superbikes, but with its oddball engine (a unique displacement and 3 valves per cylinder), it's closer, though still not as obvious comparison as the ST4 / ST4s, who actually share an engine with superbikes.
The Ducati ST4 and ST4s are different from their superbike peers in a few ways.
Mostly, you can consider a Ducati ST4 to be like a base model Ducati 916 with about 7% less peak power, but much more comfortable riding position, slightly more weight (about 10 kg / 22 lb more, though you could probably shed this with changing out some exterior components), and luggage options.
The bigger differences come when you start considering the higher-spec, higher-power variants of the Ducati 916, with different engine sizes, Öhlins suspension, and so on. They also get a lot more expensive and are a lot more rare. You would be less likely to tour on them unless you're a die-hard.
Similarly, the Ducati ST4s is like a base model Ducati 996, but with 5% less peak power (but the same torque most of the way up the torque curve, save the very end) more comfort, more weight (14 kg / 30 lb), and luggage.
The sportier variants of the Ducati 996 have more aggressive engines, high-spec suspension, and less weight — and again, you wouldn't really tour on them; I think those bikes would be more likely to do track time or sit in a museum these days.
So basically, in every situation I'd pick the ST bike for the one I'd actually ride and maybe be OK with wearing out. All the satisfaction of riding a Ducati superbike engine, with real-world usability, and I wouldn't feel like I'm running a classic bike into the ground.
If I wanted a bike to keep as a classic collectible or as an example of the "ultimate" sport bike, or even just one to look at and sigh — of course I'd pick the 916, 996, or another one of the Ducati Superbike range.
Tips for buying a Ducati ST motorcycle used
Yes, of course you can buy a Ducati ST motorcycle used! And even one with some miles (or kilometers) on it.
Aside from my general motorcycle maintenance checklist, there are a few things I'd go over.
Firstly, service records — at least for the most recent belt/valve service. It's reasonable that a bike may not have service records going back decades. But the last couple are the most important ones.
The maintenance schedules for the ST bikes specify that they need regular belt inspections and valve service. If the belts haven't been done, budget doing them, and if the valves haven't been done, get them done too. This full service can cost one to two thousand dollars including parts, or a lot of cursing as you fiddle with valve shims, stripped cylinder head bolts (argh), liquid gasket, etc.
Secondly, no broken fairings. They're getting expensive and inconvenient to replace. If it has them, you get to write down value, even if it's not important to you. Look on the underside, especially, where trolls and zip ties live.
Thirdly, and last in priority, not too high mileage. I mean, these are old, and bikes meant to be ridden, so they'll have miles on them! Generally speaking, mechanics say that brand, aggressiveness of tune / intended use of motorcycle (e.g. commuting vs high-speed sport biking), and mileage are the three main determinants of how long a motorcycle is likely to last. But of course, it's not the only determinant.
I'd definitely take an old Ducati for a full inspection to cover many things I might miss, like suspension, bearings, and other major parts that might need attention.
Maintenance of the Ducati ST series
The maintenance schedule for all the Ducati ST bikes is generally the same (with a couple of caveats): do a service every 6000 miles / 10000 km or year, in which you change the oil and look over everything for leaks, and — this is the critical bit — check the valve clearances.
The ST3 models from 2007 onwards have a 7500 mile / 12000 km specified service interval per the manual. I don't know what changed exactly, but all Ducati motorcycles (air-cooled or liquid-cooled) changed to this interval from 2007 onward, even with some models not changing.
On top of this regular service, bear in mind two important details for Ducati motorcycles of the era.
Firstly, they all have belt-driven valves. So you have to replace these every two service intervals OR every two years, as the rubber gets old. Later in life, Ducati changed this service interval to five years, with the rubber of the belts staying the same. Of course it's not a difficult thing to change the belts, so it's up to you.
Secondly, the desmodromic valvetrain of Ducati sport touring motorcycles needs regular attention (a valve service at every oil change interval – i.e. 6000/7500 miles or 10000/12000 km), and there's frequently a valve clearance or two out of spec, though less so with liquid cooling.
Also bear in mind that the more valves per cylinder, the more to check.
So the ST3 is the best of the bunch — liquid cooling and a not-too-highly strung engine means that the valves are less likely to be out of spec, and there are also only three valves per cylinder — so six valves, and twelve clearances to check.
Nonetheless, the valve clearance check interval of Ducati motorcycles is what puts many off, sending them into the arms of Yamaha, with their luxurious 26600 mile or 42000 km (US manual) valve service intervals. Or you could get a cruiser with self-adjusting hydraulic lifters.
Oh, and many long-term owners of Ducati ST motorcycles complain about taking off the fairings. It's never fun, but it's even less fun when the fairings are a bit old, the fasteners are warn, and replacement panels are nigh-on-unobtainable.
Generally speaking, I can see why the short service intervals and expensive services costing over US$1000 would put a lot of people off buying a Ducati ST motorcycle. It just depends on how much money you want to pour into this pit of an obsession!
Alternatives to the Ducati Sport Touring motorcycles
If you're after a classic Ducati Sport Touring motorcycle, then you're probably after a sport tourer in general.
Sport touring motorcycles have gone in and out of fashion over the last few decades as adventure motorcycles took hold, but they're making a bit of a comeback lately.
The essence of a sport tourer is that it's a performance-oriented bike that's also comfortable. There's a wide-range of what "performance" means, of course. But basically these are bikes designed to go at least a bit fast and handle without scraping too early.
There's also a wide range of comfort levels. The Yamaha FJR1300 is a very fast and very comfortable motorcycle. But you could also throw some bags onto a Hayabusa and call it a sport tourer. It's not uncomfortable (I find it quite comfy), but it's not in the same league as the FJR.
Anyway, I'll try to strike a middle ground with a few examples. I'll also keep these to bikes that are reasonable in price. Here are some bikes that I see people compare to the Ducati ST bikes.
A BMW sport tourer, most likely the K 1200 S
A Honda VFR800 5th gen
Triumph Sprint, maybe 955i to keep the power spec comparable
There isn't actually a modern Ducati equivalent I'd consider. The Supersport is just more sport, less touring, even if you can get it with luggage. Plus, they're a lot more expensive.
I won't go into all the details of these various bikes, but I'll go over them quickly.
BMW K 1200 S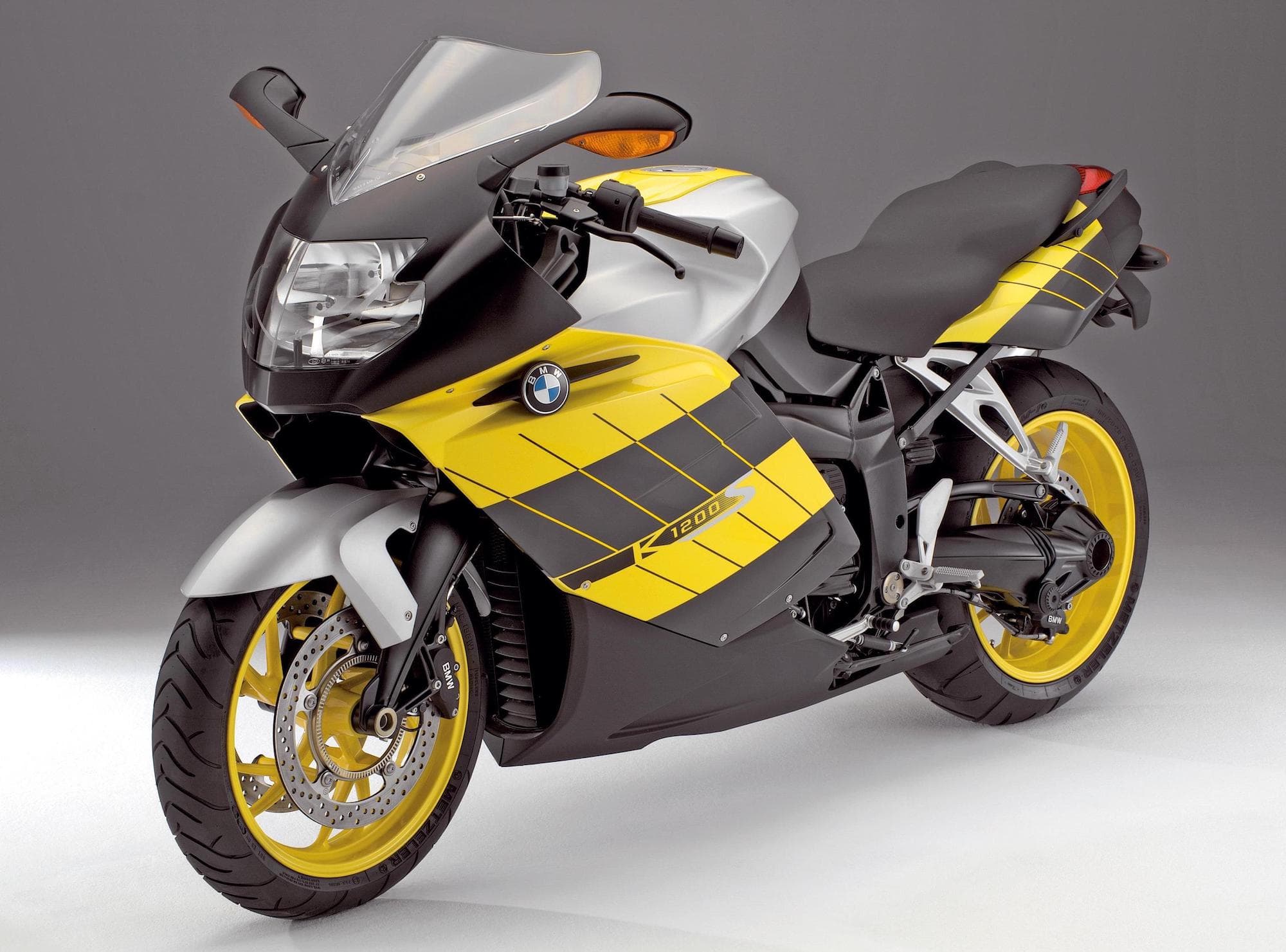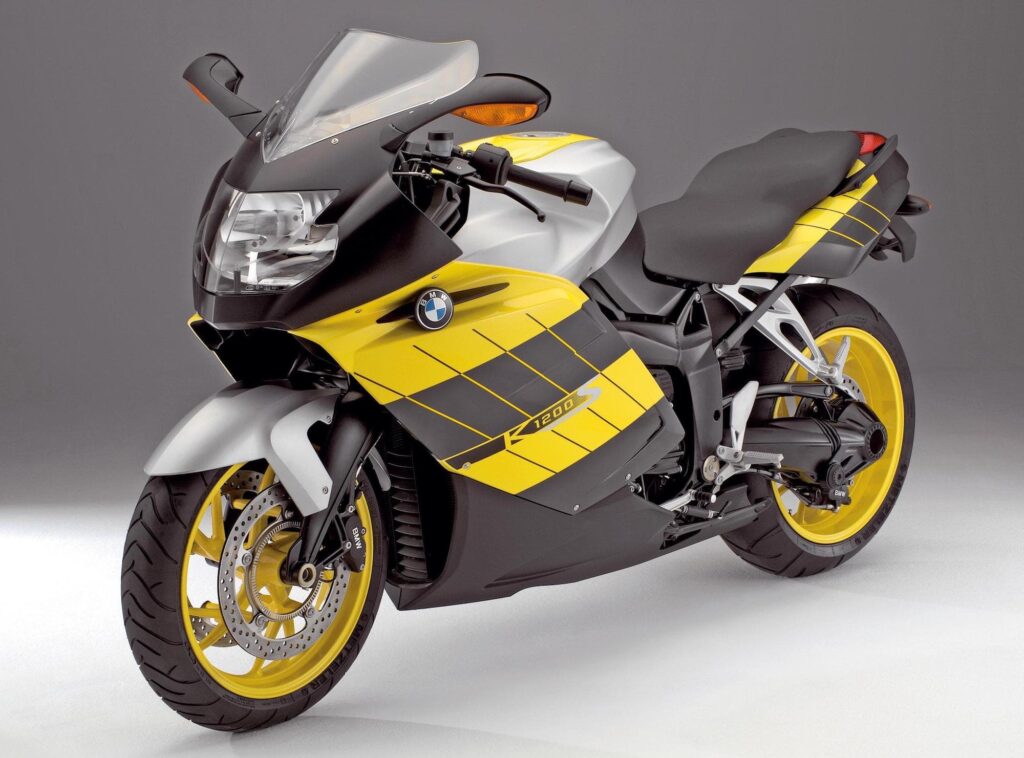 I've always thought the K 1200 S (and its successor, the K 1300 S) is a sharp bike. It has sporty angles, a single-sided swingarm, comfort, and a really interesting set of features.
The core of the K 1200 S is an 1157 cc liquid-cooled fuel injected inline four. It's modern, with twin cams and four valves per cylinder. It's also very powerful, making a peak of 123 kW (167 hp) at 10250 rpm.
The BMW K 1200 S has some things that make it unique in the sport touring world. I like that it has a shaft drive so you don't have to lube it frequently and Telelever front suspension. I'm a fan of Telelever. Even though the lack of dive means you don't "feel" braking in the same way, I think that's outweighed by the stability. Not having my partner's helmet clank into mine is always a plus!
Unfortunately the BMW K 1200 S has a bit of a bad reputation among owners for being difficult to service. You have to pull off lots of panels to get at the engine, and it has a complicated and difficult to access electrical system that frequently sprouts difficult to diagnose problems unless you have a lot of patience.
But at least you'll have a BMW, therefore access to a community of obsessive riders!
Honda VFR800 5th gen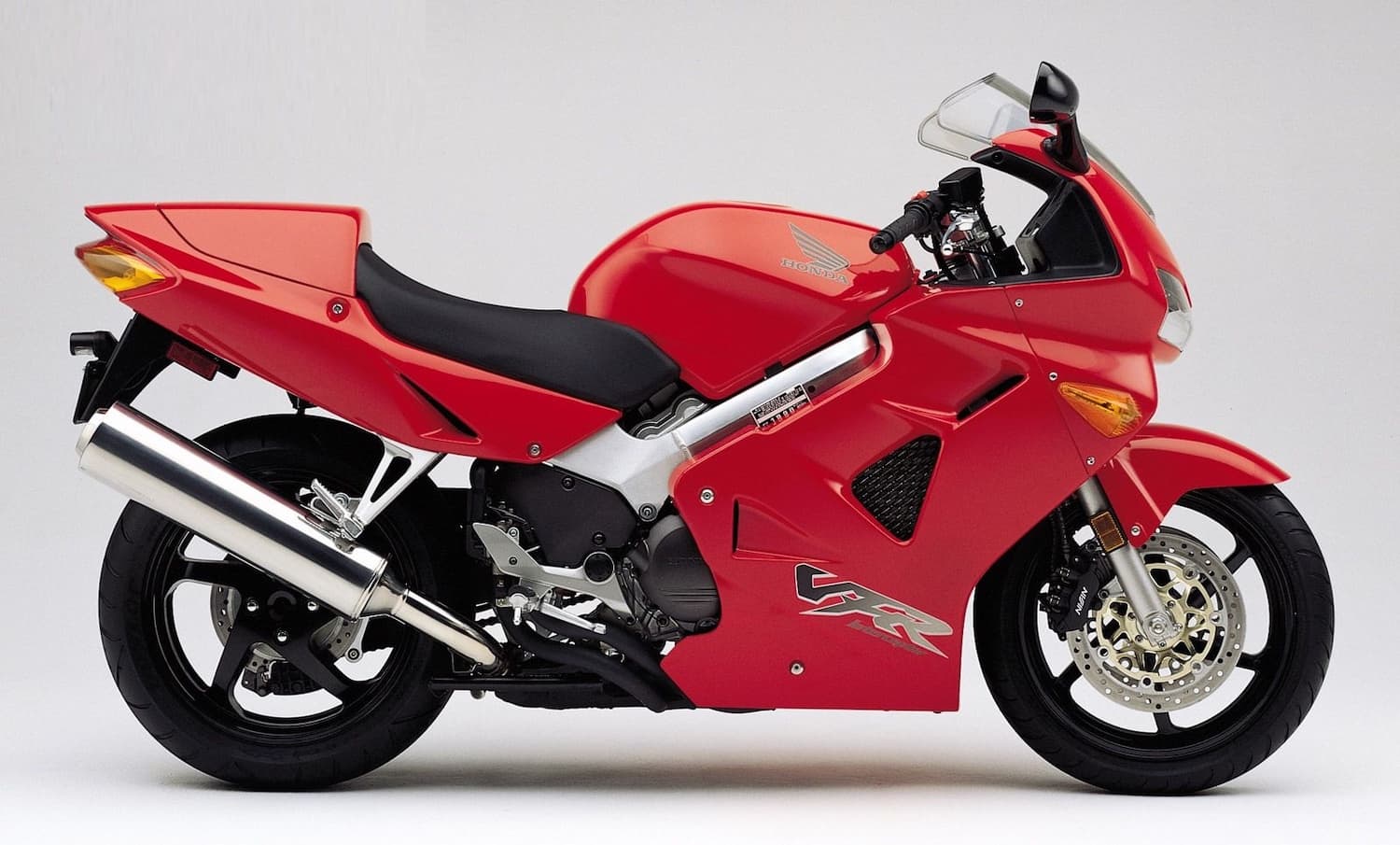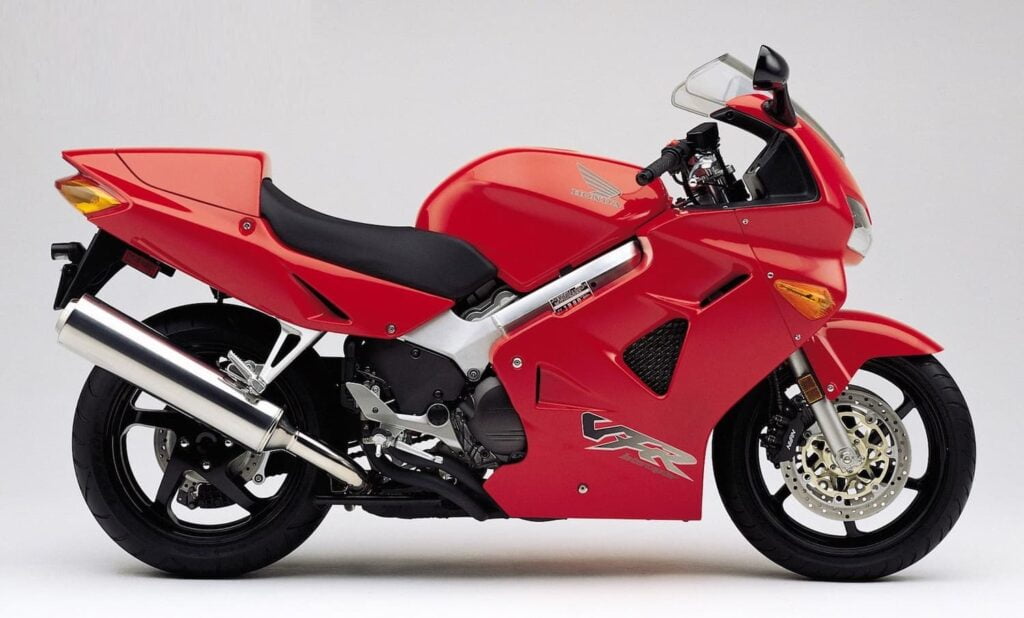 Ah, the 5th gen VFR — a classic among bikes and among VFRs.
The 5th gen Honda VFR was the first to become the VFR800 after the already iconic VFR750. The 5th gen VFR800 got a slightly bigger engine and fuel injection, but was before the era of VTEC which came post 2003.
The 5th gen is a favourite among Honda fans (and among… me). It just looks great, feels great, and sounds great.
The 90-degree V4 engine has dual overhead cams and four valves per cylinder. The cams are gear driven, which gives this gen V4 engine a unique whine.
The Honda VFR800 may have twice the cylinders of the Ducati ST bikes, but they also have much wider maintenance intervals, and no belts that need replacing. However, when service time comes around, the V4 motor still isn't cheap to service. At least you can probably (don't take it from me, but take it from other owners!) skip one or two valve services, especially with the models still around, whose valves are well seated.
I personally have a hard time deciding which of the bikes I like more. Basically if a good 5th gen VFR came up OR a nice ST4s, I'd just pick the one that's in better condition. They're both great bikes.
Triumph Sprint ST 955i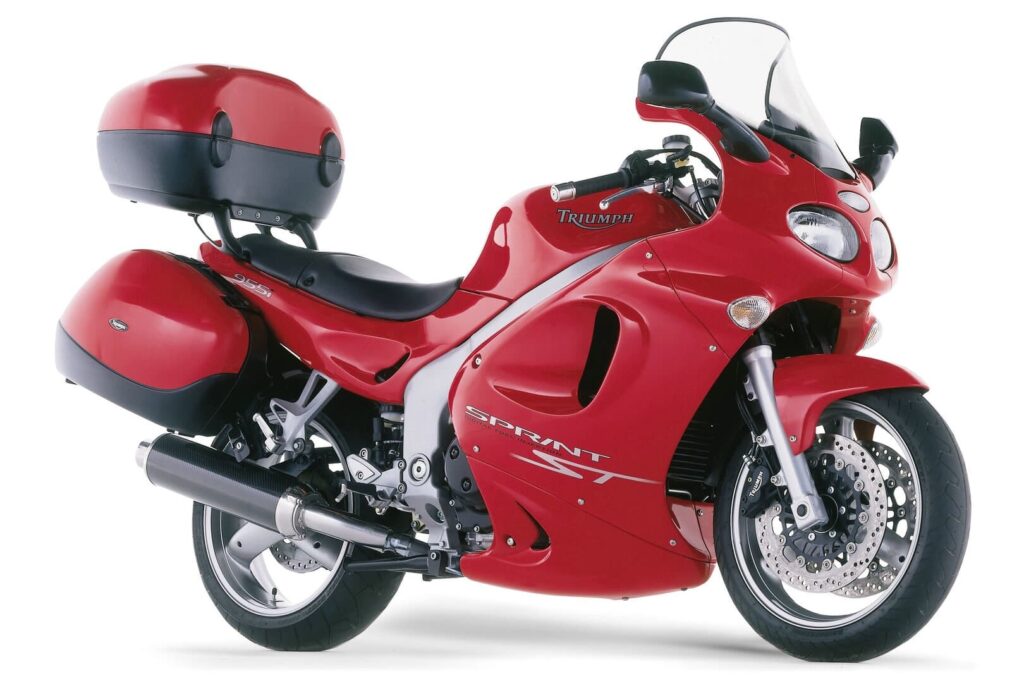 Lastly, there's the Triumph Sprint ST. The early ones were based on the Triumph Daytona 955i engine.
Like the Daytona line, the Sprint line is no longer with us. But they've left behind a great legacy of sport touring motorcycles, many of which are still rolling today.
The Triumph Sprint ST 955i is based on a 955 cc inline three-cylinder engine with twin cams and four valves per cylinder. The engine makes great middleweight power of 80 kW (108 bhp) at 9200 rpm.
Like the Ducati ST bikes, the Sprint ST was aimed at the VFR750 / 800, it upped the ante with a slightly more powerful engine and much lighter weight — it weighs just 207 kg dry. Both the Ducati and Sprint are much lighter than the VFR.
The Sprint also has adjustable suspension and high-spec brakes, just like the Ducatis. Basically, I find these quite tempting! I really like the look of the Sprint 1050 model that came after it in particular.
Other alternatives
Of course, for Ducati money, you could just as easily buy a more recent sport tourer. Even the early gen Kawasaki Ninja 1000 would be an option — and you'd get a whole lot more power and tech for your dollar, not to mention cheaper maintenance. But it's just a different bike, and if you're already bleeding Ducati red, then it's hard to swing over to another brand.
What next?
If you're patient, I'd say wait around and pick up a low-mileage Ducati ST3s. It's super unique — an engine built for sport touring, with lower maintenance costs than the rest of the line.
But regardless, don't write off the Ducati STs just because they look like commuters. Grab the throttle on any of them — especially the ones with superbike-derived engines — and you'll be surprised.