This is just a quick post for anyone who has a motorcycle with a single-sided swingarm and is looking for a cheap paddock stand (a.k.a. a rear stand) — use a regular paddock stand with a sturdy pipe through the axle of the rear wheel. See below for pics.
So simple, and yes, kind of ratty, but it never came up every time I searched for "cheap single-sided swingarm paddock stand", so here you go. I'm hoping someone else who's a cheapskate (or who wants something sturdier!) finds this.
When I first got a motorcycle with a single-sided swing-arm and chain, my Ducati 1098S, I stared at it for a while in awe. Look at that beautiful exposed rear wheel!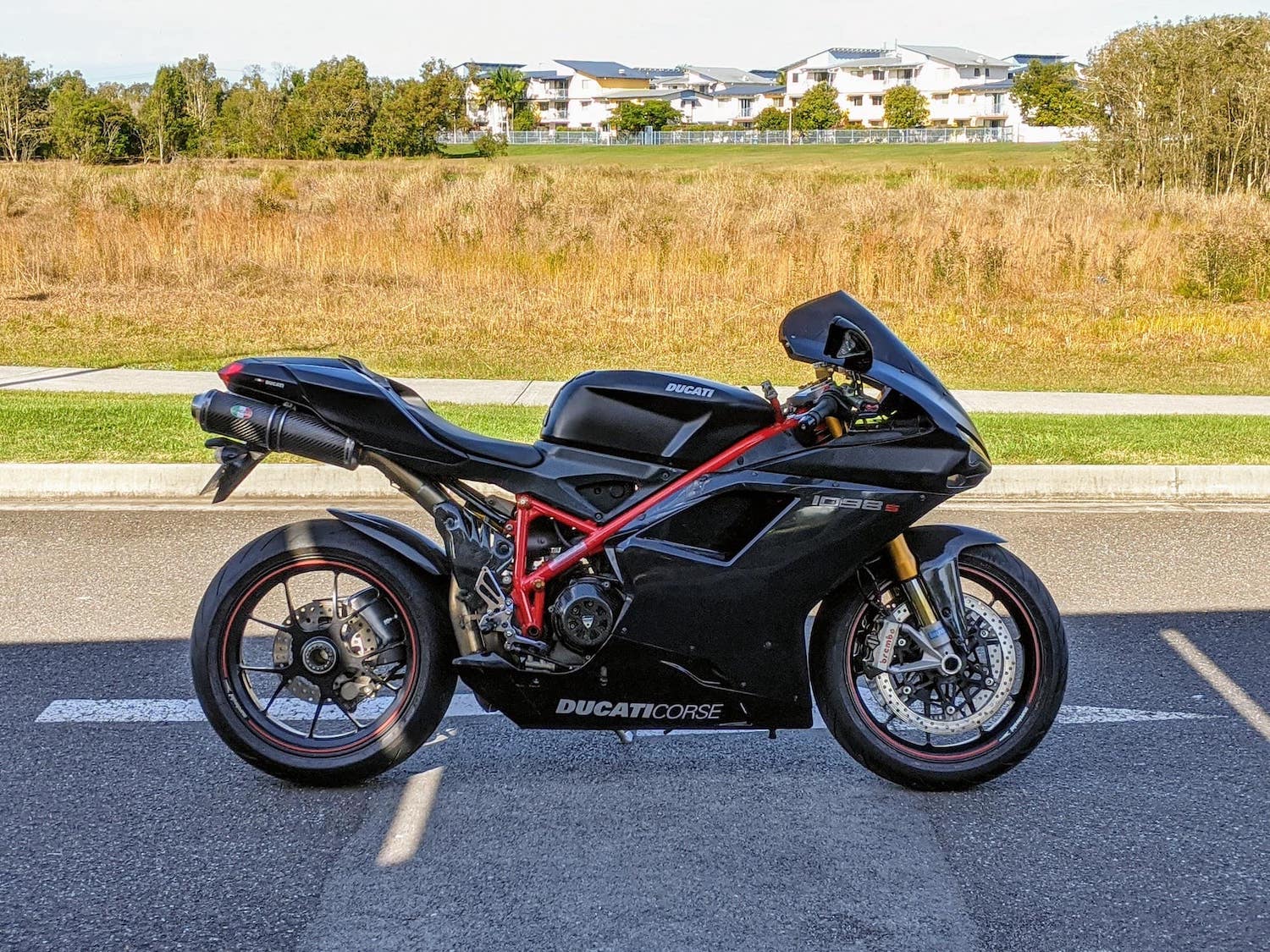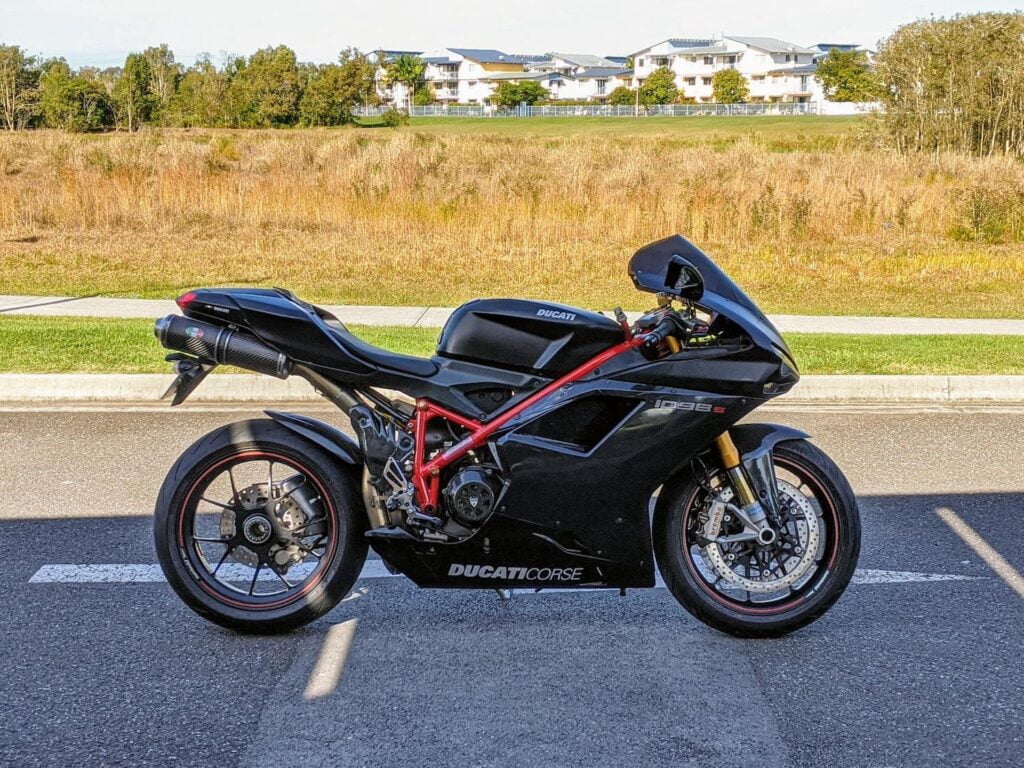 But the first time I had to lube the chain, I swore under my breath — how was I going to use a paddock stand?
Most paddock stands either have paddles that hook under the sides of the swingarm, or have hooks that support bobbins (that you attach to holes on the swingarm).
Whenever people ask about single-sided swingarm paddock stands, the answer is usually one of three things:
Go buy an expensive one from the manufacturer — e.g. BMW and Ducati both sell them for hundreds of dollars each
Go get a custom-made one
Custom make one yourself using a handy design.
The first problem is that these are expensive. This is no worries if you just bought a brand new Ducati — what's a few hundred bucks or quid more?
But my last two single-sided swing-arm bikes cost me less than US$6K. I was doing things on the cheap.
The second problem is that every time you get a bike with a different inner diameter in the rear axle, you need a different end piece for your stand — which you might have to buy. Or, worst case, you might need a new stand altogether (e.g. a BMW one may not fit a Ducati one).
(OK, the cheapest alternative is to stop changing bikes. I miss all these bikes!)
But a really easy alternative to a paddock stand for a single-sided swingarm motorcycle is to use a normal paddock stand and some sturdy pile through the rear wheel.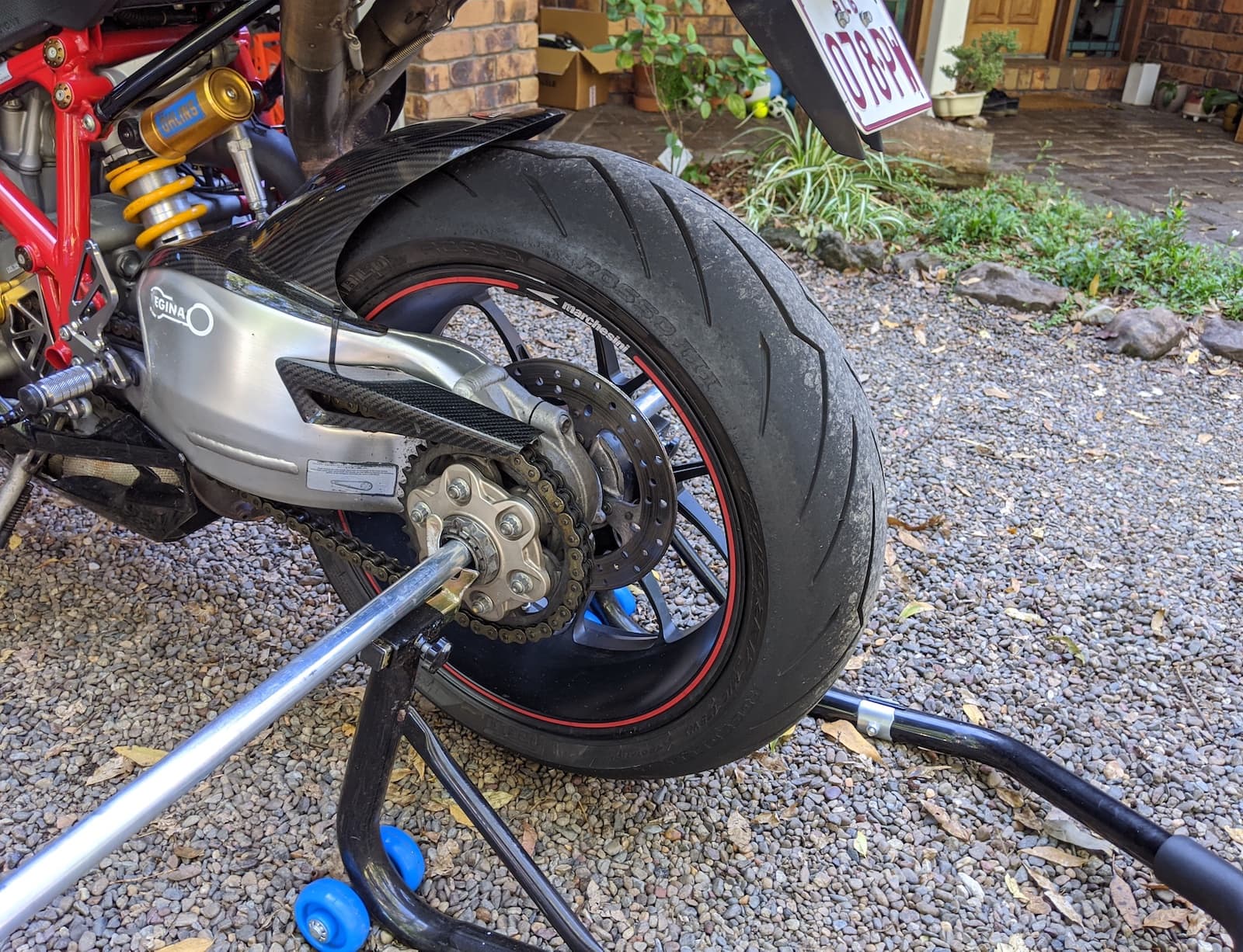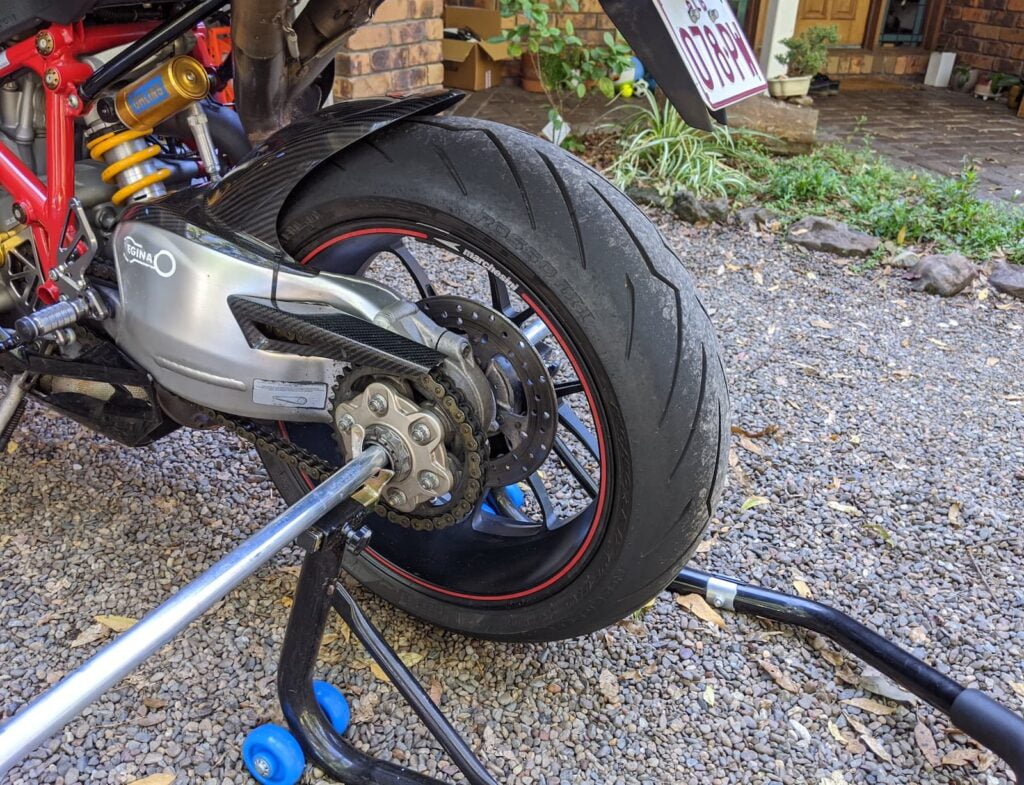 In the above pic, I actually used three hollow pipes, layered, to make it more robust. If I found a convenient piece of solid steel, I'd have used that.
I did feel like "maybe this is putting undue pressure on the bearing". But considering the bike isn't moving, I think the bearing undergoes far worse (e.g. every time I go over a bump at speed). If you're worried, try to get piping that closely matches the inner diameter of the centre of the rear wheel.
I've had my fair share of bikes with a single-sided swing-arm — all Ducatis and BMWs. My first one was my BMW R 1200 S, but that had a centre stand, so I didn't feel the pain as much. (Anyway, it had a shaft drive so I didn't need to lube the chain.)
And yes, having a single-sided swingarm does generally mean a more expensive motorcycle, so I shouldn't be cheap.
But I buy my bikes relatively old and cheap, change them somewhat often (at least once a year… sometimes more often), and so I don't necessarily feel good about spending a few hundred bucks on a stand (in one case, that would have been 5% of the cost of the bike — just on a stand).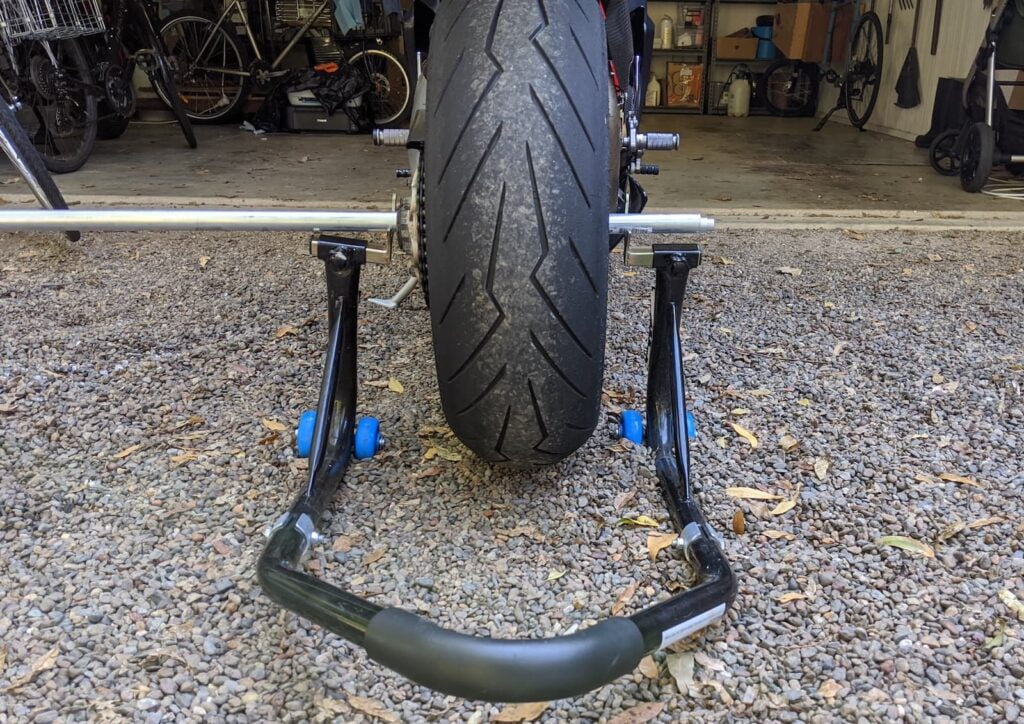 There's a diverse range of bikes still being made today that have single-sided swinging arms.
You might be primarily familiar with them on exotic bikes like Ducati Superbikes (including the Panigale line) and Multistrada adventure bikes, Triumph Speed Triples, Sprints, Rocket 3 and a few others, many BMW R-bikes, and so on.
But not all exotic superbikes! Some of the more everyday motorcycles with a single-sided swingarm (that aren't scooters, which often have a center stand built in) include the Honda VFR800, and the Honda CB1000R — both "road" bikes.
Kawasaki, Suzuki, and Yamaha tend to mostly use double-sided swingarms in their everyday motorcycles. Kawasaki does have a single-sided swingarm in most of their bikes in the exotic Ninja H2 line, though.
Anyway, hopefully will have helped someone. Spend some of those few hundred dollars you saved on a nice treat for someone you love!