So, I really like sportbikes, and I really like my 2017 BMW R nineT (the first year of the second generation). So it's natural that with a malleable platform like the R nineT, I'd want to turn my bike into something like a sportbike — hence my search for BMW R nineT café racer design examples.
These designs are sometimes known as "café racers", even if that's not exactly what I'm going for (that's more stripped back), and that word is a little overused.
What I really like about my R nineT is that it has good enough sporty suspension and braking, a competent and easy-to-use engine, and a lot of character.
What I'm going for is this:
Less stuff on it in general, and less weight if possible. Replacing the exhaust, air filter, and tubing that can be removed
Narrower, lower, and more forward handlebars (not full-on clip-ons, think "1990s sportbike" style controls)
Some wind deflection (a minimal fairing/screen)
And while I don't really like calling it a "BMW R nineT café racer", it's the best way to describe the aesthetic I'm going for.
So before I decide to start ordering parts — or getting a quote from a builder who'll finish the job in weeks rather than months for me — here are the best bits of design inspiration from BikeEXIF, Pipeburn, and so on. These will be mostly BMW R nineTs, but also may have some other R-bikes in there.
Are you obsessed with motorcycles?
Well, I am. That's why I created this site — as an outlet. I love learning and sharing what others might find useful. If you like what you read here, and you're a fraction as obsessed as I am, you might like to know when I've published more. (Check the latest for an idea of what you'll see.)
Why build a BMW R nineT Café Racer?
Good question to ask. Why go down this expensive path with limited to no return on investment?
Well, there are a few reasons to get into modifying bikes.
Firstly, I get bored of motorcycles quickly. There are people out there who have one bike for life; that's not me. I kind of wish it was. Anyway, I have a few choices — either change how I ride, where I ride, or what I ride. Changing the beast under me is just one way of mixing it up.
Secondly, working on bikes helps me learn about them and connect with them. It's kind of scary (for an amateur mechanic like me, with few tools and inappropriate working spaces) to take a wheel, cylinder head, or even just the tank off for the first time. I always worry I'm going to scratch something or break a hose or retaining clip in the process. Or maybe just spill petrol everywhere and set my house on fire (which I've nearly done once!)
Finally, changing motorcycles is the easy way out, and is just going to lead to the same sense of malaise.
Both changing motorcycles and modifying one I own are expensive (costing thousands), so I can pick my poison.
The baseline for wanting to modify my R nineT is that I really like this bike. It's just not quite right for me. So modifying it will get me there.
Yes, I could swap it out for a Triumph Thruxton R or a Ducati Supersport, which would get me closer. But there's time for those later.
Below are the examples of inspiration for my BMW R nineT café racer build.
BMW R nineT Racer (2017-2019)
The original inspiration is the BMW R nineT Racer, a bike that I can't take my eyes off.
When BMW refreshed its R nineT in 2017 (after the 2014-2016 first gen), they introduced four new models, among which was the R nineT Racer.
See the BMW R nineT Buyers Guide.
The BMW R nineT Racer has the same engine, frame, and general features as the other bikes. It has
The conventional forks (similar to the Pure, Scrambler, and Urban G/S)
Dual gauges (similar to the top-of-the-line classic model)
Low clip-on controls, rather than a regular handlebar
That sweet looking fairing
This bike is a great-looking bike. There's zero question of this (well, some people don't like the cyclops look… maybe there's slightly more than zero question of this). Anyway, I have no doubt.
But the R nineT Racer was withdrawn after 2019 (so never got the 2021 refresh) as sales were poor. Those after an R nineT opted for other models, and those after a sportbike opted for the S 1000 RR.
What I like about the R nineT Racer is the general design. I'd keep most of it, but get more subtle mirrors, and a higher clip-on handlebar position. I also do prefer the front suspension on the R nineT proper, which is fully adjustable.
In theory, I could just buy some of those front-end fairings from the R nineT Racer and make them work on my bike. It's an avenue I'll have to explore.
Dab Motors — BMW R nineT Enhanced Racer
This BMW R nineT café racer design is based on the base model BMW R nineT, not the Racer, even though it's called the "Enhanced Racer".
And look at it! It certainly is enhanced… though maybe a little too enhanced. This is an example of just how far you can go, not necessarily what I want!
Simon Dabadie of French company Dab Motors (formerly known as Dab Design) has done a lot of custom design work for big brands (including Roland Sands Design and Deus Ex Machina).
It's not an aesthetic I'll go for, but it does show just how far the limits of design can be pushed on what's ostensibly an old-fashioned motorcycle. The custom fairing (and presumably light), the clip-on handlebars, and the pod filters are all elements that I like in concept.
These days Dab Motors builds and sells its own motorcycles, but the Enhanced Racer was a product they hoped to sell as a bolt-on kit for the R nineT.
Unfortunately it never got funded through Indiegogo, which they took as a sign that it wasn't what the market wanted. Ambitious, and interesting.
Why not? My speculation is that people interested in this kind of bike probably end up going for a full-on sportbike.
JSK Moto — Autobahn Streak
Next, let's look at this bike that JSK Moto Co calls the "Autobahn Streak".
JSK Moto Co is a California-based custom motorcycle design/build shop created by its founder Samuel Kao.
They do projects based on all kinds of motorcycles, but it's this R nineT café racer-styled bike, the "Autobahn Streak", that caught my eye for ticking a few boxes.
It's based on the base-mode 2014-2016 R nineT but with some pretty extensive modifications.
Externally, they built a one-piece fiberglass shell to wrap around the light (which is a angel eye headlight from a BMW car) and tank, to give it that R nineT café racer look. Interestingly, they focused on easy installation, attaching the shell with just three connection points.
While they added clip-on handlebars, they also moved the seat a little closer to make the riding position less aggressive and more comfortable. The seat is sourced from a custom fab shop in Taiwan.
The JSK Moto Co Autobahn Streak has a bunch of modifications to this R nineT café racer build to make it actually a racier bike, too. These include an Akrapovič exhaust, a performance oil cooler, an improved shock, and some other parts to make it look both more slick and to reduce the weight somewhat. See their website (link above) for more details.
BMW Concept Ninety — Before the R nineT
In May 2013, BMW released a concept motorcycle at the Concorso d'Eleganza Villa d'Este.
This was the precursor to the R nineT, as it was also celebrating 90 years of BMW's history.
But the Concept Ninety is actually an homage to the BMW R 90 S, with a lot of custom parts from Roland Sands Design.
The Concept Ninety keeps the basic proportions from the original R 90 S — the fairing, tank, seat, and tail are all reminiscent, though not the same.
But BMW totally re-interpreted the front fairing, giving it that bullet cowl, LED lights, a re-shaped tank that melds into the seat, and very low clip-ons (they're even lower than where your behind meets the seat).
The exhaust is a custom system from Roland Sands Design.
I really like the shape of the seat and tail and the fairing. I'd keep my clip-ons a lot higher up the forks, and probably do something about the intake pipes.
The BMW Concept Ninety has a lot of high-end componentry on it, including full Öhlins suspension and Brembo radial-mounted calipers. The brakes look similar to those on the R nineT, but it's a nod that I might end up upgrading the suspension eventually.
See here for our FAQ on motorcycle braking systems, talking about discs, caliper specs, major braking brands, and more.
WalzWerk — Custom BMW R nineT #LS18
WalzWerk is a German custom builder founded by Marcus Walz, after whom the business is named.
Most of their bikes are production-line builds, but they build a few custom bikes. Initially I found WalzWerk via BikeEXIF's post on their "Monza" R100 custom build, but then poking through their website, I found this custom R nineT for Canadian Formula 1 driver Lance Stroll.
They haven't written much about it on their page, but the major changes look like
A full SC Project exhaust
Pod-style air filters (removing the big air filter and intake funnel)
New suspension — Wilbers fork and shocks
A much shorter seat, with a relocation of the plate from under the seat to on the swing-arm (not legal everywhere)
Clip-on handlebars
That little fairing
I quite like this — I'd probably keep the clip-ons a little higher and use a taller fairing.
I haven't got a clear answer on whether pod-style air filters are a good idea. But they look cool!
BikeBiz — Sun Kist
BikeBiz is a Sydney-based company that sells motorcycle accessories online (I think I've bought some).
So I was quite surprised and pleased to see that they also do some custom building — and they decided to work on a bike like mine to build this beautiful BMW R nineT café racer in bright orange, naming it Sun Kist.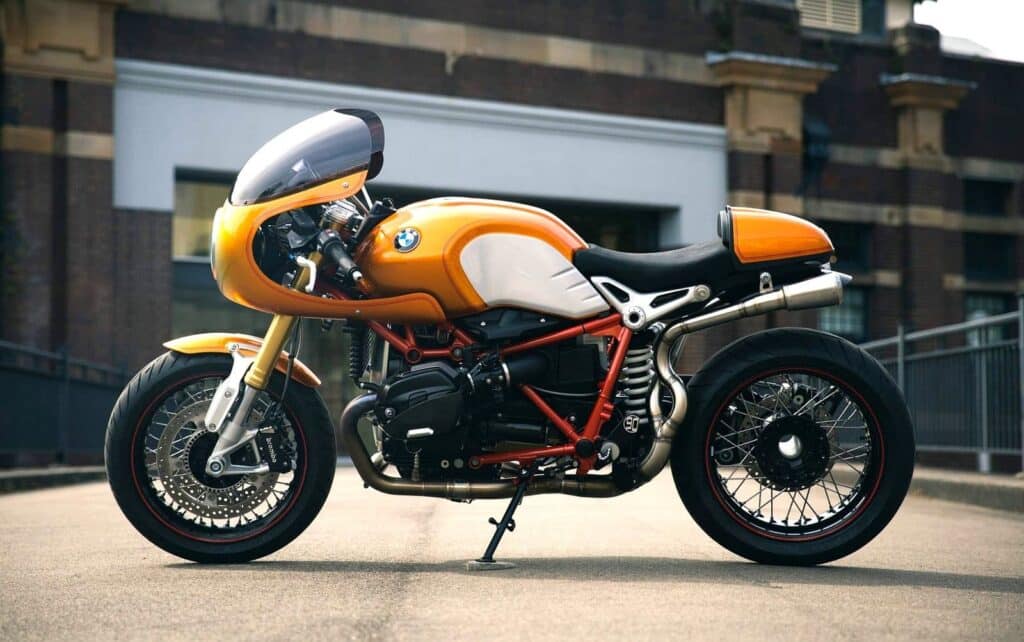 It's based on a first-gen R nineT but with a lot of customisation — mostly on the top-end. It's based on a BMW R90s (1974-1976), but also with the painted frame, to make it really stand out.
The customisations include VERY low clip-on handlebars, a custom fairing that mounts over the stock light, a BMW solo seat cowl, and of course a full exhaust system, custom fabricated.
Interestingly, BikeBiz seems to have left the airbox and pipes intact. Not sure why, as they definitely have a lot of pod filters in stock!
They also left the suspension intact.
See this write up on BMW's website for more info.
JVB Moto — BMW R nineT "Two"
JVB-moto, a German parts manufacturer and design shop, made this custom BMW R nineT café racer that was built out of, curiously, an R nineT Racer.
That explains why the suspension is still the stock (non-inverted, non-adjustable) kind found on the original racer.
But JVB-moto started by changing the riding position, with handlebars that are higher and further back. JVB-moto also customised the seat, the airbox cover, the seat, the headlight, and the exhaust (which is an Arrow full system).
The wheels have carbon fibre covers over the spokes. There are some reasons why this may be a good idea, but in this case it's just cosmetic.
I think this is a good example of an R nineT Racer that's even better, with angles in the plastics that better suit the Racer fundamentally.
JVB-moto also kept most of the go-fast bits stock in this R nineT café racer build, including the intake, the suspension, and the oil filter (which is sometimes replaced for a bigger one).
The best part is that since JVB-moto is a design and manufacturing company, you can buy all these parts to make your own R nineT cafe racer build at home.
ARES Design — Bullet
ARES Design builds unique coaches, cars and motorcycles in Modena, Italy. It's run by CEO Dany Bahar with a Dubai-based partner Waleed Al-Ghafari.
ARES built a limited run of 25 motorcycles based on the R nineT — called the R nineT Bullet. They call it a "Neo Retro Racer".
It's based on the base model R nineT, though you'd be forgiven for thinking it's based on the racer. The giveaway is the inverted forks, which they say is standard in their press release (the racer has gaiters-covered standard forks).
ARES Design customised the exhaust, building a custom 2-in-2 exhaust, with heat shield below and finished in matt black.
At the front, they added clip-ons under the triple clamp, bar-end mirrors, a fairing, and a tiny guard on the front wheel.
ARES also deleted the airbox, replacing it with pod-style filters with little covers on them (maybe to protect them from dust… or rain). I think these look really cool.
To make sure it still runs smoothly, ARES remapped the bike's ECU to accommodate the new exhaust and pod filters.
Interestingly, ARES really went for it with the sportiness. The seat is 4 cm (2.5 inches) higher, has higher-positioned footpegs, and of course the clip-ons. This bike has a full-on sporting riding position, which not all would like!
Wrap up — What have I learned?
Looking at the above examples for inspiration and doing a bit of internet research for my R nineT café racer build, I've learned a few things.
Firstly, unsurprisingly, everything here is going to be expensive. There is a lot of custom building involved. So I have to think carefully about whether I want to profeed and how far I want to go.
The main modifications I want to do are clip-on handlebars, a bikini fairing, a monoposto seat with a rear cowl, and an improved rear shock. Those would likely set me back around $2-3K, especially considering that the fairing would have to be custom-made.
I doubt I'd make performance modifications — it's a rabbit hole that's frequently unrewarding unless you're on a performance-oriented bike. Performance exhausts are loud, and pod filters often need a tune to ensure you're running rich enough — and then may result in weaker low-end torque. What's the point?
See this thread for example discussing the Akrapovič titanium catless headers. "After a few spirited rides and coming home almost deaf…". Not sure that's for me.
The most important thing for me to change is the controls and the front fairing. I want the handlebars to be narrower and lower, and I want a small fairing to protect me from the elements. Everything else is optional.
So my build may be limited to narrower bars and a small fairing. The hunt has begun!