For those of us who don't have the latest motorcycles with cruise control, but have the (mis)fortune of trying a motorbike with cruise control and realising how awesome it is, we often think:
Is it possible to add cruise control to a motorcycle?
What options are there for aftermarket motorcycle cruise control?
What's the difference between cruise control and a throttle lock?
And what are the most cost effective or best options, and everything in between?
Yes, cruise is becoming more and more common on high-end, modern motorcycles with ride by wire, even including middleweights like the Aprilia RS 660 or the 2021 Yamaha MT-09 SP.
–> See our article on all the (sometimes unexpected) motorcycles with cruise control
But for those of us who consider ourselves lucky to even have ABS, or fuel injection, then cruise control may be something we have to add as an aftermarket option.
Luckily, there are many choices these days. It's a little hard to parse through the marketing and read real-world reviews, but that's what I'll try to present here.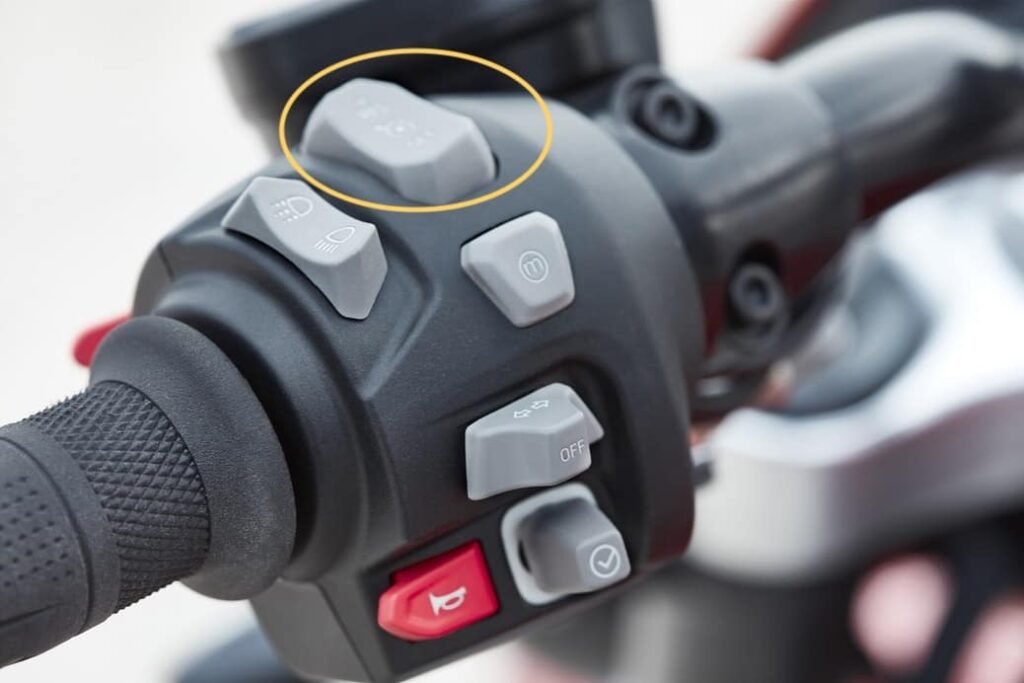 This article contains links to Amazon and eBay for which I get a commission for things I recommend, but I only recommend the best things. Also, there's no way of avoiding the commission (it's not like I get a discount!). Either I get it, or Amazon/eBay keep it!
Are you obsessed with motorcycles?
Well, I am. That's why I created this site — as an outlet. I love learning and sharing what others might find useful. If you like what you read here, and you're a fraction as obsessed as I am, you might like to know when I've published more. (Check the latest for an idea of what you'll see.)
Our Aftermarket Motorcycle Cruise Control Recommendations — In a nutshell
Here are our recommendations for which cruise control or throttle lock to get in a nutshell. You can read on for more analysis as to why we chose these and why we prefer them over other brands or designs in the same category.
Note — I have owned and used all three of the devices I recommend — writing this article was my research process!
Category
Cheap but Effective
Mid-range
Premium
Which
Omni-Cruise (brake lever rest)
Atlas Throttle Lock (our pick)
MCCruise full electronic cruise control
Pic
Price (USD)
~$50 (+postage)
~$200
$500-900
Why
* Very easy to install
* Easy to use
* Works with every bike
* High-quality
* Easy to install, but not painless
* Very easy to use
* Automatically releases when braking
* Looks great
* True electronic cruise control!
* Holds steady speed anywhere
* Looks great
* Foolproof, high safety
Caveats
* Takes re-training braking
* Not true cruise control (but do you need that?)
* Slips eventually
* Not true cruise control (but do you need that?)
* Slips eventually
* Relatively tricky to install
* More expensive
The best aftermarket cruise controls
Before the naysayers: Why even think about cruise control on a motorcycle?
A lot of motorcycle riders will say "Cruise control? Pish posh! All I need is a throttle, some brakes, and some bits in between."
I sympathise. I myself prefer simple motorcycles. I like to understand how they work and be able to service them. And any additional tech is just one more thing that will eventually go wrong.
But if you have an open mind, consider this: cruise control on a motorcycle often serves a more acute purpose to the buttons on your Toyota Camry.
Yes, when you have full electronic cruise control on a motorcycle it can serve the same purposes as in a car — letting you relax, keeping fuel consumption lower, and staying afoul of speeding camera traps.
But because riding a motorcycle is often more intense, tiring, and high-risk an experience than driving a car, cruise control can be even more useful.
On a motorcycle, a cruise control or throttle lock unit can let you:
Relax your wrist and hand. Many riders on sport and sport touring bikes, or those bikes with heavy vibration, complain of wrist pain or numb hands, particularly in their throttle hands. Being able to take your hand off the throttle and shake it out does wonders for being able to ride long distances. (Note — you don't need a fancy electronic unit for this — see the below table on whether a throttle lock can do the same as cruise control)
Keep you fresh. Keeping the throttle in the right position over a long distance, making sure the speed is at the right level, is tiring. It's one more thing to tire you out, and tiredness can have drastic consequences on motorcycles. Full electronic cruise control is better for keeping you fresh, but a mechanical throttle lock can do it for flat highways.
Use your right hand while riding. Sometimes you just need to adjust a screen or turn a knob, and it's awkward to reach with your left hand. If you're on a boring stretch and nothing's going on, pulling over can seem redundant. (I know, I shouldn't advocate this, but you be the judge.)
So no, you don't "need" cruise control. You might even prefer to not have any cruise of any kind to keep your motorcycling experience pure. But it's just nice to know there's an option out there, and it just might enhance your riding experience.
Cruise Control vs Throttle Locks: What is "Cruise control" on a motorcycle?
If you have electronic cruise control on your motorcycle, then you know what it is. Electronic cruise control exists mostly on modern motorcycles that have "ride by wire" throttles, though it also exists on older motorcycles (like older Gold Wings) that have traditional throttles — operating the throttle via a servo.
Most of the aftermarket "cruise control" options in the list below are actually "throttle locks". I call them "cruise control" here because that's what we're used to calling them, it's probably what you're looking for, and a lot of the functionality overlaps.
Functionally, cruise control and throttle locks have similar purposes, but they're not the same. Rather than look at what they do, I like to think about what your intention is in installing motorcycle cruise control. Why do you want cruise control? In a car, it's because you're on a boring highway and don't want to worry about speeding, or want to give your foot some relief.
On a motorcycle, you're usually (hopefully) having more fun. But there are inevitably boring bits of highway in between the fun bits. And the intention is usually to give your wrist a bit of a break, so you can shake the tingles or pain away, or maybe pick your nose briefly (don't do that… because it means you're not wearing gloves. ATGATT, baby!)
What you want to do
Does CRUISE CONTROL do it?
Does a THROTTLE LOCK do it?
Give your wrist a rest, to shake out the tingles/pain
Yes
Yes — works best for short periods
Keep to a specific speed on the highway
Yes
Yes, though it's harder to hit the exact speed
Keep to a specific speed in varying terrain
Yes — within 2-3 km/h (more variance on hills)
No — within 5-10% on the flat, and with much larger variations on hills.
But aren't you trying to enjoy yourself on the hills on a motorcycle?
Cruise control vs Throttle Locks on motorcycles
That last line is important. People often say "but this isn't a true cruise control as it doesn't keep the same speed in varying terrain".
This is a valid concern if you're really bothered with keeping one speed over vast distances and different terrain. You might be bothered by this if you're riding a large cruiser or adventure tourer, like a Gold Wing (which has cruise, anyway).
But many motorcycle riders want to vary their speed when the terrain gets interesting. It might be to have fun, and it might be for safety (e.g. to not fly over a crest at the same speed as over a flat).
So with that in mind, a throttle lock can give you most of the benefits of motorcycle cruise control on a motorcycle at a fraction of the cost.
Quick buyers guide — Motorcycle Cruise Control Options from Cheap to Expensive
Here are the types of cruise control you can add to your motorcycle.
Motorcycle cruise option
Price guide
(USD)
Brands
Pros
Cons
Brake lever rest
$50
* Omni-Cruise
* Go Cruise 2
* Easy to install
* Cheap
* Gets the job done
* Moves with vibration
* Less attractive
* Hard to set the right speed exactly (more +/- 10%)
* Requires mental retraining when you brake
Friction knob
$50-200
* Kaoko
* Throttlemeister
* Wunderlich
* Easy to install
* Quite easy to use
* Very discrete
* Means moving your hand around on the throttle
Advanced friction plate
~$200
* Atlas Throttle Lock
* BrakeAway
* Very easy to use
* Looks good
* Quick release when you brake
* Slightly trickier to install
* May still have friction when disengaged
Electronic cruise
$700-1100
* MCCruise
* Veridian
* OEM option (e.g. Triumph, Harley-Davidson)
* Real cruise control — adjusts with inclines
* Looks "nearly OEM" (or even OEM)
* Expensive! You better love this bike
* Tricky to install (not "hard" — but time-consuming)
* "Nearly OEM" means functional but not stylish
Summary table of alternative cruise control options for motorcycles
More detail on these options below.
The TL;DR summary (of my opinion) is that the best compromise between cost and functionality is the Atlas Throttle Lock. I have one and love it.
Brake lever rests — Omni-Cruise, Go Cruise (Cheap and effective)
Brake lever rests are the simplest type of motorcycle throttle lock. They're cheap and effective, but using them can be a bit annoying, especially when braking.
I personally own and use an Omni-Cruise. I currently have it on a BMW R nineT and previously used it on my Honda CBR600F4i. One thing I love about it is how easy it is to swap out to other bikes. Read on for other reasons for which I prefer it.
Firstly, these aren't a "cruise control" — they're a "throttle lock". See below for more on this. But basically, a brake lever rest holds the throttle steady — which means when you get to a hill, you'll slow down, and on the other side, you'll speed up.
Installing a brake lever rest throttle lock is easy. It's like attaching a vice grip to your throttle. You undo the release screw enough to be able to slip the rest over the throttle grip, get it in the right position, and tighten the screw.
Even if you don't tighten the screw enough (or if it comes loose over time), it's easy to re-tighten the screw later — even with motorcycle gloves on. See that big knurled knob — it was designed to be used with gloves.
Using a brake lever rest as a throttle lock is easy, but takes some practise.
To set the throttle position, you hold the throttle open where you want it, push the tab on the back until the rest rests on the brake lever, and let go. The tension should be tight enough to hold the throttle in place. Pro tip — Set your target speed a few km/h or mph higher, allowing some give for the lock to rest into place.
To release the throttle, you rotate the throttle forward. Even when it's super tight, it's easy to roll forward.
To brake, you have to rotate the throttle forward as you brake. Braking takes a bit of retraining and can be a hazard in an emergency situation, and that's the major caveat of this kind of throttle lock. In theory, you can just pull the brake to release the lock, and while that's nice, in practise braking lifts the lock slightly, causing acceleration.
Generally, the brands of brake lever rest-style throttle locks are made of good quality material, like billet aluminium and stainless steel, and rubber for the contact points with the motorcycle. This is true of the original brands as well as the knock-offs that have permeated the market.
The main brands are Omni-Cruise and Go Cruise. Many other brands are cheaper knock-offs that I don't recommend.
Omni Cruise
The Omni Cruise (pictured above) is a high-quality, hand-made throttle lock made by a guy named Brian in his studio in Anaheim, California. For those to whom this is important, it means it's 100% American made. But even for those for whom it's not, it means each one is custom-made by a person who is dedicated to every single Omni Cruise being the same high quality.
The Omni Cruise gets much more favourable reviews than the Go Cruise (original), which was made of plastic, and still has more favourable reviews than the Go Cruise 2 because of its larger engagement tab.
The Omni Cruise is a one-design-fits-all that you can easily take off when you sell your motorcycle (or when you take it to the track).
Go Cruise 2
The Go Cruise 2 is very similar to the Omni Cruise. The original Go Cruise copped a lot of flak because it was made of plastic, but the Go Cruise 2 is now also made of anodized aluminium.
They're very similar. The major differences between the Omni Cruise and the Go Cruise 2 are that
The Omni Cruise is much more human a business — decent web page, and you know who made it (and where)
The adjustment/tightening mechanism is different
The lip to set the speed on the Omni-Cruise is bigger
The pricing is similar. If I had one I'd probably keep it, but if I had neither, I'd prefer the Omni-Cruise.
Friction knob/bar-end throttle lock — Kaoko Throttle Lock, Throttlemeister, Wunderlich
A friction knob-style throttle lock is basically a bar-end that you install just as you would install any other bar-end, but that has functionality to hold your throttle in place.
The way you use a friction knob is before accelerating, you shift your hand to the outside of the handlebar, so that you're over the throttle lock. Then you turn the throttle at the same time as the throttle lock, so it locks into place as you get to the desired throttle position.
Tl;DR: If you want to get a bar-end style throttle lock, get the Kaoko Throttle Lock. It's more expensive, but it is a lot easier to use because of its knurled design.
To release the throttle lock, you do the same but in the opposite direction — cover the friction knob with your hand and roll the throttle forward.
If you don't disengage the throttle lock, you can still roll the throttle forward and backward to make adjustments.
The major caveat of friction knobs is that it requires a bit of retraining in emergency braking. If you're on a highway and going at high speed and suddenly a deer, wild boar, cow, or kangaroo jumps out at you, then when you progressively get on the brake you have to also remember to progressively roll forward the throttle — and maybe release the throttle grip. For this reason, I prefer the more advanced (but similarly priced) Atlas throttle lock, below, electronic cruise, or even a humble brake lever rest (which also requires re-training, but is easy to install and remove).
Another caveat is that the Kaoko throttle lock comes in a large number of SKUs (around 200) for many different kids of motorcycle. The differences are subtle, but it means you can't just move a Kaoko from one motorcycle to another. This is in contrast with the brake lever rests (which are universal) or even the Atlas Throttle Lock, which only comes in two varieties, one of which (the "bottom kit") works on most motorcycles.
The major brands of bar-end throttle locks are
Kaoko (most expensive, but most common). These have a knurled knob on them that make it easy to grip them and to know when they're engaging. If you want this kid of throttle lock, the Kaoko throttle lock is our pick.
Throttlemeister (older brand). Very good quality, but they have a smooth knob that's hard to grip (and you don't want distractions when you're riding!). Most users stick a bit of tape on them to get a grip.
Wunderlich (cheaper, less known, but great quality). Wunderlich makes these throttle locks mostly for BMW motorcycles, but they're likely to work for a lot of others. Still , because of the smooth design, I'd opt for the Kaoko.
Advanced friction plate designs — BrakeAway, Atlas Throttle Lock
These designs work in the same fundamental way — they provide friction against the throttle to hold it in place.
But the differentiator between these and the friction knobs is that
You actuate them with a button — which is easy and intuitive
They automatically disengage when you brake — so you don't have to have an extra step in braking
Installing one of these types of throttle lock is a bit more tricky.
BrakeAway — Mostly for cruisers; has brake release
The BrakeAway throttle lock was initially built for cruiser motorcycles and is compatible with a bunch of Harley-Davidson and Japanaese-built cruisers. It's also available for a lot of other motorcycles, but there are few sportbikes in their compatibility list.
The BrakeAway throttle lock is button activated and de-activated, and has a clever mechanism so that tapping on the brake lever deactivates it instantly. It works really well, with users really liking it. For this reason, though, the BrakeAway throttle lock is model-specific — you can't just pick it up and bung it on another bike (without modification, anyway).
The BrakeAway is very highly built and complements a shiny, chromed-out motorcycle. It looks "OEM" when installed correctly.
Owners of the BrakeAway are happy with it and think it's a great upgrade over having a throttle assist lever of some kind.
Downsides to the BrakeAway are:
It's only available for specific motorcycle models. Check on their fit list whether yours is supported. They can be quite conservative and will only sell you one if they've tested it on a specific motorcycle… but the truth is, they don't make many models, and chances are that one will work on yours (but you'll probably have to test it at a dealer to find out). Almost no motorcycles with clip-on handlebars are supported.
Installation can be tricky. Some people on forms said they had to bend pieces to get it to fit. Not for the faint of heart.
It's kind of expensive. Most models are US$179, and then the ones for Harley-Davidsons are $209. Luckily, if you buy it from the website, shipping is free.
I really like the BrakeAway because of its auto-release mechanism. But since it's just for cruisers, and I don't currently have one, and since the Atlas Throttle Lock works for so many more bikes, that's my preference.
Atlas Throttle Lock
The Atlas Throttle Lock is a newer entrant on the market. They make a beautiful, well-functioning piece of machinery that is designed to be intuitive to use — just like pushing a cruise control button.
I personally have used the Atlas throttle lock (on a Suzuki GSX1300R Hayabusa). I really like it because it's discrete and looks like part of the bike — which is important as a persnickety police officer may make trouble for you if they perceive it as something that doesn't let your throttle return to rest when engaged.
Using the Atlas Throttle Lock is much more intuitive than using a friction knob. When you push the button on the Atlas Throttle Lock, it engages a friction plate (a tiny pad of plastic) that holds the throttle in place by holding it against the main throttle housing assembly. To release the Atlas, you press the release button.
Like other throttle "locks", the Atlas Throttle Lock just provides enough friction to hold the throttle in place. This means that you can still move the throttle if you need to, either to adjust speed, or to brake, without disengaging the throttle lock.
Similarly, this also means that over time, vibration will cause the Atlas Throttle Lock to slip. It's not meant to hold a steady throttle position for long periods.
Emergency braking with the Atlas Throttle Lock is the same as with bar-end types. You can brake as usual, but there'll be friction against the throttle. It's easier to release, luckly.
Installing the Atlas Throttle is relatively easy but not a doddle (like it is with brake lever rests). You need to
Buy the right kit (usually a "bottom kit" with the buttons below the housing, but sometimes a top kit if you have obstructions — see their fitment chart)
Choose a colour (black or chrome. Decisions!)
Ensure there's enough space between your throttle and its housing wall (there usually is, but you might have to loosen the grip slightly)
Make sure that area is clean (so the Atlas Throttle Lock grips), and
Install it and test it
Like other throttle locks, the Atlas Throttle Lock is not a true cruise control.
Electronic Cruise Control — OEM, MCCruise, Veridian, Tuneboy
Of course, the best kind of cruise control is one that's connected to your throttle and works dynamically, adjusting for engine speed. And the best kind is also always the most expensive!
OEM Electronic Cruise Control (Triumph, Harley-Davidson)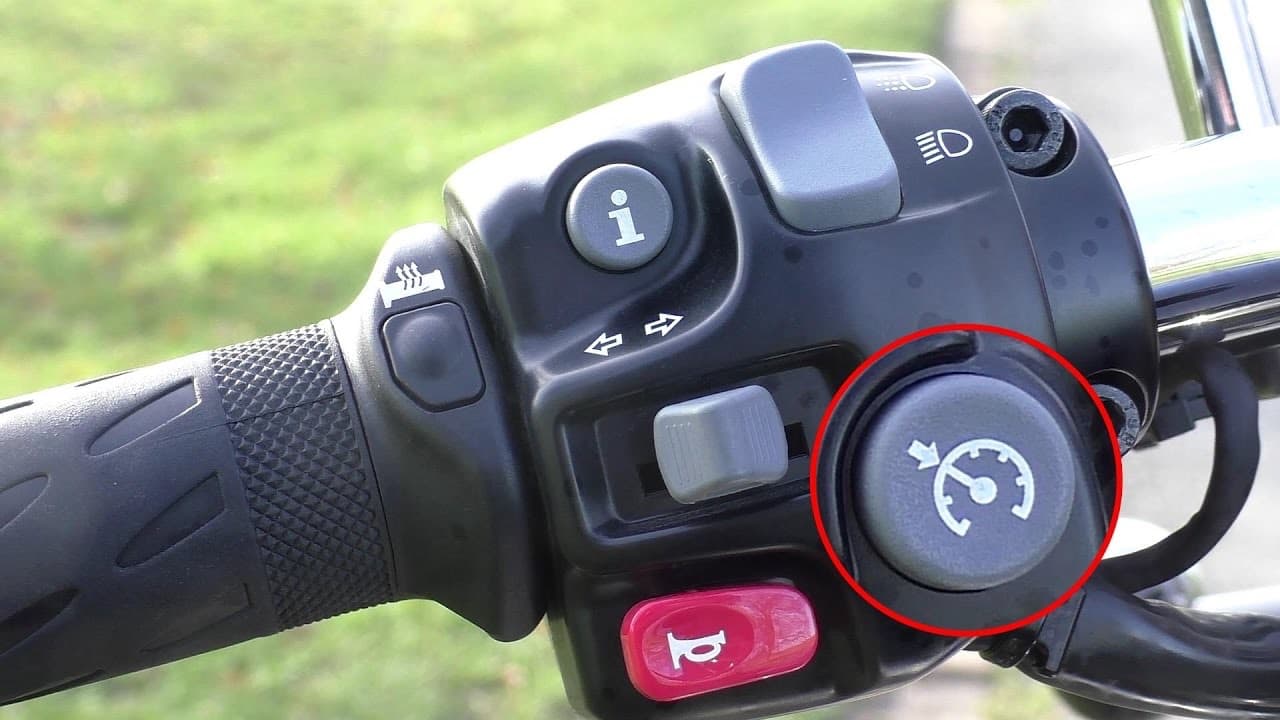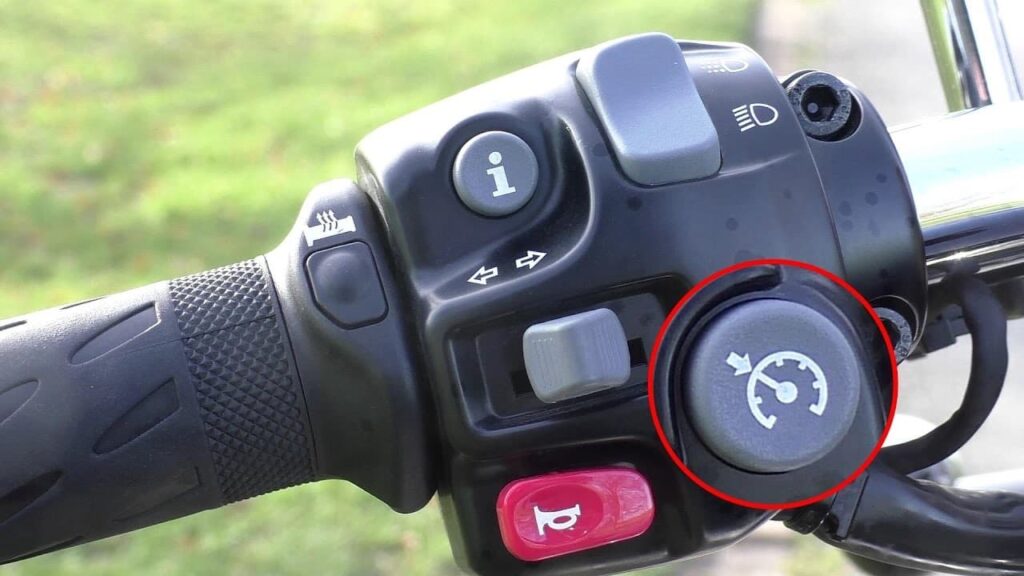 The first thing to do is check whether you have an option for OEM cruise control.
Late-model Harley-Davidson and Triumph motorcycles often have the option of factory cruise control. If yours didn't come with it, you can get a dealer to install a module and configure the ECU to support it.
Unfortunately the ECU configuration does have to be done at a dealer (unless you're brave and know the flashing sequence), so this option isn't cheap. That said, it's definitely the best-looking and most reliable!
Usually, adding in OEM cruise control is in the $200-400 range (USD). There's likely to be an hour of dealer effort, too.
I also investigated adding OEM cruise control to BMW motorcycles. This is harder, as it's rarely an option on its own — you either get it in a deluxe pack with a bunch of other things, or you don't get it at all. The switchgear unit is expensive (~$1200 for a BMW F 900 R I enquired about) and the dealer has to know how to enable it, but it's possible at some dealers.
MCCruise aftermarket electronic cruise control
The next-best option after OEM, and the best electronic cruise control option for most people, is an MCCruise cruise control unit.
MCCruise (not "McCruise", as I'm tempted to pronounce it, as if it were a Scottish touring vessel) is an Australian company that produces really nice looking push-button electronic cruise control units that plug into your motorcycle's harness.
While it's an Australian company, more than 90% of their customers are based in the US, and shipping is quick.
They make cruise control for a very wide range of motorcycles. Perusing the list of supported motorcycles, I can see that they have produced cruise units for most of my recent motorcycles other than my Honda sport bike (but they have one in development for the CBR1000RR, anyway!).
Installing an MCCruise unit involves
Installing the switchgear unit on the handlebars,
Installing the throttle servo (unless your bike is ride-by-wire),
Mounting the computer, and
Routing the wiring between the switchgear, the computer, the ECU and any other mechanisms you have to install.
MCCruise make units that work for cable-actuated throttles, ride-by-wire motorcycles (those that are modern enough to have RbW but which don't have cruise), and other variants.
People LOVE their MCCruise units. They work flawlessly, and have no issues. You can use them to keep within 1-2 km/h. Being electronic cruise control units, they work well on inclines and downhills as well.
You might be tempted to think "Wait, is this just an automotive cruise control mechanism adapted to motorcycles?" and while that was the case in 1997 when they first started their business, by the year 2000 they were already building their own controllers and computers with a ton of safety mechanisms because the stakes are so much higher with motorcycles.
The two downsides to MCCruise are the cost and the installation complexity. If you're paying in USD, you will pay between ~$500-850, depending on your model of motorcycle (which informs what bits of hardware you'll need). If you pay in Aussie dollars it's even more because you also pay domestic sales tax.
It's not that it's "expensive" per se. But since it's hard to recoup the value of add-ons to a motorcycle, this wouldn't be an investment that I would make flippantly. You'd have to be very committed to one bike.
Secondly, installing an MCCruise system is not trivial. If you have a ride-by-wire system it's quicker, but if you have a conventional throttle cable and more than one cylinder, you have to install a servo that can pull on the throttles, and a new cable splitter that connects to the servo. It takes someone a few hours if they've done it before, but it took me around 8 hours, sitting on the floor of my garage with my bike on a kickstand (more on that coming later).
Here's the chronicle of my MCCruise installation process on my BMW R nineT, for example. Definitely non-trivial, and a few things went wrong.
Because of the complexity of installing an MCCruise unit, many owners opt to get a mechanic to install it — and they usually get the job done within 3-4 hours, even if it's their first time.
But if you're hesitant about whether it's worth the cost and time — bear in mind that a) people LOVE MCCruise, b) the company is still a small business and you'll get that high-touch customer support, and c) just read this story of how they were founded, all their ups and downs, and their emphasis on quality and safety and you just might be convinced.
Veridian Cruise (A Few KTM models only)
The team from Veridian Cruise recently introduced electronic cruise control options for a few KTM models.
They have cruise control for
The KTM 390 Adventure / Duke and RC 390 models — All the RbW models, and some non-RbW ones
The 2014-20 KTM 690 Enduro / SMC. This would be interesting, cruise on a lightweight adventure / enduro bike! (2021+ coming soon)
KTM 1050 / 1090 / 1190 Adventure and Duke 2013-2017
They're expanding their range, too.
There are a few things that are unique about Veridian's cruise unit.
Veridian provide an OEM KTM switch cluster that they've rewired for a few of their options. Most notably, KTM provides this for the KTM 390 bikes (Adventure / Duke / RC). So it looks 100% factory. You can also save quite a bit of money and install your own switch (see the photos below), but you don't get "resume"… but personally, I never use resume, anyway.
The pricing is competitive. For an electronic cruise control, they're much cheaper than MCCruise, who have non-factory units. (Pricing depends on location / currency.)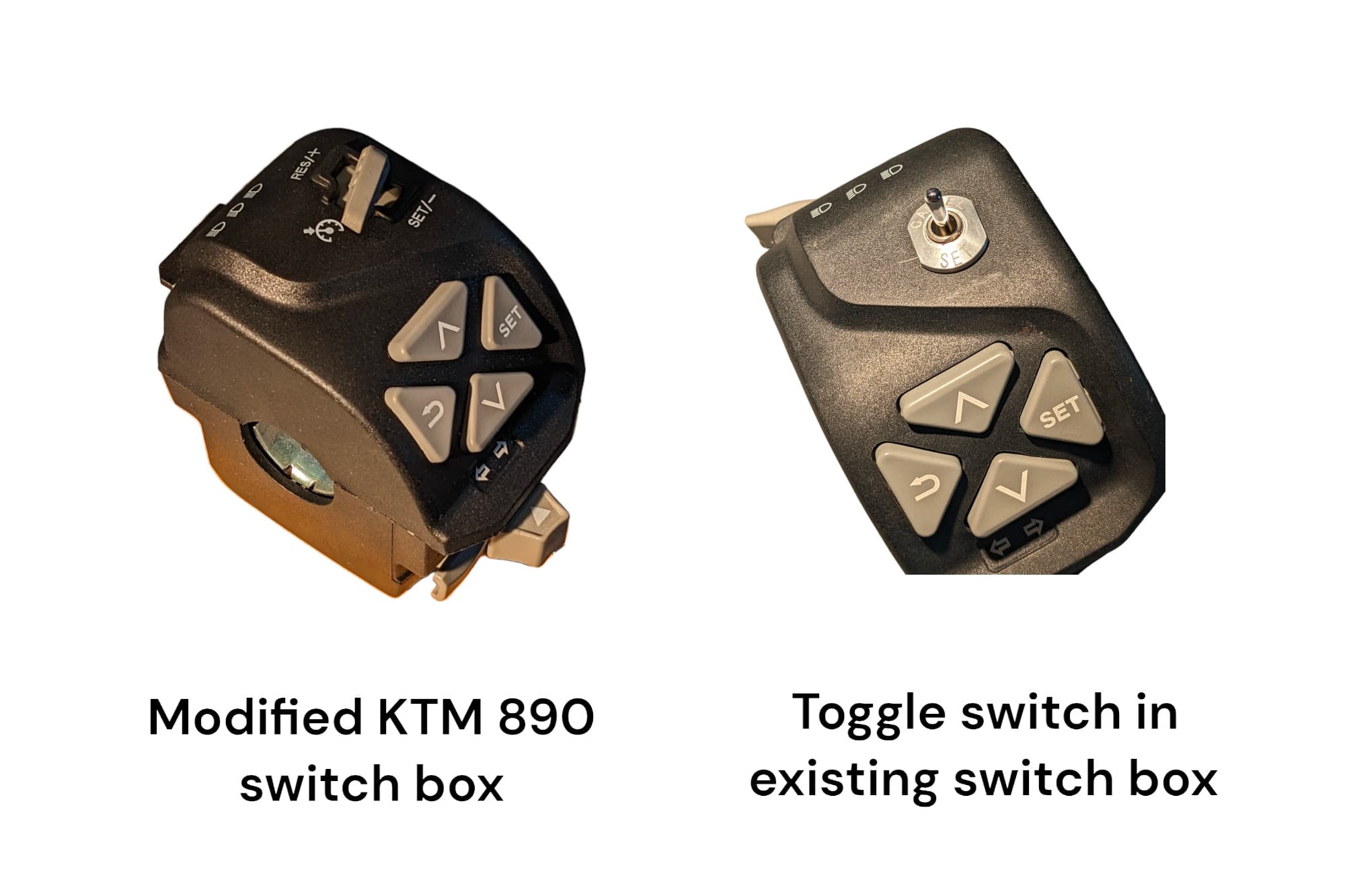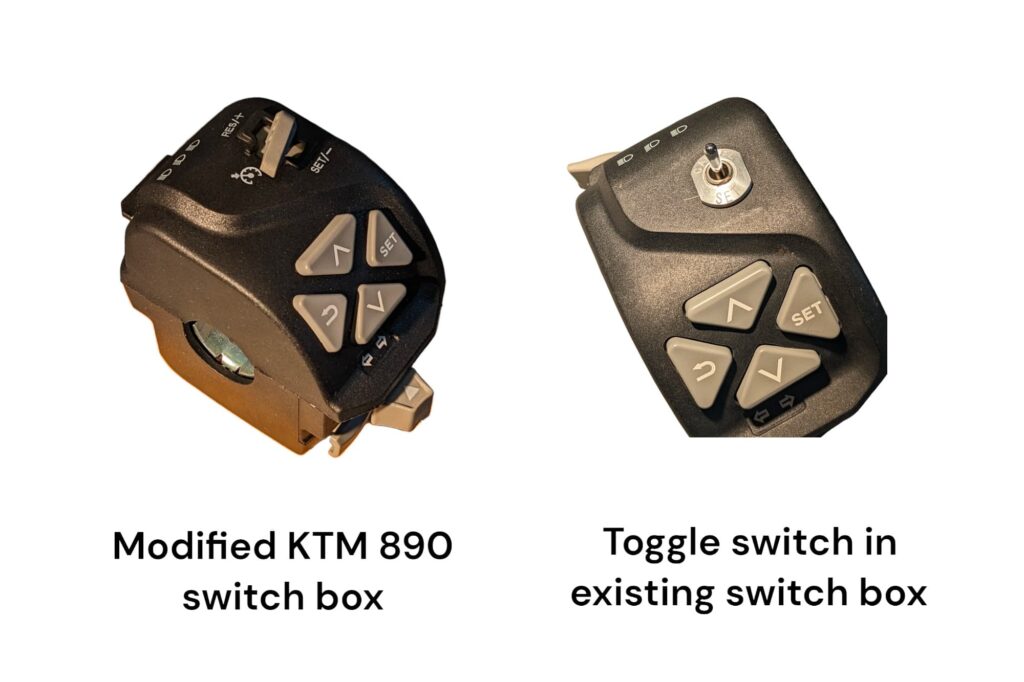 Installation looks roughly about as complex as installing an MCCruise. They recommend two house if you have the proper tools. You have to remove the tank and split the headlight housing, and plug stuff in to the diagnostic connector. They have manuals on their site, so you can get a sneak preview. Here's a video of someone installing it on their 390 Adventure. If the sight of lots of wires freaks you out, this one may not be for you.
So what are the downsides of Veridian Cruise? Nothing concrete. On some models, cruise doesn't disengage from them the rear brake. Not a big deal.
But you should bear in mind that it's a very new company with only a few models supported so far. You should just bear in mind that companies do come and go — life happens! — and so make sure you understand the product you're installing and know how to reverse it in the future, if needed.
Tuneboy (Some Ducati and Yamaha models only)
One option for those with a very limited range of motorcycles is to install a Tuneboy flash. Tuneboy is an Australian company run by an interesting computer programmer named Wayne who reverse-engineered a bunch of ECUs to be able to flash them with his own computer.
So for most motorcycles, Tuneboy is just engine management programming software. But something Wayne did along the way is enable various functions in the ECU, like cruise control and other things (auto-blipping for quickshifters, for example).
To use a Tuneboy electronic cruise control, you connect your Windows computer to your motorcycle's computer via a USB cable and flash the ECU to enable functions. This isn't for people who are averse to technology!
This isn't a cheap option (don't confuse this with TuneECU, another hacky engine reprogrammer) and still costs hundreds of dollars (generally between 4-600 Australian dollars, or roughly 3-500 USD). But it's a way of getting cruise control onto a few motorcycles that have most of the internal hardware in place, but don't have a cruise button enabled. And it's still much cheaper than MCCruise.
Tuneboy has a flash to enable cruise control on these motorcycles:
Ducatis with a Mitsubishi ECU

Panigale V-Twin(899, 959, 1199 and 1299)
Diavel (All models except the DVT 1260 cc X-Diavel)
Multistrada 1200* (2010 to 2014 models with the Mitsubishi ECU) — NOT the DVT models from 2014 onward

Yamahas with a Denso ECU

R6 (2006-2016)
R1 (2009-2014 AND 2015+, two different packages)
V-Max (2009+ with the 1700 motor)
MT-07/XSR700/FJ-07/Tracer 700
MT09/FZ09/XSR900 and FJ-09/Tracer 900
Of course, the 2021+ Yamaha MT-09SP and 2022+ Yamaha XSR900 now come with cruise control.
Some caveats about Tuneboy…
The website for Tuneboy is a little confusing and seems to be rarely updated. Some of the information on different pages conflicts — e.g. the years of Yamaha motorcycle for which the cruise control software work doesn't match up.
Users who have installed the Tuneboy software and used it said the documentation was poor, but they could figure it out. To me, this is a red flag. It's possible that a quality product comes despite a bad website, but it's additionally risky considering the sticker price of Tuneboy software. At very least, contact the owner first and say "hello" and ask any general questions!
Reviews on forums about Tuneboy are either occasionally positive on the cruise control aspect, or overall slightly negative when also considering the tuning aspect. Reviews on the software are that it has bugs (and let's not forget that it's Windows only), and reviews on the cruise control are that it's great when it works, but sometimes the additional buttons don't work — in general, opinion is that it is not as good as that offered by MCCruise.
Recommendations
If you want to spend the least, get an Omni-Cruise. I really like it. But if you get one, practise doing some emergency braking, just in case. Never know when a cheeky kangaroo will jump on the road!
And if you want to get an easier to use device, get an Atlas Throttle Lock. They're attractive, not hard to install, and very easy to use.
If you're really committed to your bike for the long haul and don't mind spending money, get an MCCruise unit. They look really good and are flawless and are backed by a company with good folk.