Lately I've been seeing some surprisingly appealing bikes come out of CFMOTO, a Chinese motorcycle manufacturer and brand. One that caught my eye is the CFMOTO 700CL-X Sport, which I hope to flog around a track soon.
It's easy to find out about the history of American and European motorcycle companies (and relatively easy to find out about Japanese ones), but very hard to figure out much about Chinese companies in general.
To many people around the world, saying "China" or "Chinese-made" tends to evoke instant emotional reactions based on a lot of our own experience and things we hear.
It is of course OK to have emotions. Particularly about motorcycles — it's a very personal subject! But it's also useful to have some facts surrounding those emotions so we know exactly what we're talking about.
I've lived in China, speak Chinese (Mandarin), and have visited Hangzhou (where CFMOTO is based) a few times, so I have a personal connection to it. I'm not an authority on CFMOTO or China (far from it!), but in my time in that very interesting place, I have learned it's useful to not make generalisations about a massive country and complex society.
Next time I go to Hangzhou, I really hope to visit the factory, if they'll let me visit.
So here's a general overview of CFMOTO — the company.
Updated September 2023 with the Yamaha partnership.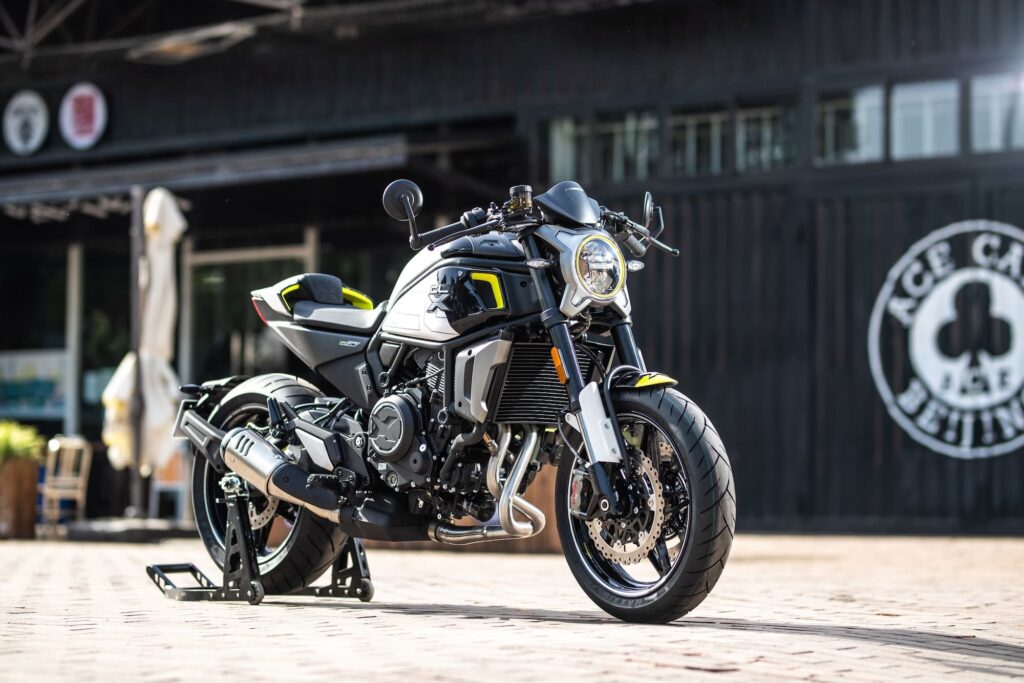 Are you obsessed with motorcycles?
Well, I am. That's why I created this site — as an outlet. I love learning and sharing what others might find useful. If you like what you read here, and you're a fraction as obsessed as I am, you might like to know when I've published more. (Check the latest for an idea of what you'll see.)
Overview of CFMOTO
CFMOTO was founded in 1989. Its headquarters are in Hangzhou, the capital of Zhejiang province — a relatively beautiful city, famous for its central lake (the West Lake), and known for being one of the major tech centres and a startup hub of China.
The president (董事长) of CFMOTO is 赖国贵, Lai Guogui.
Hangzhou is 200 km from Shanghai and very accessible from Shanghai's main airport by high-speed train — you can get there in thirty minutes. Economically, Hangzhou is a very important city in China, and a place where a lot of factories and tech companies are based.
CFMOTO is a 100% Chinese powersports company. Its main business is in ATVs (which is their only business in the US), motorcycles, and lubricants.
CFMOTO was listed on the Shanghai Stock Exchange in 2017 with the stock abbreviation 春风动力 and stock code 603129.
If you have access to the Shanghai stock exchange, then CFMOTO would have been a good stock to own before 2020. Since early 2020, its value has basically quadrupled.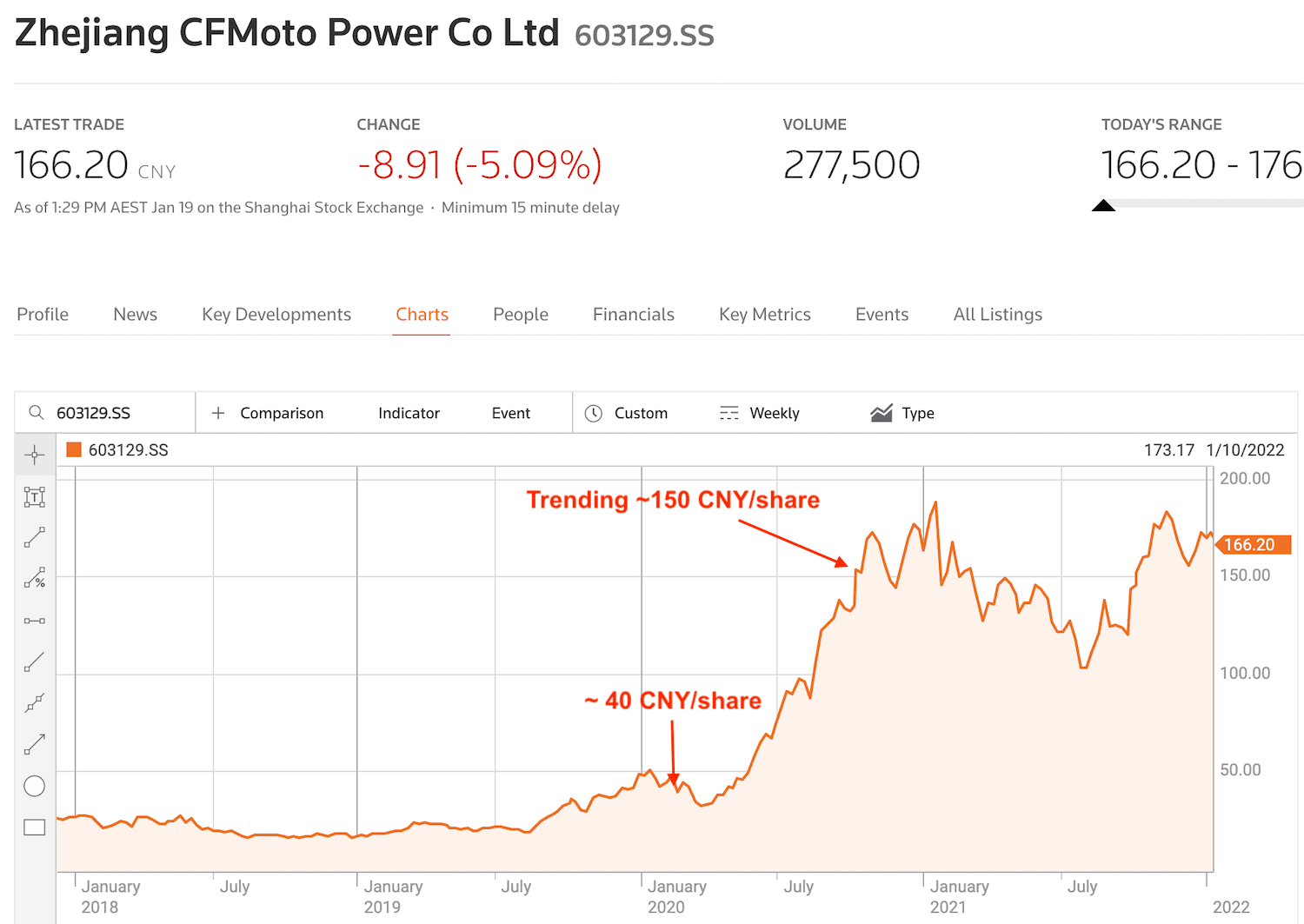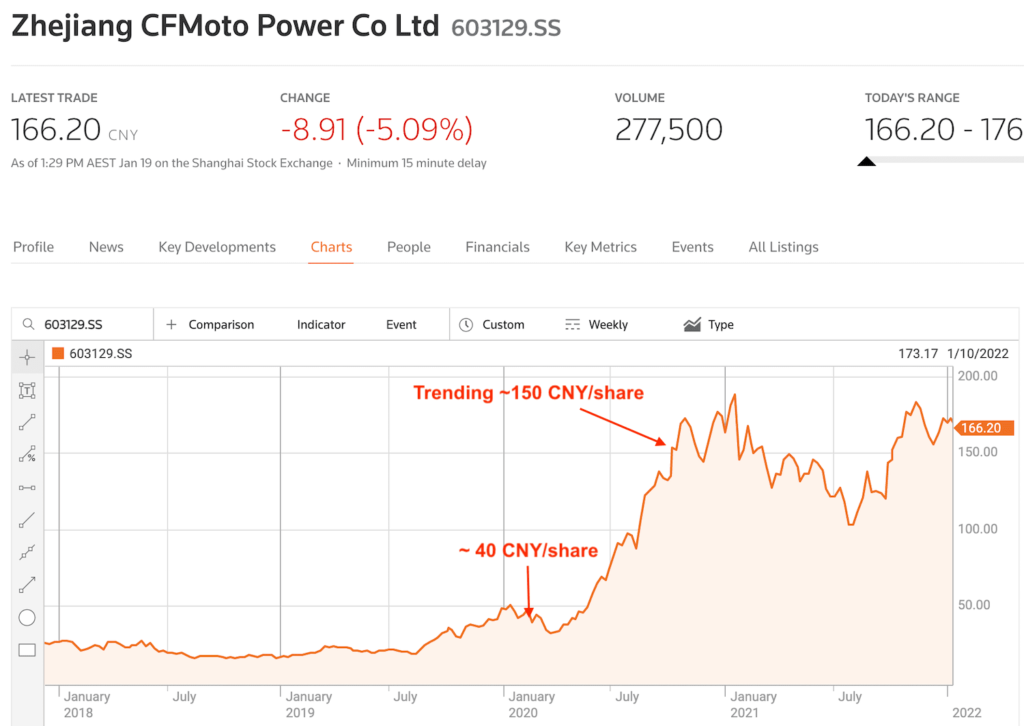 Note: Since publication, the share price has stabilised around the 140-150 CNY price.
CFMOTO is becoming an important brand because they do a lot of manufacturing, and because their motorcycles are becoming genuinely well-accepted in the international motorcycle marketplace.
As of 2021, according to their website, CFMOTO had around 1800 employees, with 200 members in their R&D team. These numbers may be out of date, but it shows it's a sizeable company. At that time, they produced over 600,000 motorcycles a year as of 2021, mostly for China.
An updated number of employees of "Approx. 4,000" was quoted on the press release for the CFMOTO / Yamaha partnership, as of September 15, 2023.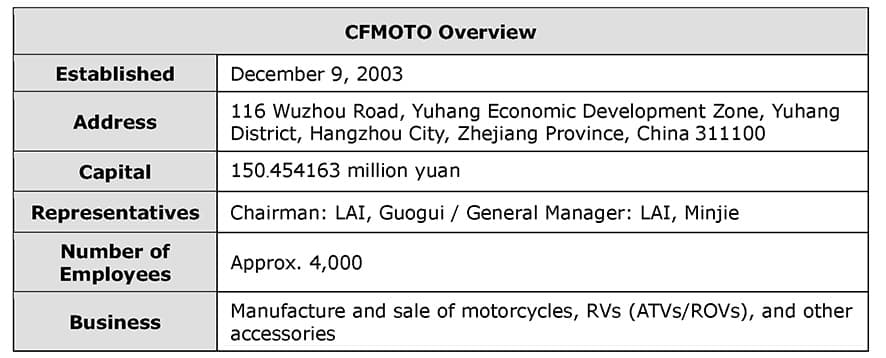 Here's their Chinese company website: https://www.cfmoto.com/, which can be oddly hard to find if you're searching from outside China.
About the name CFMOTO
You might be wondering where the name "CFMOTO" comes from. Firstly, that's how they write it — all capitals (not "CFMoto" as some magazines report it).
The full official Chinese name for CFMOTO is 浙江春风动力股份有限公司, which translates to Zhejiang Chunfeng Power Limited Company.
The core of the name is the first four characters 浙江春风. The rest means "power company limited by shares".
You pronounce these fore characters zhèjiāng chūnfēng according to the Pinyin pronunciation system. Literally it means "Zhejiang (a region) Spring Wind Power". It's a poetic name (as are many Chinese company names), but translated it might confuse non-Chinese speakers into thinking it's a wind power company, that focuses on the wind of spring!
Because non-Chinese speakers often find it hard to pronounce Chinese company names, a typical approach is to use acronyms for either company names or the founders' names. In this case, they took CF from chunfeng, and call it CFMOTO for international audiences.
Main Motorcycles CFMOTO produces
Most readers of this website asking "Who is CFMOTO?" will be wondering about motorcycles.
This is notwithstanding that CFMOTO produce some amazing ATVs! I just know less about ATVs (they look fun, but riding them on roads is restricted in most places).
CFMOTO makes mostly smaller motorcycles, but in recent years has started to make some bigger capacity ones.
CFMOTO 650-class motorcycles
CFMOTO has sold the 650NK (the naked bike) since 2012, and revamped it significantly in 2017, along with releasing the 650GT (a sports tourer) and 650MT (an adventure tourer).
The 650 class of motorcycles are all powered by a 649cc liquid-cooled eight-valve parallel twin. The engines have a bore and stroke of 83.0 x 60.0 mm, and a compression ratio of 11.3:1.
In terms of engine dimensions and design, it's very similar to that in the Kawasaki ER-6 or Z650/Ninja 650 bikes. They also have a 83.0/60.0mm bore and stroke, though the Kawasakis run a milder compression ratio of 10.8:1.
Despite this, their peak power is very similar — maybe different by 1 kW or a couple of bhp, but that's a rounding error these days.
The 650 class of motorcycles make around 52 kW (70 hp) at 8750 rpm, which is lively without being aggressively sporty. They're also sold in a learner restricted version, which makes around 41 kW (55hp), for compliance in markets like Australia and New Zealand that have power restrictions as well as capacity restrictions.
Seeing the 650 and 400 class engines (which also share similarities), I thought that Kawasaki and CFMOTO may have had a manufacturing partnership, but I haven't found any evidence for this. Kawasaki still manufactures in Japan.
CFMOTO produces motorcycles in the 650 class as foreign escort and police vehicles in China, including the CF650G and CF650J versions.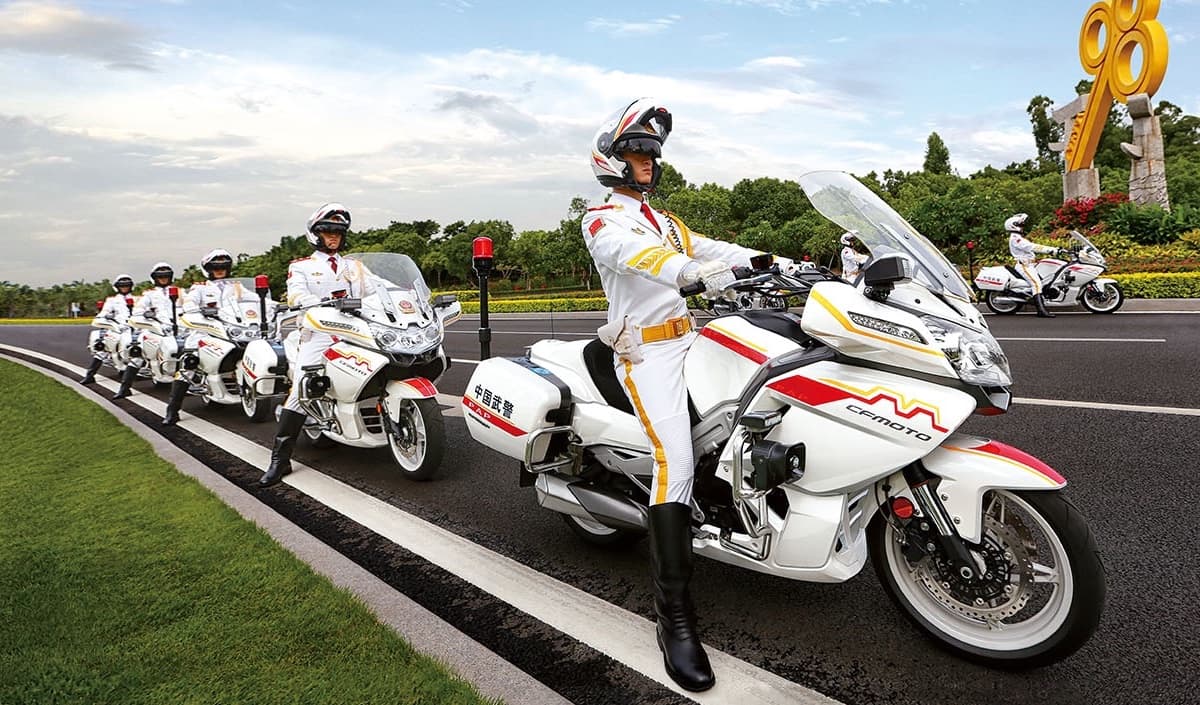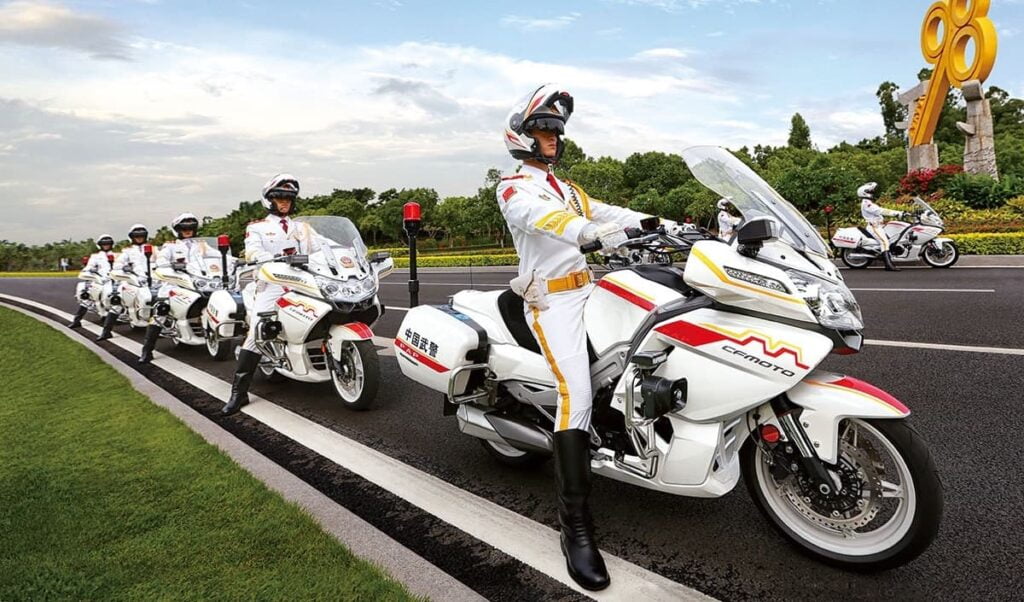 CFMOTO 800-class motorcycles
The CFMOTO 800 class of motorcycles starts with the 800MT, an adventure tourer.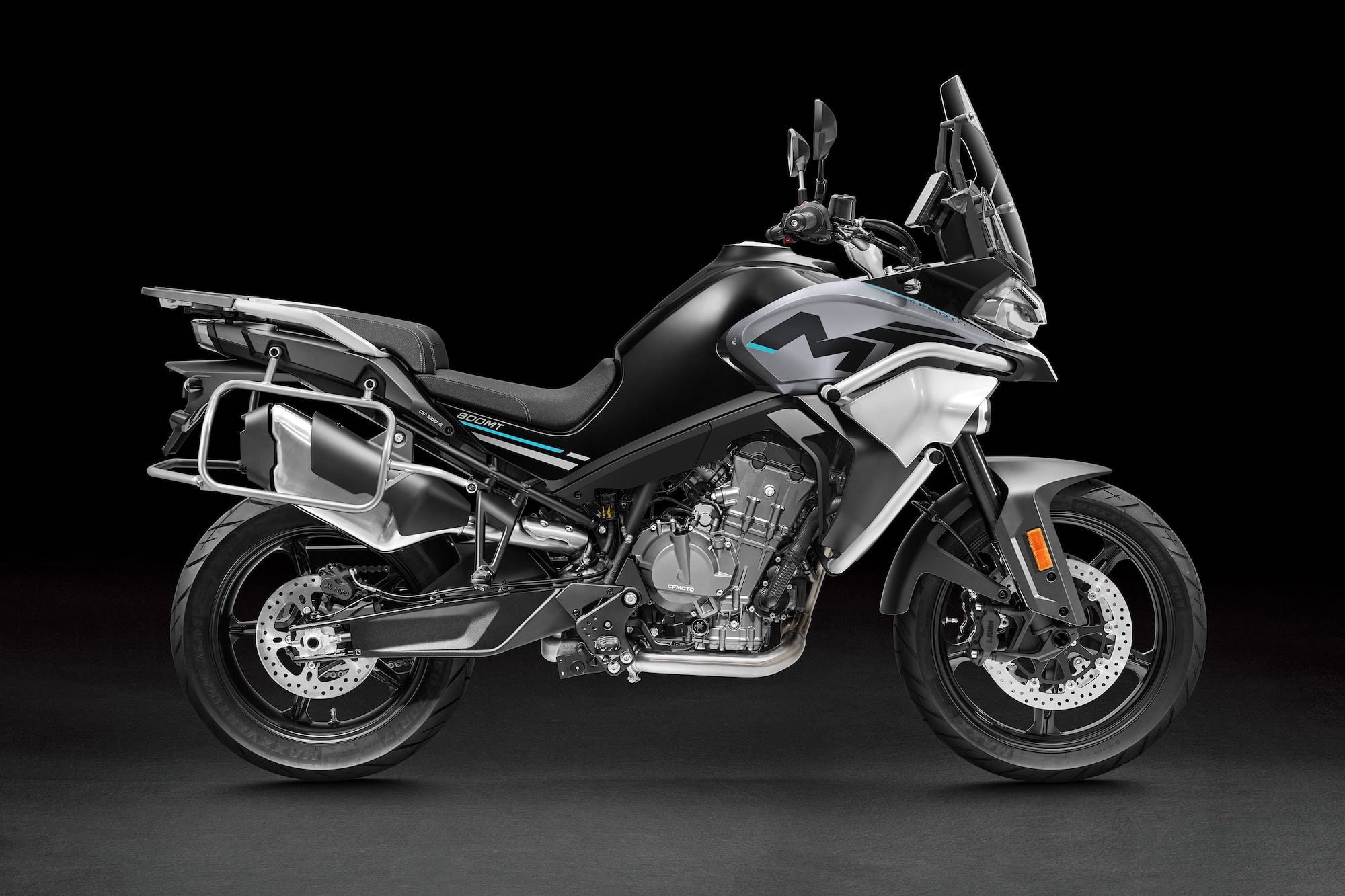 The CFMOTO 800MT is based around the 799cc LC8c parallel twin that came from KTM. This is a result of their partnership (see below). It's a cracker of an engine, making (in the 800MT) 70 kW or 95 hp, and with a lot of character from its 285 degree crankshaft, helping it mimic the delivery of KTM's V-twins.
What's cool about the CFMOTO 800MT is just how much stuff comes with it.
The CFMOTO 800MT Touring comes with fully adjustable KYB suspension, a quickshifter, a big TFT screen, fog lights, radial-mounted J.Juan brakes with Cornering ABS as standard, and so much more. On other brands' bikes, these are usually expensive add-ons.
The CFMOTO 800NK Sport / Advanced is a naked bike based on the same 799 cc parallel twin platform.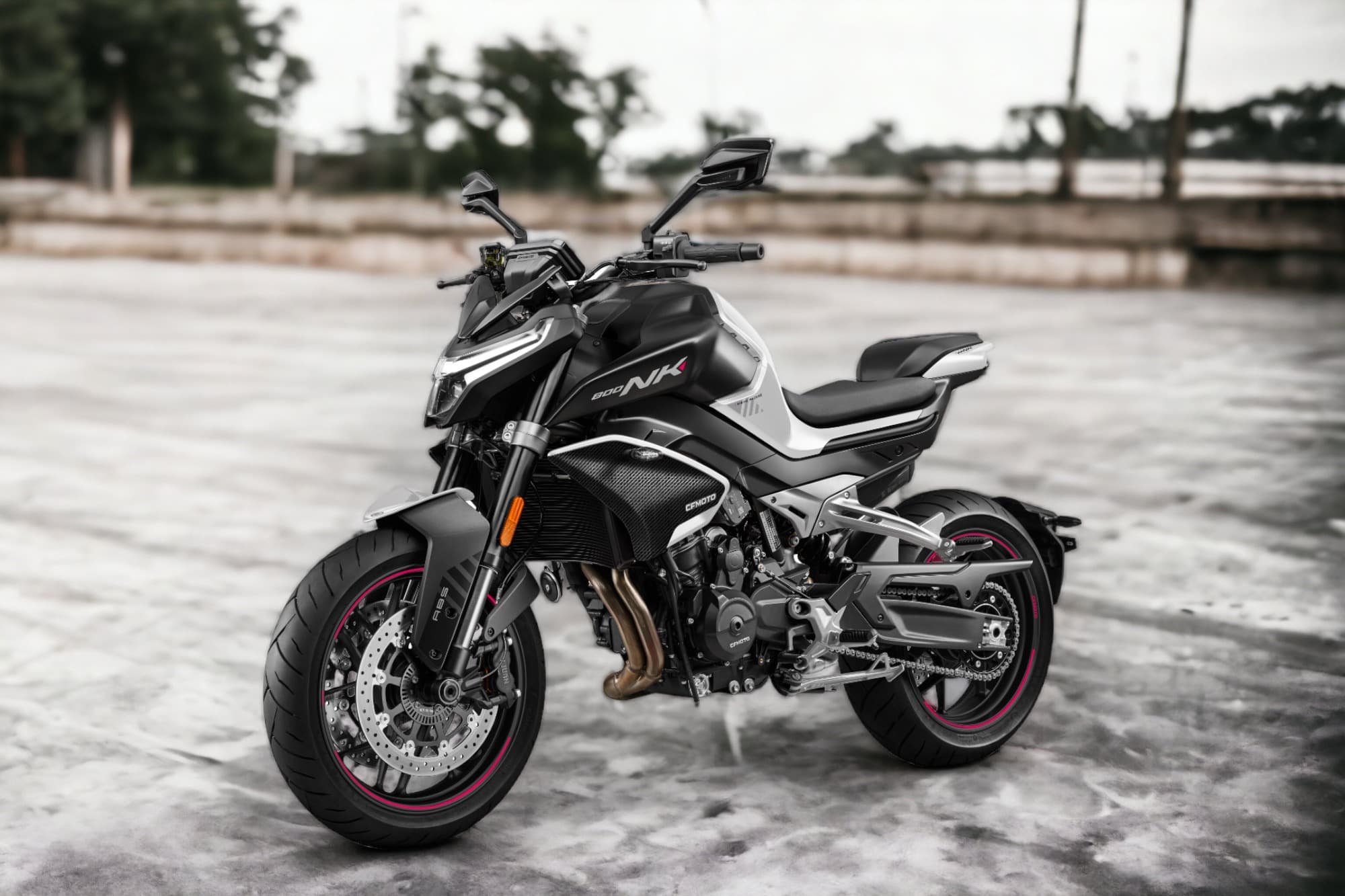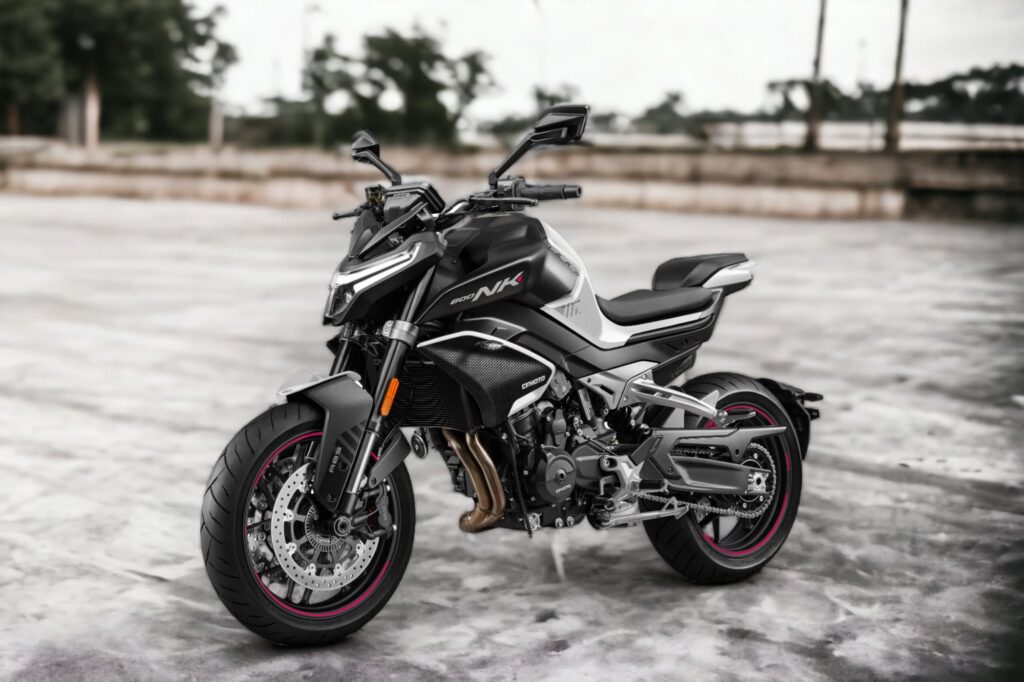 CFMOTO 1250-class motorcycles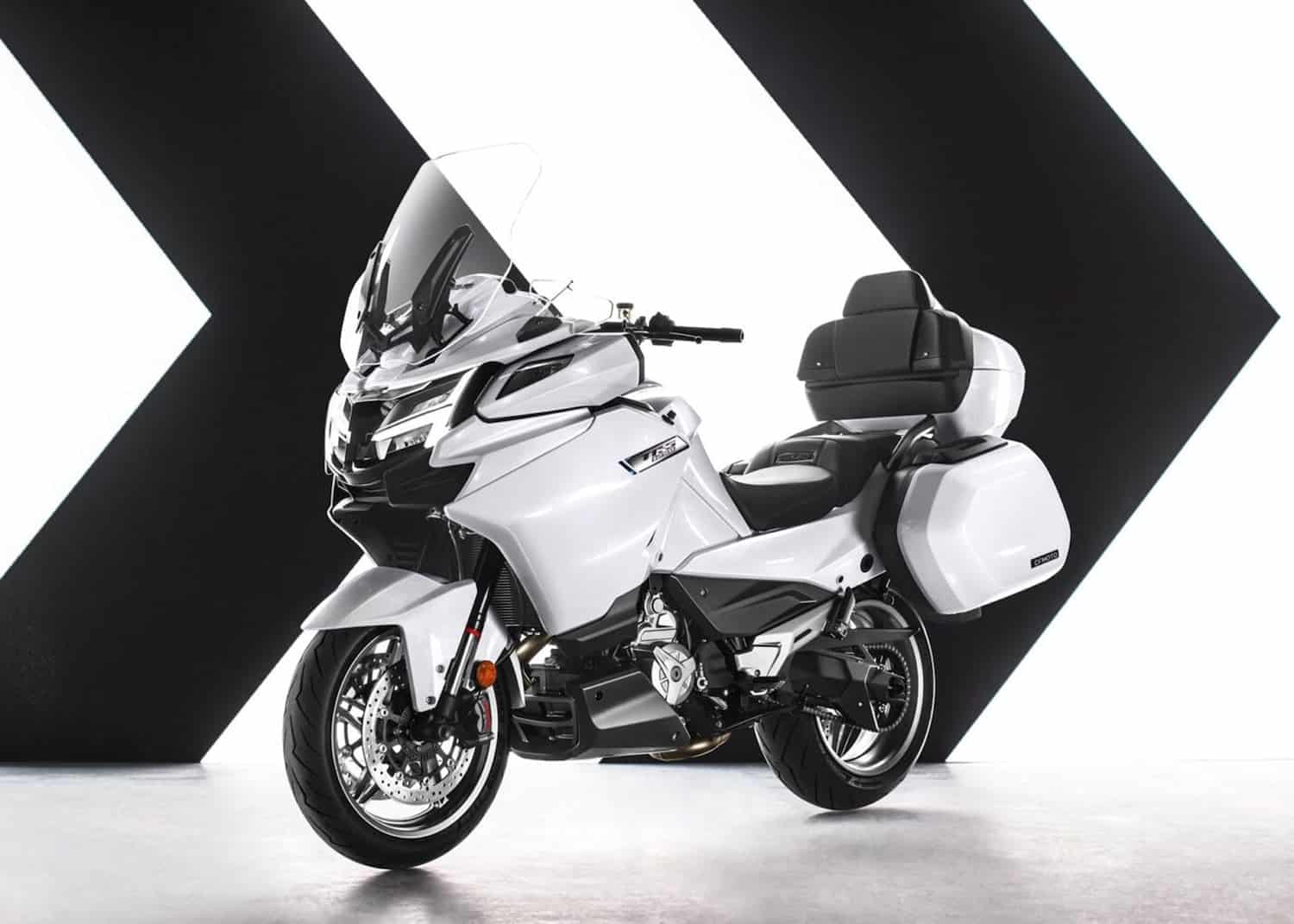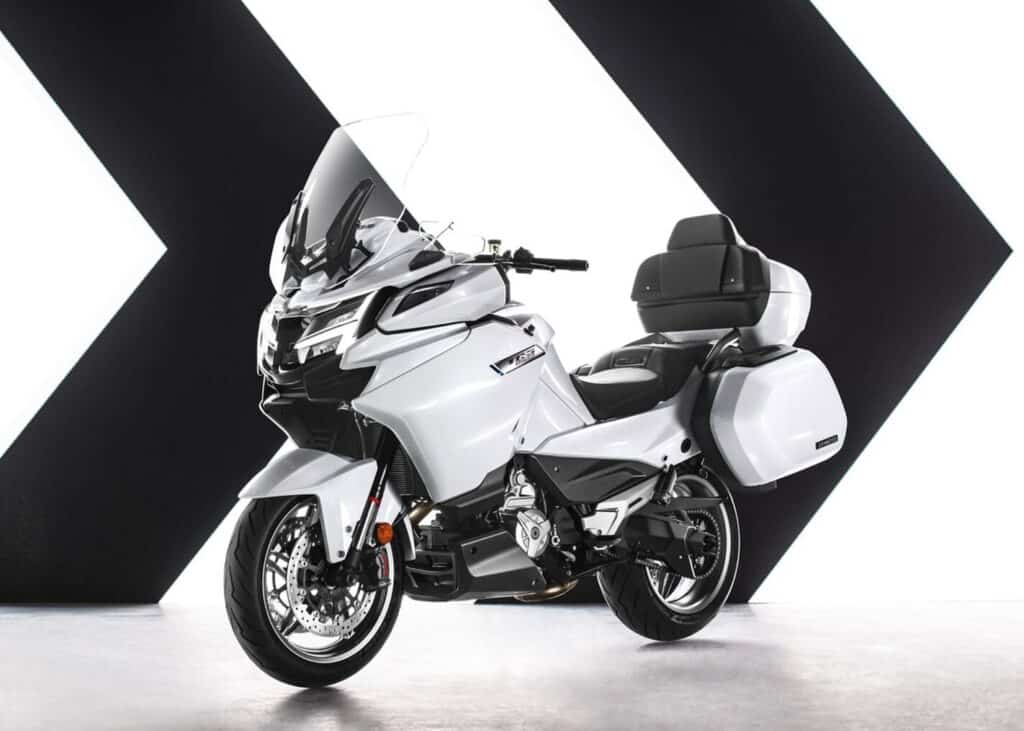 CFMOTO announced their biggest motorcycle yet in late 2020 — the CFMOTO 1250TR-G.
It's a high-spec luxury tourer based on a 1279cc liquid-cooled V-twin that makes a peak of 105 kW (140 bhp) at 8500 rpm, and a huge 1290 Nm (89 ft-lb) of torque at 7000 rpm.
The engine is based on the KTM LC8 V-twin that first appeared in the RC8 superbike. Of course it's detuned and made more suitable for a long-distance tourer.
The bike has a ton of high-spec gear, like semi-active WP electronic suspension, big 12.3 inch TFT display, Brembo radial-mounted calipers, and cornering ABS. It even has a multimedia sound system.
As you can probably guess from the colour scheme, the CFMOTO 1250TR-G is first intended for Chinese motorcycle police and escorts.
Smaller CFMOTO motorcycles
Aside from the motorcycles above, CFMOTO has made a plethora of smaller motorcycles for the international markets. These include single cylinder bikes in the 150, 250, and 300 range, and possibly a future twin in the 400 range.
Generally speaking these motorcycles serve their purpose and even look quite good at times. They only suffer from limited brand perception (always influenced by China/global relations) and lower resale value.
CFMOTO and KTM's partnership
KTM and CFMOTO have partnered since 2011, and the partnership has been expanding in scope ever since.
Since 2018, the CFMOTO/KTM partnership is called CFMOTO KTMR2R, a joint venture of which CFMOTO has 51% ownership.
The significant phase of the partnership started in 2014 when KTM started manufacturing KTM 200 and 390 Dukes for KTM in China. They're sold under the CFMOTO KTMR2R brand. (For global markets KTM partners with Bajaj in India to manufacture its 390 Duke and RC 390 for international audiences. And the new 2022 KTM RC 390 has some amazing specs!)
As part of the CFMOTO KTMR2R partnership, KTM transferred manufacturing of the parallel twin 799cc LC8c models (including the 790 Duke and 790 Adventure) to China from 2020.
KTM sells the 890 models for most markets, but the 790 models are still sold in Asia.
CFMOTO is also starting to sell its own-brand of motorcycles using the LC8c engine in 799cc configuration, starting with the CFMOTO 800MT — which is incredible value for money, offering a level of tech and options usually found on bikes costing 30-50% more.
KTM is also transferring technology for the LC8 V-twin engine, including the 990 and 1080 V-Twin models. The first fruit of this, interestingly, is a 1279cc LC8-derived engine, to power the 1250 TR-G tourer. It makes 105 kW or 140 bhp.
CFMOTO and Yamaha's Partnership
On September 15, 2023, Yamaha announced it had reached an agreement to switch manufacturing partner from Chongqing Jianshe Mechanical and Electric Co (重庆建设汽车系统股份有限公司) to CFMOTO.
With Chongqing Jianshe, Yamaha co-owned a joint venture under the name of Zhuzhou Jianshe Yamaha Motor Co., Ltd. (ZJYM). It had been established in 1992. Yamaha also sometimes referred to it as Chongqing Jianshe Yamaha Motor Co (CJYM).
Chongqing Jianshe manufactured small-capacity motorcycles for Yamaha — everyday commuter bikes like the SR125 and SR150, plus others built under other brand names.
The agreement would be to transfer the equity of that joint venture to CFMOTO, under a new business name Zhuzhou CF Yamaha Motor Co., Ltd. (ZCYM). CFMOTO would own 50% of the JV, Yamaha would own 44.23 %, and a third entity would own the remainder.
It's safe to assume CFMOTO will take over producing small-capacity motorcycles for Yamaha. But it'll be interesting to see if there's a broader technology transfer. E.g. if Yamaha upgrades its CP2 motor to a larger capacity and lets CFMOTO use the old one in some Ténéré 700 alternatives, I'm sure they'd have a receptive market.
Other CFMOTO partnerships
CFMOTO has a few other partnerships for accessories. The most significant of these is with Total Lubrifiants SA, a French company (SA stands for Société Anonyme, and translates conceptually to "Public Limited Company").
CFMOTO and Total have had a limited partnership since 2012. But since 2021, Total Hi-Perf will be the recommended lubricants for CFMOTO's overseas network.
China and the [Gnarly] Politics Question
Inevitably, when people hear the word "China" these days — particularly in the belligerent environment of the 2010s and 2020s — their minds may turn to politics. I'd love to not touch this topic, but I know someone will write to me about it or comment about it.
It's natural to want to vote with your wallet, and many people do so. I vote with my wallet constantly, preferring some manufacturers, sellers, or brands over others based on not just the product, but my perception of the company's values.
I can't really provide a concise summary here about the "China question" as it's a deep topic and I always feel there's more nuance to every point, but I want to provide some talking points.
Firstly, buying from a Chinese company is more strongly related to supporting the host government indirectly than is buying from, for example, an American or European manufacturer.
China isn't a pure communist country, no matter the rhetoric. Ever since Deng Xiaoping's reforms in the 1980s, China has taken on many market economy characteristics, through privatisation of national industries and allowing entrepreneurs to make money. "To get rich is glorious" became an axiom of that period:《致富光荣》. Not very communist! They call it a "socialist market economy".
Nonetheless, despite the increasingly open markets, China still has a centrally planned economy. Even though in every country (including western democracies) companies need the blessing of regulatory authorities to exist (to have licenses to manufacture, export and so on), China's central planning means that the fate of the Party and companies are closely intertwined. See this article in Britannica for an overview.
So in that sense, buying from a Chinese company means you more directly support the CCP and PRC compared to the degree to which buying from a European or American motorcycle manufacturer means supporting their host governments.
And secondly, to be totally clear, I understand that an attitude towards a government is different from supporting and respecting its people.
After living for years in China, I have many Chinese friends, both there and abroad. They helped me gain a lot of insight into the diversity of Chinese culture globally and how everyone relates to the country and to the PRC's government. There's a wonderful poetic saying in Chinese: 《海内存知己,天涯若比邻》, which loosely translated means "To have a close friend in distant lands makes far-flung realms seem close together."
If you want to get more of a background on China and its role, I recommend the following newsletters. They tend to draw from multiple sources. There's more in there than I could ever hope to know or summarise.
Sinocism — a newsletter by Bill Bishop about China, based on both Chinese and English-language sources
Pekingology

— a newsletter by some Chinese writers who do deep dives into law, regulation, and society
Enjoy the reading and maybe/possibly enjoy the bikes!