Recently, I've been reading more and more about Kove Motorcycles. On their website, they call themselves KOVE MOTO, and in the press, they're referred to as Kove Motorcycles, Kove Moto, or just Kove. To keep things simple, and not shove capitals down your face everywhere, I'll call it "Kove Moto".
Like with many Chinese companies, it's a little difficult to figure out exactly who they are and where they've come from. So I've done a little digging, dusting off my rusty Chinese, and am presenting this Kove Moto company overview.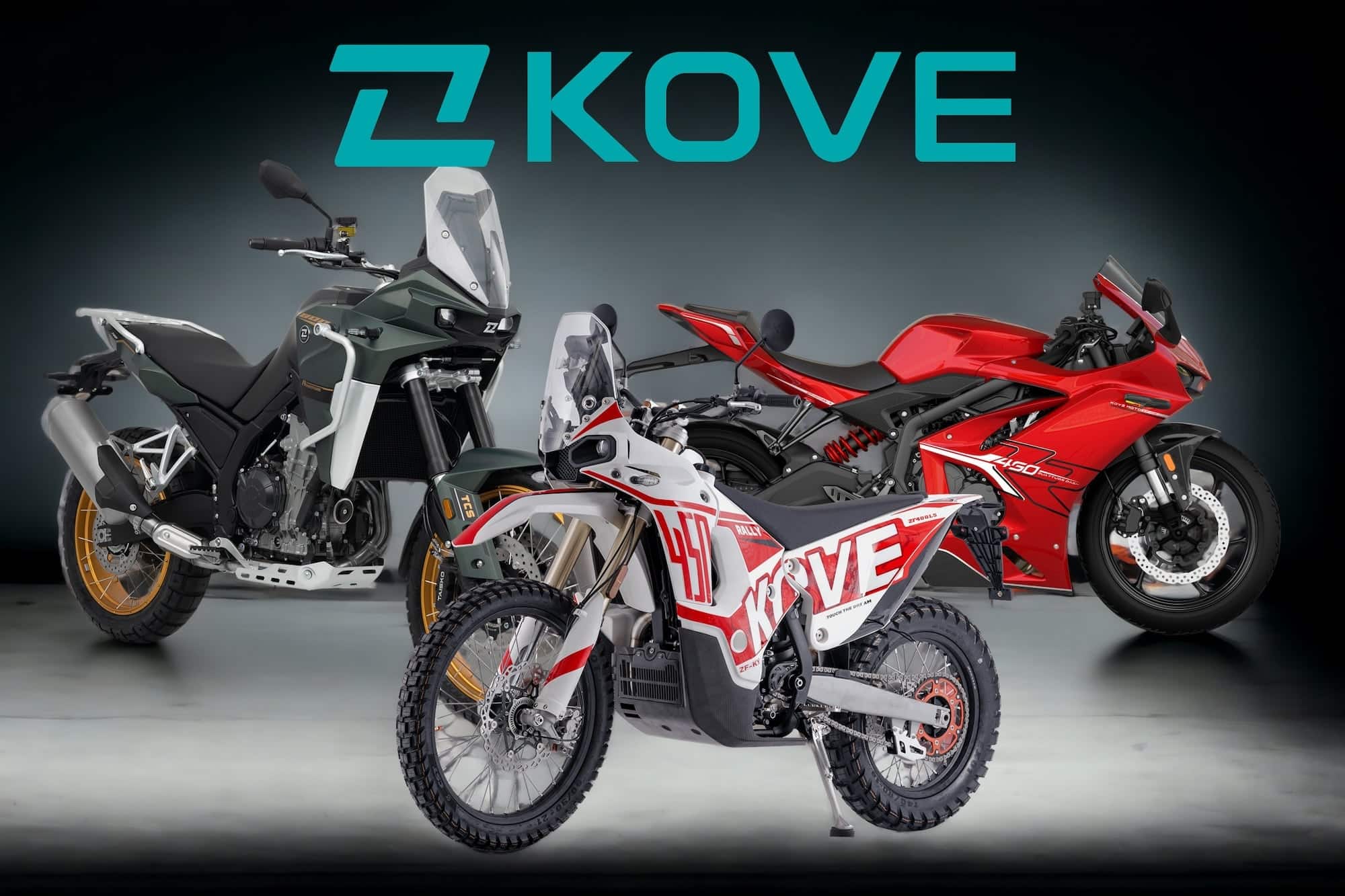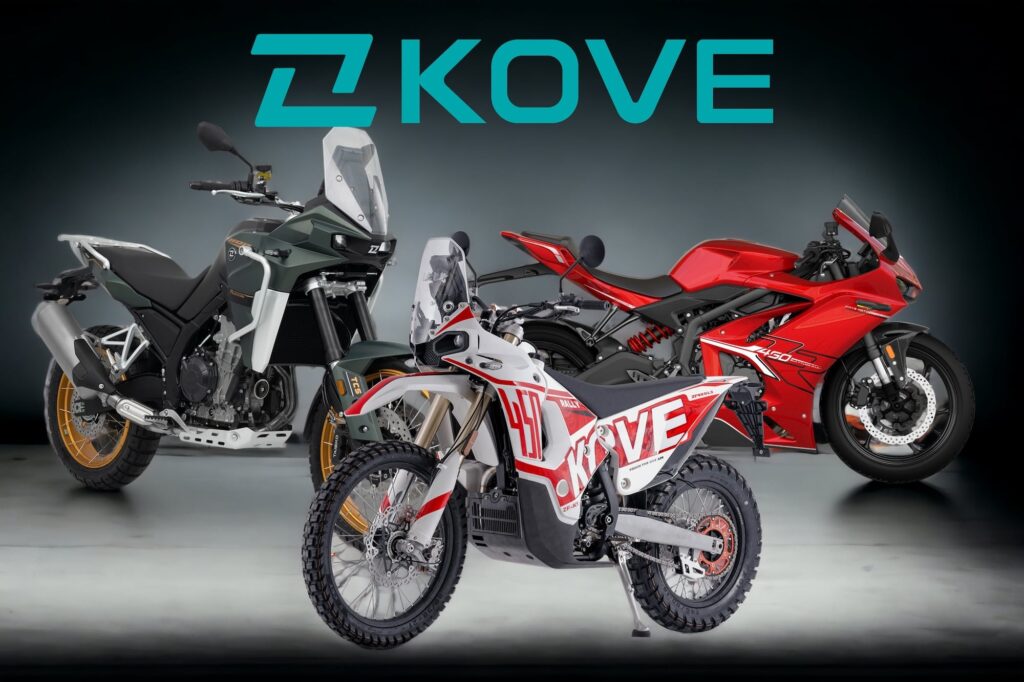 Are you obsessed with motorcycles?
Well, I am. That's why I created this site — as an outlet. I love learning and sharing what others might find useful. If you like what you read here, and you're a fraction as obsessed as I am, you might like to know when I've published more. (Check the latest for an idea of what you'll see.)
A Brief History of Kove Moto
Kove Moto was founded in 2017. Its founder is Zhang Xue (张雪), a former motocross rider who is passionate about rally racing, which is why a few of Kove's premium motorcycles are rally bikes.
Kove Moto focuses exclusively on mid to high-end large-displacement leisure sports motorcycles. This is in contrast with other Chinese manufacturers who generally also produce many low-displacement (sub-150 cc) motorcycles, or other vehicles like ATVs (see CFMOTO for example).
The founder / CEO, Zhang Xue, is unusually passionate about motorcycles for a company CEO. This isn't a company built as a business opportunity.
Want to see how passionate he is? Hear him talking excitedly about the 450rr on this video on Douyin, the original Chinese Tiktok. Search for his name and Kove moto on Douyin for more.
Previously, Kove sold motorcycles under the brands "Colove" or "Excelle". But it has rebranded to Kove.
Kove Moto is based in the Yubei district in Chongqing city, a giant metropolis with a population of over 30 million (and, editor's note, the originator of one of my favourite Chinese dishes).
Does Kove Moto Just Build "Clones"?
Chinese manufacturers have an unfortunate (but sometimes deserved) reputation for closely copying other countries' technologies. But the reality is more nuanced than this general reputation.
CFMOTO, for example, builds the 650-class motorcycles with engines that bear a lot of similarities with the Kawasaki 650 range. They have the same engine dimensions and make similar power. But on the other hand, they build many unique machines, and explicitly share some tech with KTM through a partnership.
Kove builds a casual sports motorcycle, the 321RR, whose engine is essentially identical to that of the YZF-R3 / MT-03 in internal dimensions, external appearance, and performance.
Similarly, Kove also builds a range of adventure motorcycles, the 800X (below), which has an engine heavily inspired by the LC8c in the KTM 790 motorcycles, also used (under license, as part of a partnership) within the CFMOTO 800MT / Ibex 800.
But recently, Kove has been trying to distance itself from a reputation of "copying". Most notably, Kove Moto points out that their 450 Rally and 450 RR (similarly named but fundamentally different — see below) models as being unique from the ground up. And they are!
Many other manufacturers have followed this path of migrating from copying to differentiating, by the way, in China, Japan, and elsewhere, taking different degrees of inspiration from existing motorcycle designs. It's also common outside the motorcycle industry (e.g. Instagram, Tiktok, and X/Twitter taking turns copying each others' features). So, in summary, it's worth examining each model on its merits.
Kove Moto's Chinese Name
The Chinese name for Kove Moto is interesting. In the logo for their name, the characters next to their name in English are "凯越机车", pronounced kǎi yuè jī chē. (I used to live in China and spent a while studying Chinese, so I take an interest in this.)
I'll colour bits of it so you can recognise them in other sections more easily.
The first two characters, "凯越" (kǎi yuè), mean "triumphant/victorious" and "to exceed/surpass".
Cultural note — This is typical of Chinese company names — they are aspirational. They typically have virtues of grandeur and excellence. Many Chinese company names would translate to "Grand Glory Investment Holdings" or "Excellent Wonder Manufacturing".
The second two characters mean "vehicle".
The full official legal name for Kove Moto is "珠峰凯越", a registered brand of "西藏新珠峰摩托车有限公司".
珠峰

凯越

(zhū fēng kǎiyuè) means "Everest" followed by the who characters above that mean "triumphant" and "to exceed".
西藏新

珠峰

摩托车有限公司 (Xīzàng xīn zhūfēng mótuōchē yǒuxiàn gōngsī) means "Tibet New Everest Motorcycle Co., Ltd."
Kove sells through distributors in Europe.
Interesting Models from Kove Moto
Below are a few interesting models from Kove Moto which I'd love to get my hands on one day. (Nudge nudge, wink wink.)
Kove 450 Rally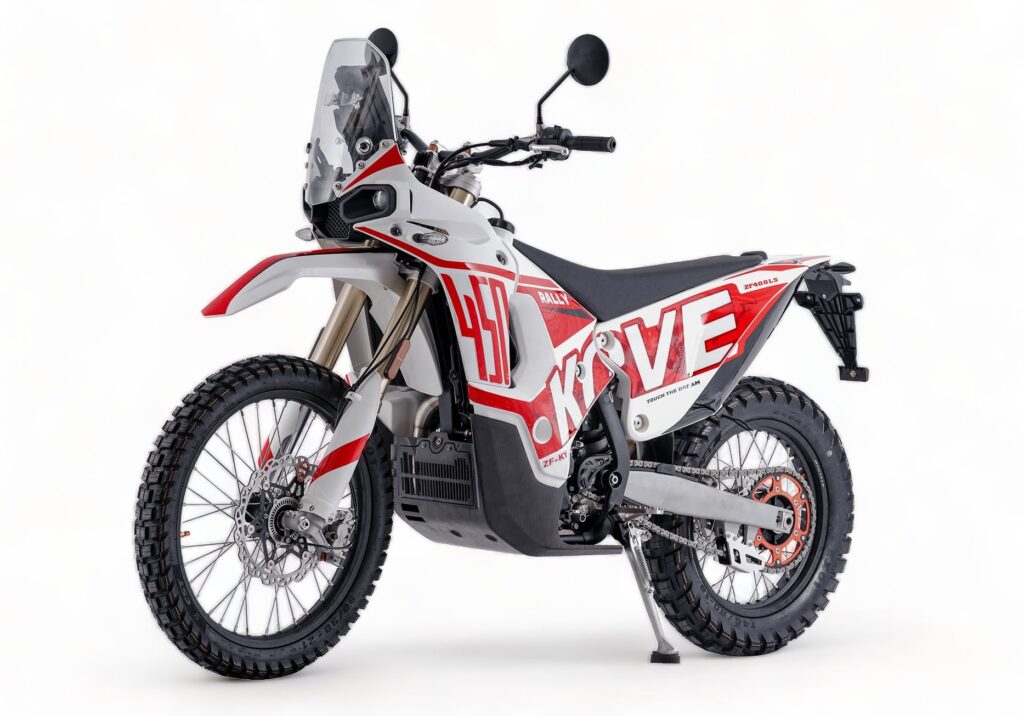 The Kove 450 Rally is the first bike to really capture people's imagination. Kove has already raced it in the Dakar rally!
Kove first showed the 450 Rally at EICMA in 2022, and people have been looking at it with interest ever since.
What's interesting about the Kove 450 Rally is that it is high-spec but very affordable. In Italy and Switzerland, where it launched, it was priced under 9,000 euros — about 9,500 USD — which is great value with a motorcycle that weighs 145 kg (320 lb) in running order.
The 450 Rally is powered by a single-cylinder 449 cc liquid-cooled engine. It makes peak power of 38 kW / 51 bhp at 9500 rpm, or a shade more in "Factory" trim. The 20L tank lets the 450 Rally get to a claimed 600-700 km at "medium" speed, per Kove.
The front suspension is adjustable for compression and length, and has 305 mm (12 inches) of movement, whereas the rear suspension is four-way adjustable (including for high- and low-speed damping) and has 300 mm (just shy of 12 inches) of movement.
Kove 450RR Pro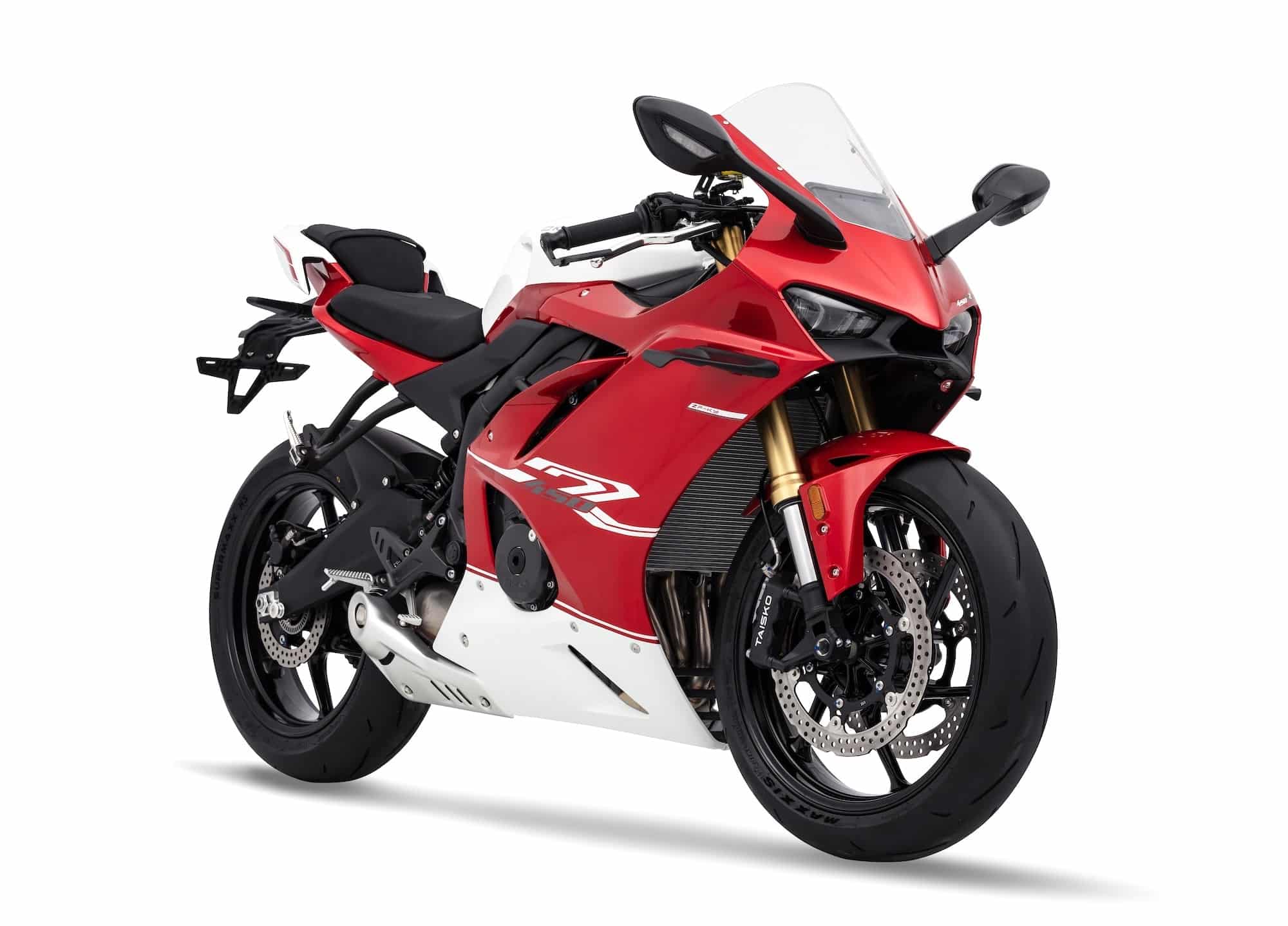 Unrelated to the 450 rally is the 450 RR Pro, which is powered by a high-revving four-cylinder engine.
Kove 800X — The Middleweight Adventurer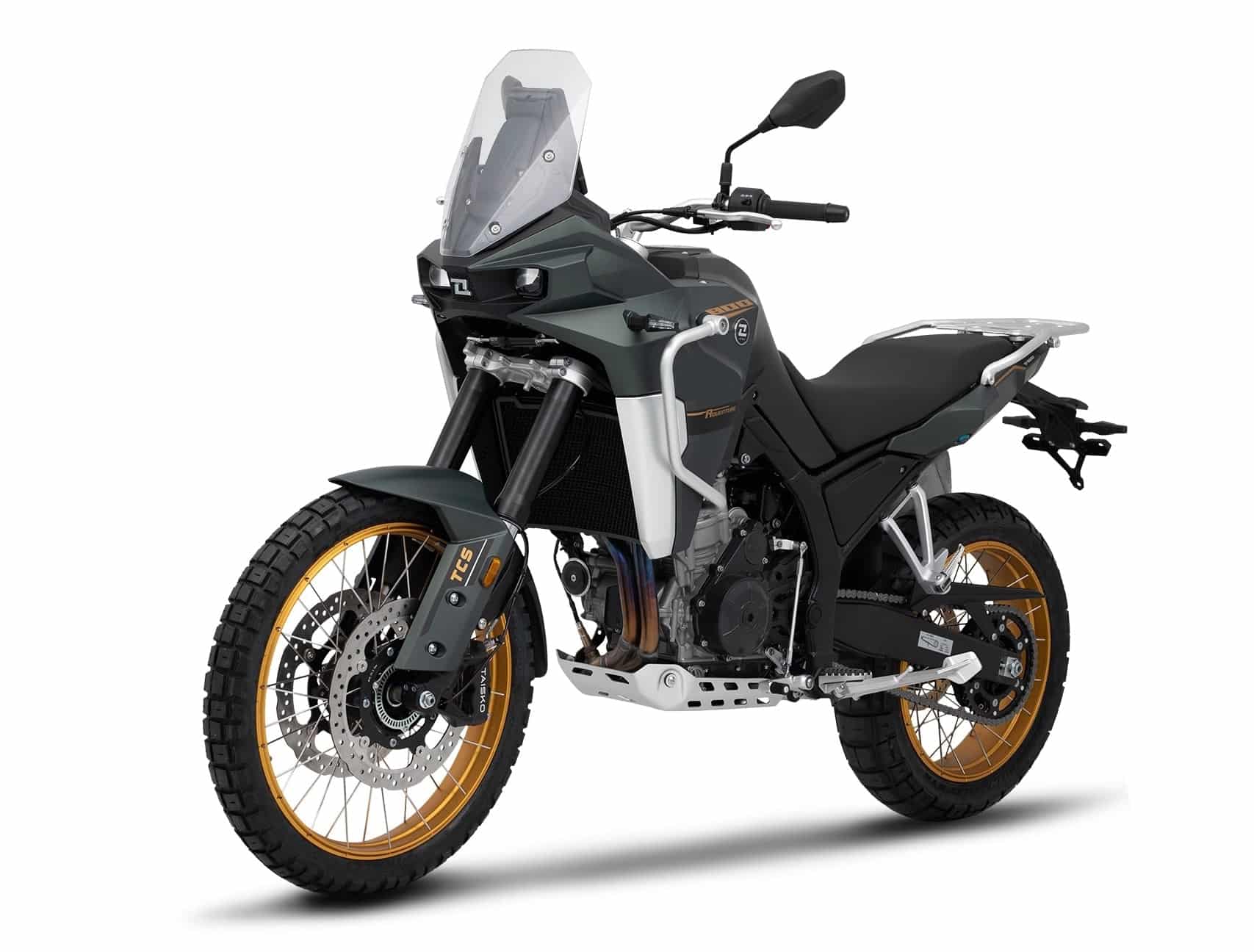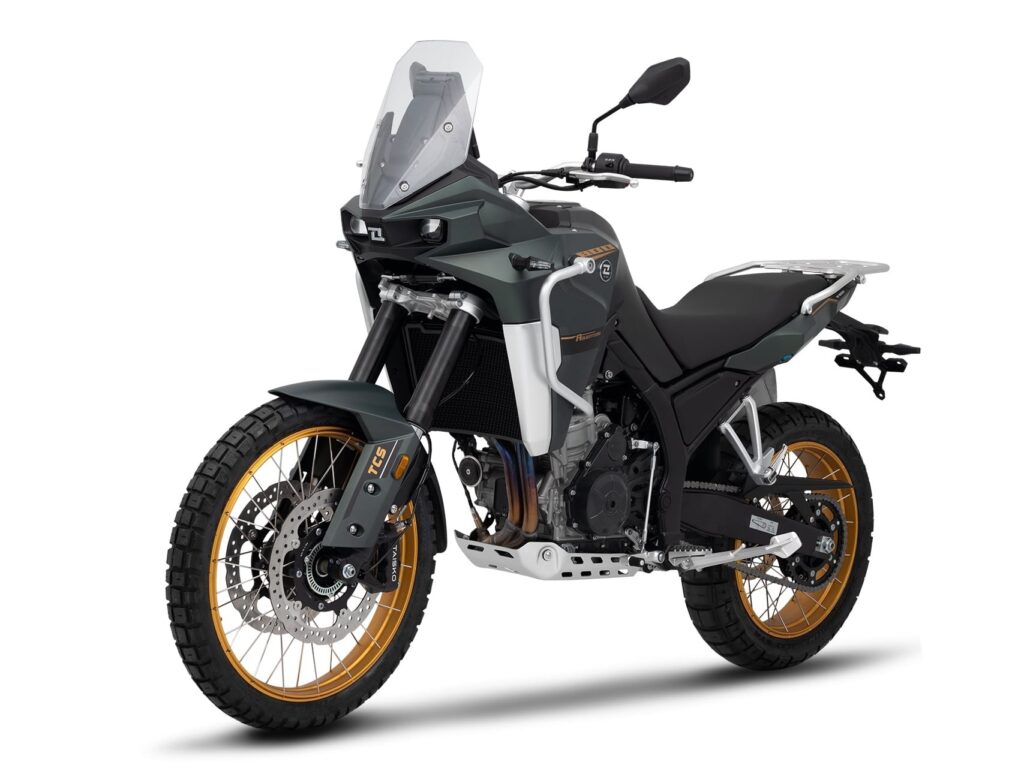 The Kove 800X is an adventure motorcycles that comes in three formats — Adventure, Rally, and Pro.
They're all based around a 799 cc parallel twin with a 270-degree crankshaft. Kove doesn't have any explicit connections to CFMOTO or KTM, but the engine has extremely similar specs to that of the KTM LC8c engine that powers the KTM 790 Adventure and the CFMOTO 800MT / Ibex 800 — same bore and stroke and power output.
The Kove 800X motorcycles all come with a 21/18 front/rear tire combination, making them more targeted towards off-road riding. They come with different levels of suspension and brakes, with the Adventure having the most road-oriented setup, and the Rally having the most off-road oriented setup.
| Item | 800X Adventure | 800X Pro | 800X Rally |
| --- | --- | --- | --- |
| Tire type | Tubeless | Tubeless | Tube |
| Front suspension | Yu-An USD, 210mm | KYB USD, 240mm | Yu-An USD, 270mm |
| Rear suspension | Yu-An, 210mm | KYB, 240mm | Yu-An, 250mm |
| Ground clearance | 245 mm | 275 mm | 293 mm |
| Seat height (minimum) | 835 | 865 | 895 |
| Front brakes | Twin 310mm discs, 2-piston calipers | Twin 320mm discs, Radial 4-piston calipers | Single 310mm disc, Radial 4-piston caliper |
| Top speed (km/h) | 210 | 210 | Rear Suspension |
Kove 800X model variants
The Political Question
It's impossible to mention China (or indeed any major country) without talking bout politics. People have some strong opinions about China (and write to me to tell me about them), but there's a lot of hyperbole and mistruth mixed in with reality.
I have a bit of background in China. I used to live there, I speak (Mandarin) Chinese, and I specifically worked in manufacturing and e-commerce for garments, technology, and fashion. So I've seen the whole range of issues that people normally talk about.
Firstly, I never saw anything like bad working conditions in China. Yes, China probably did have some bad working conditions, and may still have them in some industries. But it's generally on par with Western countries these days, for better or worse.
Even people working in textile factories have ample light, working room, and well-regulated hours and pay. China is a socialist country (despite capitalist pretensions) and worker rights are respected. I was an employer, so I recall this vividly.
Secondly, quality out of factories I saw was and is exceptional. Many parts of even American or European-made motorcycles come from China. Quality is more a function of good QC processes, trustworthy staff, and sound relationships with producers rather than the factories themselves.
So, why are Chinese products "cheap"? Two reasons: Firstly, new brands are smart, and realise that they can't price as high as established brands. You can ask the same question in reverse: Why can established luxury brands charge so much? Don't try to find out how much your pair of Luxottica-owned brand-name sunglasses cost to make.
Secondly, Chinese manufacturers are used to price wars, racing to the bottom, a "scorched earth" strategy. It's not as prevalent in motorcycles as there are fewer players, but it's well-known everywhere. Blame Sun Tzu, if you want, or the "36 Strategems".
With all that said, go ahead and vote with your pocketbook if you want — it's your hard-earned money. I make similar decisions every day. But do it for the right reasons (and I kindly request that you not send me hate mail).
If you work for Kove and you're reading this — please contact me.
What's Next for Kove Moto?
I'm excited to get my hands first and foremost on the 450RR. But I'm intrigued to see more from Kove Moto — more markets, more models, and more competition for established manufacturers. I don't know of an Australian or US distributor yet, but I hope one will come soon.
Both the middleweight adventure and small-bore sport bike markets are white hot, and need more action!