Per Motociclismo (Italian), the popular vote is in for the "Most Beautiful Bike of Show" ("La Moto Più Bella del Salone"), and it's the Ducati Hypermotard 698 Mono RVE.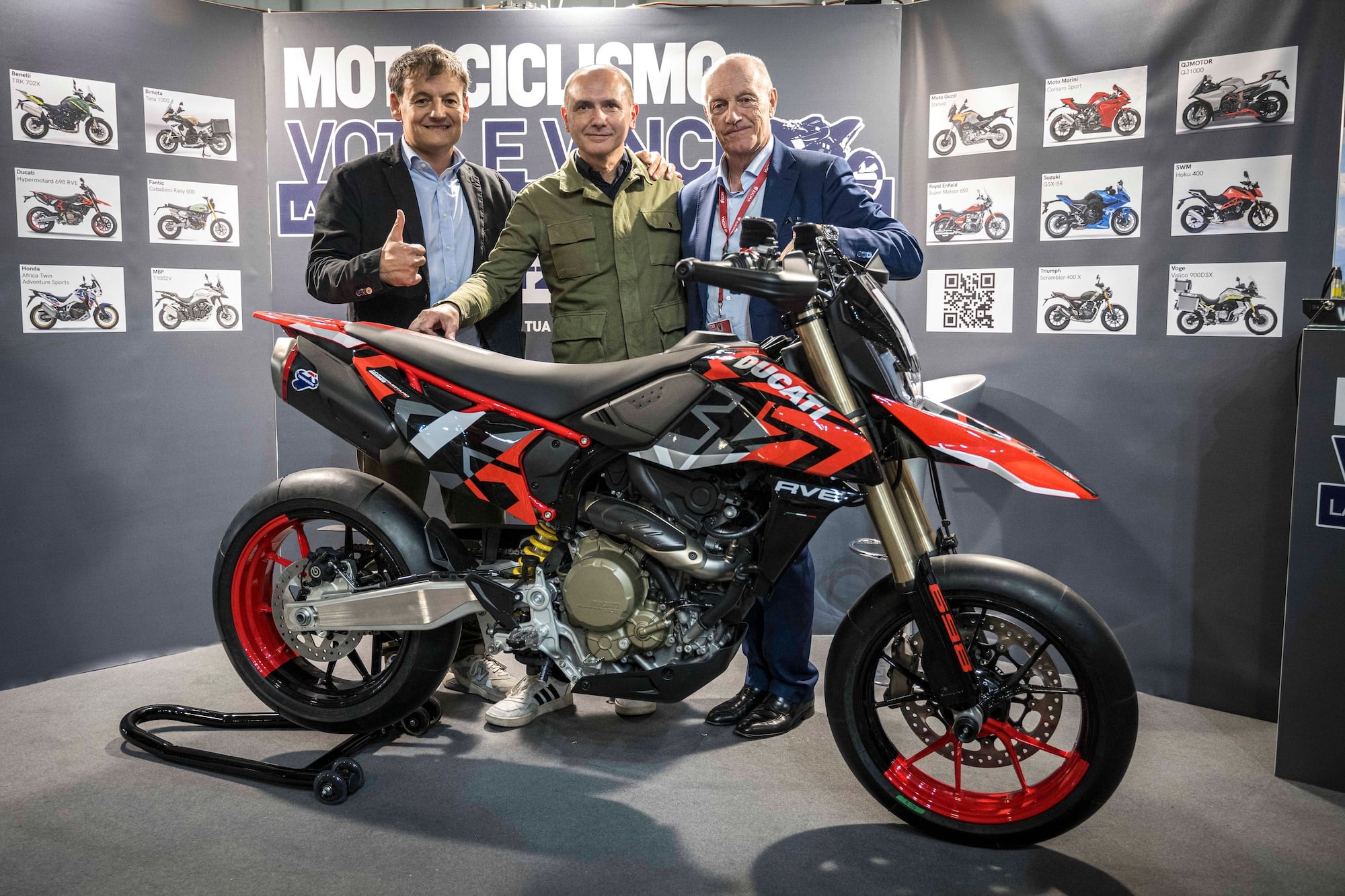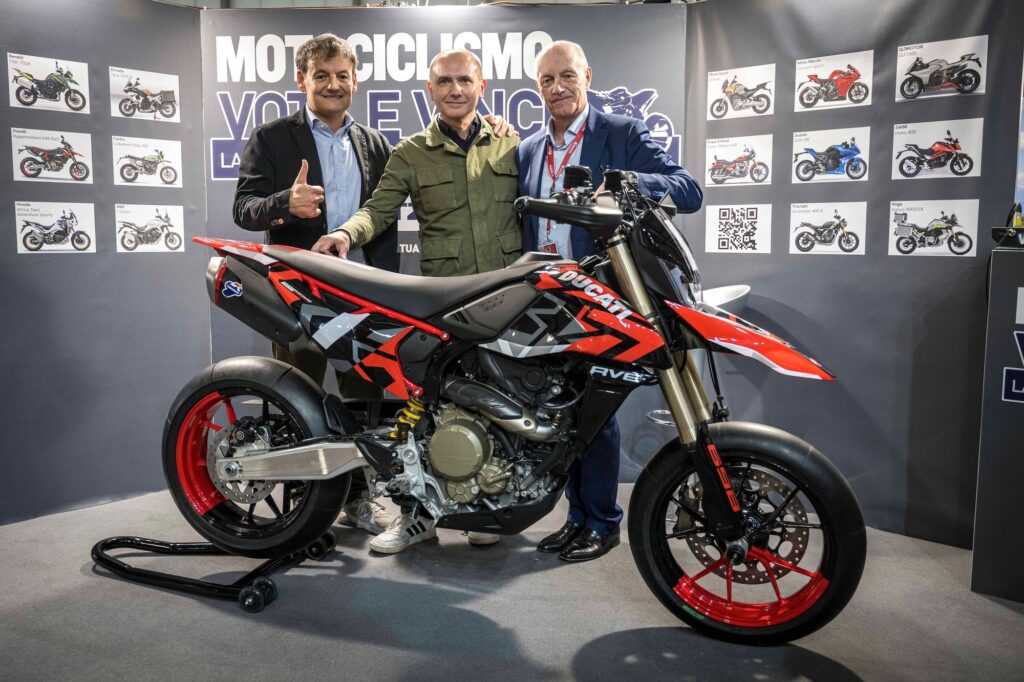 The Ducati Hypermotard 698 Mono (which I'm sure people will just start calling the "Hyper 698") is a new and very different motorcycle for Ducati's Hypermotard line-up. It's a lightweight single-purpose fun bike with a high power (for a single) 659 cc single-cylinder engine that has desmodromic valve actuation on its four valves.
It's notable for its light weight, good power to weight ratio, and the long service intervals (both oil changes and valve service intervals) — unusually so for a supermoto-class bike (into which it barely squeezes, along with the Husqvarna 701 Supermoto and the KTM 690 SMC).
See the full article here about what makes the Ducati Hypermotard 698 Mono interesting and different, including what differentiates the RVE model.
Here's a gallery below of the Hypermotard 698 RVE, in case you want to have a gander at it from different angles.
The "Most Beautiful Bike" event is a popular vote held by the Italian motorcycling magazine / website Motociclismo. Voting is open to all attendees and readers of the (Italian-language) publication, which means that the vote is quite skewed.
Since its inauguration, the winners have always been one of two Italian marques, either Ducati or MV Agusta. Even Moto Guzzi hasn't had a look-in, despite some very promising contenders!
Personally, I thought the winning position would be taken by the Ducati Multistrada V4 RS or the MV Agusta LXP Oriolo, but seems I was proven wrong. Interesting!
Commentary on this year's winner: It's odd. I don't think the Hypermotard 698 is very good looking. In fact, I have never found any supermotard attractive in a classical sense. They look highly functional, designed for exactly one thing — having a lot of fun riding.
Which they are, of course. Their aesthetic values look nothing like what they're like to ride. They bring out the hooligan in you, which is probably why most people shouldn't own them as their own bike, because you'll spend most of your time doing silly things. (Also, they're not ideal commuters — they have small fuel tanks, no protection, and the handlebars / mirrors often are at the same height as those of SUVs, I've found… but that could just be vehicles around me).
But if you've ridden this class of bike, looking at them captures the imagination. The supermoto just looks like hijinx. It's trouble waiting to happen. Maybe that's why people voted for it!
If you think it's attractive and want to explain why (other than the fact that it gets you excited looking at it) I'd love to hear your thoughts.
Below are the runners-up for the 2023 "Most Beautiful Bike" vote.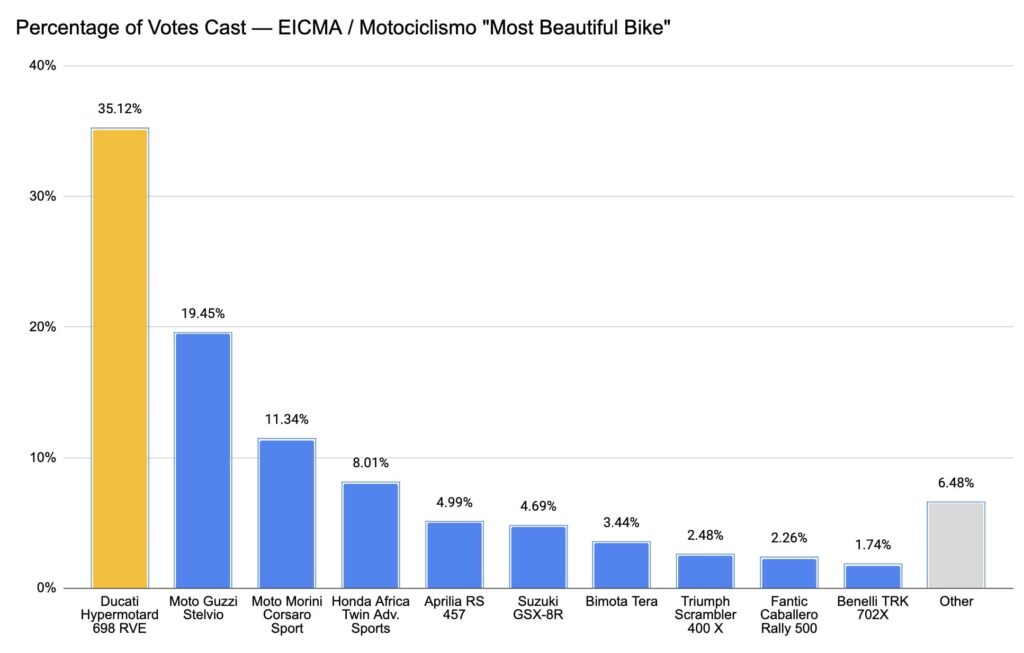 Second place is an MV Agusta — the Stelvio. Nice to see another Italian in the mix for once!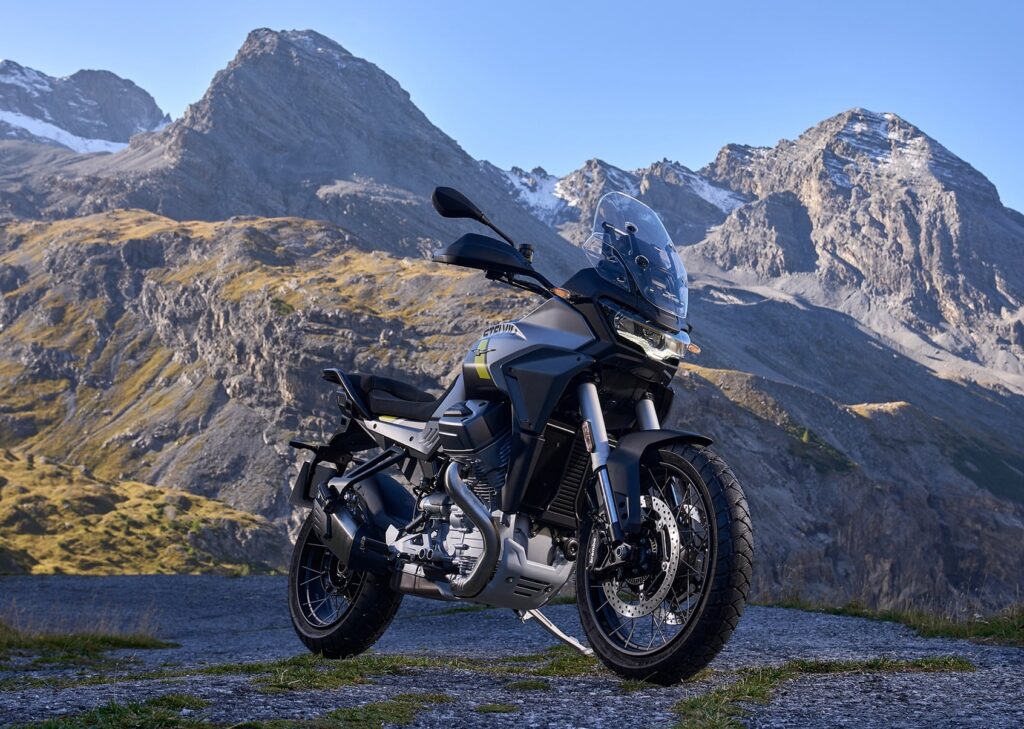 The Stelvio is an aesthetically more pleasing bike than he Hypermotard. It has classic things, like a neat-looking DRL, a single-sided swingarm, and nice details on the exhaust and cylinder heads. But I'm sure people voted for it partly as it, too, captures the imagination.
If you want to see a full catalogue of the winners of the EICMA "Most Beautiful Bike", see here.