In late 2023, Ducati announced the Hypermotard 698 Mono for the 2024 model year. (That's a long name, and it needs a nickname… my bet is on "Hyper 698" or maybe "698Mono".) Shortly afterwards, it won the EICMA / Motociclismo popular vote for "Most Beautiful Bike of Show".
Because there are a few things about the Ducati Hypermotard 698 Mono that are unique and different, and because it's hard to dissect press releases without knowing a bit about the history and competition, I'll look at a few questions below, like
A brief history of the Hypermotard 698 Mono — How did we get here?
What makes the Hypermotard 698 Mono special?
Some alternatives to the Hypermotard 698 Mono (that already existed)
Let's look deeper!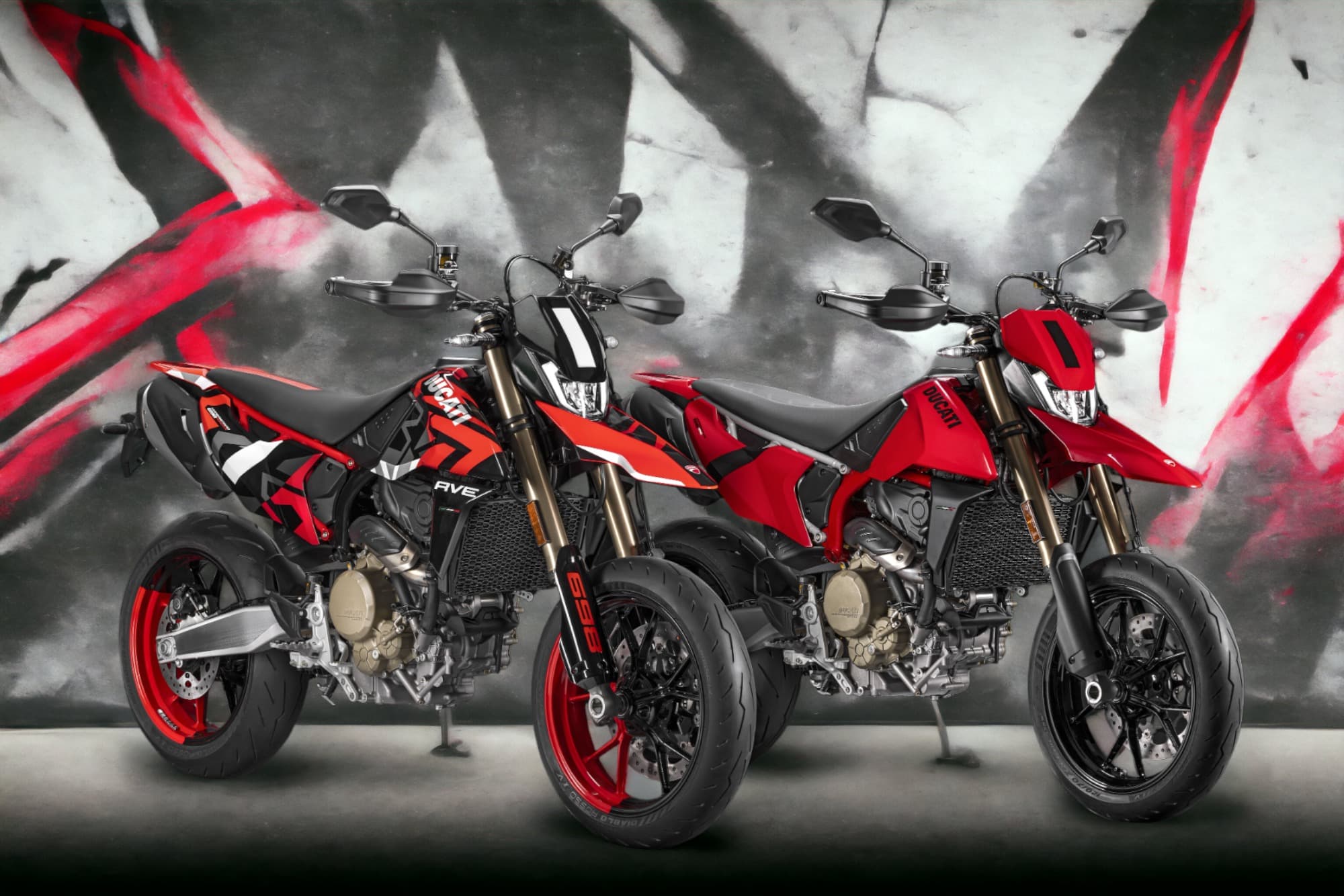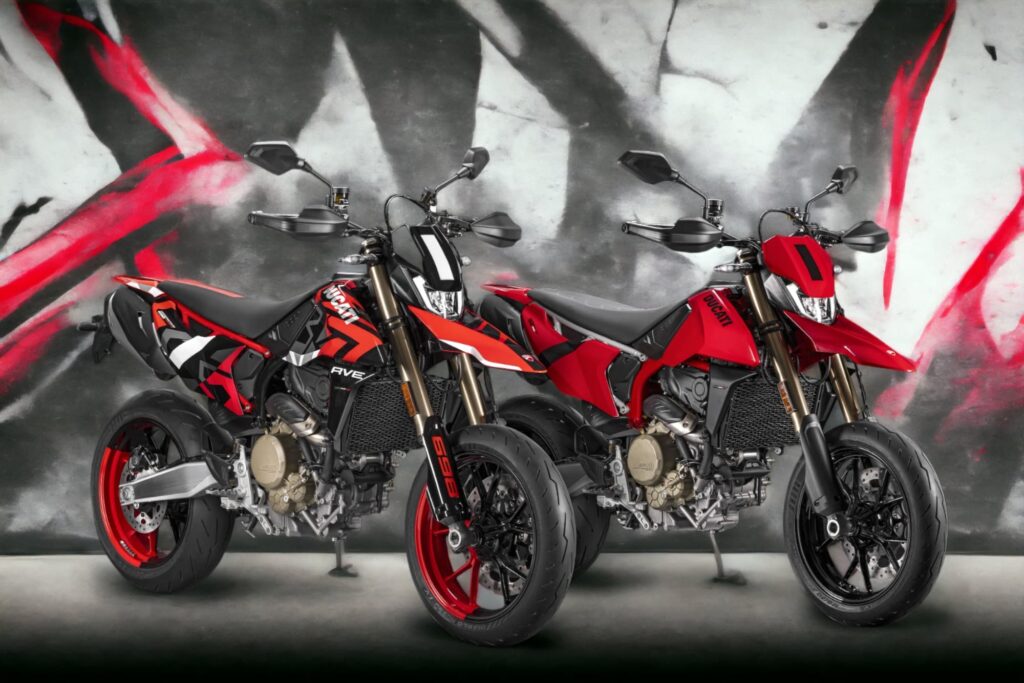 Are you obsessed with motorcycles?
Well, I am. That's why I created this site — as an outlet. I love learning and sharing what others might find useful. If you like what you read here, and you're a fraction as obsessed as I am, you might like to know when I've published more. (Check the latest for an idea of what you'll see.)
What is a "Supermoto"?
The Ducati Hypermotard 698 Mono is in the "supermoto" or "supermotard" class of motorcycles, so let's quickly discuss what that means.
A "supermoto", or "supermotard", or "SM" is a contentious name for any motorcycle. Almost as quickly as any manufacturer brands their bike a "supermoto", fans of the class often claim that it's misleading. It's similar to names like "scrambler" or "adventure" in that sense.
Essentially, a supermoto traditionally was a dirt or dual sport bike in street trim. This usually means sportbike-like 17-inch rims, with sport tires on them. The first supermotos were dirt bikes with sport bike rims, then often modified with stiffer suspension and a beefier brake, more suited to spirited riding and/or racing.
The origins of the word "supermoto" are actually in racing, a class that combined several types of racing (including road, dirt, and motorcross) into one. So it has bits and pieces from each class. The road tires for the road, the long suspension for jumps. The combination still performs well on dirt.
Manufacturers make purpose-built supermotos. Often, they're built on the same foundations as MX or dual sport motorcycles. For example, Kawasaki makes the KLX300 dual sport, the KLX300SM supermoto, and the KLX300R off-road bike all based on the same chassis.
Most manufacturer-built supermotos were initially lightweight (or relatively lightweight), single-cylinder motorcycles. Many of them had / have highly strung engines that require frequent maintenance — requiring an oil change as often as every 1000 km or so.
But these days, the defintion of the "supermoto" is much broader. It generally includes road-focused sport bikes that have upright riding positions and wide handlebars. They're more upright than a standard bike, but don't have all the protection and fairings of a sport tourer — they're somewhere in the middle.
The Ducati Hypermotard 950, with its engine pushing 100 hp and weight of around 200 kg, has typically fit into this modern rubrique of the bigger supermotard, maximoto, or whatever you want to call it.
What is the "Ducati Hypermotard"? A Brief History of the Brand
To understand how different the Hypermotard 698 Mono is, it's useful to look briefly into the history of the Ducati Hypermotard line.
Ducati has been making the Hypermotard range since the 2007 model year. In that time, it has had competitors come and go — but no other large-capacity supermoto brands have been continuously made for as long.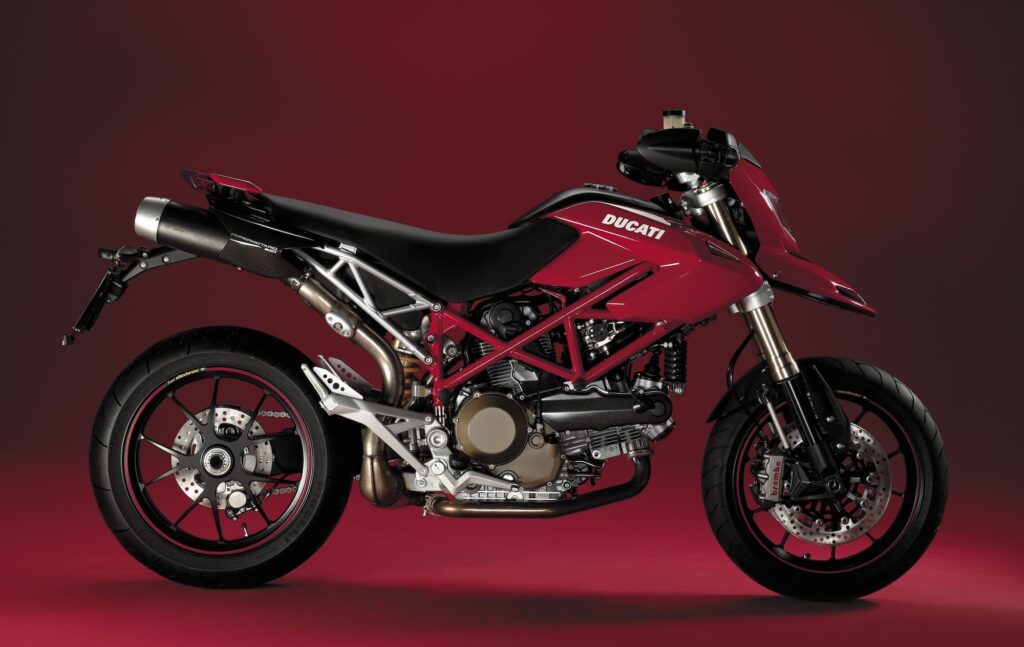 The Ducati Hypermotard 1100 was and still is a thing of beauty, with that single-sided swingarm and riding stance that beckons hijinx. The up-market S added Brembo monoblock calipers, lighter Marchesini forged wheels, and an Öhlins shock.
What really caught people's attention was the combination of the torque-happy motor that pumped out 70 kW / 95 hp at 7750 rpm (with a revision after a few years) and the relatively light weight of 180 kg dry, aided by how little was on the bike. The easy riding position and wide handlebars made for a motorcycle that is quite single-purpose (an 11.5L / 3 US Ga tank won't get you very far!), but that excels at that purpose considerably.
The 1100 motor was the last of the air/oil-cooled Ducati motors (or should I say "is", as it's still used in the Ducati Scrambler 1100). So in 2013, Ducati replaced it with the 821 cc Testastretta 11-degree motor.
See the Ducati motor guide, including the Desmodue and also the Superquadro Mono, used in the Hypermotard 698.
The Hypermotard 821 was a step up in many ways. It had a more powerful engine, lighter weight, and higher-spec components.
But the initial model years were marred with a few issues like a grabby clutch, harsh fuelling transitions, and soft suspension (in the non-SP) that hampered people adopting the new version. The 1100 was — and still is — considered a classic.
Ducati upgraded the 821 to the 937 cc Testastretta-11 engine from 2016 in the Ducati Hypermotard 939. In fact, the Hypermotard 939 was the first motorcycle to get the engine. This is notable as the engine is still being used in a wide variety of Ducati motorcycles today, including the Supersport and DesertX.
The Hypermotard 939 was better in every way, and the Hypermotard 939 SP was better still, with up-spec components of full Öhlins suspension and 3-spoke light alloy rims.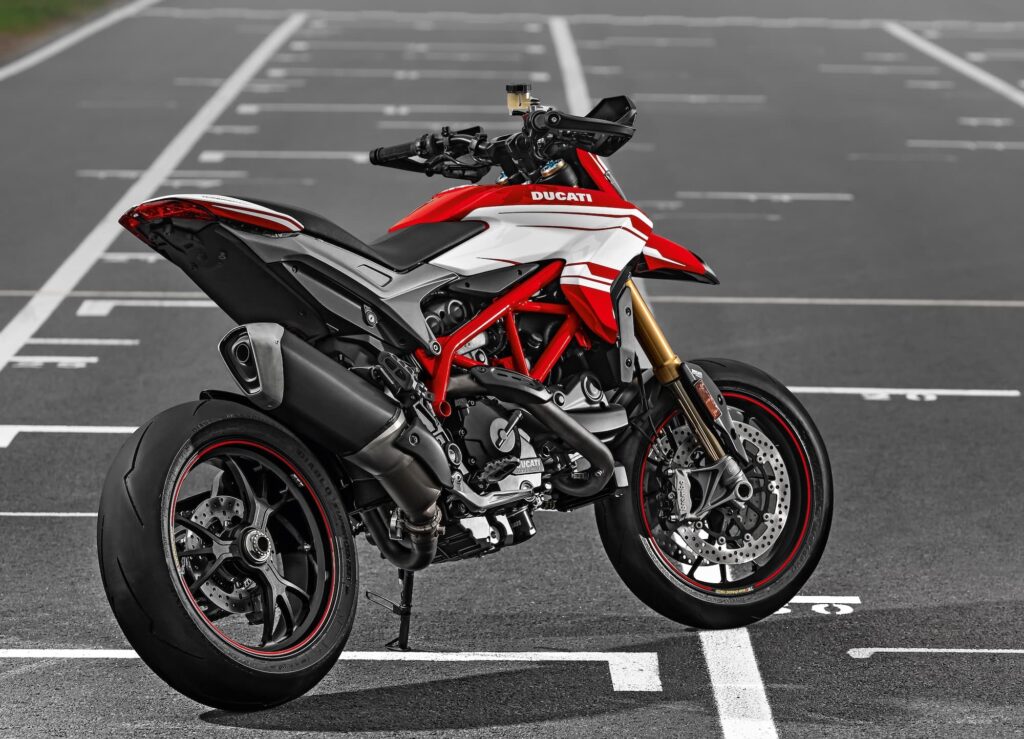 Since the 939, the base engine has stayed the same — it's still a 937 cc L twin. Dry weight is still low, with kerb weight just shy of 200 kg / 440 lb. Along the way, the Ducati Hyperstrada has gained a plethora of electronics, including cornering ABS, a TFT display, and even optional heated grips.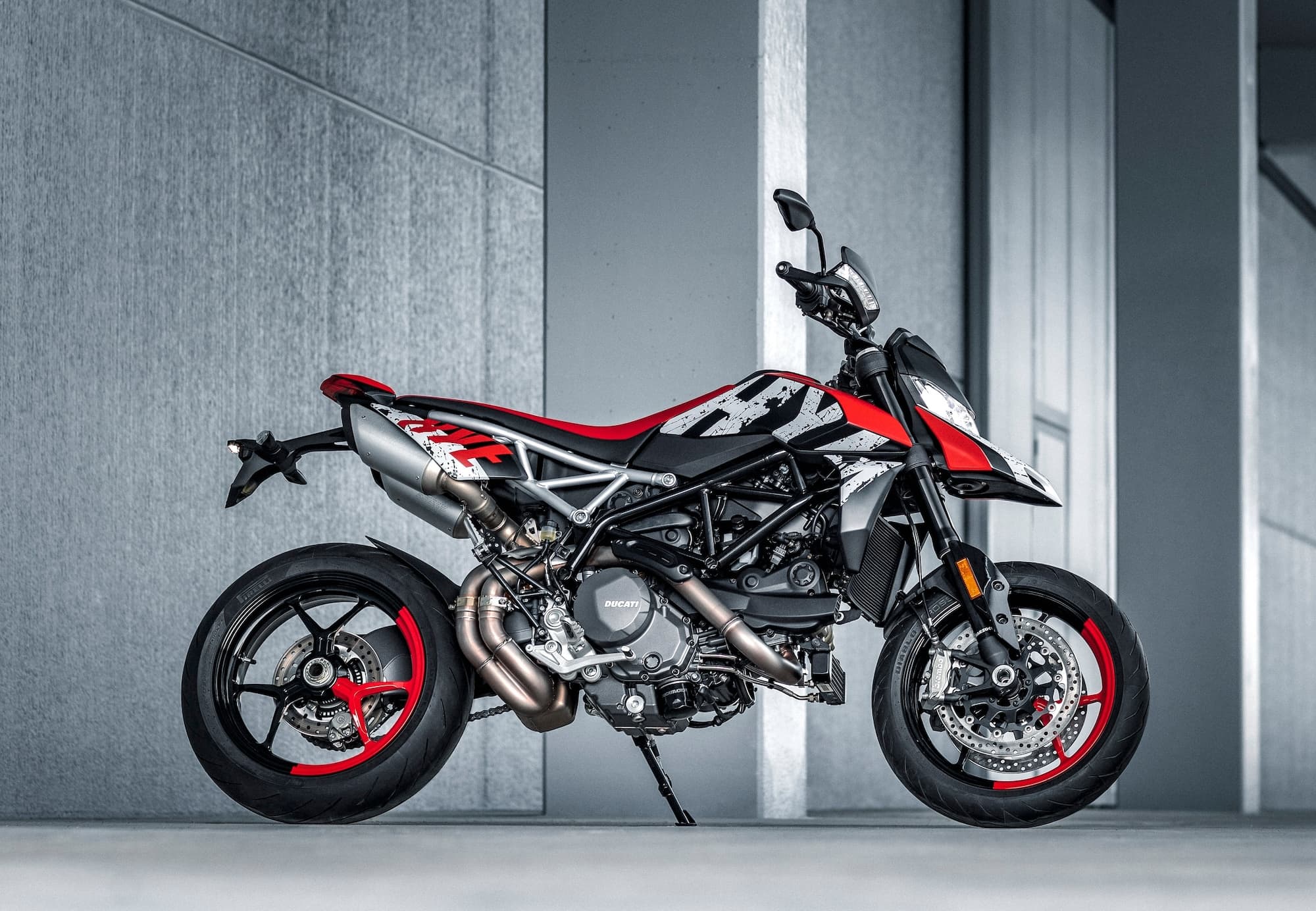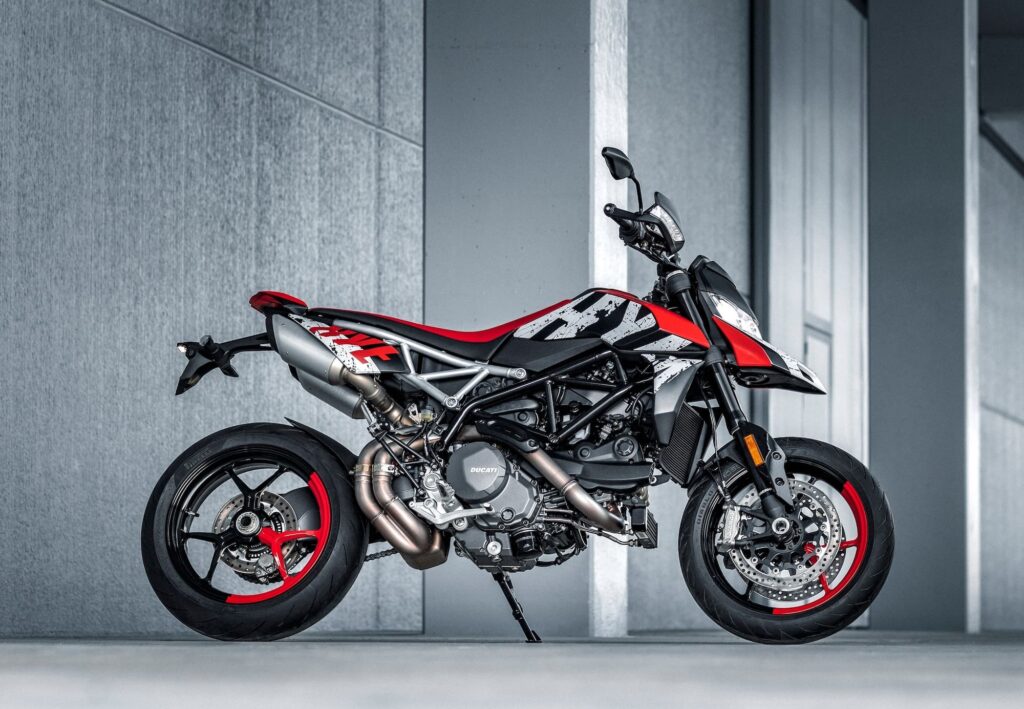 All of the above generations of Ducati Hypermotard have shared a general aesthetic and base. They've had that classic dirtbike-like stance, of course, but also had an exposed rear wheel hanging off a single-sided swingarm (which the Hypermotard 698 Mono eschews). They have all had up-swept exhausts, with the latest generations reverting to the under-seat exhaust.
Similarly, even though the engine has evolved, all of the Ducati Hypermotards have had an L-twin engine. Which is important context for the Hypermotard 698 Mono, which has a single!
Over the course of the Ducati Hypermotard's lifetime, a few other motorcycles have come to the category of "large supermoto".
One has been the Aprilia Dorsoduro, which came in three sizes, originally the 750, then the 1200, and most recently the 900 (2017-2020), built as an upgrade to the 750.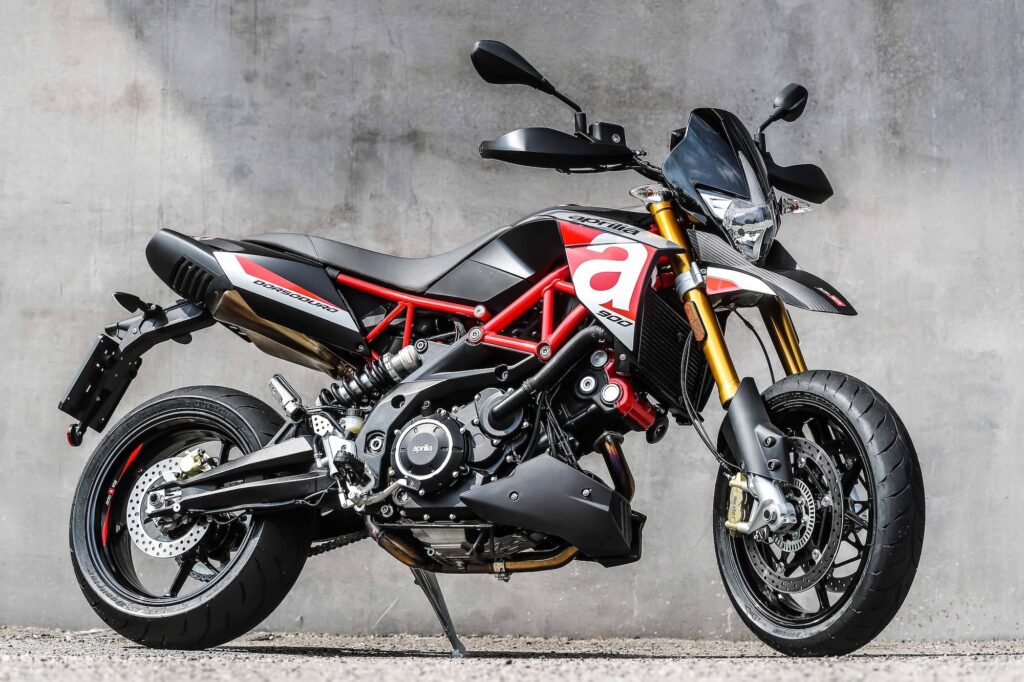 The Aprilia Dorsoduro 900 has an 896-cc Aprilia 90-degree liquid-cooled V-twin at its core that makes 70 kW / 95 hp at 8750 rpm.
The Dorsoduro 900 has simple ABS that can be disabled, rather than cornering ABS, but otherwise has fairly mid-range modern electronics, with a TFT display, traction control, ride modes. The suspension has limited adjustability. And least supermoto-like of all, the kerb weight of the Dorsoduro 900 is 212 kg / 467 lb.
It's not really a supermoto, just for the weight, which is why people refer to it as a "maxi-moto", or a street bike with supermoto riding position. Whatever it is, it was fun while it lasted, but it did not.
Another contender against the Hypermotard line was the KTM 990 Supermoto R, sometimes called the SM-R.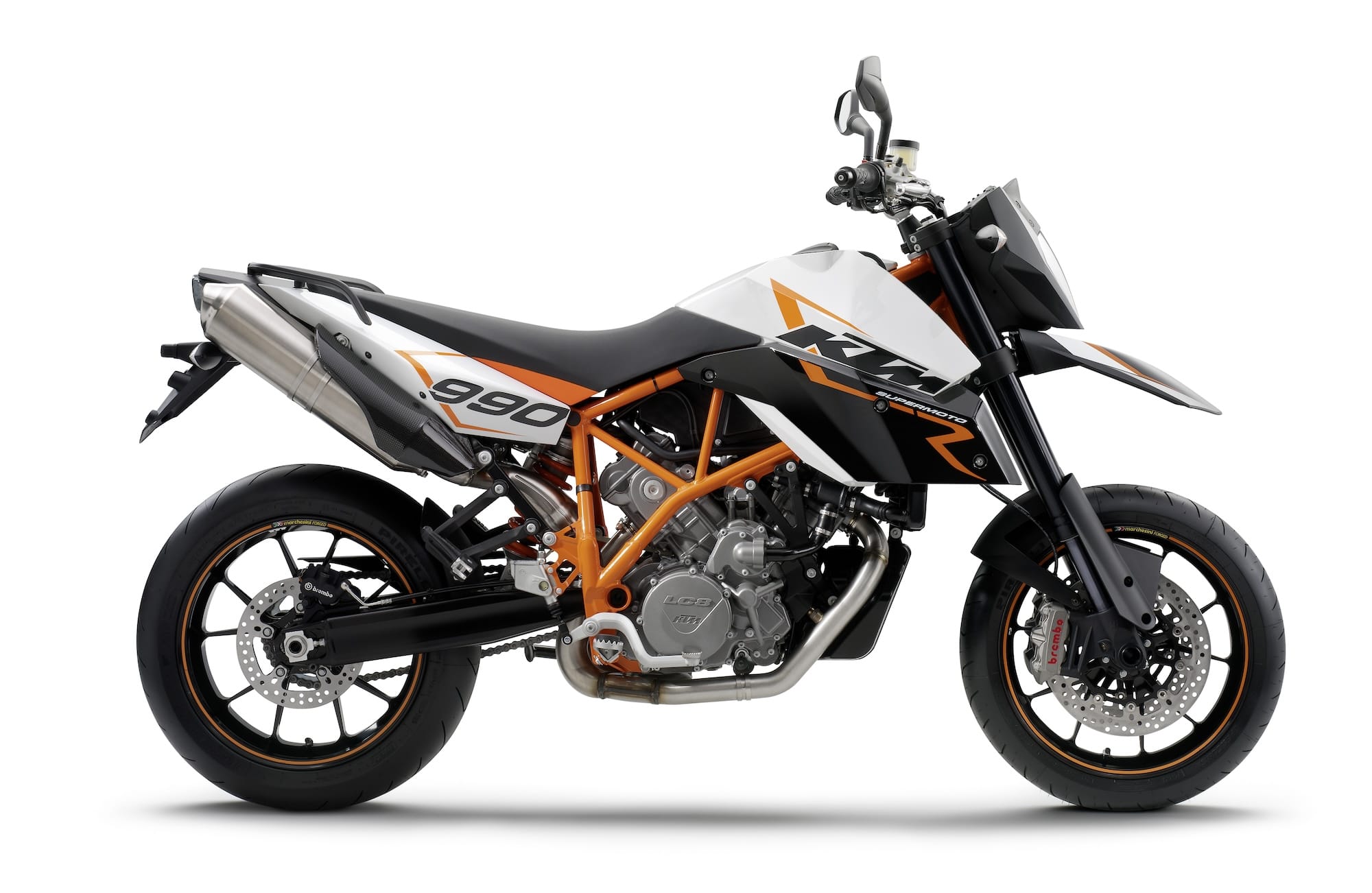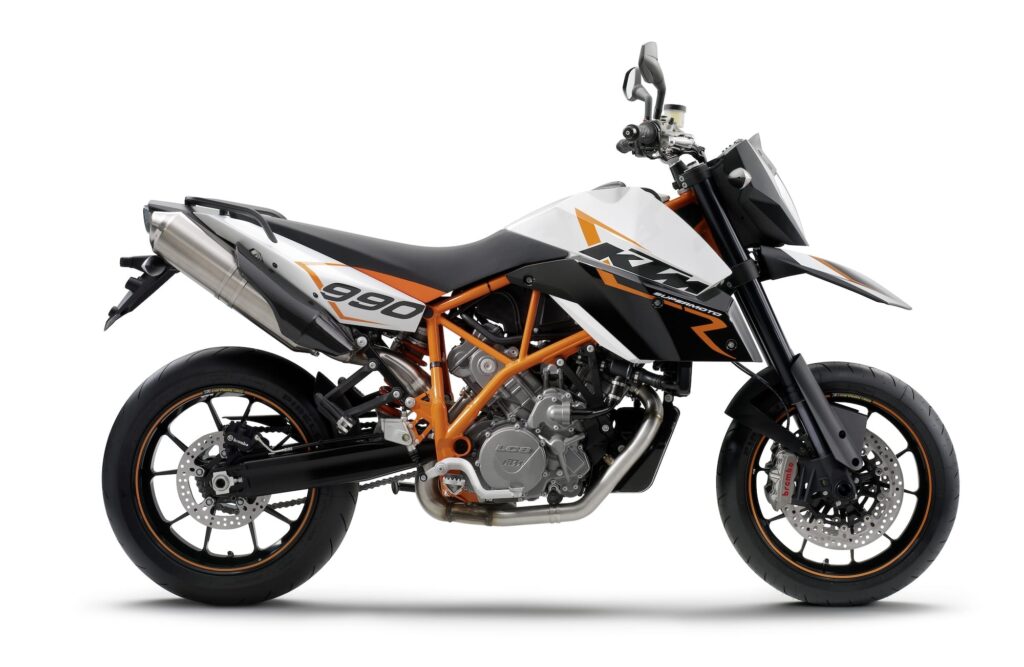 The KTM 990 SM-R was part of a range of motorcycles using the 990 motor. Most people are more familiar with the 990 Duke and the 990 SM-T, a "touring supermoto", a bit like the Hyperstrada in marketing concept (but really a lot like a bunch of other middleweight adventure sport bikes).
But the KTM 990 Supermoto R was the cheeky one of the bunch — either an upright Duke, or a stripped back sport tourer — whatever you ant. It was powered by the same 1000-cc "LC8" liquid-cooled 75-degree V-twin. The KTM bike squeezed a lot of power out of that motor, with peak power of 85 kW / 115 hp at 9000 rpm. KTM, true to form, managed to keep the weight of the Supermoto R relatively low at 192 kg without fuel — but it still goes over 200 with fuel.
More recently, in the "bigger supermoto" range, there's the KTM 690 SMC R / Husqvarna 701 Supermoto. These are much closer to the Hypermotard 698, so I'll consider them below.
Brief Specs of the Ducati Hypermotard 698
I'll put down some specs so we can talk about them in more detail below. Plus, my own editorial notes, because spec sheets are meaningless in a vacuum.
Part
Ducati Hypermotard 698 Mono Spec
Notes
Engine capacity
659 cc
Just shy of 660 cc, which means a learner-legal tune is possible in some jurisdictions.

PS: 698 is pretty far off from 659. Don't think we didn't notice, Ducati
Engine configuration
Single cylinder "Superquadro", desmodromic valves, chain-driven camshafts
See here for all about desmodromic valves.
Bore / stroke (mm)
116 x 62.4 mm
Very "oversquare"
(See bore x stroke guide)
Peak power (kW / bhp) @ rpm
57 kW / 77.5 hp @ 9750 rpm
62.1 kW / 84.5 hp @ 9750 rpm with race pipe and tune
Middleweight power. High power for a single of this displacement
Peak torque (Nm / ft-lb) @ rpm
62.9 Nm / 46.4 lb-ft @ 8000 rpm
Front suspension
45mm Marzocchi USD, fully adjustable, 8.5 inches / 215 mm travel
Beefy fork!
Rear suspension
Sachs monoshock, fully adjustable, 9.8 inches / 240 mm wheel travel
Front brakes
330mm single disc, Brembo M4.32 radial-mounted caliper
"Upper mid" sportbike spec (e.g. GSX-R1000, BMW R nineT), but a single disc
Wet weight
~160 kg / 353 lb with full 12L tank
(quoted 151 kg / 333 lb without fuel)
Very light! (see below)
Front tyre size
120/70 ZR 17
Rear tyre size
160/60 ZR 17
Ride aids / electronics
Full Ducati Safety Package: Cornering ABS / TC, ride modes, power modes, DWC, DTC, EBC, power launch, and optional quickshifter (standard on the RVE)
Service intervals
9000 mile / 15000 km minor oil change service interval
18000 mile / 30000 km major valve service interval
Very wide service intervals
Key specs of Ducati Hypermotard 698 Mono
Let's look below at a few of the things that are unique about the Ducati Hypermotard 698 Mono.
The Superquadro Mono Engine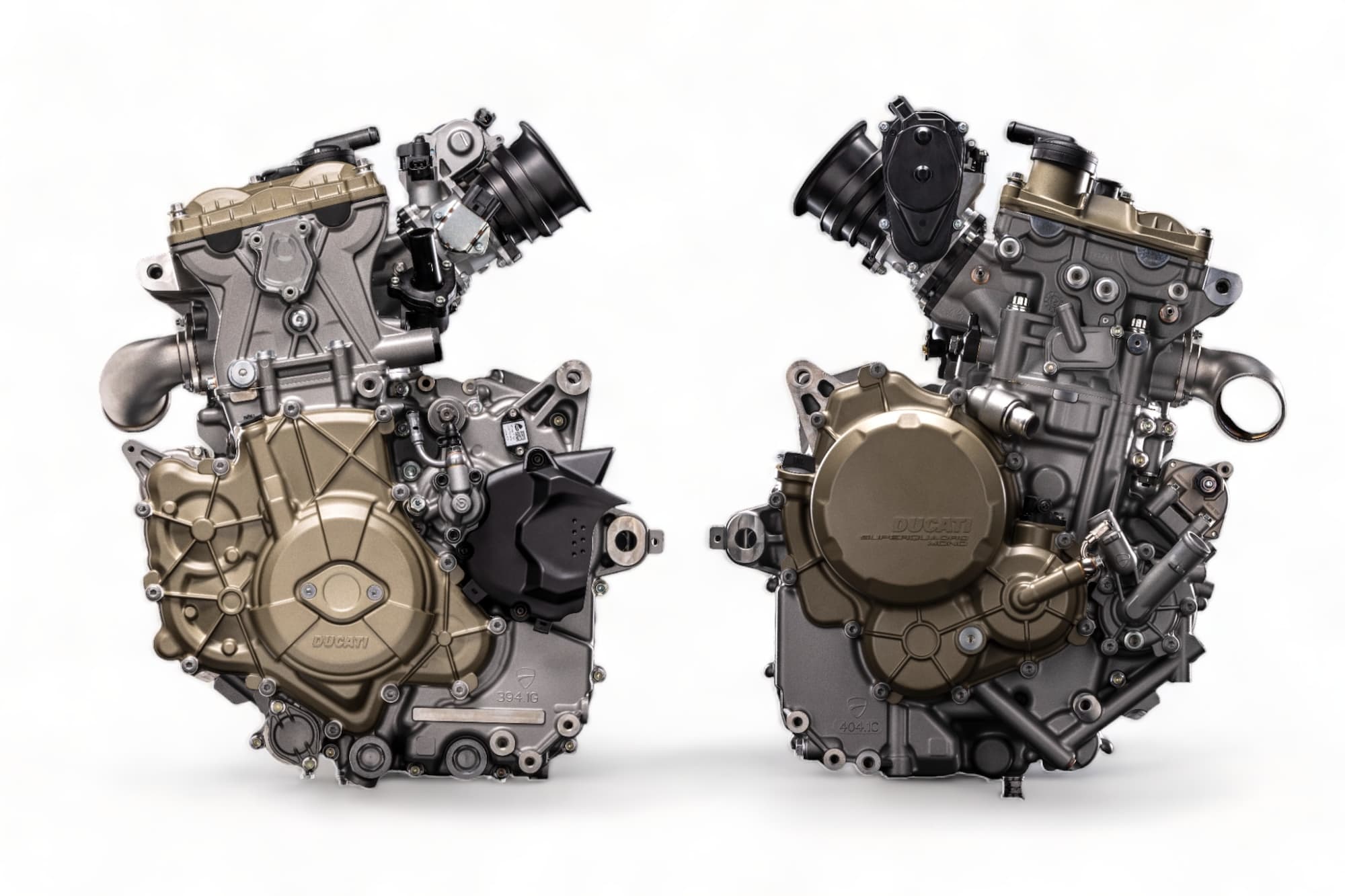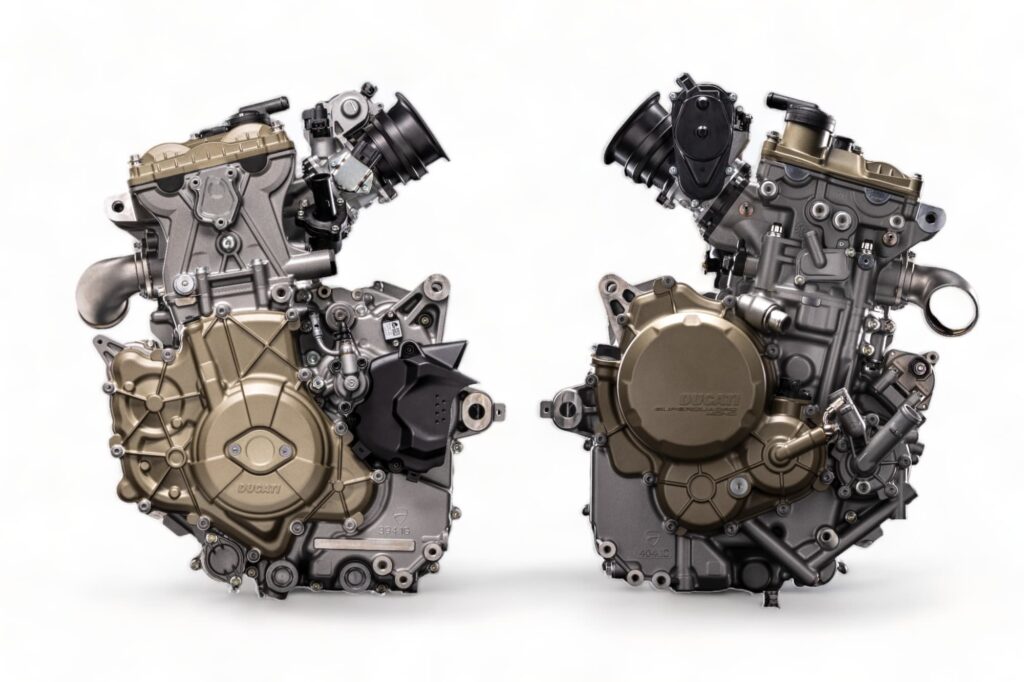 The first thing worth noting regarding the Hypermotard 698 Mono is that engine: the Superquadro Mono.
Ducati has made single-cylinder engines in the past. But the last one was made decades ago. For most people other than museum curators or avid collectors, the Superquadro Mono is the first Ducati single cylinder in living memory.
But the Superquadro Mono isn't just a single-cylinder. It's a high-performance single-cylinder engine. In its race configuration, it has the highest ratio of power to displacement of any other production road motorcycle of this capacity — though only by a shade. Its main competitors are motorcycles like the Husqvarna 701 Supermoto and the KTM 690 SMC R — see below for that comparison.
Brief caveat on the Hypermotard 698 Mono's power claims vs competitors: There are definitely smaller cc motorcycles with higher power/displacement ratios. The Ninja ZX-4R, for example. There are smaller sub-500 cc singles from KTM that make more power for the displacement, too. Similarly, many other motorcycles in the 600-700 cc class make "similar" power — e.g. the Yamaha MT-07 or the Husqvarna / KTM 693-cc singles. So take comparisons with a grain of salt — this is a high-performance single, let's leave it at that.
Ducati has been making the Superquadro engine type since the Ducati 1199 Panigale superbike. "Superquadro" is just the Italian term for "Oversquare", which is what this engine is (as was the original Superquadro). The other motorcycles using a Superquadro engine name are the Ducati Panigale V2 and Streetfighter V2.
The vast majority (probably "all" but someone will find an exception) of modern sportbikes have oversquare pistons. It's not unique. But Ducati uses the name for its engine types.
An interesting detail about the Superquadro Mono is that like its Superquadro big sibling, it has chain-driven camshafts and desmodromic valve actuation. This means that it uses cams to close the valves as well as to open them.
According to Ducati lore, the main purpose of desmodromic valve actuation is to be able to rev an engine to high RPMs without valve float, where springs can't react quickly enough to close a valve. This helps the Superquadro Mono set its limiter very high, at 10,250 rpm. By contrast, the KTM / Husqvarna big single peaks just shy of 9000 rpm.
Of course, many engines rev considerably higher, using only springs… but their cylinders are smaller, and so their valves usually are, too. If you want to read more about the Superquadro Mono, head over to the dedicated article on Ducati engines here.
Low Maintenance
Supermotards and maintenance go hand in hand. Some motorcycles in the category ask for oil changes every thousand km, and many even prescribe periodic engine rebuilds.
The more high-performance supermotos (Aprilia SVX550, Husqvarna/KTM 450) require an engine oil change and comprehensive look-over every 15 hours of use or 3000 km / 1800 miles. This is pretty aggressive, and will mean that you have to change the oil and inspect the valves every 20 rides or so. Of course, if you're a weekend warrior, that may be only every year, which is more tolerable!
There are, of course, many relatively low-maintenance supermotos out there, like the Yamaha WR250X, Suzuki DR-Z400SM, and the Husqvarna 701 / KTM 690. These last two, which are close competitors to the Hypermotard 698 Mono, have 6200 mile / 10000 km oil change service intervals, but do require a valve service every oil change.
The Ducati Hypermotard 698 Mono, by contrast, only needs an oil change every 9000 miles / 15000 km, and a valve service every 18000 miles / 30000 km — which actually wider than its Superquadro superbike brethren, which are a little shorter. These service intervals are like Ducati's other road-going bikes, including the Hypermotard 950.
Very Light Weight
Finally, it's worth noting that the Hypermotard 698 Mono is very lightweight. Just how lightweight? Let's look at a few other supermotos you might be thinking of.
| Motorcycle | Curb weight |
| --- | --- |
| Ducati Hypermotard 950 SP | 198 kg / 436 lb |
| Yamaha MT-07 (I know, it's not a supermotard) | 184 kg / 406 lbs |
| Ducati Hypermotard 698 Mono (est.) | 160 kg / 353 lb |
| KTM 690 SMC R | 159 kg / 350 lb |
| Husqvarna 701 Supermoto | 156 kg / 344 lb |
| Suzuki DR-Z400SM | 146 kg / 322 lb |
| Yamaha WR250X | 134 kg / 295 lb |
| Kawasaki KLX300SM | 136 kg / 300 lb |
Supermoto weights
Yes, I put the MT-07 in there, but only because it makes similar power to the Hypermotard 698 Mono and is a well-known hooligan machine. But it's heavier. And with an exhaust and tune, the Hypermotard 698 Mono is a lot more powerful… and let's not forget, loaded with higher-spec parts.
The light weight comes, of course, because Ducati left a lot of stuff off the Ducati Hypermotard 698 Mono. There's a single front disc brake, a trellis frame with different thicknesses of each section, and a lightweight fork. There's also no weather protection, no luggage, etc.
Alternatives to the Ducati Hypermotard 698 Mono
The striking thing is how few close competitors the Ducati Hypermotard 698 Mono actually has.
The only one that comes to mind is the KTM SMC 690 R / Husqvarna 701 Supermoto, which are two motorcycles built upon the same foundation. (Both KTM and Husqvarna are owned by the same parent company.)
The KTM 690 SMC R / Husqvarna 701 Supermoto (essentially the same motorcycle — differences are very minor) is/are powered by a 693 cc single-cylinder engine with a single overhead camshaft and four valves. It's tuned to make peak power of 54 kW / 74 hp at 8000 rpm — the same territory as the Ducati Hypermotard 698 Mono.
The bikes present similarly to the Hypermotard 698 Mono on paper. The KTM and Husky are lightweight, have a single brake disc, and come with ride aids including cornering ABS in recent years. They're well-known for being high-performing larger supermotards that stretch the definition of the class on paper — but owners of them certainly don't mind.
In recent years, the engines have been counterbalanced, too, which makes them a little smoother on the highway.
The best thing about the KTM/Husky pairing is that they've been around for many years. There's a well-established community of riders, and there are aftermarket parts aplenty.
The worst knock against them is the maintenance interval, which is, as mentioned above, an oil change and valve service every 6000 miles/10000 km. That's not too unpleasant, and at least you don't have to remove the camshaft (the valves are actuated via rocker arms), but it's markedly lower than that of the Hypermotard 698 Mono.
Wrap up
The Hypermotard 698 Mono definitely looks to shake up the class a little bit, and maybe bring a bit more attention to the "lightweight big supermotard" type of motorcycle.
If you've ever had to the fortune to have ridden in the Alpine regions of Europe, you would understand why the class exists. Tight switchbacks just outside beautiful country towns are a supermoto's playground. They're fun on any bike (maybe other than a long heavy cruiser, I imagine), but light, flickable bikes make mockeries of them.
The only thing missing, which is a gap I expect will be rectified soon, is an enduro or even adventure motorcycle based on the Superquadro Mono. Ducati Hyperenduro 698? Ducati Hypercross 698? Can't wait to find out what they'll call it.