Below is everything new (well, the coolest stuff) at EICMA in 2023. There's so much being announced this year that it's easier to keep it all in one document.
There are also announcements being made sneakily before and after EICMA, probably to not get obliterated by the press cycles, and I'll put those in here too.
I'll update the various buyer's guides over time, but this is a master reference.
Note — there are obviously a few motorcycles missing from this list, but I'm trying to keep it somewhat concise. Many smaller manufacturers also announced things at EICMA. Also, I'm updating this as fast as I can! If you notice a glaring omission, please let me know.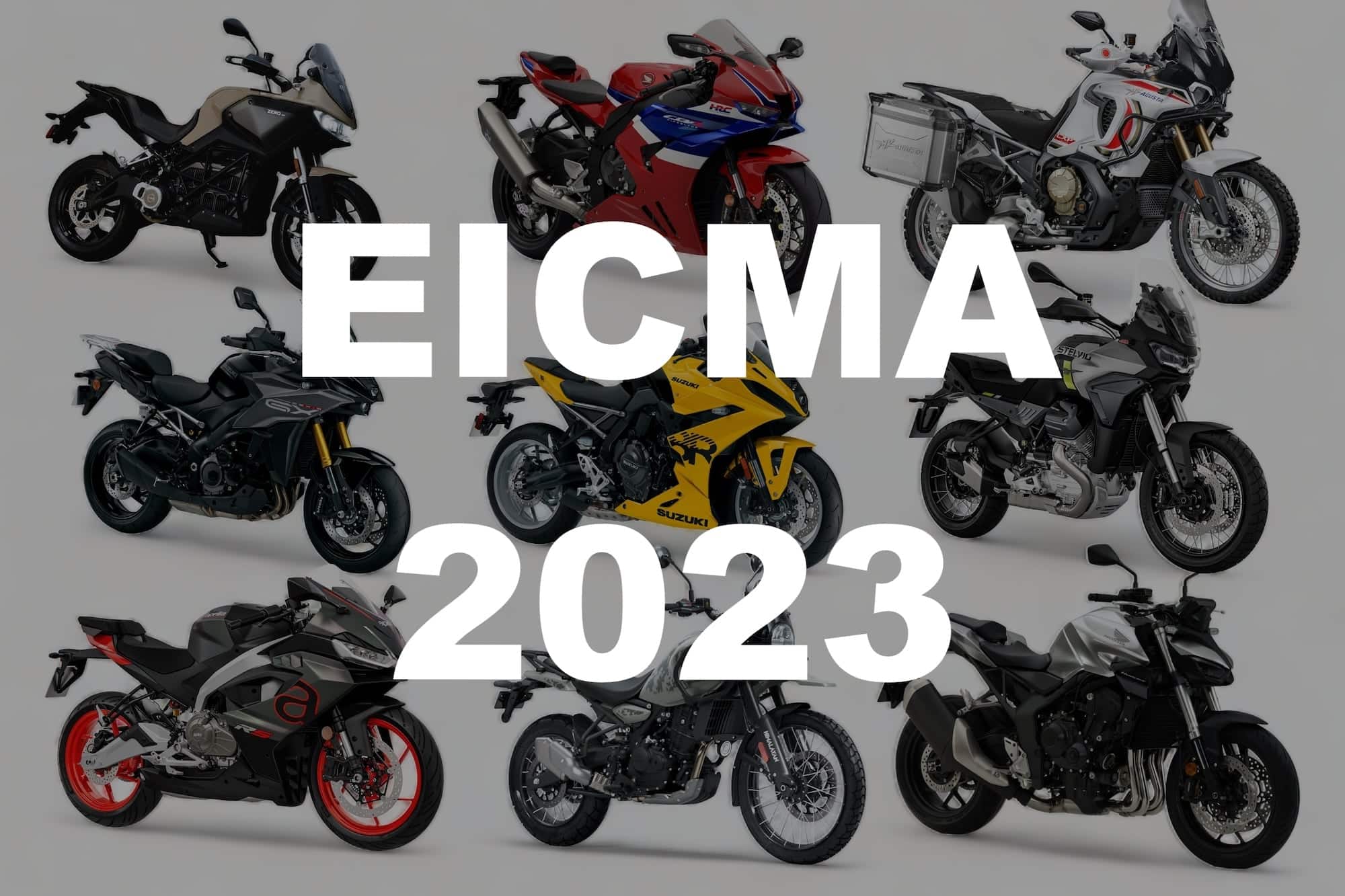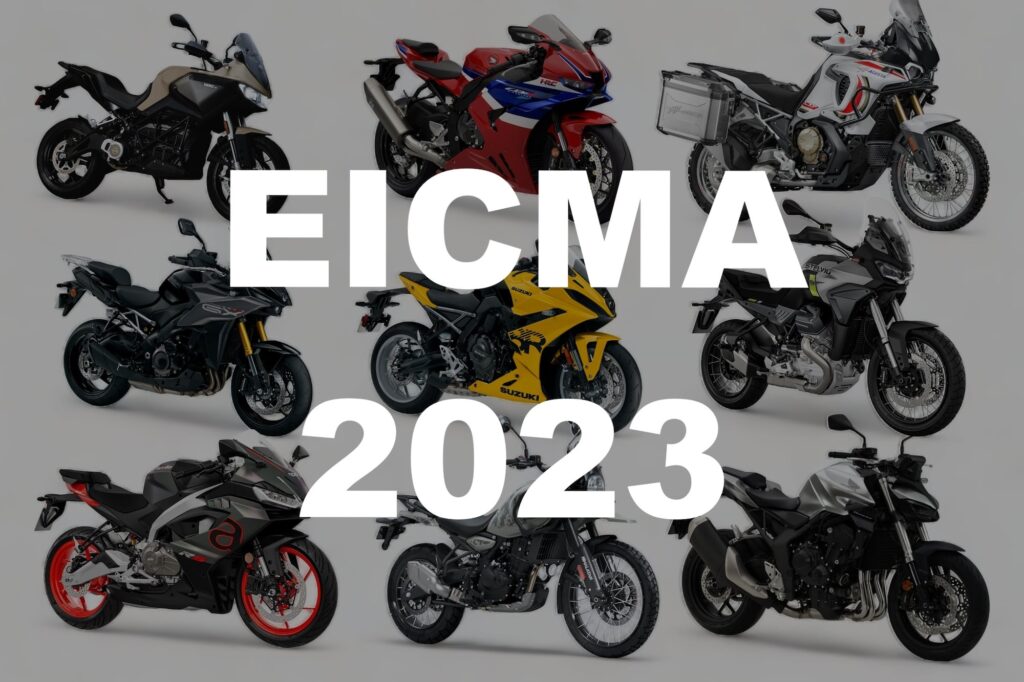 Are you obsessed with motorcycles?
Well, I am. That's why I created this site — as an outlet. I love learning and sharing what others might find useful. If you like what you read here, and you're a fraction as obsessed as I am, you might like to know when I've published more. (Check the latest for an idea of what you'll see.)
EICMA 2023 (and surrounds) Master Gallery
In case you like flicking through photos, here's a master gallery of motorcycles released at EICMA 2023. Click on them to see them in the lightbox.
Aprilia RS 457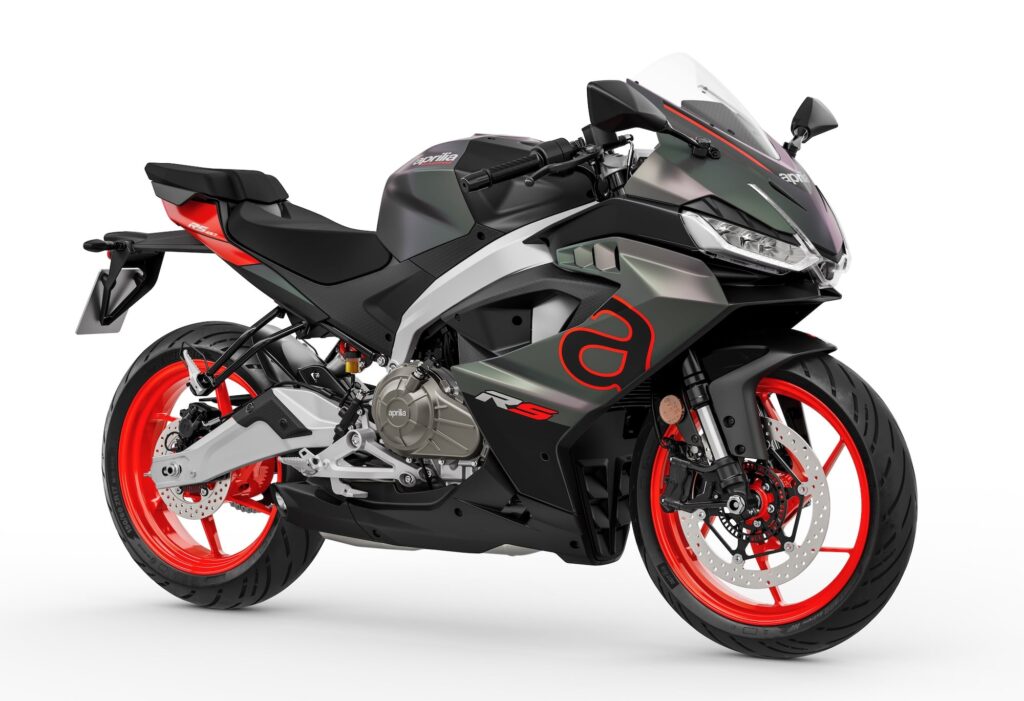 Piaggio Group (of which Aprilia is a member) announced a bunch of bikes at EICMA, and the alphabetically first one is one of the easiest on the eye.
The Aprilia RS 457 very nice looking entry-level sport bike powered by a 457 cc parallel twin designed to be European A2 license / Australia/NZ LAMS-legal, making peak power of 35 kW / 47hp.
It probably isn't as high-spec as the RS 660 — I don't expect as much adjustability in the suspension, for example. The single disc brake is reflective of its lighter weight. But it looks sharp, anyway.
I expect we'll see an Aprilia Tuono 457 before long, too. And maybe even a Tuareg 457! Now, that'd be interesting…
Ducati Panigale V4 SP2 Anniversario 916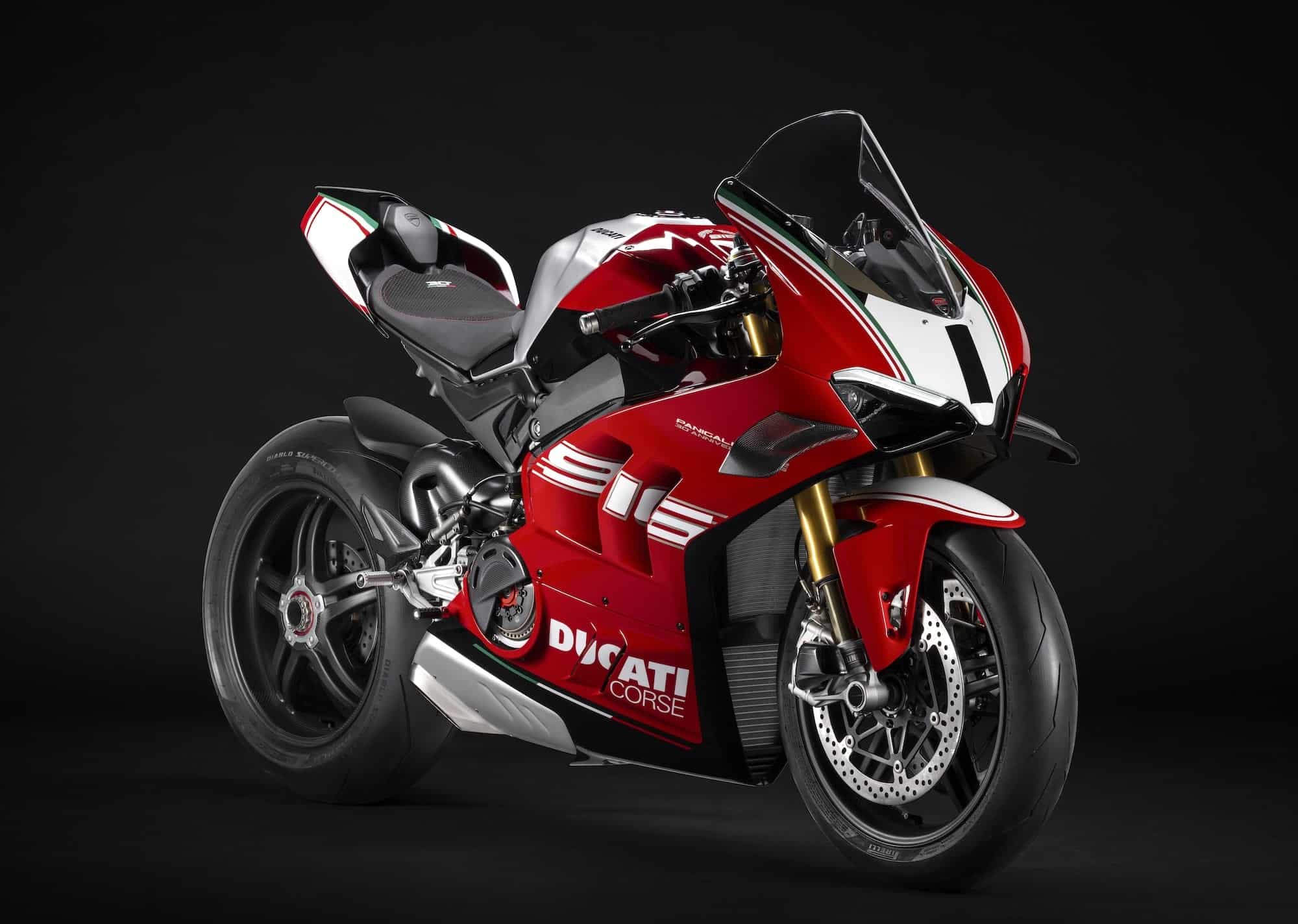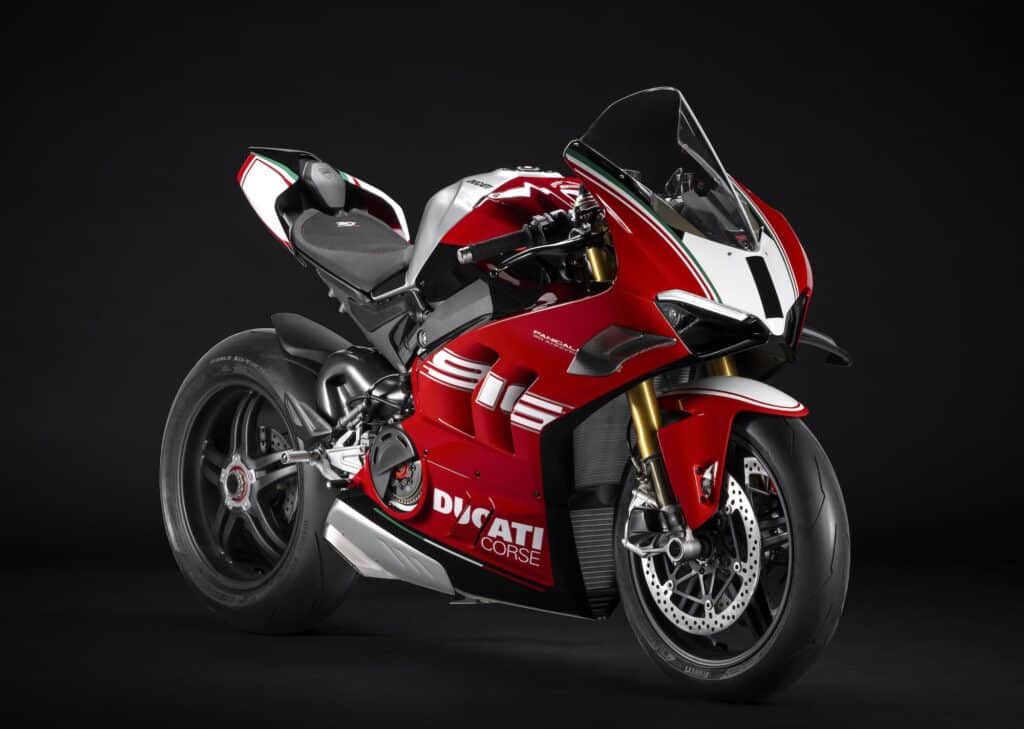 Ducati always tries to steal the show at EICMA — it's always a fight between them and MV Agusta for the Most Beautiful Bike of Show.
Ducati announced this variant of the Panigale V4 SP2 at EICMA on November 8. Say it quickly three times: "Ducati Panigale V4 SP2 30th Anniversario 916". It's a mouthful!
This anniversary model is a limited run of 500 of the Ducati Panigale V4 SP2. It has all the fruit — of course, the Desmosedici Stradale engine, but a bunch of nice other stuff including the STM EVO dry clutch, carbon fibre wheels, Brembo Stylema R calipers, a track-ready kit, and lots of decals to remind you how lucky you are.
Honda CB1000 Hornet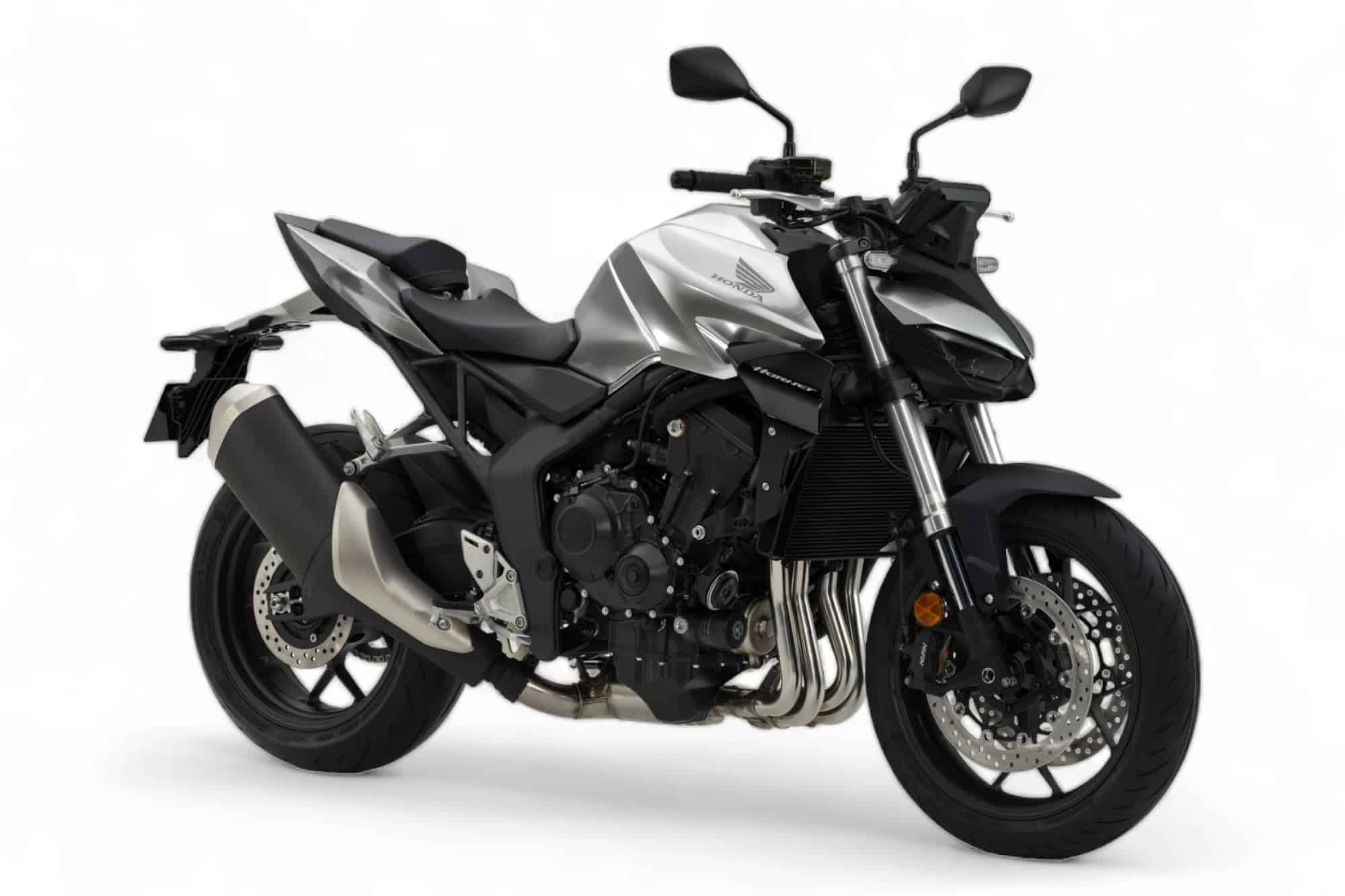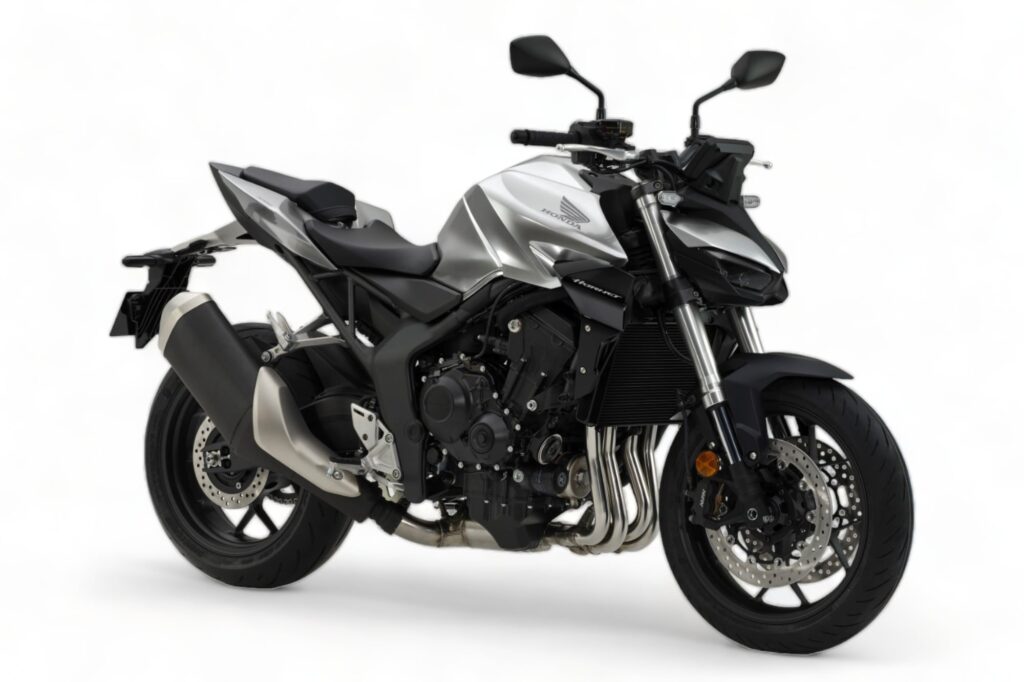 Honda made a slew of announcements at EICMA in 2023. They're all coming below.
The CB1000 Hornet is a rebirth of the CB900 Hornet (a.k.a. the Honda 919), but also a revitalisation of where Honda left off with the CB1000R.
The CB1000 Hornet is based on the engine from the 2017 Fireblade, which means more power via a slightly shorter-stroke engine than the CB1000R models, which were based on a much earlier Fireblade.
The interesting thing is that per the thin pre-release spec sheet, some aspects of the CB1000 Hornet are lower spec than the CB1000R. For example, there appears to be less adjustability in the suspension and there's no more single-sided swingarm.
I will add this to the Honda CB1000R Buyer's Guide.
Honda CB500 Hornet and CBR500R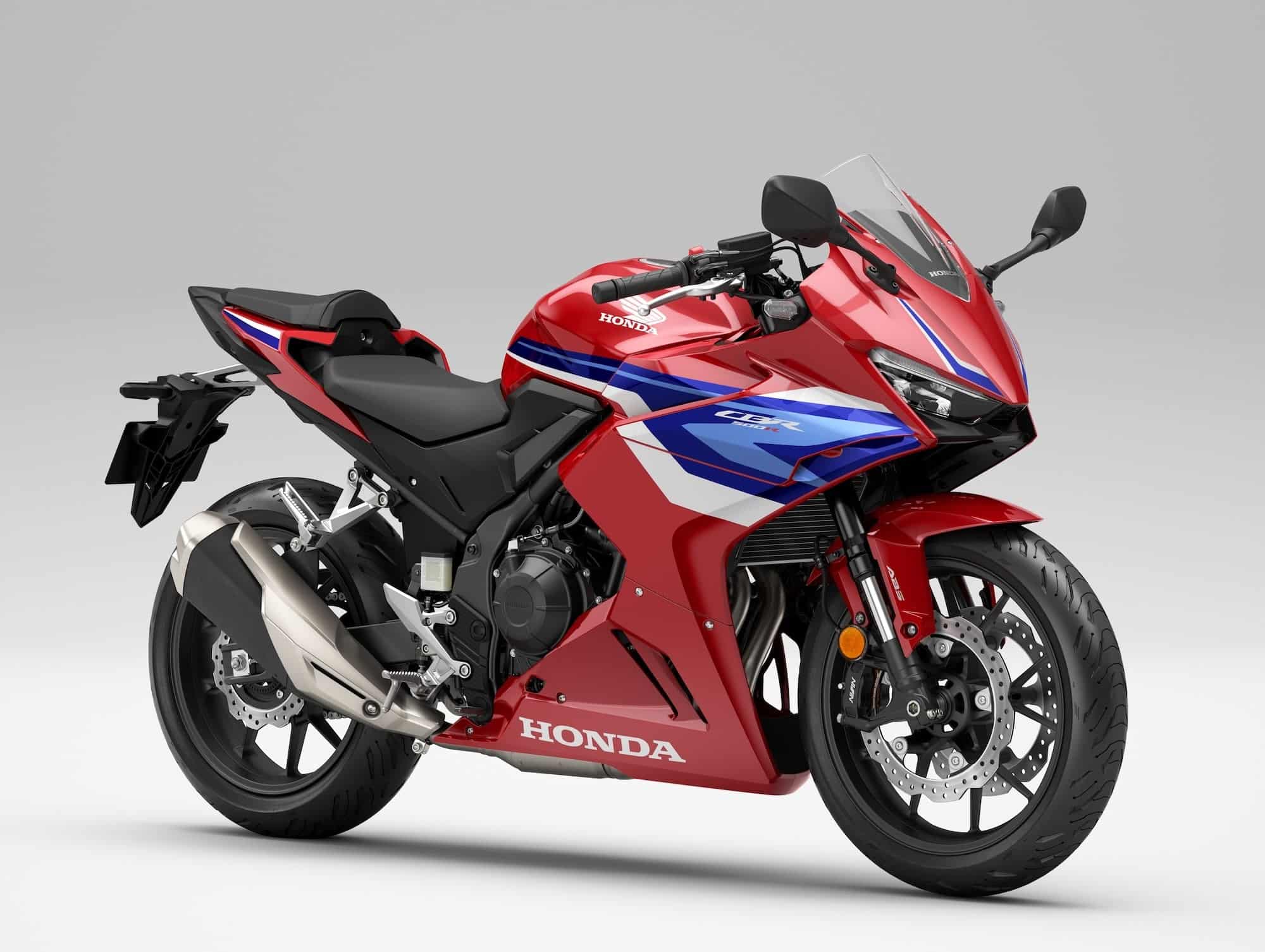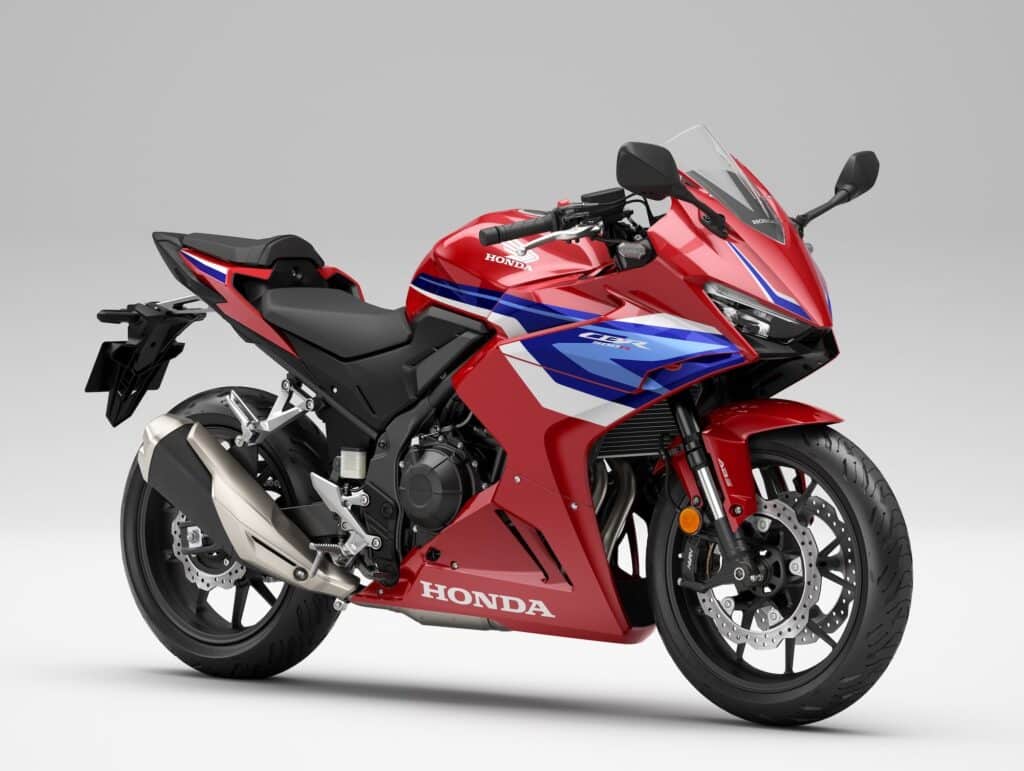 Why mention the humble Honda CBR500R? Because I've long thought that the CBR500R is a really good-looking entry-level bike. But Honda has levelled up with the 2024 model, with that tri-colour paint scheme, normally reserved for the very most expensive motorcycles!
The new CBR500R announced at EICMA 2023 also gets new lights, revised engine settings, and a 5-inch TFT.
Honda worked over the CB500F, too, and now calls it the CB500 Hornet. Hornets everywhere the eye can see.
Honda CBR600RR
Honda has brought back the CBR600RR, after temporarily retiring it from European markets. In the US you could still get the old CBR600RR, and in Australia you could get the new version, but at a huge price premium.
The new version has a revised engine that makes 89 kW / 121 PS / 119 hp at 14250 rpm, and peak torque of 63 Nm / 46.5 lb-ft at 11500 rpm. It also has an IMU (with cornering ABS), a TFT display, an electronic steering damper, and ride modes.
I'll update the CBR600RR buyer's guide with details.
Honda CBR650R / CB650F
Honda announced the CBR650R's and the CB650R's update at EICMA 2023 — but not for the reason you'd think.
Honda re-styled the CBR650R and CB650R, yes (though the latter is still not a Hornet… just what is a "Hornet"?), but most significantly, Honda gave both a new piece of technology — the "E-clutch".
The E-clutch is like a quickshifter on steroids, or an electronic clutch with a foot controller. It's maybe the best of both worlds — seamless upshifting like using GP-style paddle shifters, but using your foot, the old-fashioned way.
I would probably appreciate this after a long ride day when I want to go on autopilot for the ride home, if I want to preserve my finger strength for the next day's riding. The thing is, that makes a lot sense on a bike with a heavy clutch, not a CBR650R / CB650R, so I'm not sure why it's being piloted on this bike.
Aside from the E-Clutch, both bikes also get a 5-inch TFT and RoadSync connectivity.
See the full guide to the Honda CBR650R to see how the model has evolved over time.
Honda NX500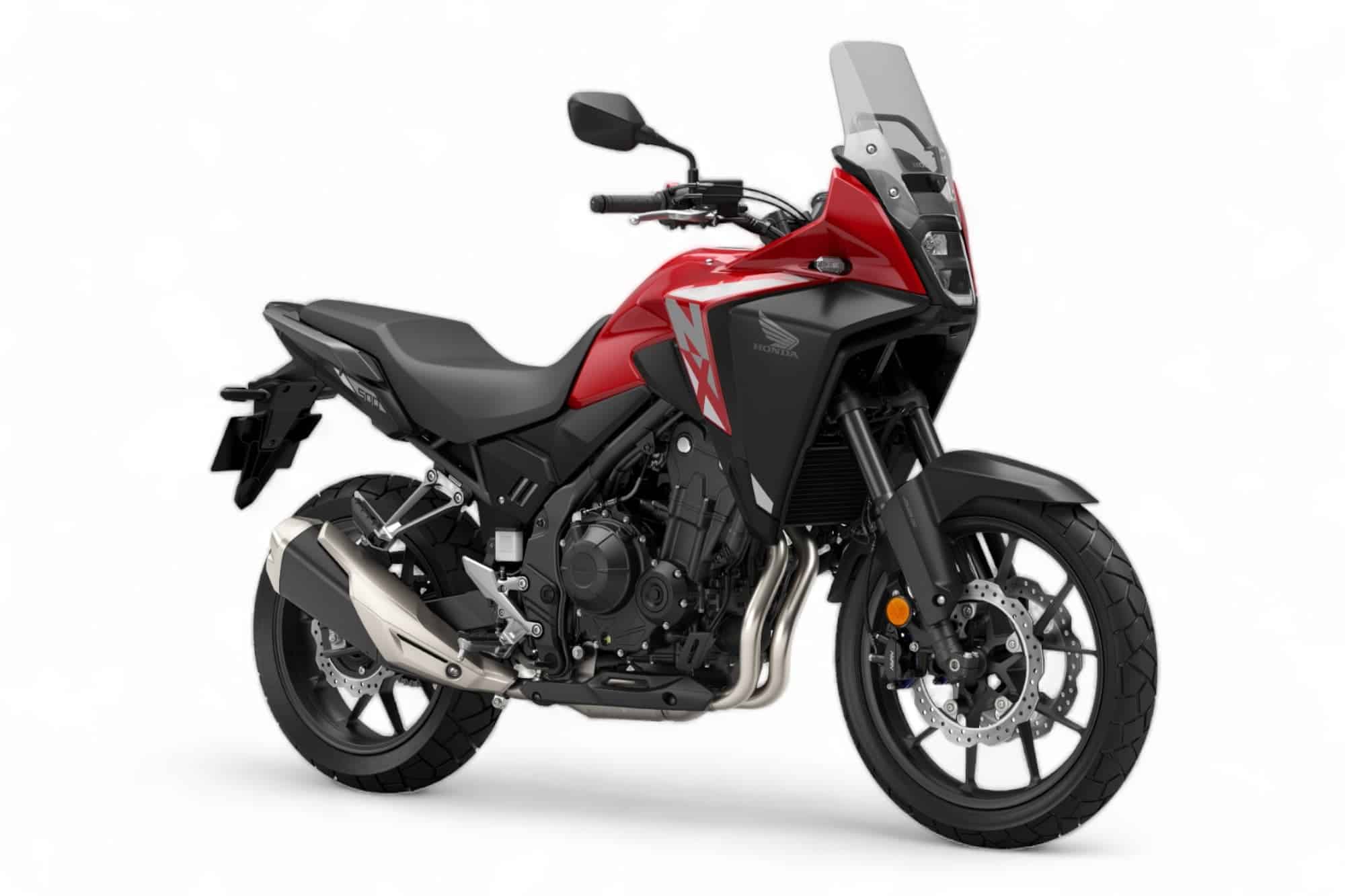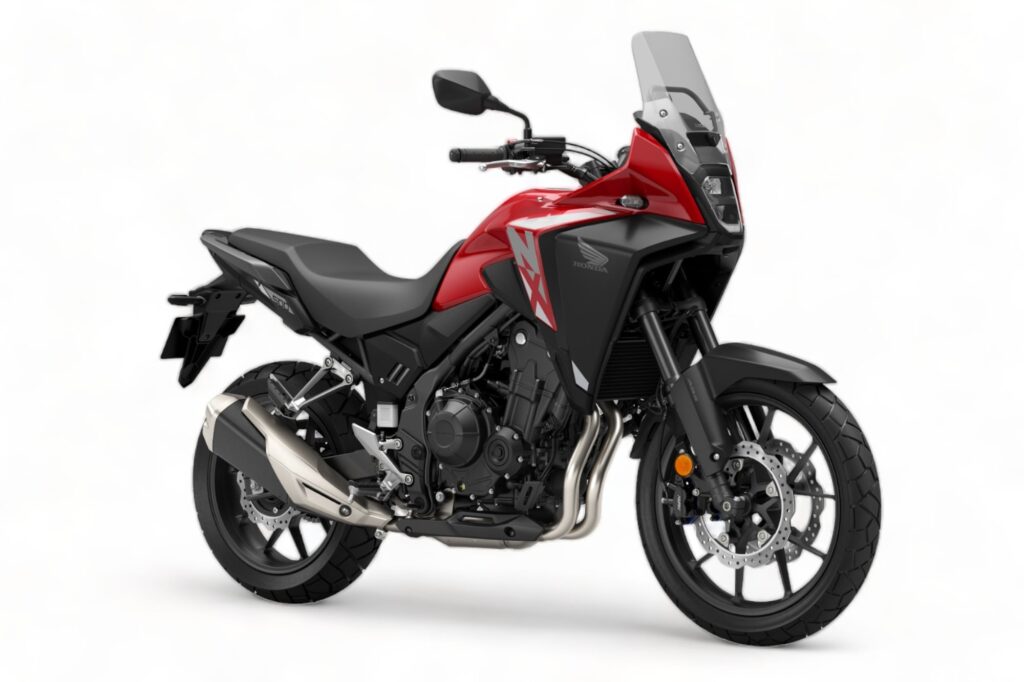 Lastly for Honda at EICMA, Honda is bringing back the NX brand for 2024. We last saw the Honda NX as the "Dominator", a single-cylinder enduro / trail bike.
The NX500 is halfway there, an enduro-oriented CB500X essentially. Honda gave the NX500 new lightweight wheels, revised suspension settings, a 5-inch TFT screen, and new styling. But it doesn't have a few things out of the box that some will be asking about, like spoked rims and standard protection features.
Kawasaki Ninja 500 / Z500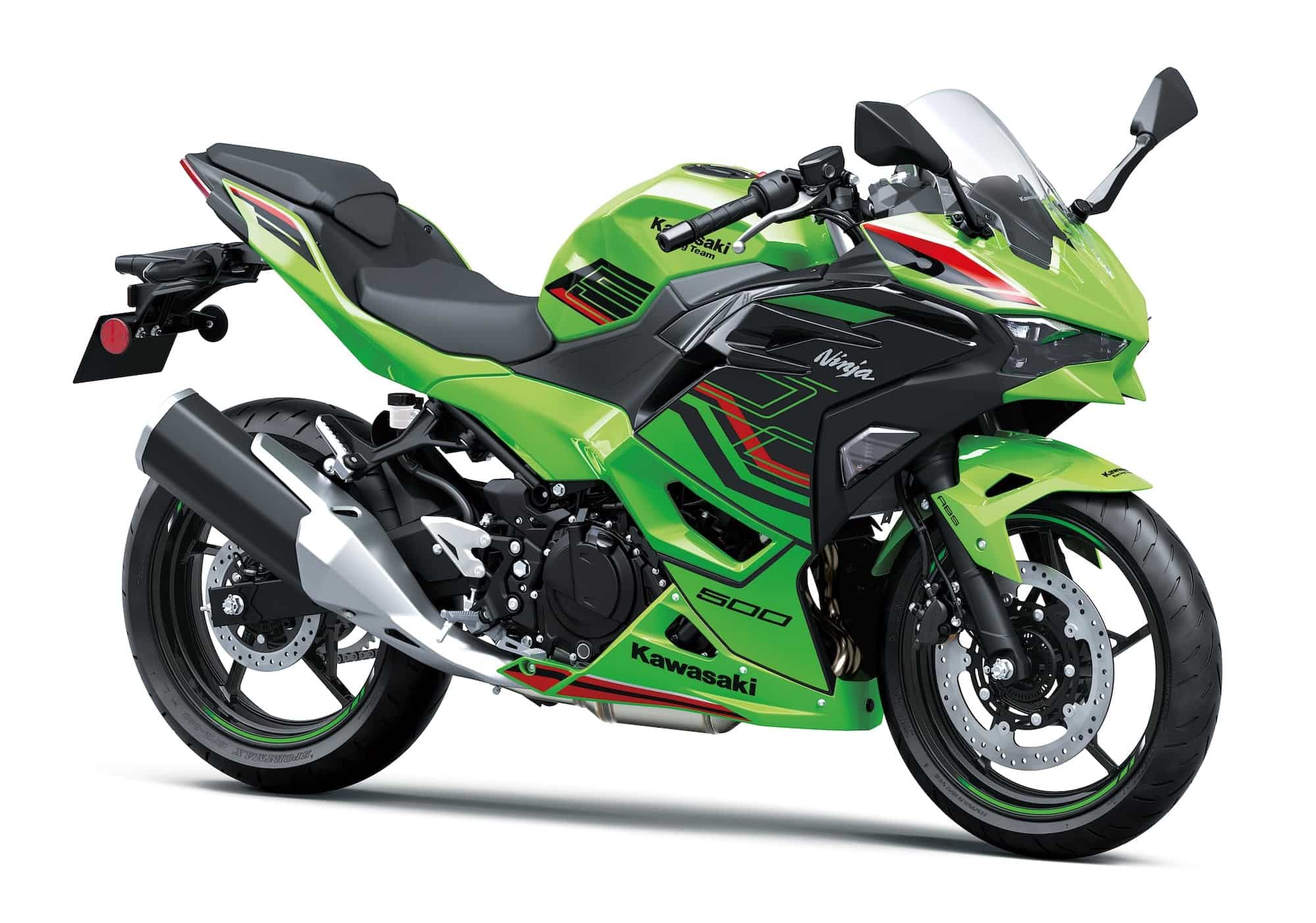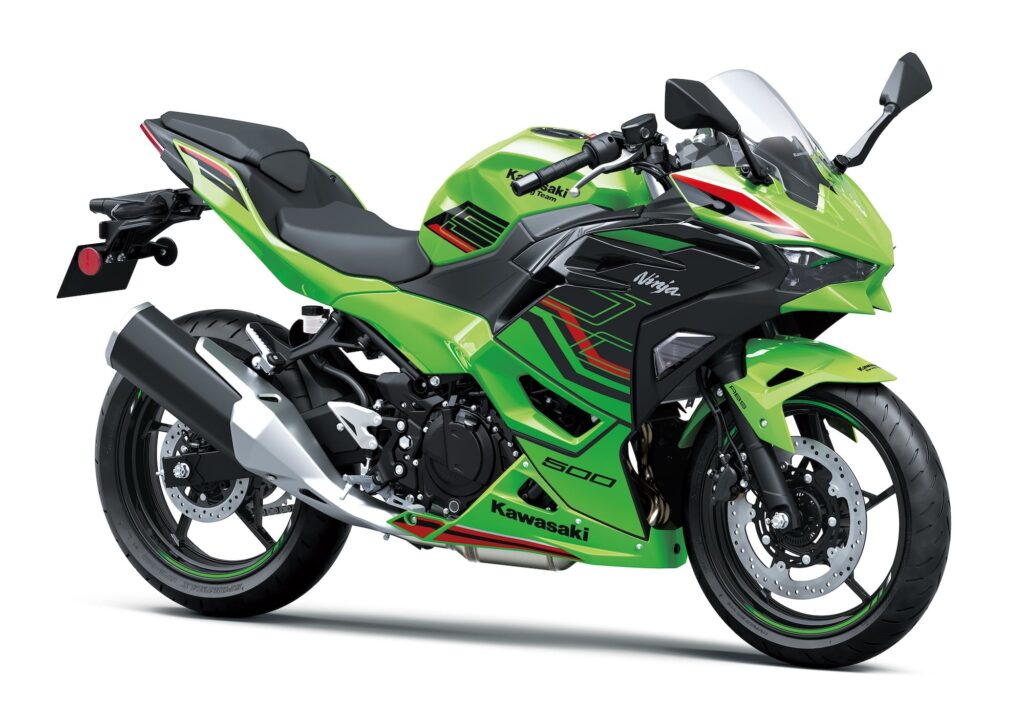 History repeats itself, and Kawasaki has a new Ninja 500 (we last saw one decades ago, before the Ninja 650).
The Ninja 500 is an evolution of the Ninja 400. It has a 451 cc engine (which I suppose rounds up to 500 if rounding to hundreds… or, if rounding to the nearest thousand, rounds to zero) that's a parallel twin, just like its bigger sibling, the 650.
The bigger engine comes with the same peak power as the Ninja 400 in Euro trim, but with torque coming on earlier. (Not sure if other markets will see a higher-power tune.)
The Ninja 500 is also released in naked form with the Kawasaki Z500.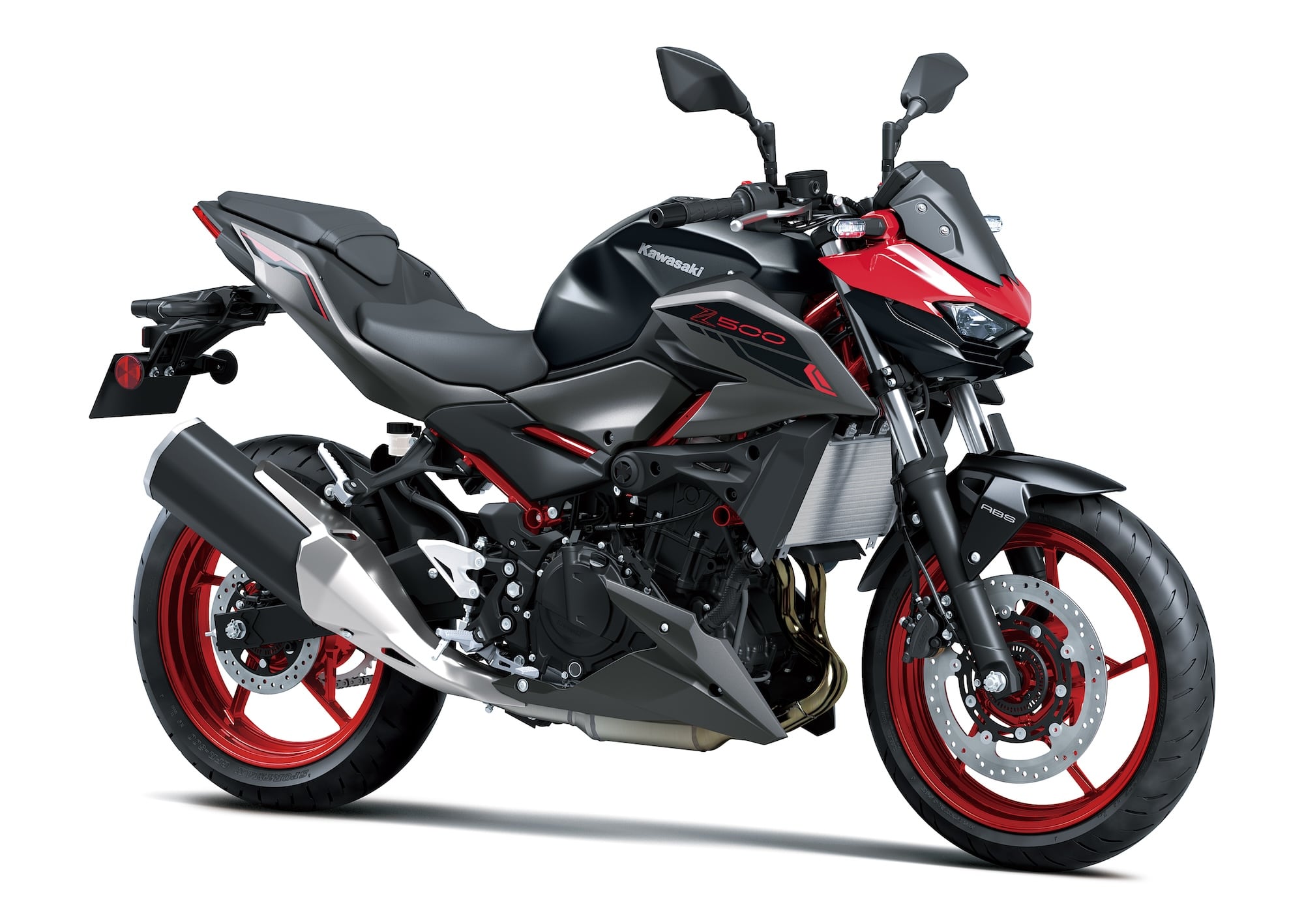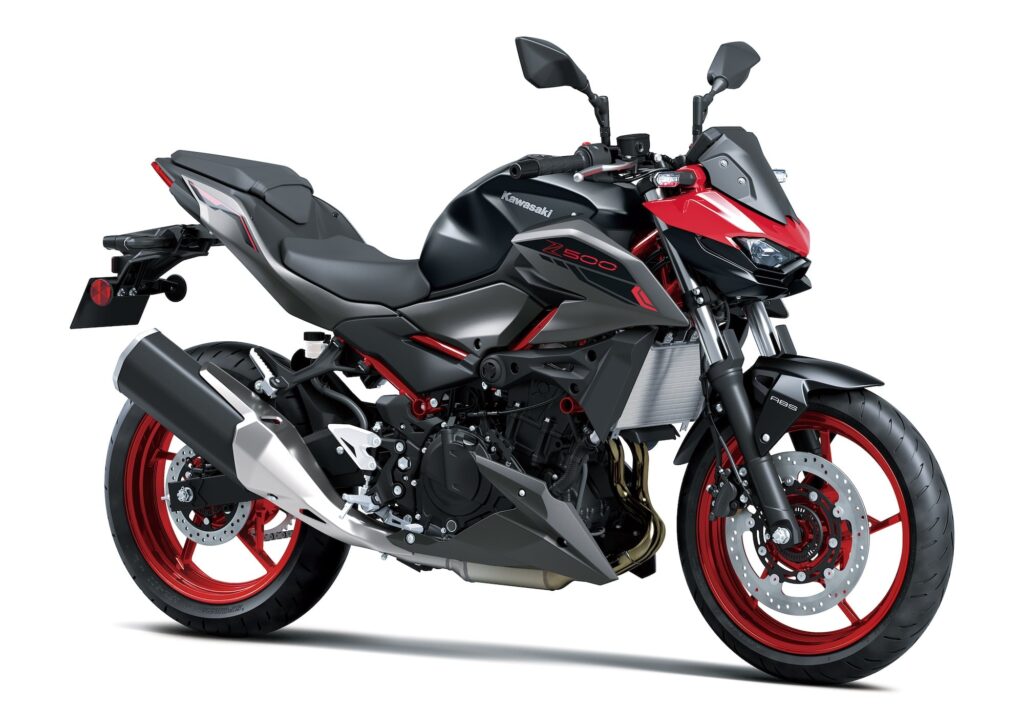 Kove 450RR Pro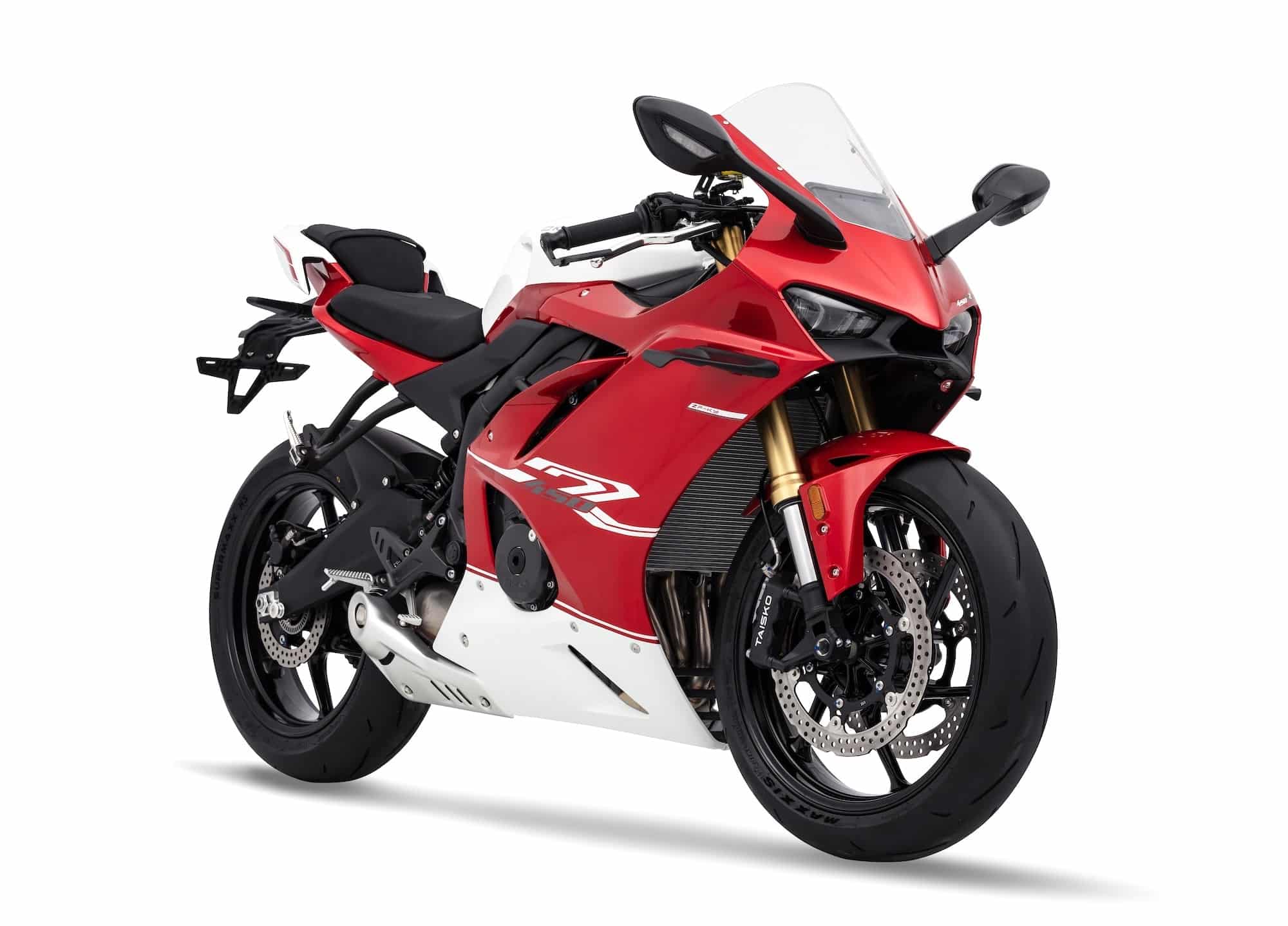 The Kove 450RR Pro is a high-spec sport bike powered by a 443 cc inline four-cylinder engine. It competes in a very small class of "little" four-cylinder sport bikes, currently only shared with the Kawasaki ZX-4R.
The Kove 450RR's engine makes a peak power of 52 kW / 71 hp at 13000 rpm, with peak torque of 29 lb-ft / 39 Nm at 10500 rpm. These rpm figures are lower than that of the ZX-4R, meaning that with the right gearing, the Kove bike might be a little easier to rev out on the road. Its claimed wet weight of 165 kg / 364 lb is the icing on the cake, though it remains to be seen what the weight spec "in running order" means.
The Kove 450RR has fully adjustable KYB suspension front and rear, Taisko radial calipers on 300 mm discs, a standard quick shifter, slipper clutch, 5-inch TFT display, and even launch control.
See here for more about Kove Moto.
KTM 990 Duke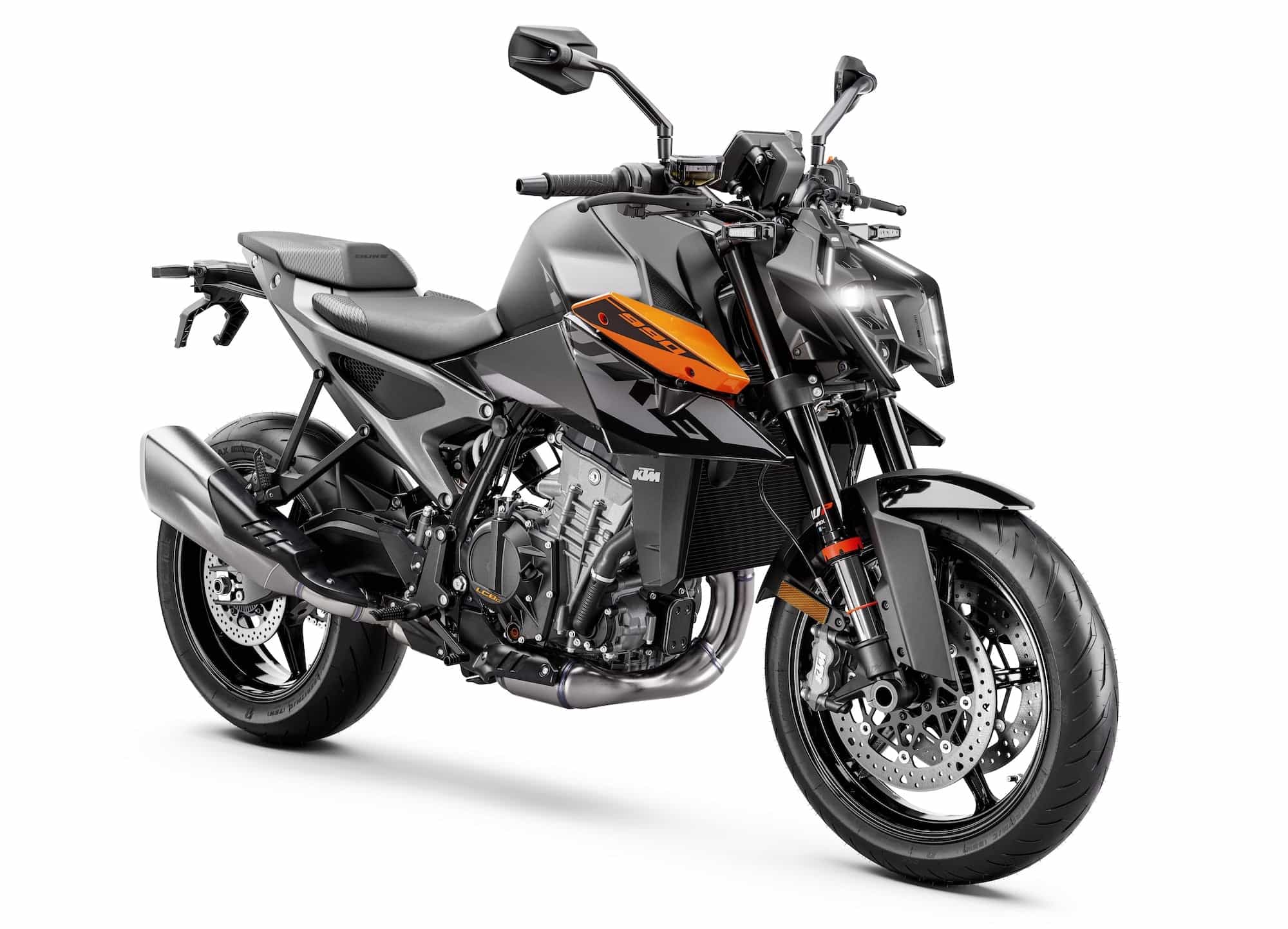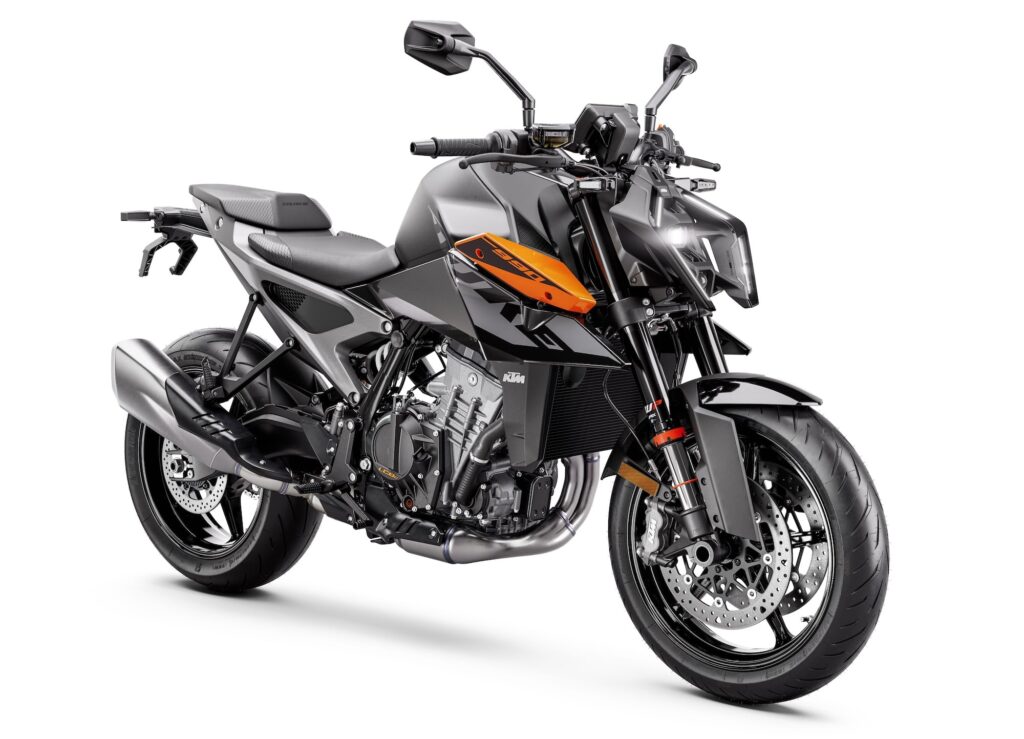 KTM has released a new Duke based on a parallel twin. There used to be a 990 Duke, but that was a V-Twin.
The new Duke is based on a 947 cc parallel twin that makes 90.5 kW / 123 hp at 9500 rpm — marginally more than the 890 Duke. The engine has both a bigger bore and stroke, so it's not a simple dimensional change of one of the two.
Like before, the 990 Duke comes with a full suite of rider aids — including cornering ABS and even optional cruise control, though you need to pay for the factory unlock for it to work.
Moto Guzzi Stelvio (2024)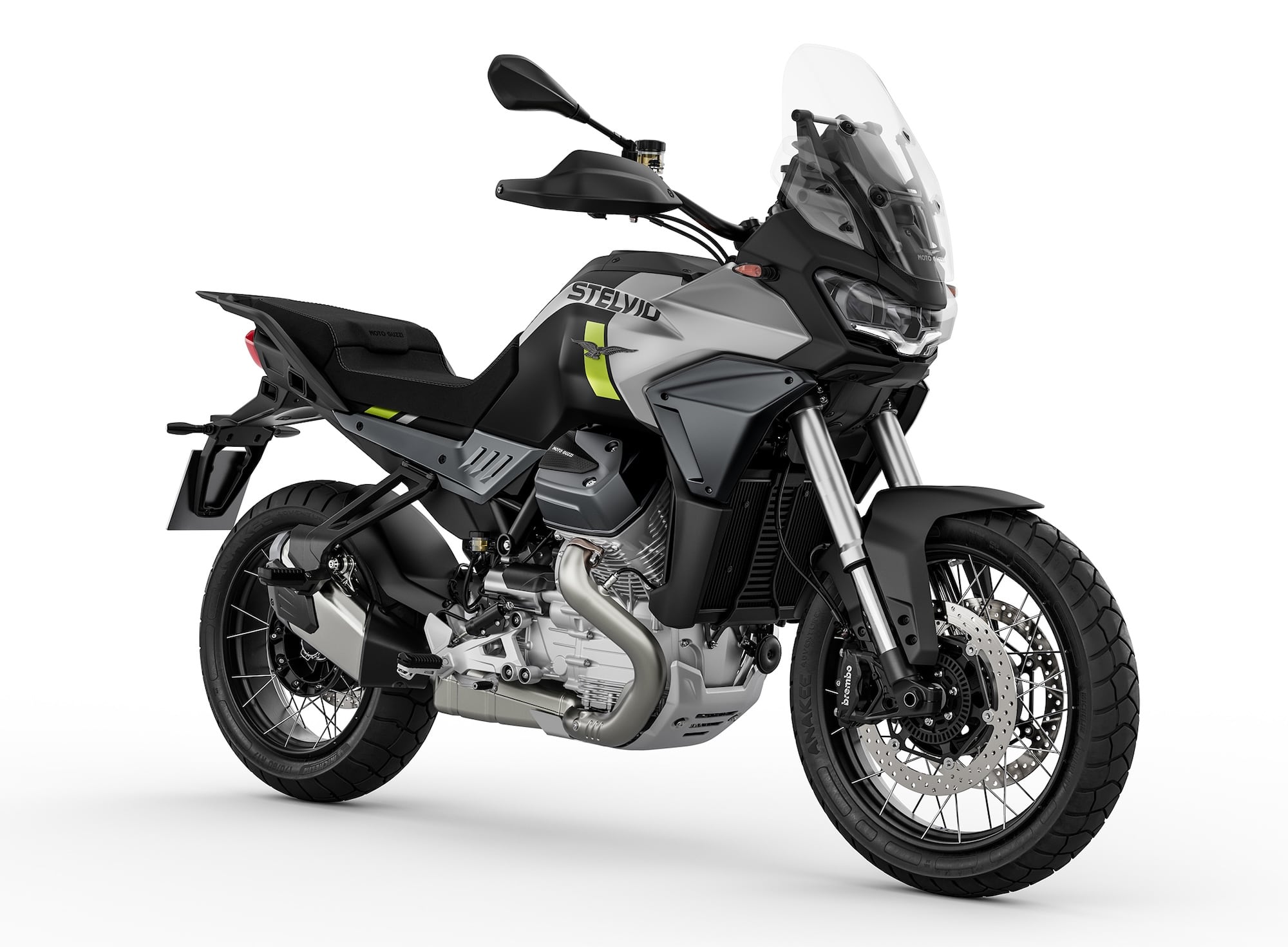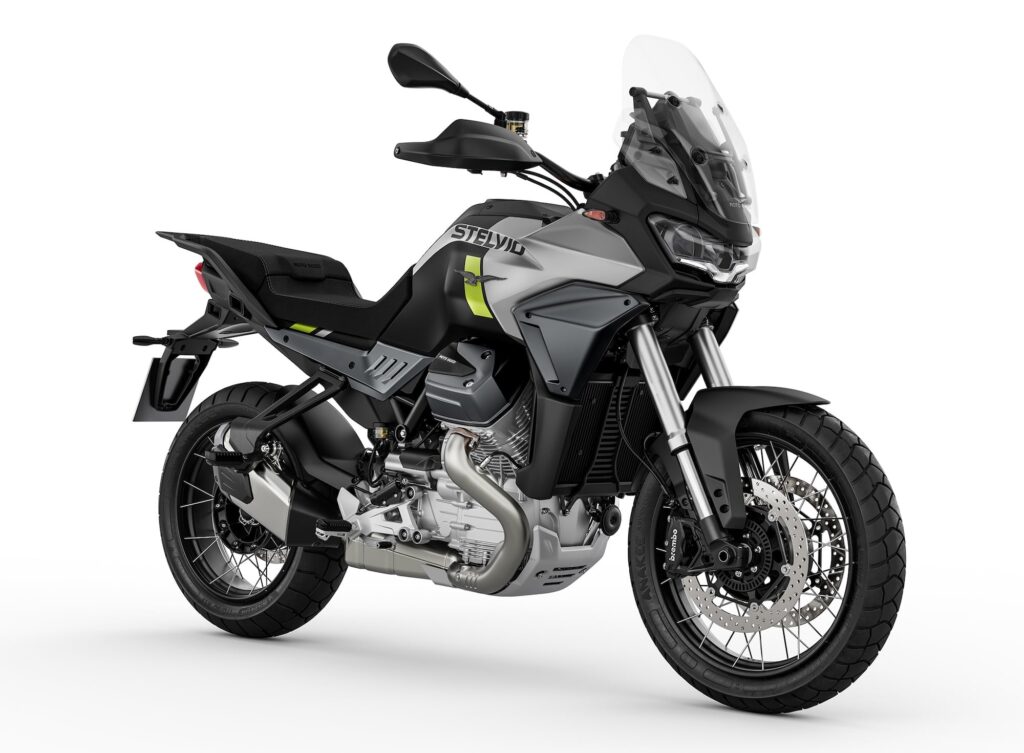 Finally, a bike that Guzzi fans have been expecting a while — the Stelvio. Moto Guzzi finally announced it at EICMA 2023.
The last Stelvio we saw was the air/oil-cooled Stelvio 1200. But Guzzi retired it, as they did the entire CARC line.
Moto Guzzi calls their reborn liquid-cooled Stelvio just the Moto Guzzi Stelvio.
It's an adventure touring bike powered by the same liquid-cooled engine as in the V100 Mandello. It's a "compact block" transversely mounted 1042 cc V-twin, in classic Moto Guzzi style, and puts power down via a counter-rotating shaft final drive (to reduce reverse torque).
The final drive doesn't have a CARC-like system (see here for more about CARC). Moto Guzzi says that the minimal output of the drive shaft combined with it being longer minimise the torque reaction effect ("shaft jacking") on older shaft-drive bikes.
A few tricks up the Stelvio's sleeve are an electronically adjustable windshield, radar-assisted adaptive cruise control and other safety features, and a ton of accessories, including heated seats for even the passenger.
Moto Guzzi V85 Range
No longer just the Moto Guzzi V85 TT, the V85 now comes in two other forms:
The Strada — a road-going format with aluminium alloy spoked wheels, and
The Travel — a long-range adventurer with a larger 23-litre tank, a touring shield, a heated seat, and much more.
But Moto Guzzi worked over much more than the exterior in the V85 Range. To get it to comply with Euro 5+, Moto Guzzi implemented variable valve timing to help tune for low-end torque. It's quite interesting to see that engine tech in an air/oil-cooled engine.
Moto Guzzi also implemented knock sensors, a feature not normally seen on middleweight adventure bikes.
There's much more, too. Moto Guzzi gave the V85 TT a six-axis IMU for cornering ABS. It's standard on the TT models, but optional on the Strada. All models still come with cruise control, and get a larger 5-inch TFT display.
See here for more about the Moto Guzzi V85 TT.
MV Agusta LXP Orioli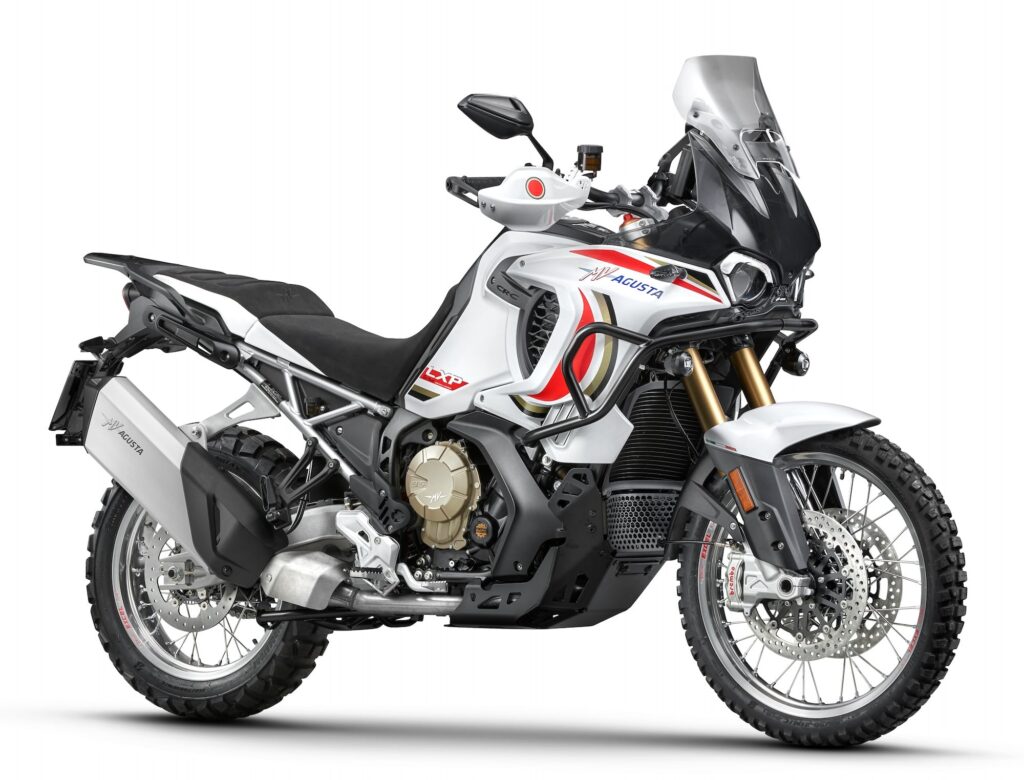 MV Agusta has been teasing EICMA attendees with an adventure bike for years, and finally announced it in November 2023.
MV Agusta decided to finally jump into the middleweight adventure motorcycle market, but only with a limited run of 500 units. MV Agusta calls it an "all-terrain luxury motorcycle".
The LXP Orioli is an adventure motorcycle with a 21/18-inch front/rear wheel and tire combination, an upright seating position, and a sparkling 931 cc 3-cylinder engine that makes peak power of 91 kW / 124 hp at 10000 rpm.
Some interesting features are a 7-inch TFT display (a bit bigger than average), backlit handlebar controls, a quickshifter, and artwork telling you about its limited run. The MV Agusta even has a counter-rotating crankshaft, like MotoGP motorcycles, to help with turn-in.
But why such a limited run…
Royal Enfield Himalayan (450)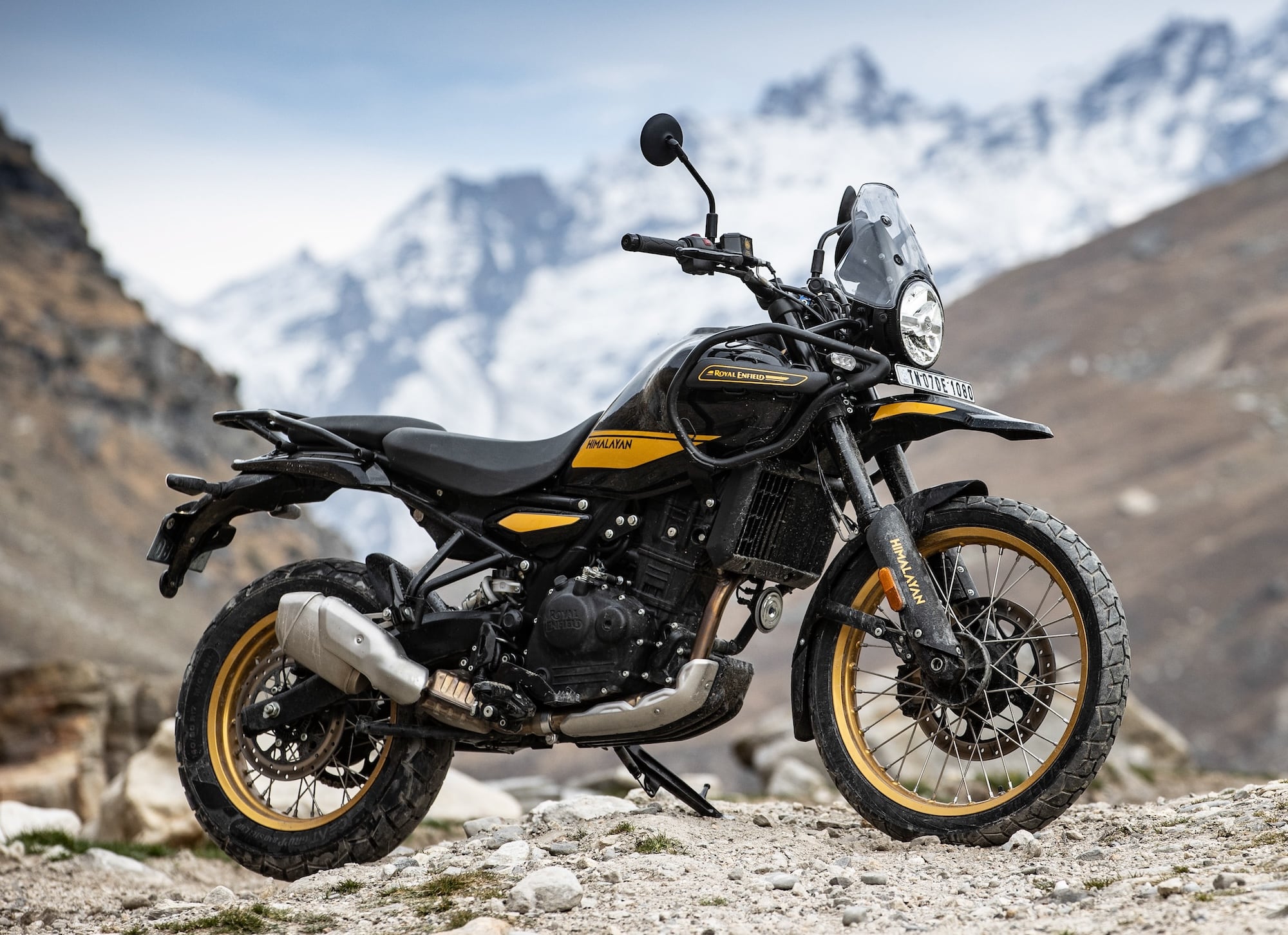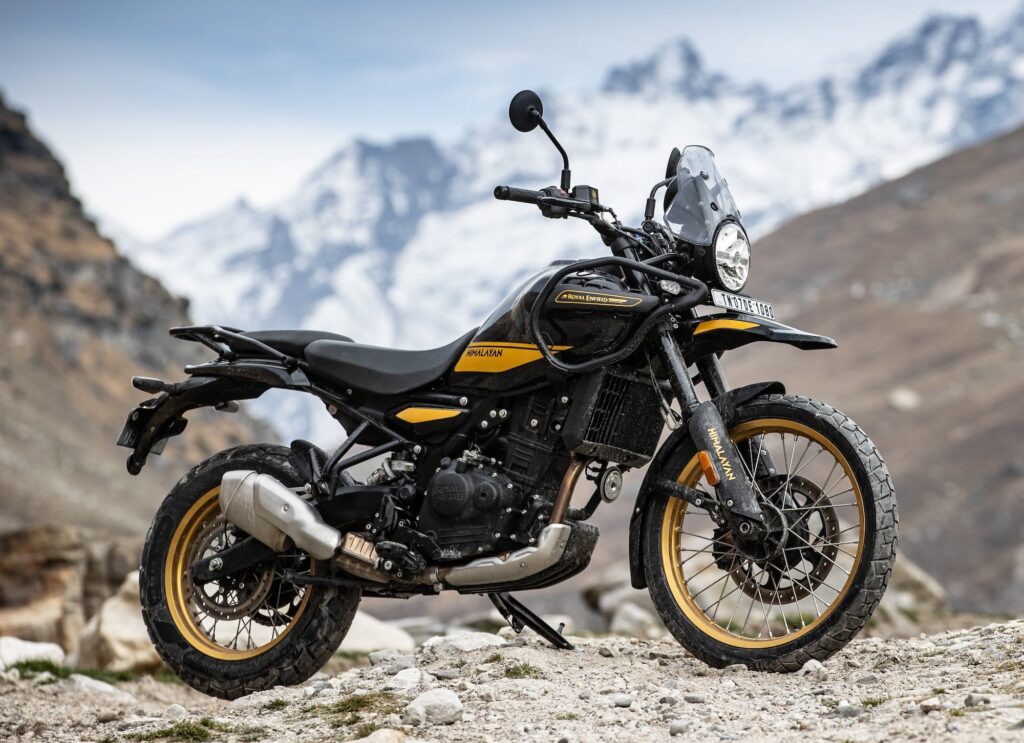 Huge changes for the Royal Enfield Himalayan, which is just called that, but which everyone will inevitably call the Himalayan 450.
Royal Enfield has significantly updated the style of the Himalayan. It's a lot more modern. The old Himalayan was an instant classic (designed by Pierre Terblance, no less), but the new one is also pretty easy on the eye.
But design aside, the new Himalayan is powered by a bigger engine that's liquid-cooled — a first for Royal Enfield. The 452 cc single makes peak power of 29.4 kW / 40 PS at 8000 rpm, and peak torque of 40 Nm / 29.5 lb-ft at 5500 rpm. So it's still learner-legal everywhere.
That's not all, the new Himalayan gets a six-speed transmission (up from 5! Oh, the modernity), slip-and-assist clutch, and a new "TripperDash" which incorporates Google Maps guidance.
Suzuki GSX-8R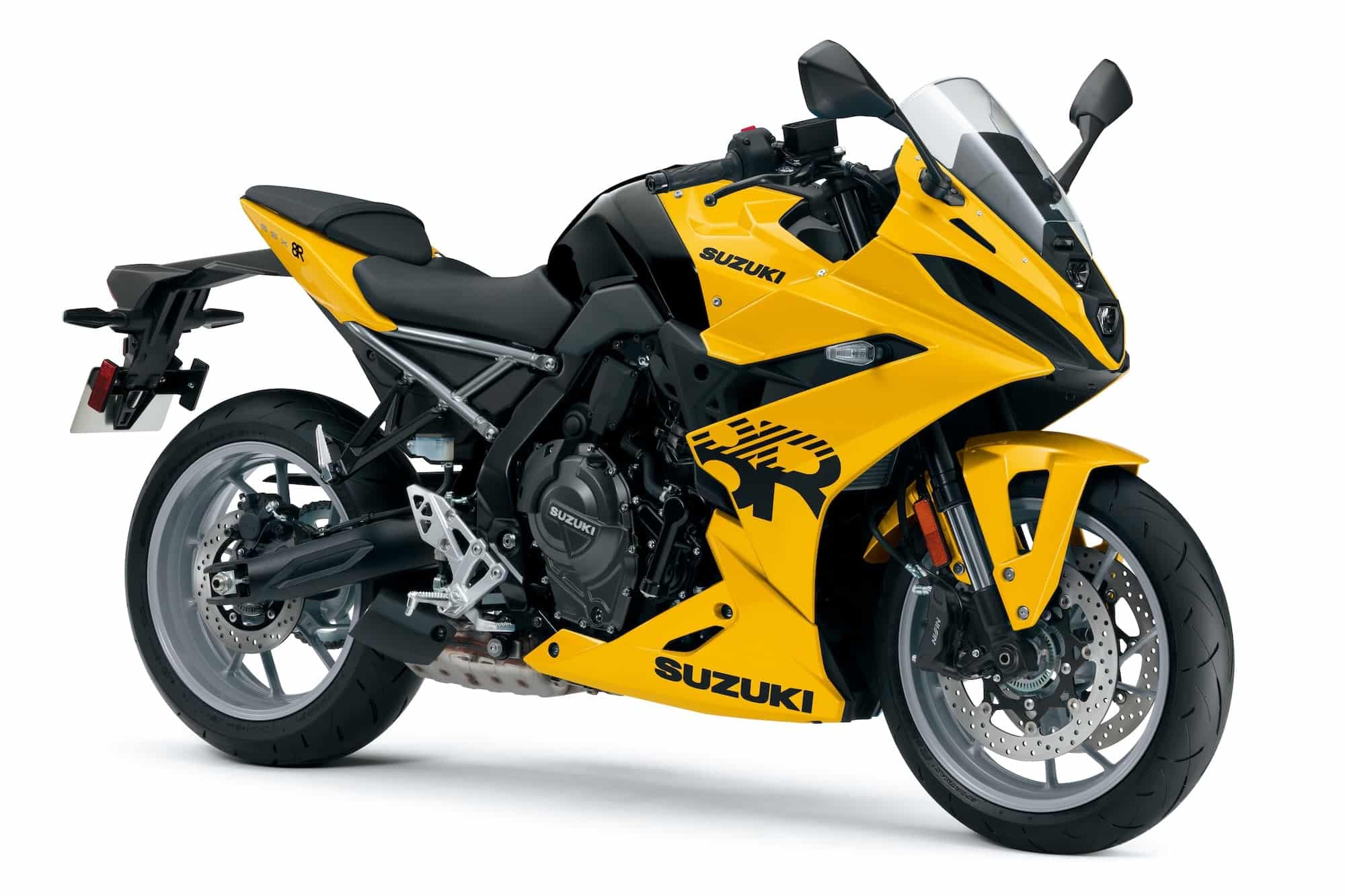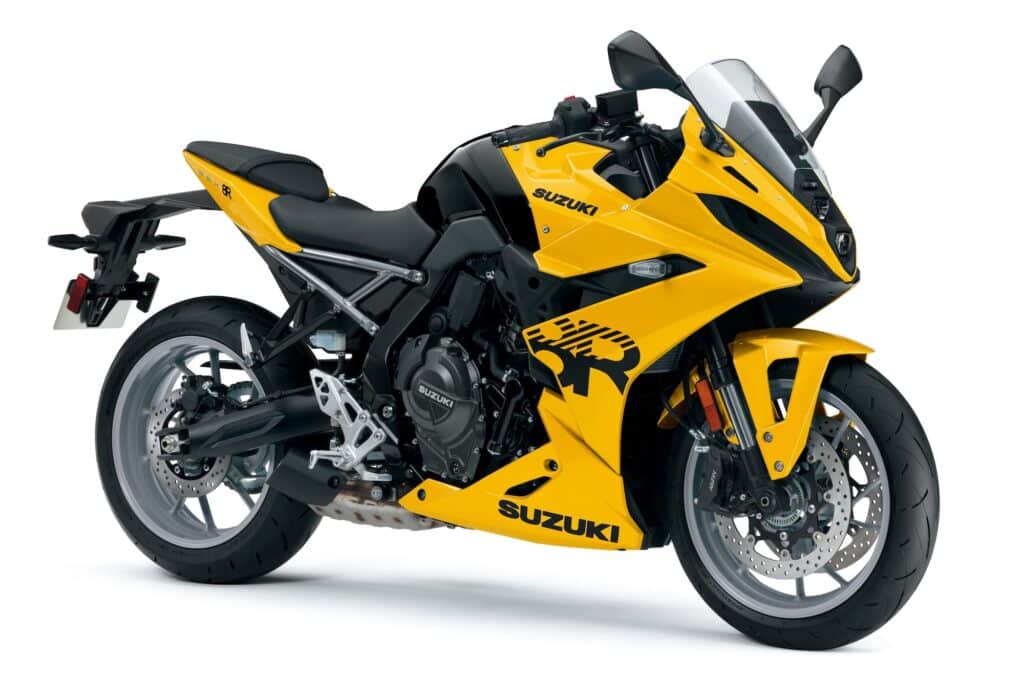 For 2024, Suzuki is re-packaging its Suzuki GSX-8S into a road-going street bike, much like the Yamaha YZF-R7.
It's powered by the same 776 cc parallel twin with a 270-degree crankshaft, but has clip-ons and a fairing. The GSX-8R also has Showa suspension replacing the KYB suspension of the GSX-8S. It has similar (low) adjustability, but is tuned for a sportier ride.
Thank you Suzuki for continuing to bring us yellow motorcycles!
Suzuki GSX-S1000GX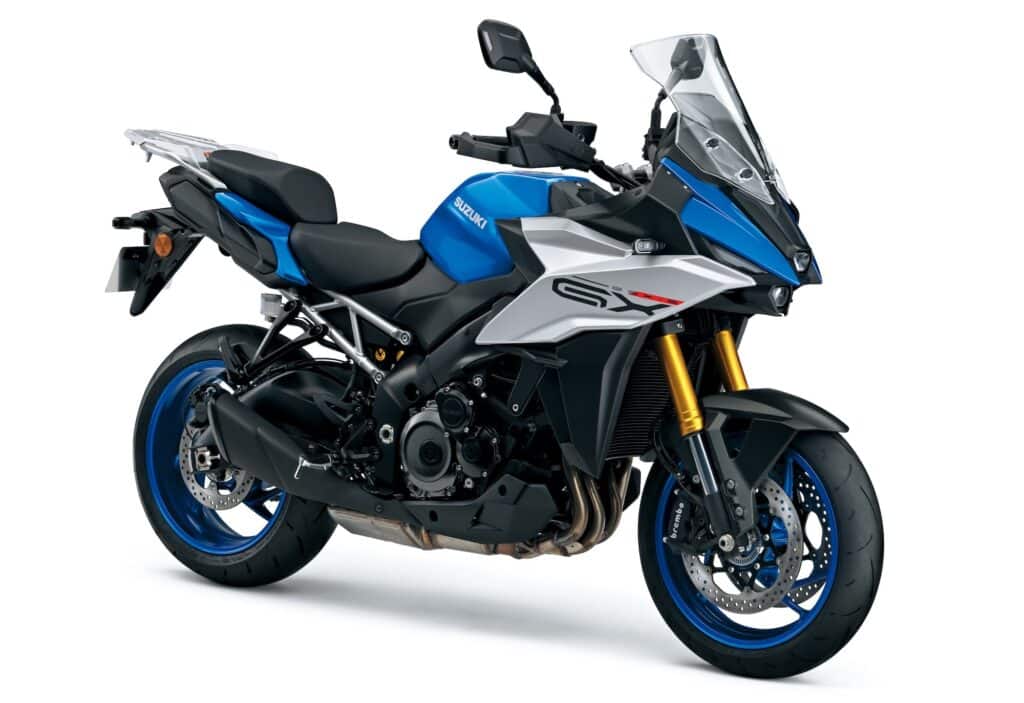 The Suzuki GSX-1000GX is Suzuki's first foray into the 4-cylinder sport adventure tourer category, competing with the BMW S 1000 XR.
The GX is an adaptation of the same motor found in the GT, which has heritage back to the 2005-2008 Suzuki GSX-R1000. It's a long-stroke 999 cc four that makes peak power of 112 kW / 152 hp / 150 bhp at 11000 rpm.
The Suzuki GSX-1000GX goes further in its spec than the GT though — Suzuki has given it longer-travel Showa active electronic suspension (a first for Suzuki) that takes input from the suspension stroke as well as the IMU and wheel speed sensors to modulate damping, and Suzuki's "Floating Ride Control", which conceptually sounds a lot like "Skyhook" suspension.
Yamaha MT-09 / MT-09SP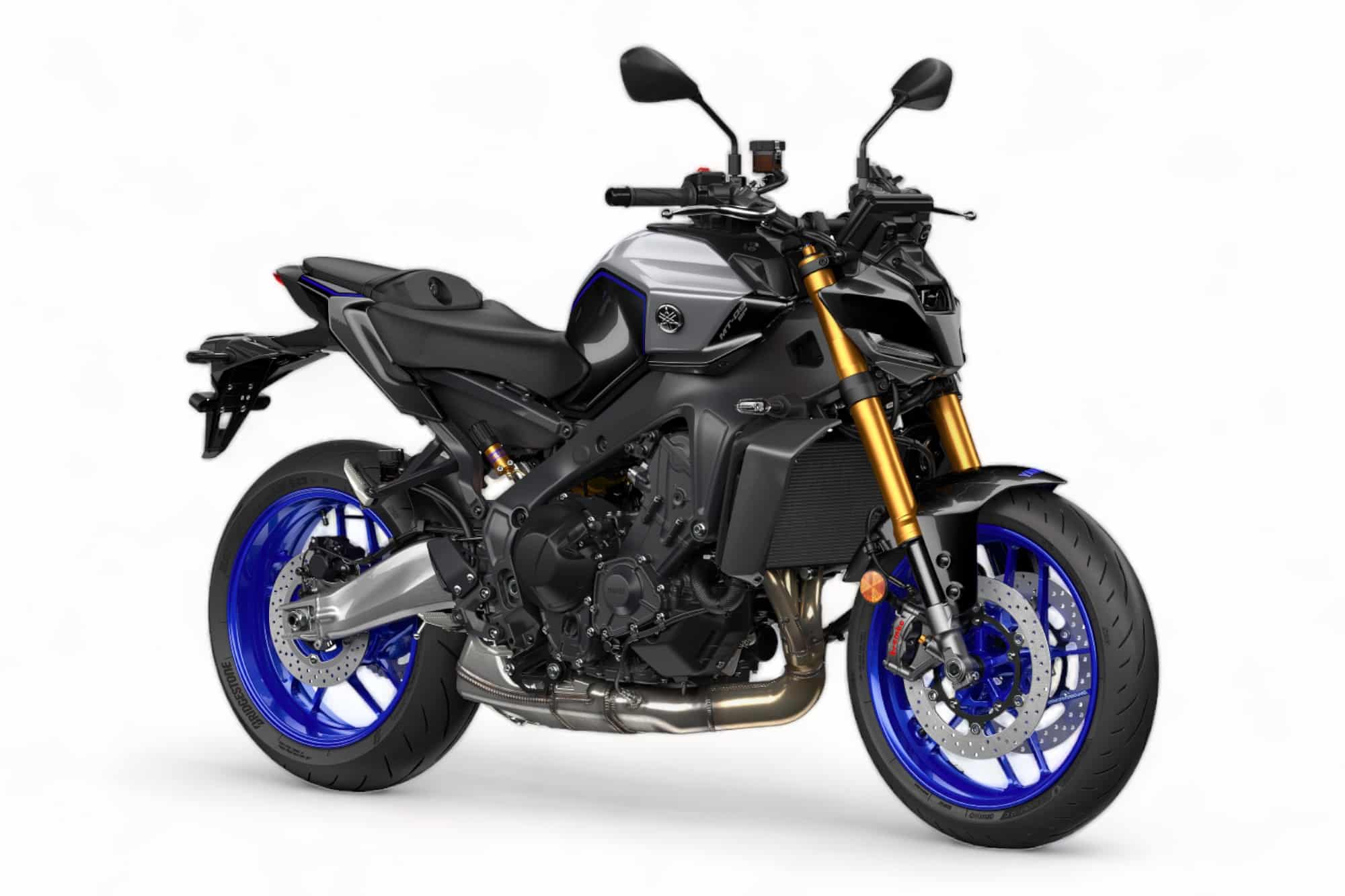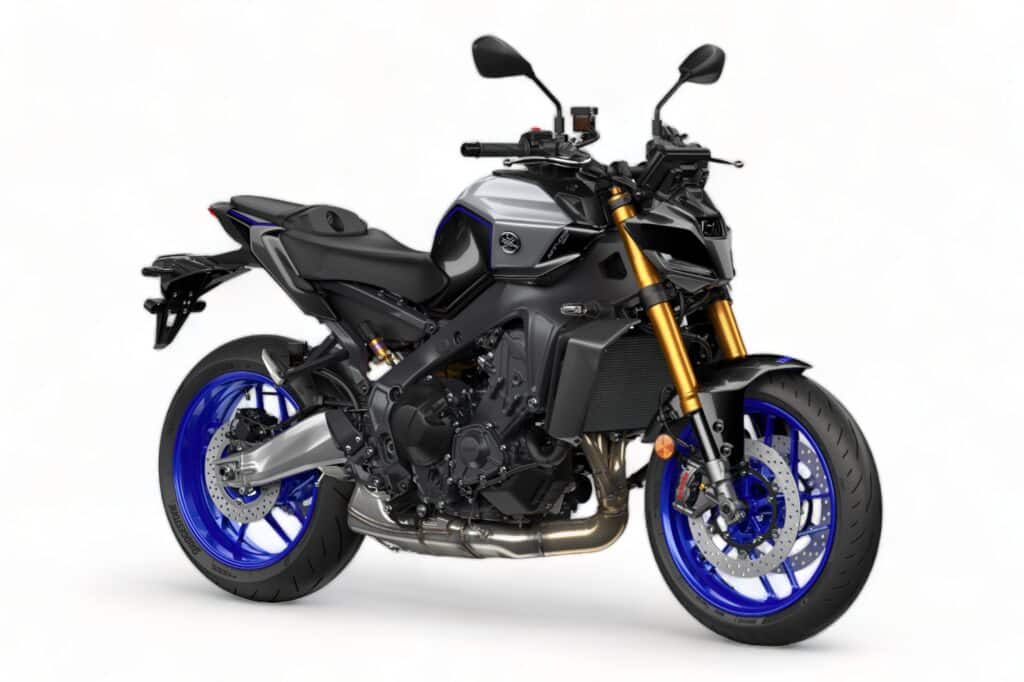 Yamaha cheekily released the new MT-09 and MT-09SP days before EICMA.
They're both based on the same engine as the 2021 revision (the 890 cc triple), but each has upgraded components and a new "face", replacing the vertically stacked headlights of the previous gen.
Some notable changes include cruise control on the base model MT-09, and Brembo Stylema calipers on the MT-09 SP.
See more in the Yamaha MT-09 buyer's guide.
Zero DSR
Zero released a trio of new motorcycles for 2024 at EICMA, all targeting accessibility for riders — a bit lower power and also affordability. They still have a way to go though…
Why at EICMA? Because Zero is also making available A2-legal versions for the European market.
There's the Zero S, a naked motorcycle in the vein of a middleweight sport bike, and a Zero DS, the same bike but with a fairing. Both these bikes have the same Z-Force 75-10X motor which makes 51 kW / 68 hp @ 4500 rpm, and both have a 14.4 kWh battery.
At the high end, there's the Zero DSR, a sport-touring style motorcycle with higher peak power of 60 kW / 80 hp at 3650 rpm and a larger 15.6 kWh battery pack.
What's next?
There will likely be more announcements at EICMA in 2023 over the next few days after initially publishing this.
The final item will be the vote for most beautiful bike — it'll be between the Ducati Panigale V4 SP and the MV Agusta LXP Orioli. What's your money on?