I came across the Moto Guzzi V85 TT when I decided I needed to get old-school again. I was looking for an easy-to-live-with twin that's air-cooled (or air/oil-cooled) and has a shaft drive. I thought I knew the crowd — so I was surprised to realise the V85 TT existed.
I was particularly surprised I hadn't seen anything about it at the time, because the Moto Guzzi V85 TT is kind of hard to miss. It's pretty out there! It's love or hate, you might say… though truth be told, I find that to like this design is considered eccentric.
In photos, I loved looking at the Moto Guzzi V85 TT. It has a lot of weird things about it that draw the eye in — the twin round headlights, big exhaust headers, V-twin cylinders sticking out the side. In person, it appears busier, and the paint doesn't glean like I hoped it would. But it's still a very interesting bike.
Beyond design, the V85 TT is a pretty unique bike in terms of features. It almost has no direct competition. It has a middleweight-sized engine that's air-cooled in an adventure bike chassis with a modern Bluetooth-enabled TFT screen. Just what is this bike? I decided to find out.
You might be wondering the same things I did, like
What makes the Moto Guzzi V85 TT special?
What does "TT" mean?
What would owning the V85 TT look like?
What alternatives are there in the air/oil-cooled adventure world? (Don't hold your breath…)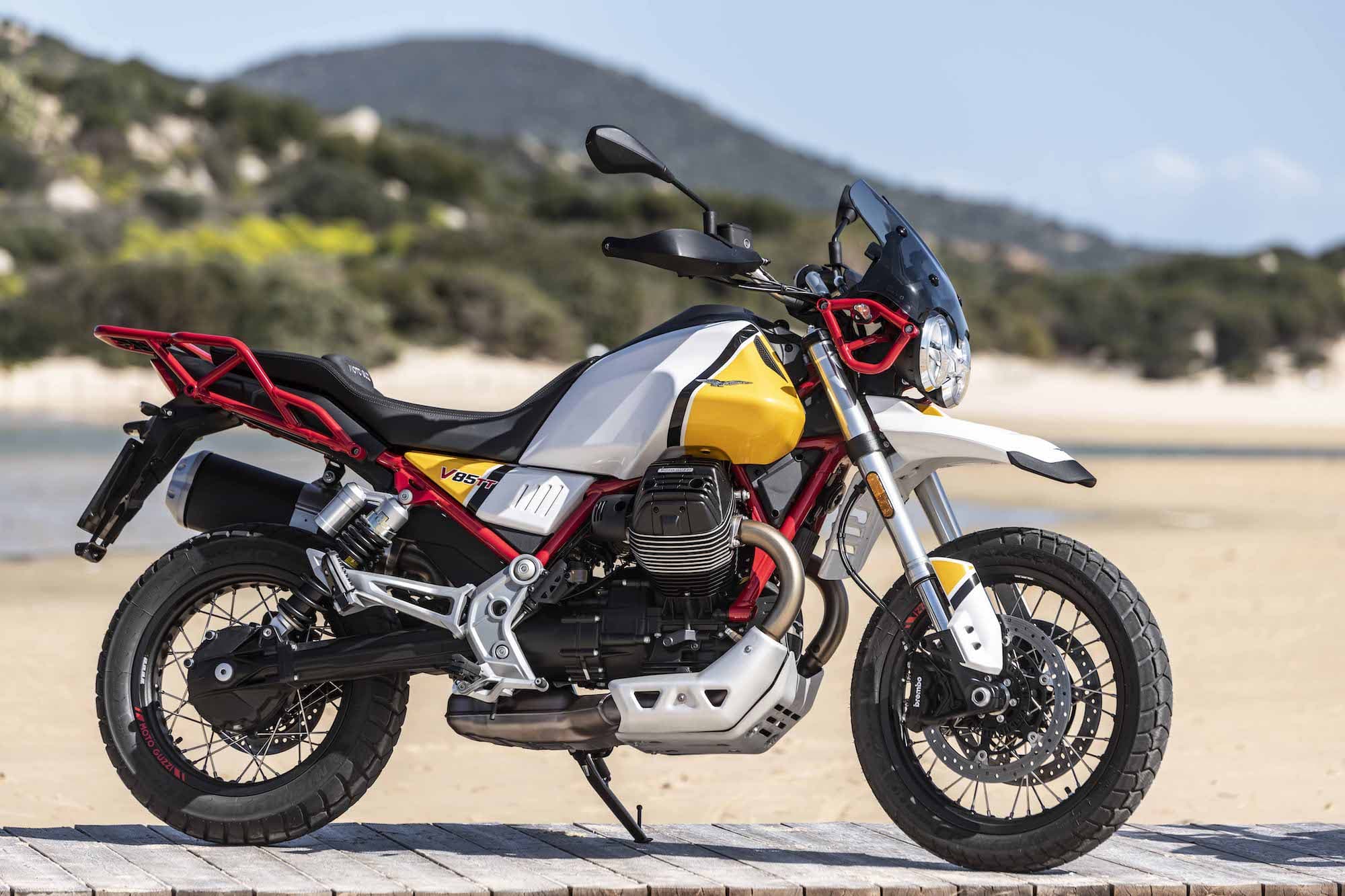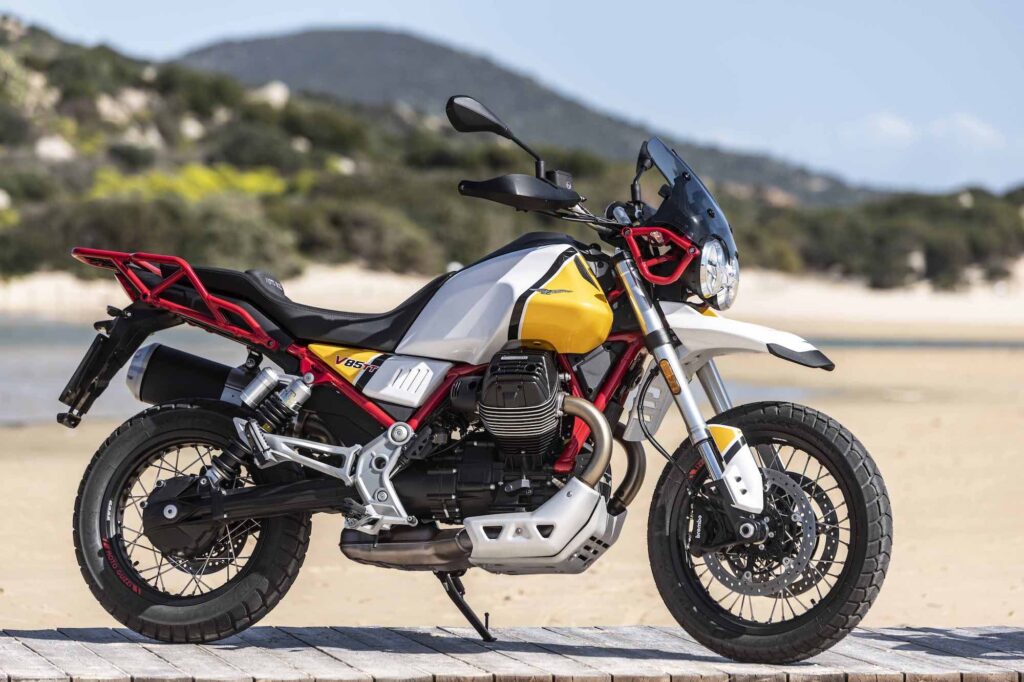 Are you obsessed with motorcycles?
Well, I am. That's why I created this site — as an outlet. I love learning and sharing what others might find useful. If you like what you read here, and you're a fraction as obsessed as I am, you might like to know when I've published more. (Check the latest for an idea of what you'll see.)
About the Moto Guzzi V85 TT — Some Context
The Moto Guzzi V85 TT is a pretty unusual bike — not just for Moto Guzzi, but for motorcycles in general.
Firstly, what does the name mean? V is the V-shaped engine, 85 is roughly the displacement, but what's TT? Is it like from Isle of Man TT, which is "Tourist Trophy"? No, it is not. It stands for Tutto Terreno, which in Italian means "all-terrain".
"All-terrain" is a bold concept, and obviously, not being a dirt bike, the V85 TT can't fully deliver. But it can certainly get part of the way there.
OK, with its name aside, let's look at a few reasons for which the Moto Guzzi V85 TT is special.
Firstly, the engine. It's decidedly old-school in its design, but easy to use and to live with.
These days, nearly all new motorcycles are liquid-cooled. Air-cooled (or air/oil-cooled, these days) bikes are almost no longer in production. There are only a few manufacturers that still sell new bikes with air-cooled or air/oil-cooled engines — Harley-Davidson, BMW (as throwback retro models, in the R nineT line or the R 18 cruisers), Ducati (ditto, with the Scramblers), Indian, and Moto Guzzi.
See here for a list of motorcycles that are air-cooled (or air/oil-cooled) that you can still buy.
The other brands have a couple of (non-tiny) air-cooled models at most, like the Kawasaki Vulcan 900, Yamaha Bolt, or ageing Suzuki DR650. But Moto Guzzi, along with Harley-Davidson and Indian, makes mostly air-cooled motorcycles, with a few exceptional liquid-cooled ones — which will be the majority in a number of years (before electric motors take over).
And you should note that even though these air/oil-cooled bikes are sold new, they're all either leftover models that haven't changed for decades, or "heritage" models with older motors.
BMW phased out the R nineT's "camhead" motor in its premium line (like the R 1200 GS / R 1200 R etc.) between 2013 and 2015, but kept it in the R nineT. Ducati migrated away from its engines air/oil-cooled Desmodue engines around 2010, but keeps them alive in its Scrambler line.
And while all of Harley-Davidson (as a brand) is focused on heritage, their newest models (like the new Harley-Davidson Sportster S) are liquid-cooled. Will the Milwaukee-Eight engine be the last air-cooled Harley-Davidson? I'm not sure… but it could be. There are already a few versions of it that are liquid-cooled, like in the Ultra. (They call it "Twin-Cooled".)
Anyway, most manufacturers aren't making new non-liquid-cooled engines. But Moto Guzzi still is!
For anyone who doesn't know much about the brand, Moto Guzzi (see my pronunciation guide) is these days kind of like the Italian Harley-Davidson. Moto Guzzi has been around for over a century, and has gone through many stages of evolution. They've built every kind of bike — racing sport bikes, touring cruisers, and enduro motorcycles.
Modern-day Moto Guzzi is similar to Harley-Davidson in that they aren't trying to build the fastest, flashiest bikes (unlike Guzzi's compatriots in Ducati, for example) — they're trying to build bikes that look good, feel good, and get the job done. They're also similar in that they're experimenting with new things like liquid cooling.
Of course, like Harley-Davidson, Moto Guzzi has been through many evolutionary stages. But mostly, these days, they're known for building motorcycles that have one unifying feature — a 90-degree, transversely mounted air-cooled V-twin with pushrod-actuated valves and just two valves per cylinder.
That's pretty old-fashioned. These days, most motorcycle manufacturers opt for overhead cams, four valves per cylinder, and liquid cooling. All of that is in an effort to keep power output high to satisfy riders always wanting more, despite the downward pressure of emissions restrictions laws.
Moto Guzzi, though, doesn't care so much about peak power. Some of their bikes are modestly powerful (a little over the 100 hp mark), but what is more important for a Moto Guzzi bike is how it feels and looks.
One last thing — While you may think of Moto Guzzi as producing cruisers and heritage standards, like the California or the V7, Guzzi has actually done quite a lot of off-road and adventure stuff in the past.
Moto Guzzi made the NTX enduro series between 1986 and 1995. They were powered by Moto Guzi's iconic 90-degree V-twin, and came in sizes from 350 to 750.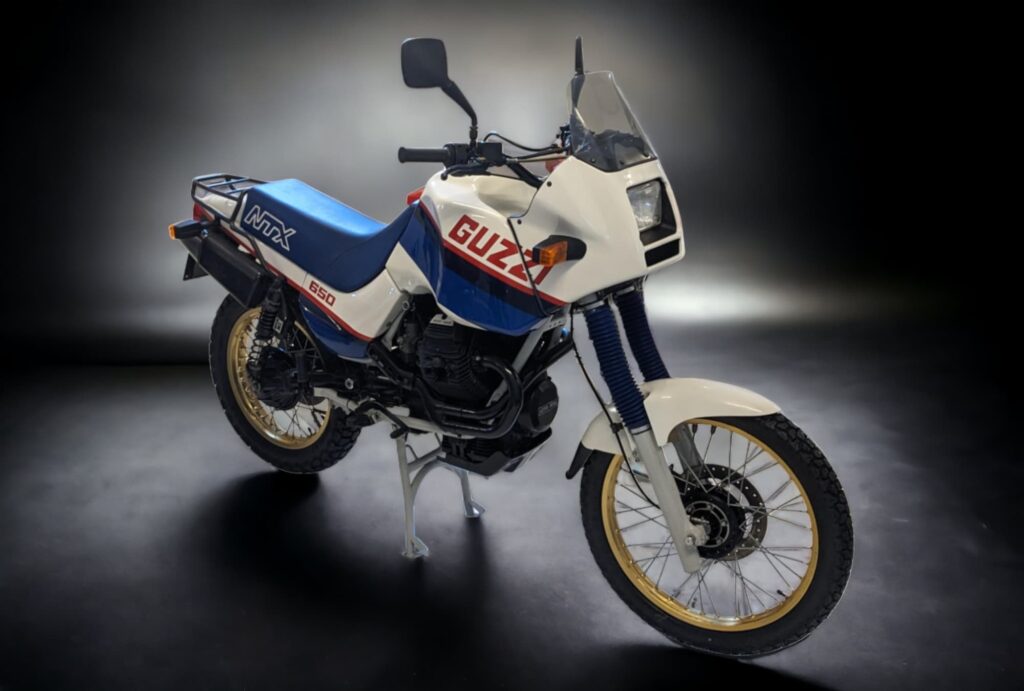 But the NTX moniker lived on, just in a different generation of motorcycles.
Most recently, Moto Guzzi made the Stelvio 1200 NTX, a mixed-use big-bore adventure motorcycle powered by the 1151 cc air/oil-cooled V-twin. It's a full-featured adventurer, most easily likened to the BMW R 1200 GS in air/oil-cooled days (before 2013).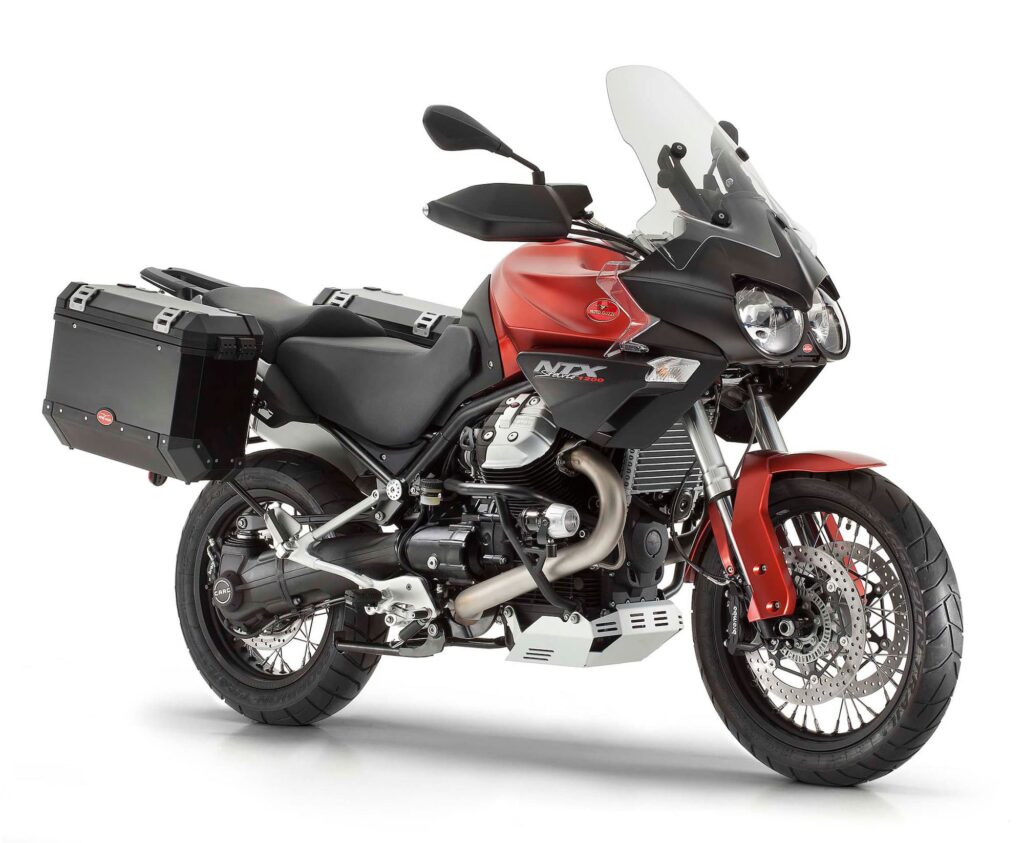 Sadly, for its fans on ADVrider, the Stelvio is no longer made, though there are rumours that Moto Guzzi will revive the brand.
Core Specs of the Moto Guzzi V85 TT
Below are the most important specs of the V85 TT. Generally, the specs can be summarised as "pretty good, surprisingly good in some ways, and curiously old-fashioned in others."
Part
Spec
Notes
Engine
Transverse 90-degree V-twin, two valves per cylinder, air-cooled
2024+: VVT
"2 valves per cylinder" is rare on new engines
Capacity
853 cc
"Middleweight"
Bore x Stroke
84 x 77 mm
Nearly square; still oversquare
Compression ratio
10.5:1
Mild
Peak power
59 kW / 80 hp @ 7750 rpm
Moderate. Like a Suzuki SV650.
Peak torque
80 Nm / 60 ft-lb @ 5000 rpm
Very "middleweight". The most middleweight ever
Redline / rev limiter
Redline at 7000 rpm, rev limiter at 7800 rpm
Rev limiter right above peak power
Final drive
Six-speed transmission, shaft
No "CARC".
Front suspension
41mm USD fork with adjustable preload and rebound damping
Rear suspension
Single monoshock with adjustable preload and rebound damping
Front brakes
Twin 320mm floating discs, Brembo radial-mounted calipers
Instruments
TFT display (non-touch, Bluetooth enabled)
5-inch TFT from 2024
Ride aids
ABS (switchable at rear), TC, 3 ride modes, Cruise control
2024+ model: IMU / cornering ABS
Kerb weight
229 kg / 505 lb
A bit heavy for the powerband, but on the mark for a middleweight
Moto Guzzi V85 TT core specs
I'll go over a few of these specs in more detail below.
The Engine in the Moto Guzzi V85 TT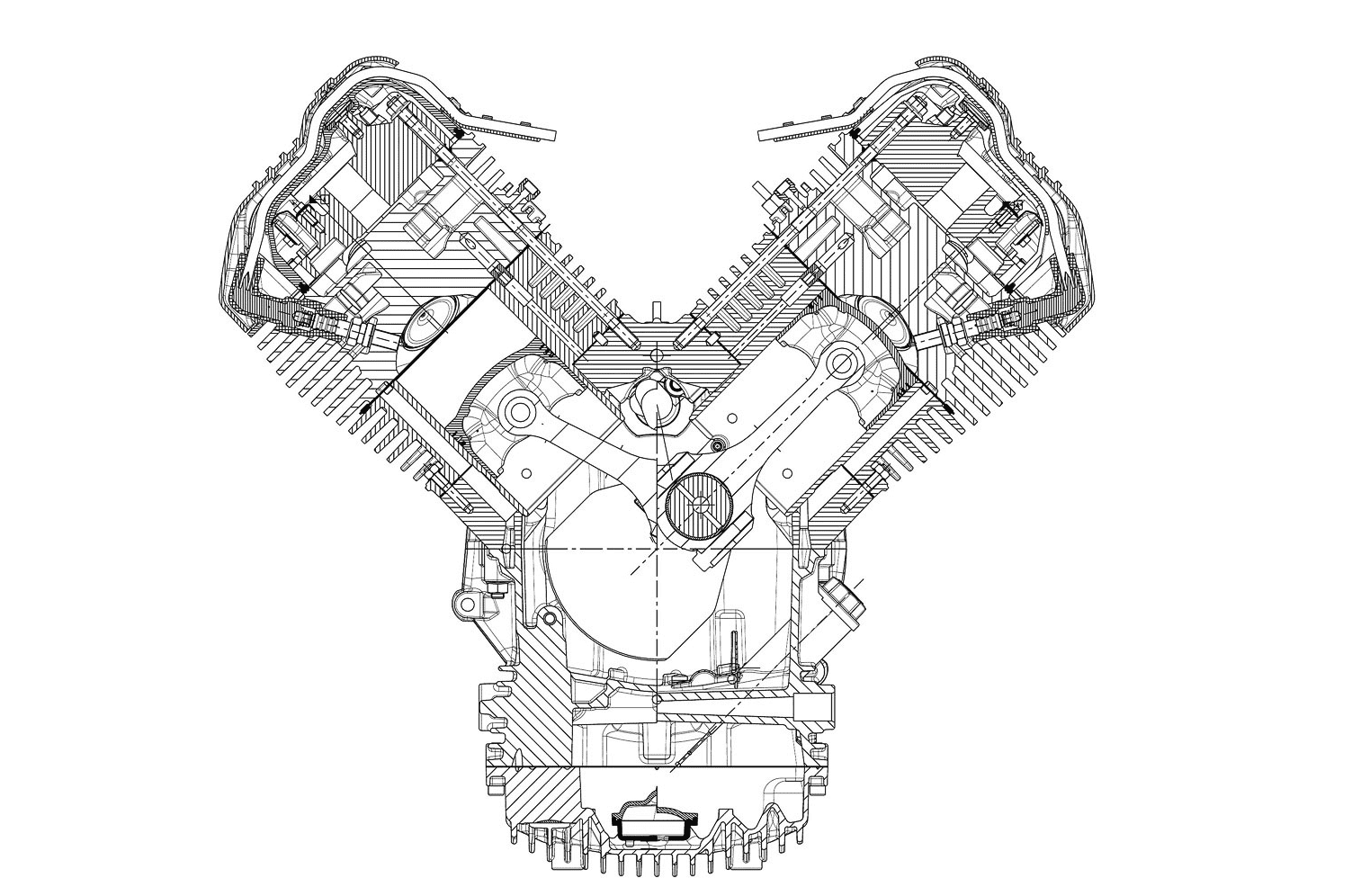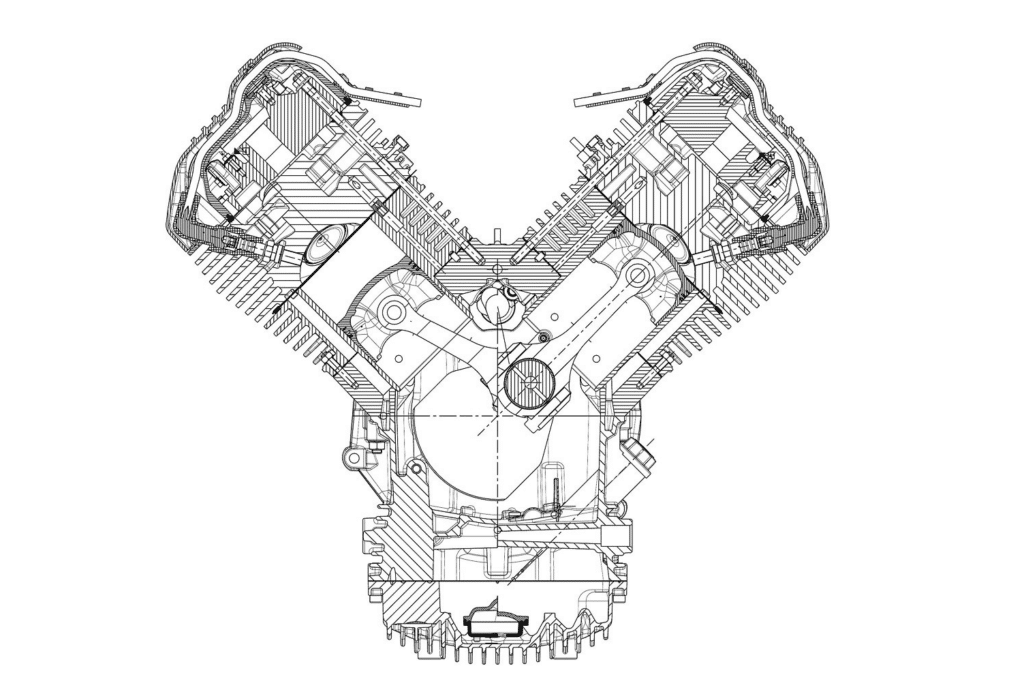 The engine in the original Moto Guzzi V85 TT was an all-new design, but it follows the traditional engine format that Moto Guzzi has used for decades: a 90-degree V-twin, mounted with cylinders out the sides, with overhead pushrod-actuated valves and two valves per cylinder.
Since launch, the V85 motor has also been used in the 2021+ Moto Guzzi V7. So if you prefer a more town runabout or fun weekend bike, with limited highway time, that might be more your speed.
What's unique about the Moto Guzzi engine is how high-revving it is. Air-cooled engines typically don't rev that high, but the little block in the V85 TT can get to 8000 rpm, per Moto Guzzi — though the rev limiter is set at 7800.
Moto Guzzi achieved this by using lighter-weight pistons, titanium intake valves (rather than steel), and improved head and plug covers to optimise flow. The ride-by-wire throttle also lets Moto Guzzi optimise valve opening with great precision, which lets them tune for maximum power but minimal fuel consumption.
I also quite like that the valves in the V85 TT are adjustable via screw and locknut adjusters.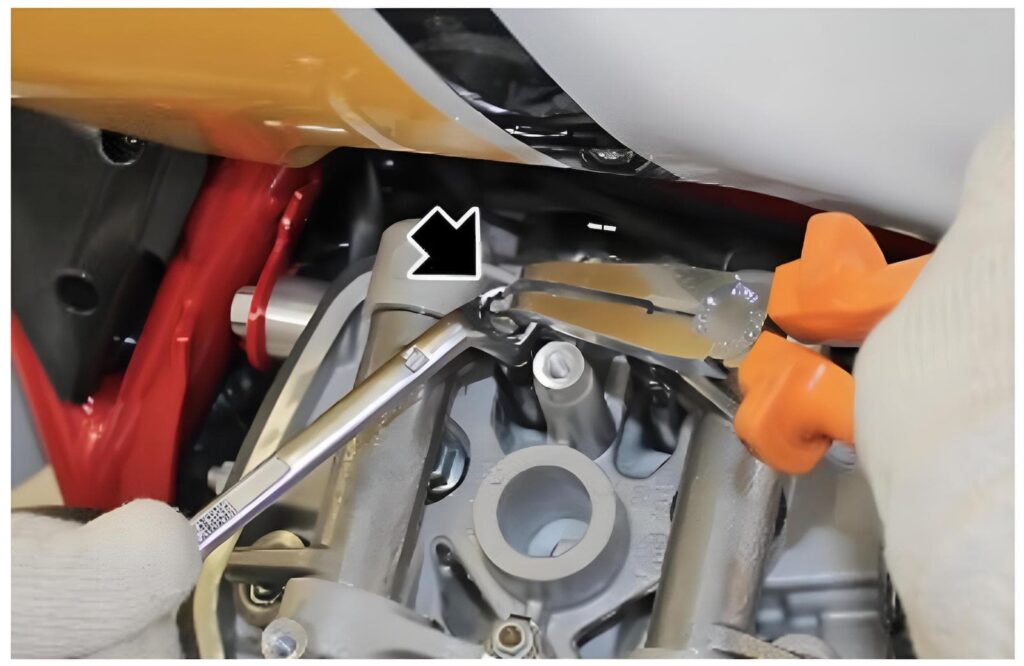 Checking and adjusting valve clearances on a motorcycle is normally a daunting affair, especially on newer motorcycles. It usually means removing fairings, getting access to cylinder heads, and taking many measurements (usually four per cylinder). Then, should an adjustment be necessary, you often have to remove the camshafts and swap out tiny shims, being careful not to muck up the motorcycle's timing.
Not on the V85 TT, nor on other Moto Guzzi motorcycles with similar engine layouts.
Checking and adjusting the valve clearances on a Moto Guzzi V85 TT is very easy. You have easy access to the cylinder heads (they're sticking out the side!), there are only two valves per cylinder, and you can adjust them with a wrench.
This makes major maintenance on the V85 TT accessible to any individual with a wrench! Which is lucky, as it comes up fairly often — every 6 000 miles / 10 000 km.
For 2024, Moto Guzzi upgraded the engine, adding variable valve timing — a huge tech increase for an old-fashioned air/oil-cooled engine with two valves per cylinder.
Tech in the Moto Guzzi V85 TT
Even though Moto Guzzi bikes are "old school" in engine design, they're very modern in terms of tech. And I don't just mean ABS!
Firstly, the RbW ("ride by wire" — see my acronyms list) throttle means that the V85 TT can — and does — have ride modes. There's "Road", "Rain", and "Off Road". In the last of those, ABS is off on the rear wheel, which gives the Moto Guzzi V85 TT some enduro cred.
Speaking of ABS — Yes, the V85 TT has it. You can even switch it off on the front wheel, using the menu, though only in "Off Road" mode, and only temporarily — when you take the key out and put it back, the system resets.
On the original V85 TT, ABS is 2-channel only. In other words, the Moto Guzzi V85 TT does not have cornering ABS — there's no IMU fitted. From 2024 though, Moto Guzzi upgraded the V85 TT line, granting it cornering ABS.
The information cluster on the original V85 TT is a TFT display. Aesthetically, I would say is a bit of a letdown.
It's an oddly shaped cluster, built as though it used to house a different information display, but now with a rectangular screen awkwardly placed in the middle of it. The 2024 generation's is an improvement.
It makes more sense when the lights come on around it. But still, I'd prefer twin gauges.
Riding the V85 TT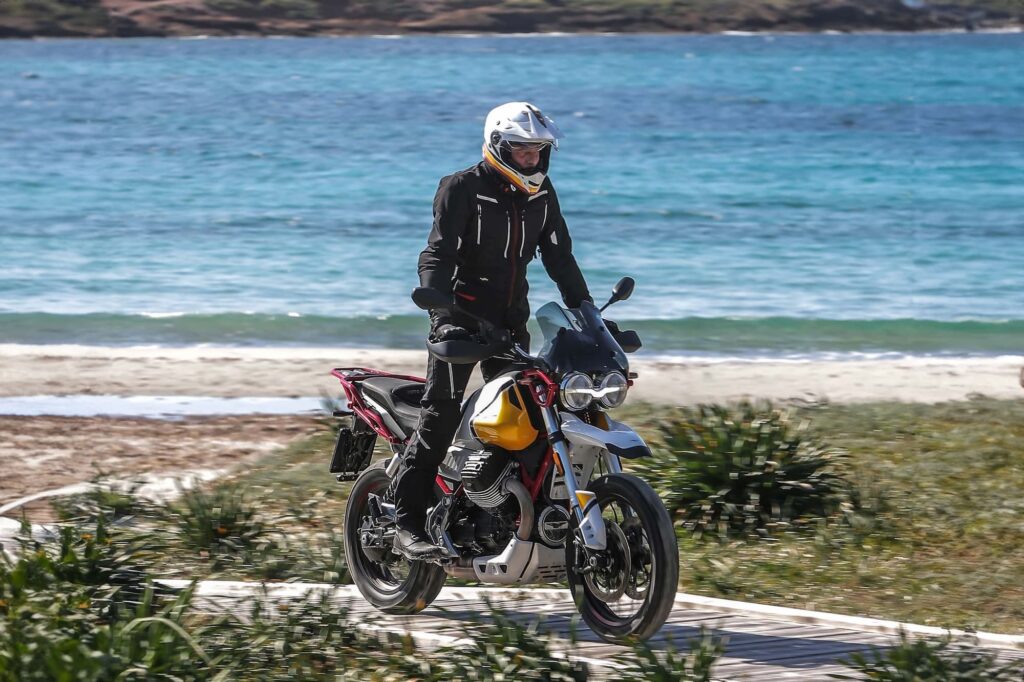 Starting up the Moto Guzzi V85 TT tells you instantly that this going to provide you with an old-school riding experience. That starter sound… it just reminds me of big twins of around 15 years ago.
Mind you, it's not a lumpy start up, like on old Ducatis, that needed encouragement and a couple of attempts. It's more like a BMW boxer twin.
Give the Moto Guzzi V85 TT's throttle a bit of a jiggle and you'll hear a pleasant revving sound. It has character, but is unavoidably muted in the way modern motorcycles are, due to emissions restrictions. You also might notice, if you encourage the throttle, that it doesn't particularly like revving high — but it'll do it, if you want!
Oh, and tickling the throttle gets the engine to kick over to one side, as a result of torque reaction to the crankshaft.
The good news is that it's quiet. So if you head off at 5 am for a ride, like I am wont to do sometimes, then you won't annoy the other members of your household, let alone your neighbours.
Riding off, the Moto Guzzi V85 TT has lots of torque from down low. Again, this isn't a motorcycle you need to rev, or want to rev.
Once going, the power band in the Moto Guzzi V85 TT is just right for the majority of riders. For riders who are in that phase of "I want to blast out of corners, and for it to scare me sometimes"… well, the Guzzi won't do it. But nor will it let you down when it comes to doing highway passes, or powering up inclines.
The V85 TT makes an amount of power that can be described as never slow, but not too fast. This isn't a motorcycle you'll rev to the limiter, do unsolicited wheelies on, or ponder taking to the track. If you're after that kind of experience, you probably will want one of Moto Guzzi's newer, liquid-cooled bikes, like the Mandello S, or the rumoured Stelvio that may be released, based on the same motor.
Coupled with the power is the weight of the Moto Guzzi. Its weight is somewhere between that of a high-end middleweight adventure bike, like the KTM 890 Adventure, and a big-bore bike, like the BMW R 1250 GS. Unfortunately, the Moto Guzzi's peak power is considerably lower than even that of the middleweight KTM.
OK, so we've established you won't be doing shenanigans on the V85 TT. What about off-roading?
Well, sure. It's called a "Tutto Terreno". And indeed, you can take it to all terrains… it just might not do it with the effortless grace of lightweight a dirt bike, nor that of another middleweight adventure motorcycle, like the Ducati DesertX (particularly in Rally trim).
For one thing, you might want to get a few accessories for the V85 TT before taking it on roads that are too rocky. Like a bash plate and crash bars. I wouldn't want to damage that shiny exhaust nor those cylinder heads.
But that said, the Moto Guzzi V85 TT does have a comfortable, easy-to-manage riding position, which is of great use off-road, where keeping balance is everything (I shudder just thinking of the times I lost traction while on dirt roads while on a high-power sport bike).
The shaft drive also helps. No chain to mandatorily clean after dirt road adventures! This is actually entirely unique in this class of motorcycles, middleweight adventure motorcycles.
While it's purportedly an adventure motorcycle, the V85 TT is more designed to be used as an everyday motorcycle. Think something more like the Suzuki V-Strom 650XT, but with one distinct bonus — you can set the V85 TT to off-road ride mode, deactivating rear ABS. (See more on how to do this on our resources page.) Oh, and you get cruise control, stock.
You can commute on the V85 TT, and it'll do it with grace. Lane splitting is easy, assuming that's legal where you live; the widest part is at the handlebars, so it's easy to figure out where you can fit. TFT display, while not my aesthetic favourite (dials forever!), is clear and easy to read. It's quite minimalist — not a huge iPad in front of you, at least.
On the shaft drive — you might note, if you pay attention to this kind of thing, that the Moto Guzzi V85 TT doesn't have CARC, which is Moto Guzzi's version of Paralever. (See more about Paralever / CARC here.) In a nutshell, CARC / Paralever is a rear shaft drive design that isolates the rotation of the axle around the axis of the rear wheel. In theory, the design is supposed to prevent torque jacking.
In reality, the shaft drive is long enough, the gearing is sufficiently tall (both a pro and a con), and the riding style that the motorcycle encourages is modest enough, that there's no discernible jacking effect.
There are other aspects of the Guzzi that are old-school aside from the engine. One of them is a clutch — it's a dry single-plate clutch, just like you get on the BMW R nineT, and like we used to get on the air-cooled BMWs before the mid-2010s.
A dry clutch gives you more of the feeling of a car's drivetrain. There's no clutch slip, but there's easy engagement and relatively light pull on the clutch lever. There's no optional quick shifter on the V85 TT, though you can add an aftermarket one from Healtech.
Dry clutches on shaft-drive motorcycles do give me pause, though. They remind me that at some point, I'm going to have to split the motorcycle in two to replace the clutch. Luckily, that should be very infrequent — in the order of magnitude of 50 000 km / 30 000 miles (more or less, depending on how hard the bike is ridden, and the sometimes cruel winds of fate).
One thing helping the V85 TT's long-distance cruising credentials is the fuel capacity of 23 litres or 6.1 US gallons. The V85's engine is quite frugal, and with its tank, it can do 250 miles / 400 km between fill-ups. This would be a contender for the Iron Butt Challenge.
Being a new bike, you can load the V85 TT up with tons of accessories, which any dealer will tell you about _ crash bars, screens, heated grips (which are standard on some models), panniers / a top box.
Maintaining the V85 TT
Air/oil-cooled engine, pushrod valves, and a shaft drive… the Moto Guzzi V85 TT is definitely one of the lowest-maintenance, and easiest-to-maintain motorcycles you can get these days.
Moto Guzzi recommends a 6 000 mile / 10 000 km oil change service interval. At the same time, you're supposed to remove the cylinder heads and check/adjust the valve clearances.
Luckily, as mentioned above, access to the valves is a doddle, and you can do the job with a very basic set of tools.
See more details on maintaining the V85 TT here.
There's no chain to maintain, but you do have to periodically change the oil in the gearbox and final drive (every three services).
Alternatives to the Moto Guzzi V85 TT
If you're looking for a somewhat adventurous air/oil-cooled motorcycle, then I'd probably limit the options to just two bikes: the BMW R nineT and the Ducati Scrambler 1100.
And since you're looking at those, you probably can't help but think about the Triumph Scrambler 1200, even though it has a liquid-cooled twin.
BMW R nineT Scrambler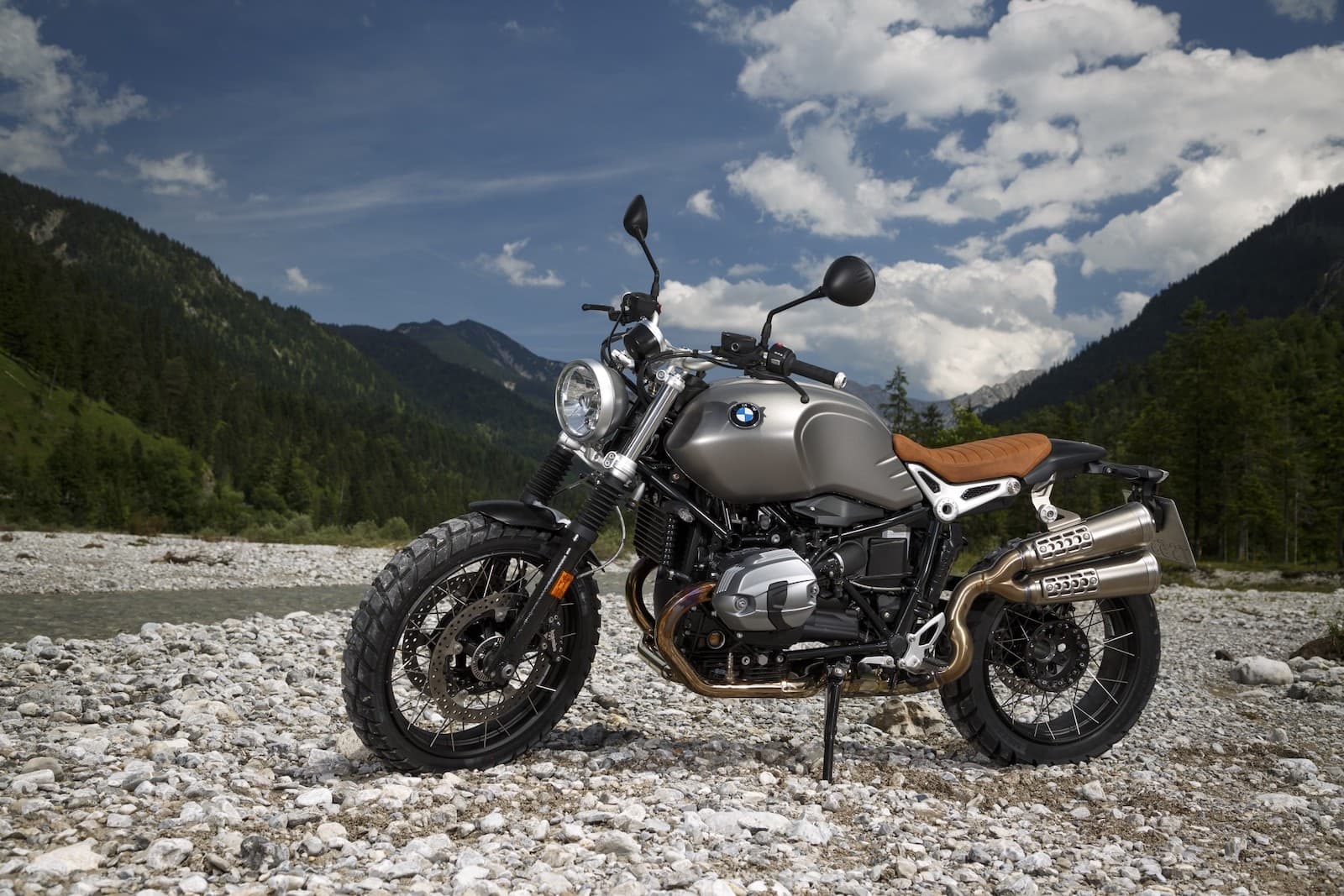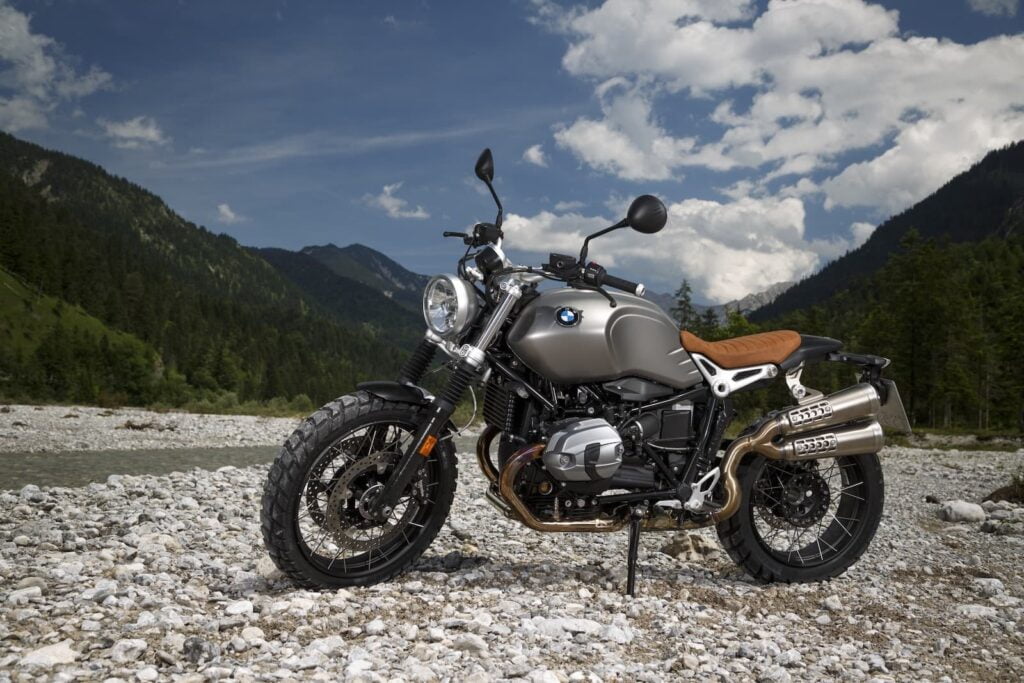 BMW has been making the R nineT since 2014, but they released the more off-road-styled R nineT Scrambler in 2017. Ever since, it has been very successful.
The BMW R nineT Scrambler is essentially a base model BMW R nineT Pure, but with a few customisations, including wire-spoked wheels, a high-slung exhaust, and knobbly tires.
Since 2021, the R nineT Scrambler has been a curious mix of old-school tech — a rumbly air/oil-cooled engine — and modern niceties like cornering ABS and even cruise control.
The Scrambler is a great-looking bike and wins lots of points for style. Plus, that engine has a ton of character, if you like BMW boxers.
The R nineT Scrambler's twin cam engine needs its valves serviced every 6 000 miles / 10 000 km, just like on the V85 TT. The job on the R nineT is more involved (it's not screw and locknut, and there are four valves per cylinder), though not hard by any means.
Ducati Scrambler 1100 and Desert Sled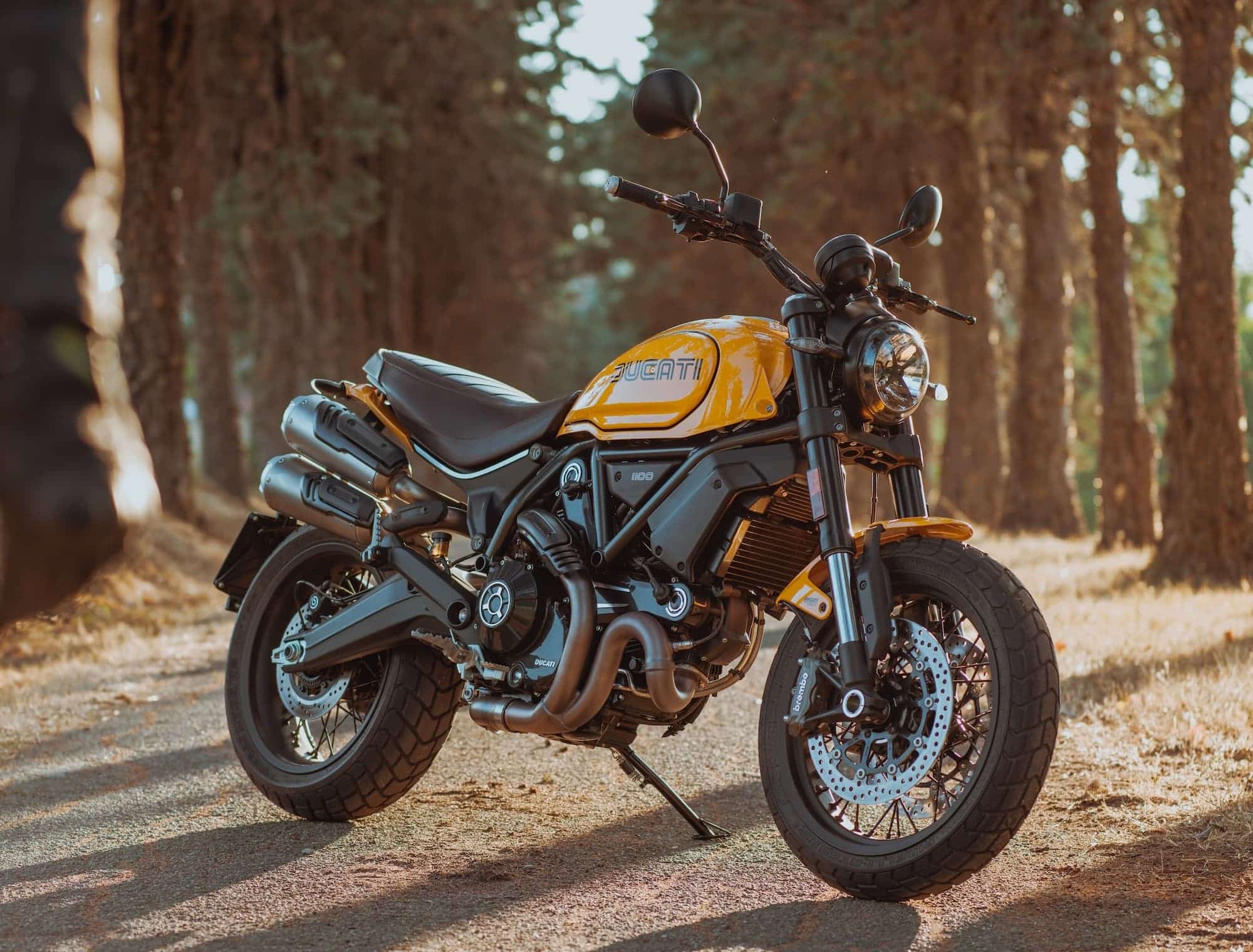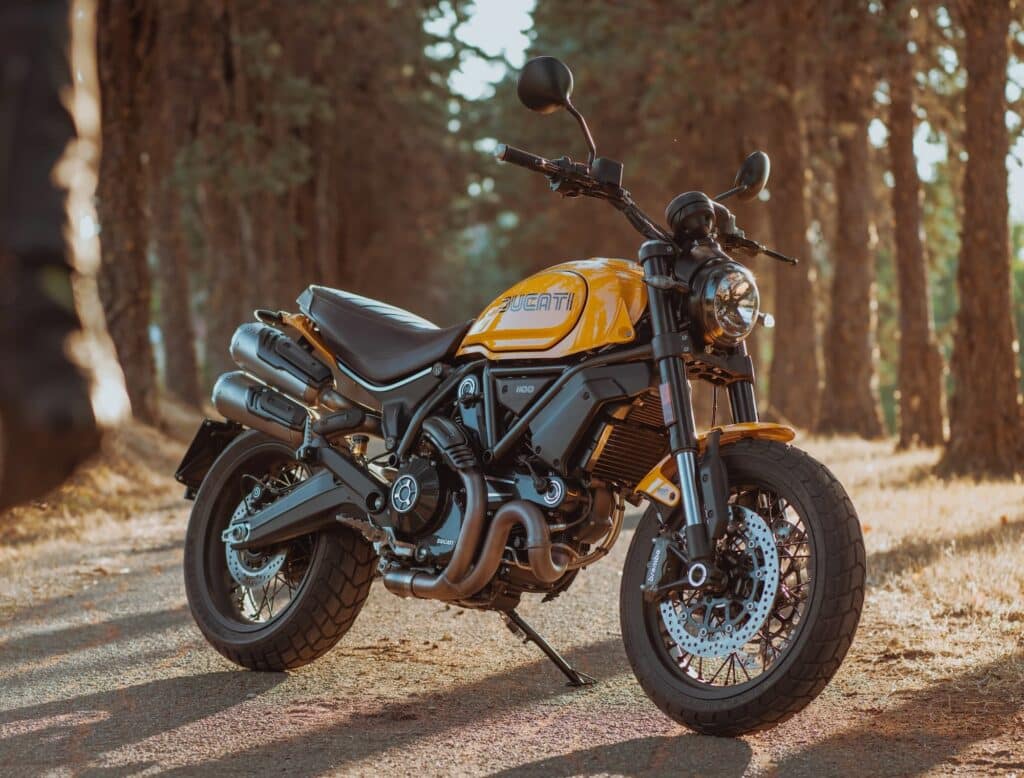 The Ducati Scrambler 1100, which comes in a variety of configurations, is a Scrambler-style street bike based on the 1079 cc L-twin that we last saw in the Ducati Monster 1100.
The Scrambler 1100 also makes a modest amount of power (quite similar to the V85 TT, in fact). But the Scrambler is a more ostensibly road-oriented motorcycle. You can get it in spoked wheel trim, like in the handsome Tribute Pro, but the front wheel is 18 inches, with a wide 120 profile tire.
There's no windshield by default, no sump guard, and the high-slung exhaust pipe makes luggage options limited.
So the Ducati Scrambler 1100 provides a feeling, a heritage air/oil-cooled motor, and an association with dirt roads, but it's much less a travel bike than the Moto Guzzi V85 TT.
The Ducati Scrambler Desert Sled, on the other hand, is closer to the mark in some ways. Its 804 cc air/oil-cooled L twin also provides a similar amount of power to the V85 TT — slightly less, but the bike is also lighter.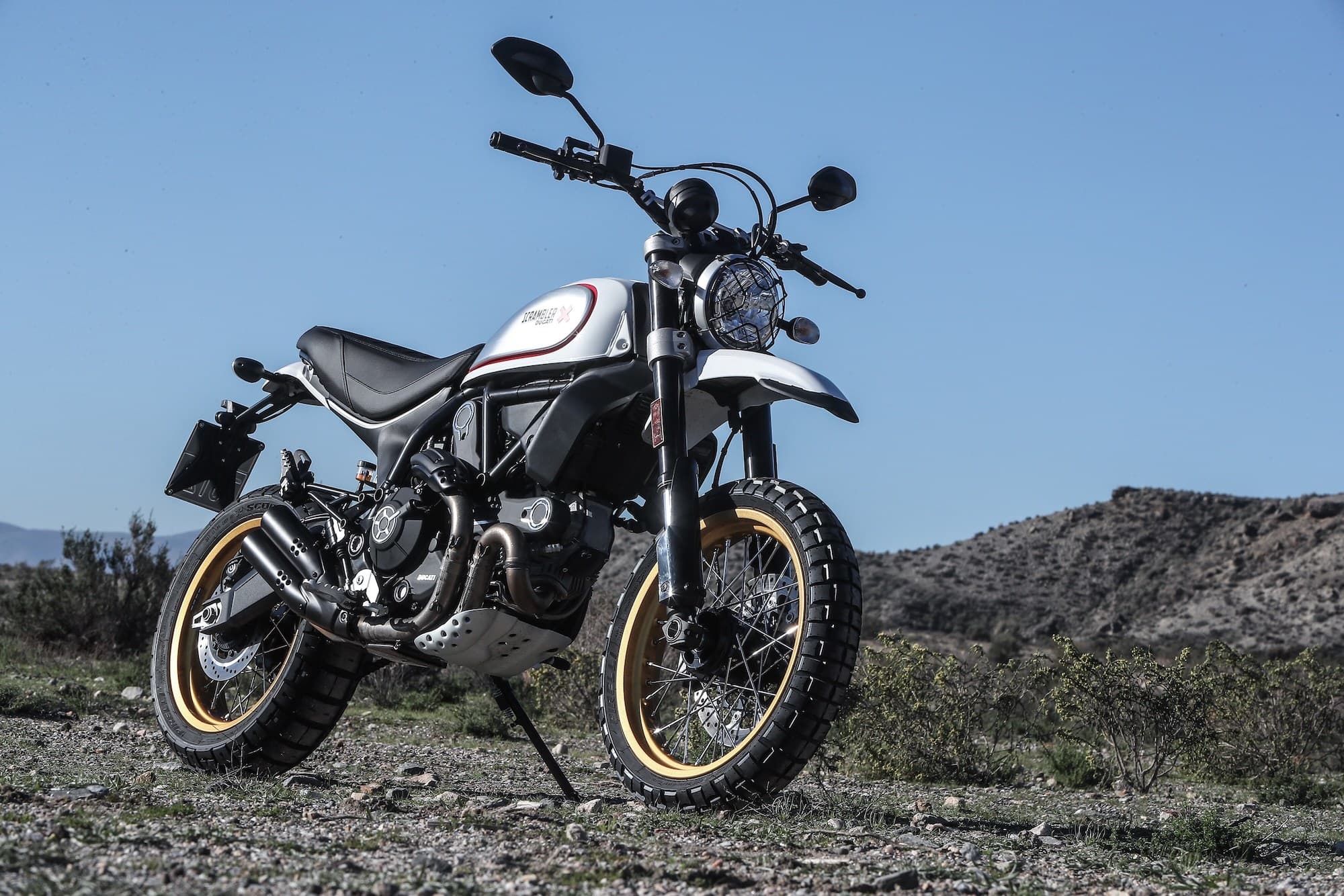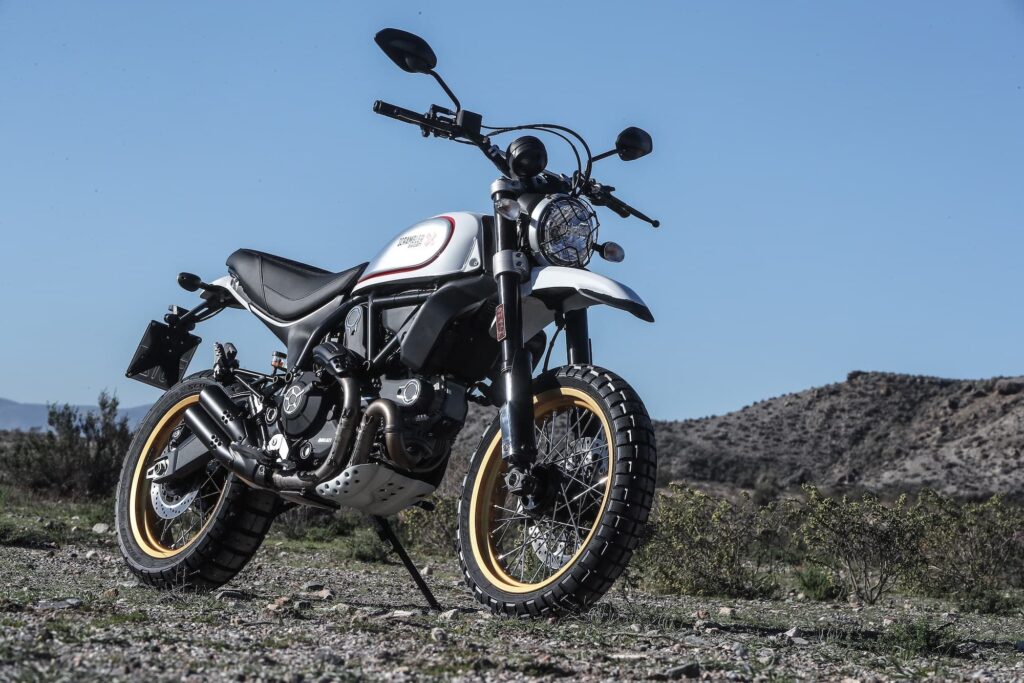 The Desert Sled has longer travel suspension, and a 19-inch front wheel, too.
But like the Scrambler 1100, the Scrambler Desert Sled isn't oriented towards mile munching. It's more a stylish around-town bike that also would be perfectly capable off-road — if you can stomach the possibility of dinging up a Ducati
Both Ducatis have 7 500 mile / 12 000 km service intervals at which point you have to check the valve clearances. It's a much more involved job than on the Moto Guzzi.
Triumph Scrambler 1200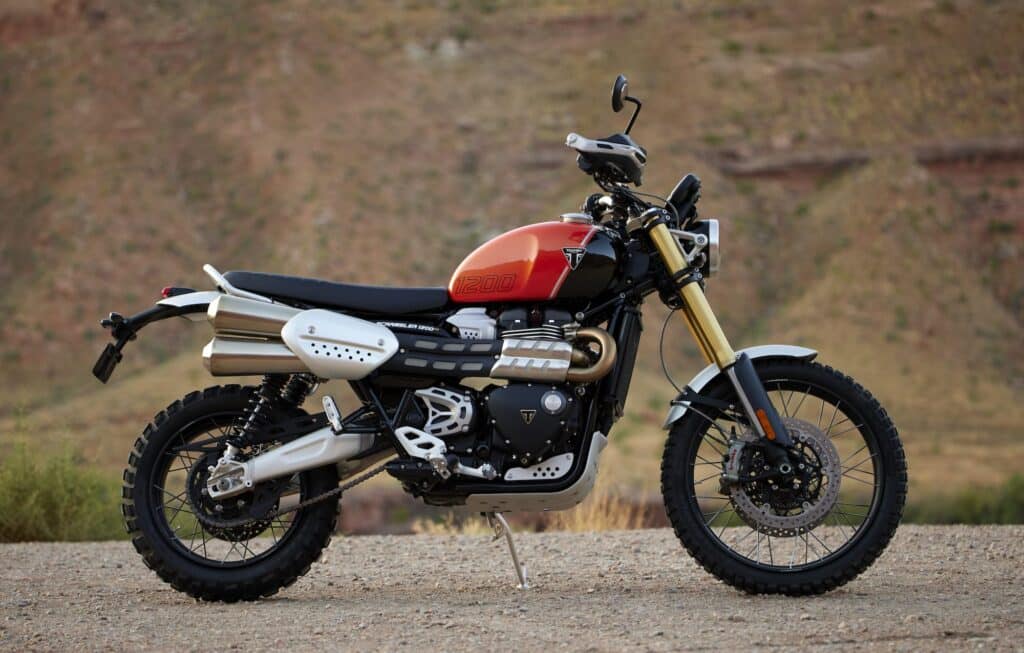 The Triumph Scrambler 1200 is now in its third generation since Triumph updated the line in 2021.
The Scrambler 1200 is available in two formats — X and XE, as of MY2024. The X is the round-town bike, with modest suspension travel and no cruise control, but the XE steals the show with genuinely long suspension travel and, of course, cruise control.
The Triumph Scrambler 1200 is part of Triumph's line of 1200 cc Modern Classics. The engine comes in different states of tune on the different motorcycles, and they have quite different suspension and ride position setups.
Of all the "Scrambler"-style motorcycles, the Triumph Scrambler 1200 XE has been most frequently described as a bike that's actually off-road capable, with long suspension and a 21-inch front wheel.
But you still face the two Achilles' heels of the class: 1. Weight (around 220 kg wet), and 2. the risk of dinging up a shiny, expensive, premium motorcycle.
Finally, the Triumph does have a chain drive, so you miss out on the convenience of the V85 TT's shaft.
Wrap up
The Moto Guzzi V85 TT isn't for everyone. The looks are divisive, the power might not be enough for some, and it will leave people looking for a higher-tech experience wanting.
But for many, it's "just enough". And more than that — it's a rare middleweight with a shaft drive, and one of the last chances we'll get to ride an air/oil-cooled V-twin.
If you like old motorcycles, but want just enough newness to keep things legal, and like riding on the streets, but want to be able to do dirt roads when they sneak up on you, and like vintage style, but don't want to buy an old bike — well, the V85 TT might be your cup of tea.