This is a page of resources about the the Moto Guzzi V85 TT, Moto Guzzi's "all-terrain" bike they launched in 2019. This page contains a simple user manual for basic controls, set-up, spec, and maintenance guidelines.
The Moto Guzzi V85 TT is Moto Guzzi's middleweight adventure motorcycle. It's based on an air-cooled 853cc 90-degree longitudinal V-twin (i.e. with cylinders that jut out the sides) that powers the rear wheel through a shaft drive. At peak, the bike makes 80 hp (59 kW) at 7,750 rpm, with maximum torque at 5000 rpm, which doesn't sound like much, but it suits the V85 TT's slower pace just fine.
Moto Guzzi made some minor tweaks for the 2021 model, optimising the engine for more torque and low to medium RPM, through changes to valve timing and associated tuning. Moto Guzzi also made a few other changes but they don't affect the maintenance schedule.
I compile information like this on motorcycles to help current and prospective motorcycle owners (including myself!). If you're thinking of buying a Moto Guzzi V85 TT, new or used, then the below info will help you make an assessment.
Note: Motofomo is reader-supported. If you buy some of the products that we link to, we may earn an affiliate commission, which otherwise goes to the marketplace (e.g. Amazon).
Are you obsessed with motorcycles?
Well, I am. That's why I created this site — as an outlet. I love learning and sharing what others might find useful. If you like what you read here, and you're a fraction as obsessed as I am, you might like to know when I've published more. (Check the latest for an idea of what you'll see.)
About the Moto Guzzi V85 TT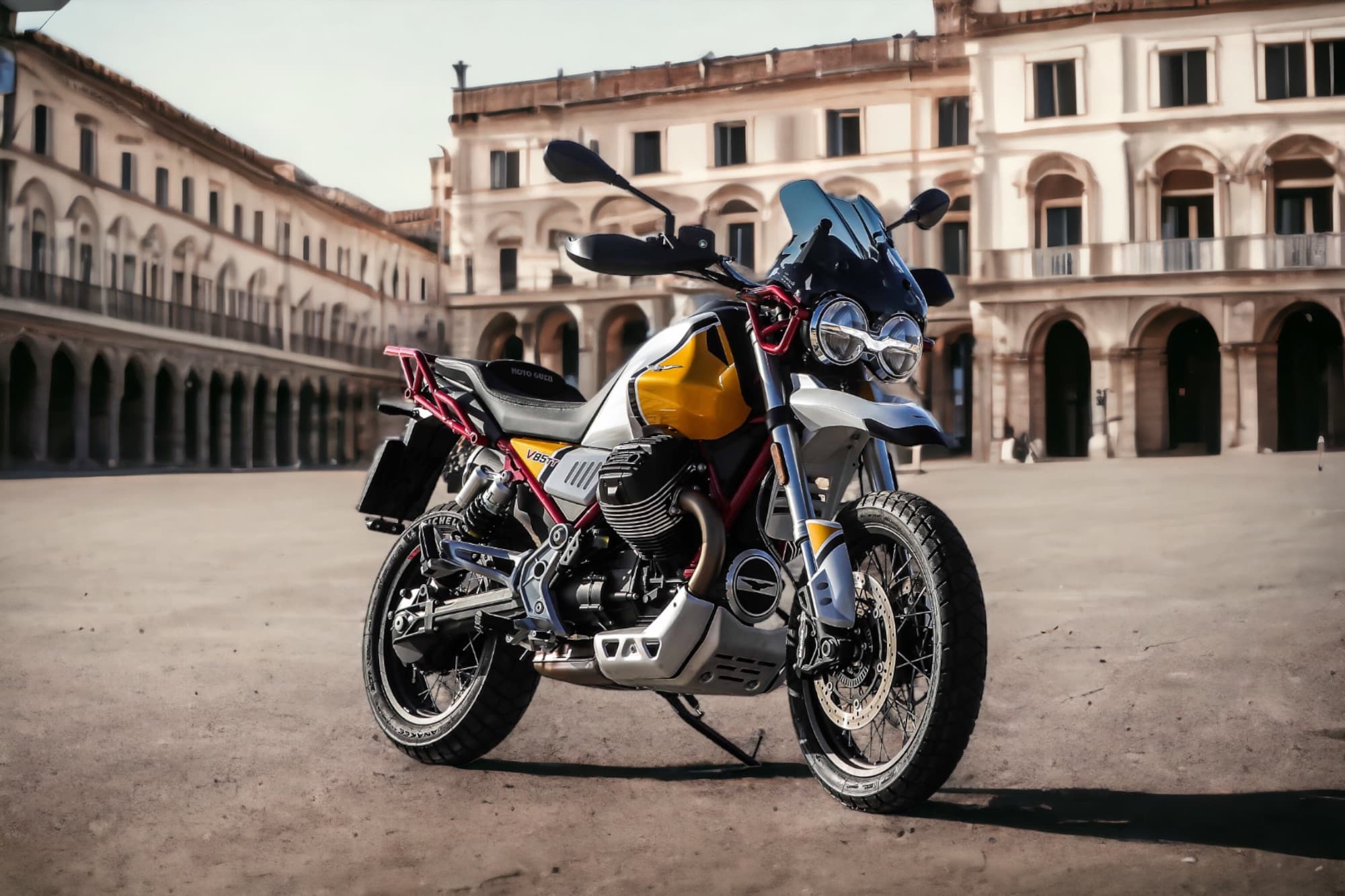 The Moto Guzzi V85 TT is the Moto Guzzi's attempt at a middleweight adventure motorcycle with unique style and personality. The "TT" in its name stands for "Tutto Terreno," which translates to "all terrain." So the idea is that you could take the V85 TT everywhere — as far as it'll let you go, that is.
One of the unique differentiating aspects of the Moto Guzzi V85 TT is its retro-style, low-key engine. It's an air-cooled V-twin with pushrods! Moto Guzzi is the Harley-Davidson of Italy; they prefer to make motorcycles with character and style, sometimes at the expense of outright power or performance. So many of their motorcycles still have what people may consider old tech.
In terms of looks, the Moto Guzzi V85 TT can be a bit divisive. Personally, I'm a fan — especially of the dual headlights and exhaust pipes. However, it's not everyone's cup of tea. Moto Guzzi definitely did a good job styling it for photography. In person, it looks more busy and lacks the panache of Moto Guzzi's cruisers… but then, adventure bikes are hard to style well.
The Moto Guzzi V85 TT definitely stands out in its class. It's currently the only midsize adventure motorcycle with a shaft drive — although the R nineT Urban G/S, which looks a bit similar, also boasts the a similar wet weight and engine architecture (though a boxer rather than V twin) and shaft drive as well.
The V85 TT is a mix of vintage engine design with decent performance and up-to-date tech, with stuff like a ride-by-wire throttle, cruise control, and a TFT display. It lacks an IMU and cornering ABS, though.
Bear in mind that the V85 TT's engine isn't the most powerful adventure bike engine out there. Despite its 853cc size, it's not as potent as the BMW F 850 GS, another bike with the same engine capacity. After all, the F 850 GS has a twin-cam, liquid-cooled engine that's a step above the V85 TT's traditional pushrod setup.
To keep up with top-of-the-line sport tourers, Moto Guzzi launched the V100 Mandello S in 2023, boasting liquid cooling, cornering ABS, and active suspension. There's also rumours of a Norge re-release based on the same engine.
Yet, the V85 TT's engine isn't completely low-tech. It does have some advanced elements like titanium valves and aluminium pushrods. It's got the same size, bore, and stroke as the V9 roamer, but the engine in the V85 TT is a big upgrade, cranking out about 50% more power.
For the 2021 model, Moto Guzzi made some improvements. They modified the top end of the engine, giving the V85 TT camshaft timing and engine tuning for stronger low and mid-range torque. They also gave it additional riding modes as part of the ride-by-wire system.
Maybe best of all, Moto Guzzi gave the 2021+ Moto Guzzi V85 TT tubeless tires, while keeping the spoked rims.
Moto Guzzi V85 TT Specifications
Here are the core specifications for the V85 TT, along with some notes. You can't ride a spec sheet, but you can glue it to the wall of your toilet and ponder on it.
| Item | Moto Guzzi V85 TT spec | Notes |
| --- | --- | --- |
| Engine type | 90-degree V-twin, air-cooled, OHV, 2V | Only 2v per cylinder — easy to service |
| Capacity | 853 cc | |
| Compression ratio | 10.5:1 | |
| Octane required per manual | 95 RON (Premium) | |
| Fuel tank size | 23L | |
| Peak power | 57 kW / 76 hp at 7500 rpm (2021+ update) | Modest power drop since 2019-2020 spec |
| Peak torque | 81 Nm / 60 lb-ft at 5000 rpm | |
| Final drive | 6-speed, shaft | |
| Cruise control | Yes | |
| IMU (Cornering ABS/TC) | No | |
| Quick shifter | No | |
| Front suspension | 41mm USD, adjustable height / preload, 170mm travel | |
| Rear suspension | Twin shocks, adjustable height / preload, 170mm travel | |
| Front brake | 2 x 320mm discs, Brembo 4-piston radial calipers | |
| Front wheel size | 110/80-19 | |
| Rear wheel size | 150/70-17 | |
| Tire type | Tubed (2019-2020); Tubeless (2021+) | |
| Kerb weight | 230 kg / 507 lb | |
| US MSRP | $11,990 | |
| Australia ride-away | $22,730 | |
Moto Guzzi V85 TT specifications
Using the V85 TT's Screen and Controls
Yes, it's all retro with its engine, but the Moto Guzzi V85 TT has a TFT display and some controls that are worth checking out, whether you're just assessing usability or looking at a used bike.
Here's how to use
The cruise control
Ride modes
???
To use cruise control, you have to be in third gear or above, and be going above basic city speeds (it varies by gear). Hold down the cruise button on the left handlebar to activate the system (it'll come on on the display), then short press it to set the speed.
You can increase or decrease cruising speed by pressing the switch up or down. You can also hold the switch up or down to continue to increase speed.
To change ride modes on the Moto Guzzi V85 TT, follow this procedure. In a nutshell, you use the starter button.
Start the motorcycle. The motorcycle must be running. Wait a few seconds.
Press the starter button and hold it for a second until the icon above the ride mode starts flashing.
Release the starter button and immediately start tapping it, toggling through the ride modes.
Stop tapping when you're in the mode you want.
Here's an overview of the modes:
| Mode | Power | ABS | Traction control |
| --- | --- | --- | --- |
| Road | Full | Both wheels | Normal |
| Rain | Limited | Both wheels | Aggressive |
| Off-road | Full | Front wheel only (rear wheel deactivated) | Non-invasive |
Moto Guzzi V85 TT ride modes
Moto Guzzi V85 TT Service Intervals
Like many air-cooled Moto Guzzi motorcycles, the Moto Guzzi V85 TT has 10000 km or 6000 mile service intervals.
At every service, change the oil and check the valve clearances. Luckily, the valve clearances are quite easy to check on a Moto Guzzi, as it's a V-configuration engine with the cylinders exposed, and there are only two valves (one exhaust, one intake on each side).
At every service, make sure you also tighten everything up, and check for leaks and old hoses.
There are a few other items to do periodically, like to change the brake fluid every 2 years, and to change the gear oil (in the gearbox and final drive) every 18000 mi / 30000 km.
Moto Guzzi even recommends changing the tires with new ones every 4 years if you don't wear them out.
See the full maintenance schedule below for more details.
Moto Guzzi V85 TT Maintenance Schedule
The below information comes from our sister website, maintenanceschedule.com.
Below is a clarified version of the maintenance schedule of the maintenance schedule from the manual.
It's separated into
A daily maintenance checklist
A periodic maintenance schedule, and
A regular service items checklist.
Daily Inspection Checklist
This is the daily inspection checklist for the V85 TT. Do this before every ride.
Many of these items you'd naturally do by starting to ride, e.g. confirming that the lights, brakes, and clutch work. But you should specifically check the fluid levels periodically.
Before riding your Moto Guzzi V85 TT, Moto Guzzi recommends you check
The engine oil level and for leaks
Transmission oil (check for leaks)
Wheels and tires (condition, tread, wear, damage)
Brake function and pad thickness
Cables / wires, check nothing is loose
These are the core pre-ride checks. Moto Guzzi also recommends you check the following, but you would notice their condition as you ride away.
Clutch function
Throttle (for smooth operation and free play)
Fuel tank — level of fuel
Steering (smooth operation / no notchiness)
Side stand (smooth operation / lubrication level)
Lights / horn / switches
Major Items Maintenance Schedule
Below is the service schedule of major items for the V85 TT.
Notes:
Observe the earlier of time-based or distance-based service intervals. For example, do the full basic service every year or every 10000 km / 6000 mi — whichever comes earlier.
Keep following it in the pattern shown beyond the end of the maintenance schedule.
If you ride your motorcycle aggressively or in untoward conditions (e.g. off-road or in mud, rain, or on dirty roads, in stop-start traffic, or in cold weather without giving it time to warm up), you may have to service your bike more often.
For items marked "Inspect" or "Check", clean, adjust, lubricate, or replace them as necessary.
Mileage was simplified (in the original manual they use an exact conversion from km, but that's not necessary)
Km x 1000
10
20
30
40
50
60
Mi x 1000
6
12
18
24
30
36
Every
Run full V85 TT regular service (see below for list of items)
✓
✓
✓
✓
✓
✓
Year
Engine oil — Change (Motul 7100 10W60)
✓
✓
✓
✓
✓
✓
Year
Oil filter — Change (Standard Moto Guzzi oil filter)
✓
✓
✓
✓
✓
✓
Year
Air filter — Change
✓
✓
✓
✓
✓
✓
Valve clearances — Check / Adjust
(See below)
✓
✓
✓
✓
✓
✓
Spark plugs — Check
✓
✓
✓
✓
Spark plugs — Replace (NGK MR8BI-8)
✓
✓
Brake hoses — Inspect condition
✓
✓
✓
✓
✓
✓
Brake fluid — Replace (Castrol DOT 4)
2 years
Gearbox oil — Replace (75W-140 synthetic gear oil)
✓
✓
Final drive oil — Replace (75W-140 synthetic gear oil)
✓
✓
Suspension — Check setup
✓
✓
✓
Year
Fork seals — Check. If replacing seals, also replace fork oil.
✓
✓
✓
✓
✓
Check every 5 km / 3 mi for leaks
Fork oil & seals — Replace
✓
Headlight aim — Check / Adjust
✓
✓
✓
✓
✓
✓
Bolts and nuts — Check tightness
Tires _ Replace
4 years
Moto Guzzi V85 TT maintenance schedule
Regular service items
Below is a list of what you have to do at every service. Do these at every scheduled service interval (every time/distance interval) past the break-in service.
Moto Guzzi V85 TT Regular Service
[Dealer] Run full diagnostics using tool
Clean air filter box drain plug
Inspect vehicle general operation
Inspect fuel lines condition (leak, cracks)
Inspect steering bearings and steering clearance
Inspect wheels and wheel bearings
Inspect brake disc and brake pad wear
Inspect functionality lights and signalling equipment
Inspect functionality of safety switches (clutch, engine stop, gear, kickstand)
Inspect braking system generally
Inspect brake fluid level
Inspect tire pressure and wear
Inspect and adjust clutch clearance
Moto Guzzi V85 TT regular service
V85 TT Valve Clearance Inspection
Because you have to inspect and maybe adjust the valve clearances at every service, it's important to have an overview of how to do it.
Luckily, it's very easy. The V85 TT has two valves per cylinder, with screw-and-locknut type adjusters.
The procedure is below, for each side. Start on the left cylinder
Remove the spark plug cover and tube.
Remove the screws on the head cover, and remove the head cover.
Remove the spark plug.
Find top dead centre for the cylinder.
Measure the clearances with a feeler gauge. (see spec below)
If there's a difference (too tight or too loose), adjust the screw and lock nut adjusters until you get just the right pull on the feeler gauge.
Rotate engine 270 degrees to find TDC on the right cylinder, and repeat.
| Valve | Clearance spec |
| --- | --- |
| Intake | 0.10 mm / 0.0039 in |
| Exhaust | 0.15 mm / 0.0059 in |
Moto Guzzi V85 TT valve spec
Replace everything with the right torque specs (see below).
V85 TT Torque Specs
| Item | Torque (Nm) | Torque (lb-ft) |
| --- | --- | --- |
| Spark plugs (one on each side) | 10-12 | 7-8 |
| Valve cover (3 on each side) | 8-10 | 6-7 |
| Shock absorber / damper | 50 | 37 |
| Final drive to swing arm (4) | 25 | 18 |
| Final drive drain plug | 30 | 22 |
| Final drive fill plug | 25 | 18 |
| Rear brake caliper (2) | 25 | 18 |
| Rear brake caliper pin | 35 | 26 |
| Rear axle nut | 100 | 74 |
| Front brake calipers | 50 | 37 |
| Front axle nut | 80 | 59 |
| Front axle pinch bolts | 10 | 7 |
| Handlebar clamp | 25 | 18 |
| Bar risers (2) | 50 | 37 |
| Upper fork bolts (1 x 2) | 25 | 18 |
| Lower fork bolts (2 x 2) | 25 | 18 |
V85 TT Torque Specs
Tire Sizes and Pressures
The Moto Guzzi V85 TT has a 19/17 wheel combo. The 2019-2020 V85 TT took tubed tires, but the 2021+ model is tubeless (still on spoked rims, however).
Below are the wheel sizes, tire sizes, and the recommended tire pressures (optimising for longevity).
| Wheel | Rim size | Tire size | Tire pressure (cold) |
| --- | --- | --- | --- |
| Front | 2.5 x 19 in | 110 / 80 R19 59V | 2.5 bar / 250 kPa / 36 psi |
| Rear | 4.25 x 17 in | 150/70 R17 69V | 2.8 bar / 280 kPa / 41 psi |
V85 TT tire sizes and pressures
Alternatives to the Moto Guzzi V85 TT
The Moto Guzzi V85 TT sits on the fringe of the adventure middleweight motorcycle market. So you may be considering other middleweight adventurers instead. Here they are, below.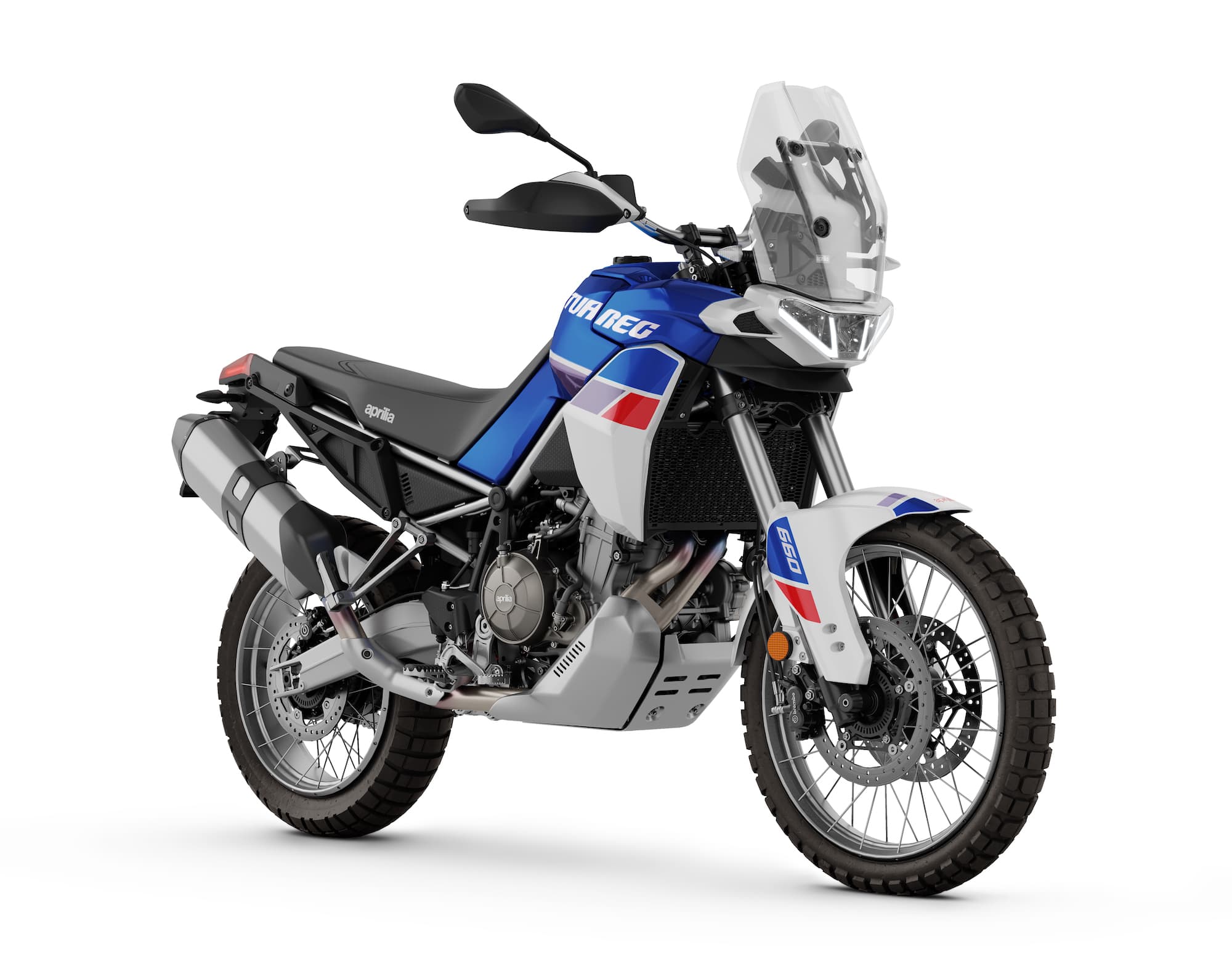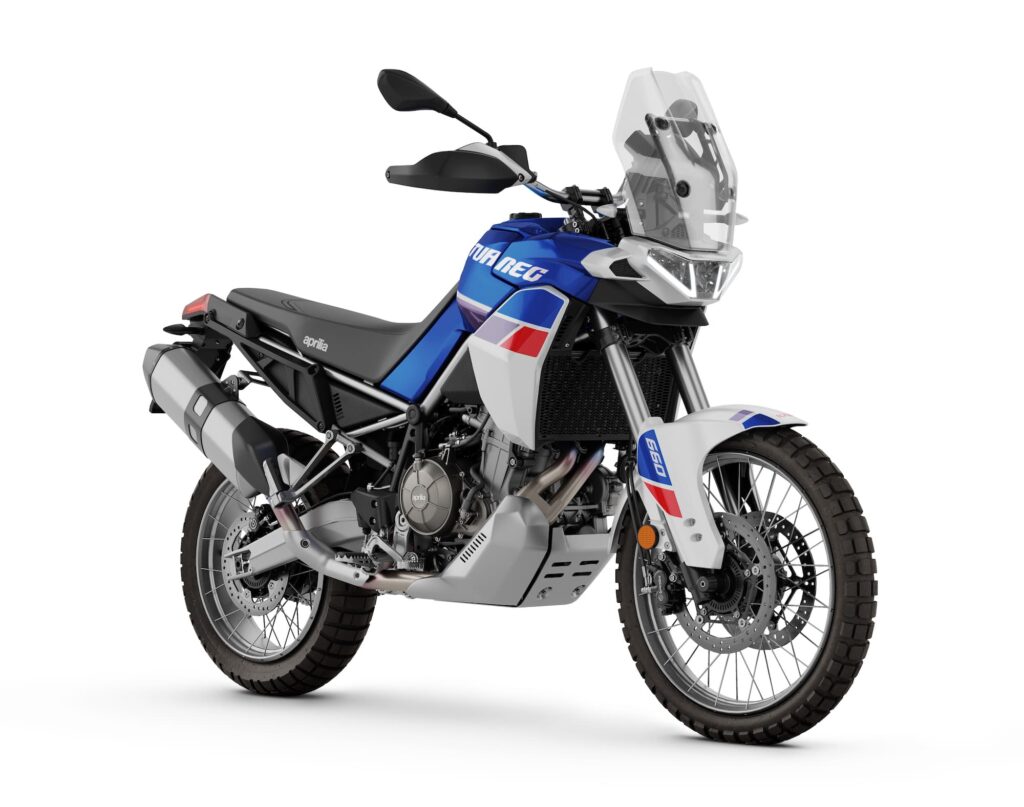 The Aprilia Tuareg 660 (one of the Aprilia 660 line) is a 2022 model. It uses Aprilia's basic platform that powers the RS and Tuono street/sport bikes, but the engine is de-tuned for mid-weight power. The Tuareg 660 is quite high-spec, with cruise control and high-end ride gear (but lacking an IMU), moderately powered (with a peak of 60 kW / 80 hp at 6500 rpm, and light weight for its class.
The BMW F 850 GS is a do-everything vehicle that many seasoned riders like more than the 1250 GS for its versatility. It's powered by a spicey 853 cc parallel twin with a 270-degree crank that tops out at 66 kW / 90 hp at 8000 rpm. It comes with the kitchen sink of tech, including optional dynamic suspension.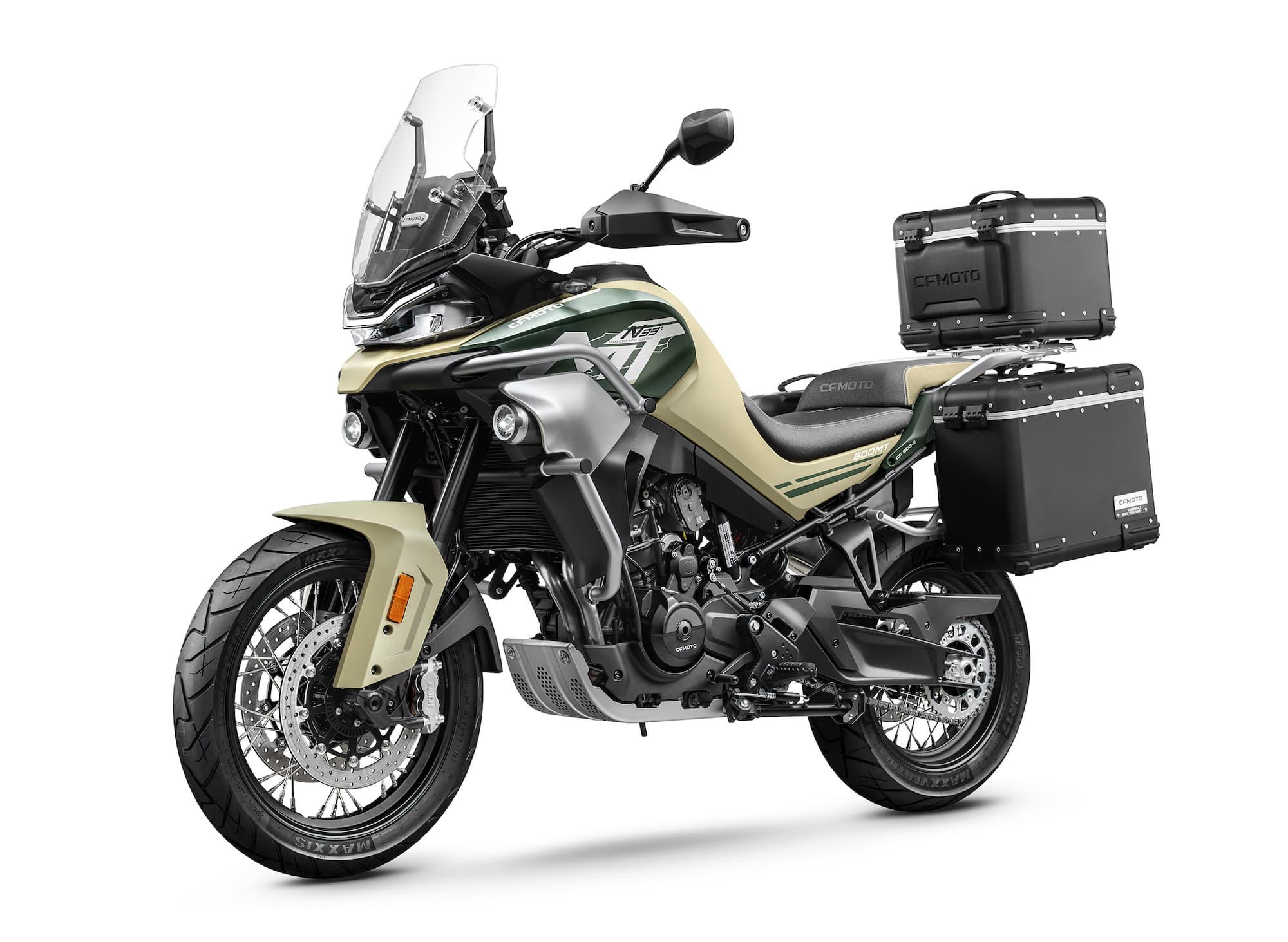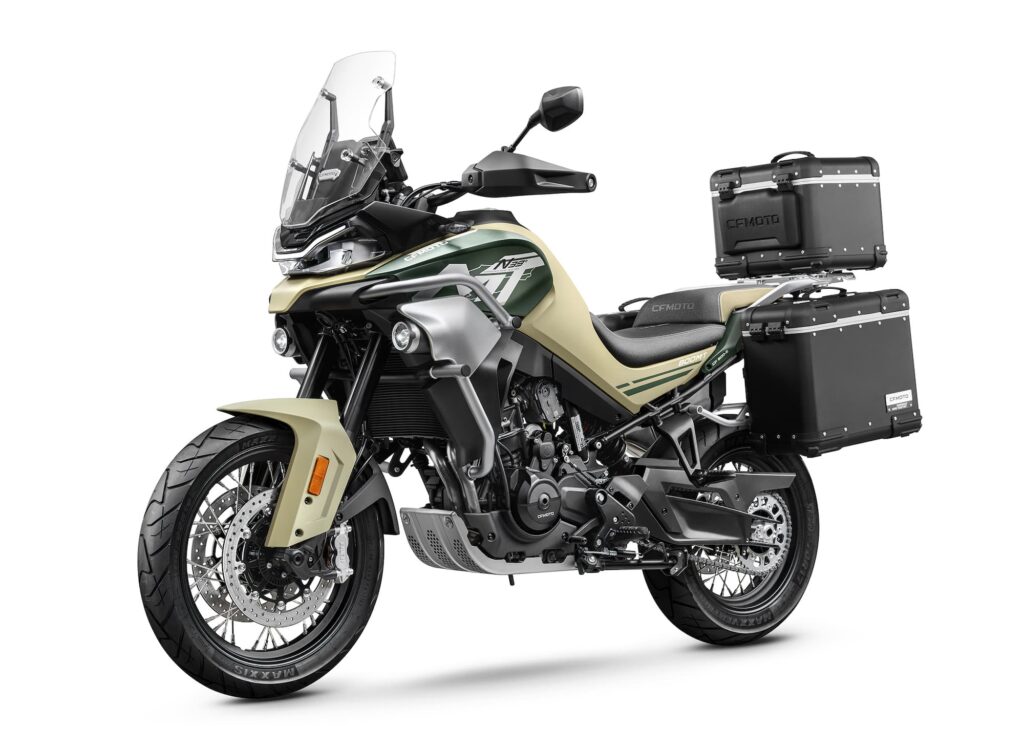 The CFMOTO Ibex 800 / 800MT is a middleweight adventure tourer powered by KTM's 799 cc parallel twin that they stopped using in western markets for a few years. The CFMOTO bike comes loaded with tech, including cruise and an IMU, and its engine is no slouch.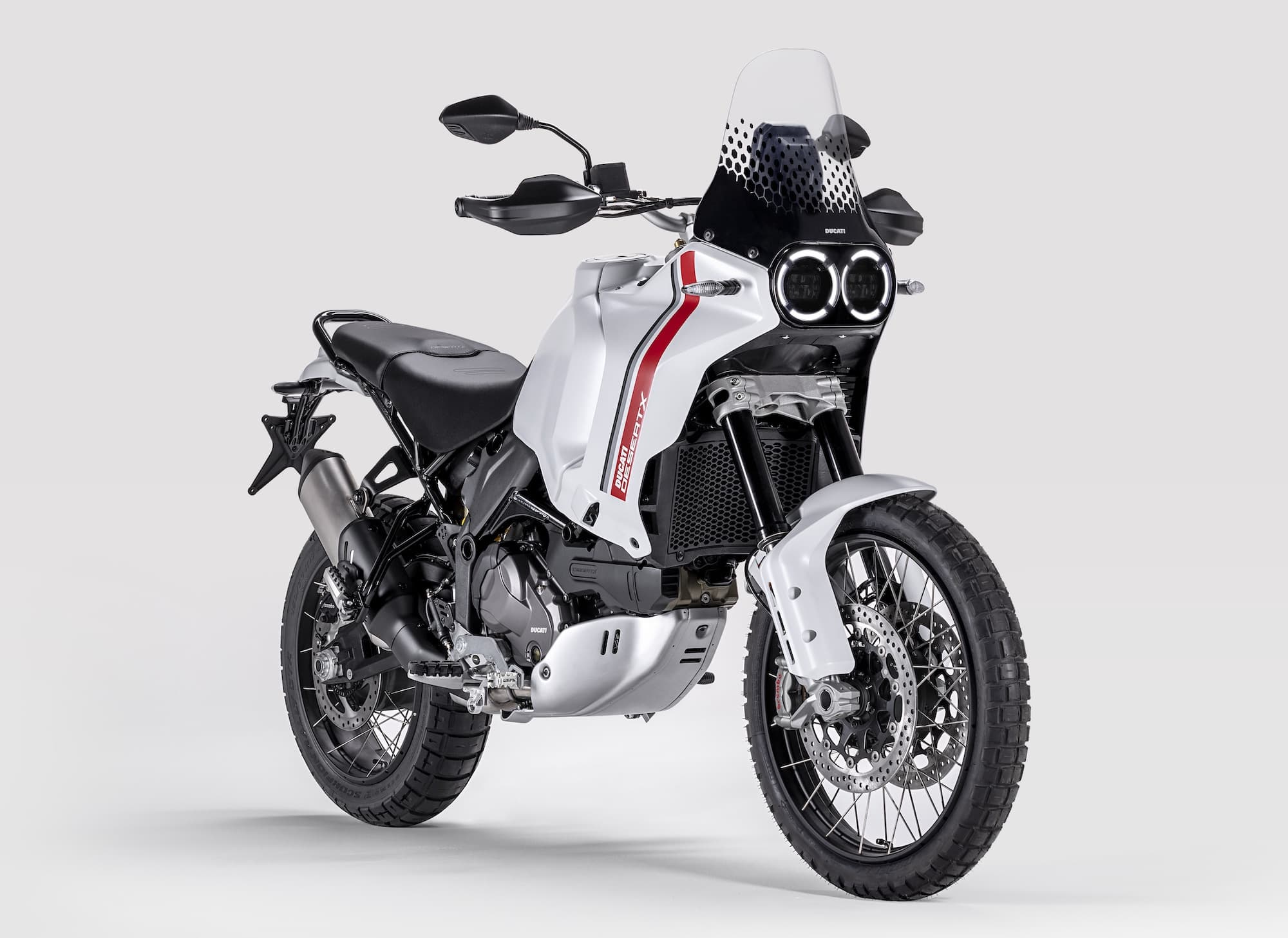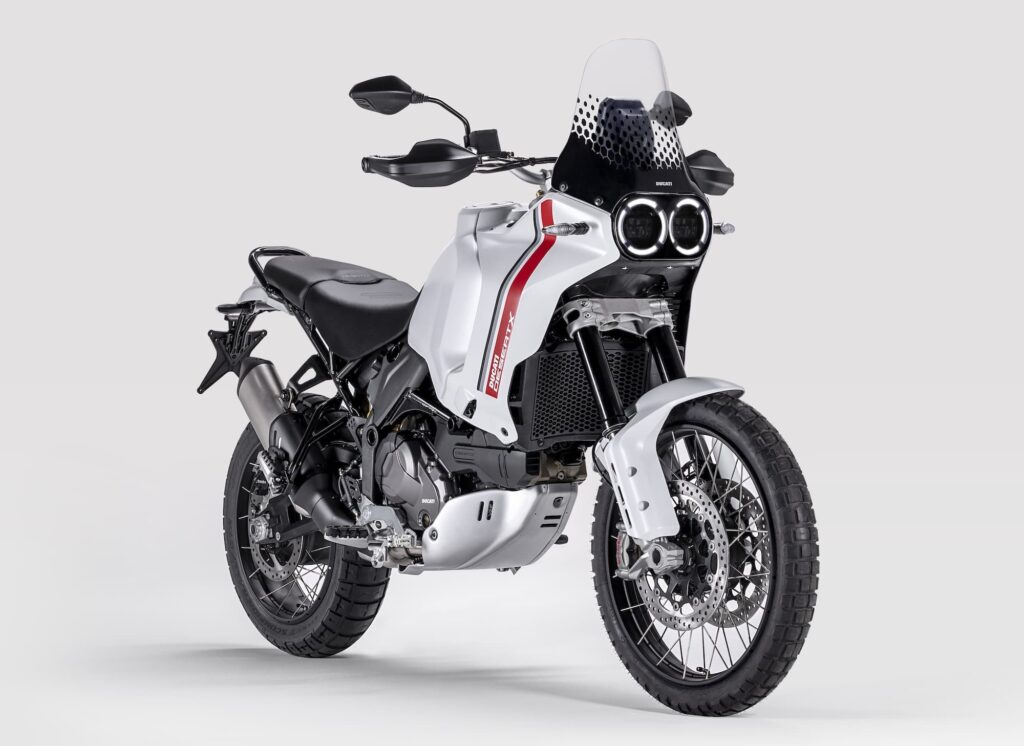 The Ducati DesertX is an offroad sporty adventure tourer based on the 937 cc Testastretta-11 degree engine that Ducati uses in many of its motorcycles, from the Supersport to the Multistrada V2. The DesertX has a 21-inch front rim, long-travel suspension, the full suite of ride aids, and killer good looks.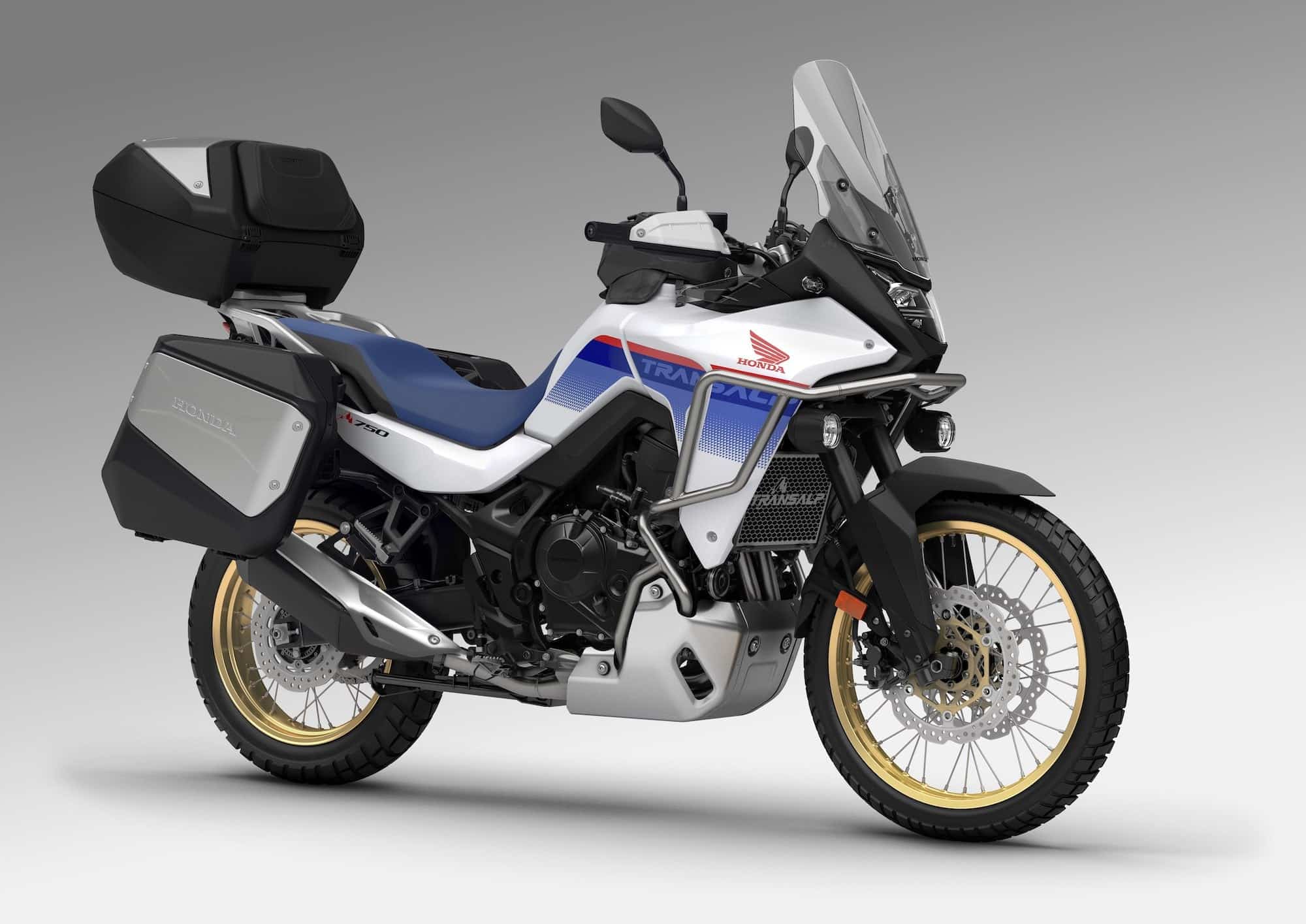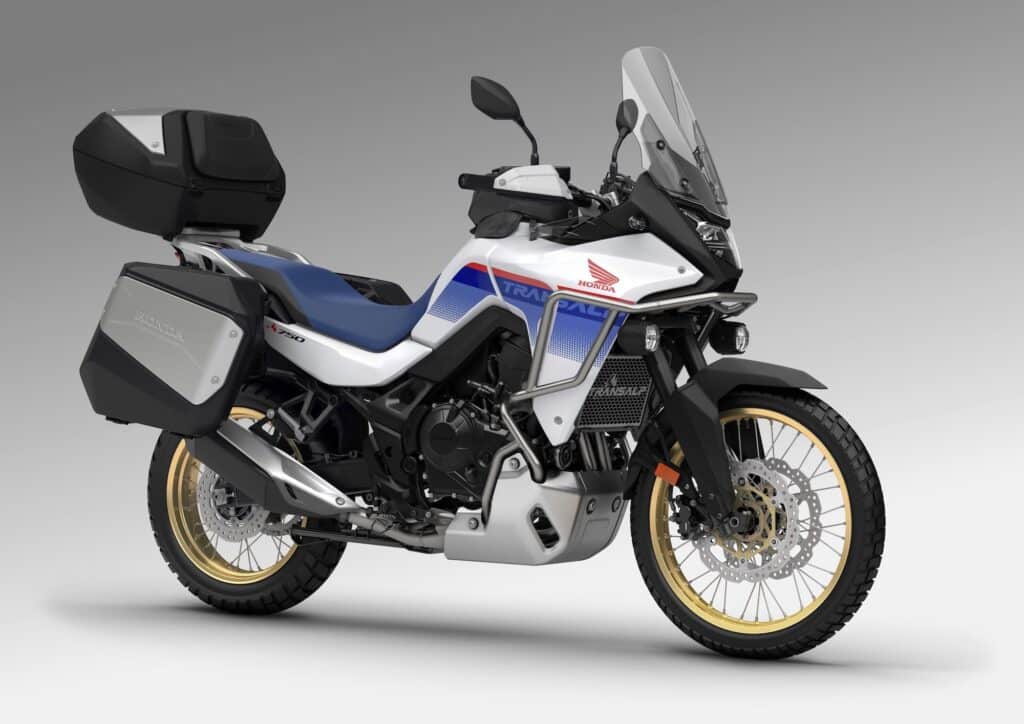 The Honda XL750 Transalp is a rebirth of the Transalp brand, which had expired a decade prior with the Transalp 700, a motorcycle veering more towards being a commuter. The XL750 Transalp has a new motor, a 755-cc parallel twin, and enough goodies (medium-long travel suspension, a 21-inch front wheel) to give it mixed use pretention, without being a dedicated dirt bike.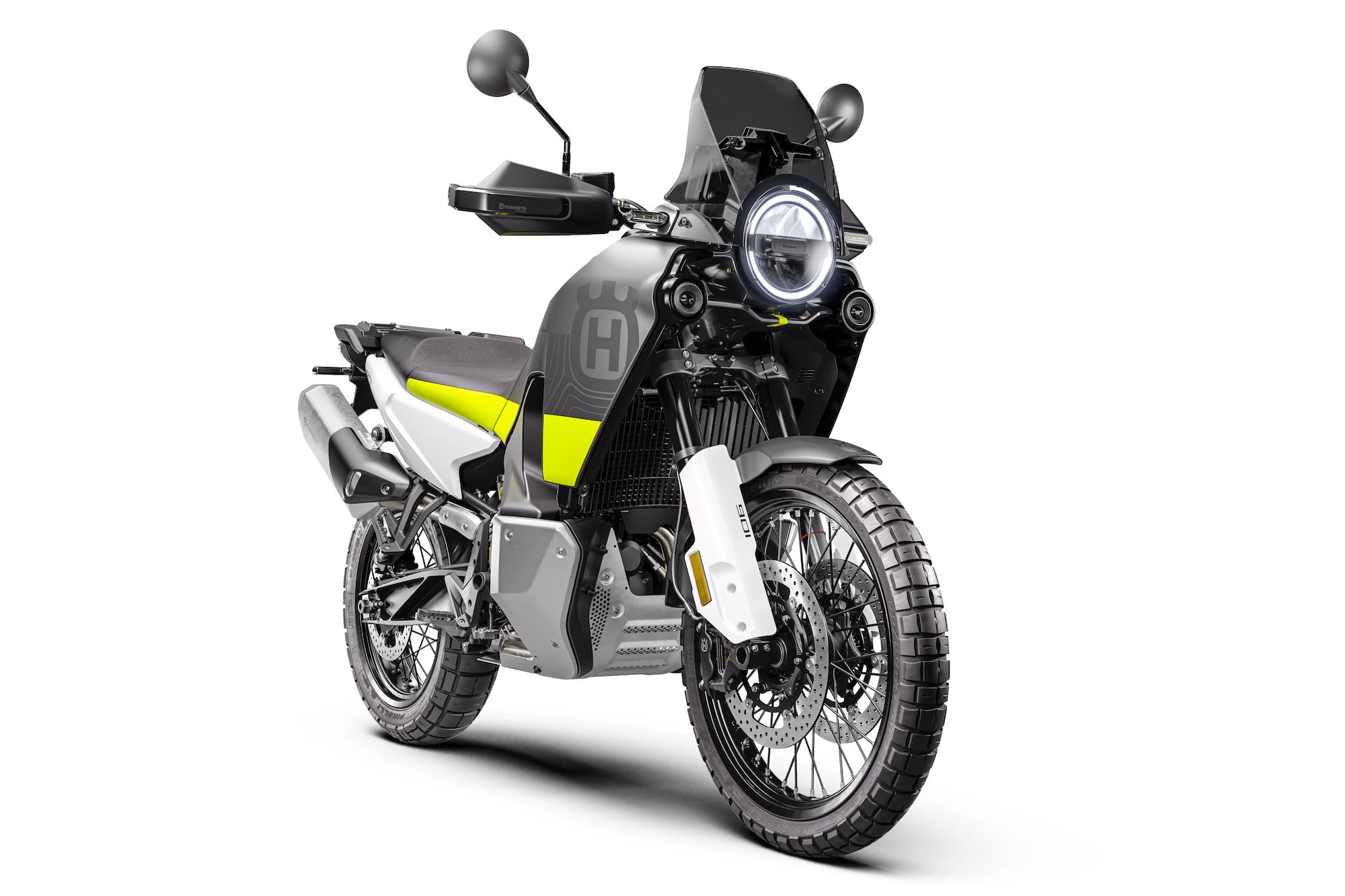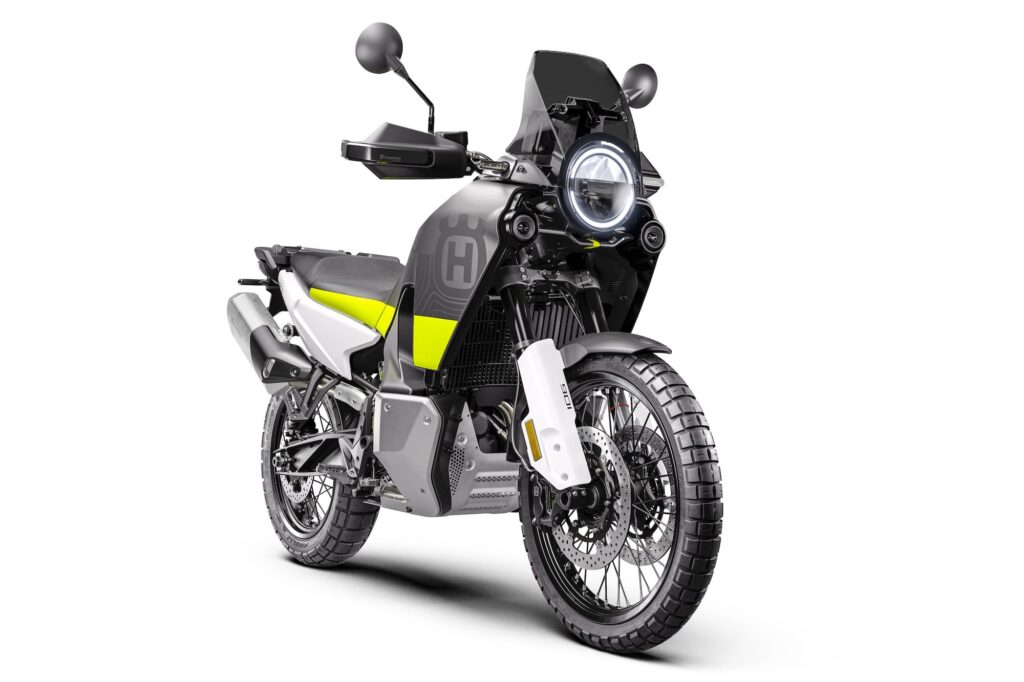 The Husqvarna Norden 901 is based on the same platform as the KTM 890 Adventure R, an 889 cc parallel twin with a 270-degree crankshaft. It has great specs, with long-travel (even longer in the Explorer edition), fully adjustable suspension, and ever ride aid you can think of. Plus, it looks cool.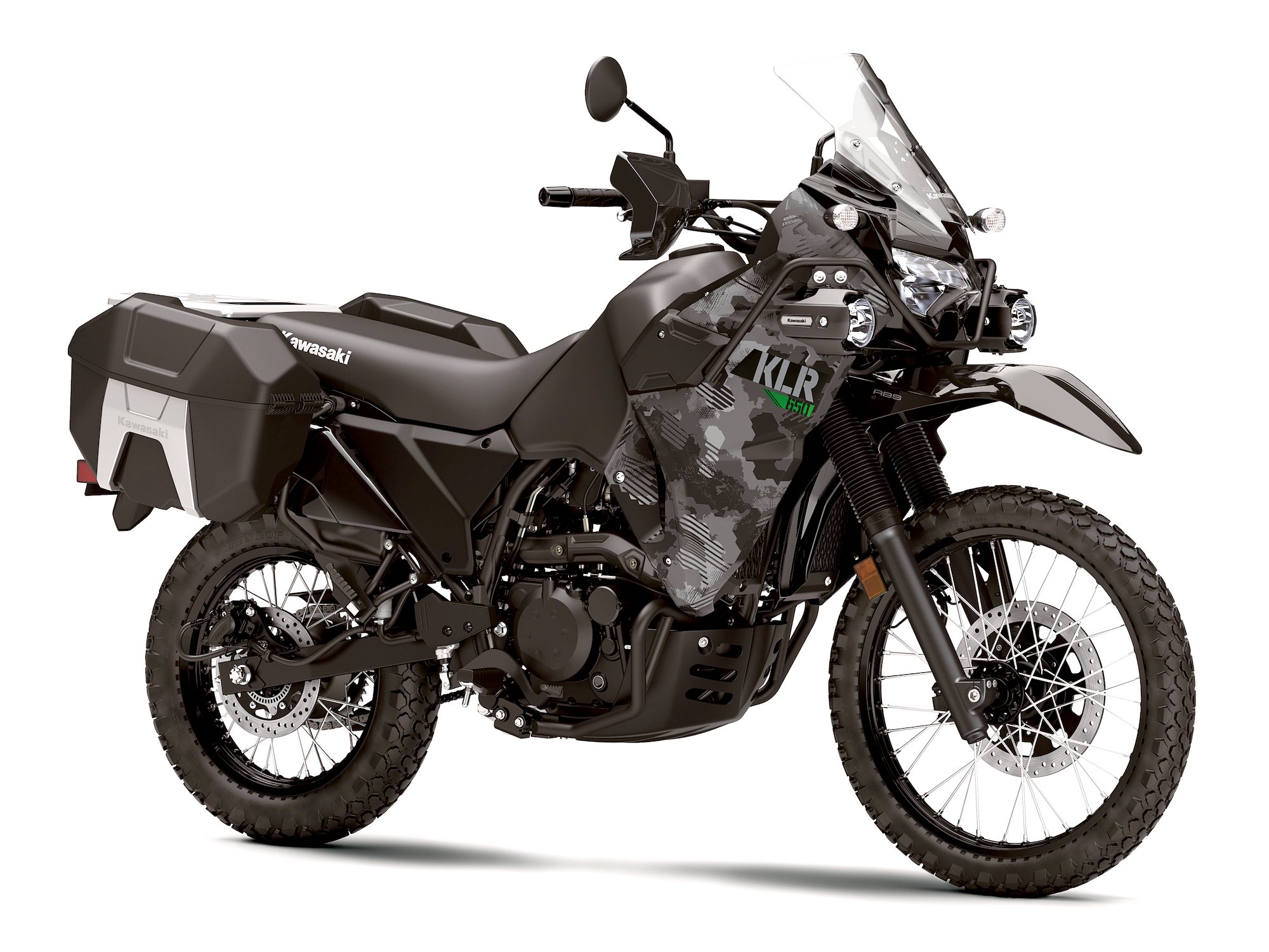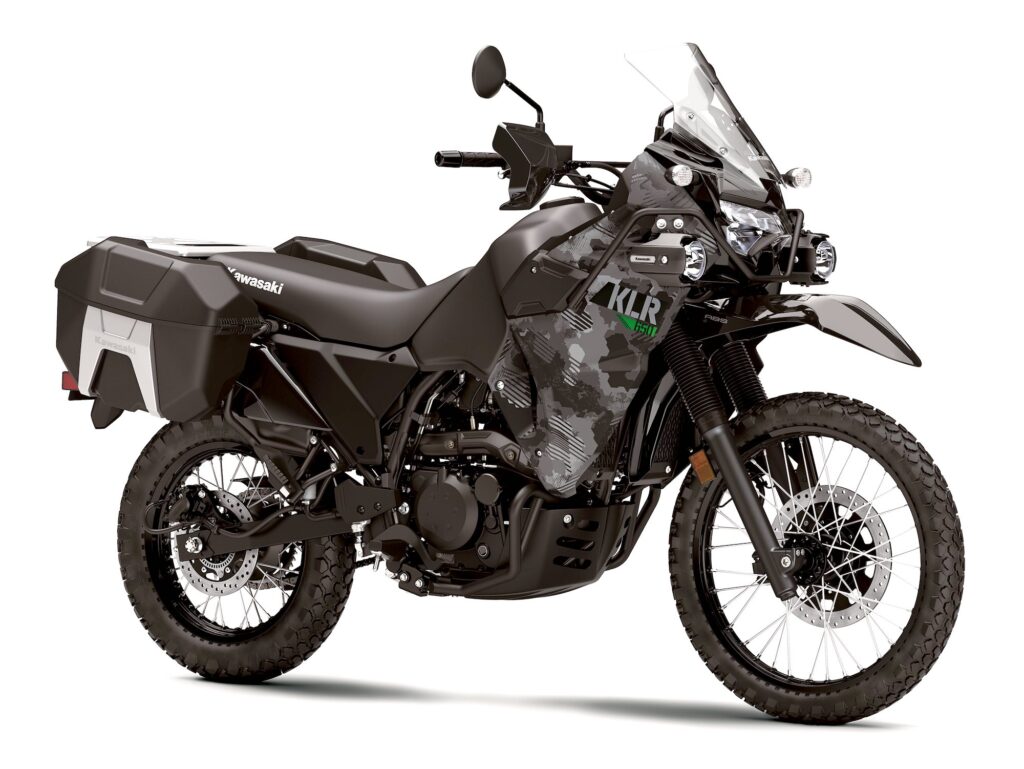 Kawasaki updated its iconic single-cylinder, low-power but unbreakable adventure motorcycle, the KLR650, for 2021 with fuel injection, ABS, and a digital display. It's still the same cheap, back-to-basics adventurer that will get you anywhere and back, though not too quickly.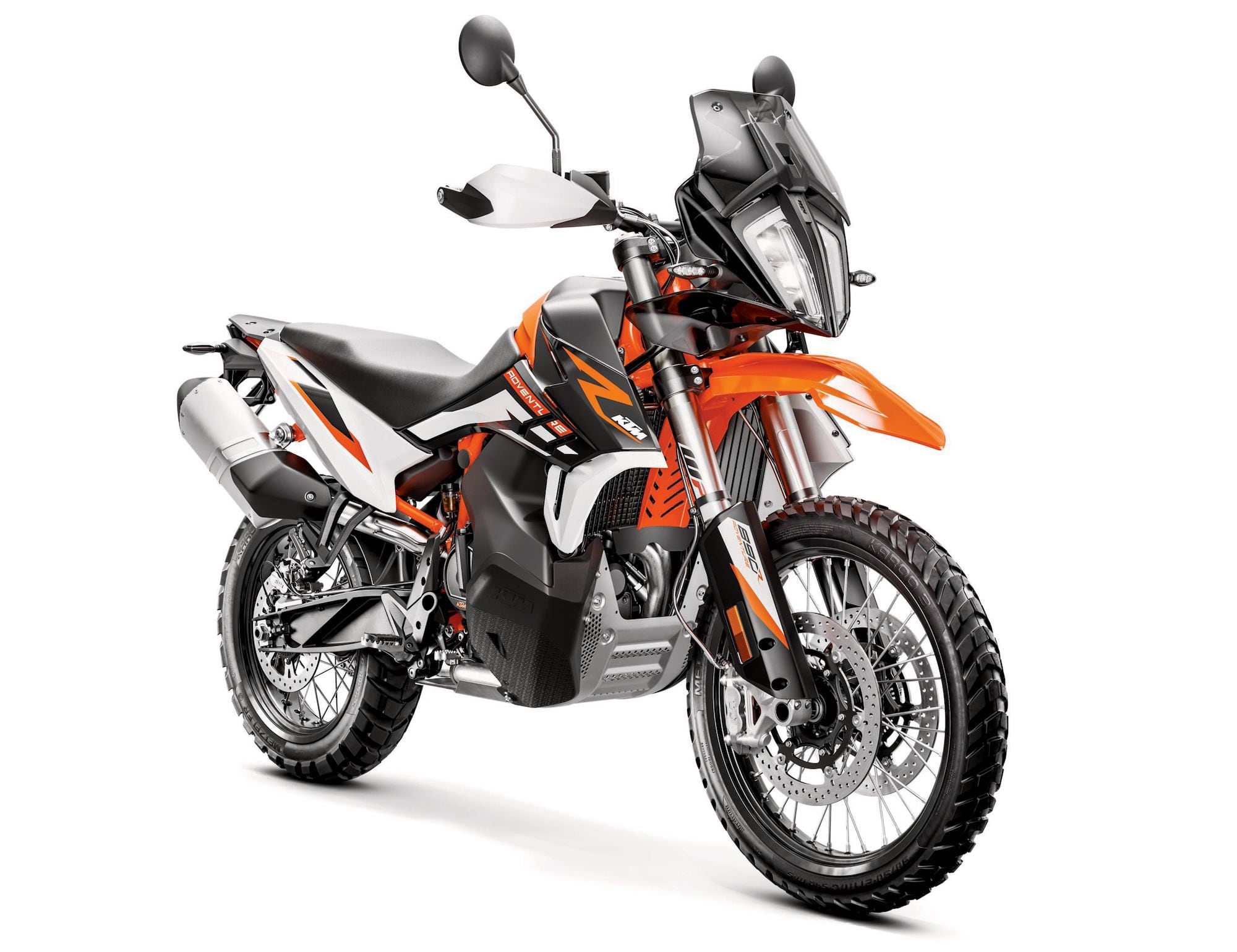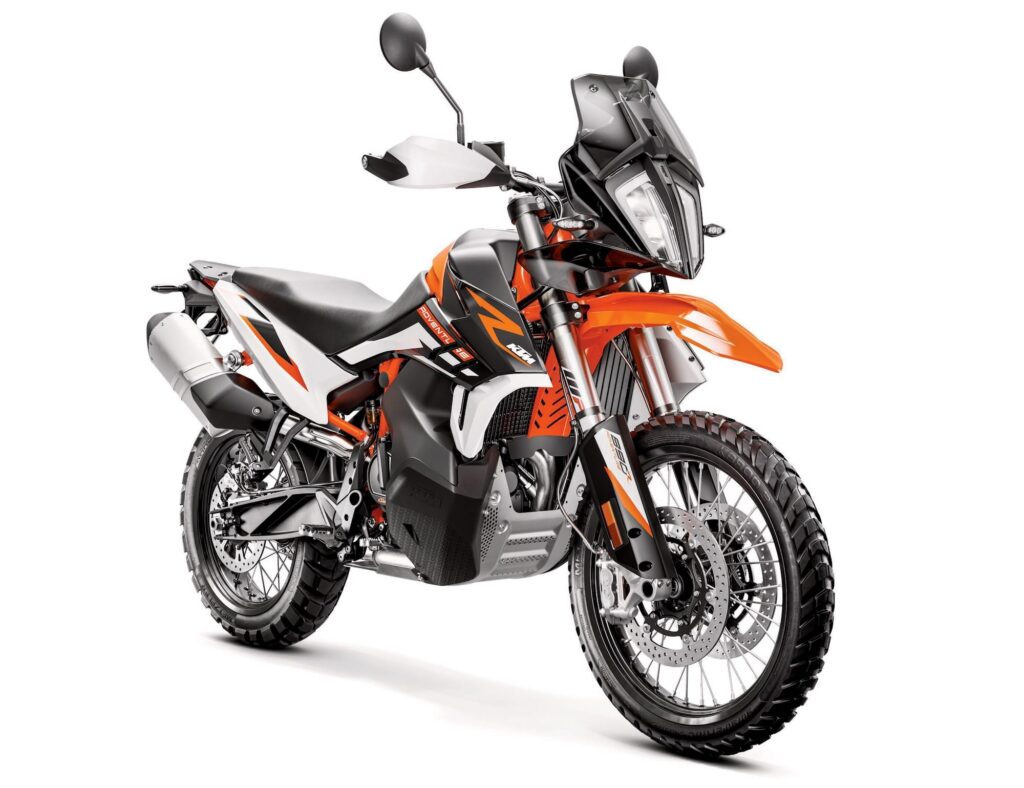 The KTM 890 Adventure R is the "Excitement" factor in the middleweight adventure motorcycle series. It has a sparkling 889 cc parallel twin (shared with the Husqvarna Norden 901), very long-travel suspension (longer than the non-R), and every kind of ride aid you can think of. Despite that, it's one of the lighter bikes in the range (though not by much).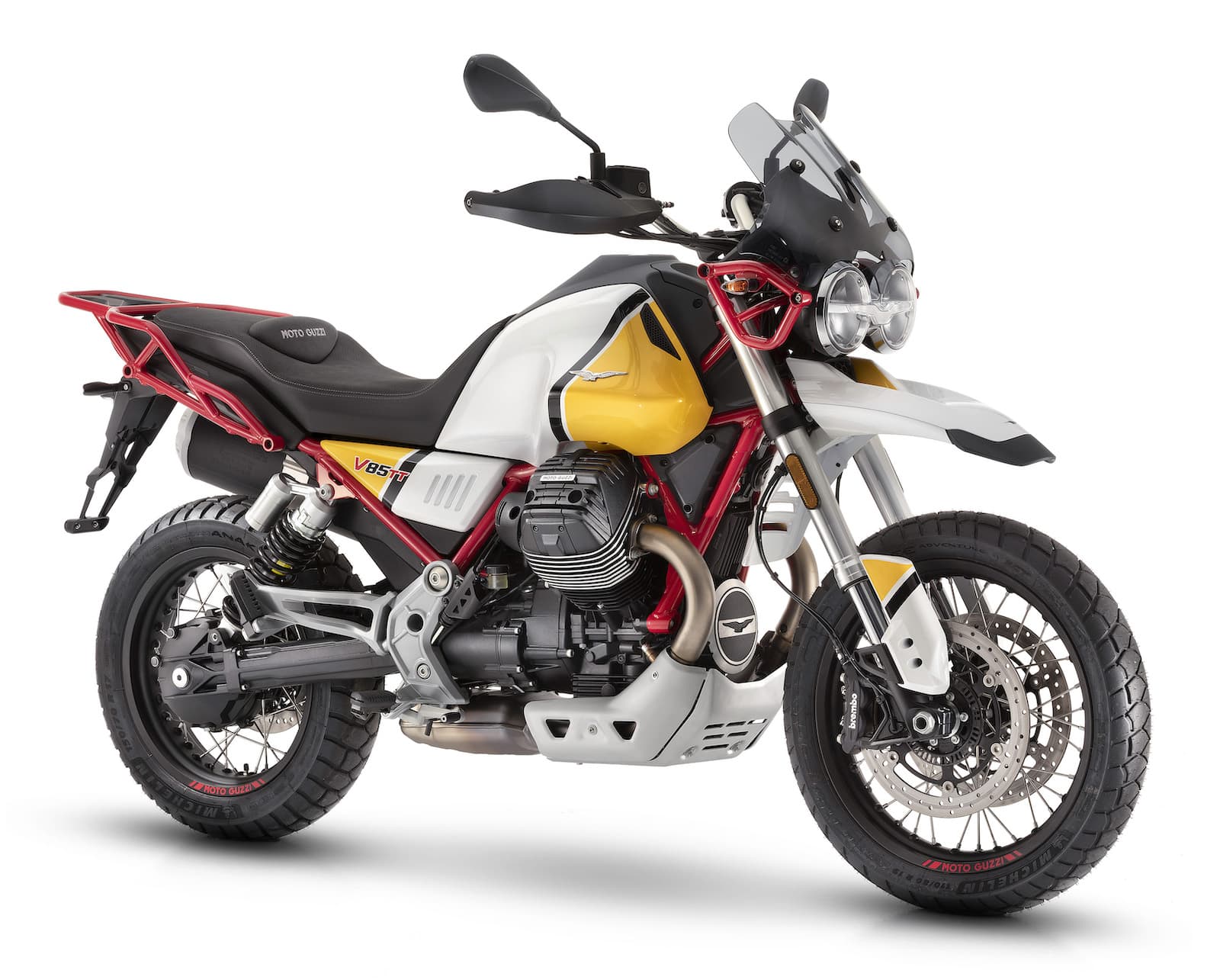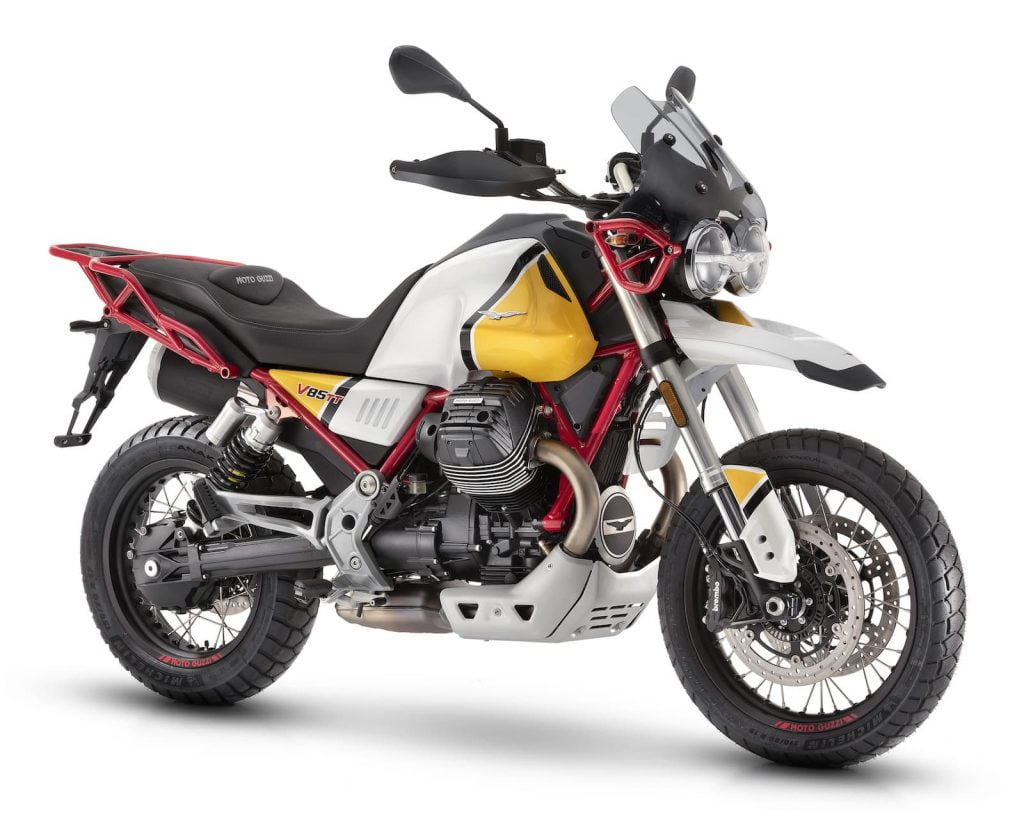 The Moto Guzzi V85 TT is an oddball bike, but it deserves to be included as it's just so interesting. It's powered by an air/oil-cooled longitudinal V-twin powering a shaft drive — this is the one you want if you don't want to be lubing your chain! It lacks many ride aids, but it's very big on character and style.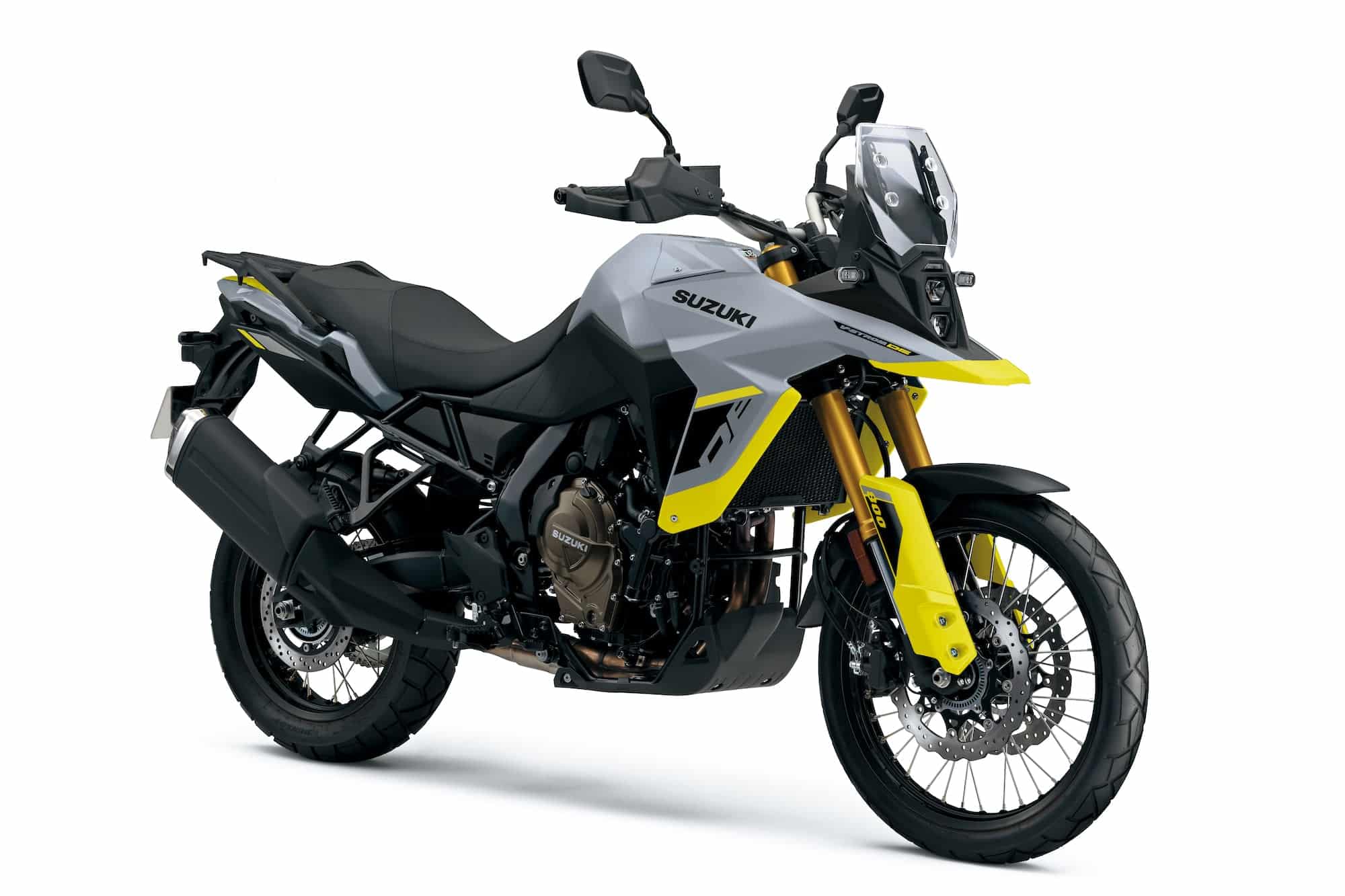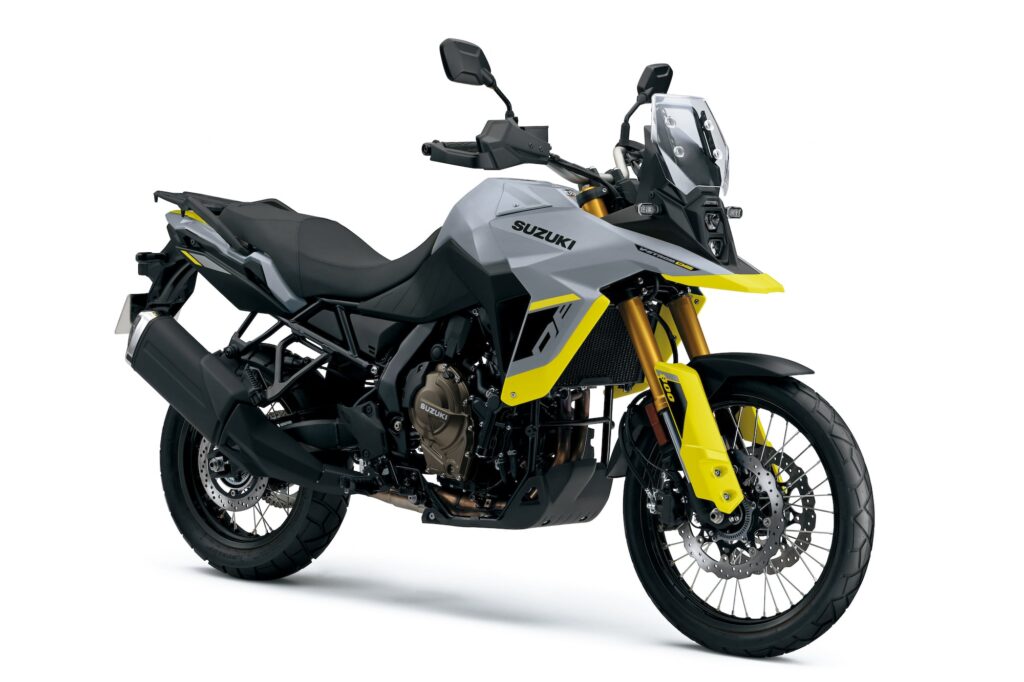 Suzuki updated their V-Strom for 2023 with the V-Strom 800DE, though it co-exists with the V-Strom 650XT (for now). The 800DE uses the same new sporty 776cc parallel twin as the GSX-8S, ditching the V engine associated with the series, and also earned a 21-inch front wheel, similar to its big sibling, the V-Strom 1050DE.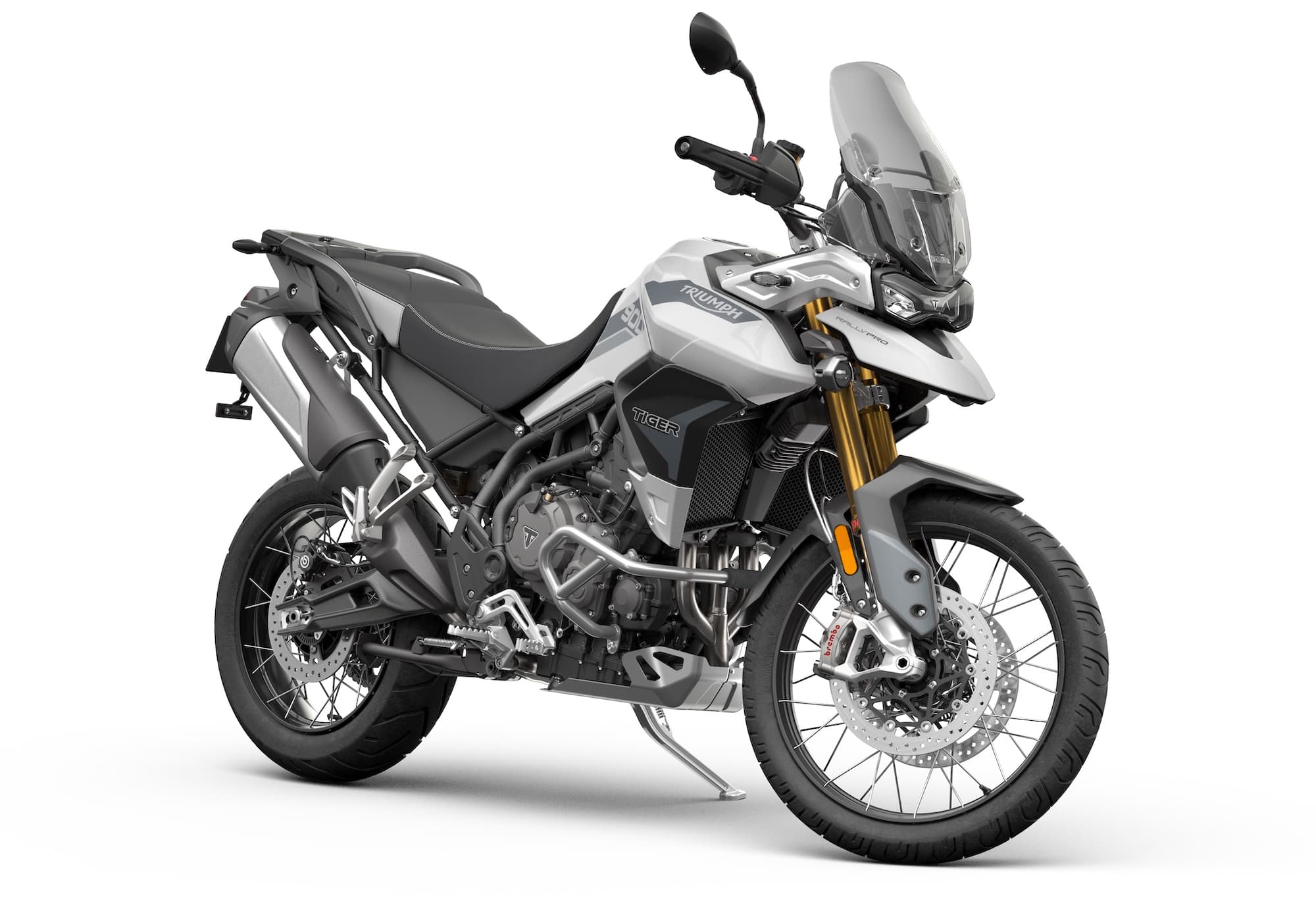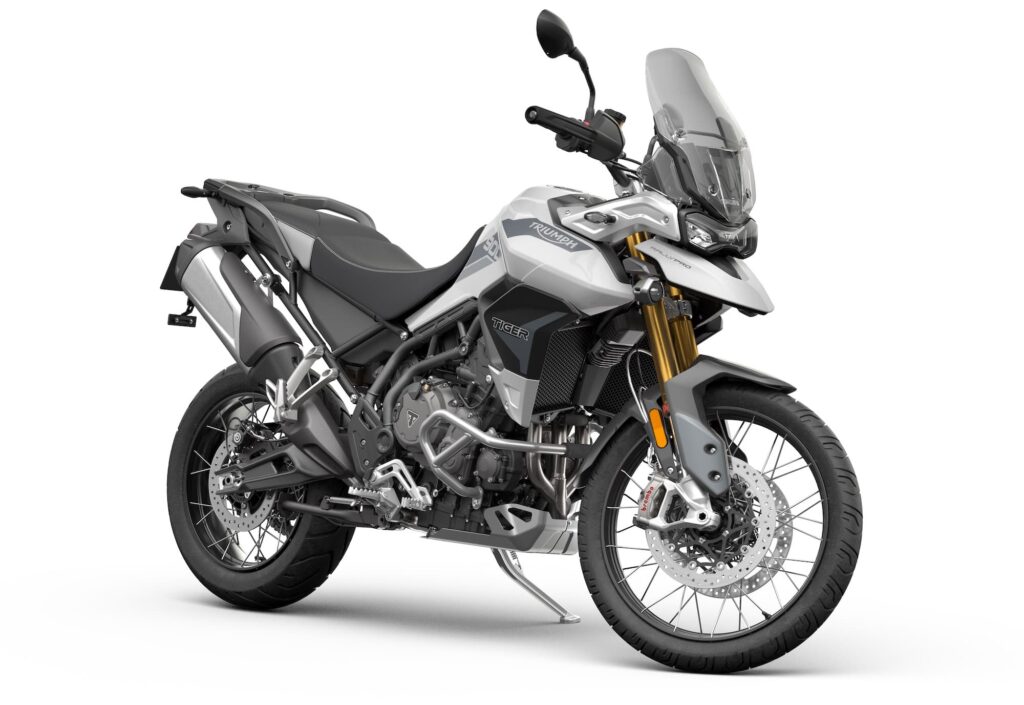 The Triumph Tiger 900 Rally Pro is the only middleweight adventurer to use a three-cylinder engine. The 900 Rally Pro is an update to the Triumph Tiger 800XE, but the 900 engine has a different, lower, more rumbling character. Aside from that, this is the same old luxury middleweight adventure bike, with every ride aid on the market available.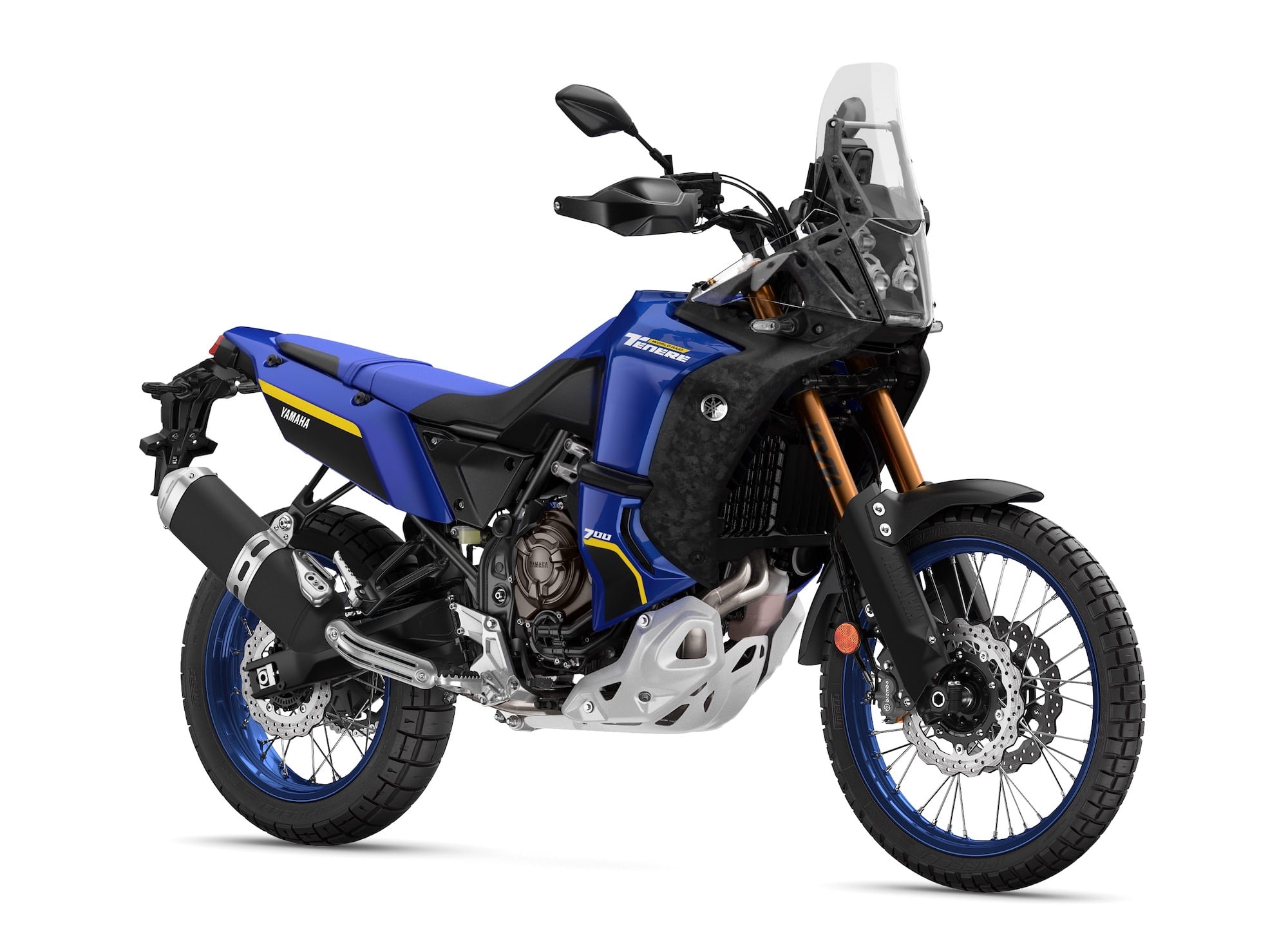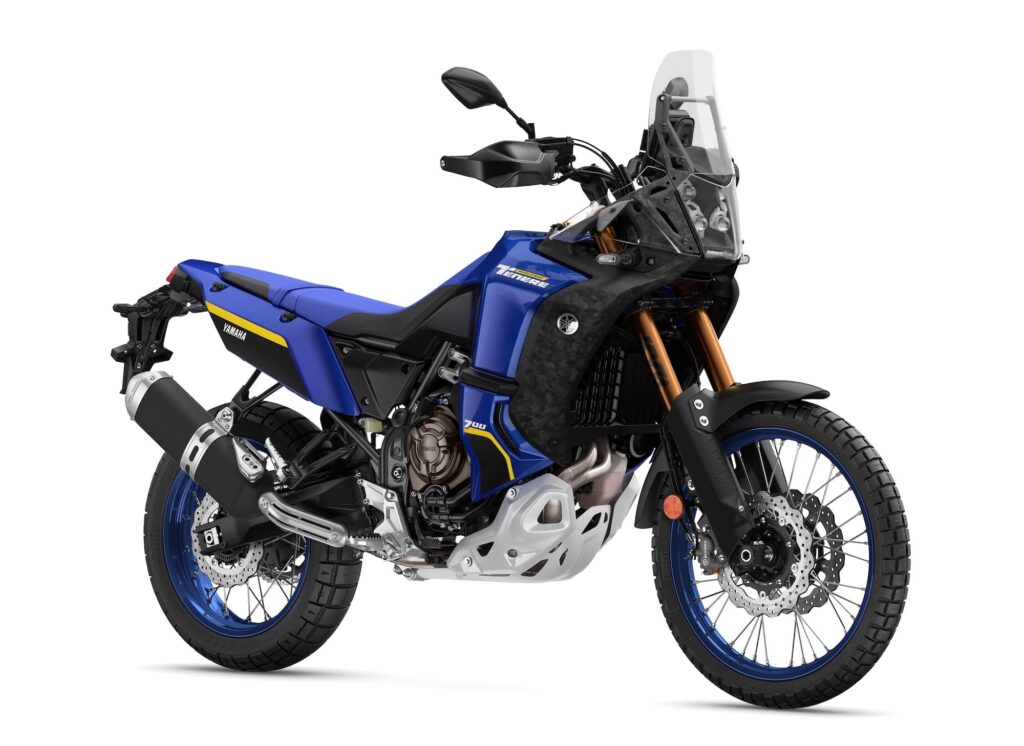 The Yamaha Ténéré 700 is an already-iconic middleweight adventure tourer, powered by the CP2 motor, a character-rich parallel twin we first saw in the Yamaha FZ-07. Yamaha blessed the T7 with an all-new chassis, long suspension (even longer in the World Raid edition), and classic good looks from the previous Ténéré 660. The Yamaha Ténéré 700 hasn't got much tech in it, but that doesn't stop people from loving it.
Reference — Owner's Manual for the Moto Guzzi V85 TT
The above information came slavishly poring over the owner's manual, the service manual, press releases, and forum information for the Moto Guzzi V85 TT.
Below you can see a screenshot for the maintenance table for the V85 TT.
You can also download the owner's manual from here: Link. However, you have to be a registered owner to get the manual.