BMW just announced the BMW R 1300 GS, an update to its flagship adventure bike.
But amid the press release babble, it's a little hard to deconstruct what exactly changed in the new GS vs the outgoing (and already excellent) BMW R 1250 GS, plus what contrasts with the competition in the high-end luxury adventure touring segment.
So I'll go over here changes in the engine, suspension, ride aids, chassis, and aesthetic, and shed some light on the above.
You might also like: The Complete BMW GS Boxer Buyer's Guide, from the R80 G/S to today.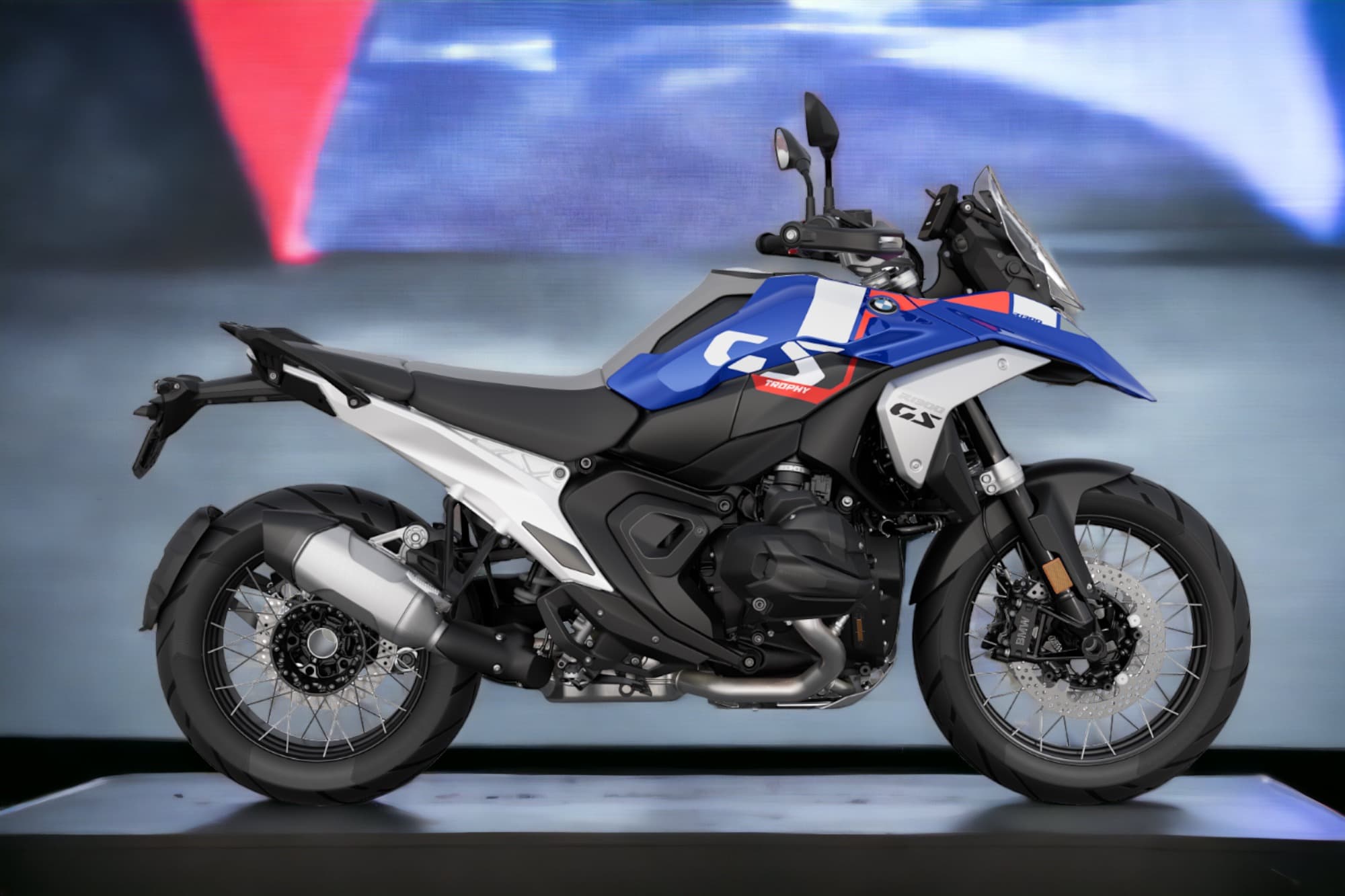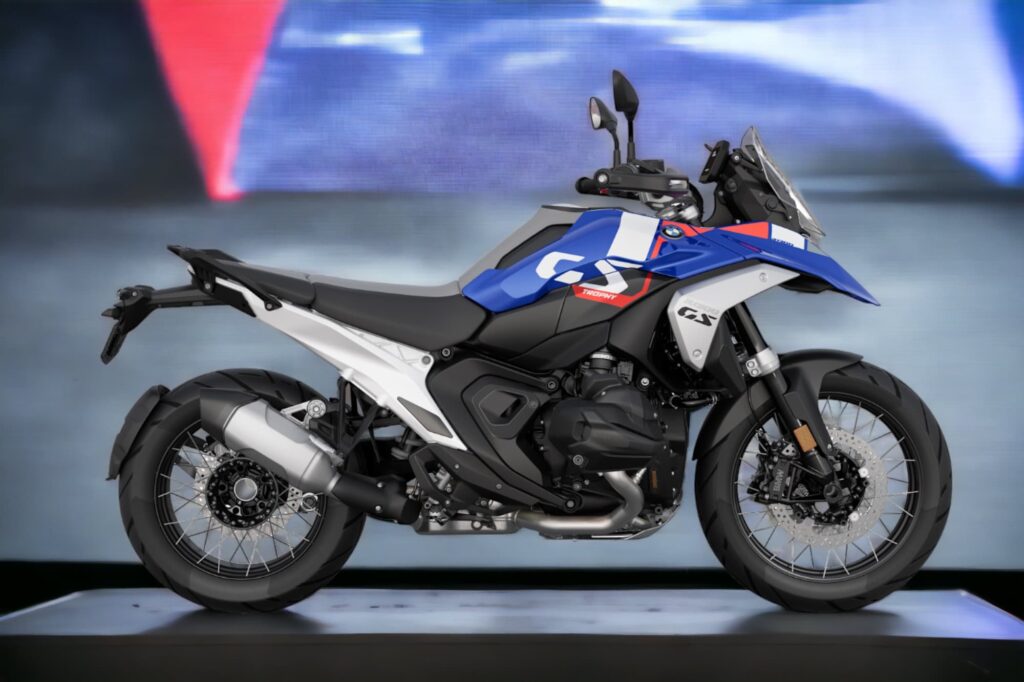 Are you obsessed with motorcycles?
Well, I am. That's why I created this site — as an outlet. I love learning and sharing what others might find useful. If you like what you read here, and you're a fraction as obsessed as I am, you might like to know when I've published more. (Check the latest for an idea of what you'll see.)
BMW R 1300 GS — Overview / What Stayed Constant
The R – GS line needs no introduction. It's the BMW bike series synonymous with adventure touring — a mixture of highway and off-road, though with a preference for the former for most riders (just because of its weight and size). But it's capable of both.
If you're looking for an overview of the BMW R – GS line… well, here's a full model history since the 1980 BMW R80 G/S. A lot has changed, but it's also important to recognise what has remained constant.
Over the course of all models of the BMW flagship GS motorcycles, a few things have remained the same:
They're all powered by "boxer" motors — horizontally opposed twins. BMW is the only one to use this engine format. A few other brands have (or have had) transversely mounted twins, but boxer twins are BMW's thing.
The final drive is a shaft, not a chain (nor a belt).
The motorcycles are designed to work in a mixture of on-road and off-road environments. They're comfortable tourers, but not quite as comfy as the best in class (a Honda Gold Wing, for example, or a Harley-Davidson Road/Street Glide), and they're capable on dirt tracks, but most riders won't be doing rally-style races with them.
Aside from that, there has been a lot of evolution since the days of the R80 G/S. BMW has added capacity and power, increased engine technology like liquid cooling and variable valve timing, augmented ride aids including cornering ABS and recently radar-driven active cruise control, improved the suspension, and changed the layout of the suspension and wheels.
Most recently, the BMW R 1250 GS / GS Adventure were considered to be close to the pinnacle of adventure touring motorcycles. Yes, they had stiff competition from everyone on many fronts. But there's no question they're still great bikes.
Between the R 1250 GS and R 1300 GS, quite a lot has remained constant.
Engine: Both bikes are powered by "ShiftCam"-generation liquid-cooled boxers with variable valve timing.
Suspension: Both bikes have a Telelver/Paralever combination, though the setup has been improved in the R 1300 GS. BMW also improved the dynamic suspension tech.
Ride aids: Most ride aids are constant, though BMW added radar-assisted active cruise control.
But aside from that, BMW made some significant changes to the R 1300 GS. Let's look at them below.
Weight reduction — 12 kg / 26 lb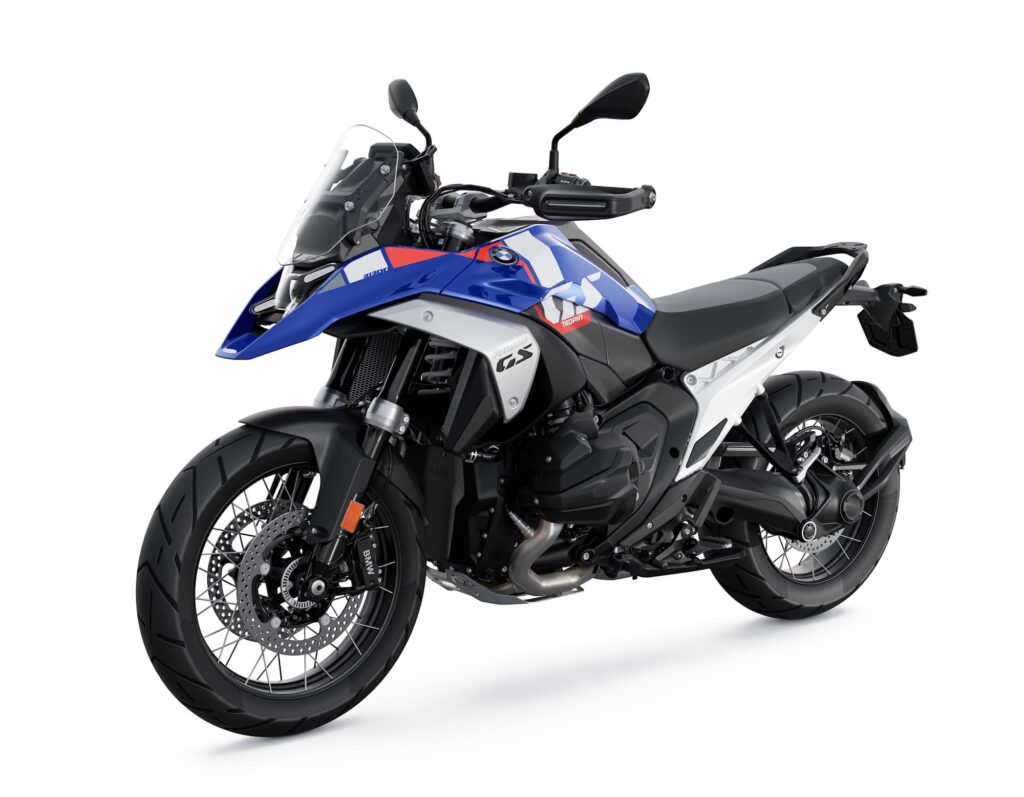 A common complaint about the big R – GS motorcycles is that they're too heavy for off-road work. Of course, people ride them off-road anyway, but less weight is always better.
BMW attacked this, anyway, shaving weight off many parts of the BMW R 1300 GS while increasing engine capacity and peak power at the same time. BMW claims to have reduced 12 kg (26 lb) of weight.
Here's where BMW says weight has been reduced in the R 1300 GS:
Part
Weight reduction (kg)
Detail
Engine
3.9
More compact engine (unspecified details)
Drivetrain (ex. engine)
2.6
(Quoted as "6.5 kg for drivetrain as a whole")
Locating gearbox under engine allows for shorter transmission shafts
Frame
Unspecified
Rear frame made of die-cast aluminium rather than steel
Battery
2.5
Lithium-ion battery as standard
Fuel tank
~0.75
One litre reduction in capacity in GS model (20L –> 19L). This is cheating, BMW 😉
Enduro forged wheels (optional)
1.8
Optional lightweight wheels
Weight savings on BMW R 1300 GS
Note that BMW quotes weight as DIN Unlade, with the tank ~90% full. So the slightly smaller tank does contribute toward a claimed weight reduction.
Aside from reduced weight, the BMW R 1300 GS also carries its weight lower. The gearbox has been relocated underneath the engine, rather than behind it, helping concentrate the mass towards the centre of gravity.
Engine — Same Tech, but More Cubes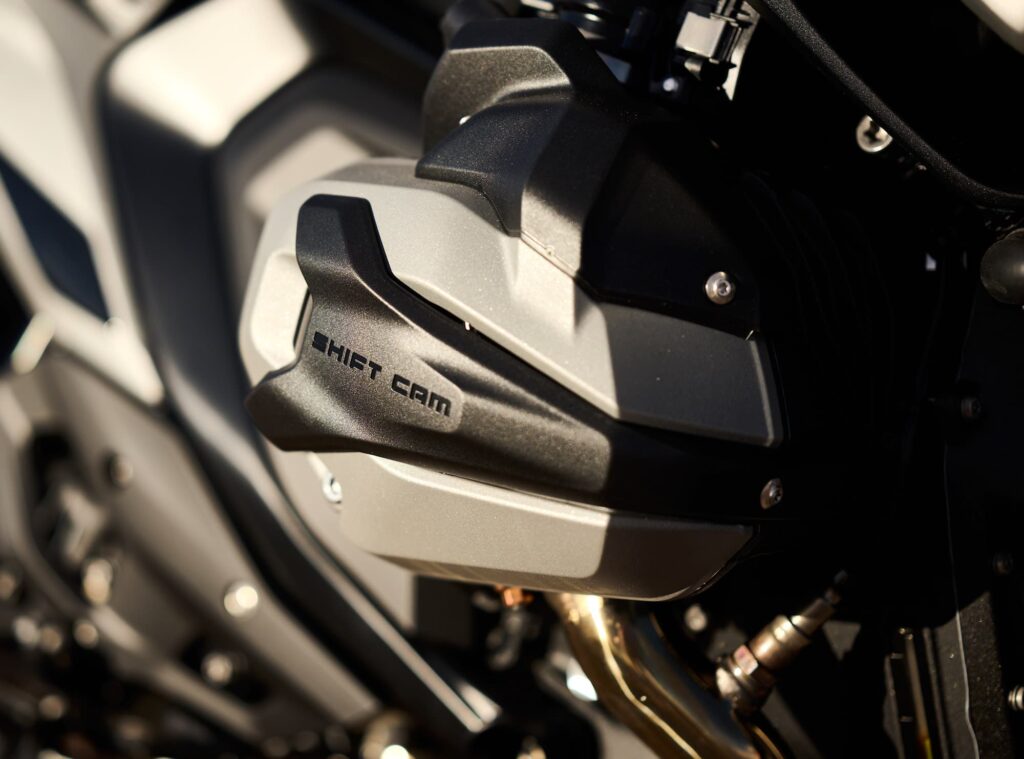 The engine's change goes almost without saying. BMW increased the capacity from 1254 cc to 1300 cc through a larger bore and shorter stroke. Power is up, and so is peak torque, and peak torque doesn't appear to have dramatically shifted in the rev range — no doubt in part due to help from the extra cubes.
| Item | R 1250 GS | R 1300 GS |
| --- | --- | --- |
| Engine capacity | 1254 | 1300 |
| Bore | 102.5 | 106.5 |
| Stroke | 76 | 73 |
| Compression ratio | 12.5:1 | 13.3:1 |
| Peak power | 100 kW / 136 hp @ 7750 rpm | 107 kW / 145 hp @ 7750 rpm |
| Peak torque | 143 Nm / 105.5 lb-ft @ 6250 rpm | 149 Nm / 110 lb-ft @ 6500 rpm |
| Reference | BMW | BMW |
BMW R – GS Boxer engine evolution
Aside from that, the BMW R 1300 motor is in the same generation of motors — the "ShiftCam" partially liquid-cooled engines, using variable valve timing.
See here for a guide to BMW engines, from "airheads" to today.
Despite the power increase, the BMW R 1300 GS is still significantly less powerful than many of its premium adventure competitors. The Ducati Multistrada V4, KTM 1290 Super Adventure S/R, Harley-Davidson Pan America, and Triumph Tiger 1200 all make more peak power than the BMW R 1300 GS. Power isn't everything, particularly for an enduro, but it matters a lot for some people.
Suspension — EVO Telelever, Dynamic Suspension Adjustment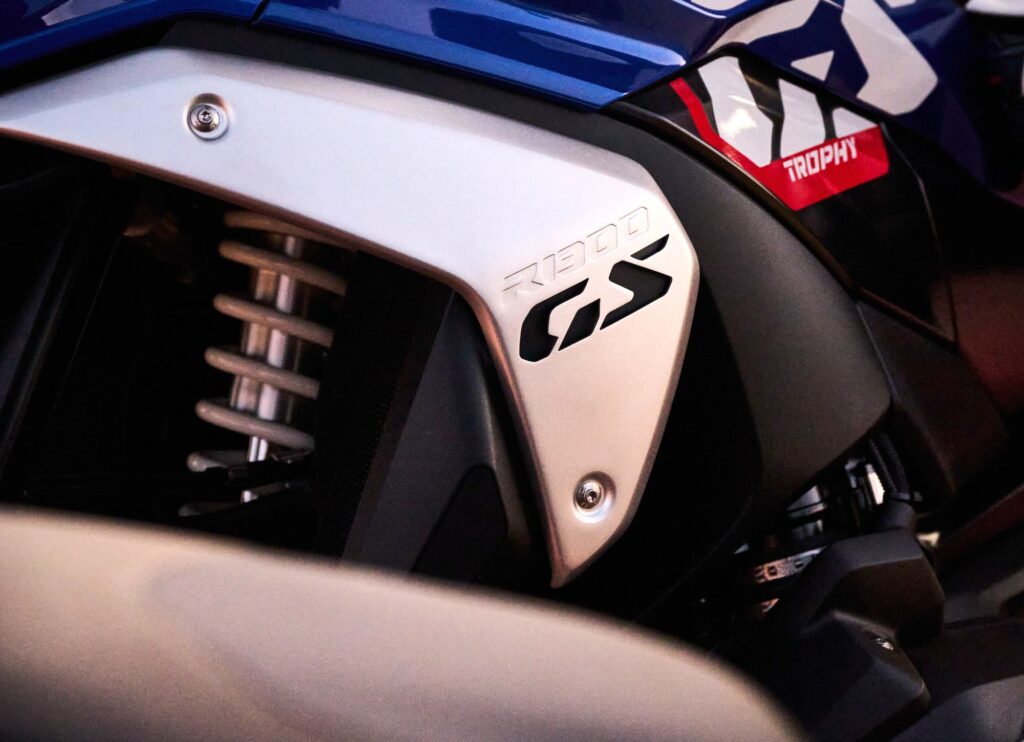 BMW has kept to its classic Telelever / Paralever design, but has improved the way Telelever works for the R 1300 generation.
The problem, as BMW states it, is that as forks on a Telelever compress, the handlebars of a motorcycle tilt forward relative to the frame and the rider. This is because the handlebars are attached to the frame via a ball joint.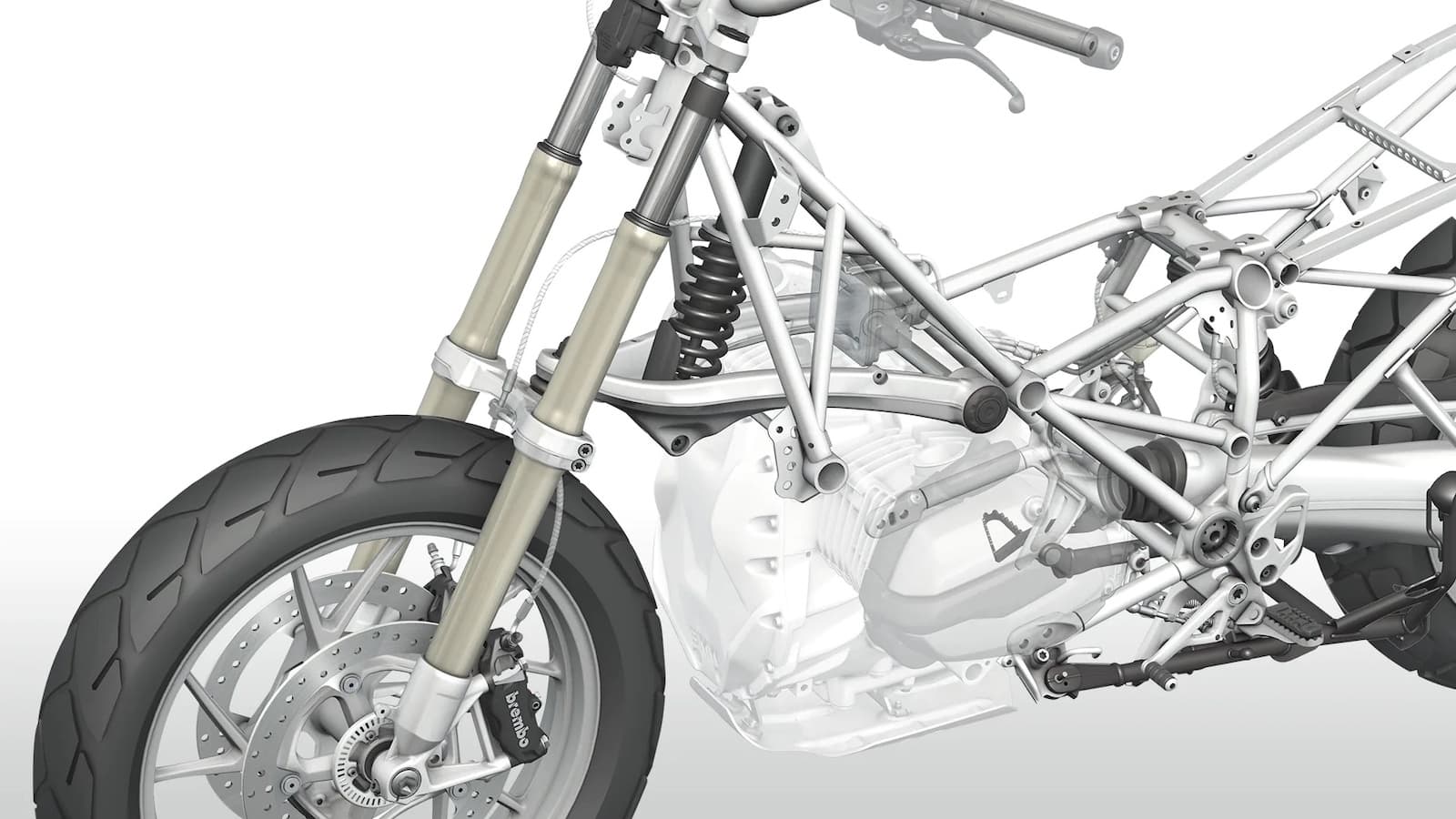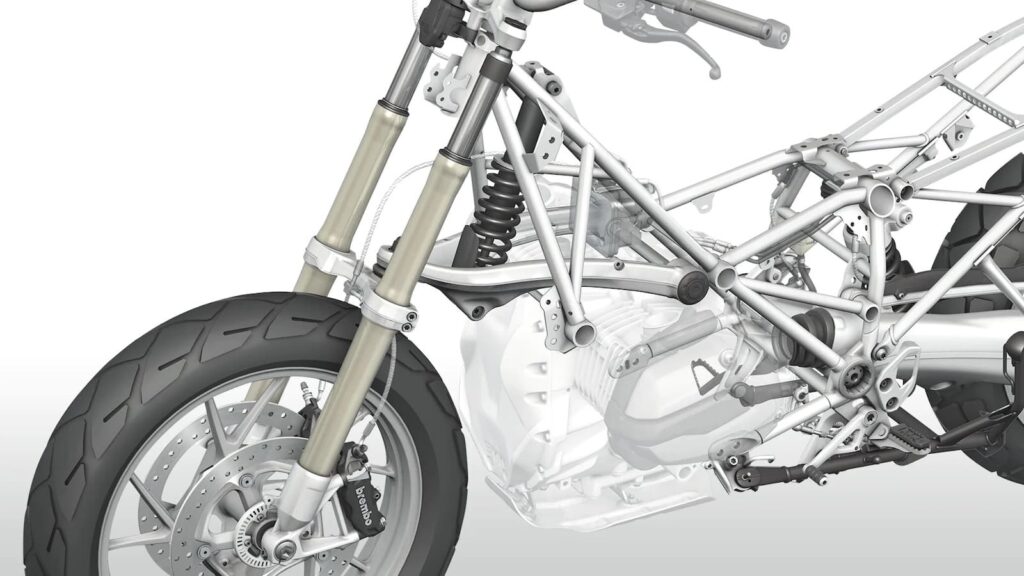 BMW has decided to rectify the handlebar tilt through a system they call "EVO Telelever". The core principle is to decouple the tilting motion of the handlebar from the fork, while transmitting the steering forces. But at the same time, BMW didn't want to reduce stiffness.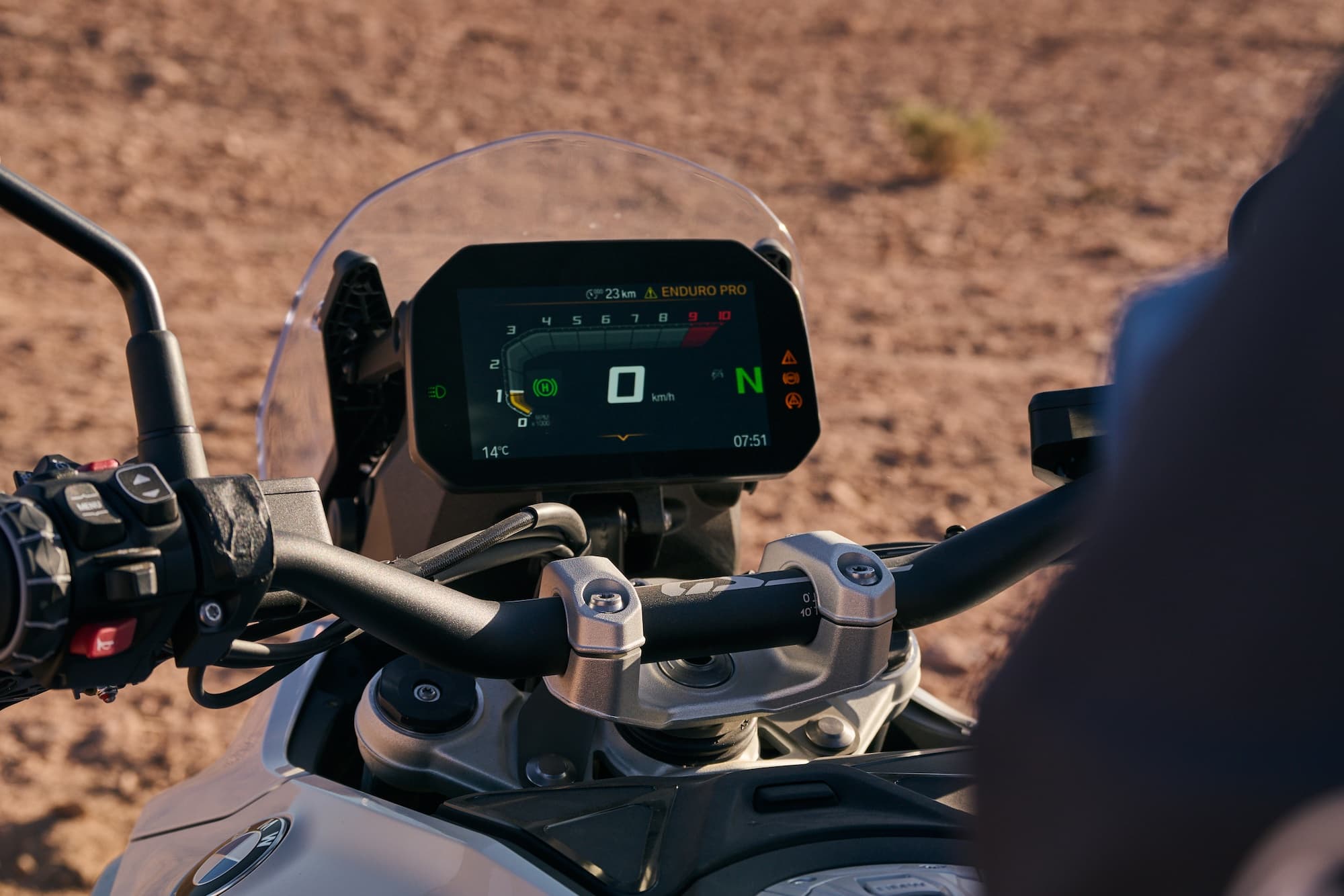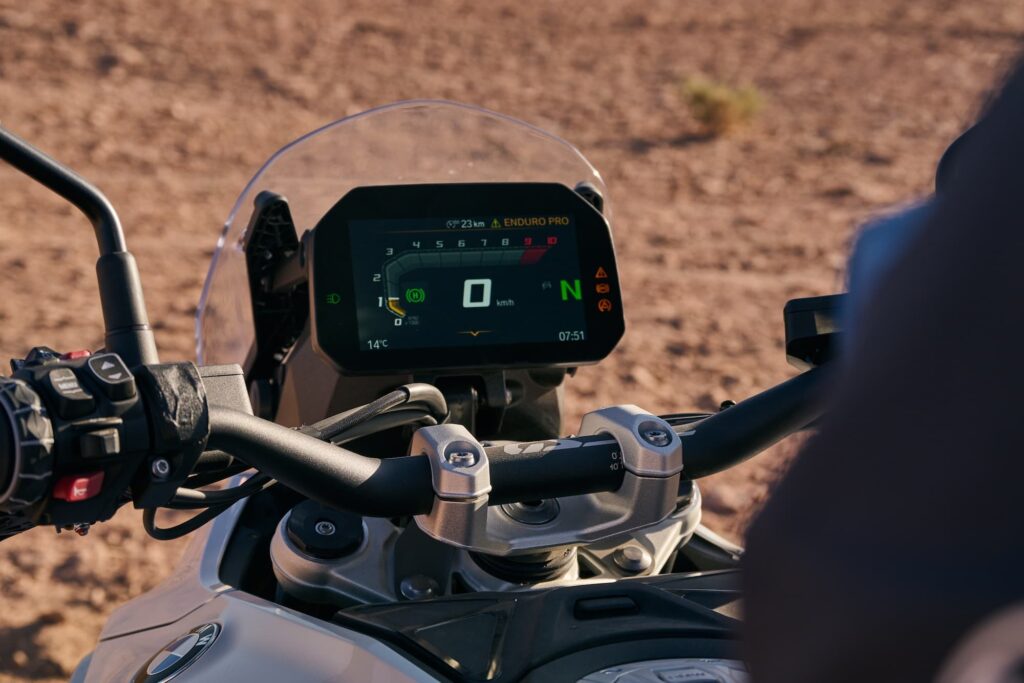 While BMW's explanation of EVO Telelever is a little difficult to follow, a high-level summary is that through a system of bearings and connectors, centred around a flexible stainless steel plate, BMW has decoupled the tilting motion while transmitting the steering motion with even greater precision than before.
The design concept is similar to how BMW has addressed suspension design in the rest of its Telelever / Paralever system: decoupling unwanted effects through bearings, swivels, and pivots, while transmitting others.
BMW says the EVO Telelever design is particularly important on motorcycles with wide handlebars and long suspension travel, which means it may not make it to the sportier variants of the R 1300 line (e.g. an R 1300 RS), when they're released.
See here for more about how EVO Telelever works.
Aside from EVO Telelever, the BMW R 1300 GS also gets Dynamic Suspension Adjustment (DSA), an option. This is an evolution of Dynamic ESA Next Generation, which was on the R 1250 GS.
On the R 1250 GS, the Dynamic ESA Next Gen system adjusted damping dynamically. You could set preload electronically, but it wasn't dynamic.
On the R 1300 GS, the DSA system adjusts spring rate dynamically, depending on ride mode, riding condition, and the way in which you're using the bike.
In addition, BMW offers another option, adaptive height control. This is a system that changes vehicle ride height depending on conditions, e.g. lowering the suspension when riding at slow speeds or when at a stop. (We have previously seen this on the Harley-Davidson Pan America.)
Ride aids — Active Cruise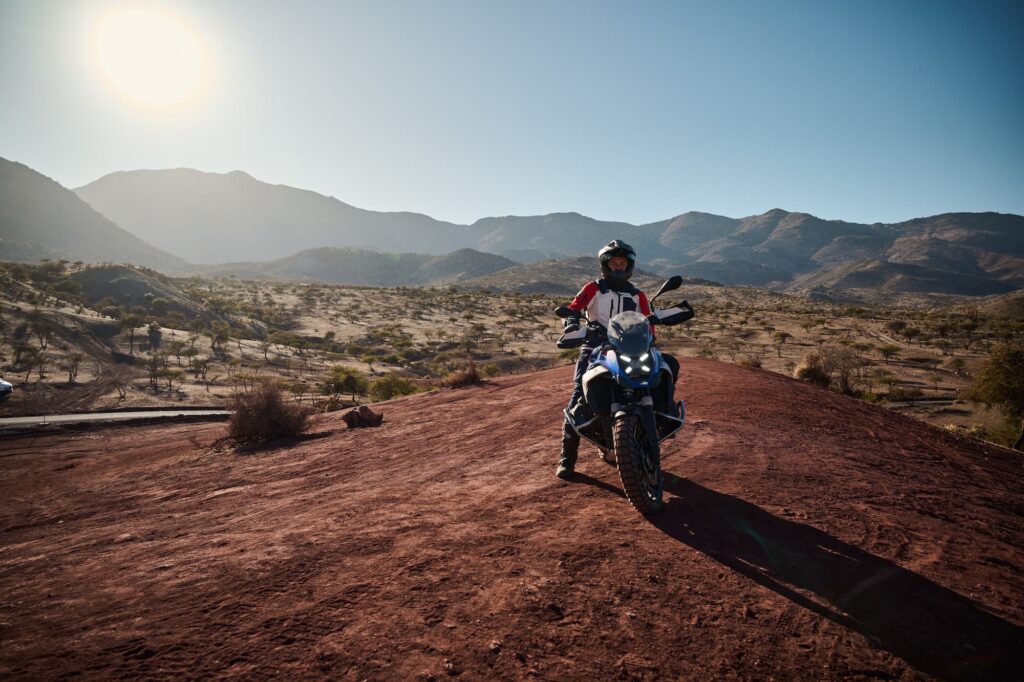 The BMW R 1300 GS is the first GS to get BMW's Active Cruise Control (ACC). Very few motorcycles have this, but BMW has already had it on the R 1250 RT (a classic police bike… cops know all-day comfort!) and the higher-end models of the BMW R 18.
In a nutshell, ACC works like regular cruise, but it also monitors traffic in front of you. If a vehicle in front (at a distance you can set) is going more slowly than your cruise speed, then it dials down the cruise speed.
ACC also has other safety benefits, like lane change warnings and collision warnings.
The Front Headlight
Finally, the front headlight. Some people don't care, but a lot of people seem to, so it's worth mentioning.
Over time, BMW has departed from its asymmetrical headlight design on more and more motorcycles (e.g. the BMW S 1000 RR), and it seems that the R 1300 GS is the first to abandon it in the R – GS line.
I think there are many more important things about the R 1300 GS — which is why I've mentioned this last. But still, headlights are a hot topic in vehicles, and come to be strongly associated with any brand, so it's easy to see why people might be upset by the design direction.
Wrap up
More power, more tech, and less weight — the BMW R 1300 GS is probably going to continue to polarise. Nonetheless, the GS line has been one of the most popular motorcycles in the world (at the premium end) over the past decade. I'm sure this one will fly off the shelves, too — to those who can afford it!