One of the things I really like about my BMW R nineT (and in the past, my BMW R 1200 S) is that it's air/oil-cooled.
There are pros and cons to air/oil cooled vs liquid cooled which are worth looking into further.
In a nutshell, air/oil-cooling means that I don't have to change coolant or worry about coolant leaks/problems, but comes at the cost of lower top-end power, and also more frequent valve service.
I personally ride and like to work on internal combustion engine motorcycles because I know I won't be able to in 20-50 years time (as they become museum pieces). (I have nothing against electric motors… their time will come!)
But regardless of the pros and cons, one thing that's certain is that as time goes on, fewer and fewer motorcycles will be air-cooled (or air/oil-cooled).
I use "air-cooled" as shorthand, but in reality, most of these motorcycles are air/oil-cooled — in other words, they often have an oil radiator at the front.

Older motorcycles lacked oil radiators and were more purely "air-cooled" but only a few of the below meet that criterion.
So the following is a list of motorcycles with "big" or "decent-sized" engines (i.e. excluding 150cc commuter bikes) that are air-cooled and that you can buy new.
Are you obsessed with motorcycles?
Well, I am. That's why I created this site — as an outlet. I love learning and sharing what others might find useful. If you like what you read here, and you're a fraction as obsessed as I am, you might like to know when I've published more. (Check the latest for an idea of what you'll see.)
BMW "Heritage" Air-Cooled Motorcycles — R nineT, R 18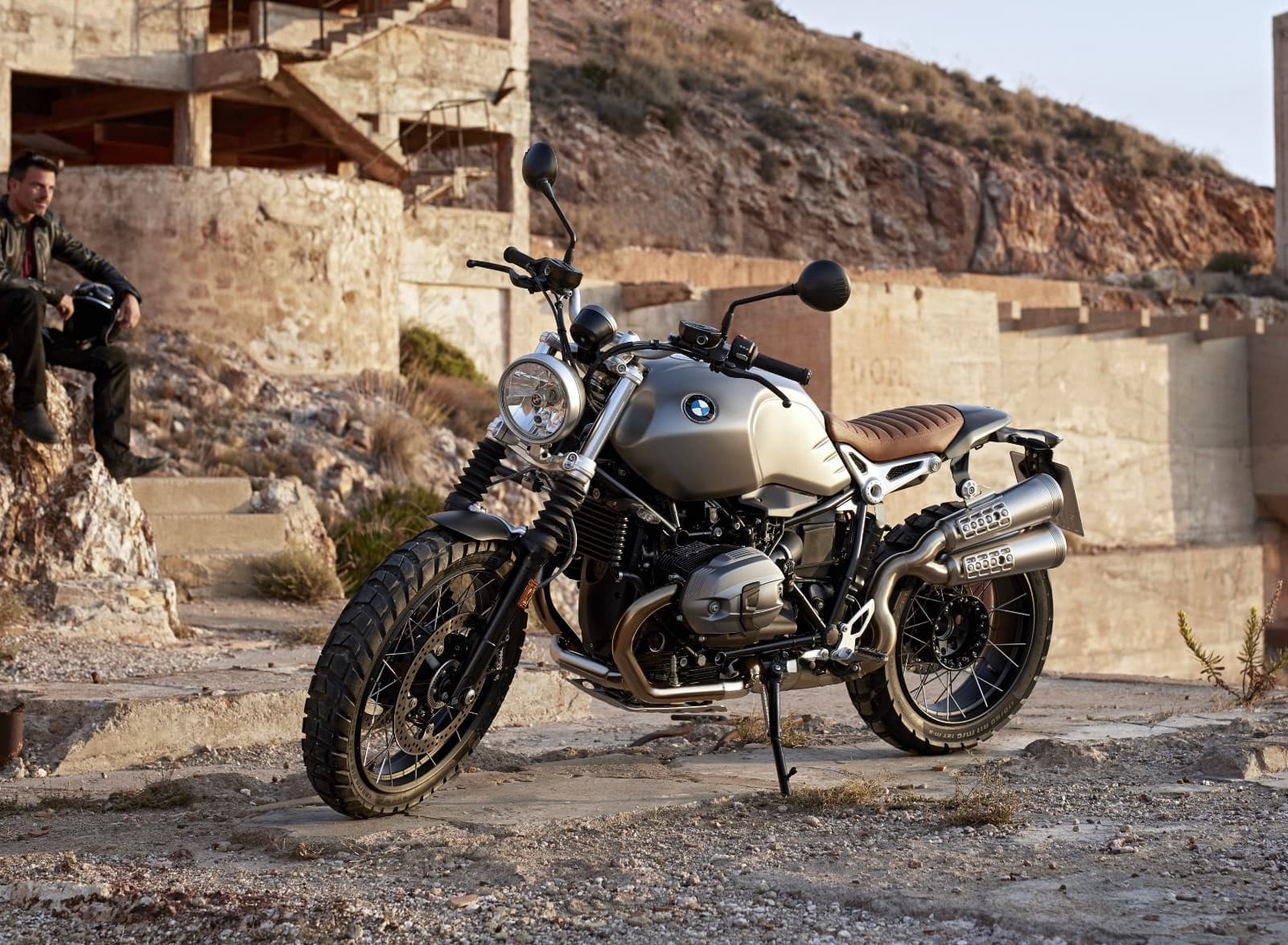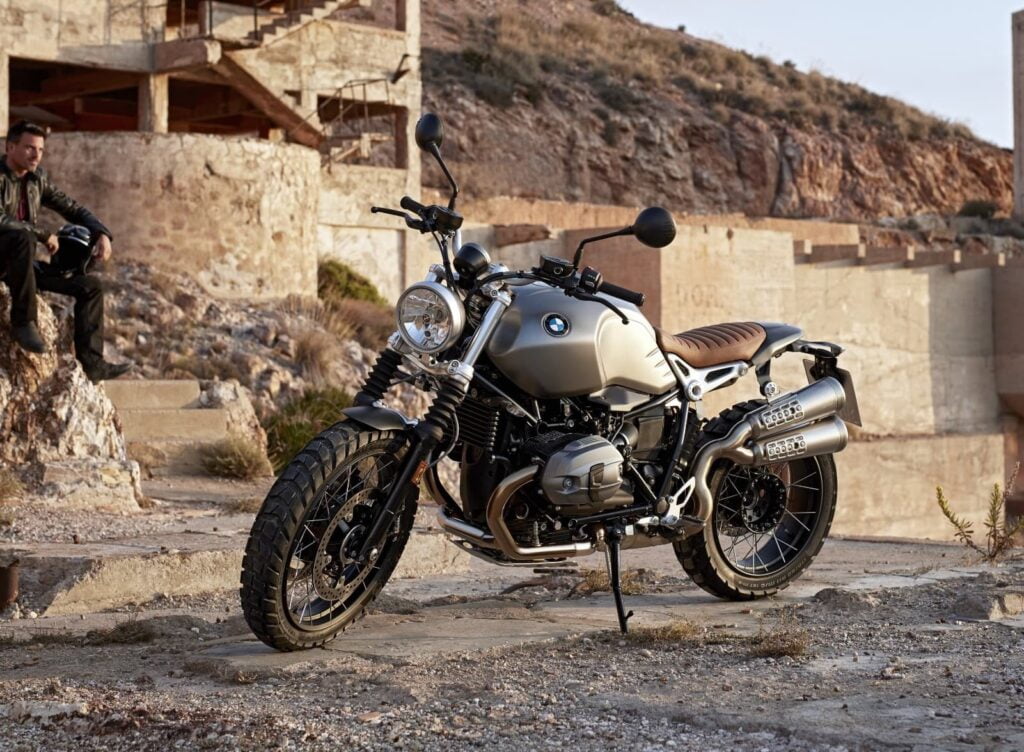 Firstly the BMW R nineT that started this list out. Even as of 2021, with all the tech that an R nineT includes (full ride-by0wire, cruise control, and cornering ABS), they're still air/oil-cooled.
See my guide to the BMW R nineT line, including how it has changed over the years.
This is all the more remarkable because the R nineT's 1170cc DOHC 4-valve-per-cylinder boxer makes a good 81 kW / 110 hp at the crank (with most dynos showing about 70 kW / 95 rwhp after the shaft drive), revving up to ~10 000 rpm — though they get a bit wheezy after 8K or so.
The BMW R nineT uses the air/oil-cooled "Camhead" or "Twin cam" engine that the premium R bikes last saw in 2013/2014, before getting partial liquid cooling (and now full liquid cooling).
BMW released another heritage air-cooled model for 2020 — the BMW R 18.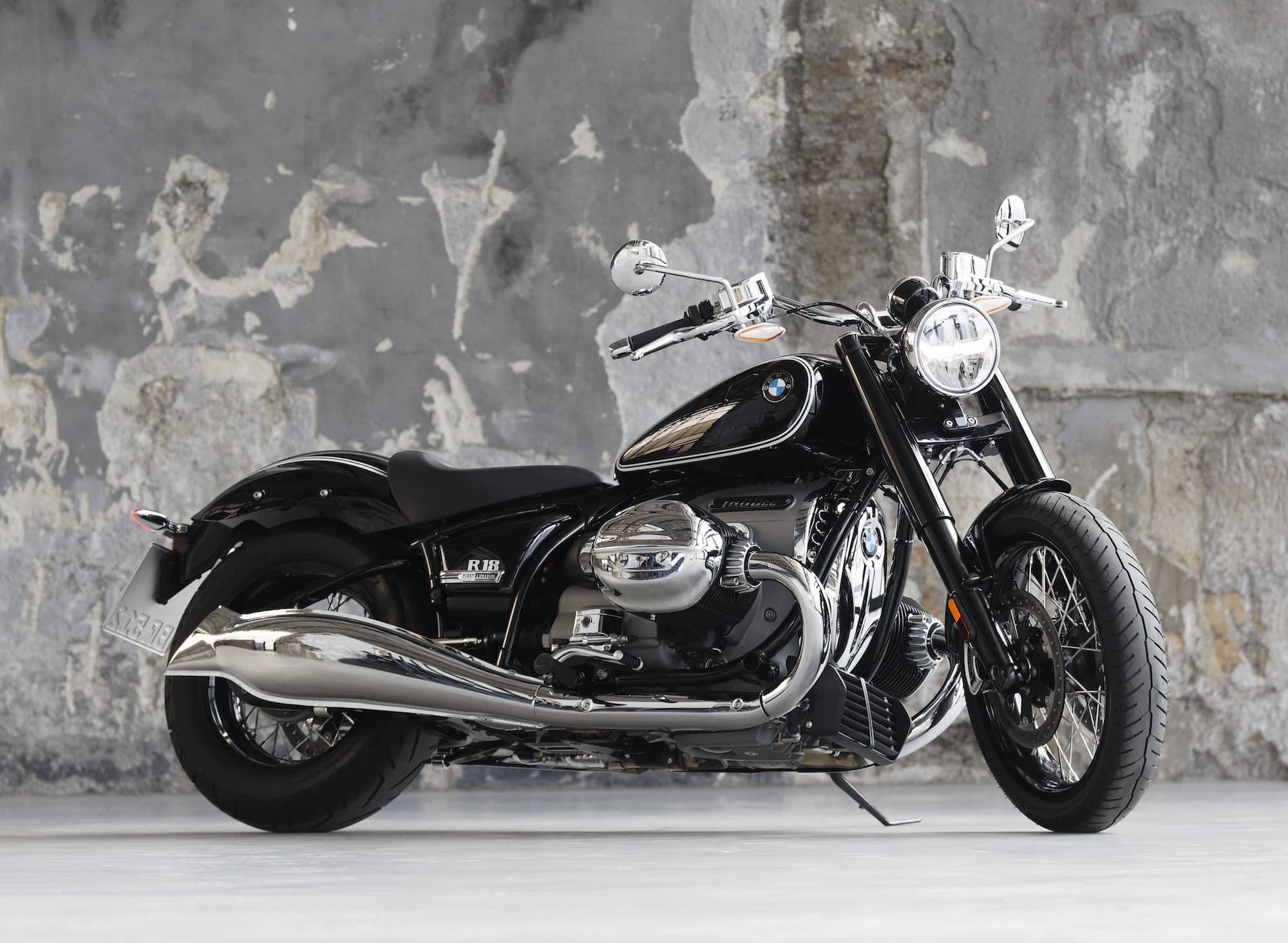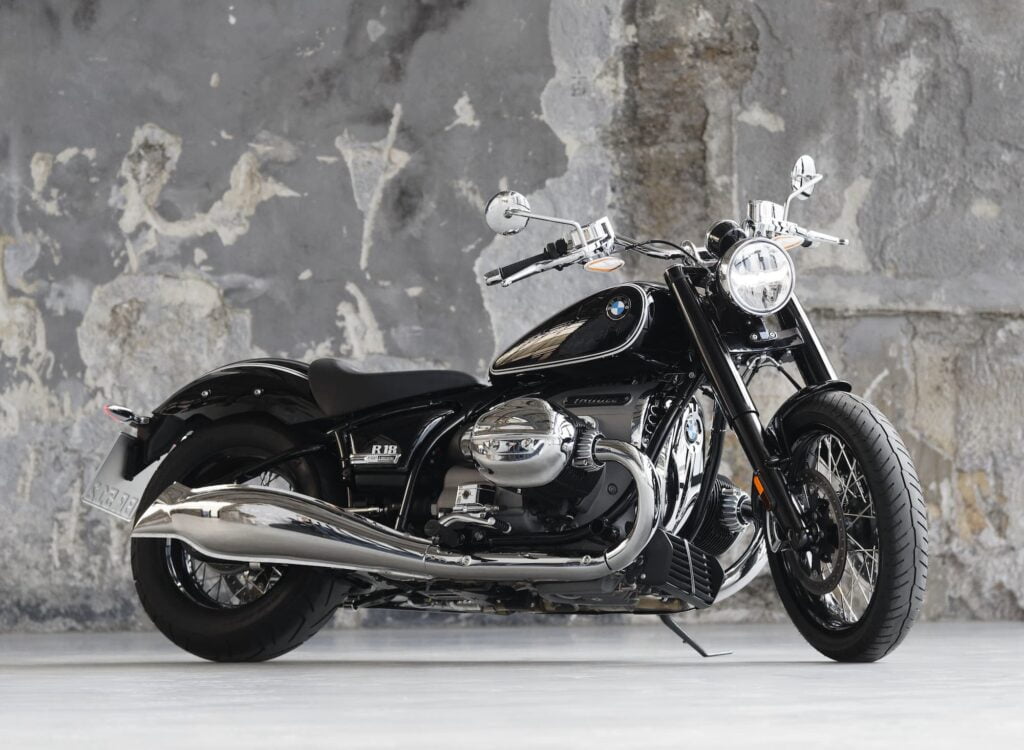 The BMW R 18 has a "big boxer" engine — a 1802cc opposed twin that makes less peak power than the R nineT (61 kW / 91 hp at 4750 4pm), but with enormous torque of 158 Nm (117 ft-lb), most of which is available from 2000-4000 rpm.
What's really interesting is that the R 18 has an all-new engine that's air/oil-cooled (the R 18 also has a little oil cooler at the bottom of the front of the engine). It's not an old engine they're resuscitating from somewhere.
But you can see the impact of the decision to keep it air/oil-cooled — the R 18 makes a lot less peak power than big cruisers of similar displacement like the Suzuki M109R.
Ducati Air Cooled Motorcycles — Scrambler (800 and 1100)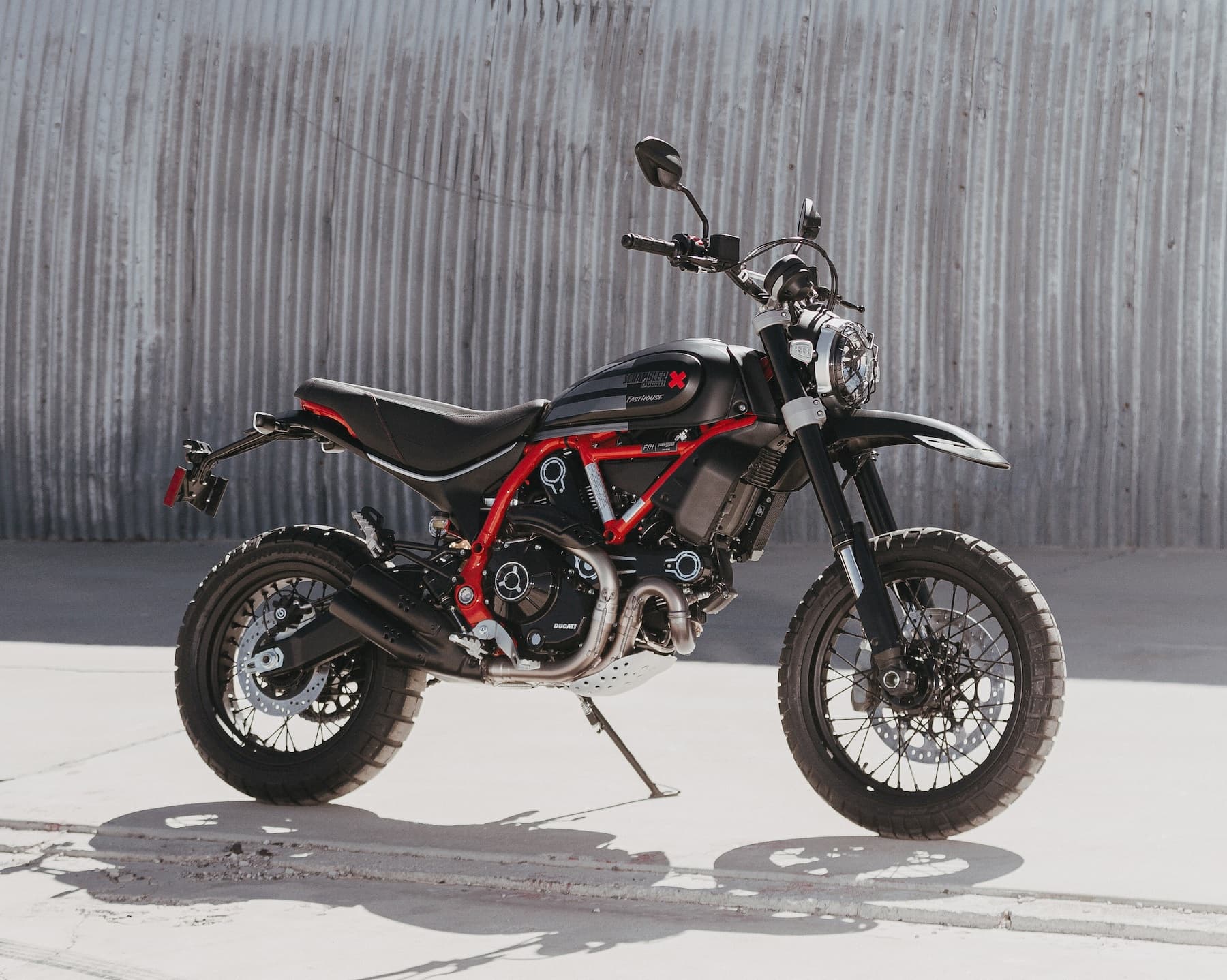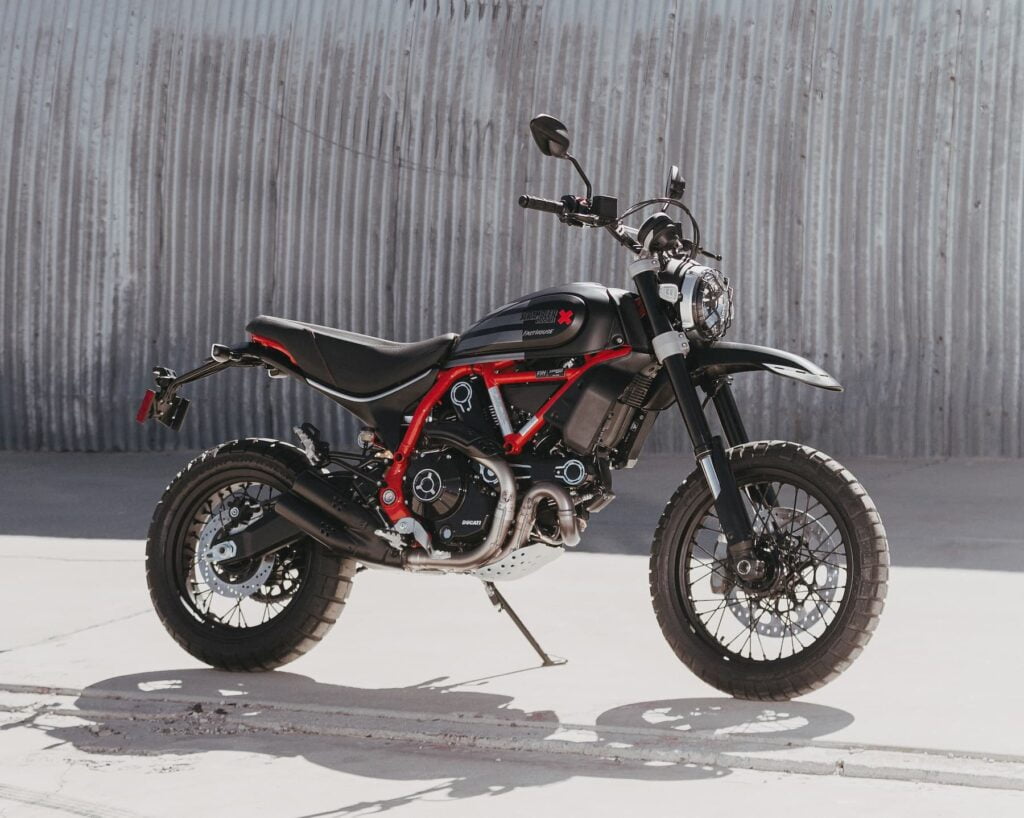 Ducati has been making liquid-cooled race bikes since the 90s, but air-cooled classics for the rest of us.
Like BMW, Ducati keeps some their older engines in play in "heritage"-style motorcycles for regular people. Even their Ducati Monster (which is more of an "everyday" bike than their superbikes) bike has been liquid-cooled since the Monster 1200, but Ducati has kept their last two air-cooled motors alive in their Ducati Scrambler line (official microsite).
The Ducati Scrambler 800 is one of Ducati's modern success stories. It's just known as the Ducati Scrambler, but to differentiate it from the Ducati Scrambler 1100, people sometimes know it as the Ducati Scrambler 800.
The Ducati Scrambler 800 uses an 803cc air-cooled 2-valve-per-cylinder desmodromic L-twin. The engine was last seen on the (now discontinued) Ducati Monster 797, and previously on the Ducati Monster 796 and the Ducati Monster S2R800. Those are good buys used if you want a sportier (and more "classic") bike with the same motor!
See more on the Ducati Scrambler 800 here.
The Ducati Scrambler 1100 is a bigger sibling to the Scrambler (800). It, too, has an engine from a while back — last seen on the Ducati Monster 1100 (and Hypermotard 1100 and Multistrada 1100).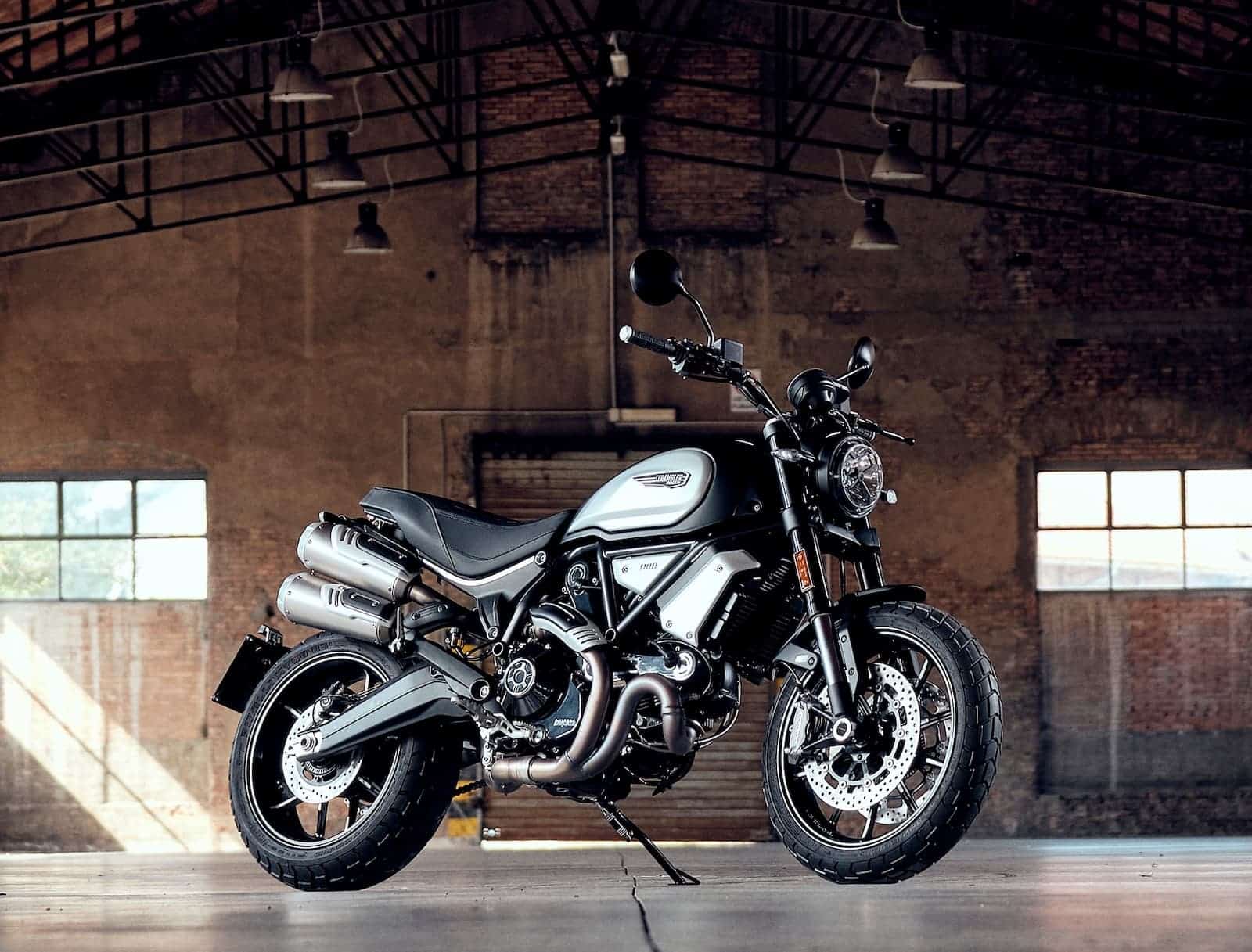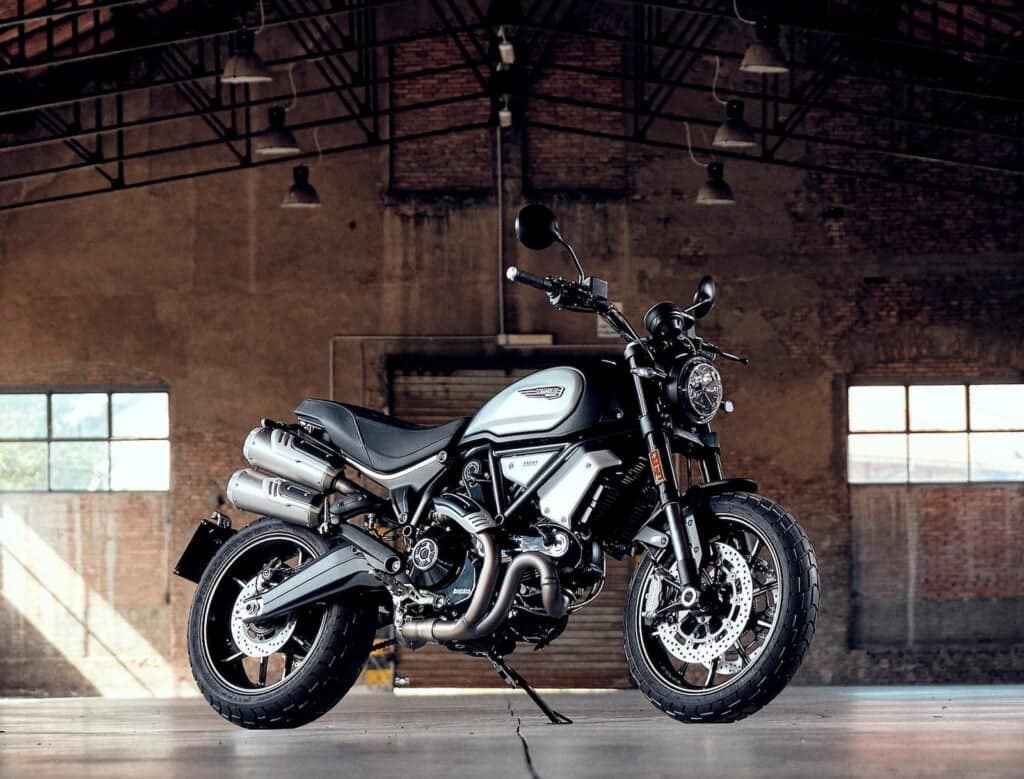 The engine in the Scrambler 1100 is a 1079 cc L-twin, with 2 valves (desmodromically actuated) per cylinder. It runs an 11.0:1 compression ratio and makes a peak of 63 kW (85 hp) at 7500 rpm, with peak torque of 88 Nm (65 lb-ft) coming on at 4750 rpm.
The Scrambler 800 and 1100 models both still have valve service intervals of 12 000 km (7 500 miles) — and frequently need a shim or two swapped out.
Harley Davidson Almost Anything
Harley-Davidson has been known for "big air-cooled V-twins" forever.
But since the release of the V-Rod and its variants, there have been hints of changing times in the Harley-Davidson line-up. Sure, that was a new bike, as was the LiveWire and the new-for-2021 Harley-Davidson Pan America — all liquid-cooled bikes.
It was when Harley-Davidson gave liquid cooling to a bike from an iconic line — the Sportster Line — in the Sportster S that I thought: "Are air-cooled motorcycles days' numbered?"
Still, as of 2021, the vast majority of Harley-Davidson's motorcycles are air-cooled — so their liquid-cooled ones are the exceptions.
The current air-cooled Harley-Davidson motorcycles are all powered by either a variant of the Milwaukee0Eight V-twin, or the Evolution engines in the Sportster line.
The Milwaukee-Eight engines were introduced in 2016 and have eight valves (four valves per cylinder), hence the name. They're 45-degree air/oil-cooled twins and come in 107, 114 (typically in models designated "S" or "114", and 117 cubic inch (typically in CVO models) sizes.
The other major engine line from Harley-Davidson are the "Evolution" engines. Harley has used the Evolution engines in their Sportster line since 1986, as well as from a couple of years before in other lines, which all moved on to other engine variants.
They Evolution engines are quite unique in that they're twin-cam but only 2-valve-per-cylinder engines. In modern times they exist in 883cc and 1200cc versions, the main difference between them being a smaller bore on the 883cc variant, along with slightly different heads to match.
Honda's Air-cooled Bikes — the ancient XR650L and the modern CB350 H'ness
The vast majority of Honda's modern line-up is liquid-cooled. One of the last road bikes to be air-cooled was the CB1100, a heritage model — but Honda has discontinued it.
Honda is still selling the XR650L though in some markets. It's a dual-sport (quite dirt-focused) bike with a 644cc SOHC four-valve air-cooled thumper. It even still uses a carburettor! The XR650L is almost completely unchanged from the original version it made in 1993.
Don't confuse the XR650L with the XR650R — the latter a conceptually similar bike, but one that's liquid-cooled, and higher power.
Honda also released the 2021 Honda H'ness CB350 in some markets. It's also available as the CB350RS, which is the same bike with slightly altered riding position.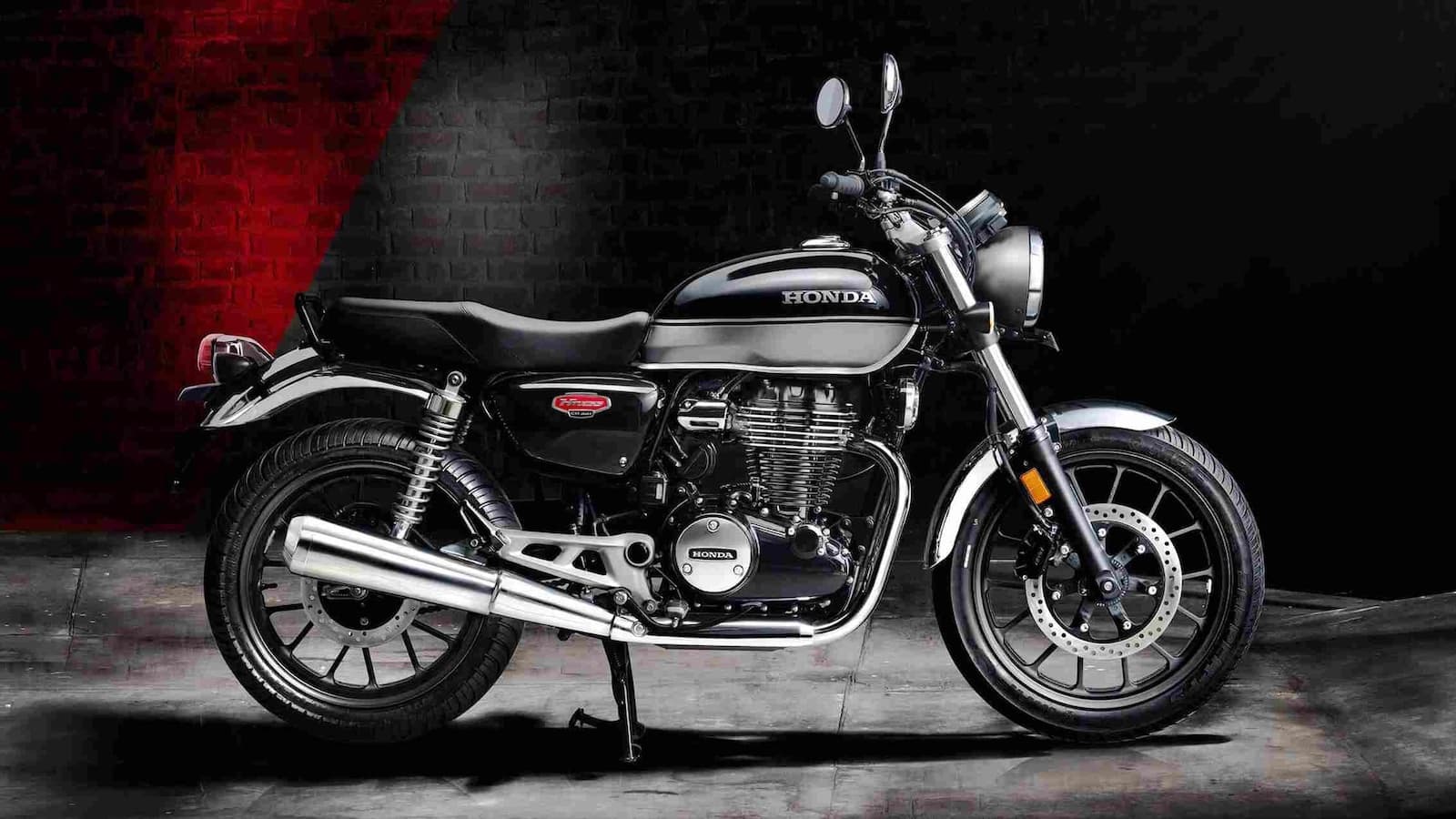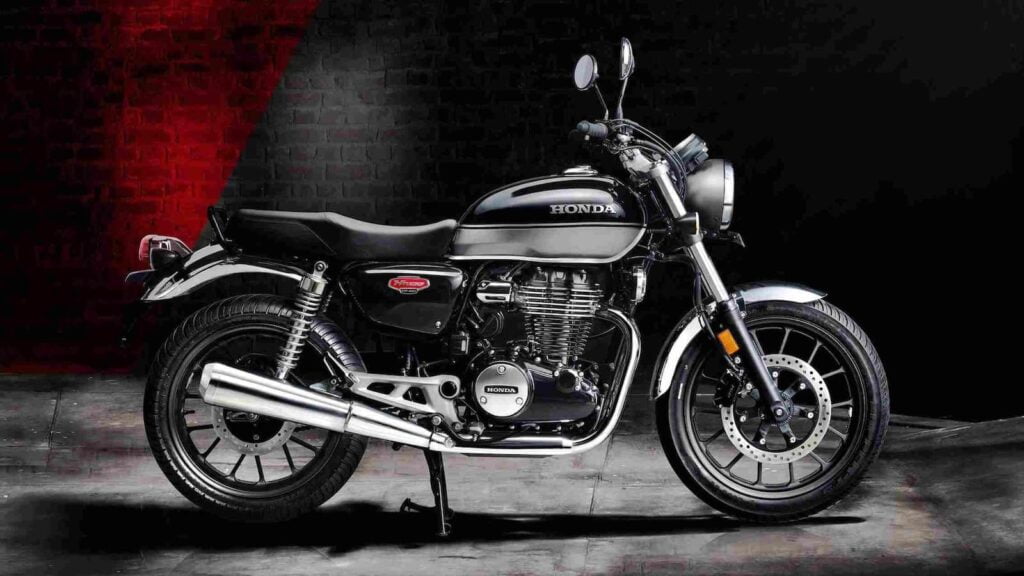 The Honda CB350 H'ness runs a single-cylinder 348 cc engine. It's air-cooled and has a 9.5:1 compression ratio, and makes peak power of 15.5 kW (21 hp) at 5500 rpm.
It's a handsome bike, too, which is probably why it's called the H'ness (pronounced "Highness").
Even though the CB1100 isn't available new any more (discontinued in stages, first in the US, then in recent years in Europe), it's such a nice-looking bike that I'd be remiss to not include a photo and brief mention of it.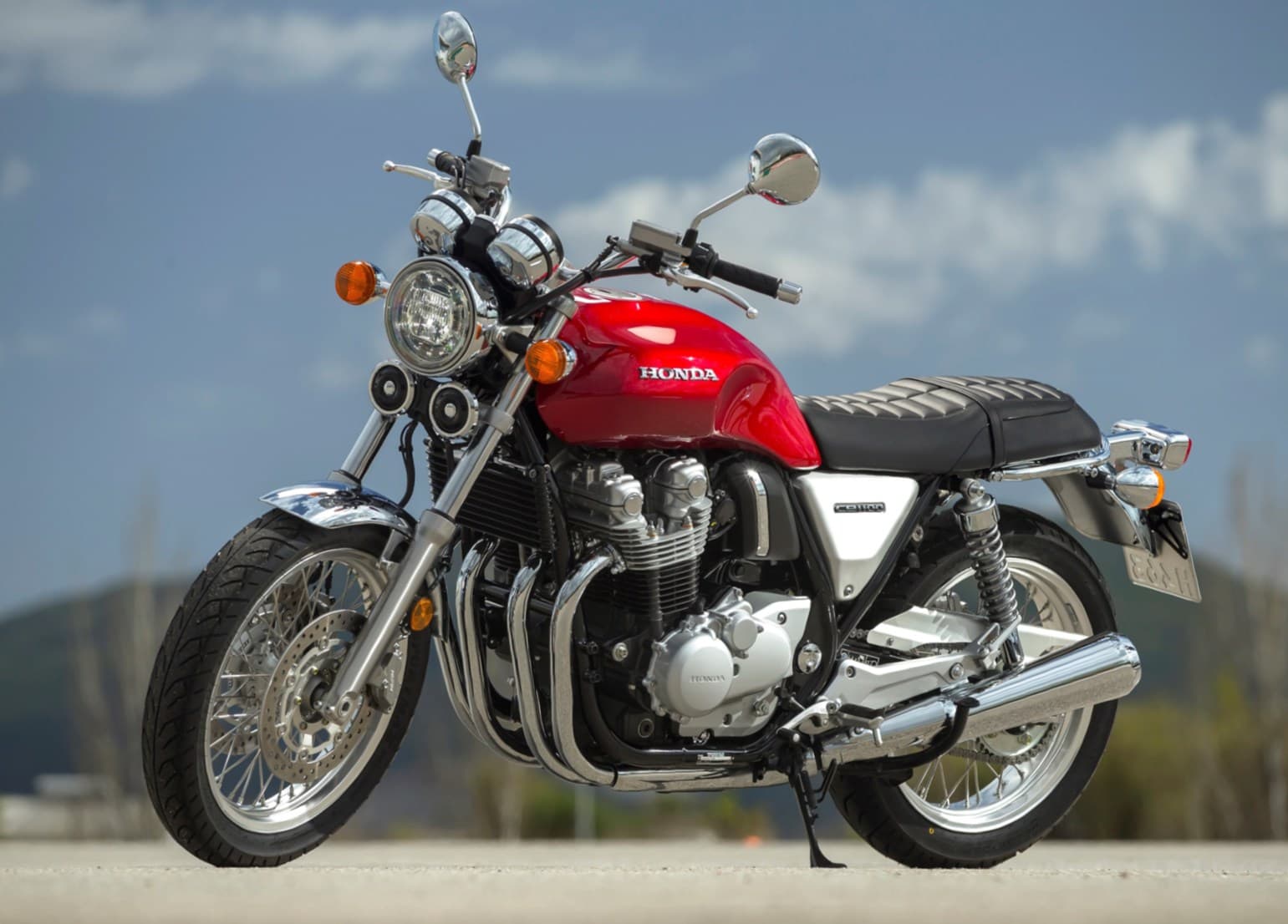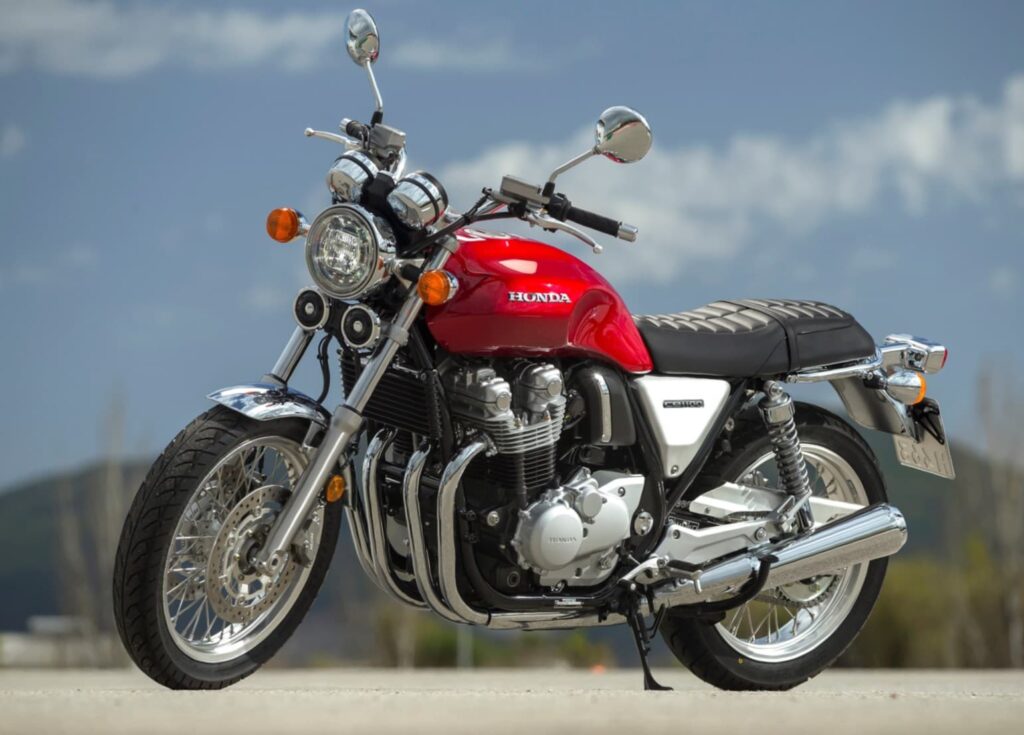 The Honda CB1100 had an air/oil-cooled four-cylinder 1140cc engine with a 9.5:1 compression ratio. It made a "decent" 89 hp (66 kW) at 7500 rpm, with peak torque of 93 Nm (69 ft-lb) at 5000 rpm.
The CB1100 was meant to capture the retro aesthetic of old Japanese UJMs, but basically never quite hit home for reasons best left to speculation on another day, and so was discontinued. I'd love to own one, personally — I rode one once and found it magical.
Kawasaki W800
The Kawasaki W800 is another heritage-designed motorcycle that still has an air-cooled engine. It's a throwback to the W650, and one of a couple of "retro" motorcycles in Kawasaki's range, but the only one that's still air-cooled.
The Kawasaki W800 is available in both standard and "Café" trims. The latter gets you clip-on handlebars and a bullet cowl.
Both models are based on a 773cc SOHC 4-valve-per-cylinder parallel twin engine that's air-cooled. it's truly air-cooled — there's not even an oil-cooler (just as on the W650).
And the W800 runs an incredibly low (for today's standards) 8.4:1 compression ratio and makes a paltry 35 kW / 48 hp, meaning in some parts of the world (like the UK) it's a good first bike.
The Kawasaki W800 has 12000 km / 7500 mi service intervals, similar to the Ducati air/oil-cooled motorcycles.
Indian Motorcycles — Classic Cruisers
Indian has been migrating towards liquid cooling in recent years, for example with the Indian Scout Bobber and the FTR 1200 (now just called the FTR). In fact, Indian now even makes cruisers/tourers with liquid cooled engines — the PowerPlus engine in the Challenger line.
But like Harley-Davidson, Indian's heritage is in air-cooled V-twins.
In the 2021 model line-up the Indian Chief (including the Chief Bobber), Super Chief, Chieftain, Springfield, Roadmaster, and Vintage motorcycles all are powered by the air-cooled Thunderstroke engine, in either 111 or 116 cubic inch configurations.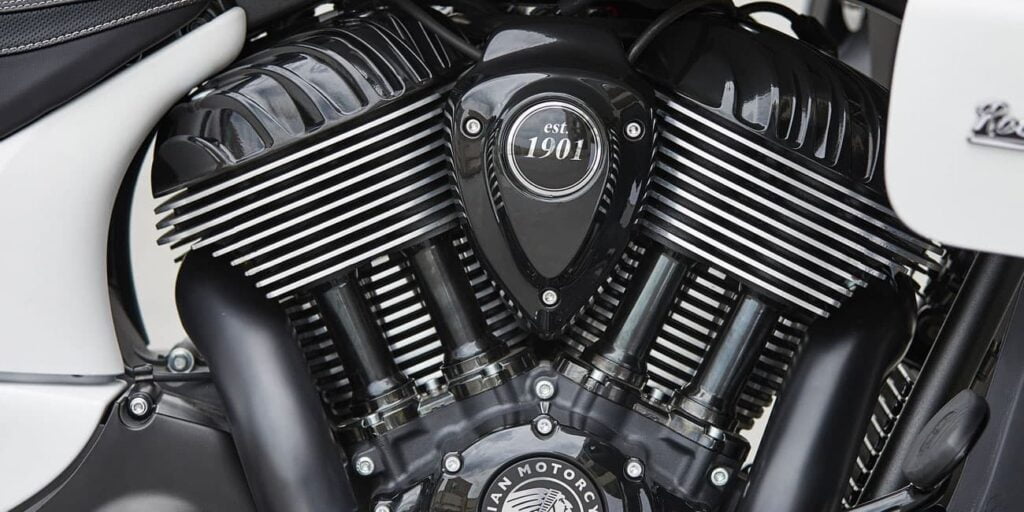 Both Thunderstroke engines are 2-valve-per-cylinder fuel-injected air/oil-cooled V-twin engines with a 49 degree angle. The bikes have a small oil radiator out front.
The Thunderstroke engines have hydraulic valve lifters and three cams — a shared two-lobe intake cam and a separate single-lobe cam for each exhaust valve.
The engine was originally released as the Thunderstroke 111. It's available in the US, but not in every model in every market. The Thunderstroke 111 is an 49-degree V-twin with 1811cc capacity. There are ten giant cooling fins and a 9.5:1 compression ratio — seemingly modest, but quite high for a big air-cooled engine.
The Thunderstroke 116 engine is similar to the 111. It has the same stroke, but 5 more ci (79cc, for a total of 1890cc) of displacement coming from a slight bore increase of 2.2mm. It has an all-new cylinder head, new cams, and a much higher compression ratio of 11:1.
Moto Guzzi… Almost Anything
Moto Guzzi is an Italian brand that produces extremely classic motorcycles. They have an iconic brand and focus on bikes that have character and are aesthetically beautiful — they don't currently produce bikes that would compete on most performance charts.
So nearly all of Moto Guzzi's motorcycles are air-cooled and have shaft drives — until late 2021 just after I published their article, when they announced the Mandello V100!
But still, the vast majority remain air-cooled.
Another thing common to all (I think) Moto Guzzi motorcycles is that the V-twin engine is transversely mounted, which means the cylinder heads are out in the breeze, just like with BMW's boxer twins.
The two motorcycles pictured above are quite different, but both have air-cooled motors with a shaft drive. On the left there's the Moto Guzzi V85 TT, a refreshed-for-2021 adventure touring bike, and on the right is the 2021 V7 Stone Centenario.
Both the above motorcycles share an 853cc air-cooled 90-degree V-twin with two valves per cylinder, but they're in different states of tune on each bike.
Some Moto Guzzi motorcycles are quite decisively air/oil- cooled with not just an oil radiator, but even a thermostat-controlled fan for the oil radiator.
Royal Enfield Motorcycles (e.g. the 650 Twins, the Himalayan)
At time of writing, every motorcycle from Royal Enfield is air-cooled.
Royal Enfield is another old-school brand. It's literally old. For decades they produced their motorcycles unchanged, but in the last couple of decades they've been updating their motors and releasing new models.
So it's unsurprising to find air-cooled motors in their old motorcycles like the Bullet line. But it's more interesting for recently-released motorcycles with new engine designs, like the 650 Twins — the Interceptor and the Continental GT 650.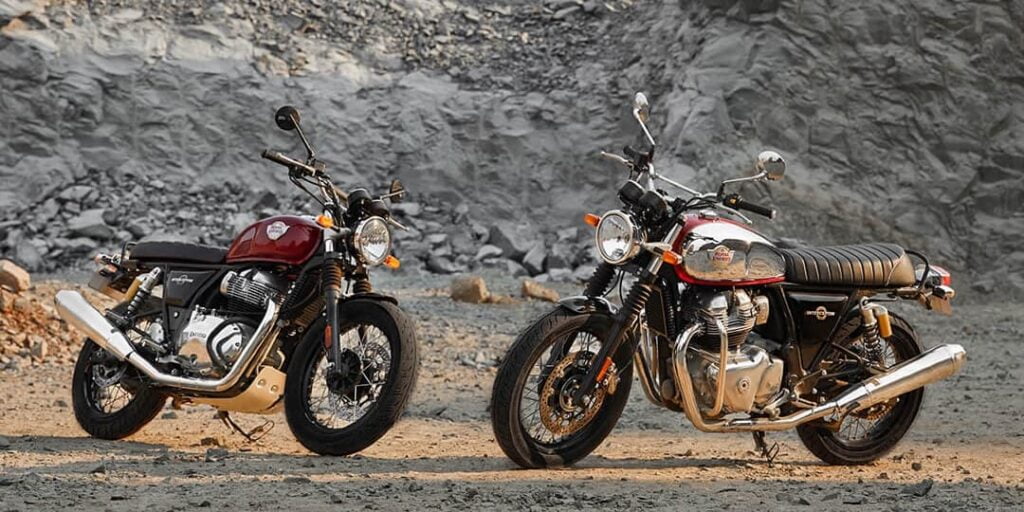 The Interceptor 650 and Continental GT 650 are based on an air/oil-cooled 648cc SOHC 4-valve-per-cylinder parallel twin engine with a 270-degree crankshaft for a bit of "character".
They Royal Enfield twins run a modest 9.5:1 compression ratio — which keeps temp down, but also means that they can run sketchy fuel from anywhere around the world (these are popular in their home country, India, for example). No premium needed for these bikes!
The Royal Enfield air-cooled twins produce a correspondingly low peak power of 35 kW or 47 hp, but nobody is counting horses on these bikes as they're too busy enjoying the scenery.
Other recently-released motorcycles from Royal Enfield, like the Himalayan and the Meteor 350 (see the comparison with the Honda CB350), are also air-cooled.
Suzuki Air-cooled Thumpers — Boulevard S40, DR650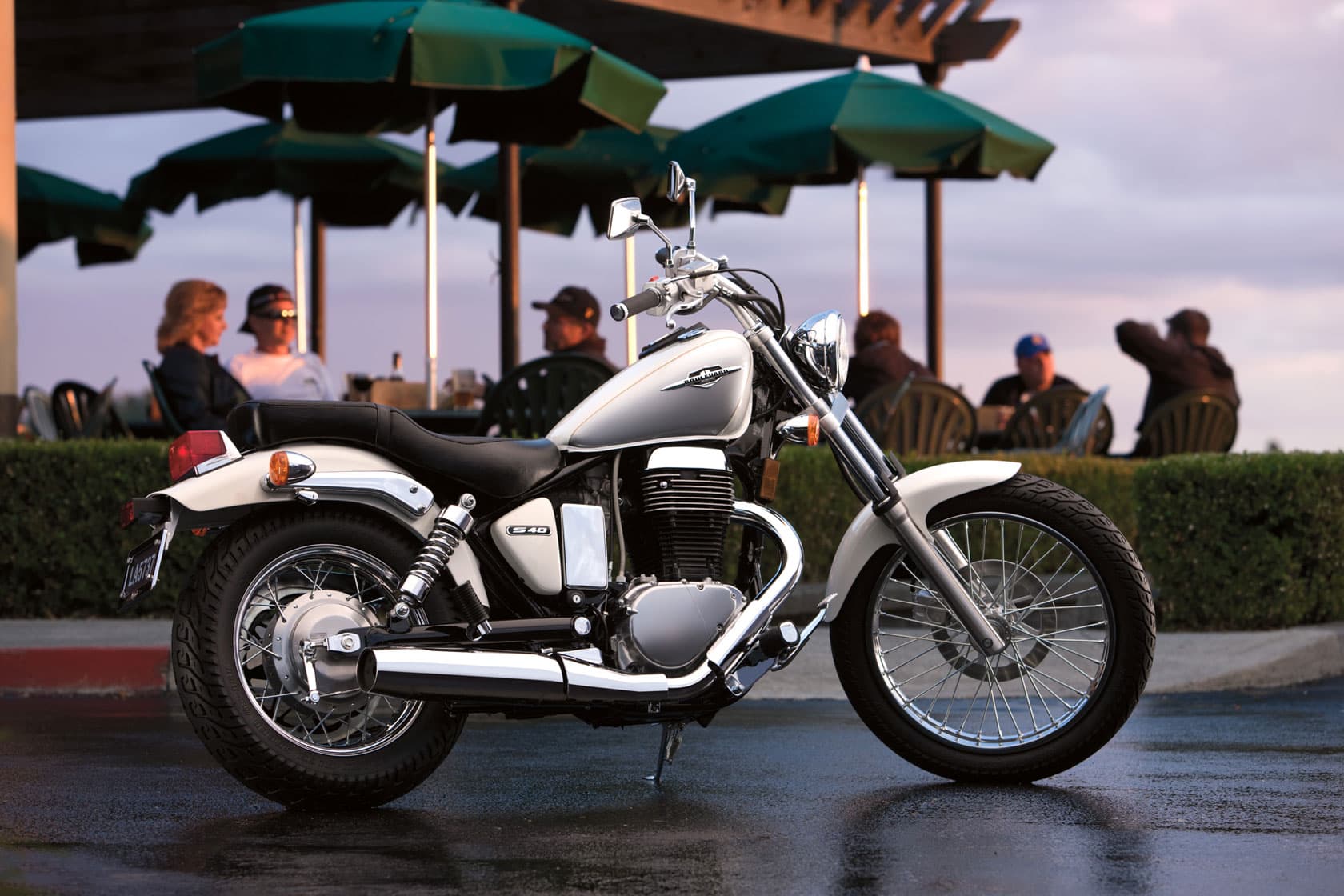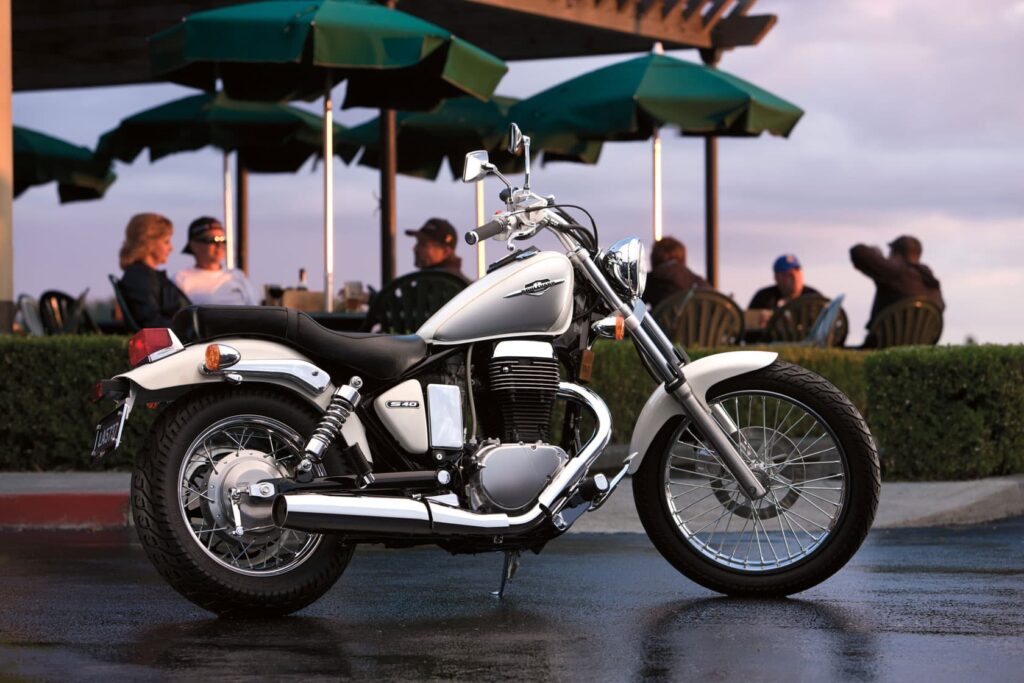 A quite unusual bike is the Suzuki Boulevard S40, which is also known as the Suzuki LS650 Savage (or just Suzuki Savage). It has been discontinued in some markets (e.g. the U.K.), but is still available in a few.
The Suzuki Boulevard S40 is based on a single-cylinder SOHC 652cc engine. It's air-cooled, carburettor-fed, and has a compression ratio of 8.5:1.
The S40 is a popular learner bike because of its low power output (it makes around 23 kW / 31 hp), low seat height, and low weight without having to try too hard. But its days are probably numbered due to it being carburettor fed and not having stock ABS.
Suzuki also still makes the Suzuki DR650 in its original, air-cooled, carburetor fed form.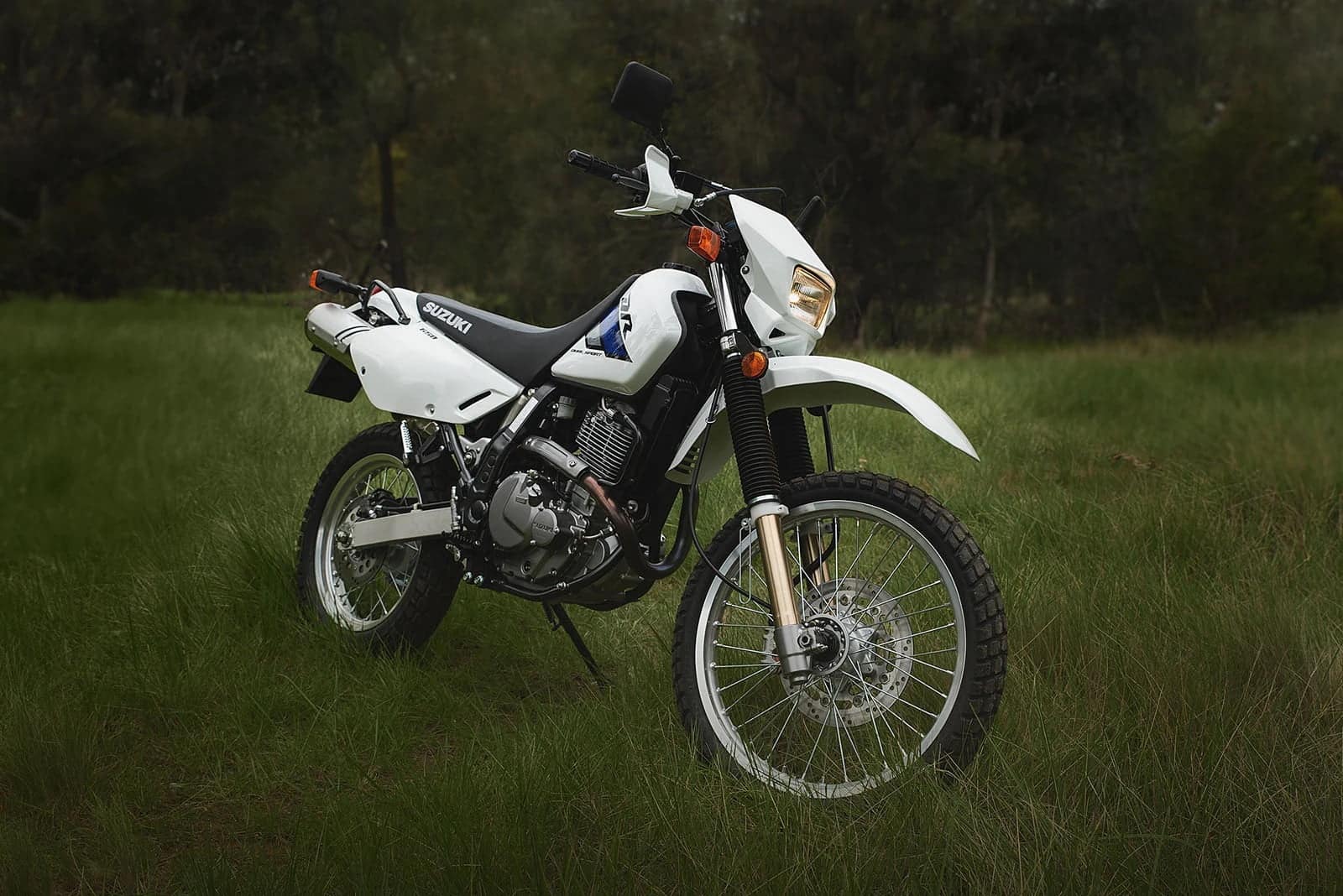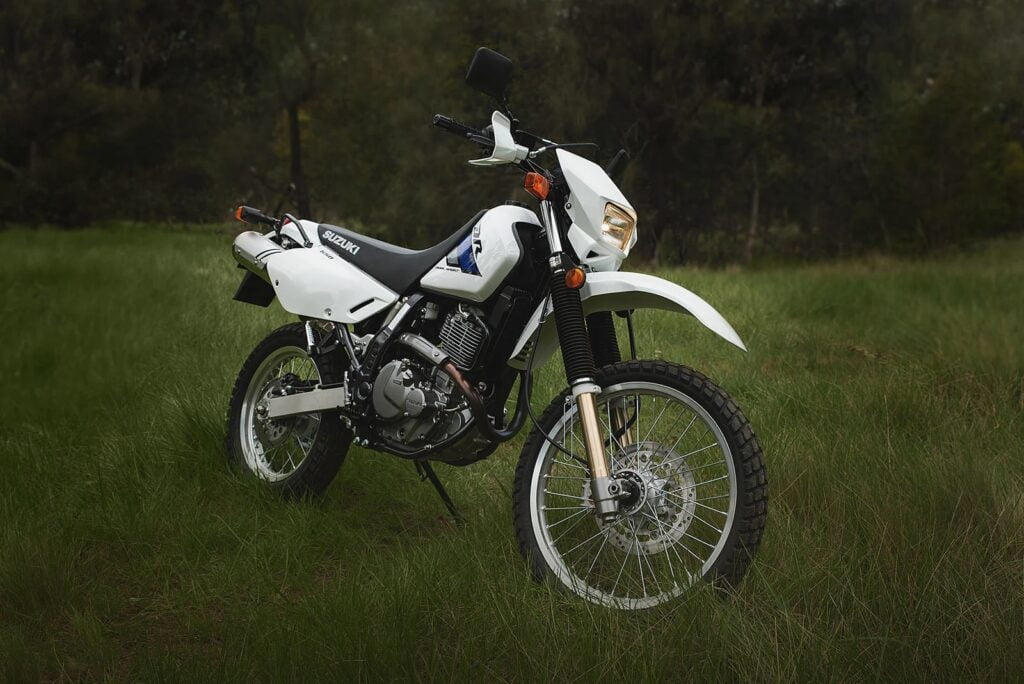 The DR650SE is an old, old motorcycle, basically unchanged for decades. It's powered by a SOHC 644cc 4-valve motor with a 9.5:1 compression ratio. It's from the days when electric start was a feature worth mentioning.
The DR650SE not available everywhere, but is still available new in some markets.
Yamaha — Bolt (and variants) and SCR950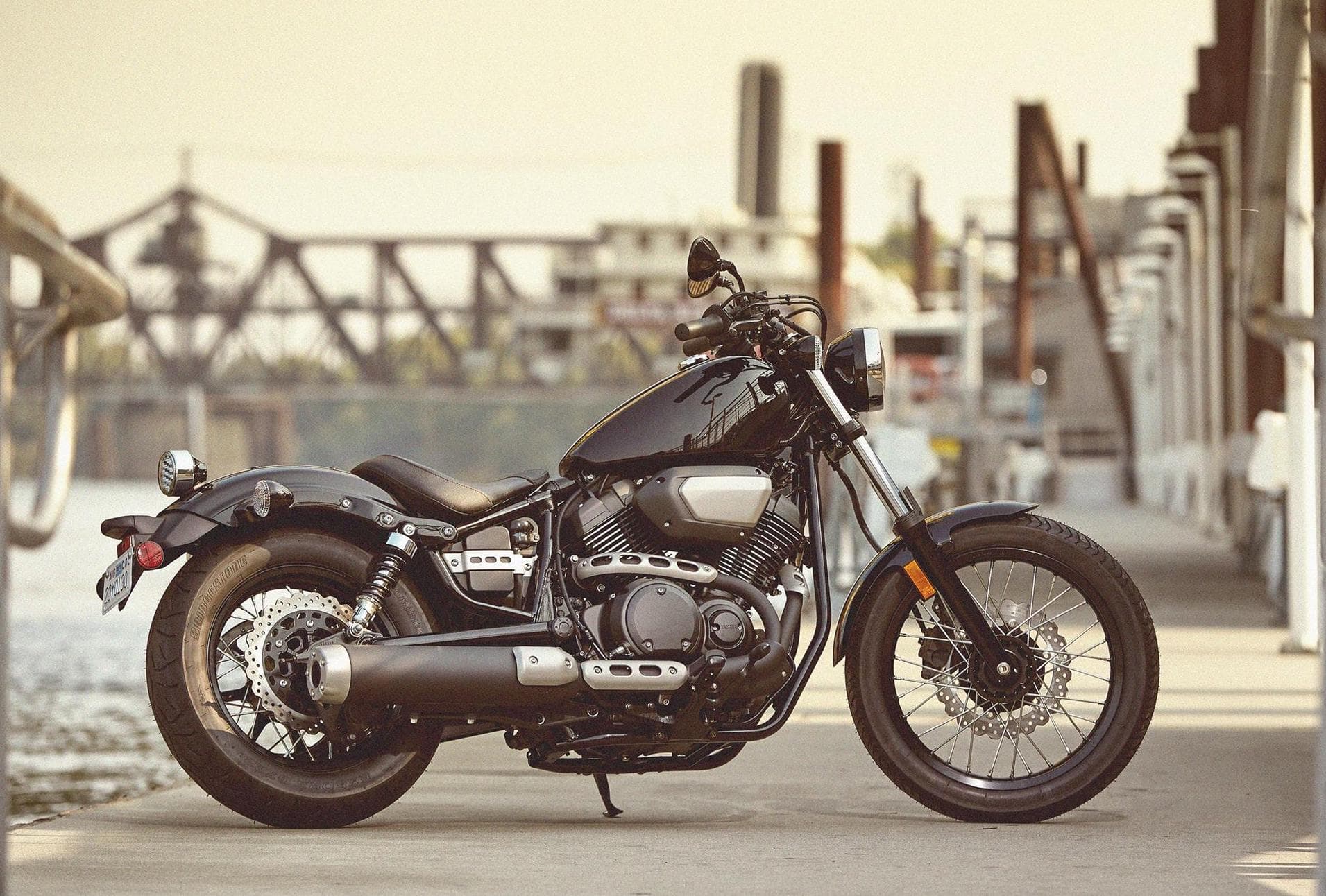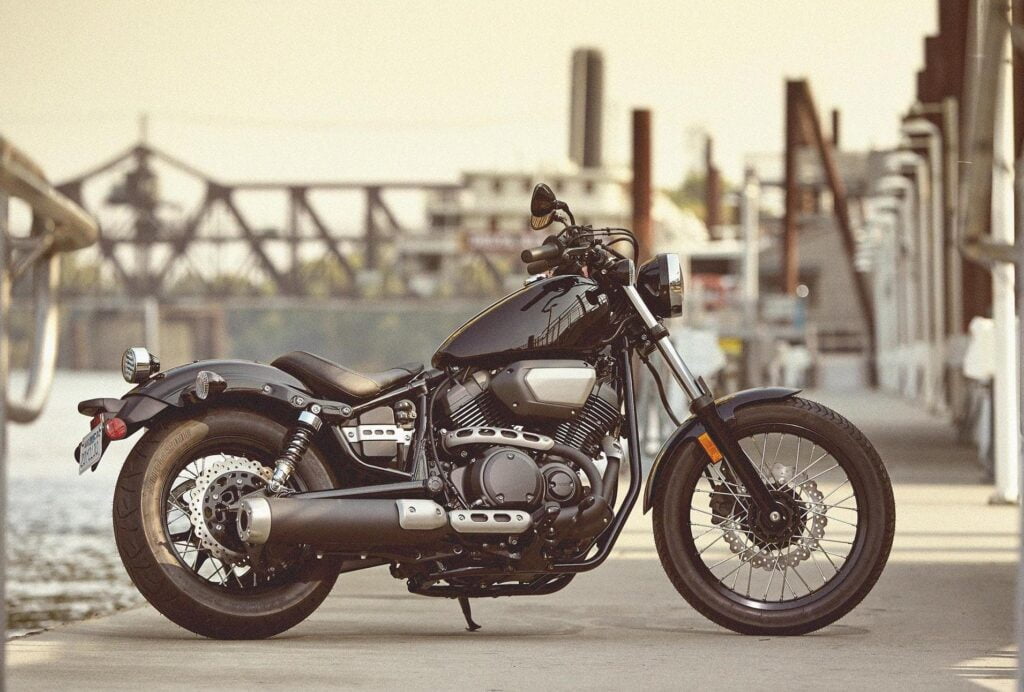 The Yamaha Bolt (and its associated models, like the SCR950) are the only air-cooled Yamaha motorcycles you can buy new these days.
The Yamaha Bolt has been a popular retro bike for Yamaha. It's based on the same air-cooled engine as in the V-Star 950, but the Bolt is a lot cooler!
The motor is a 60-degree air-cooled SOHC 4-valve V-twin with a 9.0:1 compression ratio. It doesn't produce much power and the bike is quite heavy — but it isn't designed for going fast. It's really a Japanese-built alternative to the Harley-Davidson Iron 883, going after the same target market.
The same engine in the Bolt is used in a few other motorcycles, including Bolt variants (R-spec, C-spec), the SCR950 "Scrambler", and of course the V Star 950, also known as the Drag Star 950 (last produced in ~2016, though some variants lingered a few years as old stock).
See our Yamaha Bolt buyer's guide for an explanation of the variants.
Until 2017, Yamaha also produced the very retro SR400 — based on an air-cooled single-cylinder SOHC 2-valve engine. The SR400 was so retro that it only had a kickstarter! You can find quite a few of these used, I think because unless you're a die-hard collector, kick starters get old.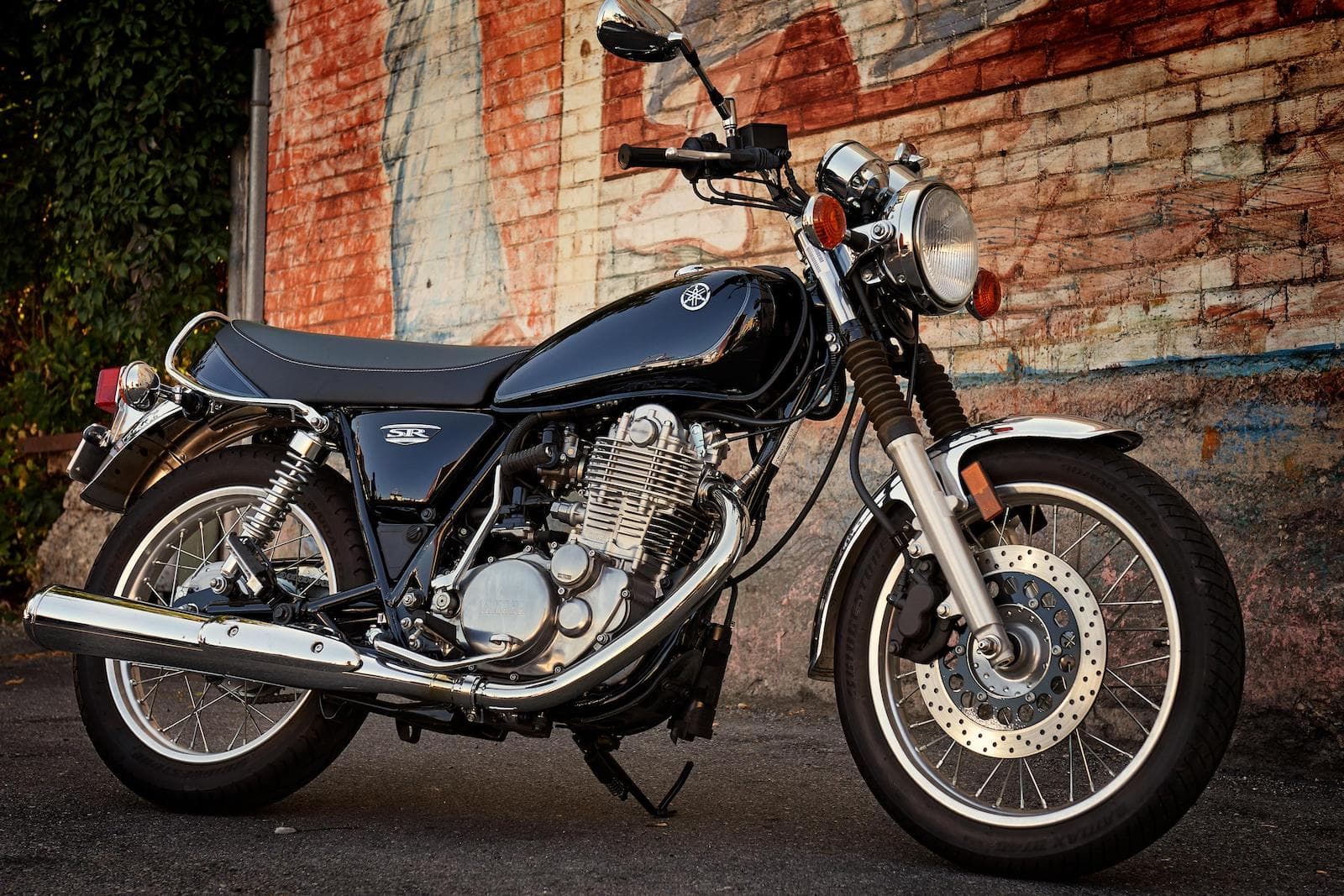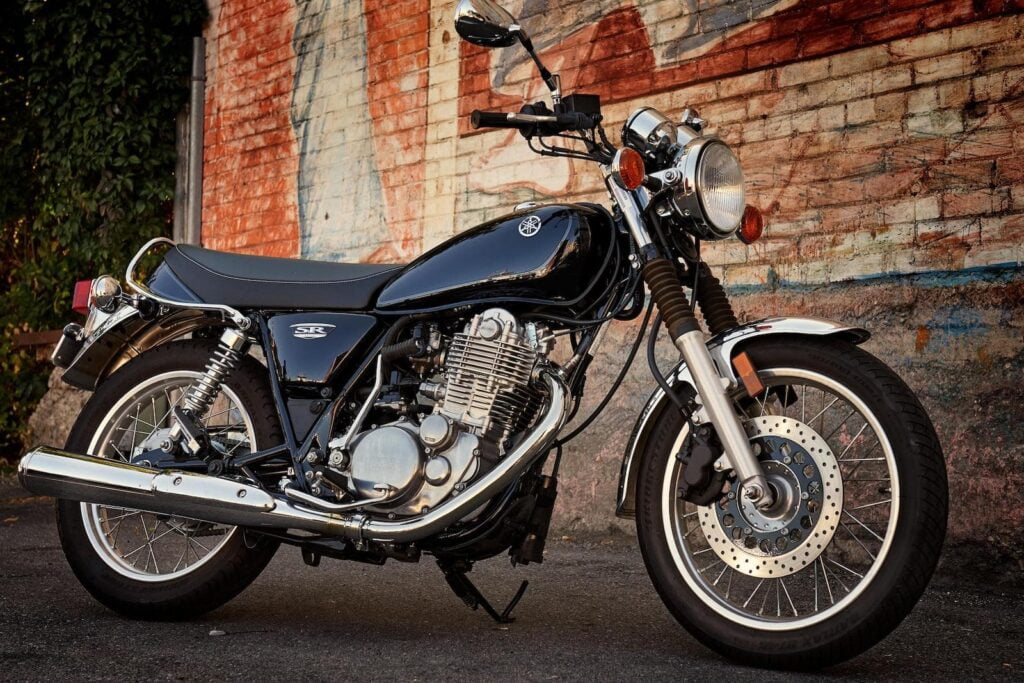 Air-cooled Motorcycles not on this list
There are many low-capacity motorcycles that are purely air-cooled.
It's easier to meet emissions and noise regulations with small-capacity air-cooled motorcycles. So there are many smaller-capacity dual-sports and pit bikes that have air-cooled engines.
One of the prominent exceptions to the above list is the Honda Grom and its siblings (the Monkey and Super Cub). They all have a 124cc air-cooled 2-valve single and are "modern" bikes.
Similarly, the Kawasaki Z125 has a 125cc air-cooled single. This is another "modern" bike. It has ABS and even a fuel gauge!
But to include those would seem rude to all the other sub-200cc air-cooled single-cylinder motorcycles, including the commuters and dirt bikes produced by Chinese and Indian manufacturers like Qianjiang and Jawa (and many others).
One thing interesting to me is that Triumph isn't on this list. It's interesting because Royal Enfield's twins and Kawasaki's W800 are often seen as trying to capture the Triumph hipster market — but Triumph's twins have been liquid-cooled since 2016, even their smaller-engined Street range.
Also, I may have missed a few, despite my obsessively looking through motorcycle releases and dealerships. If I have made an omission please kindly let me know.