I had an informal chat with Guillermo Cornejo, founder of Riders Share a couple of weeks ago. Riders Share is a motorcycle marketplace that lets you share your own motorcycles with other riders in the community.
I wrote up my notes (the non-confidential parts) because with Guillermo it was both interesting and inspiring to any of you who want to open a business in an area you're both passionate about and in which you believe there's a big opportunity.
[Want to know about using Riders Share to make side-hustle money on motorcycles? Read my full review here.]
If you're a motorcyclist and you've ever wanted to ride a Ducati Panigale, you know you have four options:
Buy one for around US$25K on-road (plus an insurance bill that's equal to a whole used Ducati Monster every year)
Borrow one from a quite wealthy and generous friend, if you're lucky enough to have one
Keep dreaming, dreamer
Rent one from Riders Share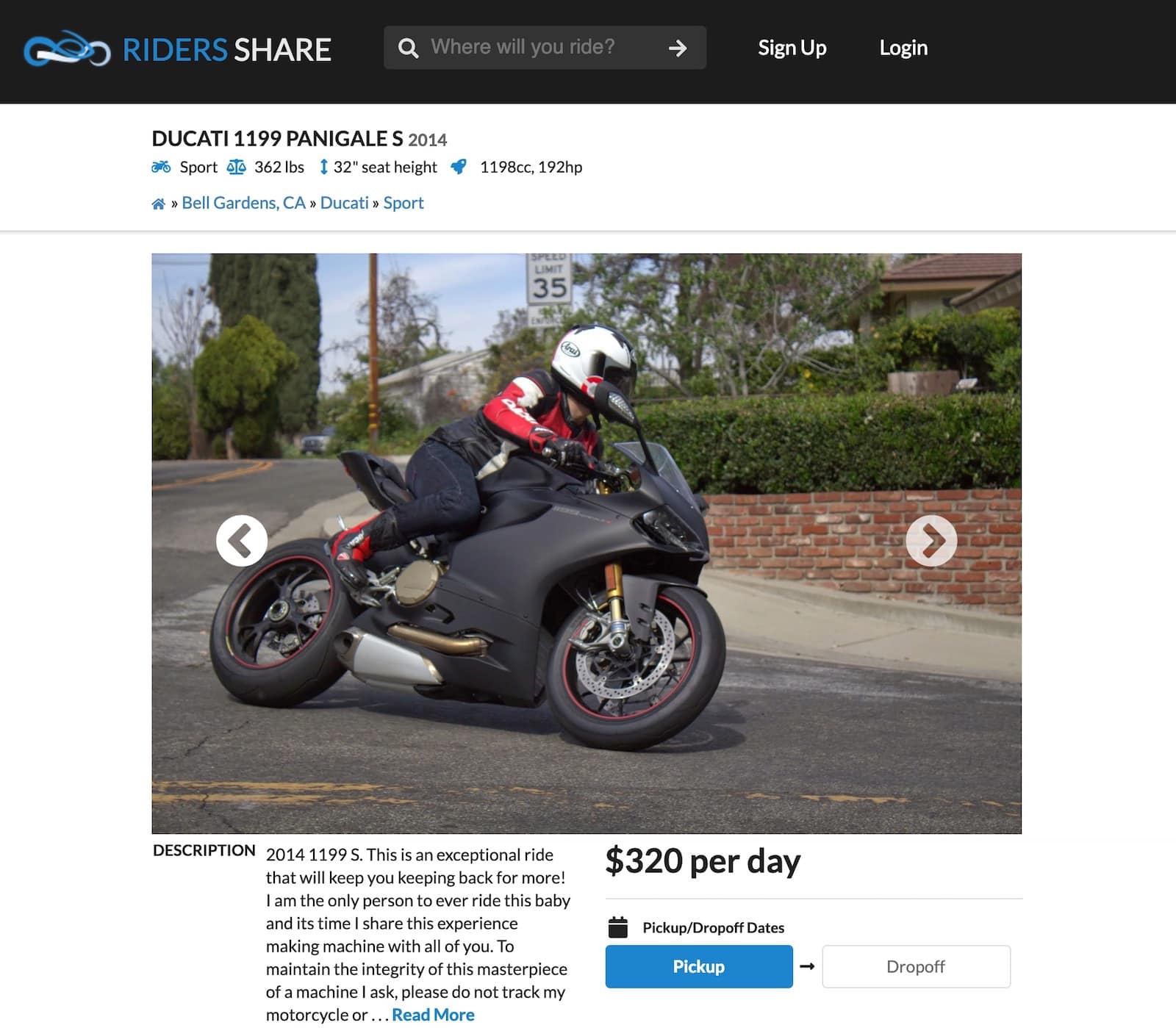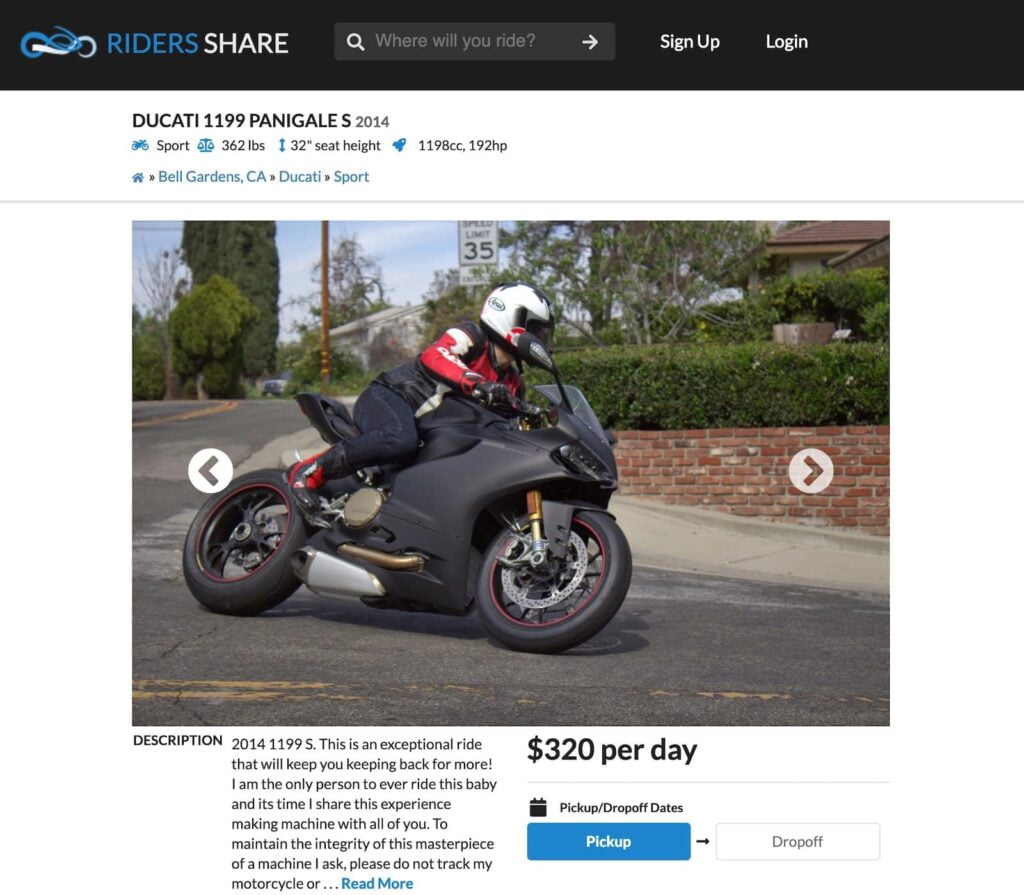 Are you obsessed with motorcycles?
Well, I am. That's why I created this site — as an outlet. I love learning and sharing what others might find useful. If you like what you read here, and you're a fraction as obsessed as I am, you might like to know when I've published more. (Check the latest for an idea of what you'll see.)
What's Riders Share? (a quick background)
Riders Share is one of the latest marketplaces to spring up. This is focused on motorcycles. The only other major motorcycle marketplace is Twisted Road. Both Twisted Road and Riders Share have around 1,000 motorcycles (give or take) in their inventory at the time of writing.
The idea is: if you have ever owned a motorcycle, you've probably a) owned more than one at once (some say "5" is the magic number) and b) lamented at how some or all of your motorcycles never get ridden.
So you consider selling them. But is there an easier way? Yes: Rent them out to fellow riders, most of whom will take care of them.
Guillermo founded the marketplace basically for this reason. "I have this sweet Ducati Monster," he thought. "But I'm not riding it enough. Why isn't there an easy way to rent it out?"
The early, temporary version of Riders Share
In phase one of the Riders Share website, I admit I wasn't optimistic about its prospects.
The website was functional, but the experience wasn't very modern. It was clunky, slow and the interface was not friendly. I nevertheless uploaded my motorcycles, but didn't get any pings.
Then I got an email saying my photos had been accidentally deleted and needed to be uploaded.
Then I got an email saying they were shutting down for 6 months or more as their insurance provider had pulled out.
Admittedly, I thought this was the end of Riders Share. But not yet. Six months later, they refreshed, almost into an entirely different company.
The refresh of Riders Share
I was quite surprised when Riders Share announced they had a new insurance partner, early in 2018.
I was even more surprised when I saw they relaunched their web page… and it looked a LOT slicker.
Not knowing Guillermo at the time, I had given them up for dead when they lost their insurance partner. I asked him recently how he got through that period.
He told me it was two things:
"We had confidence in the underlying business model." Other motorcycle rental operators were making money at higher prices. Car sharing companies were making money. There was a gap in the market and he intended to fill it. (Like any good MBA, he immediately showed me the deck he had made!)
"We took the opportunity to improve the website." Guillermo was aware it could do with a refresh, and he and his co-founder went away to do it, using their downtime to their advantage. And they didn't tell anyone about it — it was just a pleasant surprise.
What's unique about motorcycle rentals
"We're not in the transport industry," Guillermo told me. "We're in the tourism industry."
People don't rent motorcycles in the US because they need them. They rent them for fun.
If you need to get around town in a city or go on a road trip, you're much more likely to rent a car, or maybe an RV.
But if you want to cruise down Highway 1 in California or the Pacific Highway in Australia, you're more likely to be doing it for fun. Motorcycling is rarely the most practical option, all things considered, in developed countries. (Looking forward to your edge cases or definitions of "practical". You're preaching to the choir.)
This is anecdotally true from the people who rented from me (I did around five transactions on Riders Share, and received many more enquiries). They all had some trip in mind and wanted to do it on a motorcycle.
What does it mean that motorcycle rentals are part of the tourism industry? Three things:
Utilisation is far lower for a motorcycle than it would be for a car or an apartment
People want a machine that will satisfy a desire for fun: a bagger Harley for a road trip, a fun Ducati, or a BMW with all the luggage and accessories. Motorcycles unlikely to go rented are: scooters, small motorcycles and anything boring. Nobody is going to rent your commuter Sym 150… unless they just need it to do a test!
Seasonality is very strong, with people much more likely to look for a motorcycle during heavy travel seasons.
Alternatives to Riders Share
There are two main sources out there.
Option 1: Rent from Twisted Road. I have limited experience with them, but I didn't like the interface as much. That's all I can say! The experience is likely to be the same, overall. I don't know if they provide insurance or anything.
Option 2: Rent from an established shop, like DubbelJu. The advantage is they're more experienced at motorcycle rentals. The motorcycles are much more likely to be in rideable condition. Insurance is easier.
(Update 2021 post-pandemic: DubbelJu has shut down. They sold off their stock mid-2020. Businesses that own assets fell into troubled times.)
Perhaps most importantly with renting from a shop, there are many times when you can pick up and drop off in different cities. When I had my motorcycle on Riders Share, I got this request about 1/3 times. It's a VERY popular criterion, and one people are willing to pay more for.
The downsides of renting your motorcycle out
There are many reasons people wouldn't and shouldn't rent their own motorcycle out. I listed them here on my full review of Riders Share as an owner. Basically, most people don't want to rent out their primary transportation, their primary fun vehicle or something they love. It's similar to letting someone into your home, except it's also far more intimate.
There's a lot that can go wrong. I generally wouldn't recommend renting out a motorcycle unless you're experienced at maintenance and repairs.
For example:
A renter can crash your bike, leading you to having to make an insurance claim (don't worry, Riders Share has an extensive insurance policy. But it's still paperwork.)
It will be harder to sell your motorcycle if people know you rent them out, which they will with very little googling.
There can be many, small, troublesome issues that came up over time. For example, one renter bent my handlebars in an imperceptible way and another blew my fork seals. I didn't notice until it was time to sell the motorcycle.
In general, there's definitely risk involved. But if you can find a more cost-effective and practical way to own five or more motorcycles than to rent them out, I'm all ears.