As if the announcement of the Panigale V4 — the first departure for Ducati from a V-twin setup since decades ago — weren't surprise enough for the motorcycling world: Ducati is going electric. This is the first reveal of a Ducati electric motorcycle that will eventually race in the MotoE.
Ducati already announced in October 2021 that it's going to be the supplier for the FIM MotoE championship (a support class of the MotoGP series) starting from 2023, replacing Energica. This took a lot of people by surprise.
Even though Ducati in 2019 CEO Claudio Domenicali had said "the future is electric", he had said as recently as early 2021 that Ducati is waiting for the right moment. He (like all of us) knows that battery weight and range compete, and he doesn't want to release either a heavy or low-range motorcycle.
You might also be interested in the Triumph TE-1 electric motorcycle prototype.
But that doesn't meant that Ducati still can't race. Yes, racing is taxing on battery life. But it's not like a rider, who demands to go 150 miles (at a reasonable minimum) between fill-ups, and doesn't want recharges to take more than 10 minutes (let's say). Electric riders compromise currently with partial to total recharge times of 30-60 minutes, making excuses to have a snack — but ICE riders rarely stop for that long (not every stop, and almost definitely not every 150 miles).
So, without further ado, here's the MotoE prototype, photographed in static form on a track: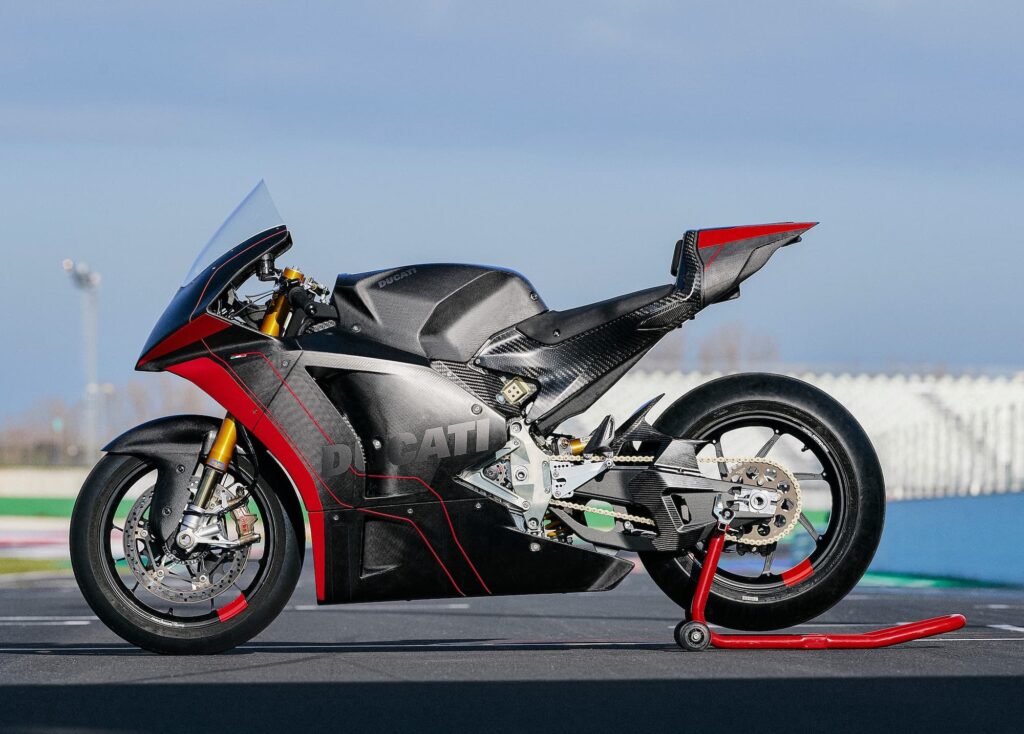 This photo demonstrates in a nutshell is where Ducati (and other leading motorcycle manufacturers — yes, including Harley-Davidson) inevitably have an edge over Zero and other new electric motorcycle brands: quite a lot of a motorcycle is not the engine.
In addition to these images, we have the commentary from Michele Pirro, test rider, who mentioned that the bike is "light and already has good balance", and that "if it weren't for the silence and for the fact that in this test, we decided to limit the power output to just 70% of performance, I could easily have imagined that I was riding my bike."
So what does this mean? This is a fast, high-performing bike.
What else can we observe from the photos:
Brembo brake calipers, unsurprisingly — monoblock radial mounted calipers, probably the latest gen
Öhlins suspension front and rear
Double-sided swingarm (similar to the current Ducati MotoGP bikes)
A lot of carbon fibre (not as much as current MotoGP bikes)
No clutch lever (this isn't obvious — some electric bikes still have a gearbox, and/or clutch for other reasons)
Apart from the clutch lever, many parts on Ducati's MotoE motorcycle prototype are still lower spec and consumer-grade when compared to the 2021 MotoGP bike, the 2021 Desmosedici GP.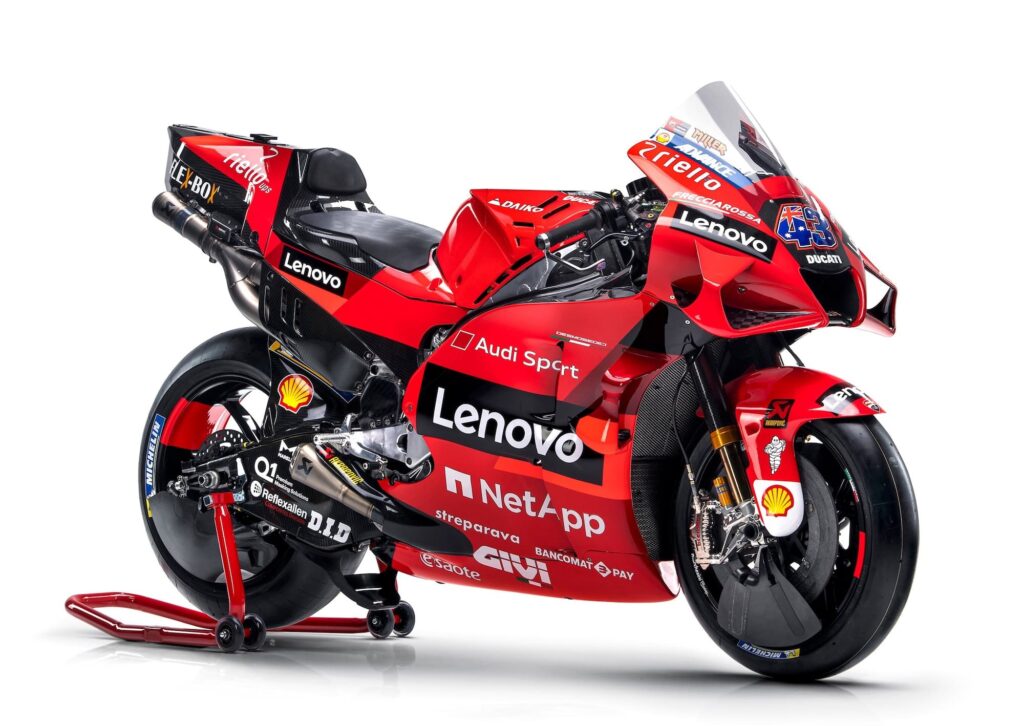 The Ducati Desmosedici GP has, for example
Much more carbon fibre in general
Winglets
More advanced-looking front suspension with carbon outer tubes
Carbon brake discs
which has carbon fork tubes, carbon brake discs,
One thing that's interesting to observe is the chain drive on this, Ducati's first electric race bike. There are traditional front and rear sprockets, the front with 16 teeth and the rear with 42 — a ratio in the common range of ratios seen on ICE bikes. This means that the gearing of the bike is something that will be customisable with current off-the-shelf components.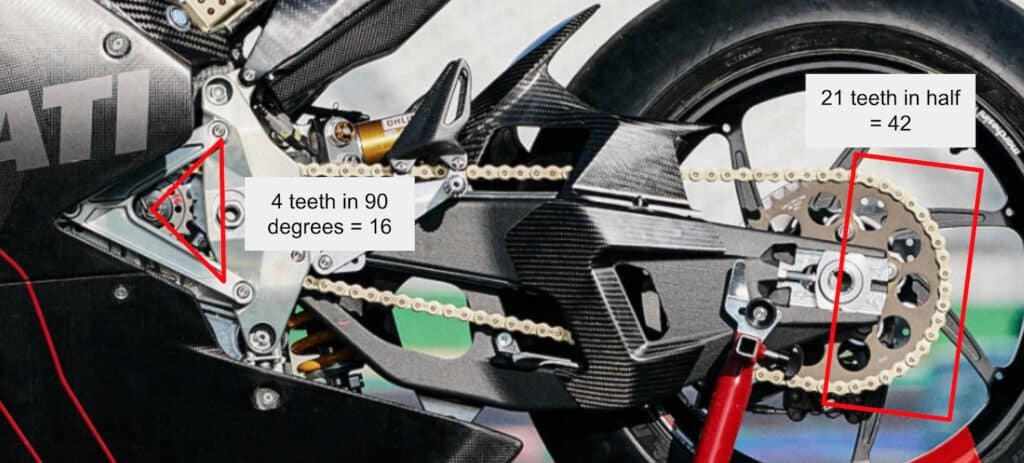 See here for more of a discussion on motorcycle gearing and its impact on speed.
Another interesting thing is that with no clutch, the bike will rev continuously from launch speeds all the way to the top speeds required on a track — in excess of 300 km/h. In practise, this is going to feel a lot like riding a motorcycle that revs from zero to over 40000 rpm. I can't wait to see what that's like one day on a track…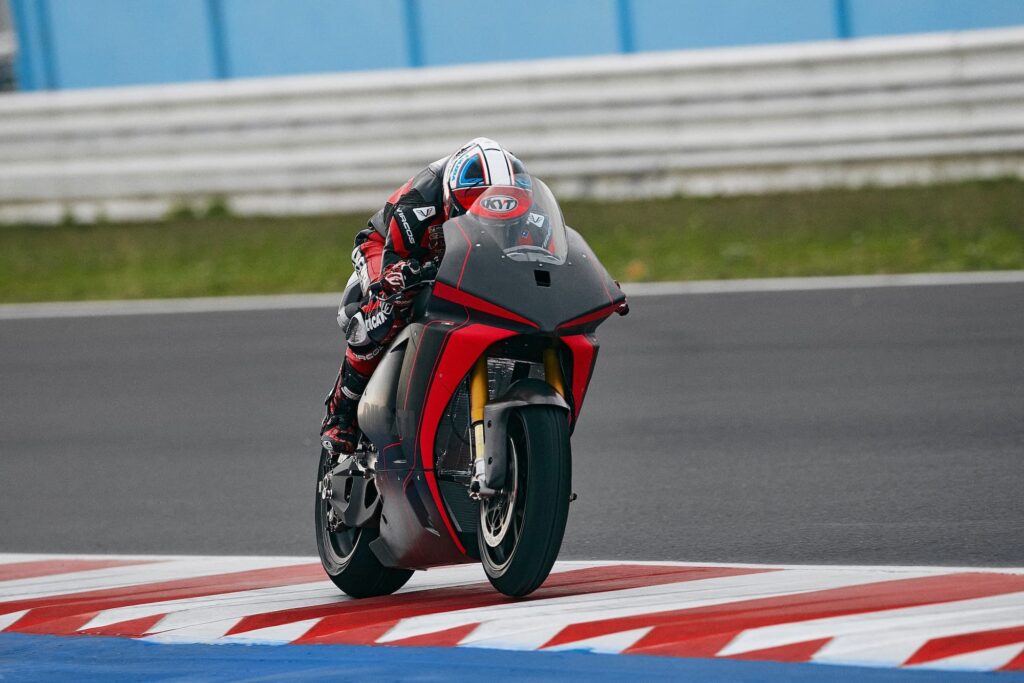 Ducati states in their press release that their intention is to create a road-going bike. It's likely that a final consumer Ducati electric motorcycle will be as similar to the MotoGP bike as the current Ducati Panigale V4 is to the 2021/2022 MotoGP bikes. So basically, we can expect lower-end but still good suspension, less carbon fibre, and lighting/mirrors. And a pretty high price tag.
We're all looking forward to the time when Ducati can get passable range and still an acceptable out of a Ducati electric motorcycle — and maybe they'll me me put one through its paces…