On Feb 9, 2022, Triumph showed us first pics of their first electric motorcycle — named the Triumph TE-1 Prototype. It's now out of testing and development phase and they're trying to build a viable motorcycle for the road.
The press release is pretty technical, mostly talking about the collaboration with Williams Engineering and the goals for the next phase
Here are a few things that stood out from the press release and photos that I think are worth mentioning.
You might also like to read about Ducati's recently announced 2023 electric MotoE prototype.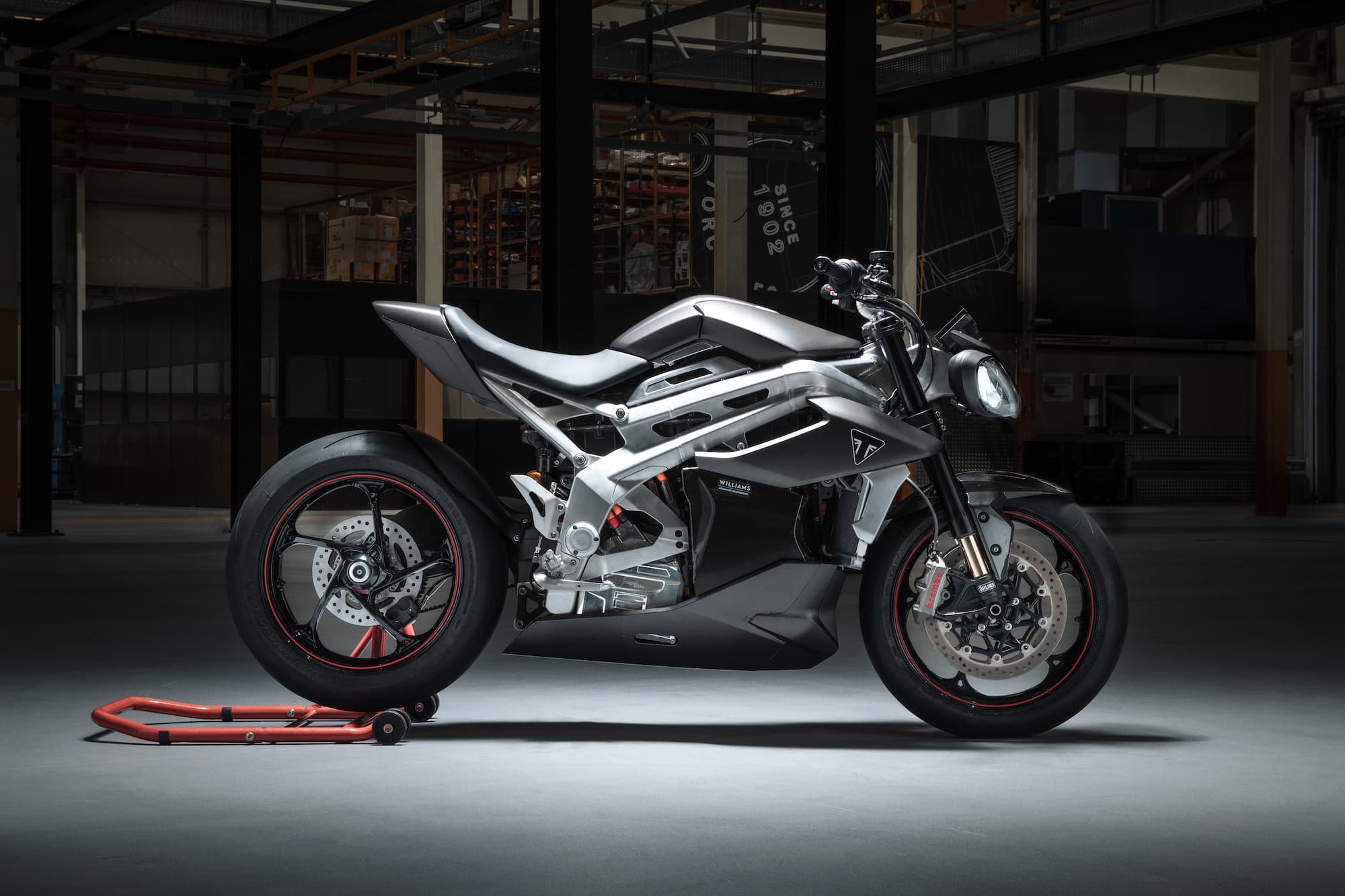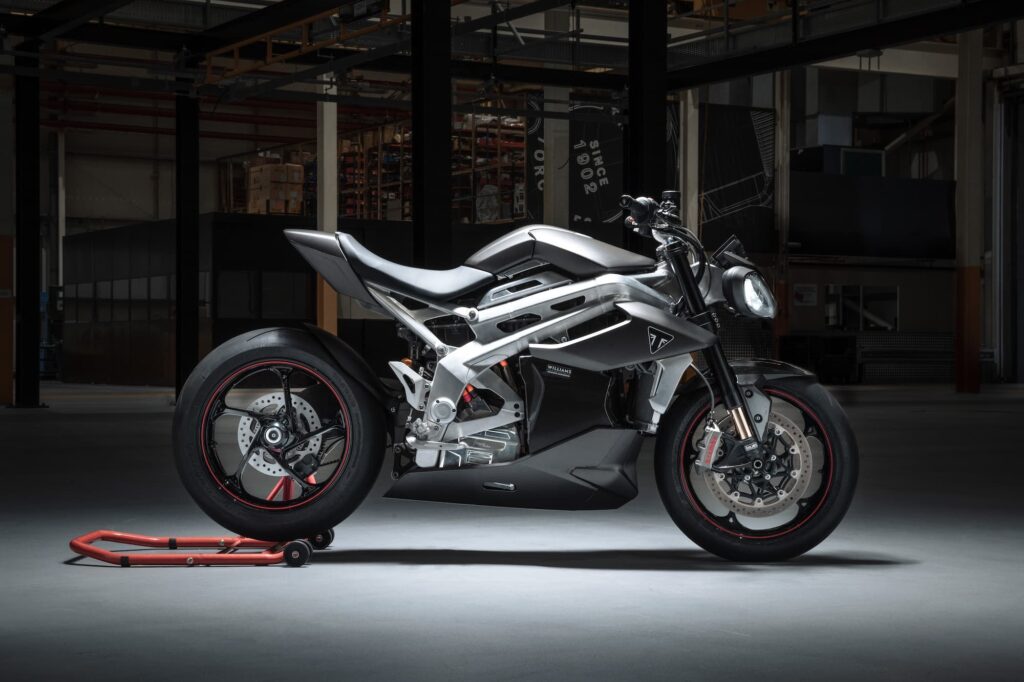 Are you obsessed with motorcycles?
Well, I am. That's why I created this site — as an outlet. I love learning and sharing what others might find useful. If you like what you read here, and you're a fraction as obsessed as I am, you might like to know when I've published more. (Check the latest for an idea of what you'll see.)
General Design of the Triumph TE-1 Prototype — Like a Speed Triple
The first thing that stood out from the photos of the Triumph TE-1 is that it looks a lot like an electric Speed Triple.
The Triumph TE-1 shares a few concrete design elements with the Speed Triple (pictured above is the RS, but many are similar from recent years):
General "street sport roadster" design (handlebars, but not way up; limited fairing, no windshield)
Twin front headlights
Single-sided swing-arm
The same wheels as on the RS (the same shape, anyway)
An IMU — Triumph hasn't mentioned this, but it's safe to assume as they mention "front wheel lift control" (which these days usually works via an IMU), and also it's a feature on many high-end modern motorcycles (including the latest Speed Triples)
The Speed Triple has been an iconic bike for Triumph, a rare example of a sporty roadster that hasn't been based on a superbike. But recently, Triumph released the Speed Triple RR, with a fairing — so maybe the same is in stock for Triumph's electric motorcycle future.
Of course, there are many significant differences between the TE-1 and the Triumph Speed Triple
The chassis of the Triumph TE-1 is very different. It has to accomodate a different motor and fuel concept, after all.
The TE-1 also has integrated lights (which may not make it into production in all markets due to regulations), and of course, no exhaust pipe — leaving the rear wheel exposed with ease.
The Engine of the Triumph TE-1 Electric Motorcycle — Electric
The engine is, of course, one of the most important parts of a motorcycle. The Triumph's electric motor is a liquid-cooled integrated motor and inverter. The motor was developed by Integral Powertrain.
The integration of the motor and inverter means that there are no huge cables, busbars, or separate cooling circuits needed. It's all built into one unit.
Triumph has been mum about the power and torque specs of the unit, but say that they've achieved peak and continuous power densities of 13 kW / kg and 9 kW / kg respectively. If the motor is 10 kg (22 lb) in weight, this means peak and continuous power of 130 kW / 90 kW (174 bhp 121 bhp).
Ride gear of the Triumph TE-1 — Öhlins and Brembo
It's always interesting to note how much in common electric motorcycles have with internal combusion engine bikes.
Apart from the motor and chassis, there are many things that are customisable and that have significant impact on ride quality. These are things like the wheels, tyres, suspension, brakes, and handlebars.
The wheels of the Triumph TE-1 look a lot like the ones on the current Triumph Speed Triple RS — cast aluminium alloy multi-spoke wheels.
The front and rear suspension of the TE-1 are by Öhlins. The rear shock is also an Öhlins unit, and is a custom one for the TE-1.
Finally, the front brakes on the Triumph TE-1 are Brembo M50 calipers. These are high-spec, but not current superbike spec; time will tell whether Triumph decides to upgrade these to the latest Stylema calipers.
See here for our FAQ on motorcycle braking systems, including a quick discussion of types of Brembo brakes.
Drive train of the TE-1 — Belt drive
The last thing that I think is really interesting is that Triumph has opted for a belt drive for the TE-1.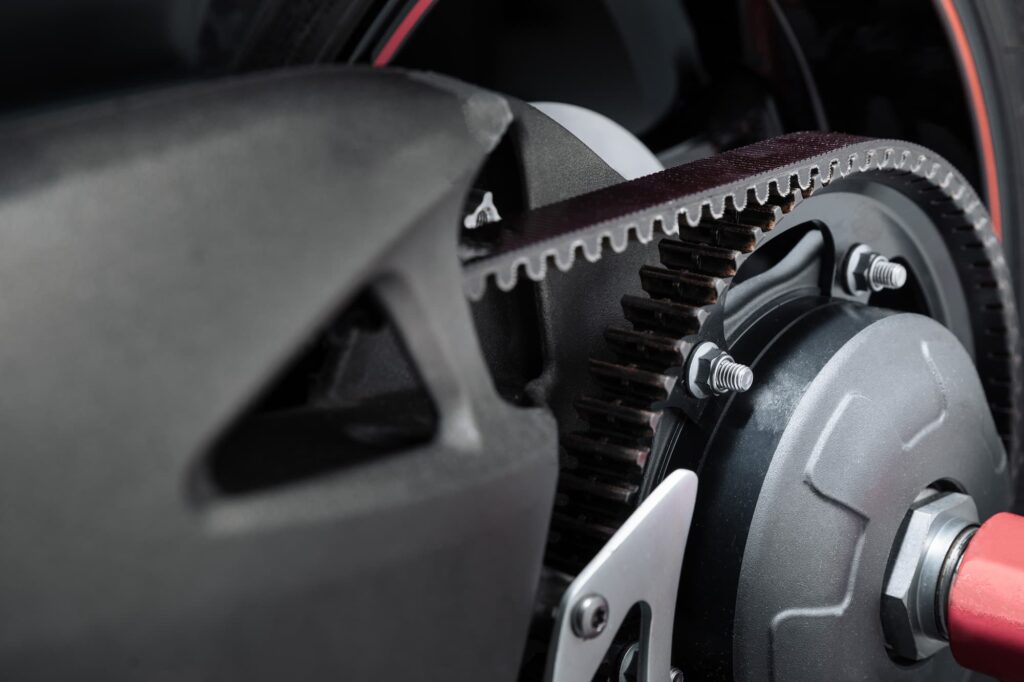 Using a belt drive is pretty uncommon on sport bikes, which usually have chain drives, but it's possible. Buell sportbikes have them, for example.
What caught my attention is that the belt being used is a Gates Carbon Drive belt. This is a kind of belt I first came to know of when building and working on electric bikes (i.e. bicycles).
Gates builds high-quality belts for cyclists — they're strong and don't need to be adjusted for tension (on bicycles).
What we still don't know about the Triumph Electric Motorcycle Prototype
There's much more that we don't know than we do know.
Probalby in order priority, here's what I'd like to know:
Range. With limited charging stations, I'd like to be able to ride for 3-4 hours at moderate pace. That might be unreasonable as I can't even do that on a gasoline motorcycle, but there are many more fuel stations! When there are more charging stations (and assuming fast charging), 2 hours range would be fine.
Power. I know electric motors are able to produce stupid amounts of power, and I'd like to know how this one is tuned.
Weight. With current energy storage technology, electric motorcycles have to balance weight, range, and power. Weight and weight distribution really affects how I experience motorcycles. Particularly sporty ones like the TE-1.
Price. This thing isn't going to be cheap. Manufacturers have been pricing their first electric motorcycles high. Some other hints that it won't be cheap are the high-spec gear (Öhlins, Brembo M50). So we're at least in Speed Triple RS territory.
There's obviously a lot more we don't know about the Triumph TE-1 electric motorcycle, but I dare say the above aspects would be the most critical to people who want to make a decision.
Then there's of course what it sounds like and what it feels like to drive. But on those fronts, we still live in a polarised world where people either embrace electric or consider it anathema. I say: why not have both?
What's next for the Triumph TE-1 Prototype?
Prototypes are all very well, but when can we get one, assuming Triumph makes a bike with 120 kW, 500 km / 300 mi of range, weight of < 200 kg / 440 lb, and priced under 15000? (Dream on!)
Triumph is going to finish live testing of the Triumph TE-1 electric motorcycle by "Summer 2022", meaning the UK summer (so, some time around August/September 2022).
In this test phase, they're going to work on road and track testing. Road testing will be calibrating power output, throttle sensitivity, range, ride modes, and a few other technical aspects like thermal flow and software testing.
Triumph will also do track testing to check handling, acceleration, braking/regeneration, traction control, and front wheel lift control.
So stay tuned for later in 2022, when we might hear more about the first Triumph electric motorcycle that you might actually be able to buy.