I had always wanted to build a custom motorcycle. This was my first attempt: a naked Ducati Multistrada, a.k.a. a Multimonster or a Monsterstrada. Done on as much of a budget as possible, and in short of a time as possible, it cost me thousands of dollars, took months and was incomplete at the end when I sold it. But I regret nothing.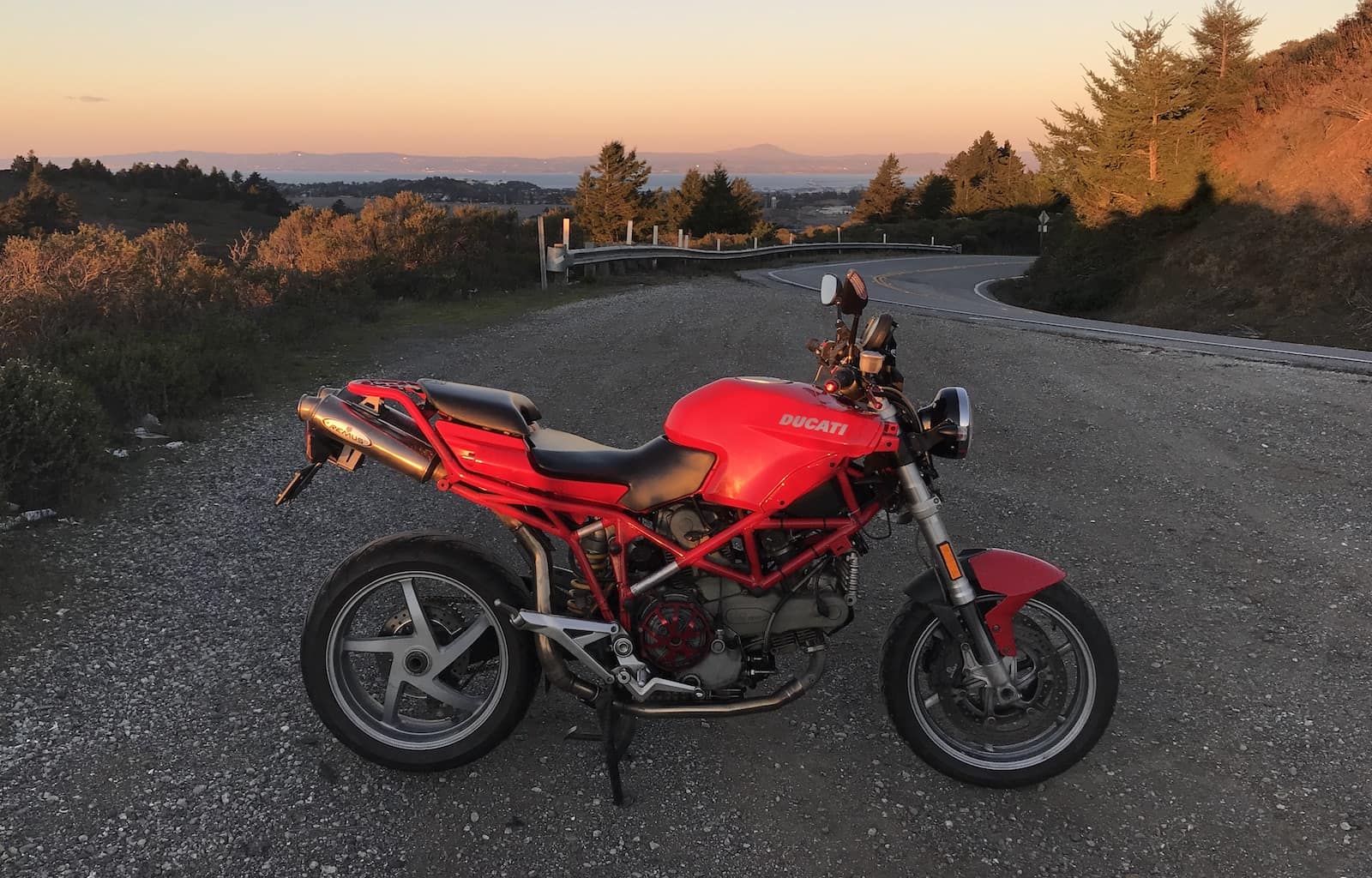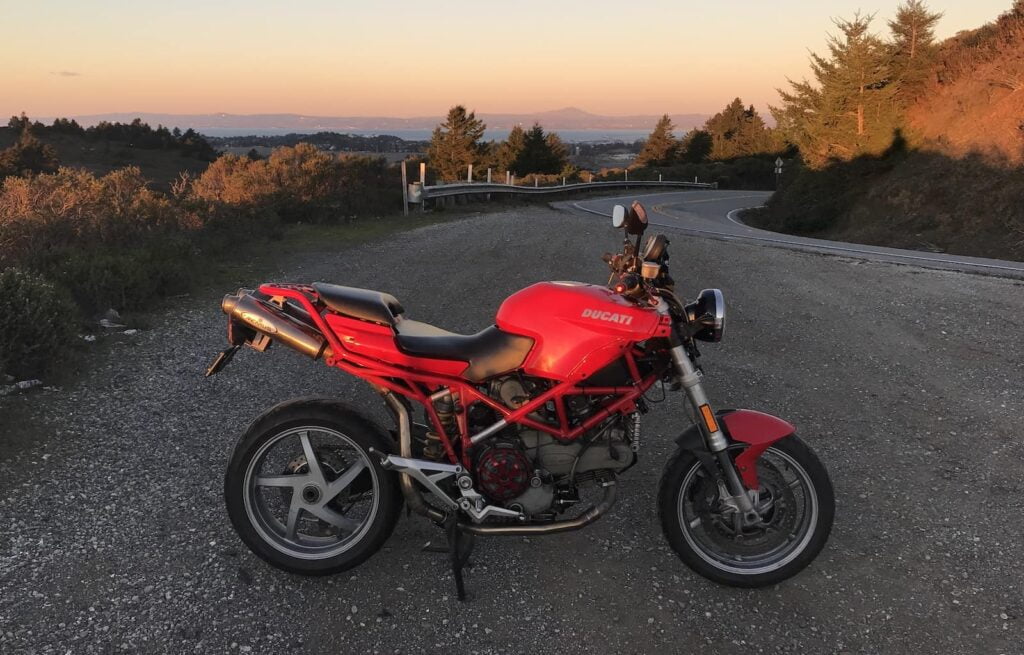 Note: These are my notes and photos in summarised format. I tried to document as much as I could, but I didn't write everything down (also, some of it is boring). Contact me if you have any questions.
If you're looking at this and don't have a Multistrada already, you should probably buy a Ducati Monster… here's my guide on which Monster to buy.
In 2016, I bought my first motorcycle built for long distances: the Ducati Multistrada 1000DS. It was a 2003 model with 18,000 miles on the clock.
I bought it because I wanted to go on a 1,000 mile journey from San Francisco to Arizona, a trip I never actually made on motorcycle (thought I did ride from San Francisco to LA).
For the long-distance journey, I had three candidates on my shopping list: a Ducati Multistrada 1000DS, a BMW R1200GS or a Triumph Sprint ST 1050. I honestly didn't know much about the (now obvious) differences between the three! All I knew was that this Multistrada was available for US$3,995 from a local mechanic, and so after a couple of afternoons of thought, it was mine.
The problem was: I never really fell in love with the Multistrada. I grew to like it, but not to love it. So after a few trips, I decided to change it, and thus began my quest to build a naked Ducati Multistrada.
General disclaimer: This is no work of art. I'm proud of it, even though I didn't get to the finish line, but it's only because it was far harder than I thought and I persevered through several phases of regret. If you want to do this conversion you'll have to at least do these things, but probably more cleanly, and definitely more, too.
Are you obsessed with motorcycles?
Well, I am. That's why I created this site — as an outlet. I love learning and sharing what others might find useful. If you like what you read here, and you're a fraction as obsessed as I am, you might like to know when I've published more. (Check the latest for an idea of what you'll see.)
Summary of Everything I learned about Stripping a Faired Motorcycle Naked
This is a brief summary of everything I learned while doing this project. Read the whole article if you want the gory details.
First, the lessons I learned:
Never, ever strip a motorcycle that has intact fairings (unless they go back easily). You're stripping off thousands of dollars of value. It's unlikely they'll go back on in a jiffy if you decide to sell it. Only do this with motorcycles with broken fairings, preferably something with a salvage title that you bought for a song.
Every project is about 5x as hard as you think if you've never done anything like it. Unexpected things crop up, like it being unexpectedly hard to remove the tank, fit a replacement headlight, clean up wires or replace a catalytic converter.
Don't underestimate how much tidying up there is to do underneath fairings. There are wires everywhere. Bits of grease. Paint has probably come off. Things are unexpectedly bolted to fairings, like regulator/rectifiers, batteries and more. Also, don't assume things look good under there…
Be prepared to do custom fabrication of light components. Like, you might have to make custom mounts for things like oil coolers, the battery, the dash display and more. If you don't have metal, clamps, drills and whatever else to do light sheet metal fabrication, you shouldn't get started.
You may never trust something you've worked on the same way. I knew how many wires were exposed, what was likely to be stressed and I didn't have the wherewith-all (or the patience) to resolve everything. I got nervous about riding in the rain. Nobody should feel that way!
But it's not all bad news. Here are the positive things I learned building my naked Multistrada.
You're a "builder" after your first build. Once you've built your first motorcycle and people know it, you're a "builder". You are more entitled to have opinions. They'll be informed ones!
Confidence comes from small first steps. I embarked on my second project, restoring a written-off Triumph Scrambler (coming soon here!) and selling it for a profit.
Working on motorcycles is a great way to spend a rainy day. You can't ride. Time to get intimate.
Most of the world has rain or bad weather for some part of the year (let's ignore you, SoCal… and Perth). Or occasional lockdowns due to pandemics. Great time to do a motorcycle build!
Total cost for the Naked Ducati Multistrada build
My main, necessary costs were the parts. The following is what I paid for them shipped. This all cost me $585, or $385 without the workshop time.
Headlight + turn signals: $150
Ducati 1000Ds used Oil cooler + mount: $120
K&N Air pod filters: $75
Crank case breather: $50
Workshop time: $200 (not necessary if you have your own space)
Some optional things I didn't have to buy
Mirrors (I didn't like the bar-end ones): $50
Arrow racing collector: $310
Silencing clutch cover: $175 (ended up selling this separately)
The final Naked Ducati Multistrada product: The Multimonster/MonsterStrada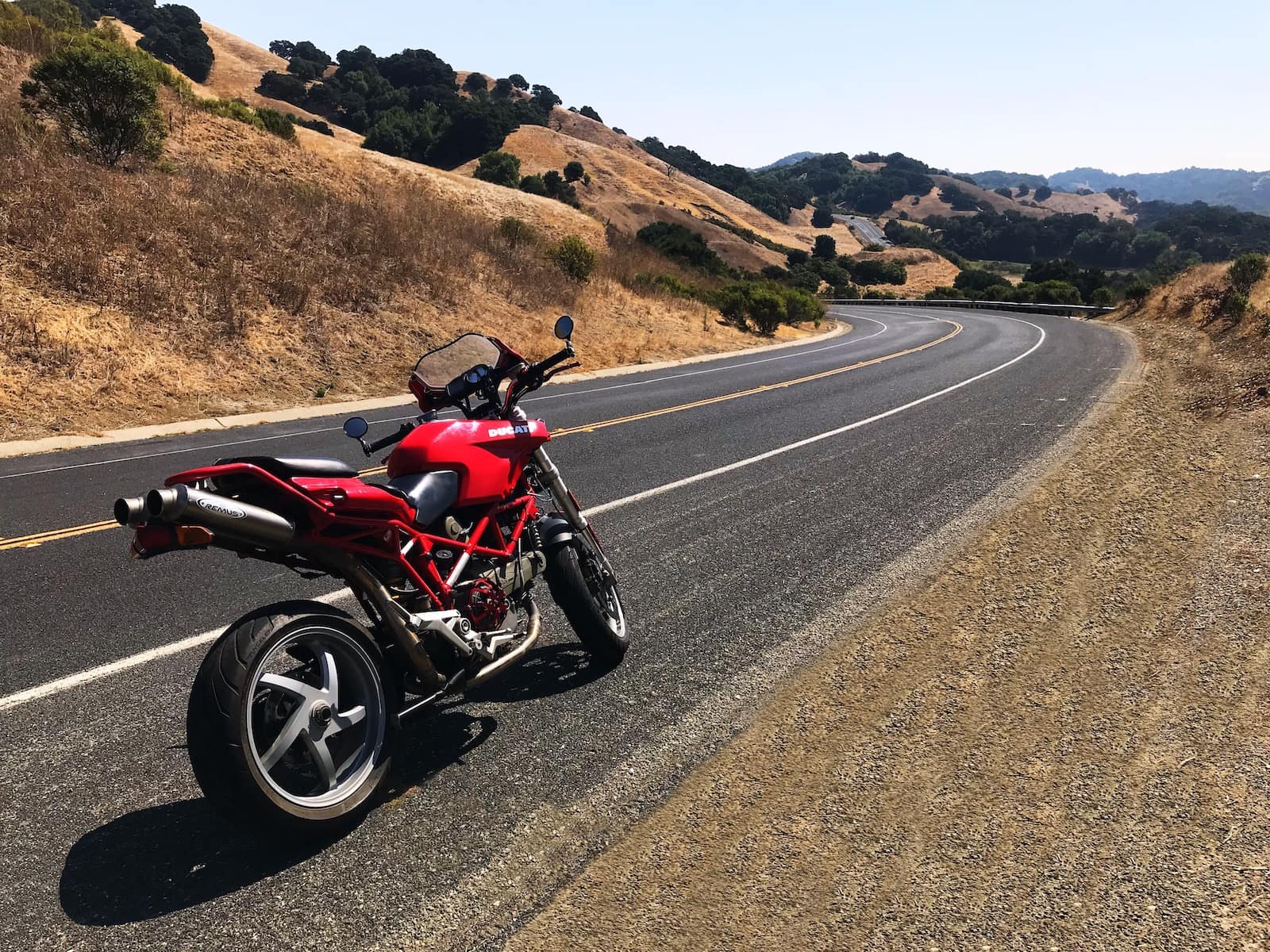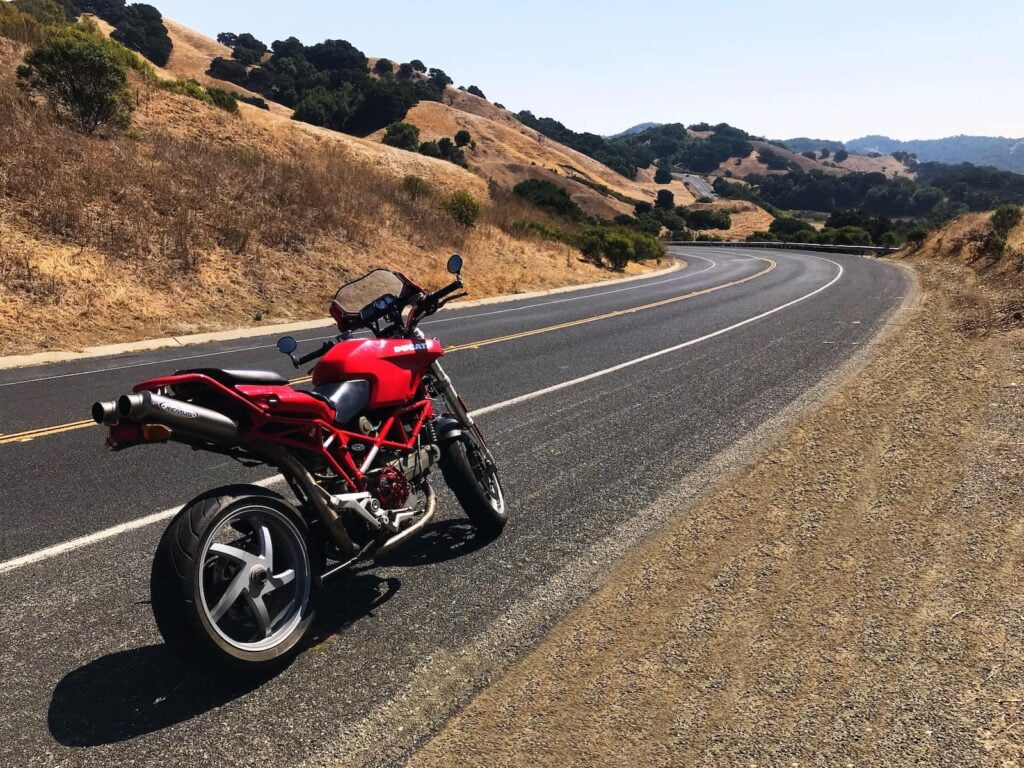 The final naked Monster-like product obviously felt quite different to the original Ducati Multistrada.
Firstly, it felt lighter. It may not have actually been a lot lighter. But the fact that it didn't have all that bulk at the front made me feel more in control.
Secondly, it felt more like a "supermoto/supermotard/hypermotard" motorcycle. Something like a Hyperstrada in configuration — tall, wide handlebars, with a similar displacement v-twin It's not one — it's too heavy, and the wheels are too big (they're 17 inch). I always knew how high up I was. But now, perched up there with wide handlebars, I felt like I was on a very different motorcycle than before.
A few other mods I had made along the way, like the straight-through exhaust headers and the naked clutch cover (which I later, ironically, replaced with a billet aluminium sound-deadening clutch cover) made it sound very different, too.
The exhaust never sounded great. Even with Remus pipes and the custom headers, it sounded like… a lawnmower. Disappointing.
But it still looked the business!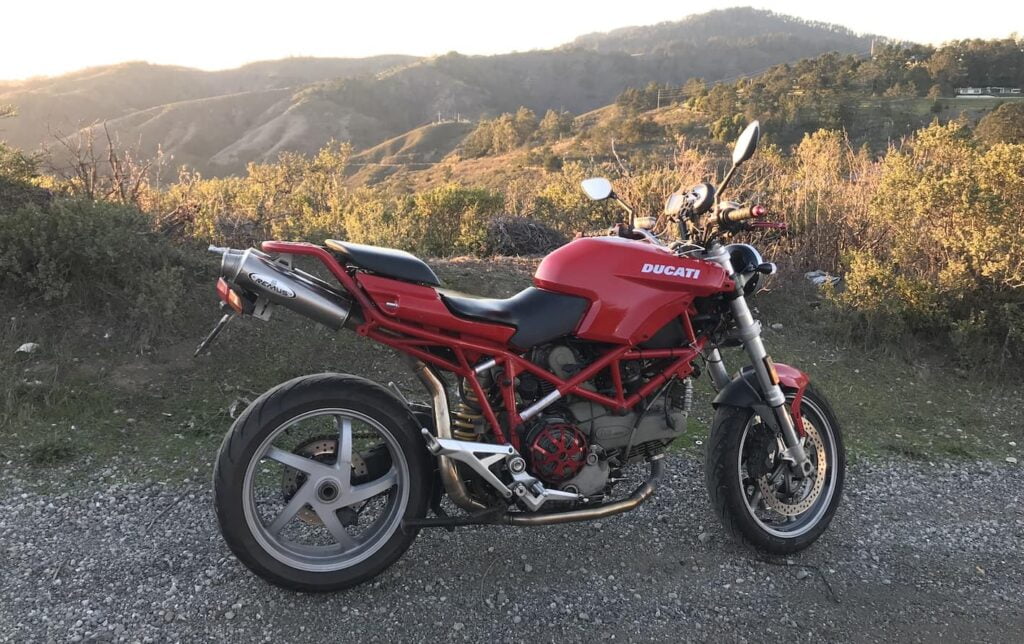 About the Ducati Multistrada 1000DS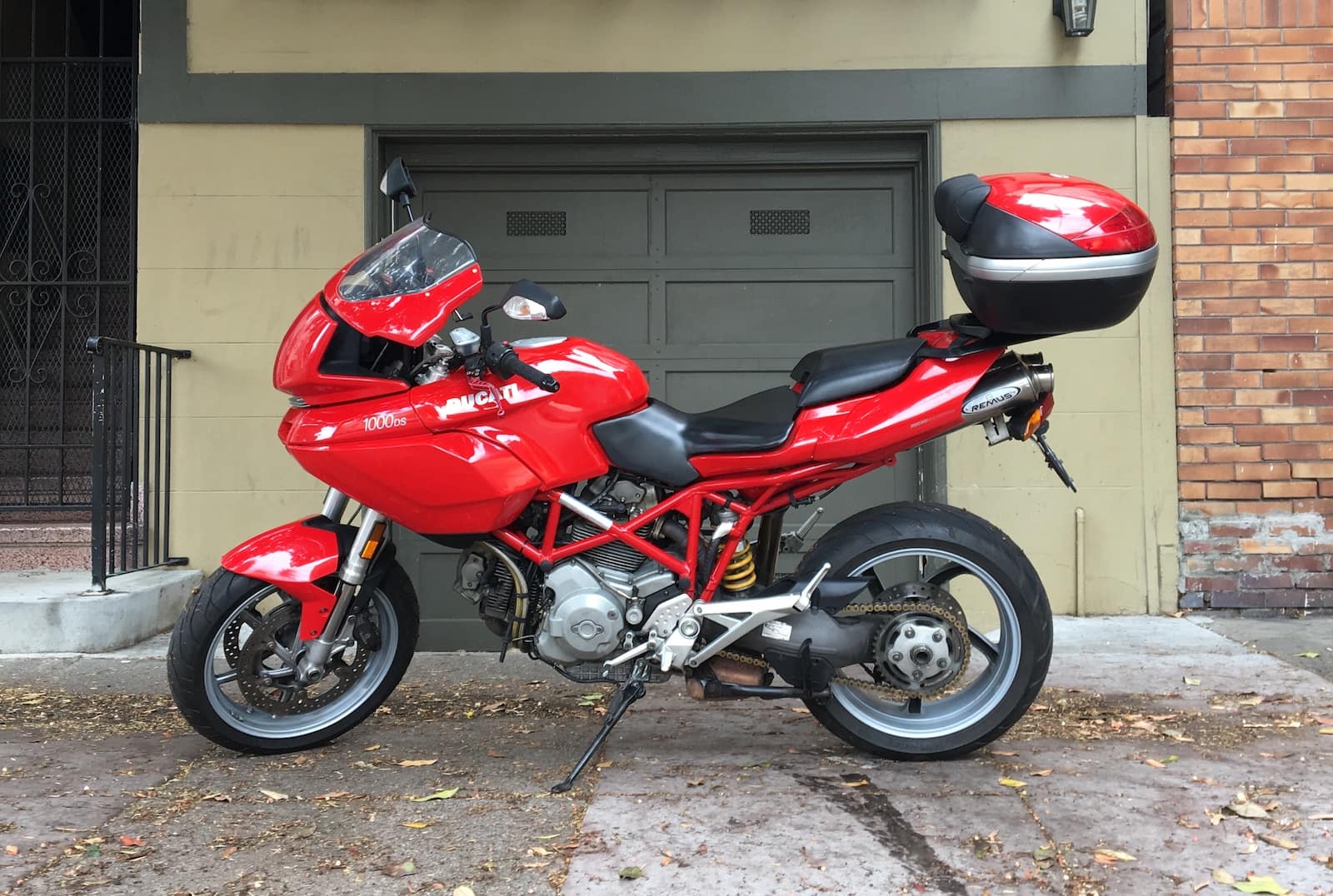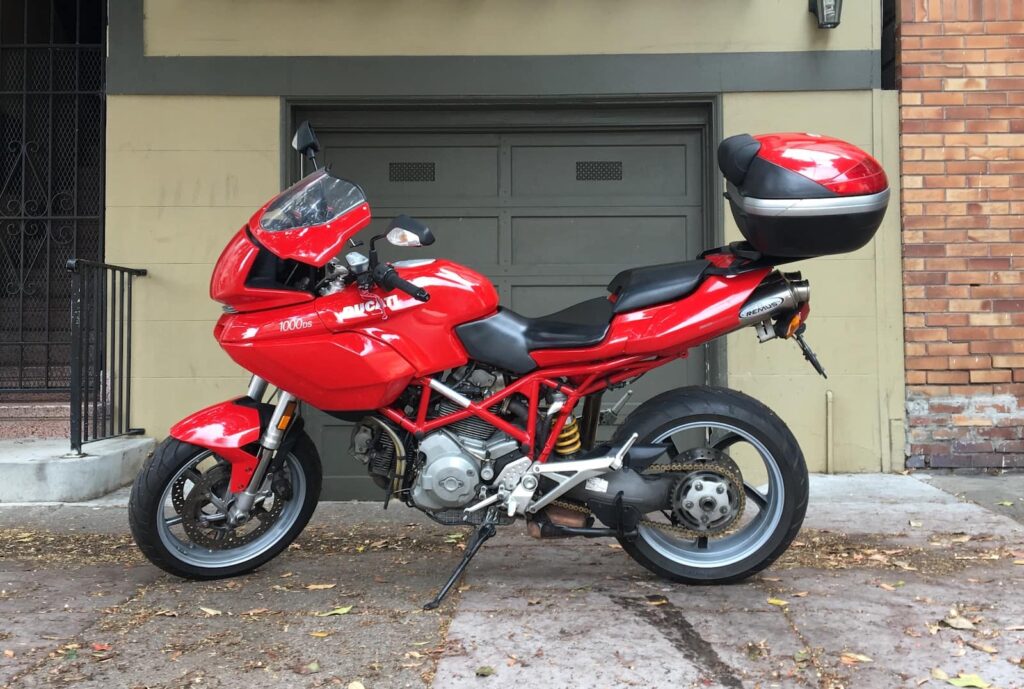 In short, the Ducati Multistrada 1000DS was a motorcycle that divided people into two camps: those who liked it despite its looks, and those who "actually" liked it for its looks as well.
The Ducati Multistrada 1000DS is an upright sports-touring motorcycle, or what we these days (in 2021) call an "adventure sports" motorcycle. It was pretty unique in its class in 2003, though.
It runs an air-cooled 992cc air-cooled v-twin motor pumping out 68kW (92hp) of power and 87 Nm (65 ft-lbs) of torque.
It's fast. You want to ride it at around 120-140km/h (70-90 mph). You can ride it up to around 160km/h (100 mph) before acceleration starts slowing; I've had it around 200km/h, but didn't really enjoy it at that speed on public roads.
I personally really enjoy motorcycles around the 75 kW/100 hp mark. It just feels right to me for public roads. I didn't really know this when I bought the multi, but it was something I've realised a lot later.
The Multistrada 1000DS has the nice bits many Ducatis have: a single-sided swing-arm, a dry clutch, a burbling under-seat exhaust, upside-down fully adjustable forks (with optional Öhlins from 2005), and strong brakes gripping huge 320mm front discs.
It weighs a fairly light 188kg dry (probably 210kg wet), has decent ground clearance and has big wide handlebars, making handling a pleasure for a bike aimed at long distances.
The Ducati Multistrada 1000DS is NOT an off-road motorcycle. The front rake is pretty narrow, the 17-inch tires are usually unsuitable and the engine is unguarded. The ground clearance may be decent, but the travel isn't what you'd get on a CRF250L for instance.
Why strip the Ducati Multistrada naked (and not just buy a Ducati Monster)?
There are a number of other ways of phrasing this question.
Why strip a motorcycle with perfectly good fairings? (Yes, this was a mistake.)
Why not just sell it and buy a Monster? (I should have done this, or embarked on a different project.)
Why ruin the Multistrada?
Well… the Multistrada 1000DS is arguably the ugliest motorcycle Ducati ever made. This isn't saying much, considering it shares a stable with incredibly beautiful beasts like the one below.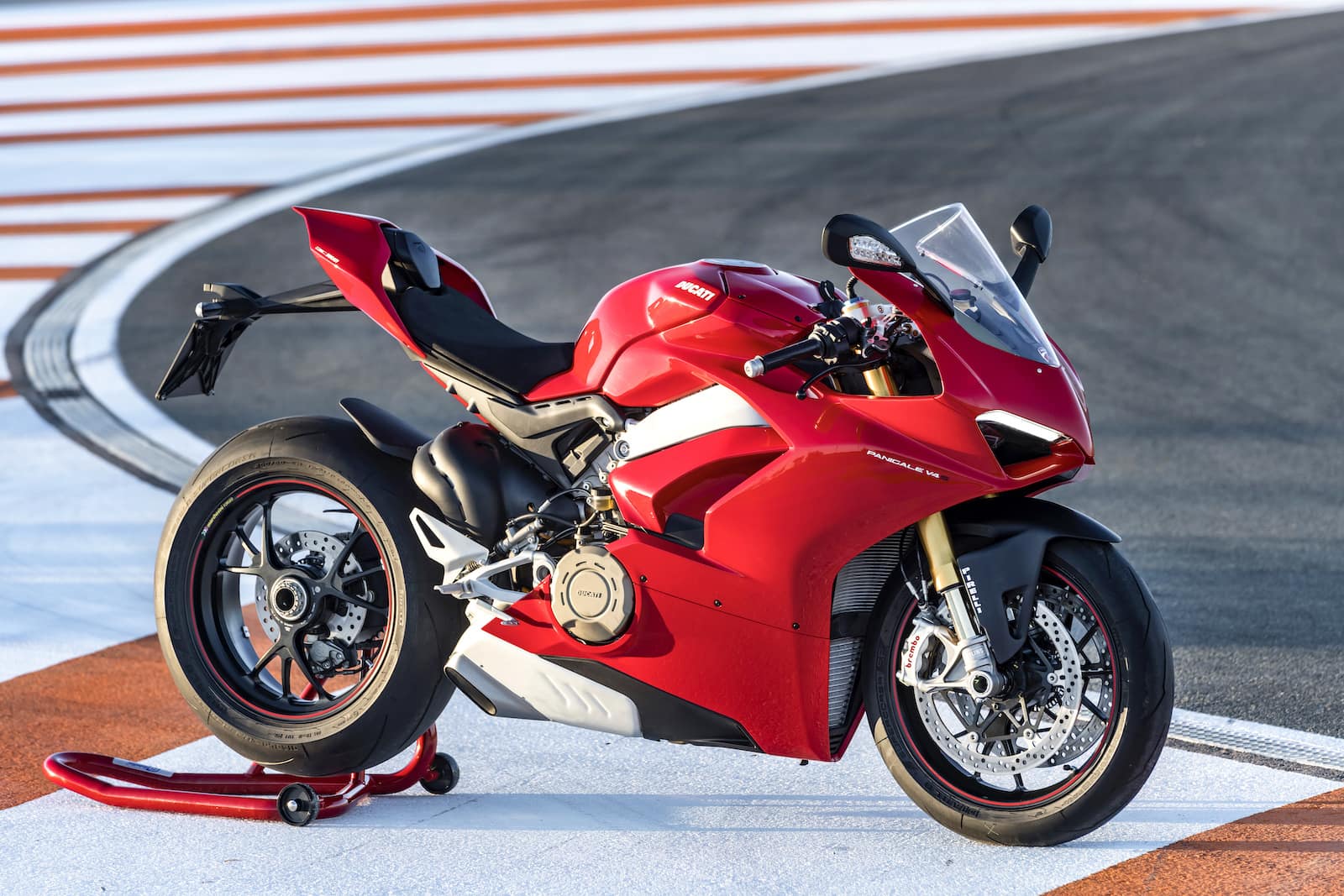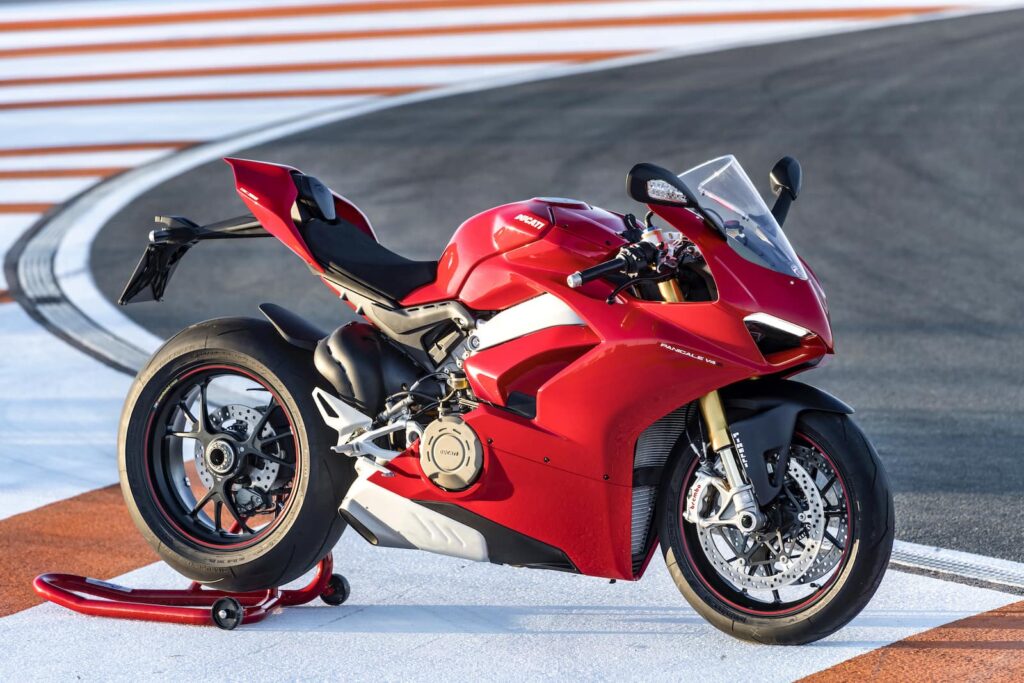 This isn't just my opinion. Others think the Ducati Multistrada 1000DS was ugly too.
"All around, it's kinda ugly." – RideApart
"Forgive Ducati's design-department for the lobotomy that is the 2003-on Ducati Multistrada. No other single-headlamp bike has managed to look like Cyclops." – Bikerandbike.co.uk
"From the front it does look it's fallen out of the ugly tree and hit every branch on the way down, but don't let this sway you away from what is an excellent bike." – Bennetts
Like the last, many were quick to qualify their opinion.
"To say it's ugly is terribly unfair. It's like saying an A-10 Warthog or an AH-64 Apache helicopter is ugly. Well, they are ugly – but they are not without beauty." – CanyonChasers
"The two main aesthetic camps still rally around the "ugly" and "OK" banners. Which is completely at odds with a poll of anyone lucky enough to have ridden one." – Telegraph
So, not all bad. What's to like about them? A lot.
The suspension is fantastic. If you weren't totally sold by "Öhlins" on the S models, then you'd be won over by totally adjustable front AND rear suspension. The suspension on the base model is fine (I couldn't complain).
The engine is known as "bulletproof". I know this is super anecdotal. It basically means they don't have the reputation for being total lemons. That said, they're still an air-cooled Ducati, which means 6,000 mile or 10,000 km valve inspections and/or belt changes are par for the course.
They have that single-sided swingarm and under-seat exhaust combo. The under-seat exhaust was never found on Ducati Monsters, and single-sided swingarms only existed on higher end models.
That, and the Multistrada is just affordable. Being an ugly duckling, they go cheaply for bikes in good condition with low miles. So it was very tempting to pick one up.
When I googled "Naked Ducati Multistrada 1000DS", I started finding pictures around the internet like the one below. Once I had found a few, it was time to get started.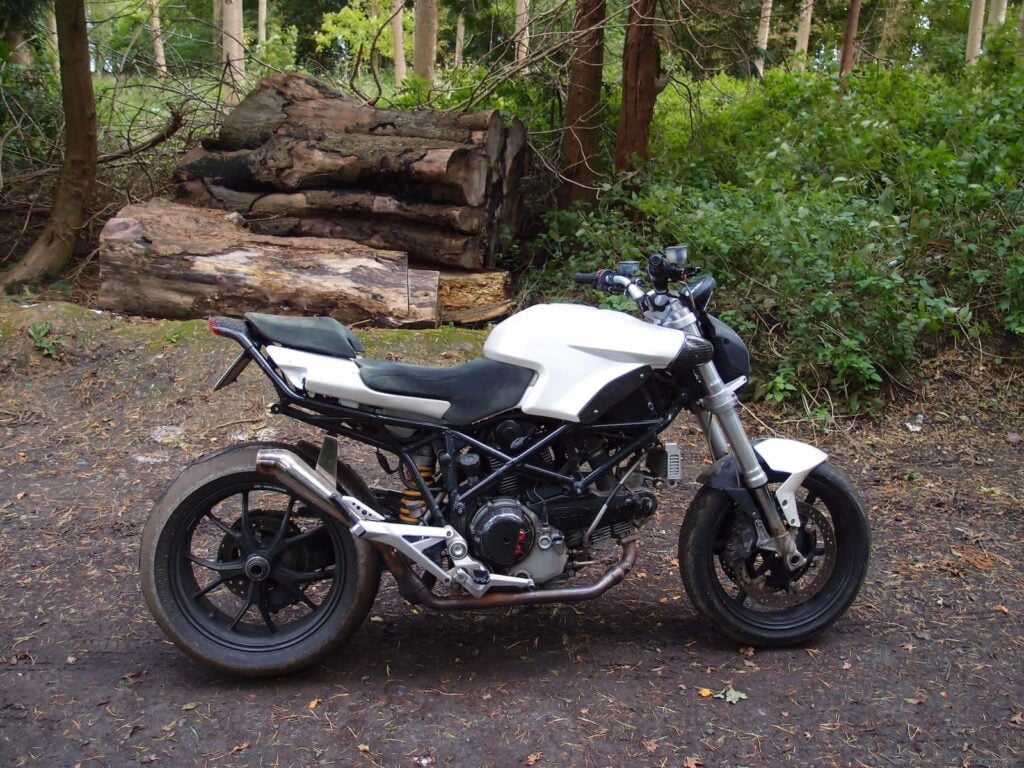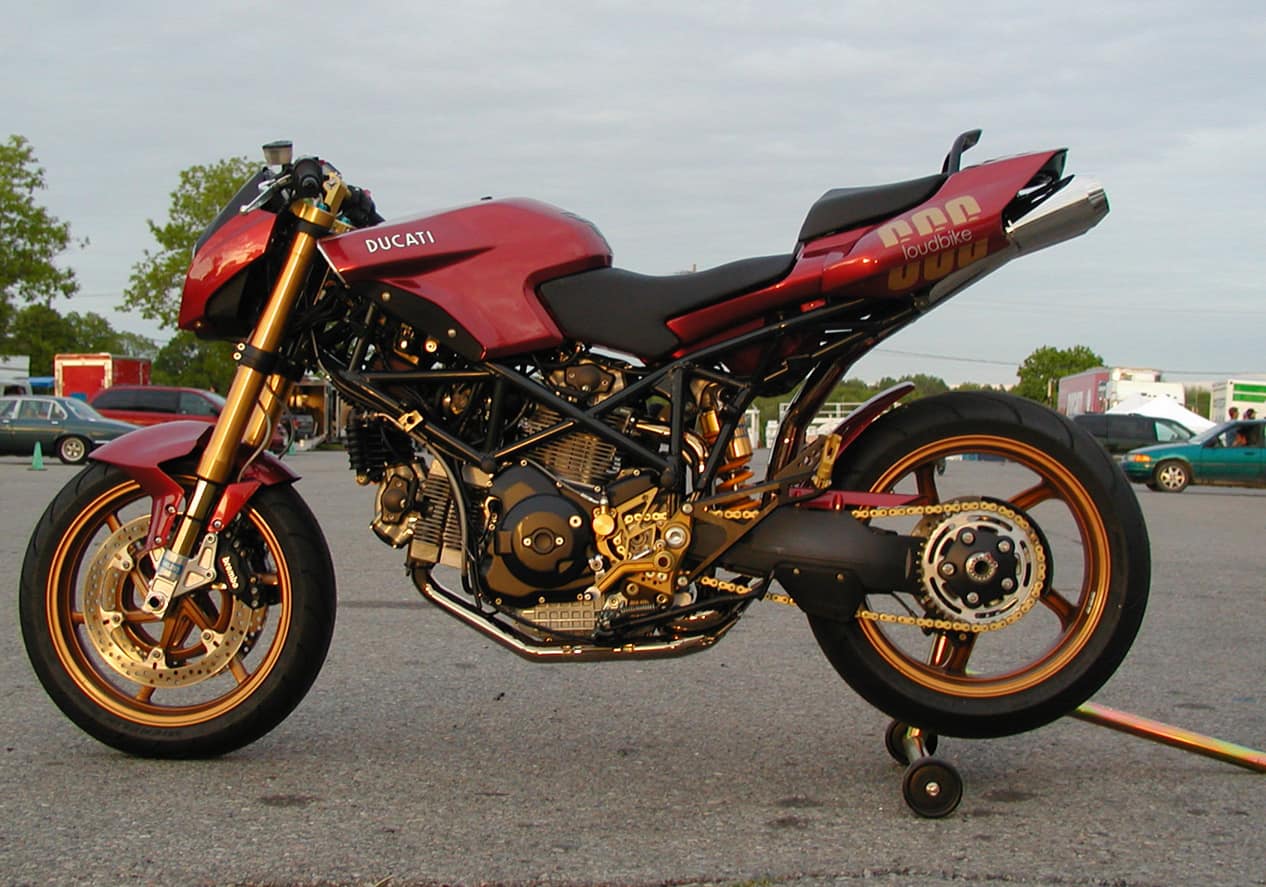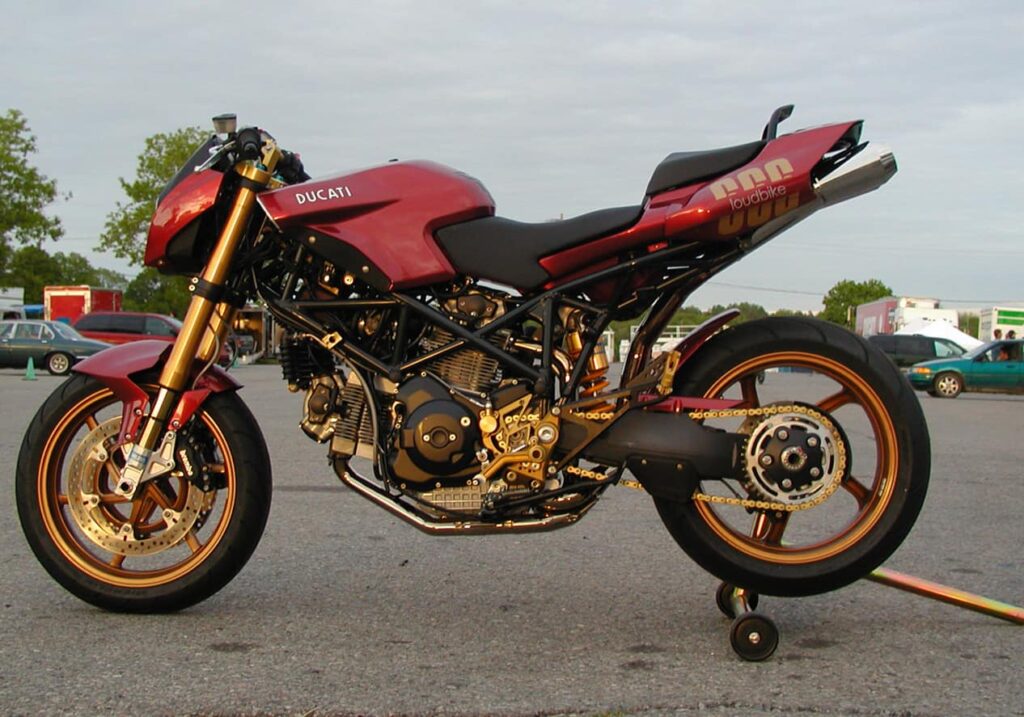 Major steps for stripping the Ducati Multistrada naked
Here are all the things I had to do in summary form to get to the naked Ducati Multistrada. More detail below.
Remove the fairings, including figuring out how to remove the seat (this alone nearly did my head in)
Relocate the battery and computer from the outside of the frame into the airbox, moving wiring around and cutting into the airbox.
Get pod filters (to give you more room in the airbox) and cut big holes into the airbox, in order to fit the battery and computer into it.
Install a crankcase breather filter, to eliminate the hose from the airbox
Replace the front headlight.
Get a new mount for the oil cooler, the easiest way being to get a valve cover from a Monster 1000.
Replace the exhaust headers, eliminating the catalytic converter
Things I didn't do, but should have
Get a more appropriate (and almost definitely custom) fuel tank. This was important aesthetically. The tank looks like it needs to have other things fit to it. It would be quite expensive to find a suitable replacement (this one has an internal fuel pump) short of a custom job so I didn't.
Make a better mount for the front instrument dash. This would have been easy but I didn't have the tools or space.
Cut the tail end short, optionally making a smaller seat
Find smaller handlebars or clip-ons
Chop or replace the front fender
Get better taillights, and maybe a shorter exhaust system
Remove all the heavy things, like the centre stand and rear-sets
Major steps of stripping the Multistrada Naked (in more detail)
Here are many more steps, in detail, of stripping off plastics and relocating stuff to get to the naked Ducati Multistrada level.
Remove the fairings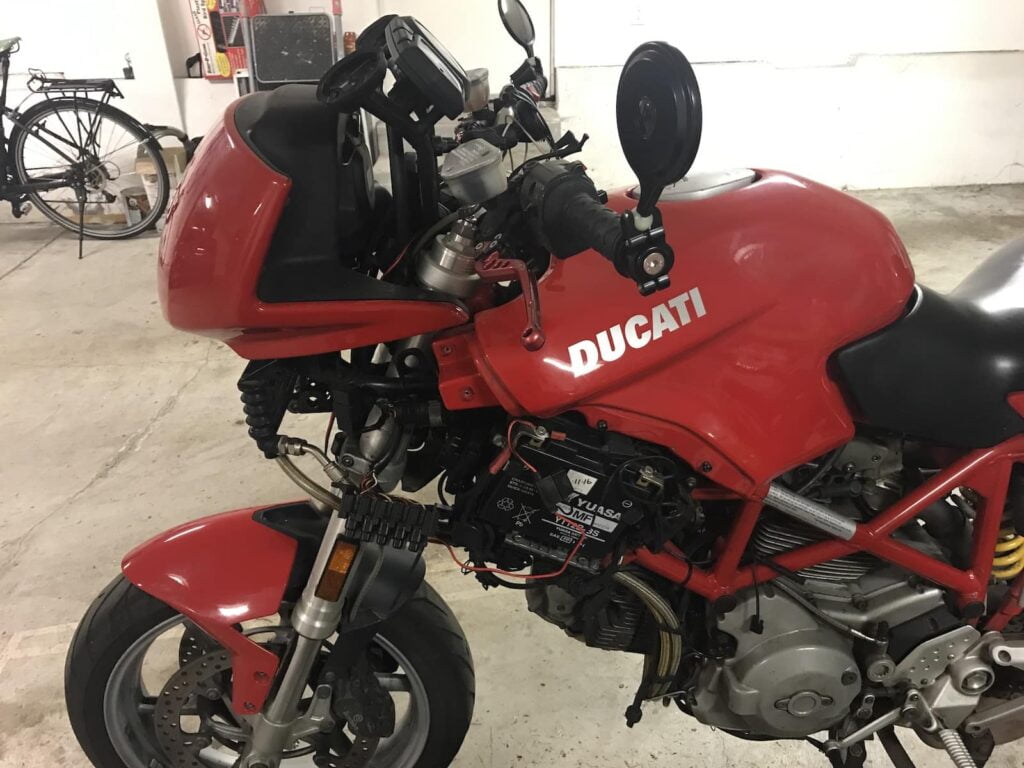 This wasn't so hard, you can do it yourself. You remove every screw until you don't have any left. I did it in a car space in San Francisco, to the chagrin of my neighbours (who complained about things at the drop of a hat).
As you can see in the photo, the battery is now exposed. Attached near there is a fuse box and the fuel injection.
On the front, you can see the oil cooler attached to the same mount holding on the front light fitting and fairing.
Relocate the electronics into the airbox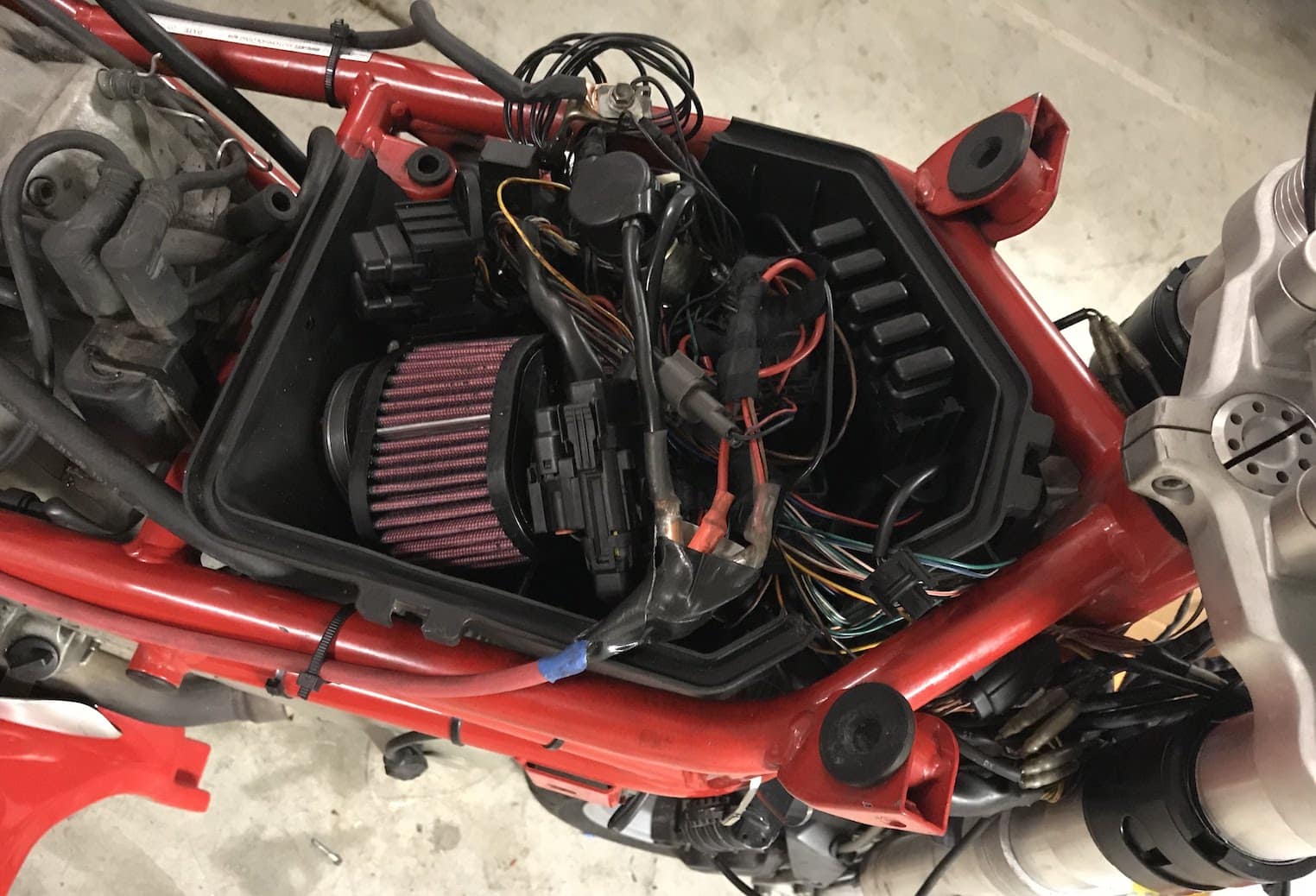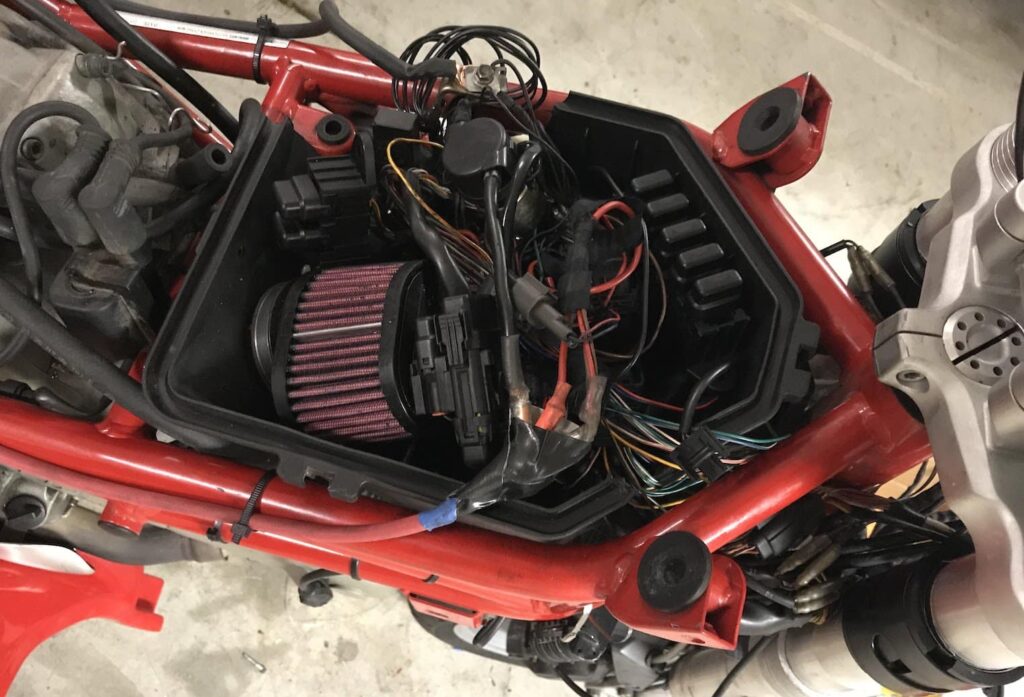 I tried to put the battery under the seat. I even extended the battery cable with heavy duty cable I bought from eBay. However, it didn't fit properly under there for reasons I can't remember. So I put it in the battery box, along with the fuse box and the computer.
One thing I learned from a LOT of googling: you have to earth the computer with a wire, otherwise the motorcycle won't start. It's earthed to the chassis when it's mounted there (in its original location).
As you can see, I also mounted pod K&N filters, just to make room for the electronics and battery.
Replace the front headlight
Once you remove the front fairing, you also need a new headlamp and to wire it to the giant connector you've unplugged.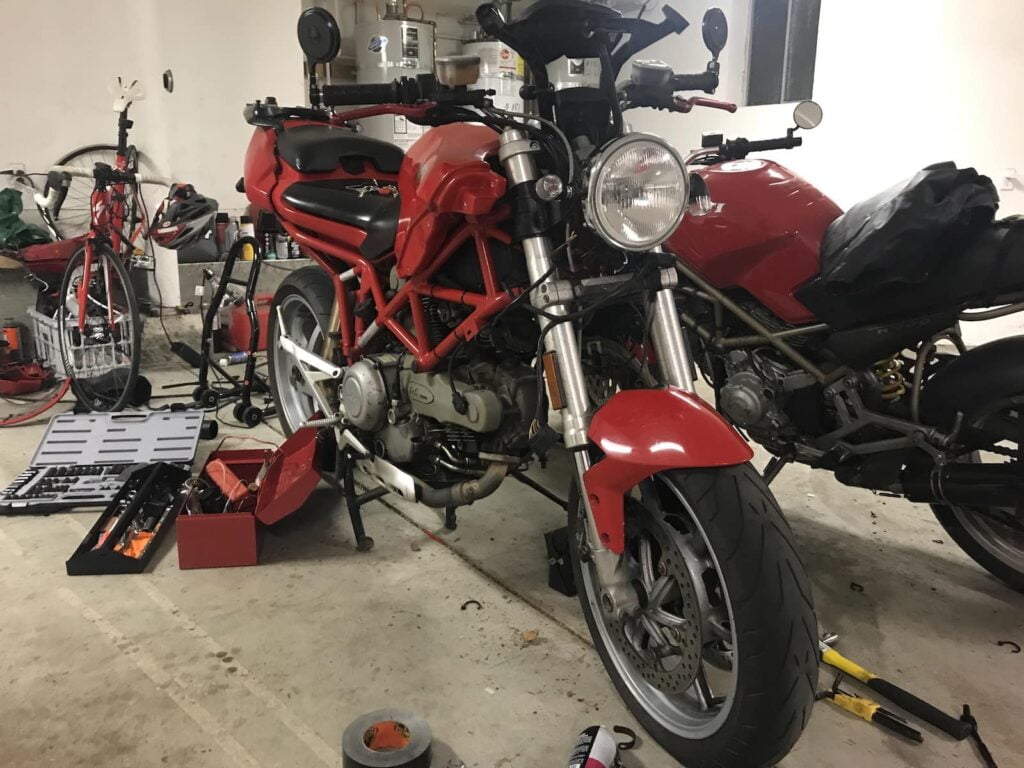 These headlamps come with built-in turn signals, and clamp directly to the upside-down forks. The correct size is 53mm.
I nearly bought the wrong size. Brian from SpeedMotoCo saved the day and corrected my order, so I'm happy to make a referral to him — he saved us both time and money. Plus, the whole assembly was only $160, which is a bargain compared to most aftermarket parts.
Get a new mount for the oil cooler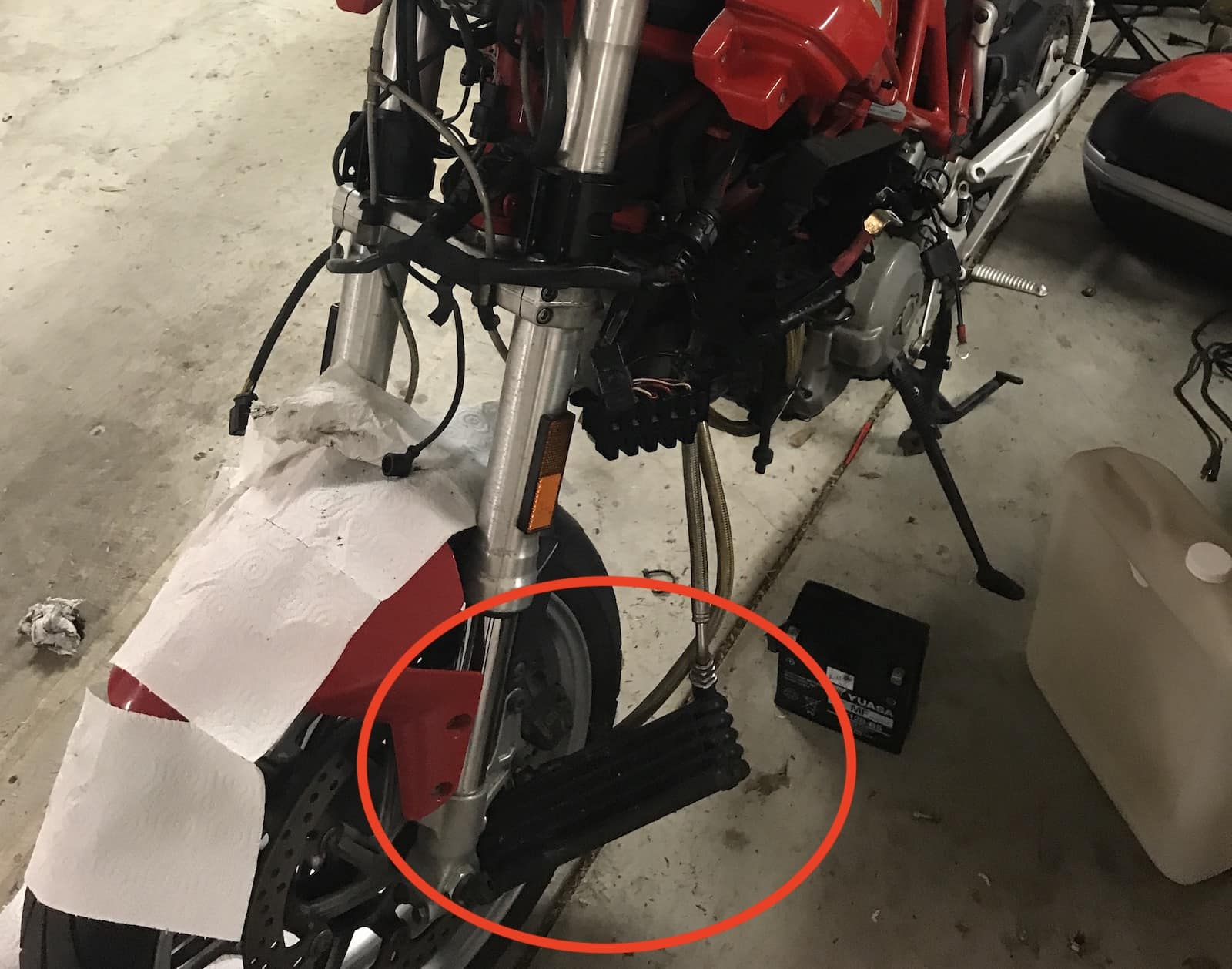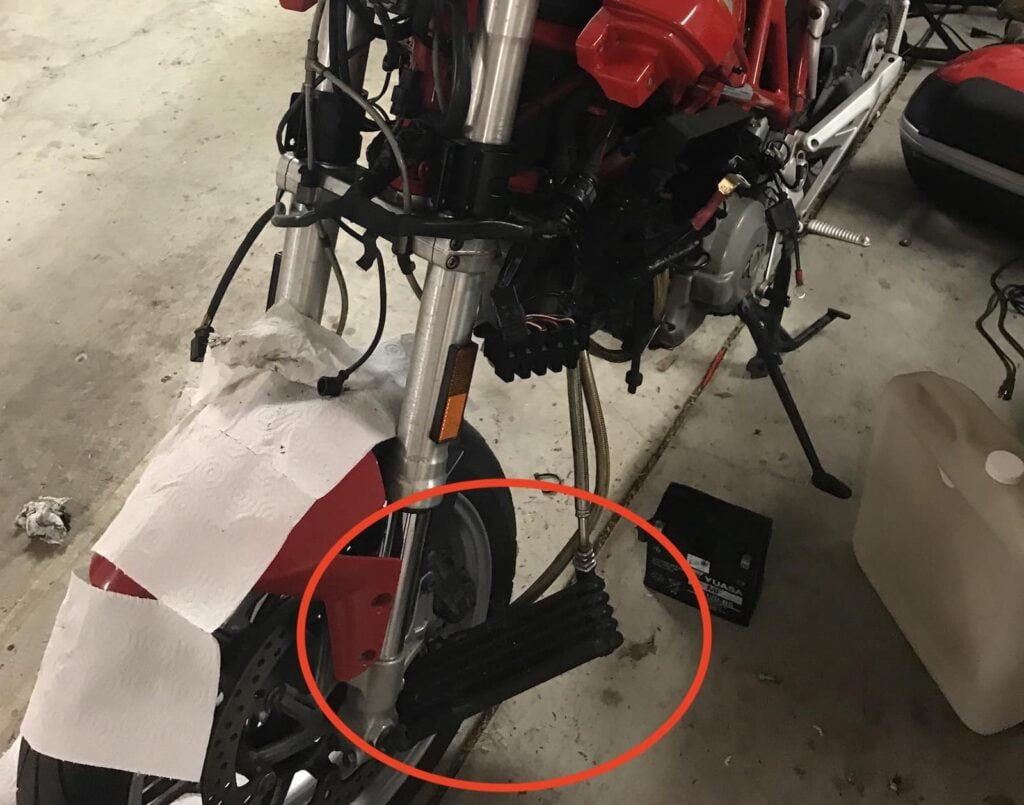 The original oil cooler sits on the front forks, bolted there by a bracket also attached to the front headlight assembly (if I recall correctly).
You have a few choices here regarding re-mounting the oil cooler:
Make a custom mount for it. Great idea, if you know how!
Hang it awkwardly off the frame using steel cable ties… I did this for a couple of rides but do NOT recommend it…
Get a mount off another Ducati with an equivalent valve cover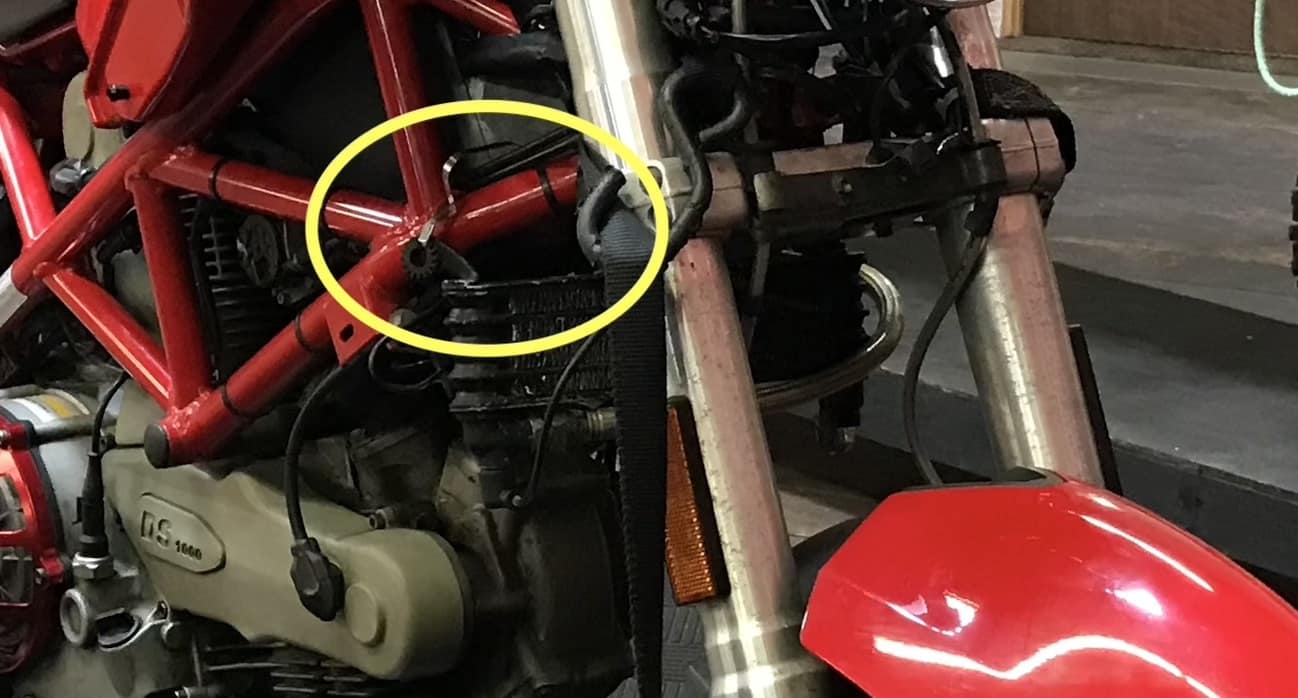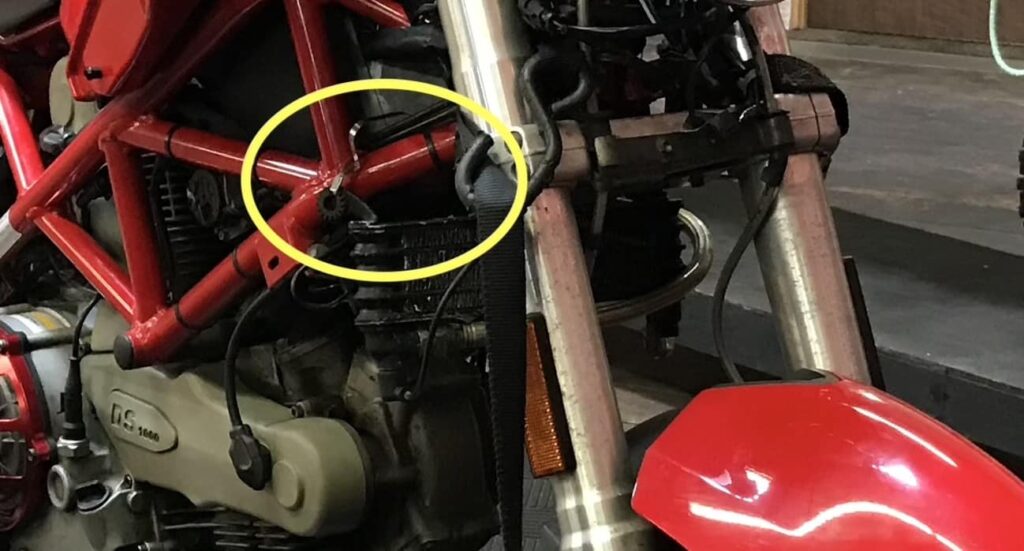 I contacted a local Ducati wrecker near San Francisco who sent me an oil cooler plus the mount (onto the front valve cover) from a very similar engine, the Monster 1000DS. It fit nearly perfectly. I had to re-use my current oil cooler as it was a different size, and it fit onto that mount with a few washers.
Replace the exhaust headers
I always thought the Multi sounded a bit like a lawnmower compared to most Ducatis I had heard, including my Monster 900, Supersports or even Ducati Monster 696s. Granted, those had Termignoni exhausts, but that's what I thought the problem was.
Like many Multistradas, mine came fitted with Remus pipes. You can replace the downpipes and eliminate the catalytic converter.
I found some Arrow pipes online for $300. Unfortunately, these are no longer produced, so you'll have to get some from a wrecker only.
Afterthoughts — Would I do it again? And how?
If you've read this far, congratulations!
I just want to say that in some ways, even though I regret nothing because of everything I learned, I wouldn't do this naked Multistrada build again. Here's why.
I've learned to appreciate an intact motorcycle, especially a Ducati. I look at original condition Multistradas now and think "wow, not a great looking motorcycle! But the owner has kept it in great condition, kudos."
All the adventures and memories I had were with the original bike. I miss those!
There's something to be said for riding an "ugly duckling" and riding the snot out of it, beating any expectations people have of you.
If I were to do a project like this again, it'd be on a motorcycle that had crashed and whose fairings had been irreparably damaged (that I couldn't even plastic weld back together). Or on a motorcycle so old that it had very little value and deserved a total teardown.
When I was selling it (as I was leaving the country), people all assumed it was salvage title or that it had been crashed. They thought I was lying when I said it wasn't.
In the end, I bought this motorcycle for around $4K, spent maybe $1-1.5K on parts, then sold it for $2,500. It's one of the biggest (and only) losses I've ever made on a motorcycle. It's a lot to pay for an education!
I gave the fairings away to a friendly guy from a dealer in San Francisco who had always been nice to me. He rode a 1000DS in original condition. I should have learned to be like him.
Those are all things that I learned that I'll apply to my next project!
Obviously, there are a lot of open questions. Contact me if you have any.