A number of years ago, I decided I wanted a motorcycle that was a) comfortable for trips, b) already equipped with luggage, and c) under US $4K.
That's how I ended up with a Ducati Multistrada 1000DS, one of those motorcycles I have ended up missing — and regretting dismantling.
When I bought my Multistrada 1000DS, I didn't know that much about motorcycles. I trusted my mechanic/dealer and knew they wouldn't sell me a lemon. But there was a lot I wish I knew, and many questions I wish I knew how to ask.
So that's why I'm penning this Ducati Multistrada 1000DS review. Partly so you'd know what to ask before buying a used Multistrada, and partly as just a general guide to buying a motorcycle when you have no idea what to ask in general.
(Apologies — the photos in this article are a bit old, before phone cameras were very good, and before I learned much about even just casual motorcycle photography.)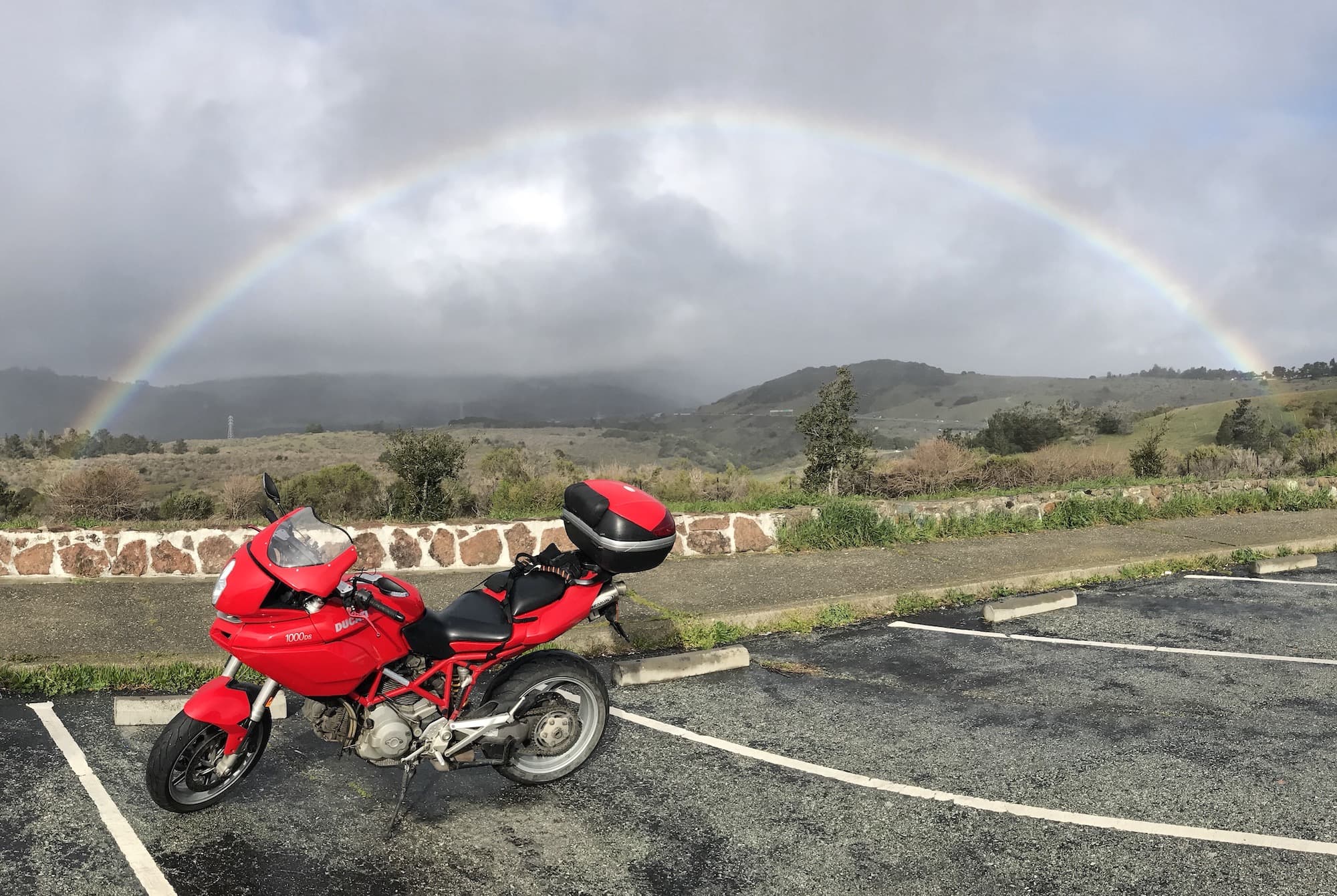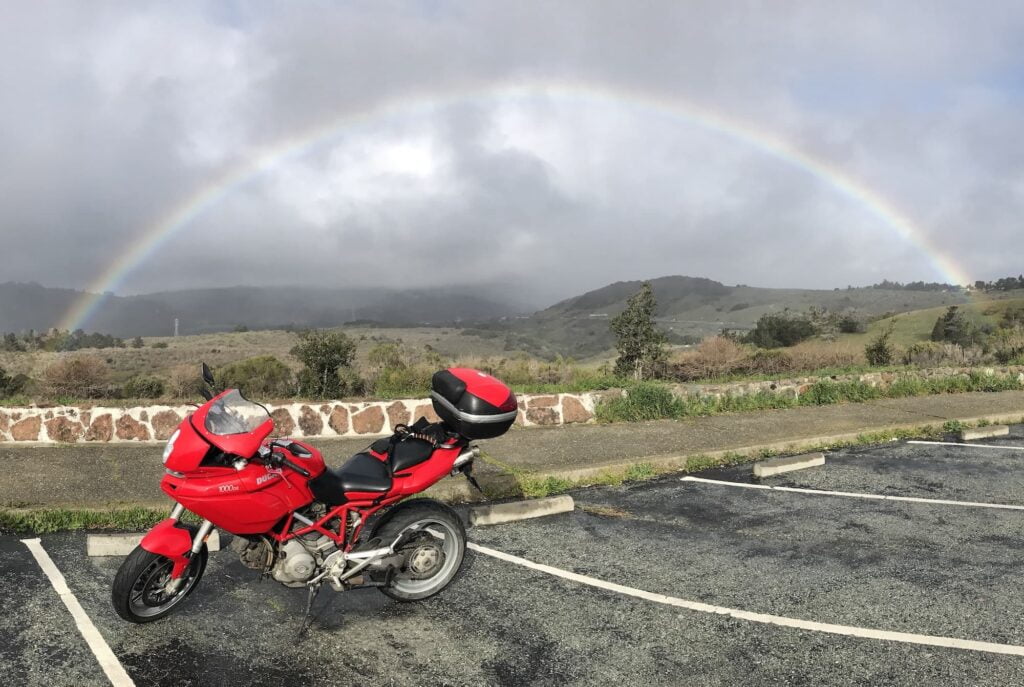 Are you obsessed with motorcycles?
Well, I am. That's why I created this site — as an outlet. I love learning and sharing what others might find useful. If you like what you read here, and you're a fraction as obsessed as I am, you might like to know when I've published more. (Check the latest for an idea of what you'll see.)
Looks to die… from?
The first thing people notice about the Ducati Multistrada 1000DS is that it's not exactly easy on the eye. It's not — relatively speaking, and aside from the red and the general "ooh, motorcycle"-ness — a pretty bike.
I thought the style of the Multistrada 1000DS would grow on me. Sometimes I'd look back on it and say "Well, it is rather a handsome thing, from some angles, isn't it?" And that was true — sometimes, from some angles. But overall it didn't quite "work" aesthetically.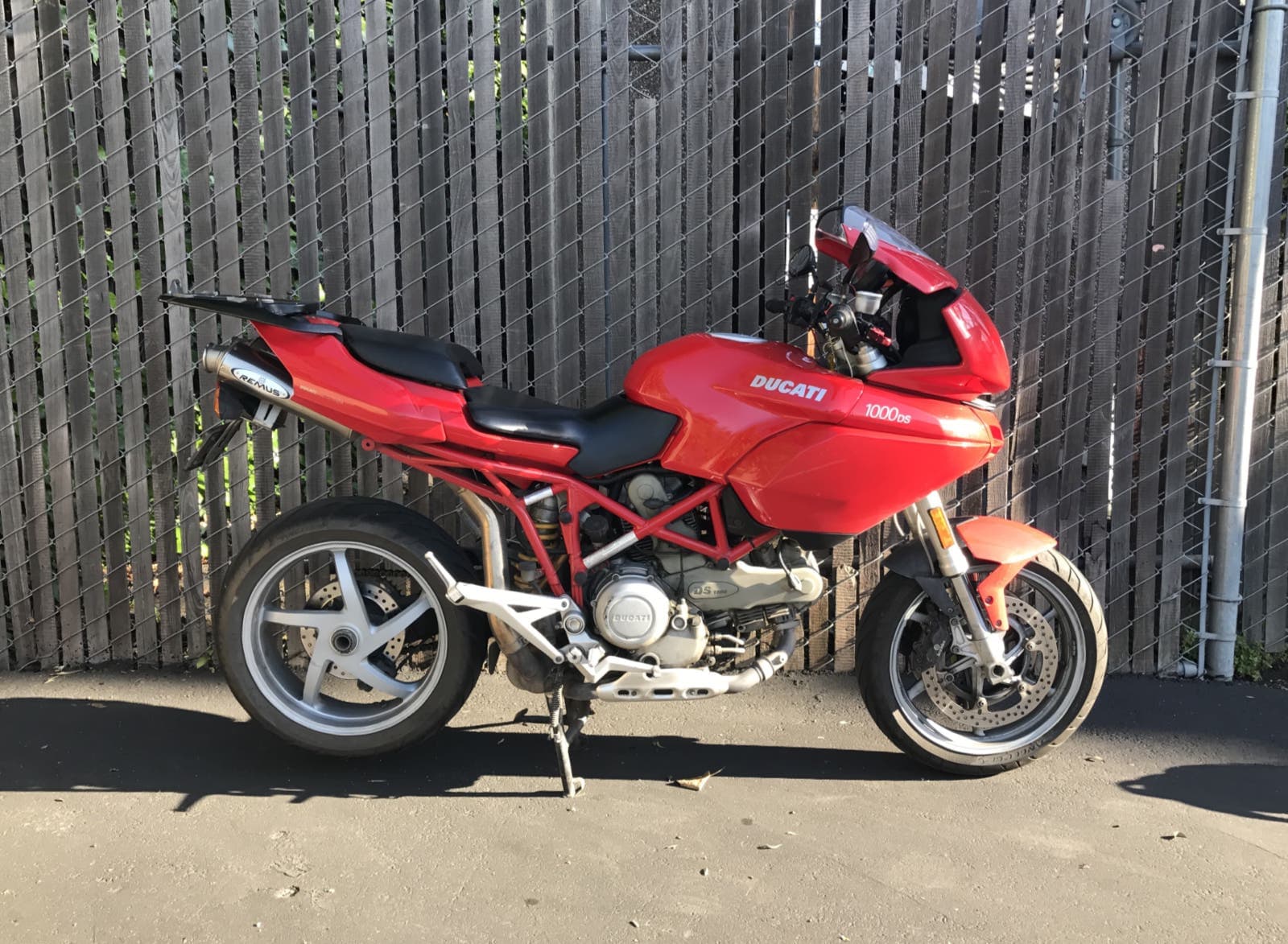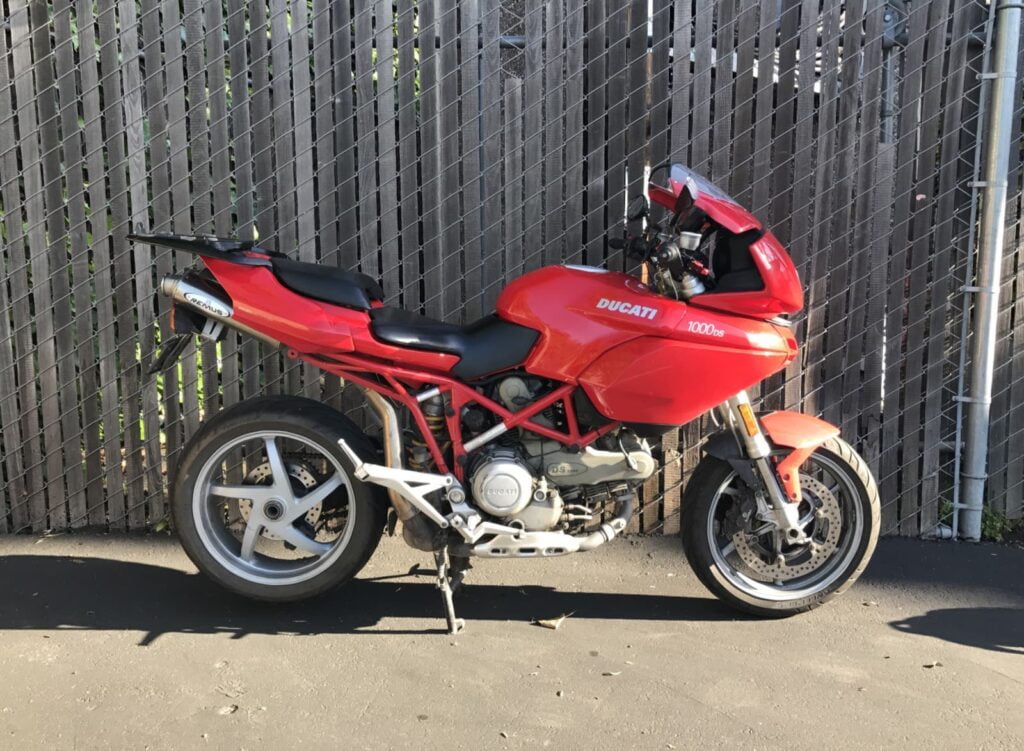 I did learn to appreciate riding the Multistrada 1000DS. I did like having an "eccentric" motorcycle, loved by few and ignored by many. But man, it just did NOT have the appeal of other stunning bikes in the Ducati showroom that was a tantalising five minute walk from my house.
That isn't to say that it's altogether ugly. It's just that I started saying things like "it's just ugly for a Ducati" or "love it or hate it" or "you can't see it when you're riding it". It's in difficult company. Next to its contemporary, the Ducati 999, it's hard to say the Ducati Multistrada 1000DS is a wonderful looking machine.
Even the Ducati 999 wasn't appreciated at the time. But it was just ahead of its time — these days, it looks awesome (I think, and many agree). The Multi never really quite had its day.
But that's not to say that the Multistrada 1000DS didn't have its own redeeming qualities! It had many of the ingredients of a great bike aesthetically, like
Under-seat exhausts
A trellis frame (unfortunately hidden away)
A wonderfully exposed rear wheel on that single-sided swing-arm
Plus, it had so many hints of greatness, like those giant discs on the front wheel and of course brilliant red (or black) paint.
The Multistrada 1000DS's design came from the mind of Pierre Terblanche, who also gave us the Ducati 999.
Even if the 999 wasn't universeally well-received at the time, Mr Terblanche is responsible for many other beautiful motorcycles. Most notable would have to be the SportClassic range, including the Paul Smart 1000 — these days a collector's item you can only get at auctions. And for another random entry, he also designed the recent Royal Enfield Himalayan.
So it's safe to say that Mr Terblanche has taste. I have to entertain the option, therefore, and as I often do, that it's I that don't have taste.
In a marketing session for the Ducati Multistrada V4S Rally, Ducati decided to share a photo of the V4S Rally alongside the 1000DS, to show how far they've come.
I think it's that effect of a bunch of good looking people making the less attractive ones seem better looking, but it's working for me. Ducati photographers know their stuff.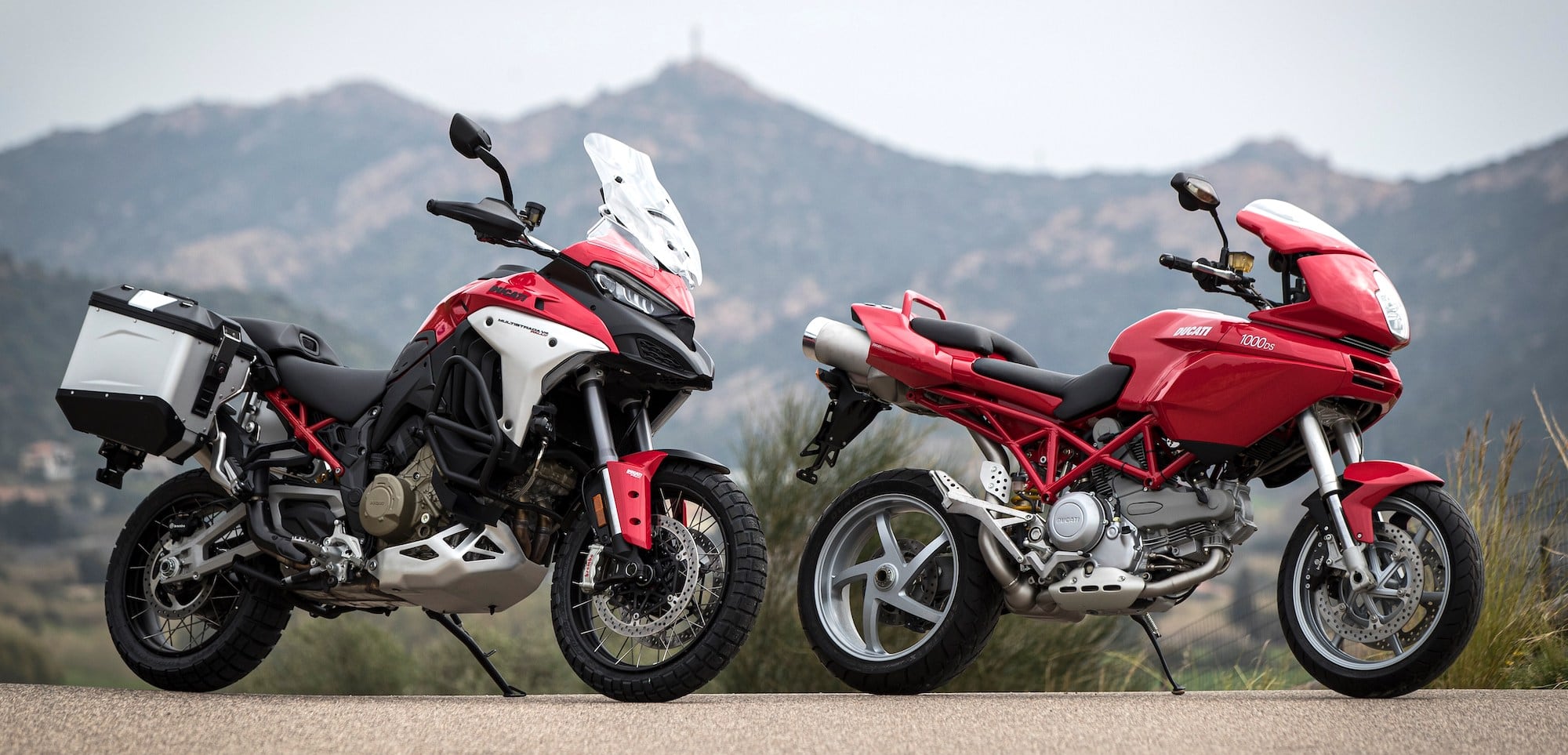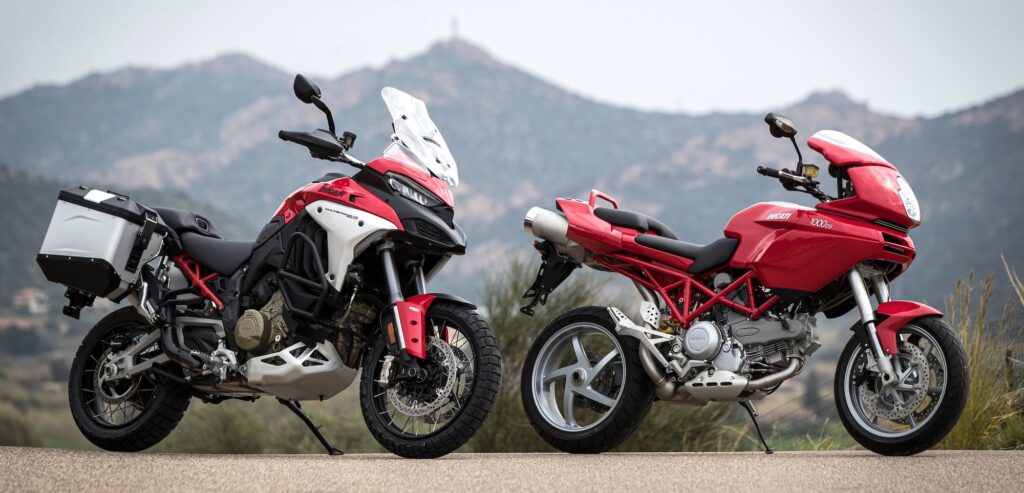 About my Multistrada 1000DS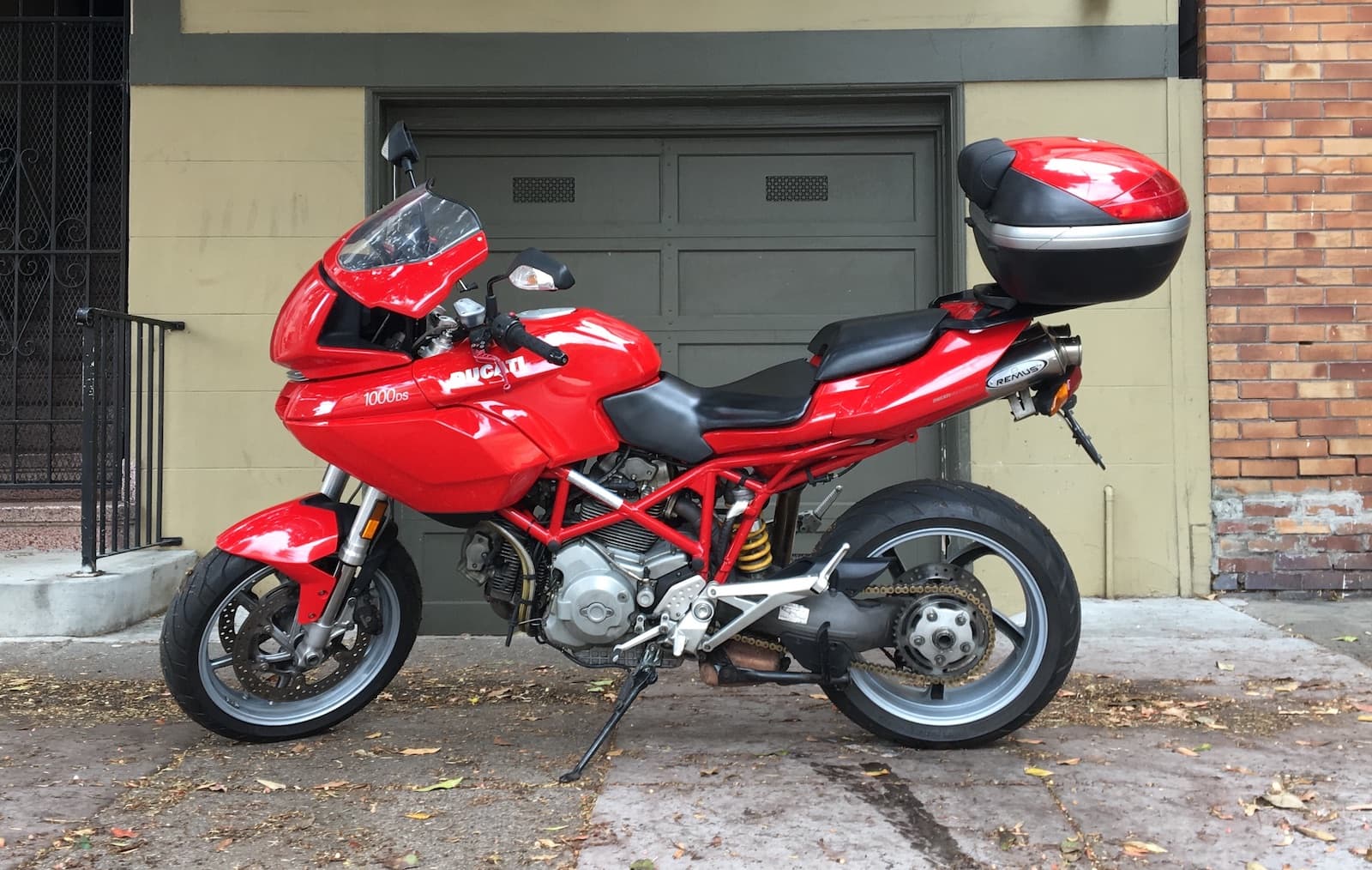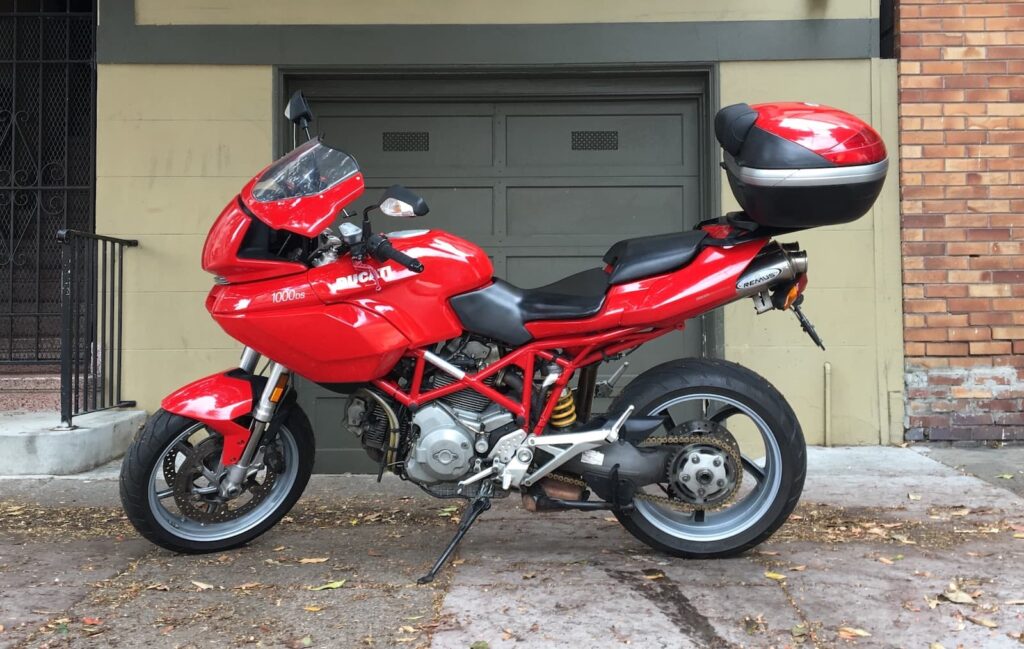 The 2003 Multistrada 1000DS I bought was my second Ducati and I think the fourth bike I ever owned.
My first Ducati was a 1996 Ducati Monster 900 which I adored but which I knew wasn't the ideal steed for a long-distance trip. It lacked wind protection (more necessary in the US, where roads are faster) and also, I didn't really trust it as I was fixing it up myself (and had more work to do).
I found out that the Multistrada even existed by googling "Best affordable travel motorcycles". I read various lists, and narrowed it down to three contenders:
The BMW R 1150 GS (as the R 1200 GS in any form was way out of my budget)
Triumph Tiger, various models
Ducati Multistrada
Why these three? Truth be told, many other bikes could have fit the bill. With the benefit of hindsight and a lot more knowledge, these days I would have happily added to the list the Suzuki V-Strom 650, maybe the Kawasaki KLR650 or Versys 650, other BMW contenders, other sport-touring type motorcycles (like an old VFR800), and others.
But since there was a Multistrada 1000DS available at my local dealer, I got to go there, talk to them, and find out more about it. I bought it pretty much on the spot. "This'll do fine," I thought, rationalising the decision by the fact that any bike was about a million times better than zero bike, and… look, I just wanted it. A price of $4,000 for a machine with 18K miles (29K km… wow, sounds like a lot more suddenly) and hello, new bike day!
Then I had to ride it home. I was nervous. This was a tall bike! But easy does it. My mechanic assured me it was easy to ride, and sure enough, I arrived home still in one piece, and still vertical.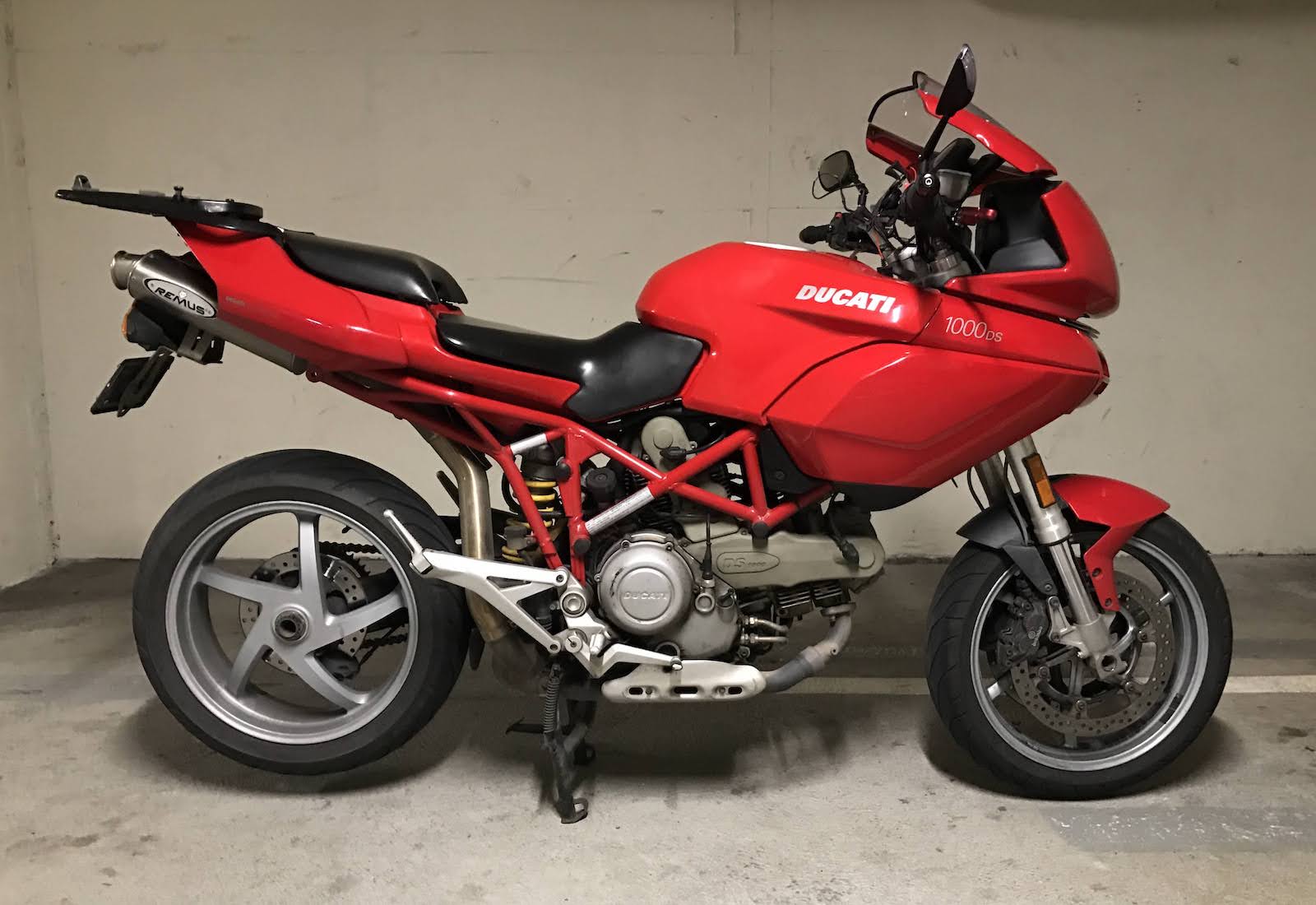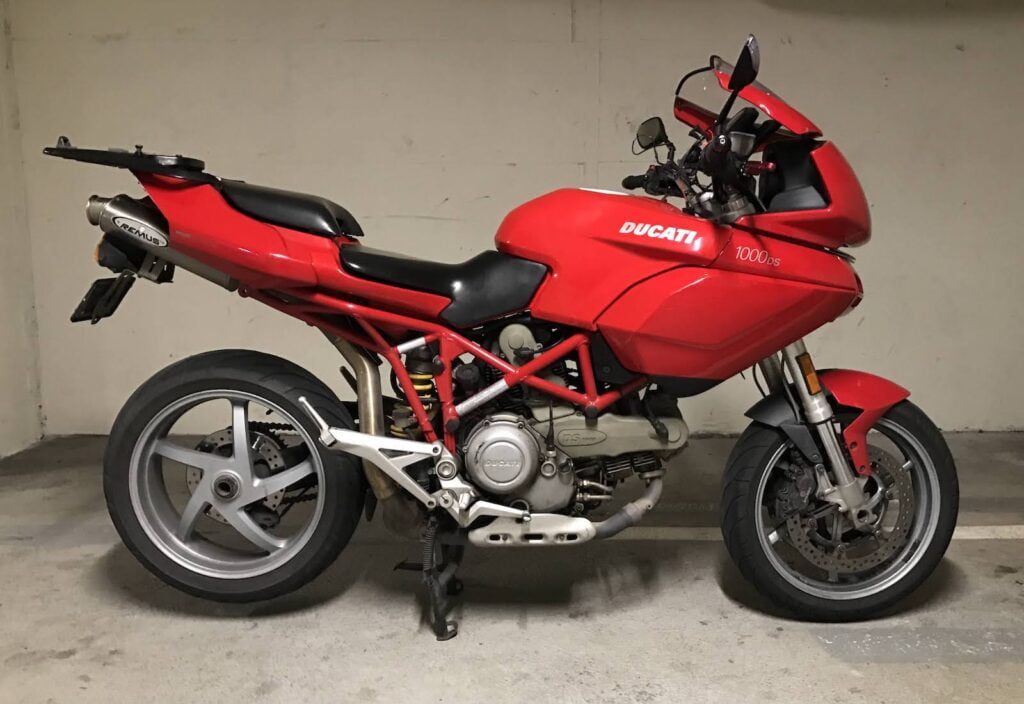 Not knowing much about how to assess motorcycles, here's what I knew about my Multistrada 1000DS before I bought it: that it was like my Monster 900, but taller, and with a luggage rack and windscreen, and 100cc more and fuel injected.
I also knew that "Multistrada" meant "many roads", thanks to my rusty Italian, and some Googling confirmed that it was really an on-road bike, not a dirt bike by any means. (In fact this was true of every Multistrada — but Ducati spun off the off-road focused Ducati DesertX brand in 2022 to try to remedy that.)
My knowledge was not too far off. But it really missed the point of the Multi when comparing it to other bikes.
Here's what I should have known. Consider this an "owner's list" of important specs to consider.
Spec
Multistrada 1000DS spec & commentary
Engine
992cc fuel-injected air/oil-cooled L-twin. Belt-driven cams, two valves per cylinder, desmodromic valvetrain.

Contrast this with other bikes: mostly liquid-cooled, with chain or gear-driven cams, and four valves per cylinder.
Purpose
Upright sport touring (these days called "adventure sport touring"): Going fast, and around corners, but with all-day comfort.
Peak power
62 kW (84 hp) @ 8000 rpm. Starts running out of chug at 7000 rpm. Hard redline at 9-10K (I forget, but I hit it)
Peak torque
82 Nm (60 ft-lb) @ 6000 rpm. Not much below 2500 rpm, lugged a bit.
Desmo maintenance
Valve inspection every 10000 km (6000 mi), usually with an adjustment necessary. Replace valve belts every 2 years or 20000 km (12000 mi).

Hindsight: This is a very short maintenance interval and was going to reduce the value of my bike quickly.
Clutch
Dry, hydraulic (cool sounding!)
Drivetrain
Chain drive. Single-sided swing arm. (Also cool)
Final drive ratio
15/42 (quite tall) — made commuting and low-speed work quite difficult
Weight
~210 kg (~460 lb) fully fuelled. Not bad. But quite tall.
Seat height
820 mm / 32.3 in. Seat is wide, too – if you have a 32 inch inseam you still won't flat-foot.
Front suspension
Fully adjustable 43mm inverted (upside-down) Showa fork. You can adjust rebound and compression damping to suit your ride weight and road conditions — a rare, high-end feature, that I had no idea about and never used.

The Multistrada 1000 S DS (2005+) version had fully adjustable inverted Öhlins suspension.
Rear suspension
Showa monoshock with adjustable preload and rebound damping (again, great, and I never used it).

S DS (2005+) had a fully adjustable Öhlins monoshock with remote preload.
Ducati Multistrada 1000DS specs and commentary
But whatever. Owning and riding that Multistrada 1000DS taught me a lot about what I liked and didn't like in various bikes.
More about the Multistrada 1000DS Engine
We'll get to riding the Multistrada 1000DS soon.
The 1000DS' engine was a very interesting one. It was one of Ducati's early air/oil-cooled fuel-injected engines.
As an air/oil-cooled engine, it had pretty narrow valve service intervals — every 6000 miles or 10000 km you're supposed to take off the tank (not fun at all on this bike), remove the cylinder heads, and use some mirrors and jiu-jitsu to measure the valve clearances — and inevitably, adjust a couple by replacing the shims. I did it once and didn't really want to do it again.
The Multistrada 1000DS has a two-valve-per-cylinder desmodromic engine. Which means you have to make eight measurements — eight potential shims to replace. (Desmodromic valve systems means valves are opened AND closed actively, rather than using a spring to re-seat them.)
And as a motorcycle with belt-driven cams, you're supposed to change the belts every two years. That's what the manual and the maintenance schedule say. In reality, many owners know that they're the same belts as on bikes that say "every five years" so they do it every five years (or four, just to kind of play it safe).
It ran a modest 10.0:1 compression ratio. Aside from not making that much power, one benefit of this ratio is that the bike never got uncomfortably warm between the legs — not something I've often said about Ducatis.
The engine in the 2003 version made a reported 63 kW (86 hp) at 7750 rpm, and peak torque of 88 Nm (65 ft-lb) at 5750 rpm. Not so much power that it'll set your hair on fire, but more than enough for spirited riding — you'll never feel "slow".
No, the Ducati Multistrada 1000DS' engine isn't terribly powerful. On freeway onramps, I discovered the rev limiter quite a few times and thought "what the hell is that?? is my bike broken??" And I'm not even a hooligan (well, not as much as … bigger hooligans).
But those sub-100 horses in the Multistrada 1000DS are definitely enough to get you into trouble. Wheelies come easily in first and second gears — sometimes unintentionally. And it's quite easy to get to 100 mph (160 km/h) out on freeways and still feel pretty safe, as the bike is stable at speed and gives decent protection.
Starting the Multistrada 1000DS usually takes a couple of attempts. It's a slow starter (I think due to big pistons and a not too strong starter motor) and doesn't always catch at once.
Out on the highways and in twisty roads is where the Multi is very happy. In second and third gears, burbling through the gears.
I rode the Multistrada 1000DS through rain, through mud, through mist and through desert roads and it did it all. It never overheated — though a few times when riding it in the rain the temp gauge came on to tell me it was too cool. Interesting!
The only time I didn't enjoy the Multistrada 1000DS' engine was in the city. This was partly the engine (that didn't really like being below 3000 rpm), and partly the gearing of the bike (which was oriented towards touring). It was too easy to lug the bike in the first and second gear, and I did stall it a few times at the lights.
I don't like riding in the city and try to avoid it. But it's an inevitable reality of the city dweller trying to escape. So if city riding is a big part of your life, I would avoid the Multi 1000 or any bike that has low-speed difficulty.
Riding the Multistrada 1000DS — How did it ride?
I had a lot of fun on the Multistrada 1000DS that I owned for around 2 years. Here's my account of what it was like to ride fast and slow and in all kinds of conditions.
I first and foremost bought the Multistrada as a distance bike. I wanted to ride to Nevada, to Texas, and beyond… Well, in reality I ended up riding down the PCH and out to the mountains east of the Bay Area a few times, plus up north, but nothing ever more than a couple of nights away.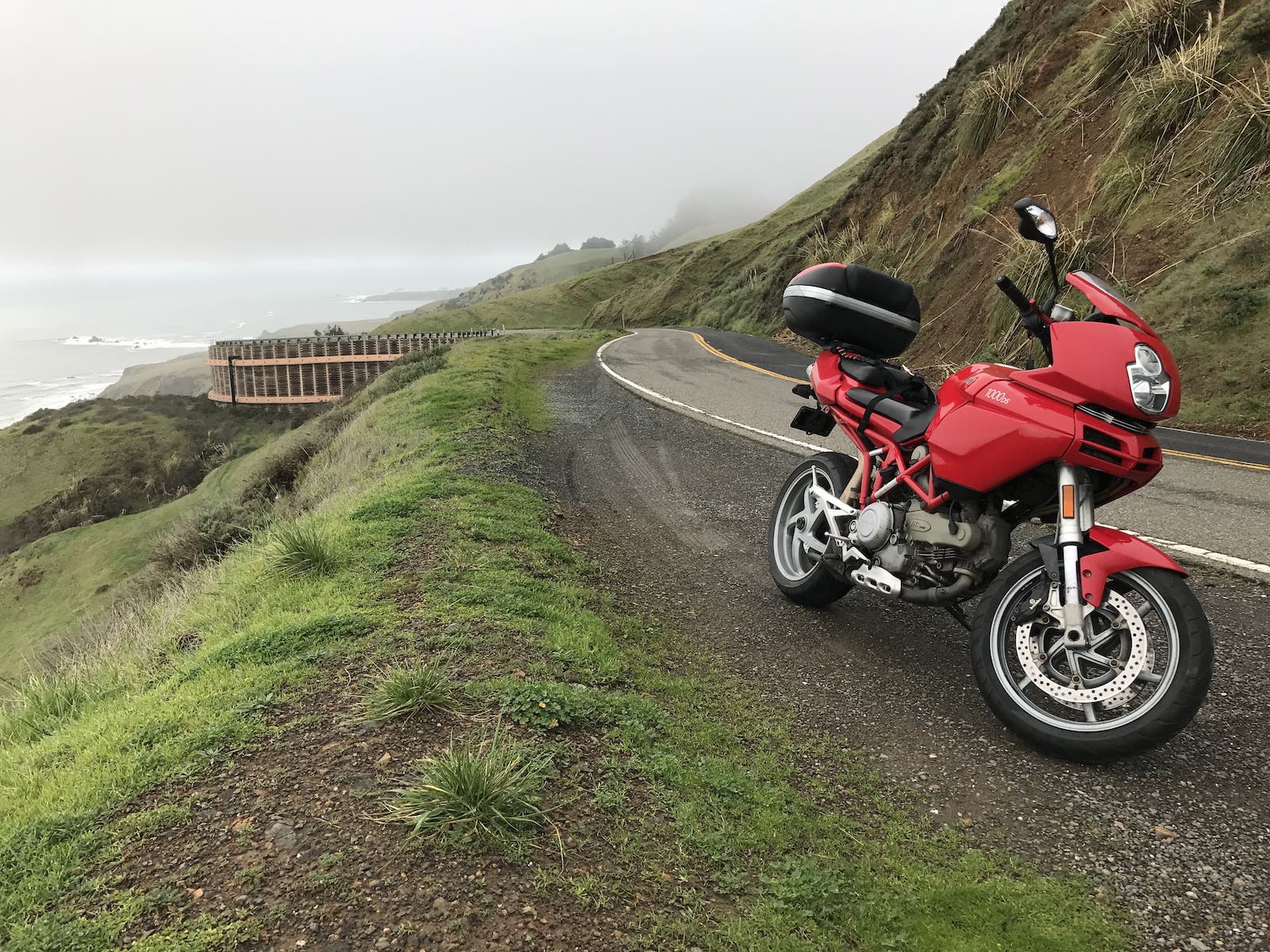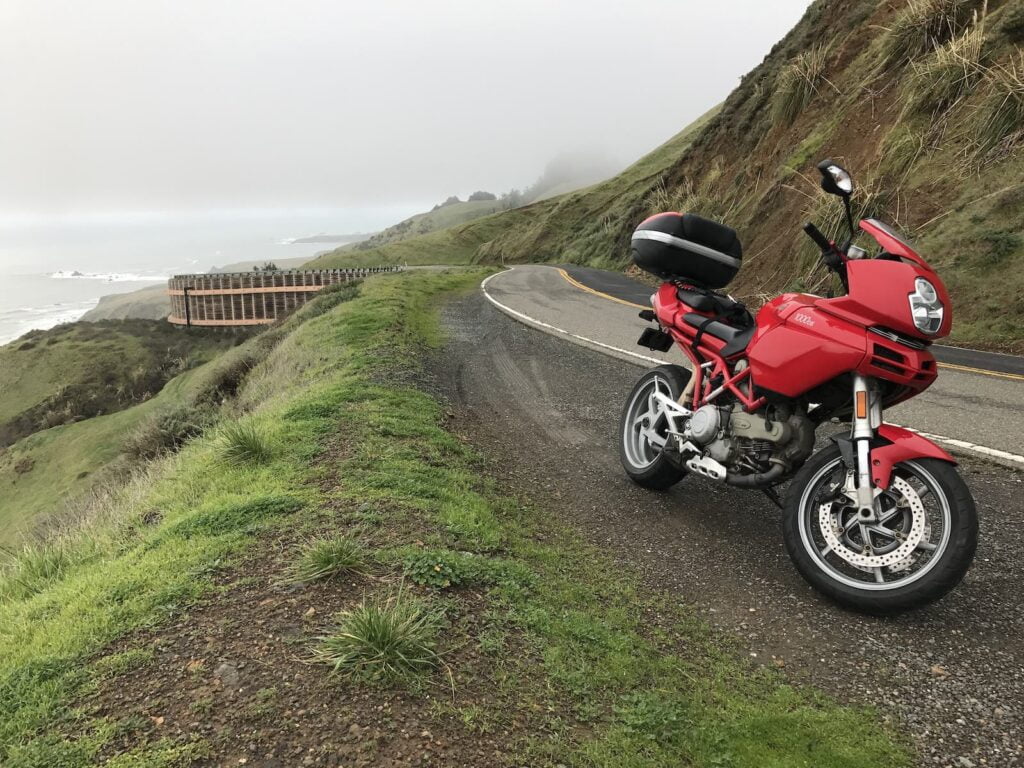 There was a beautiful serenity to riding the Multistrada 1000DS at about 60-80 mph (100-130 km/h). It just did it well. It had more torque and could get up to 100 mph — with maybe push for another 10-20 if I was patient (I was not and felt no need for it).
Perhaps it was because I was relatively ignorant about bikes during this period, but I found riding the Multi 1000DS stress free. These days I'd be a little circumspect about taking an air-cooled Ducati on an overnight trip. I've been let down by all my Ducatis at least once — and five times bitten, twice shy.
So I rarely did anything to prep the Multi for travel. I rarely cleaned the chain (sorry, next owner! But you did get it for a song), just kind of wiped the machine down and made sure it started up OK, and got going.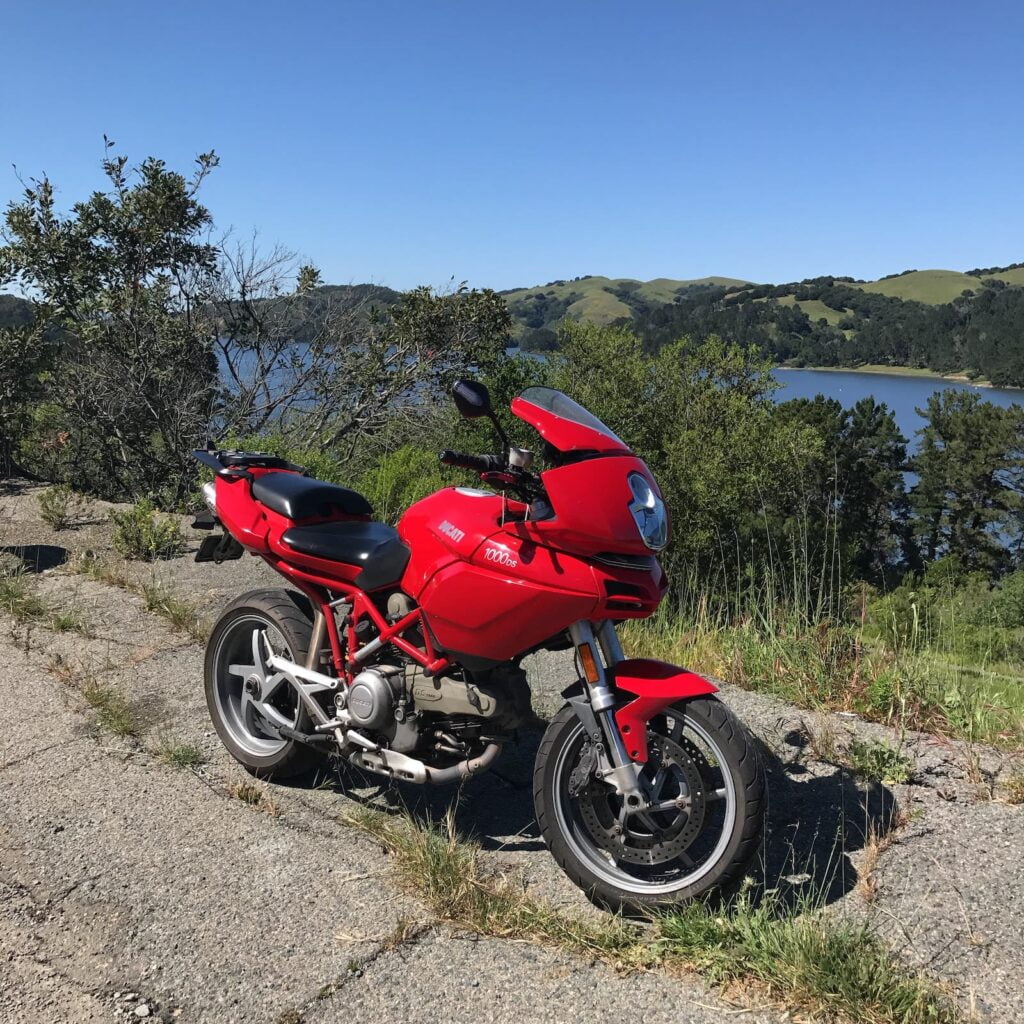 Launching the Multistrada 1000DS is fine… unless you're just commuting. Around town, I didn't really like it. I thought it was just me until I did some googling and realised no, nobody really likes low-speed on the Multistrada 1000DS (or most bikes — you need a special kind of bike for low-speed commuting and it's called a "scooter". Or a Grom. Or at most an SV650…)
More than a couple of times I stalled the Multi (early in ownership) or did wheelies — one by accident. It's just not a bike that really likes to go slow. At 2000 rpm it was almost angry with me. "Why are you doing this to me?" it coughed. "We were destined for greatness!"
But when I did achieve greatness, at around 8000 rpm, it'd say "I give up."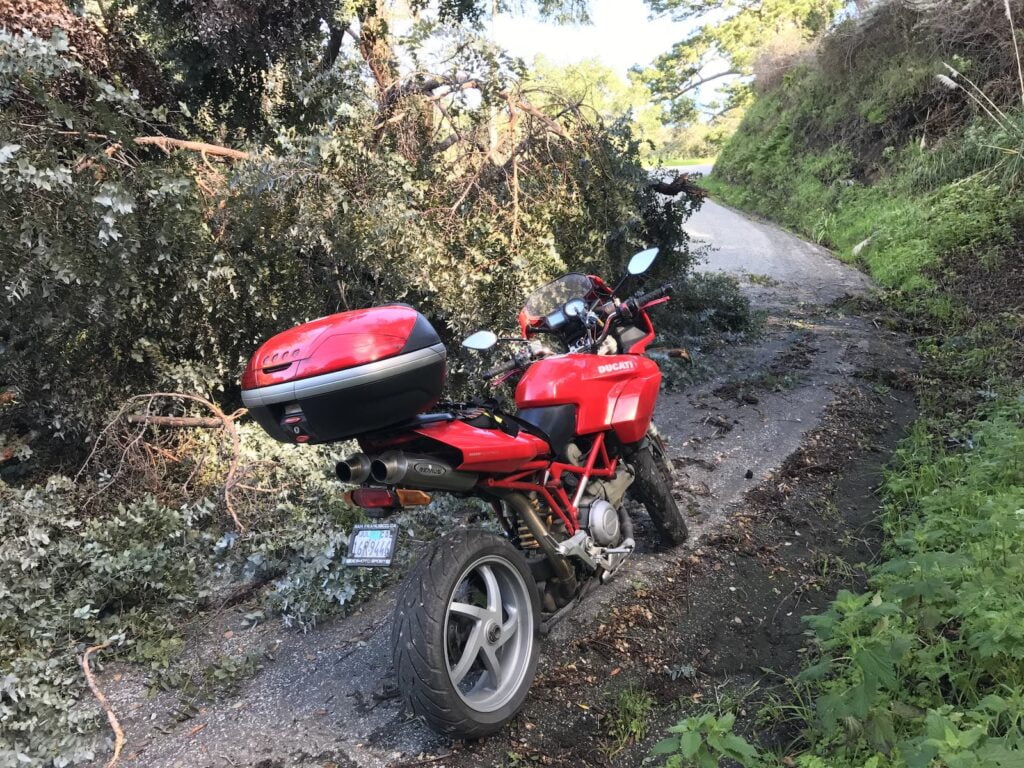 So basically, the Multistrada 1000DS is designed to go. Not really to start going.
Once it's going, it's really wonderful. I had wide handlebars so steering was always easy. The windshield gave me enough protection to not get blown off the back, but let my head stay in the (slightly turbulent) breeze.
I never felt unsure or unsafe of my footing on the Multistrada. I could take it on hard-packed dirt roads, ride it in the pouring rain, or sweep it through winding tourist rides and just always felt steady and confident in myself. I don't think I ever lost traction.
It's basically a function of the riding position as well as the competent suspension. I was tall and upright, with a commanding position over the bike, and with wide handlebars that let me give inputs easily. The suspension I'm sure did its job too — but I never tuned it to get the most out of it. That's either a testament to its quality or an indication that it had even more to give.
The Multistrada was, in terms of character, middling. You know how when you hear a Ducati V-twin with a full exhaust go past it has a blood-curdling roar that sends you into a reproductive frenzy? (Or is it just me?)
Well, the Multistrada 1000DS does not sound like that. Even with my Remus pipes and eventually Arrow headers, it was always a little boring for a V-twin. I was surprised. Maybe it's the mild tune. I added an open clutch cover and the blighter just got louder, not more interesting.
So don't buy a Multistrada 1000DS for aural excitement. There are many better buys for that.
Even though I didn't like the Multistrada 1000DS's motor for every situation, I learned a lot from owning the Multistrada. Riding and owning the Multi told me that I really like an upright riding position and that I want my bike's engine to be exciting.
I do like a sport-touring riding position, but the adventure-touring position (or alternatively the naked bike position) gives me more confidence on dirt roads and in the wet, two situations in which I often end up.
Which Air-cooled Multistrada should you get?
If I were to get an air-cooled Multistrada again, I'd pick up a Multistrada 1100 S. I think it's the best — and also the last — air-cooled Multistrada.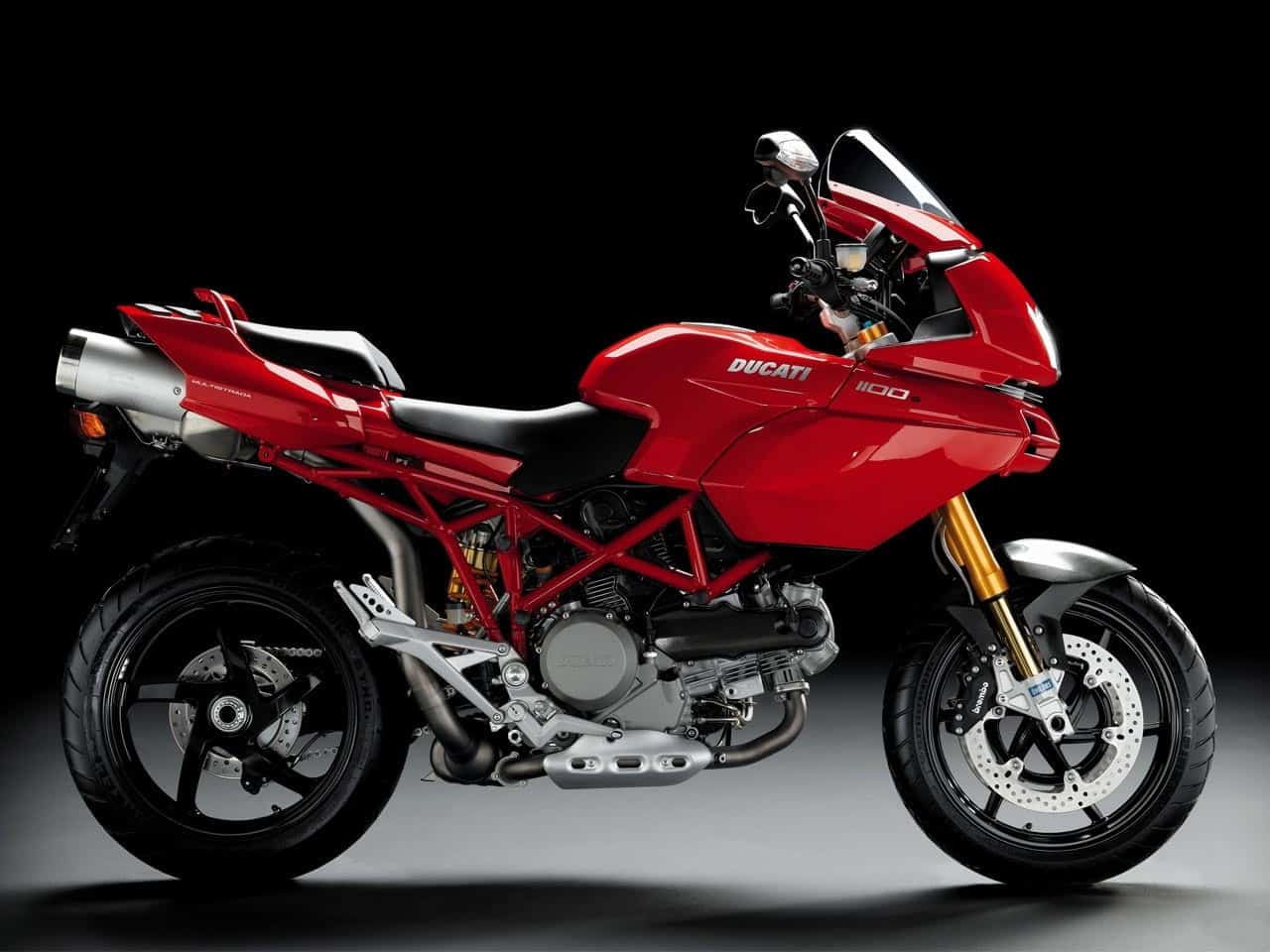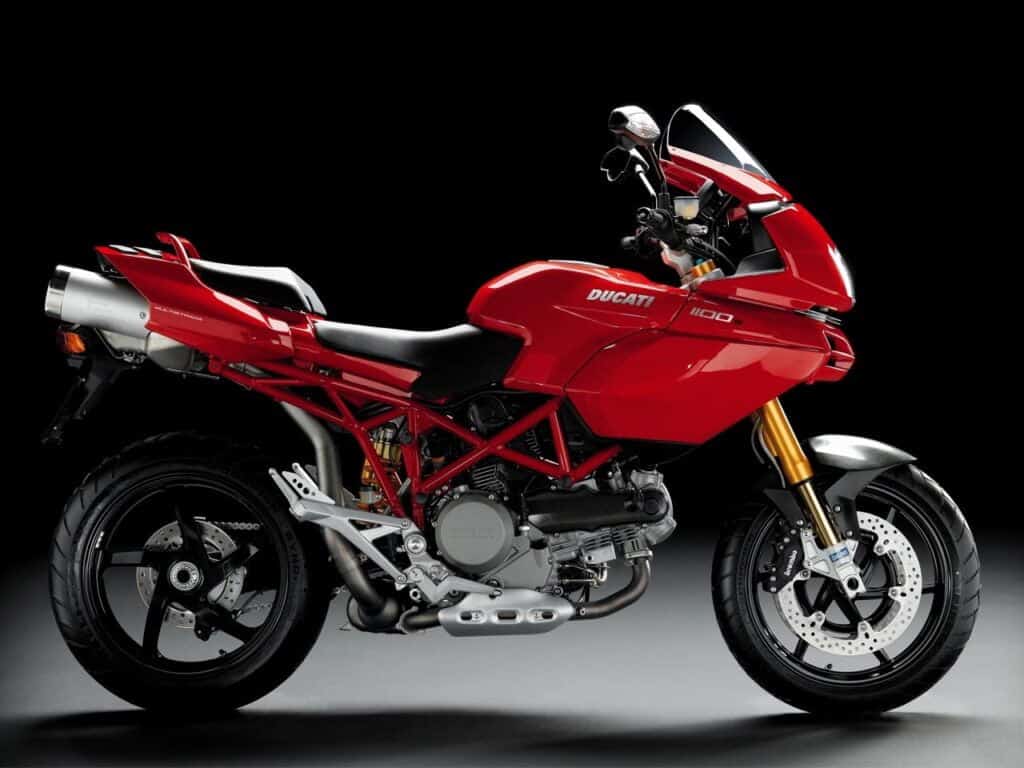 The Ducati Multistrada 1100 replaced the 1000 in 2007, just as the Monster 1100 replaced the Monster 1000.
But the 1100 motor wasn't just ~100 more ccs. It's better in every way — more power up top, and more torque across the rev range.
Ducati ironed out some of the bugs in the 1000 engine as well in the 1100. For example, 1100 owners don't complain of soft valve guides.
Also, the 1100 was the last of the air/oil-cooled Ducati engines. It's the same engine used in today's Ducati Scrambler 1100 — although the latter is lower power and blessed/burdened with a lot of tech.
On YouTube, sound clips of the Multistrada 1100 S are a lot more promising. It sounds like a beast!
I'd buy the S version because of that high-end Öhlins suspension. It does create a bit of liability if I crash it, but you only live once (and the bikes aren't too expensive).
In reality, I'm much more likely to get a more modern, liquid-cooled bike like the Multistrada 950 S. The outlay isn't much more and it's undeniably a better bike in terms of general usability.
Problems with the Multistrada 1000DS
All my Ducatis have left me stranded at least once. So I like to let people know what can happen when they buy a used Ducati.
During my ownership of a Ducati Multistrada 1000DS, I had three problems.
The bigger one was with when one cylinder stopped firing when the bike was warmed up (i.e. after about 30 minutes of riding). This turned out to be a faulty crankshaft position sensor — a similar problem to my Ducati Supersport 900 I bought many years later. When these go bad it can cause a bike to not fire at all, but my problem was more intermittent. This left me stranded once.
I had a leaking oil pressure sensor, which just caused an oil pressure warning on my display.
One of my mirrors just snapped off while I was riding! The metal just failed, about 100 miles in. I don't know if it was pre-damaged. I had to tape it on and then replace it when I got home.
All of these were sub < $100 to repair and easy.
Other problems I've read about that the Multistrada 1000DS can experience are:
Faulty coils/plugs — not at all unique to Ducatis, but very noticeable as it means just one cylinder will fire. Tends to happen more on Ducati V-twins as they shake themselves loose.
"Soft valve guides". A too-soft material (some say the right material, but incorrectly bored) was used for the valve guides of the early 1000DS motors. This lent to worn guides and sometimes slightly bent valves. They'd stall on cold idle, have a lumpy warm idle, use oil, and leave oil in the tail pipe. Ducati used to fix them under warranty, but now you can expect it to cost you a fair bit as it means opening the heads (may as well get a valve service while you're in there).
Charging system failures — again not a uniquely Ducati problem, but stator coils and regulator/rectifiers just tend to go on older bikes.
Regretting Stripping my Ducati Multistrada 1000DS Naked
At one point I got an idea into my head: I decided to strip the Multistrada naked and build myself a Ducati Monster, a "Monsterstrada".
If I were a sane person I'd say I really regret this decision. But you can't live life with regrets, so I'll insanely say instead that I spent a lot of money to learn a lot about myself, my bike, and the economics of stripping a perfectly good bike naked.
My rationale for the project at the time was: "Ye gods, this is an ugly bike. But I like riding it. And it has some cool bits about it, and a gorgeous frame that needs exposing. And replacing it with a better Ducati Monster would cost thousands, so why not pour thousands into it and build myself a bike, and learn how to build in the process?"
There are some other decent reasons to do the project — if you have an old Multistrada who needs its fairings stripped anyway. Some of these reasons are the fact that it has really good suspension, a good motor (assuming it's in good nick), and some niceties like that under-tail exhaust and exposed rear wheel.
A better plan of attack might be to build a Hyperstrada 1100 rather than a Monster 1100.
Here's how far I got with my Multistrada anyway: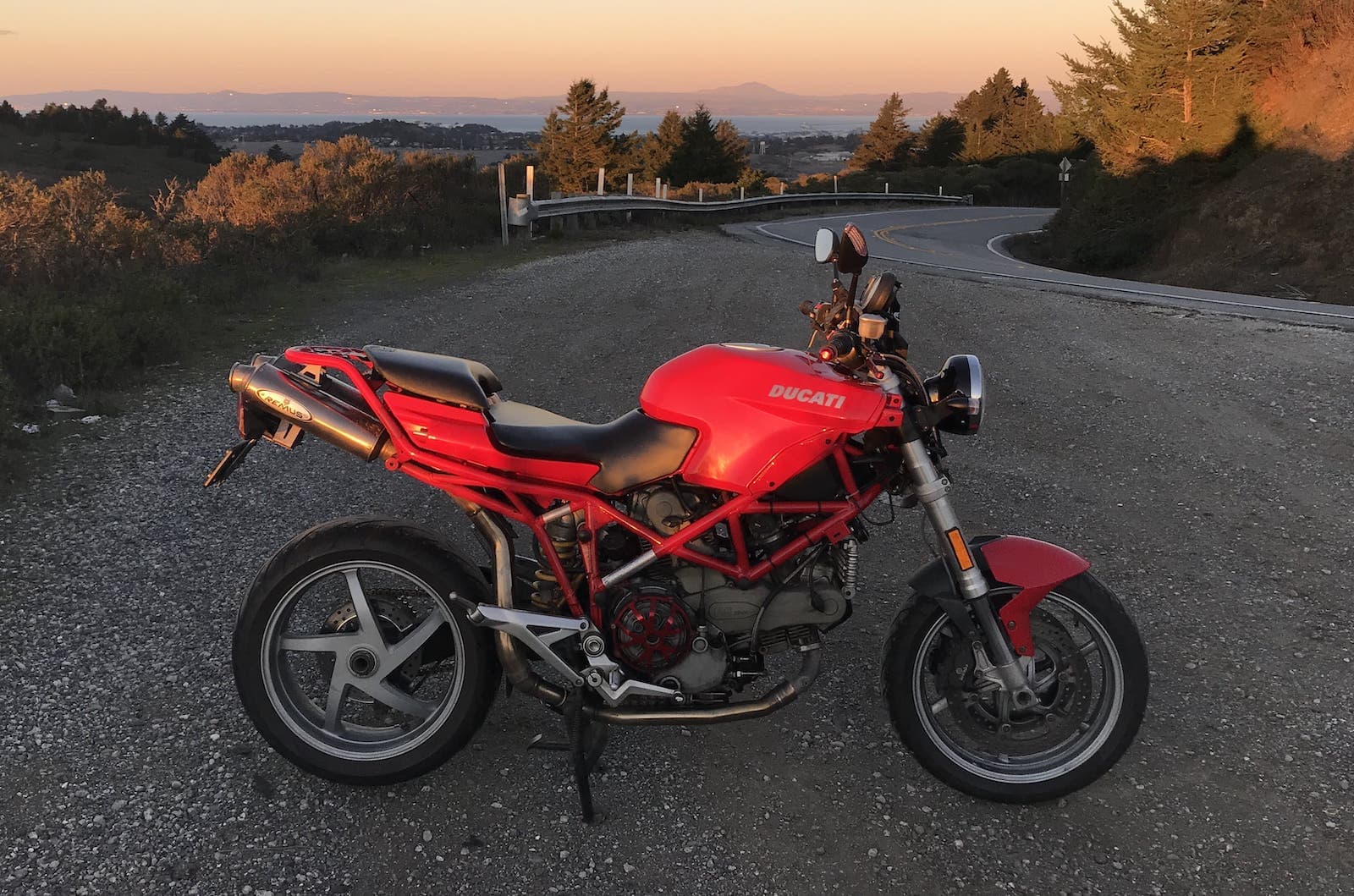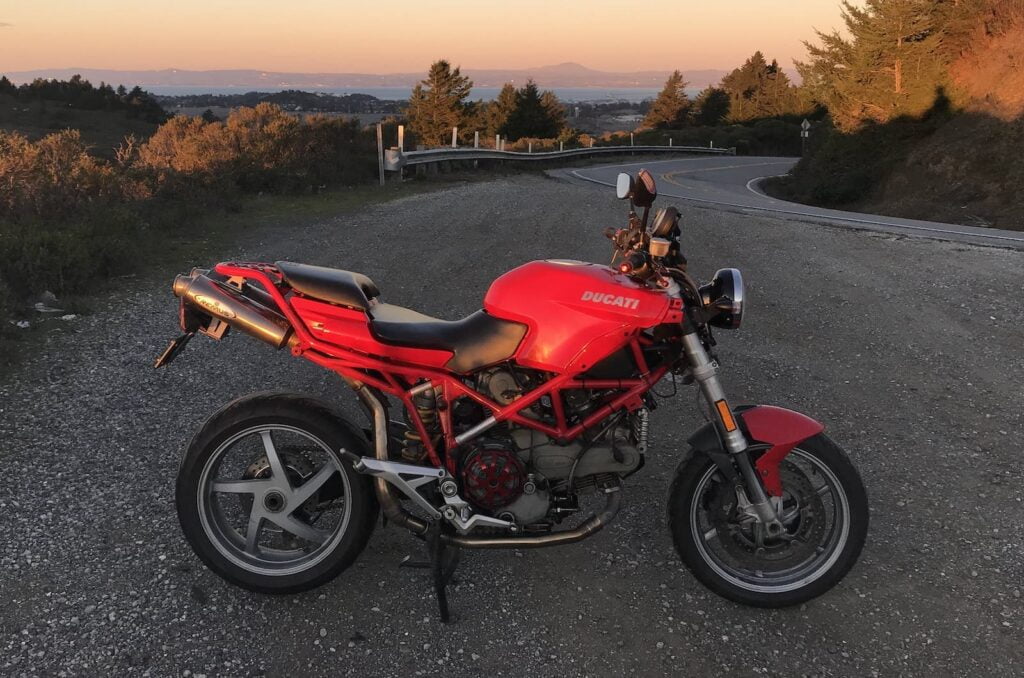 In the process of stripping it naked I did the following:
Put on a set of Arrow headers (feeding into the Remus pipes I already had). Never tuned it (regret)
Open clutch cover, then a closed one again (actually a sound deadening cover)
Stripped the fairings, but never really "cleaned it up"
Moved a lot of bits that were hanging on the outside to the inside
Relocated the oil filter
Installed a round front headlight
I had so much work left to do… the dash needed relocating, the bars needed to be narrower, I needed better mirrors (tried bar-ends and didn't like them), and the tail needed cleaning up. But I ran out of time and patience and sold it for a loss of maybe $2000 because it looked crashed and I was desperate. Ah, motorcycles…
I wouldn't "streetfighter" a bike again unless it had broken or very poor condition fairings, or got it for a song with a million miles on it.
Here's a story of that Multimonster build here.