It has been a long-term goal of mine that as soon as I'm settled in a place for a while, I'll do a track day. Unfortunately I travel a lot for life and work, and COVID has slowed things down, so this hasn't happened.
But still, that hasn't helped me do a lot of research into the gear I need to get, the places I can go for a track day, and of course, the best first track motorcycle to buy.
At first, I thought I'd be limited to small bikes like the Ninja 250R. But a bit more research shows that there's a lot out there that isn't just good for a track day motorcycle; it may just be fun for an everyday motorcycle in general.
Are you obsessed with motorcycles?
Well, I am. That's why I created this site — as an outlet. I love learning and sharing what others might find useful. If you like what you read here, and you're a fraction as obsessed as I am, you might like to know when I've published more. (Check the latest for an idea of what you'll see.)
What's a motorcycle track day, and why do a track day?
A "track day" is a day when a race course becomes open to the public, for riders of all skill levels.
It's a great idea to do a track day because
You can drill your cornering ability on a closed course, going over the same course over and over
Race tracks are safer than public roads (to go fast), because the tarmac is high quality, with no loose gravel, there are no cars on it, and you can run wide without hitting a tree or barrier (or going off a cliff)
You can go fast legally! (probably not so much on a small motorcycle)
Track days are kind of expensive, though. They wear through tyres, you need a lot of gear, and you should do a bit of prep of your motorcycle just to do it. Ideally, you go with a trailer.
Or — alternatively, you can get an "all-inclusive" package where they also lend you a motorcycle (see the bottom of this article).
But if you want to buy your own motorcycle and thrash it, here's the guide below!
What to look for in a first track-day motorcycle
Firstly, you could just take whatever bike you currently have to the track. That's an option. For many, it's the only option.
This makes a lot of sense if you already own an R1, love it to bits, and don't want to sell it. You'll probably ride it a lot more gently, but you'll still learn — and the skills will be applicable to other riding you do.
But the advantages of downsizing to a smaller motorcycle as your first track day one are many:
You'll have something you could crash without destroying one of your prized vehicles (or your only form of transport!)
You may learn faster, going on a slower bike, and not develop "bad habits" that can be masked by power or high-end electronics
You might just get the rush of being the person on the sub-400cc bike that passes the litre-bikes at the track… (but it may take a while to get there).
So when buying another track-day motorcycle, here's what you should look for. Your first track-day motorcycle should be:
Cheap enough to crash. This depends a lot on your budget. But since it's fairly likely you'll low-side your motorcycle during racing (not always — and maybe not for a while, but eventually), you should be able to afford to write it off. By the way, insurance won't cover you at the track!
Easy to ride. You're going to spend a lot of time cornering. You don't want to be fighting your bike to make it go around corners. Most bikes are easy to ride, but I'd stay away from cruisers (at least for first track day bikes — because of course they can be tracked and they can be a lot of fun).
Low-power. People who go to the track on smaller motorcycles say it's much easier to learn as "everything goes in slow motion". This is a real selling point for something under 500cc, and something under 50hp.
But what categories of bikes can be first track-day motorcycles? I'll look at these below.
Middleweight Motorcycles: The Ninja, the SV650, etc.
One of my favourite classes of motorcycles is the "middleweight". Part of the reason for this is that I do enjoy hitting over 8-10,000 rpm, and on fast bikes, that means that even in first gear I'd be at high (and on streets, illegal) speeds.
Middleweights, on the other hand, can be pushed to their limits more readily by beginners. Geberally by "middleweight" I mean motorcycles between 500 and 1000cc and that produce under 75 kW or 100 hp.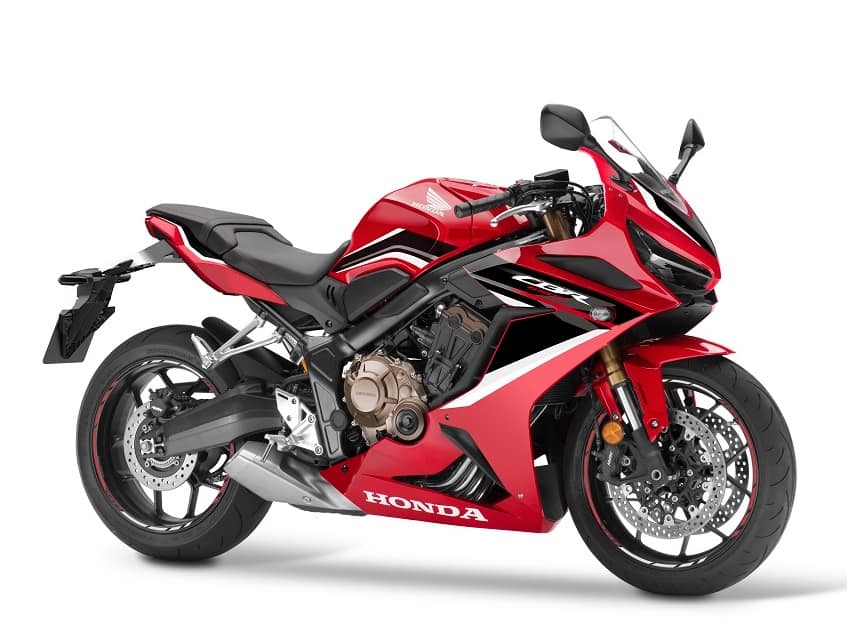 Some contenders in this category are
The Honda CBR650R — My personal favourite in the category of 650cc bikes would make a great first track motorcycle. Unfortunately in Australia it's only available in restricted form. If you're in the US, Europe, or the UK, this is what I'd choose. They're a few years old now, so a used one may be half the price of a new one.
Suzuki SV650 — an old standard, and a favourite for the track. The new ones look very nice too, particularly the latest SV650X, released in 2016.
Kawasaki EX650F/Ninja 650R: Similar to the SV650 in most characteristics. The engine is a parallel twin with a 180-degree crank rather than the characterful V-twin of the SV650, but that doesn't matter so much for learning to race.
Ducati Monster 696. You could also get a Monster 620, 695, or 796. I'd stop short of the 821, which produces over 100 hp and is quite a fast bike. The downside of the 696 is that servicing (and crashing) one is more expensive, due to the shorter service intervals and the greater tendency for them to need different shims at every valve service (this is true of all Ducati V-twins)
There are other motorcycles in this category, but those are my top four.
Learner motorcycles: The Ninja 400, RC390, etc.
Another contender for the first track motorcycle a small motorcycle that people would commonly use as a learner bike (especially in countries where this is a legal requirement).
In the past, there was basically just the Ninja 250R. It had almost no competition. These days there are quite a few great "learner" sport motorcycles,, including the Kawasaki Ninja 400R, the Yamaha R3, and the KTM RC390 as the leading contenders in the category.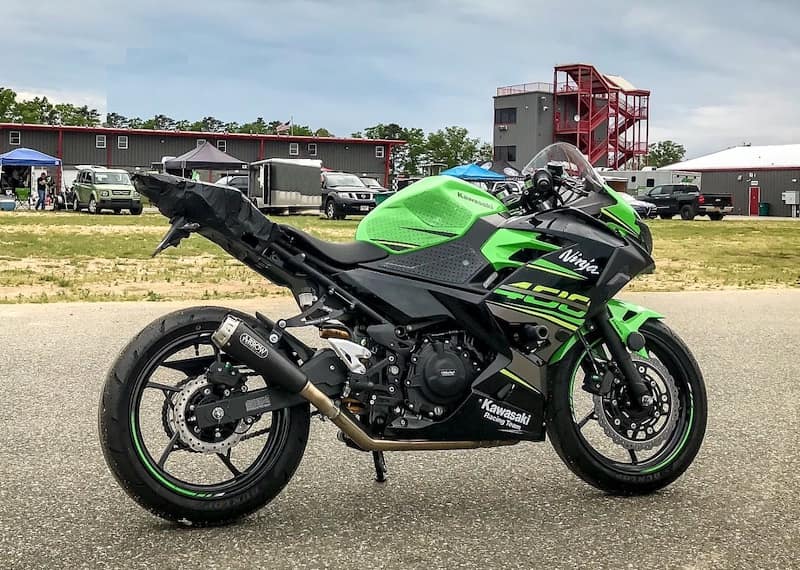 These are smart bikes that are very appropriate for street speeds (they'll easily take you to deadly speeds!), and are really great for improving riding skills.
The problem is, they have boring-sounding engines. They all are parallel twins or even just single cylinder (like the RC390). They're very easy to ride, and ultra-reliable. Ultimately, if you find them fun enough to keep, then you're in luck and you should!
Ultimately, you can have a lot of fun on a Ninja 400 or similar bike. You'll actually get to redline them without being at illegal speeds, and you'll still have the safety of ABS to hold you up. They're not at all underpowered.
But for the majority of people, they get pretty bored of riding these bikes pretty quickly. If you buy one, plan on moving it on, and be surprised at yourself if you don't want to. (And try not to crash it!)
Four-cylinder screamers: The MC22 CBR250RR, or the Kawasaki ZX-25R if you have the cash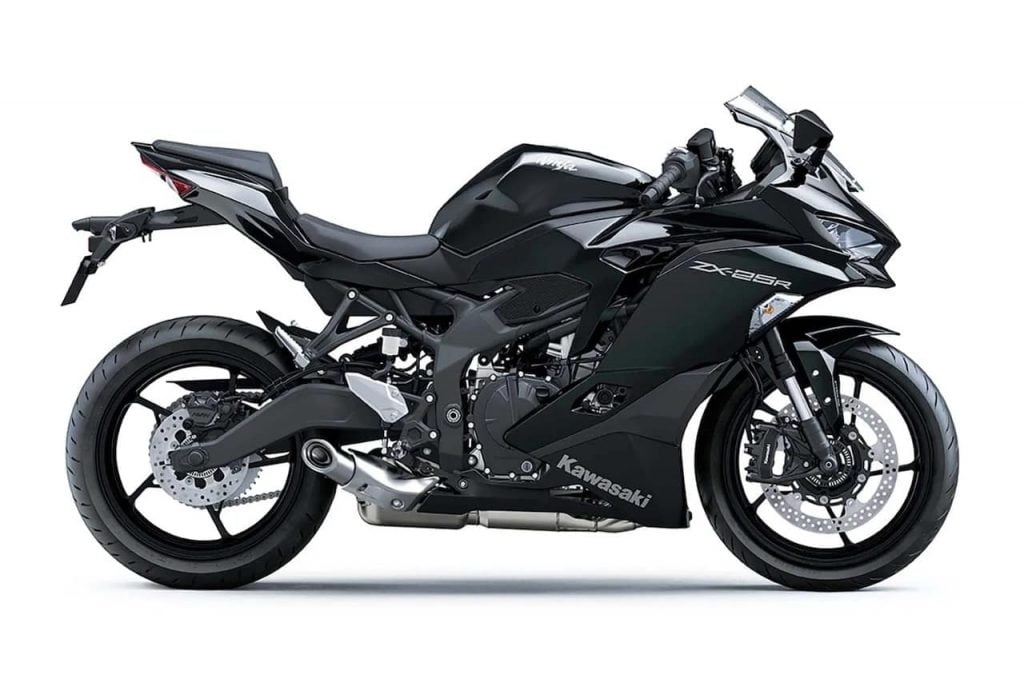 Another category of motorbikes that would make great first track motorcycles is a kind of bike that's hard to find these days — four-cylinder 250cc motorcycles.
The most famous of these was the MC22 (not MC19) Honda CBR250RR. It was only produced up to 1996 and sold up to 2000.
Sadly, they haven't been in production for a long time. There is a Kawasaki ZX-25R coming out in 2021, but not in most western markets.
If you're interested in learning more about four-cylinder 250 cc bikes, check out the article below.
The bike you already have!
Many people suggest that the bike you already have is the best one to take to a track day. After all, it's the bike you ride every day. So the skills you pick up on the track you can instantly apply to your everyday life.
If you already own a middleweight or a small bike, then you're in luck. Those are ideal bikes to take to the track!
If you own a liter bike like a FireBlade or an R1, then you can still take those to the track. Just be gentle on the throttle. You'll be passed by people with smaller bikes, but that's just how it goes.
Even if your only bike is a Harley Sportster or a Triumph Scrambler, there's a lot you can learn by taking it to the track. People do it!
An alternative to buying a track motorcycle – Get an all-inclusive track ride day
Some track day organisers offer packages where they'll rent you a motorcycle, gear, and even give you training. It's not cheap — bike hire is typically around US$250 or A$400, but that gets you a late model 400cc motorcycle.
A few examples are